Are you looking for the best Midwest weekend getaways?
There are many fantastic weekend getaways in the Midwest from big cities to small towns to national parks.
From the shores of the Great Lakes to the lakes in the Ozarks, the Badlands to Pictured Rocks, Chicago to Cleveland, the midwest is a very diverse area of the United States.
I am a midwestern girl through and through, born and raised in Youngstown Ohio.
I love the midwest, and here I am going to share a wide variety of 18 epic Midwest weekend getaways with you!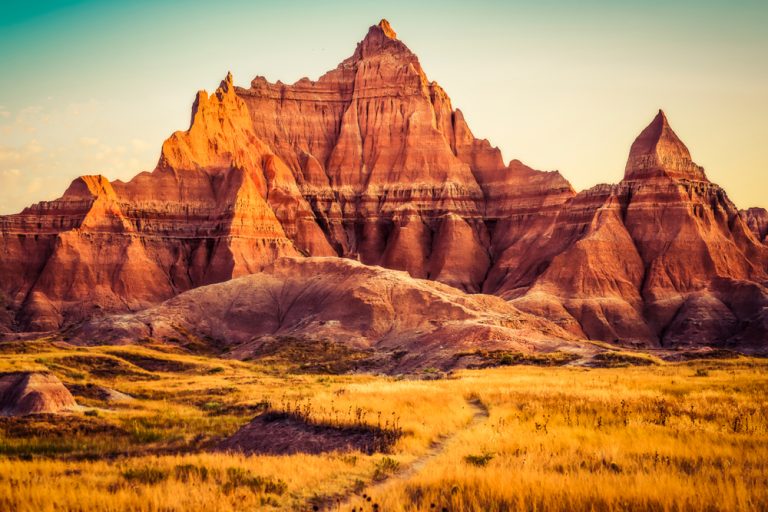 18 Epic Midwest Weekend Getaways
Branson, Missouri
Branson, Missouri is an inviting town situated in the Ozark Mountains.
While in Branson, you can spend the day at Table Rock Lake, experience the nightlife of Branson Landing, and visit the Silver Dollar City amusement park.
And you certainly can't forget to explore everything that the Ozark Mountains have to offer!
Stare in awe at the fall foliage in autumn, swim in the Lake of the Ozarks in the summer, and peek into the Bridal Cave at any time of year. these are just some of the best things to do in Missouri.
In other words, it has the perfect combination of nature activities and city life.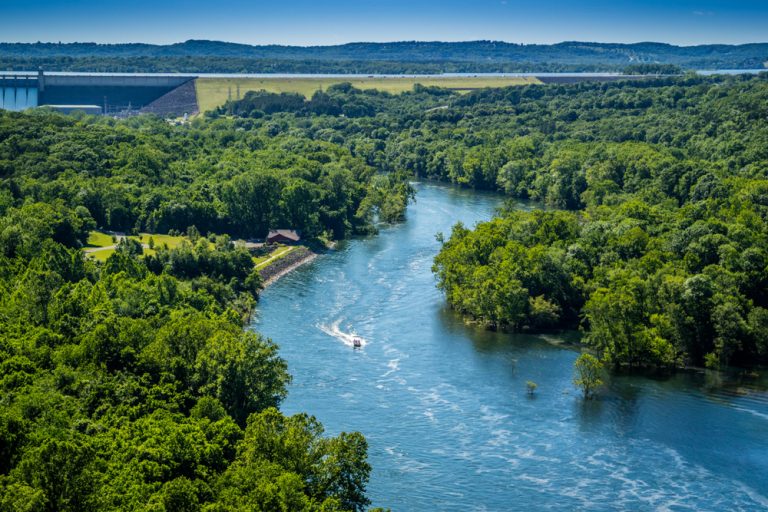 Door County, Wisconsin
Door County, Wisconsin may be one of the most romantic getaways in the Midwest.
The things to do in Door County revolve around two main things: nature and food.
For the nature lover, there is Schoolhouse Beach, Fragrant Isle Lavender Farm & Shop, and Peninsula State Park.
And for the foodie, traditional fish boils and juicy cherry pies are both must-have treats in Door County.
Click Here for a Beautiful Waterfront Cottage Rental in Door County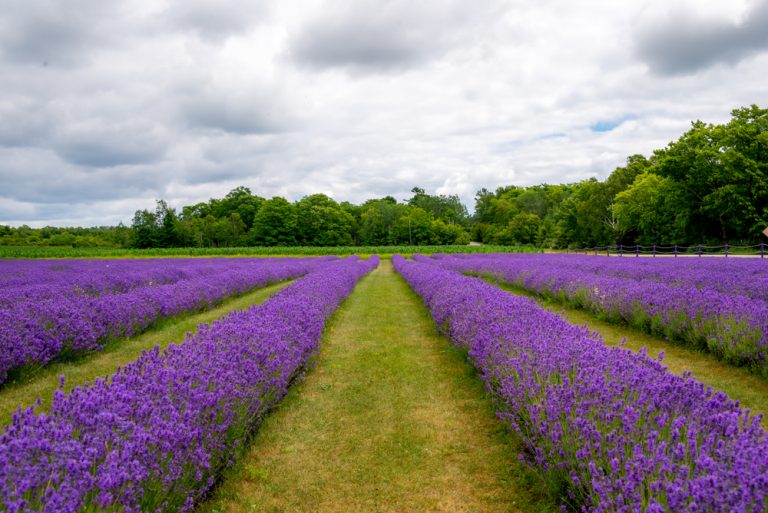 Hocking Hills State Park, Ohio
Hocking Hills State Park may be one of the coolest weekend getaways in Ohio.
It's filled with many of the best hikes and cabins in the state.
One of the best things to do in Hocking Hills is to go on a hike. Old Man's Cave, Conkle's Hollow, and Ash Cave are just a few of the most popular trails.
While in Hocking Hills, you can also kayak, stargaze, fish, rock climb, and more!
Please click here to view a cute cabin rental in Hocking Hills.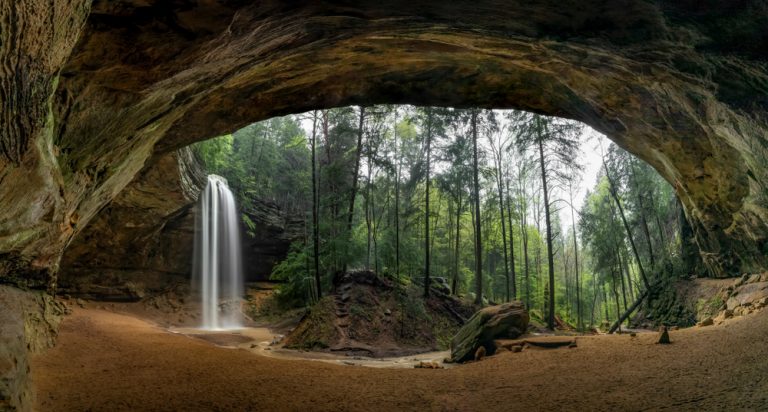 Chicago Illinois For Some Excitement
As the largest city in the Midwest, Chicago is quite an exciting vacation destination.
The first thing on your Chicago bucket list should be to take a picture with The Bean. This metallic sculpture draws thousands of tourists every day.
But The Bean isn't all that Chicago has to offer. It has some of the absolute best places for breakfast that you should check out!
Catch the best views of the city from Promontory Point, relax at the beautiful Buckingham Fountain, and pay a visit to the animals at the Lincoln Park Zoo.
Click Here for a Vintage Chicago Vacation Rental Condo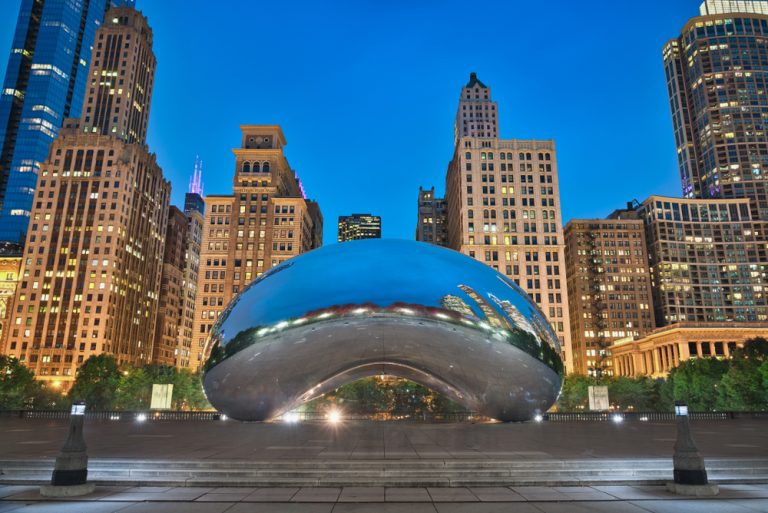 Mackinac Island, Michigan
The Midwestern United States boasts access to the breathtaking Great Lakes.
There are many fantastic Midwest weekend getaways located on the shores of these lakes, including Mackinac Island, one of the beautiful Islands in Michigan.
Situated in Lake Huron, Mackinac Island is the perfect spot for a quiet vacation. and a great place to stay in some of the best Airbnbs in Michigan!
There are no cars on Mackinac Island, so you'll need to find an alternative form of transportation.
Since the island is only about four square miles, biking, walking, carriage riding, and kayaking are all popular options.
While on Mackinac Island, be sure to take a few pictures with the limestone Arch Rock, learn the history behind Fort Mackinac. Visiting Mackinac Island is only one of the many epic things to do in Michigan.
And stare in awe at the butterflies at Mackinac Island Butterfly House and Insect World.
Click Here for a Spectacular Water And Mackinac Island Bridge Vacation Rental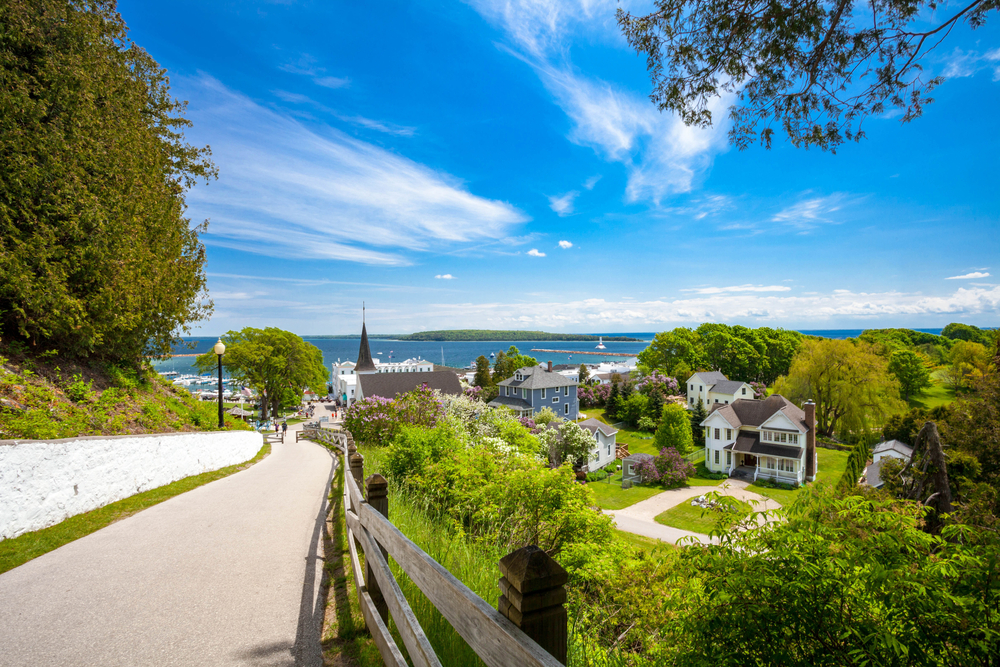 Pictured Rocks National Lakeshore, Michigan
Pictured Rocks National Lakeshore is named after the striking rock formations and cliffs lining Lake Superior.
The most famous scenic sites include Miners Castle, Paddler's Village, Miners Falls, and Munising Falls.
You can catch a glimpse of these scenic sites through a fun hiking, kayaking, or boating adventure.
Click Here for a cozy house rental Pictured Rocks National Lakeshore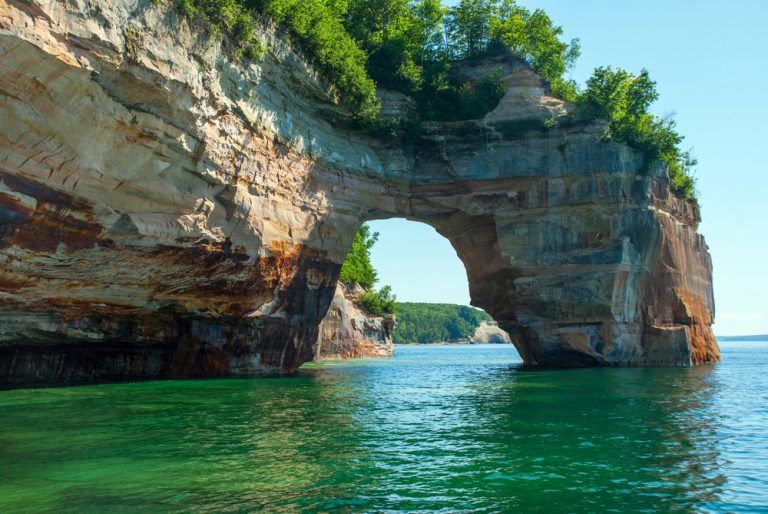 North Shore, Minnesota Makes For Impressive Midwest Weekend Getaways
The North Shore of Minnesota sits on the shores of Lake Superior.
This gorgeous lakeside area is bursting with things to do. There are fantastic activities regardless of the time of year!
In the spring, tackle the dozens of hikes and gape at the handful of waterfalls. In the summer, go for a swim in the beautiful blue Lake Superior.
In the fall, stare in awe at the fiery leaves. And in the winter, ski, snowshoe, and snowmobile.
Visiting the North Shore of MN makes an amazing midwest weekend getaway and it is one of the best things to do in Minnesota!
Click Here for a Charming Lake Home rental on the North Shore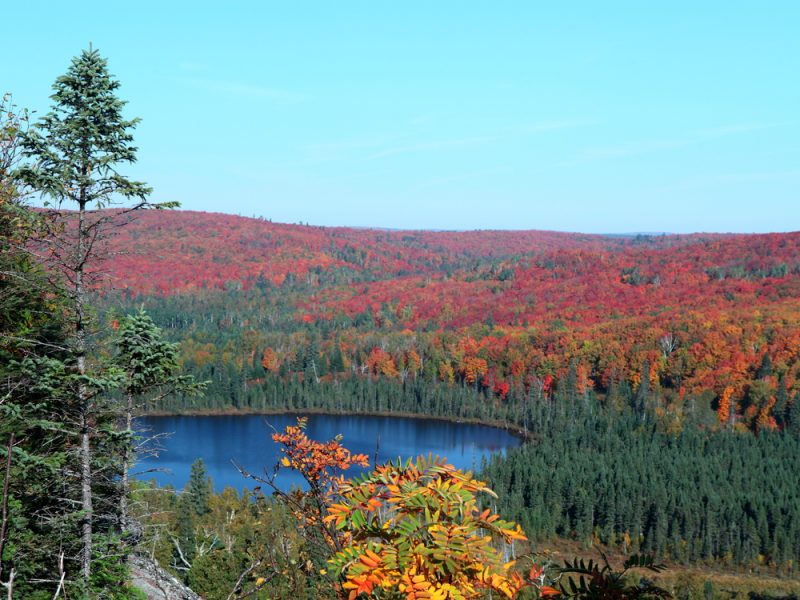 Badlands National Park, South Dakota
The Badlands is arguably the coolest National Park in the Midwest. And also one of the best things to do in South Dakota!
These red-tinted hills contain sandstone, limestone, volcanic ash, and so much more.
There are many ways to explore this geological wonder. Hike the Notch Trail, drive the Badlands Loop Road, keep an eye out for adorable prairie dogs, and stay for a stunning sunset.
If you'd like to learn a little more about The Badlands, the park also offers a Park Ranger program.
You can learn about the many fossils in the area – and who knows? Maybe you'll even find one on your own archeological expedition!
This South Dakota national park is a clear winner for a midwest weekend getaway!
Click Here for Beautiful Home rental Near Badlands National Park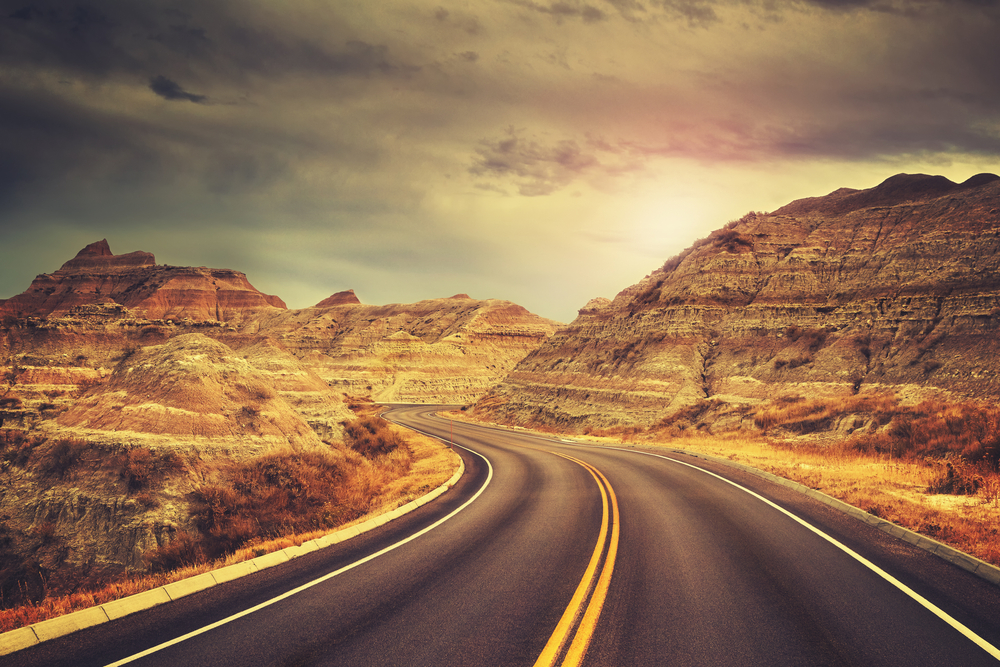 Lake of the Ozarks, Missouri
As its name implies, the Lake of the Ozarks is situated in the Ozark Mountains.
Between the beautiful blue waters and the towering mountains, this spot is undoubtedly one of the best Midwest weekend getaways. Matter of fact, it would make a fantastic Missouri road trip.
While at Lake of the Ozarks, you should definitely enjoy the water. Fish, swim, jet ski, and suntan to your heart's content.
And if you'd prefer to stay dry for a little while, you can also hike, golf, and spelunk.
Click Here for Condo with Spectacular Views near Land of the Ozarks
Covered Bridges, Madison County, Iowa
The Covered Bridges area has made a name for itself due to the high density of covered bridges in the area.
As a matter of fact, this little town has the most covered bridges in a single area west of the Mississippi River!
Obviously, the first thing you must do in Covered Bridges is to check out the covered bridges. You might discover some Iowa hidden gems as well!
And after you've checked that off your list, you can stop by the Covered Bridges Winery and visit Winterset City Park. This is a great location to go camping in Iowa!
Click Here for Cozy Cabin near the Covered Bridges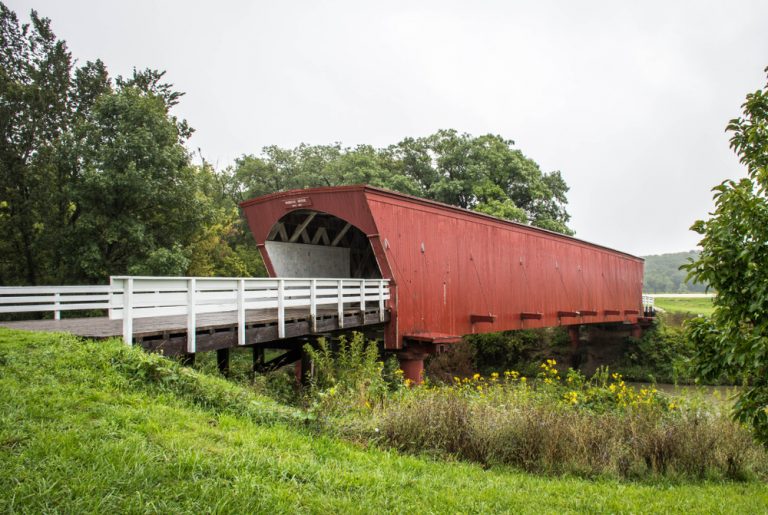 Flint Hills, Kansas Is One Of The Most Unique Things To Do In Kansas
Named after the flint found in the bedrock, Flint Hills is an awesome place for a quiet getaway in the Midwest. And probably one of the more unique things to do in Kansas.
You can simply take in the natural beauty all around you and relax.
While in Flint Hills, you can hike through the Konza Prairie Biological Station, learn about the importance of agriculture at the Flint Hills Discovery Center.
Make sure to take a tour at the Tall Grass Prairie National Preserve.
There are many things to do in Overland Kansas too!
Click Here for a Quaint and Cozy Cottage rental in Flint Hills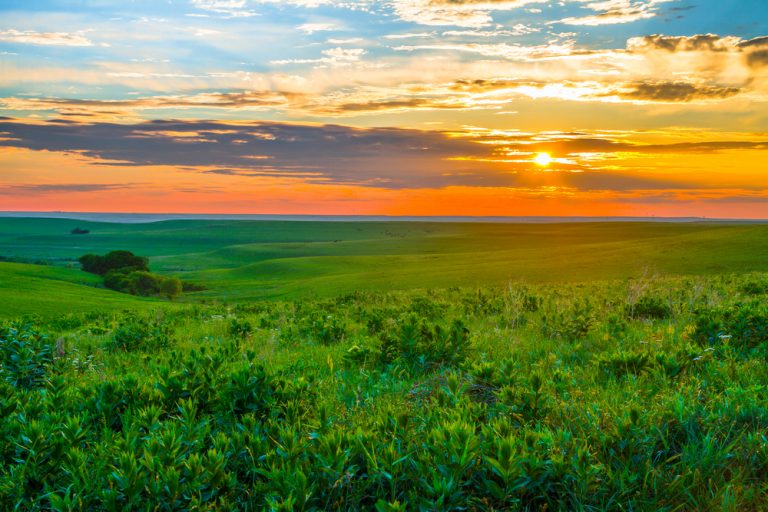 Medora, North Dakota
The main highlight of Medora, North Dakota is Theodore Roosevelt National Park.
While at this amazing national park, you can hike, camp, horseback ride, snowshoe, and ski. It is definitely one of the best things to do in North Dakota.
But the fun doesn't stop once the sun has set. Theodore Roosevelt National Park is one of the best places in the Midwest for stargazing!
As a matter of fact, this national park hosts the three-day Dakota Nights Astronomy Festival each year.
Click Here for a downtown Medora rental escape with views!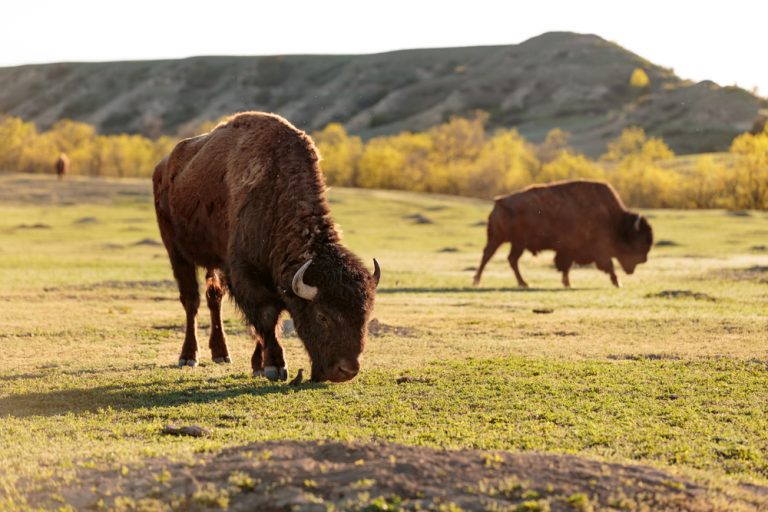 Northwoods, Wisconsin Is One Of The Best Midwest Weekend Getaways For Nature Lovers
The Northwoods, Wisconsin is one of the best Midwest weekend getaways for those who love nature.
With hundreds of lakes and green trees all around, the Northwoods is a great place to escape the busyness of life.
Since the area known as the Northwoods is so large, there is also quite a wide variety of things to do.
Go tubing down the Wisconsin River, watch the Min-Aqua Bats Water Ski Show, hike the pine-filled Raven Trail, and feed the animals at Wildwood Wildlife Park.
One of the best places to visit in Wisconsin is the Northwoods area.
Click Here for a Cozy Studio vacation rental in the Northwoods.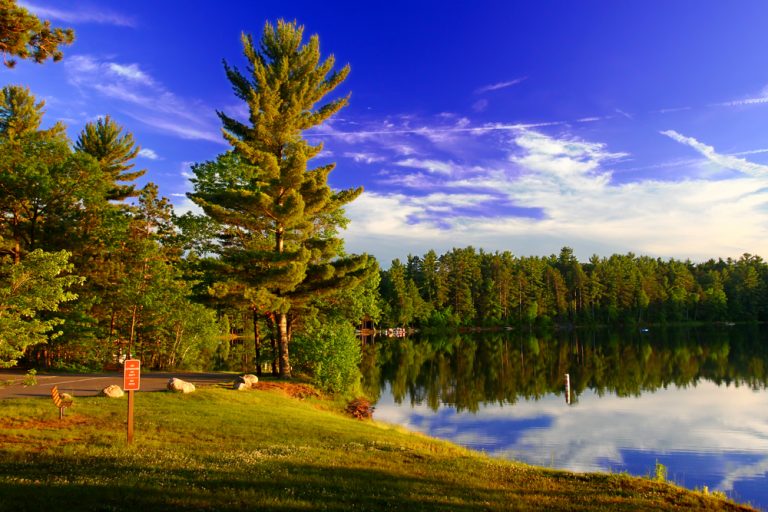 Sleeping Bear Dunes National Lakeshore, Michigan
Situated on the shores of Lake Michigan, Sleeping Bear Dunes National Lakeshore is absolutely stunning.
The best thing to do at this national lakeshore is obviously climbing up the sand dunes. While it will take a bit of effort to reach the top, the views of Lake Glenn are totally worth it.
If you're not up for hiking the dunes, you can also head down the Pierce-Stocking Scenic Drive and walk the Sleeping Bear Heritage Trail.
Matter of fact this Midwest weekend getaway would make one of the best fun Michigan road trips!
Click Here for unique Caboose Tiny Home At Sleeping Bear Dunes National Lakeshore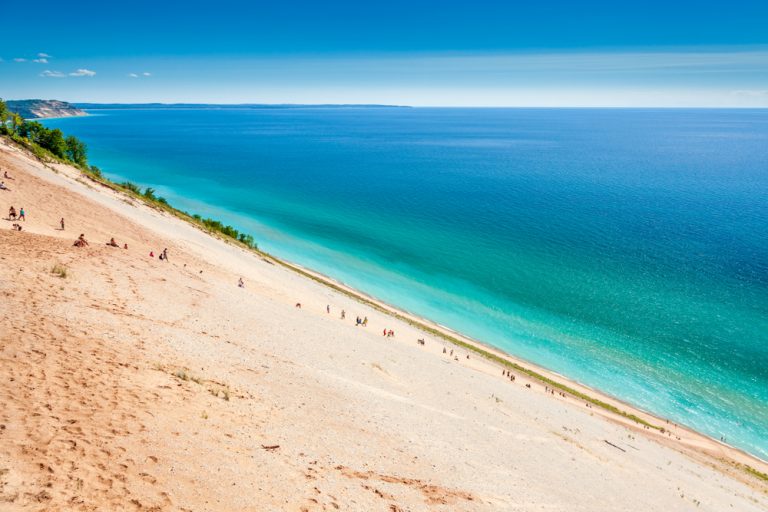 Cleveland, Ohio Is One Of The Fun Midwest Weekend Getaways
As the largest city in Ohio, Cleveland is one of the best Midwest vacation spots if you're hoping for an urban getaway destination. There are so many awesome things to do in Cleveland OH!
While in Cleveland, be sure to check out the Cleveland Museum of Art, the Rock and Roll Hall of Fame, the West Side Market, and the A Christmas Story house.
When planning your itinerary, make sure to have plenty of time to visit some of the best places for breakfast in Cleveland!!
Click Here for a rustic modern Cleveland Apartment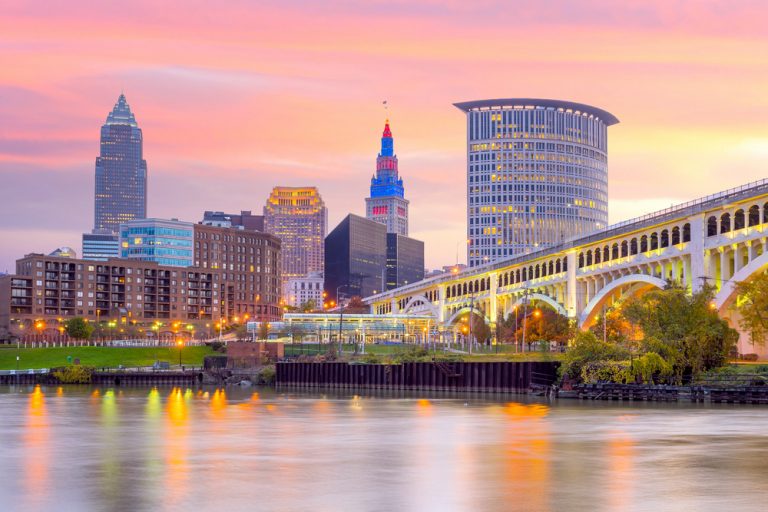 Custer State Park, South Dakota
Custer State Park is the most visited state park in South Dakota, and for good reason.
With over 70,000 gorgeous acres in the Black Hills, Custer State Park in South Dakota is a nature enthusiast's paradise. Hike, bike, fish, camp, and kayak to your heart's content.
The most popular things to do at Custer State Park include tackling the Cathedral Spires Hike, spotting bison and donkeys on the Custer State Park Wildlife Loop, and meandering along the Needles Highway Scenic Drive.
Click Here for a Chic Log Cabin near Custer State Park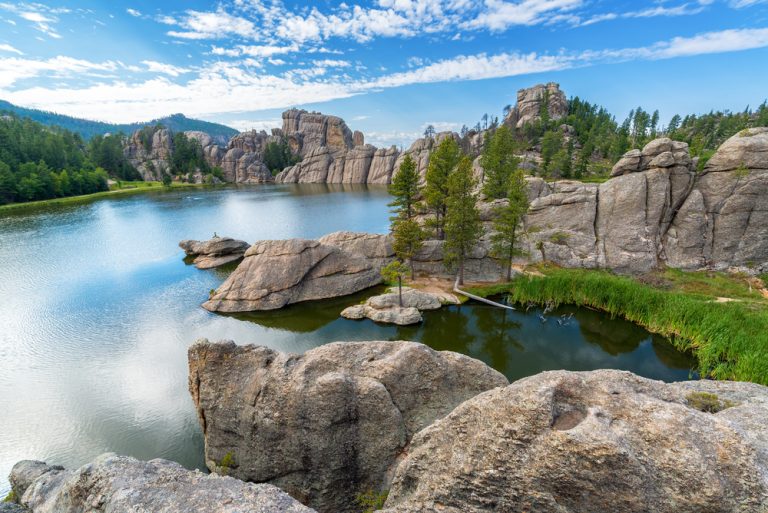 Visiting Apostle Islands National Lakeshore, Wisconsin Is One Of the Best Midwest Weekend Getaways
Apostle Islands National Lakeshore, Wisconsin is one of the most popular Midwest weekend getaways, thanks to its breathtaking natural landscapes.
This group of 22 islands in Lake Superior is located near the small town of Bayfield and is filled with amazing activities. And some of the best Wisconsin Airbnbs.
Kayak through sea caves, glamp on the lakeshore, wander into ice caves.
You can take an Apostle Islands cruise, and even see shipwrecks.
Click Here for a lovely guest house near Apostle Islands National Lakeshore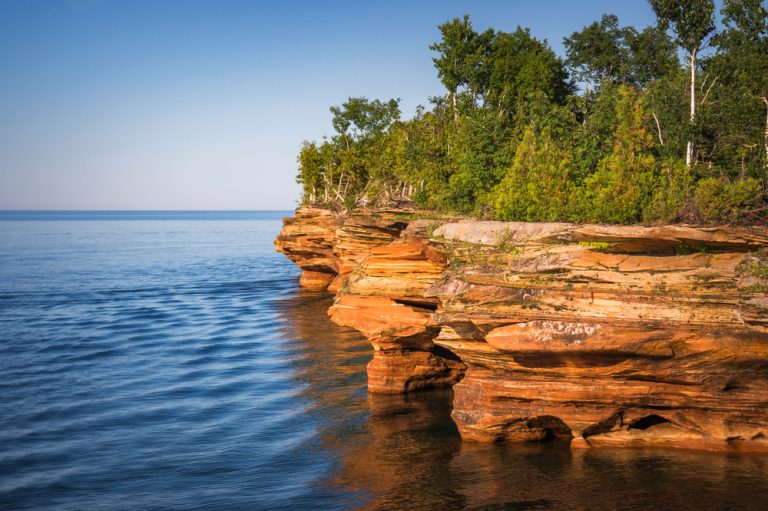 Visiting Indianapolis Motor Speedway Is One Of The Most Exciting Midwest Weekend Getaways
Whether you are into racing or not, a visit to the Indianapolis Motor Speedway is an exhilarating experience. Matter of fact, it is one of the best things to do in Indianapolis.
The Indianapolis Motor Speedway is the third oldest automobile track in the world having been built in 1909. And one of the things Indianapolis is known for.
It is one of the largest outdoor sports venues in the world able to seat over 250,000!
You can see NASCAR and Formula 1 races at this National Historic Landmark and if you are able to attend a race, be prepared to be swept away by the energy that fills the stadium.
If not, you are still able to take an unforgettable guided tour of the track and the garage.
Visiting here is one of the best things to do in Indiana and will make the perfect Midwest weekend getaway!
Packing List For Your Midwest Weekend Getaways
If you will be traveling, either by plane or by car to the midwest, here are some tips on how to pack lightly.
A concealed travel pouch may be one of the most important items you bring along when visiting the midwest. It is always important to protect your personal information. Identity thieves are everywhere.
his unisex RFID blocking concealed travel pouch is lightweight and comes in several colors. It has lots of organization to give you peace of mind.
You can place it under your hiking clothes next to your body to carry your ID safely.
If you have a pouch already that does not come with the RFID protection, as I do, these RFID sleeves are the perfect solution.
This configuration comes with enough credit card sleeves that the entire family would be protected. They are slim too, so they will easily fit into your pouch or wallet.
If you are planning on taking a lot of pictures with your phone you will definitely want to consider an external charging battery. This Anker high-speed phone charging battery is the exact one I carry with me on all of my trips.
It can be used on a variety of phones, not just an iPhone like I have. And wow is it fast!
I like that it holds its charging capabilities for several uses so I do not have to worry about it while out and about, and if I forget to recharge it at night, it will still be good to go the next day.
My daughter gifted me with this FugeTek selfie stick and tripod setup for my birthday. I absolutely love it! It is made of lightweight aluminum and so easy to use.
It has Bluetooth connectivity and is a breeze to use for taking selfies when staying in one of the best Airbnbs in Illinois.
Hydration is so important when traveling. You want to remain hydrated throughout your travels to support your immune system which in turn will be stronger to fight off any germs you will encounter during your travels.
You will want to bring your own refillable water bottle with you.
I never leave home on a trip without my Bobble filtration bottle. The 18.5-ounce size is perfect for hiking and it fits nicely in the pocket of a backpack.
Perhaps you are traveling a long distance and packing space is a premium in your suitcase, or in your car.
Then this collapsible silicone foldable water bottle would work well for you. Would not take up much space at all.
You will want a backpack or daypack with you to store snacks, your water bottle, phone, extra clothes, etc.. when hiking This foldable water-resistant backpack would be great
It is very affordable and is available in many color options for you to choose from. The fact that it folds down into a zippered pouch will make it easy to pack.
—
There is so many activities to choose from in the Midwest, from Midwest hiking, to the most vibrant Midwest cities, to chasing Midwest waterfalls, there is always something to please everyone!
Here I have listed 18 of the best Midwest weekend getaways for your consideration. I hope you have so much fun!
Please leave a comment if you've been to any of these Midwest weekend getaway destinations. What was your experience like?