Are you looking for things to do in Wisconsin?
Then this list is perfect for you!
Wisconsin is a beautiful state to visit, but it's most popular in the warm Summer months.
Wisconsin Winters get very cold and very snowy, but they are beautiful too.
There really is no bad time to visit this gorgeous Midwestern state.
Whether you are looking for Wisconsin weekend getaways, fun road trips, or unique Wisconsin attractions, there is something to do in every season in Wisconsin.
So, lets take a look at 25 things to do in Wisconsin for the ultimate bucket list!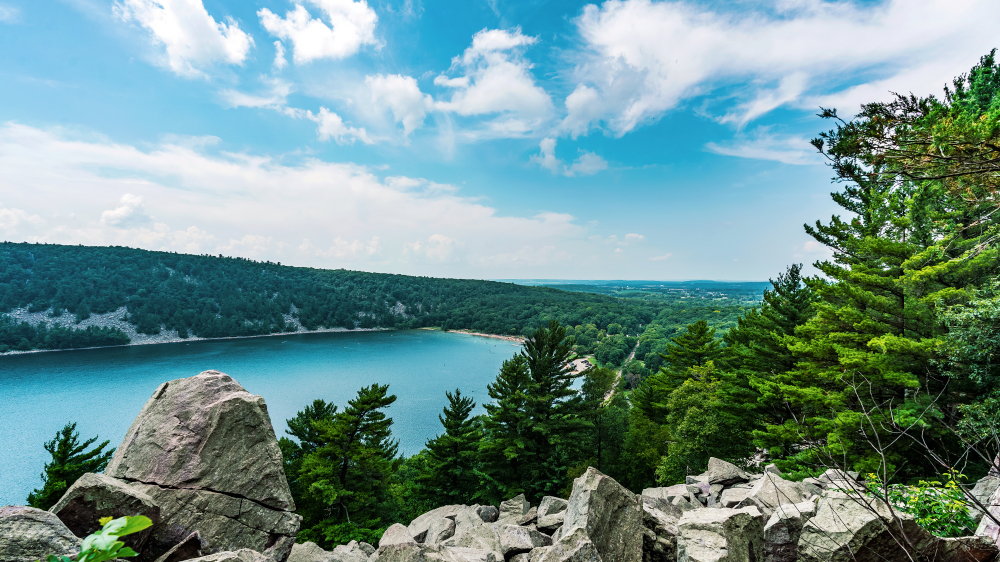 25 Things To Do In Wisconsin: The Ultimate Bucket List
Milwaukee Is One Of The Best Things To Do In Wisconsin
If you're looking for big city adventures in the Midwest, Milwaukee is perfect.
It is the biggest city in Wisconsin and the fifth-biggest city in the Midwest.
That means there is tons to do there, no matter what you're interested in.
You can check out any of the many museums, explore the boutique restaurants and stores, or even get a taste of the urban outdoors in one of the many parks.
Milwaukee is also starting to become known as a hot spot for up and coming breweries.
While you're in Milwaukee, consider taking a brewery tour to discover some new beers or ones with interesting flavor profiles.
After your brewery tour, you'll want to enjoy a meal at one of the many amazing restaurants in Wisconsin.
There is truly an endless amount of things to do in Milwaukee and it's a great place in Wisconsin to explore.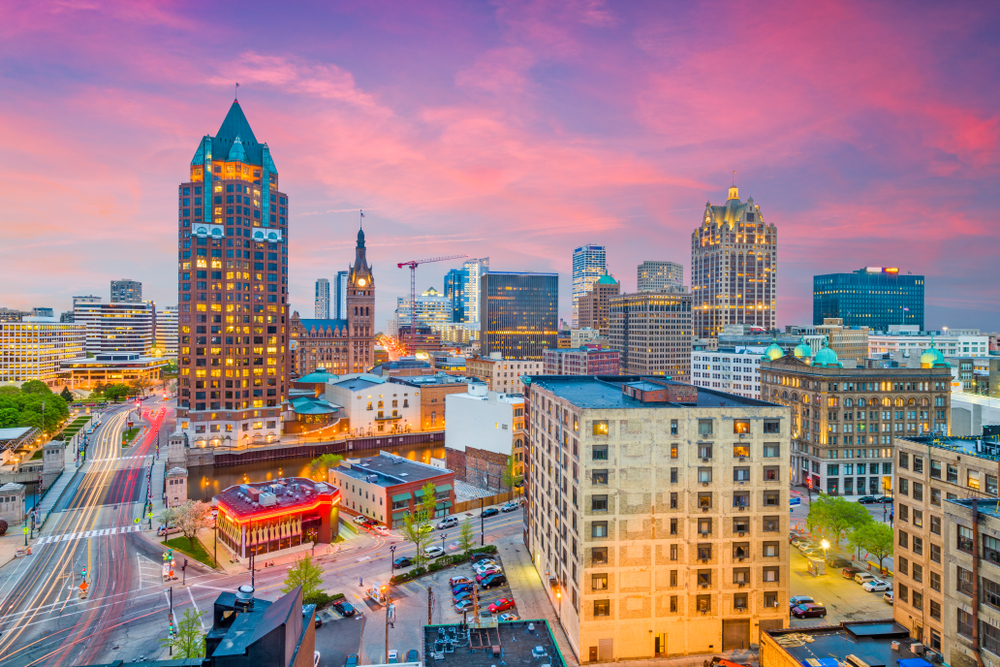 Wisconsin Dells For Endless Waterparks
The Wisconsin Dells is literally the Waterpark Capital of the World.
There are four outdoor waterparks that are typically open from Memorial Day to Labor Day.
If you are visiting during the colder months, you can still take advantage of five indoor waterparks.
The area also has a ton of options for natural water fun.
The Dells of the Wisconsin River is a state park that is one of the best hidden gems of the Midwest.
You can enjoy hiking, watersports, and swimming while taking in the natural beauty of Wisconsin.
Wisconsin Dells is perfect for all kinds of water activities, all year round, making it one of the best attractions in Wisconsin.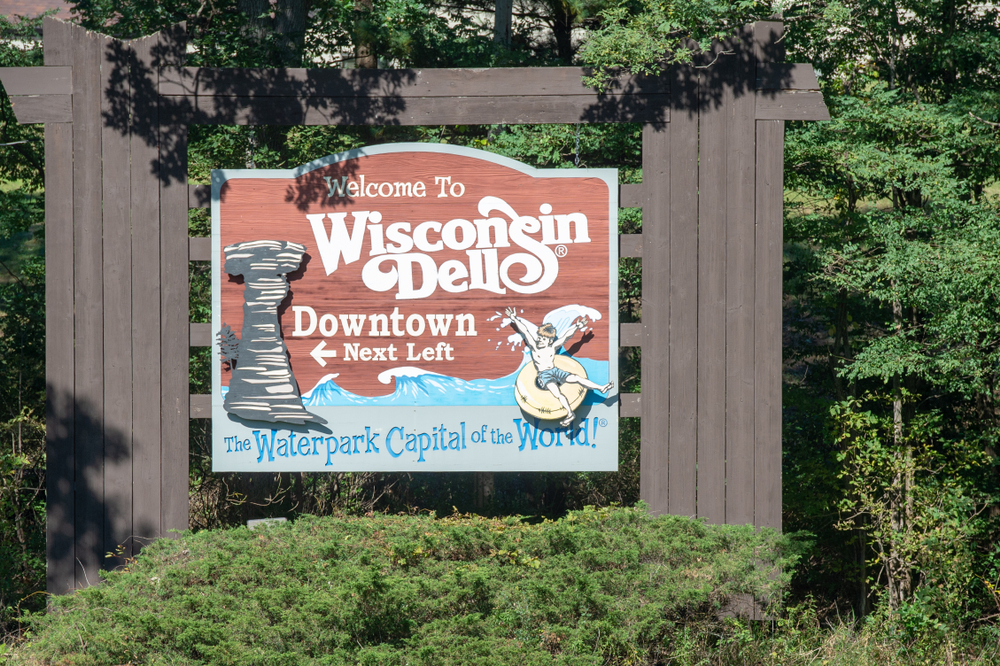 Madison
If you happen to be near Chicago and are looking to plan a day trip to Wisconsin, definitely check out Madison.
Madison is beautiful all year round, but it especially shines during the warmer months.
With five lakes, Madison is another great place in Wisconsin to enjoy water activities.
The lakes span over 15,000 acres total, and you can enjoy anything from swimming, boating, kayaking, and so much more.
There are also hiking trails around the lakes you can enjoy.
If you visit outside of the Summer months, you'll still find some great attractions in Wisconsin while you're exploring Madison.
Explore the fun downtown district where you can find unique boutique, waterfront restaurants, breweries, and even dinner theaters.
If you're wondering what to do in Wisconsin, Madison is an awesome choice.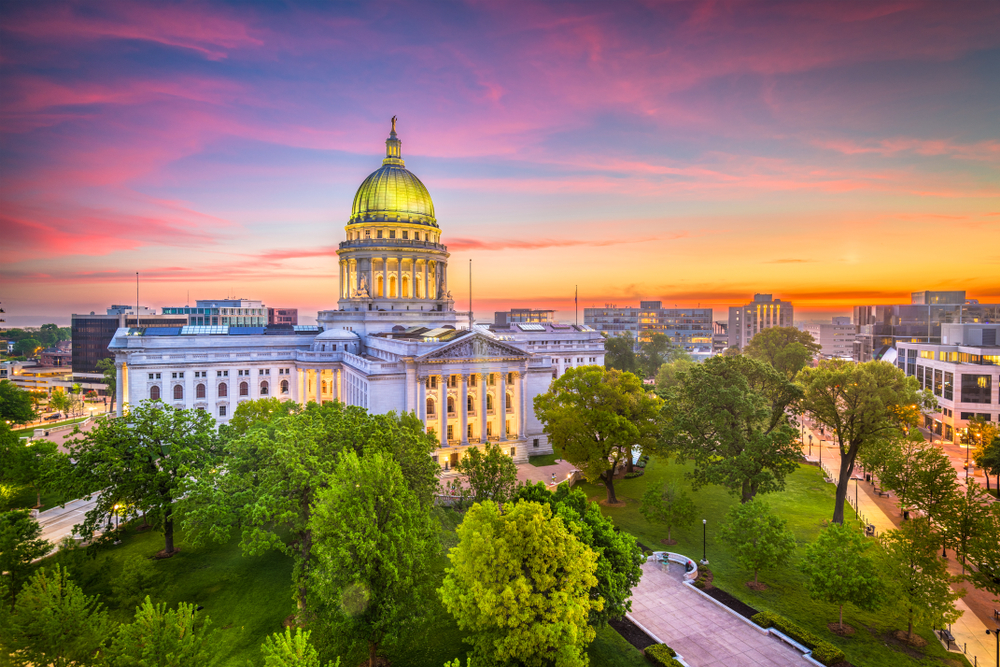 Devil's Lake State Park To Admire Fall Foliage
For those visiting Wisconsin in the Fall and looking to see some Fall foliage, head to Devil's Lake State Park.
Devil's Lake State Park is Wisconsin's largest State Park and perfect for admiring the beautiful foliage of Wisconsin in the Fall.
The best time to see the leaves is usually Mid-October, but Wisconsin's Fall foliage season can be anywhere from Late-September to Late-October.
The timing for the leaves changing colors all depends on the temperature that year.
If you do head to Devil's Lake State Park, make sure you hike to the top of one of the 500-feet quartzite bluffs that are scattered around the park.
You can't go wrong admiring the area in the Fall, and Fall foliage is one of the top attractions in Wisconsin.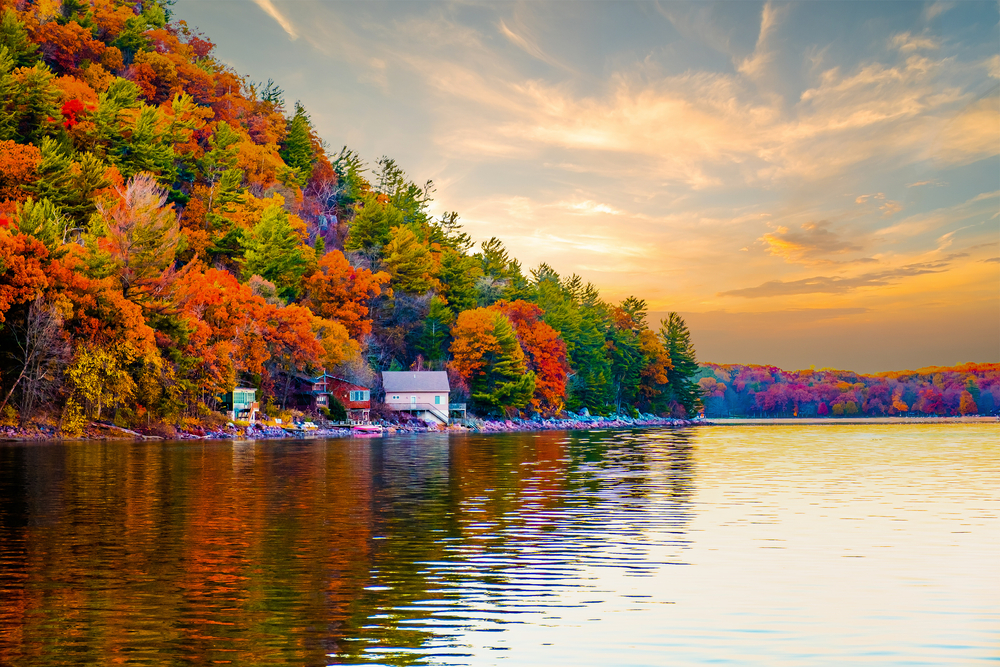 Green Bay Is Full Of Things To Do In Wisconsin For Sports Lovers
Sports enthusiasts will love a weekend getaway exploring the city of Green Bay.
Green Bay is home to the Wisconsin Green Bay Packers, the state's NFL team that has won 13 National Championships.
While in Green Bay, during football season you can try to catch a game.
Even when it is not football season, you can tour the stadium and learn more about the history of the Packers.
In the city of Green Bay there is plenty to do too.
It is a city full of delicious restaurants, unique museums, and even an amusement park.
Green Bay is full of attractions in Wisconsin for sports enthusiasts and everyone else too.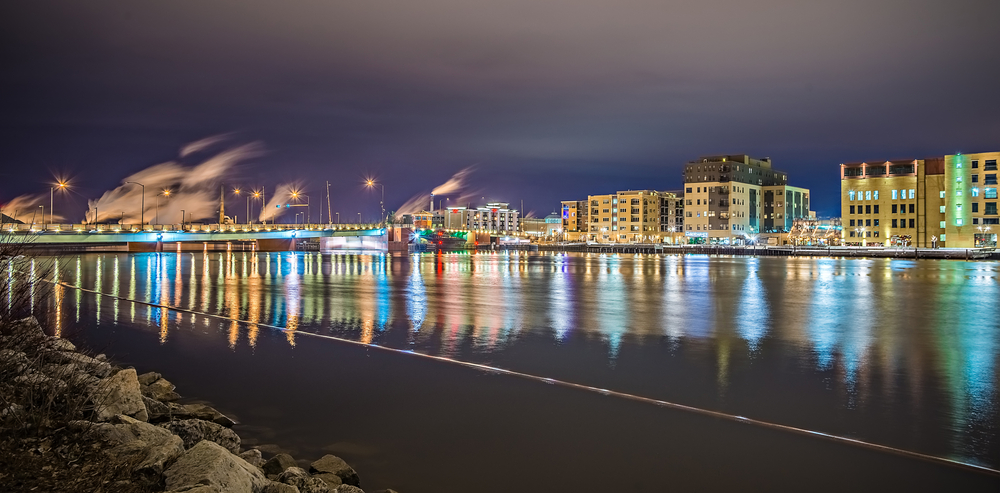 See The Algoma Historic Murals
Walldog is a artistic style that captures the essence of early mural paintings, back when they were often advertisements for various things.
In June 2007, downtown Algoma was swarmed with Walldog artists dedicated to preserving this unique art style.
The city asked them to create and also recreate murals on ten buildings in the towns Downtown area.
The murals depict historic businesses, people, and activities that left an impact on Algoma's history.
It is a dying art form, so that makes the Algoma murals even more interesting to visit.
You won't get a chance to see historically accurate murals in many other places, so I definitely suggest heading to Algoma on your Wisconsin adventure.
Door County For Romantic Things To Do In Wisconsin
Door County Wisconsin is known as one of the most romantic counties in the Midwest, and it is full of fun things to do.
If you are wondering what to do in Wisconsin on your next romantic getaway, you'll love Door County.
You can relax on the beach, explore unique museums, or tour a lighthouse.
Depending on when you visit, you can also try cherry-picking and sample some of the amazing cherry desserts in the area at one of the local restaurants.
If outdoor adventures are more your thing, Door County has those too.
Hike at the Cave Point County Park, head to one of the 35 named islands, or see the 'backbone of America' at the Peninsula State Park.
Romance is every where you look in the famous Door County Wisconsin.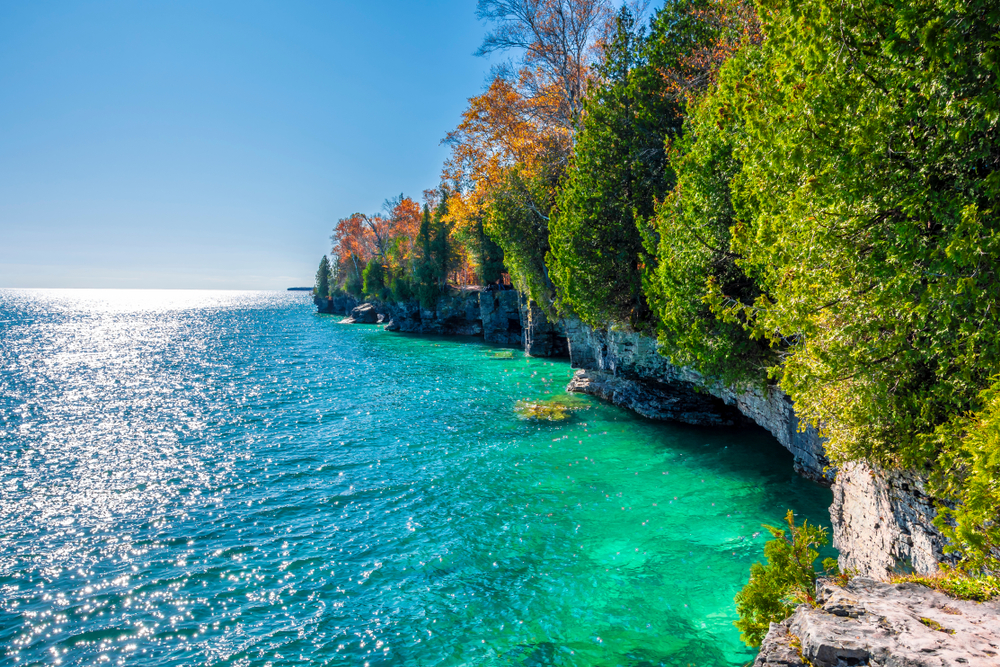 LaCrosse
LaCrosse is one of the larger cities along the Mississippi River in Wisconsin.
It's proximity to the river helped make it such a popular destination over the decades, and now it is full of fun things to do in Wisconsin.
In LaCrosse, take a Riverboat Cruise and admire the city's skyline.
You can also wander through the International Friendship Gardens where you'll find garden styles from countries all over the world.
The city also has a museum full of classic cars, a beautiful park with hiking trails and gorgeous city views, and so much more.
There are so many things to do in LaCrosse that you should definitely add it to your Wisconsin bucket list.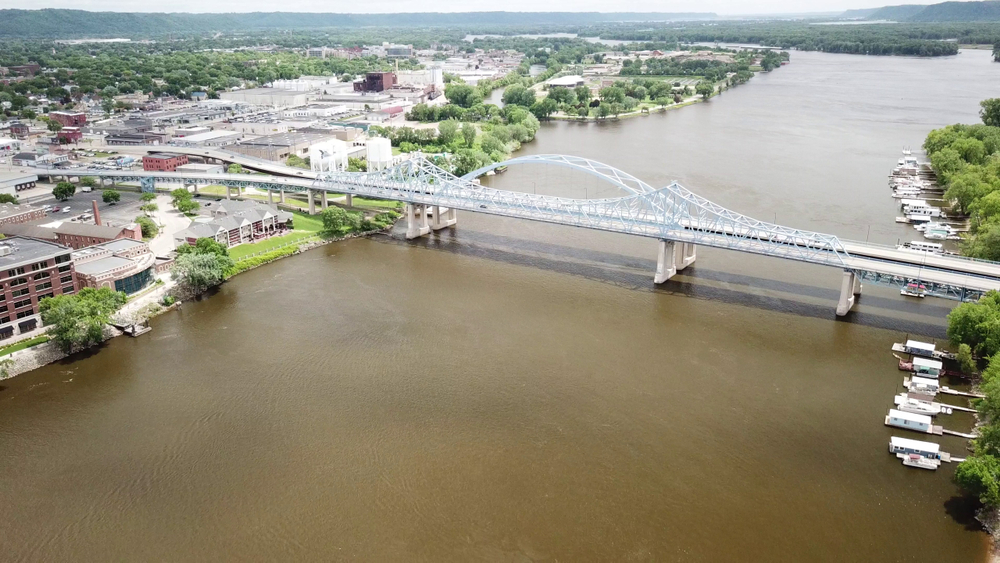 Appleton To See Harry Houdini History
Appleton is known for two things, Harry Houdini and the Mile of Music Festival.
Harry Houdini loved Appleton so much that he often claimed it as his birthplace, despite being born in Hungary.
However, Houdini's family did move to Appleton when he was a toddler, so it's safe to say it was the home he knew best.
The History Museum at the Castle has a permanent exhibit dedicated to Harry Houdini that you can tour all year long.
Appleton is also known for it's yearly music festival, the Mile of Music Festival.
It typically takes place in August and it is completely free.
The festival spans an entire mile and you can see more than 200 up-and-coming artists performing at one of the many venues along the mile stretch.
No matter when you visit Appleton, there are sure to be plenty of attractions in this Wisconsin town.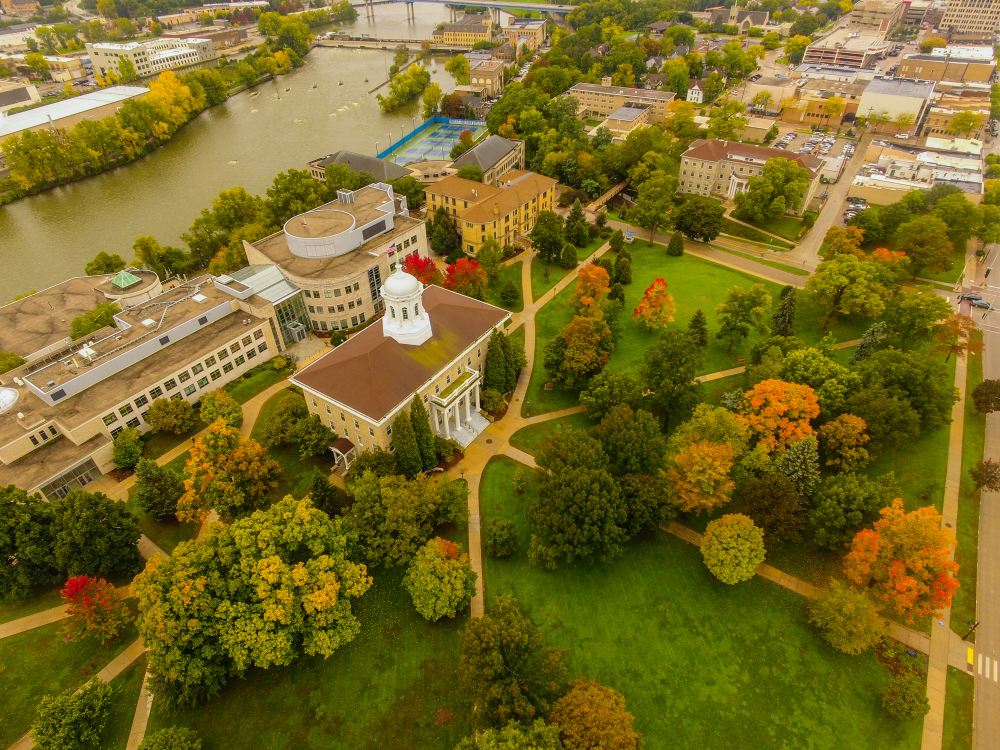 Bayfield
Bayfield is known as the gateway to the Apostle Islands, but there are plenty of things to do there as well.
The small town of Bayfield is bursting with local artisans.
You can find art galleries, art workshops, and more.
If you want to learn more about the area, head to the Bayfield Maritime Museum.
The area is also full of local wineries, farms, and charming architecture.
While you'll definitely want to explore the Apostle Islands, Bayfield is worth a stop on it's own too!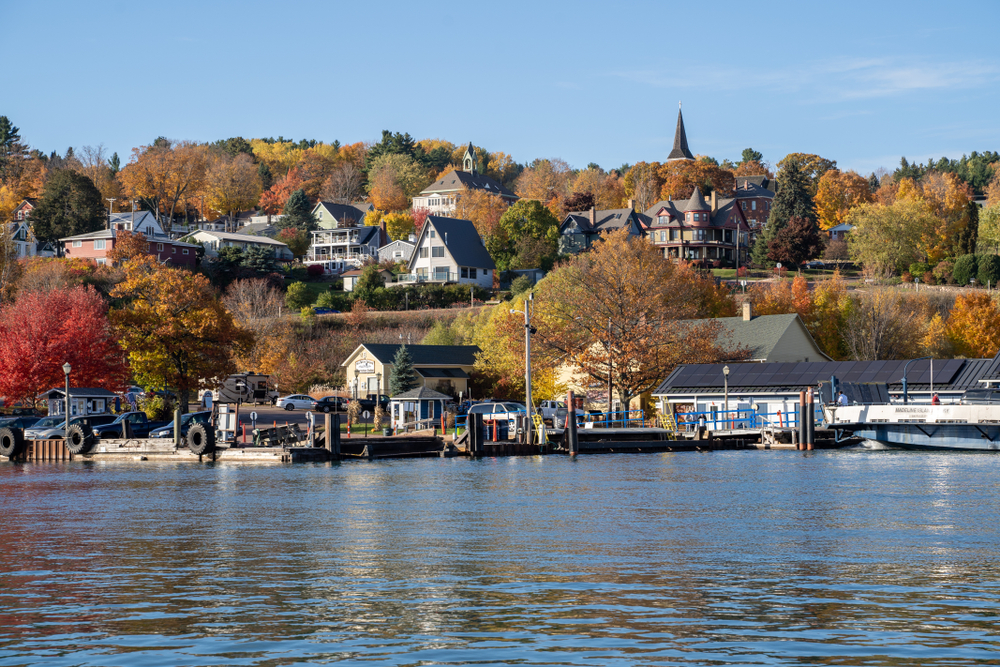 The Wisconsin Great River Road
The Great River Road runs through several US states, and one of those is Wisconsin.
It is a National Scenic Byway that has 33 small towns that you can explore along the way.
The byway follows the Mississippi River and all of the towns along the road are old river towns.
While you drive you'll learn that some of the towns along the byway are even the some of the oldest towns in Wisconsin.
If you are looking for a Wisconsin or Midwest road trip with stunning views, The Great River Road is a great option.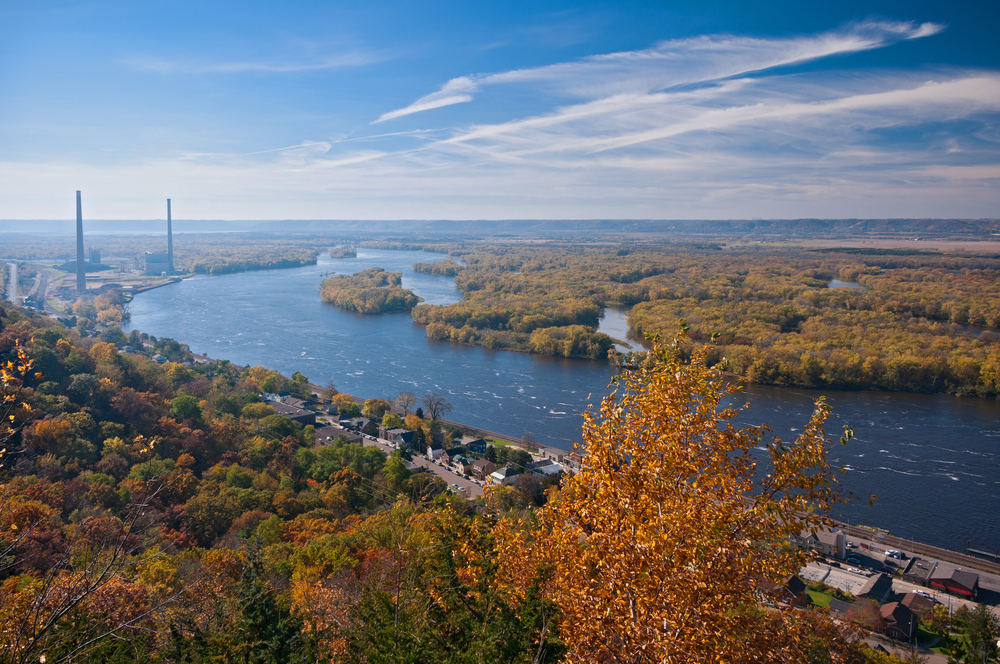 Kohler
The town of Kohler may seem familiar to you if you've ever walked the aisles of your local home improvement store.
That's because it was named after the Kohler company in 1900.
The town was originally built as a model company town, which is a town that has been specifically planned around an industry.
For Kohler that industry was all things plumbing.
Kohler is still known for it's plumbing industrial history, and you can even tour the Kohler Design Center.
You'll see a selection of both new and old Kohler designs and learn more about the companies history.
The town also has a winery, a large shopping district, and many golf courses.
It may not be the first place you think of when making your Wisconsin travel plans, but it is certainly unique.
The Frank Lloyd Wright Driving Tour Is One Of The Best Things To Do In Wisconsin
Frank Lloyd Wright is often considered one of, if not the greatest American architect.
He was also born and raised in Wisconsin.
So naturally, the state has quite a few of Wright's architectural marvels within it.
The best way to see them all is to take a driving tour through Wisconsin of famous Frank Lloyd Wright buildings.
Along the route there are nine stops, and you'll travel from Kenosha County to Richland County.
You'll see gorgeous homes, administrative and business buildings, and even a church.
This is one very cool way to have a truly unique Wisconsin travel experience.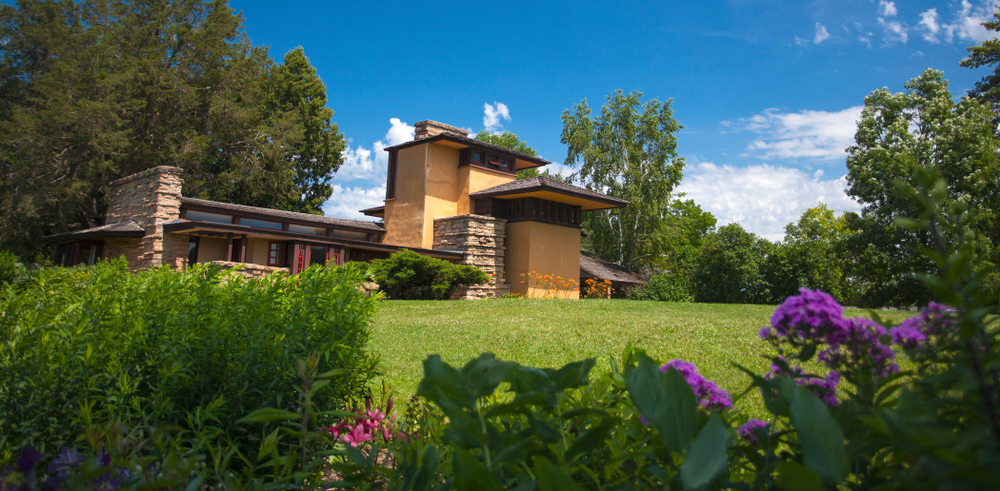 Lake Geneva Is Perfect For A Beach Vacation
For those looking for a Midwestern beach vacation, Lake Geneva is just the ticket.
The town around Lake Geneva is a charming beach town full of unique boutiques, locally owned and operated restaurants, and fun art galleries.
It has become known as a popular vacation destination for Chicago's wealthy families in the Summer.
But you don't need to be wealthy to enjoy all of Lake Geneva's many charms.
In the warmer months you can enjoy watersports on the lake like swimming, kayaking, and boating.
When there's a chill in the air, Lake Geneva is still beautiful.
You'll have a much quieter experience, but it'll still be worth the trip.
The town holds a yearly Winter Fest where you can see the only ice sculpting championship in the United States.
It is a super fun thing to do in Wisconsin in the Winter.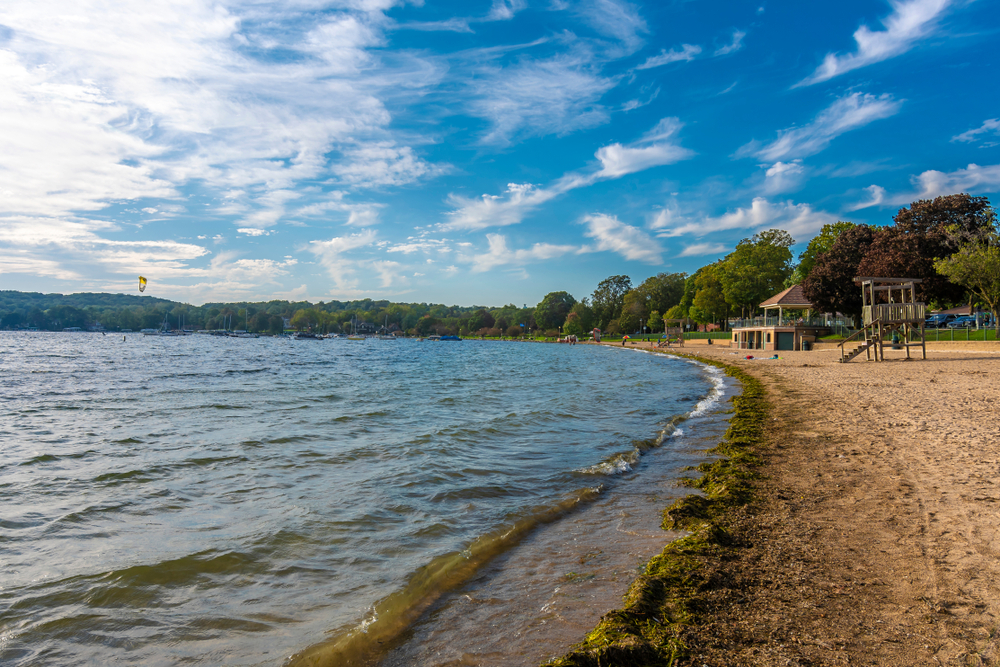 Olbrich Botanical Gardens
The Olbrich Botanical Gardens are located in the beautiful city of Madison.
With over 16 acres of outdoor garden space and a conservatory, you can easily spend a few hours strolling the grounds of the garden.
The outdoor gardens feature some very stunning landscapes and a wide selection of plants that are able to withstand the cold Wisconsin Winters.
In the Bolz Conservatory you can find exotic plants, a waterfall, and birds enjoying the warm air.
If you are looking for a unique Wisconsin attraction, you'll want to add the Olbrich Botanical Gardens to your bucket list.
Harley Davidson Museum And Factory
The Harley Davidson Museum and Factory is perfect for motorcycle enthusiasts.
Through out the world you can visit Harley Davidson shops and find souvenirs specific to that store.
The Museum and Factory is another great place to find and collect your Harley Davidson memorabilia.
You of course will also want to take the time to tour the Museum and Factory to learn all about the famous motorcycle brand's history.
While in the Museum you'll also hear the stories of bikers from across the globe who ride Harleys.
There are also interactive exhibits, a restaurant, and a bar.
You can easily spend a whole afternoon learning about Harley Davidson, the people who ride them, and the motorcycle culture they have created.
The Museum and Factory is located in Milwaukee, so make sure you add it to your list if you're planning a trip to Milwaukee.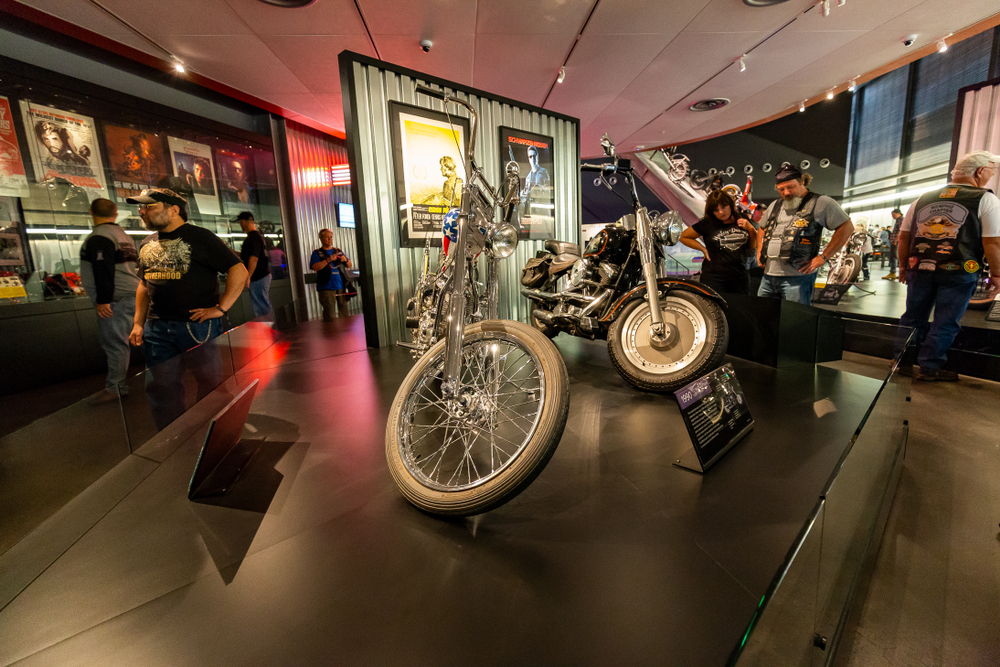 Cheese Days Festival In Monroe Is One Of The Most Fun Things To Do In Wisconsin
Wisconsin is arguably most known for it's cheese.
The people from Wisconsin, or Green Bay Packer's fans, lovingly call themselves 'Cheese Heads'.
They've earned the nickname with the state's large amounts of cheese production.
The Cheese Days Festival in Monroe is a celebration of all things cheese.
You can sample locally made cheeses, learn authentic ways of making cheese, and of course, pick your own cheeses to take home.
Its a great festival for the whole family.
There are activities for kids and adults as well as fun contests and a parade.
The Cheese Days Festival is a quintessential Wisconsin experience and that's what makes it one of the most fun things to do in Wisconsin.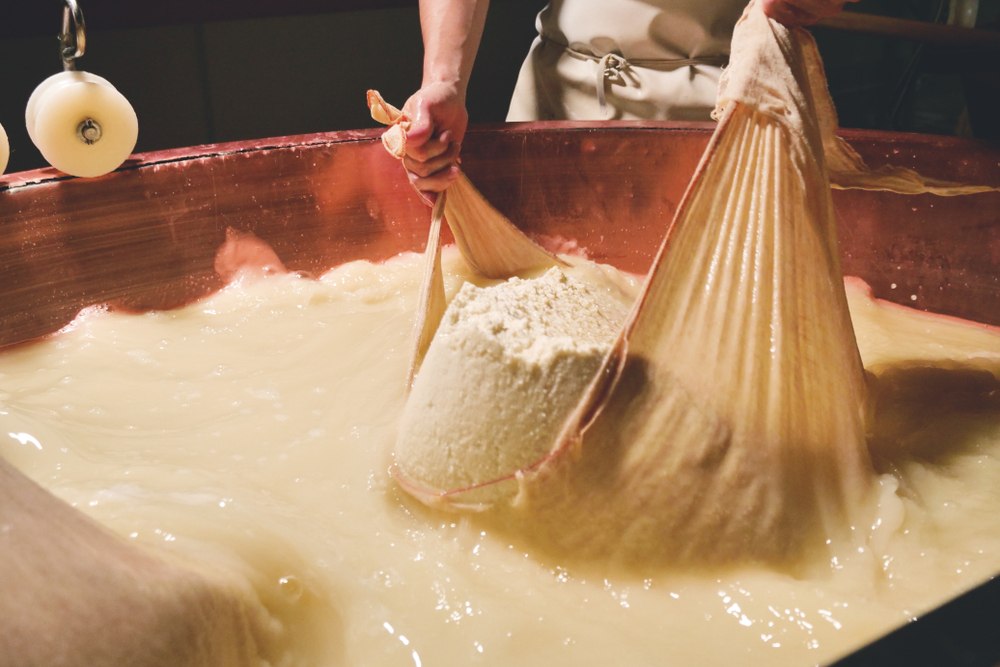 Atwater Park And Beach For Summer Family Fun
The Atwater Park and Beach is one of the most popular beaches in Shorewood, which is just outside of Milwaukee.
The beach itself isn't super big, but it is very pretty.
There are steps to get down to the shore and the water, so keep that in mind when planning your trip.
The beach also has a very large park and that's what makes it so popular.
In the park you'll find sculptures, picnic areas, and even a playground for children.
Its a great place to take the family on a warm day to enjoy Lake Michigan.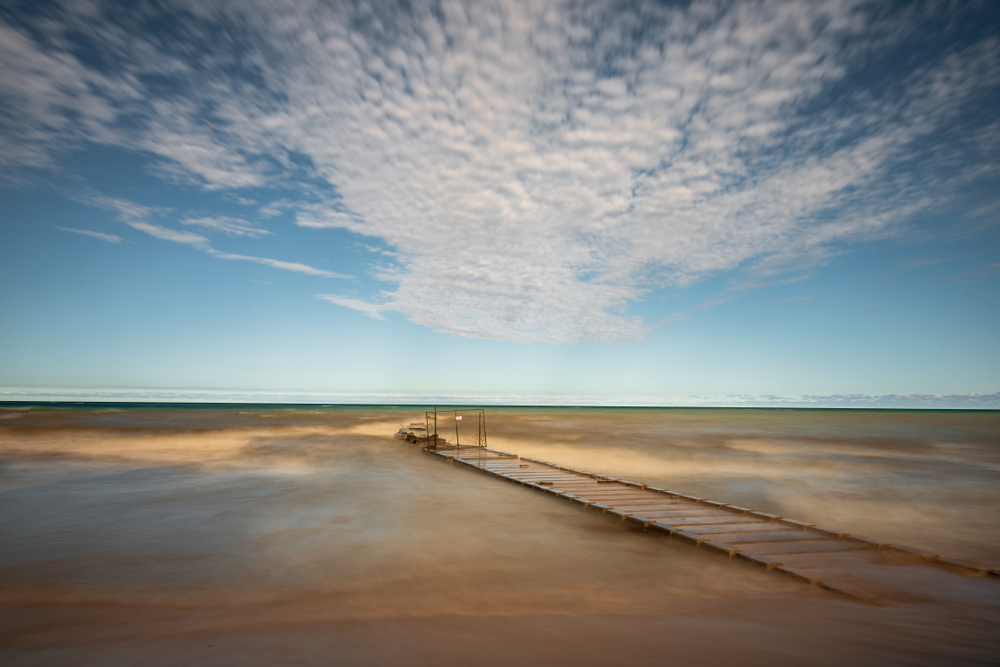 Cave Of The Mounds
The Cave of the Mounds is a National Natural Landmark in Wisconsin that is super cool.
Miles beneath the ground is a massive limestone cave system that was discovered after an attempt to turn the area into a Limestone quarry in 1939.
The owners of the land quickly discovered that there was a massive cave system that should be preserved instead of turned into a quarry.
Shortly after its discovery, in 1940, the cave was opened for visitors and since then has been a popular natural landmark in Wisconsin.
The Cave of the Mounds is a rarity in the geological world and is protected by the Natural Park Service so that generations for centuries to come can marvel at it.
It is about 25 miles west of Madison, so it is an excellent day trip if you are visiting the area.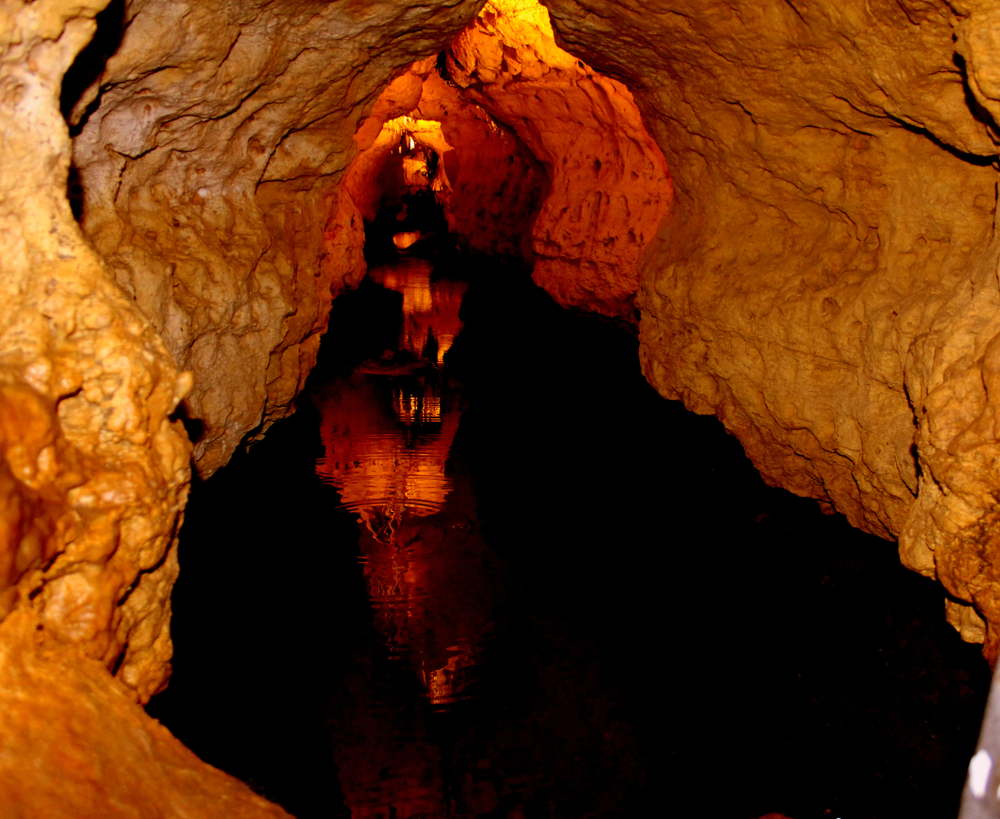 Cedarburg For A Small Town Atmosphere
Wisconsin has plenty of large cities to explore, but it also has some very charming small towns.
One of those is Cedarburg, a small town outside of Milwaukee.
What makes the city so popular to travelers is not just the small town atmosphere.
While you can of course enjoy cute boutiques and one-of-a-kind restaurants, the town is also known for it's many museums.
If you've ever been interested in what life would have been like for the first European settlers in the area, there is a living history museum you can enjoy.
There is also a museum dedicated to the town's history, an art museum, and a wool and textile museum.
After a day spent learning all about the areas rich and diverse history, stroll the charming streets to shop for locally made foods, furniture, and more.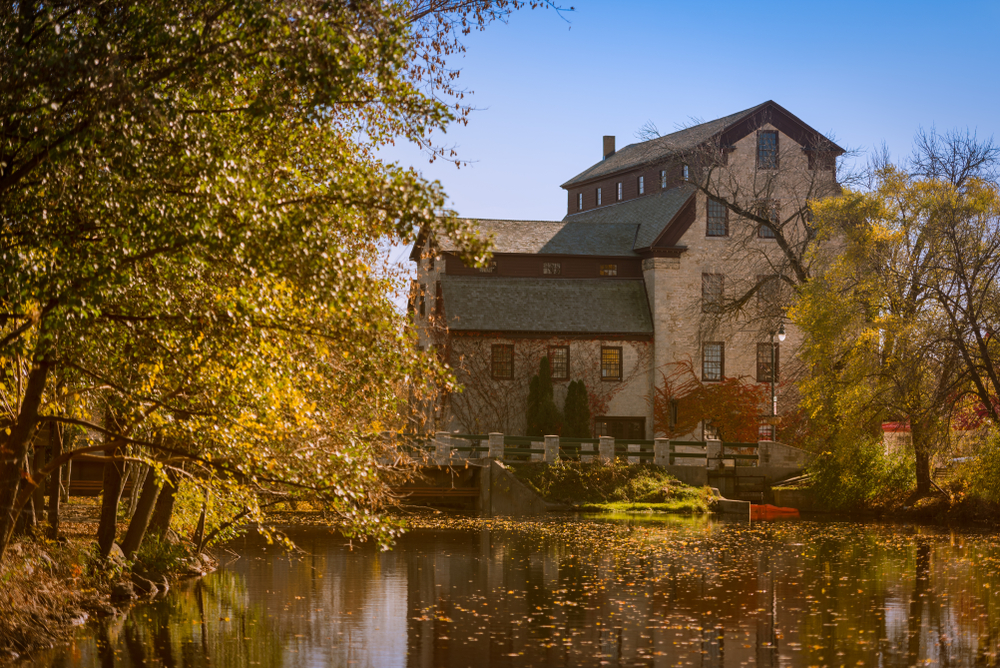 Tour The Alexander Noble House Museum
Alexander Noble was one of the European founders of the town of Fish Creek in Door County Wisconsin.
He served the community in many capacities, including as the town blacksmith and postmaster.
The home is a Greek Revival style farmhouse that was built in 1875.
In the 1990s the home was restored and turned into a museum.
Inside you'll find a depiction of Door County life from around 1875 to 1900.
It is a unique way to learn about the European history of Door County and experience life over a century ago.
The Alexander Noble home is a unique attraction in Wisconsin that is perfect for history lovers.
Apostle Islands National Lakeshore
One of the coolest National Parks in the Midwest, and certainly in Wisconsin, is the Apostle Island National Lakeshore.
The islands are just outside of the town of Bayfield and are composed of 22 individual islands.
Depending on what island you are on there are different things you can do and see.
From the islands you'll be able to see a shipwreck, explore caves along the shore in a kayak, or even see ice caves in the winter.
You can also go camping or glamping on a few of the islands, which is a very cool experience.
If you're not interested in outdoor activities but you still want to see the islands, consider taking one of the Apostle Island cruises.
On the cruise you'll be able to admire the shore of the islands without having to go hiking or kayaking.
Take A Lighthouses Of Wisconsin Road Trip
Because Wisconsin is along one of the Great Lakes, there are plenty of lighthouses you can admire.
On your road trip, you'll want to make sure to hit some of the more historic or iconic lighthouses along the Lake Michigan coast.
Start at the Northern most tip of Wisconsin's Lake Michigan shores and tour the Cana Island Lighthouse.
From there, continue South along the coast and stop at any lighthouses that pique your interest.
Some of the most famous ones are the Rawley Point Lighthouse, the North Point Lighthouse, and the Kenosha Light.
A tour of Wisconsin's lighthouses is a fun thing to do in Wisconsin that gives you plenty of opportunity to admire the shores of Lake Michigan.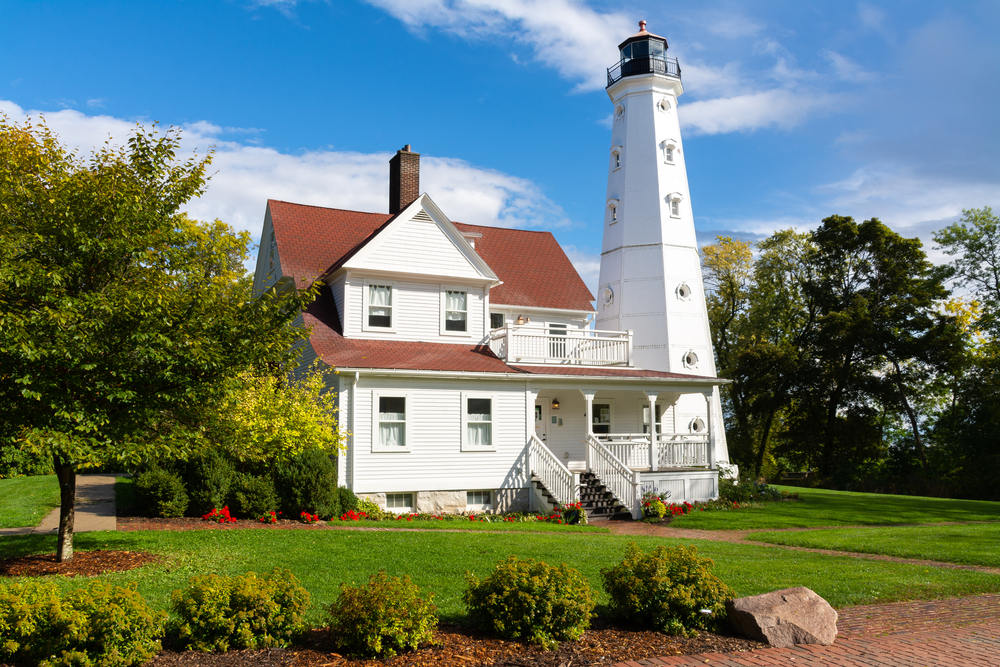 The Ice Age Trail
One of the most popular things to do in Wisconsin for outdoor adventurers is the Ice Age Trail.
The trail itself is 1,000 miles of footpath that crosses across the state and through stunning landscapes.
It is named the Ice Age Trail because it winds through an area of the state that was cut and created by a massive flow of glacial ice over 12,000 years ago.
For scientists, the area is an incredible example of how continental glaciation changed and formed the Earth.
You can pick up the trail in multiple spots across the state, so you don't have to walk the whole thing to experience it's beauty.
You'll walk through mountains, fields of flowers, and dense woods and other landscapes that quickly change thanks to that ancient glacier.
If you're wondering what to do in Wisconsin and you enjoy hiking, you absolutely have to hike a portion of the Ice Age Trail.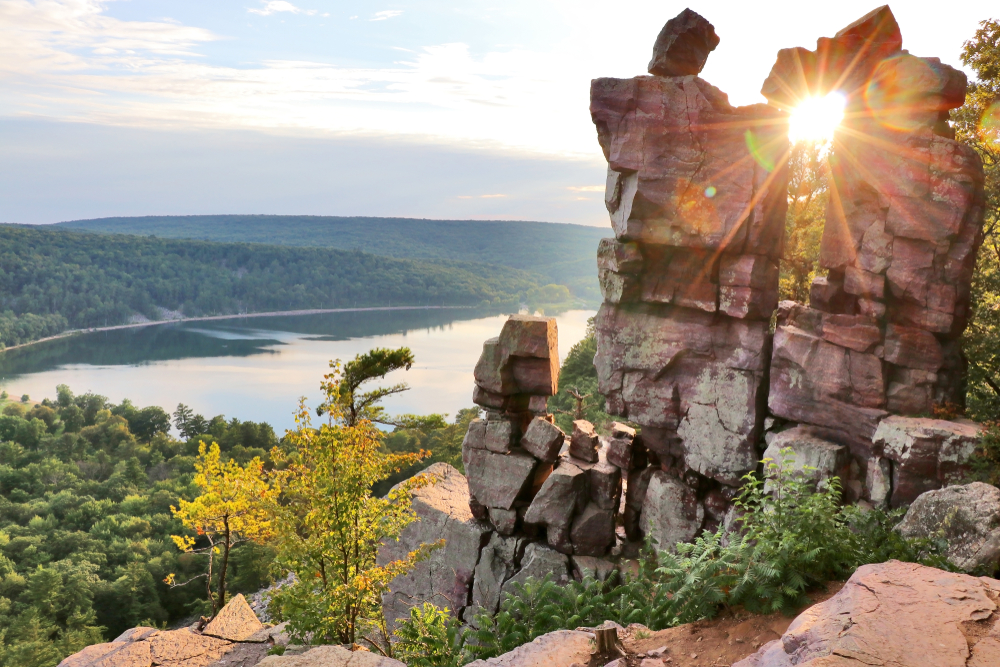 Bradford Beach Is A Unique Urban Beach In Wisconsin
Bradford Beach is not your typical quiet sandy beach.
It is sandy, and it may be quiet at times, but as an urban beach, there is always something to do there.
Depending on when you visit, you can try a yoga or CrossFit class before taking a dip in the water.
You can also rent a cabana, enjoy a drink at the tiki bar, or get your friends together for a game of volleyball.
Bradford Beach is located in Milwaukee's East Side Neighborhood, which is quickly becoming a popular neighborhood in the city.
If you're looking for a very different beach trip, then Bradford Beach is probably perfect for you.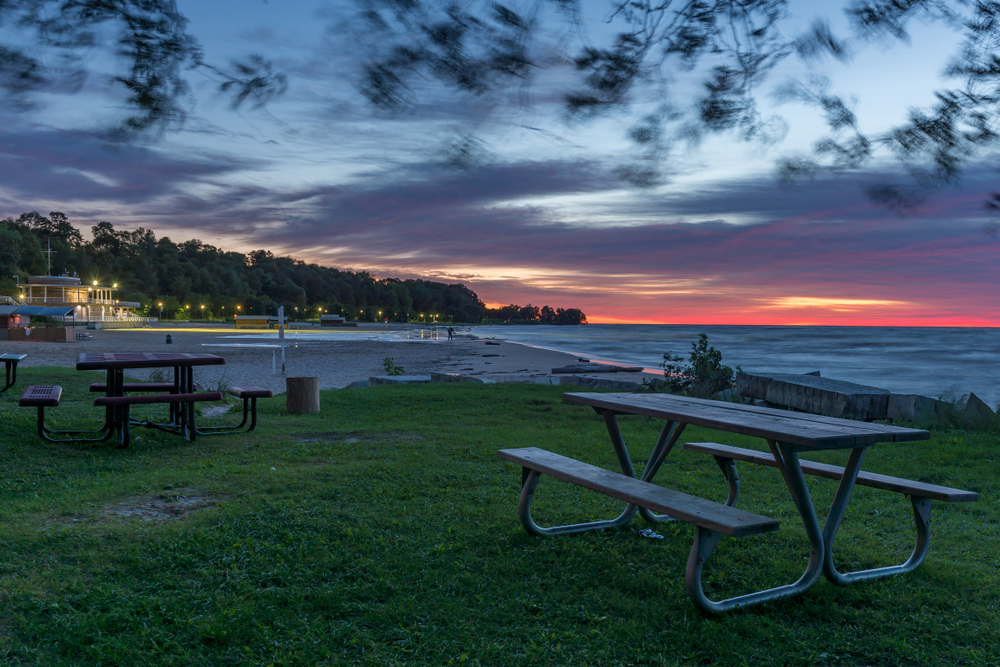 There are just so many fun things to do in Wisconsin that it's hard to pick just one.
I hope this list has shown you how diverse and unique Wisconsin can be, if you just know what you're looking for.
Have you done or seen any of these Wisconsin attractions?
If so, or if you're planning to, I'd love to hear about it in the comments!