Are you thinking of spending fall in Wisconsin? If so you are in the right place. In this article, I will show you where to see fall colors in Wisconsin and give you all the information you need for your trip. 
Wisconsin is a great state for seeing the fall colors and the second week in October tends to be the peak time to see the colors of autumn.
The fall colors may peak earlier or later depending on the weather and the northern part of the state may peak a little earlier.
So always do some research before you plan your trip, as there are many variables involved.
Whether you want to take a road trip, see the colours from a vantage point or visit one of the cute small towns I've covered them all.
While I know there are lots of places to see Wisconsin fall colors I have picked ones that offer a variety and are great destinations to allow for a scenic Wisconsin road trip.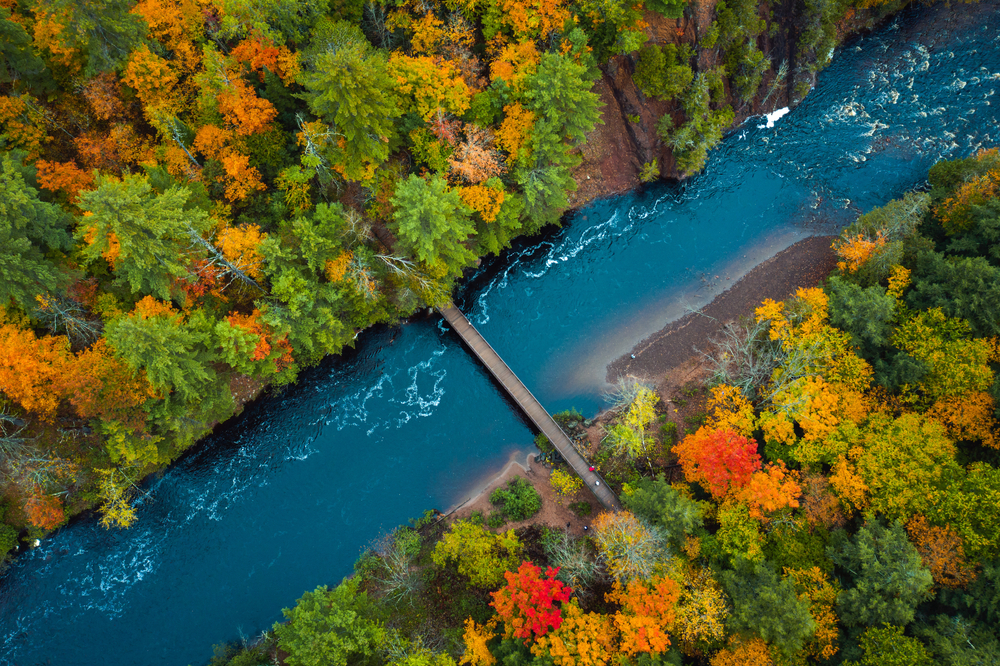 15 Best Places To See Fall In Wisconsin
Blue Mound State Park
Fall colors in Wisconsin do not get much better than this. Blue Mound State Park contains the highest point in southern Wisconsin.
And this is the place to go for a great view of fall colors in WI.
The park also offers 20 miles of scenic Wisconsin hiking, off-road biking, and a family campground. Make a weekend of it and enjoy the great outdoors.
The highest elevation here is from the 1,719-foot mound and there are also a couple of observation towers. The park is a beautiful place to spend some time in the Wisconsin fall because the colors of autumn are spectacular.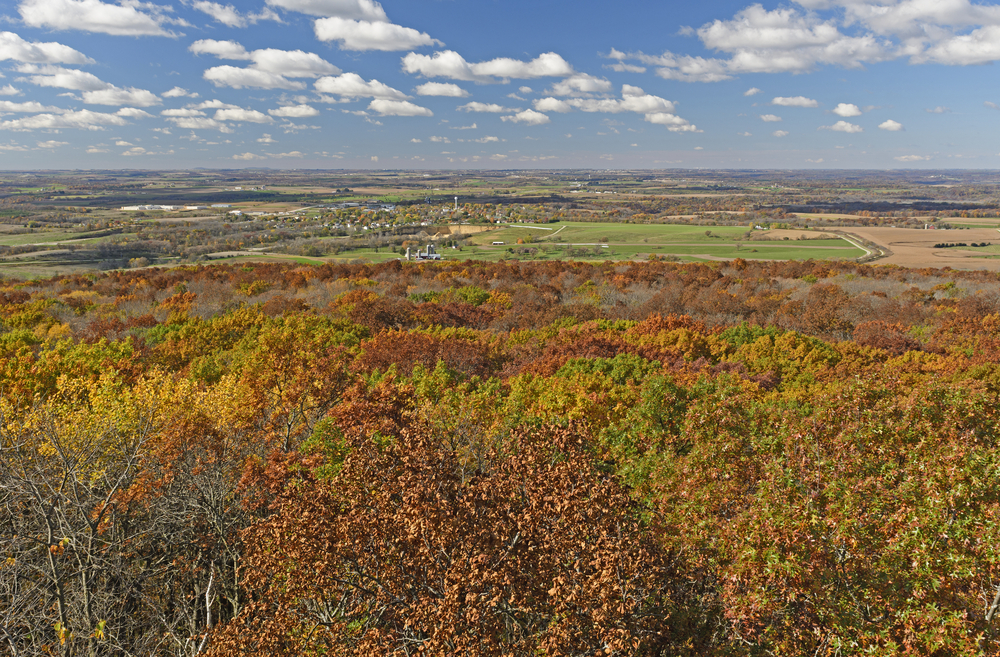 Maiden Rock Bluff State Natural Area
Near Stockholm, you will have to work for the view here but it is worth it. The best lookout is from a 400-foot bluff above the Mississippi River.
The Maiden Rock Bluff overlooks Lake Pepin and the limestone cliffs are spectacular. The sunsets here are also incredible.
The area itself doesn't have a huge amount of trees however the bluffs in the south have a lot of foliage.
This is also one of six spots in the state where the peregrine falcon naturally nest so keep an eye out.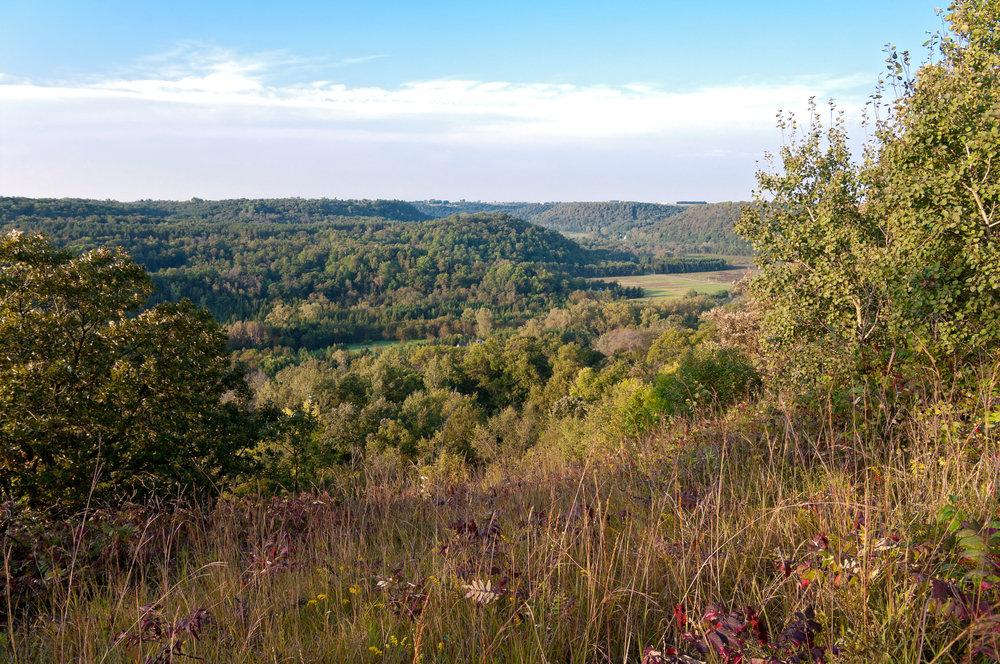 Sister Bay
No one knows how to do fall in Wisconsin as well as Sister Bay. They love fall so much they hold a fall festival.
With a beach, marina and incredible sunsets it's no surprise that people flock here.
The best fall colors can be seen in the stretch of highway 42 between Sister Bay and Northport. This trip takes in the famous Jens Jensen Winding Road.
There are so many things to do in Door County you might want to consider going here. Sister Bay is a great place to see Wisconsin fall colors while also staying at a stunning location with lots to do.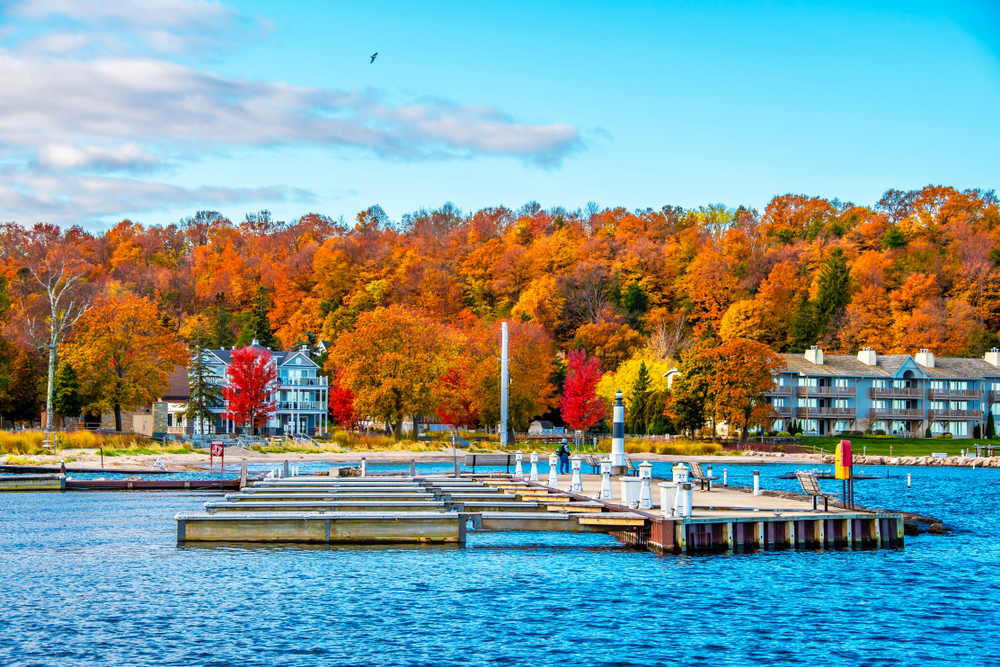 St. Croix River For Epic Wisconsin Fall Colors
A National Scenic River St. Croix is a tributary of the Mississippi River. It is over 169 miles long taking in parts of emWisconsin and Minnesota.
The river is a mix of smooth water and medium rapids. I recommend visiting the cute Wisconsin town of St. Croix Falls as the lower portion of the river here is open to commercial traffic.
The best way to see the colors of fall here is from the water so get a boat or a kayak and paddle around marveling at the colors.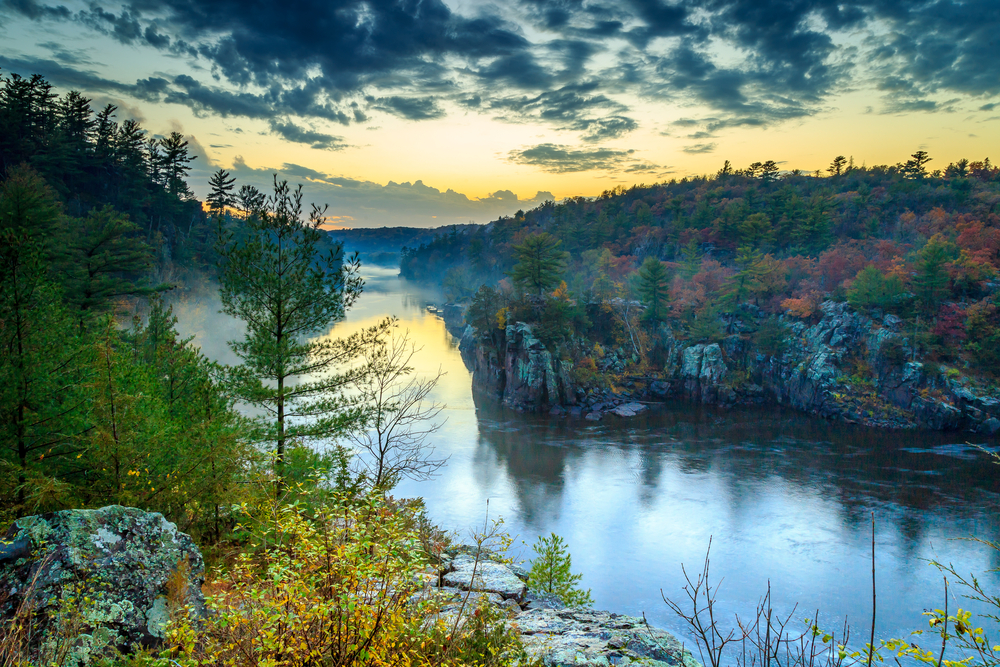 Lakeside Park Lighthouse
Climbing to the top of this 40-foot-tall working Wisconsin lighthouse is a great way to experience fall in Wisconsin.
The view of Winnebago and Lakeside Park is stunning and the lighthouse is the most-photographed structure in town. The lighthouse was built in 1933 and is open from 8am to dusk.
Oh and entry is free which is an added bonus.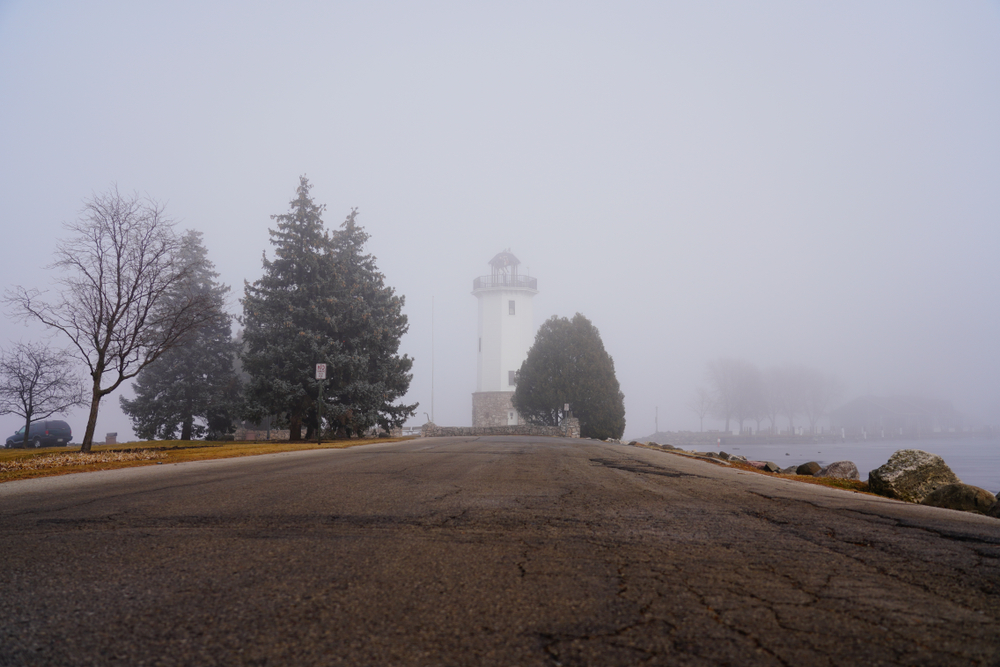 Great River Road And Trempealeau
In western Wisconsin, you will find the states only National Scenic Byway. The Great River Road stretches across 10 states and the Wisconsin part is one of the best places to visit in the fall.
The National Scenic Byway stretches' 250 miles along WIS 35 in Wisconsin. It takes in 33 river towns and the scenic overlooks along the route are stunning.
It's a great way to get the best of fall colors in Wisconsin.
The town of Trempealeau is a great place to visit in Wisconsin if you want to make a weekend of it.
This area is stunning and has an abundance of hiking destinations for you to really get among the trees and see the fall colors up close and personal.
Trempealeau was named by the French and is said to mean "Mountain with its Foot in the Lake" which gives you an idea of what to expect here.
The sunsets are also breathtaking in this area.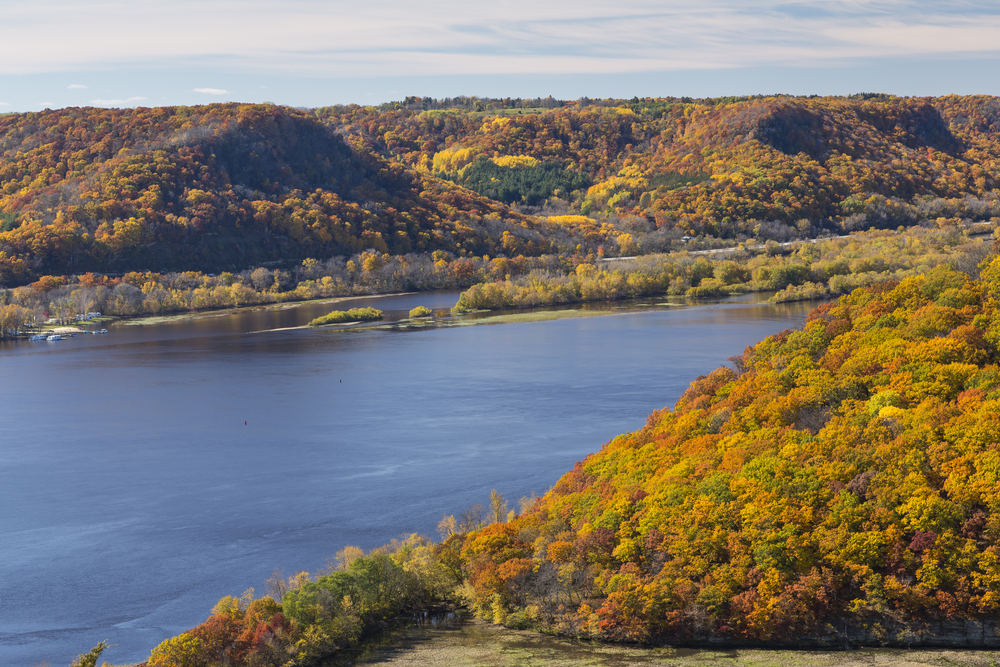 Copper Falls State Park
With over seventeen miles of trails, Copper Falls State Park is a great place to see fall in Wisconsin. Also, you have the added bonus of seeing one of the beautiful waterfalls in Wisconsin.
With ancient lava flows, deep gorges, and spectacular waterfalls this is one of the most picturesque state parks in Wisconsin.
In fall it looks spectacular, the autumn leaves turning a sea of vibrant reds, yellows, and oranges.
The most popular trail to see the colors is the Doughboys Nature Trail, which is 1.7 miles long. It's the best trail to walk easily and see the waterfalls and fall in all her glory.
For a really great view of the area climb up the observation tower which is close to the Doughboys Trail.
If you want to spend longer at the park there are some longer hiking trails and some great mountain biking trails. It is one of the best places to visit in the fall.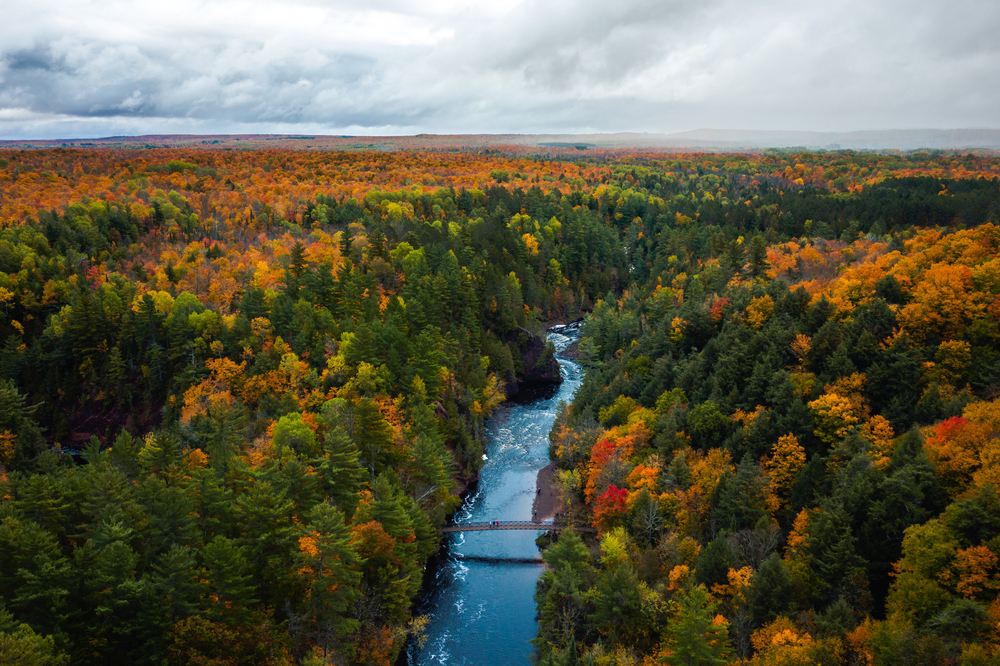 Holy Hill National Shrine Of Mary Church
It might seem odd to be including a church in this list, however, the view from the bell tower is sensational.
It has become somewhat of a pilgrimage for locals to come here to view the autumn foliage.
The best view is from the 192 feet tower which provides a bird's-eye view of the colorful trees below.
The church is also a beautiful neo-Romanesque church built in 1926. Stay a while and admire the church.
Located 45 minutes outside of Milwaukee in Hubertus the church is open May 1 through October 1. It is a perfect Wisconsin weekend getaway!
I am not sure any view of fall in Wisconsin gets much better than this.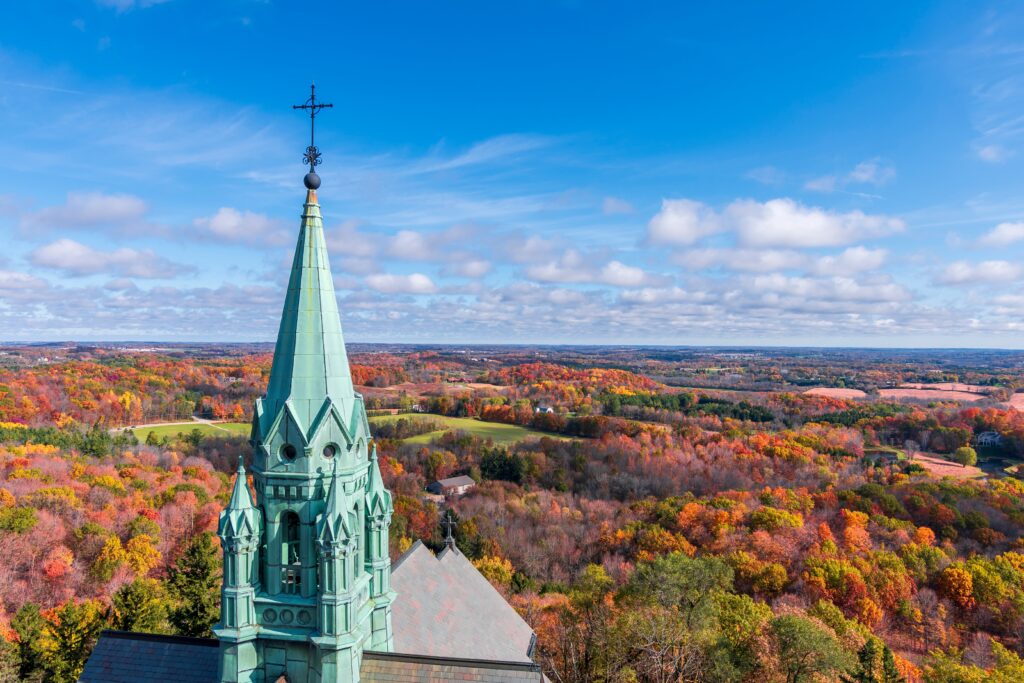 Peninsula State Park
The Peninsula State Park offers a lot. This 3,776-acre park has lighthouses, beaches, hiking trails, and the fall colors here are amazing.
It can get windy in the park so make sure you dress accordingly and hiking shoes are a must here.
You will also need to carry your own food and water as there are no food facilities inside the park.
The best way to see the colorful canopy is to hike around the park but if that does not interest you, there is a scenic drive.
There are several high points to get a good view and Weborg Point offers a view of the lake and the forest.
Peninsula State Park is located in Fisc Cree, one of the pretty villages and towns in Door County.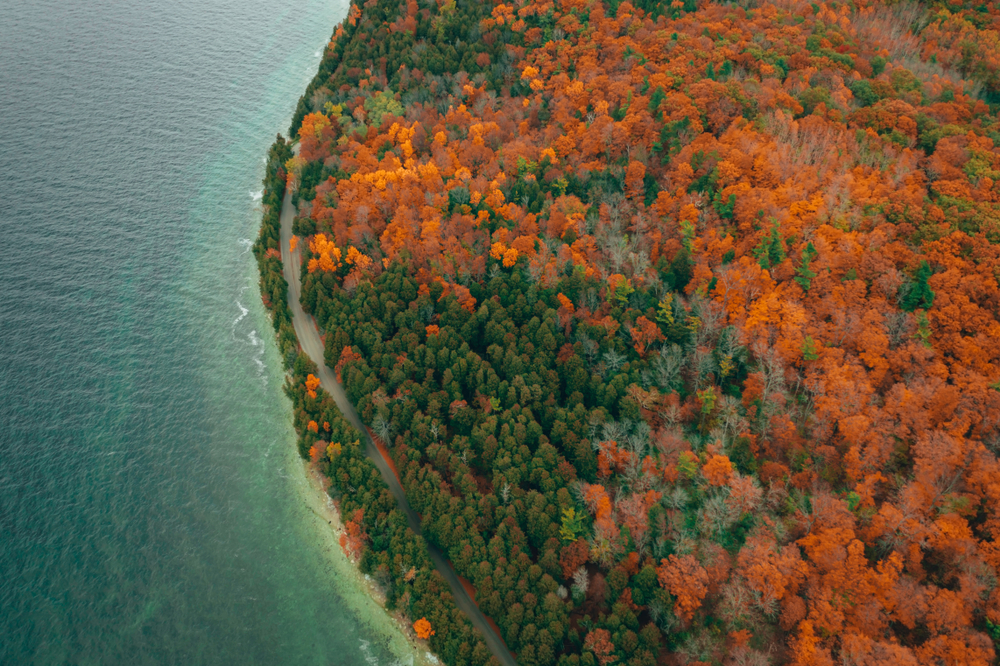 Devil's Lake State Park
Devil's Lake State Park is one of the best places to see fall in all her glory. Wisconsin's largest state park offers some magnificent views.
Mid-October tends to be the best time to see the colors of autumn at their best. To get the best view climb to the top of one of the 500-foot Quartzite bluffs.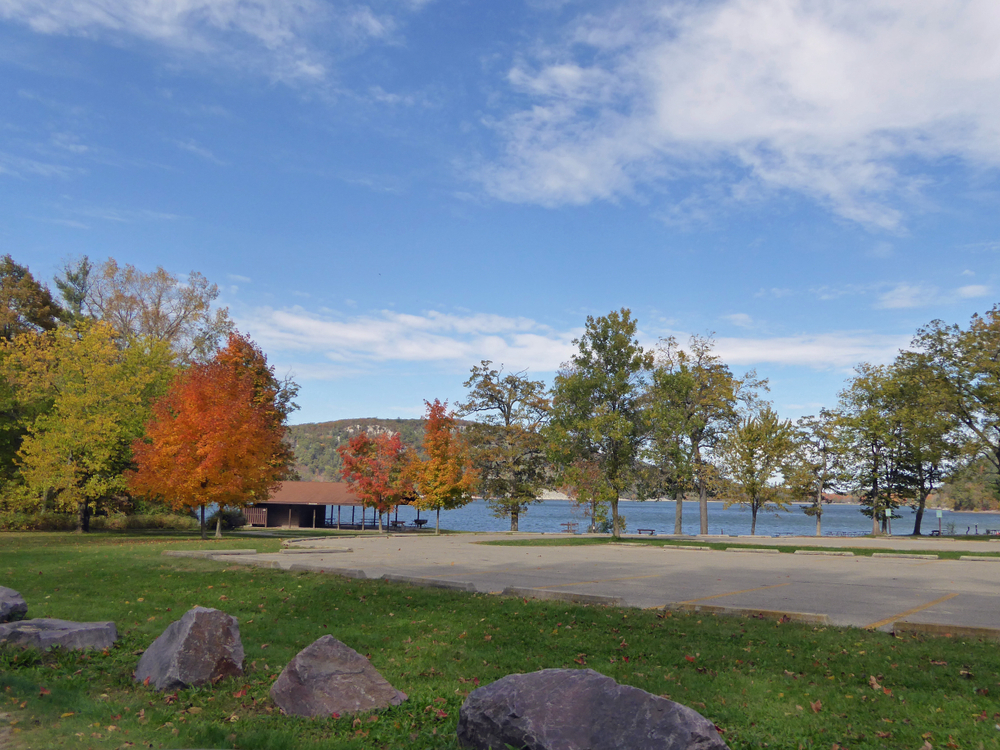 Rib Mountain State Park
Fall in Wisconsin does not get much better than this. At the highest point miles and miles of color stretches out in front of you.
This state park is actually a billion-year-old hill and is one of the oldest geologic formations on earth.
With hiking trails, places to picnic, and an amphitheater this park has a lot of fun things to do in fall. . The views of the Wausau area and Wisconsin River are just spectacular.
Make sure while walking around that you stop at the observation points as the views are just stunning. For the best view head straight for the 60-foot observation tower.
The south side of the park tends to be less busy if you want to strike it out alone. The park is open from 6 a.m. to 11 p.m.
This is a spectacular location to experience fall in the Midwest.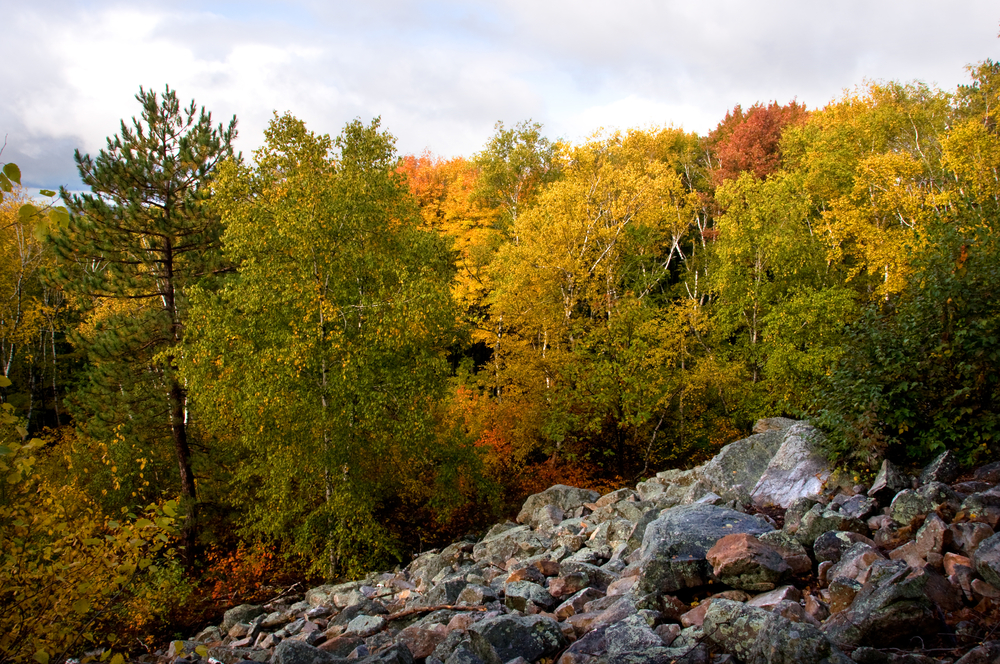 Sturgeon Bay
Located in Door County this area is an incredible summer destination but come fall not much tops this place. It is picture-perfect.
Here in fall, you can see every shade of red, orange, and yellow all with a backdrop of small town charm. The natural beauty and historical architecture seem to blend seamlessly.
The bay and boats only add to its magic. This is truly one of the stellar romantic getaways in Wisconsin!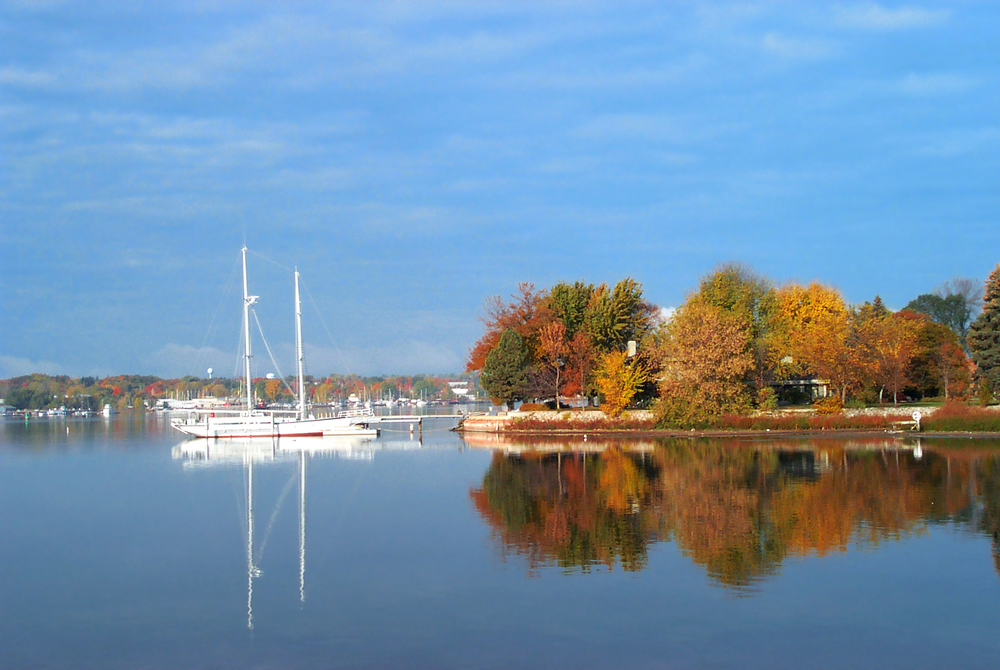 Perrot State Park
With 1200 acres in the beautiful Trempealeau County, Perrot State Park has so many colors of autumn to share with you. The park is known for its natural, archaeological, and historical resources.
With countless trails to explore and the 24-mile Great River State Trail for cyclists you won't run out of things to do here.
Most believe you get the best view of the Mississippi here from the 500 feet high buffs. The views are a climb by they are well worth it.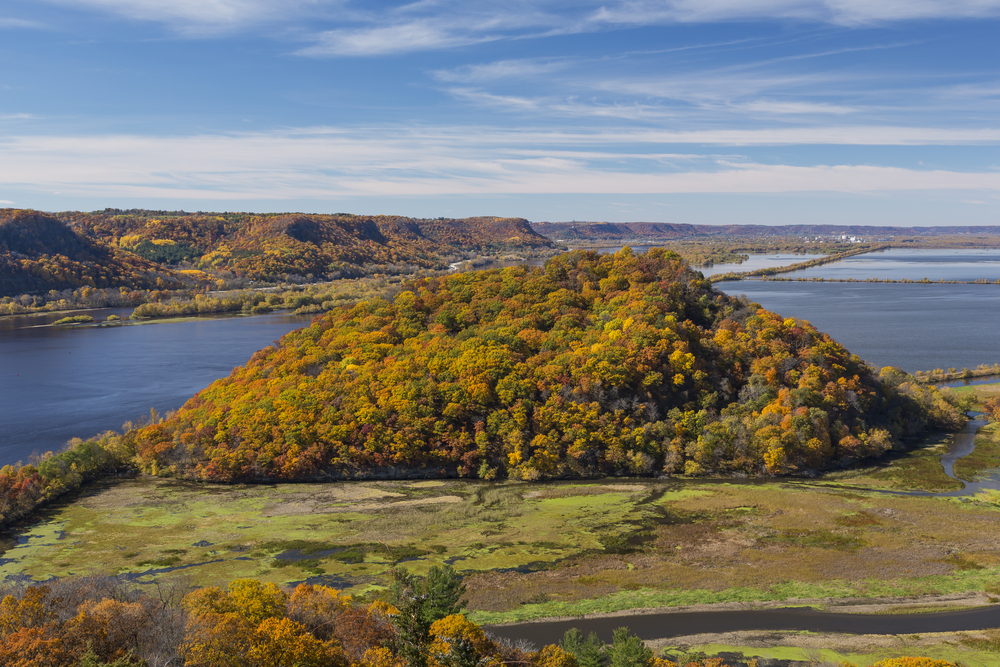 Parnell Tower Is One Of The Best Places To Experience Fall In Wisconsin
Located in the Kettle Moraine State Forest, Parnell Tower is a quick and easy way to experience fall in Wisconsin. On a clear day, you can see twenty-five miles from the top of the tower.
The tower is a 60-foot wooden observation tower and is on the Parnell Tower Trail which is a 3.5 loop trail from the parking lot.
The view is worth the short walk. As you look down on the forest and surrounding farmland below the Wisconsin fall colors just explode before you.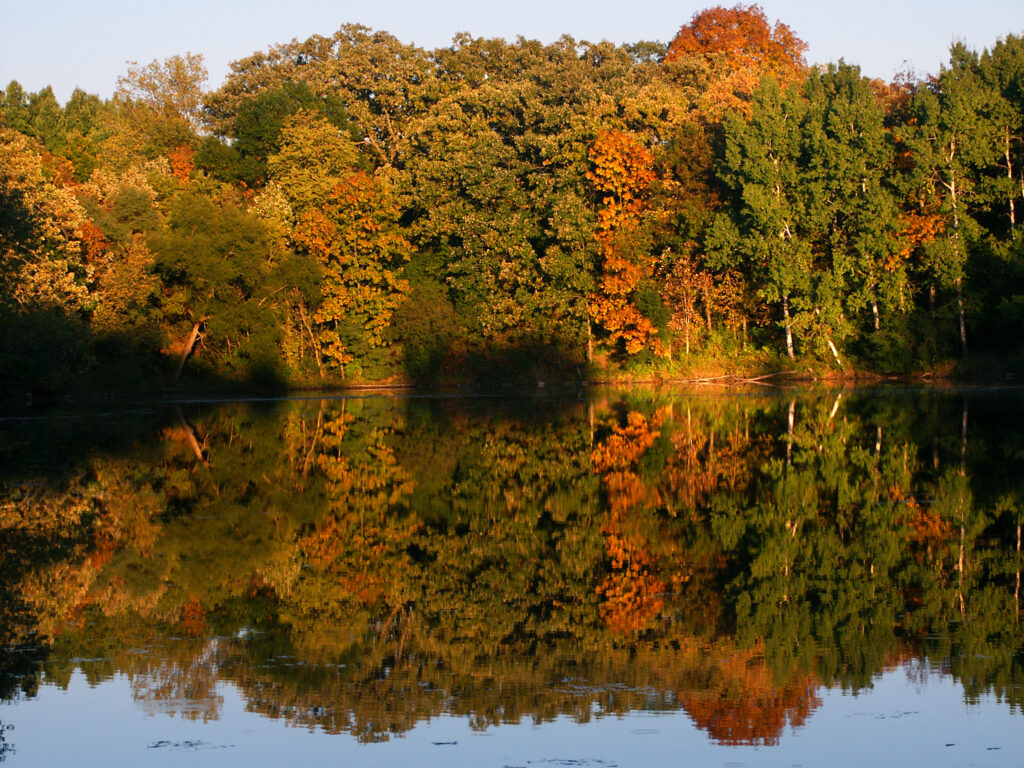 Lake Geneva For Lots To Do In Fall In Wisconsin
Named after the lake, there are so many things to do in Lake Geneva!
This area is full of grand estates, boutique shops, some of the best wineries in Wisconsin, and the fall colors are amazing.
There are many ways to see fall in Wisconsin here from the ground up to in the tree canopy.
Walk around the lakeshore, take a scenic drive on Rustic Road Trail 11, enjoy a lake cruise, or zipline through the tree canopy.
This place has everything for a great day out. A beautiful lake, lots of mansions, outdoor activities and all the fall colors you could wish for.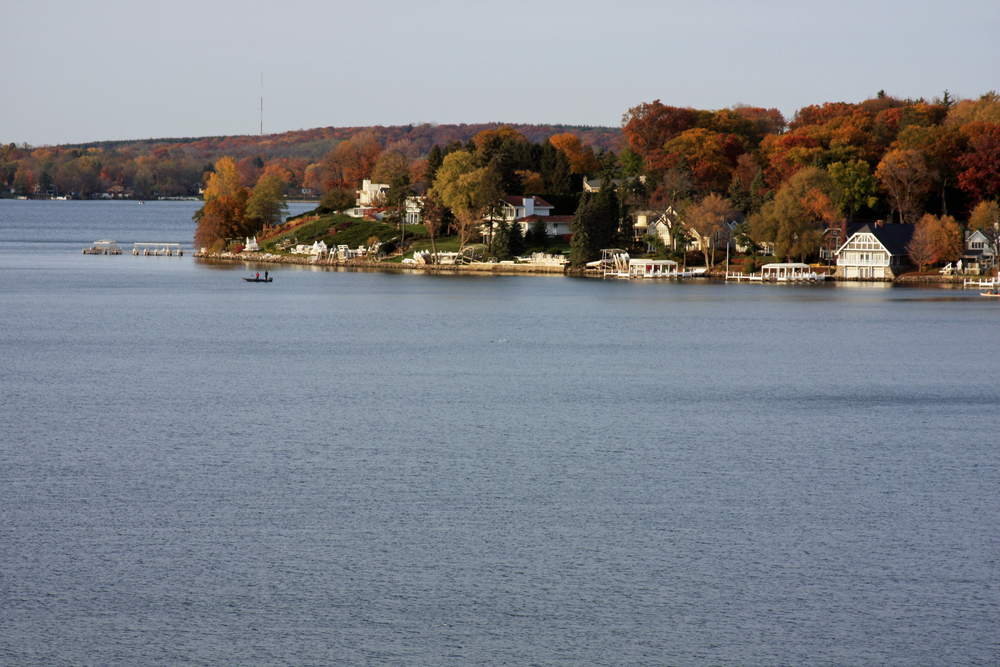 Packing List When Viewing Fall Foliage In Wisconsin
A concealed travel pouch may be one of the most important items you bring along when looking for fall colors in Wisconsin. It is always important to protect our personal information.
Read some tips on how to pack lightly here.
This unisex RFID blocking concealed travel pouch is lightweight and comes in several colors. It has lots of organization to give you peace of mind.
If you have a pouch already that does not come with the RFID protection, as I do, these RFID sleeves are the perfect solution.
This configuration comes with enough passport and credit card sleeves that the entire family would be protected. They are slim too, so they will easily fit into your pouch or wallet.
If you are planning on taking a lot of pictures with your phone you will definitely want to consider an external charging battery. This Anker high-speed phone charging battery is the exact one I carry with me on all of my trips.
It can be used on a variety of phones, not just an iPhone like I have. And wow is it fast!
I like that it holds its charging capabilities for several uses so I do not have to worry about it while out and about, and if I forget to recharge it at night, it will still be good to go the next day.
My daughter gifted me with this FugeTek selfie stick and tripod setup for my birthday. I absolutely love it! It is made of lightweight aluminum and is so easy to use.
It has Bluetooth connectivity and is a breeze to use for group shots or that perfect selfie!
I was not a fan of packing cubes until I started to use them! This is the exact set of packing organizers I use whenever I travel.
Hydration is so important. You want to remain hydrated to support your immune system which in turn will be stronger to fight off any germs you will encounter during your travels.
You will want to bring your own refillable water bottle with you.
I never leave home on a trip without my Bobble filtration bottle. The 18.5-ounce size is perfect for travel and it fits nicely in the pocket of a backpack or your purse.
Perhaps you are traveling a long distance and packing space is a premium in your suitcase, or in your car.
Then this collapsible silicone foldable water bottle would work well for you. Would not take up much space at all.
You will want a backpack or daypack with you to store snacks, your water bottle, phone, extra clothes, etc… This foldable water-resistant backpack would be great.
It is very affordable and is available in many color options for you to choose from. The fact that it folds down into a zippered pouch will make it easy to pack.
Perhaps you need a more substantial backpack for your travel. This antitheft backpack has a charging port, is water-resistant, and can comfortably carry up to a 15.6″ laptop.
You will be walking more than usual while looking for things to do in Youngstown. A sturdy and comfortable pair of walking shoes are a must-have.
These waterproof all-season shoes are extremely affordable and yet fashionable.
Mostly everyone is familiar with the Skechers brand, and these Air Run high fashion sneakers come in a lot of colors to match your outfits and are still affordable.
If you are visiting Ohio in warmer weather, maybe you want a pair of sandals to wear to dinner or to the local cafe, I highly recommend these Vionics adjustable strap orthotic sandals.
I have several pairs of Vionics that I bring with me *everywhere* I travel. They are very comfortable and have orthotic footbeds that cradle and support your feet.
We all need to protect our eyes from the sun's harmful UVA/UVB rays. These unisex polarized sunglasses come in a lot of lens colors and frame designs and are extremely affordable too.
If you are fond of the aviator-style of sunglasses these polarized aviators may interest you.
If you are in need of new luggage, this expandable soft side spinner luggage is affordable and comes in lots of colors.
If you like hard-sided better, then you may favor this hard-sided luggage set better. Both sets come with TSA locks and 8 wheels per piece.
Cannot underestimate how often having a set of TSA-compliant luggage locks. They are good for both checked bags and carry-ons as well.
—
I hope this article will help you in planning to see Wisconsin fall colors. Fall in Wisconsin is beautiful and viewing it from one of these spots will be spectacular.
Please come back and let me know how your experience went viewing fall in Wisconsin.
And if you are from the area and have any tips please put them in the comments so everyone can see them.