Searching for the best places to experience fall in the Midwest?
I am a Midwesterner, born and raised in Ohio. I can tell you that autumn in the Midwest can be breathtaking and worth your time and effort.
Peak color periods in the Midwest depend on the weather. Chilly frost-free nights and warm sunny days affect the timing of the fall colors of the Midwest.
Also, different trees color at different times during the months from late September to late October. It is always prudent to check the weather and do your research.
And trees located in the southern regions of the Midwest will color before northern Midwest trees.
From brilliant brilliant golds and yellows to saturated reds and beautiful oranges, Midwest autumn will not disappoint you!
Here you will find 12 of the best places to experience fall in the Midwest.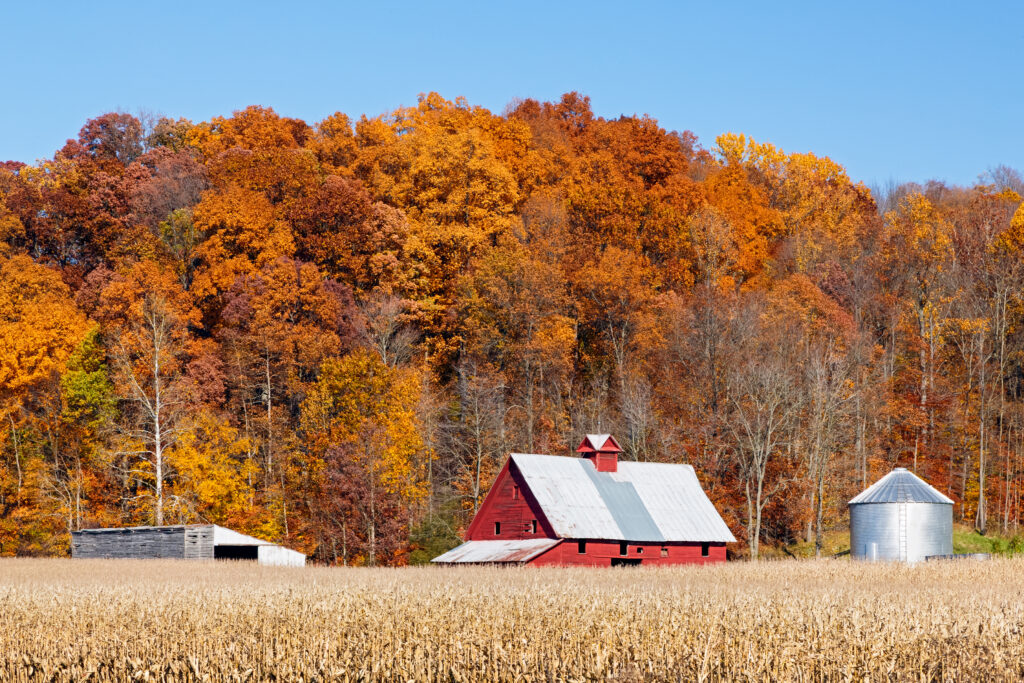 12 Best Places To Experience Fall In The Midwest
Cuyahoga Valley National Park In Ohio Is Stunning
One of the most impressive places to view autumn colors in the Midwest is the Cuyahoga Valley National Park.
With thousands of acres within its borders, it offers a plethora of opportunities to "leaf peep."
Everett Covered Bridge is one of the most photographed spots in the park and a great place to begin.
Hiking to any of the parks' popular waterfalls, Brandywine, Blue Hen, and Buttermilk Falls offers incredible scenes of spectacular Midwest fall foliage.
There are locations while traveling through this national park where it is not necessary to get out of your vehicle to see the fall foliage in Ohio.
For example, the Octagon Shelter via the access road (off Truxell Road) is one of the best places.
The drive along the access road has spectacular views of colorful birch trees.
There is so much to do in Cuyahoga Valley National Park. It is one of the best places to see brilliant fall foliage in the Midwest.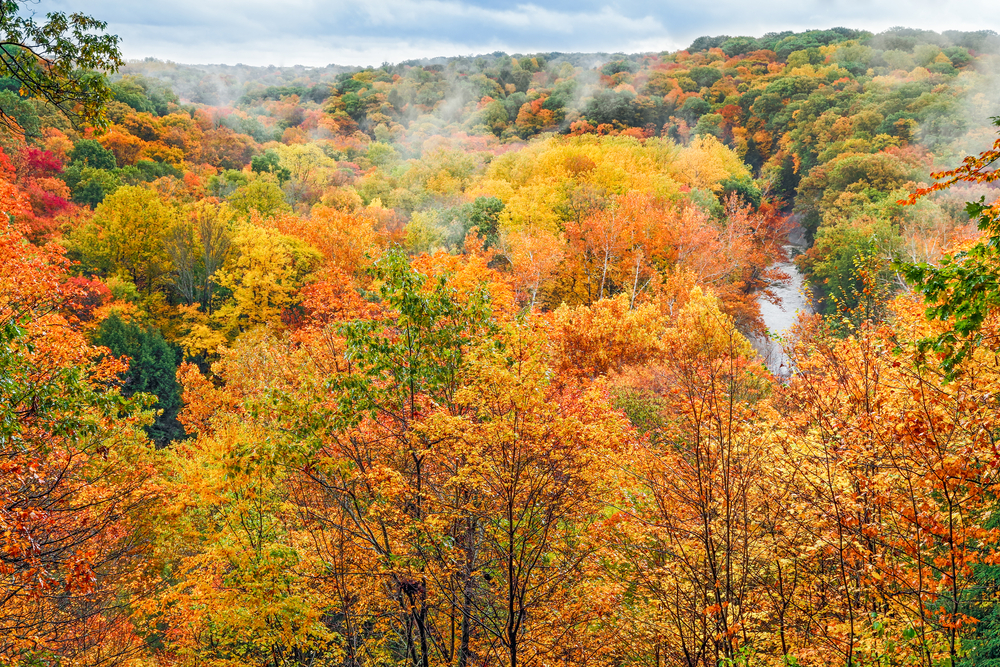 The Covered Road In Houghton County Michigan
The Covered Road in Houghton County is a very popular way to experience MI Fall colors.
It is a small dirt road on the Keweenaw Peninsula.
The Keweenaw Peninsula is in Michigan's UP, and a great place to explore in the fall as it is one of the first places in Michigan where the leaves start to turn.
Locally, it is more commonly known as the Covered Road to Freda.
The Covered Road is a narrow dirt road that is well maintained, and absolutely stunning during the Fall months.
Because it's so narrow though, the road feels completely covered by the tall trees that are lined alongside it.
Along the road, there are a few places where you can pull off and take pictures of the road.
The fully covered area of the road is a few miles in length, and at the end of the road you'll end up in the small town of Freda, one of the best places to experience fall in Michigan!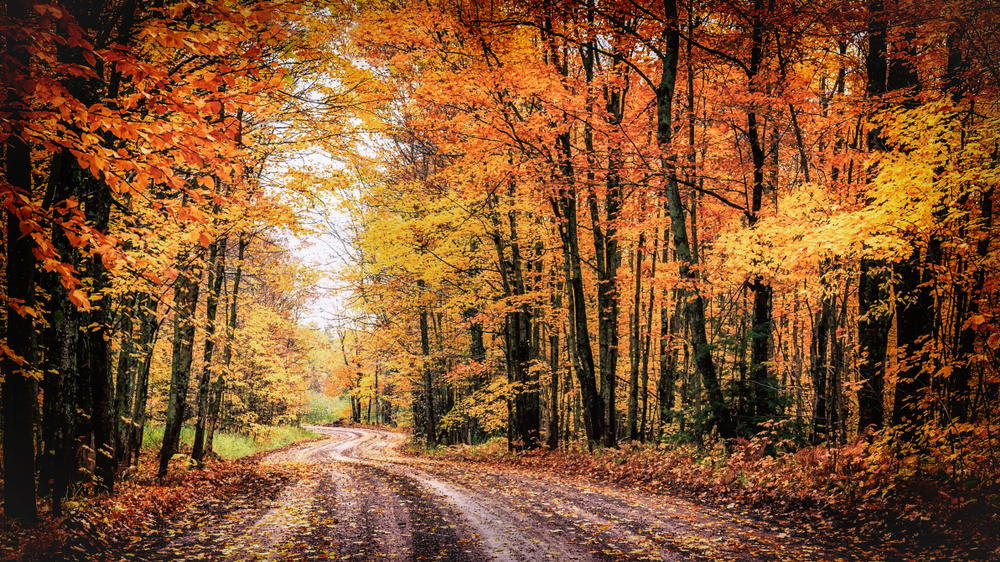 Minnehaha Falls Showcases Minnesota Fall Colors
Minnehaha Falls is one of the best waterfalls in Minnesota, and it is especially gorgeous during the Fall season.
The Minnehaha Falls are located in the Minnehaha Regional Park, and there is plenty to do there besides the falls.
If you want to see a large crashing waterfall with a backdrop of changing leaves, but you don't necessarily want to hike, then Minnehaha Falls is perfect to experience fall in the Midwest.
The hike to get to the fall is fairly simple with a paved walkway that leads to a viewing platform of the falls.
While you walk, you'll be surrounded by beautiful Fall scenery on the over 160 acres of Minnesota woodland.
At the regional park, there is also a beautiful garden you can walk through while you admire the changing leaves. This is a beautiful location to see fall in Minnesota.
There is also a small wading pool that you can sit on the shore of and admire during the colder months.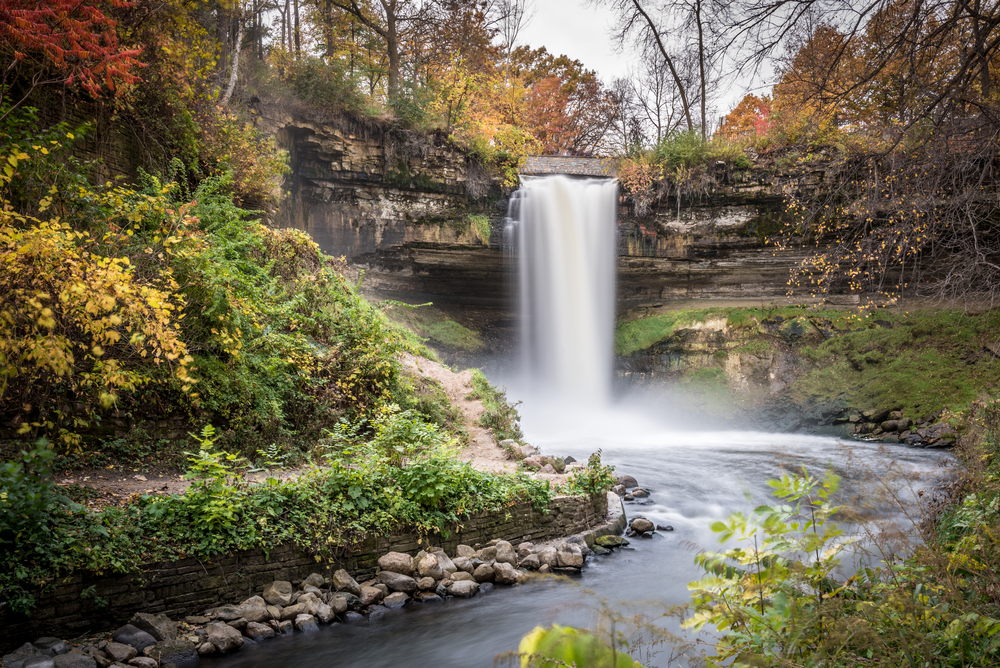 Sturgeon Bay Wisconsin For Brilliant Fall In The Midwest Colors
Located in Door County this area is an incredible summer destination but when autumn arrives, not much tops this place. It is a picture-perfect location to enjoy fall in Wisconsin.
Here in the fall, you will be able to see every shade of red, orange, and yellow all with a backdrop of small-town charm. The natural beauty and historical architecture seem to blend seamlessly.
Take advantage of the amenities offered by this picturesque Wisconsin town, including the boats in the harbor which add to its magical vibe!
Because there are so many things to do in Door County, not many other destinations offer such unique experiences of fall in the Midwest.
Garden Of The Gods In Illinois
If you are searching for a unique location to see fall in the Midwest, consider visiting The Garden of the Gods Recreation Area, in the Shawnee National Forest. It would make a great Midwest road trip!
Located in southern Illinois, you will want to begin your visit at the Garden of the Gods Nature and Visitor Center. here you can explore on your own, or take a free guided walk.
If you are into hiking, there are 21 miles of Illinois scenic trails to explore within the national forest, that showcase the unparalleled and unobstructed views of Midwest fall foliage!
Fall in Illinois is not to be missed!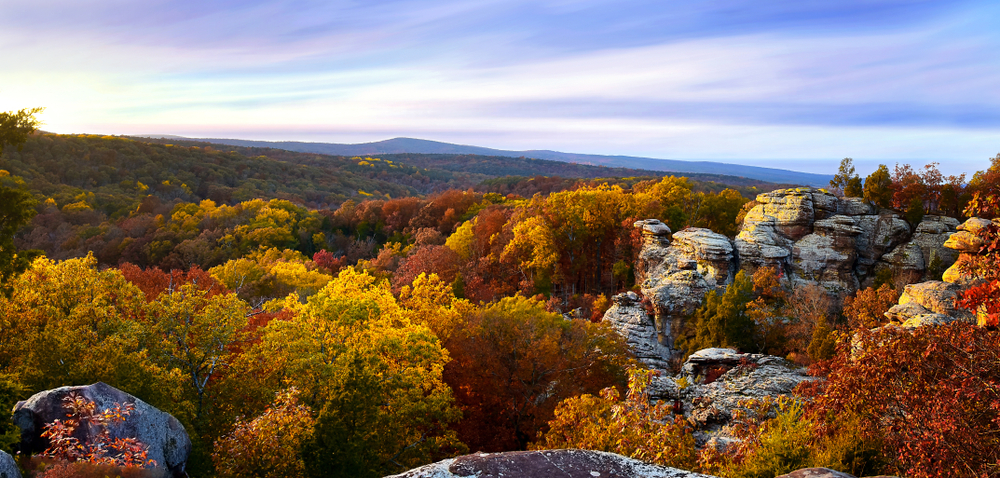 Experience Fall In The Midwest In North Dakota's Parks
Fall in North Dakota is spectacular. Fall foliage begins to slowly appear usually by mid-September.
You can travel to locations to experience fall in the Midwest ranging from heavily-forested destinations to river valleys.
Both will produce equally stunning views.
Visiting Theodore Roosevelt National Park, and the brilliant fall colors will take on an entirely different look depending where you are- the valley or the rugged Badlands!
No matter where you are in North Dakota, you can make your visit one of the most epic Midwest weekend getaways.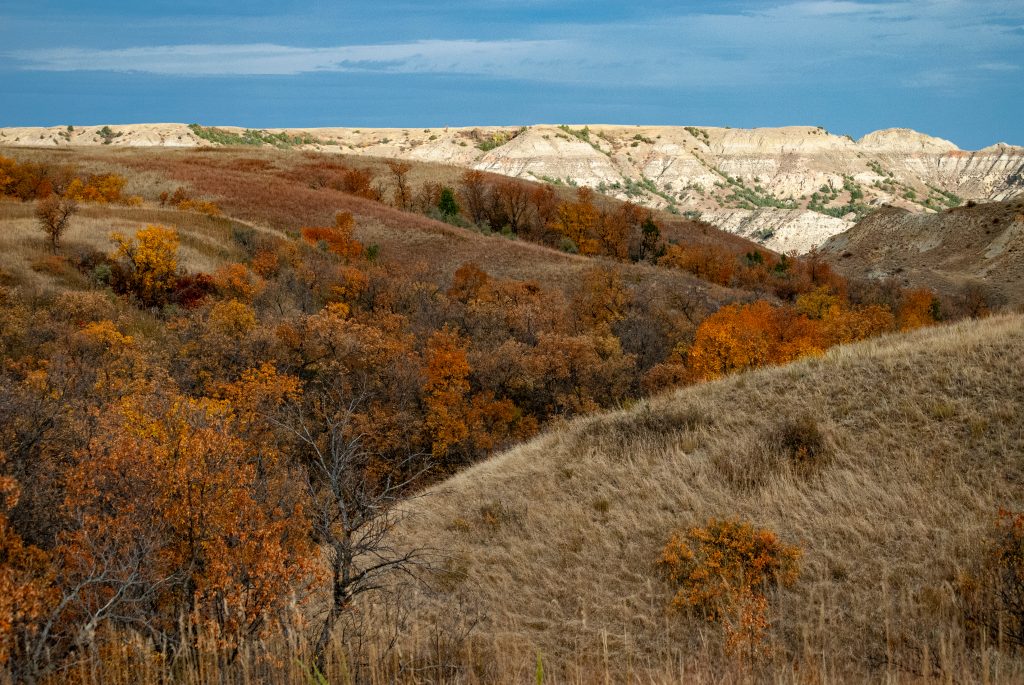 Sioux Falls SD For Epic Midwest Fall Options
There are so many things to do in Sioux Falls South Dakota, so please consider heading there to experience fall in the Midwest.
Sioux Falls is home to over 190,000 people. And there is plenty to do there in the fall in South Dakota.
How about visiting an apple orchard and hand-picking some fresh apples. Or visit the apple farm's market and buy some already harvested. What a fun family activity.
One of the romantic things to do is take a winery tour. Sip wine samples, view the vibrant colors, check out the hay bales.
If you do not have much time in Sioux Falls, you might want to place visiting Falls Park high on your list of things to do.
It is at this 128-acre park that you will see the city's namesake: Sioux Falls Waterfall. Located a bit north of downtown, it is along the Big Sioux River.
The water cascades down an impressive 100 feet to the waters below. This is one of the best places to experience fall in South Dakota as the park is awash in brilliant color!
Cataract Falls For West Central Indiana Fall Foliage
Cataract Falls in Indiana is located in the Lieber State Recreation Area. And it has the distinction of being the largest waterfall by volume in the state of Indiana!
There are two sets of these waterfalls in Indiana, Upper and Lower, that have their source in the Mill Creek River.
The Upper Cataract Falls have an impressive thirty-foot drop, while the Lower Falls a fifteen-foot drop. There is about a half-mile distance between them.
Driving to, and hiking around these impressive Indiana waterfalls will provide you will some of the most brilliant places to experience fall in the Midwest.
Do not skip experiencing the fall in Indiana!
Palisades-Kepler State Park, Iowa Fall Foliage
This spectacular Iowa state park is located on the banks of the Cedar River outside of Cedar Rapids, Iowa. It is really one of the best places to experience fall in Iowa.
If you visit here to experience fall in the Midwest, you will find river bluffs, ravines, and spectacular hardwood forested trees which put on a brilliant display every autumn!
Also, there are Native American Indian mounds that signify the history of the park.
You can hike over five miles of Iowa hiking trails, picnic, and see an amazing Iowa waterfall which also supplies a unique view of nature's bountiful colors.
If you find yourself in Iowa, Palisades-Kepler State Park is an awesome way to celebrate fall in the Midwest!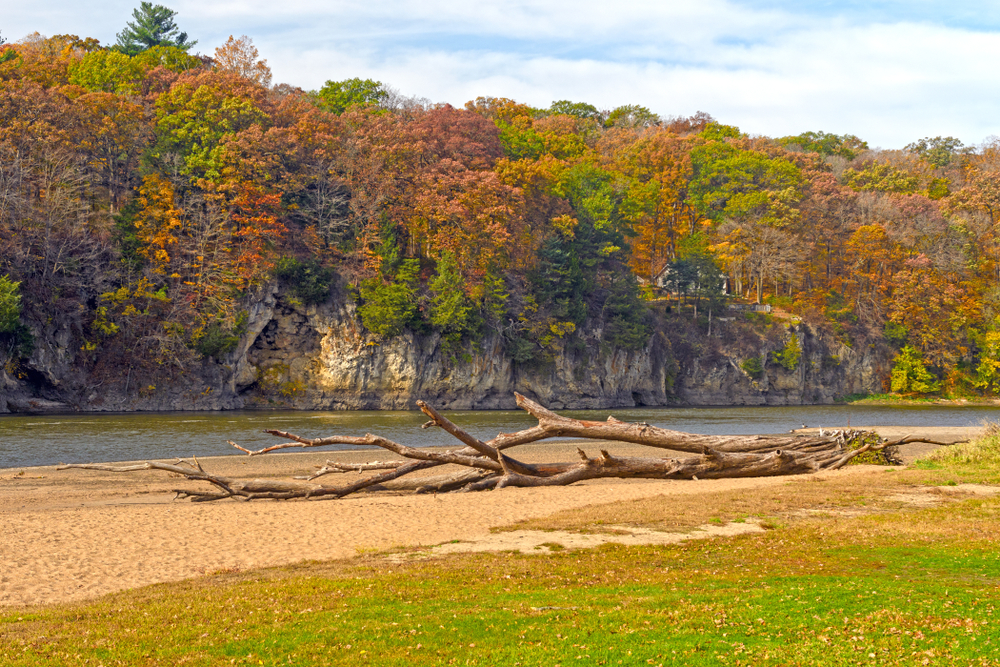 The Ozarks Of Missouri Fall Foliage
Typically, the brilliant fall colors in Missouri's Ozark Mountains begin to peak in mid-to-late October, proving some of the best places to see fall in Missouri!
It is always prudent to check the local information as the weather has a lot to do when the leaves begin to change colors.
One of the most popular locations to experience fall in Missouri is around the Lake of the Ozarks.
There are two state parks that have epic Missouri hiking trails that will take you to hardwood forests that will be some of the best places to experience fall in the Midwest!
If you have the opportunity, get out on the lake to view Missouri's fall foliage along the bluffs from the water. What a wonderful way to relax and enjoy nature at the same time!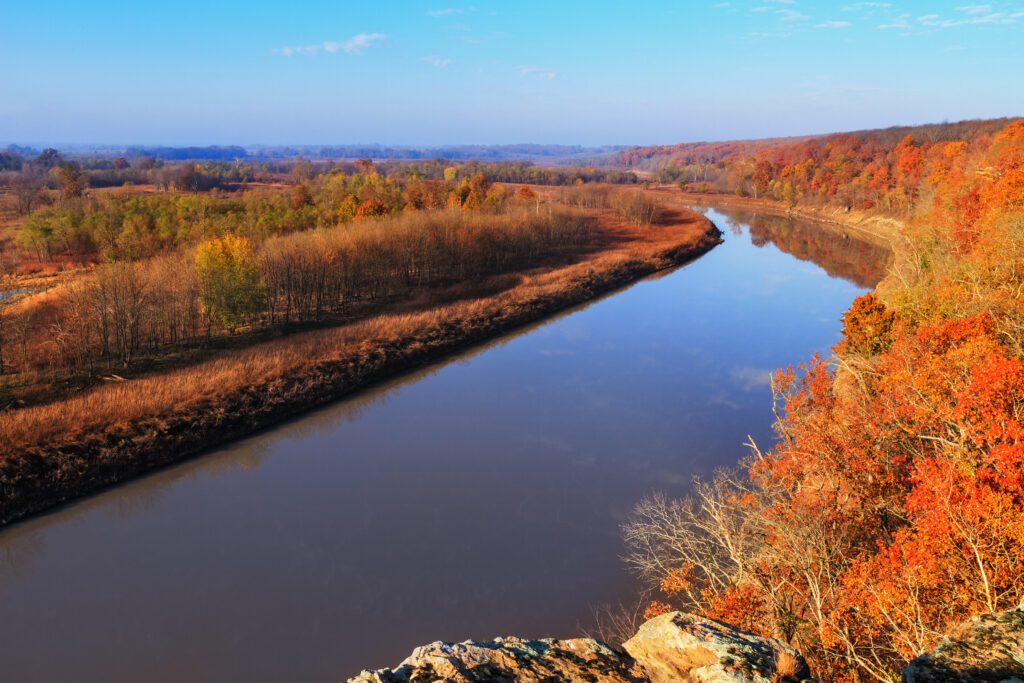 Flint Hills National Scenic Byway In Kansas
If you are interested in seeing unique fall foliage in Kansas, driving any part of the 47 miles of the Flint Hills National Scenic Byway is a fantastic option.
Much of the land is as it was thousands of years ago when Native American native tribes lived there.
Along the route, you will find a national preserve, heritage park, and historical site, along with charming small Kansas towns, and vintage shops.
There is so much to enjoy here in this historic section of Kansas!
This two-land, paved road is very popular to experience fall foliage in the Midwest.
This is an epic destination to experience fall in Kansas.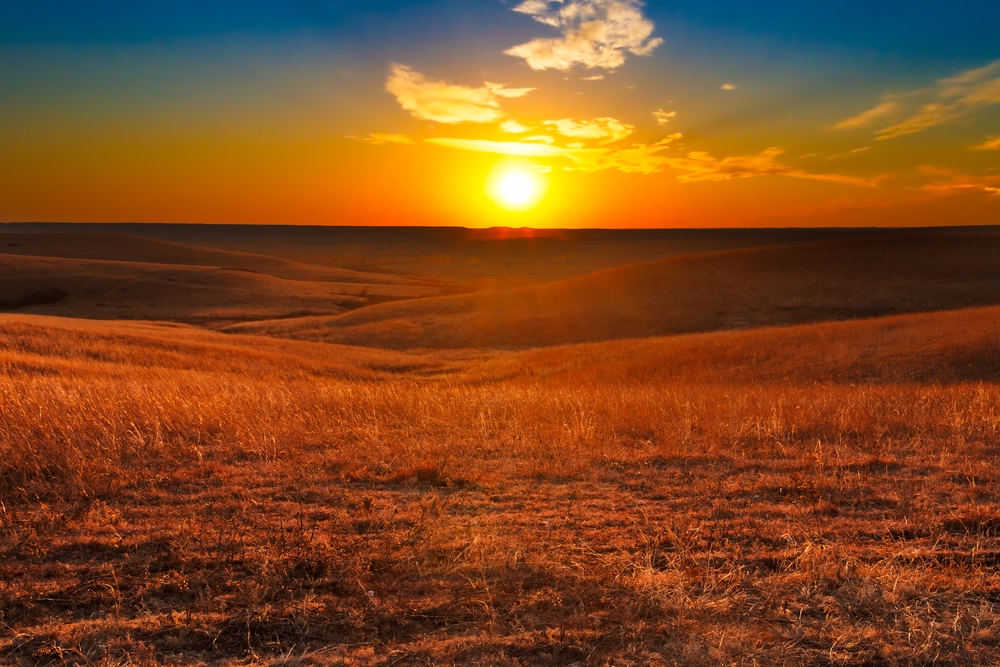 Platte River State Park, Nebraska
Platte River State park is located halfway between Omaha and Lincoln, Nebraska. It is a public recreation area open year round for camping and visitors.
This Nebraska state park has 450 acres of rolling hills which make for some epic viewing of Nebraska fall foliage.
There is an observation tower that offers sweeping views of the Platte River Basin. There are plenty of hiking and biking trails that will bring you to some of the best locations to experience fall in the Midwest.
Look here for things to do in Lincoln!
Look here for things to do in Omaha.
Packing List When Experiencing Fall In The Midwest
If you are searching, here are some tips on how to pack lightly when packing to experience fall in the Midwest.
A concealed travel pouch may be one of the most important items you bring along when experiencing Midwest activities in autumn.
It is always important to protect your personal information. Identity thieves are everywhere.
This unisex RFID blocking concealed travel pouch is lightweight and comes in several colors. It has lots of organization to give you peace of mind.
If you have a pouch already that does not come with the RFID protection, as I do, these RFID sleeves are the perfect solution.
This configuration comes with enough credit card sleeves that the entire family would be protected. They are slim too, so they will easily fit into your pouch or wallet.
If you are planning on taking a lot of pictures with your phone you will definitely want to consider an external charging battery. This Anker high-speed phone charging battery is the exact one I carry with me on all of my trips.
It can be used on a variety of phones, not just an iPhone like I have. And wow is it fast!
I like that it holds its charging capabilities for several uses so I do not have to worry about it while out and about, and if I forget to recharge it at night, it will still be good to go the next day.
My daughter gifted me with this FugeTek selfie stick and tripod setup for my birthday. I absolutely love it! It is made of lightweight aluminum and is so easy to use.
It has Bluetooth connectivity and is a breeze to use for taking selfies when seeing all the beautiful Midwest in fall scenery!
Hydration is so important when traveling. You want to remain hydrated throughout your travels to support your immune system which in turn will be stronger to fight off any germs you will encounter during your travels.
You will want to bring your own refillable water bottle with you.
I never leave home on a trip without my Bobble filtration bottle. The 18.5-ounce size is perfect for hiking and it fits nicely in the pocket of a backpack.
When filled with water, it is not too heavy to carry. And the charcoal filter ensures fresh clean water whenever you fill the Bobble.
Perhaps you are traveling a long distance and packing space is a premium in your suitcase, or in your car.
Then this set of collapsible silicone foldable water bottles would work well for you. Would not take up much space at all.
You will want a backpack or daypack with you to store snacks, your water bottle, phone, extra clothes, etc.. then this foldable water-resistant backpack would be great.
—
Here I have shared with you 12 best places to experience fall in the Midwest. They are some of the best places to visit in the Midwest.
Have you visited any of them?
If you have other suggestions, please add them in the comment section below.