Have you been looking for the best waterfalls in Minnesota? Then you'll love this list!
I'm from the Midwest and I know that it is a beautiful part of the United States that everyone should explore.
Minnesota is a large state that borders Lake Superior and Canada, so it has a unique landscape.
It is known to have over 10,000 lakes and plenty of rivers in between.
All of those lakes and rivers make for some gorgeous waterfalls.
Many of Minnesota's best waterfalls are located in Minnesota State Parks, but a few of them are on public property in towns or cities.
Falls in MN are worth the hiking or trip to view them because so many of them are just so beautiful.
So, lets take a look at the 14 Best Waterfalls in Minnesota!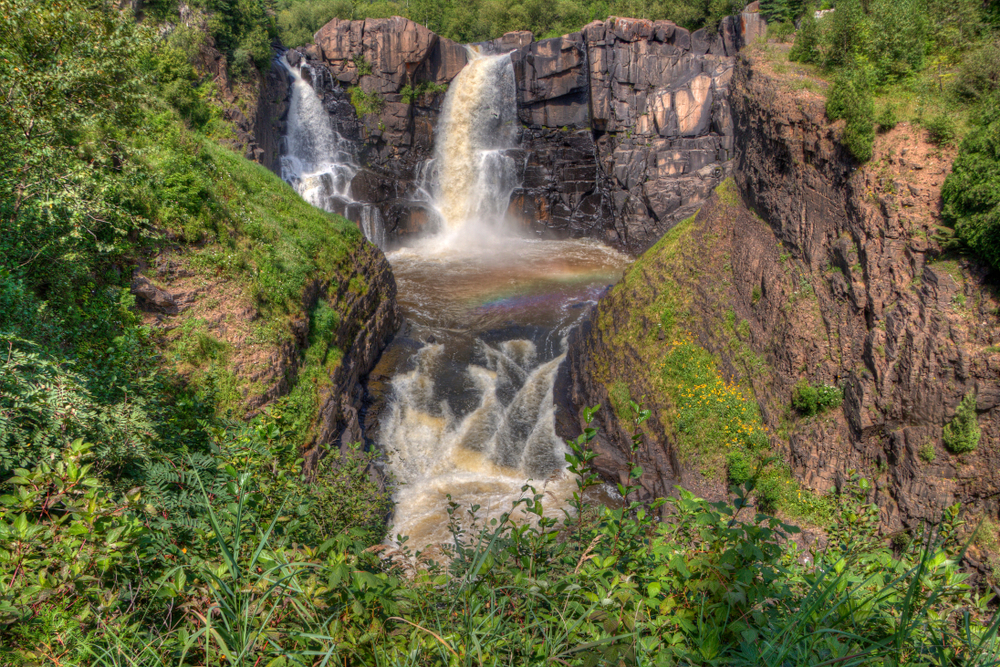 14 Best Waterfalls In Minnesota
Hidden Falls, St. Paul
The Hidden Falls are located in the urban city of St. Paul Minnesota.
These Minnesota falls are a part of the Mississippi River and are located in a local park in St. Paul.
There aren't many places where you can head to a city park and see a pretty waterfall.
The Hidden Falls Regional Park was founded in 1887 and is actually one of the four original regional parks in St. Paul.
Near these waterfalls in MN, there is a well-maintained park where you can grill out, bird watch, or go walking and biking.
If you are looking to experience beautiful Minnesota waterfalls but you don't want to have to hike to get to them, then Hidden Falls is perfect.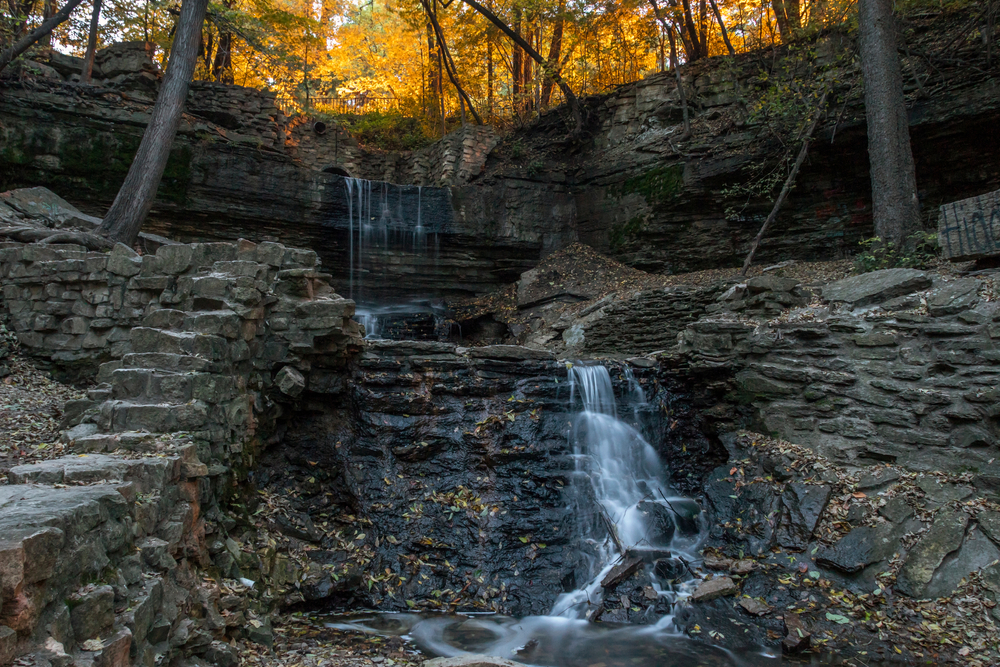 Winnewissa Falls For Native American History
Winnewissa Falls is a pretty fall in MN at the Pipestone National Monument.
These best Minnesota waterfalls are actually a short hike away from the entrance of the Monument grounds.
It is a super short hike and it is usually also not very crowded.
So you'll be able to enjoy these beautiful falls in MN without too much of a crowd and fairly easily.
Along your hike, you'll get to view the unique pink quartzite rock formations that make up the Pipestone National Monument.
The Pipestone National Monument is a sacred space for the original Native American nations who lived in the area.
Many of them still use the Monument as a spiritual space, so it is best to be respectful while you explore the Monument and waterfall.
At the waterfall, there is a bridge that is perched above the waterfall so that you can look down it.
There are also stone steps that you can climb to the top.
Winnewissa falls are a must see on your list of Minnesota waterfalls.
Wolf Creek Falls
At the Banning State Park there are plenty of things to do.
One of the highlights of the park is the Wolf Creek Falls.
The Wolf Creek Falls are created by the Kettle River and rush over sandstone.
To get to the falls, take the 1.5 mile Wolf Creek Falls trail.
The trail is one way, so you will hike to the trails and then turn around and hike back out to the trail head.
Wolf Creek Falls trail can be very popular depending on what time of year you go.
The peak months are often in the summer, but even then the trail is only moderately busy.
During the rest of the year you'll see smaller crowds, but still get to experience the beautiful falls.
The hike isn't too difficult, so it is perfect for beginners but is still a nice little trek for more experienced hikers as well.
When you plan a trip to Banning State Park, you won't want to miss hiking to the Wolf Creek Falls.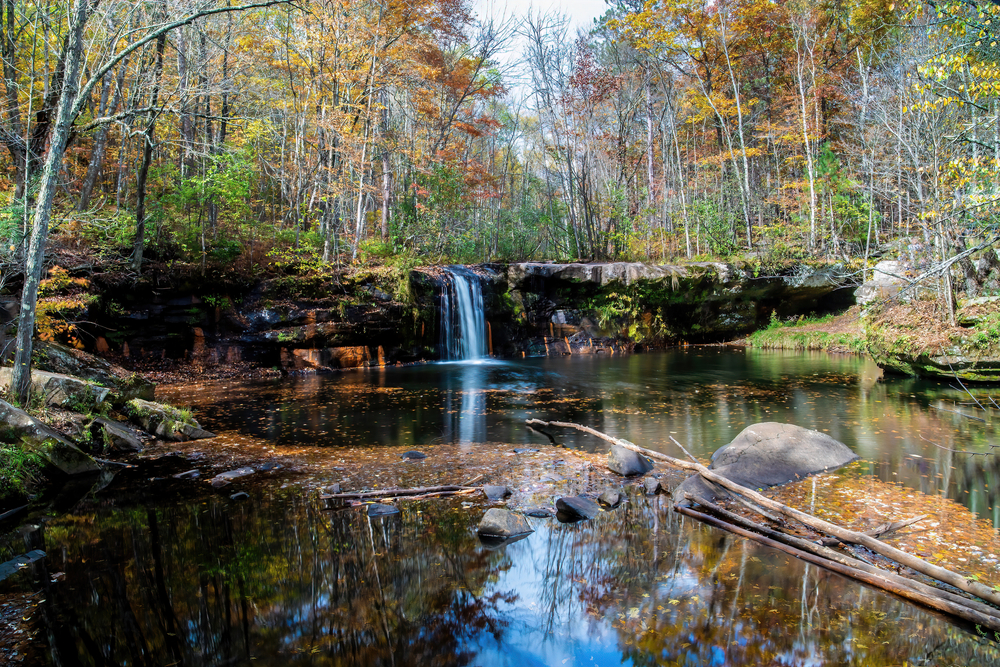 Minnehaha Falls for Beginner Hikers
At one of Minnesota's oldest and most popular parks, Minnehaha Regional Park, are the Minnehaha Falls.
The Minnehaha Falls is a 53 foot cascading waterfall surrounded by limestone bluffs and lush greenery.
This regional park is in Minneapolis and is over 160 acres of hiking and biking trails, a wading pool, gardens, and of course the Minnehaha Falls.
Visitors of the falls will want to take full advantage of everything the park has to offer.
But make sure you give yourself plenty of time to walk to the falls.
Minnehaha Regional Park is one of the most visited parks in the area, so it can get fairly crowded, especially near the falls.
The walking trails are paved and there are several places in the park that you can view the falls.
So the Minnehaha Falls are great for beginners or those looking for a more accessible way to view falls in MN.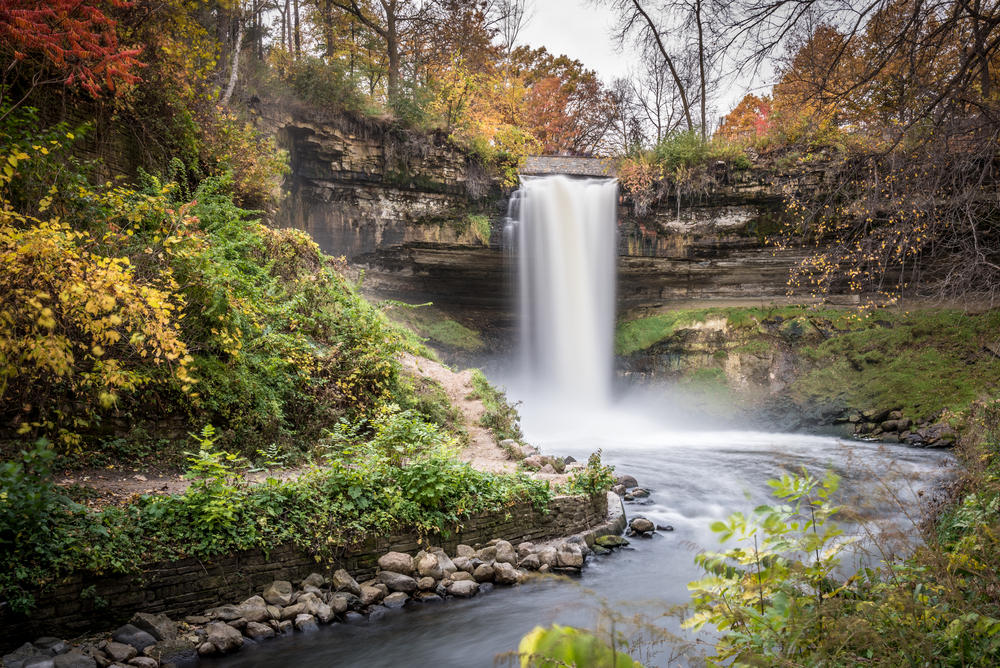 Minneopa Falls
In Southern Minnesota at the Minneopa State Park near Mankato is where you can find the next Minnesota waterfalls on this list.
Minneopa Falls is a 39 foot beautiful waterfall that is fed by the Minneopa Creek.
This Minnesota state park with waterfalls is very large and a popular park to visit.
With over 300 acres, Minneopa State Park also has a wild bison herd, which is an awesome bonus on your trip to seeing the falls.
If you park on the 'Falls Side' of the park, you can easily find the trail head to get to the fall themselves.
The hike itself is super short at only 0.6 miles long.
It is an in-and-out trail, meaning you hike to the falls and then turn around and head out towards the trail head.
The trail is also paved, so between it's short length and even terrain, it is a beautiful waterfall in Minnesota that everyone should visit.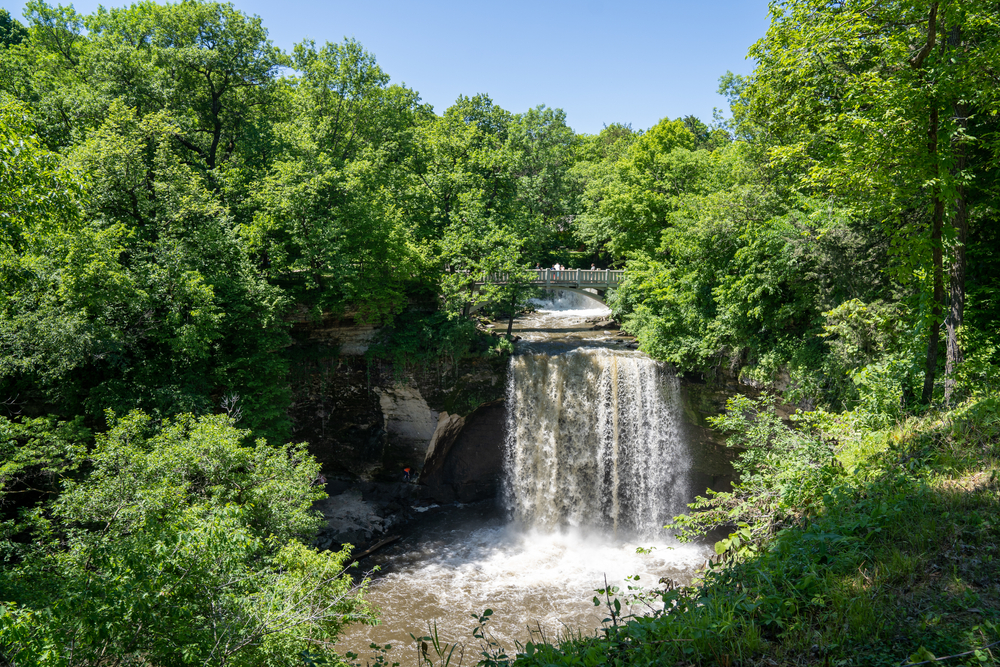 Hidden Falls, Nerstrand
The second falls in MN to have the name Hidden Falls, these Hidden Falls are in the Nerstrand Big Woods State Park.
The hike to the Hidden Falls in Nerstrand are fairly popular, so keep that in mind when heading out onto the trail.
You'll hike through a mile of hardwood forest and wildflowers.
The hike is fairly easy, and is another in-and-out trail.
The falls are truly hidden and you really wouldn't know they are there.
But that doesn't mean they are small, the falls themselves are 20 feet tall
You'll find them at the end of a trail after you cross a boardwalk that protects an endangered wildflower.
While hiking, you'll be able to enjoy a quiet and fairly easy trail with a beautiful Minnesota waterfall at the end.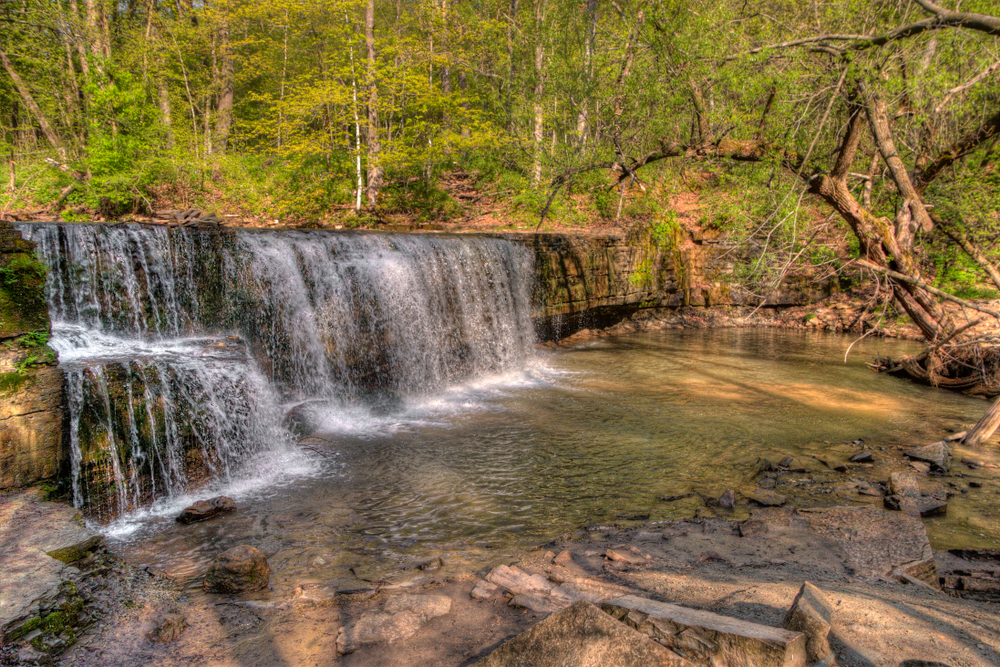 High Falls For A Glimpse Of Canada
Minnesota's tallest waterfall are the High Falls in Grand Portage State Park.
There are a few ways you can view the High Falls.
This Minnesota state park with waterfalls has a one mile round trip hike that is fairly easy.
Along the hike there are a few viewing platforms that offer different views of the High Falls.
For those who are more adventurous or experienced hikers, Grand Portage State Park has a second, less-visited waterfall, Middle Falls.
Middle Falls is only accessed via a 4.5 mile rugged hike.
However, the hike's more moderate terrain also makes it one of the trails that is far less crowded.
If you are up for it, the 4.5 mile hike will take you about 3 hours and features elevation change, more rugged terrain, and of course, the Middle Falls.
No matter which of Grand Portage's Falls you decide to hike to, you will get to experience beautiful Minnesota waterfalls.
And a chance to see the Grand Portage National Monument as well.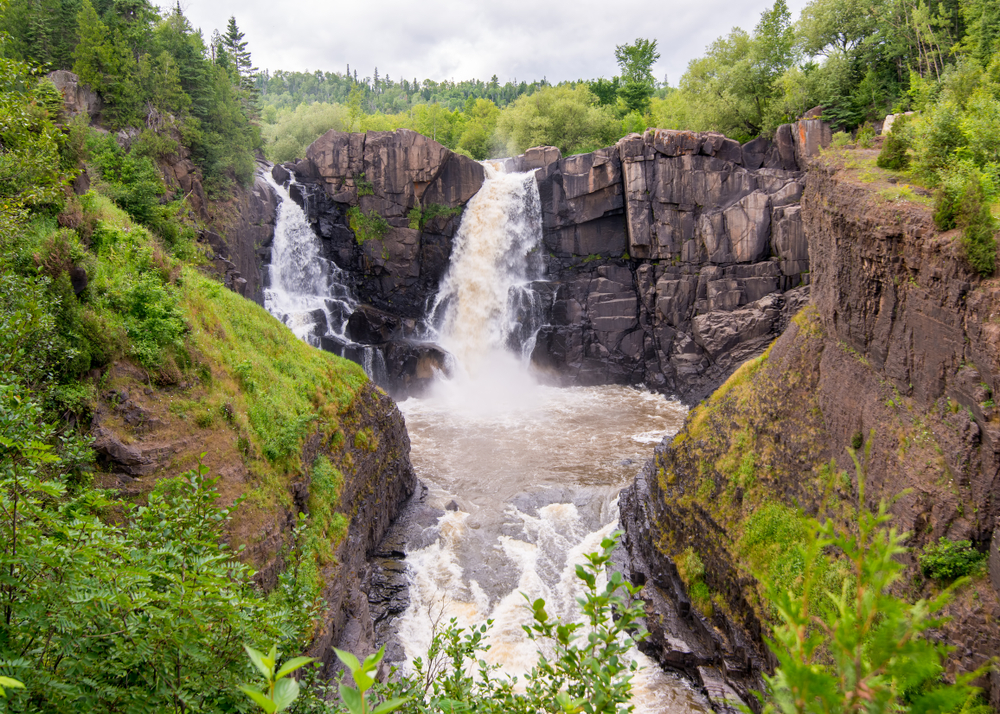 Ramsey Falls
Located on the largest municipal park in Minnesota, Ramsey Park, are the Ramsey Falls.
Ramsey Park is over 250 acres of Minnesota forest, public park space, camping, and more.
The park is often referred to as the "Little Yellowstone of Minnesota".
If you want to see Ramsey Falls, you can take a few of the paved hiking trails.
There is a hiking trail that takes you directly to the falls, but there is another trail that takes you to an observation deck.
You can make a day out of visiting Ramsey Falls because the park itself is full of outdoor amenities.
There are pavilions where you and your friends or family can hang out and grill, a playground, a petting zoo, and even a little County Museum.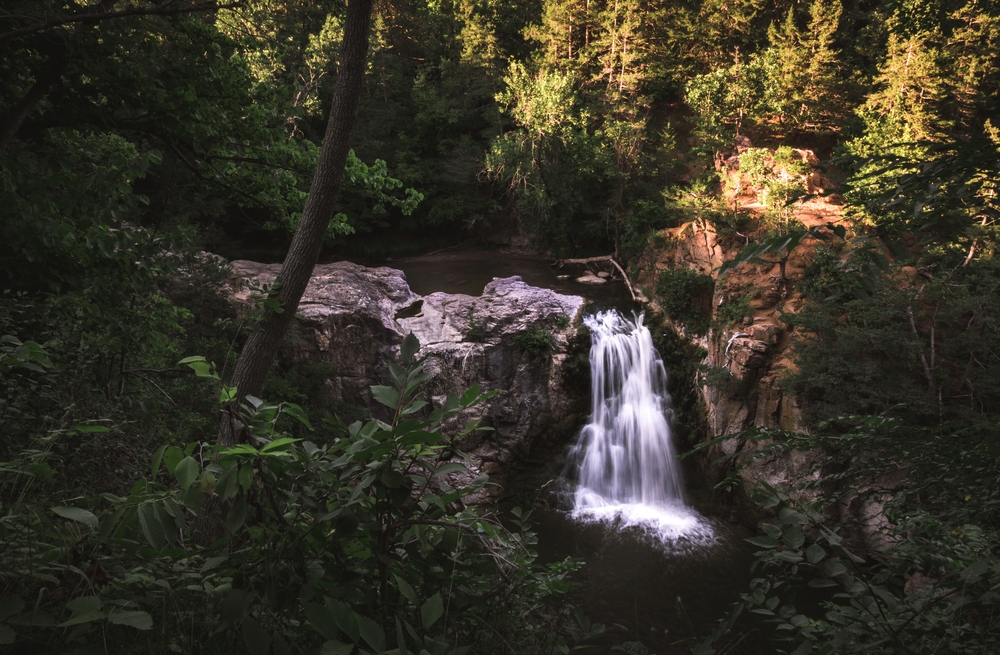 Devil's Kettle For A Geological Mystery
Devil's Kettle is a unique waterfall in Minnesota that has been baffling hikers for years.
While half of the waterfall obviously feeds into the river, the other half appears to disappear beneath the Earth's surface.
Recently, Geologists have solved the mystery and determined that it flows underground and rejoins the river a few hundred feet away.
This super unique set of falls in MN can be found at the Judge Magney State Park, just 15 miles away from the Canadian border.
The hike to Devil's Kettle is best for more experienced hikers and is quite the trek.
It is about 2.5 miles round trip and can get steep in some parts.
About .75 miles into the hike you can take a path to see the lower part of the falls, which is a nice view and good for beginner hikers.
But if you want the full effect of the Devil's Kettle and can handle the hike, you'll want to continue the last 1.25 miles of the trail.
There you'll get to see the falls that have baffled visitors and scientists for centuries.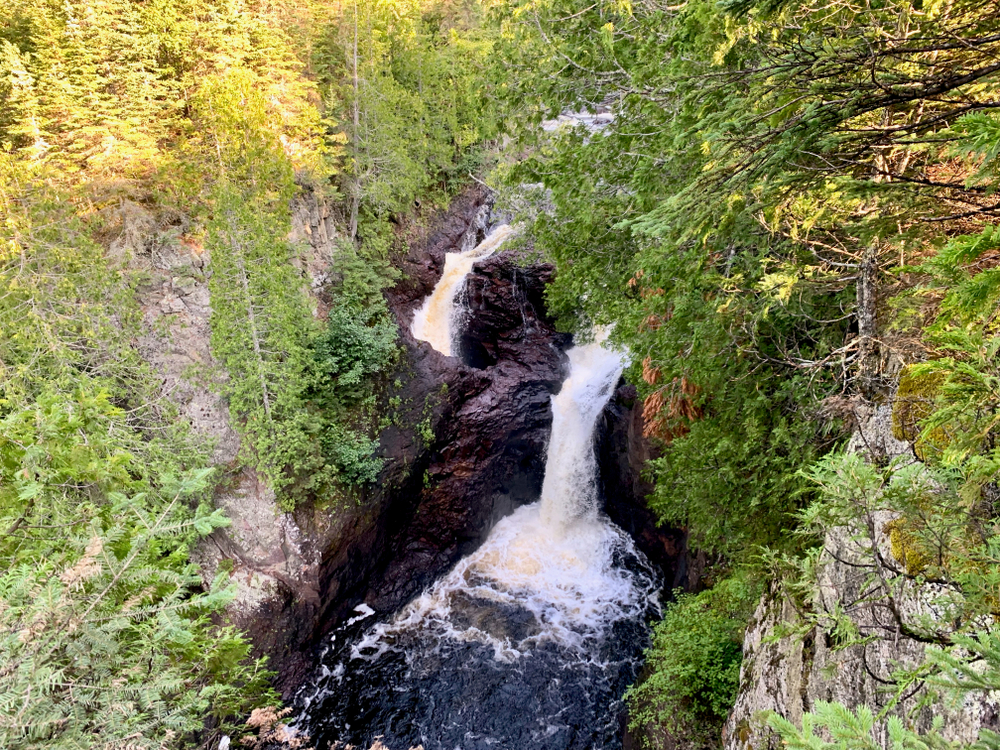 Beaver River Falls
Outside of Beaver Bay Minnesota, one of the best small towns in Minnesota, you can find the Beaver River Falls.
Beaver River Falls is a unique waterfall that flows from the Beaver River.
What makes the Beaver River Falls so unique is because it flows between two large splits in a massive rock on the river.
Beaver Falls is a pretty easy waterfall to visit, so it's perfect for all hiking skill levels.
While driving on Highway 61 in Minnesota, you can even see the falls from the road.
If you want a better look, there is a parking area on the west side of the bridge.
From there, you can take a pedestrian walk way to a smaller pedestrian bridge that offers great views of the falls.
If you're feeling a little bit adventurous, you can also climb down into the gorge to get a different view of these unique falls in Minnesota.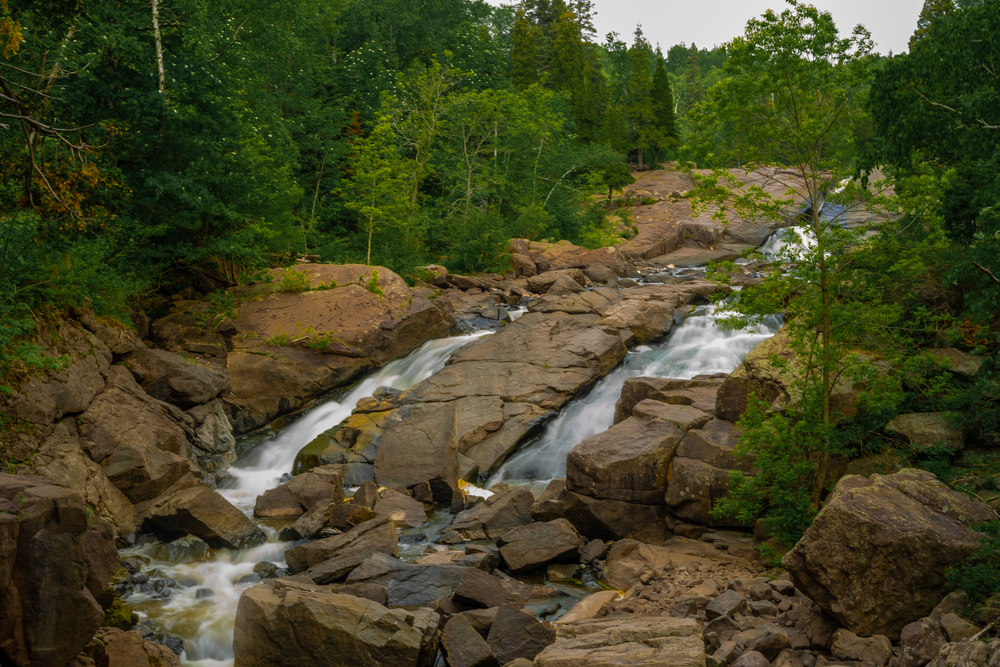 Gooseberry Falls For Multiple Falls
Gooseberry Falls State Park is in Two Harbors Minnesota.
If you want to see multiple waterfalls in Minnesota in one stop, then you'll absolutely want to go to Gooseberry Falls State Park.
The park is home to three separate waterfalls, which combined make up the Gooseberry Falls.
There is a lower, middle, and upper set of falls.
Each of them are accessible by hiking trails with different difficulty levels.
Because the falls are all close together, you can see all of them from just one look out towards the middle of the falls.
But each look-out offers a different view of the falls.
So depending on your hiking skill level and how much time you have is how close you can get to each fall.
There are also two other smaller falls in the park that aren't directly connected to the main Gooseberry Falls.
Gooseberry Falls is an absolute must see set of Minnesota falls.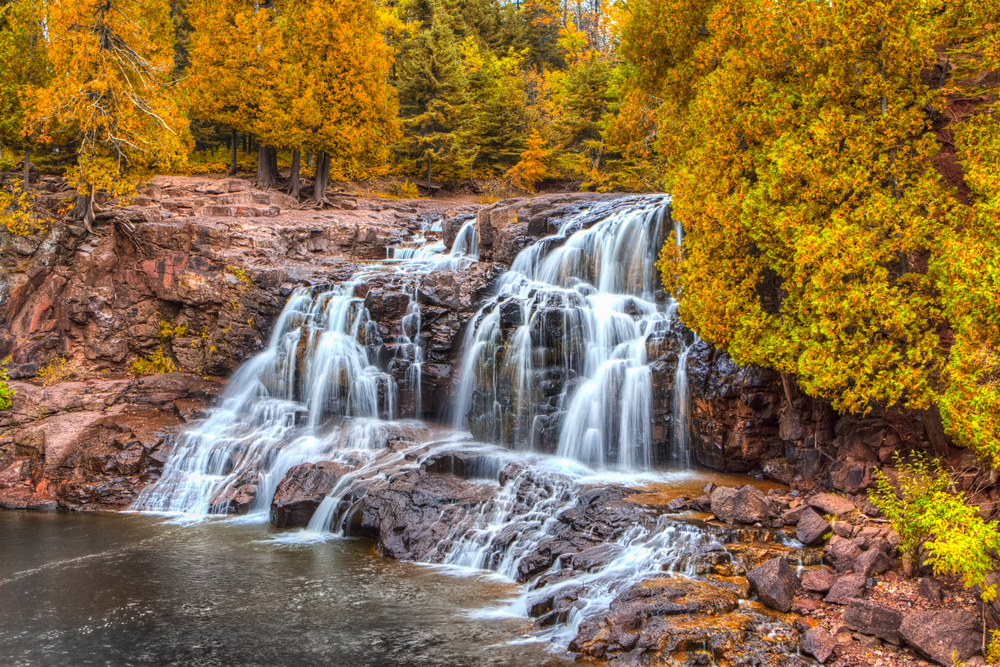 High Falls, Tettegouche State Park
In the Tettegouche State Park is the second Minnesota Waterfall to be known as High Falls.
These High Falls are located at the Tettegouche State Park just outside of Silver Bay Minnesota.
They flow from the Baptism River and is a large rushing waterfall that drops straight down.
It is the highest fall in Minnesota, because the High Falls in Grand Portage State Park are technically partially in Canada.
This is part of why both falls are named 'High Falls'.
The hike to get to these High Falls is about 1.8 miles round trip and is considered a fairly moderate hike.
Due to the rough terrain in some spots, as well as potential flooding in others, you can expect to be hiking for close to 90 minutes total.
If you feel comfortable hiking that long and in rugged terrain, then the High Falls are definitely worth a visit.
There are a suspension bridge and a few lookout points where you can get glimpses of these waterfalls in Minnesota if you aren't interested in hiking the full trail.
No matter how far along the trail you decide to go, the High Falls at Tettegouche State Park are worth a visit.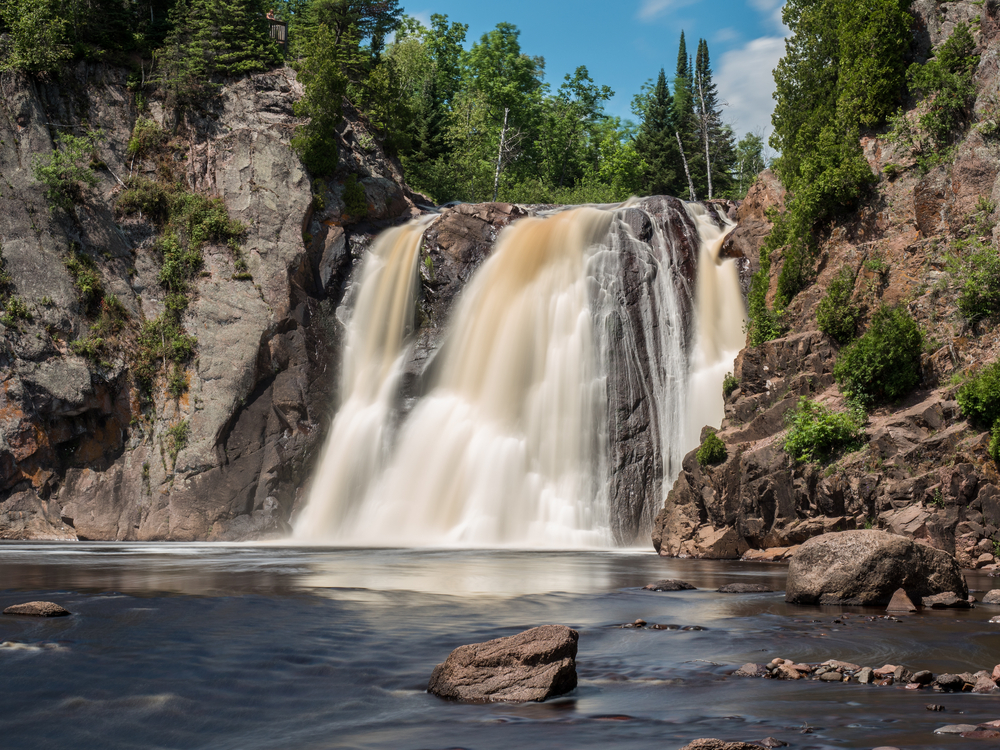 Vermillion Falls For An Urban Waterfall
Vermillion Falls is actually one of the few urban waterfalls in Minnesota.
The Vermillion Falls are located in Downtown Hastings, Minnesota.
They are actually in the factory district and at one point powered the factories.
There are a few ways that you can view Vermillion Falls.
Vermillion Falls are 35 feet and feature a few 'steps' in the falls.
You can view them by taking one of the many walking paths in the area.
However, for really great views, you can climb down into the gorge.
There is no walking trail to the gorge, but people frequently climb down there.
Vermillion Falls in MN is the perfect urban waterfall in Minnesota to grab a picnic and admire while you relax in the nearby grassy area.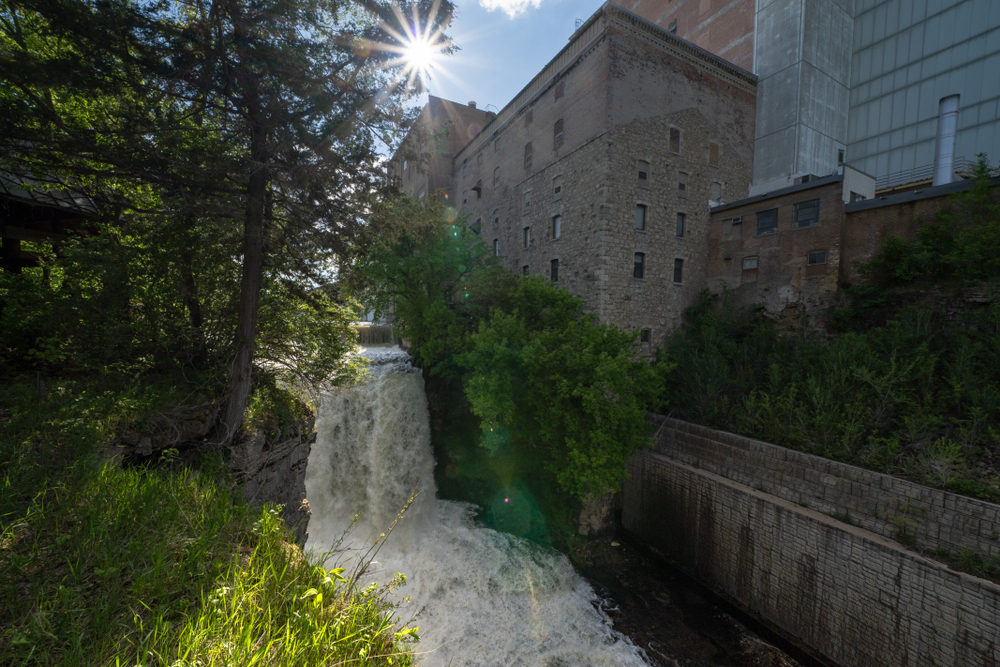 Kawishiwi Falls
The last waterfall on this list is a beautiful Minnesota fall that is fairly easy to get to.
The Kawishiwi Falls are considered a hidden gem of Minnesota in the town of Ely.
The trail to get to them isn't fairly long, but it is a bit rough terrain wise.
You'll want to make sure you're wearing the appropriate shoes to hike this trail.
Most of what makes the terrain on the trail rough is the elaborate root system of the old pine trees and large rocks.
The hike itself is a very pretty woodland walk past the centuries old pine trees and only 1/2 mile long.
At the end of the trail you'll get a breath taking view of the Kawishiwi Falls.
There are also some markers on the platform that give you a bit of history about the area as well as a small area to sit and admire the falls.
Kawishiwi Falls are a great example of MN waterfalls you must see!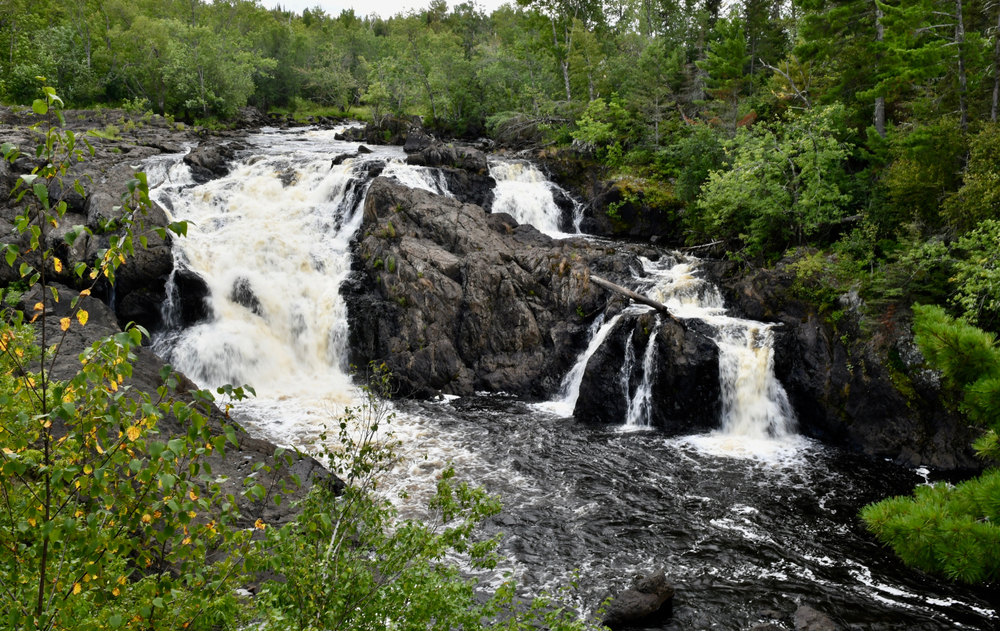 Packing List For Visiting Waterfalls In Minnesota
If you will be traveling, either by plane or by car to view Minnesota waterfalls, here are some tips on how to pack lightly.
A concealed travel pouch may be one of the most important items you bring along when visiting the coolest Minnesota waterfalls.  
It is always important to protect your personal information. Identity thieves are everywhere.
This unisex RFID blocking concealed travel pouch is lightweight and comes in several colors. It has lots of organization to give you peace of mind. You can place it under your hiking clothes next to your body to carry your ID safely.
If you have a pouch already that does not come with the RFID protection, as I do, these RFID sleeves are the perfect solution.
This configuration comes with enough credit card sleeves that the entire family would be protected. They are slim too, so they will easily fit into your pouch or wallet. 
If you are planning on taking a lot of pictures with your phone you will definitely want to consider an external charging battery. This Anker high-speed phone charging battery is the exact one I carry with me on all of my trips.
It can be used on a variety of phones, not just an iPhone like I have. And wow is it fast!
I like that it holds its charging capabilities for several uses so I do not have to worry about it while out and about, and if I forget to recharge it at night, it will still be good to go the next day.
My daughter gifted me with this FugeTek selfie stick and tripod setup for my birthday. I absolutely love it! It is made of lightweight aluminum and so easy to use.
It has Bluetooth connectivity and is a breeze to use for taking selfies with all those nature shots while visiting the best waterfalls in MN.
I like that it holds its charging capabilities for several uses so I do not have to worry about it while out and about, and if I forget to recharge it at night, it will still be good to go the next day.
Hydration is so important when visiting MN waterfalls. You want to remain hydrated throughout your day trip to support your immune system which in turn will be stronger to fight off any germs you will encounter during your travels. 
You will want to bring your own refillable water bottle with you.
I never leave home on a trip without my Bobble filtration bottle. The 18.5-ounce size is perfect for hiking and it fits nicely in the pocket of a backpack.
When filled with water, it is not too heavy to carry. And the charcoal filter ensures fresh clean water whenever you fill the Bobble.
You can find filter replacements here.
Perhaps you are traveling a long distance and packing space is a premium in your suitcase, or in your car.
Then this set of collapsible silicone foldable water bottles would work well for you. Would not take up much space at all.
You will want a backpack or daypack with you to store snacks, your water bottle, phone, extra clothes, etc.. when hiking to Minnesota falls. No matter the time of day or evening.
This foldable water-resistant backpack would be great
It is very affordable and is available in many color options for you to choose from. The fact that it folds down into a zippered pouch will make it easy to pack!
—
Have you seen any of these 14 best waterfalls in Minnesota?
If so, I'd love to hear about your experience in the comments!
If you haven't had a chance yet, which of these falls in MN are you most excited to see?