Are you looking for small towns in Minnesota to visit? Then look no further!
This list is full of amazing small towns in Minnesota.
You'll feel like you've stepped into a postcard as you walk down these timeless Main Streets and explore these towns.
These small towns in Minnesota aren't just great because they are cute. They also all offer something totally unique for visitors.
Whether you want to explore the childhood home of Laura Ingalls Wilder, visit towns full of German charm, or explore Lake Superior, there's something on this list for you.
Many of these small towns are on Lake Superior, which has some cozy cabins if you'd like to stay and explore the area.
So, here is a look at 20 small towns in Minnesota you must visit!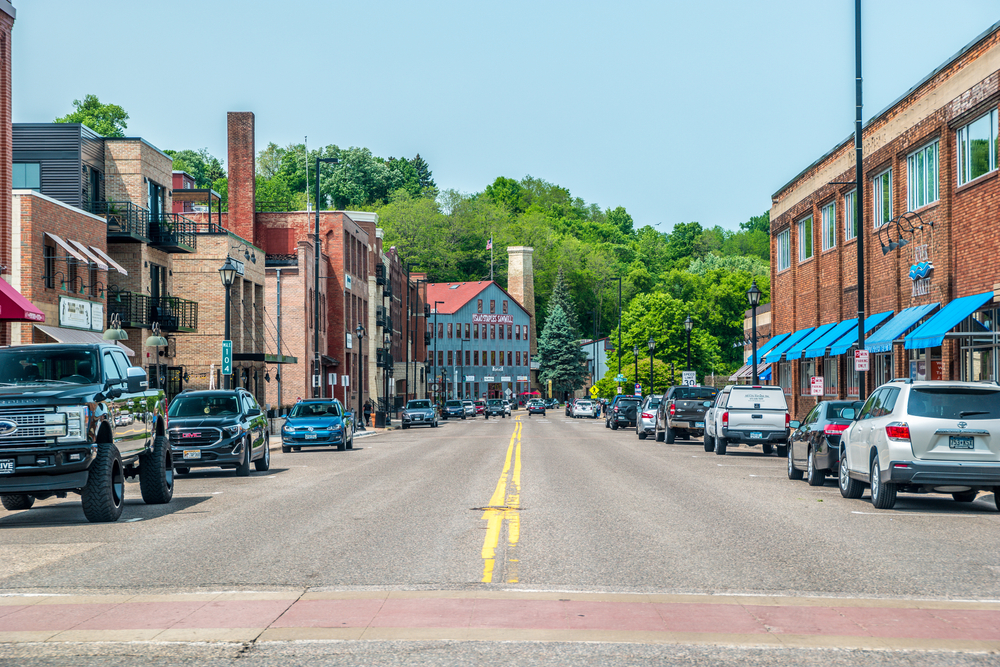 20 Small Towns In Minnesota You Must Visit
Grand Marais For Trading History
Grand Marais is a cute trading town on Lake Superior.
When it was first settled it was used as a main trading route that connected fur traders from inland lakes to Lake Superior.
The trail, known as the Gunflint Trail, was just a footpath that has now been turned into a maintained and paved National Scenic Byway.
Now, visitors can drive along the National Scenic Byway or enjoy the small town.
The town has grown over the years, but still maintains its small-town charm.
Visitors will find that it is almost like a small resort town.
There are so many things to do in Grand Marais MN, including amazing restaurants, unique shops, and outdoor activities at the Superior National Forest.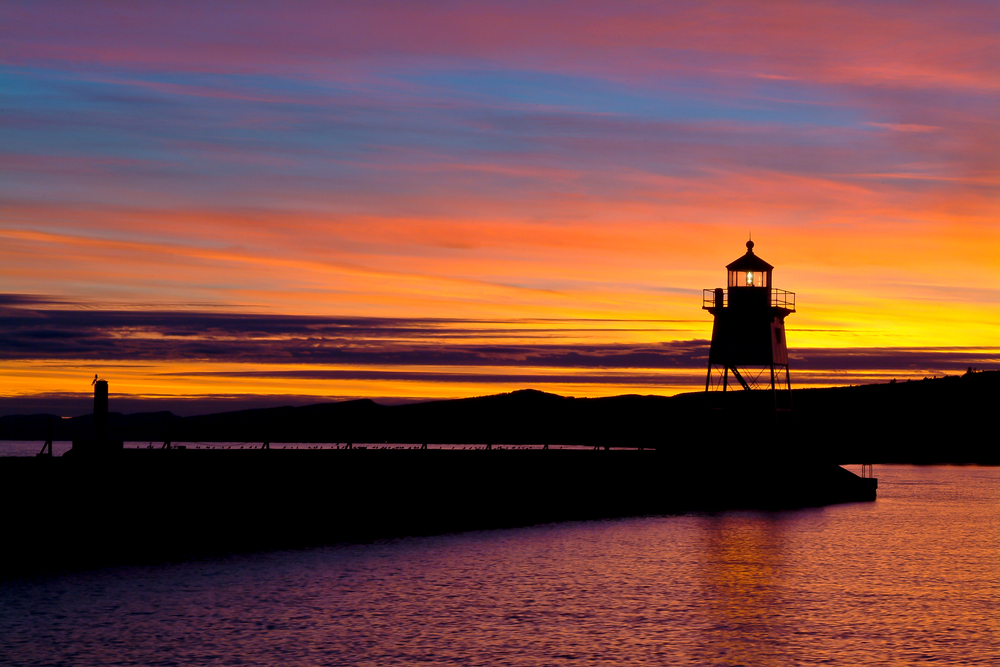 Two Harbors On The Shores Of Lake Superior
Two Harbors is another town perched on the shores of Lake Superior.
It is actually the largest town on Lake Superior in Minnesota, but it's still very much a small town.
Two Harbors is known for its two shipping harbors and the two lighthouses that helped large lake ships navigate around the ore docks in Agate Bay.
Today, Two Harbors is a charming small town full of history.
You can explore the Uptown area which is full of restaurants, shops, and the headquarters for the Superior Hiking Trail.
The small town is also the birthplace of 3M – Minnesota Mining & Manufacturing.
You can explore the early history of the company at the 3M Birthplace Museum.
In the Summer, you can enjoy Minnesota's oldest continually operating band in the town bandshell.
Two Harbors is a town bursting with fun activities for visitors.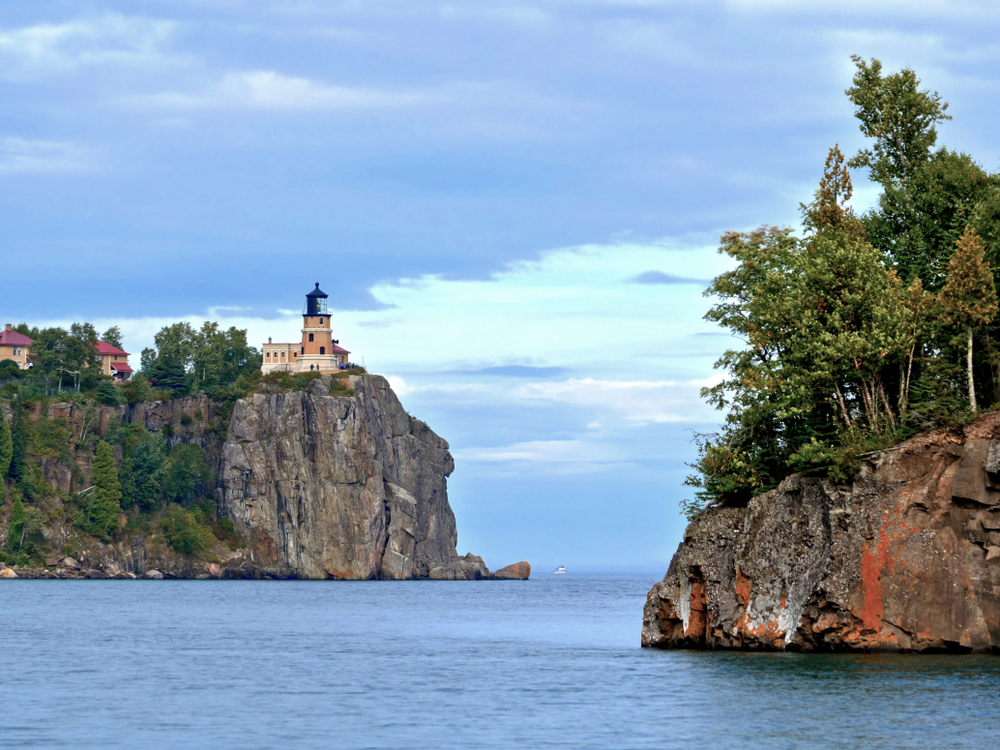 Silver Bay For State Park Adventures
If you are looking for outdoor adventures, then Silver Bay Minnesota is the small town for you.
Silver Bay is surrounded by beautiful state parks and Lake Superior.
Just outside of Silver Bay is Tettegouche State Park, which is at the mouth of the beautiful Baptism River.
The state park has plenty of hiking trails that offer breathtaking views, like Shovel Point.
South of Silver Bay, there is Gooseberry Falls State Park.
There, you'll find more hiking trails that lead to stunning Minnesota waterfalls.
Nearby, you can also explore the Split Rock Lighthouse on Lake Superior.
If you drive up the shore of Lake Superior, outside of Silver Bay, for about 30 minutes, you'll find yourself at Temperance State Park.
Temperance State Park is full of local wildlife and has miles of hiking trails to enjoy near Lake Superior.
Silver Bay is an outdoor lover's dream vacation home base, an adorable small town, and full of things to do.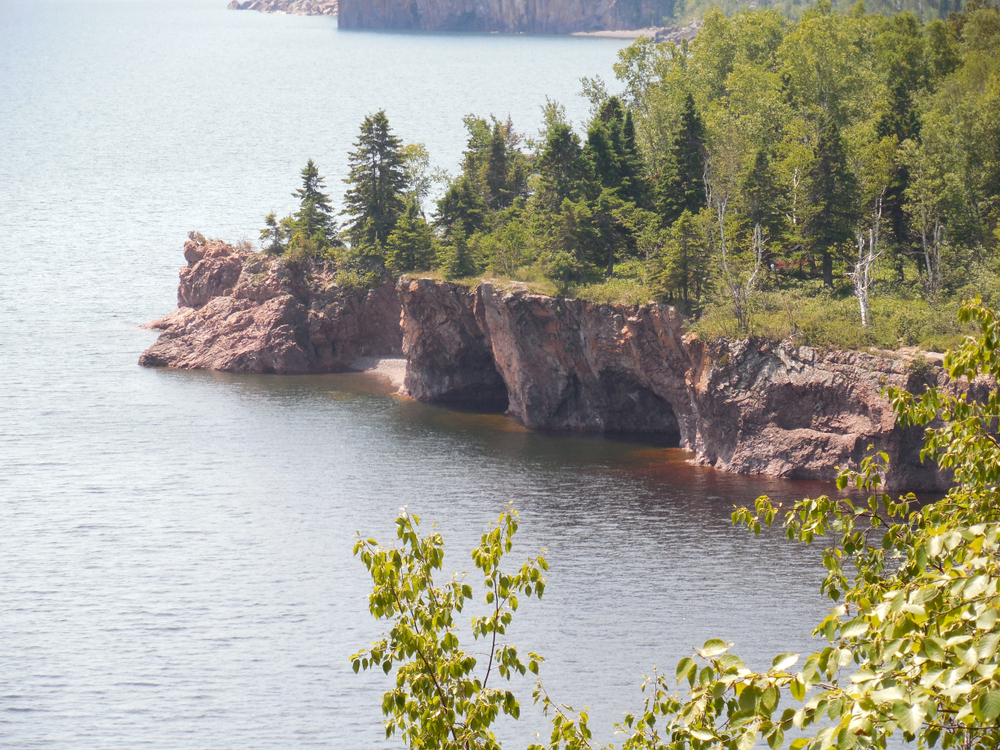 Grand Portage For Native American History
Grand Portage is another small town on the shores of Lake Superior.
It is home to the Chippewa Tribal Nation's Reservation and the Grand Portage National Monument, among other things.
The Grand Portage Band of Lake Superior Chippewa was one of the earliest Ojibwa settlements in Minnesota.
Visitors can respectfully visit the Tribal Nation's Reservation and enjoy the newly built Lodge and Casino, Tribal trails along the lake, and beautiful lake views.
The Grand Portage National Monument gives you the perfect opportunity to learn about the native Ojibwa Tribal Nation and its culture and traditions.
In the winter, travel along the snowmobile trail and get glimpses of the local wildlife.
From moose, packs of wolves, and even lynx, there is always some wildlife exploring the trail with you.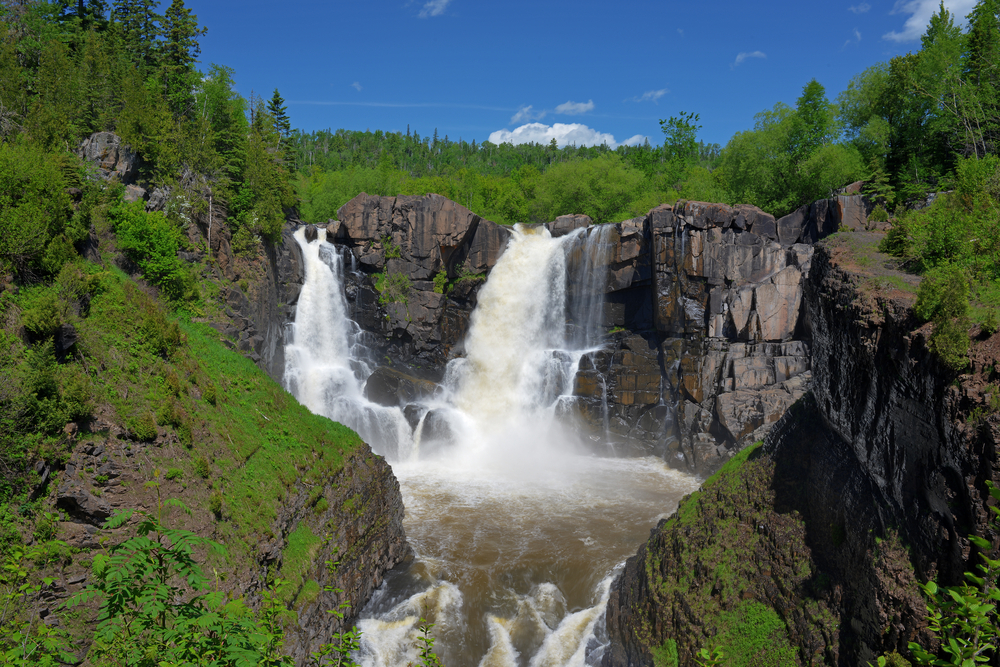 Bigfork In "Lake Country"
Known as the 'Edge of the Wilderness', Bigfork Minnesota is a truly tiny town.
With a population of just over 400 people, it is one of the smallest small towns on this list.
The town itself is located in what is known as "lake country", which is an area of Minnesota that is known for its Lake Superior beaches.
Bigfork has its own beautiful sandy beach on Lake Superior, and tons and tons of acres of forest land.
It is one of the best small towns in Minnesota if you want to experience small-town charm, but still be surrounded by plenty of outdoor activities.
The people of Bigfork are very welcoming and they are very proud of their small town.
You'll soon find that you will be treated like a local as you walk around and explore this Minnesota small town.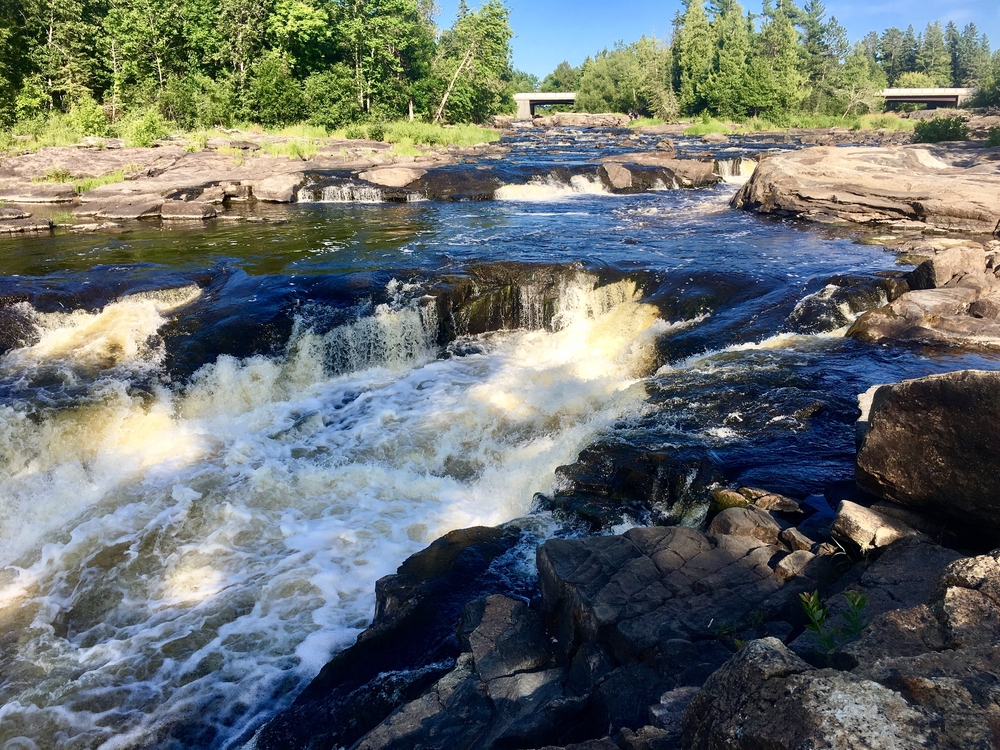 Beaver Bay For Its European Flair
Beaver Bay is home to one of the most visited spots on the shore of Lake Superior – the Split Rock Lighthouse.
The village of Beaver Bay was also the first spot along the shore to have an organized European settler community in Minnesota.
So, it's a small town full of history.
The town itself is full of cute shops, and restaurants, and is the final resting place for the legendary North Shore mail carrier, John Beargrease.
If you travel just outside of town limits, you'll get to explore some great outdoor activities as well.
Stroll along the Pink Beach, hike along the Split Rock River, or take a short walk to admire the Beaver Falls and Beaver River.
With its mix of cute small-town charm and unique outdoor activities, Beaver Bay is one of the best small towns in Minnesota.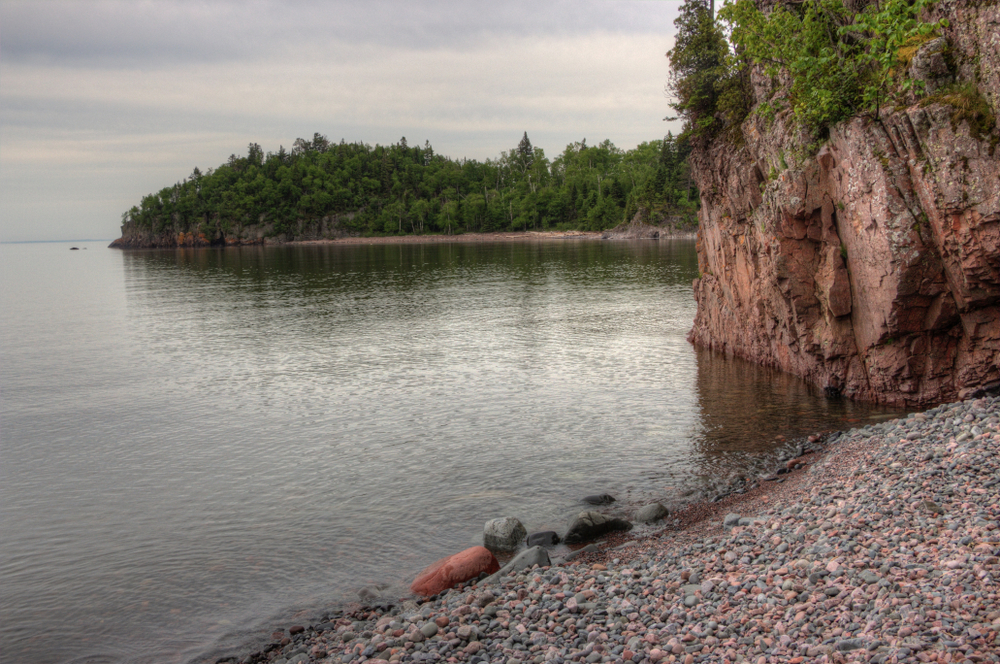 Lindstrom For Swedish Charm
Lindstrom is a Minnesota small town bursting with Swedish charm.
That's because Lindstrom's first European settlers left Sweden in 1854 and found themselves in Minnesota.
One of the Swedish emigrants, Erik Norelius, documented his journey to America and then Lindstrom in his personal journals.
Those personal journals were later published and are considered a valuable resource in understanding the journey of Swedish emigrants at the time.
Lindstrom is proud of this Swedish emigrant past, and you can find nods to Sweden throughout the town.
From the charming buildings painted with old-world designs and the eclectic shops and restaurants, you'll feel like you've stepped into a postcard.
Even their water tower, which is shaped like a tea kettle and is ornately painted, exudes Swedish charm. It is definitely one of the most charming towns in Minnesota for a romantic weekend getaway.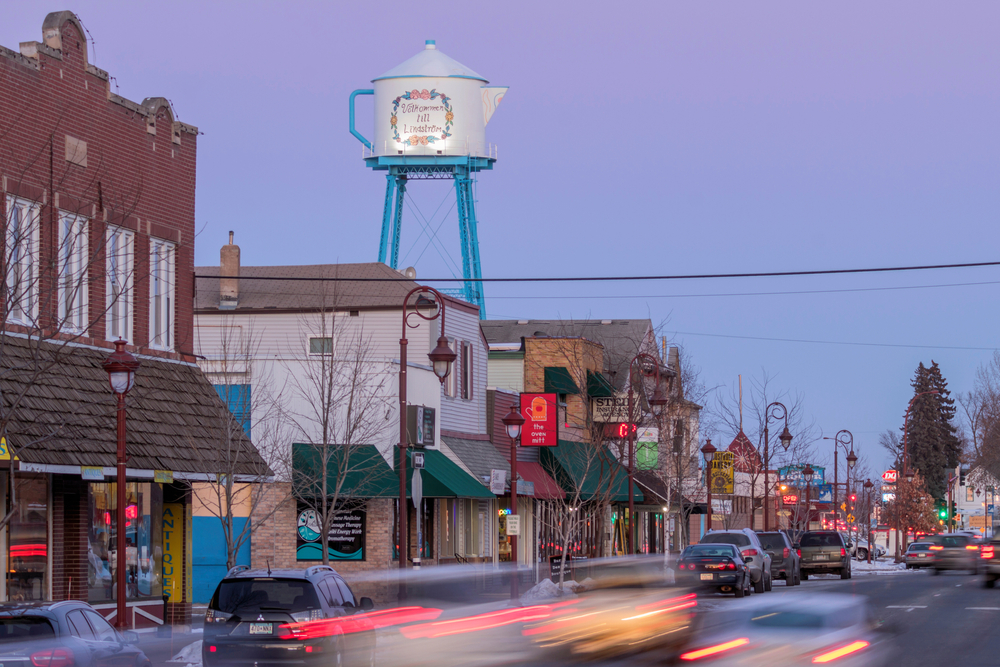 Bovey For Vintage Vibes
Bovey Minnesota looks like time has stood still in the small town.
Just 6 miles from Grand Rapids, Bovey is a charming town with a quiet Main Street that includes a few shops and restaurants.
A local favorite is the Nana Chelle's Cafe, which is decorated with antiques and serves a delicious menu of coffee, salads, and sandwiches.
Bovey is often a pit stop along the Mesabi Trail, a premier cycling trail that winds through scenic parts of Minnesota.
Just outside of Bovey, in Grand Rapids, you can explore the Gilbert Mansion.
The Gilbert Mansion is an iconic mansion turned Museum that offers visitors a look at the lives of a once-prominent Minnesota family.
There are 17 rooms and a garden area that you can explore, and the Mansion is close to other museums, shops, and restaurants.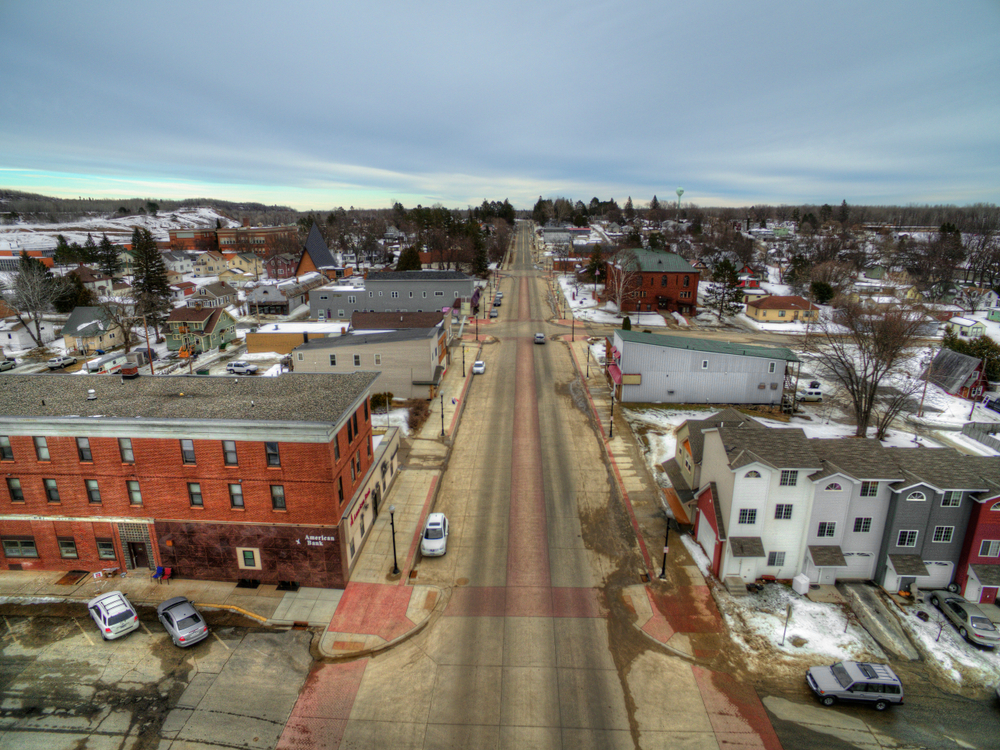 Pipestone
Pipestone is a small town in Minnesota that is bursting with awesome activities.
History lovers will enjoy visiting the Pipestone National Quarries.
It showcases the quarries that Native Americans held sacred for thousands of years.
There you can see artisans practice the tradition of hand-carving pipestone.
You can also walk the scenic paved Circle Trail along the pink Sioux Quartzite ridgeline
Or you can stand on the spot where the first European explorers stopped to map out the area.
There are also plenty of hiking trails where you can view waterfalls and fascinating rock faces.
If you love the charming Main streets of a small town, Pipestone has that too.
Explore the quaint shops, delicious restaurants, and the Pipestone County Museum.
No matter what your interests are, Pipestone is a small town in Minnesota that you'll love to visit.
There are so many fun events in Minnesota happening all over the state!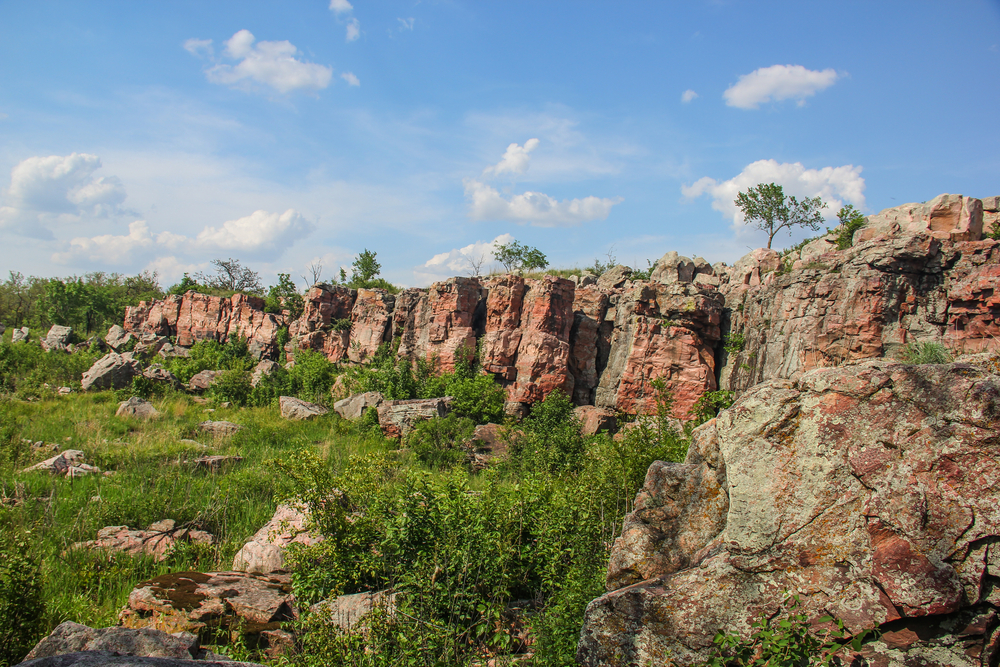 Scandia For Dala Horses And Barn Quilts
The small town of Scandia Minnesota is full of nods to its Swedish emigrants.
As you explore the town and nearby farming area, you'll see barns with quilts painted on them and Dala horse statues scattered around.
Scandia is the home of the first Swedish emigrants in Minnesota. Many of them were in New York prior to moving further out west.
Now, you can explore the history of these settlers at various places throughout town.
There is the Swedish Settler's Monument, the Hay Lake School Museum, and the Gammelgården Museum.
All of these historical sites focus on life when the town was first settled by the Swedish emigrants. They all played an important role in the town's growth.
It is a very unique small town in Minnesota and perfect for history lovers.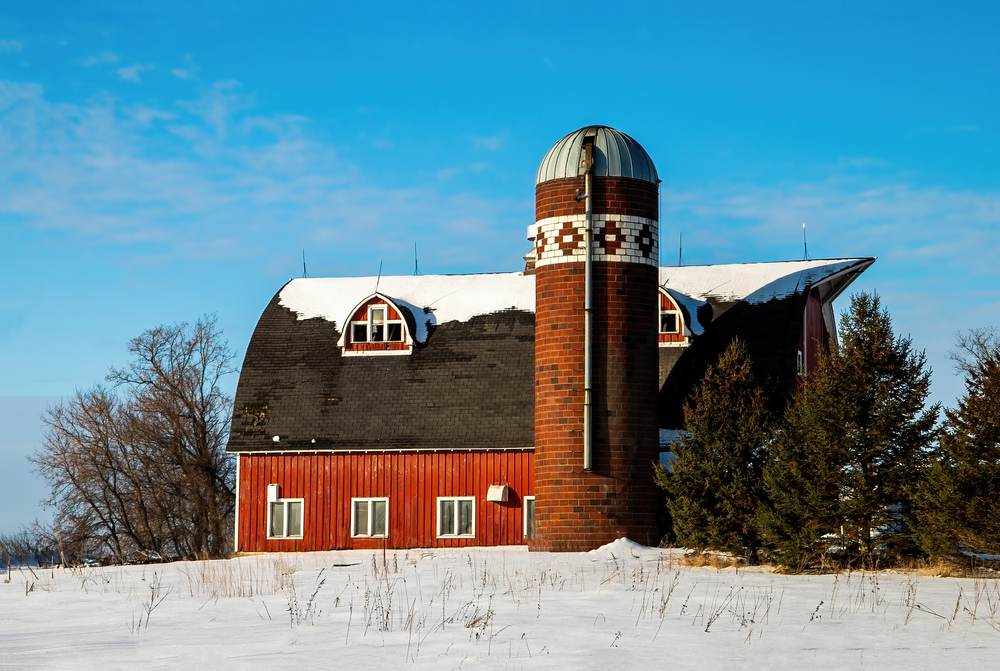 Stillwater For Its Charm
Stillwater is a small town in Minnesota that is so perfectly charming that it's won awards.
The town has been frequently voted as one of America's Most Picturesque Small Towns, Most Romantic Cities, Best US Towns for Antiquing, and so much more.
Explore the Historic Main Street where you'll find endless options for dining, charming shops, and cozy lodging.
The Historic Main Street's restaurants recently won Stillwater an award for one of the Best Small Town Food Scenes by USA Today!
For those that like outdoor adventures, you can enjoy skiing, spring gardens, outdoor festivals in the Summer, and beautiful changing leaves in the Fall.
You can also enjoy paddle boating, kayaking, fishing or even taking a ride on a steamboat on the River.
If you run out of things to do in Stillwater, which is unlikely, you'll also be close to Minneapolis, St. Paul, and the Wisconsin border.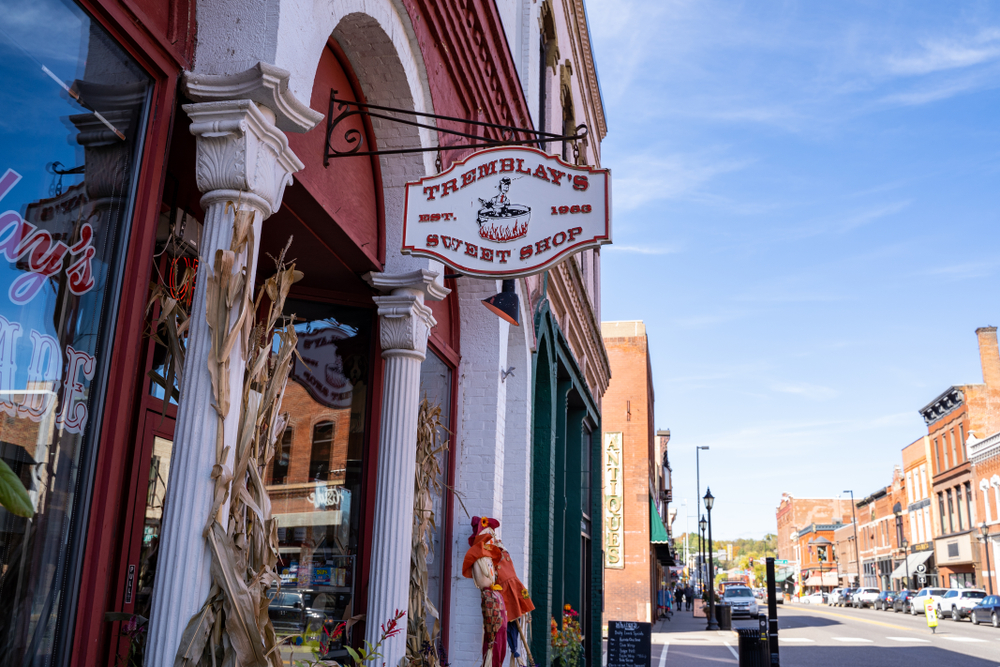 Red Wing For The Cool Breweries
Often called the most unique place to visit along the Mississippi River, Red Wing is one of the most unique towns in Minnesota.
It is one of the bigger towns on this list, but it is full of small-town appeal.
For outdoor adventurers, Red Wing is full of activities to enjoy year-round.
You can hike Barn Bluff, the Cannon Valley Trail, or explore Levee Park.
Enjoy a picnic from one of the amazing local restaurants on Sorin's Bluff in Memorial Park.
Red Wing also has a ton of shops, from the famous Red Wing Shoe Store or the Duluth Trading Co.
Foodies will enjoy the cool Red Wing Brewery, a unique brewing house in the town's downtown area.
This is one of the coolest towns in Minnesota that is just full of fun activities and experiences.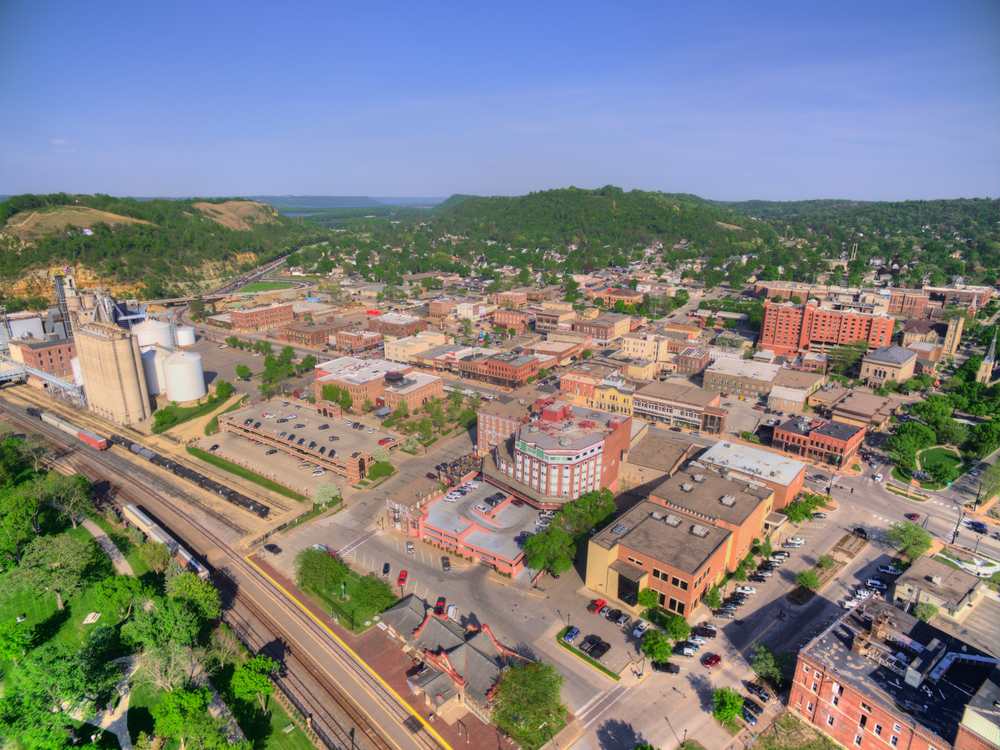 Austin Has So Many Options
Austin is home to a bustling art scene and you can view the works of local artists at the Austin Artworks Center.
The town also has a historic Paramount Theater that visitors love to visit.
For outdoor lovers, there is plenty of activities to do in Austin as well.
There are 13 miles of hiking trails, 28 town parks, 2 golf courses, and sporting events every season.
Austin is also a town that likes a full calendar of events. So no matter when you visit, you're sure to find something to do.
With almost 60 unique restaurants, foodies will also love trying something new in Austin.
This is one of the cutest towns in Minnesota to visit, no matter the season!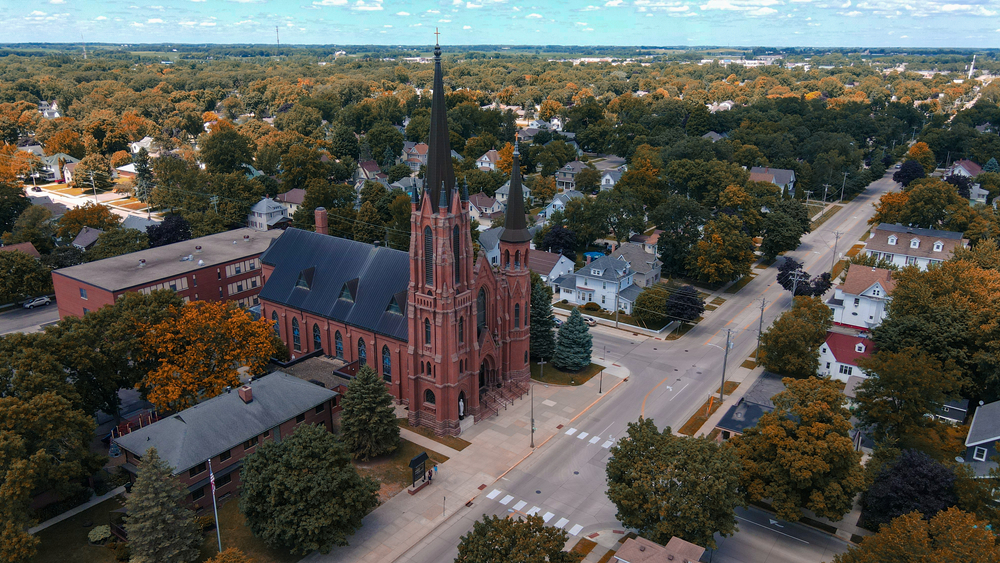 Taylors Falls
The village on the river, Taylors Falls is a charming small town in Minnesota.
The town is located on the St. Croix River in the rolling hills of Minnesota.
It is a town full of beautiful scenic views and that wonderful small-town charm.
Taylors Falls is a perfect town to visit if you are looking to take a break and enjoy nature.
The area is surrounded by rolling hills and the river, which makes it feel very peaceful.
Because of its location, there are plenty of outdoor activities for visitors to enjoy.
You can go hiking, fishing, and boating in addition to exploring the town.
In the fall, the town hosts Wannigan Days, which is a weekend-long Fall Festival.
Visitors will love exploring the area and taking in the beauty of Minnesota.
Bemidji To See Paul Bunyan And Babe One Of The Small Towns In Minnesota
Many, many years ago, Paul Bunyan and his big blue ox, Babe, called Bemidji this small town in Minnesota home.
Now, you can visit the town and walk in the footsteps of the famous Mid-Westerner and his trusty ox.
The town takes its history very seriously and that makes it a really fun stop for visitors.
There is a 'life-size' statue in the center of the town of Paul and Babe that was erected in 1937.
It's a fun photo opportunity for those who make the trip out to Bemidji.
The town also boasts a popular Main Street that has a plethora of dining and shopping options.
If you like outdoor activities, Bemidji has those too!
In the Winter you can enjoy riding snowmobiles, skiing and snowboarding.
In the Spring, Summer, and Fall, the town is host to a bunch of different fun Festivals.
And some of the most scenic trails for hiking in Minnesota!
No matter what time of year you visit Bemidji you're bound to have a good time at this historic Minnesota small town!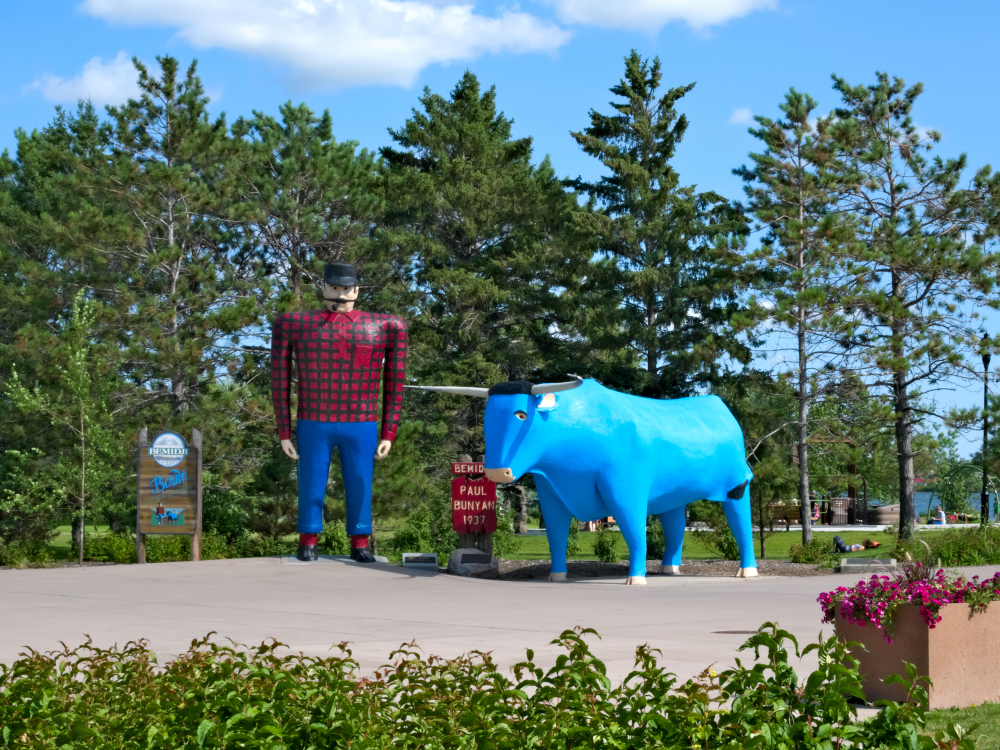 Mahkato
Mahkato Minnesota is a small town on the rise.
The Mayo Clinic Health System Event Center almost always has something going on.
You can also take several walking tours through town.
There is a walking tour of the city's art scene, one that is about the history of the City Center, and one that discusses the city's many sculptures.
Mahkato also has a claim to The Little House on the Prairie.
Fans of the Laura Ingalls Wilder novel series will recognize that it is the town where Charles Ingalls often made deliveries.
Because Mahkato is growing, it is also experiencing a surge in the opening of unique shops, restaurants, bars, and even breweries.
Visitors will love exploring this Minnesota small town full of charm.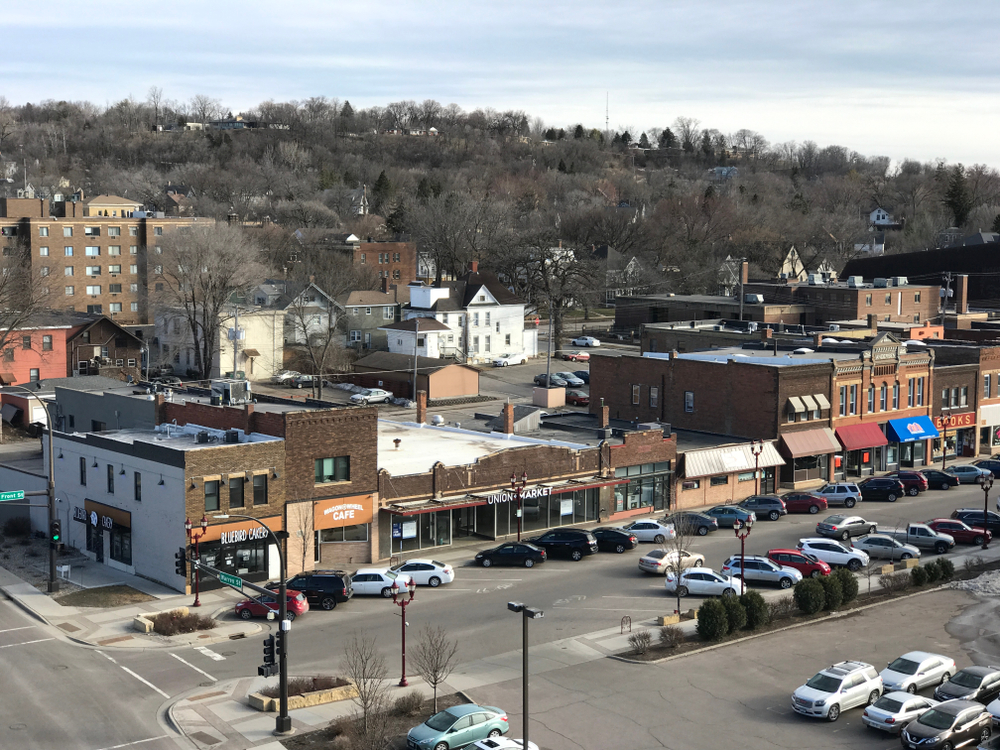 Brainerd Is One Of The Best Small Towns In Minnesota For Family Outdoor Adventures
With its many resorts, Brainerd is known as one of the best small towns in Minnesota to enjoy outdoor family time.
Brainerd has over 20 resorts and lodges, each with something unique to offer.
Whether you want four-star lodging or a simple campsite, there is something for everyone.
This is one of the best places for camping in Minnesota!
Because there are so many lodges and resorts, there is also a ton of outdoor activities.
In the winter you can enjoy snow sports like skiing, snowboarding, and even sledding.
Brainerd is also right by Lake Superior, so in the spring, summer, and fall, you can relax by the lake.
In this cool town in Minnesota, there is something fun for you and your family to enjoy, no matter the weather.
New Ulm For Bavarian Culture
New Ulm is a small town in Minnesota that was settled by Bavarian Germans in 1854.
Because of this European influence, the town today resembles a small Bavarian town.
Now, it is home to some of the best-hidden gems in Minnesota.
Music enthusiasts will love exploring the Minnesota Music Hall of Fame.
If you are interested in history, then you can learn about the town and area at the Brown County Historical Museum.
Even just a walk around town is full of beautiful and unique architecture.
There is also the Hermann Monument, which celebrates the German defeat of the Romans.
Brew lovers will want to check out America's second oldest family brewery, the August Schell Brewing Company.
New Ulm is one of the small towns in Minnesota not lacking in fun and interesting activities.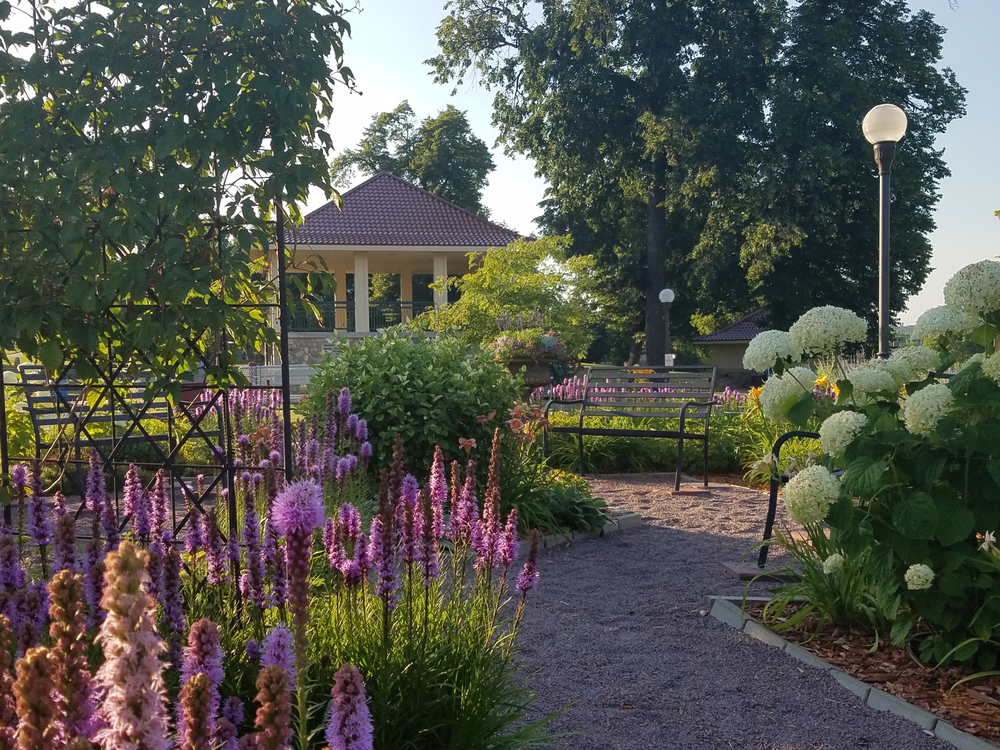 Walnut Grove If You Love Laura Ingalls Wilder
Walnut Grove Minnesota is very proud to be the childhood home of the famous prairie author, Laura Ingalls Wilder.
As a child, Wilder lived in a dugout home along Plum Creek in Walnut Grove.
This popular town in Minnesota is almost entirely dedicated to the life of Wilder and her popular novels.
Fans of Wilder will never run out of things to do during their visit.
There is a Laura Ingalls Wilder Museum where you can learn about the family and how they lived.
You can also walk along Plum Creek in the footsteps of Wilder and visit a recreated Wilder's Family Dug Out.
Walnut Grove even hosts a yearly pageant about the family's life on Plum Creek in the Summer.
If you are a fan of Laura Ingalls Wilder, then you'll definitely want to check out Walnut Grove.
Add this Minnesota attraction to your Midwest bucket list!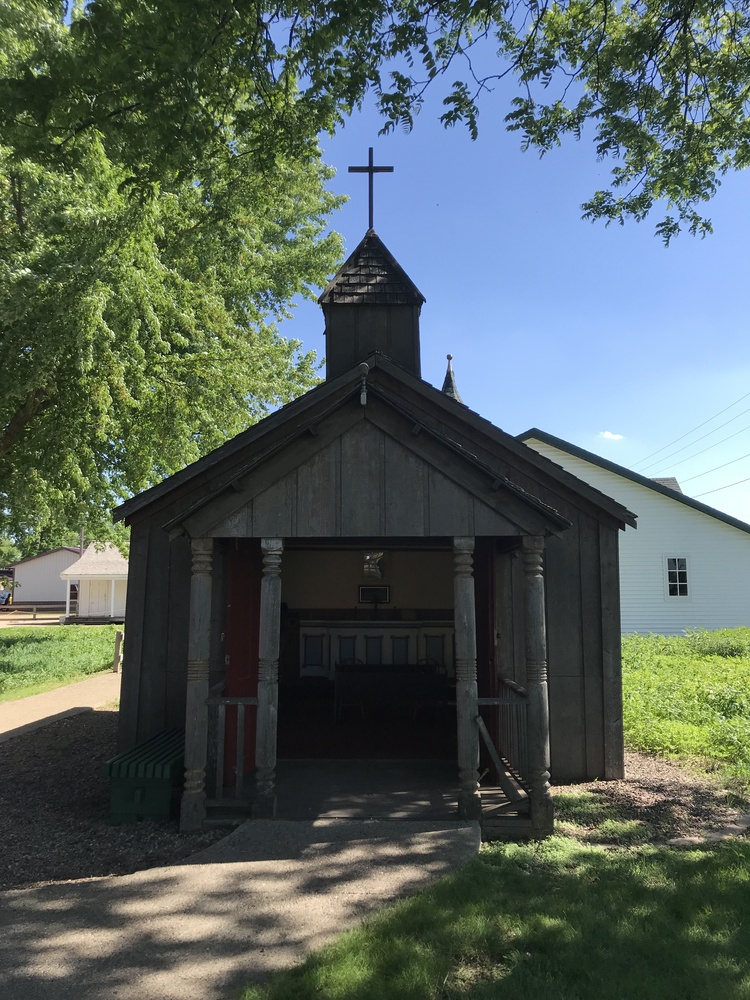 Winona With All Its Festivals Is One Of The Best Small Towns In Minnesota
Winona is a small town in Minnesota on the Mississippi River nestled between picturesque bluffs.
The town is probably most known for its many original and unique festivals.
Winona aims to have a festival for almost every interest.
Depending on when you visit, you can enjoy a film festival, music festival, dance festival, food festival, and so much more.
This is what makes visiting Winona so much fun.
No matter what time of year you visit, you can enjoy one of their super unique and fun festivals.
Winona is also home to some wonderful restaurants, shops, and breweries.
When you visit, you can also enjoy some really great outdoor activities.
From hiking, ice rock climbing, cross-country skiing, and plenty of water sports, there is something in Winona for everyone.
There are so many things to do in Minnesota!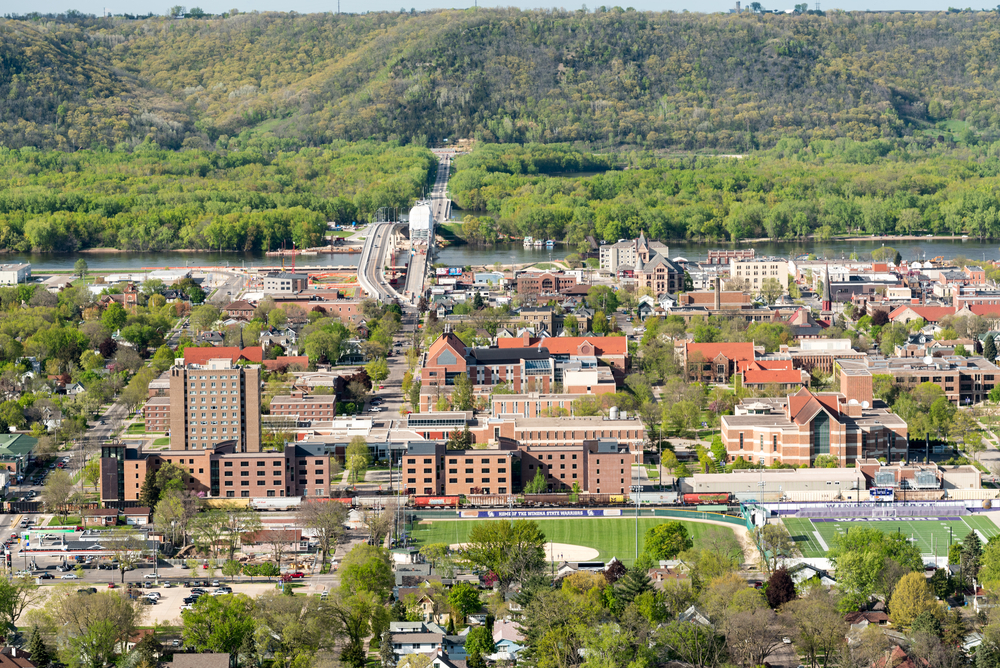 Packing List For Visiting Small Towns In Minnesota
No matter if you drive or fly to Minnesota, it always pays off to pack lightly in a carry-on!
A concealed travel pouch may be one of the most important items you bring along when visiting Minnesota small towns. It is always important to protect our personal information.
This unisex RFID-blocking concealed travel pouch is lightweight and comes in several colors. It has lots of organization to give you peace of mind.
If you have a pouch already that does not come with the RFID protection, as I do, these RFID sleeves are the perfect solution.
This configuration comes with enough passport and credit card sleeves that the entire family would be protected. They are slim too, so they will easily fit into your pouch or wallet.
If you are planning on taking a lot of pictures with your phone you will definitely want to consider an external charging battery. This Anker high-speed phone charging battery is the exact one I carry with me on all of my trips.
It can be used on a variety of phones, not just an iPhone like I have. And wow is it fast!
I like that it holds its charging capabilities for several uses so I do not have to worry about it while out and about, and if I forget to recharge it at night, it will still be good to go the next day.
My daughter gifted me with this FugeTek selfie stick and tripod setup for my birthday. I absolutely love it! It is made of lightweight aluminum and so easy to use. It has Bluetooth connectivity and is a breeze to use for group shots or that perfect selfie!
I was not a fan of packing cubes until I started to use them! This is the exact set of packing organizers I use whenever I travel.
I cannot believe how much they really do help the organization. If you have not considered packing cubes, I would recommend giving them a try.
I never leave home on a trip without my Bobble filtration bottle. The 18.5-ounce size is perfect for travel and it fits nicely in the pocket of a backpack or your purse.
When filled with water, it is not too heavy to carry. And the charcoal filter ensures fresh clean water whenever you fill the Bobble. You can find filter replacements here.
Perhaps you are traveling a long distance and packing space is a premium in your suitcase, or in your car. Then this collapsible silicone foldable water bottle would work well for you. Would not take up much space at all.
You will want a backpack or daypack with you to store snacks, your water bottle, phone, extra clothes, etc.. This foldable water-resistant backpack would be great.
It is very affordable and is available in many color options for you to choose from. The fact that it folds down into a zippered pouch will make it easy to pack.
Perhaps you need a more substantial backpack for your travel. This antitheft backpack has a charging port, is water-resistant, and can comfortably carry up to a 15.6″ laptop.
You will be walking more than usual during your weekend getaways in Ohio. A sturdy and comfortable pair of walking shoes are a must-have. These waterproof all-season shoes are extremely affordable and yet fashionable.
Mostly everyone is familiar with the Skechers brand, and these Air Run high fashion sneakers come in a lot of colors to match your outfits and are still affordable.
If you are visiting Minnesota towns in warmer weather, maybe you want a pair of sandals to wear to dinner or to the local cafe, I highly recommend these Vionics adjustable strap orthotic sandals.
I have several pairs of Vionics that I bring with me *everywhere* I travel. They are very comfortable and have orthotic footbeds that cradle and support your feet.
We all need to protect our eyes from the sun's harmful UVA/UVB rays. These unisex polarized sunglasses come in a lot of lens colors and frame designs and are extremely affordable too.
If you are fond of the aviator-style of sunglasses these polarized aviators may interest you.
If you are in need of new luggage, this expandable soft side spinner luggage is affordable and comes in lots of colors.
If you like hard-sided better, then you may favor this hard-sided luggage set better. Both sets come with TSA locks and 8 wheels per piece.
—
I hope you have enjoyed this list of the 20 small towns in Minnesota.
There are some really unique towns that are just waiting for you to explore them.
If you travel to one of these towns, please leave your experiences in the comment section below!