Hiking in Minnesota is a wonderful way to become immersed in nature while calming your mind and exercising your body.
There are so many scenic trails to explore in this Midwest state. Minnesota hiking trails will bring you to waterfalls nestled in forests and cliffs overlooking lakes while also connecting small towns across the state.
Whether you are looking for an easy hike close to the city or want to set out on a multi-day backpacking trip, there are places to hike in Minnesota perfect for your needs.
Here are some of the best hiking trails in Minnesota for your next outdoor adventure!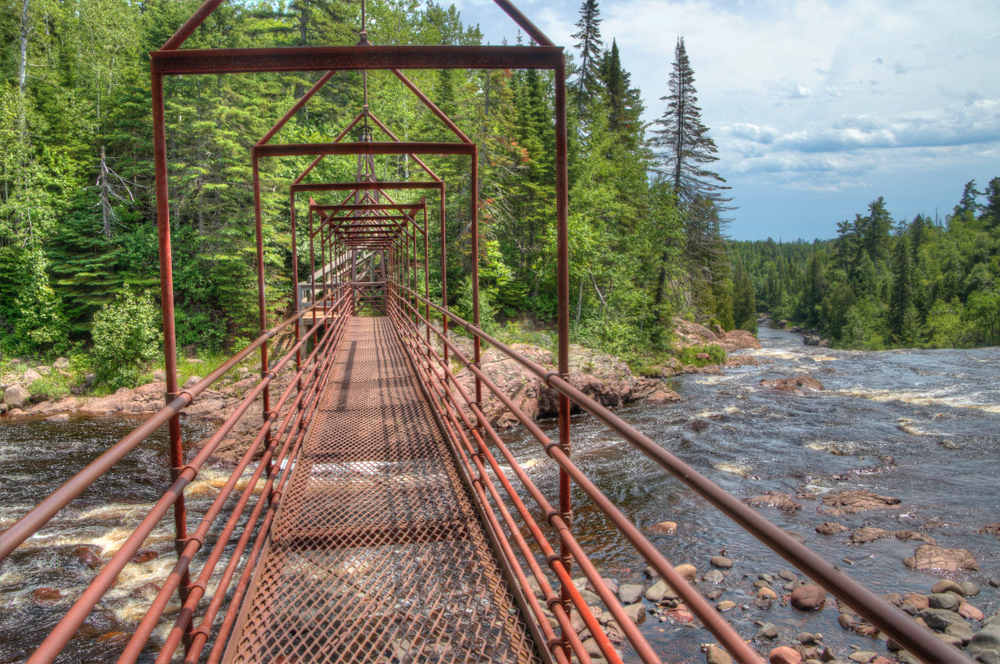 15 Scenic Trails for Hiking in Minnesota
Superior Hiking Trail
The Superior Hiking Trail is one of the best and longest trails in Minnesota. Stretching for 310-miles along the North Shore of Lake Superior, it connects Duluth to the Canadian border.
This epic trail encompasses many other Minnesota trails along the North Shore, so you do not need to hike the full trail to enjoy it.
No matter which part you choose to traverse, you will have stunning views of the lake as well as the rivers, mountains, and state parks it passes through.
If you do decide to complete the Superior Hiking Trail in its entirety, make sure to pack everything you need.
You will start hiking in Duluth before taking advantage of the backcountry campsites in Minnesota where you can pitch a tent for the night.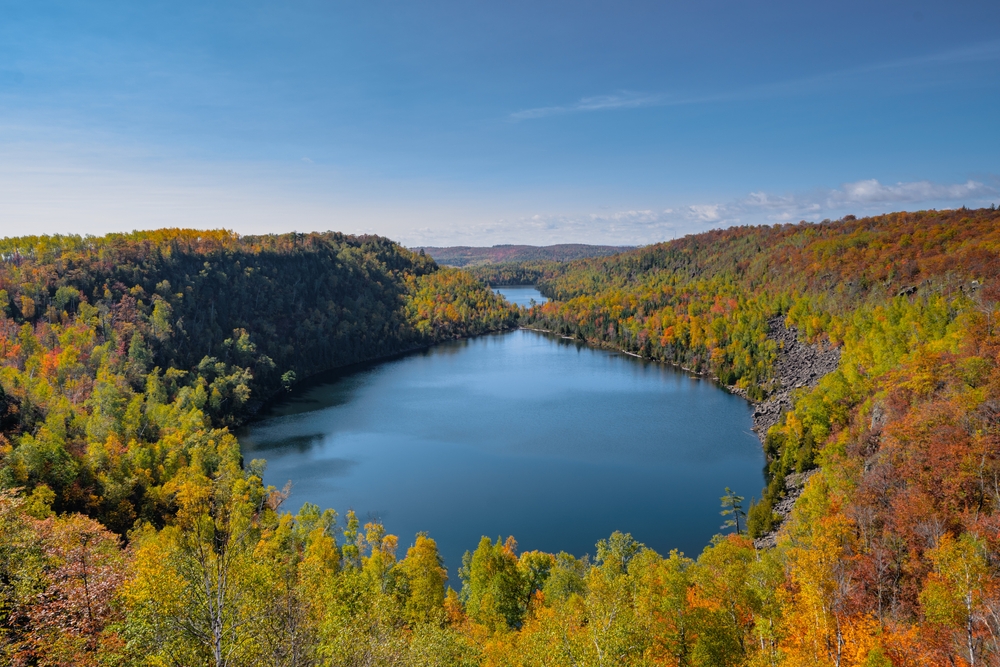 Mississippi Headwaters Trail
The Mississippi Headwaters Trail in Itasca State Park is a short and easy hike ideal for all skill levels. It is a 0.4-mile loop that begins at the parking lot and brings you to the headwaters of the mighty Mississippi River.
If you want great hiking in Minnesota with kids, then this is a trail to check out. It is paved and has boardwalks and bridges. You will have fun looking for birds and turtles.
After the hike, visit the Mary Gibbs Mississippi Headwaters Center where you can learn about the history and environment of the area. There is also a gift shop and cafe inside.
The Mississippi Headwaters Trail is a great introduction to Itasca State Park. If you want to see more of the park, there are many other longer trails.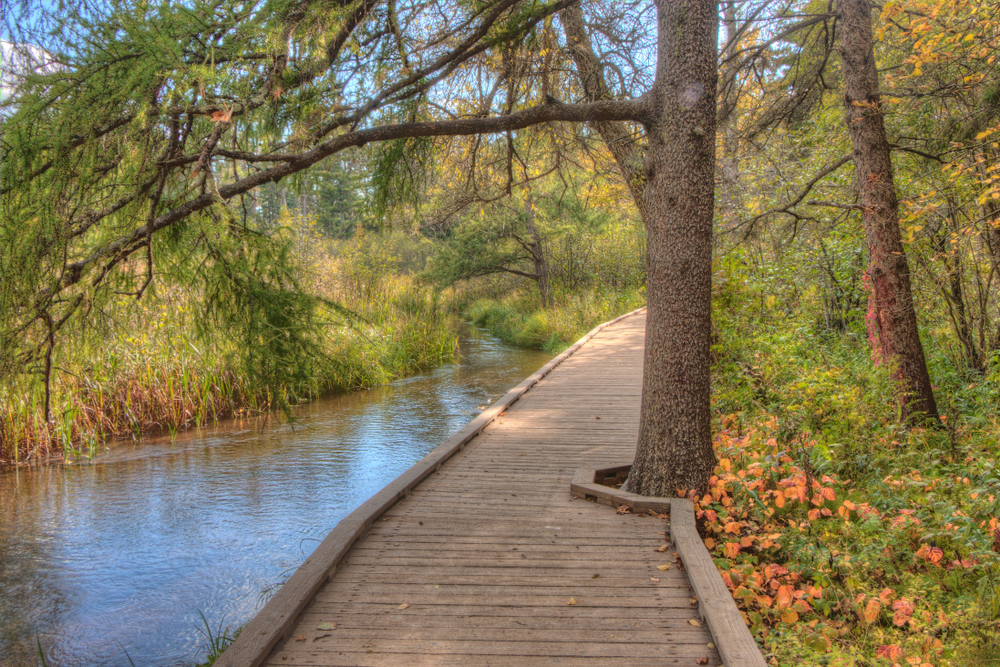 Silver Creek Trail
Jay Cooke State Park is just south of Duluth and is a great place for hiking in Minnesota. One awesome trail here is the Silver Creek Trail.
This scenic route is a 3.5-mile loop that meanders through forests and grassy fields. In spring, expect to see delicate yellow lady's-slipper flowers.
There is also a swinging bridge with cool views of the rushing St. Louis River underneath. The river is full of rugged rocks and is a cool place for photos.
The park's 9,000 acres are home to many animals and if you are lucky, you might spot some. White-tailed deer, black bears, timber wolves, and many bird species live here.
The unpaved trail is rated easy but it can get very muddy, so be prepared for that. In winter, it becomes a snowy, cross-country skiing trail.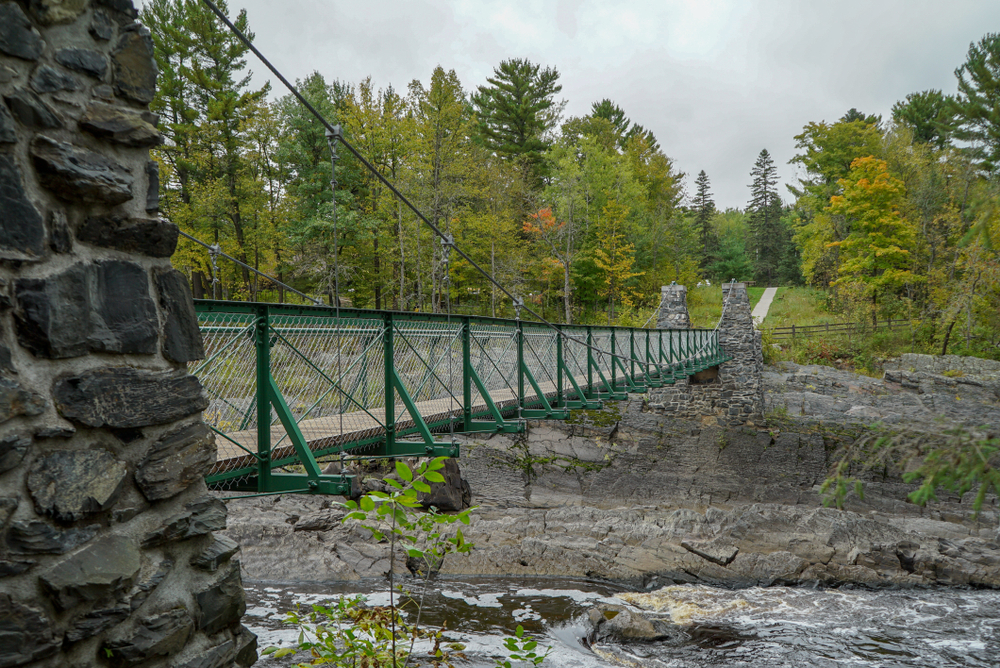 Shovel Point Trail Offers Some Of The Best Hiking In Minnesota
Head to the pretty Tettegouche State Park to explore the Shovel Point Trail. This easy-rated hike is 1.2 miles out and back. The path is uneven with gravel and some wooden stairs and boardwalks.
It follows the shore of Lake Superior from the park's visitor's center to the Shovel Point peninsula. You'll have views across the water to Palisade Head. In the summer, you might spot peregrine falcons.
If you want to explore more of Tettegouche State Park you can hike the trails along the Baptism River and find a bunch of beautiful waterfalls.
You couldn't ask for better hiking in MN.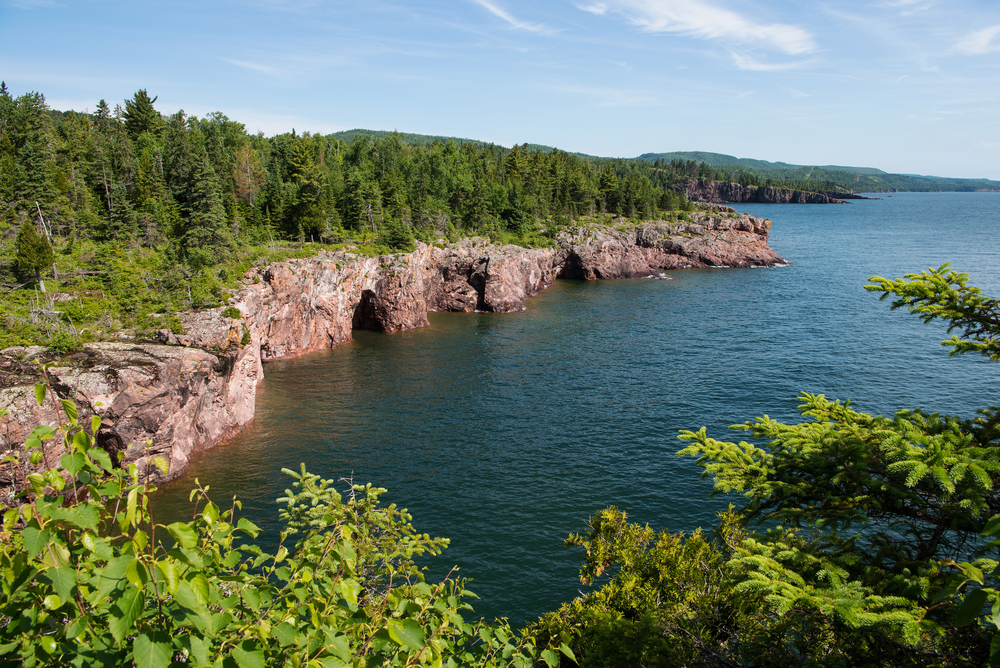 Minnehaha Falls Trail
The Minnehaha Falls Trail is one of the best places for hiking in Minneapolis. It is just south of the city in Minnehaha Regional Park on the Minnehaha Creek.
The trail is rated easy and can be enjoyed by people of all skill levels. It is a 0.8-mile loop that will bring you to the 53-foot Minnehaha Falls.
Interestingly, these falls were mentioned in a poem by Henry Wadsworth Longfellow. You can find a replica of the poet's home nearby, next to the pretty Longfellow Gardens.
The park also features playgrounds, gardens, picnic tables, and museums. With so much to do nearby, it is clearly one of the best hikes in Minneapolis.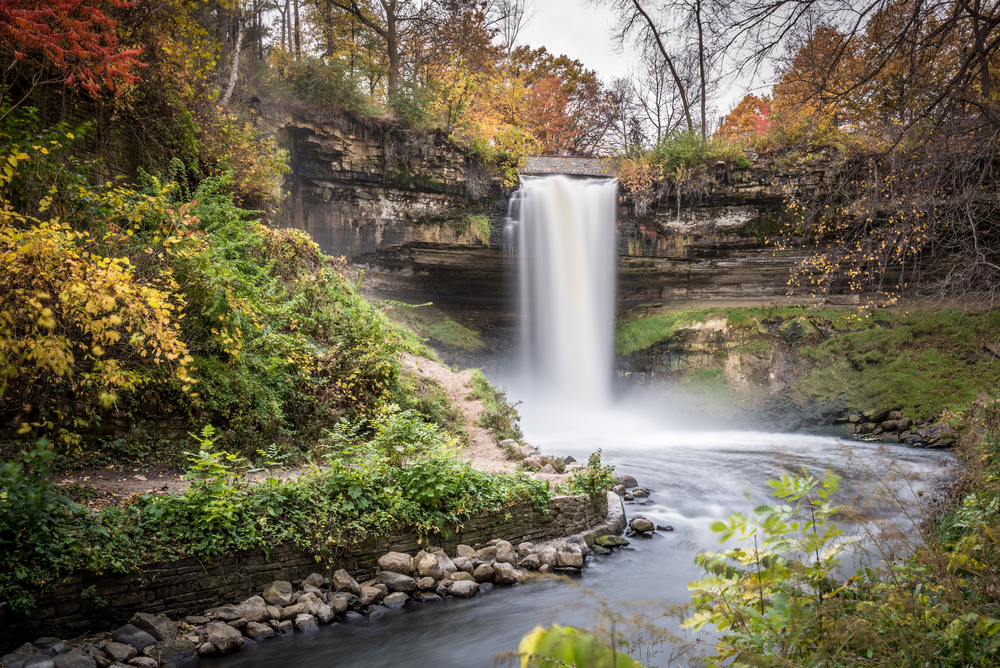 Upper Cliffline Trail
Blue Mounds State Park is not a landscape you might expect to see in Minnesota. Found near the small town of Luverne, it is close to the border with South Dakota and looks a lot like the other state.
Here you will be able to hike the Upper Cliffline Trail through prairie and along pretty pink quartzite cliffs. The hilly trail is rated easy and is about 3 miles round-trip.
This trail connects to others if you want to continue your hike. As you walk, you will see diverse prairie grasses, wildflowers, and cactus plants.
You might also spot bison grazing in the park. If you visit in spring, there is the chance of seeing calves. You will forget you are in Minnesota as you explore this gorgeous landscape!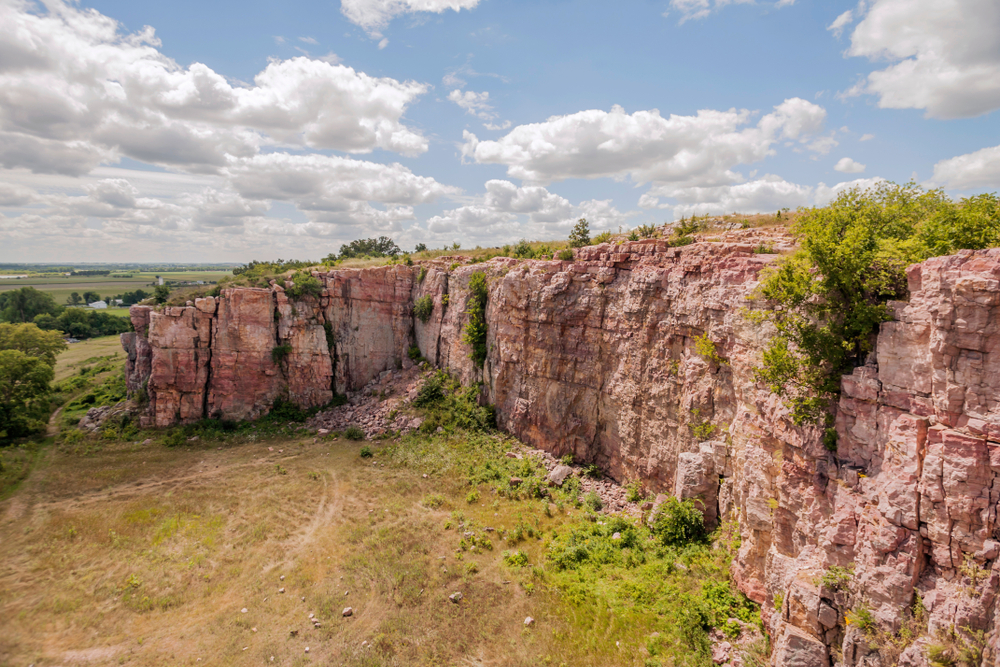 Glacial Lakes State Trail
The Glacial Lakes State Trail follows the old Burlington Northern Railroad for 22 miles between the towns of Willmar and Hawick. Then there is an additional section of 7.5 miles between Roscoe and Cold Spring.
Both sections are paved and are rated easy. There are multiple starting points so you can hike as much or as little as you would like.
As you walk or ride your bike, you will enjoy views of many lakes that were formed by glaciers 10,000 years ago. There are plenty of rest areas along the way where you can have a picnic.
During the winter, part of the trail becomes a snowmobile route.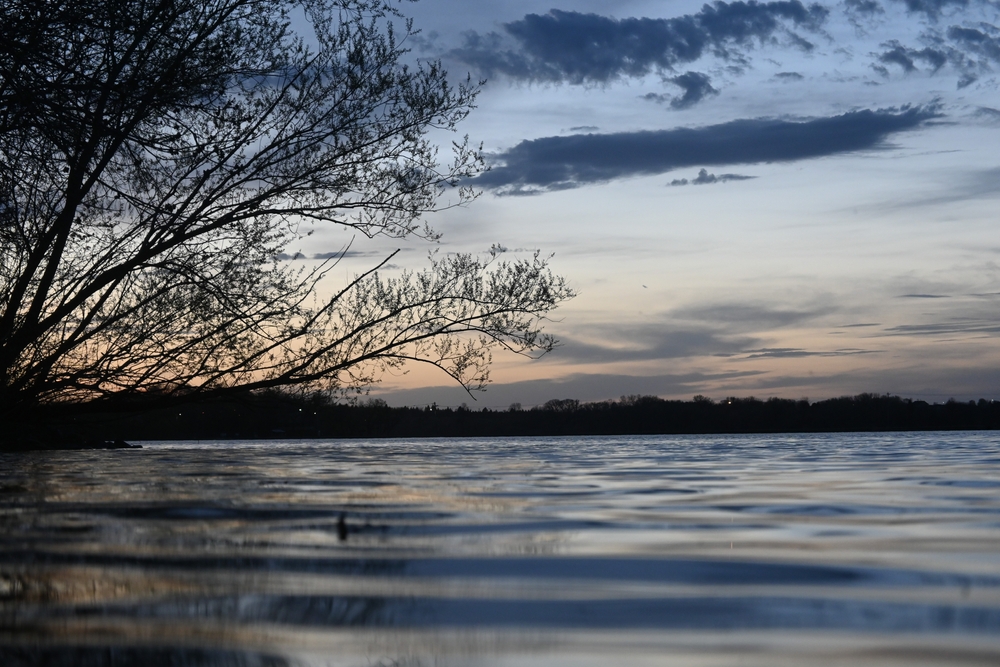 Loon Lake Loop
In Savanna Portage State Park, the Loon Lake Loop is a 1.3-mile trail that circles the scenic lake. You will enjoy the lovely forest and lake views on this easy hike.
Bring binoculars so you can spot some birds, including the loon the lake is named after. Bug spray is advisable too since the insects can get really bad here.
After your hike, you can cool off at the lake's swimming beach. The shady area is a great place to relax.
You can also rent a canoe or kayak and get out on the water. There is a dock for fishing as well. Don't forget to check out the other trails in the park too for more Minnesota hiking.
The Historical Savanna Portage Trail is another great hike that leads you along the path once walked by Native Americans and early explorers. It is over 12 miles roundtrip.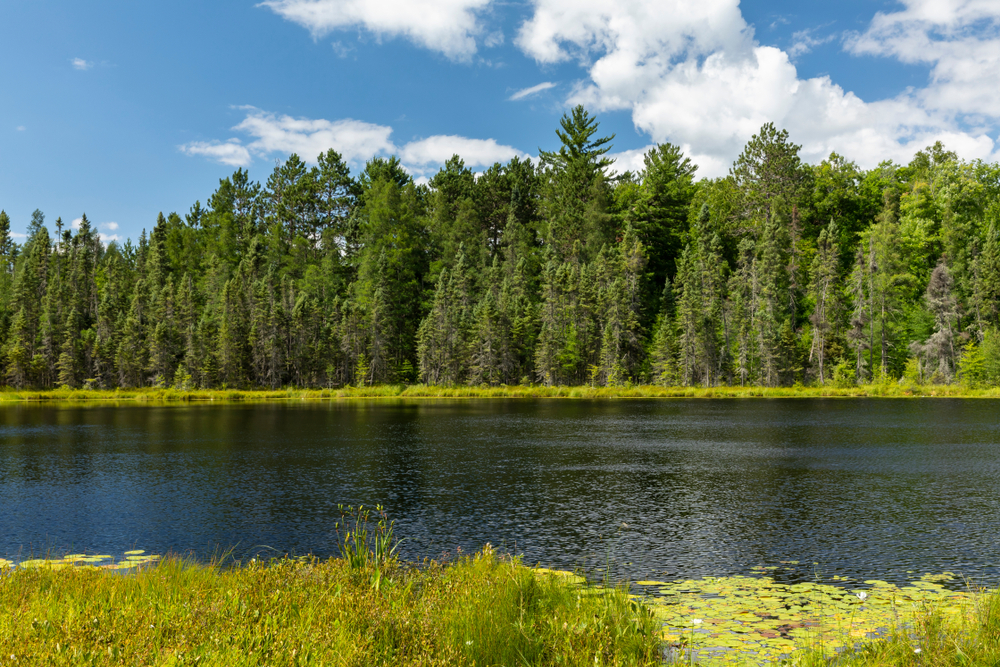 Swedish Immigrant Regional Trail
The Swedish Immigrant Regional Trail begins in the Interstate State Park on the Wisconsin border and will be 20 miles long when completed.
As of now, there are over 8 miles to hike between Taylors Falls and Shafer. It is an easy, paved trail that follows Highway 8. The trail celebrates Swedish immigrant history in Minnesota.
Interstate State Park provides great Taylor Falls hiking with views of the St. Croix River. You can camp, go kayaking, and even see glacial potholes.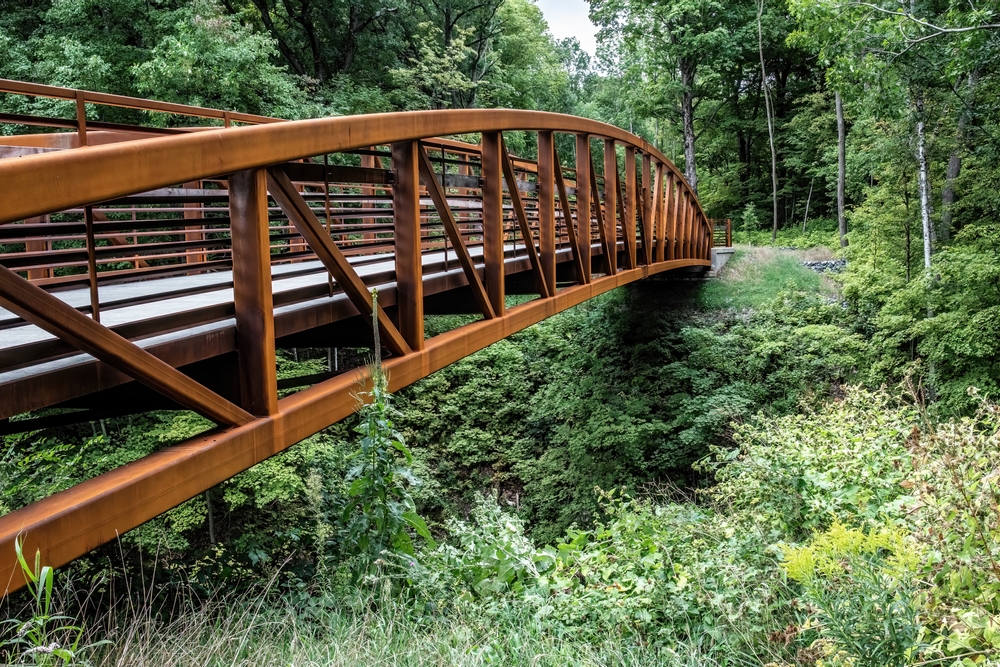 Lebanon Hills Loop
The Lebanon Hills Loop is found within Eagan's Lebanon Hills Regional Park and is one of the most popular hiking trails in Minnesota because of the views of many lakes and the chance to see wildlife.
This easy to moderate hike is 5.3 miles total. Breathe in the fresh air as you wander through woods and around the pretty lakes on dirt paths and boardwalks.
In winter, the landscape becomes covered in snow, and you can go cross-country skiing. Some of the lakes also allow ice skating or ice fishing.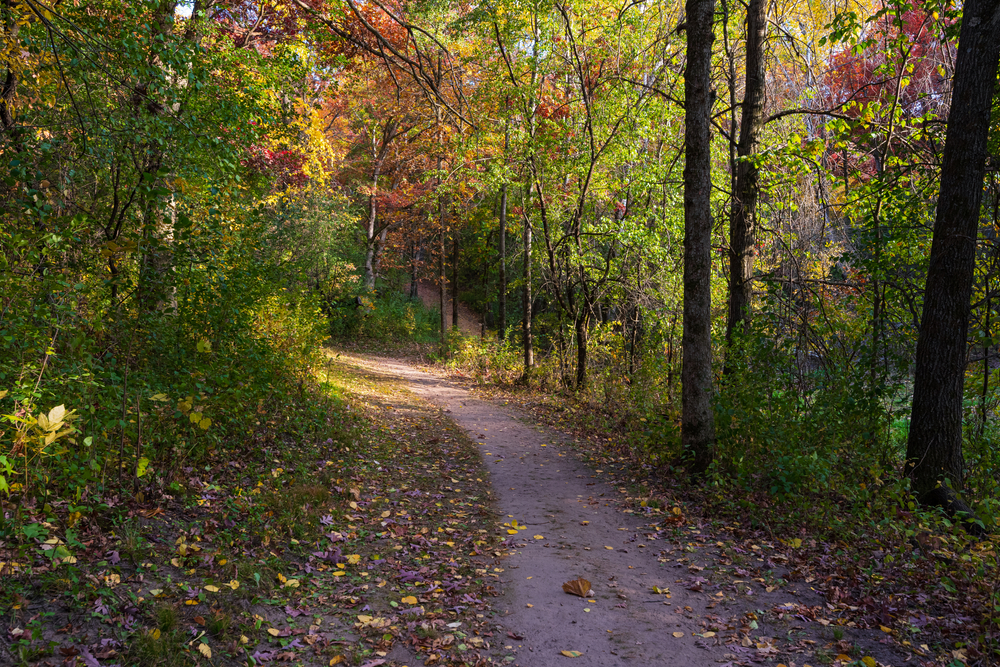 Dakota Trail Offers Spectacular Minnesota Hiking
The Dakota Trail in Whitewater State Park is a great place for some of the best hiking in Minnesota if you love sweeping views and getting your cardio in while climbing stairs.
This forest and riverside trail is a 4.2-mile loop. It is rated moderate with steep and hilly areas.
There is an elevation gain of over 1,000 feet. And, yes, there are over 200 stairs on the trail so get ready to get your heart pumping!
There are overlooks with amazing views of the valley below perfect for photography. If you want to find more views, continue hiking on the trails that connect to the Dakota Trail.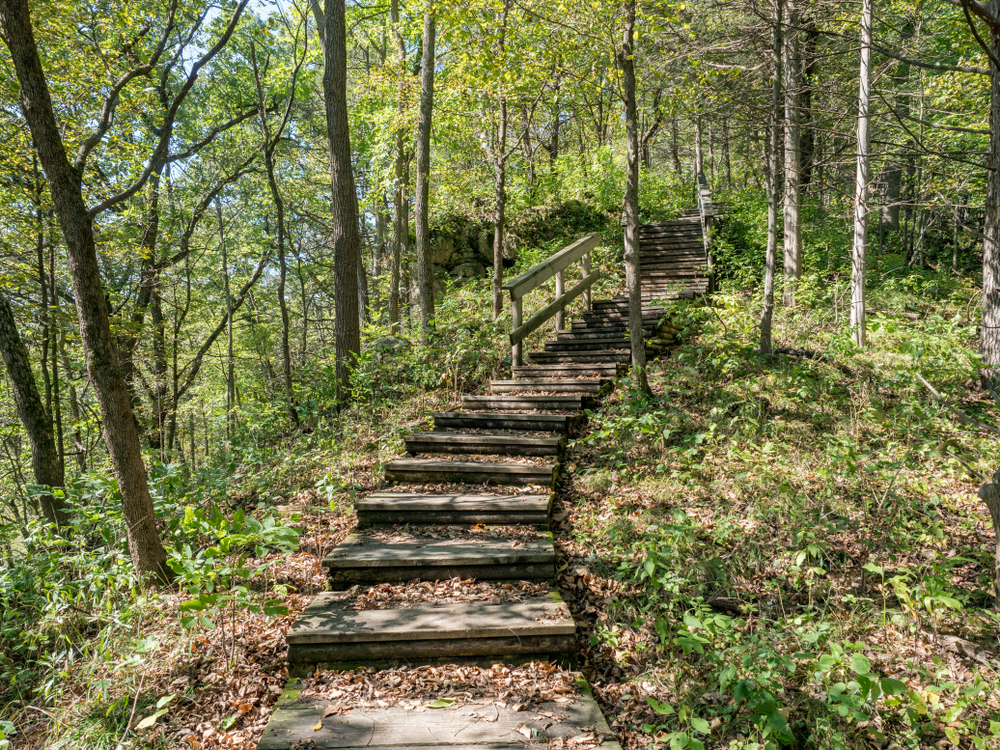 Kawishiwi Falls Trail
If you are looking for awesome hiking trails in Northern Minnesota, head into the Superior National Forest near Ely. Here, you will find the Kawishiwi Falls Trail.
The easy 1-mile loop trail will get hikers of all skill levels to views of the 70-foot high Kawishiwi Falls. The name of the waterfall translates to "river full of beaver or muskrat houses" in the Ojibwe language.
The waterfall is between Fall and Garden Lakes where you can camp or stay at a comfy Minnesota resort. Spend time kayaking on the calm water or head down into Ely for museums, shops, and restaurants.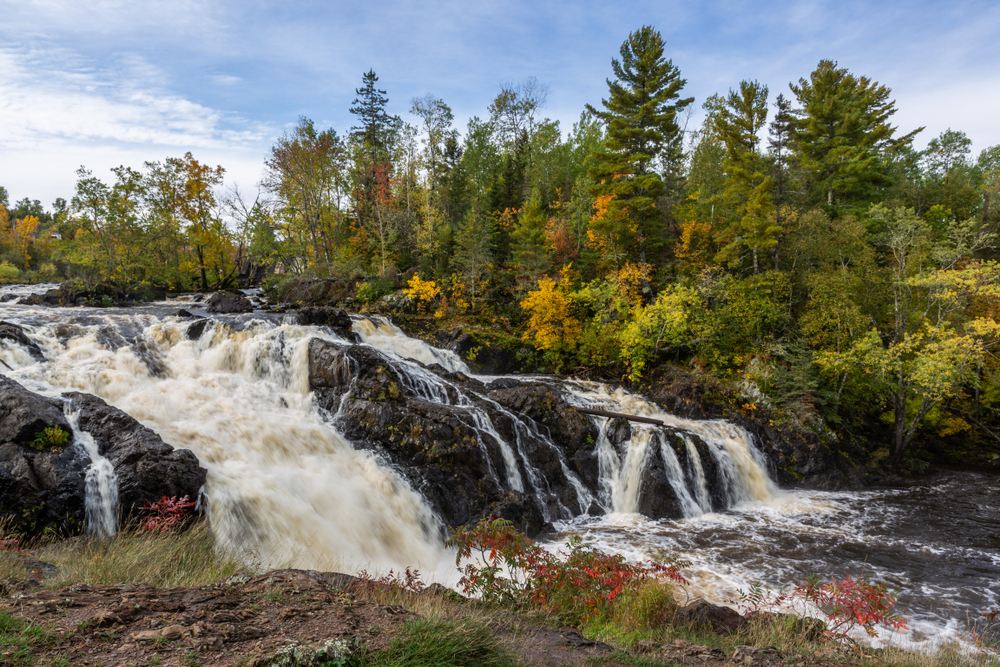 Nerstrand Beaver Loop
Nerstrand Big Woods State Park is about an hour south of the Twin Cities and offers an escape into nature. The Hidden Falls Trail is a great introduction to this park.
It is an easy 1-mile loop that features a gorgeous waterfall. The dirt trail has some steep areas as well as stairs and boardwalks.
In spring, the trail is lined with pretty wildflowers while summer brings green ferns and mosses. As you hike, check out the interpretive signs to learn about the nature in the park.
Of course, the star of this hike is the 20-foot tall Hidden Falls. It stretches across the creek and cascades over limestone rocks.
Visit between rainfalls to see the waterfall gushing strongly or come in winter when it is completely frozen. Either way, this park provides some of the best hiking in Minnesota.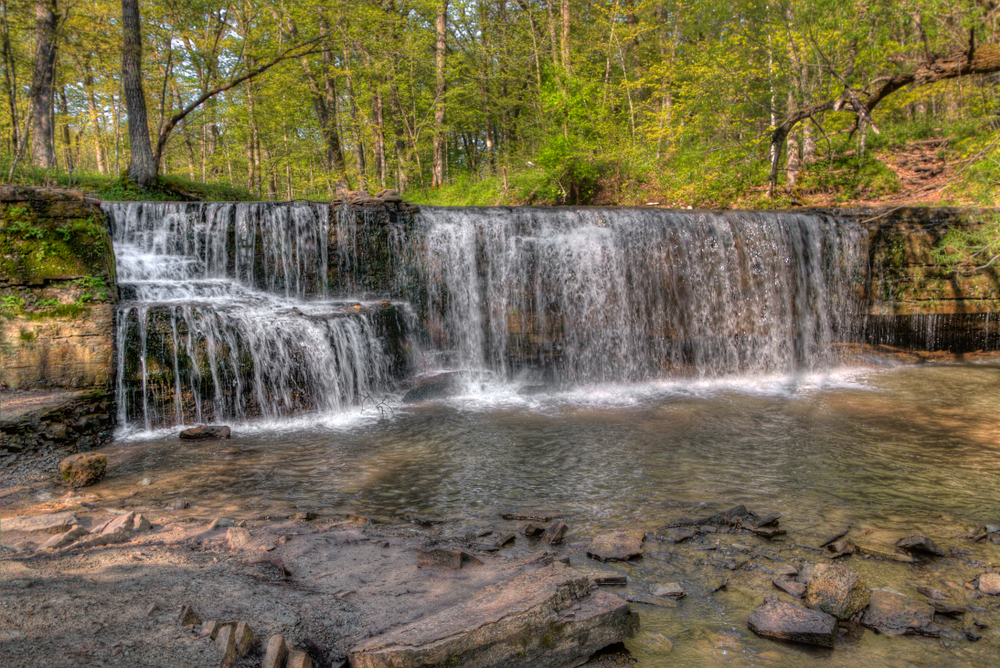 Minneopa Falls Trail Is One Of The Best Hikes In Minnesota For Waterfall Viewing
If you are not tired of waterfalls yet, make the trip to Minneopa State Park for yet another gorgeous Minnesota waterfall!
The Minneopa Falls Trail is an easy 0.6-mile out-and-back path for all ages. You will climb down some stairs into the gorge where the Lower Minneopa Falls drops 39 feet.
The word Minneopa translates to "water falling twice" in the Dakota language and refers to the upper and lower falls on the creek. The Upper Minneopa Falls are 10 feet tall.
You can view both waterfalls from above as well from a bridge. The park also has a historic mill, picnic areas, cabins, and campsites.
If you are looking for a really easy and quick hike in Minnesota, this is the one for you! It is found in Southern Minnesota near the town of Mankato.
Crosby Farm Regional Park Is A Great Destination For Hiking In Minnesota
Crosby Farm Regional Park is a great place for hiking in St. Paul. There are 6.7 miles of trails in the park with different loops you can do depending on the length you want.
As you hike, you will explore shady woods, marshy lakes, and views of the Mississippi River. These Minnesota trails are easy and paved, perfect for kids, strollers, and wheelchairs.
The trail can get muddy after it rains. The park also has a hidden slot canyon you can check out which becomes coated in ice during the winter.
This is one of the best hikes in Minnesota since there are so many routes to explore. After hiking, you can hydrate or eat lunch at one of the picnic tables.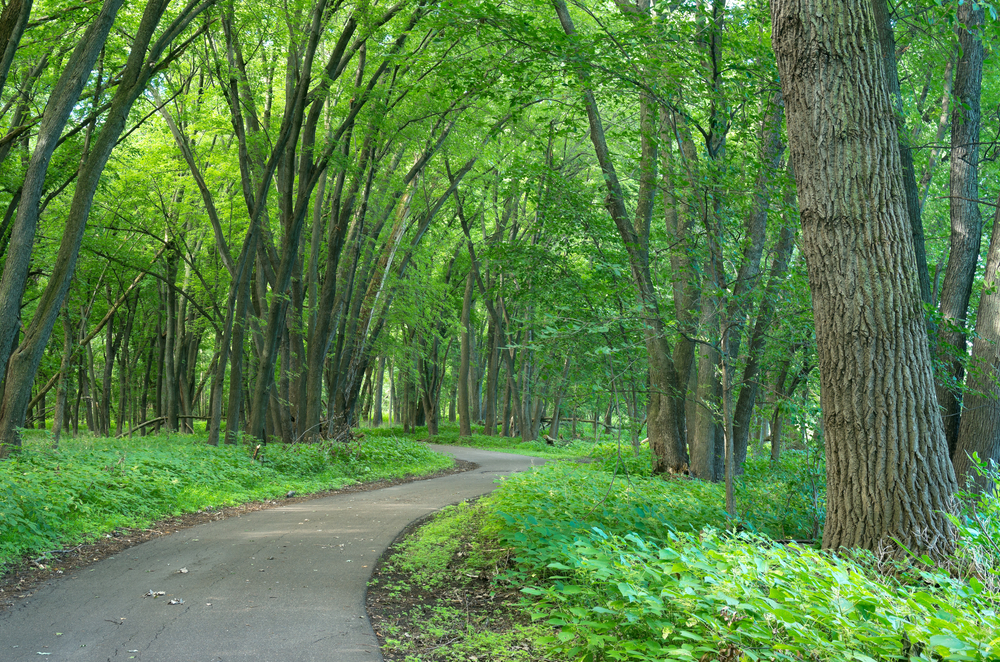 Packing List When Hiking In Minnesota
If you are searching, here are some tips on how to pack lightly when packing for Minnesota hiking.
A concealed travel pouch may be one of the most important items you bring along when exploring the scenic trails in Minnesota.  It is always important to protect your personal information. Identity thieves are everywhere.
This unisex RFID blocking concealed travel pouch is lightweight and comes in several colors. It has lots of organization to give you peace of mind. You can place it under your hiking clothes next to your body to carry your ID safely.
If you have a pouch already that does not come with the RFID protection, as I do, these RFID sleeves are the perfect solution.
If you are planning on taking a lot of pictures with your phone you will definitely want to consider an external charging battery. This Anker high-speed phone charging battery is the exact one I carry with me on all of my trips.
I like that it holds its charging capabilities for several uses so I do not have to worry about it while out and about, and if I forget to recharge it at night, it will still be good to go the next day.
My daughter gifted me with this FugeTek selfie stick and tripod setup for my birthday. I absolutely love it! It is made of lightweight aluminum and is so easy to use.
It has Bluetooth connectivity and is a breeze to use for taking Insta-worthy selfies while discovering island getaways in the US.
I never much believed in using packing cubes when traveling. That is until I tried them. Now I am hooked. These are the exact cubes I use to stay organized when I pack for a trip!
You will want to bring your own refillable water bottle with you.
I never leave home on a trip without my Bobble filtration bottle. The 18.5-ounce size is perfect for your adventures and it fits nicely in the pocket of a backpack.
Perhaps you are traveling a long distance and packing space is a premium in your suitcase, or in your car. Then this set of collapsible silicone foldable water bottles would work well for you. Would not take up much space at all.
You will want a backpack or daypack with you to store snacks, your water bottle, phone, extra clothes, etc.. during long hours of hiking in Minnesota. No matter the time of day or evening.
This foldable water-resistant backpack would be great. And it comes in many different colors.
—
Hiking in Minnesota is one of the best things to do in Minnesota. It is so popular because of the diversity of landscapes you can explore. Waterfalls, lakes, rivers, forests, mountains, and gorges wait to be discovered.
Whether you want just a day trip from the city or a place to camping for the weekend, there are a ton of state parks where you can enjoy Minnesota hiking trails with your friends and family.
Get ready to start hiking MN!