Are you looking for things to do in Minneapolis? Then you are in the right place.
In this article, I will walk you through Minneapolis attractions, things to do in the Twin Cities, and fun things to do in Minneapolis, Minnesota.
Minneapolis is a large metropolitan area that is cut in half by the Mississippi River. On one side of the river is Minneapolis and on the other side is St Paul. In this article, I will focus mainly on Minneapolis and not its twin city, St. Paul.
Minneapolis is a glistening modern American city with something for everyone. Parks and green spaces mix seemingly with modern architecture, lots of cultural attractions, and great shopping. It's also a beautiful area in the fall in Minnesota.
The public transport here is excellent too making seeing most of the attractions easy. Minneapolis, MN is a great city to explore and there are so many interesting things to see and do.
With some of the best museums in the USA, picturesque lakes, the Mall of America, and some great spaces to relax I can guarantee Minneapolis, MN will not disappoint you. When it comes to what to do in Minneapolis you will have lots of options.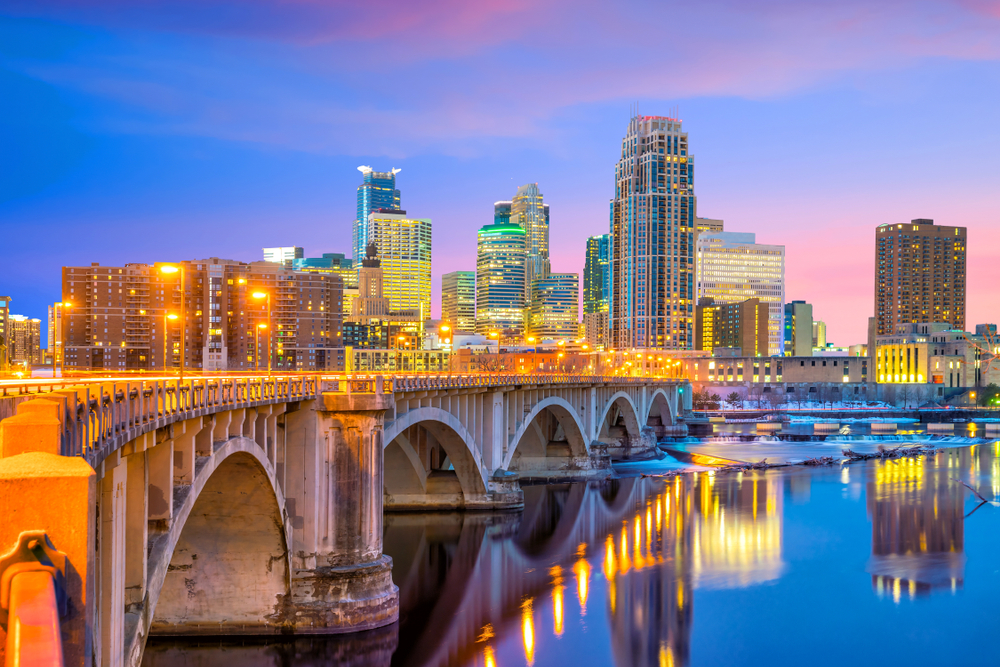 15 Things To Do In Minneapolis MN You Shouldn't Miss
Enjoy Art At The Minneapolis Institute of Art
When it comes to things to do in Minneapolis Minnesota, a visit to the Minneapolis Institute of Art needs to be on your list. A government-funded fine art museum this is a Minneapolis attraction not to be missed.
Formally known as Morisson Park, this eight-acre campus is well worth the visit. It Houses over 80,000 objects spanning 5,000 years of world history.
The museum is home to one of the finest wide-ranging art collections. There is art from Africa, Oceania, and the Americas, as well as a vast collection of Asian art and sculpture.
The museum also often hosts traveling collections from other museums and displays a lot of local art too.
If you love art of all descriptions then please make sure you consider visiting here. Admission is free and there are public tours.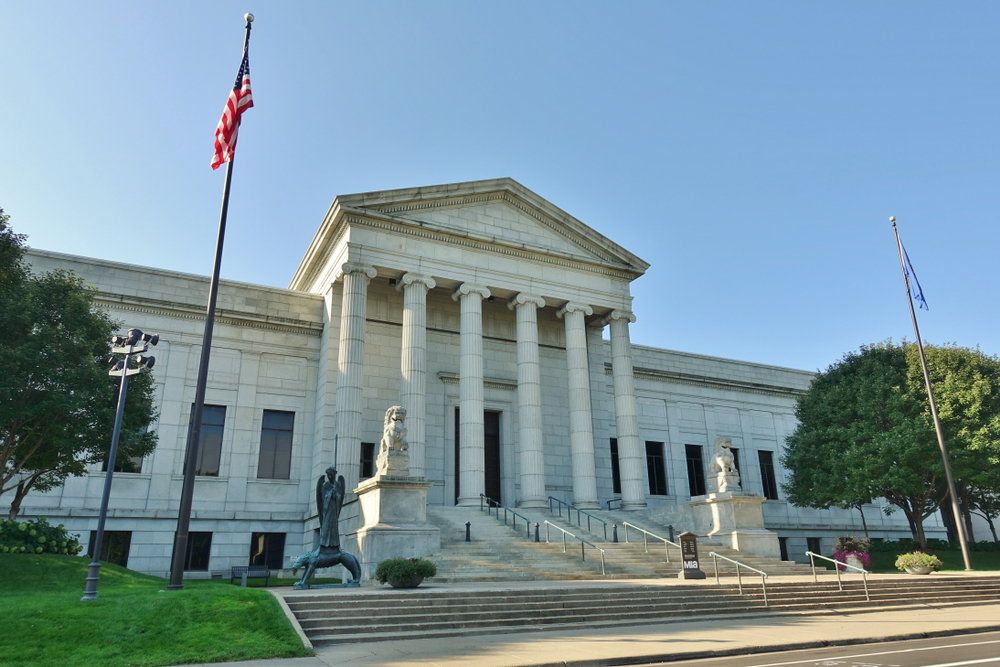 Get Cultural At The Walker Art Center
Walkers Art Centre is considered one of the nation's 'Big Five' modern art museums. It should therefore be top of your things to do in Minneapolis Minnesota list.
It's a multi-disciplinary contemporary art center established as a public art gallery in 1927. It covers an area the size of 17 acres and includes architectural design, visual arts, performing arts, film/video, new media initiatives, and education and community programs.
Walkers Art Centre is housed in a stunning building opposite the culture park. Here you can see two attractions in Minneapolis by just walking across the street.
The venue plays an important part in the visual and performing arts community in the city. It is often used for film screenings.
There are numerous exhibition galleries, a theater, cinema, lounges, terraces, and eating establishments. A great way to really immerse yourself in the culture of this incredible city.
Visiting this iconic museum would make a great destination as part of a fun Midwest road trip.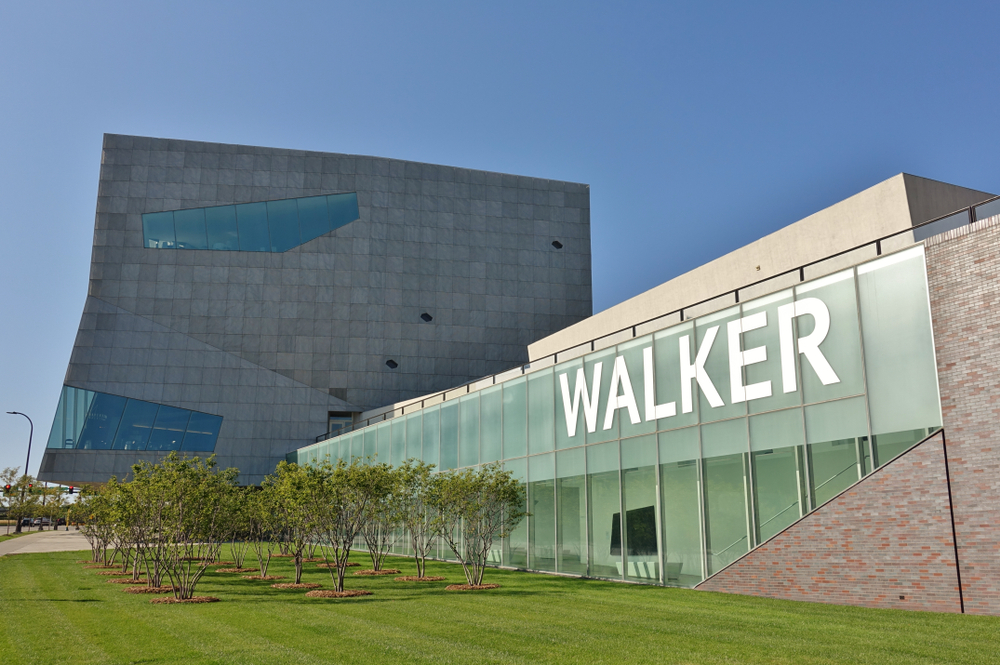 Get A Bite At The Mill City Farmers Market
Mill City Farmers Market is a fresh produce market featuring items from local, sustainable and organic farmers and artisans.
Situated in the historic train shed of the Mill City Museum it is open Saturday and Sundays throughout summer and well worth a visit.
There is a really wide range of vendors here selling anything from fresh and artisan products to jewelry, clothing, and ceramics. This is one of the best places to get food in Minneapolis.
Live entertainment is often held here too along with cooking demonstrations and food tastings. The vibe is just infectious so go check this out if you can.
Marval At The Weisman Art Museum
With a stainless steel and brick facade, it's hard to miss the Weisman Art Museum. Some say it resembles 'a crumpled aluminum can.'
Designed by the architect Frank Gehry the museum houses an impressive collection of art within its walls.
Located on the campus of the University of Minnesota the museum has an impressive art collection.
It features early twentieth-century American artists, such as Marsden Hartley and Georgia O'Keeffe, as well as a diverse selection of Native American Mimbres pottery and ceramics.
Open every day except Mondays and with free admission. This is one of the attractions in Minneapolis that won't break the bank.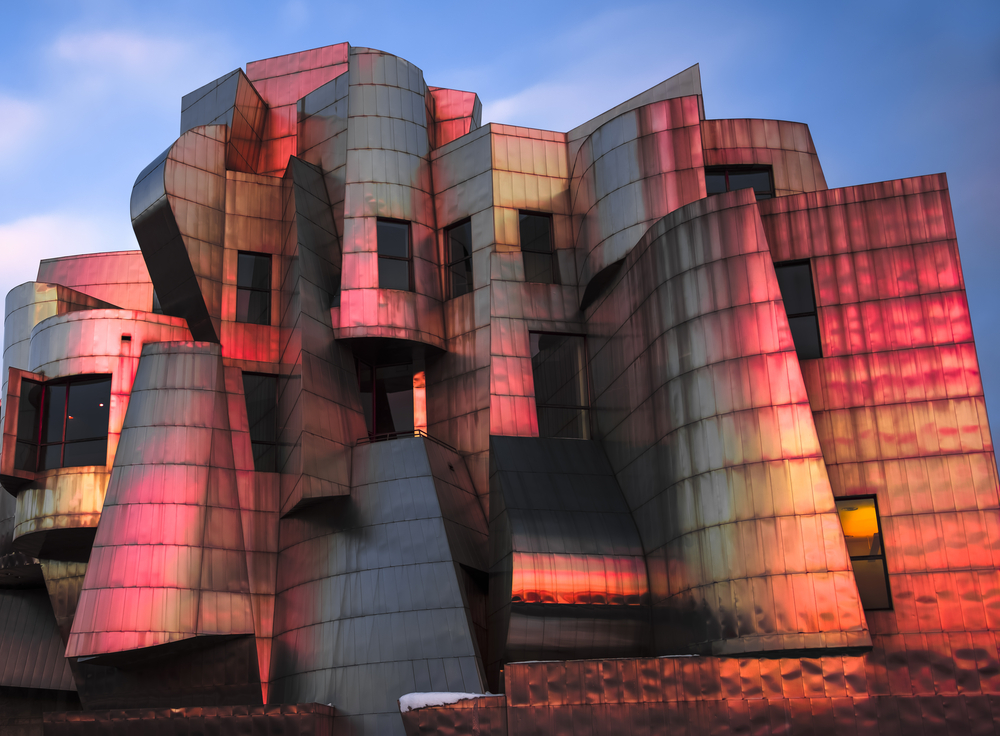 Taking Pictures At The Stone Arch Bridge Is One Of The Fun Things To Do In Minneapolis
Built in 1883 the Stone Arch Bridge is an important piece of Minnesota history. The bridge originally served as a working railroad bridge and carried goods across the river until 1965.
Listed on the National Register of Historic Places the bridge not only makes a great photography spot but is also part of the St. Anthony Falls Heritage Trail, a two-mile trail winding itself around the city.
This is one of the things to do in Minneapolis that won't cost you a dime and gets you out in the open air.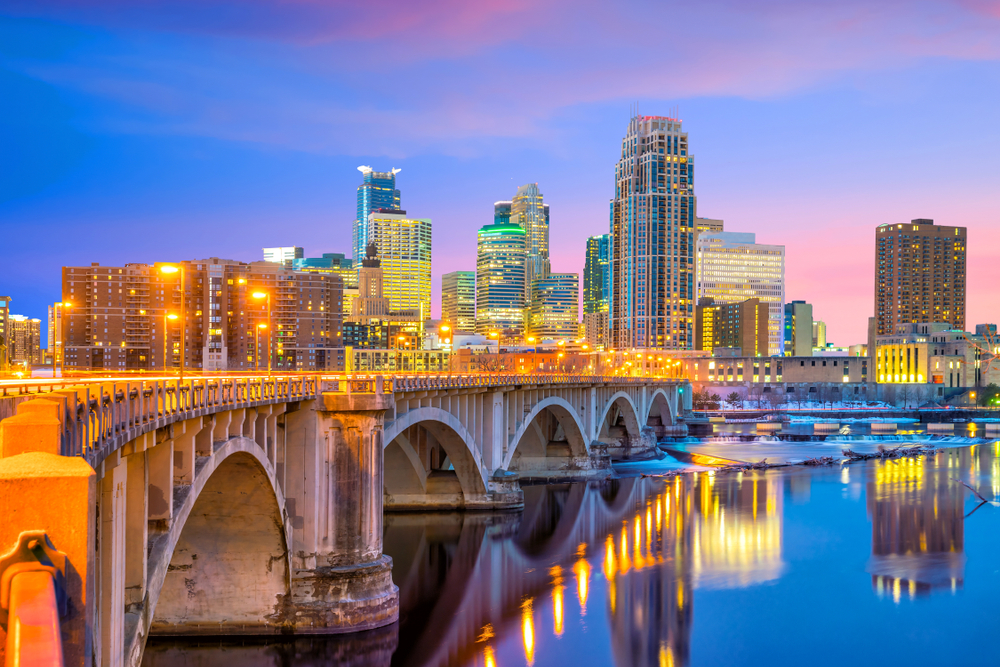 Relax At The Chain of Lakes
Consisting of several scenic lakes each with its own attractions the Chain Of Lakes regions park is definitely a place to explore.
With over 13 miles of paved walkways along the shoreline, there are lots of things to do here whatever the season.
In summer the water comes to life with canoes, kayaks, and boats. In fall the hiking and biking are excellent, and in winter cross country skinning and ice hockey come into their own.
Chain of Lakes is one of seven districts along the Grand Rounds Scenic Byway, which circumnavigates the city, connecting parks, natural spaces, and other bodies of water.
If you are looking for things to do in Minneapolis that really give you a feel for the area then this is it.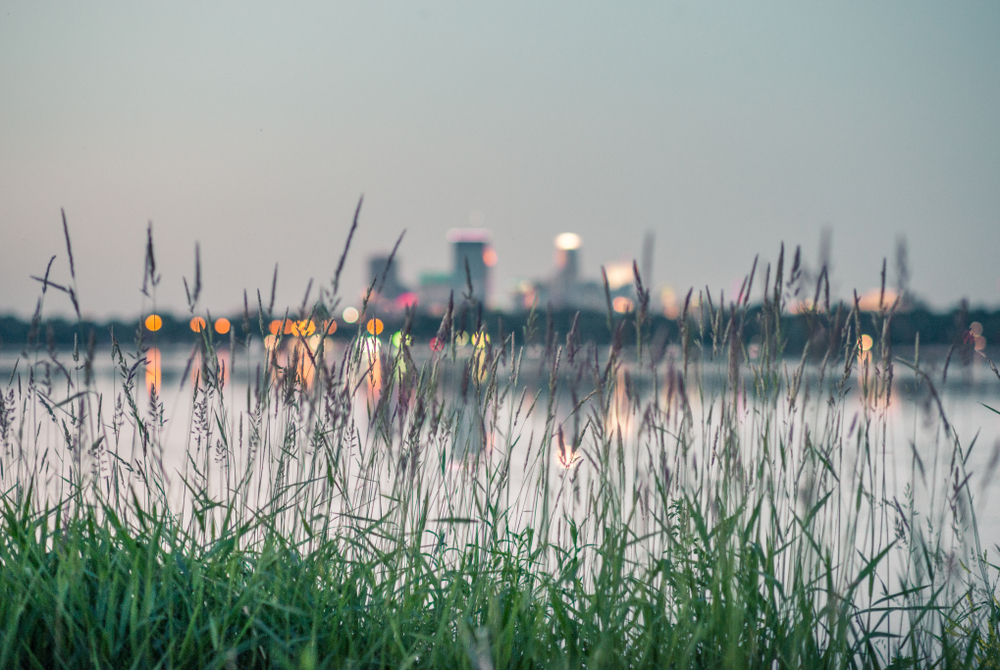 Get A Back Stage Pass To Target Field
If baseball is your thing then how about a tour of Target Field the home of the Minnesota Twins?
The guided tour lasts 90-minute and takes you to parts of the ballpark hardly ever seen by visitors. Places such as the clubhouse, press box, dugout, and the suites.
You will also learn about the history of the home team and see some memorabilia. All tours are guided by a local baseball expert and the tour does change depending on whether it's a game day or not.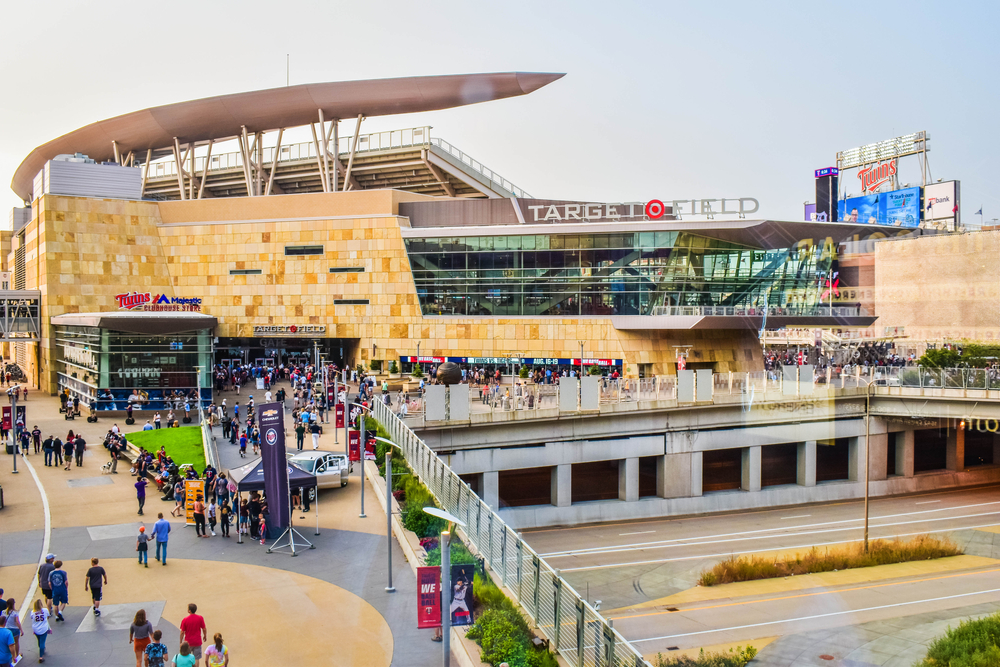 Take A Cruise
If you haven't got a lot of time and want to enjoy the lakes the best you can then why not take a boat trip? There is nothing like exploring the largest river system in North American from the deck.
There are a variety of river cruises available including public cruises, river charters, and of course special events.
Most of the cruises have bars, snacks, and light meals on board.
All the cruises have different routes but most of them follow the Grand Rounds Scenic Byway and Heritage Trail. And include the Stone Arch Bridge and an incredible view of the Minneapolis skyline.
This is really one of the most fun things to do in Minneapolis!
Enjoy The View At Mill City Museum
Built into the ruins of what was once the world's largest flour mill the Mill City Museum is a small, intimate museum. And one of the finest Minneapolis attractions you should consider visiting.
On the banks of the historic riverfront, the museum tells the story of Minneapolis and the important part the flour industry had.
The mill complex is listed on the National Register of Historic Places and is part of the St. Anthony Falls Historic District.
Inside you will find exhibitions, exhibits, and events. Outside you find an eight-story glass façade built on the ruins which are very impressive.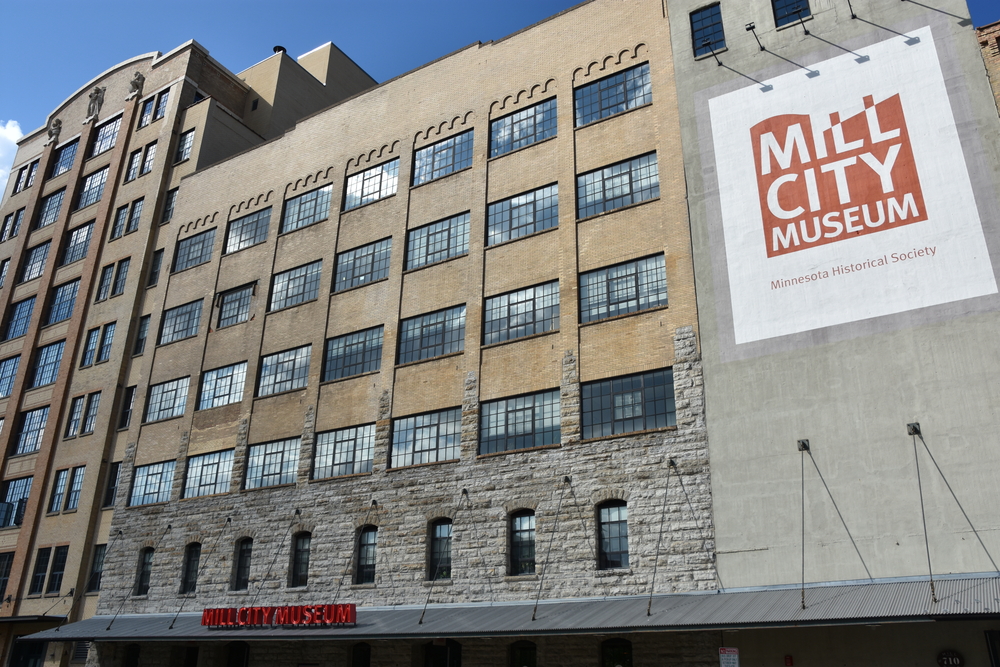 Strolling through Minnehaha Regional Park Is A Relaxing Thing To Do In Minneapolis
Along the banks of the Mississippi to the southeast of the city is Minnehaha Park. Its shining star is the 53-foot-high Minnehaha Falls.
The park is popular with lots to do and see. One visit and you will see why it's truly beautiful with lots to explore.
You'll find statues, a pergola garden, the Minnehaha Bandstand, and an eatery. A great place to relax and get away from the hustle and bustle of the city for a while.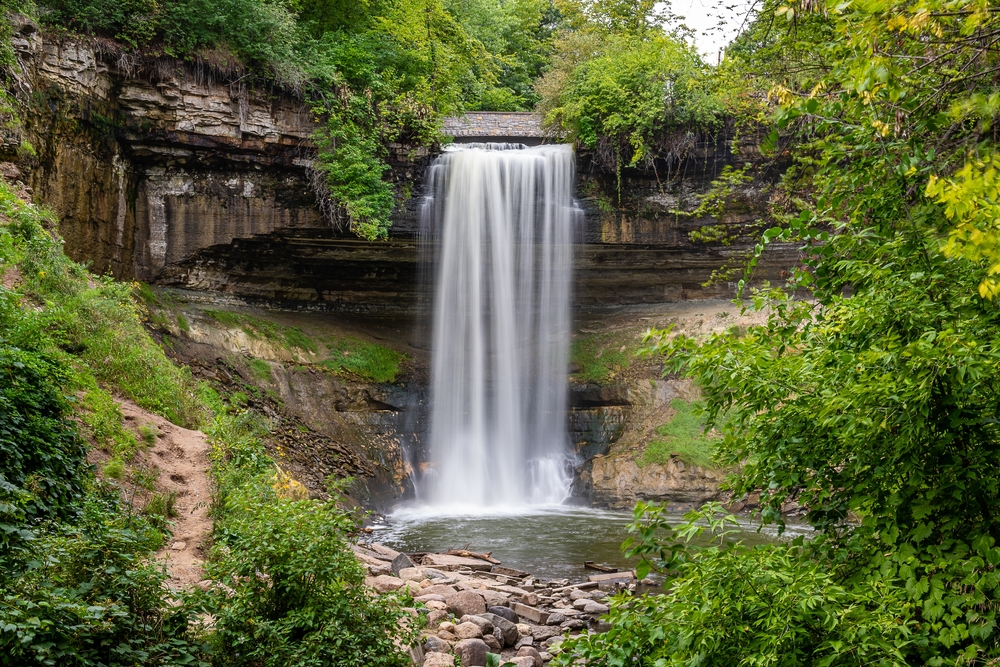 Hit the Shops at the Mall of America
If shopping is your thing then you are in luck. The Mall of America is just a 15 drive from downtown Minneapolis
This mall is big with over 520 shops even those who don't like shopping will find a shop they love.
Don't want to go shopping? Then this mall is also an entertainment spot.
You will find the XD ride, a mix between a roller coaster and a video game. Moose Mountain Mini Golf has full-size horses and moose.
If you have children don't forget the Nickelodeon Universe, a bright and colorful children's paradise.
This Minneapolis attraction really has something of interest for everyone!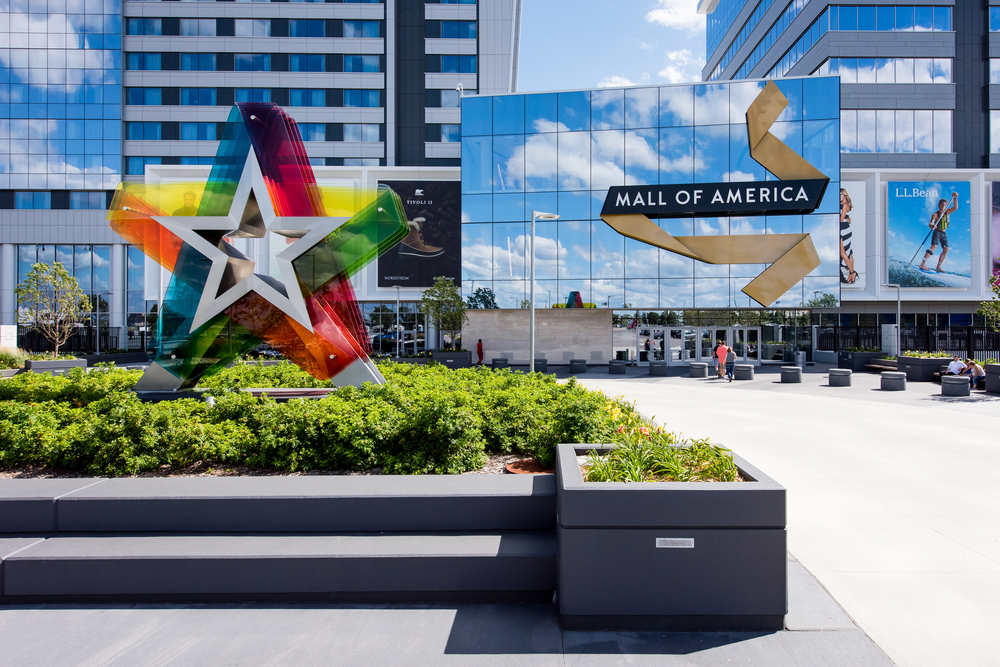 Learn At The American Swedish Institute
What a lot of people don't know about this are is the importance of the region's Swedish heritage. The American Swedish Institute will change that.
Not only is the building architecturally beautiful it also contains Nelson Cultural Center and the historic Turnblad Mansion.
The mansion was originally commissioned in the early 20th century by Swan Turnblad, owner of the largest Swedish Newspaper in the United States. The mansion and the newspaper were donated to the American Institute for Swedish Art.
Go for a tour of the mansion and see all the Swedish glass, textiles, fine art, and authentic tile stoves. One of the things to do In Minneapolis that you will find is unusual and educational.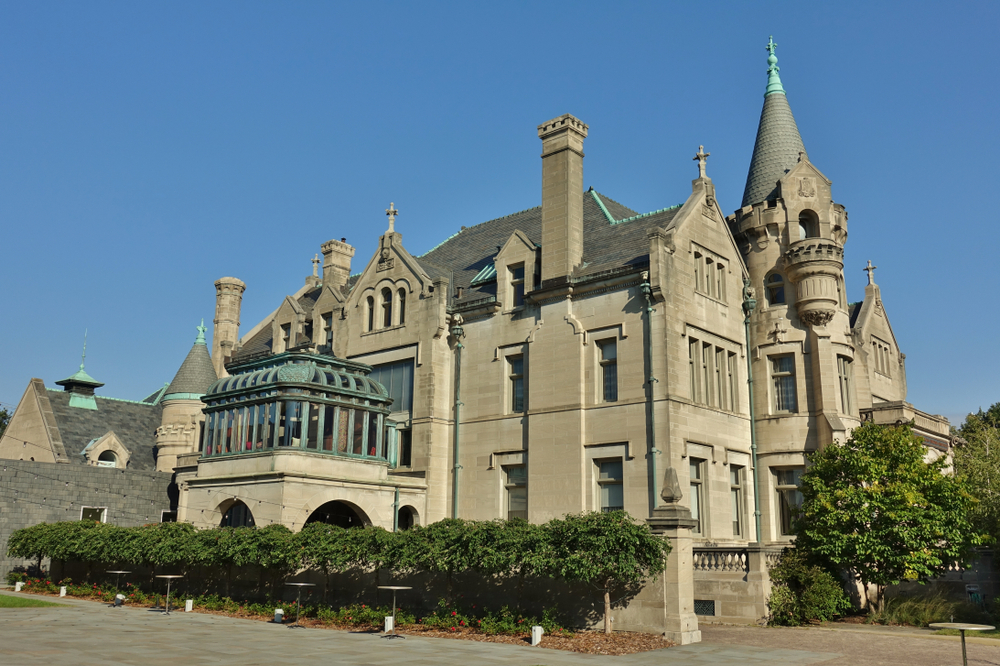 Wander Around The Minneapolis Sculpture Garden
The sculpture garden is a 19-acre urban garden that showcases sculptures of the Walker Art Center. The most iconic sculpture is Claes Oldenburg's Spoonbridge and Cherry which is worth going for alone.
The garden is also home to the Cowles Pavilion & Regis Promenade, Alene Grossman Memorial Arbor, and a beautiful flower garden.
It's a great place to wander around and spend some time.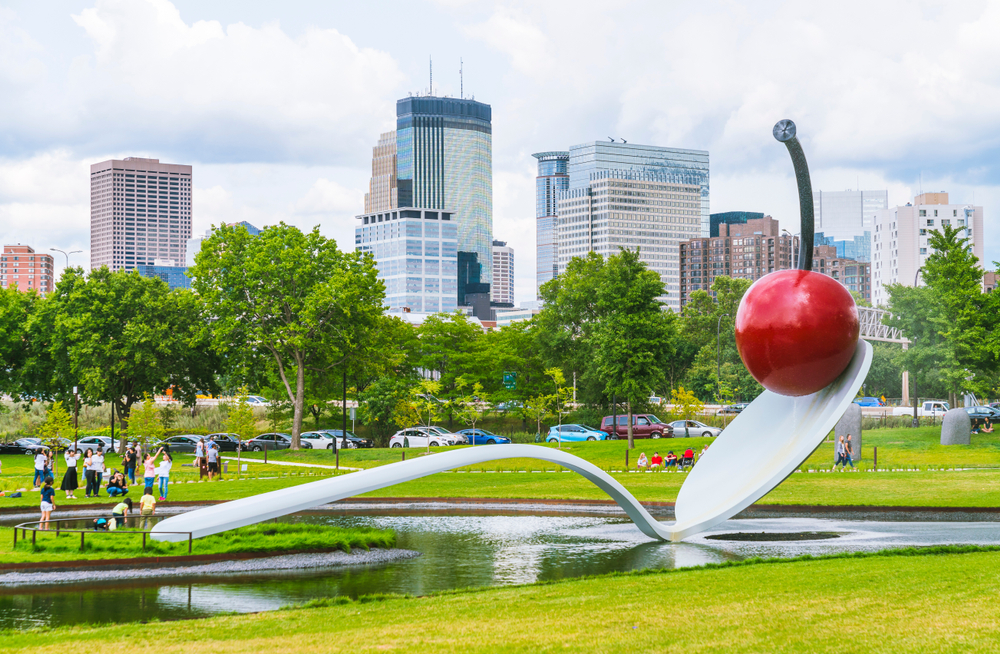 Enjoy the Shops and Restaurants at Nicollet
In downtown Minneapolis, you will find Nicollet, a unique area of shops along Nicollet Avenue. This pedestrian zone contains shops, restaurants, public art, galleries, and the whole area is beautiful.
The Crystal Court piazza is at the center of the area. It is impressive, a network of glazed skyways all looked over by the IDS Center tower.
It's a great place to spend a day or the evening, and one of the best things to do in Minneapolis MN.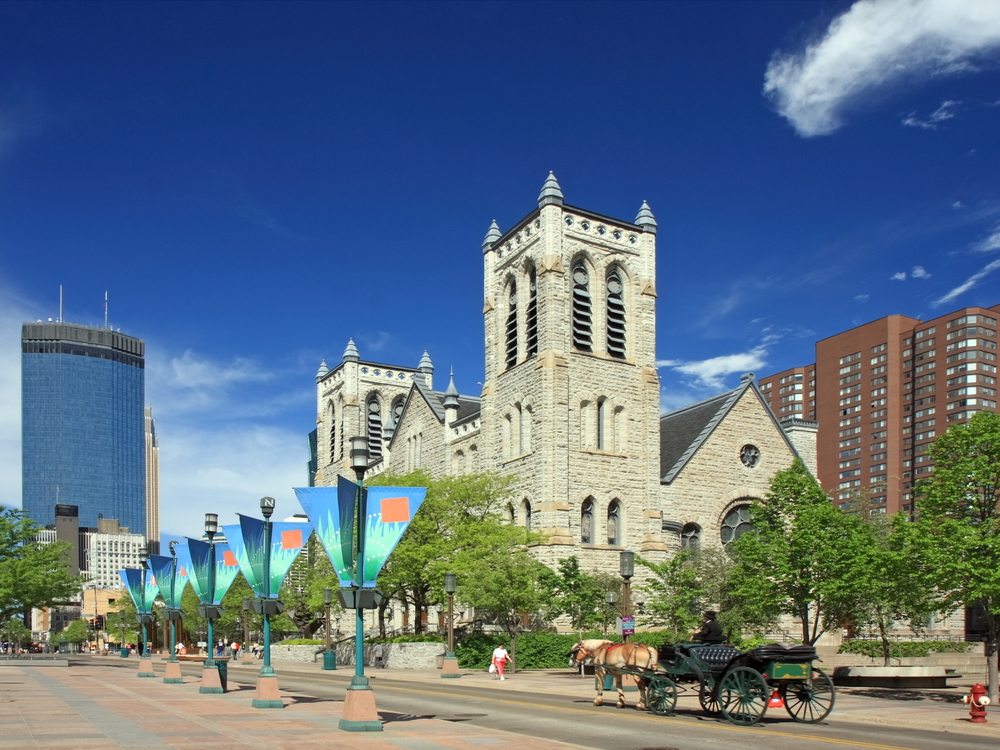 Take in History At City Hall
City Hall is also known as the Municipal Building and was built in the late 1800s and early 1900s. It's close to Nicollet Mall and Crystal Court so if you are in the area it's well worth taking a look.
The building is a National Historic Landmark with a clock tower that at the time it was built set records. Inside you will find the statue Father of the Waters in the Rotunda, impressively carved from a single block of marble.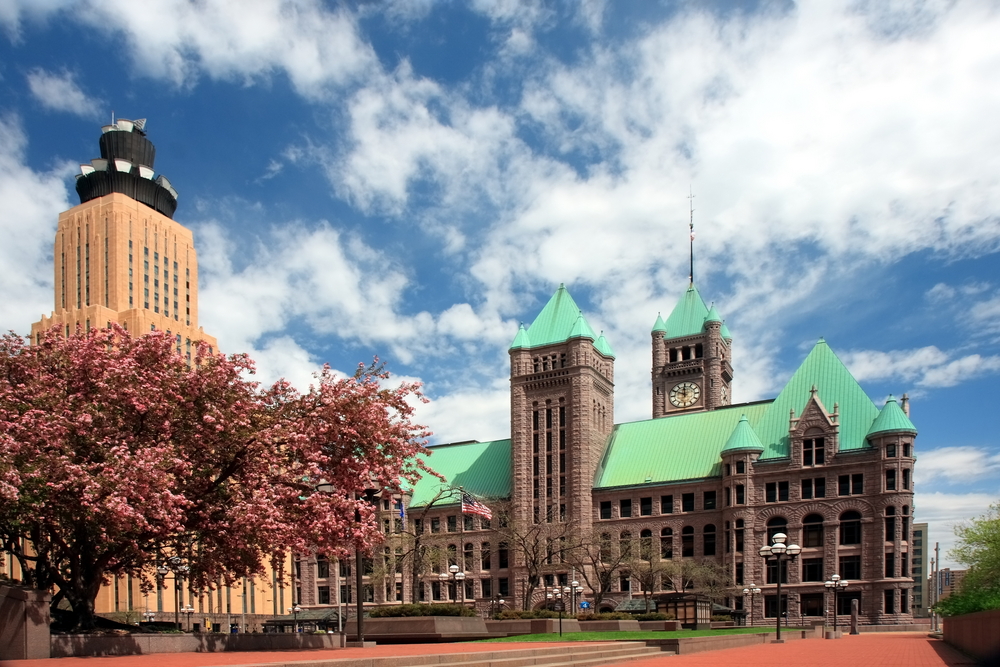 Get Artsy At Guthrie Theater
Set on the west bank of the Mississippi River, the Guthrie Theater has won numerous awards for its design. Designed by Jean Nouvel, this unique building plays an important part in the arts area.
It is used for professional training as well as putting on many diverse and classic shows.
There are three theatres here and a bridge inside, yes a bridge! But not just any bridge. A 78-foot cantilevered bridge called the "Endless Bridge."
There are also two great restaurants so if you want to stay for a while perhaps stop at the cafe or have a meal.
The theatre offers guided backstage tours on Friday and Saturday mornings and they are well worth it if you have the time.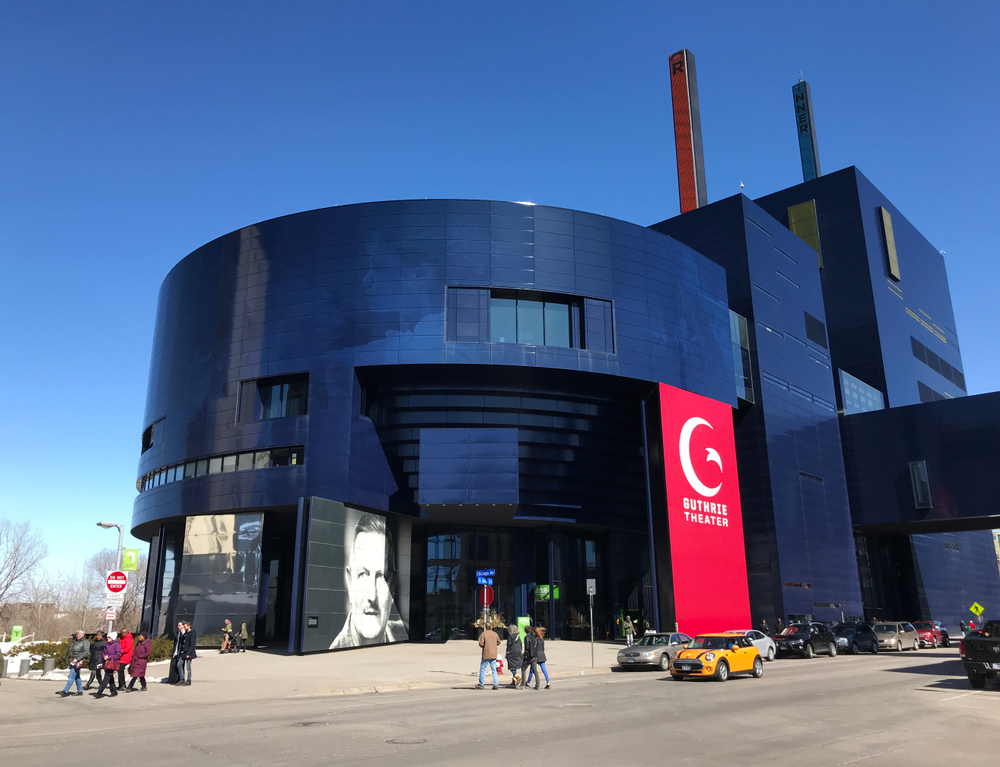 Packing List For Visiting Minneapolis Minnesota
If you will be traveling, either by plane or by car to Minneapolis MN here are some tips on how to pack lightly.
A concealed travel pouch may be one of the most important items you bring along when visiting Minneapolis. It is always important to protect your personal information. Identity thieves are everywhere.
This unisex RFID blocking concealed travel pouch is lightweight and comes in several colors. It has lots of organization to give you peace of mind.
You can place it under your hiking clothes next to your body to carry your ID safely.
If you have a pouch already that does not come with the RFID protection, as I do, these RFID sleeves are the perfect solution.
This configuration comes with enough credit card sleeves that the entire family would be protected. They are slim too, so they will easily fit into your pouch or wallet.
If you are planning on taking a lot of pictures with your phone you will definitely want to consider an external charging battery. This Anker high-speed phone charging battery is the exact one I carry with me on all of my trips.
It can be used on a variety of phones, not just an iPhone like I have. And wow is it fast!
I like that it holds its charging capabilities for several uses so I do not have to worry about it while out and about, and if I forget to recharge it at night, it will still be good to go the next day.
My daughter gifted me with this FugeTek selfie stick and tripod setup for my birthday. I absolutely love it! It is made of lightweight aluminum and is so easy to use.
It has Bluetooth connectivity and is a breeze to use for taking selfies when staying in one of the best Airbnbs in Illinois.
Hydration is so important when traveling. You want to remain hydrated throughout your travels to support your immune system which in turn will be stronger to fight off any germs you will encounter during your travels.
You will want to bring your own refillable water bottle with you.
I never leave home on a trip without my Bobble filtration bottle. The 18.5-ounce size is perfect for hiking and it fits nicely in the pocket of a backpack.
When filled with water, it is not too heavy to carry. And the charcoal filter ensures fresh clean water whenever you fill the Bobble.
Perhaps you are traveling a long distance and packing space is a premium in your suitcase, or in your car.
Then this set of collapsible silicone foldable water bottles would work well for you. Would not take up much space at all.
You will want a backpack or daypack with you to store snacks, your water bottle, phone, extra clothes, etc.. when hiking This foldable water-resistant backpack would be great
It is very affordable and is available in many color options for you to choose from. The fact that it folds down into a zippered pouch will make it easy to pack.
—–
As you can see when it comes to things to do in Minneapolis you really are spoiled for choices. There are so many attractions in Minneapolis you might need longer here than you originally thought.
Wherever you decide to go and whichever of the attractions in Minneapolis you choose to spend time at I know you will have an amazing time. Please come back and tell me all about your visit.