Are you looking for the best places to experience fall in Minnesota?
Then you'll love this list, full of beautiful spots for enjoying fall colors in Minnesota.
I'm from the Midwest, so I know that it can be one of the best places in the country for enjoying those gorgeous Fall leaves.
Minnesota is a beautiful state in the Midwest known for its extensive lakes and forest land.
It's not a surprise that all that natural beauty makes for some stunning MN Fall colors displays throughout the state.
Peak season for seeing Fall colors in MN is from mid-September to mid-October, so keep that in mind when you plan your trip.
On this list, I've found some of the best spots for enjoying peak fall colors in Minnesota.
From breathtaking waterfalls, mountain peaks, and everything in between, here are the 12 best places to experience Fall in Minnesota.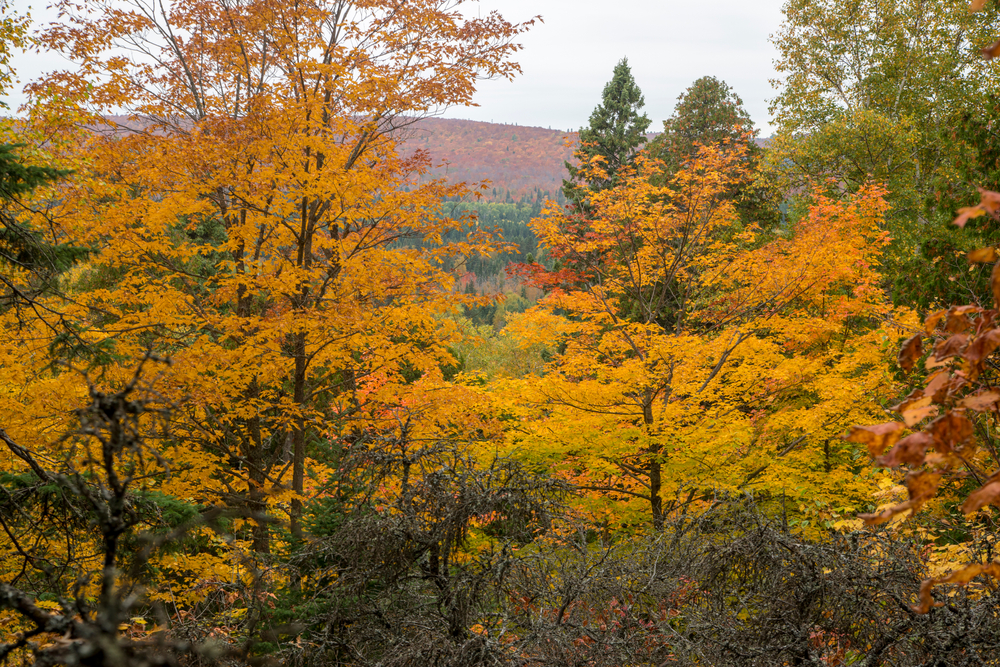 14 Best Places To Experience Fall In Minnesota
Northwoods For Fun Fall In Minnesota Activities
Northwoods is the northern section of the state, close to the Canadian border.
It is typically considered the area between three major communities. Bemidji, Blackduck, and Cass Lake.
The area is absolutely beautiful and is home to 14 of the best resorts in Minnesota.
It is one of the best places to visit in the fall, and the many resorts make it a super fun spot for exploring Minnesota in the fall.
During peak season you will be able to fully enjoy the stunning colors of autumn during a variety of Minnesota activities.
The many resorts offer opportunities for some of the best hiking in Minnesota. Followed by biking, horseback riding, and watersports.
After a day spent hiking through the trees bursting with fall colors, you can enjoy a delicious meal at one of the many resorts or local eateries.
The Northwoods district is one of the best places to enjoy Minnesota's stunning Fall leaves.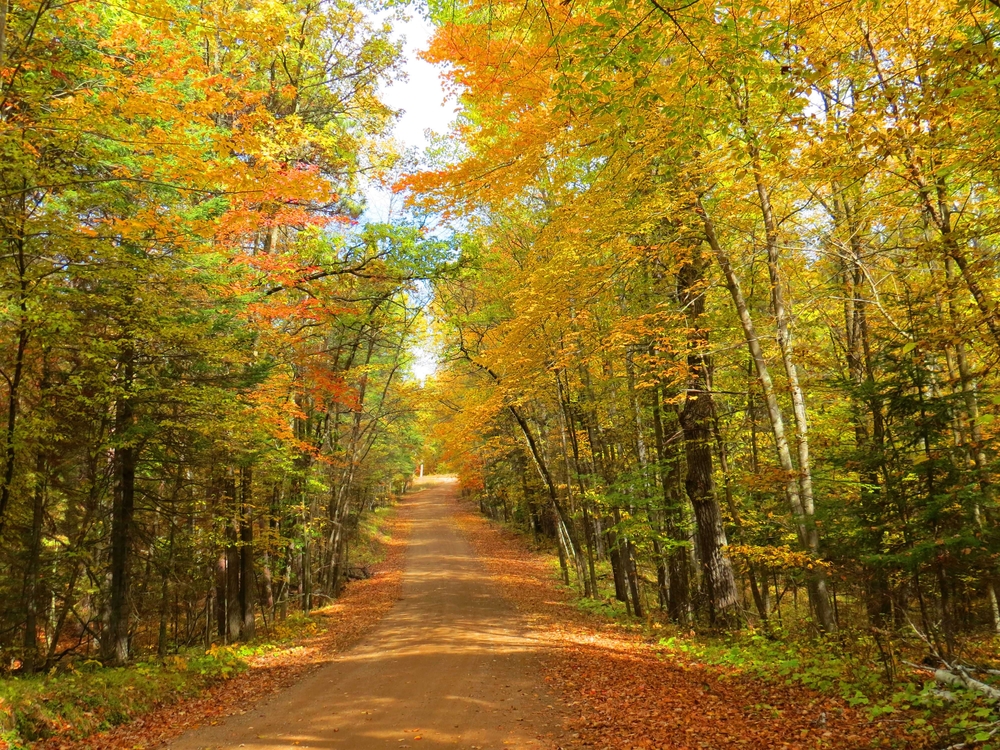 Minnehaha Falls Showcases Minnesota Fall Colors
Minnehaha Falls is one of the best waterfalls in Minnesota, and it is especially gorgeous during the fall season.
The Minnehaha Falls are located in the Minnehaha Regional Park, and there is plenty to do there besides the falls.
If you want to see a large crashing waterfall with a backdrop of changing leaves, but you don't necessarily want to hike, then Minnehaha Falls is perfect.
The hike to get to the fall is fairly simple with a paved walkway that leads to a viewing platform of the falls.
While you walk, you'll be surrounded by beautiful fall scenery on the over 160 acres of Minnesota woodland.
At this regional park, there is also a beautiful garden you can walk through while you admire the changing leaves.
There is also a small wading pool that you can sit on the shore of and admire during the colder months.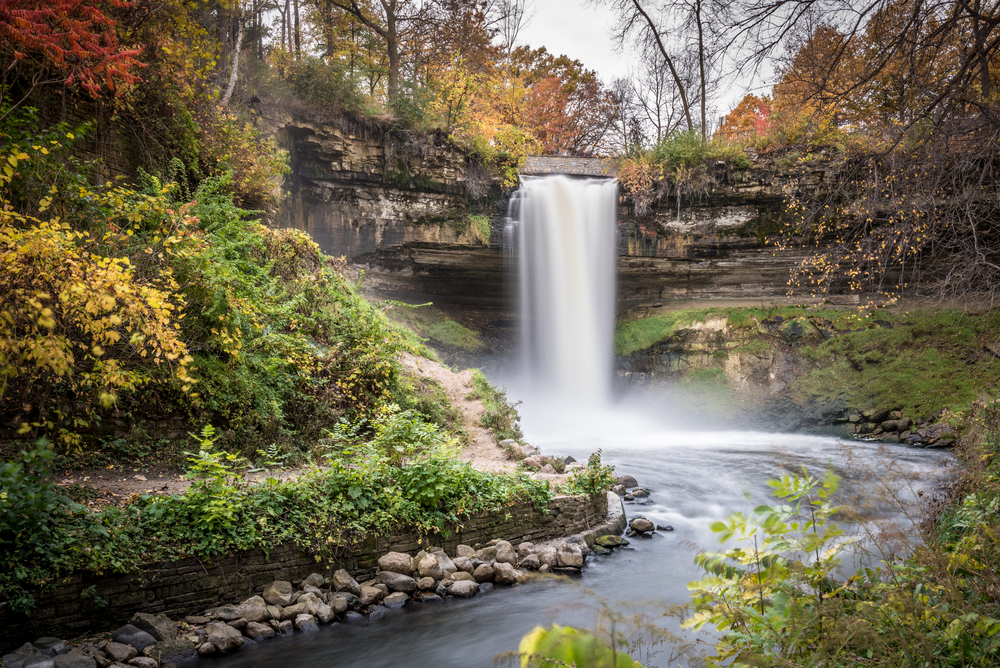 The Lost Forty At Chippewa National Forest
The Lost Forty is a little-known spot in the Chippewa National Forest.
It refers to a hiking trail that takes you through what are some of the last old-growth trees in Minnesota.
The trees are mostly virgin red and white pine trees. They range in age from 300-400 years old.
During the Fall, this lightly trafficked hiking trail becomes a sea of yellow leaves.
The Lost Forty trail isn't super popular or well-known, so at times, you may have the whole area to yourself.
If you are looking for a beautiful view with a bit of Minnesota's early history as well, this is a great place to visit.
It is truly a hidden gem when it comes to experiencing Fall in Minnesota.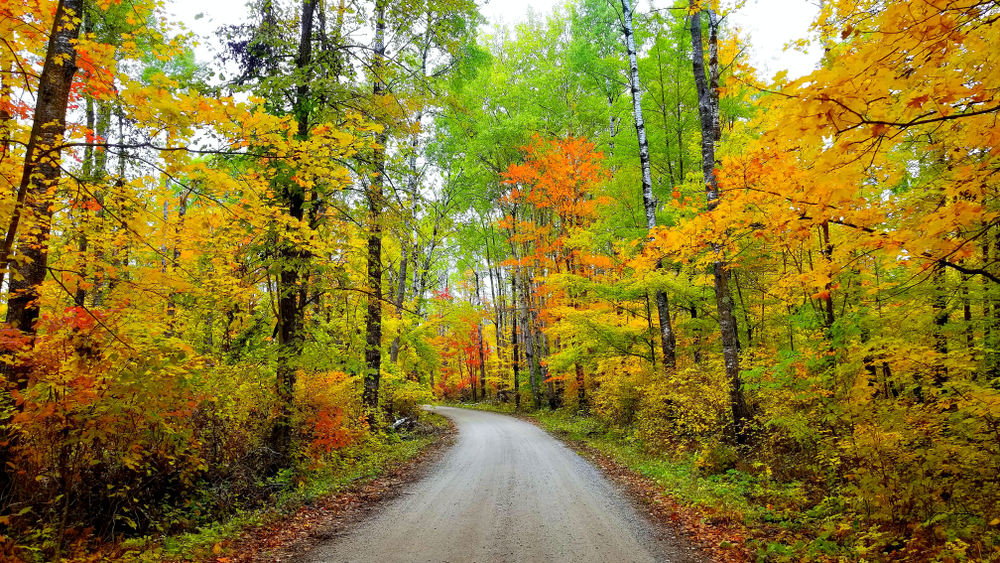 Fall Colors In Minnesota Are On Display At Gooseberry Falls State Park
In the charming small town of Two Harbors, you can find the Gooseberry Falls State Park.
The entire park is full of hiking trails and beautiful wild Minnesota forestland.
That's what makes it one of the best places for enjoying Fall in Minnesota.
While you are exploring the hiking trails, make sure you hike to one of the three waterfalls in the park.
They are called the Lower, Middle, and Upper Falls.
The waterfalls are fairly easy to get to, and they are truly beautiful during the Fall.
Surrounded by fall colors, it is one of the prettiest views of Fall colors in Minnesota.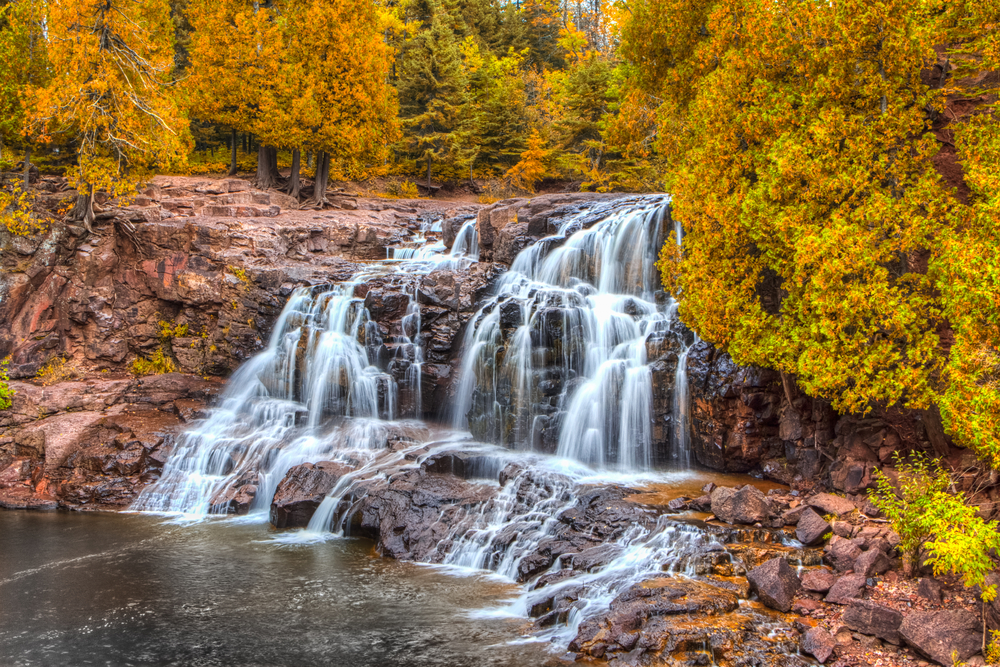 Congdon Park For Fall In Minnesota Strolls
Congdon Park is a Regional Park in the city of Duluth Minnesota.
It is located along Tischer Creek, which creates a lovely backdrop for the MN Fall colors that are on display during peak season.
The park is a popular one in Duluth because of its varied attractions.
It has beautiful carved wooden bridges, a picnic area, and plenty of walking trails.
You can also walk down into the creek bed for even better views of the Fall foliage.
After you're done exploring Congdon Park, head into Duluth where you can enjoy the colors of autumn in the city as well.
There are so many things to do in Duluth, so don't miss it!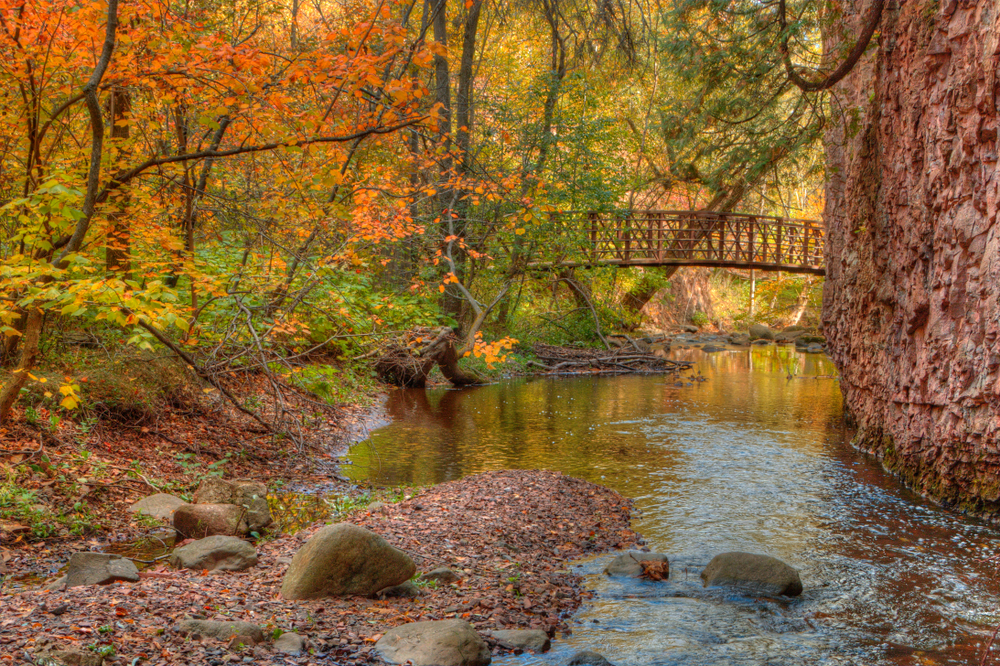 Honeymoon Bluff To Celebrate Fall In Minnesota
If you want a short walk with a big payoff, head to the Honeymoon Bluff trailhead.
There are many things to do in Grand Marais, and hiking this trail to experience the autumn colors is indeed one of them.
The hike is only 0.4 miles long and very easy over even terrain.
At the end of the trail, you'll be greeted with an amazing view of the mountain valley and lake beneath you.
During peak season, the valley is a sea of yellow, orange, and red leaves framed around a calm lake.
Because the trail is a very easy hike, it is fairly popular.
But don't let that stop you from getting to experience the amazing view.
It is truly one of the best places to experience fall in Minnesota.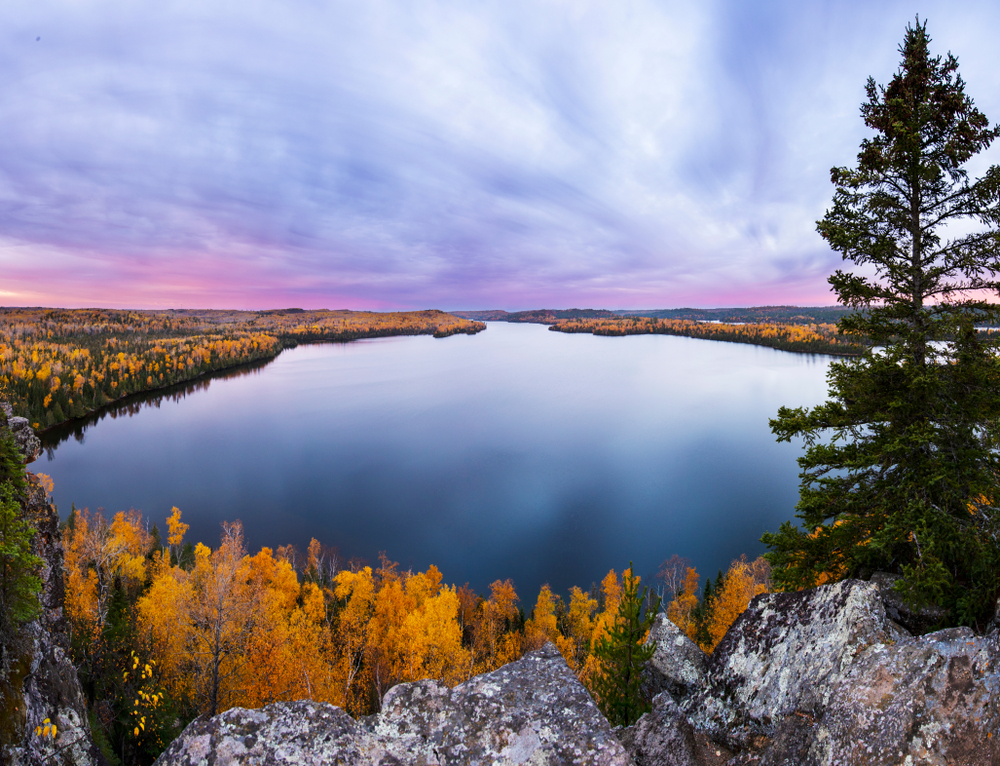 Split Rock Lighthouse For Stunning Views Of Fall In Minnesota
The Split Rock Lighthouse is a beautiful lighthouse in the small town of Two Harbors.
It guards a section of water that at one point was said to be the most dangerous section of water in the world.
The area is also one of the most photographed spots in the state of Minnesota, so it is one of the best places to visit in the fall.
The lighthouse juts out from a rocky cliff into the lake below it.
Behind the lighthouse is a large mature forest that turns vibrant yellow and orange during the peak season.
The mixture of the rocky cliffside, the colorful forest, and the blue waters below make for a stunning display of fall colors in MN.
If you are planning to explore Minnesota in the Fall, Split Rock Lighthouse needs to be on your must-see list.
It is one of the best things to do in Minnesota.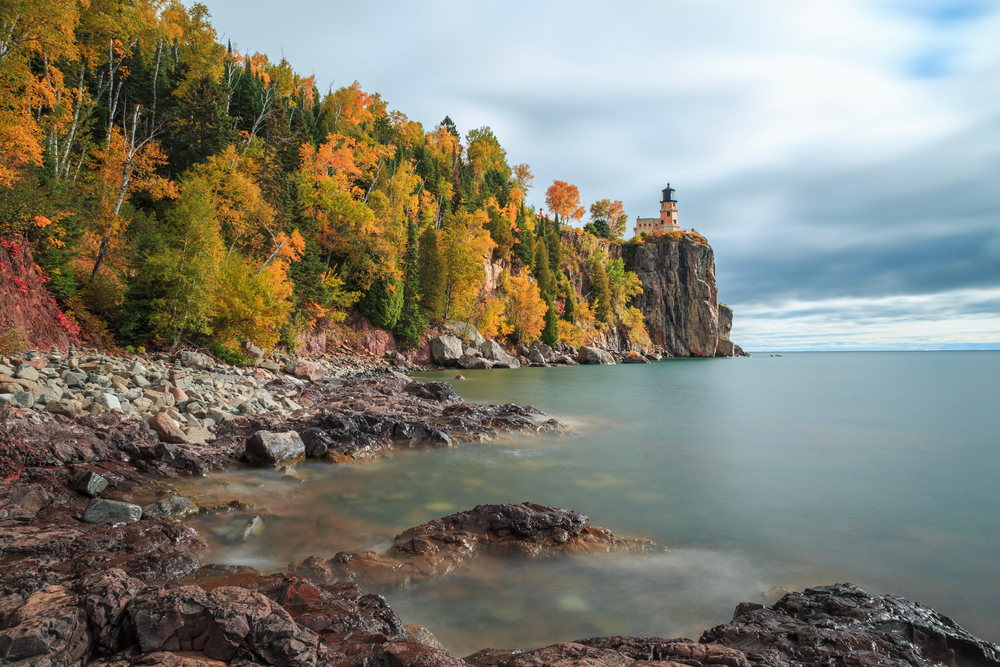 Superior National Forest
Outside of Duluth is the Superior National Forest, named for its location along Lake Superior.
It is over 3 Million acres of beautiful mostly untouched Minnesota woodland, lakes, and streams.
This makes it a perfect place to enjoy Fall colors in Minnesota.
There are miles and miles of hiking trails for you to explore while you admire the changing leaves.
You can spend hours relaxing in the park, walking the trails, and just admire the beauty of Fall in Minnesota.
The Superior National Forest is also where you can find the trail to Honeymoon Bluff, one of the other amazing places to admire fall colors on this list.
This is truly one of the best places to experience fall in the Midwest.

St. Paul For A Fall In Minnesota Getaway
One of the Twin Cities, St. Paul is a great place if you want to admire Minnesota's fall colors, but also one of the most vibrant cities in the Midwest.
The city is full of fun activities during the fall, like Oktoberfest, a Harvest Festival, and even a Monster Dash.
While you're having all that fun, you'll be able to admire beautiful changing fall leaves against the city landscape.
A large chunk of the city is along the Mississippi River and covered in a thick blanket of forest land.
There are many parts of the city along the river where you'll be able to admire the fall leaves while enjoying a delicious dinner, going for a walk, or even enjoying some shopping.
If you love fall, but don't necessarily love hiking, then St. Paul is the perfect place for you to experience fall in Minnesota.
There are so many other fun things to do in St Paul MN.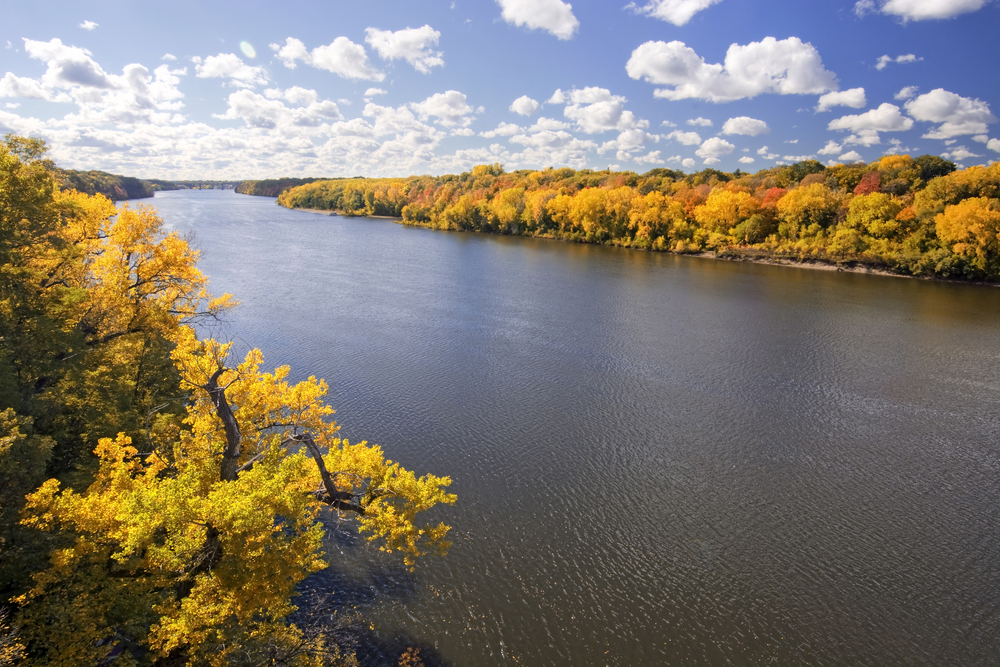 Brule River For Quiet Seclusion During Fall In Minnesota
In Northern Minnesota, just below the Canadian border, is the Brule River.
The river stretches for 40 miles in some of Minnesota's most wild landscapes.
Its also home to the Devil's Kettle, a waterfall that seemingly disappears into the Earth.
The wilderness of the area, the beauty of Devil's Kettle, and the river itself make for a beautiful place to enjoy the fall colors in Minnesota during peak season.
There are several places along the river where you can stop and get out to hike and explore the area.
This has to be one of the best places for camping in Minnesota!
No matter where you choose to stop along the river, you'll be able to admire some of the most beautiful examples of fall colors in MN.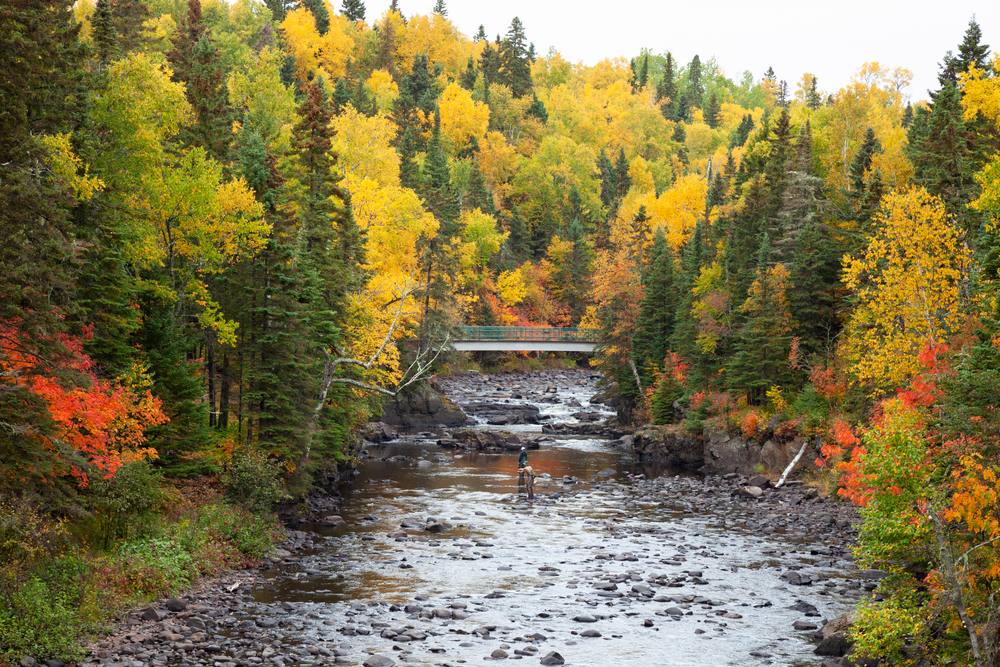 Bde Maka Ska North Beach
The uniquely named Bde Maka Ska North Beach is located in the city of Minneapolis.
There are so many things to do in Minneapolis MN.
The beach is a popular swimming destination during the summer months, but it is also very pretty in the fall.
In the fall, you'll find the beach less crowded and overall quieter.
Along the shores of the lake is a somewhat dense tree-filled park area.
During the peak autumn season, that area is full of trees with orange, red, and yellow leaves.
It creates a stunning splash of fall colors against the blue water of the lake.
The beach might not be the first place you think of when you think of fall colors, but Bde Maka Ska is perfect for admiring Minnesota fall foliage.
It would be perfect for a Midwest road trip!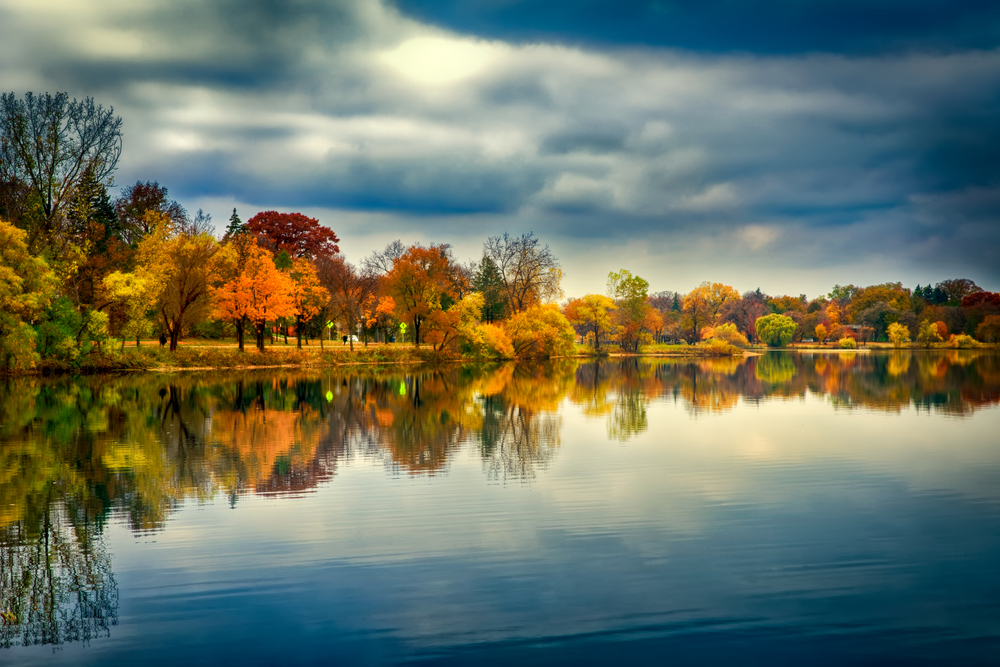 Minnesota Falls Must Be Seen From Oberg Mountain
Within the Superior National Forest is the Oberg Mountain.
To get to the peak of Oberg Mountain, there are two trails you can take, each about 3 miles in length.
There is a moderate climb before reaching a fairly easy loop around the top of the mountain.
It rises 1,000 feet above Lake Superior, and from the top, you'll get some breathtaking views of the valley below.
You'll also be able to see the teardrop-shaped Ober Lake.
There are nine overlooks throughout the trail, and each of them offers beautiful sights.
Ober Mountain is one of the best ways to experience fall in Minnesota. And would really make a fantastic Midwest weekend getaway!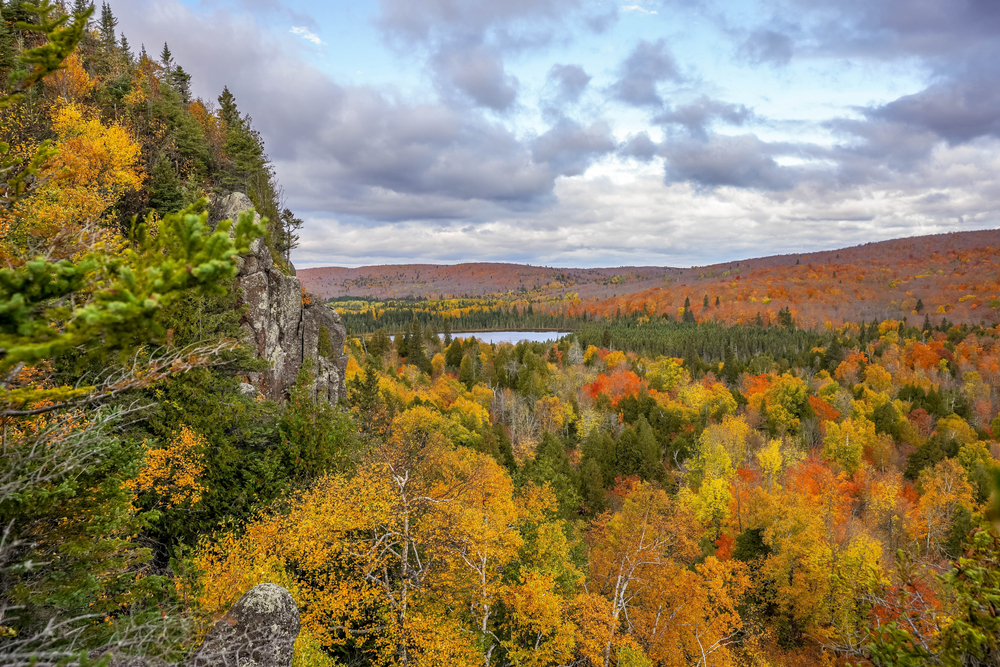 The Canoe Boundary Waters in Northern Michigan
Located in northern Minnesota, the Boundary Waters Canoe Area Wilderness offers 1,090,000 acres of wilderness to experience fall in Minnesota.
It is truly breathtaking. It is one of Americas's most remote, but most beautiful locations.
There are over 1,200 miles of canoe routes through 1,000 lakes you can choose from to experience the colors of autumn.
If you are not afraid of the chilly weather, this is one of the most rugged scenic places to go camping in Minnesota.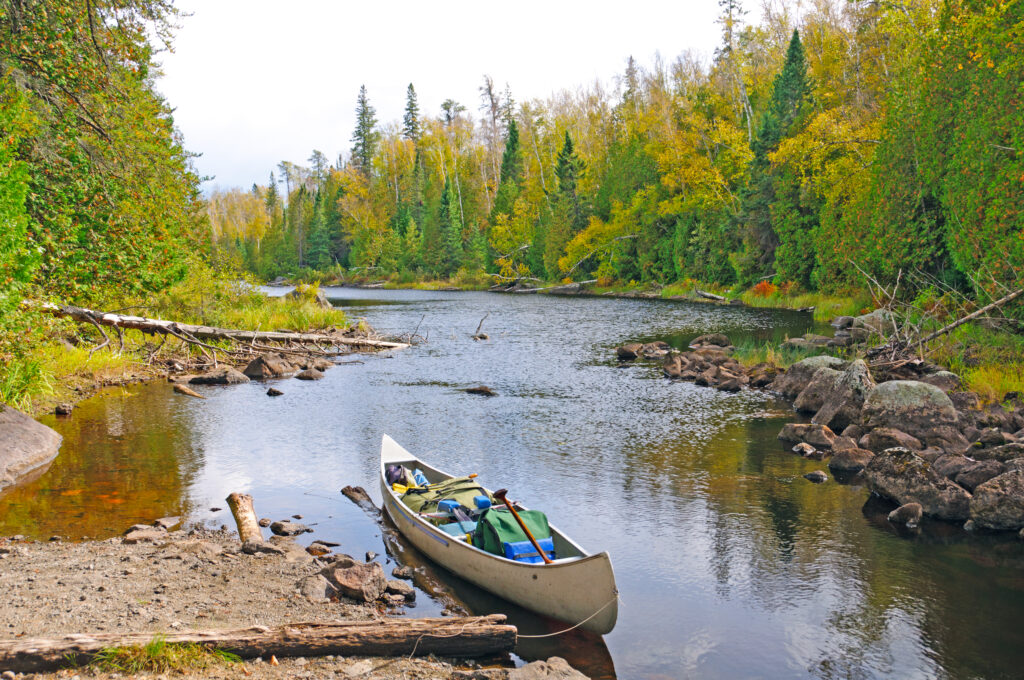 Voyageurs National Park
One of the more remote national parks in the Midwest, Voyageurs NP is a must-see stop to view the Minnesota colors of autumn.
Located in International Falls MN, near the Canadian Border, it has the reputation of being a park of water, islands, and horizons showcasing the very best of Mother Nature.
—
Packing List When Visiting Minnesota In Fall
If you are searching, here are some tips on how to pack lightly when packing to experience fall in Minnesota.
A concealed travel pouch may be one of the most important items you bring along when experiencing Minnesota activities in autumn.
It is always important to protect your personal information. Identity thieves are everywhere.
This unisex RFID-blocking concealed travel pouch is lightweight and comes in several colors. It has lots of organization to give you peace of mind.
If you have a pouch already that does not come with RFID protection, as I do, these RFID sleeves are the perfect solution.
This configuration comes with enough credit card sleeves that the entire family would be protected. They are slim too, so they will easily fit into your pouch or wallet.
If you are planning on taking a lot of pictures with your phone you will definitely want to consider an external charging battery. This Anker high-speed phone charging battery is the exact one I carry with me on all of my trips.
It can be used on a variety of phones, not just an iPhone like I have. And wow is it fast!
I like that it holds its charging capabilities for several uses so I do not have to worry about it while out and about, and if I forget to recharge it at night, it will still be good to go the next day.
My daughter gifted me with this FugeTek selfie stick and tripod setup for my birthday. I absolutely love it! It is made of lightweight aluminum and is so easy to use.
It has Bluetooth connectivity and is a breeze to use for taking selfies when seeing the beautiful autumn Minnesota scenery.
Hydration is so important when traveling. You want to remain hydrated throughout your travels to support your immune system which in turn will be stronger to fight off any germs you will encounter during your travels.
You will want to bring your own refillable water bottle with you.
I never leave home on a trip without my Bobble filtration bottle. The 18.5-ounce size is perfect for hiking and it fits nicely in the pocket of a backpack.
When filled with water, it is not too heavy to carry. And the charcoal filter ensures fresh clean water whenever you fill the Bobble.
Perhaps you are traveling a long distance and packing space is a premium in your suitcase, or in your car.
Then this collapsible silicone foldable water bottle would work well for you. Would not take up much space at all.
The replaceable carbon filter ensures fresh water whenever you want it.
You will want a backpack or daypack with you to store snacks, your water bottle, phone, extra clothes, etc.. then this foldable water-resistant backpack would be great.
—
Minnesota is one of the best Midwestern states to view fall foliage because it is so wild.
The Land of 10,000 Lakes is one of the best places to visit in the Midwest.
Best known for its extensive forests and lakes, there is an endless amount of places to view fall colors in Minnesota.
Have you ever been to any of these spots to admire the Fall leaves or did any of these places inspire you to plan a trip to Minnesota this Fall?
I'd love to hear from you in the comments!