There are quite a few fun and interesting islands in the Midwest waiting for you to discover!
The Midwest might not be your first thought for island getaways in the U.S., but why not? With the Great Lakes and extensive river systems, there are great Midwestern islands to explore.
The islands range in size and things to do. While some are perfect for a romantic weekend getaway among historic buildings, others are nature-filled for hiking and camping enthusiasts.
From amazing national parks, to renowned national lakeshores, and remote islands, there is something for all nature lovers. But, if you would rather chill at a resort, there are islands for you too!
Let's explore some of the best islands in the Midwest!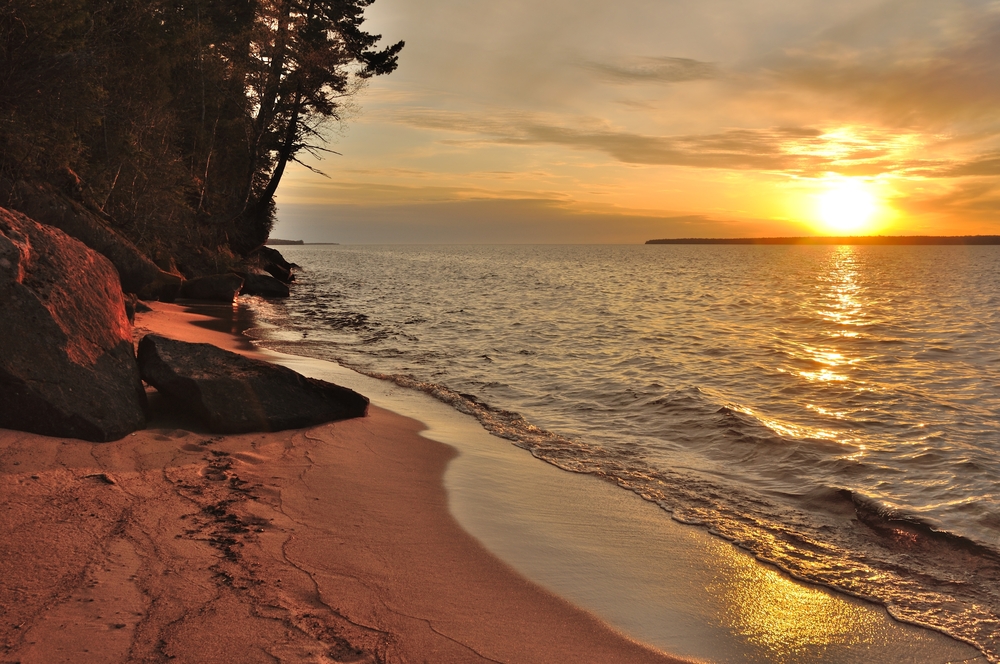 15 Cool Islands in the Midwest to Discover
Isle Royale, Michigan
Isle Royale National Park is one of the best islands in Michigan and is found in Lake Superior. To get to the island, you can take a seaplane or one of the ferries. Two ferries leave from Michigan and two from Minnesota.
Once you arrive, you will have fun hiking, camping, kayaking, and canoeing. You can backpack to a campsite or stay at the Rock Harbor Lodge or the Windigo Camper Cabins.
This area is also one of the best places to scuba dive in the country. Underwater, you can explore some of the best intact shipwrecks in the national parks.
Isle Royale is a remote island near the Canadian border perfect for anyone who wants to become immersed in nature during an epic island getaway.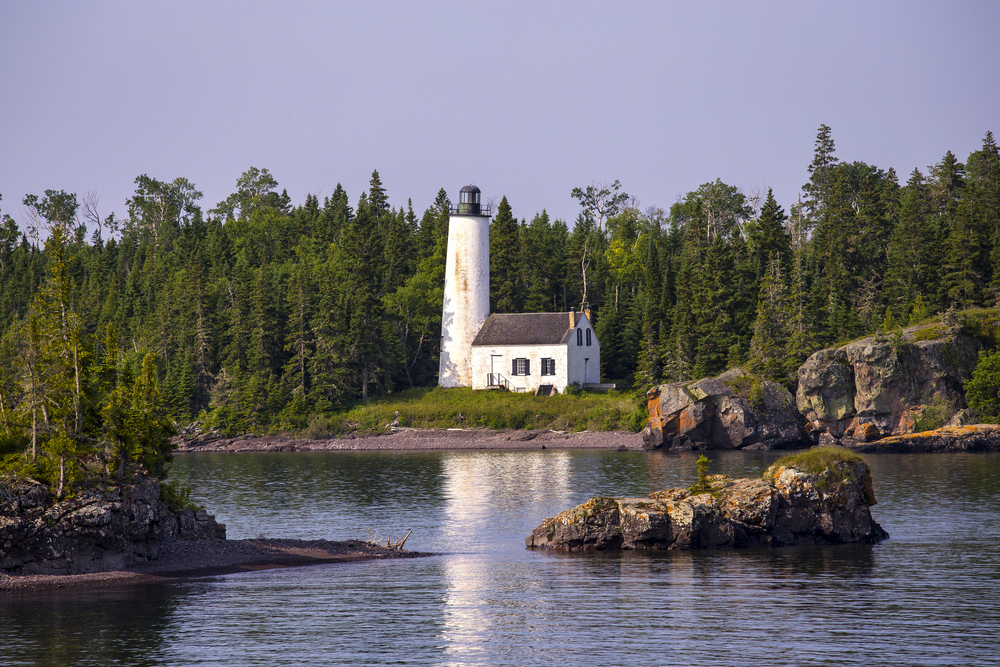 Mackinac Island, Michigan
Another popular island in Michigan is Mackinac Island. This Lake Huron destination is found between Michigan's Upper and Lower Peninsulas. You can take a fifteen-minute ferry ride to the island or splurge on a scenic flight.
One of the most interesting things about Mackinac Island is the fact that there are no cars allowed on the island. The best way to get around is by walking, riding a bike, or taking a horse-drawn carriage.
Along with the lack of cars, another way Mackinac Island acts as a time machine is with the outstanding Victorian buildings. A stroll downtown will make you feel as if you have stepped into the late-1800s.
With many cute bed and breakfasts, world-class resorts, and award-winning restaurants, Mackinac Island is the perfect place for a romantic getaway in the Midwest. Spend time hiking in the state park, shopping, and visiting museums.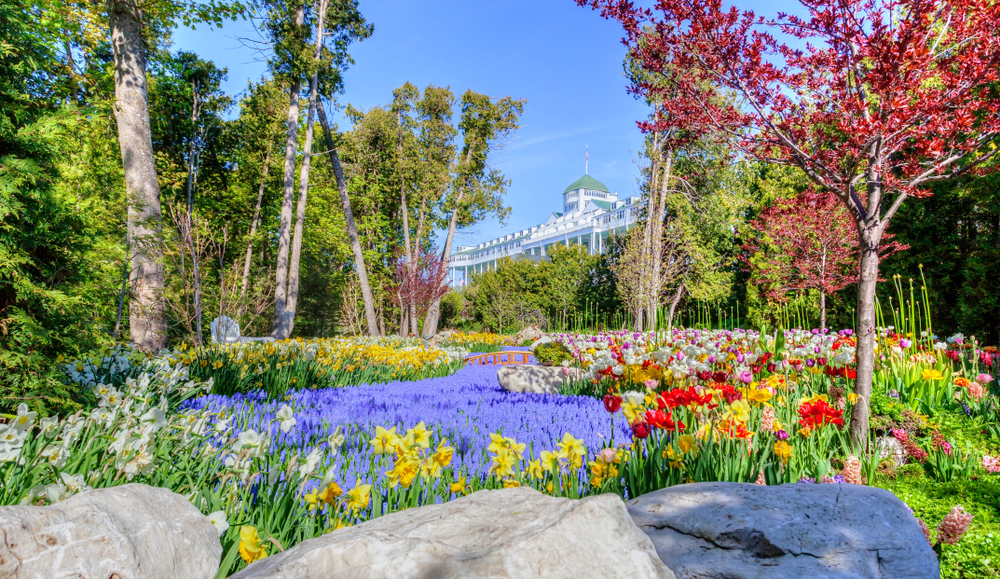 Grand Island, Michigan
Grand Island is just a 5-minute ferry ride from Munising on Michigan's Upper Peninsula. This island is part of the Hiawatha National Forest and is super pretty no matter the time of year.
Enjoy hiking the forty miles of trails, swimming at white sand beaches, and photographing the wooden East Channel Lighthouse.
You can kayak around the beautiful sandstone cliffs or take a 4-hour, guided bus tour to see all the historic sites and points of interest.
There are also a lot of campsites here if you want to spend more than a day on the island.
If you visit in winter, you will get the amazing treat of seeing the ice caves. Curtains of ice form to create an amazing sight. You have to snowmobile across the frozen lake to reach the caves.
This is one example of beautiful Midwest attractions!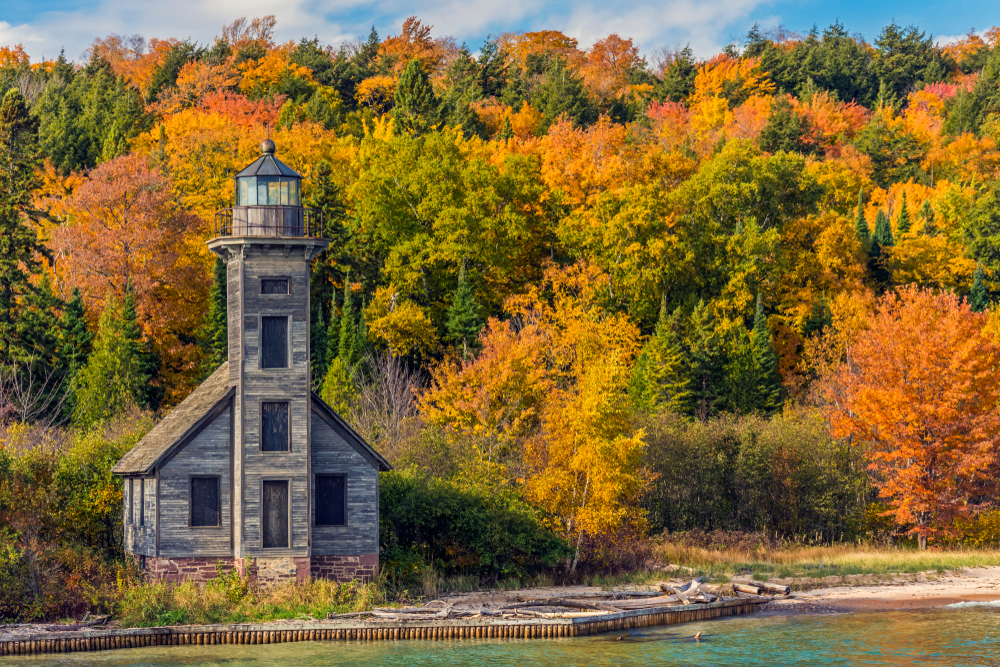 Belle Isle, Michigan
Belle Isle State Park is located in the Detroit River and acts as an escape from the noise and one of the best things to do in Detroit. A drive across the MacArthur Bridge will bring you to 987 acres of relaxation.
Have fun walking the paths, swimming at the beach, renting a kayak, or photographing the James Scott Memorial Fountain.
You can also visit the Dossin Great Lakes Museum or the Belle Isle Nature Center. The Anna Scripps Whitcomb Conservatory is a lovely, historic building where you can see an assortment of beautiful and exotic plants.
This is one of the best Midwest island getaways for a fun day trip with kids.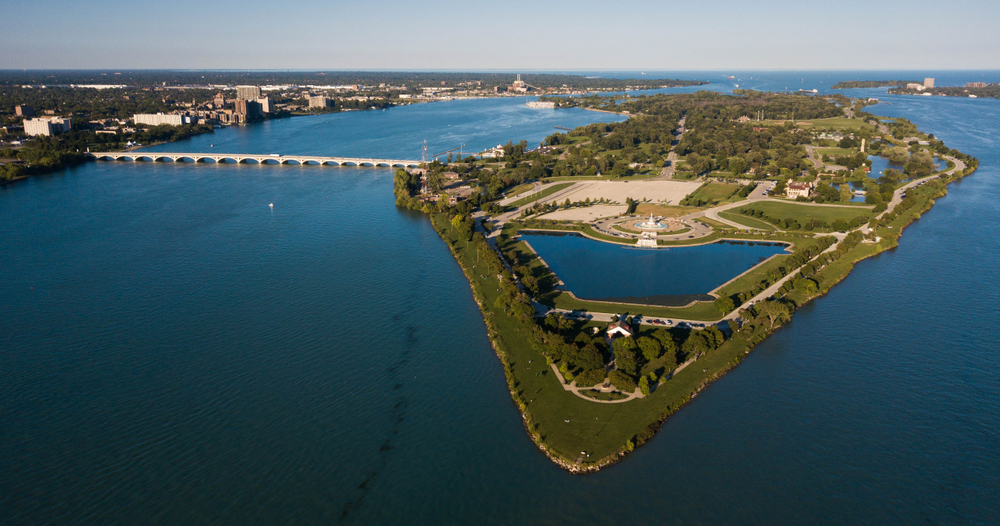 Apostle Islands, Wisconsin
The Apostle Islands National Lakeshore is a collection of 21 beautiful islands at the northern tip of Wisconsin in Lake Superior. Interestingly, Madeline Island is the largest of the Apostle Islands but is not part of the national lakeshore.
One of the best ways to see these Midwest islands is by taking a sightseeing cruise. You will spot amazing rock formations and cool lighthouses. These are some of the coolest things to do in Wisconsin.
You can also kayak around the islands to see them in a more unique way and explore caves. Scuba diving will highlight the underwater areas as well as shipwrecks from the 1800s.
These are some of the best locations for hiking in Wisconsin, as well as birdwatching, and admiring the diversity of plant species. These are some of the wildest and most beautiful islands in Wisconsin!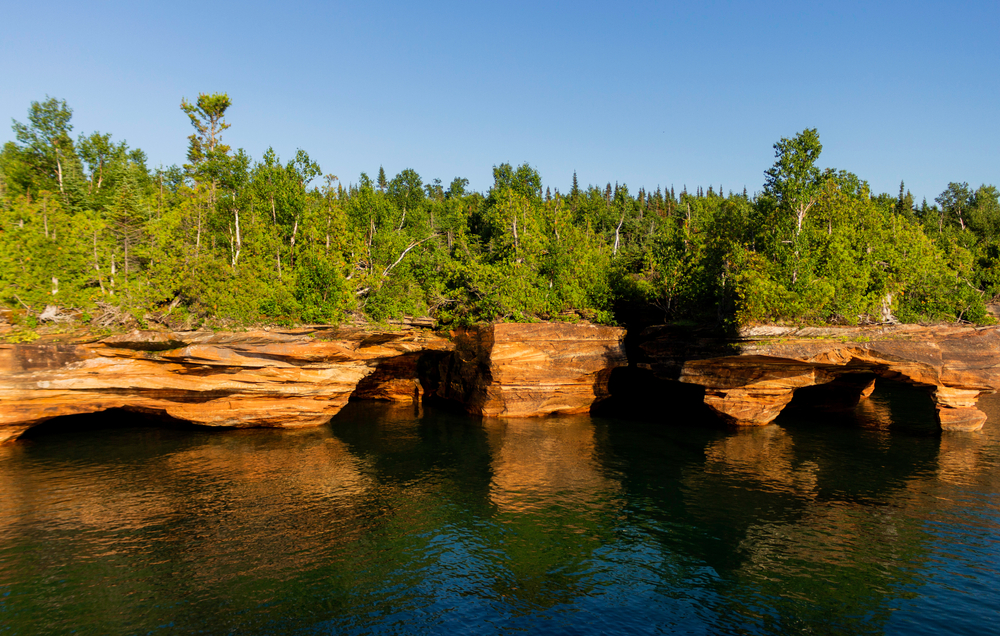 Washington Island, Wisconsin
Washington Island in Door County, Wisconsin, is an absolutely beautiful and tourist-friendly island in Lake Michigan. There are two ferries that run to the island or you can fly.
Families will have fun exploring epic beaches in Door County on Washington Island, parks, and hiking trails. Find hands-on nature exhibits and local art at the Art and Nature Center.
There are also a ton of museums to check out including the Washington Island Farm Museum, the Jackson Harbor Maritime Museum, the Historic Island Dairy, and the Jacobsen Museum.
One of the best attractions on Washington Island is the Fragrant Isle Lavender Farm, which is the largest single-site lavender farm in the Midwest.
With over 20,000 plants, it is a gorgeous place to walk around.
Their store offers plants as well as essential oils, lotions, soaps, and more. To see the flowers blooming during peak season, visit during July and August.
Washington Island is definitely one of the best-smelling island getaways in the Midwest!
There is plenty of places to go camping in the Midwest near here.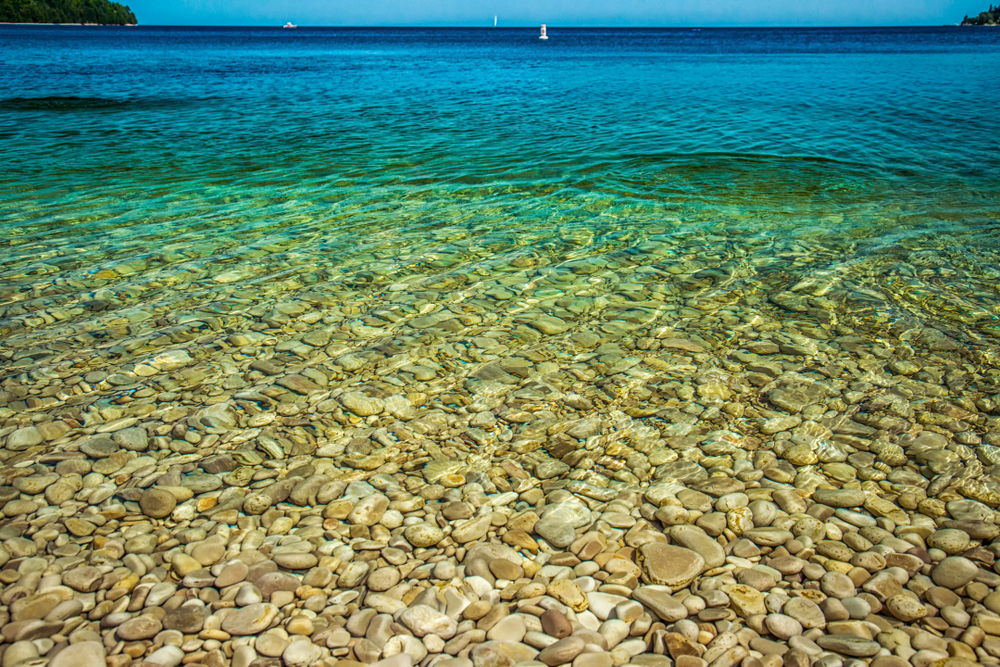 South Bass Island, Ohio
South Bass Island is the most popular of the Bass Islands in Ohio. Known as the "Key West of Lake Erie," it makes a fantastic vacation getaway.
Nestled on this island is the town of Put-in-Bay, locals and tourists alike love to explore the historic buildings, visit the Lake Erie Island Historical Museum, or photograph the South Bass Island Lighthouse.
You can also visit Perry's Victory and International Peace Memorial, which is the world's tallest Doric column. A $10 fee brings you to the top for amazing views.
South Bass Island State Park is the perfect stop for nature lovers who want to camp, bike, or hike in Ohio.
To reach the island, you can take the ferry from Catawba Island to the southern point or the ferry from Port Clinton to downtown Put-in-Bay.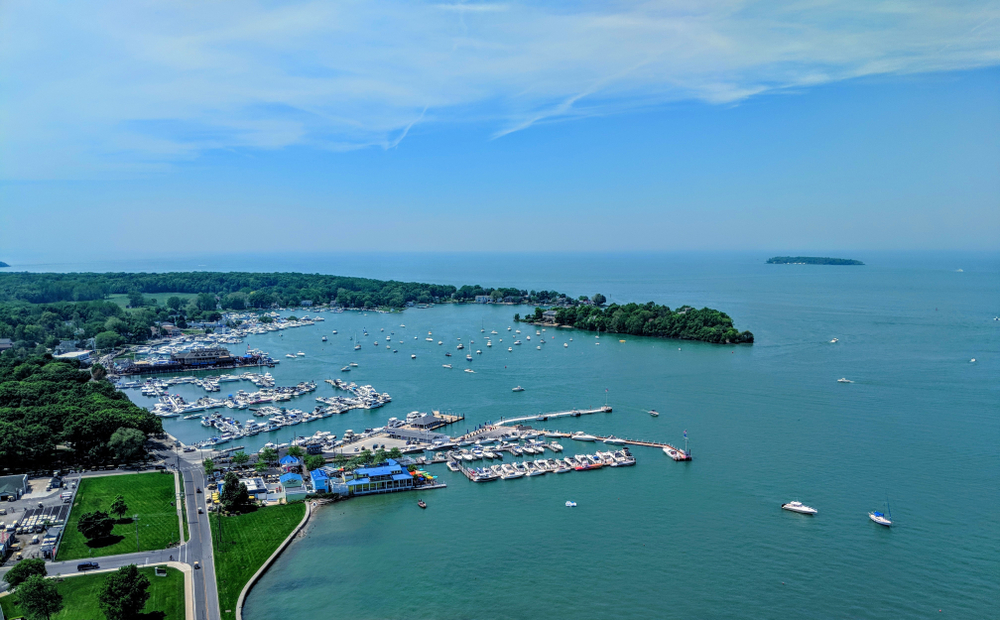 Kelleys Island, Ohio
If you are looking for great places to visit in Ohio, you can take a 20-minute ferry ride to Kelleys Island.
Located near Sandusky, It is the largest island in the state at 4.41 square miles and makes a great day trip.
This is one of the best islands in the Midwest to visit because of the unique variety of things to do.
Anyone interested in history will be fascinated by the inscription rock petroglyphs which have been attributed to the Pre-Columbian peoples. The limestone carvings were discovered in 1833.
If you are more interested in natural history from around 18,000 years ago, you will not want to pass up the chance to see the Glacial Grooves Geological Preserve in Kelley Island State Park.
These are the largest accessible glacier grooves in the world at 400 feet long, 35 feet wide, and 10 feet deep.
Other things to do on the island include kayaking, exploring the best Ohio hiking trails, and some of the best places for camping, or visiting the Monarch Winery and Butterfly Box.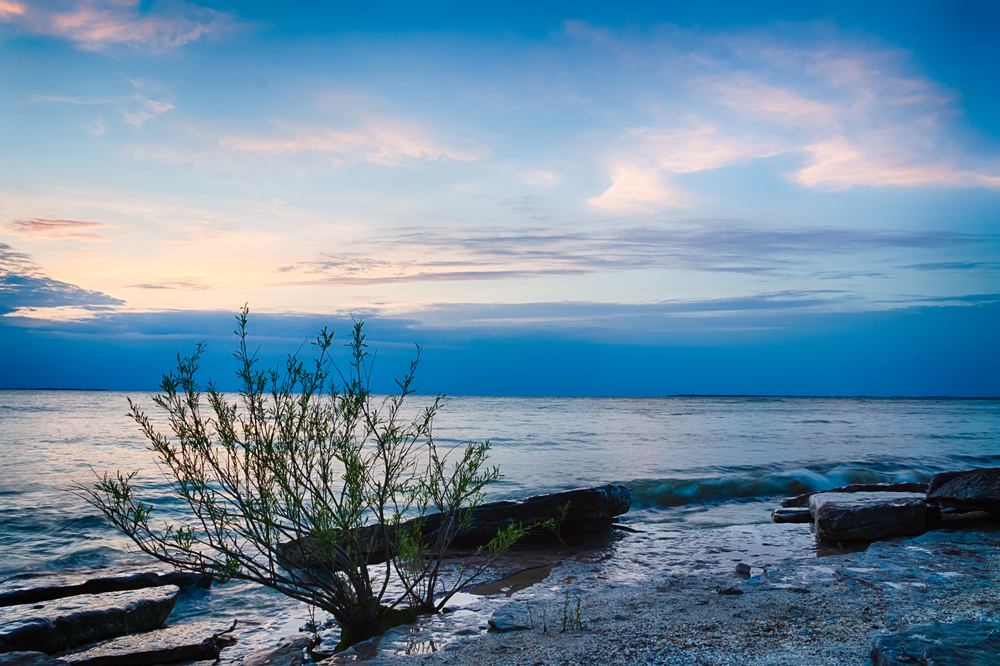 Voyageurs National Park, Minnesota
If you want to see a lot of Midwest islands in one area, head north to Voyageurs National Park. Found on the border between Minnesota and Canada, this park has over 900 islands of all shapes and sizes.
If you are lucky enough to make it up to this remote national park, you will be greeted with natural bliss. There are so many waterfalls in Minnesota, along with lakes, islands, and forests to explore. Enjoy a quiet night under a sky full of stars or the Northern Lights in winter.
This is an amazing place for hiking, fishing, boating, or canoeing. Spend a night camping in Minnesota on your own Minnesota island surrounded by wildlife.
If you visit in the winter, you will have thrills in cross-country skiing, snowmobiling, snowshoeing, and ice fishing. It would be quite a chilly experience!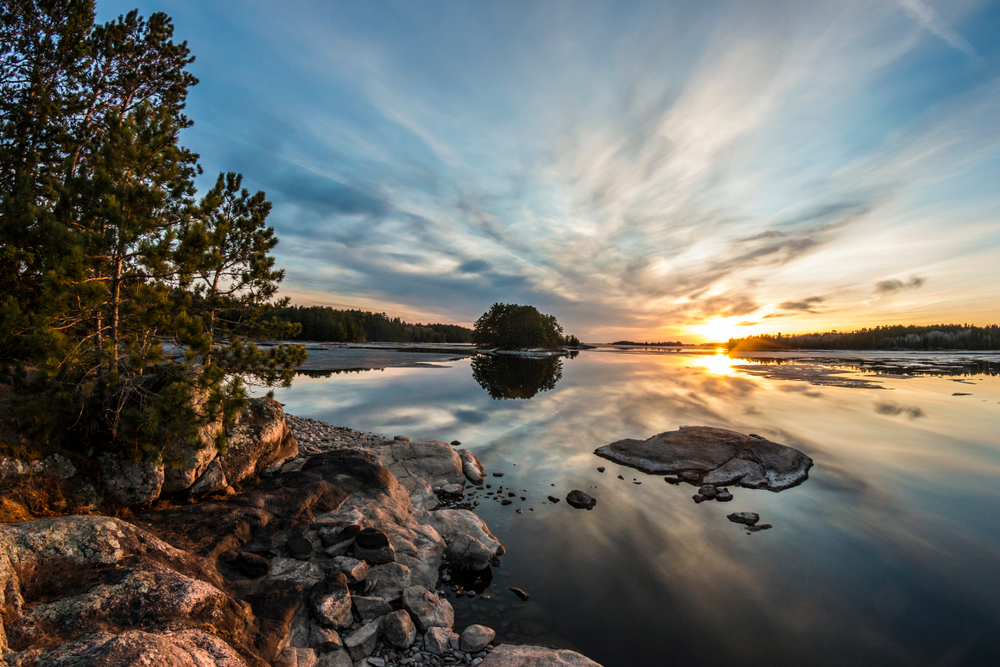 Bear Island, Minnesota
Bear Island Lake is found in Northern Minnesota near Ely. The lake is part of the Bear Island State Forest, a gorgeous recreational area perfect for a day trip or a family camping trip.
There are many islands in the lake, but Bear Island is by far the biggest. You can reach it by boat, canoe, or kayak and explore the rocky shores and forest.
Bear Island Lake is a fantastic place for fishing. Cast your line to catch walleye, northern pike, bass, crappie, perch, and more.
Hike along the picturesque trails and don't forget to pack a lunch to eat at one of the picnic tables. There are also sectioned-off beaches for swimming. If you visit in winter, you can enjoy cross-country skiing and snowmobiling.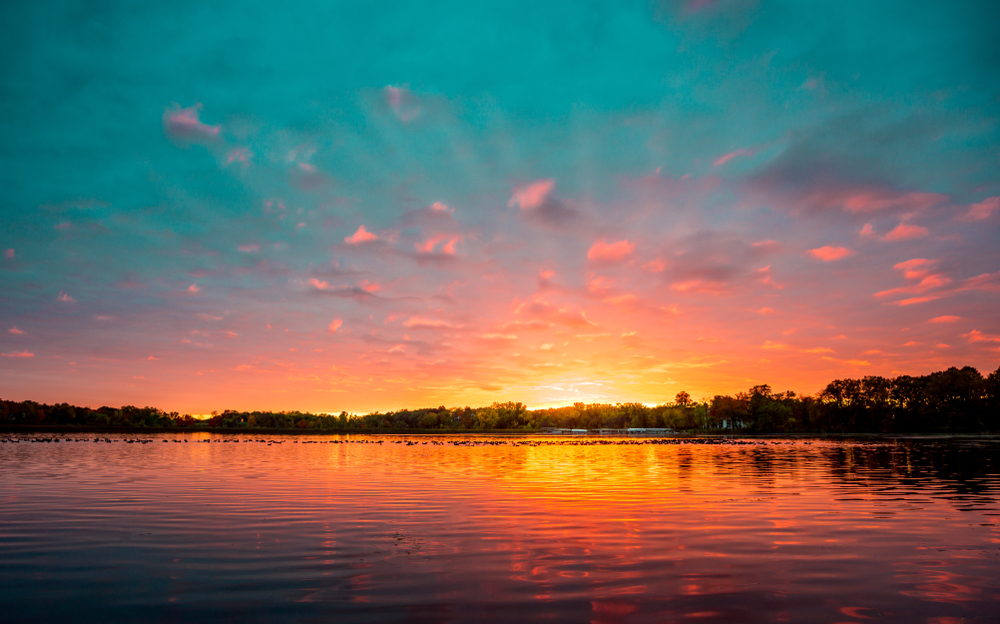 Nicollet Island, Minnesota Is One Of The Best Islands In The Midwest
Another Mississippi River island in Minnesota is Nicollet Island which is part of Minneapolis with many things to do. Connected to the rest of the city by the Hennepin Avenue Bridge, this is a great place to relax.
Nicollet Island Park has walking and biking paths including a footbridge that connects the park to Boom Island Park.
This island also holds a lot of history which can be seen in the old buildings, including a historic inn, as well as the iconic, 1940s Grain Belt Beer sign.
Another interesting thing to see here is the Bell of Two Friends which was donated to Minneapolis by its sister city Ibaraki, Japan. It is near the island's pavilion and amphitheater.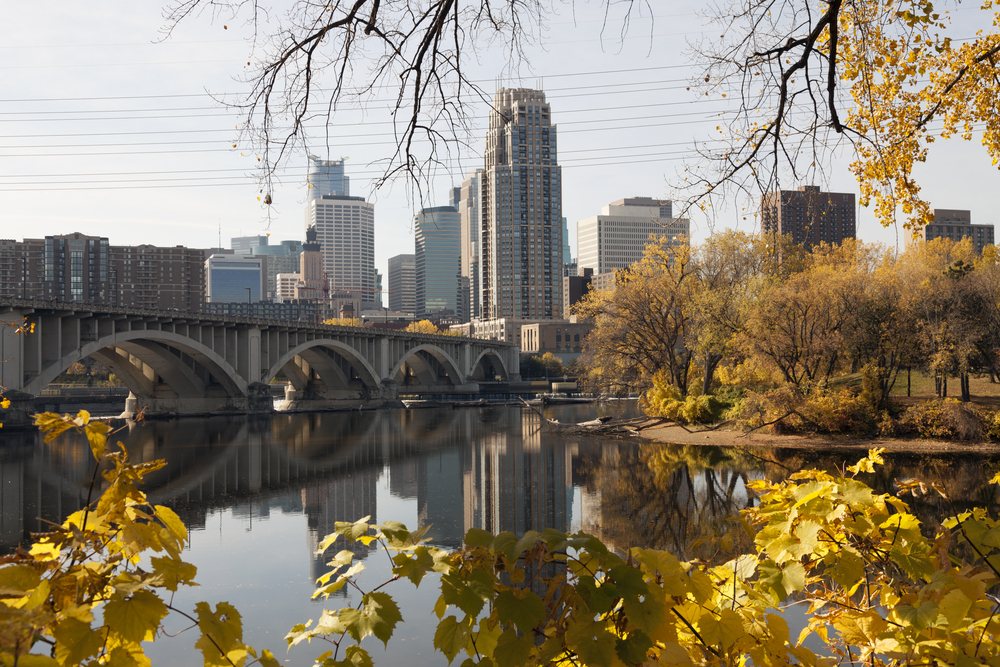 Tower Rock, Missouri
Tower Rock is a unique island formation in the Mississippi River south of Wittenberg, Missouri, and across the river from Grand Tower, Illinois. In 1970, it was listed on the National Register of Historic Places.
The island has been given many names throughout the years, including La Roche de la Croix, Castle Rock, and Devil's Tower. One of the earliest written mentions of it was in 1673.
From missionaries to priests to river pirates, many people visited this island in the Midwest in the past. Even Meriwether Lewis mentioned it in his journals during the Lewis and Clark Expedition.
Today, the island is part of the Tower Rock Natural Area, which comprises 32 acres of woodland along the river where you can hike, and birdwatch.
You can access Tower Rock by boat or by foot when the water levels are low. And it is one of the best places to visit in Missouri!
Grahams Island, North Dakota Is One Of The Coolest Islands In The Midwest
One of the coolest things to do in North Dakota is to visit Devils Lake, where you will find Grahams Island.
A big portion of the island is home to Grahams Island State Park, an idyllic place to spend a summer's day or go camping.
You can also spend time here hiking, swimming, and kayaking. In winter, it is a good spot for cross-country skiing and snowshoeing.
There are campsites for both tents and RVs. No matter the season this is one of the most interesting islands in the Midwest!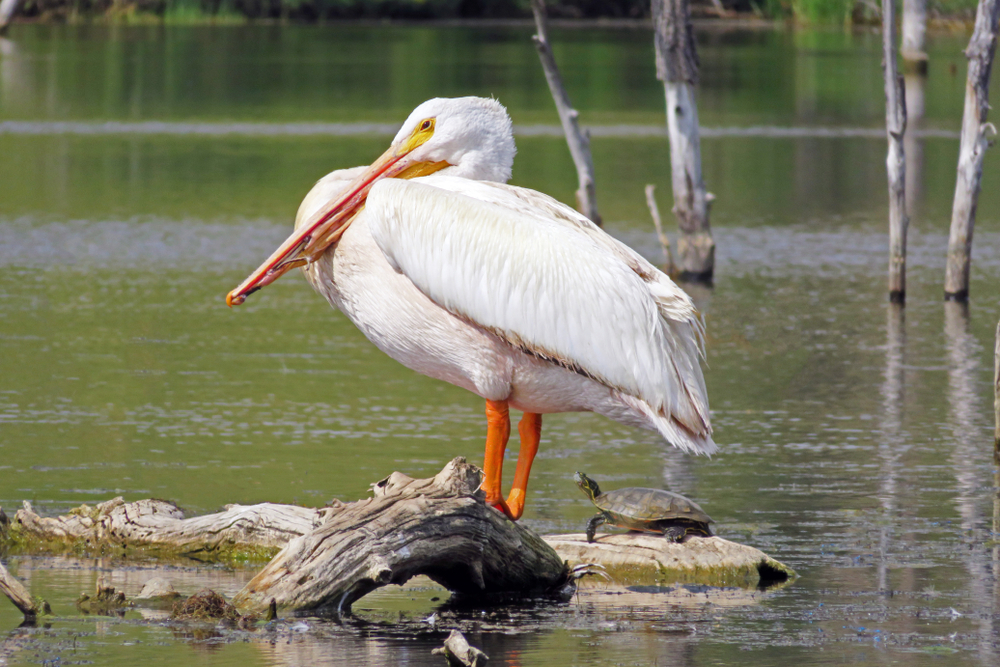 Kaskaskia, Illinois
The village of Kaskaskia, Illinois, has an interesting history, and it was not always an island.
Originally settled by French explorers, Kaskaskia went on to become the capital of the Illinois Territory and then the first state capital of Illinois until 1819.
The population waned and the town was mostly destroyed when the Mississippi River flooded in April 1881.
This flood created a new river channel and made the area an island. The Great Flood of 1993 also devastated the island.
Today, only a handful of people live here, making Kaskaskia the least populous incorporated community in Illinois. You can only reach the island by Missouri roads.
If you come through the area, there are a few historic buildings to see. Though there is not much to do here, it is one of the unique islands in the Midwest with a lot of history.
Goat Island, Nebraska
One of the Missouri River islands in the Midwest is Goat Island, which is on the border between Nebraska and South Dakota.
As part of the National Park Service maintained Missouri National Recreational River, it is a beautiful place to discover nature.
The 800-acre island is made of sandbars and forests, creating an amazing habitat for wildlife.
While there are not any goats here, you might spot frogs, turtles, snakes, and many bird species, including some that are threatened or endangered like the piping plover and interior least tern.
Overall, this is one of the best islands in the Midwest for birdwatching!
Hiking, hunting, kayaking, canoeing, and fishing are all popular activities here. If you want to try your hand at primitive camping, this is a great place to do so.
If primitive camping is not your thing, these cabins in Nebraska could be a better option for you and your family!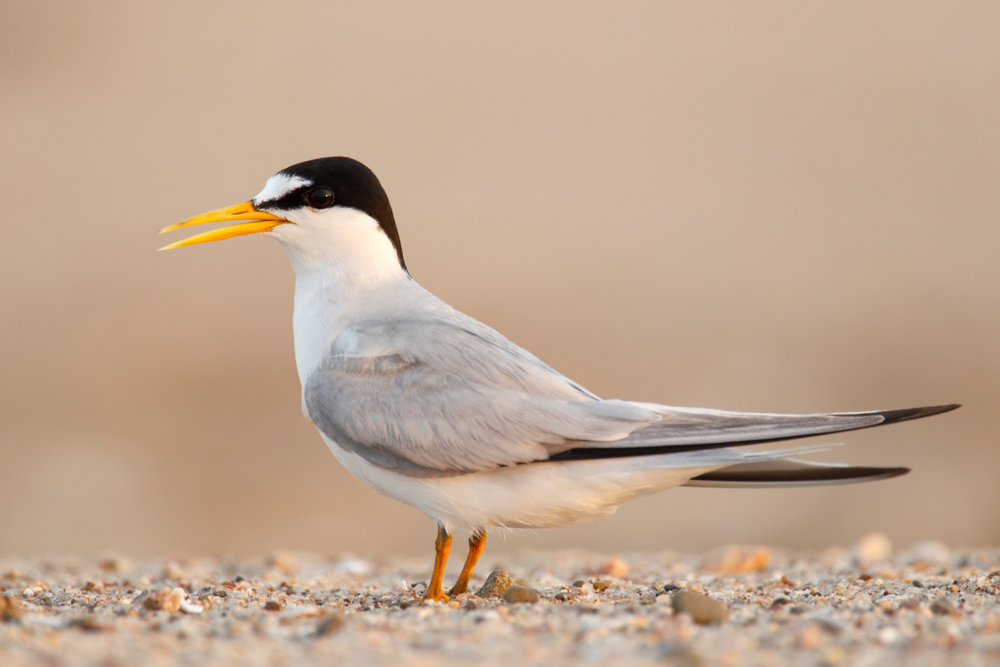 Packing List When Exploring The Epic Islands In The Midwest
If you are searching, here are some tips on how to pack lightly when packing for your Midwest Islands vacation.
A concealed travel pouch may be one of the most important items you bring along when on a Midwest island getaway. It is always important to protect your personal information. Identity thieves are everywhere.
This unisex RFID-blocking concealed travel pouch is lightweight and comes in several colors. It has lots of organization to give you peace of mind. You can place it under your hiking clothes next to your body to carry your ID safely.
If you have a pouch already that does not come with RFID protection, as I do, these RFID sleeves are the perfect solution.
If you are planning on taking a lot of pictures with your phone you will definitely want to consider an external charging battery. This Anker high-speed phone charging battery is the exact one I carry with me on all of my trips.
I like that it holds its charging capabilities for several uses so I do not have to worry about it while out and about, and if I forget to recharge it at night, it will still be good to go the next day.
My daughter gifted me with this FugeTek selfie stick and tripod setup for my birthday. I absolutely love it! It is made of lightweight aluminum and is so easy to use.
It has Bluetooth connectivity and is a breeze to use for taking Insta-worthy selfies while discovering island getaways in the US.
I never much believed in using packing cubes when traveling. That is until I tried them. Now I am hooked. These are the exact cubes I use to stay organized when I pack for a trip!
You will want to bring your own refillable water bottle with you.
I never leave home on a trip without my Bobble filtration bottle. The 18.5-ounce size is perfect for your adventures and it fits nicely in the pocket of a backpack.
The replaceable carbon filter ensures clean drinking water when you want it.
Perhaps you are traveling a long distance and packing space is a premium in your suitcase, or in your car. Then this collapsible silicone foldable water bottle would work well for you. Would not take up much space at all.
You will want a backpack or daypack with you to store snacks, your water bottle, phone, extra clothes, etc.. during long hours of visiting the cities in the Midwest. No matter the time of day or evening.
This foldable water-resistant backpack would be great. And it comes in many different colors.
—
Islands in the Midwest are easy to find if you know where to look. Between the Great Lakes, the Missouri River, and the Mississippi River, there are plenty of cool Midwest islands to discover.