Are you looking for the best weekend getaways in Michigan?
Then look no further, this list is full of my favorite fun weekend getaways in Michigan. I was born and raised in the Midwest, and Michigan is one of my favorite Midwestern states to visit.
Michigan has more shoreline than any other state except Alaska which means a lot of beaches. Add to that incredible scenery, amazing architecture, small towns and big cities, there is so much to do, see and visit in this Great Lakes State.
With that in mind, I came up with this list of the 15 best weekend getaways in Michigan!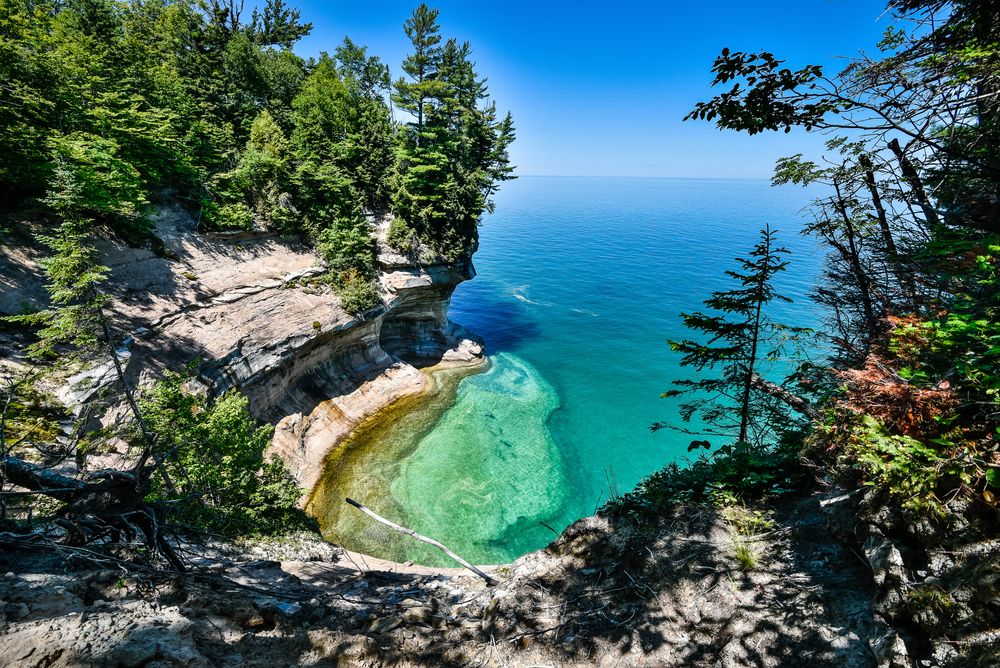 15 Best Weekend Getaways In Michigan
Sleeping Bear Dunes For Outdoor Adventure
If you are looking for a weekend full of outdoor adventures, then consider heading out to Sleeping Bear Dunes.
Sleeping Bear Dunes is a national Lakeshore in Michigan, and one of the best beaches in Michigan.
The beach is miles of white sandy dunes and beautiful views of Lake Michigan.
While exploring, you'll find miles of hiking trails, a historic Lighthouse and Life Saving Station, and an adorable coastal village.
There is also a Visitors Center that you should check out if you want to learn a little more history about the area.
Depending on what time of year you go, along with hiking, you can also enjoy plenty of watersports.
Sleeping Bear Dunes is a great weekend getaway in Michigan if you want to reconnect with the great outdoors.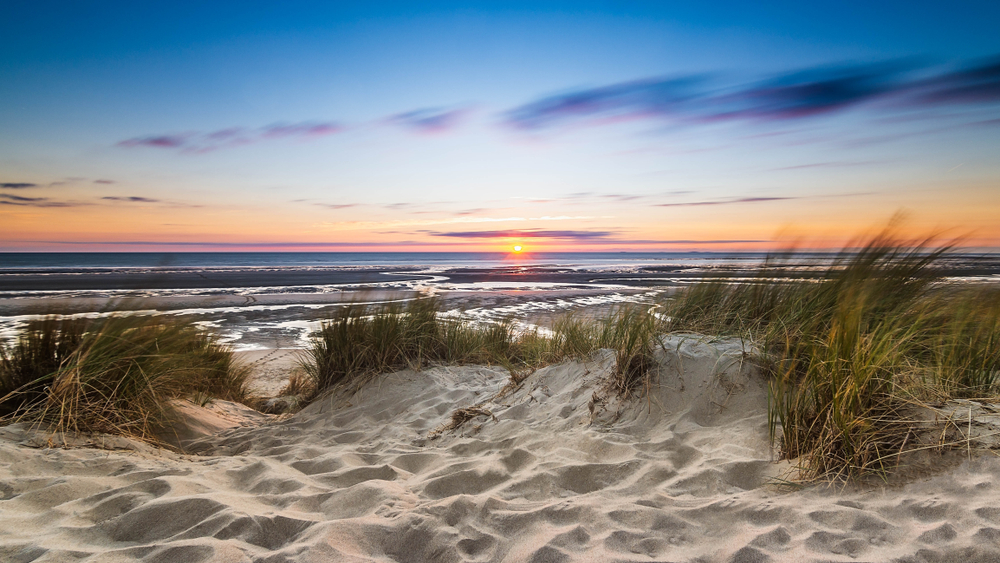 New Buffalo The Popular Resort Town
New Buffalo is a popular resort town in Michigan that is part of the vacation district known as 'Harbor Country'.
This charming beach town is nestled on the shores of the majestic Lake Michigan.
If you are looking for a small coastal town to explore, you'll find there are tons of things to do in New Buffalo.
The town has a casino, a beach park, plenty of unique shops, and more.
If you are interested in sailing, New Buffalo offers sailing tours as well as sailing lessons.
For those who love wine and spirits, New Buffalo has several wineries, distilleries, and breweries.
No matter what you are interested in, New Buffalo is a great place to spend a weekend in Michigan.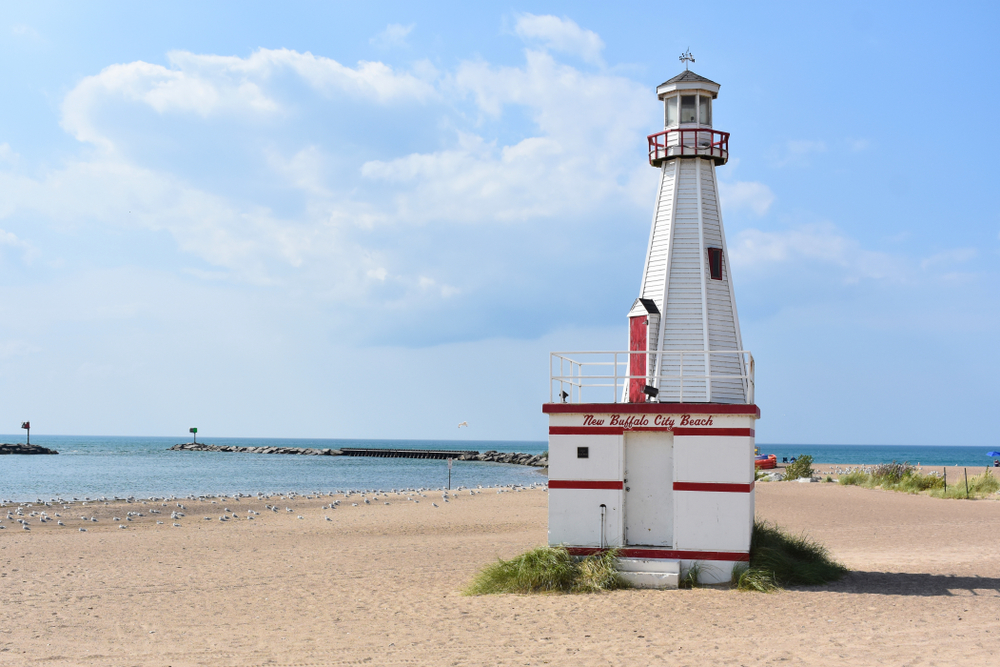 Holland For A Charming Coastal Village
Holland Michigan is a quaint Bavarian style coastal village.
The first European immigrants named their town after their home country, and since then it has been a stand out Bavarian city in small town Michigan.
Holland is mostly known for its 'Big Red Lighthouse', which is easily one of the coolest Lighthouses in Michigan.
The 'Big Red Lighthouse' was built and rebuilt several times and has architectural nods to the country of Holland.
In 1956 the US Coast Guard painted it bright red and catapulted it into becoming one of the most iconic lighthouses in Michigan.
Visitors love spending the weekend in Holland exploring the Bavarian-style village shops and center, and of course, seeing 'Big Red'.
Holland also hosts a yearly Tulip Festival, which makes for a really fun weekend getaway in Michigan.
The town goes all out in Bavarian style with food stalls, plenty of Bavarian activities, and tours of the large tulip fields.
It is a can't miss event!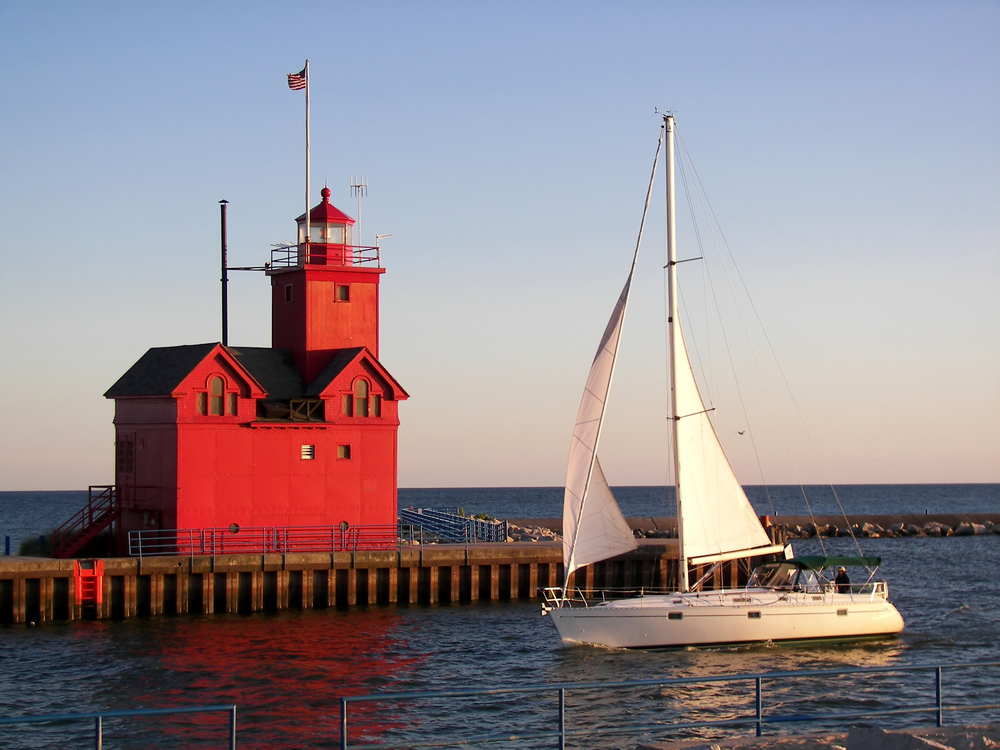 Isle Royale National Park
Isle Royale National Park is one of the best National Parks in Michigan, and for good reason.
Off the coast of mainland Michigan in Lake Superior you'll find this unique Island.
The island itself is completely secluded and only hosts visitors to the National Park.
While there you can do a number of things.
If you are staying the whole weekend, you can plan a backpacking trip around the island and have some fun camping.
For those who want to explore for a few days, but not necessarily camp, you can find plenty of hotels in Houghton or Copper Harbor.
However, I suggest staying on Isle Royale the whole weekend as the ferry ride from Michigan can take 3 1/2 – 6 hours.
It is definitely worth it to spend the weekend camping.
Visitors to the National Park can also enjoy watersports, guided hikes, and there is a Visitor's Center.
If you are looking for a rugged adventure weekend, you can't go wrong exploring Isle Royale National Park.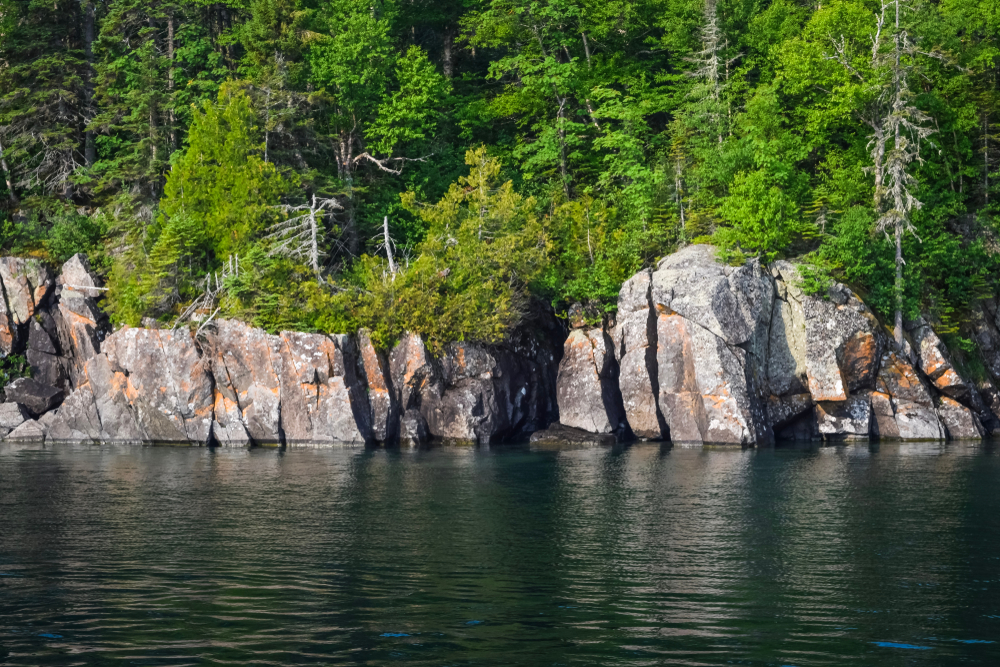 Mackinac Island Is A Perfect Romantic Getaway
If you are looking for a romantic weekend getaway in Michigan, then look no further.
Mackinac Island is the perfect place for you and your partner to enjoy a weekend together.
The small island is located in Lake Huron and is one of Michigan's most popular vacation spots.
Mackinac Island is a charming coastal town that is incredibly unique, for several reasons.
The entire island is a National Historic Area and you'll find plenty of places to tour if you love history.
From beautiful old homes, lighthouses, and military forts, the island has it all.
Another cool thing is that the entire island has zero cars.
To get to the island, you take a ferry.
To get around the island, your options are bicycle, walking, or horse-drawn carriage.
You and your partner can tour the island before heading to a romantic dinner in a horse-drawn carriage.
It doesn't get more romantic than that, which is why Mackinac Island is the perfect romantic weekend getaway in Michigan.
Ann Arbor Is The Perfect Michigan Getaway
Ann Arbor is home to the University of Michigan and is full of really great ways to spend a weekend.
Art lovers will enjoy spending hours walking through the University of Michigan Museum of Art.
There you can find art pieces from all over the world as well as form different time periods.
If you enjoy science, Ann Arbor has a fantastic Museum of Natural History, as well as a stunning botanical garden, and a Museum of Archeology.
You'll also find a great selection of breweries, distilleries, and restaurants to sample.
If you are bringing your whole family on your weekend getaway, then the kids will love spending the morning at the Ann Arbor Hands-On Museum.
After a morning spent there, grab a picnic lunch, and then hang out at Gallup Park or the Hudson Mills Metropark.
No matter what interests you, Ann Arbor is sure to have activities you'll enjoy all weekend long.
there are so many resorts in Michigan to check out!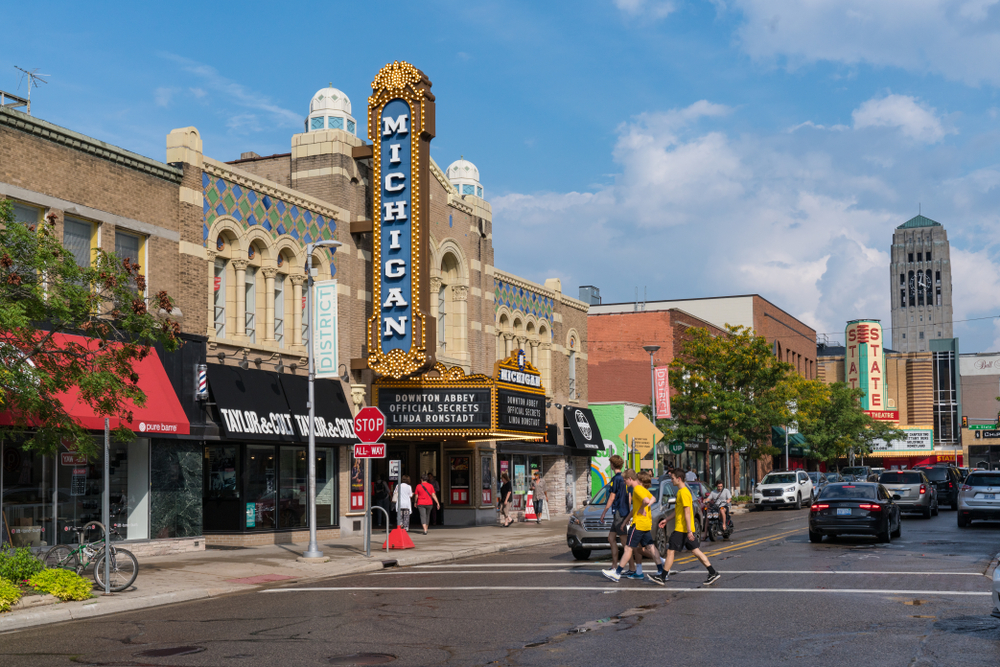 Grand Rapids For City Exploration
Grand Rapids is the second largest city in Michigan and that means it is bursting with fun activities.
One of visitor's favorite things to do is explore the Frederik Meijer Gardens and Sculptural Park.
There are five indoor gardens, several outdoor gardens, and plenty of nature trails.
You'll also find a sculptural gallery as well as a permanent sculptural exhibit and more.
The Meijer Gardens have become world renowned and are worth a visit.
If you enjoy history, you can spend time touring the Gerald R. Ford Museum.
There you can learn about the United States 38th President.
Grand Rapids is also full of unique shops, restaurants, art galleries, and other museums.
It is a great place to discover more about Michigan and a great weekend getaway in Michigan.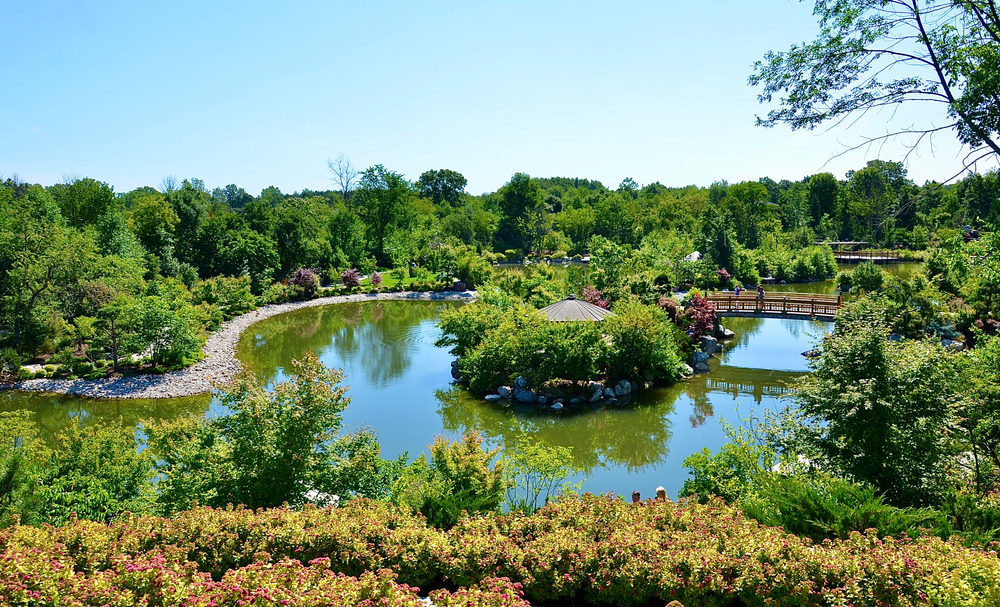 Frankenmuth For Bavarian Adventures
Holland is a fairly well-known Bavarian town in Michigan, but Frankenmuth is the 'Little Bavaria' of Michigan.
That's what makes it one of the best small towns in Michigan to visit if you are looking to step into a Bavarian village.
Now, just because it's a small town, doesn't mean there isn't much to do.
On the contrary, Frankenmuth is a popular destination in Michigan and is full of unique activities.
You can sample German beers, participate in German festivals, and try some classic German dishes.
During Christmas the town turns into a Bavarian Christmas Wonderland.
It is a beautiful time of year to experience one of the best weekend getaways in Michigan.
But, no matter what time of year you decide to go, Frankenmuth is bursting with fun activities, amazing food, and great shops.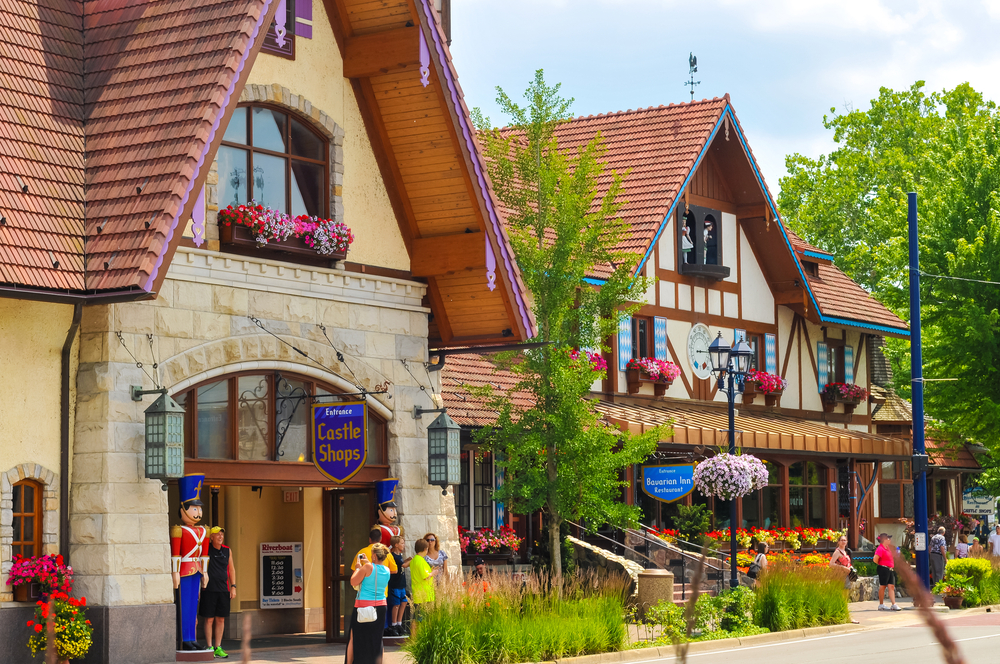 Traverse City
Traverse City is perfect for outdoor adventurers looking for a fun weekend getaway in Michigan.
It is the largest city in northern Michigan and has a great combination of outdoor activities and city charm.
If you are looking to go there for a weekend of outdoor fun, you won't be dissapointed.
You can enjoy winter sports like skiing and snowboarding, and in the warmer months explore hiking and biking trails or go swimming.
Traverse City is also right by Sleeping Bear Dunes National Lakeshore, so if you have the time, make sure you explore there too.
If you want to explore more city offerings, Traverse City has a great downtown area.
You'll find great restaurants, unique shops, and plenty of distilleries and breweries to sample.
Traverse City really has it all for when you're planning your next Michigan getaway weekend.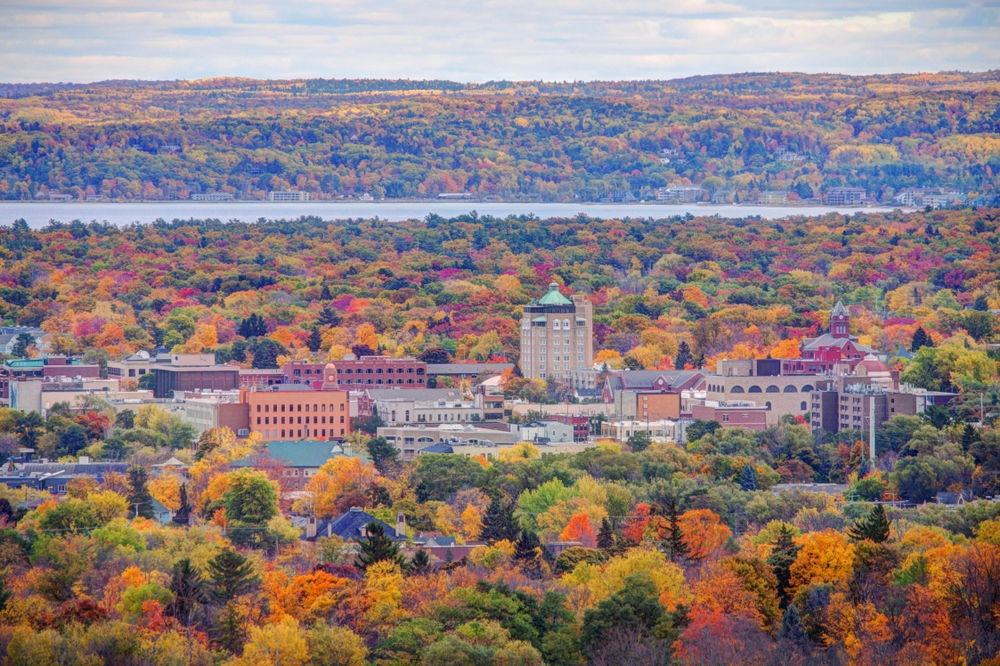 Detroit And MotorCities If You Love Automotives
Detroit is known for being the Motor City.
It is home to the MotorCities National Heritage Area, a massive historic district full of museums, beautiful architecture, and more.
This makes it a perfect cheap weekend getaway in Michigan for automotive enthusiasts.
Many of the stops in the National Heritage Area are free to admire and walk through.
You can also create your own road trip and select the destinations that interest you most.
A few of the more popular museums do have an entrance fee, but they typically are reasonably priced.
Detroit is also home to some amazing restaurants.
While on your road trip through the Motor City you can sample the best food of Detroit and learn about the city's automotive history.
It is a really unique way to explore one of Michigan's most important cities.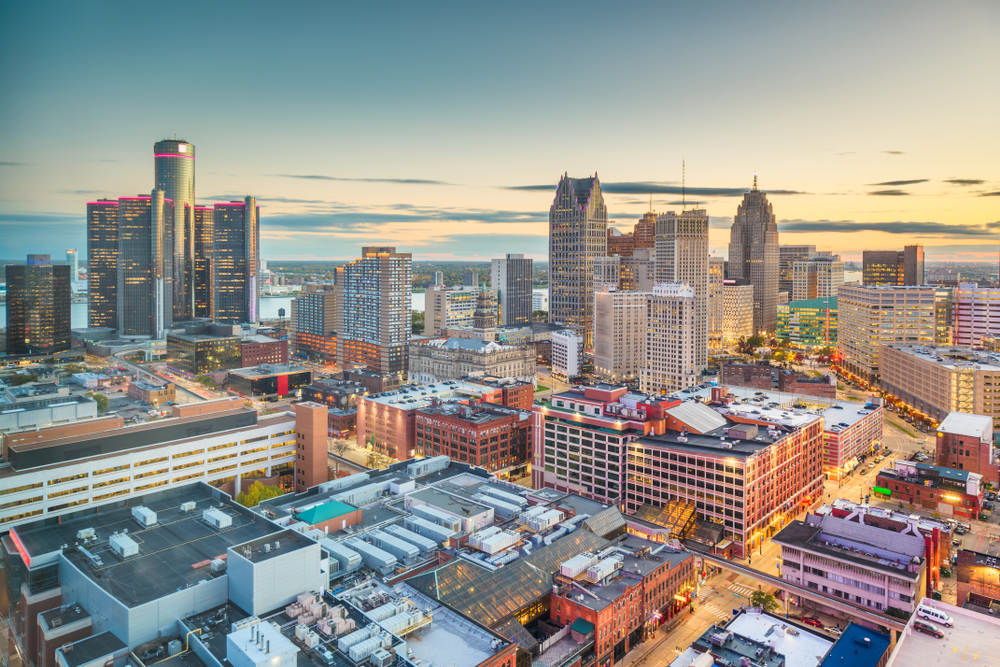 Pictured Rocks National Lakeshore
Pictured Rocks National Lakeshore is another great cheap weekend getaway that is perfect for those looking to explore the great outdoors.
The National Lakeshore is a unique National Park in Michigan that is home to plenty of history.
The Au Sable Lighthouse was built to prevent shipwrecks by logging and mining ships that would come to the Lakeshore.
Now, visitors can tour the lighthouse and learn more about the area's logging and mining history.
It eventually became a National Lakeshore, which meant it was no longer used for logging and mining purposes.
Since then, a number of hiking and biking trails have been created for visitors to enjoy.
The Lakeshore also offers Park Ranger guided hikes, where you'll learn about both the history and the natural flora and fauna.
The Park Rangers also offer guided kayaking trips, which is a fun activity in the warmer months.
There is plenty of things to do and see on this Michigan weekend getaway adventure.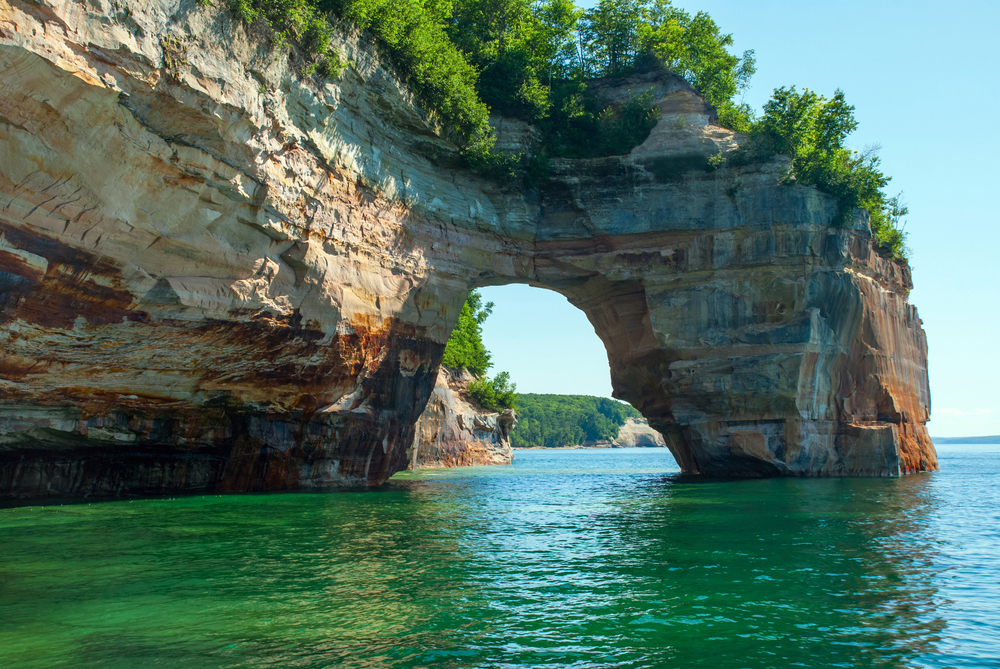 Petoskey For Victorian Charm And Romance
If you are looking for a romantic weekend getaway in Michigan, consider staying in Petoskey.
Stepping into the quaint small town feels like stepping back in time.
The town is full of Victorian charm.
After a morning spent skiing on the most famous slopes in Michigan, you and your partner can stroll through the main street that is full of Victorian architecture.
The historic Gaslight Shopping District is a must-see when you plan your weekend in Petoskey.
The area is also full of beautiful historic homes that you and your partner can spend time admiring while you sightsee.
You'll also find some amazing gourmet restaurants, or more casual options, depending on your preference.
This small town is full of romantic things to do and see, making it one of the best romantic weekend getaways in Michigan.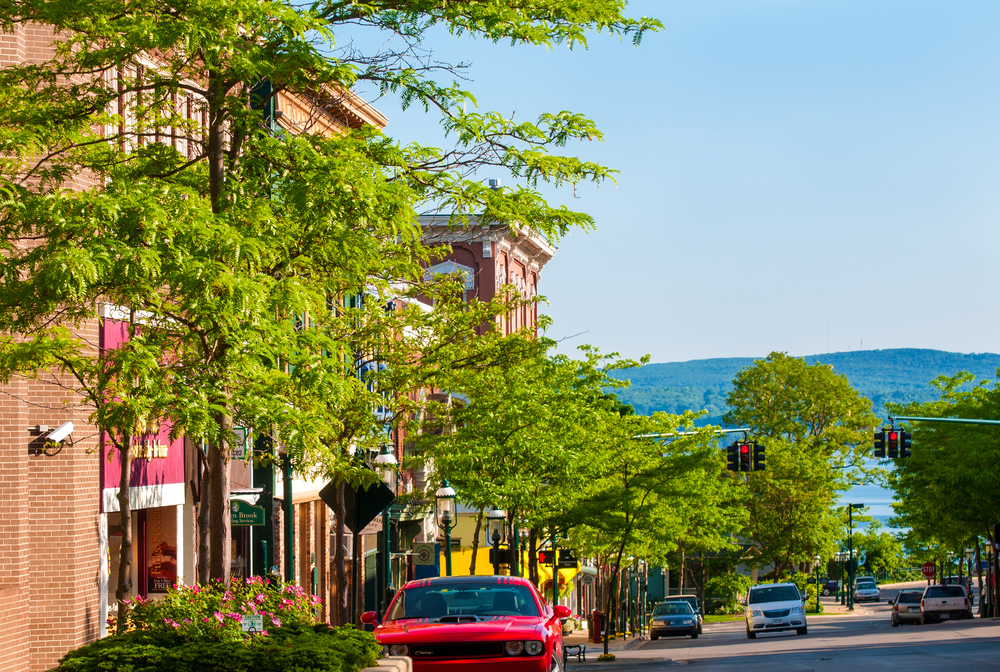 Bay City Has So Much Of Michigan To Offer
Bay City is a great option for those looking for summertime weekend getaways in Michigan.
You can visit anytime of year, but the city really shines in the summertime.
It is located on the shores of Lake Huron, near Saginaw Bay.
If you want to enjoy water activities, Bay City has plenty to offer.
You can walk along the shoreline, go swimming in the bay, or even experience sailing on a schooner.
I'd highly suggest taking the time to enjoy a dinner or stargazer cruise and enjoy beautiful views of the bay.
The town also has some really unique activities as well.
There you can explore Michigan's largest antique center, stroll through the stalls at the City Market, or watch a show at the State Theater.
The Uptown District is also full of gourmet restaurants and charming boutiques to explore.
You'll never run out of fun activities while enjoying a Michigan weekend getaway in Bay City.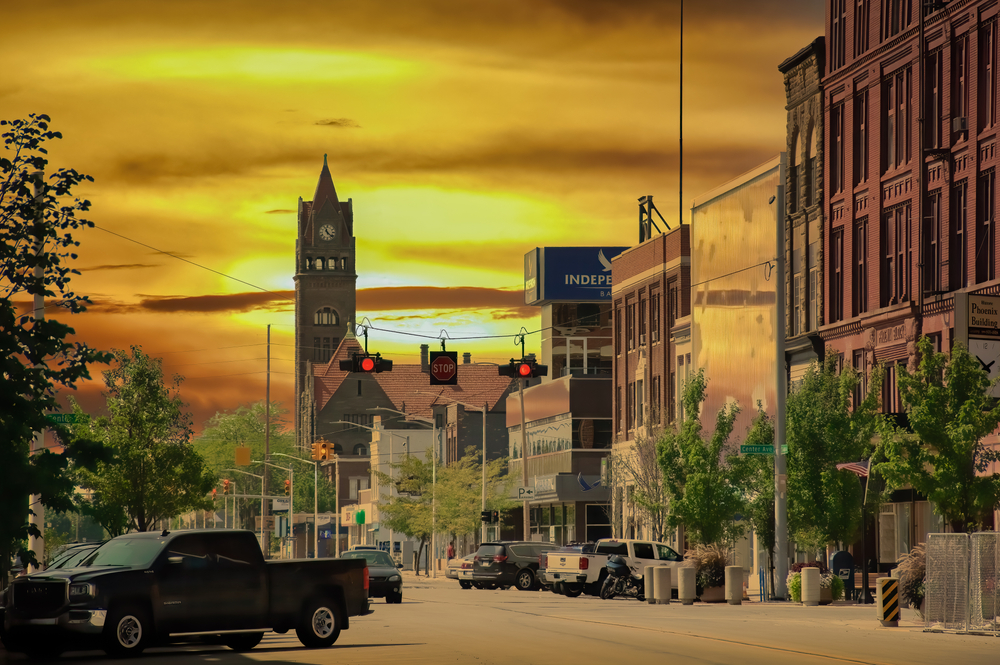 Lansing To Explore Michigan's Capital City
Lansing is the capital city of Michigan and full of amazing places just waiting to be explored.
If you love history, then Lansing is the perfect place for your next cheap weekend getaway in Michigan.
In just a five block radius, you can see some of Lansing's most popular sites.
From the Capitol Building, several different museums, a National Historic Landmark, and more.
Many of them are free or fairly inexpensive to view or explore.
The city is also full of one of a kind breweries, distilleries, and restaurants.
In the summer, it's a foodie's paradise with food and beer festivals happening almost every weekend somewhere in the city.
Lansing also has a thriving art district, with four neighborhoods full artists and art galleries.
If you want a break from exploring the city, you can take a walk on the River Trail and find yourself surrounded by nature.
Lansing is full of activities with something for everyone.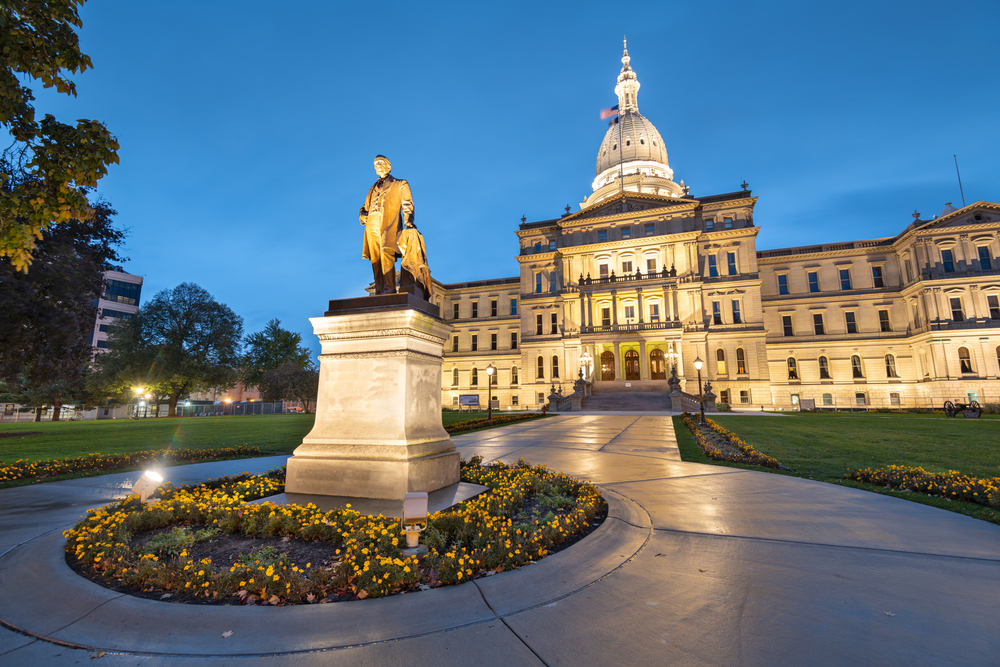 Saugatuck
Coastal Living Magazine named Saugatuck one of the "10 All-Star American Beach Towns" and it's easy to see why.
Saugatuck is a charming small town known for being as "All American" as apple pie or baseball.
But don't let that fool you, it's still a bustling town with plenty of fun things to do.
Being one of the best beach towns, it naturally has a beautiful length of beach where you can swim and relax.
The small town also has a thriving culinary scene so you can easily find a delicious and unique meal after spending all day on the beach.
Saugatuck is also known for it's large art scene and many artists and art lovers flock to the city yearly.
You'll find beautiful art galleries, art shops, and even street art.
For those who want to escape for a slowed down and relaxed weekend on the beach Saugatuck is one of the best weekend getaways in Michigan.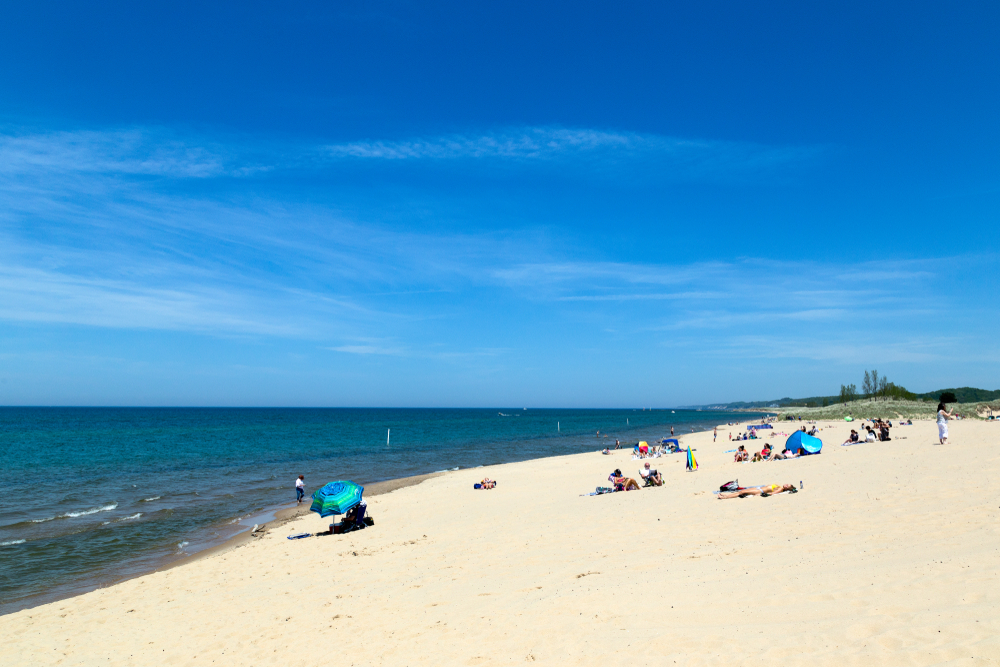 Have you gotten the chance to have a weekend getaway at any of these amazing locations in Michigan?
If so, I'd love to know which was your favorite! If not, which of these weekend getaways in Michigan do you want to try first?
Packing List For Your Michigan Weekend Getaways
A concealed travel pouch may be one of the most important items you bring along when on your weekend getaways in Michigan. It is always important to protect your personal information.
Read my tips on how to pack lightly here if you need packing tips.
This unisex RFID blocking concealed travel pouch is lightweight and comes in several colors. It has lots of organization to give you peace of mind.
If you have a pouch already that does not come with the RFID protection, as I do, these RFID sleeves are the perfect solution.
This configuration comes with enough passport and credit card sleeves that the entire family would be protected. They are slim too, so they will easily fit into your pouch or wallet.
If you are planning on taking a lot of pictures with your phone you will definitely want to consider an external charging battery.
This Anker high-speed phone charging battery is the exact one I carry with me on all of my trips.
It can be used on a variety of phones, not just an iPhone like I have. And wow is it fast!
I like that it holds its charging capabilities for several uses so I do not have to worry about it while out and about, and if I forget to recharge it at night, it will still be good to go the next day.
My daughter gifted me with this FugeTek selfie stick and tripod setup for my birthday. I absolutely love it! It is made of lightweight aluminum and so easy to use. It has Bluetooth connectivity and is a breeze to use for group shots or that perfect selfie!
I was not a fan of packing cubes until I started to use them! This is the exact set of packing organizers I use whenever I travel.
I cannot believe how much they really do help with the organization. If you have not considered packing cubes, I would recommend giving them a try.
Hydration is so important. You want to remain hydrated to support your immune system which in turn will be stronger to fight off any germs you will encounter during your travels.
You will want to bring your own refillable water bottle with you.
I never leave home on a trip without my Bobble filtration bottle. The 18.5-ounce size is perfect for travel and it fits nicely in the pocket of a backpack or your purse.
When filled with water, it is not too heavy to carry. And the charcoal filter ensures fresh clean water whenever you fill the Bobble. You can find filter replacements here.
Perhaps you are traveling a long distance and packing space is a premium in your suitcase, or in your car. Then this set of collapsible silicone foldable water bottles would work well for you. Would not take up much space at all.
You will want a backpack or daypack with you to store snacks, your water bottle, phone, extra clothes, etc.. This foldable water-resistant backpack would be great.
It is very affordable and is available in many color options for you to choose from. The fact that it folds down into a zippered pouch will make it easy to pack.
Perhaps you need a more substantial backpack for your travel. This antitheft backpack has a charging port, is water-resistant, and can comfortably carry up to a 15.6″ laptop.
You will be walking more than usual during your weekend getaways in Ohio. A sturdy and comfortable pair of walking shoes are a must-have. These waterproof all-season shoes are extremely affordable and yet fashionable.
Mostly everyone is familiar with the Skechers brand, and these Air Run high fashion sneakers come in a lot of colors to match your outfits and are still affordable.
If you are visiting Michigan in warmer weather, maybe you want a pair of sandals to wear to dinner or to the local cafe, I highly recommend these Vionics adjustable strap orthotic sandals.
I have several pairs of Vionics that I bring with me *everywhere* I travel. They are very comfortable and have orthotic footbeds that cradle and support your feet.
We all need to protect our eyes from the sun's harmful UVA/UVB rays. These unisex polarized sunglasses come in a lot of lens colors and frame designs and are extremely affordable too.
If you are fond of the aviator-style of sunglasses these polarized aviators may interest you.
If you are in need of new luggage, this expandable soft side spinner luggage is affordable and comes in lots of colors.
If you like hard-sided better, then you may favor this hard-sided luggage set better. Both sets come with TSA locks and 8 wheels per piece.