Are you looking to explore the coolest lighthouses in Michigan? Then this list is for you!
There are so many cool things to do in Michigan, and exploring lighthouses is one of them!
With four Great Lakes, Michigan has a deep nautical history, and that includes lighthouses.
At one time, there were over 240 lighthouses in Michigan, each unique in some way. Now, there are only about 100 left that are in good condition.
A few of Michigan's lighthouses are privately owned or located on what is now private land.
However, you can still view them, even if from a distance – you just can't tour the buildings.
Now, let's take a look at the 11 Coolest Lighthouses in Michigan!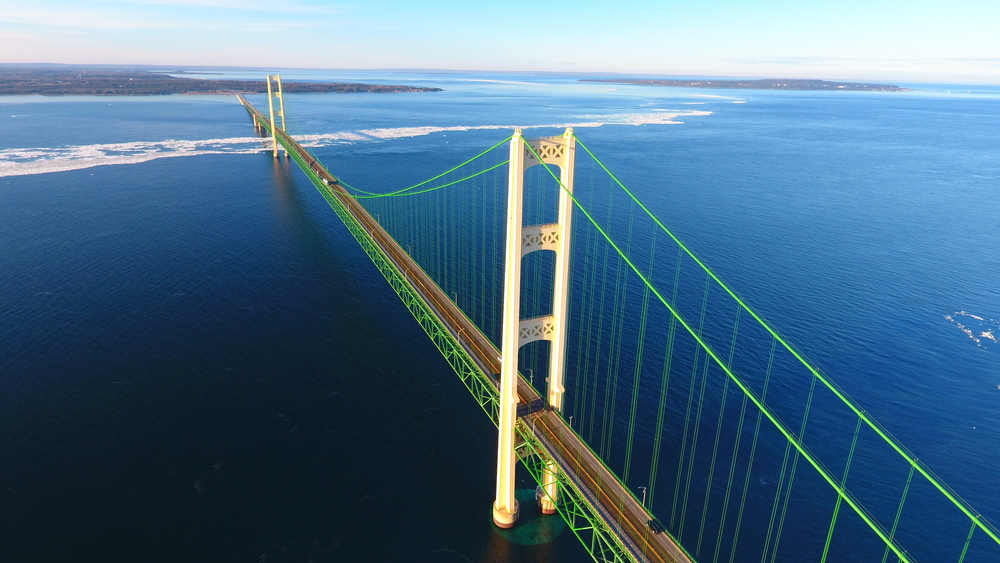 11 Coolest Lighthouses In Michigan
Point Iroquois Lighthouse
The Point Iroquois Lighthouse is located in the quaint small town of Brimley Michigan on the shores of Lake Superior.
The lighthouse is named for the warrior tribe that was massacred there by the Ojibway in 1662.
It was known to the native Algonkian as Nadouenigoning which roughly translates to 'Iroquois' and 'bone'.
In 1855 the first lighthouse and light-keeper residence was built. At one time, its light shone on one of the busiest shipping lanes in the world.
In 1870 the original wood tower and residence were replaced by the brick buildings that stand there today.
As shipping between the Great Lakes became more popular, the Point Iroquois Lighthouse became more important. It served for 107 years before being replaced by a modern lighthouse in Ontario, Canada.
Shortly after, it became a National Historic Place, and work began to preserve it.
Now, this lighthouse in Michigan, with its classic appearance, is a popular tourist destination.
It is perfect for families and history buffs alike making it one of the very popular Michigan lighthouses!
Michigan is a beautiful state with plenty of things to do! There are national parks in Michigan, unique museums, and so much more!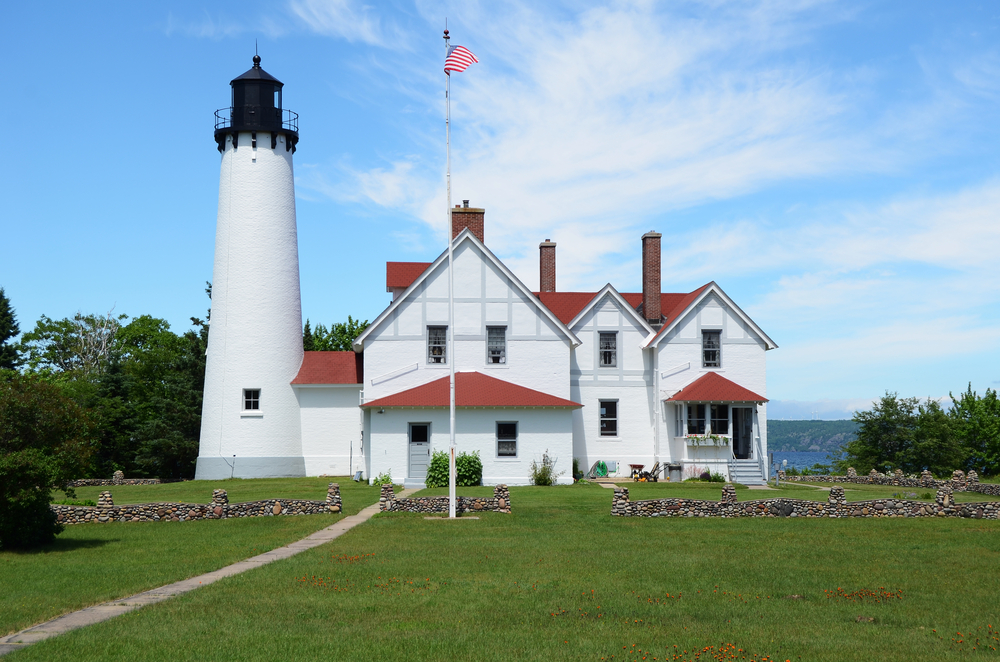 Eagle Harbor Lighthouse and Museum
On the shores of Lake Superior is the Eagle Harbor Lighthouse and Museum.
This unique Michigan lighthouse is still a working lighthouse that guides mariners across the rocky northern edge of the Keweenaw Peninsula.
The light is now maintained by the US Coast Guard, but the building is owned by the Keweenaw County Historical Society.
Because the building is owned by the county, it has been turned into a museum.
Now, you can visit this charming Michigan lighthouse from Mid June to Early October from 10 am – 5 pm daily.
Inside, you'll find period furnishings that help you imagine what it would have been like for the original light-keepers.
This is one of the perfect lighthouses in Michigan to visit if you would like to learn more about the life of early Michigan light-keepers.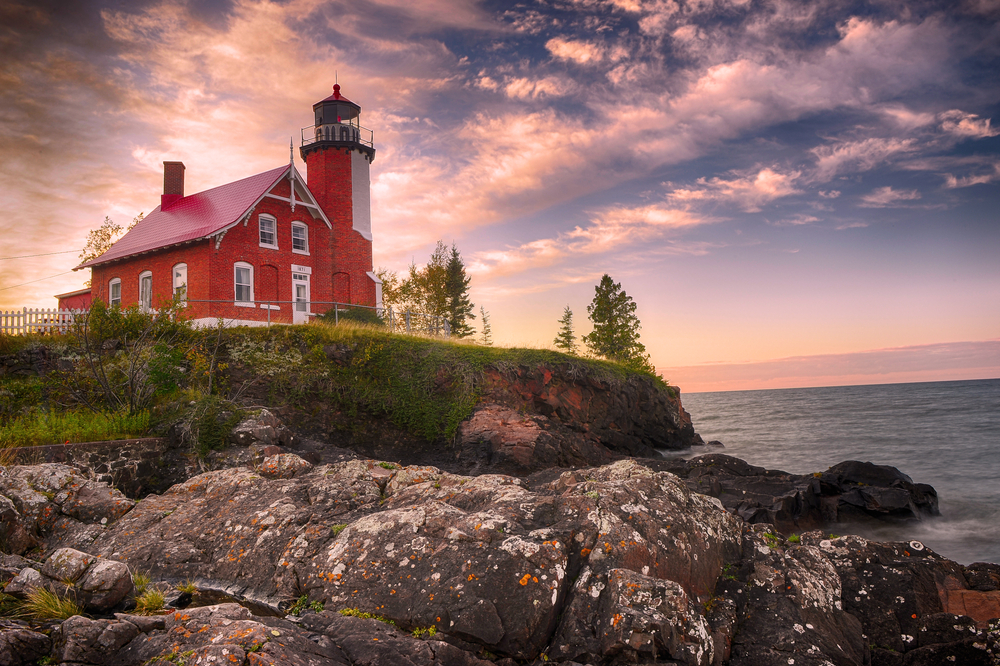 Crisp Point Lighthouse
The Crisp Point Lighthouse, located on Crisp Point, is a fairly new addition to the list of Michigan lighthouses.
The actual building of the lighthouse was proposed for six years before it was built.
It was finally approved in 1902 and was operational in 1904. The lighthouse had several owners before finally belonging to the US government.
In 1965, everything but the lighthouse and service room was destroyed by the Coast Guard.
Now, a local historical society works to preserve what is left and to educate the public on this lighthouse in Michigan with a unique history.
Visitors can come and visit the grounds of the lighthouse any day at any time. If you would like a tour of the building and light tower, you'll need to visit in the summer season.
Visiting Crisp Point Lighthouse in Michigan is a really fantastic Midwest weekend getaway not to be missed!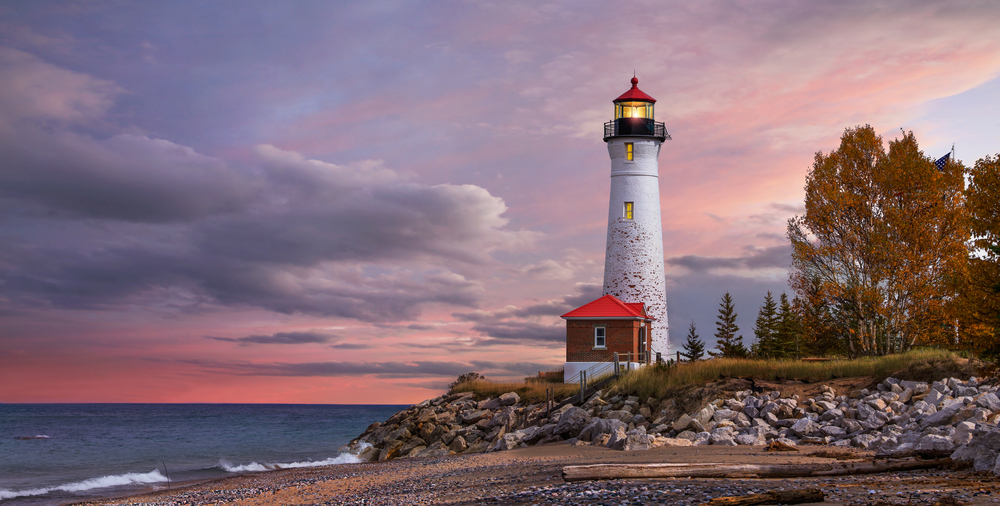 McGulpin Point Lighthouse
The McGulpin Point Lighthouse used to protect shipping carriers as they sailed through the Straits of Mackinac. Now, it serves as a public park and a historical site.
The Straits of Mackinac are where Lake Huron and Lake Michigan meet, which makes McGulpin Point Lighthouse one of the most unique Lake Michigan lighthouses.
The land the McGulpin Point Lighthouse sits on consists of 10 acres, all of which are free for visitors to explore.
There is a discovery trail, a gift shop, and a self-guided self-phone tour of the light-keeper's residence and the light tower.
This is one of the best lighthouses in Michigan for families to come explore for a day trip.
If you love exploring the McGulpin Point Lighthouse and its grounds and want to spend more time there, they even offer overnight accommodations.
Seeing lighthouses during winter in Michigan is one of the coolest things to do.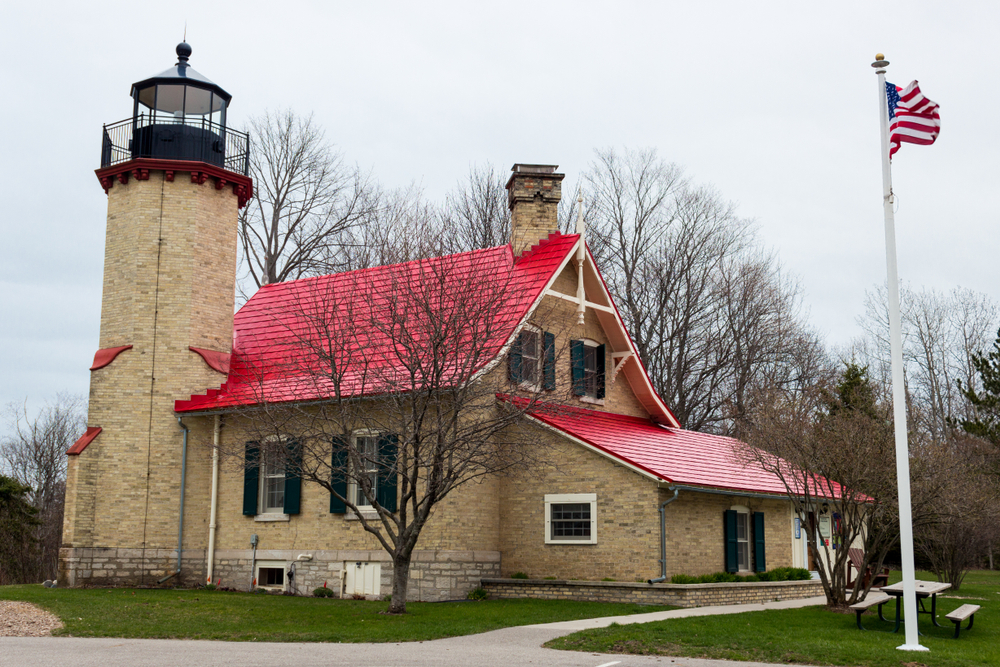 Grand Island East Channel Lighthouse
One of the most unique lighthouses in Michigan is the Grand Island East Channel Lighthouse.
Built in 1868, this Michigan lighthouse is a wood building with a square light tower. Its a truly one of a kind design, especially for a lighthouse.
With its location on the shores of Lake Superior, backed by a full forest of trees on Grand Island, it resembles an old church.
The Grand Island East Channel Lighthouse is now on private property, but you can still view it. Its current owners have taken care to preserve one of the most iconic Michigan lighthouses.
There are three companies that offer water tours of the area and pass by the lighthouse.
Visitors love to take pictures of it sitting quietly on the shore and the tours keep that in mind.
You'll get plenty of time to snap a few pictures and check out one of the coolest lighthouses in Michigan.
Grand Island is one of the cutest beach towns in Michigan!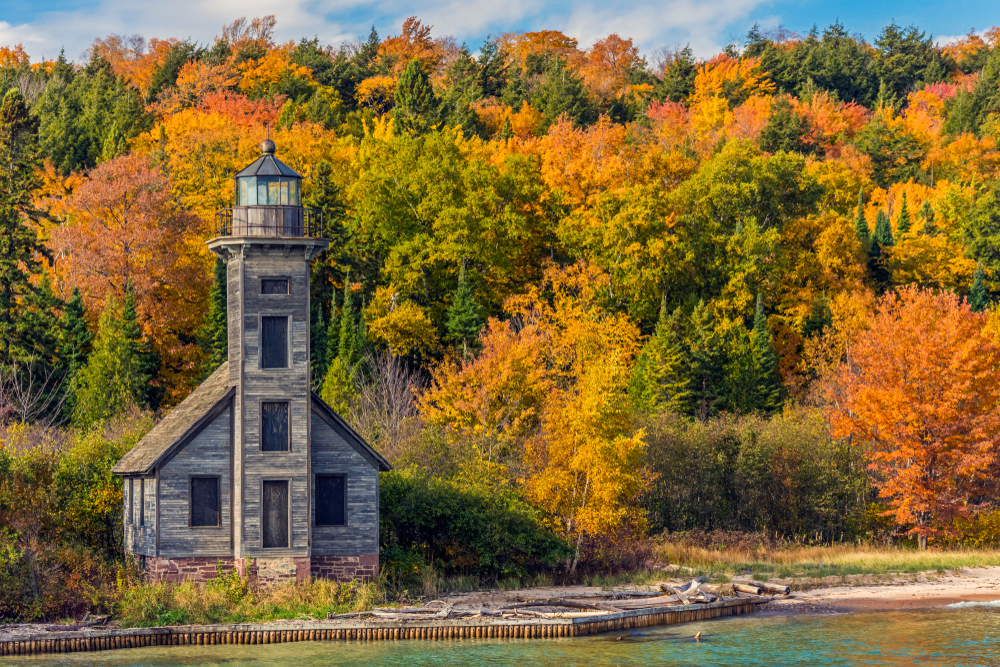 Ludington North Breakwater Light
The Ludington North Breakwater Light is easily one of the most unique lighthouses in Michigan.
In fact, it's ranked as the number one lighthouse in Michigan. The Weather Channel also voted it one of the top 10 lighthouses to see in the United States.
The light itself is a white pyramid-shaped tower that has become the focal point of the nearby city of Ludington.
Because it does not have a residence attached, the Ludington North Breakwater Light technically isn't a lighthouse.
But that doesn't make it any less interesting!
The reason it doesn't have an attached residence is all down to politics. At the time it was built, congress was happy to fund lights but less happy to fund a light-keeper's residences.
By the time Congress finally agreed to fund the building of a light-keeper's residence, the light had been operating for 29 years.
This Lake Michigan lighthouse is located at the end of a long pier on the breakwater where Lake Michigan and the Pere Marquette River meet.
Now, fishermen enjoy fishing off the pier and visitors love to view sunsets from the edge of the pier, by the light. This would make the perfect romantic weekend getaway.
You can tour this unique Lake Michigan lighthouse from late May to early September, daily from 10 am – 5 pm.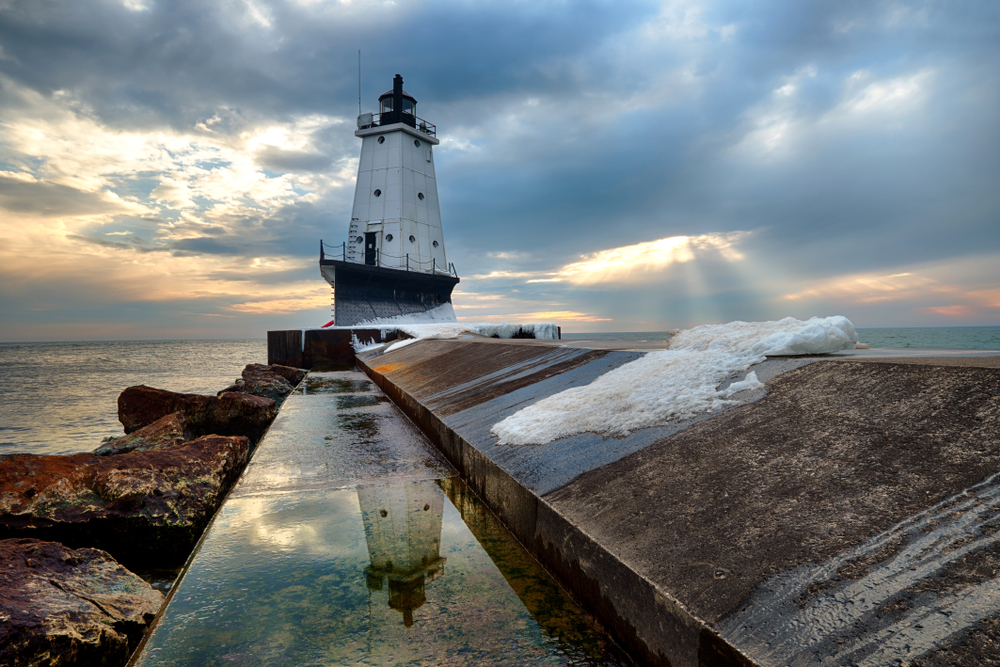 St. Joseph North Pier Inner and Outer
The St. Joseph North Pier Inner and Outer are actually two lighthouses, connected by a common pier.
Light-keepers could walk between the two Lake Michigan lighthouses using an elevated cat walk that runs from the shore, all the way to the outer lighthouse.
These two lights are actually not the original lights, and there were several other light towers constructed before the light towers that are there now.
The Inner Lighthouse was built in 1898 and then rebuilt in 1907. The 1907 lighthouse is the one that stands there now.
The Outer Light was built some time in 1907 or 1908 as an additional measure to warn mariners.
In the winter, the water that constantly slaps against the light towers freezes, creating incredible natural ice sculptures.
During storms, large waves crash against the two light towers, which is a dramatic clash between the man-made structures and Lake Michigan.
Now, visitors love to admire the unique design of this pair of lights. The lighthouses are not open to the public, but you can view them from the shore.
There are so many things to do in St Joseph, so do not skip this cool town!
Big Red Lighthouse
In Holland Michigan, along the Holland Channel, is the beloved and popular "Big Red" Lighthouse.
The lighthouse is Michigan's most photographed lighthouse, and for good reason.
It is a striking bright red building with a light tower with a black roof, and it pops beautifully against the crashing waves of Lake Michigan.
The unique design of this Lake Michigan lighthouse honors the traditional architecture of the town's original settlers' home country – Holland.
Before getting its striking red color, the lighthouse was painted a pale yellow with a maroon base. This made it easier to see in the thick fog that was common to the area.
In 1956 the US Coast Guard repainted the structure to its current bright red to satisfy safety regulations. Now, the lighthouse is known for its signature red shade.
Lighthouse lovers come from all over to experience the unique beauty of the "Big Red" Lighthouse.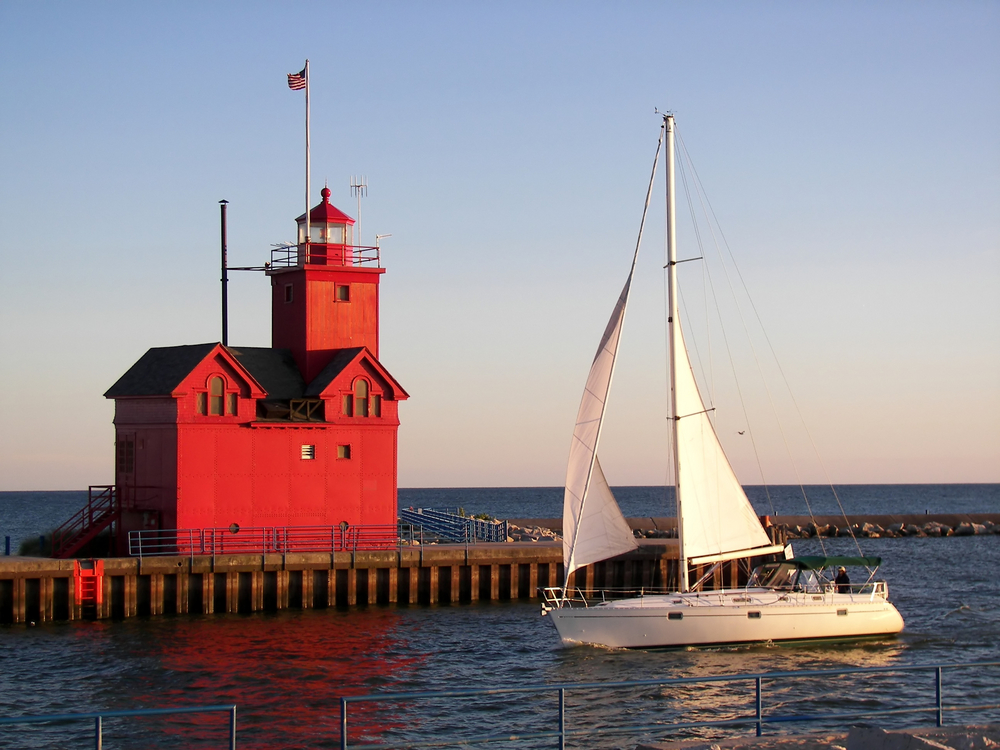 Point Betsie Lighthouse
In 1858 on the shores of Lake Michigan, the Point Betsie Lighthouse was built.
Point Betsie Lighthouse gets its name from the Native American nations in the area who were talking and working with the French settlers at the time.
The name combines the Indigenous and French names for the area and roughly translates to Saw Beak Point.
It was an important area at the time and was one of the first Life-Saving Stations on Lake Michigan.
This Lake Michigan lighthouse has a long history of saving mariners from nearby natural dangers.
Point Betsie Lighthouse was the last of the Michigan lighthouses to be completely automated, and in 2010 the Governor recognized the lighthouse's efforts for historic preservation.
Now, the Point Betsie Lighthouse is considered one of the best examples of historic lighthouses in Michigan. Visitors can enjoy the lighthouse with either self-guided or semi-guided tours.
For those who want to experience the life of a light-keeper, the Keeper's Quarters are available to stay in!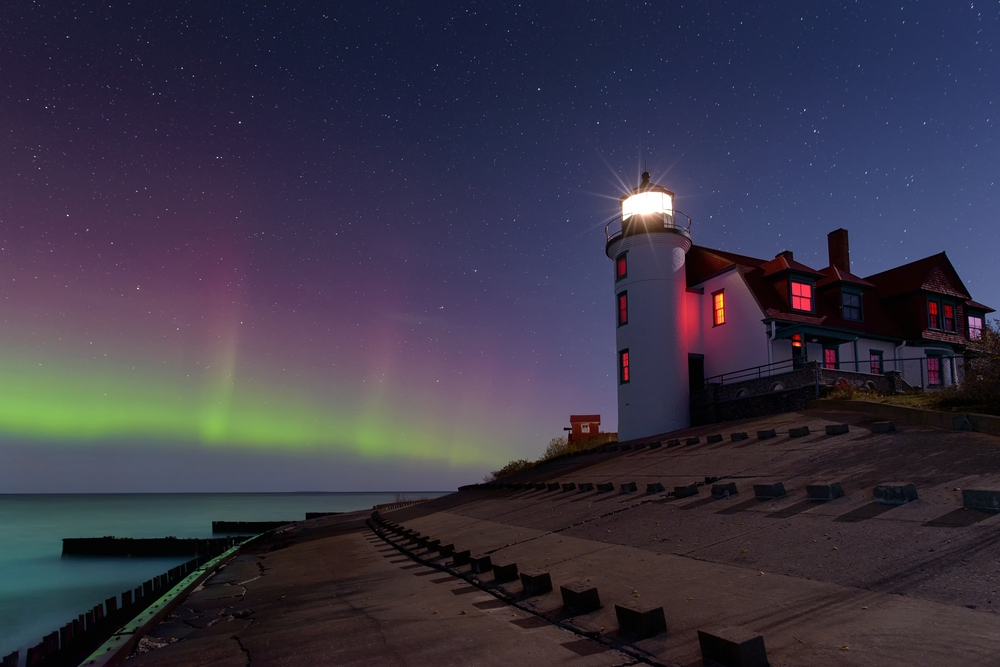 Pointe Aux Barques Lighthouse
The Pointe Aux Barques Lighthouse is one of the ten oldest lighthouses on Lake Huron.
Despite that, it is still an active lighthouse that is maintained by the US Coast Guard. In the last 20 years, a local historical preservation society began working on rehabilitating the lighthouse.
There is still a lot of work to be done, and the original Life-Saving Shelter has been moved back to the land surrounding the lighthouse, but it is open to visitors.
The original Life-Saving Shelter was the first of its kind to be opened on the Great Lakes in Michigan. Eventually, the historical preservation society hopes to have the Light-Saving Shelter open to visitors.
There is however a small museum and gift shop that is open to the public. There are also certain dates when visitors can climb the light tower.
This old Michigan lighthouse is a beautiful place to visit. It features a stark white building with a matching stark white tower.
It is a sharp contrast against the background of Lake Huron and the wooded shore it is on. Visitors are sure to enjoy their trip to the Pointe Aux Barques Lighthouse.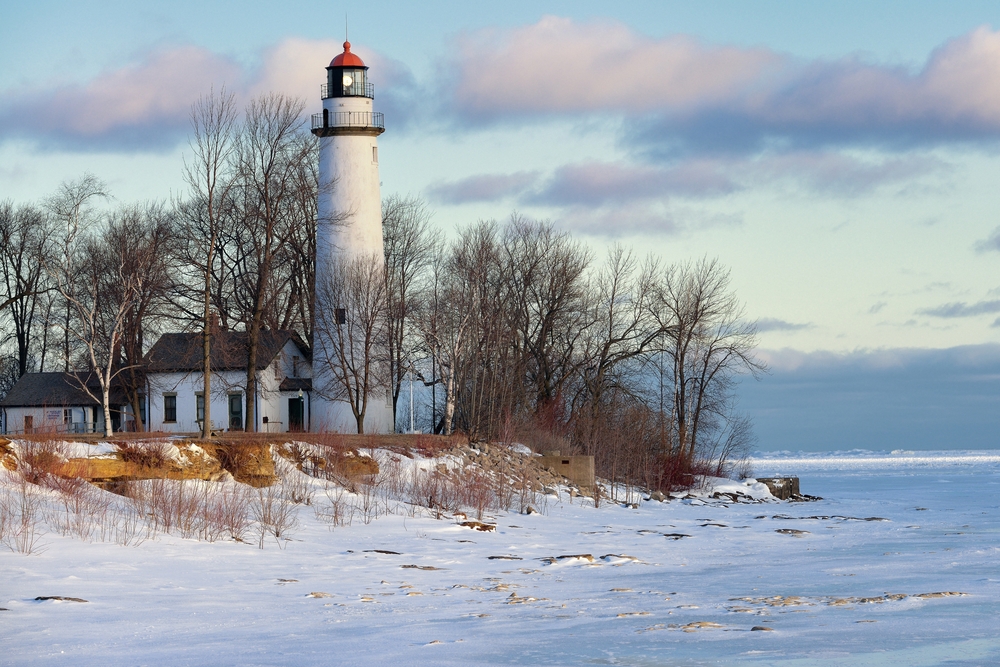 Old Mackinac Point Lighthouse
Since 1889 the Old Mackinac Point Lighthouse has served as a guiding light for mariners attempting to sail through the dangerous Straits of Mackinac.
It is a stunning lighthouse that resembles a castle and has been a beautiful Michigan landmark since its opening. The Old Mackinac Point Lighthouse is also an unusually large lighthouse compared to others on this list.
It would be more accurate to describe it as a Light Complex. It features a large duplex keeper's quarters, the light tower, a fog signal, and even a storage barn.
The Old Mackinac Lighthouse was manned for sixty-five years by four generations of Light Keepers. Now, visitors can explore the original Keeper's Quarters as a part of the museum's tours.
The Keeper's Quarters have been authentically restored, and you'll get to explore the second floor of the lighthouse. There is also a small museum on the in the reconstructed warehouse.
If you are looking for a fun family activity, then this lighthouse in Michigan is perfect. There are plenty of things to do and see and something to interest everyone.
Visitors can explore the Old Mackinac Lighthouse from early May to Early October, daily from 9:00 am to 4:30 pm.
There are so many things to do in Mackinac Island. Do not miss exploring all the restaurants in Mackinac Island as well!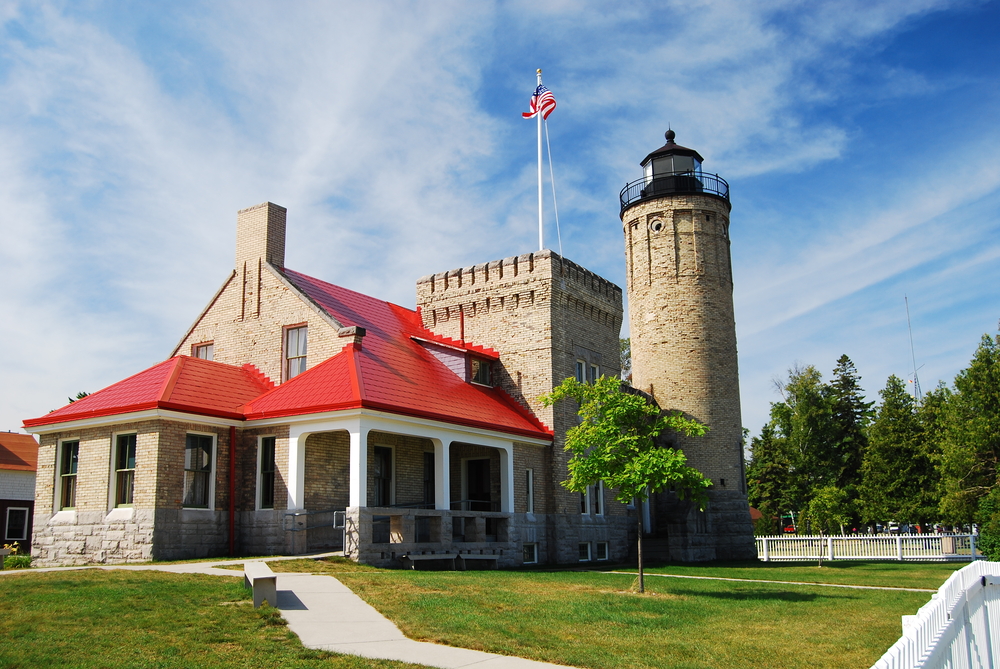 I hope you have enjoyed this list of the 11 Coolest Lighthouses in Michigan. There are some beautiful and historic places to visit!
If this list has inspired you to visit one of these beautiful Michigan lighthouses, please let me know how you enjoyed it in the comment section down below!
Packing List For Visiting Lighthouses in Michigan
If you will be traveling, either by plane or by car to Michigan, here are some tips on how to pack lightly.
A concealed travel pouch may be one of the most important items you bring along when seeking out lighthouses in Michigan.
It is always important to protect your personal information. Identity thieves are everywhere.
This unisex RFID blocking concealed travel pouch is lightweight and comes in several colors. It has lots of organization to give you peace of mind.
You can place it under your hiking clothes next to your body to carry your ID safely.
f you have a pouch already that does not come with the RFID protection, as I do, these RFID sleeves are the perfect solution.
This configuration comes with enough credit card sleeves that the entire family would be protected. They are slim too, so they will easily fit into your pouch or wallet.
If you are planning on taking a lot of pictures with your phone you will definitely want to consider an external charging battery. This Anker high-speed phone charging battery is the exact one I carry with me on all of my trips.
It can be used on a variety of phones, not just an iPhone like I have. And wow is it fast!
I like that it holds its charging capabilities for several uses so I do not have to worry about it while out and about, and if I forget to recharge it at night, it will still be good to go the next day.
My daughter gifted me with this FugeTek selfie stick and tripod setup for my birthday. I absolutely love it! It is made of lightweight aluminum and so easy to use.
t has Bluetooth connectivity and is a breeze to use for taking selfies with all those lovely shots of vintage Michigan lighthouses!
Hydration is so important when on vacation. You want to remain hydrated throughout your travels to support your immune system which in turn will be stronger to fight off any germs you will encounter during your travels.
You will want to bring your own refillable water bottle with you.
I never leave home on a trip without my Bobble filtration bottle. The 18.5-ounce size is perfect for hiking and it fits nicely in the pocket of a backpack.
When filled with water, it is not too heavy to carry. And the charcoal filter ensures fresh clean water whenever you fill the Bob
Perhaps you are traveling a long distance and packing space is a premium in your suitcase, or in your car. Then this set of collapsible silicone foldable water bottles would work well for you. Would not take up much space at all.
You will want a backpack or daypack with you to store snacks, your water bottle, phone, extra clothes, etc.. when visiting lighthouses in Michigan. No matter the time of day or evening.
This foldable water-resistant backpack would be great.
It is very affordable and is available in many color options for you to choose from. The fact that it folds down into a zippered pouch will make it easy to pack!
—
I hope you have enjoyed this list of the 11 Coolest Lighthouses in Michigan. And there are more!
There are so many wonderful things to do in New Buffalo Michigan, including visiting its lighthouse!
If this list has inspired you to visit one of these beautiful Michigan lighthouses, please let me know how you enjoyed it in the comments down below.