Are you looking for the best beaches in Michigan? If so you have come to the right place.
In this article, I will walk you through Michigan beach towns, Lake Michigan beaches, and some hidden gems you will love.
I'll give you all the information you need to make a decision about which is the best Michigan beach for you to visit.
When you think of Michigan you may not think immediately of beaches. However Michigan is one of the only states to have more shorelines than
Alaska. Michigan has thousands of miles of beaches to visit, all of them unique with something different to offer.
From the Sleeping Bear Dunes National Lakeshore on Lake Michigan to the beaches of Lake Huron at Mackinac Island State Park, Michigan will surprise you.
With over 3,200 miles of shoreline, crystal-clear waters, and pristine beaches I know you will fall in love with these Michigan beaches.
Looking for something else to do in Michigan? Maybe this article will help, 11 Coolest Lighthouses In Michigan.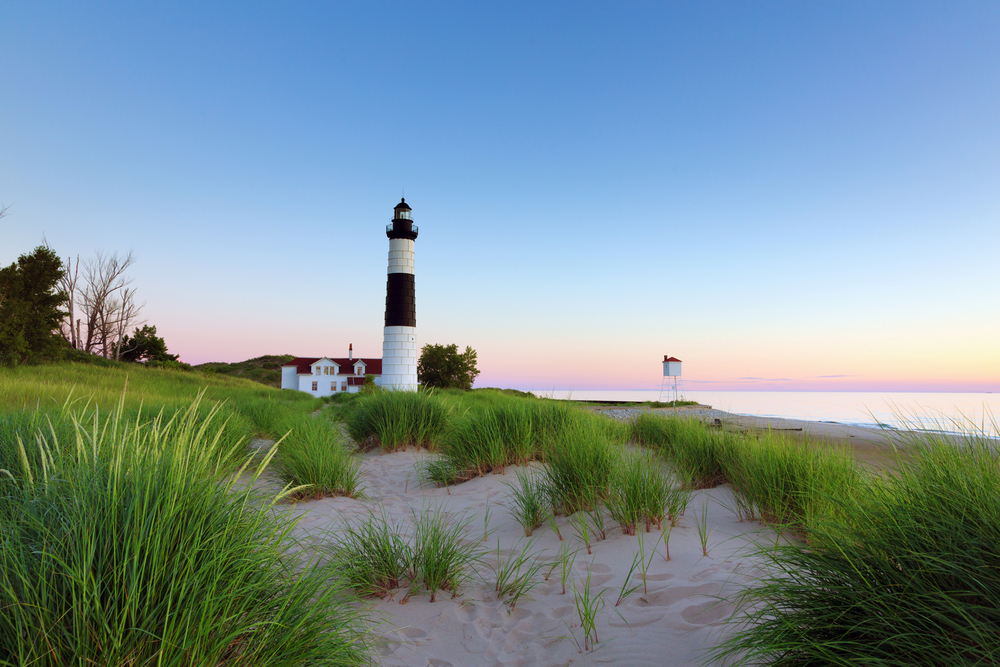 16 Best Beaches in Michigan
Sleeping Bear Dunes National Lakeshore
Most people agree that Sleeping Bear Dunes National Lakeshore has some of the best beaches in Michigan.
With over 60 miles of shoreline, golden beaches, towering sand dunes, and beautiful forests there are not a lot of places that can compete with its natural beauty.
Sleeping Bear Dunes National Lakeshore includes South and North Manitou Islands, and hugs the northeast shore of Lake Michigan.
Swim, sunbathe or just enjoy the incredible view of the shoreline. For the more energetic you can hike through the forest, climb the sand dunes or take a canoe out on the lake.
For children, there is plenty to explore too that is if you can get them off the sand dunes.
The best beach access points are Platte River Point, Tiesma Road, Peterson Road, and Esch Road. A vehicle pass is required to visit the Sleeping Bear Dunes which costs $25.
Empire beach is the most beautiful in the area and it can get crowded. The beach is also dog-friendly. It's a great area to explore as it's really easy to navigate and not get lost.
If you need more convincing this area was named as the "Most Beautiful Place in America" on ABC's Good Morning America. It really is a stunning area with so much to do.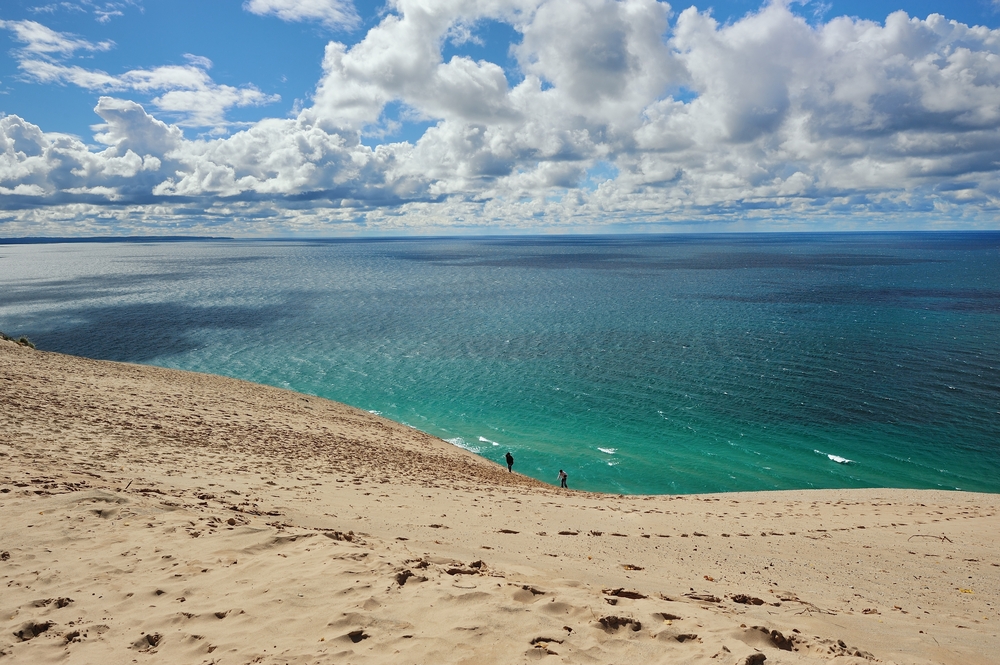 Cheboygan State Park Beach
The beach at Cheboygan State Park is great for families as there is plenty of space and you will also find a playground and picnic tables.
The state park covers 1,250 acres on the shores of Lake Huron in Cheboygan County. There are lots of trails throughout the park so if you want to move on from the beach you will find a lot to do.
The park is open all year round and you will need a recreation pass to visits. They are approximately $17. Make sure you take a trip to see the remains of Cheboygan Point Light, this once operating lighthouse only lasted a few years
With so much to do, this is certainly one of the best beaches in Michigan!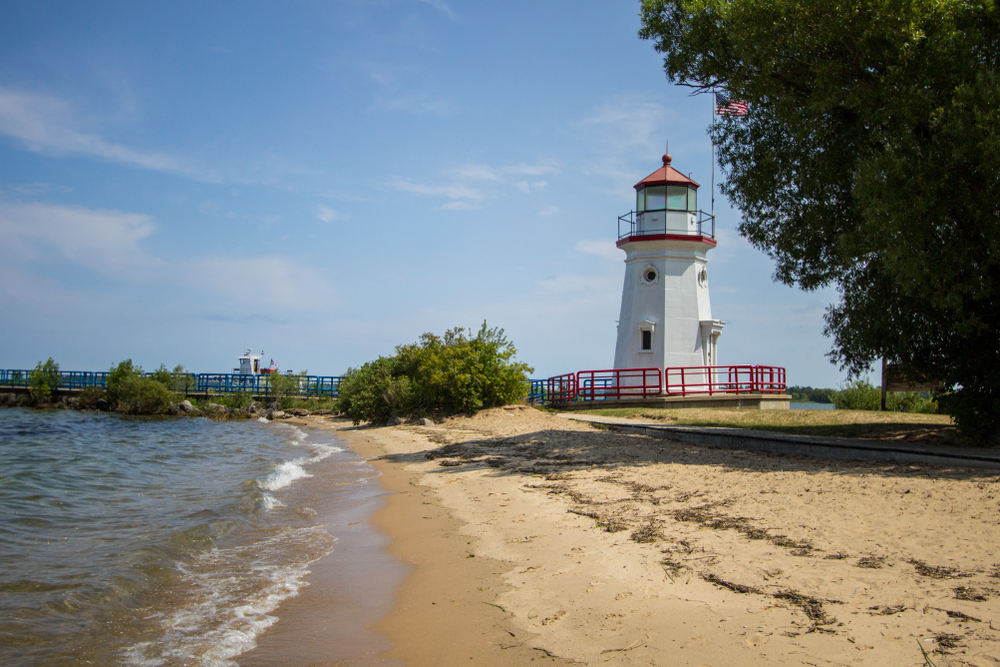 Mackinaw City Beach
The scenery here is beautiful and the beaches are no exception. Mackinaw City has several beaches some on Lake Huron and the two main ones on Lake Michigan.
There are several paths that connect them all so you can easily explore.
The Municipal Bathing Beach is four miles west of the city and has two sections "First Beach" and "Second Beach."
Both offer pretty much the same things.
This is an interesting place to explore due to the fact you have the shores of two great lakes to adventure on. There is also lots to do in the area. Definitely one of the best Michigan beach towns well worth a visit.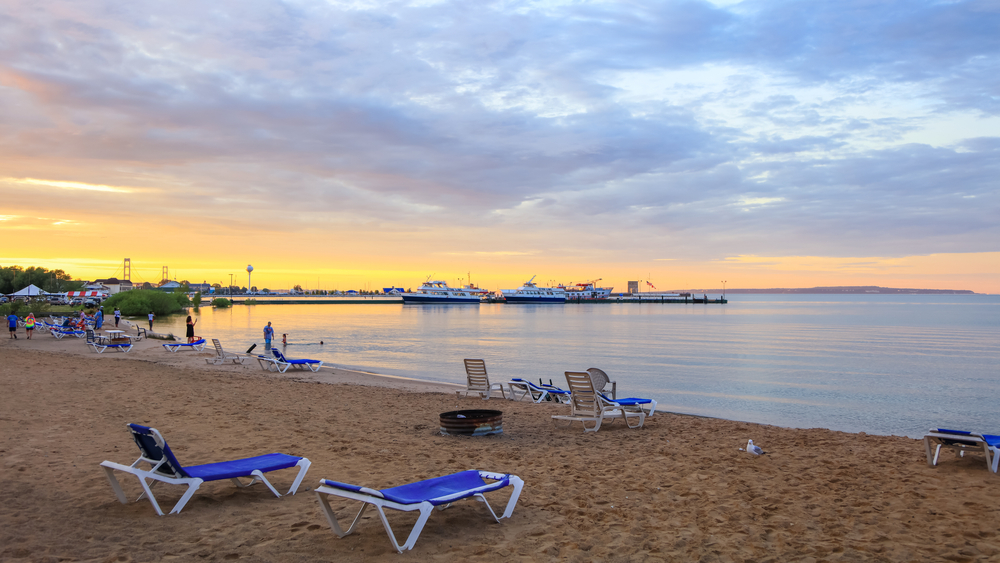 Grand Haven Beach
Grand Haven Beach is one of the most popular beaches in Michigan.
It is a classic type of beach with everything you would expect and some things you wouldn't. It is a 48-acre state park with a $9 entrance fee.
I feel though that it is worth the cost to get in. It's beautiful and there is a lot to explore in the state park. You will also find a very photographic lighthouse and a boardwalk that goes all the way into town.
There is so much to do in the area and when you go you will see it while it is one of the best beaches in Michigan.
If you are looking for a place to stay while visiting the Michigan beaches check out these Airbnbs in Michigan to help you decide!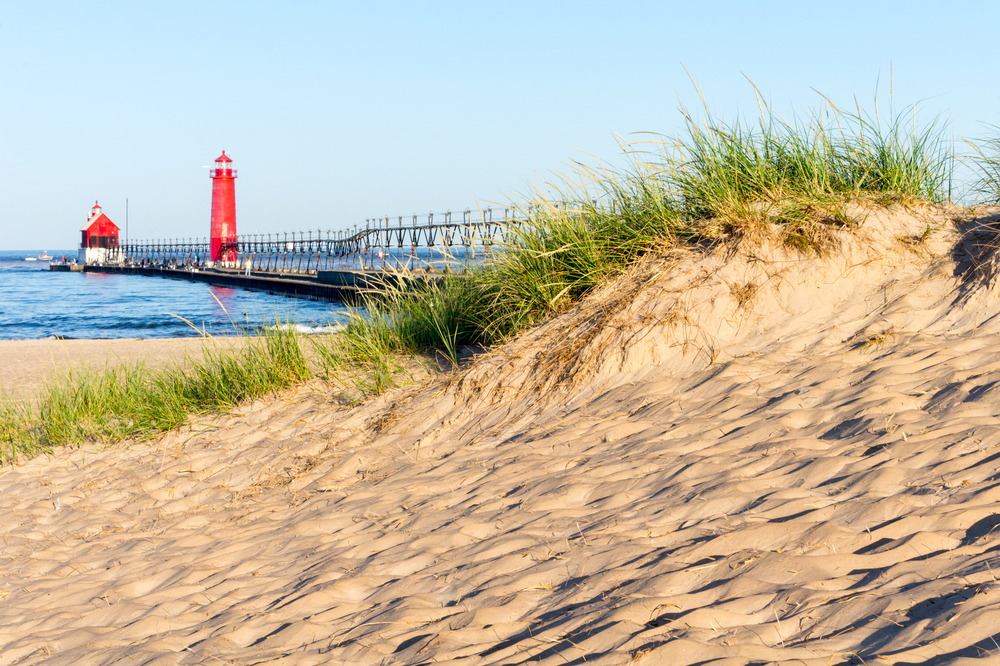 South Beach Is Very Family Friendly
South Beach Park in South Haven is known as one of the best family beaches in the area. As such it is a very popular beach and finding a place to park can be a bit challenging.
It has all the amenities you would expect including picnic areas.
The lakefront has playgrounds, a pier, a skateboard park, and of course the big red lighthouse.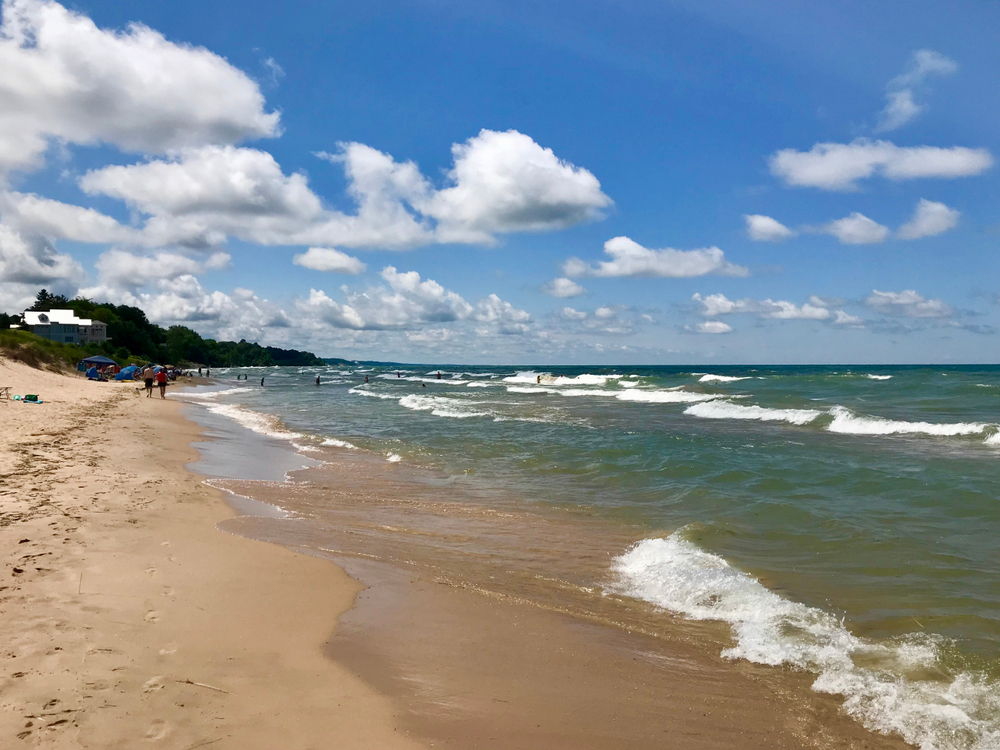 Silver Beach Michigan Is Worth The Effort
This beach is not easy to reach but worth the effort as is it beautiful and idyllic. If you are looking for a romantic getaway then this beach might be the right one for you.
Located between Muskegon and Ludington along Lake Michigan there are more than 2,000-acres of sand dunes to explore. There is so much to do here like hiking, boating, and four-wheel driving.
The beach is a 45-minute walk from the Silver Lake parking area. If you have a four-wheel-drive you can drive to the beach but honestly, the walk is so worth it.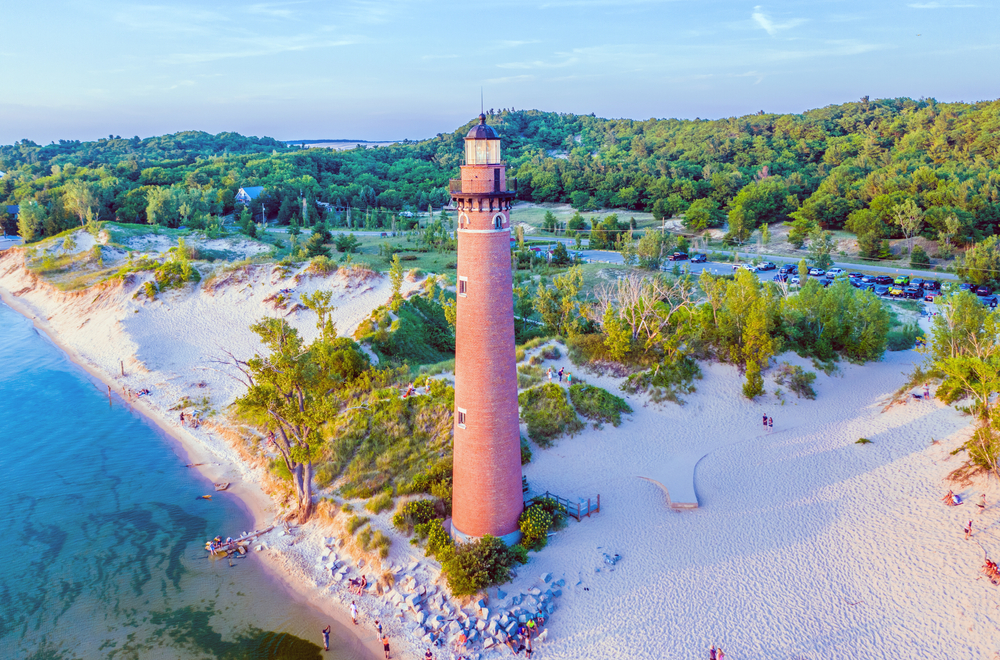 Manistique Beach In The UP
Located in Upper Michigan just a short drive from Manistique this is one of the best Lake Michigan beaches.
It's a large beach with lovely harbor views. The mild water also makes this a great beach for swimming or rafting.
This is a beach mostly visited by locals so you know it is a great beach. There are lots to do in the area including many hiking trails, several historic landmarks, and lots of restaurants and cafes.
The beach is also great for watching sunrise and sunset.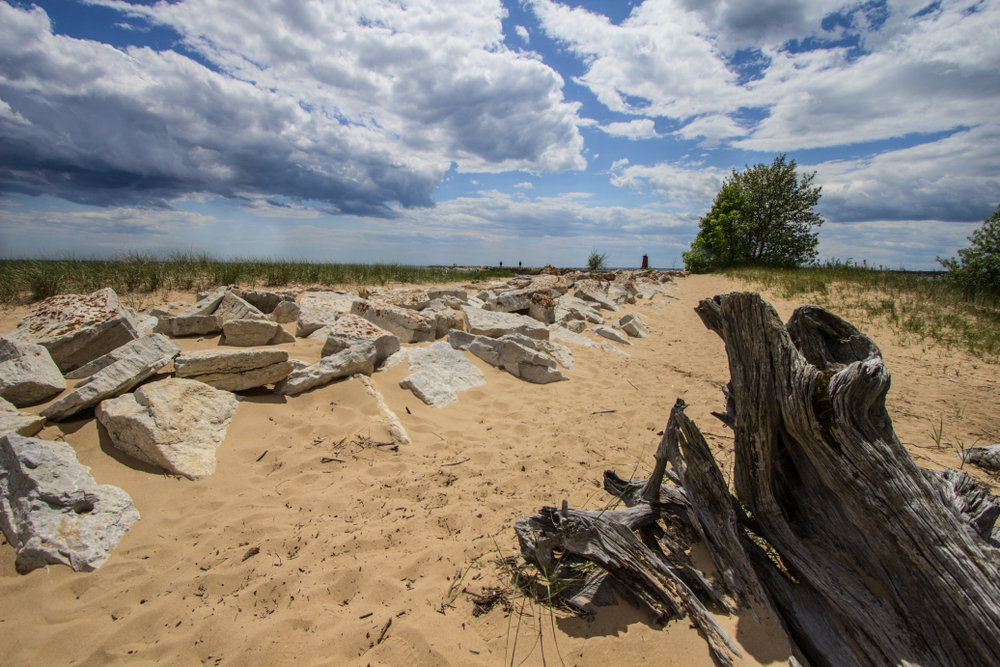 Tawas Point State Park Beach
Known as the "Cape Cod of the Midwest " this beach is popular, particularly with families. The water is shallow and the swimming area is buoyed off making it a great place for children.
The State Park has 180 acres and there is plenty to do including a tour of the lighthouse. The park is also great for bird watching, especially near the Lake Huron Flyaway.
Its a great beach in a very picturesque location making it one of the absolutely best beaches in Michigan for you to visit!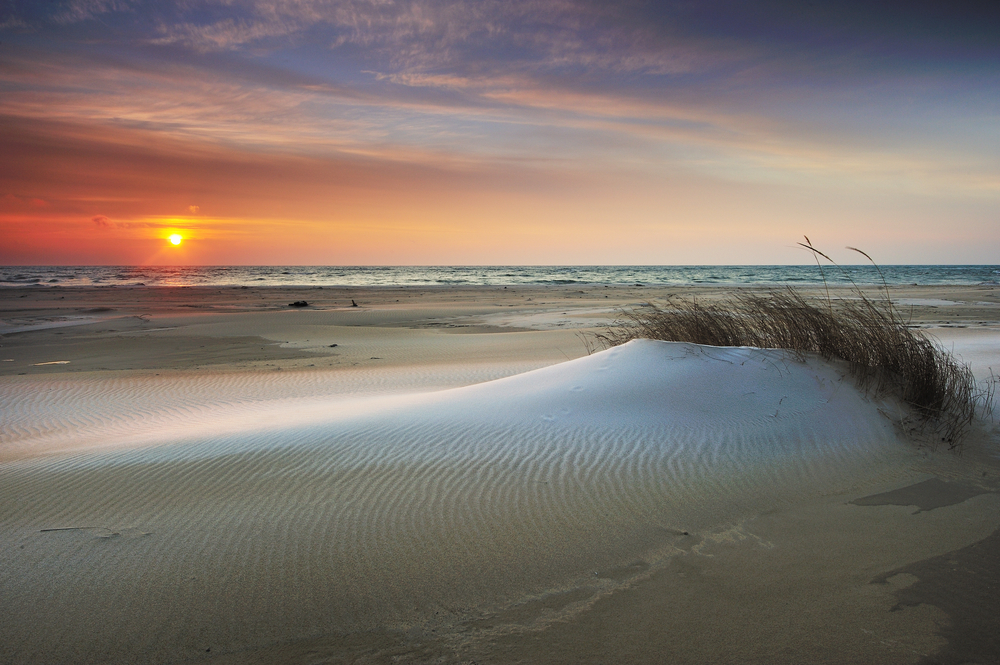 Warren Dunes Beach
Over one million people visit Warren Dunes State Park every year. When you visit you will see why. Not only does it contain one of the coolest beaches in Michigan, but the sand dunes add to the fun.
Climb the biggest dune Tower Hill which gives you a great view and lots of fun on the way down.
The park is 1,952 acres of recreational opportunities. The dunes offer spectacular views and are great for hang gliding. There are three miles of shoreline and six miles of hiking trails so you won't get bored.
A great area to go on an adventure.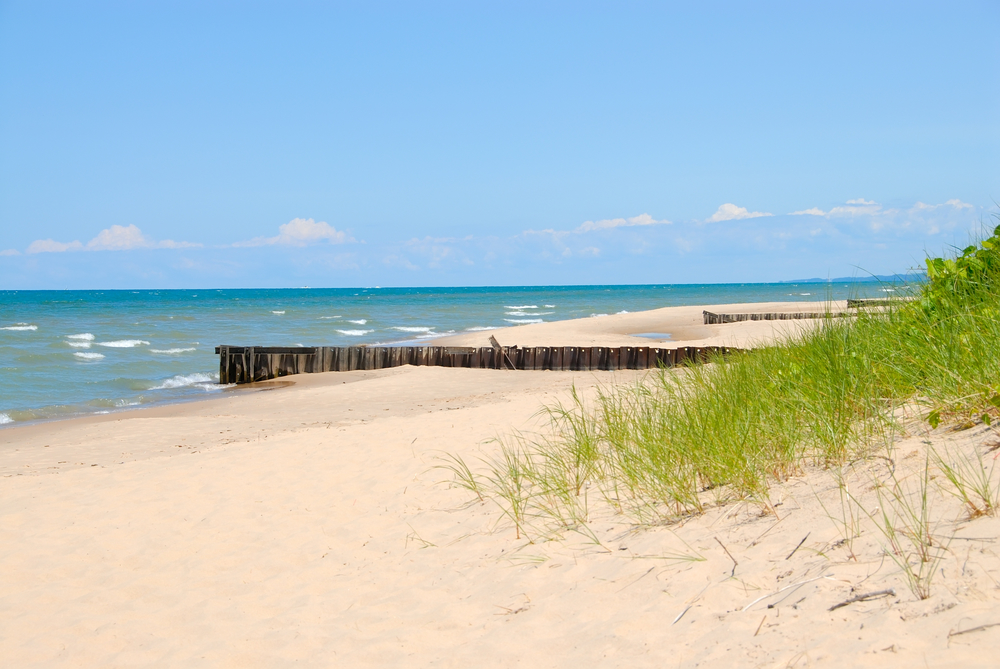 Hunter's Point Park Beach
In Northern Michigan near Copper Harbor, this beach is a great swimming beach and also has great views. Hunter's Point Park Beach is a photographer's dream.
The 5,000 feet of shoreline have unusual rock formations, lots of wildlife and some beautiful vistas.
The beach is opposite the lighthouse so It's easy to find. Copper Harbor is also worth a visit with lots of small independent shops and eateries.
This area also has a world-class mountain trail system.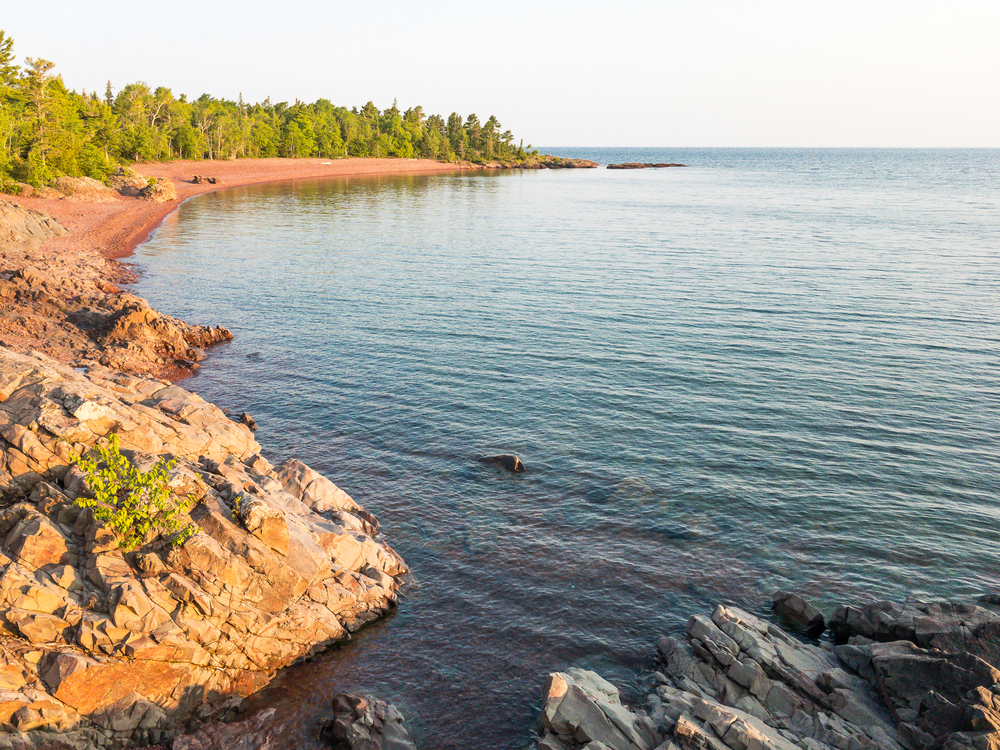 Saugatuck Dunes State Park Beach
Saugatuck Dunes State Park Beach has about three miles of secluded shoreline. The beach is closed in the evening but during the day it is open to visitors.
The sand dunes here are some of the biggest in the area with some over 200 feet tall.
There is lots to do in the area including hiking one of the trails, grabbing something to eat at a local restaurant, or browsing in the local shops.
The park 1,000 acres of land with two and a half miles of shoreline. The beach is just under a mile from the parking area so keep that in mind.
This is a great park for nature lovers, hikers, and birdwatchers. And it has one of the best Michigan beaches.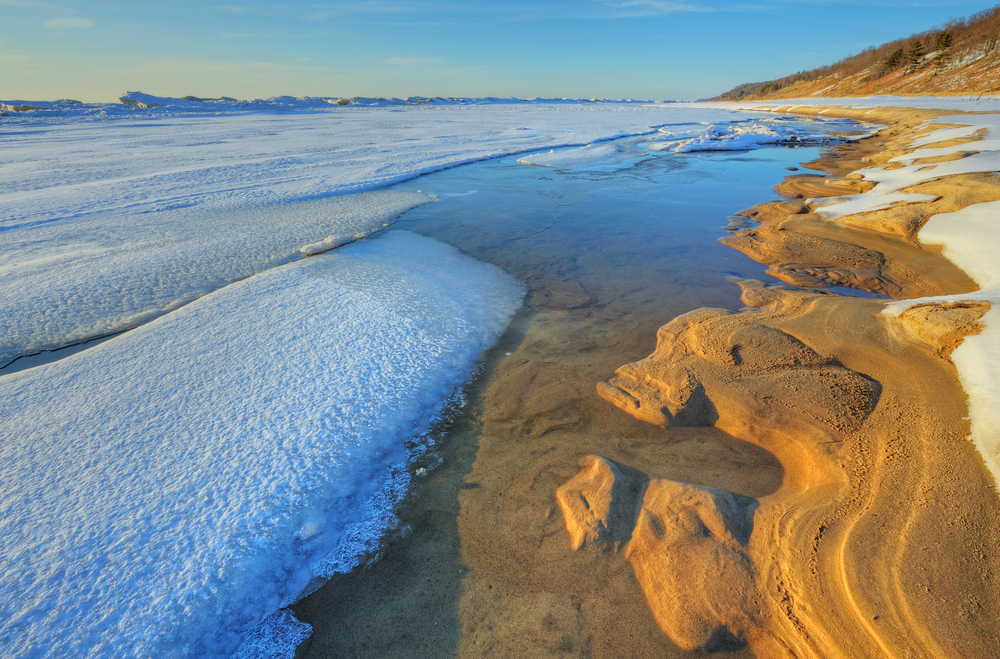 North Manitou Island
North Manitou is the place to go if you want quiet, natural, and unspoiled. The beaches here are only accessible by private boat or by passenger ferry service run by Manitou Island.
The area has over 15,000 acres to explore and is the perfect place for hiking or just relaxing in the sun. The island is 12 miles long, four miles wide, and has 20 miles of shoreline.
The experiences here are more of the primitive kind but there is plenty to do and this is the place to go to visit one of the more remote beaches in Michigan.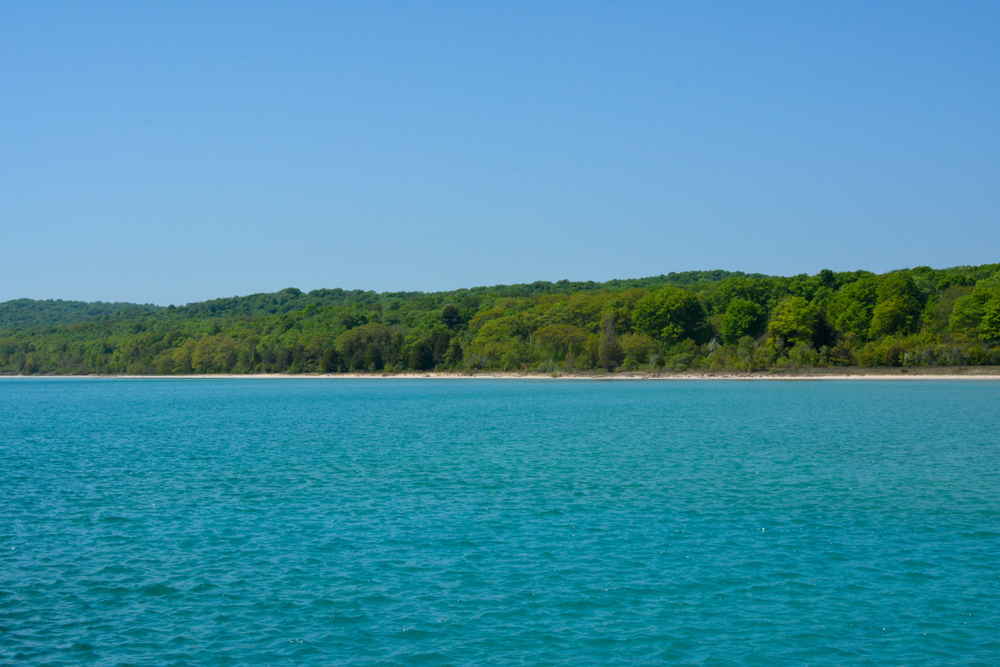 Rogers City Is A Unique Michigan Beach Town
The beaches here are popular, located on Lake Huron in Eastern Michigan. The sand is amazing, the water perfect for swimming, and there is an on-site concession stand.
This area has been nicknamed the "Salmon Capital of Michigan" and "Nautical City" so that gives you some idea of how important the waters are here.
There are lots to do in the area whether you are active or just looking to relax. This area is known for its pristine shorelines, breathtaking falls, and scenic parks.
It is a great area to visit if you looking for something a bit quieter and relaxing. So be sure to look into one of the coolest Michigan beach towns.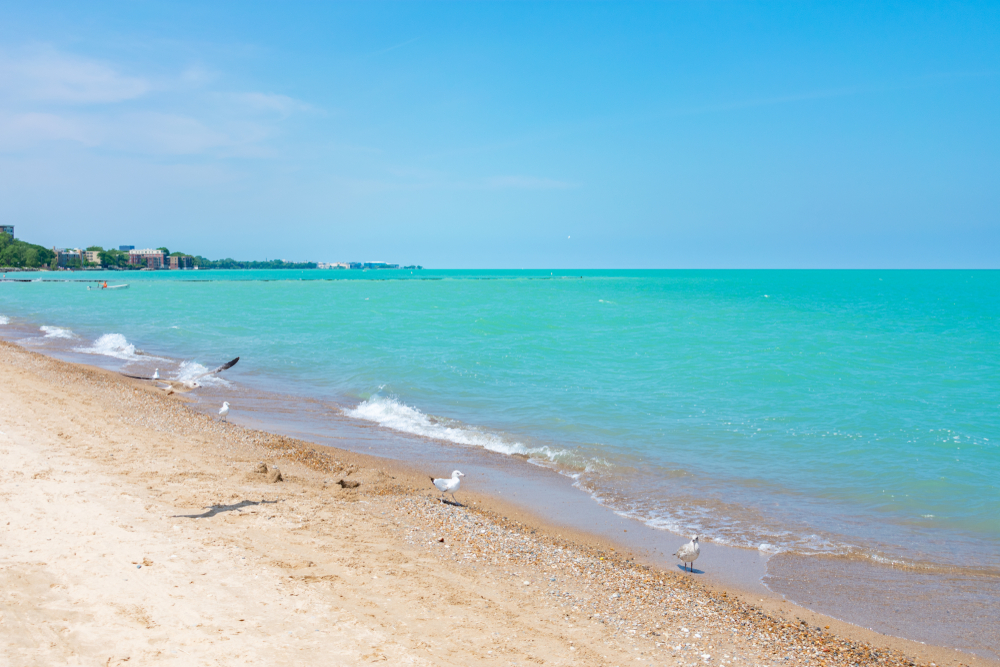 Tiscornia Beach In St. Joseph
This beach is situated on the shores of Lake Michigan in St Joseph, one of the trendy Michigan beach towns.
There is plenty to do in the area and the views are stunning. Located in Tiscornia Park, it is sixteen acres of the Lake Michigan shoreline.
The beach has a picnic area, restrooms, a pavilion, and a bathing area. It also has a pier and some great sand dunes.
The beach is open throughout the year and is a great place to swim if you like open water swimming all year round. This lakeside park has a quieter family feel than some of the others.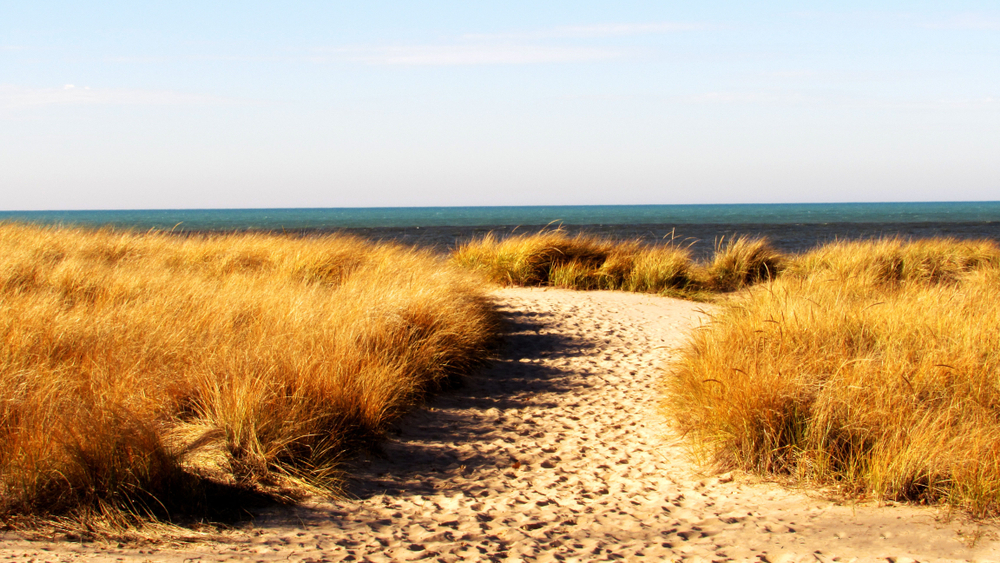 Port Huron Beaches
The Parks of Port Huron has something for everyone. Swimming, sunbathing, boating, beaches, pools, picnicking, fishing, walking, playgrounds, and beautiful views.
Port Huron has two beaches to choose from, Lighthouse Beach and Lakeside Beach. Beach amenities are available only during the summer season.
Lighthouse beach has deep waters and a strong current and is not recommended for swimmers. Lakeside does have a designated swimming area and generally has lifeguards in the summer.
Both are spectacular Lake Huron beaches, (one of the five Great Lakes.) There are over 1050 feet of water frontage and the beaches are clean.
This is one of those Michigan beach towns that will keep you busy for hours.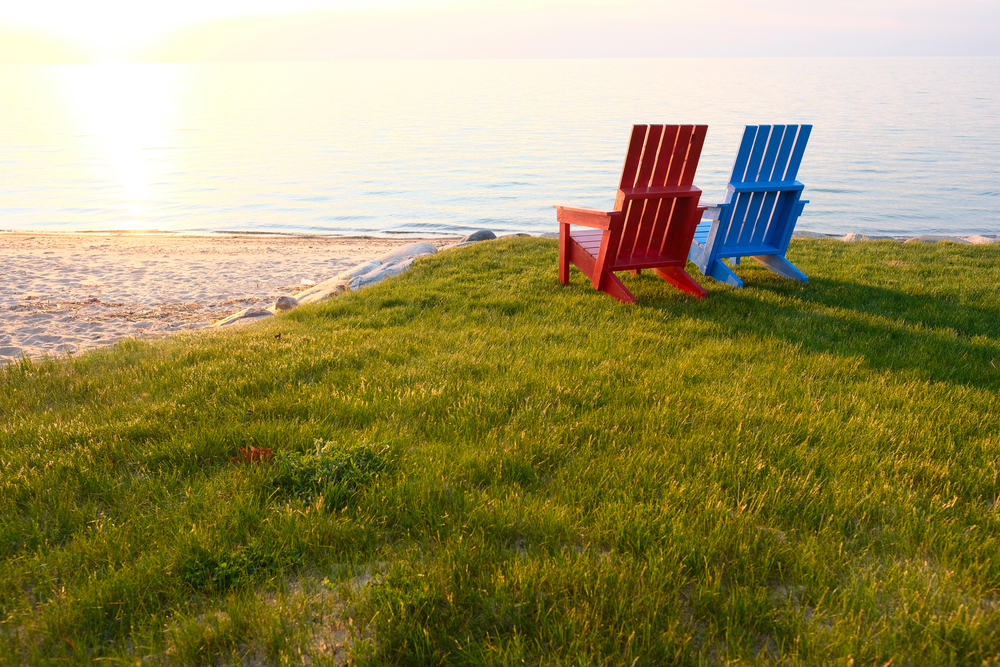 Hoffmaster State Park Beach
Located close to the North Shores, Hoffmaster State Park has almost three miles of Lake Michigan's coastline.
Stretching from the Gillette Sand Dune Visitor Center to the Lake Michigan Dunes there is plenty of room to find yourself the perfect spot.
There are some wonderful hiking trails nearby and a campground. One of the main attractions is the Dune Climb Stairway leading to the top of a high sand dune.
There is an observation deck at the top and the views are spectacular.
The park has 1,100 acres of forest-covered sand dunes and more than 10 miles of trails.
A smaller park that offers a lot and has a great beach. This is one of the Lake Michigan beaches that would make the perfect family day out.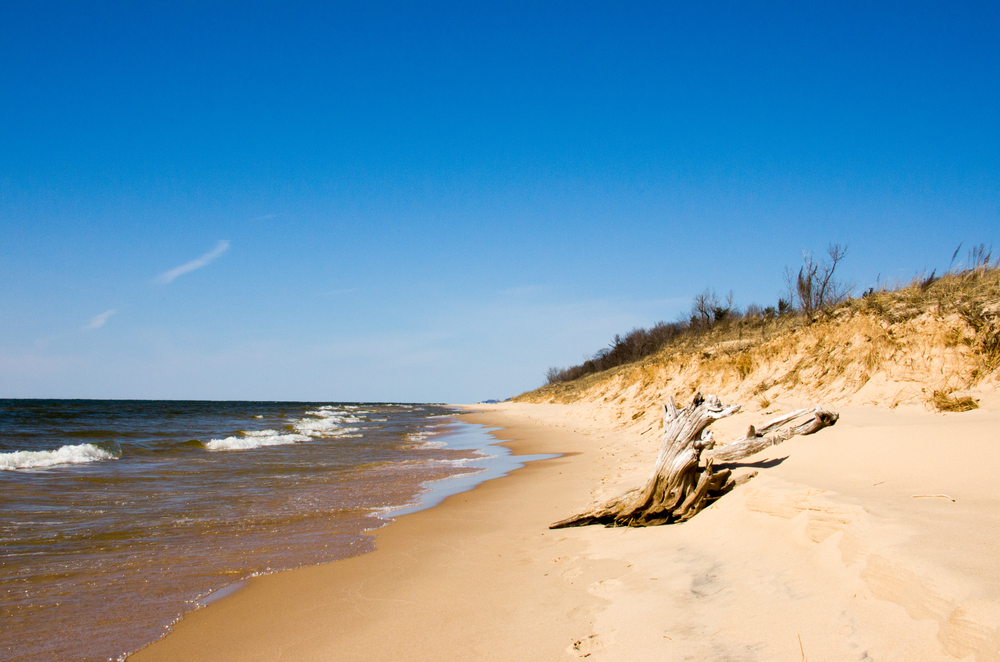 If you are looking to stay in Michigan for a while, perhaps one of these cabins will be perfect for you. 15 Cozy Cabins In Michigan.
Packing List For Visiting Michigan
If you will be traveling, either by plane or by car to Michigan, here are some tips on how to pack lightly.
A concealed travel pouch may be one of the most important items you bring along when visiting the beaches in Michigan.
It is always important to protect your personal information. Identity thieves are everywhere.
This unisex RFID blocking concealed travel pouch is lightweight and comes in several colors. It has lots of organization to give you peace of mind. You can place it under your hiking clothes next to your body to carry your ID safely.
f you have a pouch already that does not come with the RFID protection, as I do, these RFID sleeves are the perfect solution.
his configuration comes with enough credit card sleeves that the entire family would be protected. They are slim too, so they will easily fit into your pouch or wallet.
If you are planning on taking a lot of pictures with your phone you will definitely want to consider an external charging battery. This Anker high-speed phone charging battery is the exact one I carry with me on all of my trips.
It can be used on a variety of phones, not just an iPhone like I have. And wow is it fast!
I like that it holds its charging capabilities for several uses so I do not have to worry about it while out and about, and if I forget to recharge it at night, it will still be good to go the next day.
My daughter gifted me with this FugeTek selfie stick and tripod setup for my birthday. I absolutely love it! It is made of lightweight aluminum and so easy to use.
It has Bluetooth connectivity and is a breeze to use for taking selfies with all those nature shots while visiting Michigan.
Hydration is so important when hiking. You want to remain hydrated throughout your day at the beach to support your immune system which in turn will be stronger to fight off any germs you will encounter during your travels.
You will want to bring your own refillable water bottle with you.
I never leave home on a trip without my Bobble filtration bottle. The 18.5-ounce size is perfect for hiking and it fits nicely in the pocket of a backpack.
When filled with water, it is not too heavy to carry. And the charcoal filter ensures fresh clean water whenever you fill the Bobble.
Perhaps you are traveling a long distance and packing space is a premium in your suitcase, or in your car.
Then this set of collapsible silicone foldable water bottles would work well for you. Would not take up much space at all.
You will want a backpack or daypack with you to store snacks, your water bottle, phone, extra clothes, etc.. when visiting Michigan beach towns. No matter the time of day or evening.
This foldable water-resistant backpack would be great
It is very affordable and is available in many color options for you to choose from. The fact that it folds down into a zippered pouch will make it easy to pack!
—
Whichever one of these Michigan beaches you visit I am sure you will have a great time.
spending some time at all the epic Lake Michigan beaches, including Port Huron beach, Silver Beach Michigan, and Grand Haven. One of the coolest things to do in Bay City MI is to visit their beach!
Make sure to spend some time in a Michigan beach town as they really are unique and stunning. After visiting one of these I am sure you will agree that there are some stunning beaches in Michigan.
If you do visit any of these Michigan beaches, please share your experiences in the comments below.