Are you looking for the best things to do in New Buffalo, Michigan?
Then look no further, this list is full of the best New Buffalo has to offer.
I was born and raised in the Midwest and know that it's towns like New Buffalo that make it such a great place to visit.
New Buffalo is a cool town in Michigan's popular vacation district known as 'Harbor Country'.
One trip to the area and you'll quickly understand why so many people love to visit.
In New Buffalo there are so many fun things to do.
From water sports, a casino resort, one of a kind dining and brewery options, and interesting museums and shops.
So, let us take a look at the 12 Best Things to do in New Buffalo Michigan!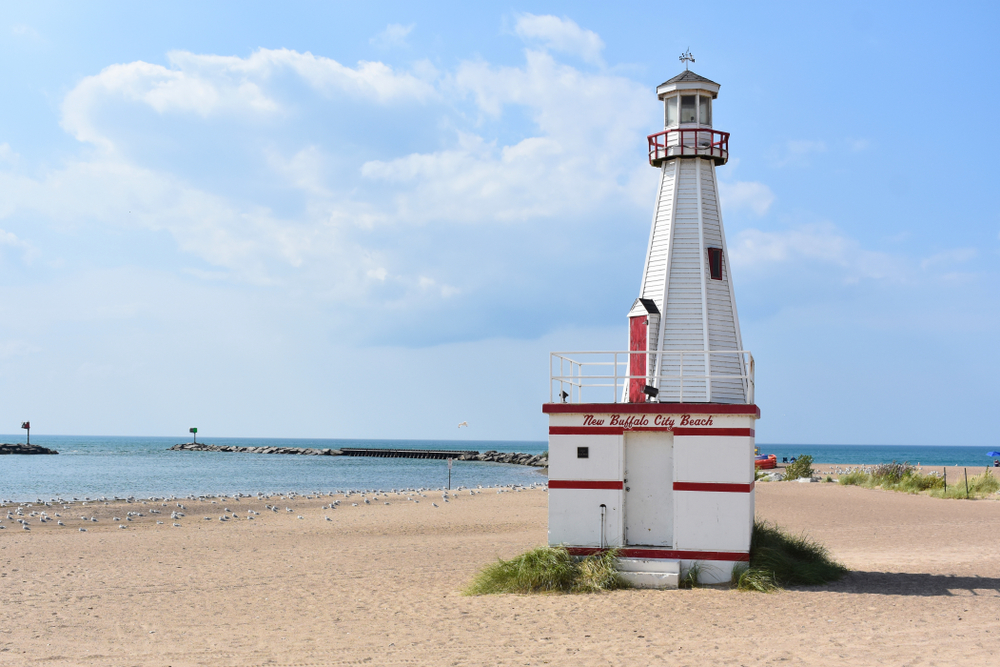 12 Best Things to do in New Buffalo Michigan
Galien River County Park
Galien River County Park is a really unique Great Lakes experience.
The park is made up of a large marsh, which is pretty unique for the Great Lakes area.
You can explore 86 acres of wild marshland using the elevated walkways to protect the marsh.
From the elevated walkways you'll be able to admire the native flora and fauna without disturbing this unique Great Lakes ecosystem.
The walkways aren't super long, so you can very easily enjoy the park, and they are all ADA-accessible.
There is also a 60ft tower that you can walk up so that you can get a more birds-eye view of the beautiful marshland.
It is an absolute must see if you are visiting New Buffalo MI.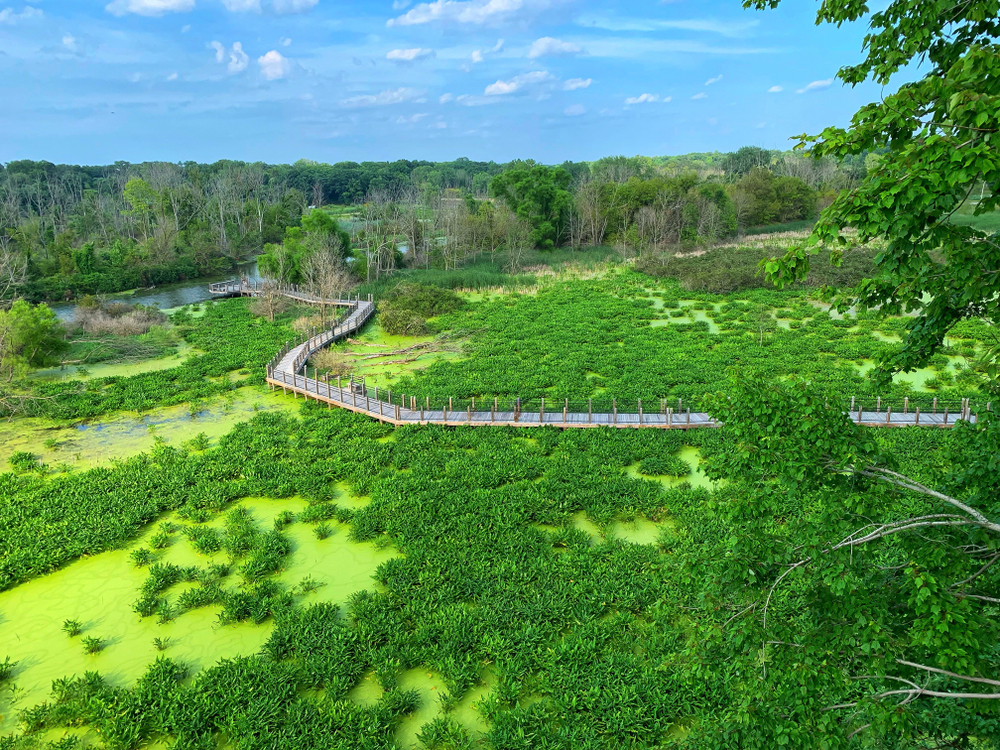 Four Winds Casino Resort
The Four Winds Casino Resort is a really fun way to spend an afternoon or evening in New Buffalo.
On top of the traditional casino activities, there are a ton of other things to do.
If you want to enjoy a nice dinner, Four Winds has some excellent dining options.
For those who want to experience a fun nightlife scene, then you'll want to check out one of the cool bars within the resort.
Four Winds also has space for live entertainment. Every weekend you can stop by and see a live show.
The Four Winds is also full of some beautiful architectural elements.
One of the best parts of the resort is the domed glass ceiling in the entryway!
Everywhere you turn, there is something fun to do at the Four Winds Casino Resort.
There are so many resorts in Michigan to check into!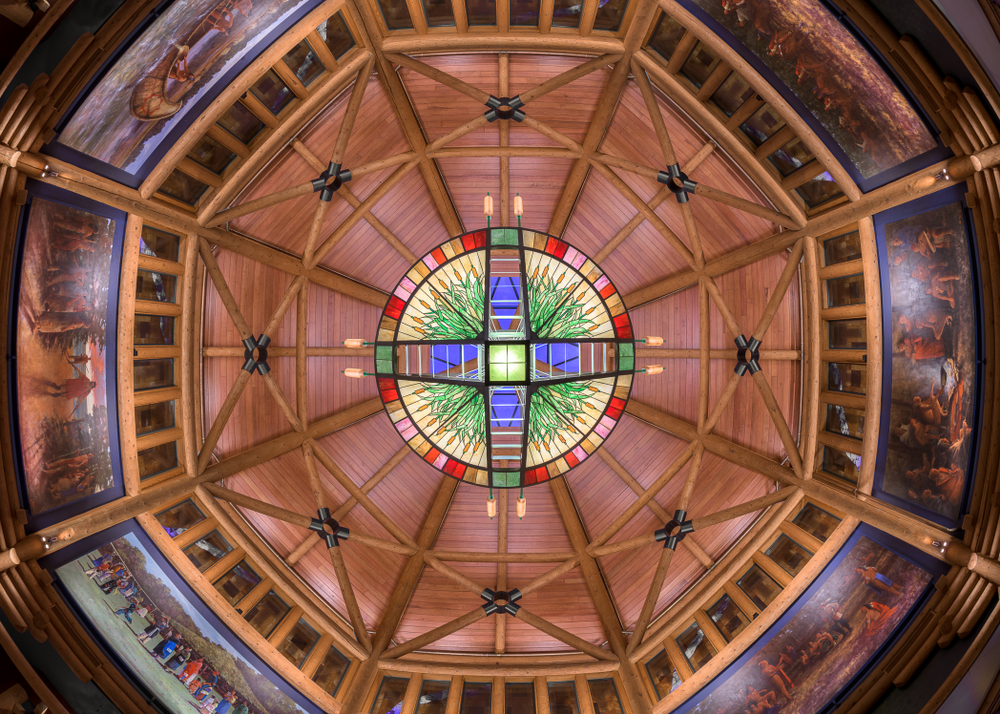 New Buffalo Sailing Excursions
New Buffalo MI is right on the coast of Lake Michigan.
That means that there are plenty of water sports to enjoy in the area.
One of the most fun things to do in New Buffalo Michigan is a sailing excursion.
You can have a guided sailing trips during the day in the waters of Lake Michigan or go on a sunset cruise.
If you are planning a romantic getaway, they even offer proposal cruises. You can't get more romantic than that!
For the really adventurous, you can try your hand at sailing yourself.
Sailing in New Buffalo is guaranteed to be a fun thing to do while you visit.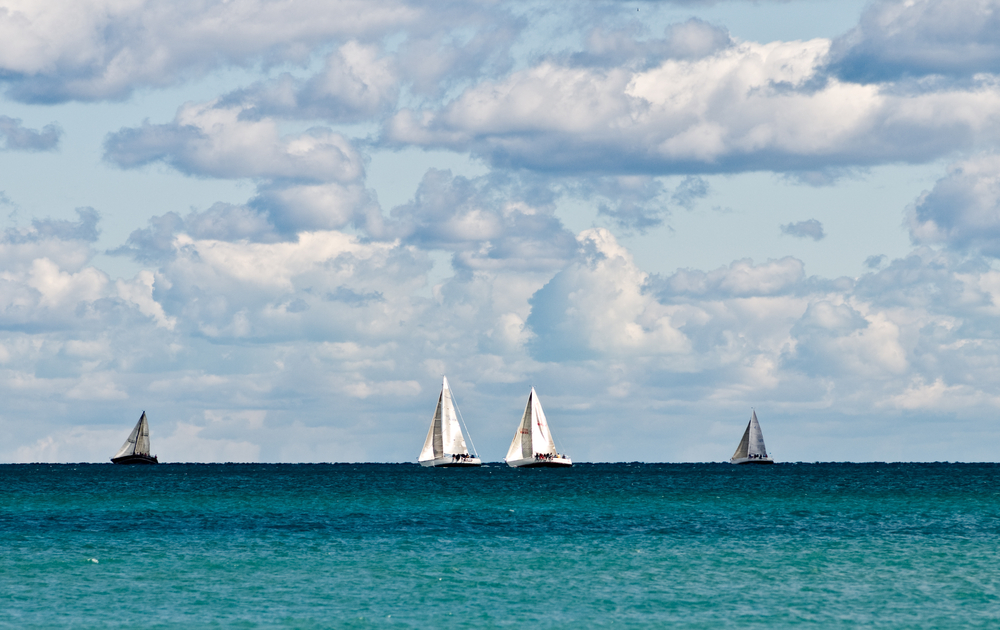 Grape and Grain Tours
New Buffalo is also a part of the Midwest's Napa Valley, which means it's full of amazing wineries.
If you would like to get the full winery tour, then you'll want to book a trip with the Grape and Grain Tours company.
They offer short and long trips through Michigan's wine country.
You'll be able to sample wines from some of the best wineries in the area and have lunch on the grounds of one of the wineries.
Its a great home base for exploring all the nearby wineries on your own time and speed.
If you're looking for one of the most unique things to do in New Buffalo Michigan then you'll want to add the wineries to your list!
Roger Harvey Gallery
In the heart of New Buffalo is the Roger Harvey Gallery.
Roger Harvey is a local artist who yearly updates the collection in the gallery with new paintings.
His paintings depict landscapes in the area, from the nearby beaches to the farms.
Visiting his gallery is truly an experience unique New Buffalo MI.
Currently his paintings are not on display anywhere else, so it is absolutely worth a trip to visit.
Also included in the gallery are works by local landscape photographer, Tim Rogers.
Art lovers will really enjoy wandering around the gallery and admiring the beautiful works by two talented artists.
New Buffalo Michigan Public City Beach
New Buffalo Michigan is just an hour outside of Chicago, making it an excellent day trip for those looking to escape the city and enjoy the beach.
The Public City Beach is a great place to stay, relax, and unwind.
On the beach you'll find a small lighthouse, plenty of space to stretch out and enjoy the water, and even hiking trails.
It is within walking distance to many restaurants, so you can spend the whole day on the beach if you want.
You'll also get to see boats sailing by in the distance, beautiful sunrises and sunsets, and even some bird watching.
The Public City Beach also has a small snack shack, bathrooms with space to shower off and change, and lifeguards.
So you and your whole family can enjoy a safe and relaxing day at the beach with no worries.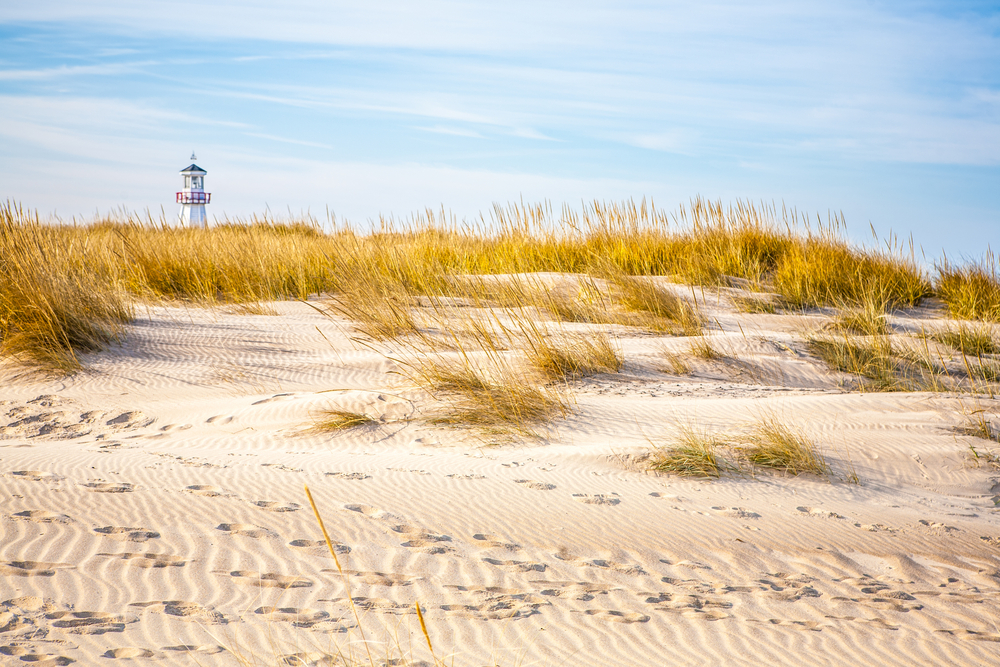 Oink's Dutch Treat
If you are looking for a sweet treat after a long day at the beach, then you'll want to stop at Oink's Dutch Treat.
Oink's Dutch Treat is a family owned ice cream and yogurt street in the heart of New Buffalo.
Locals and visitors alike love to stop in to the friendly ice cream parlor for a sweet treat and a friendly chat.
The shop has been open for 35 years and has become a staple of the New Buffalo community and summer vacationers.
Inside, you'll find a quaint ice cream shop decorated with tons and tons of pig memorabilia.
This is because the shop's name comes from the owner's long-time nickname 'Oink'.
Friends and neighbors over the years have gifted the shop with pig items.
There are 50 flavors of ice cream, and many of them are unique to the area, like Mackinac Island Fudge and Michigan Pot Hole.
They also carry frozen yogurt, candies, chocolates, and souvenirs in their extra shop, Oink's Chocolate Pig, next door.
No trip to New Buffalo is complete without a couple of scoops from Oink's Dutch Treat!
Oselka Marina Is One Of The Best Things To Do In New Buffalo Michigan
Because New Buffalo is on Lake Michigan, you can enjoy plenty of watersports almost year round.
If you want to rent a water craft, head to the Oselka Marina.
There you can rent a boat, jet skis, or book a yacht cruise.
Even if you aren't up for some watersports adventures, you'll enjoy a trip to the Oselka Marina.
You can walk through the lanes of marina and admire the different boats docked there.
With over 1,000 slips, there will be plenty of boats for you to admire in the marina.
The marina is nestled between two sand dunes and leads directly into Lake Michigan.
So you can admire the beautiful views of Lake Michigan surrounded by boats.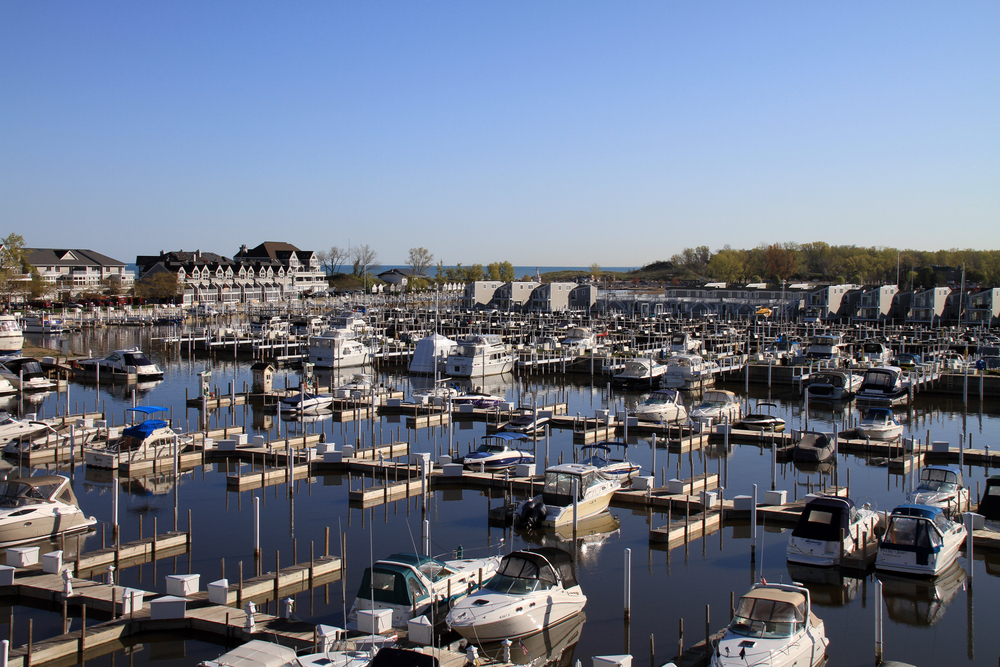 New Buffalo Train Museum
If you want to learn a little bit about the area and you like trains, then a stop at the New Buffalo Train Museum is a must.
The museum highlights the importance of the railroad industry in making New Buffalo the town it is.
You'll also get a history on trains themselves, and in particular ones that were in use the most in the area.
The building that the museum is housed in is a replica Roundhouse that was once a major terminal that linked the area to Chicago.
The link to Chicago's mercantile industry is what helped grow New Buffalo and in turn make it the popular destination it now is.
Lovers of history and trains will enjoy strolling through the museum and checking out the various train cars.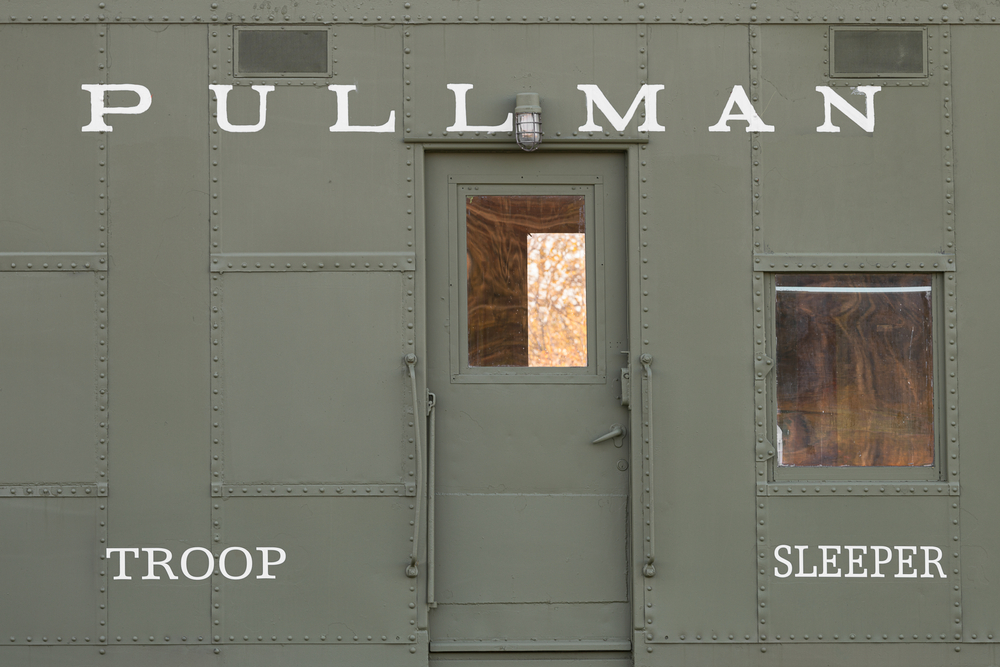 Beer Church Brewing Company
New Buffalo is a town that has a ton of unique dining options.
One of those unique options is the Beer Church Brewing Company.
Beer Church Brewing Co. is a brewery located in a historic church.
The church was a Methodist church that at one point was the Oldest Religious House in Continuous use in the area.
Built during the Civil War, the church was being used as a house of worship until the 1980s.
Now, guests can enjoy the pretty architecture of an old church while they sip a locally brewed beer and eat a slice of pizza.
The brewery is a small batch craft beer brewery, and the flavors change seasonally.
They are known for their Pontius Pilate brew which has won several awards.
Their menu is full of delicious items. The most popular item on their menu is the Pizza Napolenta, an authentic Italian-style pizza.
The Beer Church Brewing Co. is a truly unique dining experience that you can only enjoy in New Buffalo MI, making it worth a visit.
Visiting The Downtown District Is One Of The Best Things To Do In New Buffalo MI
The Downtown District is a charming beach town that is full of unique shops, restaurants, and more.
If you just want to visit for the day, say if you're coming on a day trip from Chicago, the Amtrak train will drop you right in the middle of the area.
For those who are staying in the area, there are plenty of places to park and from there walk around.
Start your day of exploring with a stop at Luisa's Café.
There you can enjoy a delicious breakfast of pancakes, French toast, quiche and so much more.
Once you're full, head out and do some shopping.
There are antique shops, boutique shops, a nice consignment store, and of course, a boating shop.
For lunch or dinner, stop in one of the many restaurants in the area or grab a quick bite to eat at one of the local bake shops.
You can easily spend all day exploring the Downtown District of New Buffalo and you'll enjoy every minute of it.
Round Barn Winery, Distillery, and Brewery
The Round Barn Winery, Distillery, and Brewery, is one of the stops on the Grape and Grain Tours, but you can also visit it on your own.
If you don't have time to do a whole tour of the area's wineries, but you want to stop at at least one, then I suggest the Round Barn.
The Round Barn has a few locations, but the best one is the Round Barn Estate.
That is the original location of the winery and it is a beautiful estate.
There you will find the round barn that gave the winery it's name.
At the estate, besides the original round barn, there is also a Baroda entertainment venue and a tasting room.
Depending on what time of year you visit, the winery also offers different activities on the grounds.
In the winter, guests can stay cozy in their own private igloo, explore the Chalet, go on winter hikes, and have a guided tasting experience.
In the summer, guests can relax in the vineyard, enjoy a glass of wine in their own private cabana, stay on the grounds, and explore the hiking trails.
No matter what time of year you go, The Round Barn Winery, Distillery, and Brewery is a must stop New Buffalo MI destination.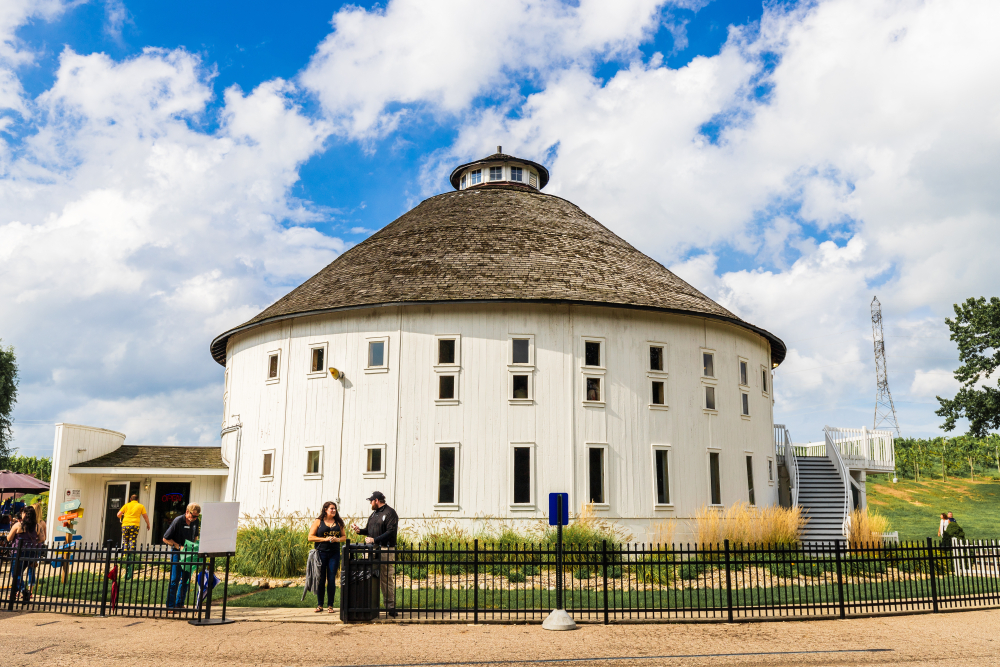 Packing List For Visiting New Buffalo Michigan
No matter how you arrive at New Buffalo Michigan, either by car or plan, it is very important how you pack.. Here are some tips for you on how to pack lightly.
A concealed travel pouch may be one of the most important items you bring along when visiting New Buffalo MI. It is always important to protect our personal information.
This unisex RFID blocking concealed travel pouch is lightweight and comes in several colors. It has lots of organization to give you peace of mind.
If you have a pouch already that does not come with the RFID protection, as I do, these RFID sleeves are the perfect solution.
This configuration comes with enough passport and credit card sleeves that the entire family would be protected. They are slim too, so they will easily fit into your pouch or wallet.
If you are planning on taking a lot of pictures with your phone you will definitely want to consider an external charging battery. This Anker high-speed phone charging battery is the exact one I carry with me on all of my trips.
It can be used on a variety of phones, not just an iPhone like I have. And wow is it fast!
I like that it holds its charging capabilities for several uses so I do not have to worry about it while out and about, and if I forget to recharge it at night, it will still be good to go the next day.
My daughter gifted me with this FugeTek selfie stick and tripod setup for my birthday. I absolutely love it! It is made of lightweight aluminum and so easy to use. It has Bluetooth connectivity and is a breeze to use for group shots or that perfect selfie!
I was not a fan of packing cubes until I started to use them! This is the exact set of packing organizers I use whenever I travel.
I cannot believe how much they really do help with the organization. If you have not considered packing cubes, I would recommend giving them a try.
Hydration is so important. You want to remain hydrated to support your immune system which in turn will be stronger to fight off any germs you will encounter during your travels. You will want to bring your own refillable water bottle with you.
I never leave home on a trip without my Bobble filtration bottle. The 18.5-ounce size is perfect for travel and it fits nicely in the pocket of a backpack or your purse.
When filled with water, it is not too heavy to carry. And the charcoal filter ensures fresh clean water whenever you fill the Bobble. You can find filter replacements here.
Perhaps you are traveling a long distance and packing space is a premium in your suitcase, or in your car. Then this set of collapsible silicone foldable water bottles would work well for you. Would not take up much space at all.
You will want a backpack or daypack with you to store snacks, your water bottle, phone, extra clothes, etc.. This foldable water-resistant backpack would be great.
It is very affordable and is available in many color options for you to choose from. The fact that it folds down into a zippered pouch will make it easy to pack.
Perhaps you need a more substantial backpack for your travel. This antitheft backpack has a charging port, is water-resistant, and can comfortably carry up to a 15.6″ laptop.
You will be walking more than usual during your weekend getaways in Ohio. A sturdy and comfortable pair of walking shoes are a must-have. These waterproof all-season shoes are extremely affordable and yet fashionable.
Mostly everyone is familiar with the Skechers brand, and these Air Run high fashion sneakers come in a lot of colors to match your outfits and are still affordable.
If you are visiting New Buffalo Michigan in warmer weather, maybe you want a pair of sandals to wear to dinner or to the local cafe, I highly recommend these Vionics adjustable strap orthotic sandals.
I have several pairs of Vionics that I bring with me *everywhere* I travel. They are very comfortable and have orthotic footbeds that cradle and support your feet.
We all need to protect our eyes from the sun's harmful UVA/UVB rays. These unisex polarized sunglasses come in a lot of lens colors and frame designs and are extremely affordable too.
If you are fond of the aviator-style of sunglasses these polarized aviators may interest you.
If you are in need of new luggage, this expandable soft side spinner luggage is affordable and comes in lots of colors.
If you like hard-sided better, then you may favor this hard-sided luggage set better. Both sets come with TSA locks and 8 wheels per piece.
—
Have you ever been to New Buffalo Michigan?
If so, have you done any of these awesome things to do in New Buffalo?
I'd love to hear about your trip in the comments!
If you haven't been, I definitely suggest adding it to your bucket list.