Are you looking for the best day trips from Chicago that are actually worth the effort? Then this list is for you!
Maybe you want a break from the city, or maybe you just want to explore a new city.
Planning your trip to Chicago last minute?
Make sure to book ahead. Hotels and tours often sell out the closer you get to your trip. Here are our top pics for Chicago!
Top Experiences And Tours In Chicago:
Hop Hotels In Chicago:
No matter your interests you'll find a great day trip option on this list.
I've found some of the most unique, fun, and adventurous day trips to make from Chicago.
There are beautiful state parks, metropolitan cities, unique and charming small towns, and so much more.
So, lets take a look at the 15 Best Day Trips from Chicago Worth The Effort!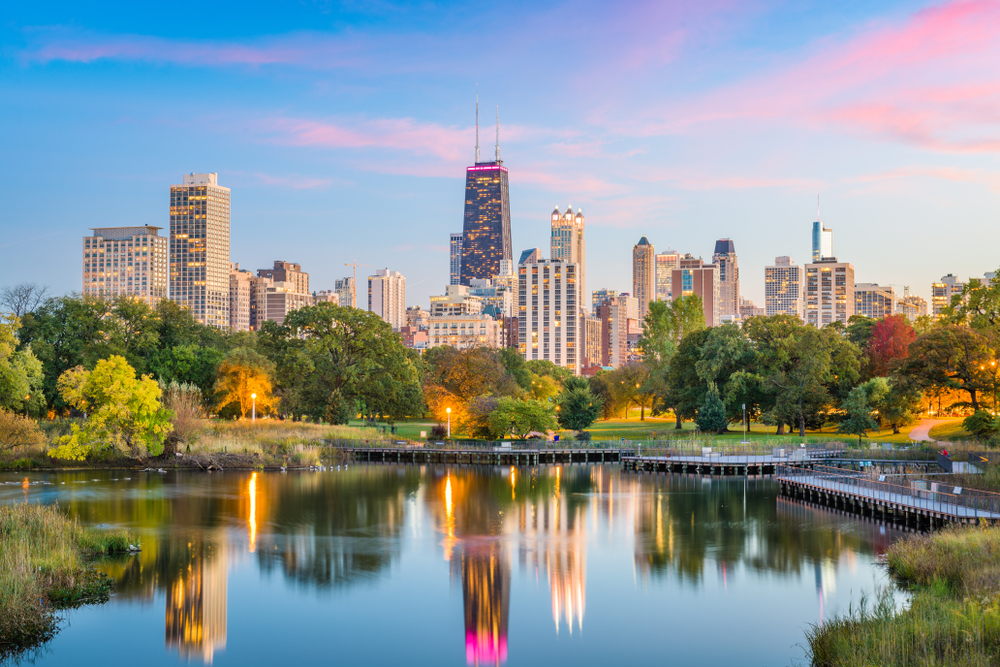 15 Best Day Trips From Chicago Worth The Effort
Cedarburg, Wisconsin
In just under 2 hours, you can find yourself in the charming small town in Wisconsin called Cedarburg.
Cedarburg is an excellent day trip from Chicago for those looking for small-town charm, but with plenty of activities.
Because Cedarburg is know for its small town atmosphere, you'll find some really unique shops and resturants.
There is a Candy Kitchen, an Amish Craftsmen Guild, stores full of items made by local artisans, and even a shop where you can search for unique gemstones.
Cedarburg also has a wide variety of unique museums.
There is a local art museum, a local history museum, a woolen mill and textile museum, and even a museum depicting early life in Cedarburg.
No matter your interests, Cedarburg is guaranteed to have something fun for you to do, and you'll find it was worth the drive.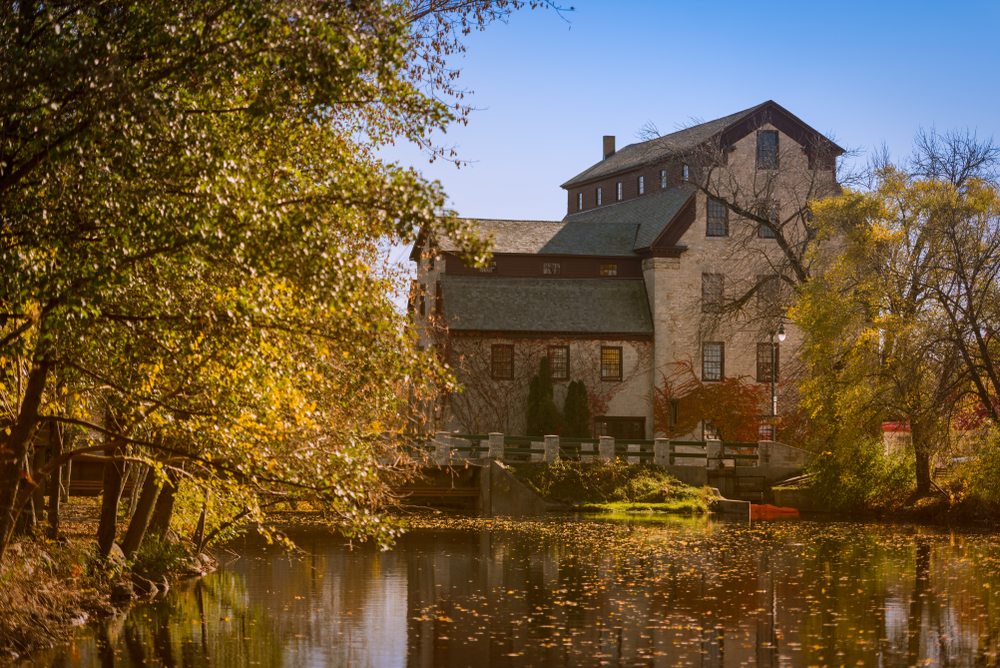 Rockford, Illinois
If you drive for about an hour and a half West of Chicago, you'll find yourself in Rockford Illinois.
The best way to describe Rockford is to call it a big-little city. It's the fourth largest city in Illinois, but still feels welcoming in a small-town sort of way.
Rockford is also bursting with things to do.
Music lovers will enjoy checking out one of the many spots home town band Cheap Trick helped make famous.
If museums are more your thing, don't worry, Rockford has those too. Stop by the Burpee Museum of Natural History or the Discovery Center Museum.
If none of that sounds interesting, then maybe you'll like the Anderson Japanese Garden. It is consistently rated as one of the best Japanese Gardens in North America.
There is so much to do that you may want to turn your day trip into a Midwest weekend getaway. With the endless list of activities in Rockford, it absolutely makes it worth the hour and a half drive from Chicago.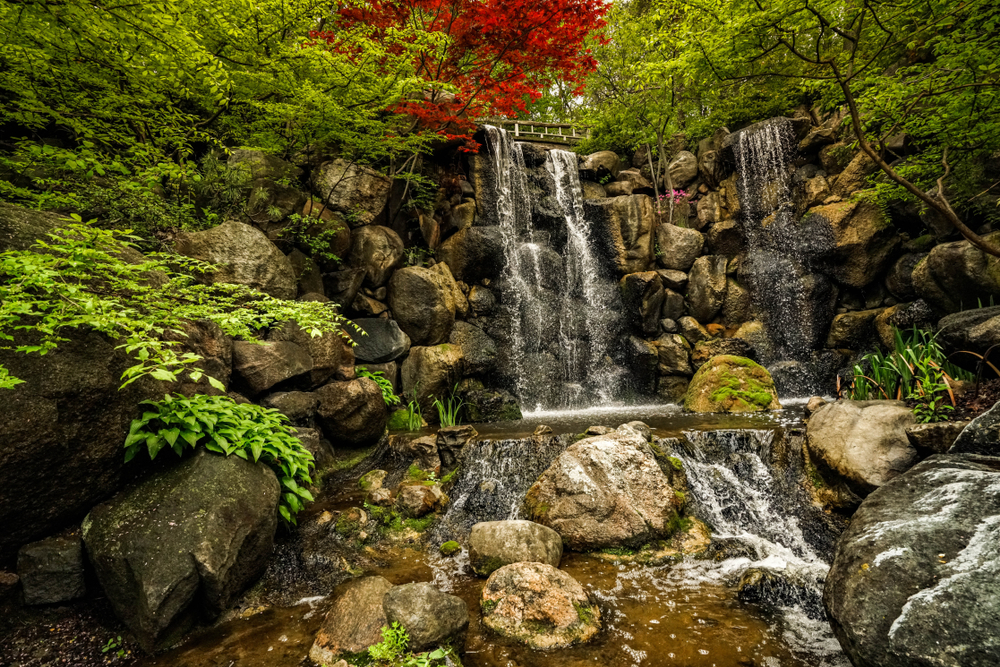 Grand Rapids, Michigan
Grand Rapids Michigan is one of the perfect day trips from Chicago for lovers of art, food, and beer.
In fact, Grand Rapids is known as Beer City USA.
For those who want to take full advantage of all Beer City USA has to offer, you'll want to download the Brewsader App.
The App gives you a full map of all the breweries in Grand Rapids, and after you check in at 8 of them, you'll earn a fun Brewsader shirt to commemorate your trip.
If beer isn't your thing, not to worry.
There are still some absolutely amazing and unique restaurants in Grand Rapids you can check out. Or you can stop into one of the cities popular art galleries.
There really are so many cool things to do in Grand Rapids.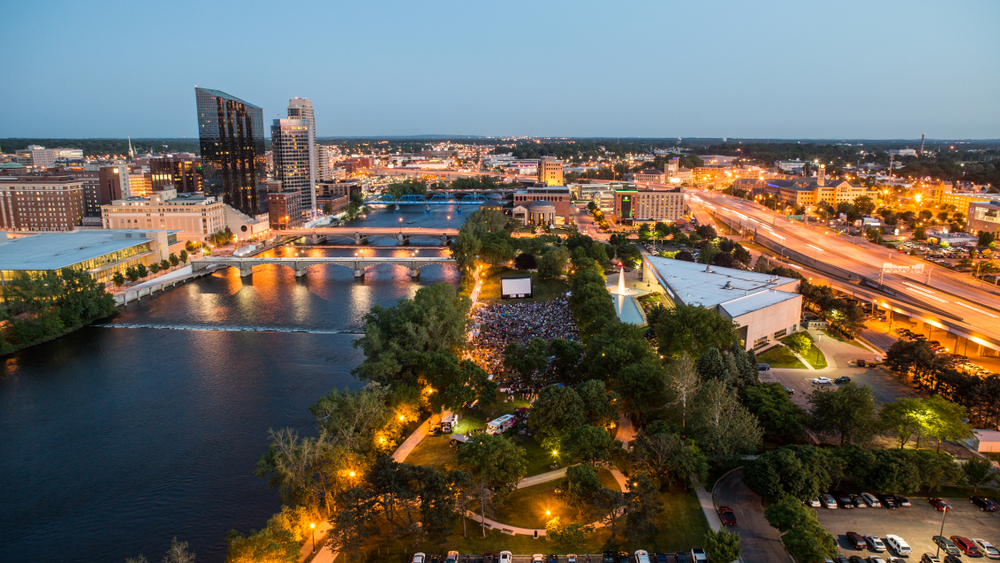 Oak Park, Illinois Is One Of The Best Day Trips From Chicago
Oak Park Illinois is the shortest distance you'll have to travel for a day trip on this list as it's just under 20 minutes outside of Chicago.
Despite that, many people in Chicago, or even visiting Chicago, don't think to explore Oak Park.
Admirers of Frank Lloyd Wright, one of America's most prominent architects will know Oak Park though.
Wright called Oak Park home, and left his mark on many of the cities most popular homes and buildings.
Oak Park was also home to another famous architect, George W. Maher, who also designed many of the cities most prominent homes and buildings.
Ernest Hemingway was also born in Oak Park, and you can visit his childhood home that has now been turned into a Hemingway Museum.
Book Tickets Here: Ernest Hemingway Boyhood Tour
Because of Oak Park's proximity to Chicago, many gangsters in the early 20th century called the area home, and you can now take a Gangster tour.
Oak Park is a tremendously unique option for a day trip from Chicago and you don't even have to travel far!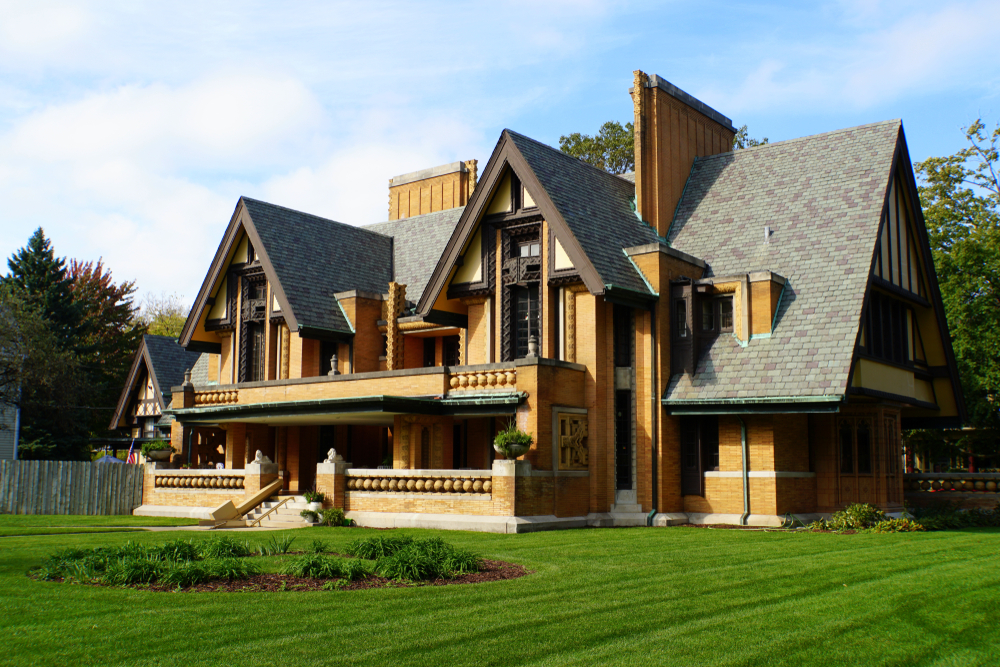 Michigan City, Indiana
Michigan City Indiana is about an hour away from Chicago, and you'll spend the whole trip driving along Lake Michigan.
So it's no surprise that Michigan City also has its fair share of lighthouse history.
In Michigan City you'll be able to explore the Old Lighthouse Museum and even take a tour of the Michigan City Lighthouse and Pier.
Stroll along the beach or maybe head over to the Washington Park Zoo, which is full of more interesting architecture, and of course animals.
Travelers also enjoy touring the Barker Mansion and sipping on local wines at some of the best wineries in Indiana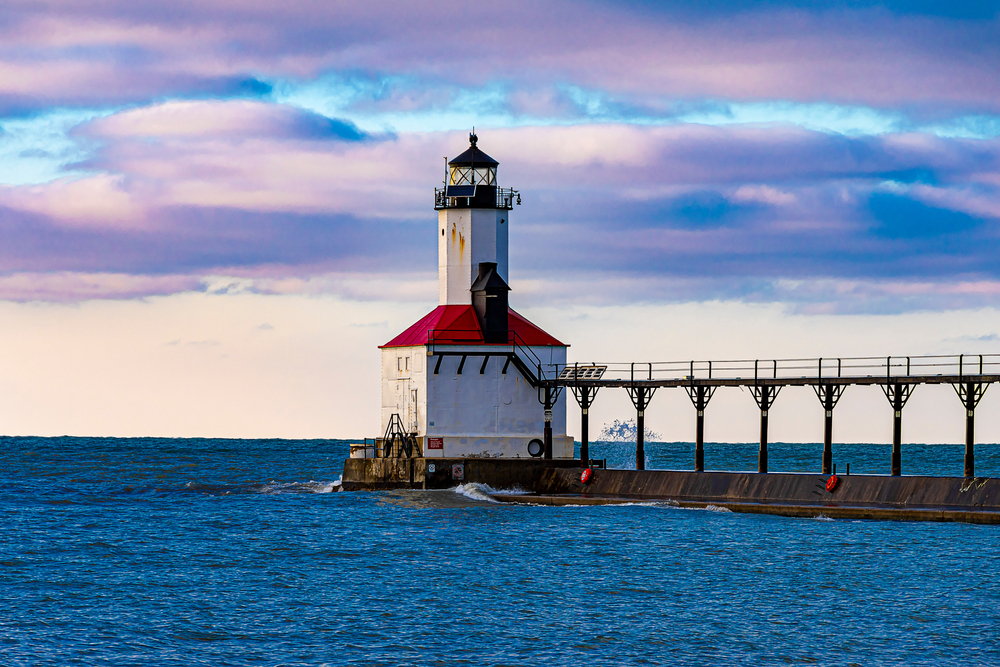 Monroe, Wisconsin
Monroe Wisconsin is the Swiss Cheese Capital of the USA, and just over 2 hours away from Chicago.
Cheese lovers will delight in the many, many, cheese related activities that abound in Monroe.
Monroe is a cute small town that takes cheese very seriously, and for good reason. The city has thrived for over 100 years because of it's cheese industry.
You can pair some locally made cheeses with local beers or just explore the numerous cheese shops.
Or watch a movie at the local drive-in theater while munching on cheese curds.
The small town even holds a yearly Cheese Days Festival where you can sample all of the local cheeses while sipping a cold local beer.
Monroe is perfect for your next day trip from Chicago the next time you've got a serious craving for all things cheese.
This cool town is one of the best places to visit in Wisconsin.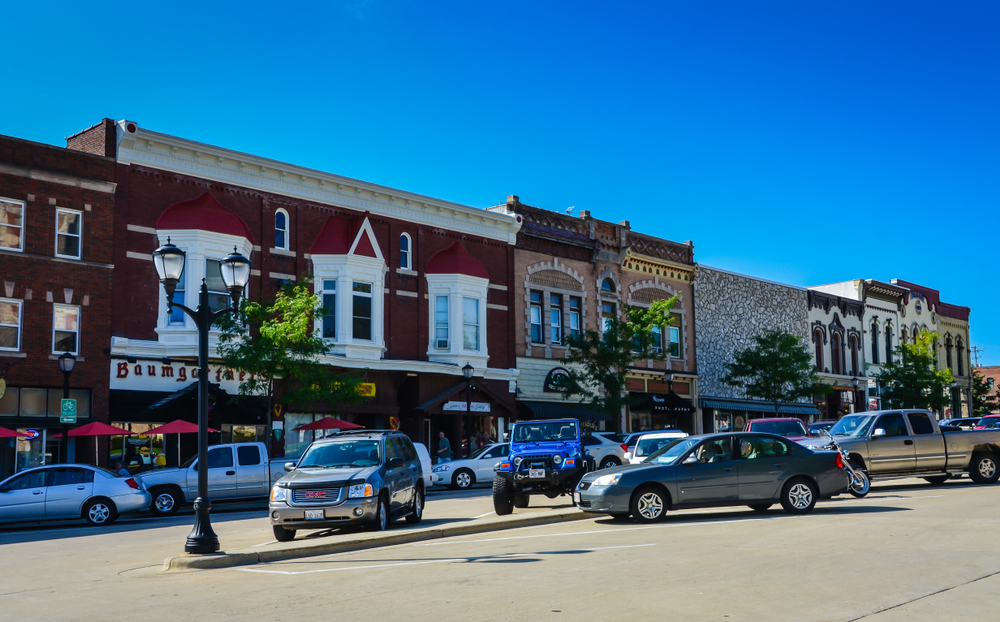 Kankakee, Illinois
Kankakee Illinois is a cute town in Illinois just over an hour south of Chicago.
It's full of small town charm but it still has a lot of interesting things to do, making it perfect if you're looking to escape the city for a day.
One of visitors favorite things to do in Kankakee is taking a tour of the B. Harley Bradley House, a famous house designed by Frank Lloyd Wright.
Kankakee is also amazing for those looking for a little outdoor adventure.
The entire Kankakee County and parts of the city of Kankakee are bursting with outdoor activities.
You can enjoy some of the best hiking in Illinois, along with canoeing, kayaking, and even scuba diving in the Haigh Quarry.
Kankakee is one of the best day trips from Chicago Illinois if you're looking for fresh air, beautiful views of nature, and plenty of small-town charm.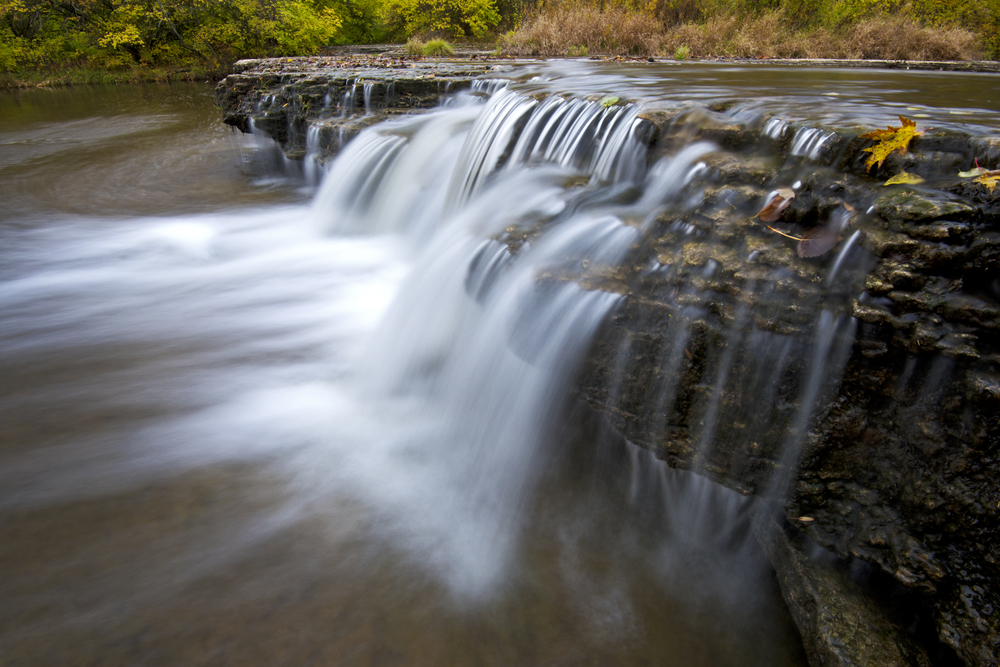 New Glarus, Wisconsin
America's Little Switzerland is in New Glarus Wisconsin, just 2 and half hours outside of Chicago.
New Glarus is a small town that loves beer, cheese, and festivals. In the warmer months, they may have 3-4 festivals a month.
Typical New Glarus festivals include Polkafest, The Beer, Bacon, & Cheese Festival, The Heidi Folk Festival, Blues Brews & Food Trucks Festival, Maxwell Street Days, and so many more.
New Glarus is also known for having a selection of brews that you can only buy in Wisconsin, and some of them you can only buy in New Glarus.
If you are a beer connoisseur, you'll love checking out one of the local beer gardens. And if you decide to stay longer here are some epic Wisconsin Airbnbs to look into.
Foodies will love checking out one of the many restaurants that serves up Swiss and Swiss inspired fare.
New Glarus is a cute romantic getaway in Wisconsin!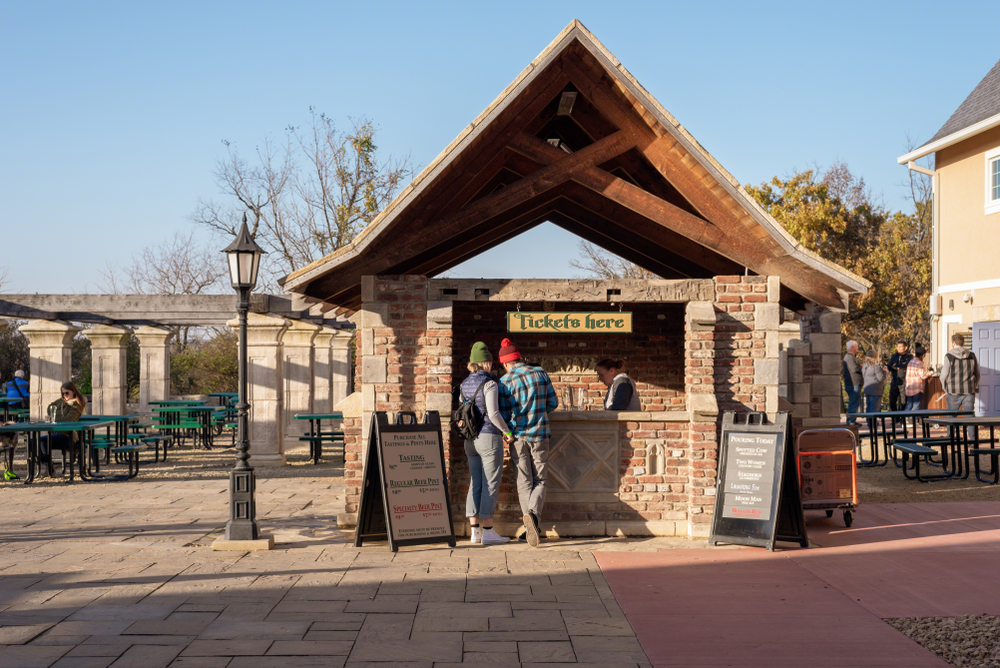 Holland, Michigan
Holland Michigan is a little over 2 hours away from Chicago and is one of the best day trips from Chicago that is definitely worth it.
Named after the home country of it's original settlers, Holland is bursting with Dutch charm.
In the Spring it's host to the Tulip Time Festival where you will get to see a riot of colorful tulips with a windmill that is straight from Holland.
Even if you can't make it to the Tulip Time Festival, you'll love exploring this cozy small town.
There are plenty of unique shops, restaurants, breweries, and unique Dutch gardens.
Holland is also home to one of the coolest lighthouses in Michigan, The Big Red Lighthouse.
Visitors love to view the iconic lighthouse standing proudly on it's pier, with the bright red façade making a striking contrast against Lake Michigan.
Holland is a small town in Michigan full of charm that is definitely worth the effort to visit, any time of year.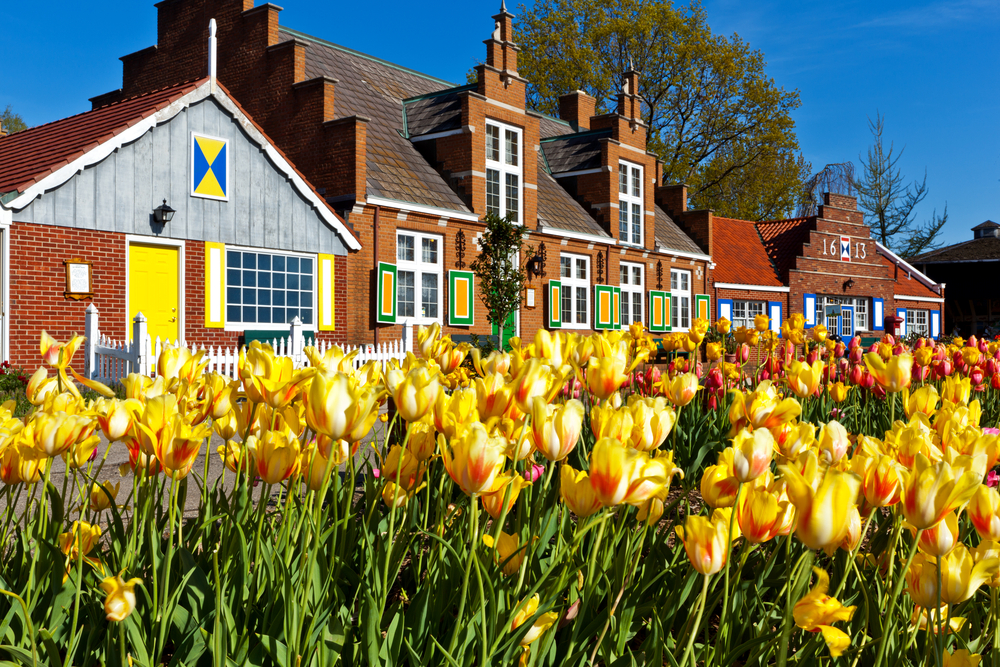 Milwaukee, Wisconsin
If you are looking to explore a city, but you want a break from Chicago, then I suggest driving the hour and half to Wisconsin's largest city, Milwaukee.
Because Milwaukee is Wisconsin's biggest city, it is full of unique things to do making it one of the best day trips from Chicago!
And there are so many things to do in Milwaukee!
If you're on a budget, take a stroll down the streets and admire the many murals on the sides of buildings. Or go window shopping and one of the many boutique stores.
You can also check out a play or musical, go on a boat tour of Milwaukee, or explore one of the amazing restaurants in Milwaukee.
If you're a sports fan, you may want to check out one of Milwaukee's home teams. Afterwards, you can talk about the game at one of the cities awesome bars or resturants.
Milwaukee is an amazing city that often gets overlooked, but you won't regret making the trip out there.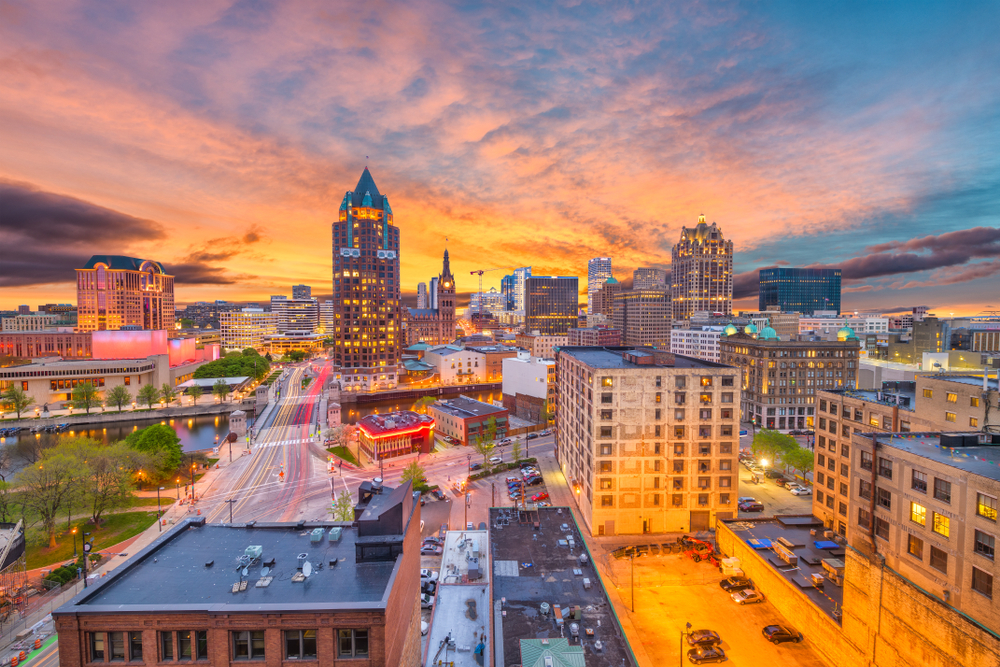 Oglesby, Illinois
In just under two hours you can be in beautiful Oglesby Illinois.
Oglesby is perfect for day trippers looking for a break from the city as it is home to two beautiful State Parks.
If you're looking for some outdoor adventure and clear air, then you'll find that this is one day trip that is worth the effort.
At Starved Rock State Park you'll find trails that lead you along the Illinois River and into steep sandstone canyons.
It is Illinois' most popular State Park and for good reason. It's accessible for all skill levels and you get to experience some beautiful views.
The other state park near Oglesby is Matthiessen State Park. The entrance for this park is just a few miles South of Starved Rock State Park.
Matthiessen State Park has similar views, but it is often far less crowded.
It is a great choice to experience fall in Illinois.
You'll still be able to hike beautiful trails, see gorgeous Illinois waterfalls, and enjoy nature, but you'll be far less crowded.
If you have plenty of time on one of your day trips from Chicago Illinois, you should definitely check out both state parks.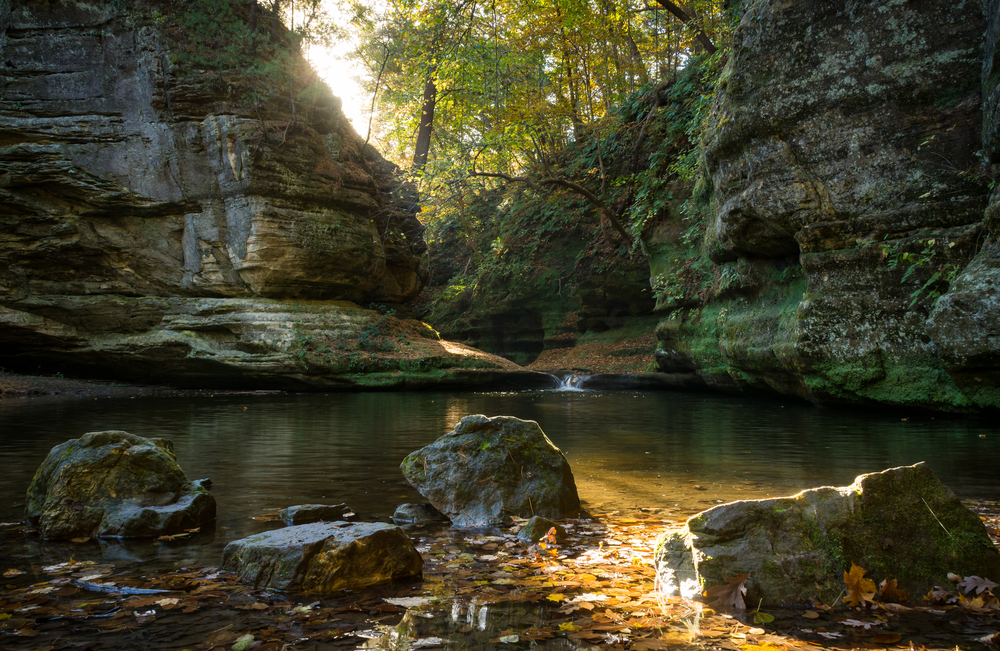 Lake Geneva, Wisconsin
Lake Geneva is a Wisconsin town about an hour and a half outside of Chicago.
It has a history of being the go-to spot for Chicago's wealthy families during the summer.
Lake Geneva is a beautiful small town that thrives because of the large Lake Geneva, and it's a budget-friendly day trip option.
There are so many things to do in Lake Geneva all year long that include lake activities.
But you'll also find a charming town full of unique boutiques, restaurants, and even outdoor activities like hiking and snow sports in the winter.
In early February the town holds a Winter Fest which features the only snow sculpting championship in the United States.
Visitors get to experience massive snow sculptures, food from local restaurants, and so much more – and it's free to attend!
In the summer, enjoy boating, swimming, and kayaking on Lake Geneva before having a meal at one of the amazing local restaurants in Lake Geneva.
No matter what time of year you visit, Lake Geneva is a Chicago day trip that is worth the effort.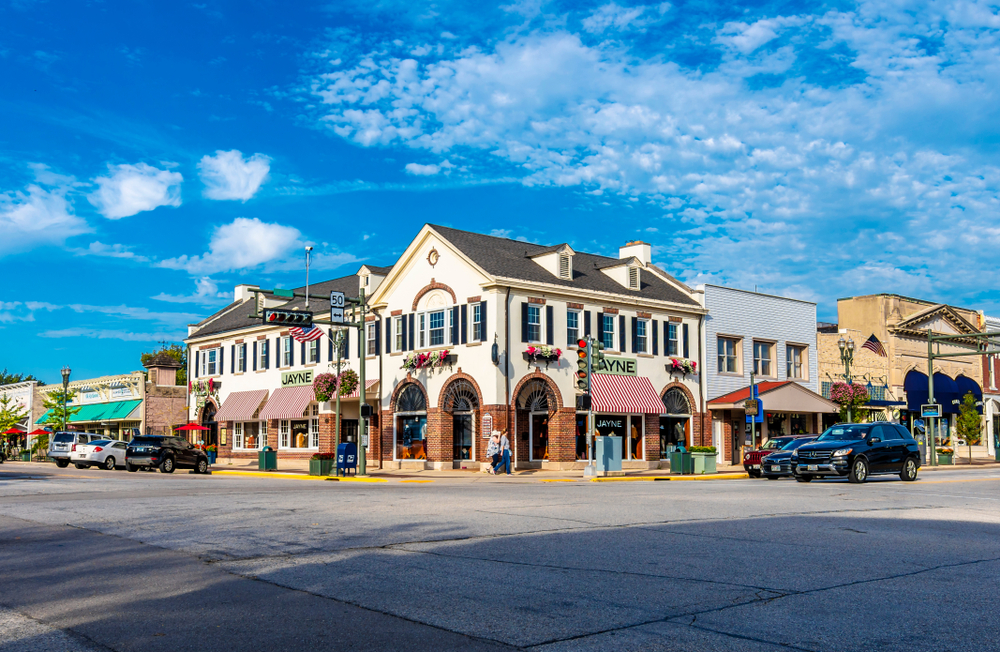 Highwood, Illinois
Highwood Illinois is another small town that goes big when it comes to festivals.
Just 35 minutes North of Chicago, this charming small town is the perfect day trip from Chicago Illinois for festival lovers
There's almost a festival every month, and they all have different themes.
For foodies, there is a Taco Festival, a Bloody Mary Festival, and a Garlic Festival.
There are also smaller music festivals, fun runs, and a Pride Festival.
One of Highwood's most iconic festivals though is probably The Great Highwood Pumpkin Festival every October.
It is one of the coolest things to do in Illinois.
The Festival benefits the Make-A-Wish Foundation and attendees get to check out rows and rows of carved pumpkins.
Attendess of Pumpkin Fest can even bring their own pumpkins and carve them before adding them to the walls of carved pumpkins.
Highwood is a truly unique town, full of really cool festivals that are sure to make the trip out there worth the effort, no matter what time of year you go.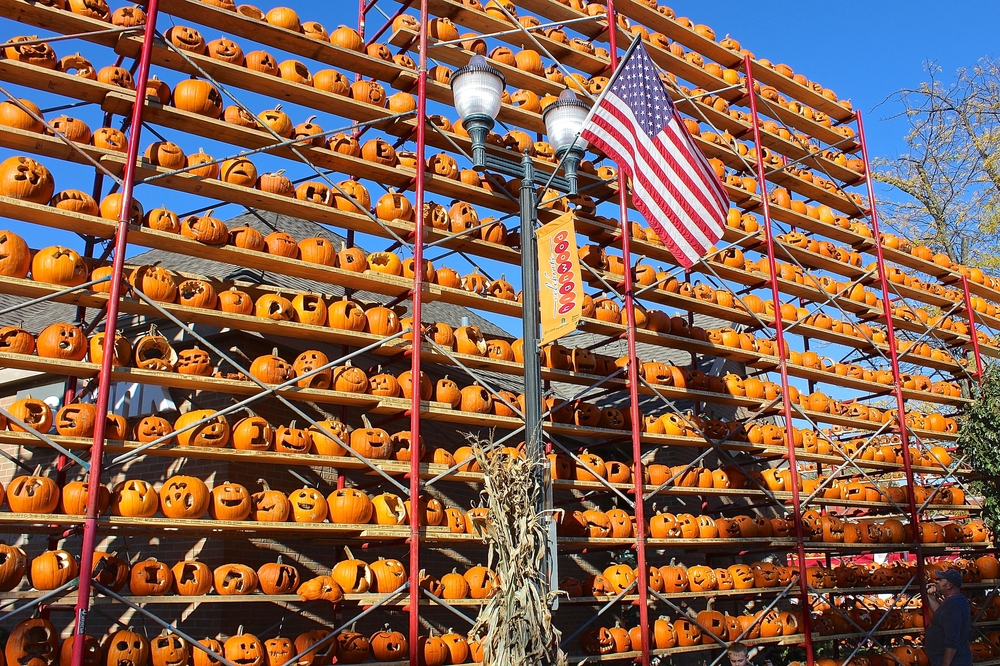 Indiana Dunes National Park, Indiana Is One Of The Best Day Trips From Chicago
Just under an hour outside of Chicago, the Indiana Dunes National Park is one of the coolest national parks in the Midwest.
The Indiana Dunes National Park is on 15 miles of beach on Lake Michigan's South shore.
It is a nature lover's dream with over 15,000 acres of preserved land full of unique hiking trails, wetlands, prairies, woodlands, and of course beaches.
From Memorial Day to Labor Day, there is a $6 entrance fee to enter the park. During the 'off season' though, it's free to enter.
The Indiana Dunes is full of fun things to do, and you could spend days exploring the park making it a fun weekend getaway in Indiana!
It's a beautiful spot, and it is definitely one of the day trips from Chicago that is worth the effort.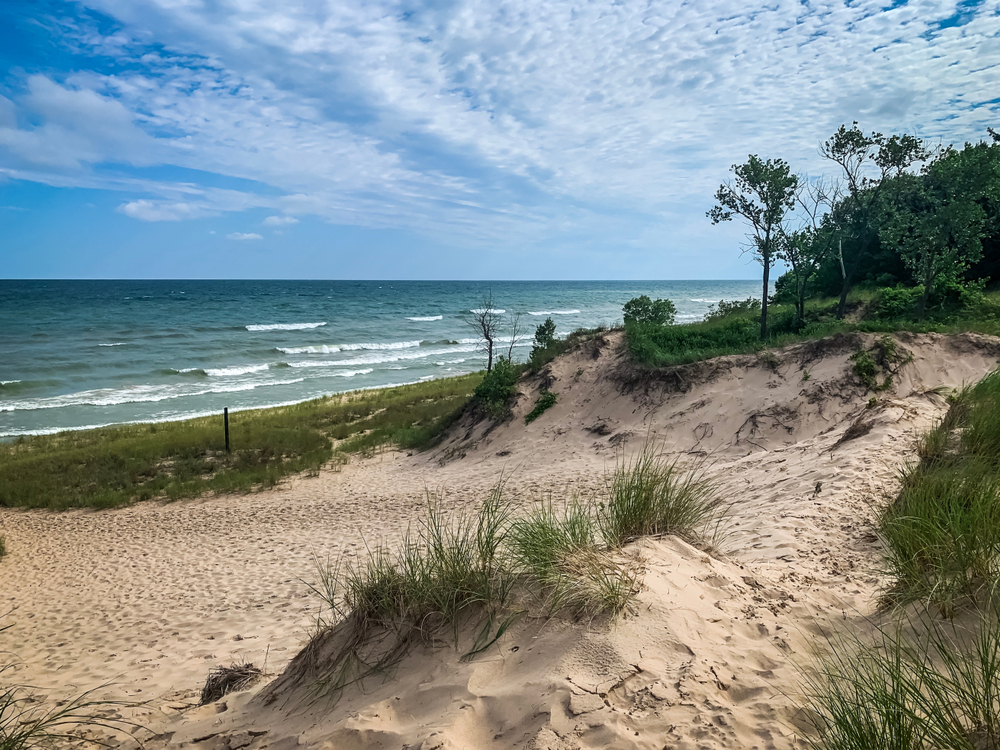 Madison, Wisconsin Is One Of The Cool Day Trips From Chicago
In just over two hours you can find yourself in Madison Wisconsin.
If you're looking for a fun Chicago day trip in the summer, Madison is perfect for you.
With five lakes, spanning over 15,000 acres, in summertime there are so many things to do in Madison.
There are water sports, festivals, water front dining, and so much more.
But Madison isn't just a fun place to visit in the summer.
You're sure to find fun no matter what time of year you go.
There are dinner theaters, breweries, delicious restaurants, and unique boutiques. Put treating yourself at some of the restaurants in Madison on your list!
You'll find that Madison Wisconsin is one of the most entertaining day trips from Chicago that is definitely worth the effort.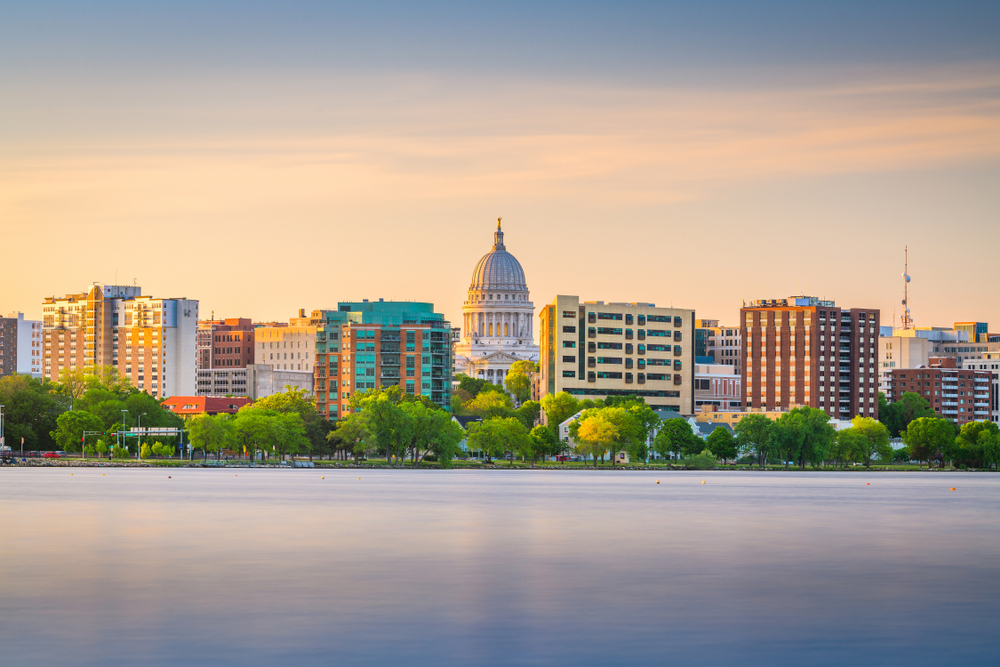 Packing List For Daytrips From Chicago
Here are some tips on how to pack lightly
A concealed travel pouch may be one of the most important items you bring along when on one of your Chicago day trips!
It is always important to protect your personal information. Identity thieves are everywhere.
This unisex RFID blocking concealed travel pouch is lightweight and comes in several colors. It has lots of organization to give you peace of mind.
You can place it under your clothes next to your body to carry your ID safely.
If you have a pouch already that does not come with the RFID protection, as I do, these RFID sleeves are the perfect solution.
This configuration comes with enough credit card sleeves that the entire family would be protected. They are slim too, so they will easily fit into your pouch or wallet.
If you are planning on taking a lot of pictures with your phone you will definitely want to consider an external charging battery.
This Anker high-speed phone charging battery is the exact one I carry with me on all of my trips.
It can be used on a variety of phones, not just an iPhone like I have. And wow is it fast!
I like that it holds its charging capabilities for several uses so I do not have to worry about it while out and about, and if I forget to recharge it at night, it will still be good to go the next day.
My daughter gifted me with this FugeTek selfie stick and tripod setup for my birthday. I absolutely love it!
It is made of lightweight aluminum and so easy to use.
It has Bluetooth connectivity and is a breeze to use for taking selfies with all those nature shots while on your Chicago day trips..
Hydration is so important when hiking. You want to remain hydrated throughout your hikes to support your immune system which in turn will be stronger to fight off any germs you will encounter during your travels.
You will want to bring your own refillable water bottle with you.
I never leave home on a trip without my Bobble filtration bottle. The 18.5-ounce size is perfect for hiking and it fits nicely in the pocket of a backpack.
When filled with water, it is not too heavy to carry. And the charcoal filter ensures fresh clean water whenever you fill the Bobble.
Perhaps you are traveling a long distance to Chicago Illinois and packing space is a premium in your suitcase, or in your car.
Then this set of collapsible silicone foldable water bottles would work well for you. Would not take up much space at all.
You will want a backpack or daypack with you to store snacks, your water bottle, phone, extra clothes, etc.. when on one of your day trips from Chicago Illinois. No matter the time of day or evening.
This foldable water-resistant backpack would be great
It is very affordable and is available in many color options for you to choose from. The fact that it folds down into a zippered pouch will make it easy to pack!
—
I hope you enjoyed this list of the 15 Best Day Trips From Chicago Worth the Effort! There are so many great big cities and little towns outside of Chicago just waiting to be explored.
If you are spending a weekend in Chicago, one of these trips from Chicago would def be fun!
If you take a trip to one of these awesome places, I'd love to hear about it in the comments!