If you are looking for some fun weekend getaways in Indiana then you've come to the right place.
I was born and raised in the Midwest, in Youngstown Ohio, so I know that it is full of some amazing hidden gems.
The Midwest often gets overlooked when it comes to planning fun family trips, romantic getaways, and fun road trips.
But it really shouldn't be, there are so many great attractions just waiting to be explored in the Midwest.
Indiana is one of those states that seems to often get overlooked.
The great state of Indiana is known for many things, including natural resources like limestone and professional basketball players – and that's just to name a few things.
On this list, I've found some of the best Indiana weekend getaways for every type of traveler.
Whether you're looking for outdoor adventures, romantic experiences, or a weekend full of a little bit of everything.
So, let's take a look at 15 fabulous weekend getaways in Indiana.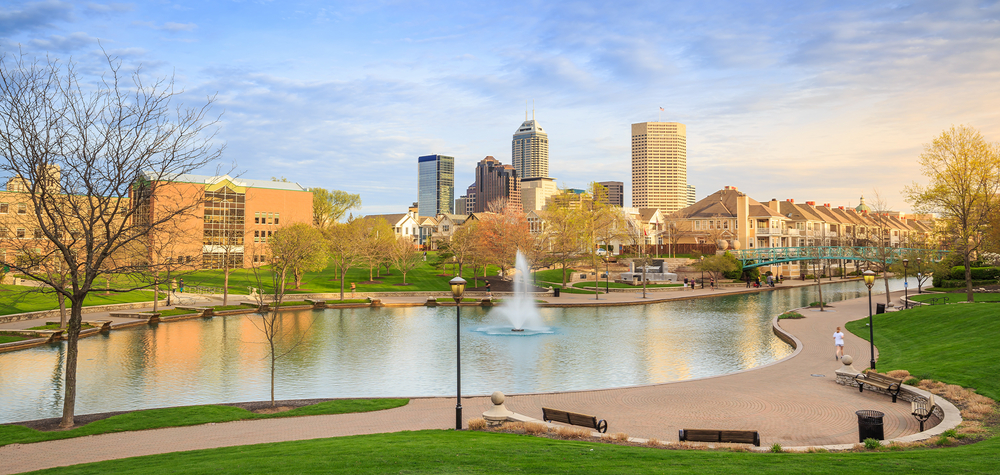 14 Fabulous Weekend Getaways In Indiana
Santa Claus For Holiday Fun All Year Long
The charming town of Santa Claus Indiana is one of the most unique things to do in Indiana, especially for families.
If you and your family are looking for a weekend getaway in Indiana where you can experience the magic of Christmas all year, then you've got to make a stop in Santa Claus.
Santa Claus is known as 'America's Christmas Hometown' and it takes its name seriously.
The residents of Santa Claus take a lot of pride in their hometown, and you can see that everywhere you look.
No matter what time of year it is, you can enjoy attractions like a toy shop, a Christmas store, a Santa Claus Museum and Village, and so much more.
You can't go wrong with a fun family Indiana weekend getaway to the quaint town of Santa Claus.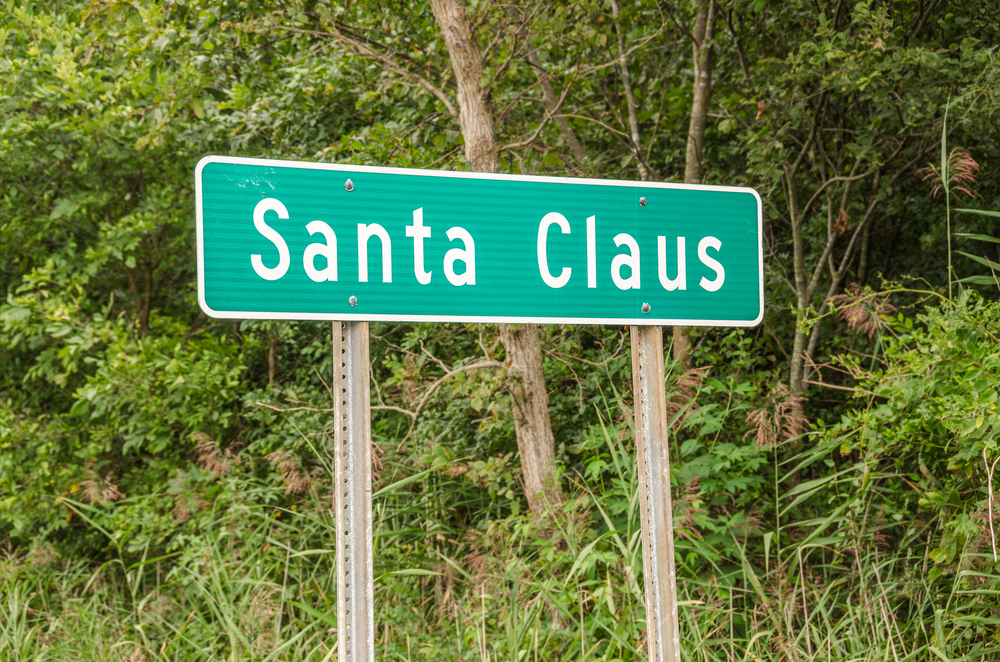 Enjoy Big City Adventures In Indianapolis
If you are planning weekend getaways in Indiana and Indianapolis isn't on your list, it should be.
Indianapolis is one of the most vibrant cities in the Midwest that is perfect for those who like to have a little city fun.
It's also one of the best places for romantic getaways in Indiana.
You'll quickly find that there are so many things to do in Indianapolis.
Head to the Arts District Theater to see a show, release your inner-foodie and take a food tour across the city, or spend an afternoon at the Indiana Museum of Art.
While you walk around make sure to stop into the unique boutiques, funky coffee shops and bakeries, and the art galleries full of local art.
Indy is a really fun city in Indianapolis to explore for every type of traveler.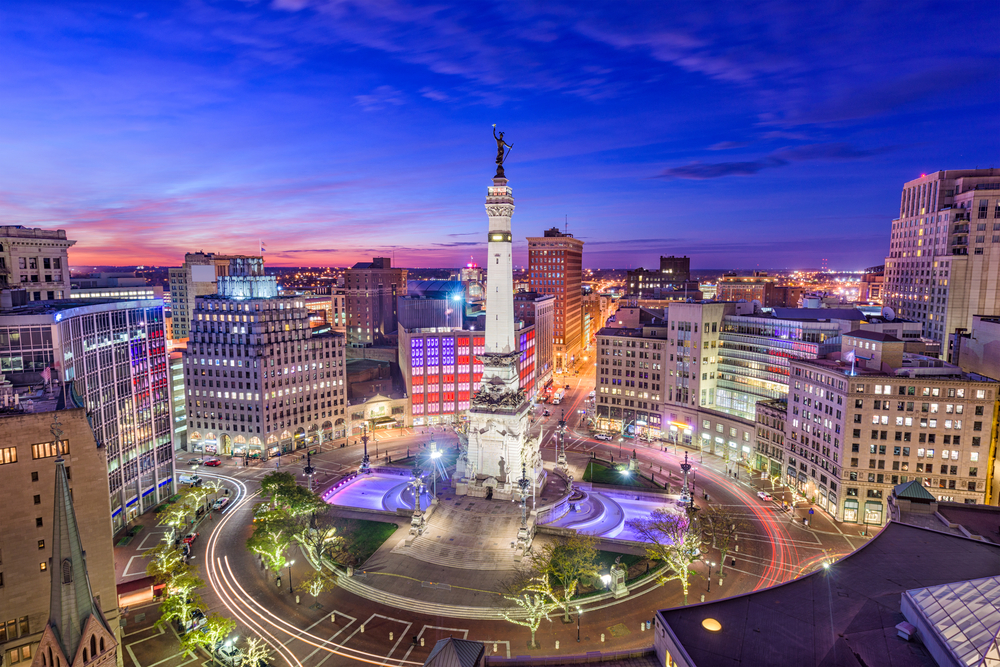 Bloomington Is One Of The Best Weekend Getaways In Indiana
The city of Bloomington is a great Indiana town for history buffs.
It's a smaller city, but it is bursting with fun and unique museums.
Bloomington is also home to Indiana University.
Depending on what you are interested in, you can probably find something you'll enjoy in Bloomington.
Head to the Indiana University Eskenazi Museum of Art to admire art pieces from countries all over the world.
Go hiking at the Hoosier National Forest's Charles C. Deam Wilderness, tour the historic Wylie House, or simply explore the city.
There are simply too many fun things to do in Bloomington to skip this city!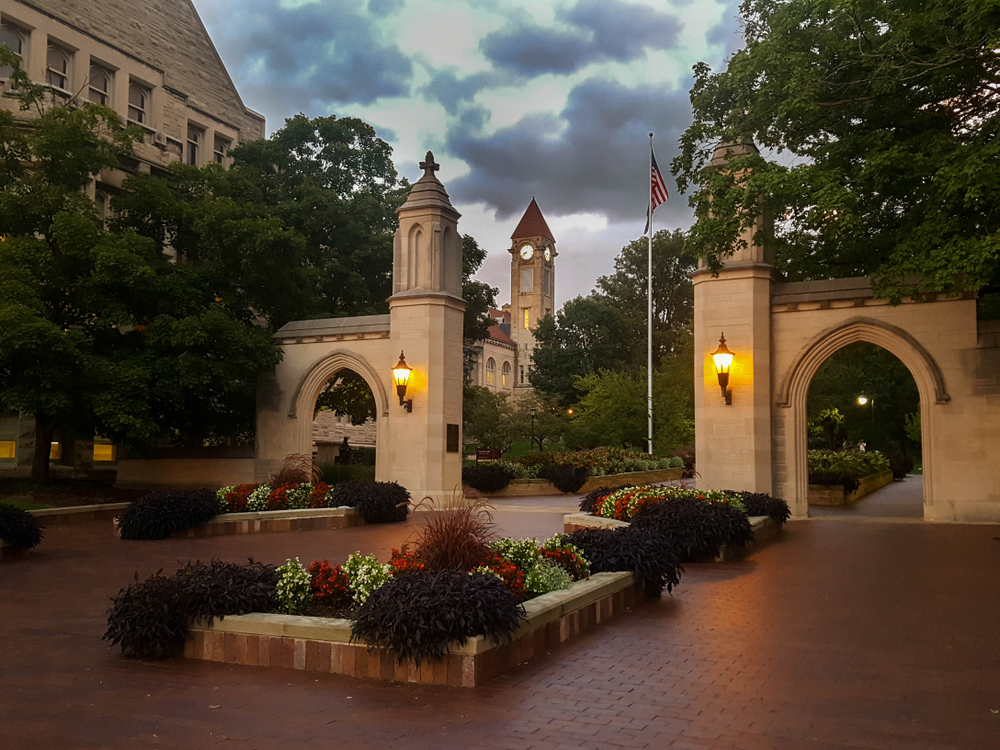 Turkey Run State Park
If you ask most Hoosiers they'll tell you that Turkey Run State Park is one of their favorite Indiana State Parks.
In fact, Turkey Run State Park calls itself the 'Number One State Park' in Indiana.
It gets millions of visitors every year, partially because it is so unique.
On the park grounds, you'll find a large Inn with 61 rooms, 23 cabins for rent, and 213 campsites.
That's what makes it one of the best weekend getaways in Indiana.
There are tons of options, so you can still get to enjoy the great outdoors, even if you aren't a fan of camping.
While you're at the park, you'll also find tons of things to do.
There are traditional State Park activities like hiking, horseback riding, and kayaking.
But the park also has a large nature center, swimming pools, and sports courts.
And that's still not everything!
Turkey Run State Park also has quite a few historical buildings, sites, and homes that you can tour.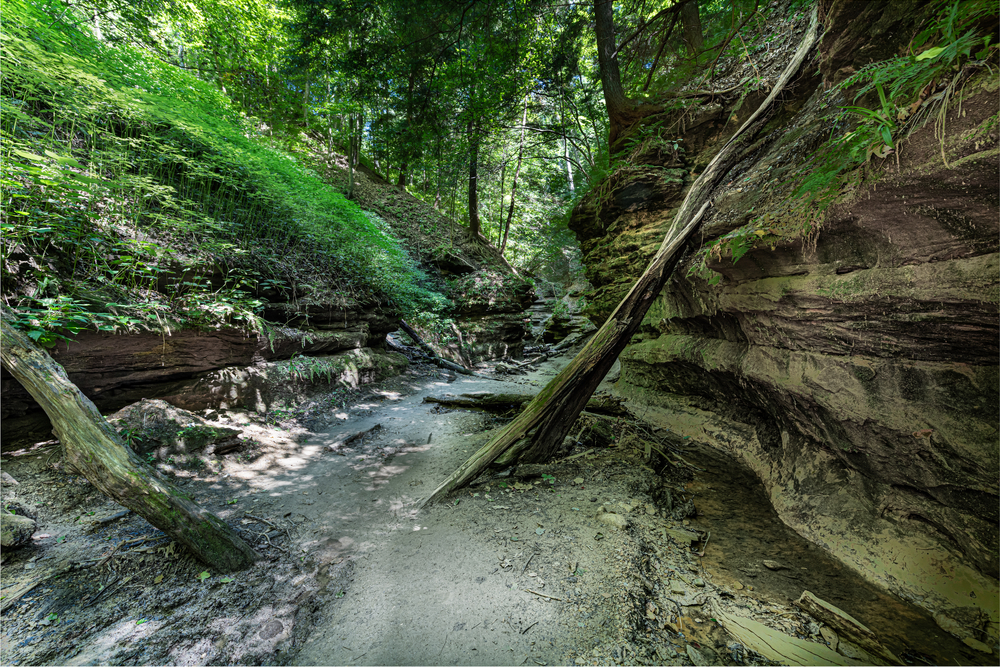 Serenity Springs Is One Of The Best Romantic Weekend Getaways In Indiana
At Serenity Springs in La Porte, Indiana, you can find one of the most romantic weekend getaways in Indiana.
That is where you'll find a resort with two-person cabins nestled on the shores of a peaceful lake.
The private cabins have their own fireplace, sunken whirlpool tub, and room service.
So you and your partner never have to leave the tranquility and privacy of your romantic cabin.
If you do want to step out of your cabin, you'll find 85 acres of woods and peaceful trails to wander.
There are also different outdoor activities you can enjoy depending on what time of year it is.
In the warmer months, enjoy hiking, kayaking, and yard games.
Pack your cross-country skis in the winter or snuggle up in front of your private fireplace.
It's easy to see why Serenity Springs is one of the best couples' getaways in Indiana.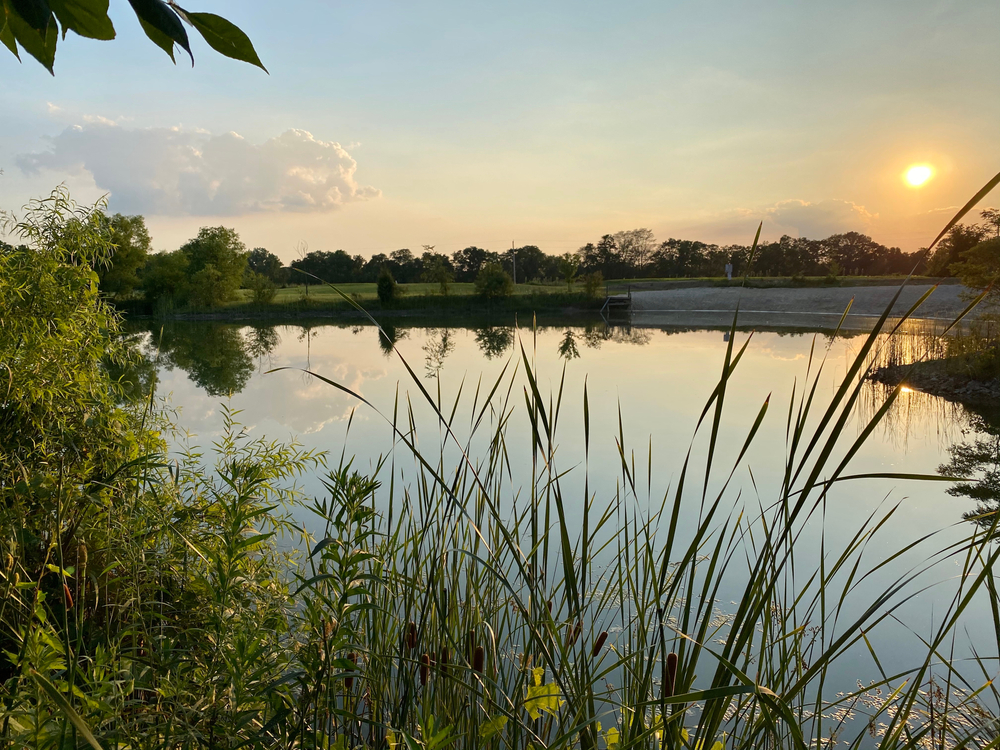 Enjoy The Riverside In South Bend
There are so many interesting things to do in South Bend
It is a charming town on the shores of the St. Joseph River.
Take some time to walk the gorgeous campus of Notre Dame and admire the scenic views, the beautiful architecture, and more.
While you're in South Bend, you'll also find there are quite a few museums for you to explore.
If you like historic homes, make sure to tour the Oliver Mansion.
Or learn about the no longer made Studebaker cars at the Studebaker National Museum.
South Bend also has its own town History Museum, delicious restaurants, unique boutiques, and so much more.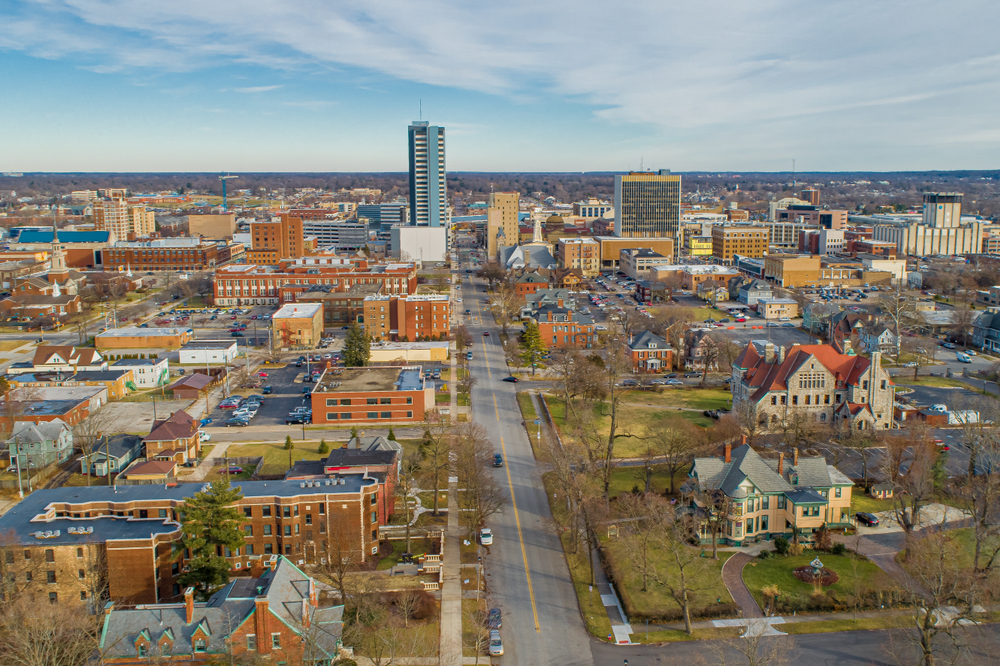 Indiana Dunes National Park Is One Of The Best Weekend Getaways In Indiana
Not only is Indiana Dunes National Park one of the best places for a weekend getaway in Indiana, but it's also one of the coolest National Parks in the Midwest.
It's also one of my favorite day trips from Chicago since it's just an hour away.
If you want to explore the great outdoors, Indiana Dunes National Park is the perfect place for it.
With over 15 miles of sandy beaches on the shore of Lake Michigan, you'll find there is plenty to do and see at the park.
All of those miles equal about 15,000 acres of beaches, but also prairies, wetlands, and woodlands.
Throughout all of that acreage, there are some great hiking trails to explore.
You can easily spend a few days just exploring the park, let alone the nearby towns.
During peak season, which is Memorial Day to Labor Day, there is a $6 entry fee into the park.
The rest of the year it is completely free.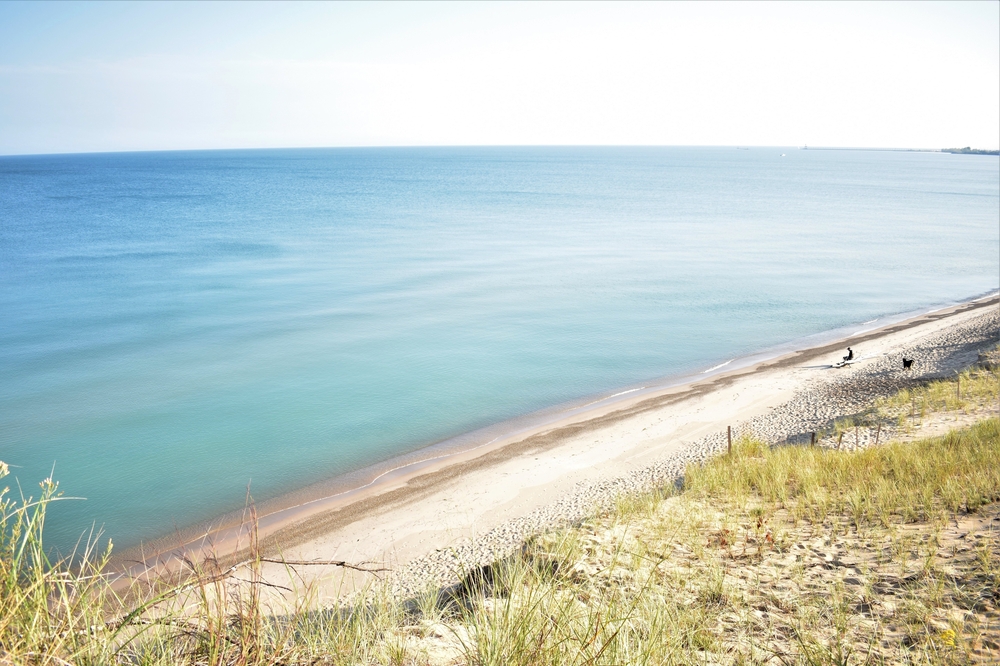 Explore Lafayette and West Lafayette
These two towns are super close together with the Wabash River separating them.
Because they are so close, I suggest seeing both of them while you are enjoying your Indiana weekend getaway.
Purdue University is located in West Lafayette and the town has a really fun college town vibe.
Both Lafayette and West Lafayette also have a cool downtown area that is connected.
Downtown you'll find antique shops, boutiques, the state's oldest drive-in restaurant, breweries, restaurants, and coffee shops.
On top of all those great shops and dining options, the towns also have a vibrant art scene.
You can explore unique galleries, admire public art, and more.
If you want big city vibes in a small town package, Lafayette and West Lafayette are perfect places in Indiana to visit.
There are so many fun things to do in Lafayette and West Lafayette, so do not skip them!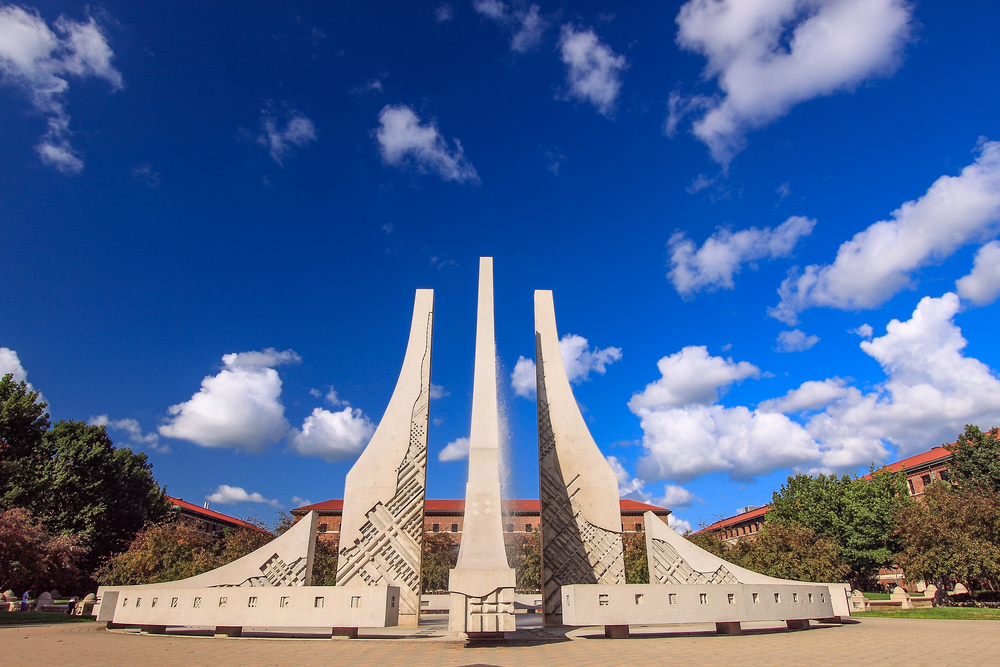 Relax At The Oakwood Resort In Syracuse
The Oakwood Resort is one of the most popular resorts in Indiana.
Syracuse Indiana is a beautiful town that is home to several man-made and natural lakes.
On 27 acres, the Oakwood Resort is on the shores of Lake Wawasee, which is Indiana's largest natural lake.
There are several room types, including luxury suites and lakeside cottages.
You can go kayaking, swimming, or boating in the lake, or walk around the well-taken care of grounds.
The resort even has its own restaurant, so you really don't need to leave the property while you are there.
Simply relax by the lake and enjoy the serene Indiana landscape.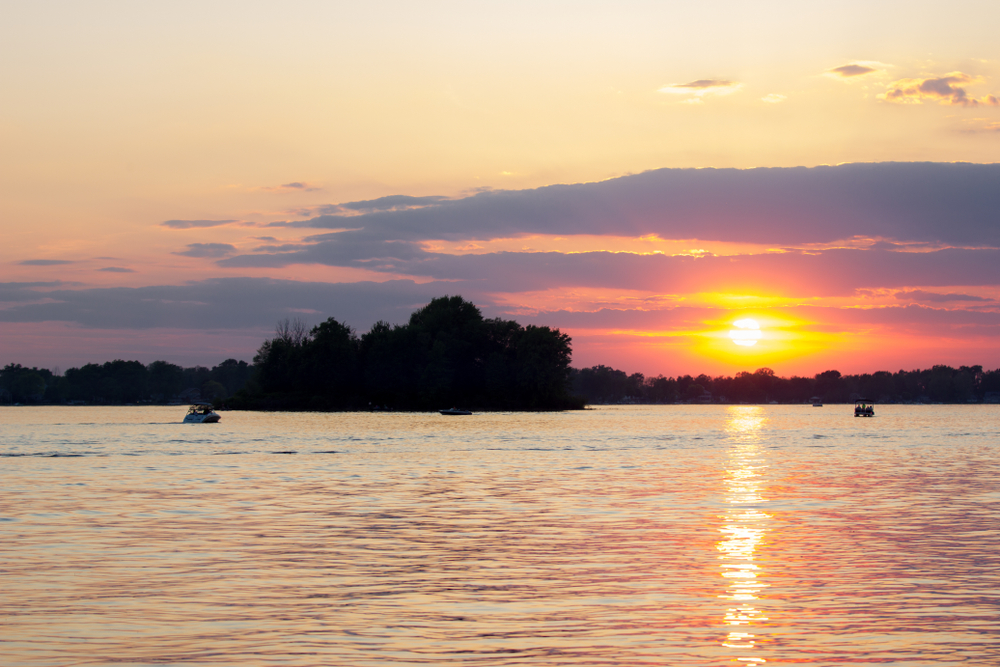 French Lick Is Made For Couples Getaways In Indiana
One of the best couple's getaways in Indiana is in the historic town of French Lick.
French Lick is a charming small town in Southern Indiana that is ideal for a romantic getaway in the Midwest.
The town originally became a popular tourist destination in the early 20th century due to its natural mineral springs.
The springs were said to have healing properties, so people traveled from all over the Midwest to swim or drink the mineral water.
Now, we know that the mineral springs don't necessarily have healing properties.
But the gorgeous 20th-century architecture still remains, and many of the old hotels and inns have been turned into enchanting bed and breakfasts.
In the town, you'll find antique stores, boutique shops, and delicious restaurants as well.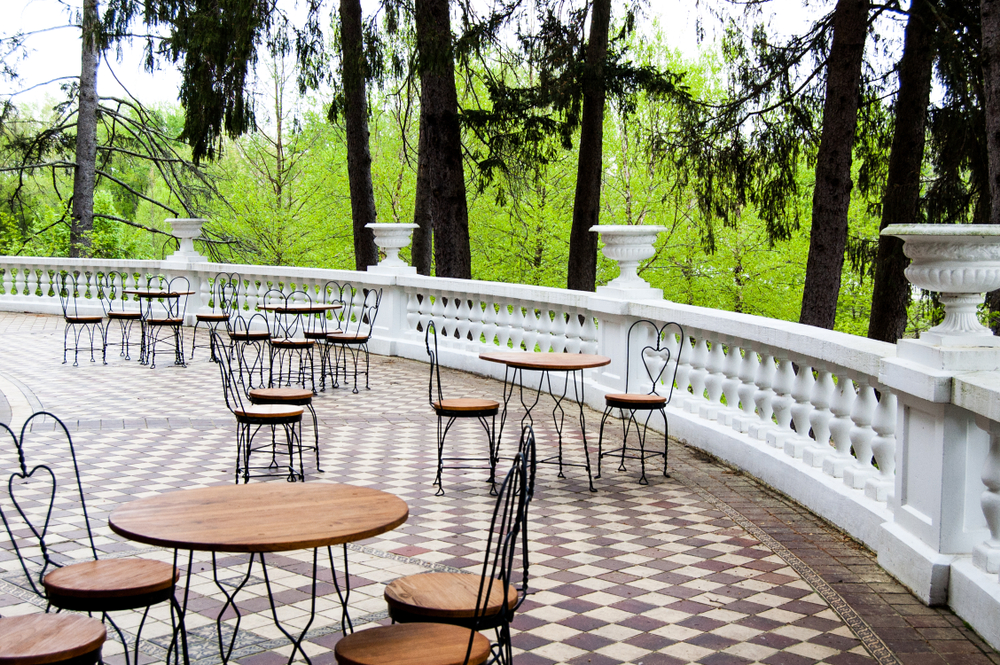 Spend Some Time In Valparaiso
The town of Valparaiso was named after the town in Chile where its founder, David Porter, had fought an important battle during the war of 1812.
It's a very unique name for a town in Indiana, where many towns are named after European towns and families.
Valparaiso is now a vibrant little city where you can easily spend a few days enjoying a weekend getaway.
You can attend unique festivals, shop in charming boutique stores, and sample some delicious foods at one of the many great restaurants.
The town also has an Opera House, The Chicago Street Theater, the Baurer Museum of Art, the 49er Drive-In theater, an arboretum, and wineries and breweries.
It is also a college town and you can walk the beautiful grounds of Valparaiso University.
The small city of Valparaiso has a lot to offer visitors looking for a fun Indiana weekend getaway.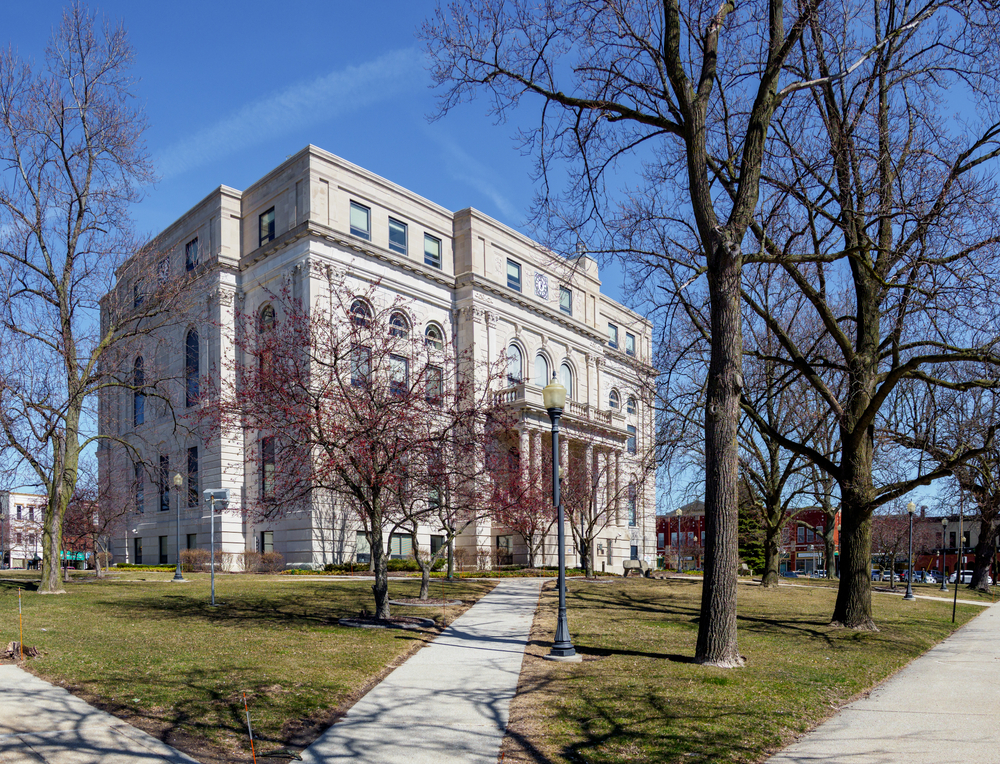 Visit One Of Indiana's Oldest Towns, Oldenburg
Oldenburg is one of the oldest towns in Indiana and was originally settled in 1817.
In the 1830s, the town grew immensely when German immigrants began settling in the area.
The German immigrants would name the town 'New Oldenburg', in honor of Oldenburg Germany.
But eventually in the late 1860s, the 'New' was dropped, and since then it's just been Oldenburg.
You can also drive 15 minutes to Metamora, another old town in Indiana, and check out the historic grist mill if you want to see even more historic sites.
However, all throughout the town, you'll find plenty of old buildings, many with nods to the area's early German influence.
In particular, visitors love to come and tour and admire the many old religious buildings.
Many of them are wonderful examples of European-American architecture in the area.
The historic district of Oldenburg contains 106 buildings and 115 homes, as well as a few other sites.
It is quite an extensive historic district, which makes it a great place for history buffs and architecture lovers to explore.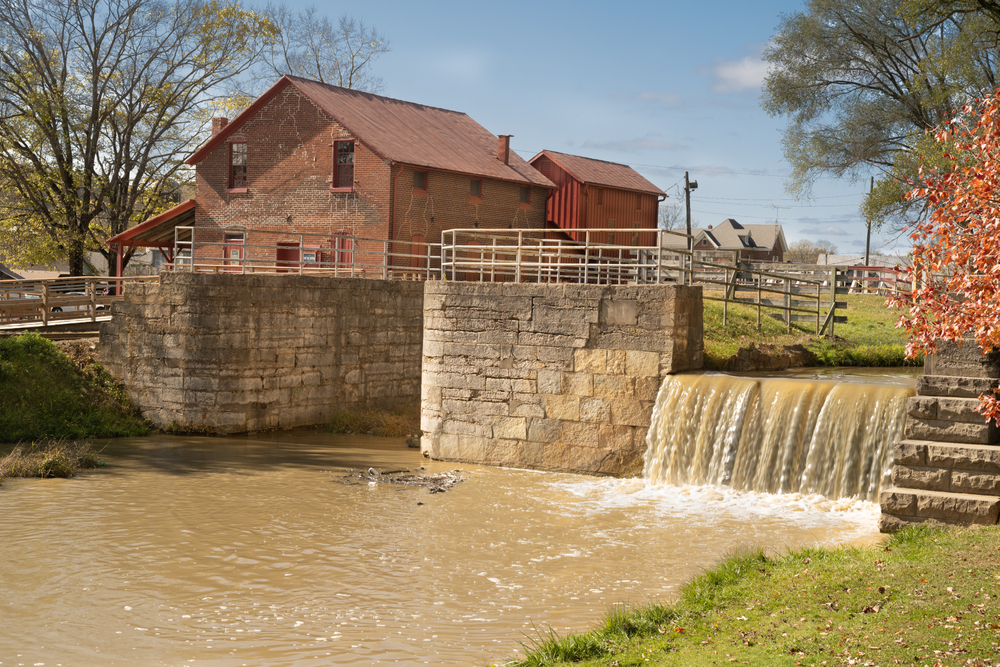 Tour Indiana Wine Country
You may not think of wine when you think of Indiana, but Indiana's Wine Country is working hard to change that.
The state has an official Indiana wine trail that you can drive, but you can also stick to one area that is most known for its wineries.
Most of Indiana's wineries can be found in Indianapolis and farther south.
That doesn't mean there aren't more in the state.
But if you don't want to do a lot of driving but still get to tour a bunch of wineries, you'll probably want to stick to that area.
Each Indiana winery has something different to offer.
From the wines they make, their restaurants, and their grounds.
There are also wineries where you can stay on the property.
If you are looking for a fun way to spend a weekend in Indiana, you can't go wrong with a stay in Indiana Wine Country.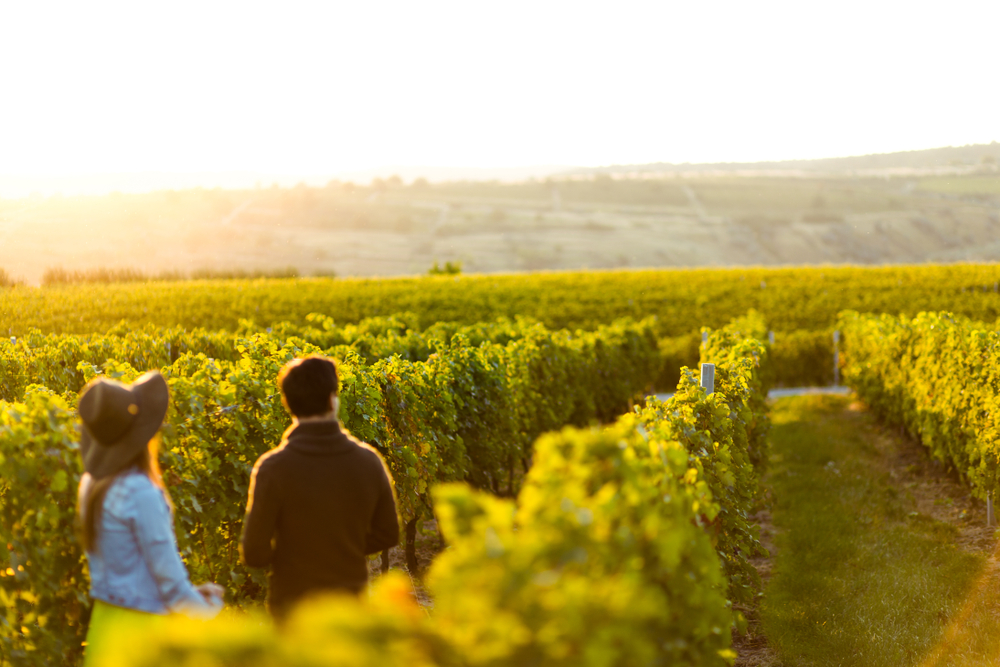 Explore The Historic River Town Of Madison
Madison is a charming river town located along the Ohio River.
It's also a great stop on the Ohio River Scenic Byway Road Trip.
There are plenty of things to do in Madison, like a stroll along the riverbank, sample local apple cider, and stop in the shops in the historic district.
The town has plenty of antique shops, locally-owned restaurants, coffee shops, boutique stores, and art galleries.
If you love history, tour one of the House Museums, historic churches, or the local Historical Society's Museum.
You can also take some time to head out to the Big Oaks National Wildlife Refuge to go hiking and bird watching.
The charming small river town of Madison is a perfect spot for an Indiana weekend getaway.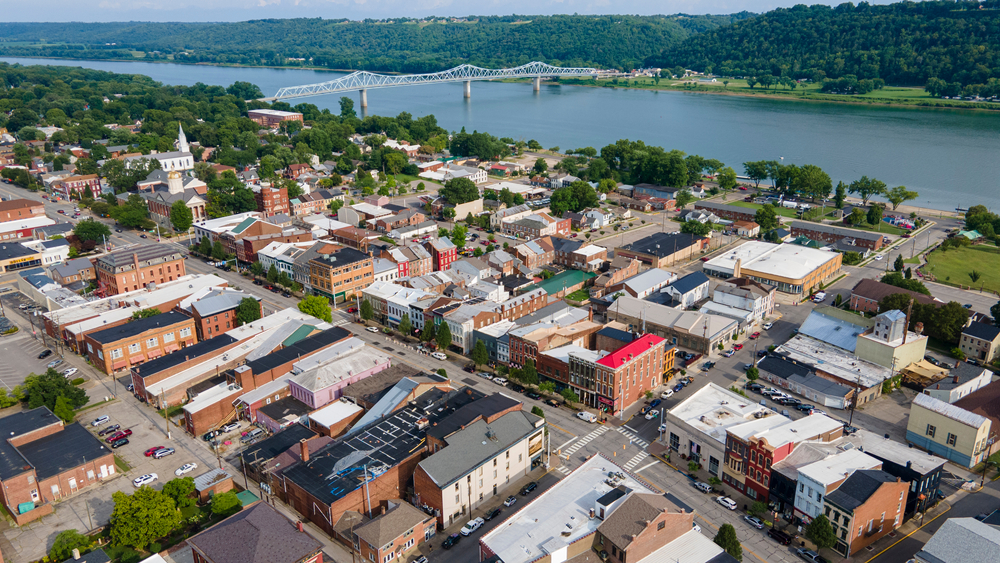 Packing List For Your Weekend Getaways In Indiana
If you are searching, here are some tips on how to pack lightly when packing when heading for a romantic Indiana weekend getaway.
A concealed travel pouch may be one of the most important items you bring along when searching for things to do in Indiana. It is always important to protect your personal information. Identity thieves are everywhere.
This unisex RFID blocking concealed travel pouch is lightweight and comes in several colors. It has lots of organization to give you peace of mind. You can place it under your clothes next to your body to carry your ID safely.
If you have a pouch already that does not come with the RFID protection, as I do, these RFID sleeves are the perfect solution.
If you are planning on taking a lot of pictures with your phone you will definitely want to consider an external charging battery. This Anker high-speed phone charging battery is the exact one I carry with me on all of my trips.
I like that it holds its charging capabilities for several uses so I do not have to worry about it while out and about, and if I forget to recharge it at night, it will still be good to go the next day.
My daughter gifted me with this FugeTek selfie stick and tripod setup for my birthday. I absolutely love it! It is made of lightweight aluminum and is so easy to use.
It has Bluetooth connectivity and is a breeze to use for taking Insta-worthy selfies at all the Indiana activities you attend.
I never much believed in using packing cubes when traveling. That is until I tried them. Now I am hooked. These are the exact cubes I use to stay organized when I pack for a trip!
You will want to bring your own refillable water bottle with you.
I never leave home on a trip without my Bobble filtration bottle. The 18.5-ounce size is perfect for your adventures and it fits nicely in the pocket of a backpack.
Perhaps you are traveling a long distance and packing space is a premium in your suitcase, or in your car. Then this set of collapsible silicone foldable water bottles would work well for you. Would not take up much space at all.
You will want a backpack or daypack with you to store snacks, your water bottle, phone, extra clothes, etc.. . No matter the time of day or evening.
This foldable water-resistant backpack would be great. And it comes in many different colors!
—
There are so many great places to explore when you are enjoying a weekend getaway in Indiana.
If you are a foodie, there are so many restaurants in Evansville IN you might want to explore! If you decide to stop, there are so many things to do in Evansville as well!
The Midwest state often gets overlooked, but it really shouldn't, because it's got a fun variety of things to do in Indiana!
Have you had the opportunity to enjoy any of these Indiana weekend getaways?
I'd love to hear about your trip in the comments!