Are you looking for things to do in Indianapolis?
There are a lot of things to do in Indianapolis, Indiana, that will make a great itinerary.
Whether you are traveling with kids that need to be entertained, setting out on a solo journey, or searching for a cool city to explore with friends, the Indiana state capital is for you!
Indianapolis has everything you could wish for in a Midwest vacation. There are museums full of art and history, parks dedicated to nature, and restaurants and bars with cool themes.
No matter the time of year you visit, you can find great activities in Indianapolis. In warmer months, have fun walking and biking downtown or swimming in nearby lakes.
In cooler months explore indoor attractions or even get an adrenaline rush skiing or sledding.
Get ready to have a memorable time exploring some of these Indianapolis IN attractions!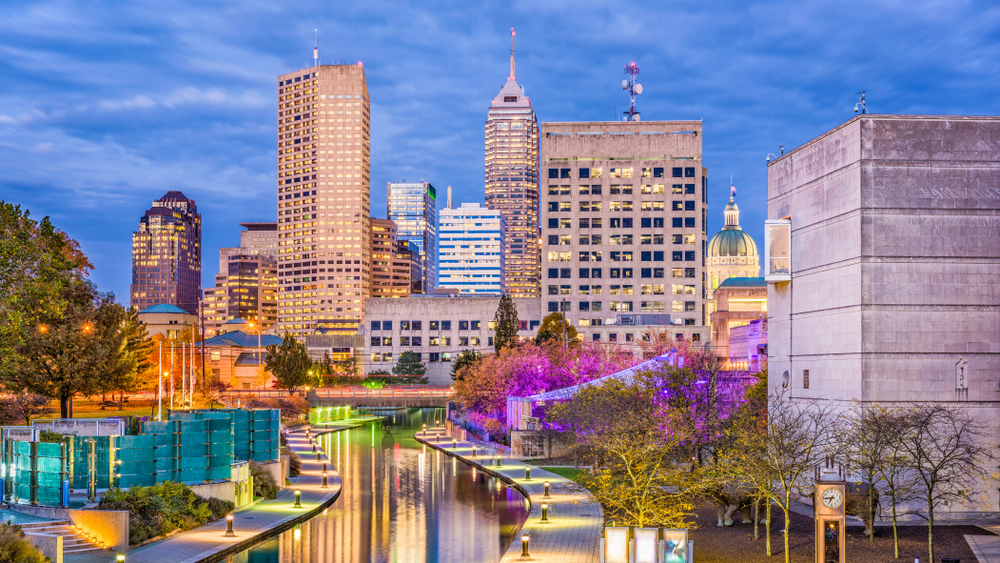 14 Best Things To Do in Indianapolis You Shouldn't Miss
Monument Circle
Monument Circle is found on a giant roundabout surrounded by skyscrapers. The 285-foot Soldiers and Sailors Monument is dedicated to those who have served the country.
Construction began on this monument in 1888, and it took thirteen years to complete. It is now an iconic symbol of the city and one of the best things to do in Indianapolis.
Head up to the observation deck for amazing, panoramic views of downtown. You can climb the 330 stairs for free or you can pay a couple of dollars to take the elevator to the top.
There is also a gift shop where you can pick up a souvenir.
Visiting Monument Circle is one of the best things to do in Indianapolis.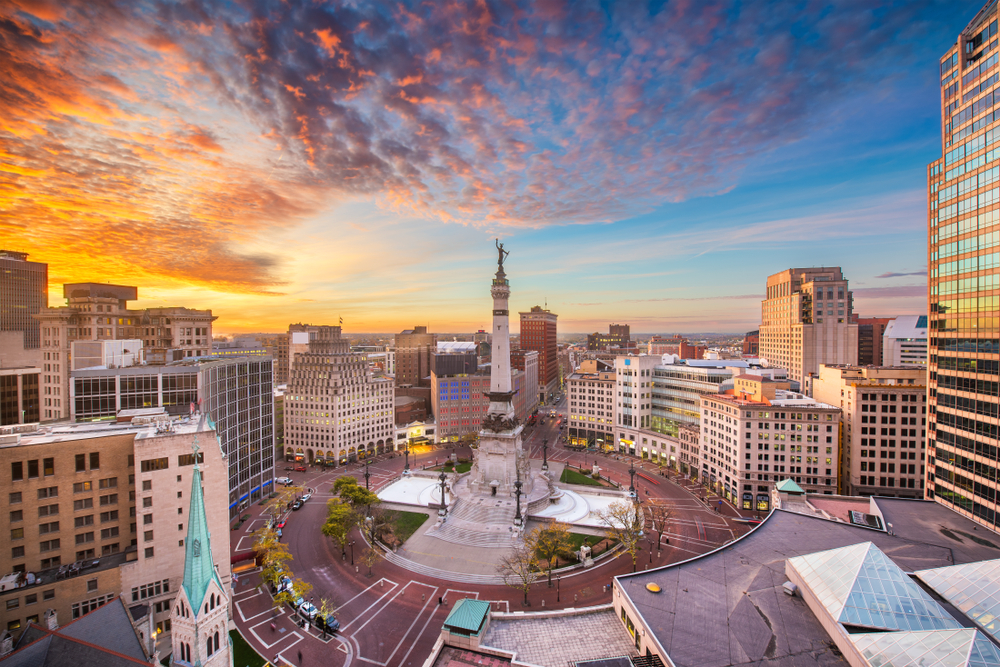 White River State Park
White River State Park is a beautiful urban park where you can escape from city life for a while. This 250-acre park in downtown includes the Canal Walk, the Urban Wilderness Trail, and a ton of art sculptures.
You can rent a bike and explore that way or walk from attraction to attraction. Many events are held here, including concerts, shows, and baseball games. This is also a great place to bring a picnic and soak in the vibe of the city.
The Indianapolis Museum of Art is here and is a must-visit place for art lovers and one of the more popular attractions in Indianapolis. The glass building is really unique on the outside while the inside holds work from Europe, the Americas, Africa, and Asia in all sorts of mediums and styles.
There are also many other museums here, some of which we will go into more detail about below. Head to the visitor's center to learn about all of the park's attractions and buy something locally made from the gift shop.
If you are a photographer, this park is a great place to come at sunset for photos of the skyline. The city in the background with the canal and nature in front create a gorgeous juxtaposition.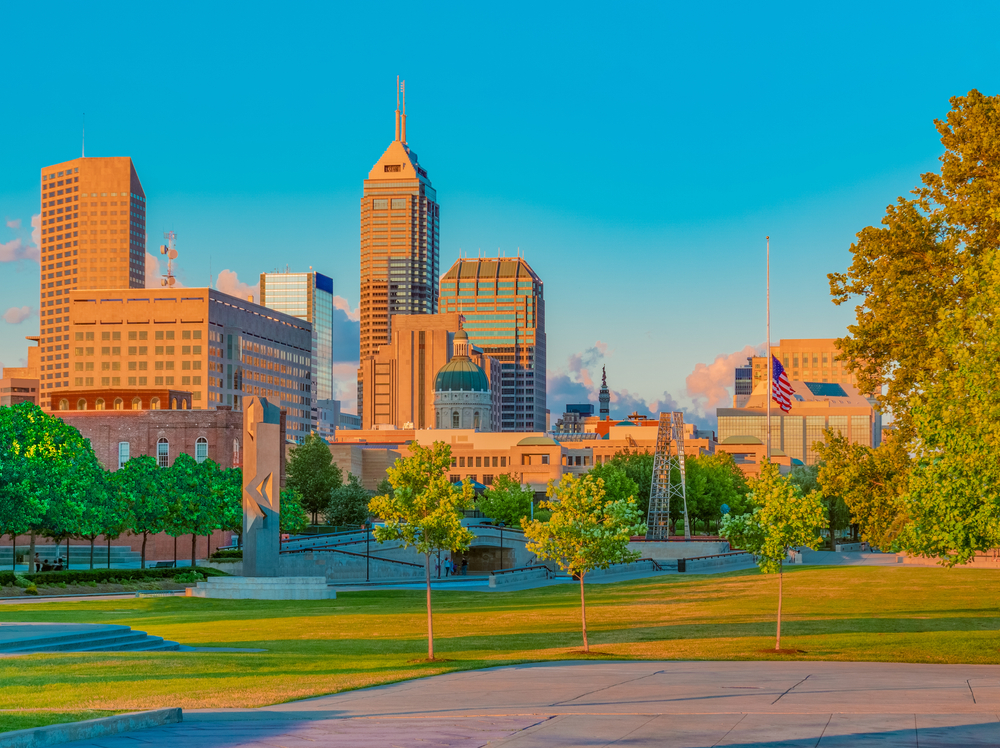 Indianapolis Motor Speedway
Whether you are into racecars or not, watching an Indy 500 race is one of the top things to do in Indianapolis and one of the things the city is most famous for.
The Indianapolis Motor Speedway is the third oldest automobile race track in the world, having been built in 1909. It is also the largest sports venue in the world and can seat over a quarter-million people.
This National Historic Landmark hosts NASCAR and Formula 1 races. If you are able to attend a race, you will feel the rush of energy and adrenaline that fills the stadium. You can also take a guided tour around the track and the garage.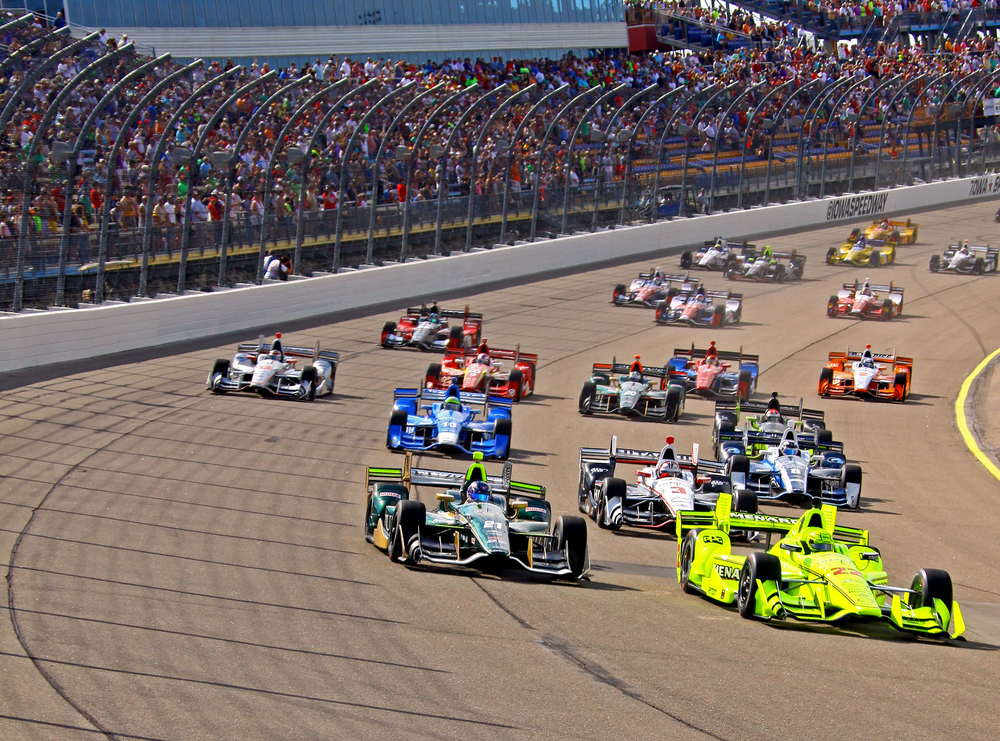 Indianapolis Motor Speedway Museum
If there are no races while you are in town or you just want more Speedway fun, you can go to the Indianapolis Motor Speedway Museum. This museum will walk you through the history of racing.
You will be able to see past winning cars, trophies, and other memorabilia. There is a gallery of paintings and photos dedicated to racing. There is even a car you can sit in for a photo op, perfect for Instagram!
You can walk the Indianapolis Motor Speedway Hall of Fame. They even have an annual Hall of Fame autograph session if you want to meet some racers.
This is truly one of the most interesting things to do in Indianapolis!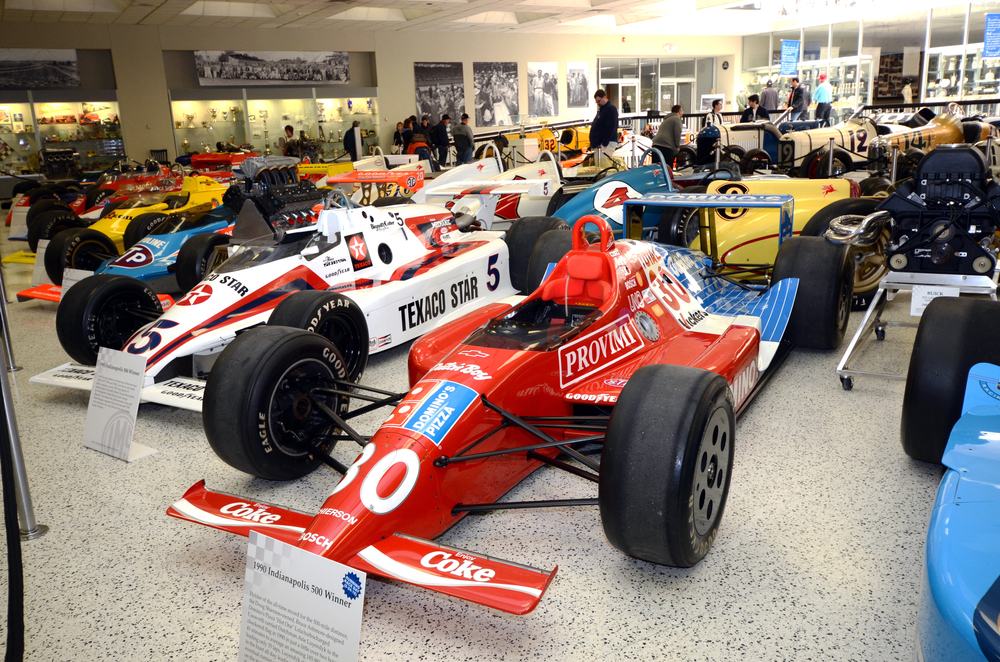 Eiteljorg Museum
The Eiteljorg Museum of American Indians and Western Art in downtown is one of the best things to do in Indianapolis for discovering art and culture. This museum holds diverse collections dedicated to North America's indigenous peoples.
From historical pieces to art by contemporary Native American artists, you will be able to walk through the galleries as if walking through time. The art teaches viewers about the history and culture of these creators.
Make sure to check if there are any special exhibits or events happening here when you are in town. If your trip is in June, make sure to attend the Indian Market and Festival when you can buy art and watch dance and music performances.
Along with Native American art, there is also art by Western painters such as Georgia O'Keefe and Andy Warhol.
Do not miss visiting this downtown Indianapolis attraction.
Indiana State Museum
While visiting the White River State Park, make sure to stop by the Indiana State Museum. Found along one of the scenic canals, this building holds almost a half-million historic artifacts.
You will learn all about Indiana from the prehistoric era through to the present day. Many of the exhibits are interactive, so even kids can have fun learning.
Wanding through exhibits dedicated to the ancient sea, the ice age, the First Nations, the pioneers, and more will keep you entertained for hours. This museum is also where you will find the largest IMAX theater in the state.
The Farmers Market Café found at the museum is also a great place to eat lunch. You can sit inside or outside as you enjoy local produce.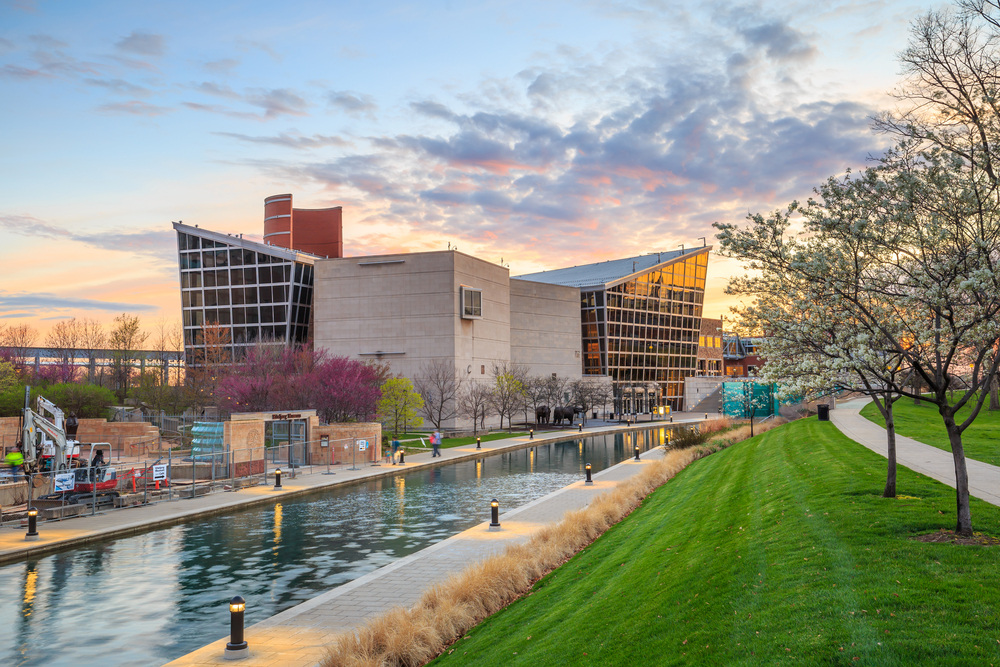 Indianapolis Cultural Trail
Rent a bike or set out on foot to explore the eight-mile Indianapolis Cultural Trail. This urban trail goes through downtown, passing many local shops and restaurants.
You will pass many cool art pieces, including sculptures and wall murals. Going through the historic districts will make you fall in love with the city. This
is a great way to start your trip since you will be introduced to the city. It is certainly one of the best things to do in Indianapolis.
You can take on the trail by yourself or do a tour. There are both walking and biking tours where you can learn about the culture and history of the city.
A food tour is another option that introduces you to the yummy food in the city.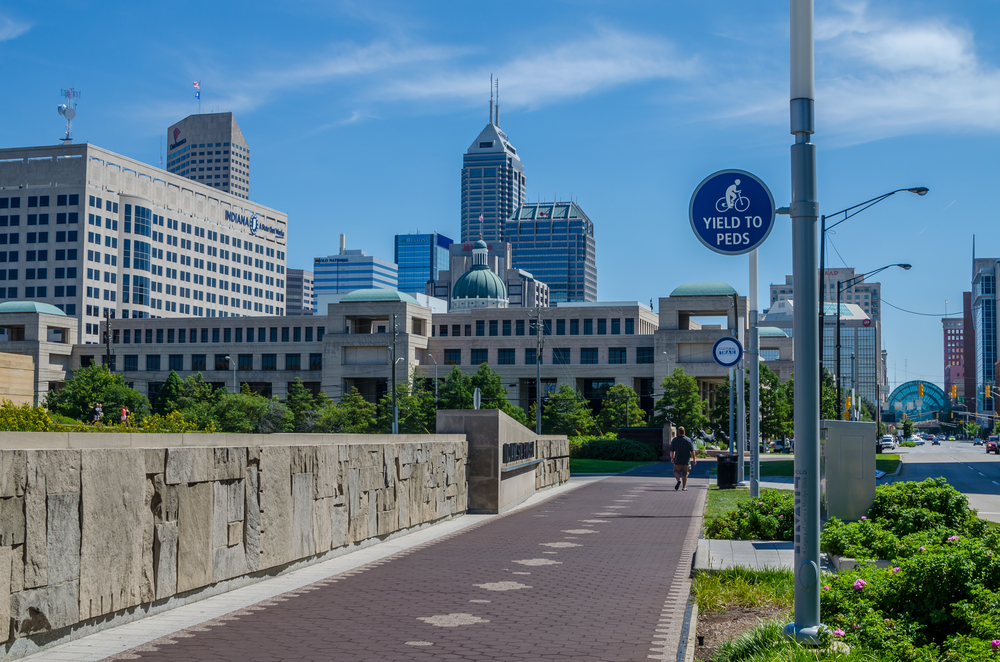 Eagle Creek Park
The largest park in Indianapolis is Eagle Creek Park. In the fall, this is a great place to find beautiful fall foliage. In summer, cool off by swimming in the Eagle Creek Reservoir.
This is the best place in Indianapolis for an outdoor adventure. You can go ziplining, skiing, and hiking. If you want to enjoy a more relaxing hobby, fishing and golfing are options. This is a great place too for a romantic stroll.
If you want to learn about nature and animals, then you need to check out the Ornithology Center, the Earth Discovery Center, and the Eagles Crest Nature Preserve. Kids will have fun seeing all the animals.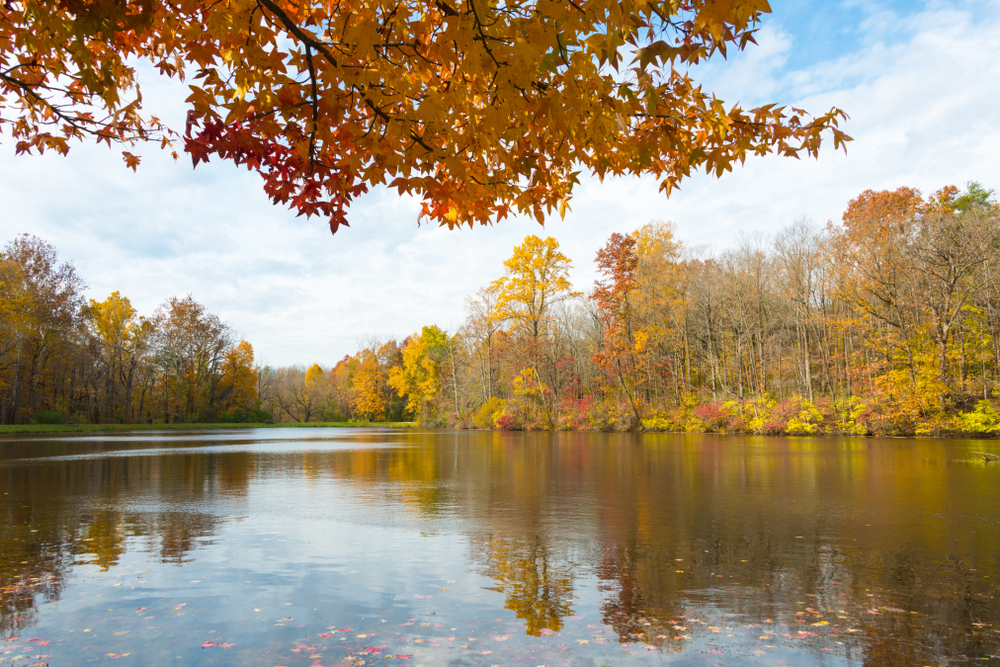 Children's Museum of Indianapolis
Kids will also have a blast at the Children's Museum of Indianapolis. This is one of the top things to do in Indianapolis IN for families since the museum is so unique and kid-oriented.
The interactive, indoor and outdoor exhibits will help kids learn in a fun way. Dinosaurs, Egyptian tombs, steam trains, and space ships! This museum has it all! Catch a show at the Lilly Theater and ride the carousel.
Outside, you will have fun playing a ton of different sports and walking through the Avenue of Champions where you will find states of sports legends. You can also go to the National Art Museum of Sports.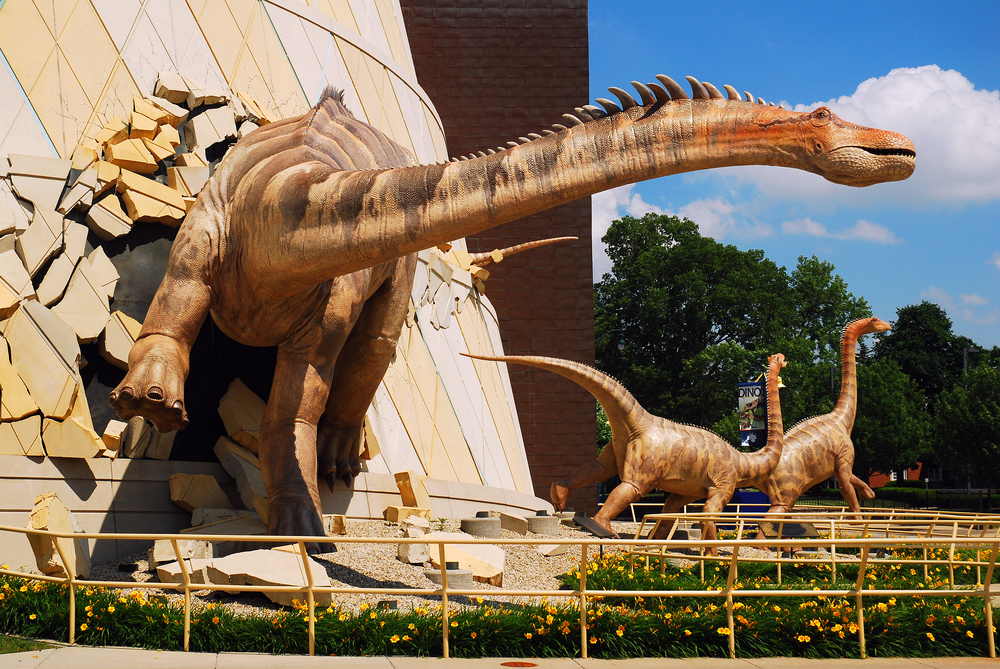 Crown Hill Cemetery
Crown Hill Cemetery is pretty during the day but spooky at night. It is allegedly one of the most haunted places in the Midwest. Take a walking tour to hear all the ghost stories.
This cemetery is on the National Register of Historic Places and is one of the largest cemeteries in the country. In fall, the trees turn orange, adding to the atmosphere of the place. Come in the golden hour to see the leaves glow.
Many notable people have been buried here. U.S. presidents, vice presidents, state governors, Pulitzer Prize-winning writers, painters, musicians, and many more have been laid to rest here. Even the infamous bank robber John Dillinger was buried here.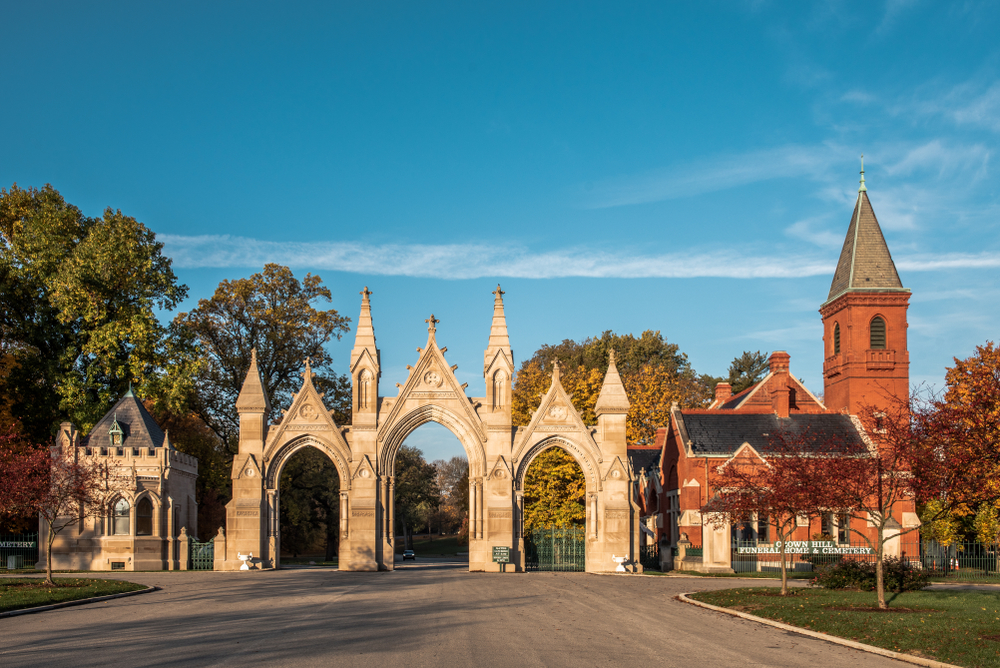 Fort Harrison State Park
Fort Harrison State Park is a fantastic nature escape to enjoy no matter the season. In spring, there are a ton of wildflowers along the forest hiking paths. In summer, you can take a canoe trip or go swimming.
Fall is the time to soak in the color of the trees. In winter, people are drawn to the park to race down the biggest sledding hill in the area. This is perfect for kids! You can also ski and ice fish.
This park is also where you will find the Museum of 20th Century Warfare. See exhibits about the lives of the soldiers who once worked at Fort Harrison.
There is also a dog park if you are traveling with your four-legged friend. There is also an opportunity to go on a horseback ride on scenic trails. That is a great activity for kids and adults.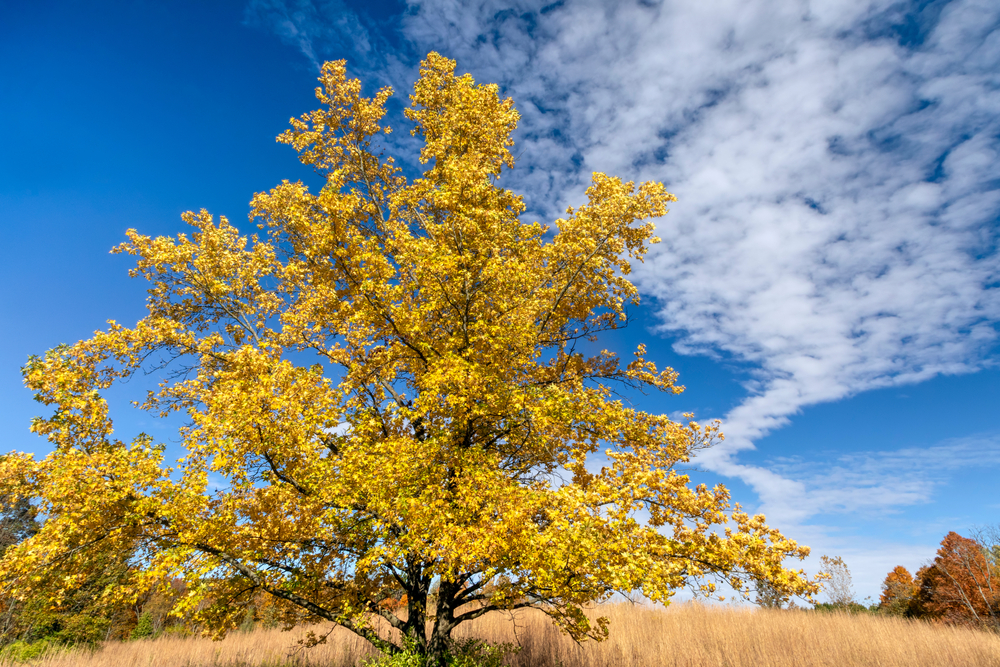 Indianapolis Zoo
The Indianapolis Zoo is another great attraction for kids and animal lovers. Found in White River State Park, this zoo has over 300 species of animals from all over the world.
There is a beautiful botanical garden with butterflies, a shark touch pool, and the biggest Orangutan Center in North America. There are chances to feed some animals, including flamingos and giraffes. How cool is that?
This is also the only place in the Midwest where you can get in the water with dolphins. This is a great experience for dolphin lovers. You will learn about these amazing creatures before getting to feed and pet them. The Underwater Dolphin Dome allows you to see the dolphins swimming above you.
Young kids will have fun riding the Endangered Species Carousel. There is also a roller coaster, a sky-bound gondola, and a train to ride. The train is narrated so you can learn all about the zoo as you see behind-the-scenes areas.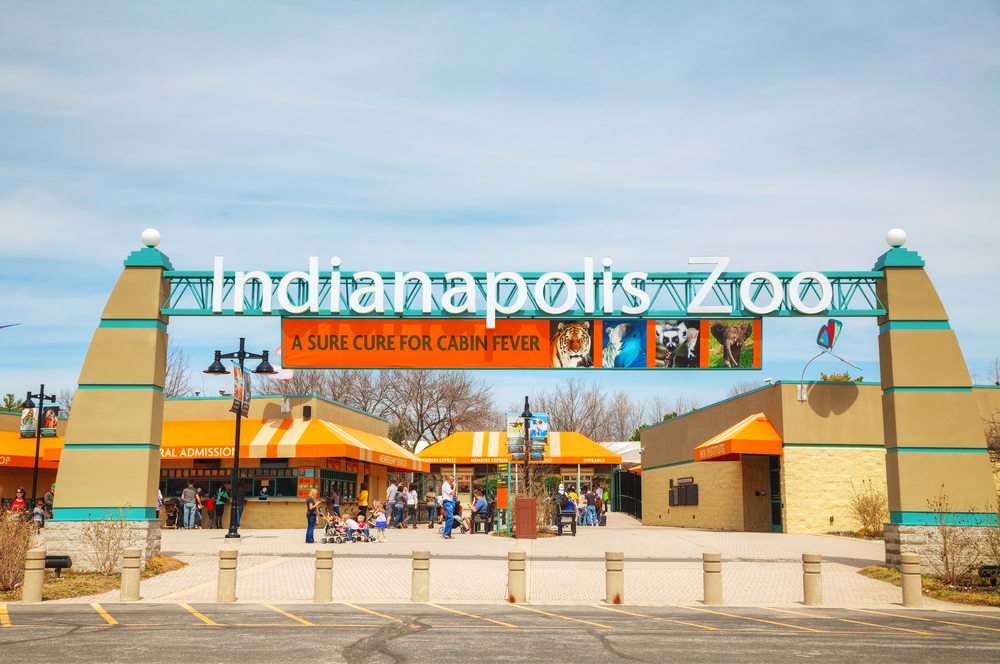 Visiting Benjamin Harrison Presidential Site Is One Of The Best Things To Do In Indianapolis
Benjamin Harrison was the 23rd President of the United States. Though he was born in Ohio in 1833, he later moved to Indianapolis where he began practicing law before he entered politics.
Today you can walk through the gorgeous, Victorian house he had called home as you learn about his life and the American government. The building is furnished, so you will feel as if you have stepped back in time.
History buffs will love taking the guided tour and learning about the over 10,000 artifacts. There are many rooms to explore, even a beautiful ballroom. Another cool thing to see in the house is the vintage home gymnasium.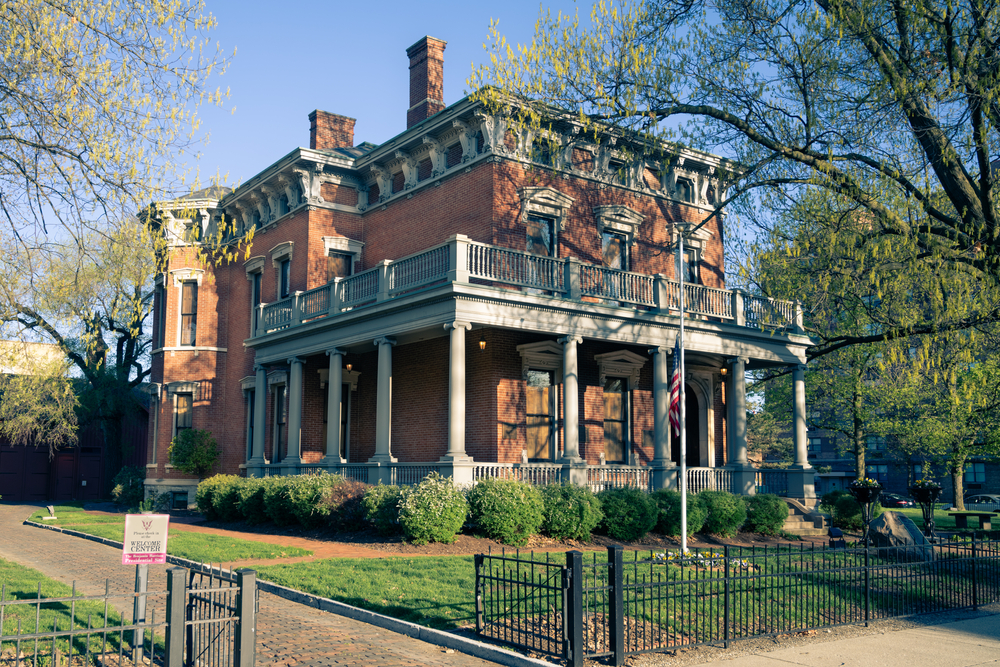 Tappers Arcade Bar
If you want to try out a really unique bar in Indianapolis IN, then head to Tappers Arcade Bar. You and your friends can taste a bunch of local, craft beers and fun cocktails.
This cool bar will also keep you entertained with over sixty arcade games and twenty-five pinball machines. They are all free to play while you drink! If you want to eat, you can bring your own food or have it delivered, since they do not serve food.
They also have Genesis, Super Nintendo, and Nintendo 64 consoles with even more games to play. If you love retro video games and craft beers, then this is the best place for you!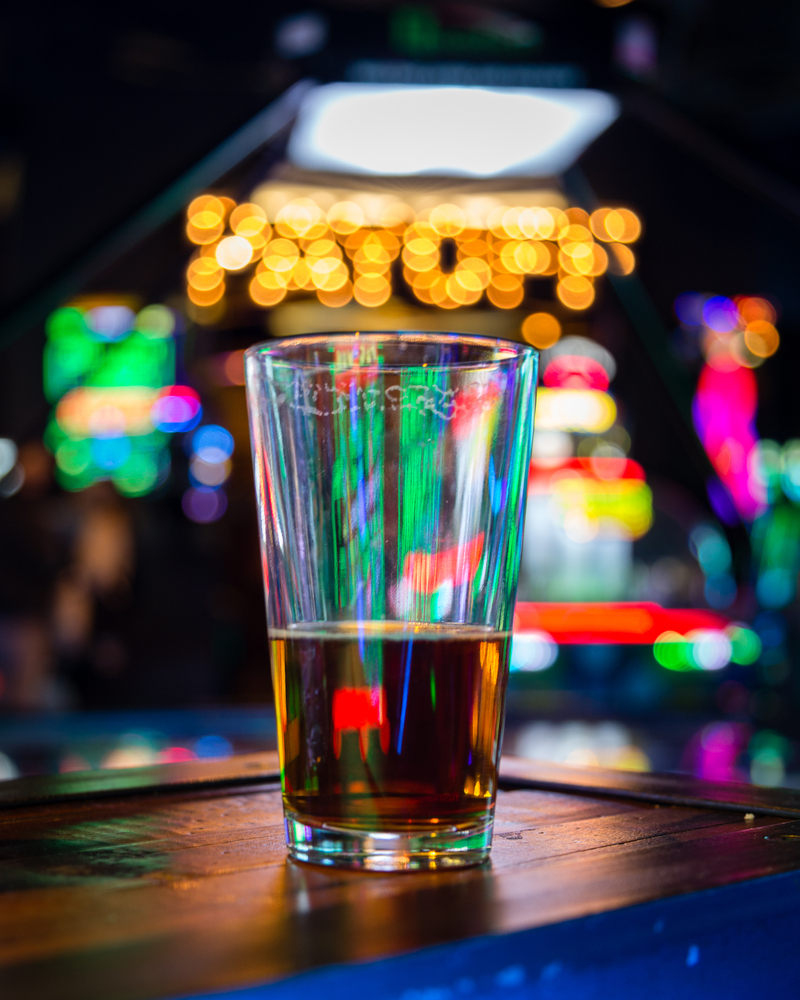 Packing List Suggestions When Visiting Attractions In Indianapolis IN
Read about how to travel with just carry-on sized luggage to make your trip easier and more organized.
A concealed travel pouch may be one of the most important items you bring along when searching for things to do in Indianapolis.  It is always important to protect your personal information. Identity thieves are everywhere.
This unisex RFID blocking concealed travel pouch is lightweight and comes in several colors. It has lots of organization to give you peace of mind. You can place it under your hiking clothes next to your body to carry your ID safely.
If you have a pouch already that does not come with the RFID protection, as I do, these RFID sleeves are the perfect solution.
This configuration comes with enough credit card sleeves that the entire family would be protected. They are slim too, so they will easily fit into your pouch or wallet.
If you are planning on taking a lot of pictures with your phone you will definitely want to consider an external charging battery. This Anker high-speed phone charging battery is the exact one I carry with me on all of my trips.
It can be used on a variety of phones, not just an iPhone like I have. And wow is it fast!
I like that it holds its charging capabilities for several uses so I do not have to worry about it while out and about, and if I forget to recharge it at night, it will still be good to go the next day.
My daughter gifted me with this FugeTek selfie stick and tripod setup for my birthday. I absolutely love it! It is made of lightweight aluminum and is so easy to use.
It has Bluetooth connectivity and is a breeze to use for taking selfies with all those nature shots in Iowa.
Hydration is so important when hiking. You want to remain hydrated throughout your travels to support your immune system which in turn will be stronger to fight off any germs you will encounter during your travels.
You will want to bring your own refillable water bottle with you.
I never leave home on a trip without my Bobble filtration bottle. The 18.5-ounce size is perfect for hiking and it fits nicely in the pocket of a backpack.
Perhaps you are traveling a long distance and packing space is a premium in your suitcase, or in your car. Then this set of collapsible silicone foldable water bottles would work well for you. Would not take up much space at all.
You will want a backpack or daypack with you to store snacks, your water bottle, phone, extra clothes, etc.. when celebrating Christmas in Ohio. No matter the time of day or evening.
This foldable water-resistant backpack would be great.
It is very affordable and is available in many color options for you to choose from. The fact that it folds down into a zippered pouch will make it easy to pack!
—–
You can see now that there are so many awesome things to do in Indianapolis. From nature to art to history, there is something for everyone.
You and your family will have so much fun exploring all of these Indianapolis attractions. Indianapolis, Indiana, should not be overlooked when you plan your next Midwest vacation!