Are you looking for awesome things to do in St. Louis, Missouri, to create the perfect vacation? This list will help you with your trip planning so you do not need to stress.
St. Louis is a sprawling city found on the Mississippi River along the Missouri-Illinois border. Even though this is a big city, there are nature havens to escape to when bustling city life becomes too much.
Visiting St. Louis should be on your travel bucket list if you love any of the following: amazing architecture, cool art, interesting history, awesome animals, and delicious food.
Clearly, there are St. Louis attractions for everyone! There are fun things for kids to do and romantic opportunities for couples. Groups of friends will have a blast going to breweries and walking the lively streets.
Now, let's get into more detail about some of the best things to do in St. Louis, MO!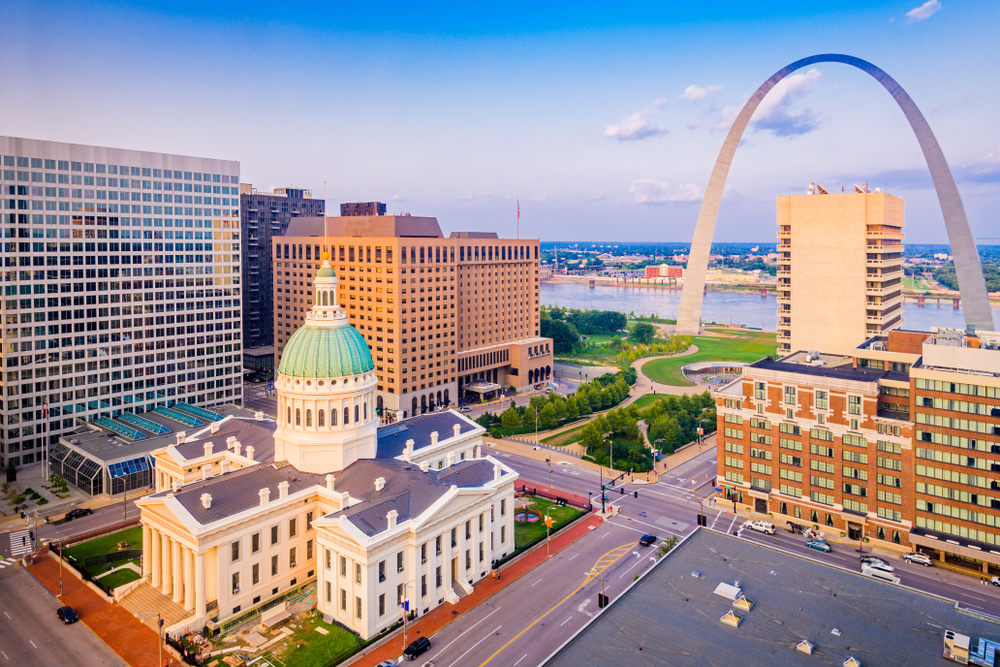 15 Best Things To Do in St. Louis, Missouri You Shouldn't Miss
Gateway Arch
Taking the tram to the top of the Gateway Arch is one of the most popular things to do in St. Louis. Unless you are afraid of heights, you need to cross this off your America bucket list.
The Gateway Arch was built in the mid-1960s as a way to commemorate the Louisiana Purchase and the United States' expansion west. The area was made a Midwest National Park in 2018, and it is the smallest in the country at under 200 acres.
At 630 feet tall, this is the tallest arch in the world. It stands imposing on the Mississippi River as a major part of the St. Louis skyline. The views from the top are amazing and allow you to see many landmarks from above.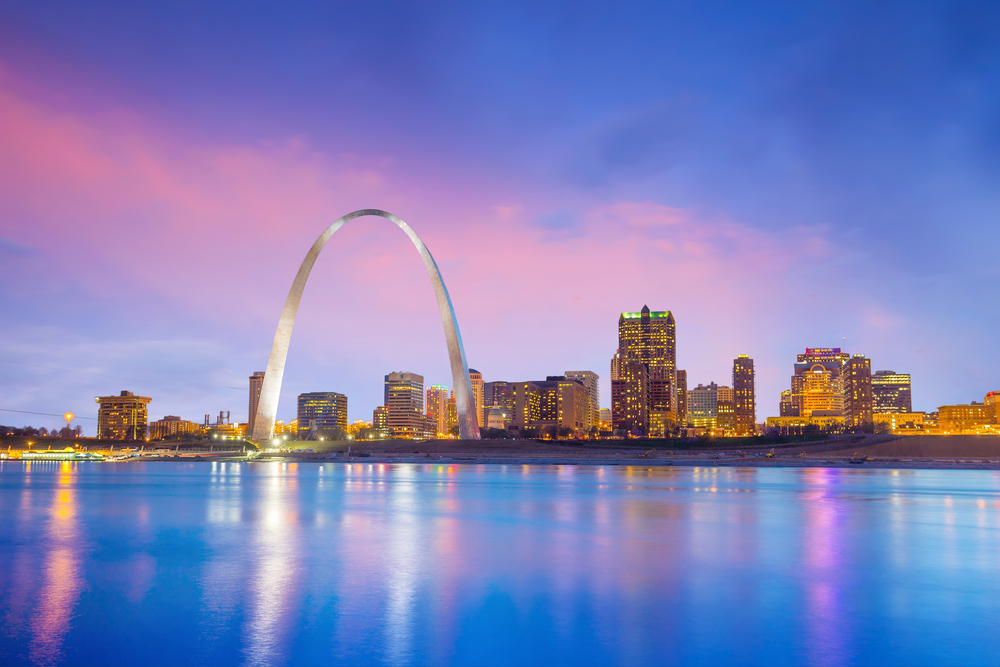 Six Flags St. Louis
Six Flags is one of the most fun St. Louis attractions for kids and adults who are young at heart. At this theme park, you will enjoy heart-stopping rides as well as awesome shows and concerts.
Kids will have fun meeting cartoon characters and screaming their heads off on super fast rides. There are seasonal events to check out too for the Fourth of July, Halloween, and Christmas.
The ticket to Six Flags includes entry to the Hurricane Harbor water park. This is the perfect place to cool off in the Midwest summer heat, and would make a spectacular Missouri road trip!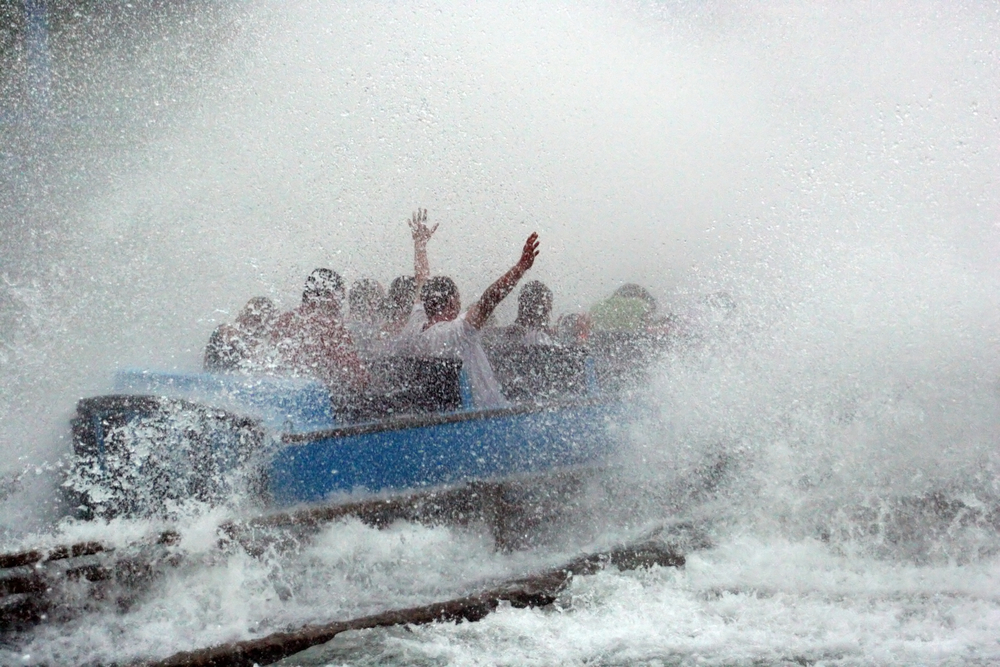 Forest Park
Forest Park in St. Louis is one of the largest urban parks in the country. It is even bigger than New York City's Central Park. There are a ton of things to do in the park that will easily keep you entertained for hours.
This scenic park is full of lakes and trees, helping you to escape the big city that noisily surrounds it. Pack a picnic and eat next to one of the many beautiful water features.
You can rent a paddleboat or kayak and drift across the calm and peaceful lakes and streams. Or you can rent a bicycle and ride through the over seven miles of twisting trails. Either way, these are great ways to experience Forest Park.
While in the park, you need to check out some of the famous buildings. Catch a show at the Muny, the largest outdoor musical theatre in the U.S. Vist the Jewel Box, a beautiful Art Deco greenhouse.
In warm weather, you can play a round of golf, enjoy a game of tennis, or practice your aim at the archery range. In the winter, you and the kids will have fun at the ice skating rink.
The good times at Forest Park are limitless! You definitely need to add this location to your list of things to do in St. Louis. It is certainly one of the best things to do in Missouri!
St. Louis Zoo
The St. Louis Zoo is also found in Forest Park and is one of the best things to do in St. Louis for animal lovers. There are about 500 species of animals that call this world-class zoo home. Kids will have a blast watching the animal and learning about them.
This zoo's slogan is "Animals Always," and they do a lot of work towards conservation. Many endangered animals have been born here through the years. They do their part to teach guests about conservation.
One awesome thing about the zoo is that admission is free! Some of the attractions like the Zooline Railroad, the Conservation Carousel, and the Sea Lion Show do cost extra though.
Try not to miss out on this St Louis attraction. Bringing the family here would definitely be an epic Midwest weekend getaway!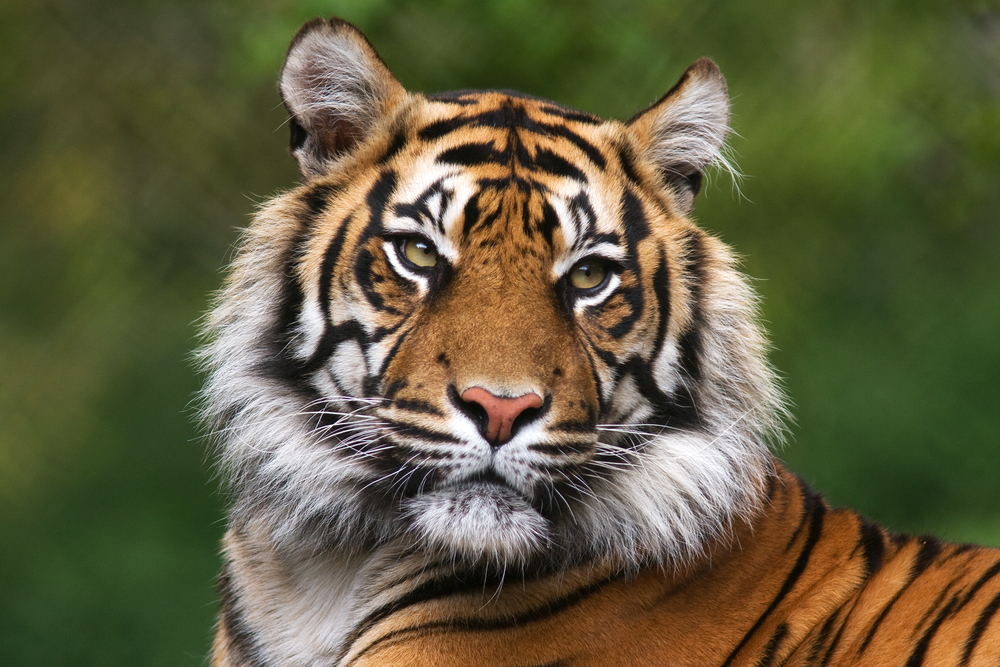 St. Louis Art Museum Is One Of The Best Free Things To Do In St Louis
Don't leave Forest Park without visiting the St. Louis Art Museum. This is another of the best free things to do in St. Louis if you are traveling on a budget or just like to see amazing art.
The collection of work includes over 33,000 pieces that span time and culture. You will love seeing Egyptian, African, Native American, American, and European artworks from ancient time periods through to contemporary work.
Make sure to pick up a souvenir at the Museum Shop, where they have great quality gifts. You can have a meal at the museum's restaurant or cafe. Take your food to go and eat on Art Hill overlooking the Emerson Grand Basin.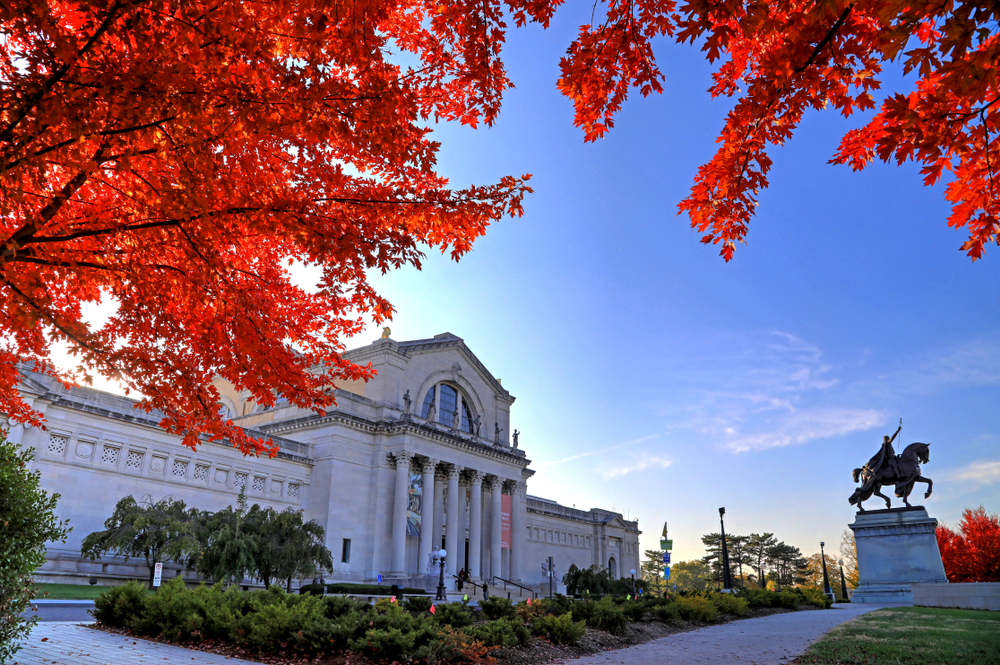 Missouri History Museum
Another museum in Forest Park is the Missouri History Museum. Make sure to take a photo of the pretty fountain and cool exterior before entering this St Louis attraction.
This museum covers the extensive history of St. Louis from when it was founded in 1764 by French fur traders until the present day. There is just so much to learn about this historic city!
There are exhibits about the city's baseball history, the 1904 World's Fair which was held here, and more. Kids will have fun with the interactive experiences.
Traveling here would be one fun Midwest road trip.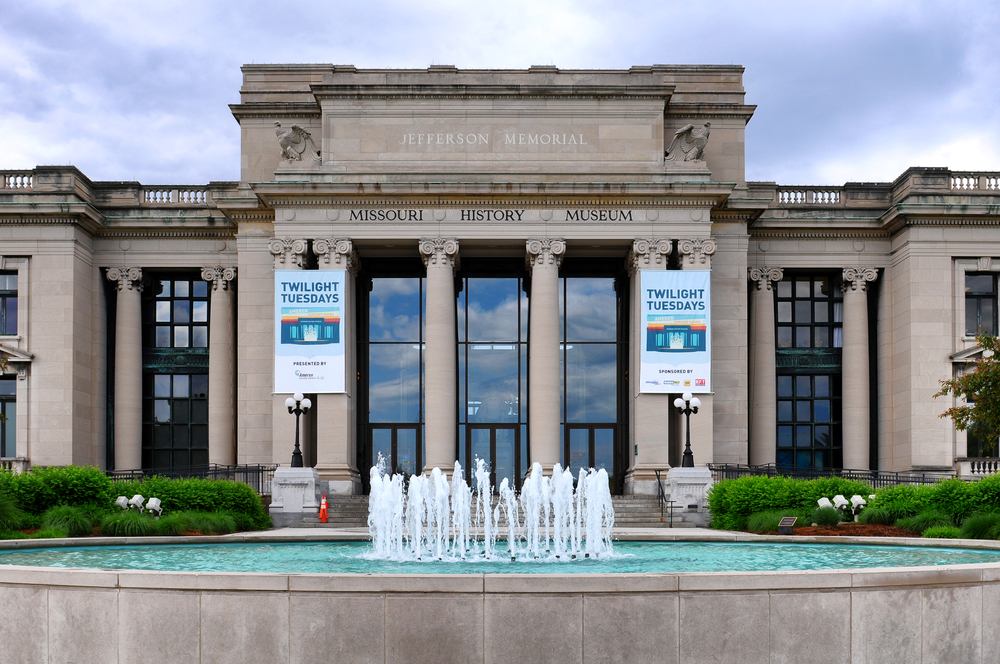 St. Louis Science Center
One last notable place to visit in Forest Park is the St. Louis Science Center. Head here when you are considering what to do in St Louis!
The goal of this attraction in St Louis is to spark an interest in science and technology.
People of all ages will have so much fun getting hands-on with hundreds of cool experiences and exhibits. You will have a great time learning about space travel, mummies, ecology, the planets, and so much more!
Drive a flight simulator through a virtual sky. Catch an outstanding show at the Planetarium. Have a thrill during an awesome VR experience that will take you to places like space and under the sea. No matter what you do, you will leave with great memories!
General admission to the Science Center is free, but some attractions cost extra. This is one of the best budget things to do in St. Louis!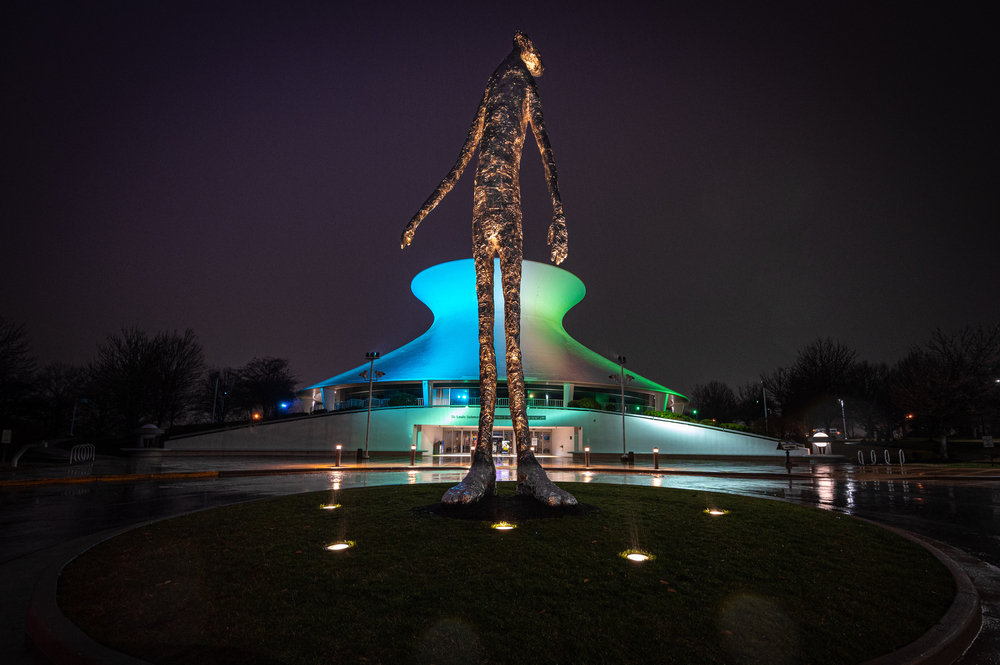 City Museum
If you are looking for really unique things to do in St. Louis, then look no further than the City Museum. This is not your typical museum. It is more like a playground, funhouse, and surreal art piece wrapped into one.
The City Museum is found in an old warehouse. When you see a school bus on the roof and an airplane hanging on the side, you know you have arrived! The cool pieces here were made with found objects and salvaged materials.
There are a ton of epic slides and things to climb on for all ages. There is even a ten-story spiral slide. How cool is that? Up on the roof is a Ferris wheel with awesome views of St. Louis.
Not much can beat this St Louis attraction!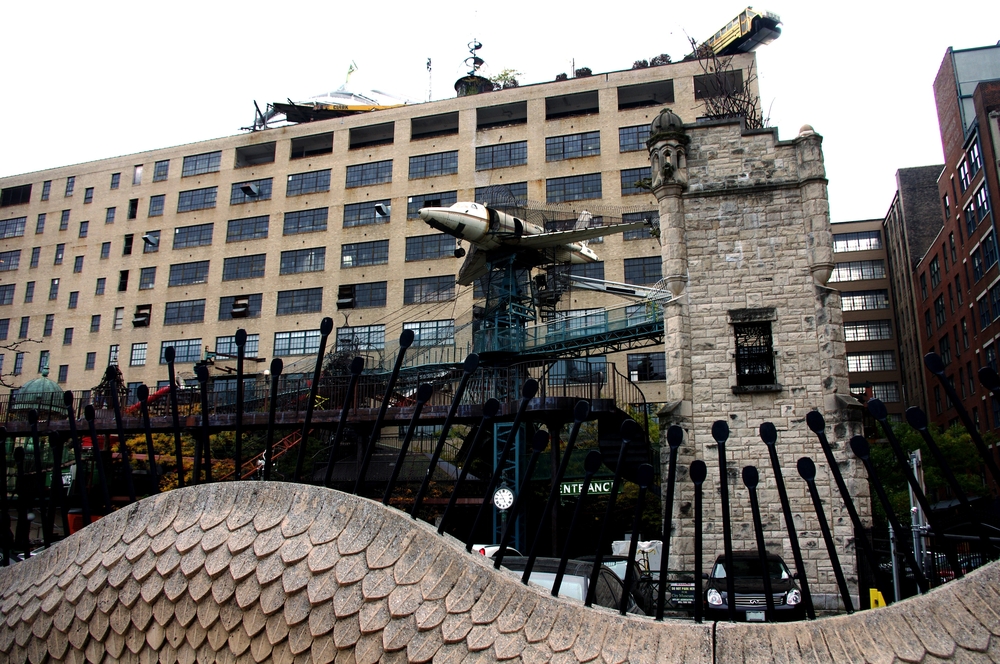 Old Courthouse
The Old Courthouse in STL dates back to the first half of the 1800s. This site has a rich and terrible history. At one point, people were sold into slavery on its steps. It was also where two of the famous Dred Scott trials were held.
Step into the building and back in time. The past was difficult, but it should not be sugarcoated. Tour the beautiful building and learn about the history that was made in its halls.
You can explore the exhibit galleries, watch trial reenactments, and take a ranger-led tour. The Old Courthouse sits in the shadow of the Gateway Arch, creating a picture-perfect scene in this vibrant city in the Midwest.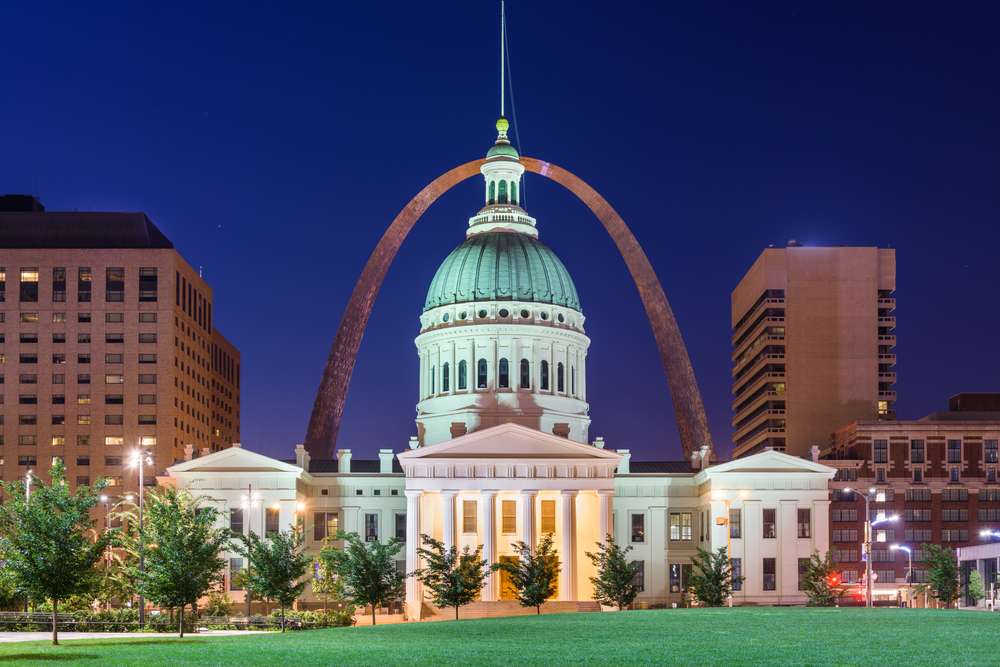 Missouri Botanical Gardes Is A St Louis Attraction Worth Your Time
The oldest botanical garden in the United States is found in St. Louis and is worth a visit if you are looking for a nature oasis outside of the city. The Missouri Botanical Garden is 79 acres of lush landscaping, art sculptures, museums, historic buildings, and more.
Step into the Climatron greenhouse and find yourself surrounded by tropical plants and birds. This is a great place to go in the winter since the temperature inside can reach 85 degrees Fahrenheit.
The Japanese Garden is a beautiful place to take pictures in St. Louis. In the spring, there are a ton of flowers. In the fall, the bridges and lanterns look magical enveloped by the fiery foliage.
Ride the tram to see the botanical garden in style. It is narrated so you can learn all about the garden and the attractions found within it.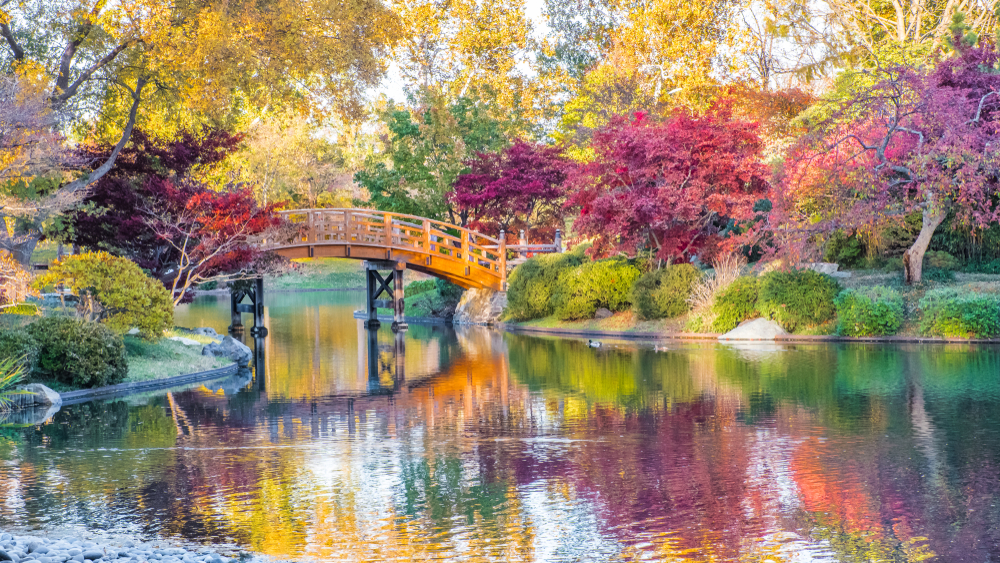 Grant's Farm
Grant's Farm is another amazing animal attraction in St. Louis. Once owned by President Ulysses S. Grant and now run by Anheuser-Busch, this farm is one of the most iconic things to do in St. Louis for families.
There are many different tours and experiences you can enjoy here. You will make lasting memories here bottle feeding baby goats, feeding parakeets, riding the tram through animal habitats, and going around on the carousel.
Grant's Farm might be best known as the home of the Budweiser Clydesdales. If you want to get up and personal with these giant horses, then you can pay extra for the Clydesdale Adventure and learn all about them.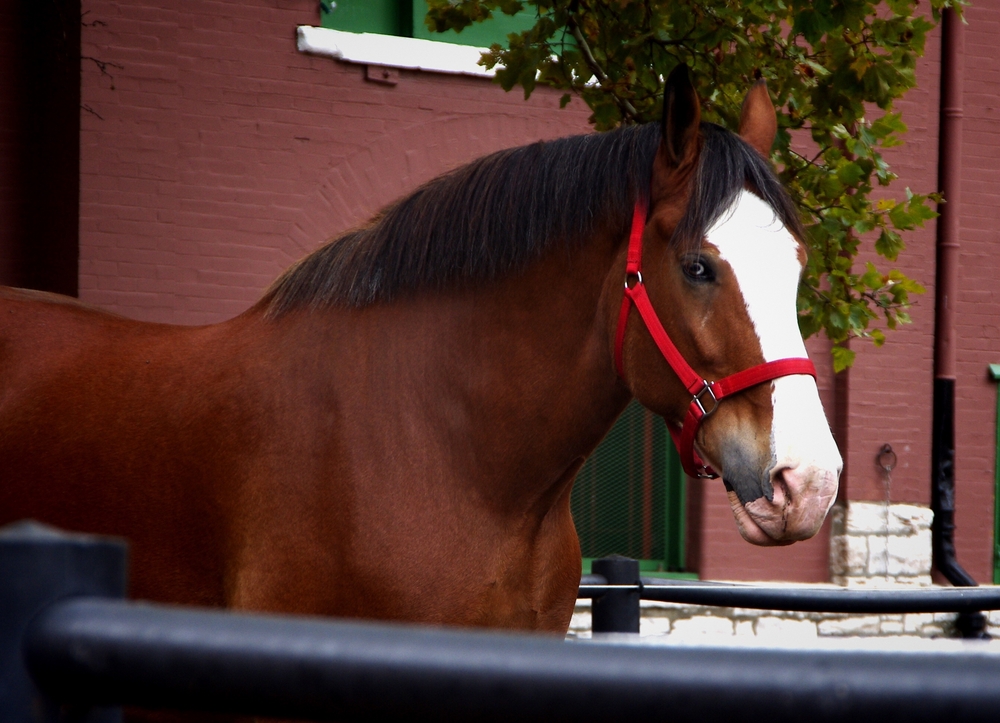 Anheuser-Busch Brewery
St. Louis is known for its many breweries, but the most famous is the Anheuser-Busch Brewery. This staple, American beverage was founded in St. Louis in 1850.
Tour the pretty brewery and go behind the scenes to see how this drink is made. You'll even get a chance to meet even more of the Budweiser Clydesdales. Plus, you'll get to taste some beer right at the source.
If you want to tour more breweries, there are plenty to choose from in STL. If you love to taste test local, craft beers then make a plan to visit this St Louis attraction.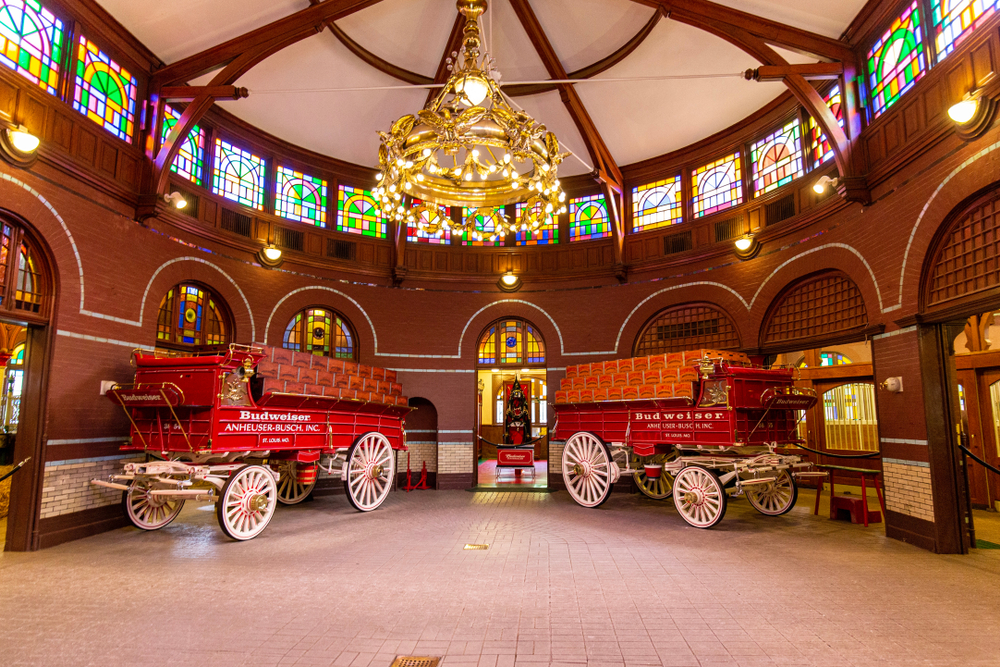 Citygarden
Located not far from the Gateway Arch, the Citygarden is a pretty, urban park waiting to be explored. This three-acre park is full of sculptures, fountains, and plants. Walk the winding trails and admire the art pieces.
You will definitely want to snap some photos for Instagram. Pose in front of the giant Pinocchio or the "Eros Bendato" head. There is also a pretty waterfall to photograph.
Your kids will have fun running around the park and looking at the unique, abstract sculptures. In hot weather, they will also have a blast splashing in the spray plaza.
This is also a great place in St. Louis for a romantic date. Start with a meal at the cafe, then find a quiet place to sit in the grass. At night, the spray plaza is lit up with multicolored lights.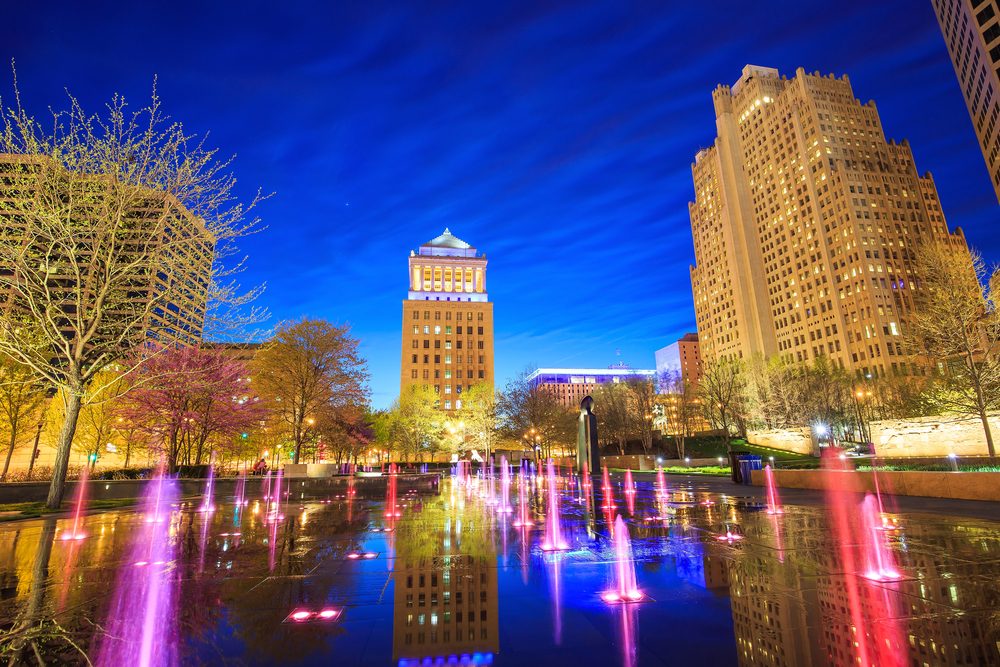 World Chess Hall of Fame
The World Chess Hall of Fame is a cool place to visit even if you are not a chess fanatic. This museum is dedicated to the history of this old and beloved game. It is free, but they accept donations.
When you visit you can walk through the exhibits and play a game of chess. Don't forget to pick up a souvenir at the gift shop or grab a meal at the Kingside Diner.
Another cool thing about the World Chess Hall of Fame is the giant, mahogany chess piece standing regally outside. This is the largest chess piece in the world at twenty feet tall and almost 11,000 pounds.
Visiting here is one of the most fun things to do in St Louis Missouri.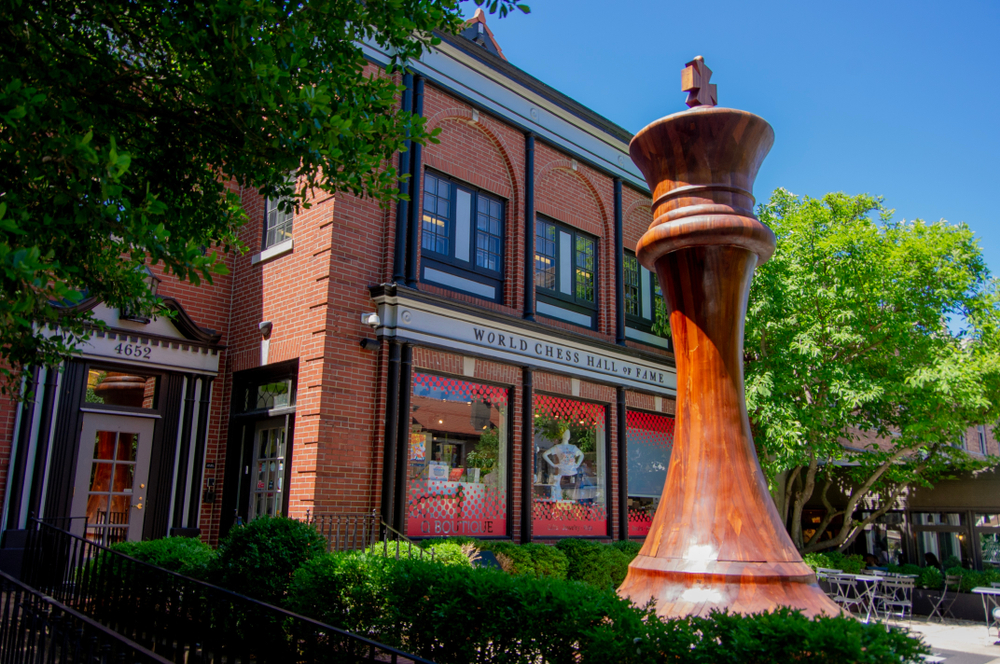 Campbell House Museum
History buffs will want to add the Campbell House Museum to their things to do in St. Louis Missouri itinerary. Constructed in 1851, this elegant home belonged to Robert Campbell, a fur trader, and entrepreneur.
The building has been perfectly preserved and restored with much of the original furniture, paintings, clothing. Opulence is evident around every corner.
This part of the National Register of Historic Places should be visited by anyone who wants to travel back in time. The home tells the story of an immigrant who was raised to prominence.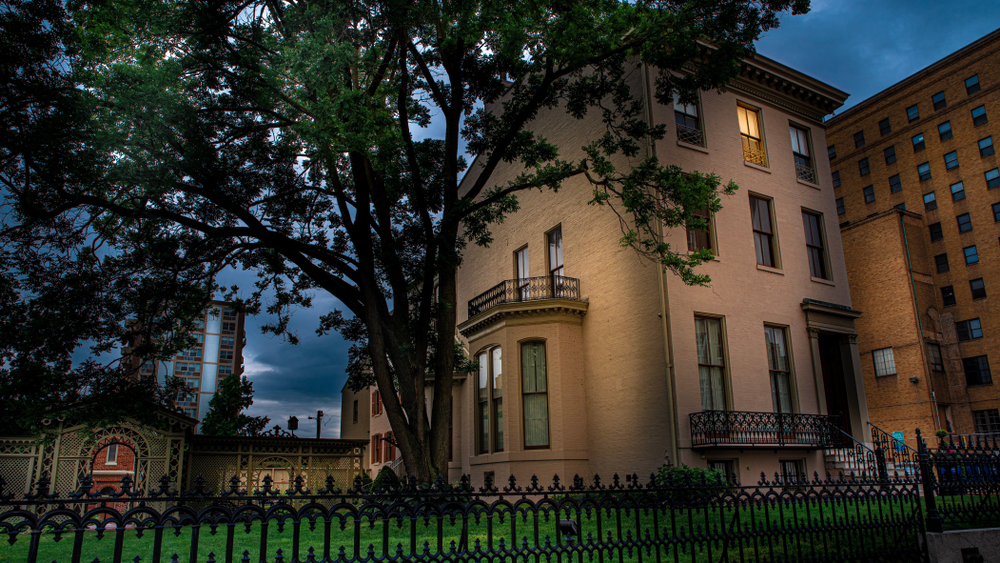 ---
Packing List Suggestions When Visiting Attractions In St. Louis Missouri
Read about how to travel with just carry-on sized luggage to make your trip easier and more organized.
A concealed travel pouch may be one of the most important items you bring along when searching for things to do in St Louis Missouri. It is always important to protect your personal information. Identity thieves are everywhere.
This unisex RFID blocking concealed travel pouch is lightweight and comes in several colors. It has lots of organization to give you peace of mind. You can place it under your hiking clothes next to your body to carry your ID safely.
If you have a pouch already that does not come with the RFID protection, as I do, these RFID sleeves are the perfect solution.
This configuration comes with enough credit card sleeves that the entire family would be protected. They are slim too, so they will easily fit into your pouch or wallet.
If you are planning on taking a lot of pictures with your phone you will definitely want to consider an external charging battery. This Anker high-speed phone charging battery is the exact one I carry with me on all of my trips.
It can be used on a variety of phones, not just an iPhone like I have. And wow is it fast!
I like that it holds its charging capabilities for several uses so I do not have to worry about it while out and about, and if I forget to recharge it at night, it will still be good to go the next day.
My daughter gifted me with this FugeTek selfie stick and tripod setup for my birthday. I absolutely love it! It is made of lightweight aluminum and is so easy to use.
It has Bluetooth connectivity and is a breeze to use for taking selfies with all those nature shots in Iowa.
Hydration is so important when hiking. You want to remain hydrated throughout your travels to support your immune system which in turn will be stronger to fight off any germs you will encounter during your travels.
You will want to bring your own refillable water bottle with you.
I never leave home on a trip without my Bobble filtration bottle. The 18.5-ounce size is perfect for hiking and it fits nicely in the pocket of a backpack.
Perhaps you are traveling a long distance and packing space is a premium in your suitcase, or in your car. Then this set of collapsible silicone foldable water bottles would work well for you. Would not take up much space at all.
You will want a backpack or daypack with you to store snacks, your water bottle, phone, extra clothes, etc.. when celebrating Christmas in Ohio. No matter the time of day or evening.
This foldable water-resistant backpack would be great.
It is very affordable and is available in many color options for you to choose from. The fact that it folds down into a zippered pouch will make it easy to pack!
—
There are so many things to do in St. Louis, Missouri. As the second-largest city in the state, it is not hard to find worthy attractions for family bonding, romantic moments, or fun with friends. If you like animals and nature or history and art, then St. Louis is for you!
Have you visited any of these St Louis attractions? Do you have any more to suggest? Please leave comments in the section below!