Are you looking for fun Missouri road trips to add to your bucket list?
Then look no further, this article is full of fun and unique places to see in Missouri.
Missouri is a state in the Midwest that has a lot going for it.
It is most widely known for it's barbecue, musical styles, and beer brewing.
But that's not all you can find in this epic Midwestern state.
It is full of fun things to do, and many of them are featured in these road trips.
From natural wonders, cute small towns, and even scenic drives in Missouri, there is an endless amount of ways you can enjoy a road trip in Missouri.
So, let us take a look at 15 fun Missouri road trips for your bucket list!
15 Fun Missouri Road Trips For Your Bucket List
Natural Wonders Of Missouri Road Trips
Highlights
Marvel Cave
Rocky Falls
Big Spring
Johnson Shut-Ins
Devil's Ice Box
Start your exploration of the Natural Wonders of Missouri at the Marvel Cave.
It is a National Natural Landmark that you can tour during the day, or you can take lantern tours.
From there, head to Rocky Falls, where you'll find a large waterfall that is multi-stepped.
If you visit during the Summer months, you can even swim in the lake the falls flow into. Next, head to Big Spring.
Big Spring is one of the largest springs in the United States, and it is a super cool place to visit.
It has beautiful crystal blue waters and on average, 286 gallons of water flow through it daily.
Continue on to the Johnson Shut-Ins, which is another rocky waterfall.
The Johnson Shut-Ins are apart of the Black River and you can swim in the East Forks area in the Summer months.
End this Missouri road trip at the Devil's Ice Box.
The Devil's Ice Box is a massive cave system where inside you'll find rock bridges, sink holes, and more.
Its a great way to end your road trip.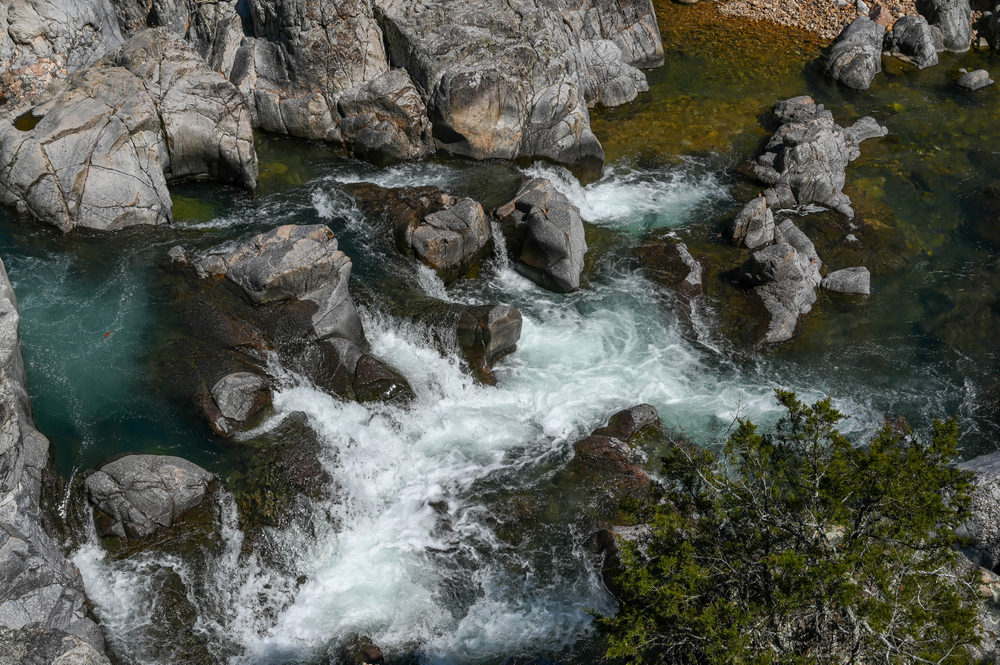 Fall Foliage Road Trip
Highlights
Weston Bend State Park
Hermann Wine Trail
Elephant Rocks State Park
Table Rock State Park
If you want to admire some beautiful Midwest Fall Foliage, take this scenic drive in Missouri.
You'll start your Missouri road trip in Weston Bend State Park.
It is just north of Kansas City and has some easy hikes that offer some stunning views.
Your next stop is the Hermann Wine Trail, which is in Hermann Missouri, the official home of Missouri wine country.
There are seven wineries along the trail, and even if you don't want to sample wine, you should make a stop.
They all have beautiful landscapes that really shine when the leaves start to turn.
From there continue to Elephant Rocks State Park.
Elephant Rocks State Park has tons of hiking trails that take you through the thick forest land.
It is a great place to immerse yourself in all those beautiful Fall leaves.
End your road trip at another beautiful State Park, the Table Rock State Park.
At Table Rock State Park you can go kayaking and hiking while you enjoy the Fall leaves.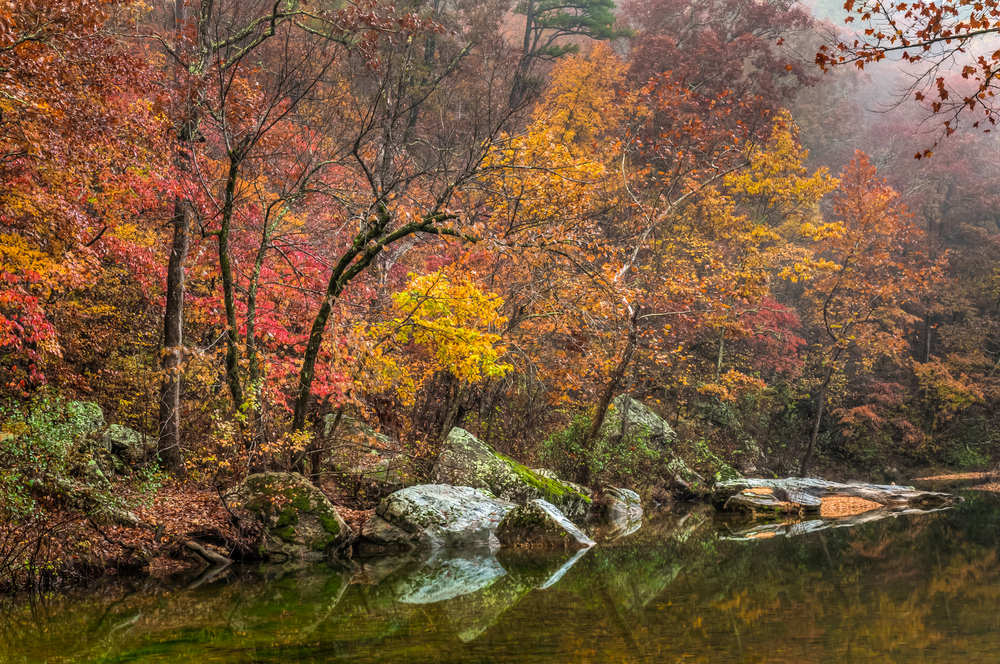 Waterfalls Of Missouri
Highlights
Forest Park Cascades
Hickory Canyon Falls
Mina Sauk Falls
Grand Falls
This is one of the best Missouri road trips for seeing beautiful waterfalls.
Start in St. Louis and head to Forest Park to see the Forest Park Cascades.
They are manmade falls and were built in the 1930s and are next to the St. Louis Art Museum.
Next, head to the Hickory Canyons Natural Area Trail and take the pretty easy half mile hike to admire the Hickory Canyon Falls.
The falls are particularly impressive after a heavy rain, but they are pretty all year round.
Continue to Taum Sauk Mountain State Park to admire the Mina Sauk Falls.
The Mina Sauk Fall is the highest waterfall in Missouri and is over 132 feet of cascading water down a narrow groove in the rocks.
You wont need to drive far to reach your final stop on this road trip.
In Joplin you can find the Grand Falls, which is the largest continuously flowing waterfall in Missouri.
It is an impressive waterfall that perfectly ends your scenic drive of Missouri's waterfalls.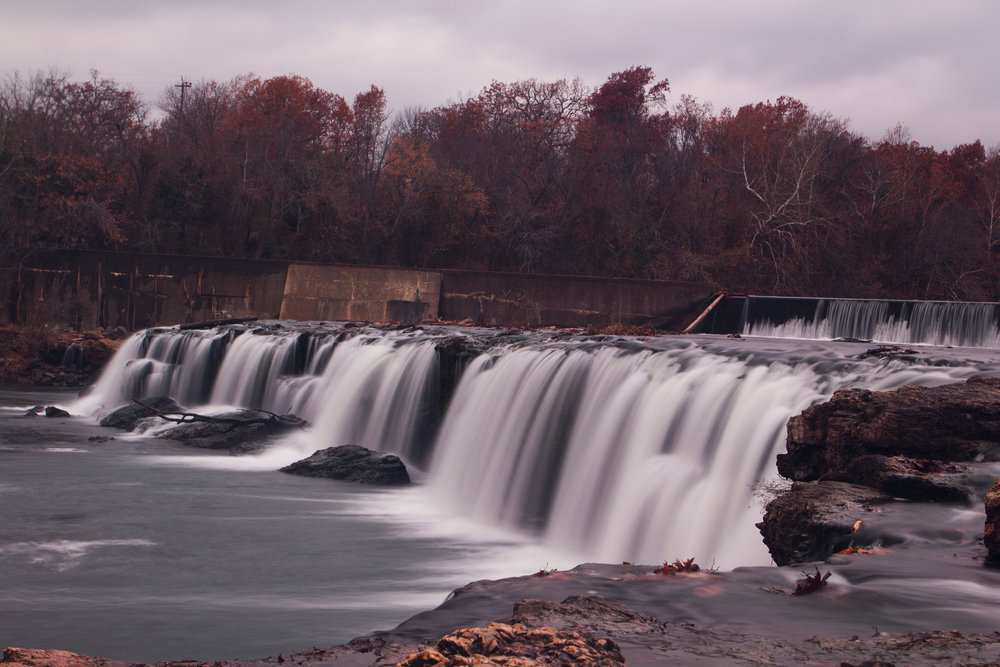 Ghost Towns In Missouri Road Trips
Highlights
Arlington
Bloodland
Monark Springs
There are a towns in Missouri that for whatever reason have all but disappeared into the landscape.
This is a fun road trip in Missouri for those looking for a bit of a spooky adventure.
Start at what is left of the once lively town of Arlington.
When Route 66 was thriving, Arlington was a popular spot for tourists taking the highway through Missouri.
After traffic left Route 66, the charming town slowly crumpled. Today, only a restaurant with an attached gift store and a few cabins are all that remain of the once bustling town.
From there, head to Bloodland.
The unfortunately named town was at one point big enough to need a high school and two general stores.
Bloodland began to decline in the 1940s and now many believe the area is haunted by the town's former residents.
Your last stop is Monark Springs, which is now a State Conservation Area.
The town quickly shut down after it became the source of a Typhoid outbreak in the 1950s.
It's the perfect ending for a spooky tour of Missouri's ghost towns.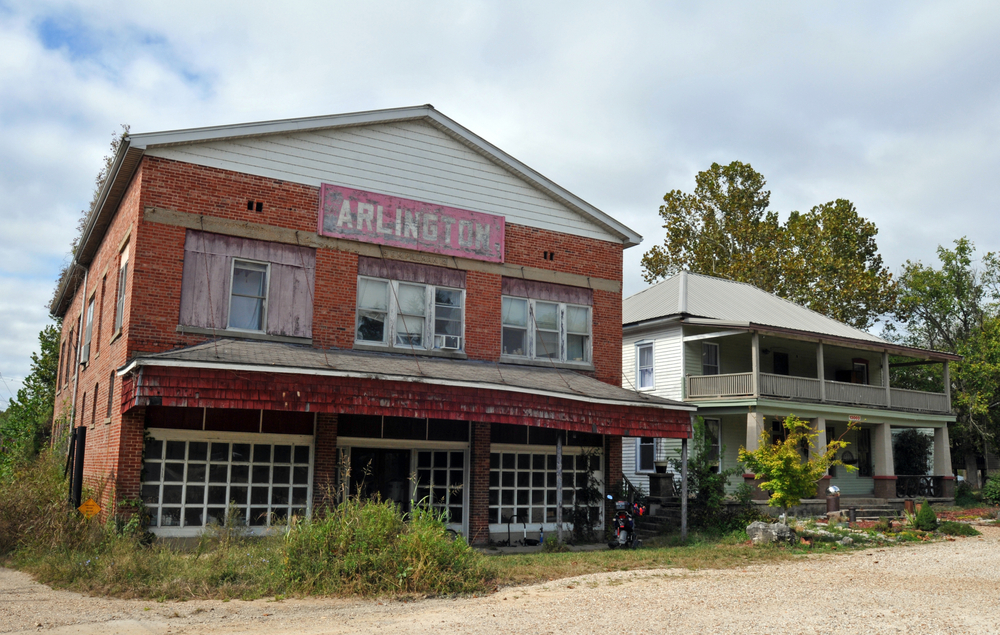 The Cutest Small Towns Of Missouri
Highlights
Parkville
Clarksville
Carthage
There are so many cute small towns in Missouri, so why not take a scenic drive in Missouri and explore them.
Begin your road trip in the town of Parkville.
Parkville is only 15 minutes away from downtown Kansas City, but it feels like a secluded and quiet small town.
Take a stroll through English Landing Park before continuing on to Clarksville.
Clarksville is an antique lover's dream.
The tiny town is only 4 blocks wide and 7 blocks long, but along those blocks you'll find several antique stores.
On the end of the Main Street is a massive antique mall, and through out the town there are other artisan shops and antique shops for you to explore.
Your last stop is the town of Carthage.
Carthage is the biggest of the small towns on this road trip, but it still very much feels like a small town.
It is full of historical buildings and homes, plenty of green space, and one of the best Route 66 attractions, the Route 66 Drive-In Theater.
Stop in for the night, catch a show at the Drive In, and relax after a day spent exploring Missouri's small towns.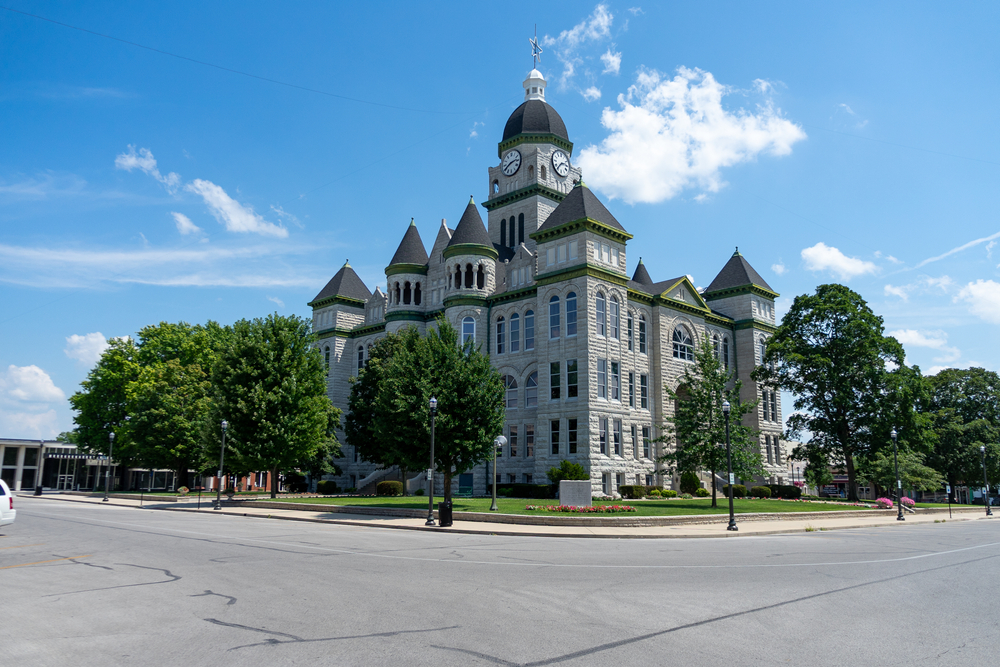 The Best Missouri Road Trip For Admiring Watermills
Highlights
Rockbridge Mill
Falling Springs Mill
Dillard Mill
Reed Springs Mill
Missouri is one of the best states to admire beautiful water mills.
If you want to see some of the best the state has to offer, start at the Rockbridge Mill on the banks of Spring Creek.
It was built in 1865 and was expanded in 1888. The beautiful mill is popular with tourists and even has lodgings available for those who want to stay in the area.
Your next stop is at the Falling Springs Mill, which was built from 1937-1939.
Falling Springs is the newest mill on this road trip and it is very charmingly made out of logs, surrounded by a dense forest.
Dillard Mill is your next stop and is a historic site in Missouri, which means it's probably the most well preserved grist mill on this road trip.
Near the mill you can enjoy picnicking and hiking, which makes it a great place to stop for a little break and lunch.
End your Missouri mills road trip at the Reed Springs Mill.
Reed Springs Mill is located on a private farm, so please be respectful when you visit it.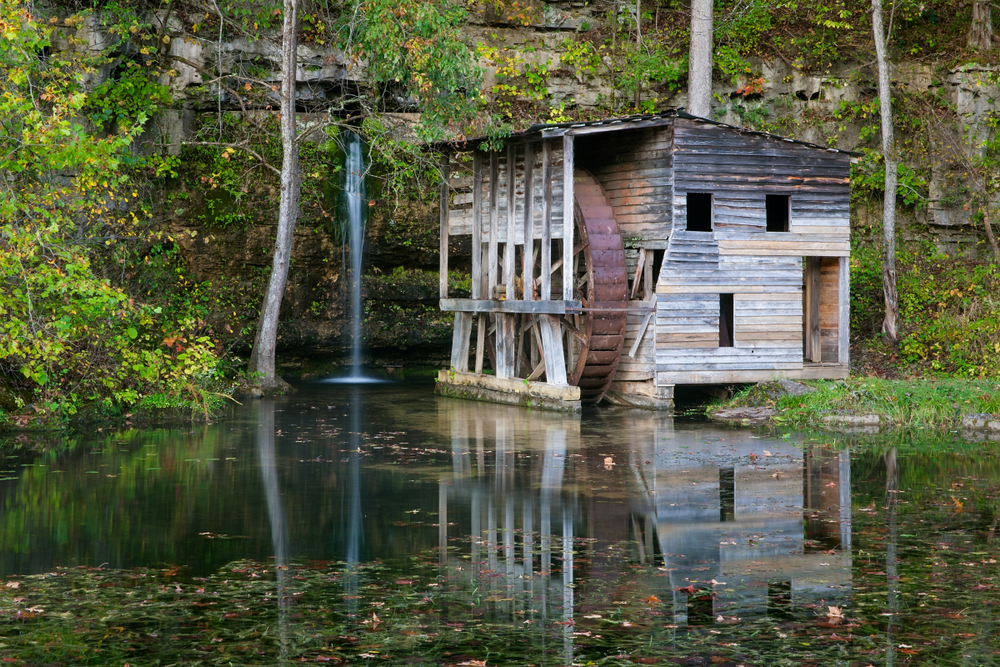 The Way Of American Genius
Highlights
National Pony Express Museum
Missouri Star Quilt Company
Walt Disney Hometown Museum
Mark Twain Boyhood Home and Museum
Highway 36 in Missouri is known as "The Way of the American Genius".
Along the route are several landmarks that relate to important American's or American innovations.
Start in St. Joseph at the National Pony Express Museum to learn about the beginnings of what would eventually come to be the United States Postal Service.
Next, head to the Missouri Star Quilt Company in Hamilton.
Hamilton is the birthplace of the founder of J.C. Penney and is often called the "Disneyland of Quilting", so it's a fun stop.
From there, you'll head to Marceline to explore the hometown of Walt Disney.
There is a Hometown Museum you can visit to learn about Disney's years in Marceline.
Your last stop is Hannibal, which was the boyhood home of famous American author, Mark Twain.
Stroll through the Mark Twain Boyhood Home and Museum to learn more about the iconic author before heading home.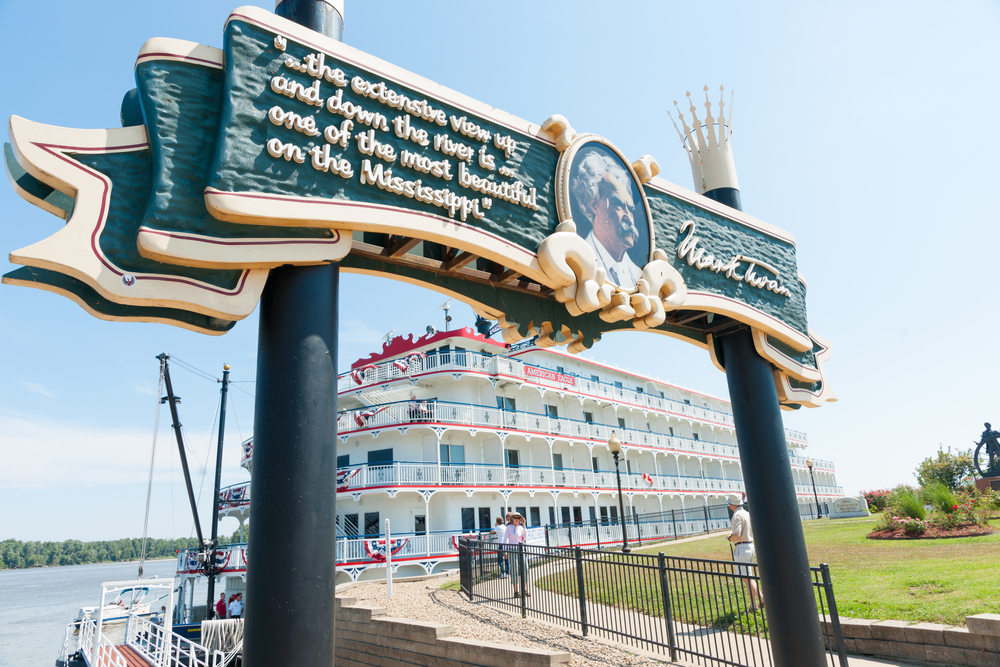 Historic Wine Country
Highlights
August A. Bush Conservation Area and Nature Center
Klondike Park
Katy Trail State Park
Missouri's historic wine country is full of beautiful stops you can admire while you sample the area's delicious wines.
Start your road trip at the August A. Bush Conservation Area and Nature Center.
While there, explore over 7,000 acres of beautiful Missouri forest land. It also has over 30 lakes.
Continue on your Missouri road trip to Klondike Park.
At Klondike Park, make sure you hike out to the lookout bluff so you can admire the picturesque views of the Mississippi River Valley.
End your road trip with a hike at the Katy Trail State Park.
Katy Trail is a hiking trail that spans the whole state and one of the access points is at the Katy Trail State Park.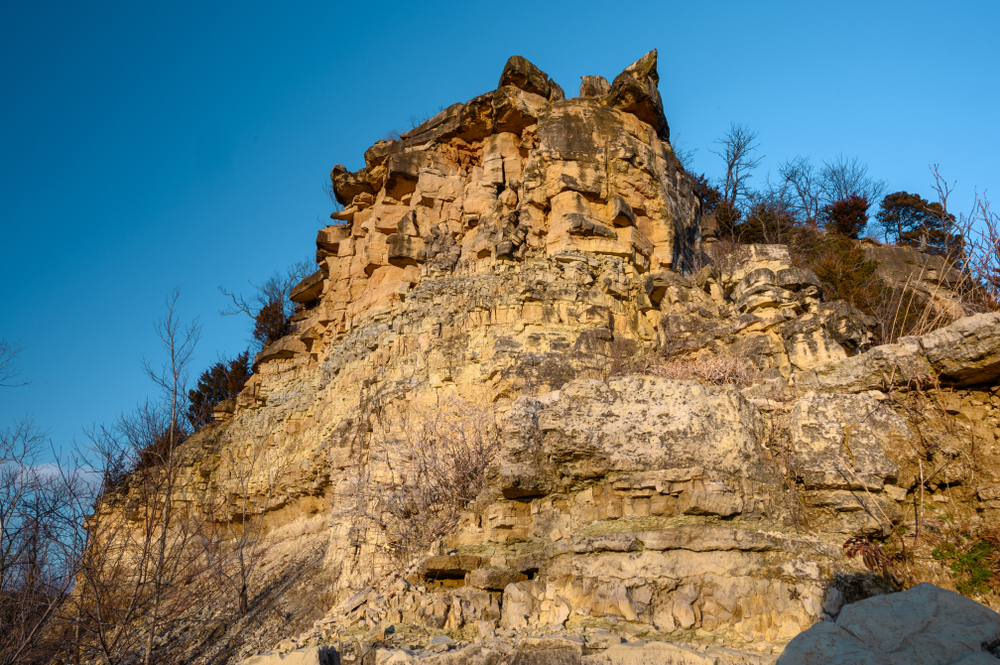 State Parks Of Missouri Road Trips
Highlights
Weston Bend State Park
Loess Bluffs National Wildlife Refuge
Crowder State Park
There are so many beautiful State Parks in Missouri and a road trip to some of the best ones makes for a fun outdoor adventure road trip.
Weston Bend State Park is one of the most accessible parks in Missouri.
There are several paved hiking trails and a handicap accessible scenic overlook.
After you are done walking the easy trails of Weston Bend, head to Loess Bluffs National Wildlife Refuge.
Loess Bluffs is perfect for an afternoon spent checking out the areas wildlife.
With over 35 reptile species, 33 mammal species, and 301 bird species, there are tons of creatures you should be on the look out for.
When you've had your fill of the local animals, head to Crowder State Park.
Admire the Northern Missouri landscape of gorgeous green rolling hills before heading home, or stay for the night at one of their campsites.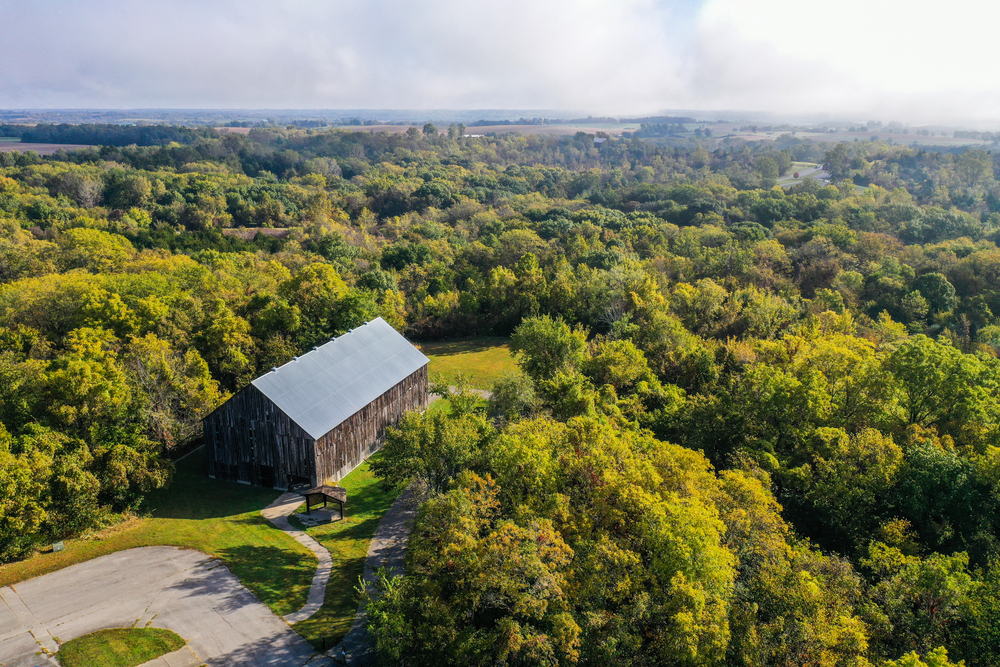 Missouri's Route 66
Highlights
The Gateway Arch
Mural City
Route 66 Museum
Route 66 Drive-In Theater
If you want to explore Missouri's Route 66, start in St. Louis at the Gateway Arch.
The Gateway Arch is the tallest arch in the world and the National Park Service has deemed it the "Gateway to the West".
From there, head to Cuba Missouri.
In 2002 Cuba was nicknamed the "Route 66 Mural City" because the small town has over 12 murals depicting different Route 66 scenes.
Next, head to the Route 66 Museum in Lebanon.
If you've always wondered what Route 66 looked like in it's hey day, you'll love this museum.
It features depictions of classic gas stations, motel rooms, and diners.
End your Route 66 road trip with a night at the movies.
Everyone should experience the magic of a Drive-In Movie Theater, and you can find a classic one on Route 66 in Carthage.
The classic Drive-In frequently plays old and new releases, so make sure you make a stop.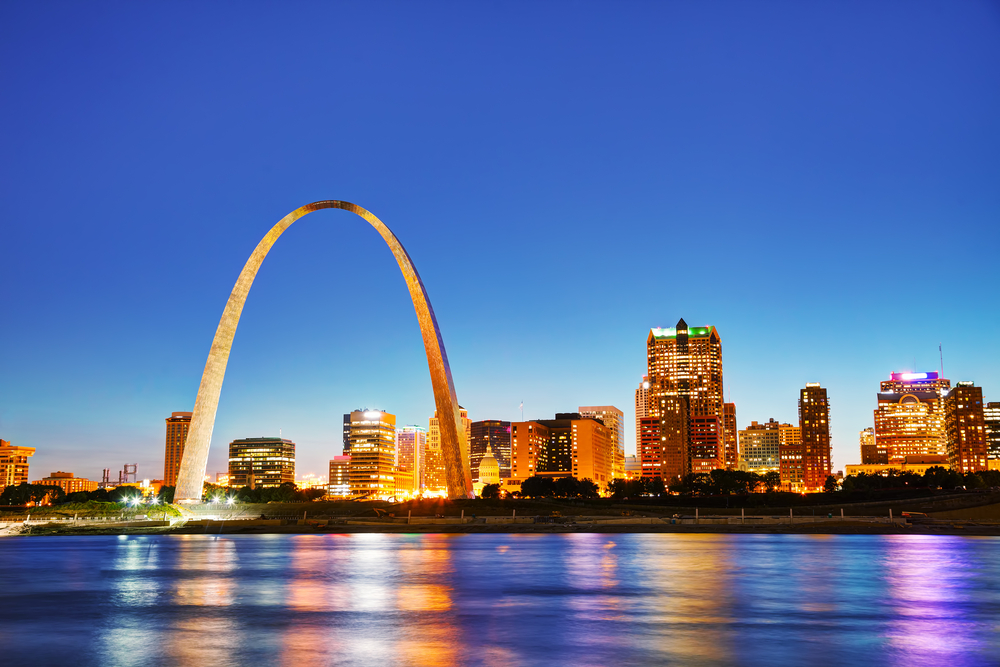 Major Cities Of Missouri Road Trips
Highlights
Kansas City
Jefferson City
St. Louis
Springfield
For those looking for metropolitan Missouri road trips, this is the perfect adventure for you!
Start your scenic drive through Missouri's major cities in Kansas City.
Sample some BBQ, explore the American Jazz Museum or any of the other amazing museums.
After having your fill of Kansas city, continue on to Jefferson City.
In Jefferson City you can enjoy the beautiful Historic Downtown for some shopping before heading to St. Louis.
You'll definitely want to see the Gateway Arch, ride the rollercoasters at Six Flags, and have some fun exploring Forest Park, home of the 1904 World's Fair.
Your last stop is Springfield, where you can tour the Fantastic Caverns or enjoy a hike at the Springfield Conservation Center.
Missouri's metropolitan areas are full of fun and unique things to do and make for one of the best Missouri road trips.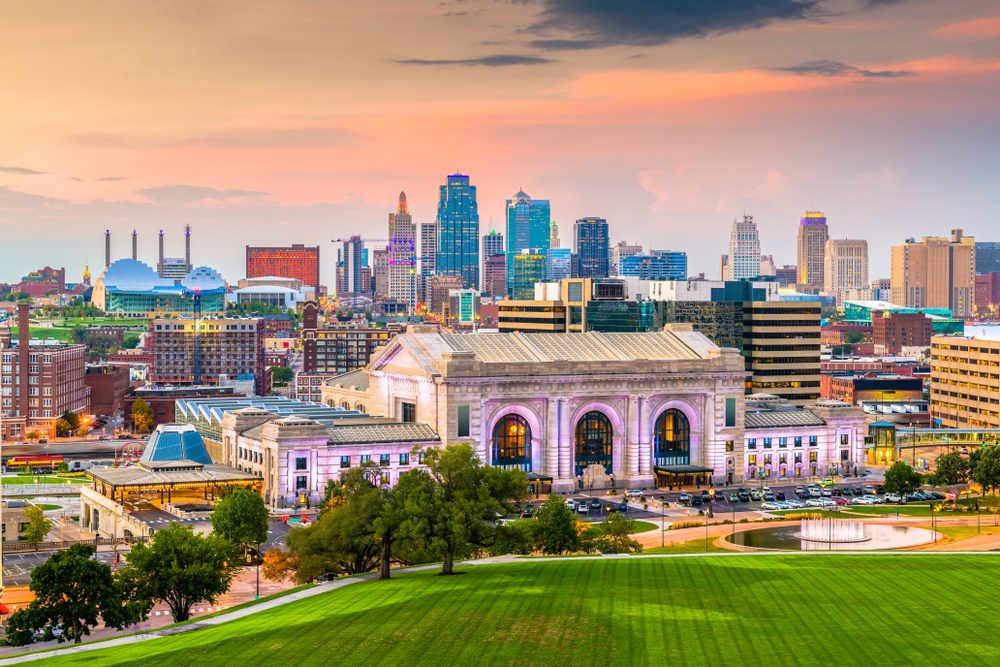 The Great River Road Of Missouri Road Trips
Highlights
Historic St. Charles
Bankhead Candies, Bowling Green
Mark Twain Cave Complex, Hannibal
The Great River Road is over 2,000 miles long and travels from Minnesota to Louisiana, and part of it goes through Missouri.
On the Missouri part of the Scenic Byway, there are a few stops that have become favorites for travelers.
The first is the Historic Downtown area of St. Charles.
It was Missouri's first registered historic district, and it's also the nation's largest registered historic district.
It's a great place to go for a stroll and admire the shops, homes, and parks in the area.
From there, head to Bowling Green to sample some Bankhead Candies.
This chocolatier and candy shop has been open since 1919 and features hand dipped chocolates.
They are an iconic Missouri candy shop that is absolutely worth the stop.
End your road trip of Missouri's Great River Road at the Mark Twain Cave Complex in Hannibal.
Hannibal is the hometown of the famed American author.
While you are touring the cave, if you have read some of Twain's work, you might recognize the caves as one of the settings in some of his most popular works.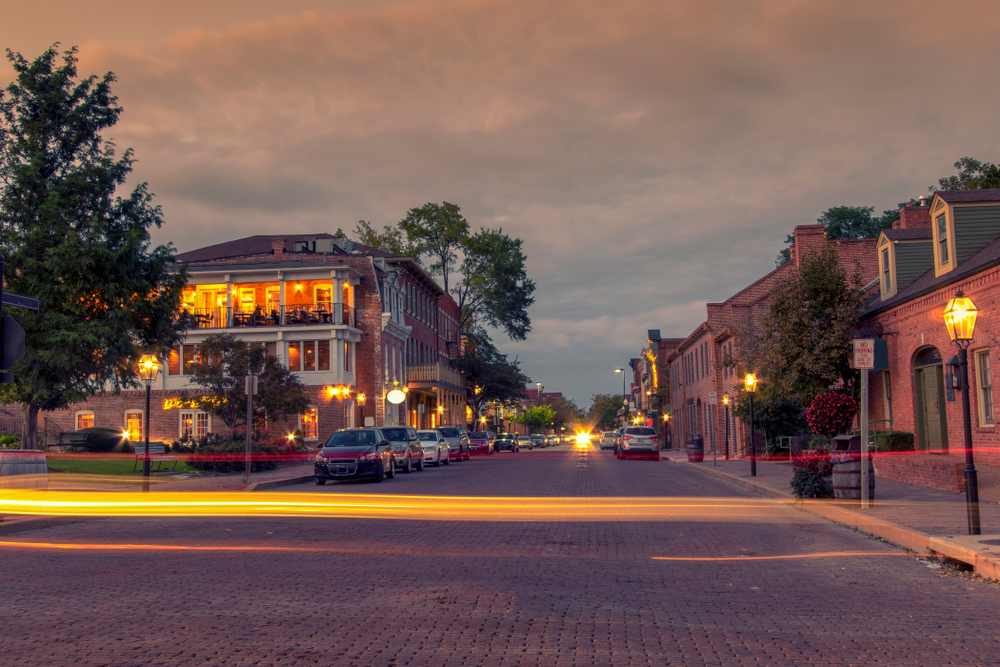 Missouri Foodie Road Trip
Highlights
Jones Bar-B-Q, Kansas City
Vintage Restaurant at Stone Hill Winery, Hermann
Olio, St. Louis
Wilder's Steakhouse, Joplin
Missouri has some amazing restaurants, so it's a great place for foodie's to explore.
You'll want to start your drive in Kansas City for some classic Kansas City barbecue.
Fans of Queer Eye may recognize your first stop.
The two sisters who own Jones Bar-B-Q were featured on a season of Queer Eye, but they had been building quite a repuation for themselves long before then.
Their small shop has been known as one of the best spots for authentic Kansas City Barbecue for a few years now, and you absolutely want to try it out.
Your next stop on your foodie road trip is the Vintage Restaurant at the Stone Hill Winery in the heart of Missouri's Wine Country, Hermann.
The charming and romantic restaurant is in a restored carriage house and horse barn that dates back to 1847.
They serve classic German food, and of course, local wine.
From there, head to St. Louis and Olio.
Olio has a super unique atmosphere as it is in a renovated Oil Filling Station from the 1930s.
It still has plenty of nods to the building's history like salvaged windows and the shops original garage door.
They primarily serve Mediterranean cuisine with other European influences.
Your last stop is the Wilder's Steakhouse in Joplin.
You can't visit Missouri without trying a classic Midwestern Steakhouse.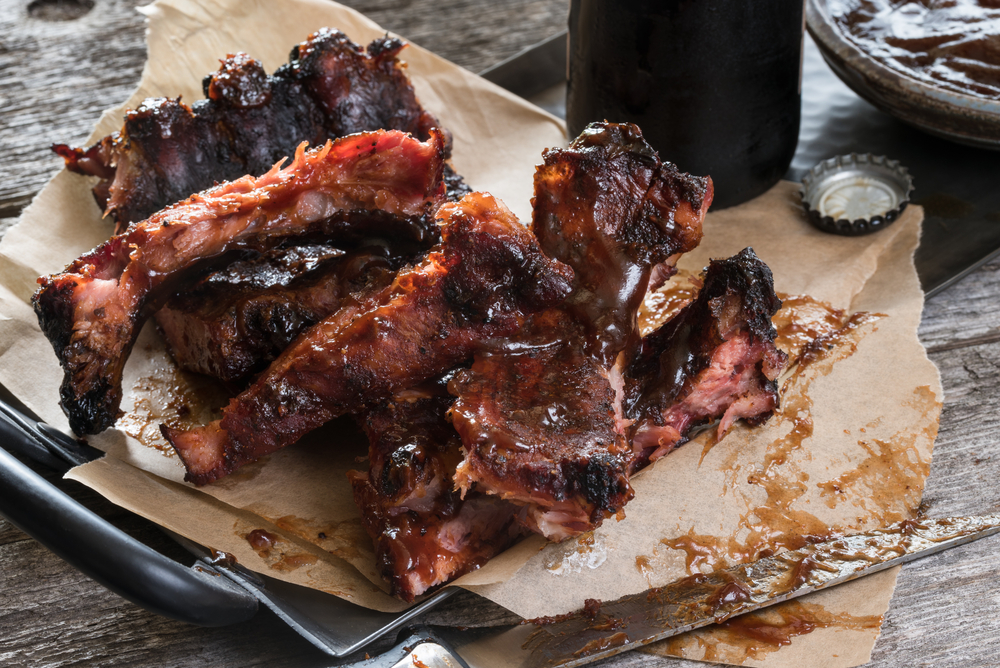 Hidden Gems Of Missouri
Highlights
Meramec Caverns
Ha Ha Tonka Castle Ruins
The Pinnacles
Missouri road trips can be very unique if you are looking for some hidden gems.
This Hidden Gems of Missouri road trip stops at some cool spots that may not be on your standard tour list.
First, head to the Meramec Caverns in Sullivan.
They are over 400 million years old and made almost entirely of limestone.
The caverns are so expansive that they were frequently used as a hiding spot for various cultures that called the area home over the centuries.
Next, head to the Ha Ha Tonka Castle Ruins.
The castle ruins are actually in Ha Ha Tonka State Park where the European-style castle was originally built when it was private land.
The entire State Park is worth exploring, but definitely check out the ruins.
For your last stop on your list of unique places to see in Missouri are The Pinnacles.
These types of rock formations are fairly common farther out West, but they are pretty unique to see in Missouri.
The two massive rock formations were split over hundreds of millions of years of the river running along them.
It is a super cool way to end your tour of Missouri's hidden gems.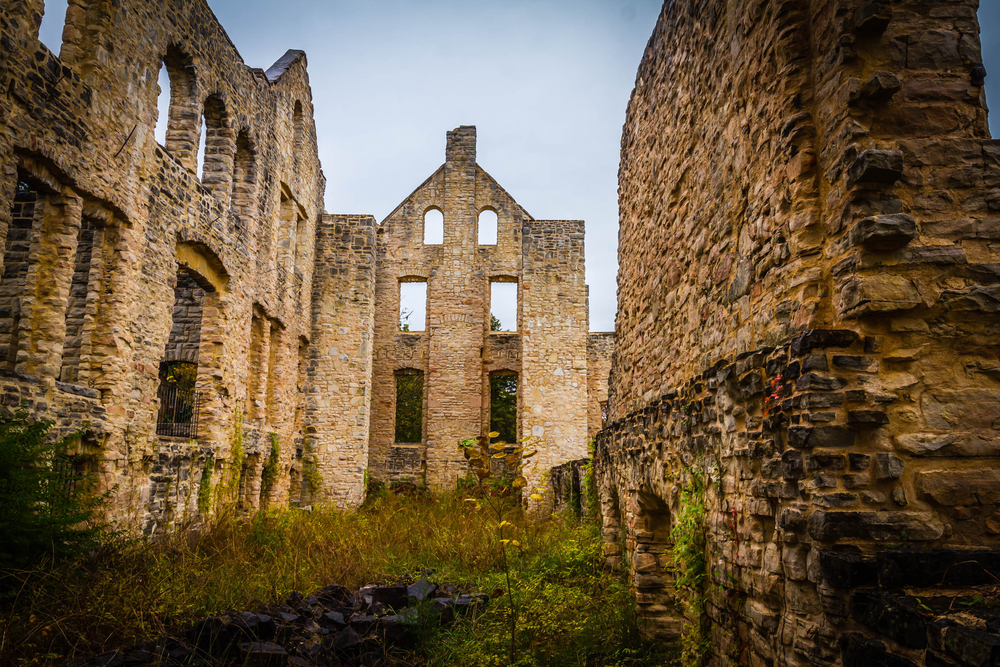 Murals In Missouri
Highlights
Prairie Passage Mosaic Mural, Official Missouri Welcome Center
Louisiana Murals, Louisiana
Route 66 Mural City, Cuba
J. Thomas Hart Benson Mural, Joplin
One of the things that is really unique about Missouri is the amount of murals you can find in the state.
There are so many, that you can make a road trip out of seeing them all.
Your first stop will be at the Official Missouri Welcome Center, just inside state lines after the Iowa border near Eagleville.
The massive Prairie Passage Mosaic Mural is 500 square-feet and made entirely of glass.
It depicts the prairie fields, the history of Northwest Missouri, and of some of Missouri's most famous inhabitants.
From there, head to Louisiana Missouri to see the Louisiana Murals.
The town has 24 murals and you can even get a tour around the city to see all of them.
If you go to the city's visitor center, you can also find information on doing a self-guided tour of the murals of Louisiana.
Next you'll hop onto Route 66 and explore Route 66's Mural City, Cuba.
The town has 12 murals depicting classic Route 66 scenes as well as important figures and times in national history.
Your last stop is the J. Thomas Hart Benson Mural in Joplin.
The mural is located in Joplin's City Hall and is 6 feet by 14 feet in size.
It was painted by J. Thomas Hart Benson and depicts life in Joplin in 1900.
The mural is a great way to learn about the history of Joplin while touring the City Hall.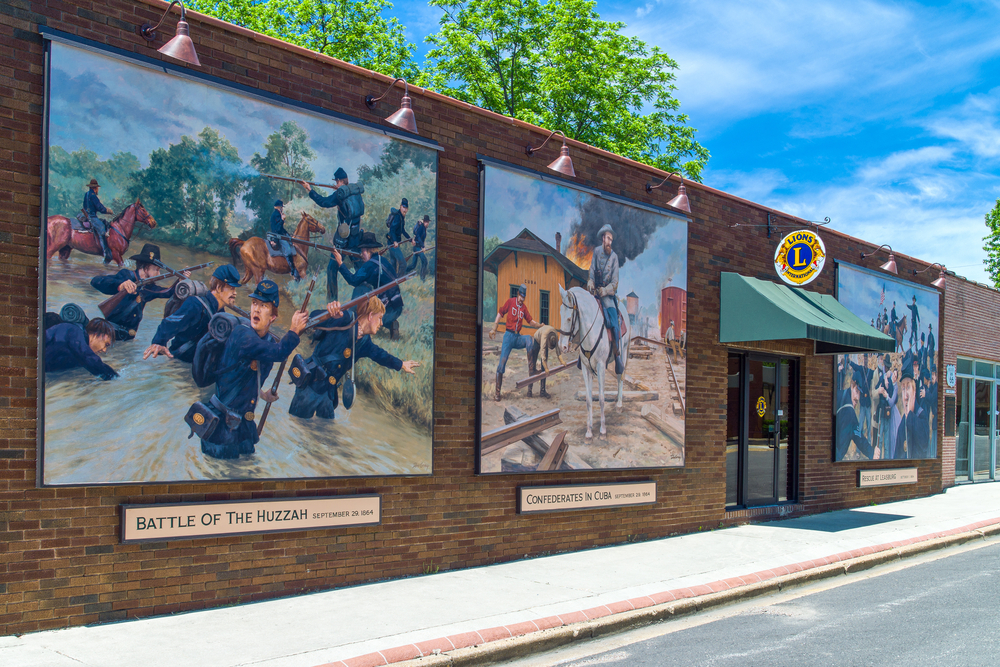 Whether you are looking for vacation spots in Missouri, road trips from St. Louis, or your next unique road trip, this list has something for you.
Missouri is such a unique Midwestern state that has some really cool places to explore and enjoy.
Have you ever gone on a road trip through Missouri?
If so, what were some of your favorite stops? Did you take one of these road trips?
I'd love to hear about your travels in the comments!