Looking for waterfalls in the Midwest to explore?
The Midwest USA is a very diverse area of the United States! From the shores of the Great Lakes, to the Lakes of the Ozarks, the Badlands to Pictured Rocks, Chicago to Cleveland, the rugged Dakotas to the grasslands of Kansas, the Midwest states have a lot to offer.
I am a Midwesten gal through and through, born and raised in Youngstown, Ohio. And I want to share the jewels of the Midwest with you!
So here are 12 of the best waterfalls in the Midwest that I have personally chosen for you to explore.
12 Best Waterfalls In The Midwest
Tahquamenon Falls In Eastern Upper Michigan
The Tahquamenon Falls offers you two different waterfalls both located near Lake Superior in the eastern Upper Peninsula of Michigan.
These Upper Peninsula waterfalls are served by the Tahquamenon River and are brown in color due to the tannins for the nearby cedar swamps.
The upper falls sometimes known as 'The Root Beer Falls' are almost 200 feet across with a 45-foot drop. After Niagara Falls and Cohoes Falls, Tahquamenon Falls Michigan are the third most voluminous vertical waterfall east of the Mississippi River.
The lower falls four miles downstream are a series of five smaller falls that cascade around an island. You can see these beautiful Michigan waterfalls from the river bank or from a boat on the river.
The falls sit within the Tahquamenon Falls State Park. The park is 50,000 acres stretching over 13 miles and consists of undeveloped woodland without roads, buildings, or power lines. This park really is about getting away from it all.
This area is a beautiful pristine wilderness of a sort and the waterfall is breathtaking. These falls are pretty easy to get too but beware there are close to 100 steps down to the main viewing deck.
Of all the waterfalls in Michigan, I really do recommend paying this location a visit. It could be a fun weekend road trip to add to your bucket list!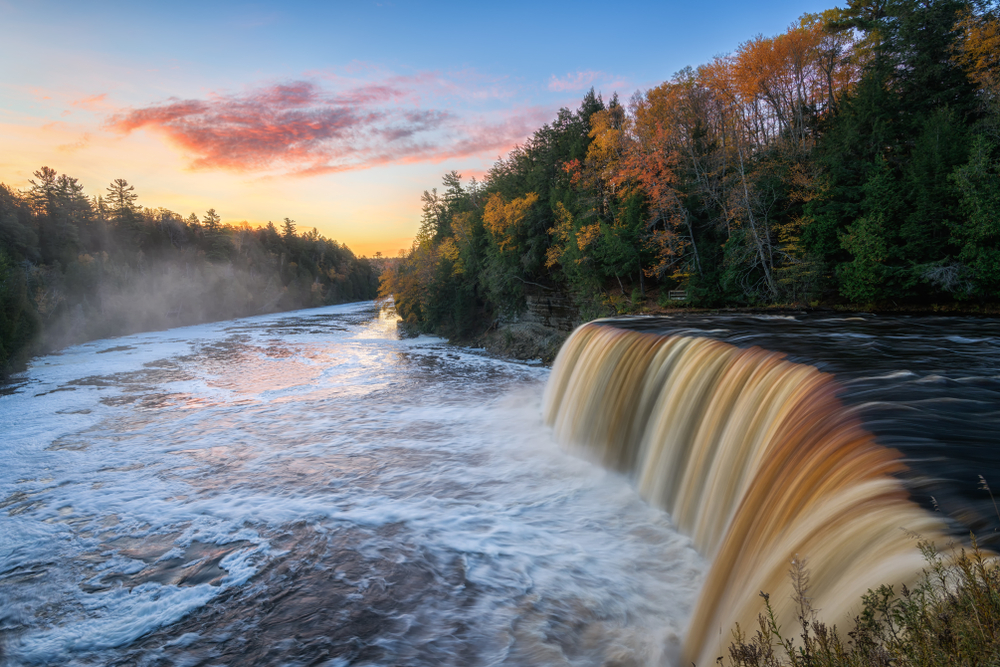 Brandywine Falls, Cuyahoga Valley National Park
Located within Cuyahoga Valley National Park, Brandywine Falls is one of the beautiful waterfalls in the Midwest and has a 60-foot drop waterfall fed by Brandywine Creek.
Due to the natural rock formations, a lovely bridal veil cascading waterfall forms.
There are several popular hikes that take you to and from the waterfall from street level down into the gorge to the creek level. Due to the moistness of the area, be careful not to slip on the trails.
These waterfalls in Ohio are very popular so plan to visit in the early morning or later in the afternoon. The parking lot fills up quickly. Do not park on the road. Cars are ticketed and sometimes towed away.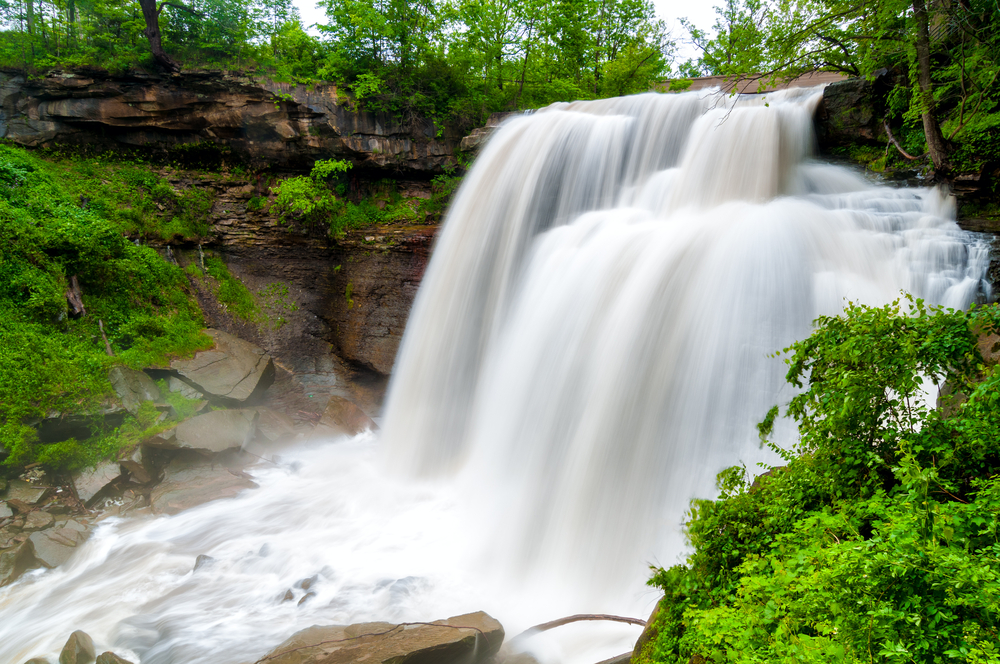 Willow Falls Is One Of The Most Beautiful Falls In The Midwest
In the Willow River State Park you can hike and admire the Willow Falls.
The State Park is 2,800 acres of hiking trails, Prairie remnants, a nature center, and the historic Willow Falls and Willow River Gorge.
There are 13 miles of hiking trails and they vary in difficulty.
Several of the trails either end or come near enough to the Willow Falls for you to get a good view.
But the most popular trail is the Willow Falls Trail.
It is 1 mile long and extends from the campgrounds to the Willow Falls.
You'll walk along the Little Falls Lake and Willow River before coming to the Willow Falls themselves.
It is a beautiful trail full of woodlands, wildflowers, and views of the river and falls.
You can't go wrong visiting this very popular Wisconsin waterfall.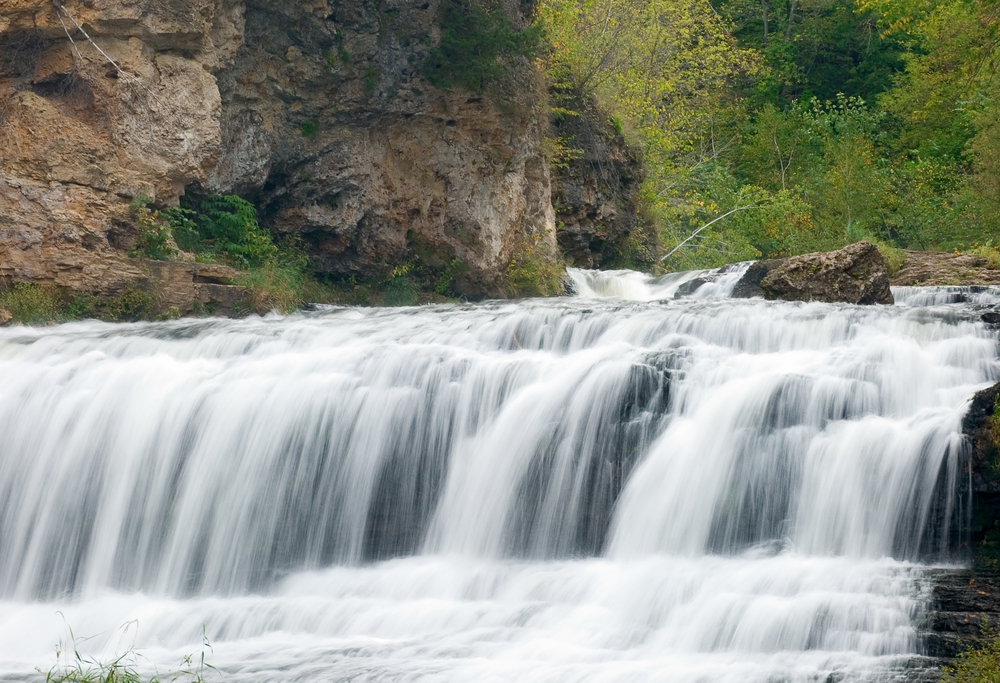 Minnehaha Falls In Minneapolis Minnesota
At one of Minnesota's oldest and most popular parks, Minnehaha Regional Park, are the Minnehaha Falls. The Minnehaha Falls is a 53-foot cascading waterfall surrounded by limestone bluffs and lush greenery.
This regional park is in Minneapolis and is over 160 acres of hiking and biking trails, a wading pool, gardens, and of course the Minnehaha Falls.
Visitors of these spectacular waterfalls in the Midwest will want to take full advantage of everything the park has to offer.
But make sure you give yourself plenty of time to walk to the falls.
Minnehaha Regional Park is one of the most visited parks in the area, so it can get fairly crowded, especially near the falls. The walking trails are paved and there are several places in the park that you can view the falls.
So the Minnehaha Falls are great for beginners or those looking for a more accessible way to view waterfalls in Minnesota.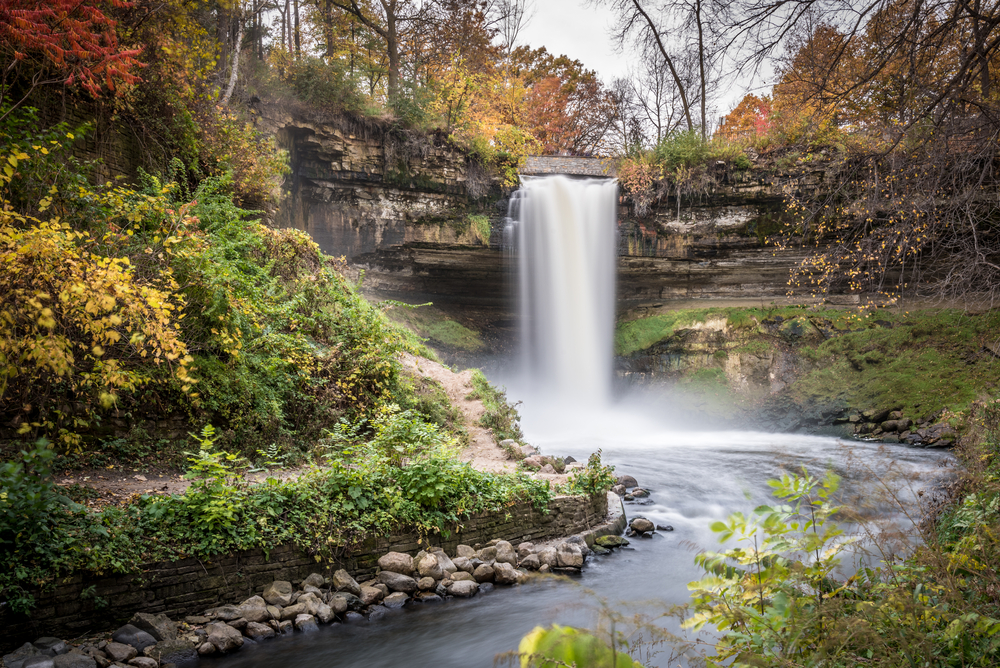 Upper Falls, Old Man's Cave, Hocking Hills Ohio
A popular destination for viewing waterfalls in the Midwest is the Hocking Hills area of Ohio. And arguably a popular trio of Ohio waterfalls can be seen in one hike. 
Upper Falls, found in the Hocking Hills State Park, signifies the beginning of the Old Man's Cave area of Old Man's Creek.
Hiking Old Man's Cave Trail down into the gorge is accessible by many alternative sets of stairways. If seeing the entire gorge, about one-half mile, it is a great idea to begin at the Upper Falls.
You can also hike the Old Man's Cave Trail and see the sister falls of Middle Falls and Lower Falls as well. Some say this is one of the best things to do in Hocking Hills!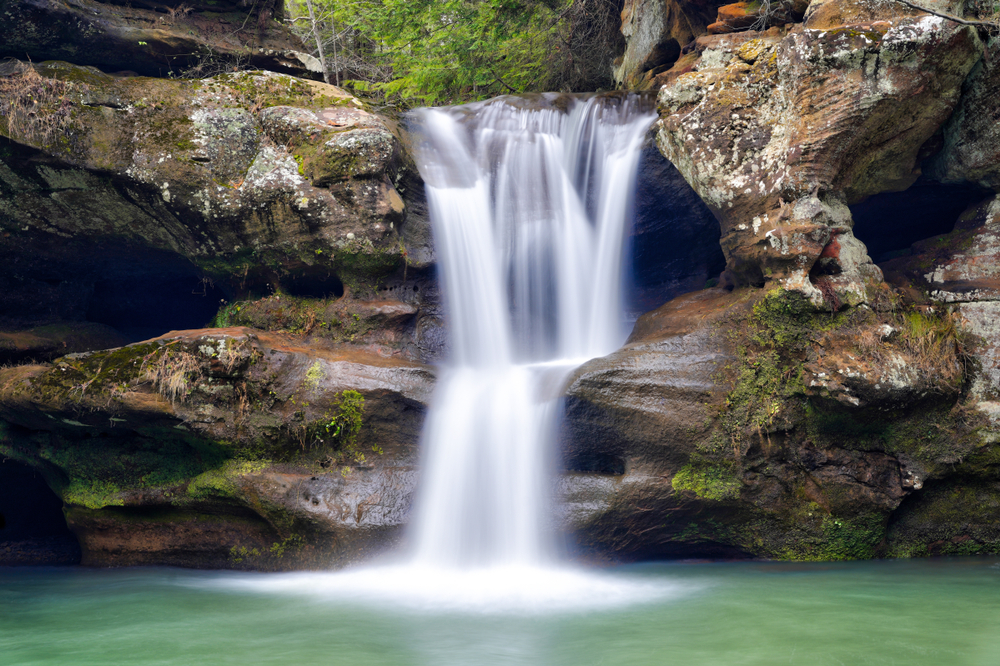 Dunning's Springs In Decorah Iowa, Beautiful Waterfalls In The Midwest
Dunning's Springs, often referred to as Decorah Falls, is a beautiful Midwest waterfall. The Decorah waterfalls are located in Dunning's Springs Park, outside of Decorah Iowa.
The Dunning's Springs Falls are probably some of the most popular waterfalls in Iowa, and definitely in the area. So when you visit, keep in mind that Dunning's Spring Park can get pretty busy with people wanting to enjoy the falls.
Even if there are crowds on the day you decide to visit, the falls are worth it, and they are very easy to get to.This is a perfect waterfall for those who don't want to go on a hike as it is just across a bridge from the park's parking lot.
The spring feeds into the Iowa River via a 200-foot waterfall. The waterfall, often called Decorah falls, or Dunning's Springs Falls is a stunning waterfall in the Midwest and worth your time.
If you do want to hike, you'll find several trails that go around these awesome Decorah Iowa falls. Make sure you remain on the marked trails though, the rocks can get very slippery the closer you get to the falls.
Dunning's Springs is one of the best waterfalls in Iowa for all ages and hiking skill levels to enjoy.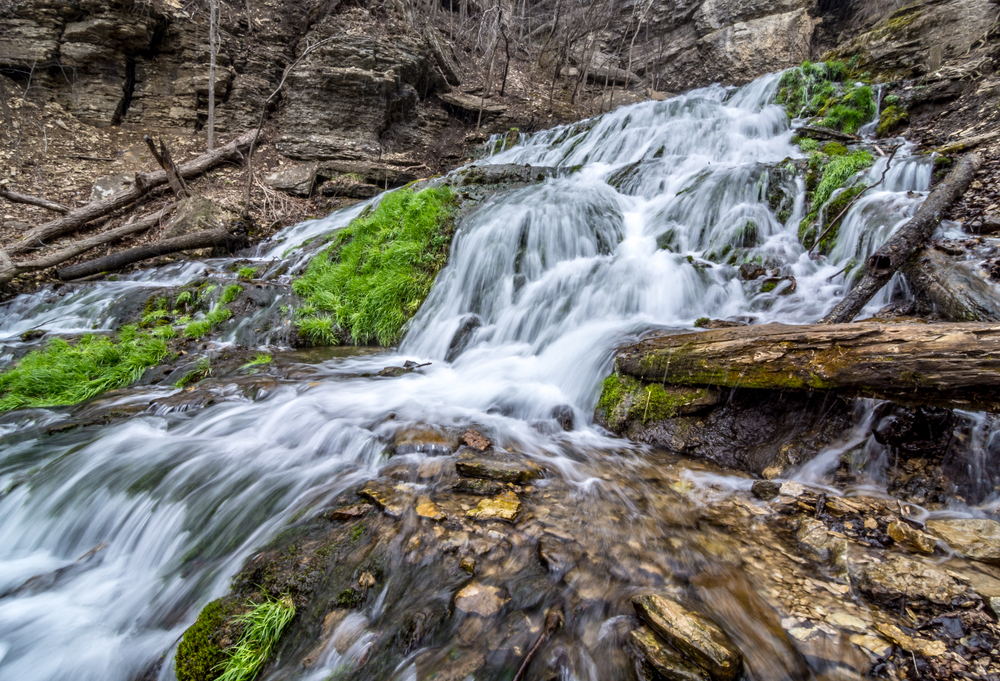 LaSalle Falls, Starved Rock State Park, Illinois
Illinois' Starved Rock State Park is situated on a bluff overlooking the Illinois River.
It has eighteen canyons that feature vertical walls and glacial meltwaters flowing and caving the sandstone bluffs which makes for stunning waterfalls depending on the season.
There are several hiking trails through La Salle Canyon leading to various viewpoints of this most majestic of the waterfalls in the Midwest.
It is a very popular waterfall in Illinois, as the park is so scenic and hiking is so popular. So plan to visit early in the morning or in the late afternoon, before or after the crowds!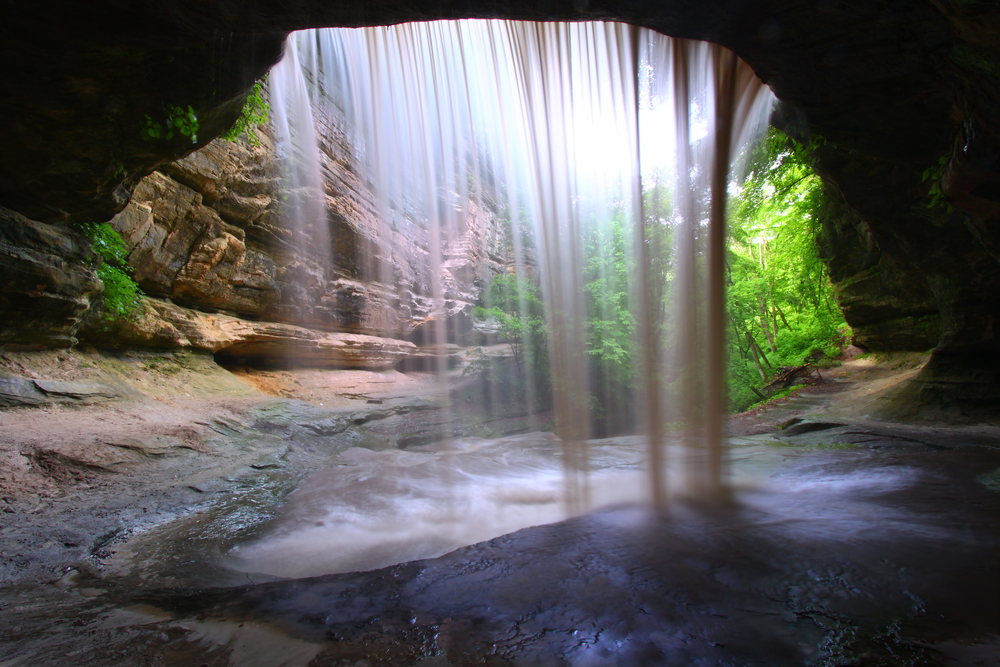 Cataract Falls Are Scenic Waterfalls In The Midwest
Cataract Falls are part of Lieber State Recreation Area and it is the largest waterfall in Indiana by its sheer volume! These Midwest waterfalls have their source in the Mill Creek River, and whilst they push the largest amount of water, they are not the tallest.
There are upper and lower waterfalls, with the former having a thirty foot drop, and the latter a 15-foot drop. There is approximately one-half mile between them.
There is a fee to enter this state recreation area and a scenic hike to get to the falls.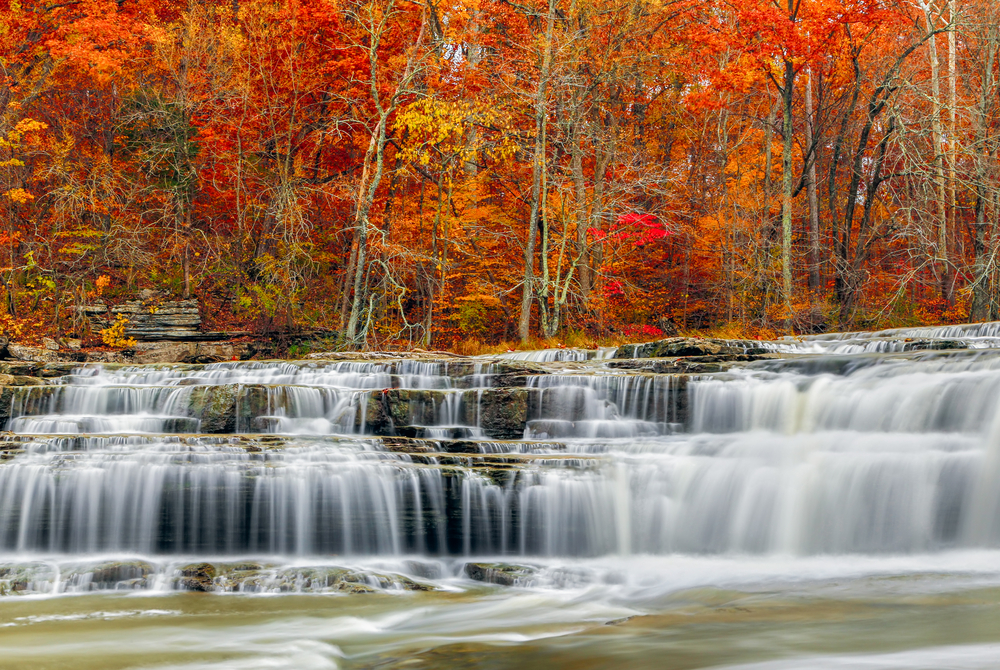 Grand Falls In Missouri's Ozarks Are Cool Waterfalls In The Midwest
If you are looking for scenic waterfalls in the Midwest, you will hit the jackpot if you visit Grand Falls in Joplin Missouri!
They have the distinction of being the largest, continually flowing natural waterfalls in Missouri! So, no matter what time of year you are chasing Midwest waterfalls, you will see a healthy flow from Grand Falls.
These Midwest waterfalls have a drop of twelve feet, however they span an impressive 163 feet wide ledge of chert. From there they crash down into jagged rocks and then meander quietly downstream.
Please be aware parking is limited and the road unpaved, so plan accordingly. Perhaps visit early in the morning or later in the afternoon once the crowds have come and gone.
Also there are no facilities so please make accommodations for that as well.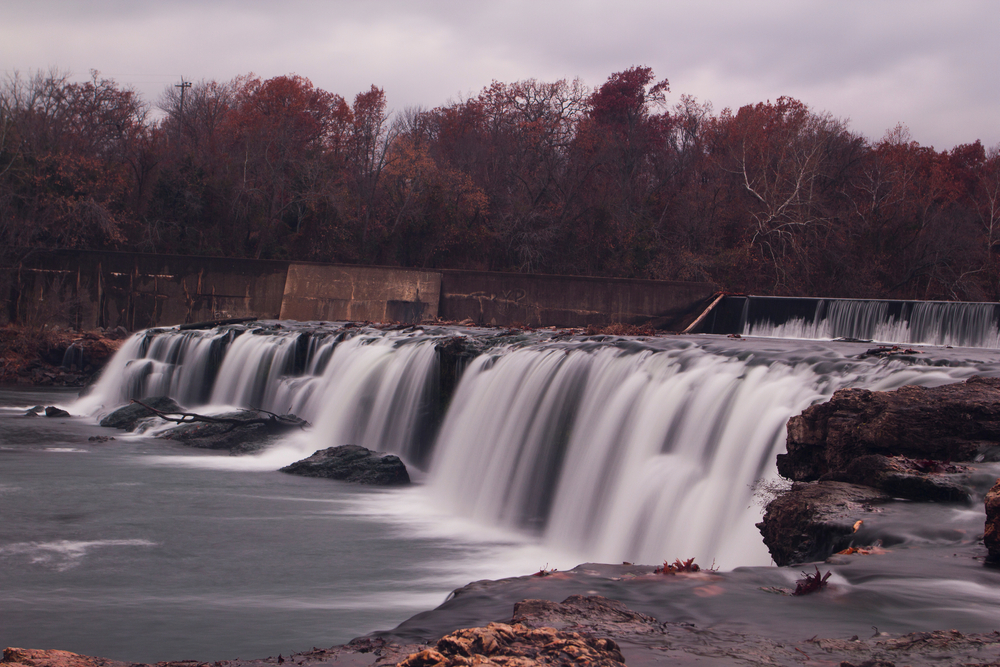 The Norden Chute On The Niobrara River In Nebraska
For something totally unique, a visit to this Midwest National Park is a definite must.
And to be technical, while it looks just like a waterfall in the Midwest, the Norden Chute, on the Niobrary River is really a "hydraulic feature." That means that the water flowing over the rock formations causes erosion when it lands at the bottom.
A plunge pool forms that is way deeper than the surrounding river bottom.
the hydraulic force of this natural phenomenon is so powerful that the National Park Service cautions visitors, swimmers, canoers to avoid them so as not to be pulled down by the vortex caused by the water.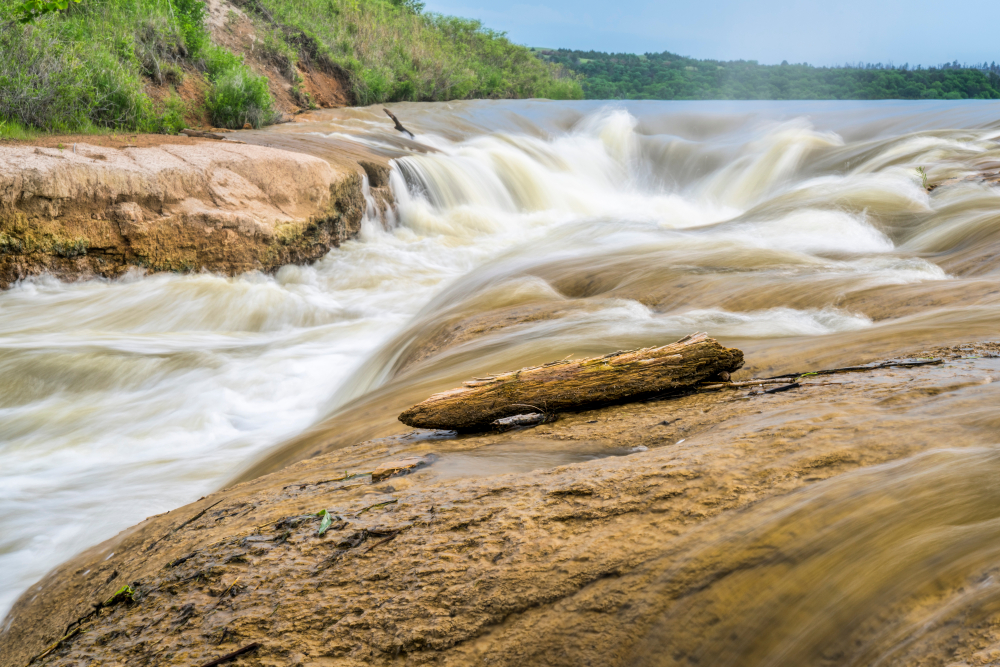 Spearfish Falls Is A Year-Round Waterfall In The Midwest
Located near Savoy, Spearfish Falls in South Dakota is well worth your efforts to see it!
You have two opportunities, depending on how much time you have and your activity level.
The first option is to hike to the bottom of Spearfish Canyon to be up-close and personal to the roaring waters of these spectacular waterfalls in the Midwest. If this is your choice make sure you are wearing proper hiking shoes as the trail can be slippery and or muddy.
The second option is an overlook you can visit near the Latchstring Inn restaurant where you can have a grand view of the falls.
And it does not matter the time of year you visit, as these Midwest falls are amazing all year long!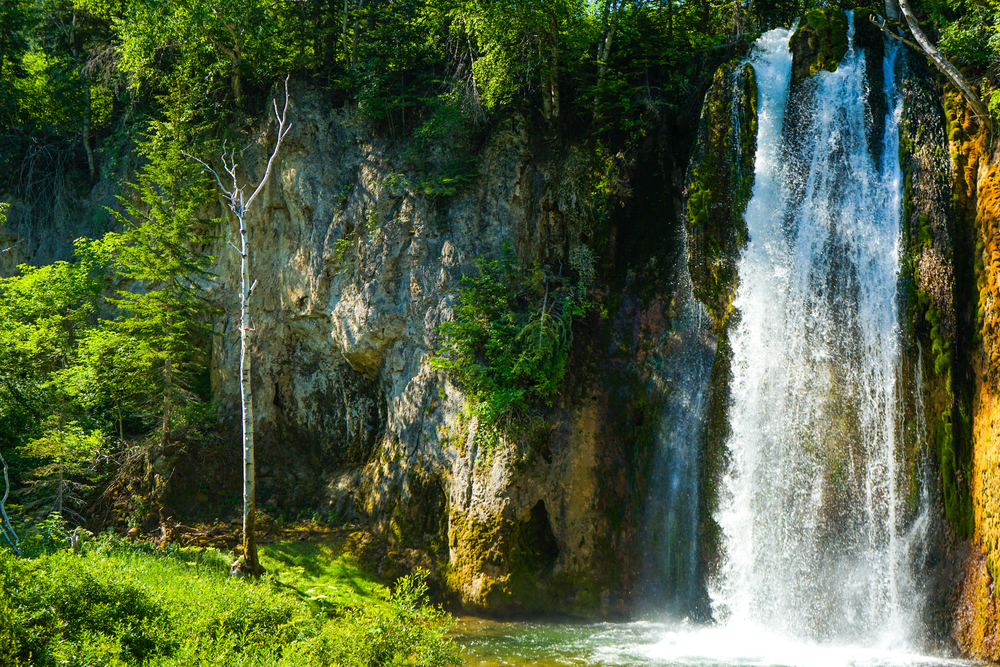 Cedar Lake Falls In Olathe, Kansas
You do not want to miss seeing these beautiful waterfalls in Kansas located at Cedar Lake in Olathe Kansas.
They are beautiful cascading Midwest waterfalls with a ten to fifteen-foot drop and are particularly impressive after heavy rainfalls.
You can access the base of the falls by hiking down to the bottom of the ledge, however it is muddy and slippery, so be forewarned.
Another and easier way to see the falls is driving to the dam, and walking across it. Then you will make your way down onto the ledges that make the falls. this may be covered with water depending on the season.
These Kansas falls are certainly one of the interesting waterfalls in the Midwest and would make a great Midwest weekend getaway.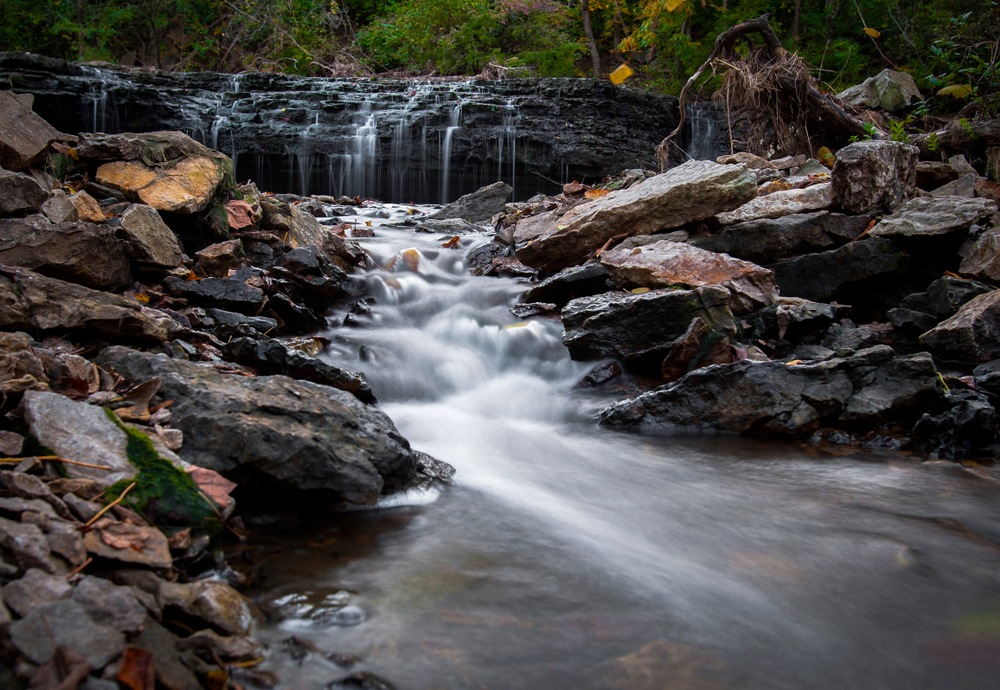 Packing List For Visiting Waterfalls In The Midwest
If you will be traveling, either by plane or by car to the Midwest, here are some tips on how to pack lightly.
A concealed travel pouch may be one of the most important items you bring along when visiting waterfalls in the Midwest. It is always important to protect your personal information. Identity thieves are everywhere.
his unisex RFID blocking concealed travel pouch is lightweight and comes in several colors. It has lots of organization to give you peace of mind.
You can place it under your hiking clothes next to your body to carry your ID safely.
If you have a pouch already that does not come with the RFID protection, as I do, these RFID sleeves are the perfect solution.
This configuration comes with enough credit card sleeves that the entire family would be protected. They are slim too, so they will easily fit into your pouch or wallet.
If you are planning on taking a lot of pictures with your phone you will definitely want to consider an external charging battery. This Anker high-speed phone charging battery is the exact one I carry with me on all of my trips.
It can be used on a variety of phones, not just an iPhone like I have. And wow is it fast!
I like that it holds its charging capabilities for several uses so I do not have to worry about it while out and about, and if I forget to recharge it at night, it will still be good to go the next day.
My daughter gifted me with this FugeTek selfie stick and tripod setup for my birthday. I absolutely love it! It is made of lightweight aluminum and so easy to use.
It has Bluetooth connectivity and is a breeze to use for taking selfies when staying in one of the best Airbnbs in Illinois.
Hydration is so important when traveling. You want to remain hydrated throughout your travels to support your immune system which in turn will be stronger to fight off any germs you will encounter during your travels.
You will want to bring your own refillable water bottle with you.
I never leave home on a trip without my Bobble filtration bottle. The 18.5-ounce size is perfect for hiking and it fits nicely in the pocket of a backpack.
When filled with water, it is not too heavy to carry. And the charcoal filter ensures fresh clean water whenever you fill the Bobble.
You can find filter replacements here.
Perhaps you are traveling a long distance and packing space is a premium in your suitcase, or in your car.
Then this set of collapsible silicone foldable water bottles would work well for you. Would not take up much space at all.
You will want a backpack or daypack with you to store snacks, your water bottle, phone, extra clothes, etc.. when hiking This foldable water-resistant backpack would be great
It is very affordable and is available in many color options for you to choose from. The fact that it folds down into a zippered pouch will make it easy to pack.
—
No matter which of these Midwest waterfalls decide to explore, I hope you have a great time. They all offer a unique and fun way to explore the Midwest.
Have you been to see any of these interesting Midwest waterfalls? If you haven't, which will you choose first?
I'd love to hear about your Midwestern travels in the comments!