Are you looking for waterfalls in Michigan? You are in the right place. In this article, I will walk you through waterfalls in lower Michigan, Upper Peninsula waterfalls, and the Michigan waterfalls that you need to visit. 
Michigan has hundreds of waterfalls, some small, some large, some isolated, and some well visited. The biggest majority of waterfalls in Michigan are located in the Upper Peninsula and some of them are really magical and stunning.
You will also find some really iconic waterfalls along the colorful sandstone cliffs along Lake Superior. And the lower Peninsula has some really accessible waterfalls that are beautiful.
A lot of the waterfalls in Michigan are surrounded by nature and often untouched by human hands. The upper Peninsula waterfalls are not always easy to reach and often require a hike to get to them which is why they have been left to thrive. Some Michigan waterfalls really are a bit of a hidden secret that you will be thankful I have shared with you.
Visiting a waterfall makes a great Michigan weekend getaway when combined with other things such as visiting one of the cool Michigan lighthouses or the incredible beaches of Michigan.
And don't forget to stop off at some of the cute small Michigan towns as there really are some gems in this area.
Here are 12 beautiful waterfalls in Michigan for you to explore.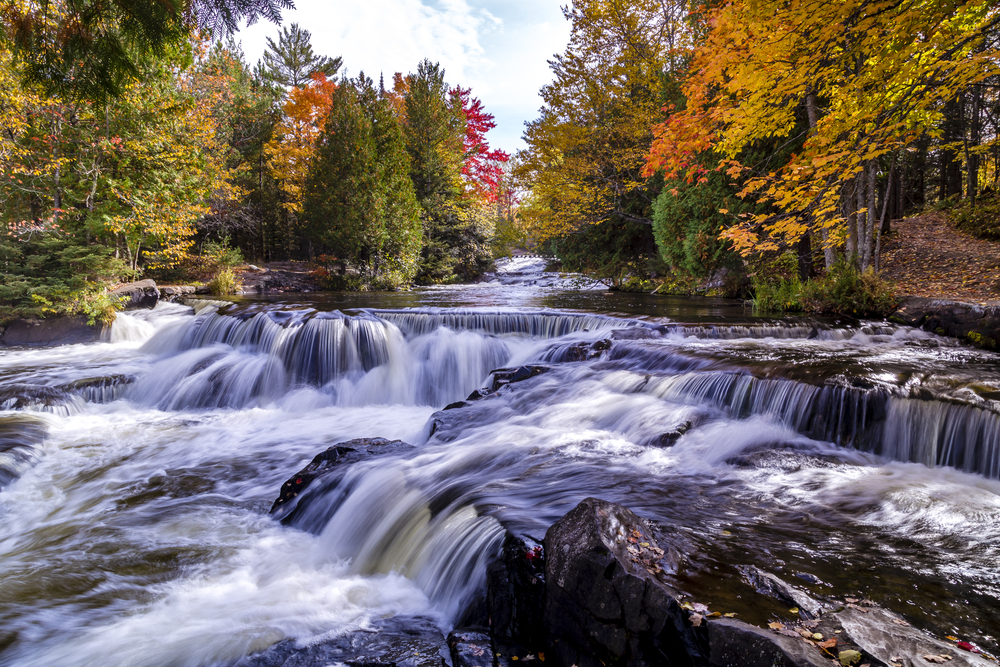 12 Beautiful Waterfalls In Michigan
Tahquamenon Falls Michigan
The Tahquamenon Falls offers you two different waterfalls both located near Lake Superior in the eastern Upper Peninsula of Michigan. These Upper Peninsula waterfalls are served by the Tahquamenon River and are brown in color due to the tannins for the nearby cedar swamps.
The upper falls sometimes known as 'The Root Beer Falls' are almost 200 feet across with a 45-foot drop. After Niagara Falls and Cohoes Falls, Tahquamenon Falls Michigan are the third most voluminous vertical waterfall east of the Mississippi River.
The lower falls four miles downstream are a series of five smaller falls that cascade around an island. You can see these from the river bank or from a boat on the river.
The falls sit within the Tahquamenon Falls State Park. The park is 50,000 acres stretching over 13 miles and consists of undeveloped woodland without roads, buildings, or power lines. This park really is about getting away from it all.
This area is a beautiful pristine wilderness of a sort and the waterfall is breathtaking. These falls are pretty easy to get too but beware there are close to 100 steps down to the main viewing deck.
Of all the waterfalls in Michigan, I really do recommend paying this location a visit. It could be a fun weekend road trip to add to your bucket list!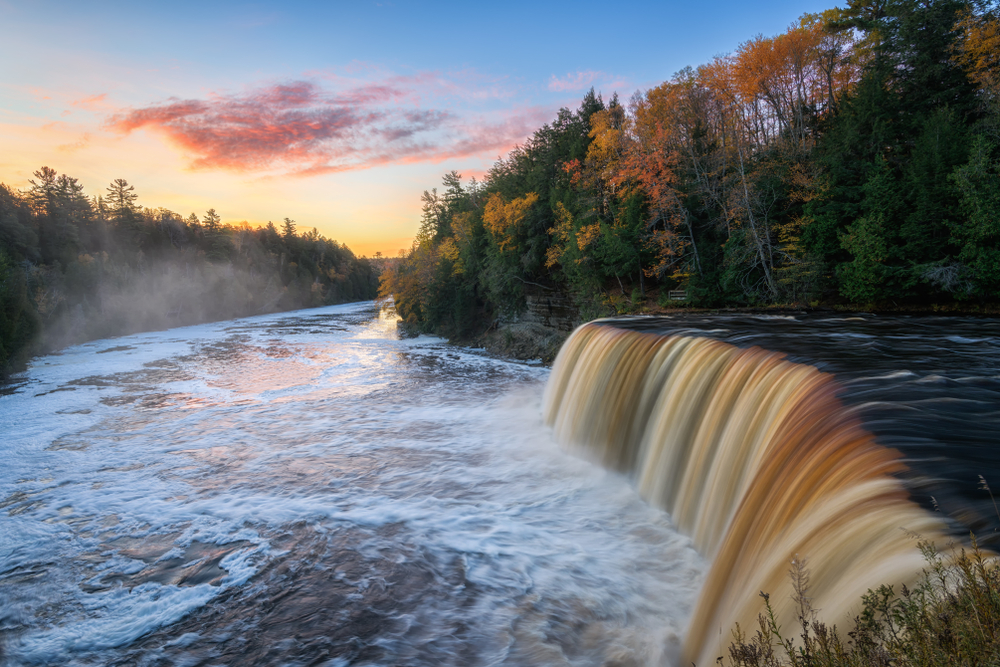 Bond Falls Are Very Scenic Waterfalls In Michigan
Bond Falls is on the Ontonagon River a few miles east of Paulding in southern Ontonagon County.
The drop of the falls is 15 meters and this waterfall is very accessible making it one of the most popular waterfalls in Michigan. The water tumbles over a belt of fractured rock and breaks into numerous small cascades.
Parking is available near the top of the falls with a picnic area and access is from a boardwalk with six viewing locations.
Many consider Bond Falls one of the most scenic waterfalls and it really is a photographer's dream especially coupled with the fact that mounting tripods here are easy due to the boardwalk.
If you are looking for waterfalls in Michigan that are accessible and great for all members of the family then Bond Falls will be the falls for you.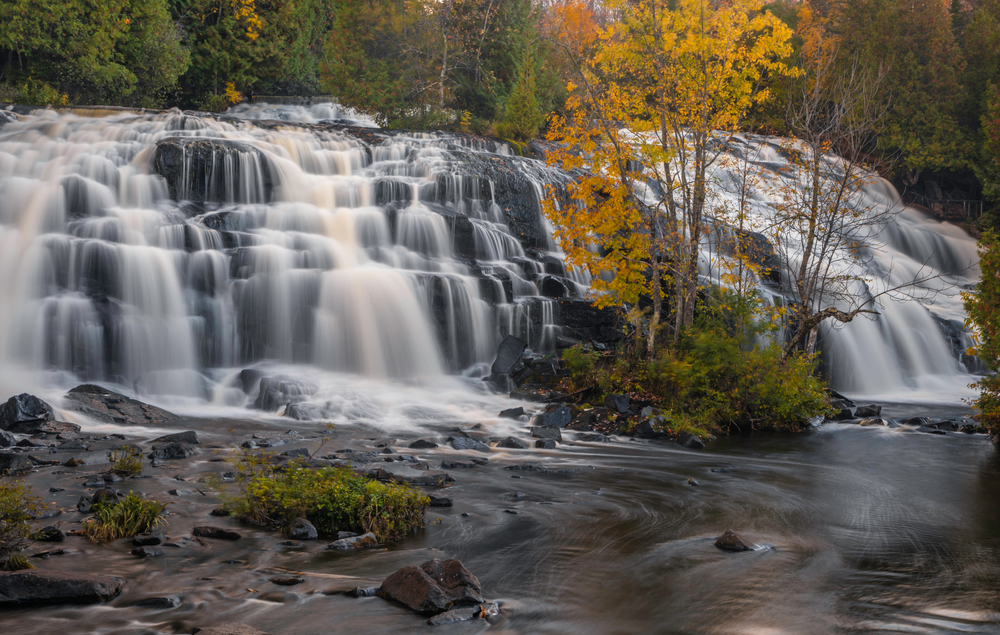 Munising Falls Are Beautiful Waterfalls In Michigan
One of the Upper Peninsula waterfalls, Munising Falls is easily accessible and reached by a marked trails and multiple viewpoints.
Tucked away inside the Pictured Rocks National Lakeshore this waterfall is one that is spectacular in summer and winter.
On arrival visit the Munising Falls Visitor Center so you can plot out your route and see which other falls you can visit while here because there is a lot in this area.
The trail to the falls is ¼ mile to the bottom of the falls and then two sets of steps lead to fantastic views. The waterfall itself is just over 15 meters tall and falls into a sandstone canyon.
If you like big waterfalls that look impressive then these are the Michigan waterfalls for you.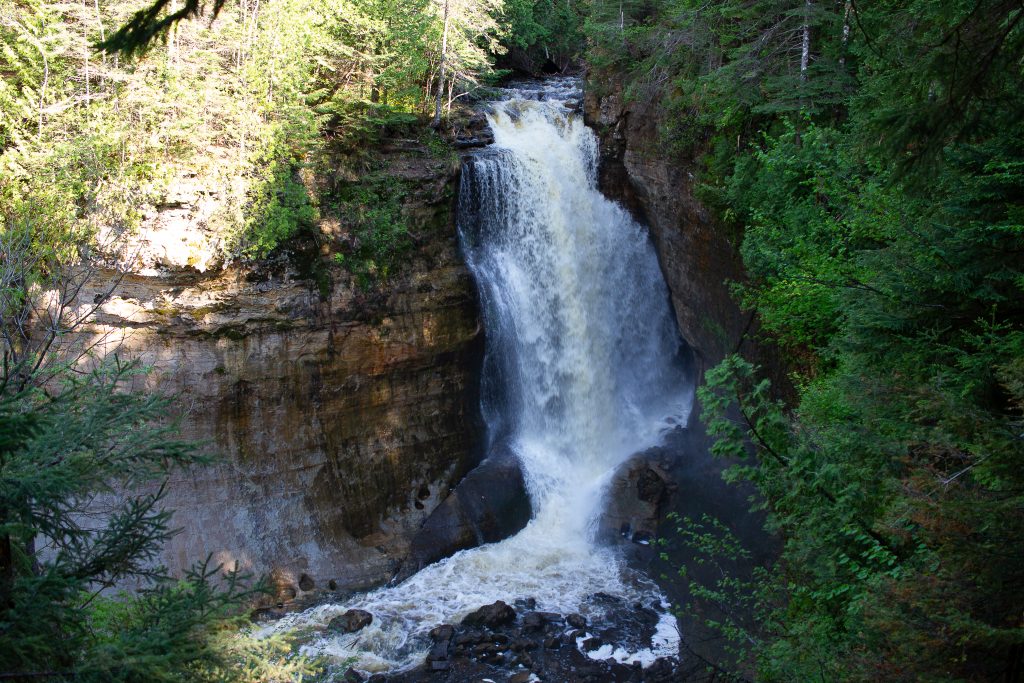 Miners Fall Is An Easily Accessible Waterfall in Michigan
On the Miners Rivers in the western point of the Pictured Rocks National Lakeshore, this waterfall is pretty easy to reach and well worth a visit.
This waterfall in Michigan has a 40 foot drop over a sandstone crop and is about 10 feet wide.
The walk from the car park is a ½ mile through some beautiful scenery and there is a small overlook platform. There are stairs to climb, I think 64, so just be aware. The viewing platform is quite small and can get very busy.
If you can visit in springtime please do, not only is the waterfall in Michigan at its best but there are flowers everywhere and it really is beautiful.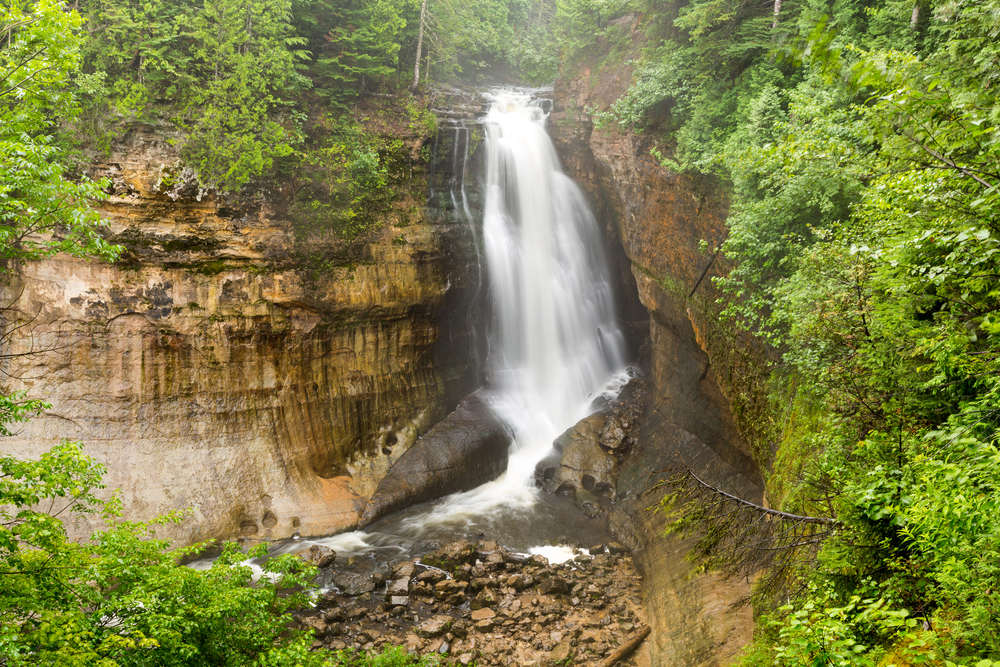 Sable Falls In Michigan Is Worth The Effort
Located on Sable Creek in the easternmost portion of the Pictured Rocks National Lakeshore this waterfall is somewhat out of the way but well worth a visit.
The trail from the parking lot is about ⅓ mile and there are 168 steps to the bottom of the falls so it's not the easiest to get to. The boardwalk also allows you to see the lower falls and the rapids downstream.
What makes this waterfall in Michigan so unique is that it is surrounded by sand dunes.
Not a very popular tourist spot, you might have the falls all to yourself. And if you want to hike a little further to the beach you can.
A unique waterfall in Michigan well worth a trip.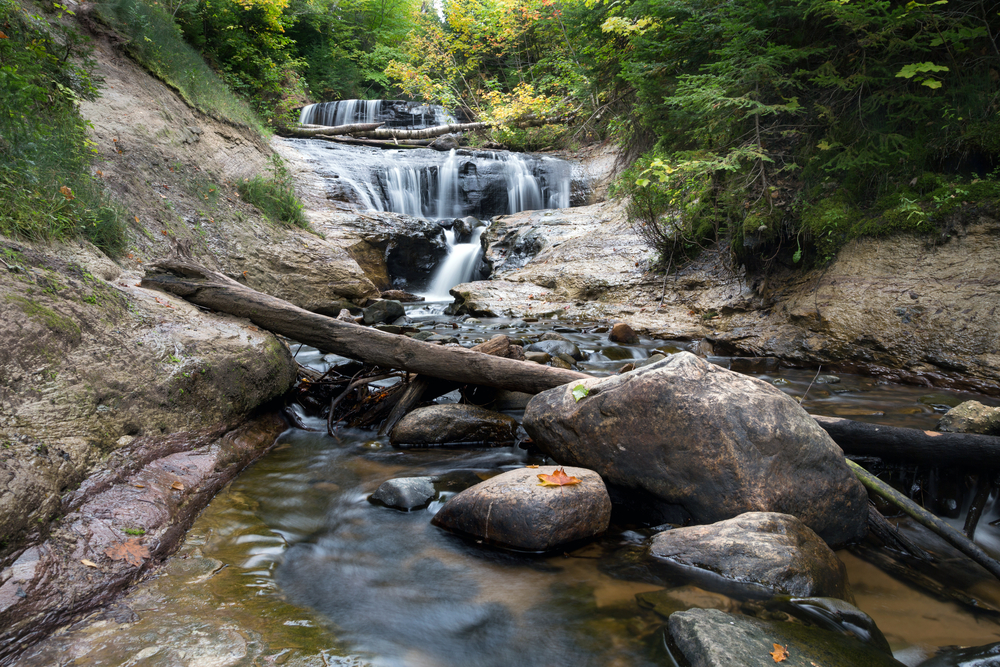 Manabezho Falls Is One Of The Largest Waterfalls In Michigan
In the remote Porcupine Mountains Wilderness State Park, Manabezho Falls is the largest waterfall in Michigan on the Presque Isle River. This Michigan waterfall has over a 23-foot drop and a 148-foot crest.
This dynamic and scenic waterfall is best accessed from the west end of the park. And if you visit it in the fall it truly is spectacular.
These Michigan falls can be seen on both sides of the trail a few steps and a bit of walking will take you a nice viewpoint of the falls. This waterfall is below the Manido and Nawadaha Falls so combine your visit and see three waterfalls in one day.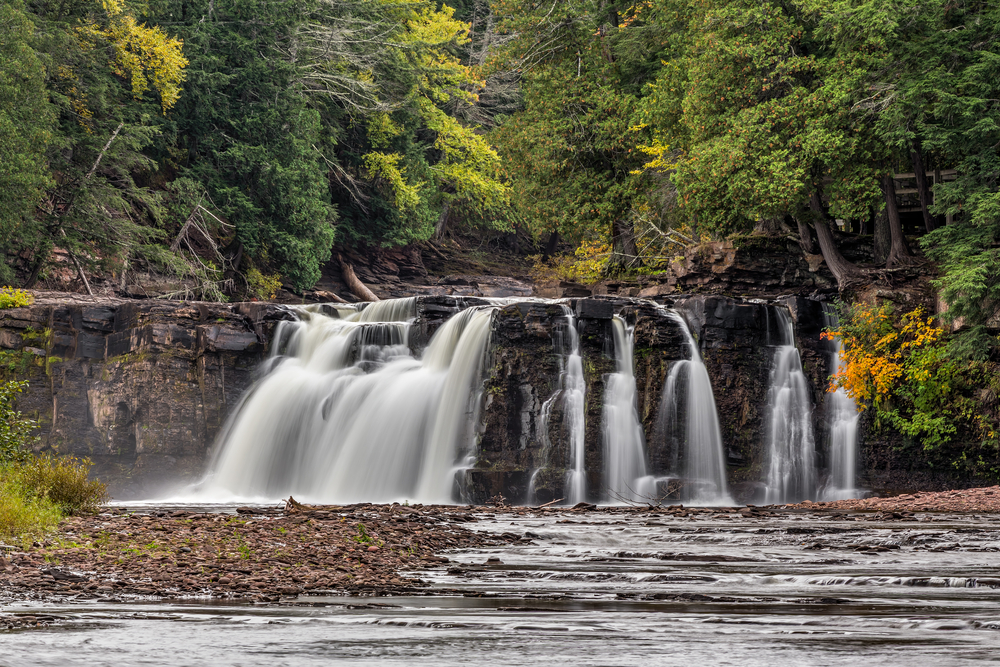 Manido Falls On The Presque Isle River
Just because this is the smallest of the Presque Isle River Falls, don't pass on this one because it so so pretty.
Just over eleven feet high its length can vary depending on when you visit sometimes reaching 98-feet wide.
There are stairs that lead you to an overlook on the west of the river where you can also see the nearby Nawadha Falls upstream. In the late afternoon if you are lucky the sun creates huge rainbows over these falls that are so magical.
The area here is beautiful and the park offers over 90 miles of trails, lakes, and waterfalls to explore so you can visit the falls and then go exploring.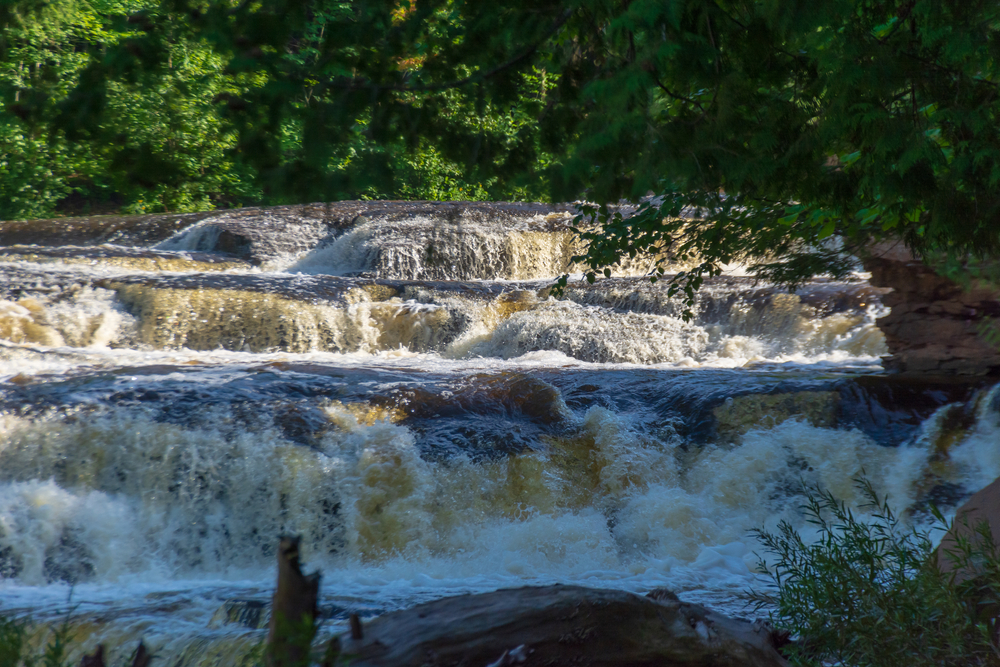 Great Conglomerate Falls On The Black River
On the Black River, Great Conglomerate Falls gets its name from the large conglomerate outcropping in the middle of the river. This outcrop splits the river in two forming two separate waterfalls.
The waterfall drops about 29-feet, and is the first and the most impressive of five waterfalls in Michigan on the river.
It's an easy waterfall to see thanks to boardwalks and viewing platforms. The trail leading from the parking lot can get muddy so please wear appropriate footwear. I recommend parking at the further car park for Potawatomi you will get to see all three waterfalls without having to repark.
A lovely area to explore five Michigan waterfalls with little effort!
Nawadaha Falls
This is the third waterfall on the Presque Isle River and possibly the most difficult to get to. You will need to climb some rugged trails to get a good view. There is an added viewing platform and a short trail, but most prefer the old trail.
It's definitely the most scenic of the three and is similar in size to Manido, but a little higher. It is low and wide, the width dependent on the water flow.
The falls are easy to spot when water is flowing but when the water isn't as strong you might have to go on a bit of a climb to get a view.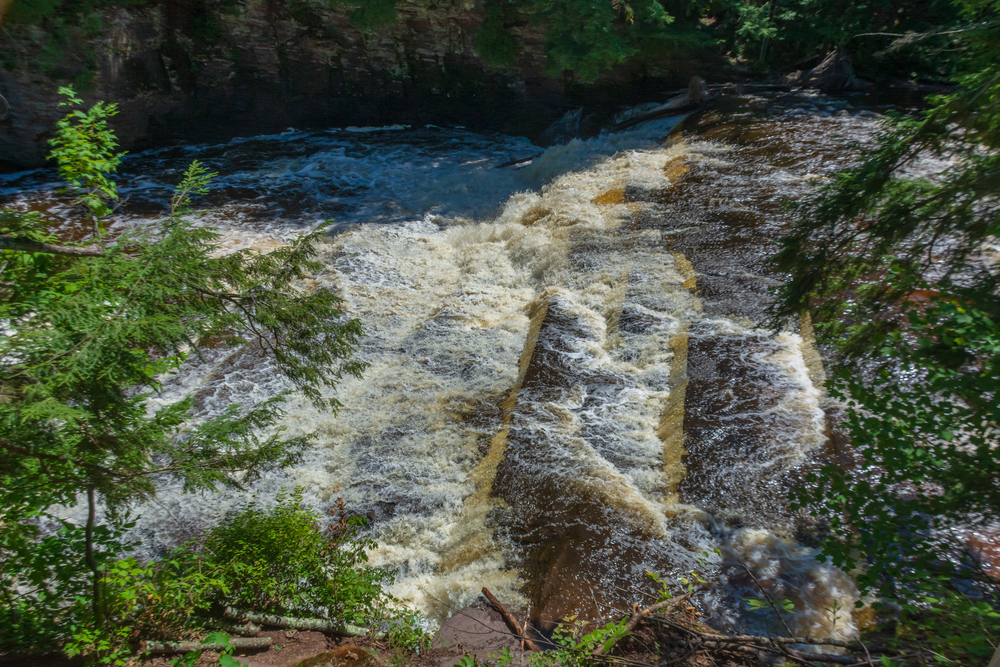 Ocqueoc Falls In Lower Michigan
One of the only really notable waterfalls in lower Michigan, Ocqueoc Fall cascades over limestone rock into the Ocqueoc River.
They are located at the beginning of the Ocqueoc Falls Bicentennial Pathway, and the area is really scenic with more than six miles of trails surrounding the falls. There are also picnic tables and grills. And the area is accessible for wheelchairs.
It is also somewhat of a swimming hole and can get busy in the summer.
The surrounding area offers over 6 miles of trails and is good for all kinds of outdoor activities. There is also a state forest campground located at the falls if you want to stay a night or two here.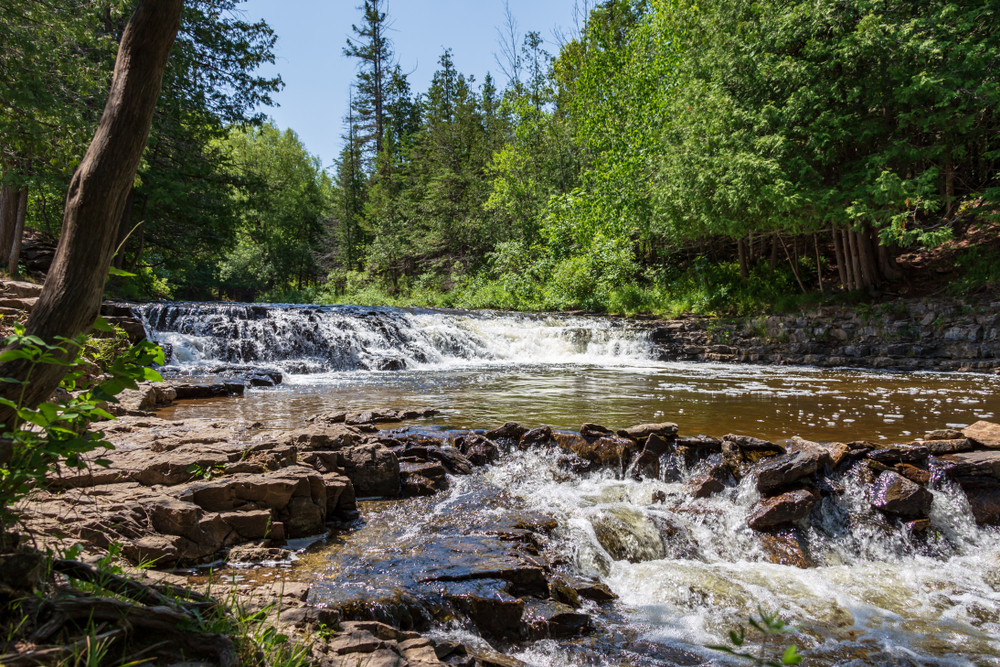 The Hungarian Falls Are Worth The Visit
In the Keweenaw Peninsula and owned by the Keweenaw Land Trust, the Hungarian Falls is well worth a visit. On Dover Creek, the width and scale of this waterfall are hard to grasp as the water flow is always different.
This waterfall is picturesque and is a series of three waterfalls that consist of Upper Falls, Middle Falls, and Lower Falls. All are surrounded by 10 acres of public land with mature trees and lots of nature trails.
The Upper Falls has a drop of nineteen feet down the rock face into a gorge. The Middle Falls is about the same height and the Lowers Falls is much more dramatic with a 49-foot drop off a cliff.
The Middle Falls are the easiest to access and these falls are best seen in full flow in the spring. In fall this area really is beautiful and the colors incredible.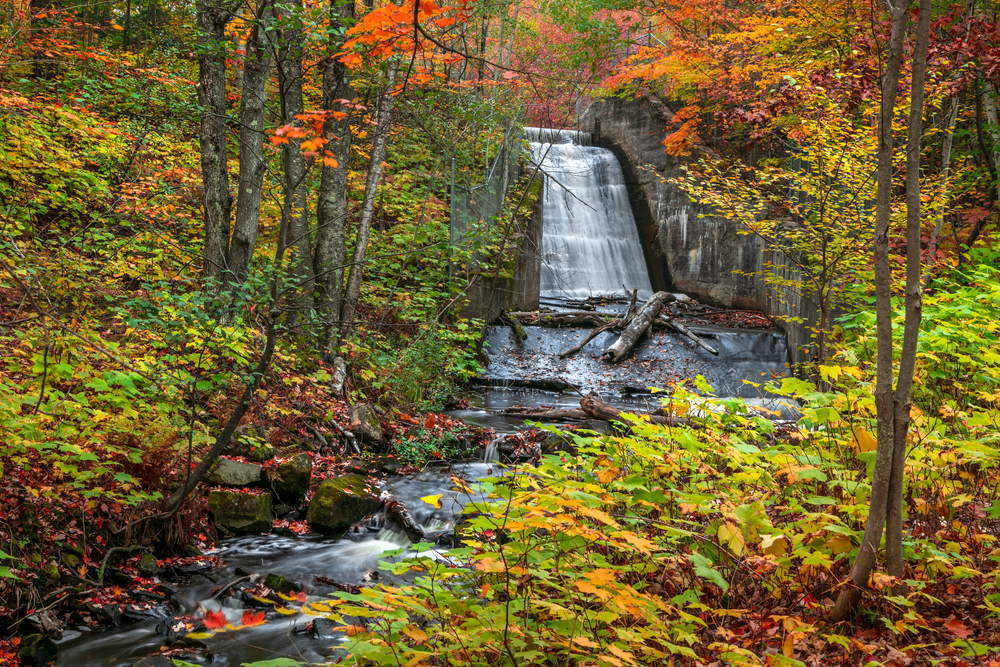 Spray Falls Are Waterfalls In Michigan Worth The Views
The best way to see Spray Falls is via boat with and there are cruises that will take you to them. The water plummets 70 feet from the sandstone cliff into the water below.
There is a three-mile round trip trail that takes you there but by far the views from the boat are the best. You can also kayak to the falls and underneath them as well.
The Lakeshore Trail passes right over the falls and the best lookout is about ¼ miles east of the falls which are signposted. Please be careful here though and don't go close to the edge as a lot of the cliffs are undercut and dangerous.
This waterfall is dramatic and somewhat of a photographers' dream. It just shoots from the lush cliff above into lake Superior below in a spray formation, hence its name. Think Lord of the Rings vibes and you have got it.
The scenery surrounding this waterfall also adds to its beauty. There is something about Spray Falls that makes it one of the most magical and captivating waterfalls in Michigan.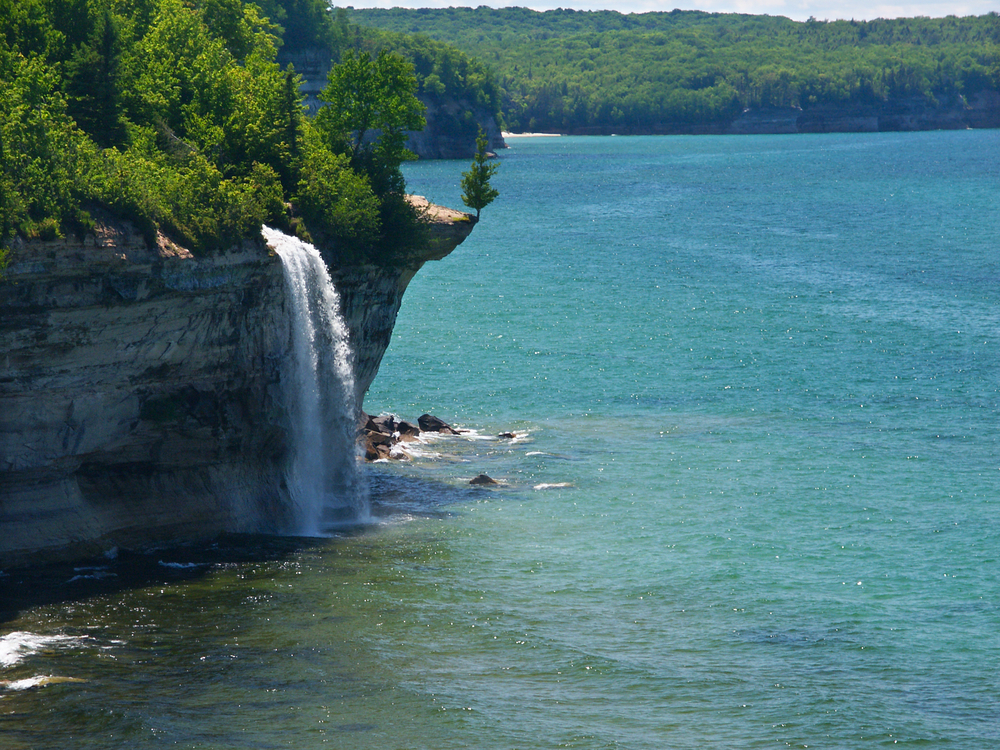 Packing List For Visiting Waterfalls In Michigan
If you will be traveling, either by plane or by car to Michigan, here are some tips on how to pack lightly.
A concealed travel pouch may be one of the most important items you bring along when visiting waterfalls in Michigan. It is always important to protect your personal information. Identity thieves are everywhere.
This unisex RFID blocking concealed travel pouch is lightweight and comes in several colors. It has lots of organization to give you peace of mind. You can place it under your hiking clothes next to your body to carry your ID safely.
f you have a pouch already that does not come with the RFID protection, as I do, these RFID sleeves are the perfect solution.
This configuration comes with enough credit card sleeves that the entire family would be protected. They are slim too, so they will easily fit into your pouch or wallet.
If you are planning on taking a lot of pictures with your phone you will definitely want to consider an external charging battery. This Anker high-speed phone charging battery is the exact one I carry with me on all of my trips.
It can be used on a variety of phones, not just an iPhone like I have. And wow is it fast!
I like that it holds its charging capabilities for several uses so I do not have to worry about it while out and about, and if I forget to recharge it at night, it will still be good to go the next day.
My daughter gifted me with this FugeTek selfie stick and tripod setup for my birthday. I absolutely love it! It is made of lightweight aluminum and so easy to use.
Tt has Bluetooth connectivity and is a breeze to use for taking selfies with all those nature shots while visiting Michigan waterfalls.
Hydration is so important when on vacation. You want to remain hydrated throughout your trip to support your immune system which in turn will be stronger to fight off any germs you will encounter during your travels.
You will want to bring your own refillable water bottle with you.
I never leave home on a trip without my Bobble filtration bottle. The 18.5-ounce size is perfect for hiking and it fits nicely in the pocket of a backpack.
When filled with water, it is not too heavy to carry. And the charcoal filter ensures fresh clean water whenever you fill the Bobble.
You can find filter replacements here.
Perhaps you are traveling a long distance and packing space is a premium in your suitcase, or in your car. Then this set of collapsible silicone foldable water bottles would work well for you. Would not take up much space at all.
You will want a backpack or daypack with you to store snacks, your water bottle, phone, extra clothes, etc.. when out viewing waterfalls in Michigan. No matter the time of day or evening.
This foldable water-resistant backpack would be great.
It is very affordable and is available in many color options for you to choose from. The fact that it folds down into a zippered pouch will make it easy to pack!
—
I hope several of these Michigan waterfalls have what you are looking for. Whether you visit one of the waterfalls in lower Michigan or one of the Upper Peninsula waterfalls I know you will have a great time. And it will make the perfect Midwest weekend getaway!
Please come back and tell me about your trip. I would love to know how your trip to one of these waterfalls in Michigan goes. Have a great time and I look forward to hearing all about it.