Looking for fun Midwest Road Trips to explore? Then take a look at this list full of the best Midwest road trips.
I was born and raised in the Midwest and I know there is so much to enjoy about each state.
That's why I've found a unique and fun road trip in the Midwest for each Midwestern state.
On these road trips you'll drive down the iconic Route 66, sample the best restaurants in Nebraska, admire natural wonders, and explore famous ghost towns.
So here are 15 fun Midwest road trips for your bucket list!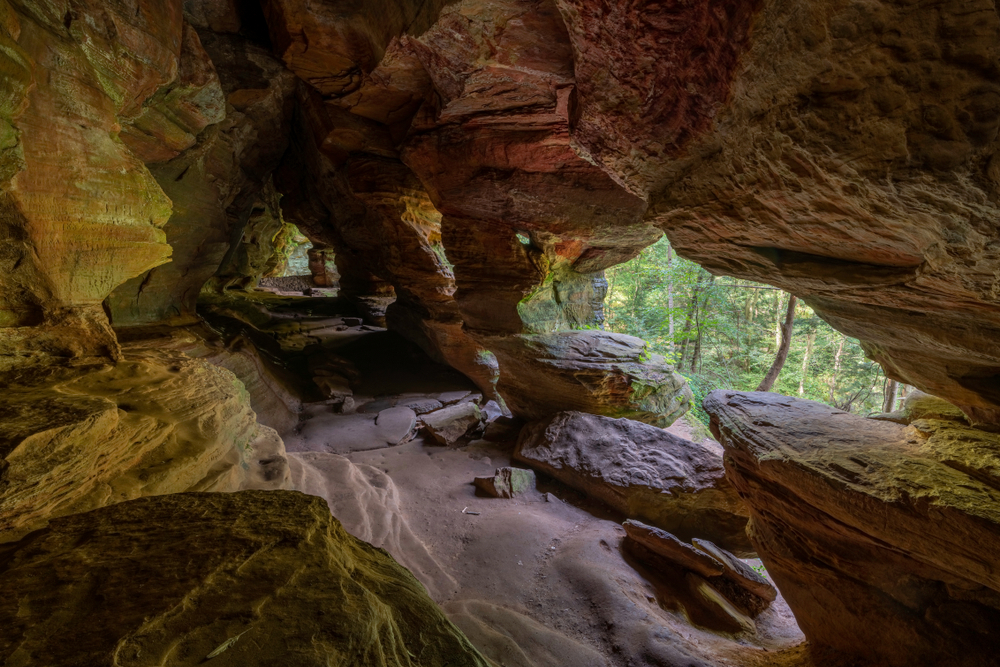 15 Fun Midwest Road Trips For Your Bucket List
Route 66 Through Illinois For History Lovers
Highlights
Chicago
Bloomington
Litchfield
Collinsville
You'll start your Midwest road trip through Illinois' portion of Route 66 in Chicago.
Make sure to grab a picture of the iconic Route 66 sign in Chicago that marks the start of the famous highway.
From there, you'll pass through Joliet and head into Bloomington. You'll want to check out the Illinois Route 66 Hall of Fame and Museum.
Head out of Bloomington towards Litchfield. On the way, you'll pass through some amazing kitschy road side attractions and unique food stands.
In Litchfield, grab something to eat at the iconic Doc's Soda Fountain before experiencing the Sky View Drive-in Theater.
You'll finish your trip in Collinsville where you should consider stopping at the Rabbit Ranch as you end your journey on the iconic Route 66.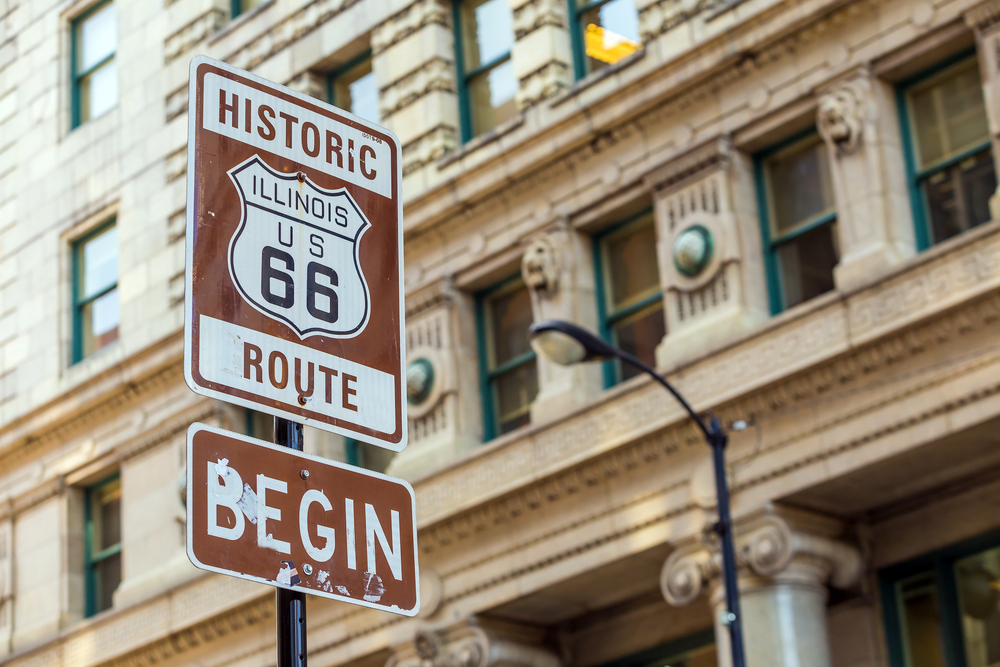 Natural Wonders Of Iowa Road Trip
Highlights
Dunnings Spring Park
Effigy Mounds National Monument
Maquoketa Caves State Park
Wildcat Den State Park
For your Midwest road trip through Iowa's natural wonders, you'll start at Dunning's Springs Park.
Dunning's Springs Park is home to one of the best waterfalls in Iowa.
From there, head to Effigy Mounds National Monument. This national monument is home to over 200 effigy mounds created by Native Americans from 20 different Nations.
Next, you'll make your way to Maquoketa Caves State Park.
Maquoketa Caves State Park is over 300 acres and has the most caves of any Iowa State Park.
Many of them you can walk through and hike out to see.
End your trip at Wildcat Den State Park. It is a beautiful park known for it's massive rock features.
You can take hikes and admire the 'Devil's Punch Bowl', 'Fat Man's Squeeze', and 'Steamboat Rock'.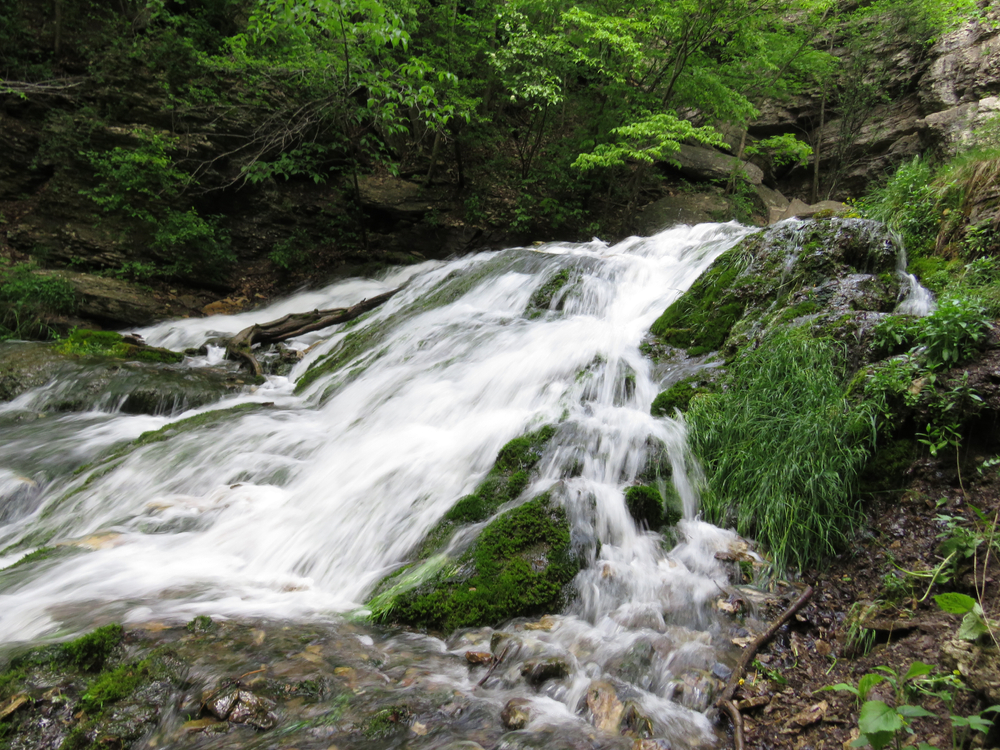 Post-Rock Scenic Byway, Kansas
Highlights
Limestone Native American Posts
Wilson Lake
The Garden of Eden
The Post Rock Scenic Byway is a stretch of byway in Kansas that is 18 miles long.
It winds through the Smoky Hills and is named for the unique limestone rock posts Native American's used to build their fences, homes, and other structures.
Along the route, you'll be able to admire these unique limestone Native American posts. Four of them have had faces carved into them by California artist, Fred Whitman.
One of the main parts of the byway is the area surrounding Wilson Lake.
There are several scenic stops you can take to admire Wilson Lake, or you can get out and explore and hike near the lake.
The scenic byway ends in the town of Lucas, which is home to the famous 'Garden of Eden'.
The 'Garden of Eden' is a National Historic Place that features over 150 folk art statues.
S.P. Dinsmoor was a Civil War veteran who created the folk art statues in the late 1800s.
Dinsmoor and his art made Lucas an artists town and it is now home to several different artist collectives and unique galleries.
It is the perfect stopping point for your road trip in the Midwest.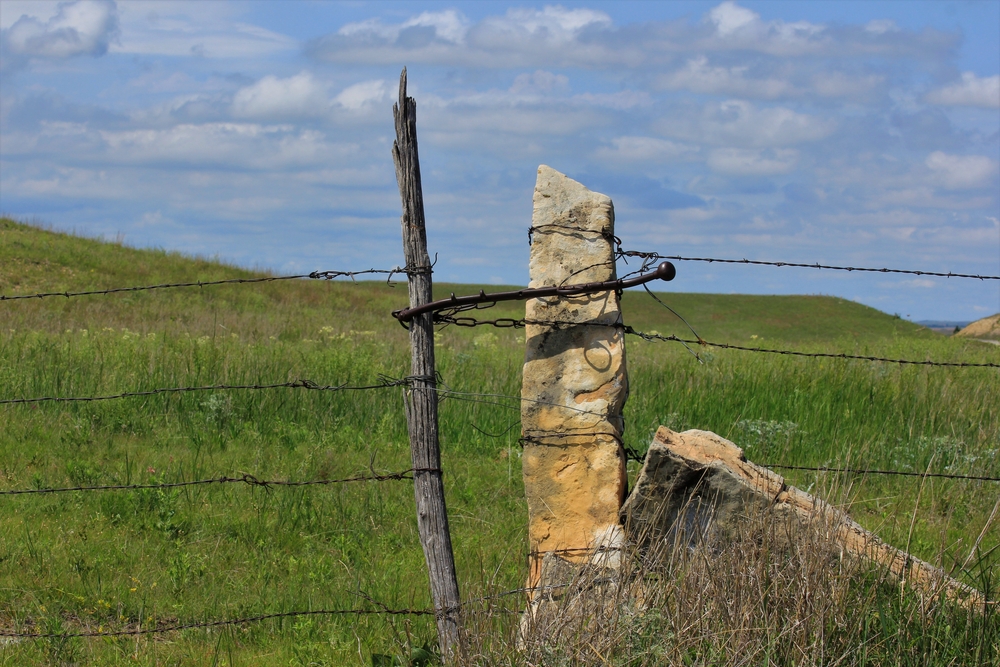 Ghost Towns Of Missouri For A Spooky Road Trip
Highlights
Arlington
Bloodland
Possum Trot
Georgia City
For those looking for a spookier adventure, consider a road trip in the Midwest full of Missouri ghost towns.
You'll start your road trip in Arlington, a once lively town on Route 66. Arlington was established in the 1860s but was abandoned less than 100 years later.
Just south of Arlington is Bloodland. The oddly named town became obsolete in the 1940s, but a few buildings still remain.
From Bloodland you'll head to the town of Possum Trot. All that remains of the former town is a church and a home that have long stood abandoned.
Finish your trip in Georgia City. The only thing left of this once hopping town is the cemetery. Many of the town's original residents are burried there.
A drive through the ghost towns of Missouri is sure to make for an interesting Midwest road trip.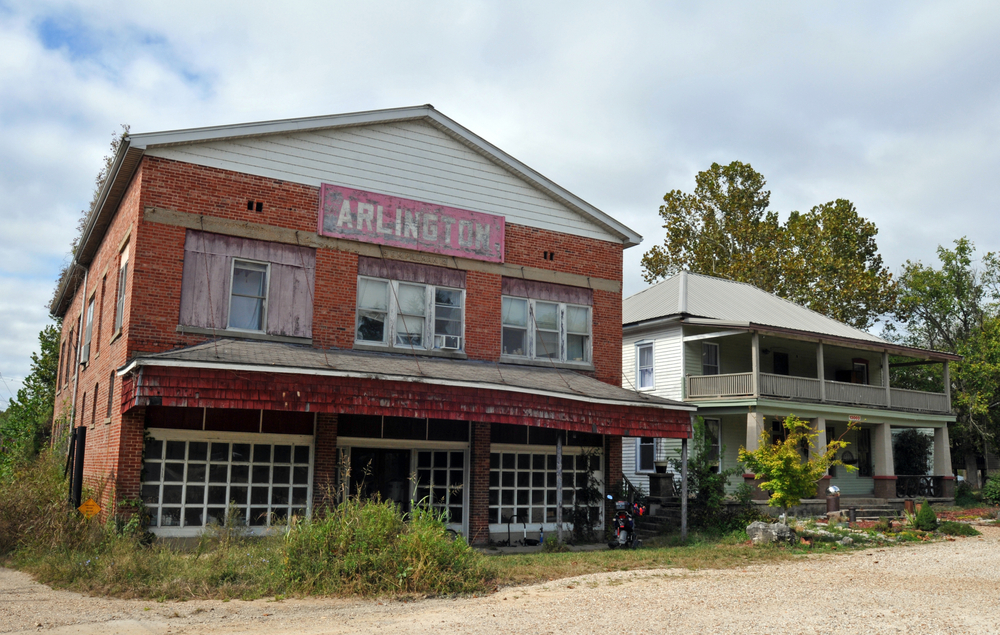 The Ohio River Scenic Byway, Indiana
Highlights
The Ohio River Scenic Byway runs in three states, with 300 miles running through Indiana.
There are three historic towns you'll pass through that offer charming experiences in each.
Begin your road trip in Vevay, named the 4th Coolest Small Town in America, and for good reason. There you can visit a casino, have a delicious meal, and even go zip-lining.
From Vevay you'll continue down the scenic byway to the charming town of Madison. You'll be able to sample locally made cider, go hiking, and enjoy small town charm.
Finish your Ohio River Scenic Byway road trip in the small town of Newburgh.
In Newburgh, walk the Riverwalk, grab a bite to eat, and explore unique shops.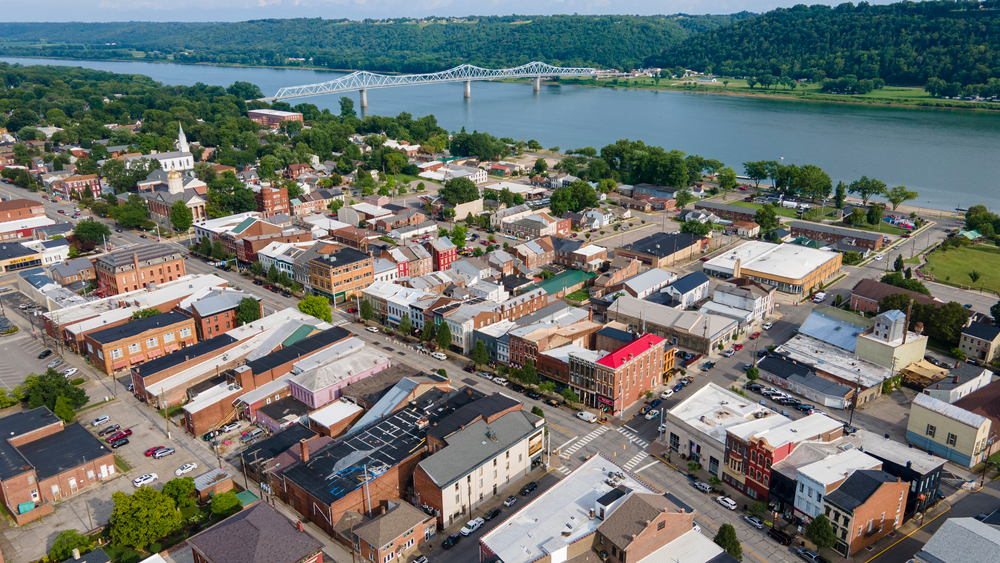 Small Towns Of Minnesota Road Trip
Highlights
Ely
Pipestone
Winona
Taylors Falls
There are so many cute small towns in Minnesota that it makes for the perfect Midwest road trip.
You'll start your trip in Ely, which is home to one of the best waterfalls in Minnesota, the Kawishiwi Falls.
From there, head to Pipestone, which is home to the Pipestone National Monument. At the National Monument you'll be able to hike and learn more about Native American history.
After you leave Pipestone, continue on to Winona. Winona is perfect for a romantic getaway if you are a couple that enjoys festivals.
The small town of Winona is known for it's frequent and unique festivals. So no matter what time of year you visit, you'll probably get to enjoy one.
End you're small towns road trip in Taylors Falls.
It's the perfect place to end your trip because you'll be able to decompress and enjoy the great outdoors.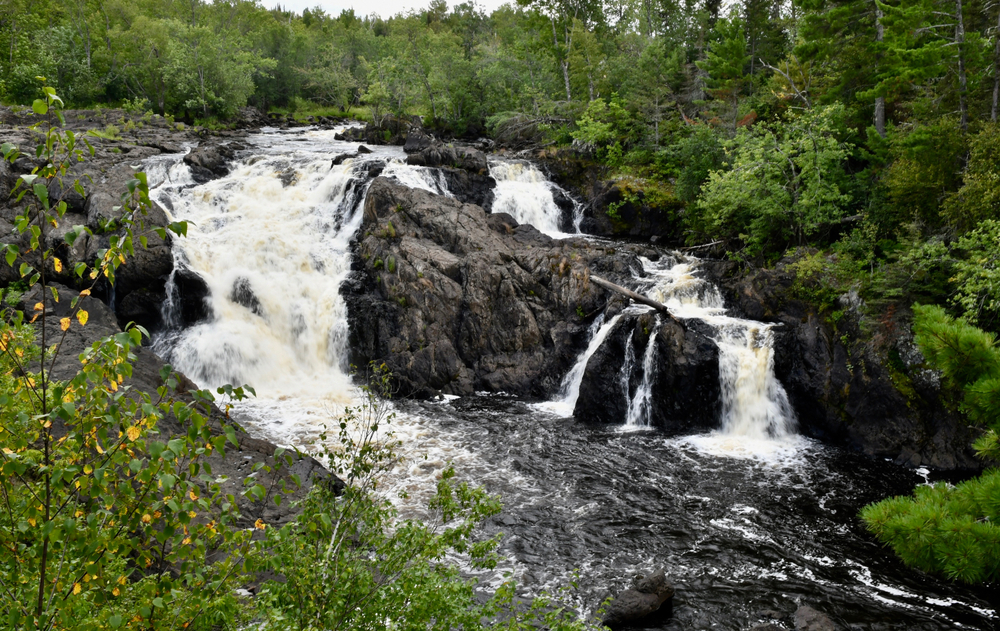 Lighthouses Of Michigan Road Trip For Coastal Fun
Highlights
Big Red Lighthouse
Big Sable Point Lighthouse
Old Mackinac Point Lighthouse
Fort Gratiot Point Light Station
Start your exploration of Michigan's lighthouses at the famous Big Red Lighthouse in Holland. Holland is great for a weekend getaway in Michigan, so consider spending a little time enjoying the town while you're there.
From there, travel North to the Big Sable Point Lighthouse.
The Big Sable Point Lighthouse is in Ludington, which is also where you can find one of the best beaches in Michigan.
Next, you'll stop at the Old Mackinac Point Lighthouse, one of the best lighthouses in Michigan, which is on Mackinac Island.
Mackinac Island is another great place to explore, so plan to spend some time to tour both the lighthouse and the nearby area.
End your trip at Michigan's first lighthouse, the Fort Gratiot Point Light Station.
It first opened in 1825 and is a popular lighthouse for tourist visits, so plan enough time there to get the full experience. The lighthouses of Michigan road trip in the Midwest is a great way to experience Michigan coastal life.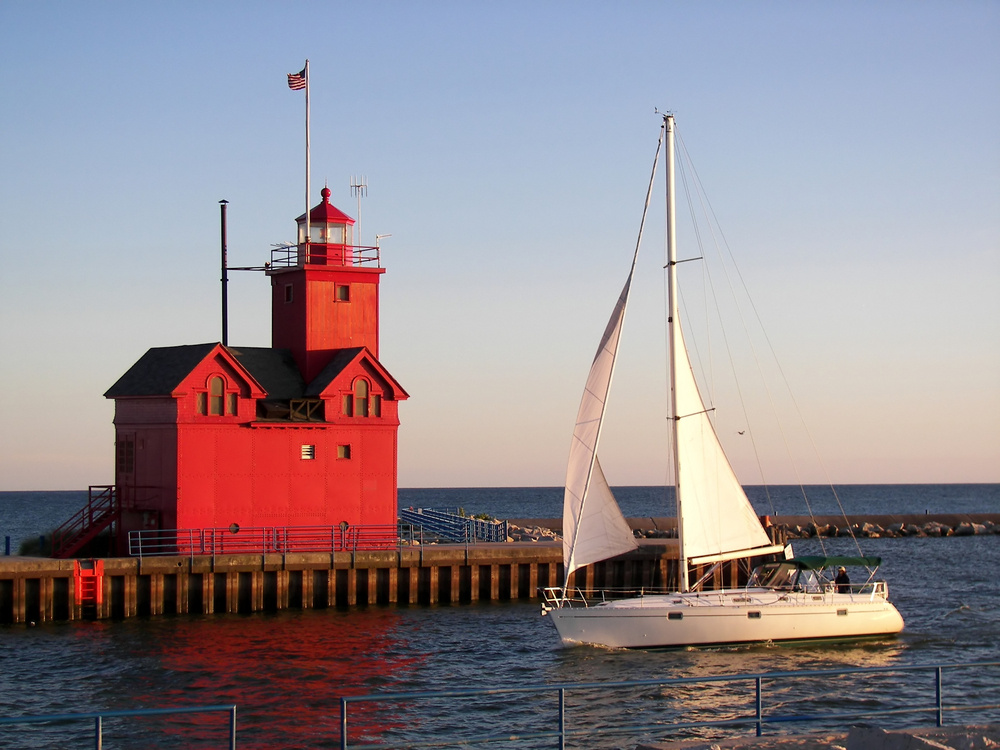 Old Red/Old Ten Scenic Byway, North Dakota
Highlights
Taylor
Assumption Abbey
Salem Sue
If you're looking for Midwest road trips that explore the hidden parts of Midwestern States, then consider traveling down the Old Red/Old Ten Scenic Byway in North Dakota.
The best part about this road trip is that it is mostly full of beautiful scenic views of North Dakota.
As you drive along, you'll come into the small town of Taylor. Taylor is known for it's yearly horse festivals.
If you stop by during one of those festivals, you're in for a real treat.
Next you'll pass into Richardton, which is home to the beautiful Assumption Abbey.
While you're there, make sure you take the time to tour this stunning abbey that is seemingly in the middle of nowhere.
As you finish you're road trip, you'll find Salem Sue.
Salem Sue is the World's Largest Holstein Cow fiberglass sculpture. It was built in 1974 using $40,000 in donations from local farmers and residents.
It is a unique way to end your Midwestern travel through scenic North Dakota.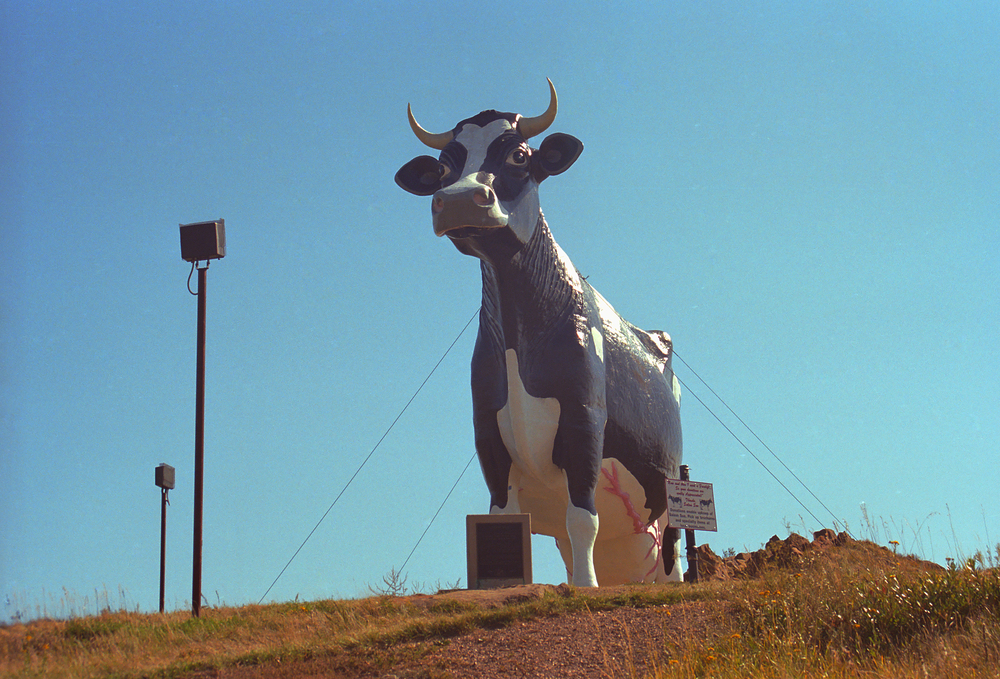 Ohio Waterfalls Midwest Road Trips
Highlights
Mohican State Park
Brandywine Falls
Lanterman's Falls
Hocking Hills State Park
Most of Ohio's best waterfalls can be found in state parks, so start your road trip in Mohican State Park.
At Mohican State Park there are two waterfalls you can see. The Big and Little Lyons Falls, both of which flow over deep sandstone gorges.
Next head to Cuyahoga National Park to admire the Brandywine Falls, home to one of the best waterfalls in Ohio.
The falls are a popular spot to visit and cascade down into the river over 65 feet. The hike to view them is fairly easy, so it's a great stop on any waterfall Midwest road trips.
Continue on to Lanternman's Falls, which is actually in Youngstown Ohio's metro park.
Make sure while you're there you take the time to explore and enjoy the best things to do in Youngstown Ohio.
End your trip at one of my favorite spots, Hocking Hills State Park.
Hocking Hills State Park has some of the best hiking trails in Ohio, and a lot of them lead you to one of the three waterfalls there.
Exploring Ohio's waterfalls is a great way to see some of the most beautiful spots in my home state.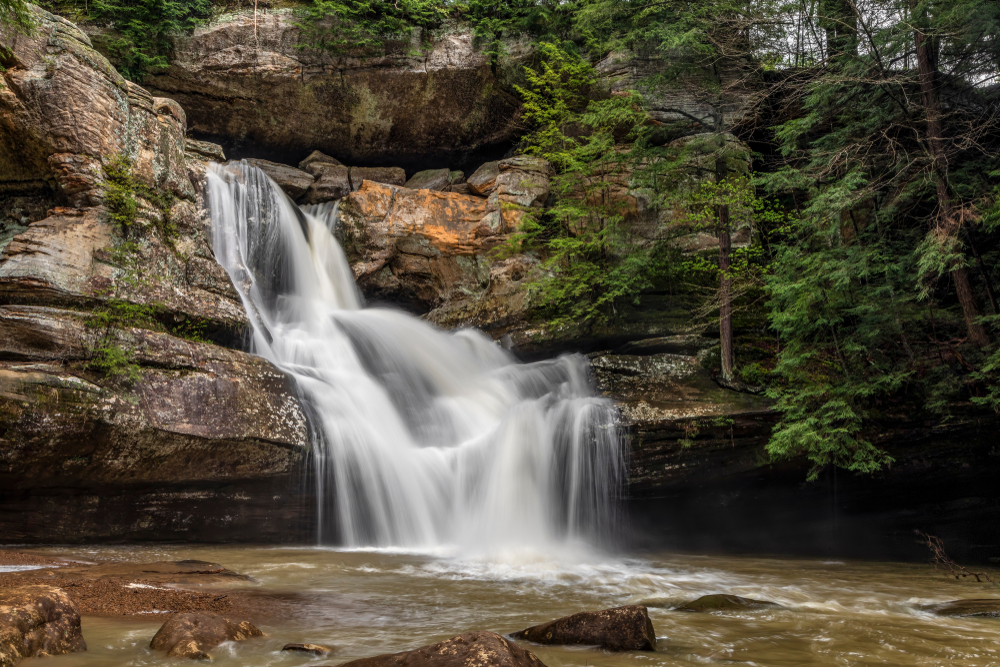 State Parks of Wisconsin Midwwest Road Trip For Outdoor Adventures
Highlights
Peninsula State Park
Copper Falls State Park
Pattison State Park
Devil's Lake State Park
There are tons of State Parks in Wisconsin, but for this road trip, I have found some of the best ones for you to explore.
Begin your journey at Peninsula State Park. It is the state's second most popular park and has a mix of challenging and easy hikes, so there is something for everyone.
If you are up for the challenge, hike the 2 mile Eagle Trail to admire breathtaking limestone cliffs.
Continue your trip to Copper Falls State Park.
Copper Falls State Park is home to one of the most beautiful waterfalls in Wisconsin, but not the only state park on this trip to have waterfalls.
From Copper Falls, head to Pattinson State Park.
Pattinson State Park is home to Wisconsin's biggest waterfall, Big Manitou Falls. The hike is fairly easy to view it, so I definitely suggest taking the time to do the hike.
Finish your Midwest road trip in Devil's Lake State Park.
This State Park is known for its many unique rock formations and this has made it one of Wisconsin's most popular State Parks.
When you plan this road trip, make sure to give yourself plenty of time to explore all the State Parks and what they have to offer.
Michigan's Covered Bridges Trail
Highlights
Fallasburg Covered Bridge
Ada Covered Bridge
Langley Covered Bridge Historic Site
Holz-Brucke Bridge
Michigan has its own Covered Bridges Trail and its a great way to explore Michigan. You'll start your trip in Lowell at the Fallasburg Covered Bridge.
Fallasburg is one of the only four covered bridges in Michigan that is still open to vehicle traffic.
Tourists have been coming to view this 100 foot covered bridge since it was built in 1871.
Right by the Fallasburg bridge is the Ada Covered Bridge.
The Ada Covered Bridge is only open to foot traffic and takes you across the Thornapple River onto Bronson Street in Ada.
From there, you'll travel to the Langley Covered Bridge, which is the longest wooden covered bridge in Michigan.
End your tour of Michigan's covered bridges in the cute Michigan small town of Frankenmuth.
Frankenmuth is home to the Holz-Brucke Bridge which was actually built in 1980.
It may be a newer covered bridge, but it is absolutely worth a stop on your Midwest road trip!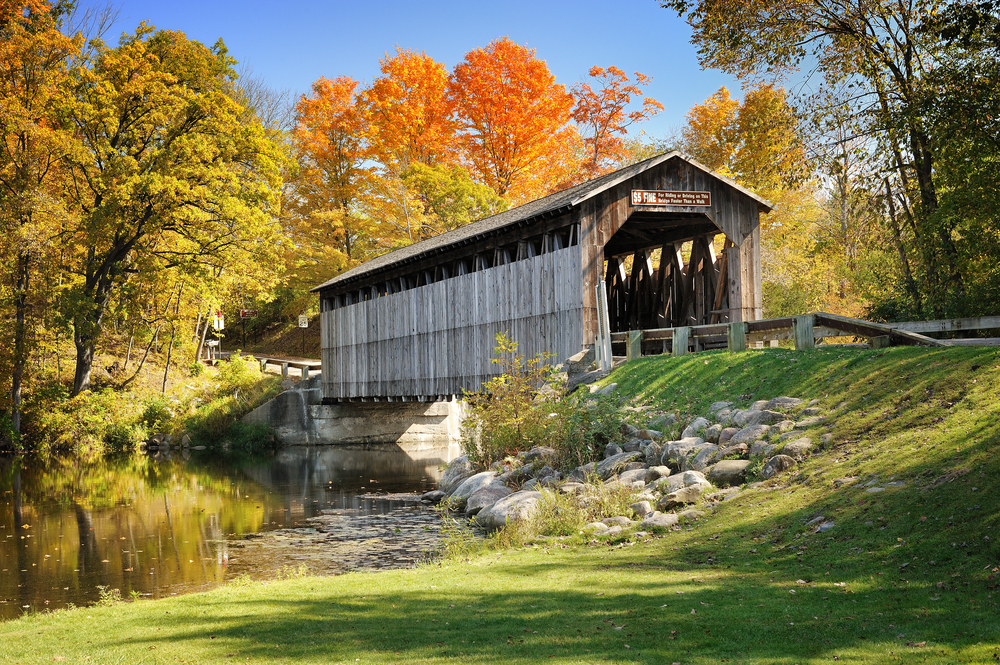 Best Restaurants A Midwest Road Trip Through Nebraska For Foodies
Highlights
The Chocolate Bar, Grand Island
The Mixing Bowl, Gering
Sehnert's Bakery, McCook
Shirley's Diner, Omaha
UNL Dairy Store, Lincoln
Nebraska is full of amazing restaurants, so start in Grand Island and The Chocolate Bar. The stand out on this bakery's menu is their Old Fashioned Chocolate Cake, but you'll love anything you order.
Next head to Gering and sample German classics with a bit of Midwestern flair at The Mixing Bowl.
The Mixing Bowl is open for breakfast and lunch and the locals absolutely love it, so you know it's going to be good.
After breakfast or lunch at The Mixing Bowl, head to Sehnert's Bakery in McCook for a delicious pastry, a gourmet sandwich, or a cup of espresso.
For dinner, you can't beat Shirley's Diner in Omaha.
Shirley's is a family owned and operated classic 1950s style diner. You'll get to enjoy Nebraska favorites to the sounds of good old fashioned Rock N Roll.
End your foodie Midwest road trip at the UNL Dairy Store for a sweet treat.
UNL Dairy Store offers ice cream that is handmade by local university students as well as other sweet dairy treats.
It is a perfect way to end one of the most unique Midwest road trips in Nebraska.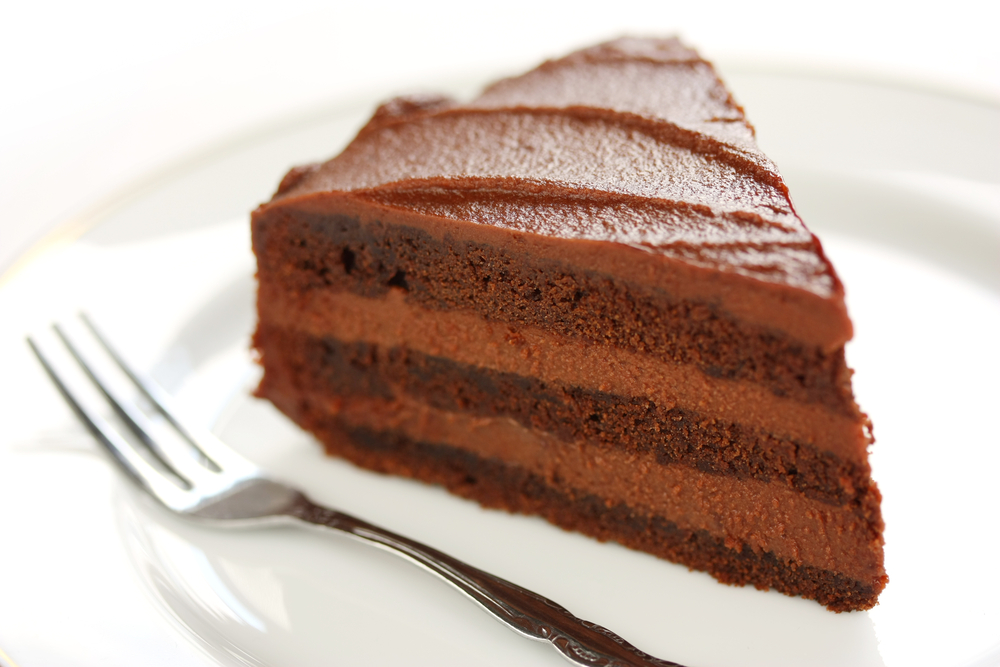 Haunted South Dakota Midwest Road Trip
Highlights
Mount Marty College
Gitchi Manitou
Scotty Phillip Cemetery
Historic Fairmont Hotel
South Dakota is home to some well known haunted location, making it the perfect place to have a haunted road trip.
Start your haunted road trip at Mount Marty College.
Mount Marty College has been home to ghost tales ever since the death of a maintenance worker in 1936. Residents in Whitby Hall report apparitions, scratchings, and strange noises.
From there head to Gitchi Manitou for some newer haunting rumors.
Gitchi Manitou is where six Sioux Falls teens were reportedly murdered in the 1970s while camping and now local legend says the teens haunt the area.
Your next stop is the Scotty Philip Cemetery.
Its no surprise that an old cemetery would have rumors of being haunted. The cemetery has a sad story of a father surviving his five children, and now locals believe he haunts the grounds mourning his children.
End your haunted road trip at the famous Historic Fairmont Hotel in Deadwood South Dakota.
Ghost tours are offered daily or if you're brave, you can spend the night and wait for an opportunity to experience the ghostly happenings yourself.
This will definitely be one of the most interesting Midwest road trips you can take!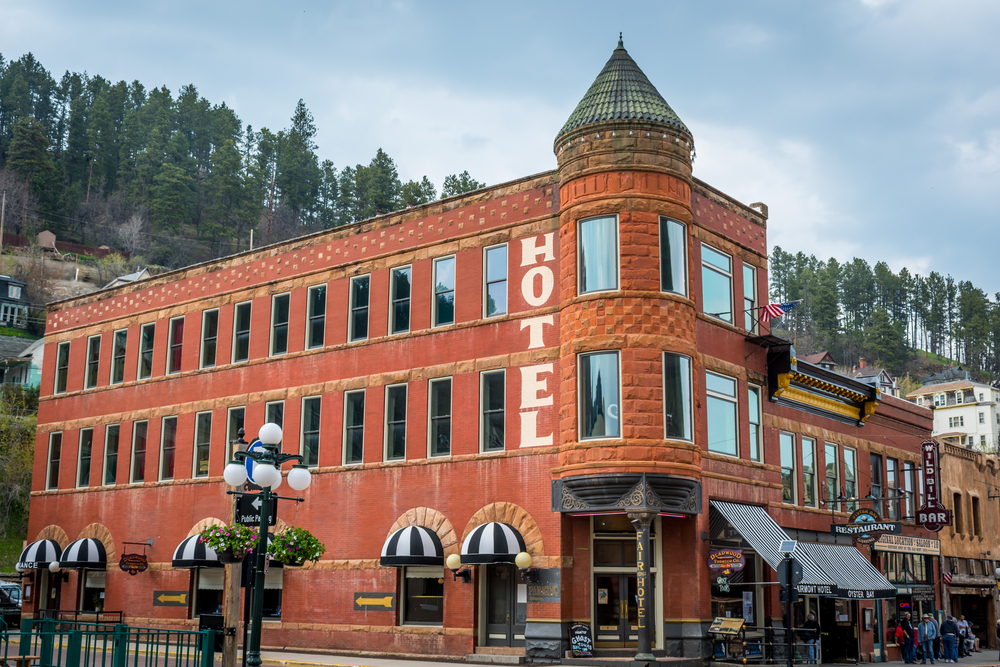 Roadsides Attractions Of Illinois For A Kitschy Midwest Road Trip
Highlights
Superman Square, Metropolis
Brook's Catsup Bottle, Collinsville
The Gemini Giant, Wilmington
De Immigrant Windmill, Fulton
Illinois has some great hidden gems in the Midwest, like kitschy roadside attractions, and a lot of them are on the famous Route 66. So you can combine this road trip with my Route 66 one!
Begin your kitschy road trip in Metropolis where you can admire the Superman Square. Metropolis claims to be the home of the iconic super hero, and takes that very seriously.
From there, head to Collinsville where you can view the World's Largest Catsup Bottle, the Brook's Catsup Bottle.
At one time, it was the water tower for the town, but now it is a fun kitschy roadside attraction.
Next, head to the Launching Pad restaurant in Wilmington.
Outside of the restaurant stands a large Mid Century statue known as the Gemini Giant. Its a really fun spot to grab a bite to eat and a fun selfie!
Finish your kitschy road trip by viewing the De Immigrant Windmill in Fulton.
The De Immigrant Windmill was originally constructed in the Netherlands but now stands proudly in this cute Illinois town.
Natural Wonders of Missouri Road Trip
Highlights
Clifty Creek Natural Bridge
Johnson Shut-ins
Elephant Rock State Park
Grand Gulf State Park
Missouri is the perfect state for Midwest road trips that focus on natural wonders, because it has plenty!
I suggest starting your road trip at the Clifty Creek Natural Bridge.
You'll have to take a 2.5 mile hike, but at the end you'll get great views of the natural rock bridge.
From there, head to the Johnson Shut-ins.
The Johnson Shut-ins are volcanic rock that are stuck in the East Fork of the Black River. They make for a great way to spend a hot summer day, because you can go swimming in the area.
Continue to Elephant Rock State Park to see it's namesake, the Elephant Rock.
The rock formation was created with 1.5 billion-year-old granite that you can now climb and admire.
Finish your journey through Missouri's natural wonders at the Grand Gulf State Park.
Locals refer to Grand Gulf as the "Little Grand Canyon" and was formed by a collapsed cave system. It's a great way to end your Midwestern travels.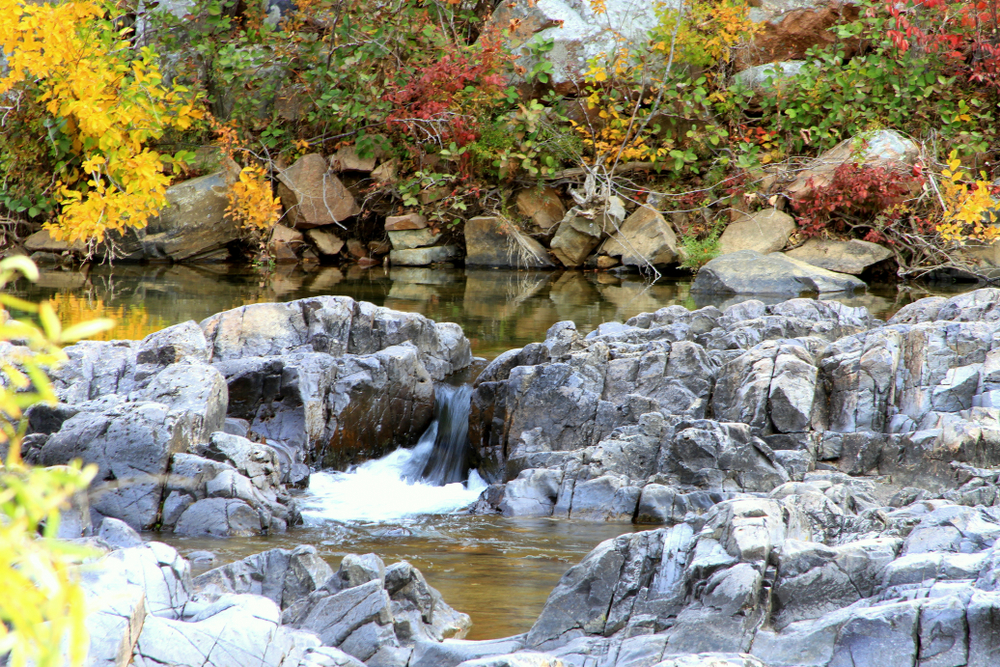 Packing List For Your Midwest Road Trips
If you will be traveling, either by plane or by car to the Midwest, here are some tips on how to pack lightly.
A concealed travel pouch may be one of the most important items you bring along when taking Midwest road trips. It is always important to protect your personal information. Identity thieves are everywhere.
his unisex RFID blocking concealed travel pouch is lightweight and comes in several colors. It has lots of organization to give you peace of mind.
You can place it under your hiking clothes next to your body to carry your ID safely.
If you have a pouch already that does not come with the RFID protection, as I do, these RFID sleeves are the perfect solution.
This configuration comes with enough credit card sleeves that the entire family would be protected. They are slim too, so they will easily fit into your pouch or wallet.
If you are planning on taking a lot of pictures with your phone you will definitely want to consider an external charging battery. This Anker high-speed phone charging battery is the exact one I carry with me on all of my trips.
It can be used on a variety of phones, not just an iPhone like I have. And wow is it fast!
I like that it holds its charging capabilities for several uses so I do not have to worry about it while out and about, and if I forget to recharge it at night, it will still be good to go the next day.
My daughter gifted me with this FugeTek selfie stick and tripod setup for my birthday. I absolutely love it! It is made of lightweight aluminum and so easy to use.
It has Bluetooth connectivity and is a breeze to use for taking selfies when staying in one of the best Airbnbs in Illinois.
Hydration is so important when traveling. You want to remain hydrated throughout your travels to support your immune system which in turn will be stronger to fight off any germs you will encounter during your travels.
You will want to bring your own refillable water bottle with you.
I never leave home on a trip without my Bobble filtration bottle. The 18.5-ounce size is perfect for hiking and it fits nicely in the pocket of a backpack.
When filled with water, it is not too heavy to carry. And the charcoal filter ensures fresh clean water whenever you fill the Bobble.
You can find filter replacements here.
Perhaps you are traveling a long distance and packing space is a premium in your suitcase, or in your car.
Then this set of collapsible silicone foldable water bottles would work well for you. Would not take up much space at all.
You will want a backpack or daypack with you to store snacks, your water bottle, phone, extra clothes, etc.. when hiking This foldable water-resistant backpack would be great
It is very affordable and is available in many color options for you to choose from. The fact that it folds down into a zippered pouch will make it easy to pack.
—
No matter which of these Midwest road trips you decide to do, you're guaranteed to have a good time. They all offer a unique and fun way to explore the Midwest.
Have you been on any of these road trips or ones like them? If you haven't, which one do you want to take first?
I'd love to hear about your Midwestern travels in the comments!