Are you looking for the best waterfalls in Ohio? You have definitely come to the right place.
There are so many things to do in Ohio. It is located in the midwest and stretches from the Ohio River and the Appalachian Mountains in the south/southeast to the shores of Lake Erie in the North.
Pennsylvania and West Virginia make up its eastern border. Indiana makes up its western border.
And when you think of waterfalls, Ohio might not come to your mind. But I am here to tell you there are beautiful waterfalls in Ohio.
I am a Midwestern girl through and through. I was born and raised in Youngstown, Ohio.
I love my home state of Ohio. Here I am going to share with you the best waterfalls in Ohio.
18 Best Waterfalls In Ohio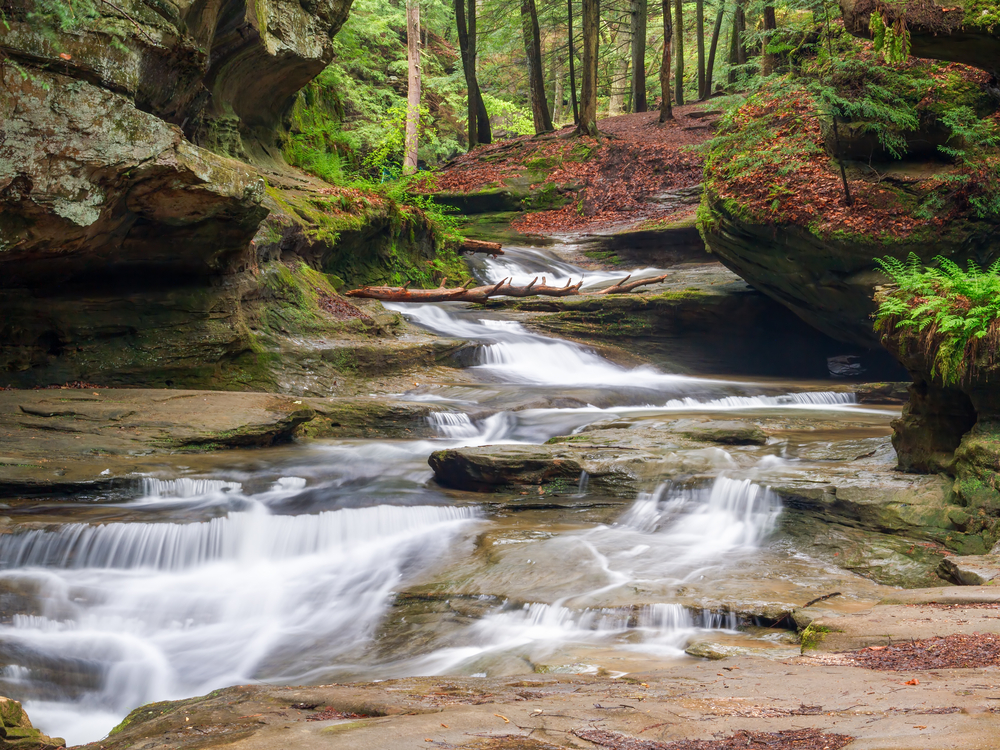 Lanterman's Falls In Youngstown
Located in my hometown of Youngstown you will find easily accessible Lanterman's Falls.
Located in Mill Creek Park, the power generated by Lanterman's Falls is still used at the adjacent Lanterman's Mill which was built in 1845. It was recently renovated in the mid-1980s.
Visit the mill and take a step back in time. Learn about the pioneer spirit of the surrounding area. The energy generated by the nearby water is still used to grind grain into flour, which you can purchase.
You can literally feel the rumbling of the large stones as the grain is being ground.
Read about 18 things to do in Youngstown Ohio for other things to do in the area. Then read about 15 of the best things to do in Mill Creek Park, a must-visit destination in Youngstown!
Lanterman's Falls plunge down in the gorge below and there is a beautiful overlook where you can see the mill and the falls.
There is a myriad of hikes you can take down into the gorge as well to view the falls at different levels.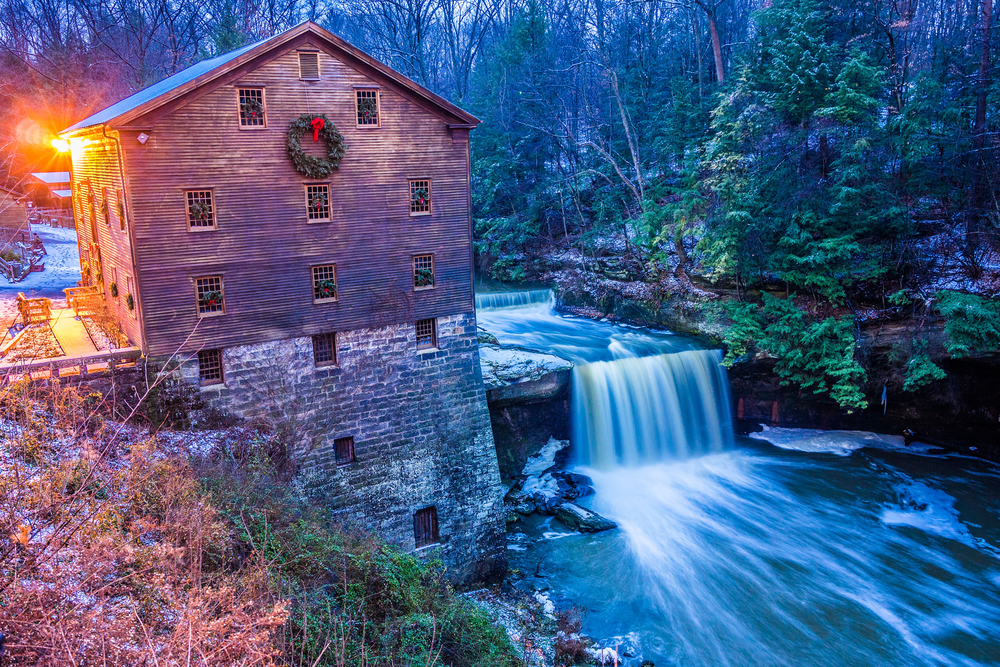 Paine Falls In Painesville
You will find Paines Falls about 5 miles southeast of Painesville, Ohio, located within the area's metro park. You will find amenities such as trails, restrooms, and picnic areas.
These two-tiered falls are located with the park's gorge. There is a trail that follows around the gorge, with several signs cautioning visitors to remain on the trail for their safety.
Paine Falls is a great location to stop for a break if you are driving from Cleveland to Buffalo. Take advantage of its easy accessibility off of Interstate 90.
Grab a quick lunch or bathroom break while viewing one of the quaintest waterfalls in Ohio.
Look here for my suggestions on weekend getaways in Ohio!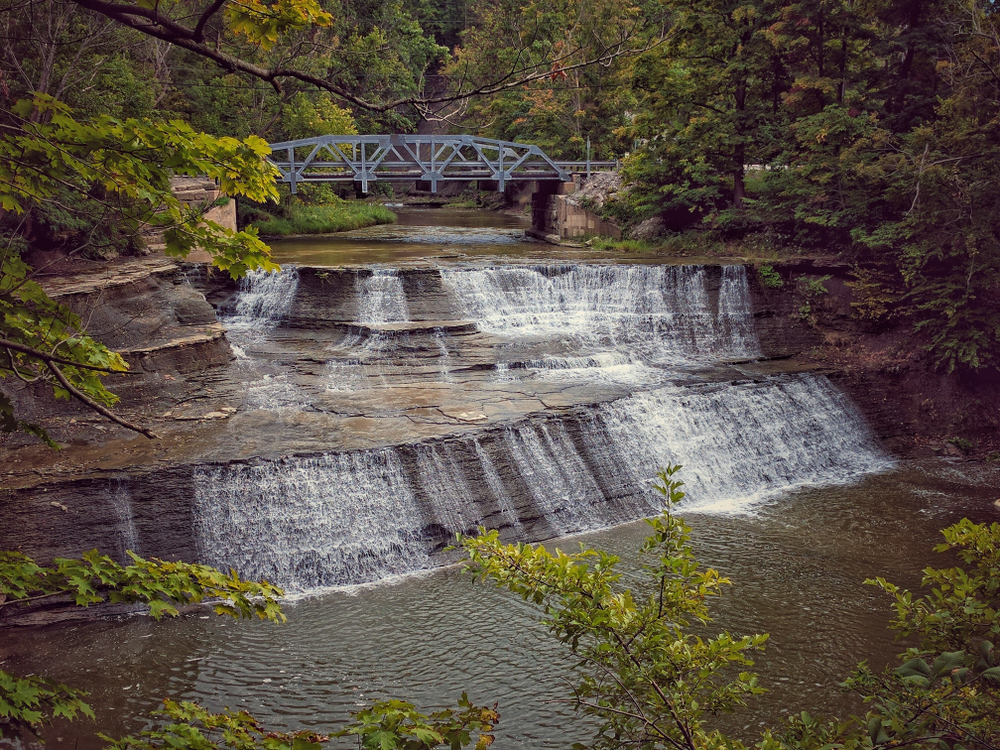 Chagrin Falls Has A Waterfall In Its Main Square
Chagrin Falls is a small village about forty miles south of Cleveland.
It is charming and quaint and perfect when looking for Ohio waterfalls!
The village has a wide variety of events and historic architecture to admire. Known for its artistic community Chagrin Falls has ample antique shopping to leisurely pass the day away.
Trendy pubs and restaurants dot the city square, making Chagrin Falls a wonderful day trip to view waterfalls in Ohio.
Read about the 12 best Airbnbs in Ohio here if you need a place to stay when chasing waterfalls!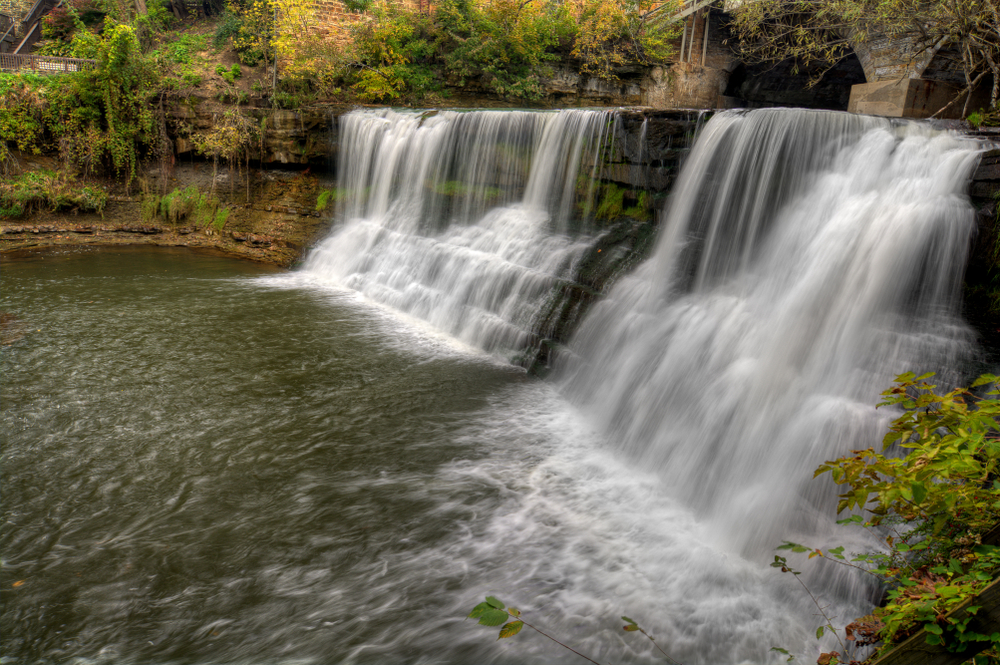 Great Falls Of Tinker's Creek, Bedford
Located south of Cleveland, The Great Falls of Tinker's Creek are located within the Bedford Reservation.
It is a National Natural Landmark, formed by Tinker's Creek, the largest tributary of the Cuyahoga River.
You will see remnants of a sawmill, grist mill, and even an electric power plant. A bridge over Tinker's Creek Gorge that was used for train travel is located there as well.
The falls have about a 15-foot drop and span about 80 feet when there is enough water, after a rain or snowmelt. Otherwise, it segments itself.
Great Falls is located about ten miles from Chagrin Falls and Cuyahoga National Park's waterfalls are about 15 miles south.
Read about 11 best places to see fall foliage in Ohio here.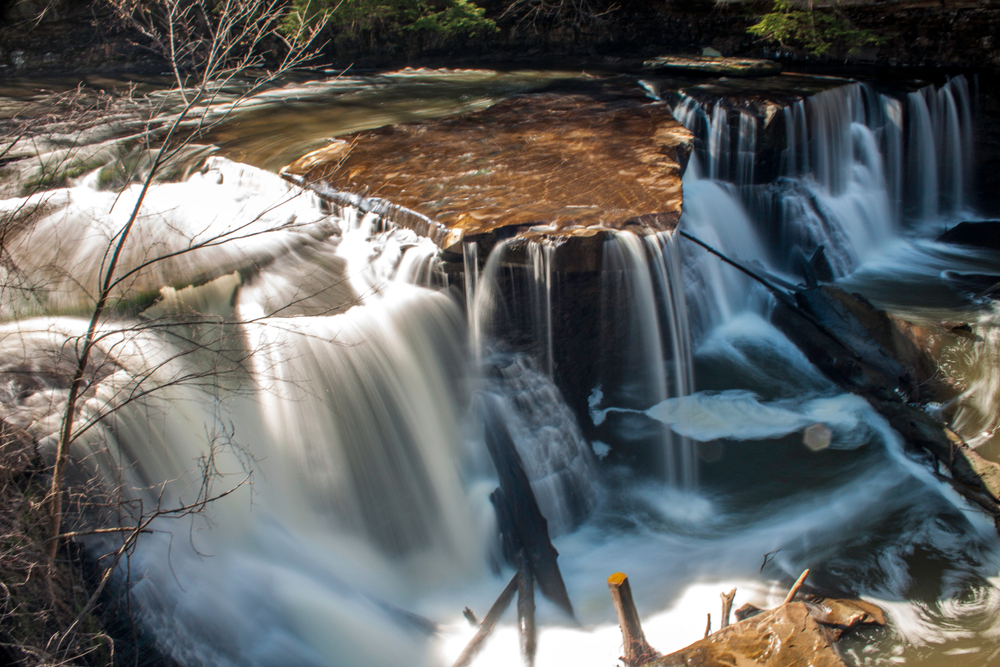 Mill Creek Falls, Cleveland
Located in Cleveland, Mill Creek Falls, also referred to as Cataract Falls is Cuyahoga County's tallest waterfall.
Standing at forty-eight feet tall, the height and power of its flowing water were instrumental in assisting Cleveland to become a thriving city.
There is a small overlook to see spectacular views of the falls at The Yard at Mill Creek Falls.
The falls were "moved" in the early 1900s. Find out how and why by reading the interpretive panels at The Yard.
If you are traveling to Ohio by plane, read my tips on how to stay healthy when flying.
Brandywine Falls, Cuyahoga Valley National Park
Located within Cuyahoga Valley National Park, Brandywine Falls is a beautiful 60-foot drop waterfall fed by Brandywine Creek.
Due to the natural rock formations, a lovely bridal veil cascading waterfall forms.
There are several popular hikes that take you to and from the waterfall from street level down into the gorge to the creek level. Due to the moistness of the area, be careful not to slip on the trails.
The falls are very popular so plan to visit in the early morning or later in the afternoon. The parking lot fills up quickly. Do not park on the road. Cars are ticketed and sometimes towed away.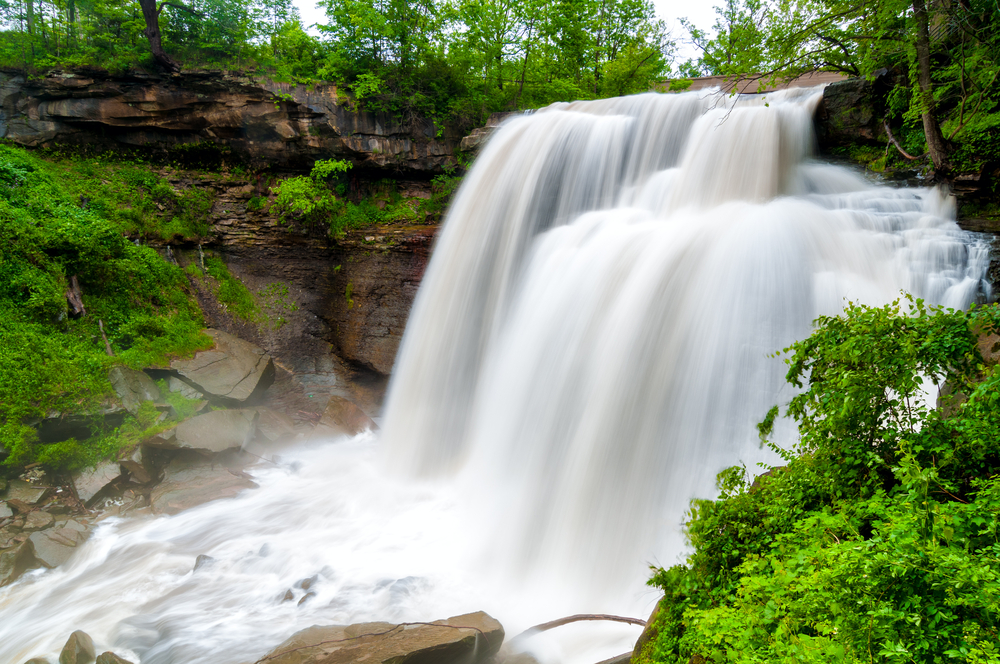 Blue Hen Falls, Cuyahoga Valley National Park
Also located within the boundaries of the Cuyahoga Valley National Park, and literally a half-mile from the parking lot is a 15-foot treasure, Blue Hen Falls.
Named after the spring that feeds it upstream, it is an easy hike to get to the falls and marvel at its beauty.
Do not park on the road, outside of the parking lot, as your car will be ticketed or towed.
If you have the time, and a bit of an adventurous spirit, you can continue on to see Buttermilk Falls downstream…..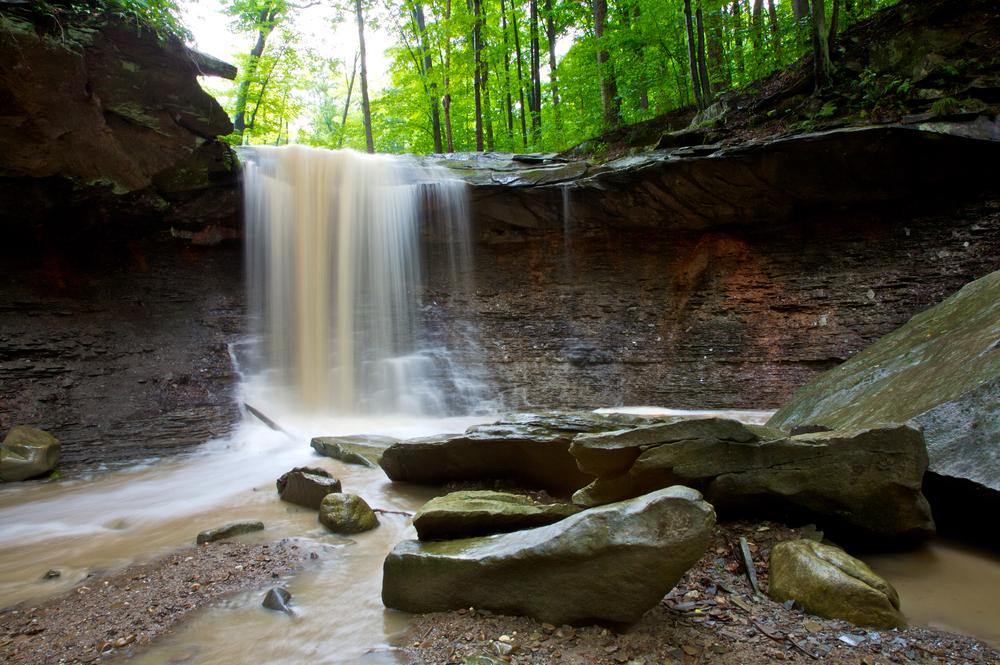 Buttermilk Falls, Cuyahoga Valley National Park
A scenic hike that is less than one mile away from Blue Hen Falls will reward you will the spectacular and secluded Buttermilk Falls.
Buttermilk Falls Waterfall in Cuyahoga Valley National Park is accessible via a hiking trail.
Not for the inexperienced or physically challenged, those who do embark on the Blue Hen-to-Buttermilk Falls Hike will be richly rewarded.
Look for trail signs from Blue Hen Falls. Plan to spend a few hours on the out-and-back hike.
Blue Hen and Buttermilk Waterfalls in Ohio make for a spectacular afternoon adventure.
East Falls In Elyria Is One Of The Best Waterfalls In Ohio
The East Falls are located in Elyria, Ohio about 30 miles west of Cleveland, on the Black River.
These urban falls are located where a power station was in the 1920s. Today there is a small dam that is above the falls and some historical ruins.
You can view the falls from an observation platform, or hike down into the gorge and see them from below.
About one mile away you can visit Cascade Park and sister falls, West Falls.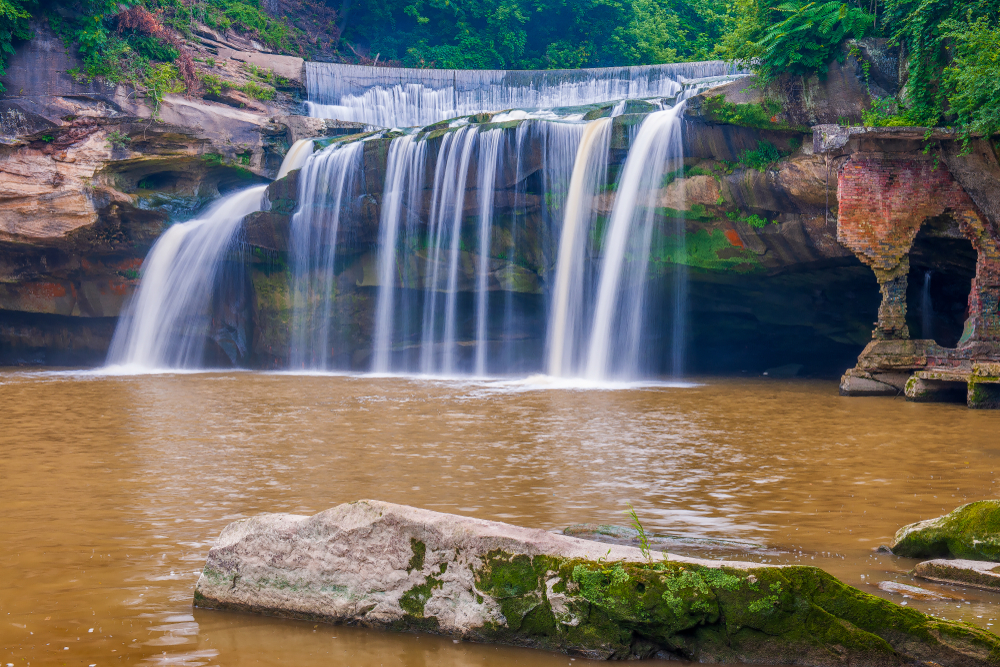 West Falls, Elyria
Located in Cascade Park, West Falls, also on the Black River, is located in Elyria, a suburb of Cleveland.
You will find the trailhead for the one-mile-long trail to the falls in Cascade Park. Follow the trail along the Black River to an observation deck.
A pedestrian bridge takes you across the river for easy access to both the East Falls and the West Falls. It is about a ten-minute stroll between the sister falls.
The East Falls and the West Falls are urban waterfalls in Ohio that are easy to get to and worth the trip.
When venturing out of Ohio, here are some Midwest Airbnbs that will interest you that are adventuresome and romantic!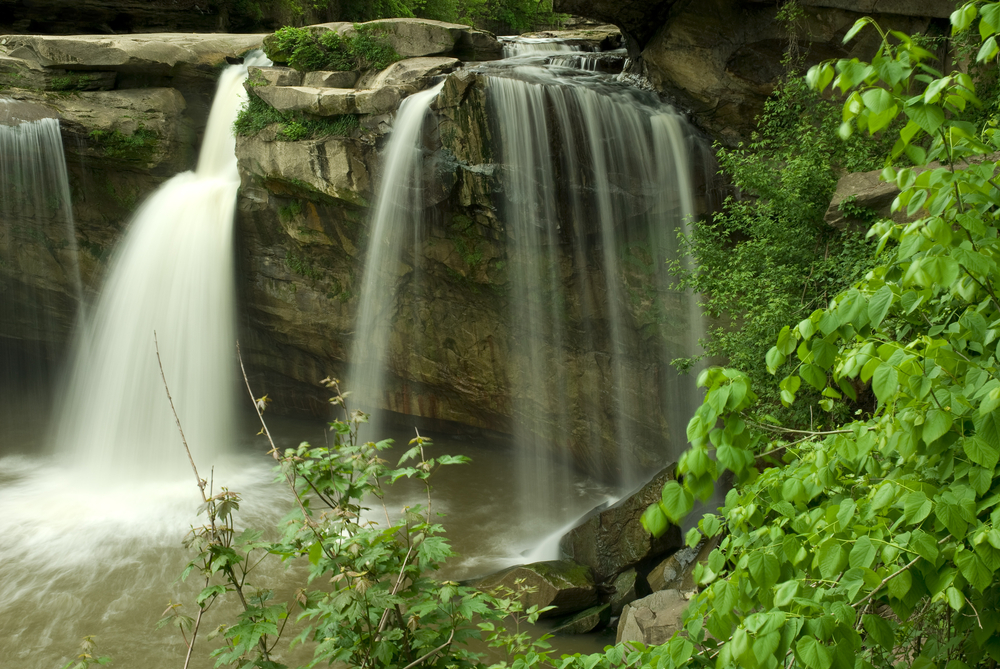 Ludlow Falls, in Miami County
Ludlow Falls is located in the town of the same name.
The falls have an impressive drop of fifteen feet probably lots more in the springtime.
There are other Ohio waterfalls in the area but these have the reputation of being the best.
To see these waterfalls take a short trail that starts at the park in town. The trailhead can be accessed off of Covington Avenue.
Ludlow is but one of 20 small towns in Ohio that are so charming!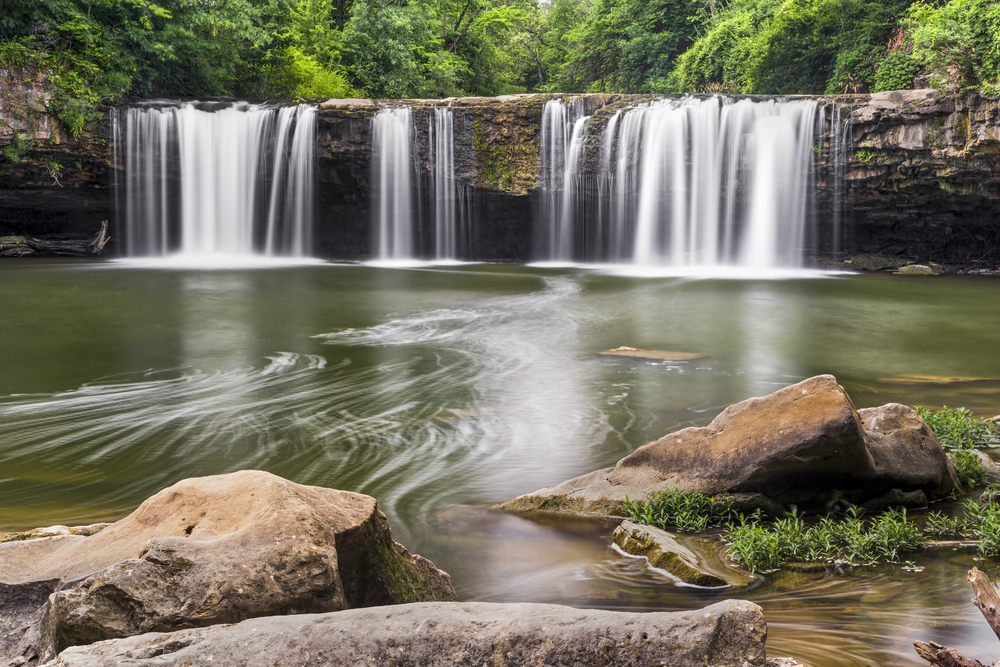 West Milton Cascades, West Milton
The West Milton Cascades is located just three miles south of Ludlow Falls.
It is a beautiful cascade waterfall, located right in downtown West Milton in Miami County.
To view it, there is an overlook behind a furniture store at Tipp and Main Streets. If you so desire to head down to the base of the double-tiered cascades, there is a staircase near the overlook.
Besides the double drops, you will see a series of smaller cascades which makes West Milton Cascades one of the most exceptional waterfalls in Ohio.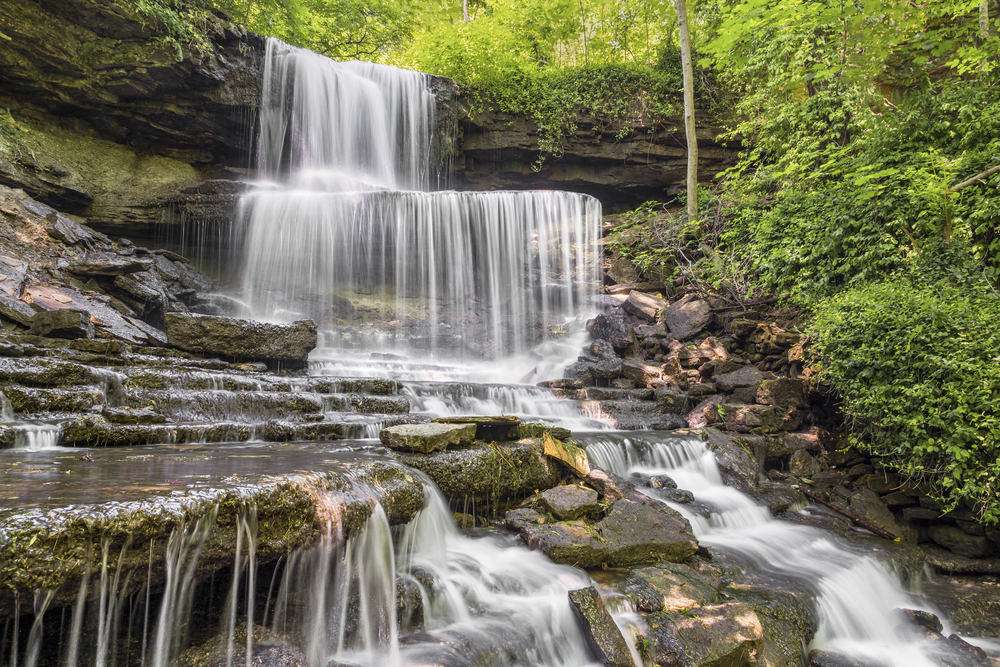 Greenville Falls, Greenville
Ten miles north of Ludlow Falls and thirty miles east of Greenville, Ohio is the impressive Greenville Falls.
Greenville Falls has a long cascade of water pouring from Greenville Creek. You will find these falls in Ohio's Greenville Falls State Scenic Area.
There is also a naturally made arch formed by the water and an old mill.
Greenville Falls is one of the well-known Ohio waterfalls in the western part of the state and should not be missed!
Upper Falls, Old Man's Cave, Hocking Hills Area
A popular destination for viewing waterfalls in Ohio is the Hocking Hills area. And arguably a popular trio of Ohio waterfalls can be seen in one hike.
Upper Falls, found in the Hocking Hills State Park, signifies the beginning of the Old Man's Cave area of Old Man's Creek.
Hiking Old Man's Cave Trail down into the gorge is accessible by many alternative sets of stairways. If seeing the entire gorge, about one-half mile, it is a great idea to begin at the Upper Falls.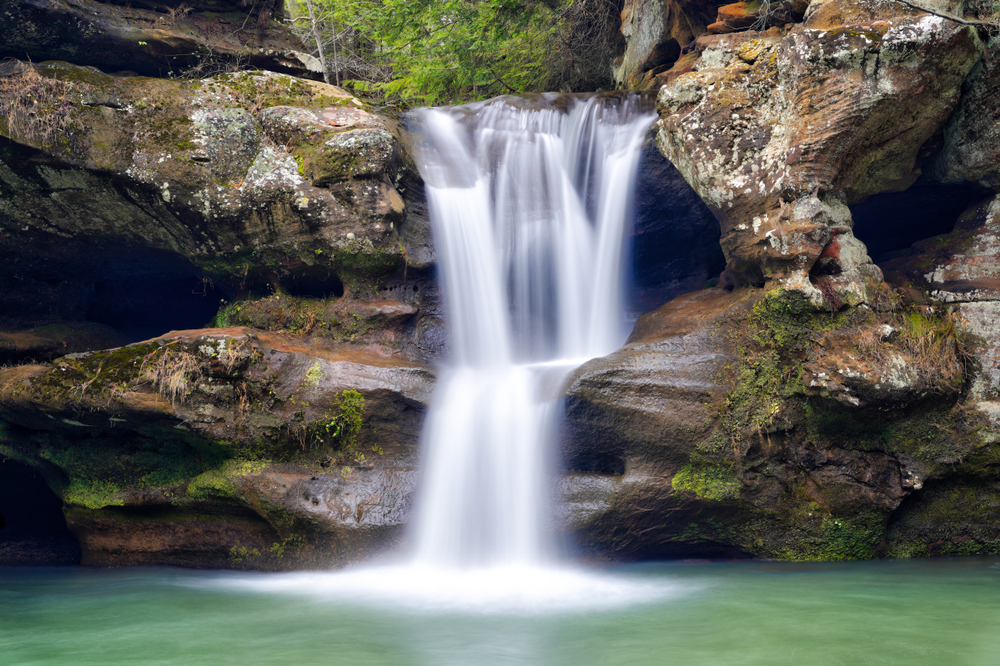 Middle Falls, Old Man's Cave, Hocking Hills
Along the Old Man's Cave trail, you will find the seasonal Middle Falls. Depending on the time you year you are searching for waterfalls in Ohio, determines the strength of the flow.
Along the way stop to look at the extraordinary rock formations and various plants.
Also, stop and take a look-see at the cave that gives this scenic area its name, Old Man's Cave.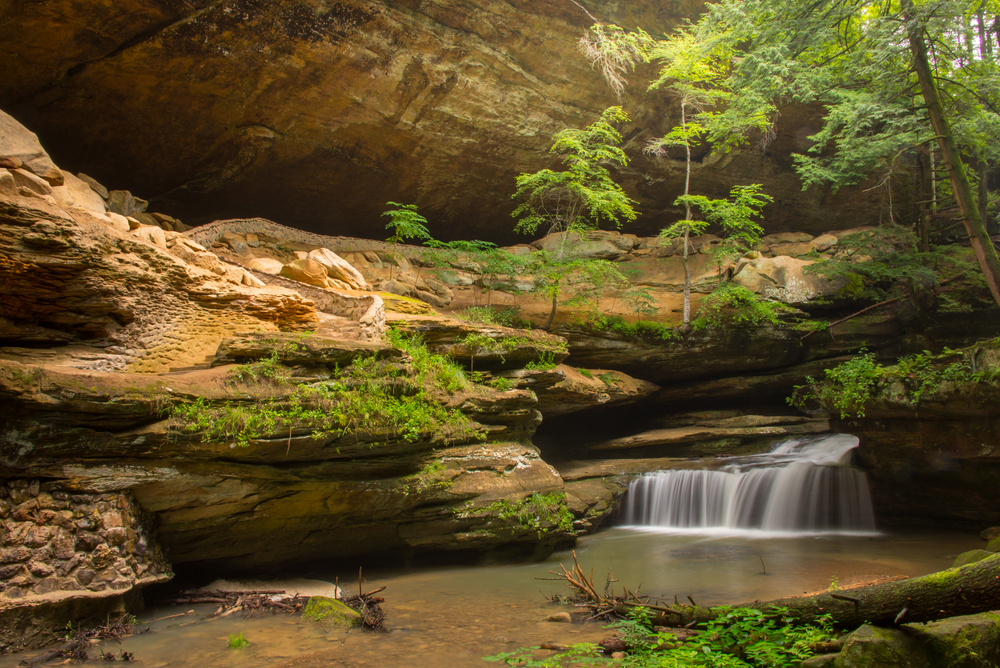 Lower Falls, Old Man's Cave, Hocking Hills
Undoubtedly Upper Falls is the more photographed waterfall in this area. But taking the time and effort to get downstream to the Lower Falls is worth it.
It is certainly as popular as its sister falls but it is often less crowded.
A spectacular drop waterfall of about 25 feet to the creek below it, Lower Falls is an incredibly spectacular view!
Hocking Hills is such a romantic area of Ohio with charming waterfalls.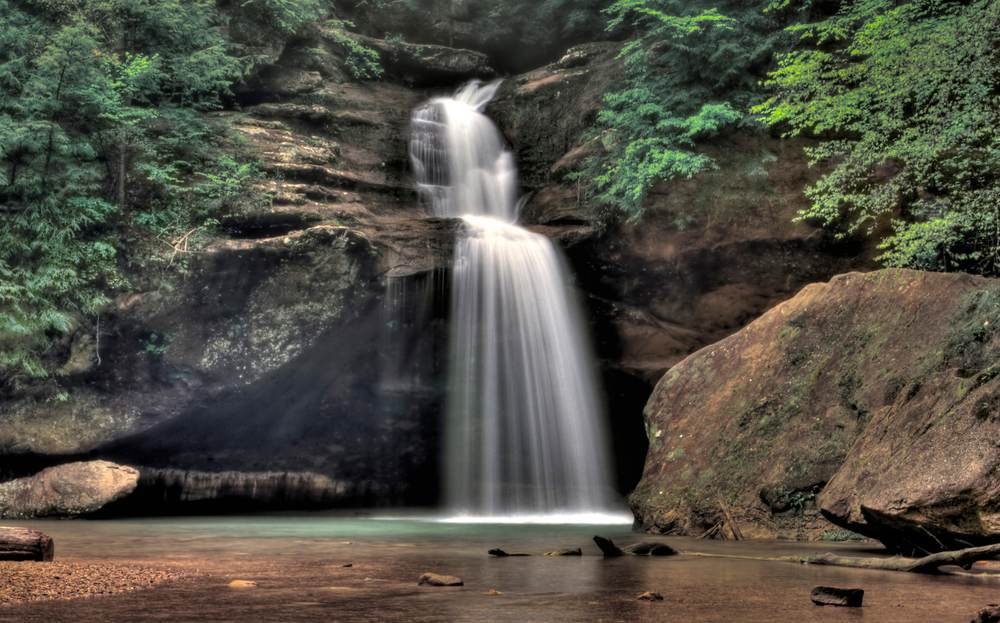 Broken Rock Falls, Hocking Hills
If you feel adventurous, another narrow gorge is all that separates you from seeing this next waterfall.
Broken Rock Falls derived its name because the gorge is full of smaller and massive broken rocks. Also, the falls appear to be actually breaking up the rocks it flows over downstream from the Lower Falls.
If you want to view these falls on a separate day, take the trail to the Lower Falls. And then head downstream. Continue on the trail where eventually you must climb almost one hundred segmented steps to reach the falls.
This not-as-popular Ohio waterfall, located in a smaller yet just as interesting gorge, does not disappoint.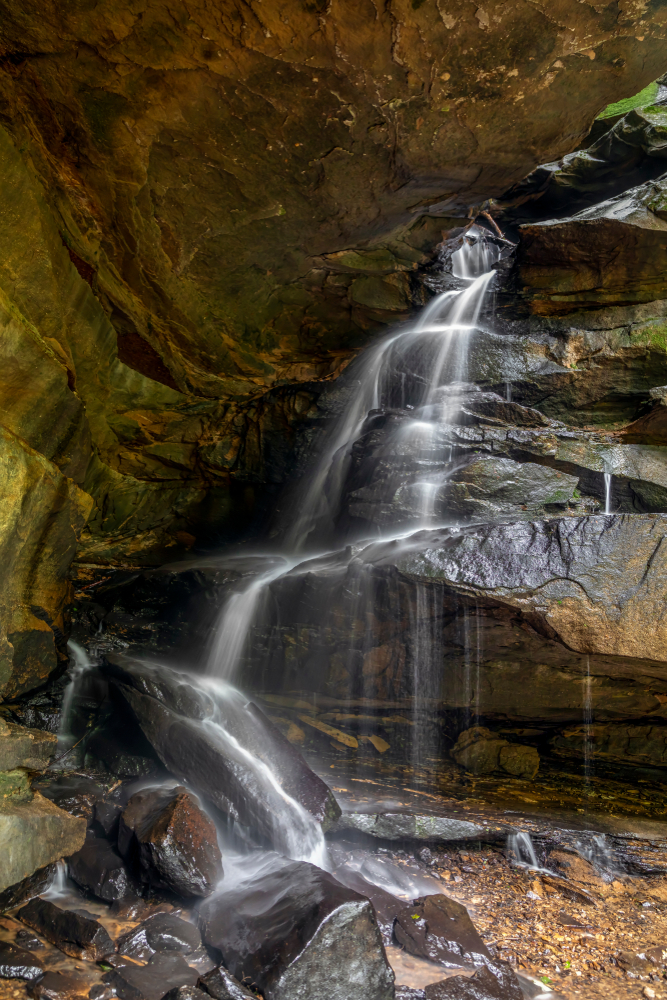 Cedar Falls, Hocking Hills
Located two miles by trail from the Lower Falls is Cedar Falls, one of the unique waterfalls in Ohio.
From Lower Falls to Cedar Falls is considered one of the best hikes in Hocking Hills State Park because of the diverse scenery and seasonal waterfalls.
This waterfall is unique as it spills over a large sandstone rock and the water splits to flow around the rock. Then rejoins before plummeting into the pool of water below it.
There is a rocky area below the falls that can be used to rest and view the falls.
There is a trail leading to the falls and parking lot. Get there early enough to have a spot for your car or risk a ticket or being towed.
You will descend and/or ascend the 100 stairs, from the falls using the Democracy Steps. They were designed by a mathematician, specifically to make the climb enjoyable and even relaxing!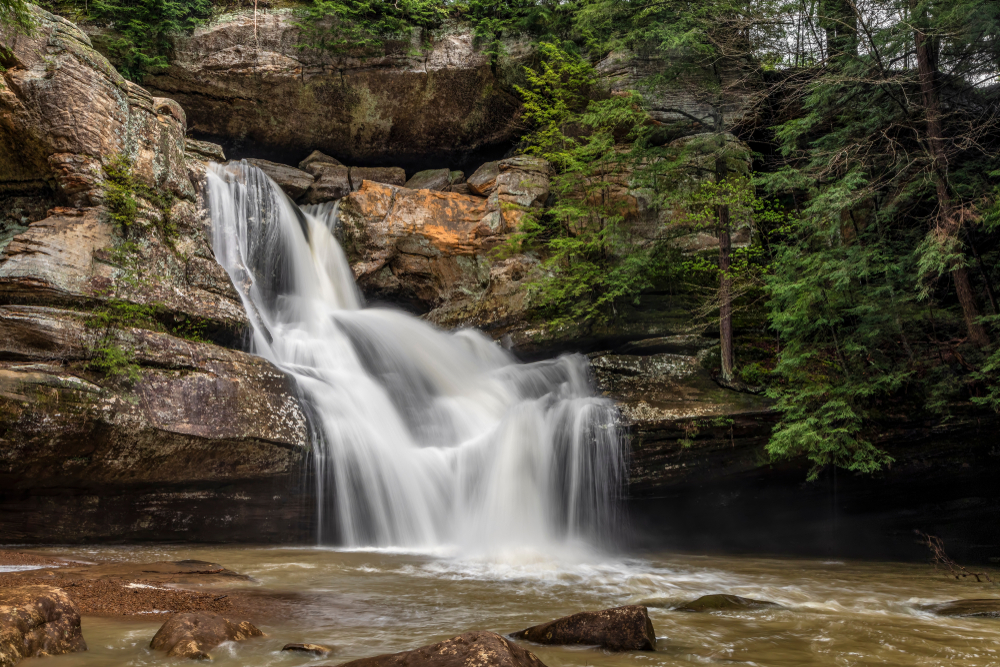 Packing List For Searching For Waterfalls In Ohio
No matter, if you are flying or driving to Ohio, packing lightly using a carry-on, is important!
A concealed travel pouch may be one of the most important items you bring along when searching for waterfalls in Ohio. It is always important to protect our personal information.
This unisex RFID-blocking concealed travel pouch is lightweight and comes in several colors. It has lots of organization to give you peace of mind.
If you have a pouch already that does not come with RFID protection, as I do, these RFID sleeves are the perfect solution.
This configuration comes with enough passport and credit card sleeves that the entire family would be protected. They are slim too, so they will easily fit into your pouch or wallet.
If you are planning on taking a lot of pictures with your phone you will definitely want to consider an external charging battery. This Anker high-speed phone charging battery is the exact one I carry with me on all of my trips.
It can be used on a variety of phones, not just an iPhone like I have. And wow is it fast!
I like that it holds its charging capabilities for several uses so I do not have to worry about it while out and about, and if I forget to recharge it at night, it will still be good to go the next day.
My daughter gifted me with this FugeTek selfie stick and tripod setup for my birthday. I absolutely love it! It is made of lightweight aluminum and so easy to use. It has Bluetooth connectivity and is a breeze to use for group shots or that perfect selfie!
I was not a fan of packing cubes until I started to use them! This is the exact set of packing organizers I use whenever I travel.
I cannot believe how much they really do help with the organization. If you have not considered packing cubes, I would recommend giving them a try.
Hydration is so important. You want to remain hydrated to support your immune system which in turn will be stronger to fight off any germs you will encounter during your travels. You will want to bring your own refillable water bottle with you.
I never leave home on a trip without my Bobble filtration bottle. The 18.5-ounce size is perfect for travel and it fits nicely in the pocket of a backpack or your purse.
When filled with water, it is not too heavy to carry. And the carbon filter ensures fresh clean water whenever you fill the Bobble. You can find filter replacements here.
Perhaps you are traveling a long distance and packing space is a premium in your suitcase, or in your car. Then this collapsible silicone foldable water bottle would work well for you. Would not take up much space at all.
You will want a backpack or daypack with you to store snacks, your water bottle, phone, extra clothes, etc.. This foldable water-resistant backpack would be great.
It is very affordable and is available in many color options for you to choose from. The fact that it folds down into a zippered pouch will make it easy to pack.
Perhaps you need a more substantial backpack for your travel. This antitheft backpack has a charging port, is water-resistant, and can comfortably carry up to a 15.6″ laptop.
You will be walking more than usual during your weekend getaways in Ohio. A sturdy and comfortable pair of walking shoes are a must-have. These waterproof all-season shoes are extremely affordable yet fashionable.
Mostly everyone is familiar with the Skechers brand, and these Air Run high fashion sneakers come in a lot of colors to match your outfits and are still affordable.
If you are visiting Ohio in warmer weather, maybe you want a pair of sandals to wear to dinner or to the local cafe, I highly recommend these Vionics adjustable strap orthotic sandals.
I have several pairs of Vionics that I bring with me *everywhere* I travel. They are very comfortable and have orthotic footbeds that cradle and support your feet.
We all need to protect our eyes from the sun's harmful UVA/UVB rays. These unisex polarized sunglasses come in a lot of lens colors and frame designs and are extremely affordable too.
If you are fond of the aviator-style of sunglasses these polarized aviators may interest you.
If you are in need of new luggage, this expandable soft side spinner luggage is affordable and comes in lots of colors.
If you like hard-sided better, then you may favor this hard-sided luggage set better. Both sets come with TSA locks and 8 wheels per piece.
—
Here I have given you 18 of the best waterfalls in Ohio. I hope you enjoy my home state of Ohio.