Are You looking for things to do in Ohio?
Ohio is a perfect place to visit, vacation, or live.
It links the northeast of the United States to the midwest. It has a great series of highways and connector roads.
It stretches from the Ohio River and the Appalachian Mountains in the south to 312 miles of beaches and coastline on Lake Erie to the north.
I am a midwestern girl through and through. I was born and raised in Youngstown, Ohio.
I love my home state of Ohio. Here I am going to recommend a wide variety of things to do in Ohio. It is my goal to provide lots of options for all tastes and interests.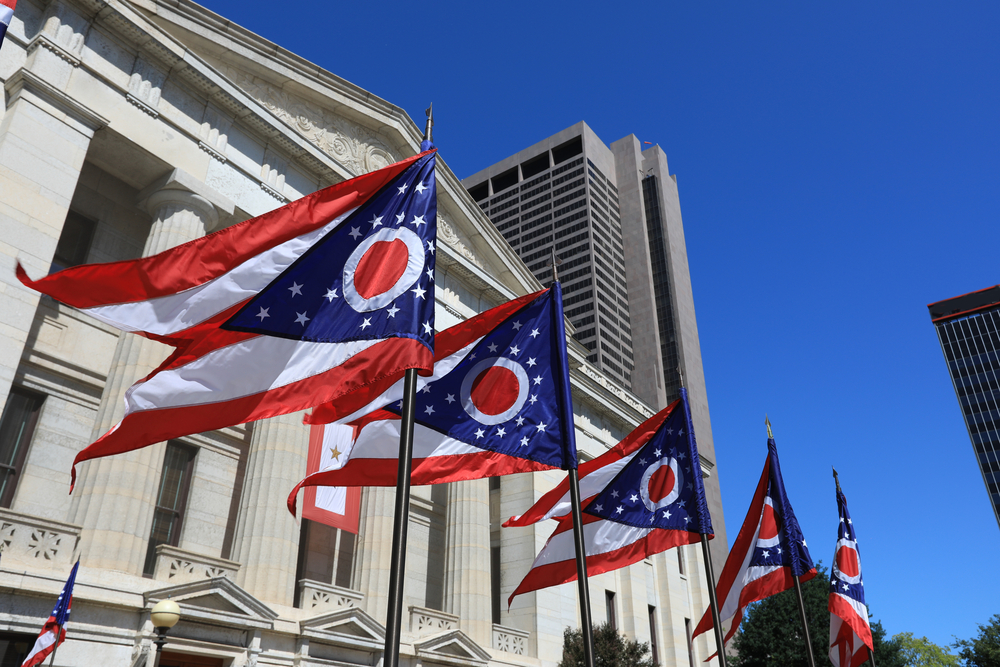 15 Incredible Things To Do In Ohio
Visit Waterfalls In Cuyahoga Valley National Park
Let's face it, when you think of waterfalls, Ohio does not immediately come to mind. However, due to its topography, Ohio has breathtaking waterfalls.
You can find Cuyahoga Valley National Park between Cleveland and Akron, along the Cuyahoga River.
Believe it or not, there are over one hundred waterfalls in this national park! And over 125 miles of hiking and biking trails.
There are a few waterfalls that are the top crowd-pleasers, and they are Brandywine Falls, Blue Hen Falls, and Bridal Veil Falls.
Thinking of extending your stay? Here are 20 of the coolest cabins in Ohio to consider!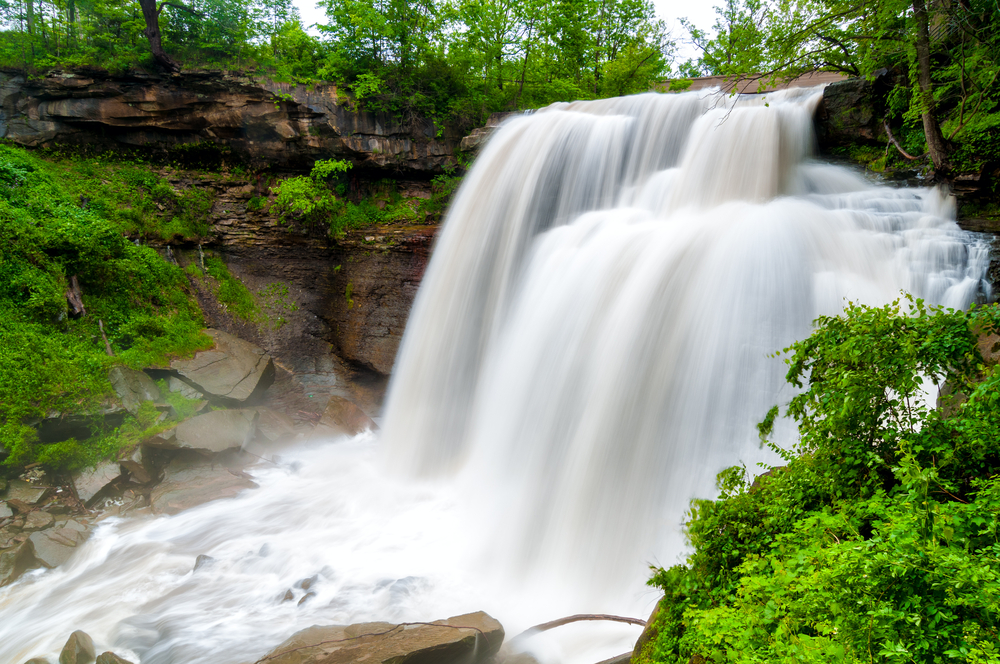 Go For The Thrills At Cedar Point!
When making a list of things to do in Ohio, visiting Cedar Point should be on that list!
Known as the "roller coaster capital of the world," Cedar Point, is located in Sandusky, Ohio, on the shores of Lake Erie.
This amusement park is 364 acres of chills and thrills. Roller coasters to please even the most fervent adrenaline junkie can be found here.
There are pint-sized coasters for the kids to the Steel Vengeance mega-coaster. There is a coaster for everyone's taste.
If you are NOT a fan of coasters, like me, there are plenty of other rides and attractions to keep you busy and happy.
Cedar Point Shores is an accompanying eighteen-acre water park. Here you will discover the heart-pounding thrills of the water rides. there is a children's area where the little ones can play with Lemmy, the mythical Lake Erie monster.
Cedar Pointe would make an amazing weekend getaway in Ohio for a family, or group of friends!
Located right on the shores of Lake Erie, the beach at Cedar Point is a mile-long mini-vacation in its own rite. Go parasailing, rent a wave runner, or simply relax on the sandy shores.
Cedar Point has one of the coolest lighthouses in Ohio for you to explore.
As an Ohio native, I can assure you this is one of the top things to do in Ohio, and you can get it all done in one visit if you so choose!
Read about the 12 best Airbnbs in Ohio here.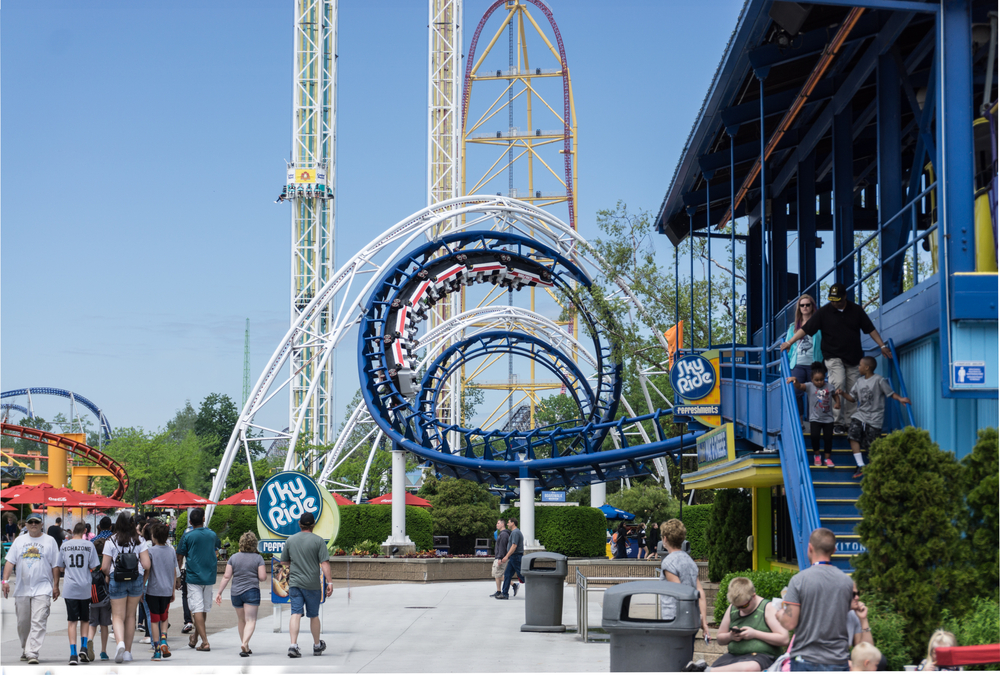 Visit Glacial Grooves On Kelley's Island
The glacial grooves are mainly what bring visitors to Kelley's Island.
Tiny Kelley's Island is located twelve miles west of Sandusky, on the western shores of Lake Erie, one of the best lakes in Ohio.
Only four miles by two miles in size, you can only get to Kelly's Island by ferry. No vehicles are permitted on the island by visitors.
150 year-round residents live on the island, but the population grows to over 1500 in the summer.
(If you are visiting Cedar Point, there is a convenient ferry service that you can use to get to and from Kellye's Island.)
The island got its name from the prominent Cleveland family that purchased it. So diverse, it has been called "an island for all seasons."
The glacial grooves were made millions of years ago by the slow-moving glacier that carved out the Great Lakes. Some of this natural phenomenon was saved for all generations to see.
Kelley's Island offers camping, nine restaurants, and hiking trails. It is one of the interesting things to do in Ohio.
Read about the 11 best places to see fall foliage in Ohio here.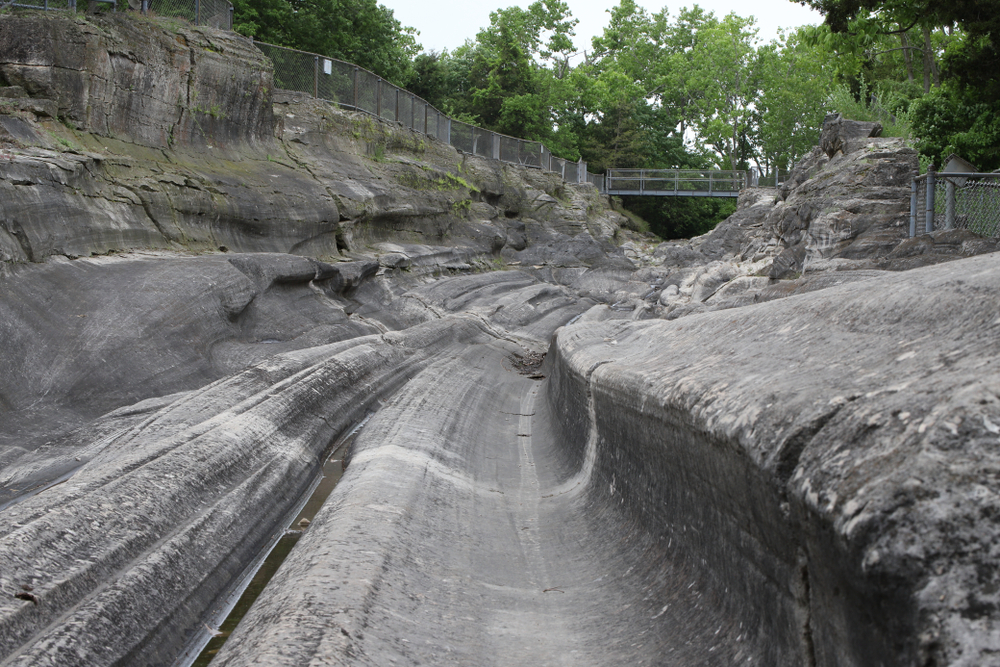 Seek Out Ohio's Interesting Covered Bridges
Ashtabula County, in northeast Ohio, is considered the Covered Bridge Capital of Ohio, with nineteen quaint covered bridges in Ohio. And all within driving distance.
Ohio ranks #2 with the most historic wooden covered bridges in the United States. Many of them are still in use today.
Why are these bridges covered? They are wooden bridges, and the top covering was added to protect the bridge.
Visiting covered bridges is really one of the romantic things to do in Ohio.
Not far from Ashtabula County is Youngstown. Read about 10 things to do in Youngstown Ohio.
Read here for 15 of the best things to do in Mill Creek Park, located in Youngstown, Ohio.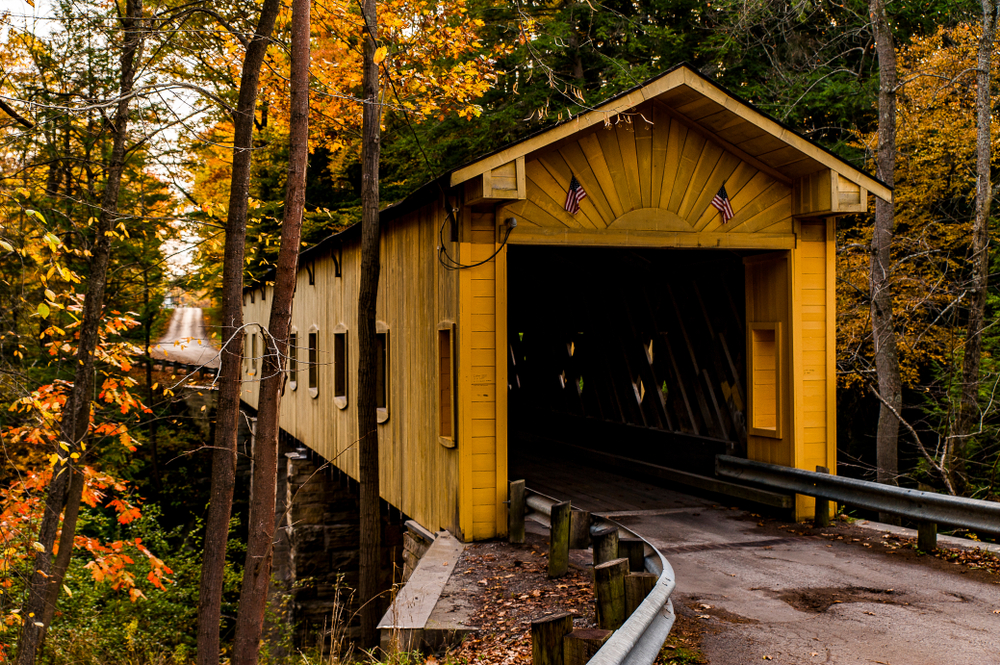 Visiting Amish Country Is One Of The Most Interesting Things To Do In Ohio
I grew up in Ohio's farm country in northeast Ohio. My dad used to take my siblings and me to visit the Amish. And their horse-drawn buggies were an everyday sight where I lived.
Today, Holmes County is where the largest concentration of Amish reside in Ohio. Almost 40% of the county consists of Amish residents.
Taking a drive down the rural roads of Holmes County and you will certainly see the iconic horse-drawn Amish buggies I so fondly remember from my childhood.
Please remember, the Amish buggies share the road with modern-day vehicles.
You can purchase exquisite Amish handmade quilts, and impressive Amish furniture. Antique shops abound. And do not miss out on the pleasure of eating the fabulous Amish food.
Visiting Amish Country is one of the unique things to do in Ohio.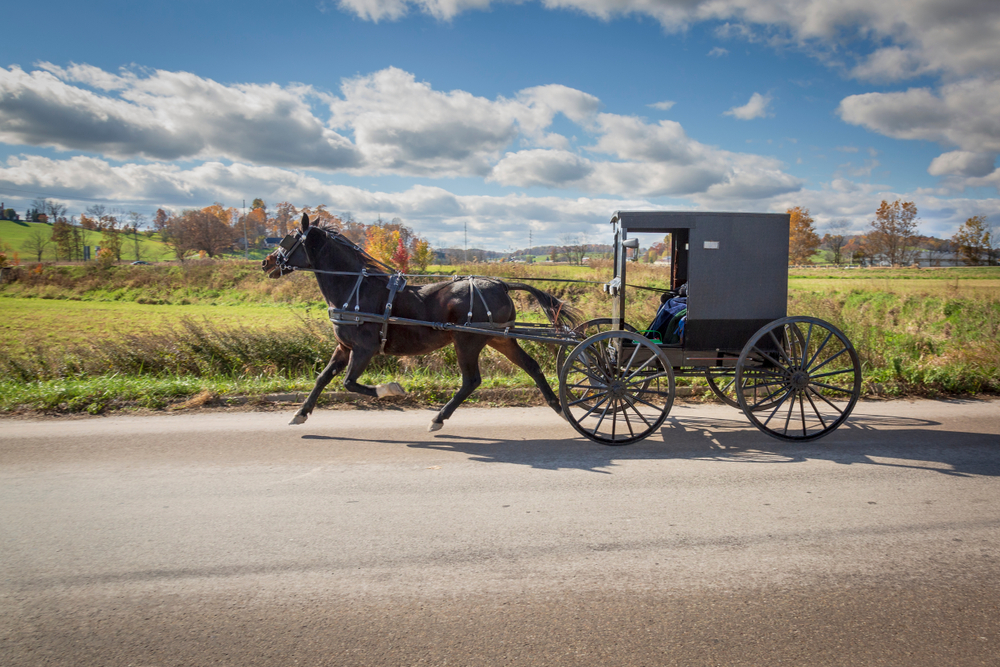 Make Memories At The Pro Football Hall Of Fame
The iconic Profession Football Hall of Fame is in Canton, Ohio. It pays tribute to America's sport, football.
Visitors are attracted to this attraction from all over the world. And it is no wonder why.
There are interpretive exhibits. And interesting tours. Here you can find your football heroes. Or learn about the history of your favorite pro football team.
The Super Bowl Theatre shows videos of the legends that made football the sport it is today.
Visiting the Pro Football Hall of Fame is one of the fun things to do in Ohio. For all the sports fans, it would make an amazing Ohio day trip!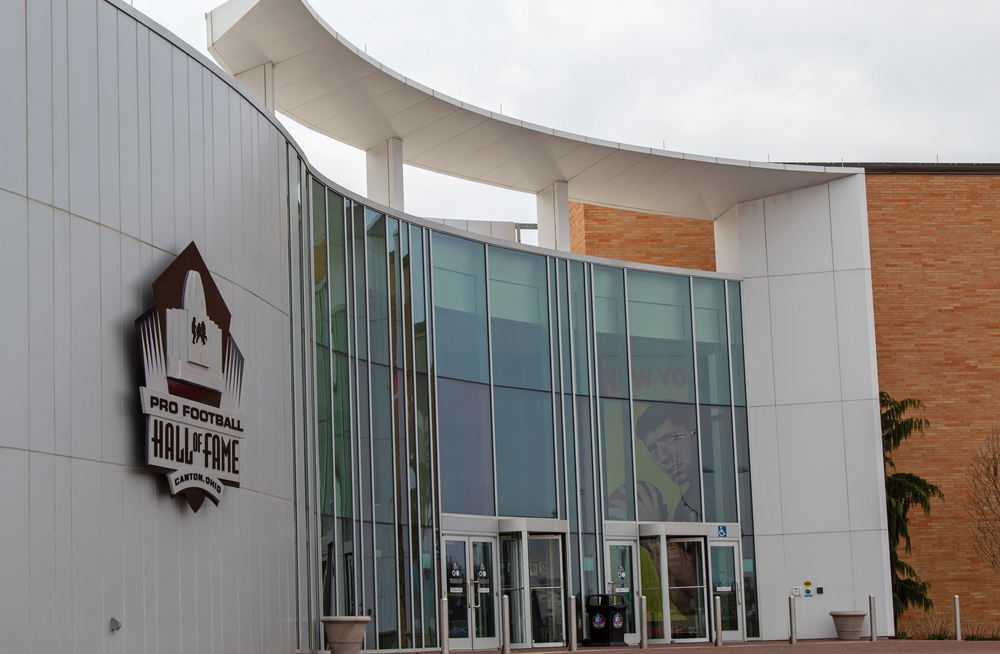 See Otherworldly Sights In The Ohio Caverns
Open all year long, it is always 54 degrees F down inside the Ohio Caverns. This underground natural hidden gem in Ohio is located 30 miles from Dayton, Ohio.
The outdoor weather does not matter for this attraction, however, remember to bring along a jacket or sweater because it is always cold underground.
Various tours are offered throughout the year most notably the Natural Wonder, Historic, and Winter (seasonal) tours which are not wheelchair accessible. Stairs are required to either enter or exit the caverns.
Strollers are not permitted in the Ohio Caverns because of the narrow walkways.
However, the Limestone Tour is wheelchair accessible. And this tour must be reserved beforehand. All other tours are on a first-come-first-served basis.
They leave every 10 minutes or so. There is not much waiting involved.
Hailed as "America's most colorful caverns," it is the vast array of underground crystal formations such as stalagmites and stalactites.
Most are still alive and active, which draws visitors from all around, making this one of the most popular caves in Ohio.
Visiting the Ohio Caverns is one of the most outstanding things to do in Ohio.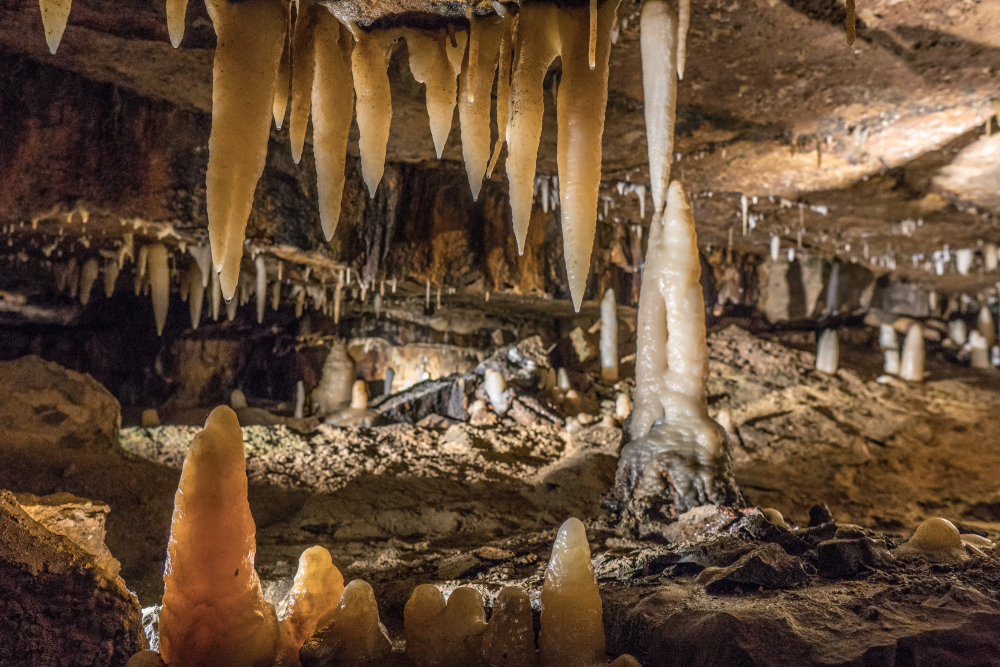 Bike/Walk/Run Along Historic Ohio And Erie Canal Towpath Trail
Stretching 87 miles through northeastern Ohio, the Ohio and Erie Canal Towpath Trail is a literal path of Ohio's history.
It currently stretches from urban Cleveland along the banks of Lake Erie to the village of Zoar in the heart of the state.
The trail snakes alongside the Ohio and Erie Canal as much as possible. There are about 50 trailheads to access the trail along the way.
A variety of visitor centers along the route explain the history of the canal. This is truly one of the best hikes in Ohio.
While the trail itself is stroller and wheelchair-friendly, it changes along the way. Some parts are paved, some gravel, and some are packed with hard earth.
Visiting the Ohio & Erie Canal Towpath trail to hike, bike, run or walk is one of the healthier things to do in Ohio!
As is checking out the festivals in Ohio that happen year round!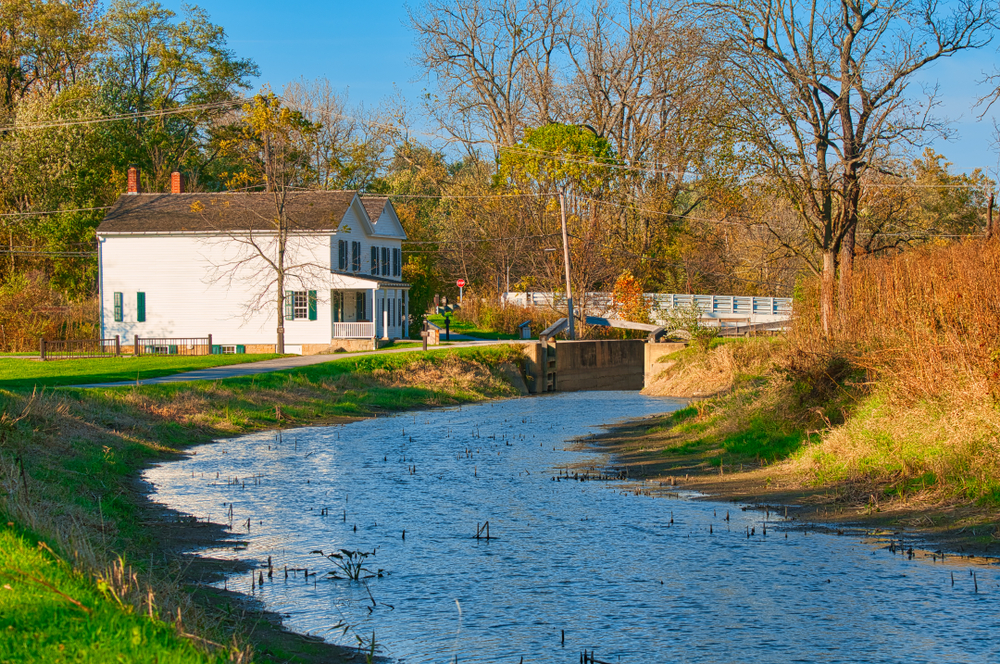 Perry Victory and International Peace Monument
On the shores of Lake Erie, in the charming town of Put-in-Bay, on South Bass Island, you will find the Perry Victory and International Peace Monument.
It memorializes Commodore Oliver Hazard Parry's pivotal naval victory over the British during the War of 1812.
The Battle of Lake Erie took place in September of 1813 with the British suffering many casualties and surrendering, thus severing British supply lines.
Interesting fact: Commodore Perry was only twenty-seven years old the day he beat the British Navy.
Open to the public in 1913, this memorial is taller than the Statue of Liberty and has an observation tower.
Buried under Perry's Victory and International Peace Memorial are the remains of three British and three American naval officers.
The monument also commemorates the United States, Great Britain, and Canada's long-standing peaceful relationships.
It proudly stands five miles from the longest undefended border in the world, On one of the most interesting islands in Ohio.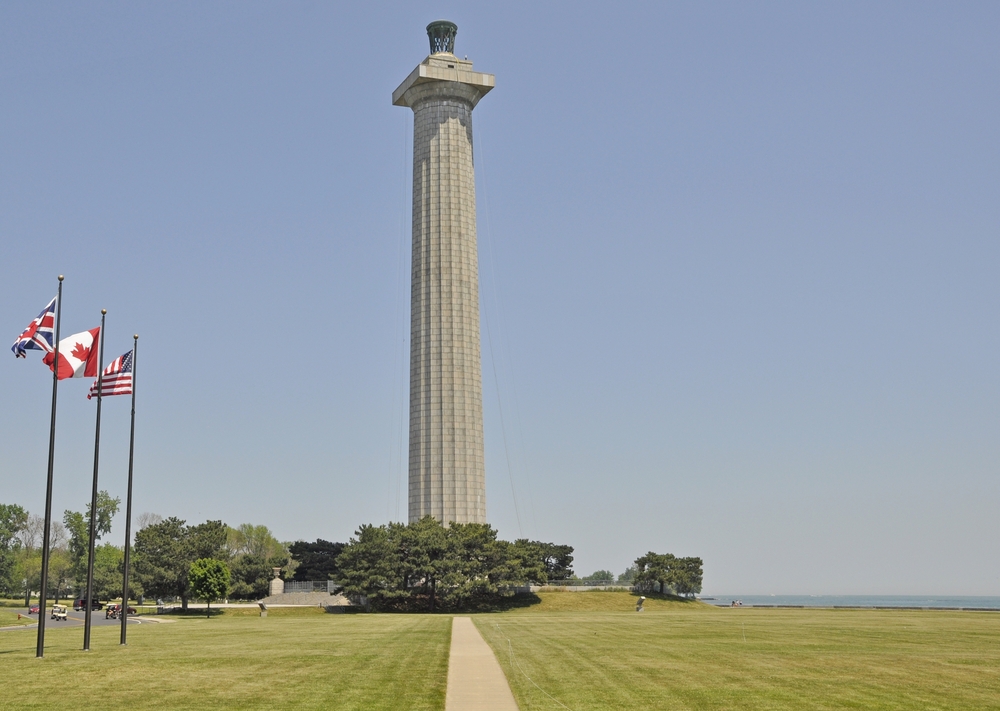 Get Your Rock On At the Rock & Roll Hall Of Fame
One of the best things to do in Cleveland is to visit the Rock and Roll Hall of Fame. It is a museum located in downtown Cleveland on the shores of Lake Erie.
It is dedicated to the artists, producers, and other persons instrumental in the development of rock music.
The building consists of seven levels and was designed by Architect I.M. Pei to "echo the energy of rock and roll."
Within it is 55,000 square feet you will find rock exhibitions, offices, a souvenir store, and a cafe.
Every year, artists in various forms of rock music are inducted into the Hall of Fame and they are honored in a special exhibit space in a spectacular wing that extends out over Lake Erie.
The museum documents the entire history of the rock and roll genre. It is one of the most entertaining things to do in Ohio.
If you are hungry before your visit to the Hall of Fame, check out the best places for breakfast in Cleveland.
It if is later in the day, you might want to visit some breweries in Cleveland.
Look here: Cleveland: Private City Tour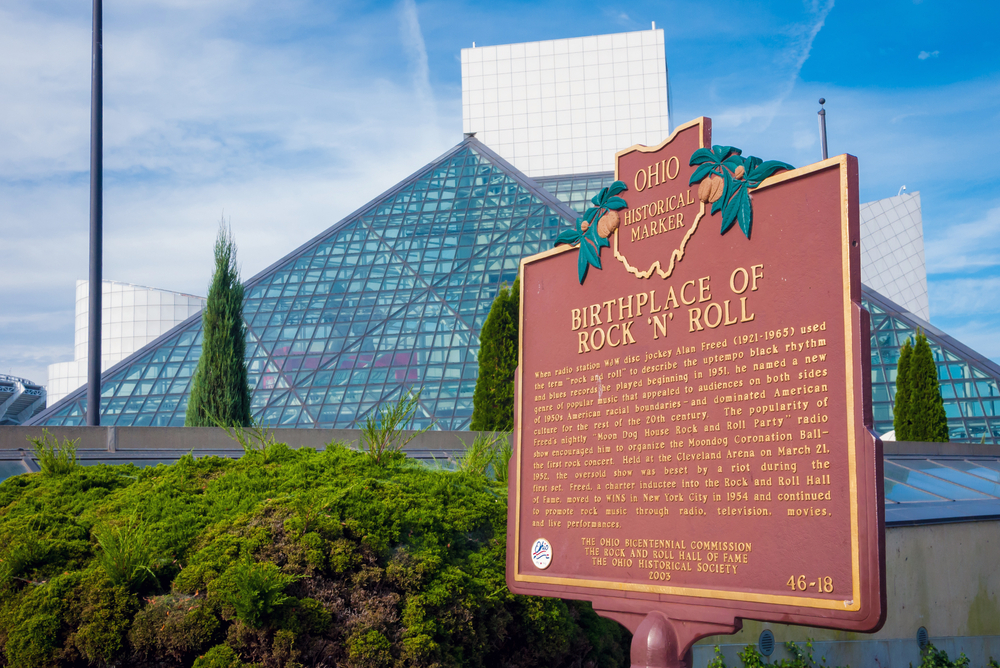 One Of The Fun Things To Do In Ohio Is Taking A Hike In Hocking Hills State Park
Arguably one of Ohio's most popular state parks, Hocking Hills is over 2,300 acres.
It boasts over 25 scenic miles of trails to hike, walk, and discover all that mother nature has to offer.
And there is a lot to see in the park! Rock formations, waterfalls, recessed caves, gorges, and the most stunning waterfalls all await visitors to Hocking Hills.
A visit to Hocking Hills should be on your list of things to do in Ohio, for sure!
Planning to stay awhile? Here are my tips on the best cabins and Airbnbs to stay at when visiting Hocking Hills!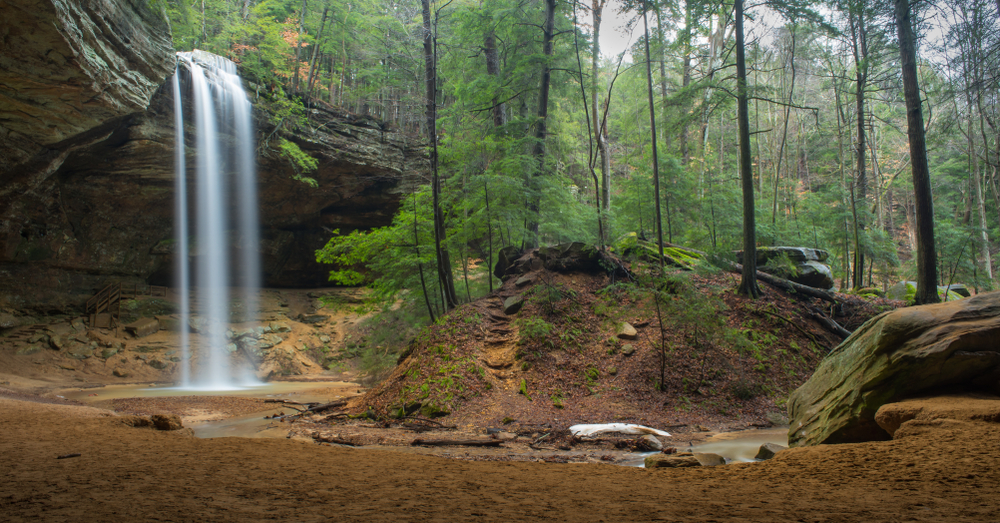 Visit King's Island- Largest Amusement Park In The Midwest
How do 9 miles of rip-roaring, heart-thumping roller coasters sound?
Or adrenalin-pumping thrill rides such as Drop Tower, the tallest Gyro drop in the world (26 stories!)
For those of us who prefer tamer excitement experiences, how does riding on the authentic 1926 wooden horse carousel?
As if that weren't enough, there is an adjoining waterpark, Soak City, with a whopping 36 water slides and two wave pools.
Visiting King's Island is one of the most entertaining things to do. It definitely lives up to its reputation as the largest amusement park in the Midwest with so many options to choose from.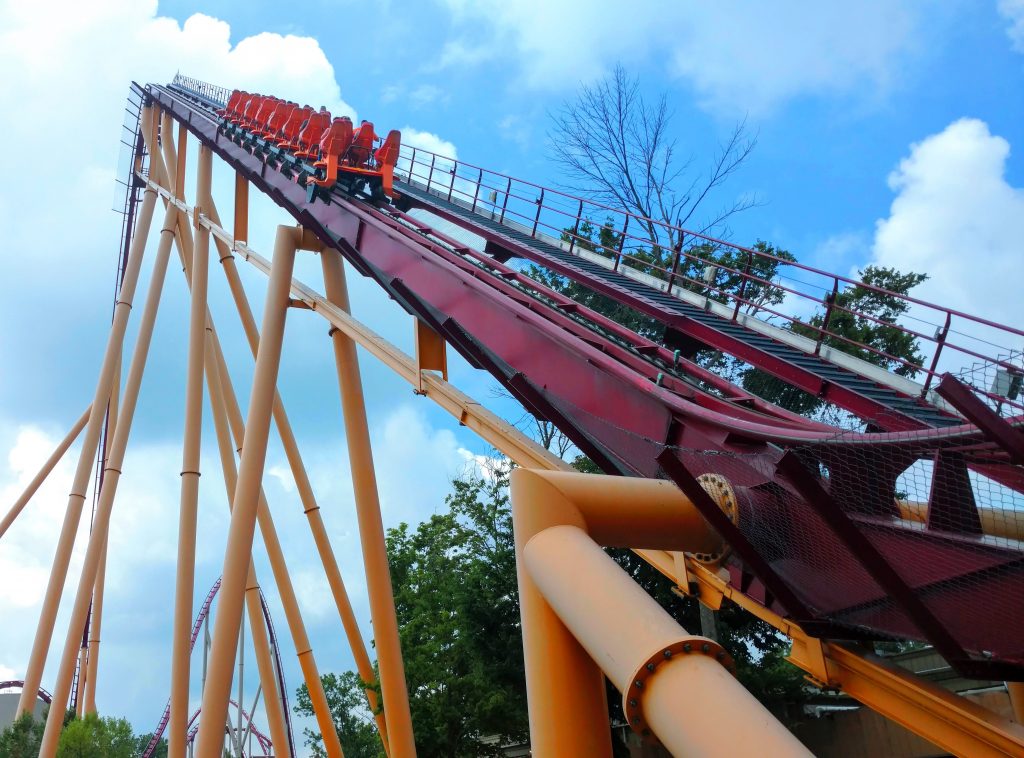 Visiting The Wright Brothers National Museum Is One Of The Most Interesting Things To Do In Ohio
Located in Dayton, Ohio, the Wright Brothers National Museum offers more Wright Brothers artifacts on display than any other location in the world.
Included in this group of artifacts would be the 1905 Wright Flyer III. Preserving this was Orville Wright's final major project before he died.
It is the only airplane designated a National Historic Landmark and what the Wright brothers themselves agreed was their most important aircraft.
Located as part of Dayton's Carillon Historical Park, visiting this interesting museum would be one of the more educational things to do in Ohio. And one of the coolest things to do in Dayton!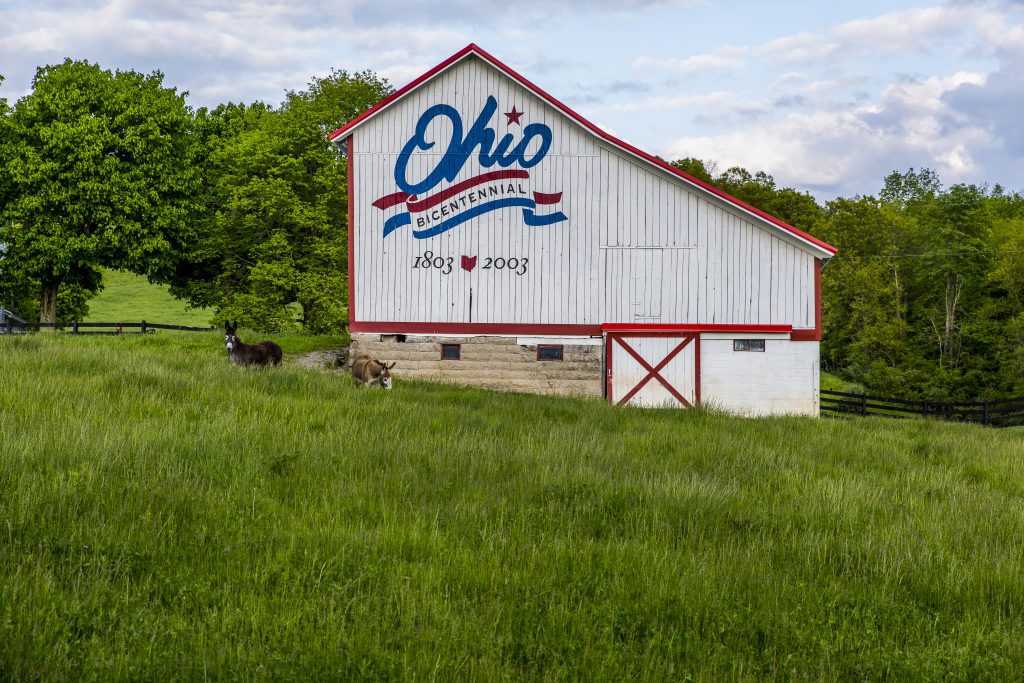 The National Underground Rail Road Freedom Center
The National Underground Railroad Freedom Center is located in downtown Cincinnati, on the banks of the Ohio River. Visiting here would make a worthy Ohio road trip.
The Ohio River was the natural boundary between the slave states of the South and the free states of the North.
This moving museum celebrates all the heroes who created and ran the secret network that was instrumental in which enslaved could escape to freedom, the Underground Railroad.
Tragically, slavery did not end in 1865. It is estimated that approximately 67 million people across the world are enslaved today.
Because of this, the museum has a permanent exhibition about modern-day slavery and human trafficking.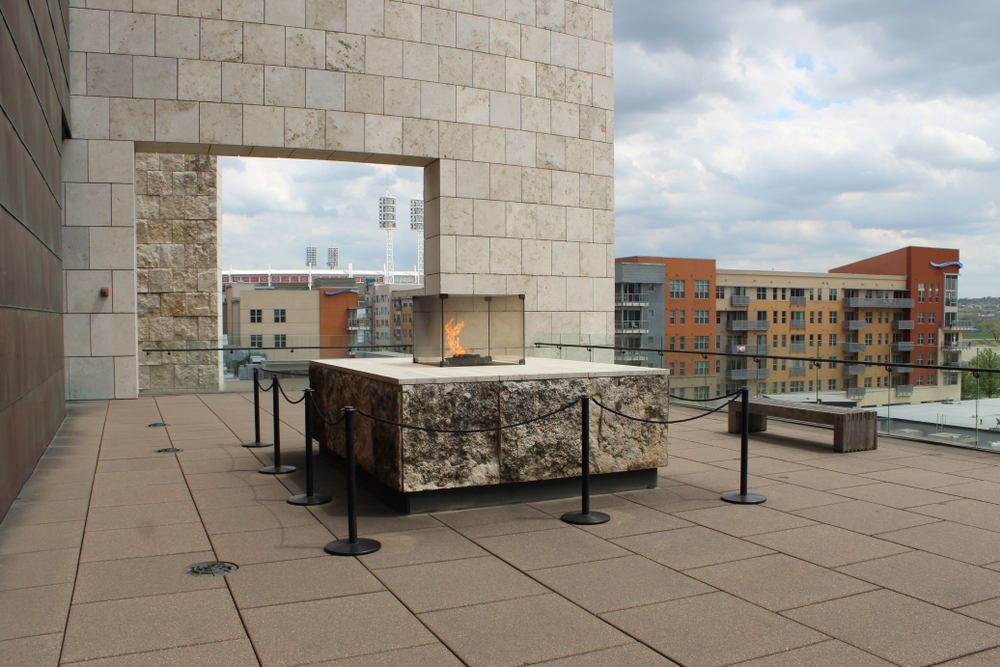 Catch A Ride Onboard The Cuyahoga Valley Scenic Railroad
The Cuyahoga Valley Scenic Railway runs from Independence, Ohio, through the Cuyahoga Valley National Park, to Akron, Ohio.
Vintage railway cars are preserved, renovated, and used to transport tourists and locals alike throughout northeast Ohio.
Special events such as date night out, beer samplings, and mystery trips are special options to look into.
A ride on the Cuyahoga Valley on the railroad is one of the leisurely things to do in Ohio.
And it is one of the coolest train rides in Ohio!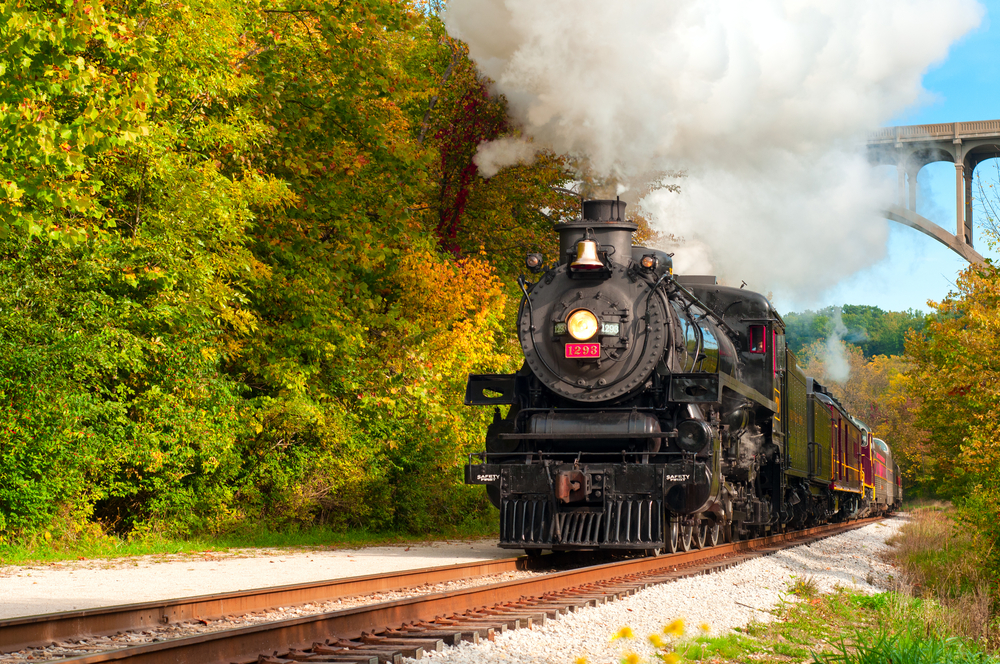 Packing List for Your Visit to Ohio
A concealed travel pouch may be one of the most important items you bring along on when looking for things to do in Ohio. It is always important to protect our personal information.
Read my tips on how to pack lightly here.
This unisex RFID blocking concealed travel pouch is lightweight and comes in several colors. It has lots of organization to give you peace of mind.
If you have a pouch already that does not come with the RFID protection, as I do, these RFID sleeves are the perfect solution.
This configuration comes with enough passport and credit card sleeves that the entire family would be protected. They are slim too, so they will easily fit into your pouch or wallet.
If you are planning on taking a lot of pictures with your phone you will definitely want to consider an external charging battery. This Anker high-speed phone charging battery is the exact one I carry with me on all of my trips.
It can be used on a variety of phones, not just an iPhone like I have. And wow is it fast!
I like that it holds its charging capabilities for several uses so I do not have to worry about it while out and about, and if I forget to recharge it at night, it will still be good to go the next day.
My daughter gifted me with this FugeTek selfie stick and tripod setup for my birthday. I absolutely love it! It is made of lightweight aluminum and so easy to use. It has Bluetooth connectivity and is a breeze to use for group shots or that perfect selfie!
I was not a fan of packing cubes until I started to use them! This is the exact set of packing organizers I use whenever I travel.
Hydration is so important. You want to remain hydrated to support your immune system which in turn will be stronger to fight off any germs you will encounter during your travels. You will want to bring your own refillable water bottle with you.
I never leave home on a trip without my Bobble filtration bottle. The 18.5-ounce size is perfect for travel and it fits nicely in the pocket of a backpack or your purse.
When filled with water, it is not too heavy to carry. And the replacement carbon filter ensures fresh clean water whenever you fill the Bobble.
Perhaps you are traveling a long distance and packing space is a premium in your suitcase, or in your car. Then this collapsible silicone foldable water bottle would work well for you. Would not take up much space at all.
You will want a backpack or daypack with you to store snacks, your water bottle, phone, extra clothes, etc.. This foldable water-resistant backpack would be great.
It is very affordable and is available in many color options for you to choose from. The fact that it folds down into a zippered pouch will make it easy to pack.
Perhaps you need a more substantial backpack for your travel. This antitheft backpack has a charging port, is water-resistant, and can comfortably carry up to a 15.6″ laptop.
You will be walking more than usual while looking for things to do in Ohio. A sturdy and comfortable pair of walking shoes are a must-have.
These waterproof all-season shoes are extremely affordable yet fashionable. 
Mostly everyone is familiar with the Skechers brand, and these Air Run high fashion sneakers come in a lot of colors to match your outfits and are still affordable.
If you are visiting Ohio in warmer weather, maybe you want a pair of sandals to wear to dinner or to the local cafe, I highly recommend these Vionics adjustable strap orthotic sandals.
I have several pairs of Vionics that I bring with me *everywhere* I travel. They are very comfortable and have orthotic footbeds that cradle and support your feet.
We all need to protect our eyes from the sun's harmful UVA/UVB rays. These unisex polarized sunglasses come in a lot of lens colors and frame designs and are extremely affordable too.
If you are fond of the aviator-style of sunglasses these polarized aviators may interest you.
If you are in need of new luggage, this expandable soft side spinner luggage is affordable and comes in lots of colors.
If you like hard-sided better, then you may favor this hard-sided luggage set better. Both sets come with TSA locks and 8 wheels per piece.
—
Here I have listed 15 things to do in Ohio. Some are popular, some are not so popular.
But they are all the best places to visit in Ohio.
I hope you enjoy visiting my home state of Ohio.