If you're looking for the coolest things to do in Dayton Ohio, then you've come to the right place.
I was born and raised in Youngstown Ohio, and I've spent a lot of time exploring my home state.
Dayton is in western Ohio and is probably best known for its air and space history.
In Dayton, you'll find an Air Force Base, the National Museum of the United States Air Force, and all kinds of connections to the Wright Brothers.
Although North Carolina is where the first flight took place, the Wright Brothers were actually from Dayton and built the first plane in Dayton.
So, Dayton is considered the 'Birthplace of Flight'.
Today, you'll see that legacy throughout the city and the various attractions in Dayton OH.
However, there is more to the city than just its aviation history.
Dayton is also full of amazing restaurants, some of the best breweries in Ohio, unique museums and parks, and even a Native American Village and archeological park.
So, let's take a look at 15 of the coolest things to do in Dayton Ohio!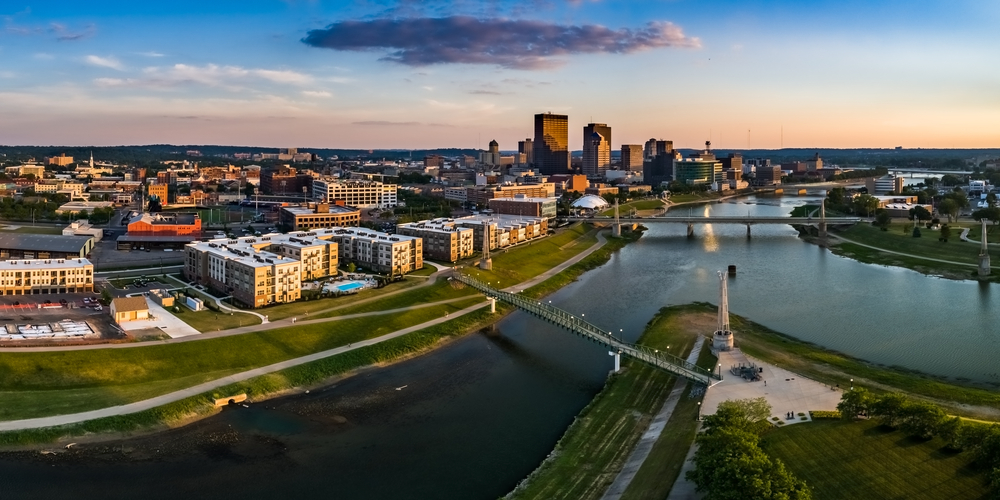 15 Cool Things To Do In Dayton OH You Shouldn't Miss
The National Museum Of The United States Air Force Is A Must See Attraction In Dayton
The National Museum of the United States Air Force is easily one of the most unique museums in Ohio.
You won't find a copy of this museum anywhere else in the country, and it's in the birthplace of aviation!
The museum itself is located at Wright-Patterson Air Force Base, but civilians can access the museum.
It is completely free to visit the museum and you can plan to spend an entire day there if you really wanted to.
The museum is the largest military aviation museum in the world. There is plenty to see at this top Dayton attraction.
Inside the 19-acre museum complex, you'll find more than 350 aerospace vehicles and thousands of artifacts.
So you can see why people spend a day or two walking through all of the exhibits in the museum.
Learn About The History Of Dayton At The Carillon Historical Park And Museum
The Carillon Historical Park and Museum is a great way to learn about the varied history of Dayton.
The park itself is over 65 acres and there is an open-air museum on the grounds.
It's a beautiful park in Dayton to walk around, plus it's a learning experience.
The park is open daily and there is an entrance fee. For adults, it is $12 and for children, it is $8.
However, the admission price is completely worth it when you realize all of the things you get to see at this park and the open-air museum.
As you walk through the park, you'll find a variety of different stops and buildings to explore.
You can see the original Wright brother's flyer, learn about the industrial history of Dayton, and see what life was like for early settlers.
If you love history, this is easily one of the best things to do in Dayton, OH.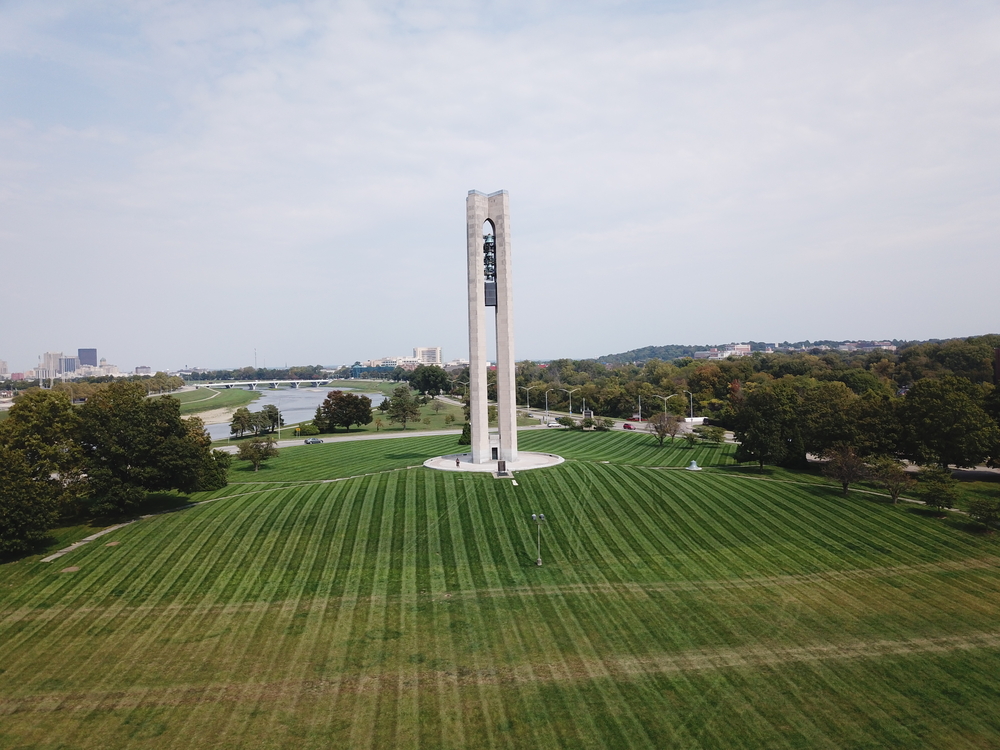 Walk Around The 2nd Street Market
On a beautiful day, you'll want to take some time to walk around the 2nd Street Market.
The 2nd Street Market is one of the best year-round activities in Dayton.
There are over 40 different vendors in the market that sell a variety of goods.
You can find fresh produce, homemade goods, and more at the 2nd Street Market.
It's reminiscent of European markets and is open Friday, Saturday, and Sunday throughout the year.
The market also hosts a variety of events in Dayton throughout the year.
They have a native plant sale, glass fusion workshops, cooking classes, and plant workshops.
It's one of the coolest things to do in Dayton on the weekends.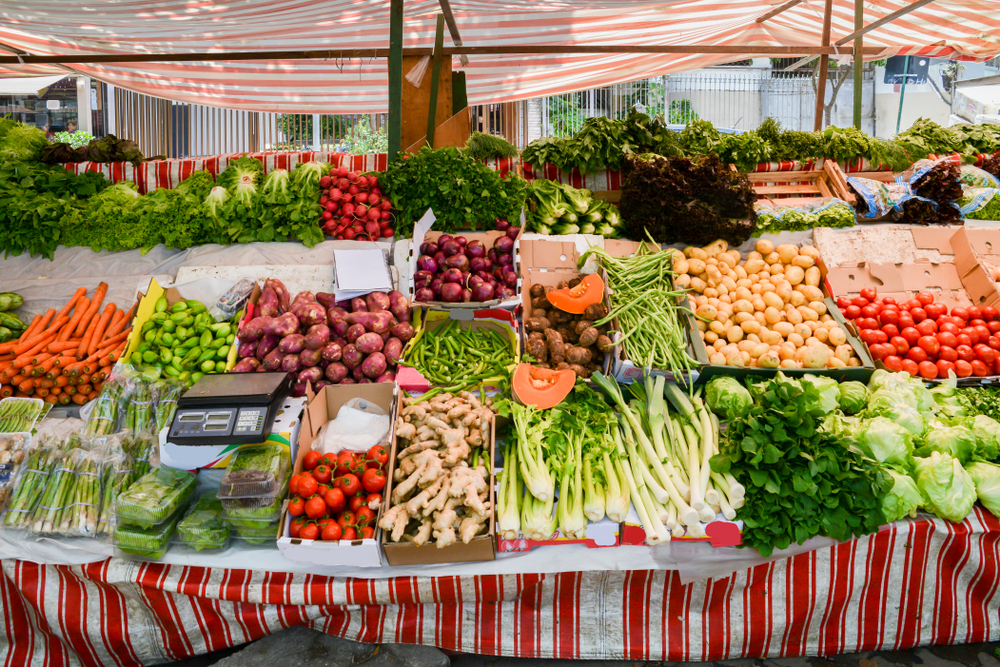 America's Packard Museum Is One Of The Best Things To Do In Dayton Ohio
Another cool museum in Ohio is America's Packard Museum.
America's Packard Museum is the world's largest public collection of Packard vehicles and memorabilia.
The museum is housed in an original Packard dealership, which adds to the unique atmosphere of this Dayton attraction.
In fact, even the fixtures within the museum are original to the dealership when it was open.
Inside, you'll find 50 different cars that are the best examples of Packard's throughout history.
The cars date from 1903 to the 1950s.
You can tour the museum from Wednesday through Sunday and there is a $10 admission fee.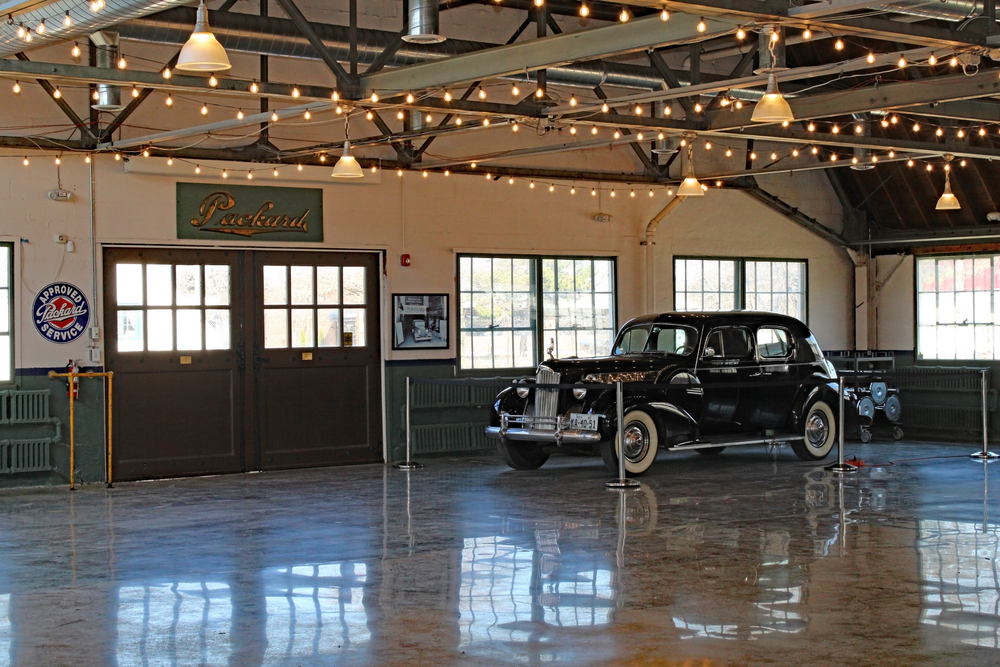 Learn About The Wright Brothers At The Wright Cycle Company Complex Museum
Before they were the inventors of aviation, the Wright brother's owned a bicycle business.
One of the coolest things to do in Dayton, OH, is to see the original Wright Cycle Company Complex.
The brothers started their bicycle business in 1892, and at one point, there were 6 different locations in Dayton.
Before that, they ran a newspaper print shop, which they closed in 1890.
In 1896, the brothers began designing and selling their own bicycles which eventually led to them designing their first flyer.
Today, one of the best things to do in Dayton is to tour the building the brothers ran their shop out of from 1895 to 1897.
It's the only original building still standing that once housed a Wright brother's shop.
Now, it's part of the Dayton Aviation Heritage National Historic Park and the National Aviation Heritage Area.
The museum is free to tour and inside you'll find a few different exhibits.
It's also been designed to look like it would have when the Wright brothers originally occupied the building.
It is one of the best places to visit in Ohio.
Walk The Trails At The RiverScape Metro Park In Dayton OH
The RiverScape Metro Park is one of the largest public parks in Dayton Ohio.
Throughout the year, it hosts various events in Dayton and is known for its beautiful landscape.
There are beautiful gardens, the shores of Miami River, reflecting pools, and more in the large park.
You can walk over 330 miles of paved trails or even go kayaking in the river.
From Memorial Day to Labor Day there is a cool fountain of lights that puts on a show every night, at 10-minute intervals.
In the winter, the park has an ice skating rink that the entire family can enjoy.
If you want to spend some time outside, no matter what time of year you visit, the RiverScape Metro Park is one of the best things to do in Dayton Ohio.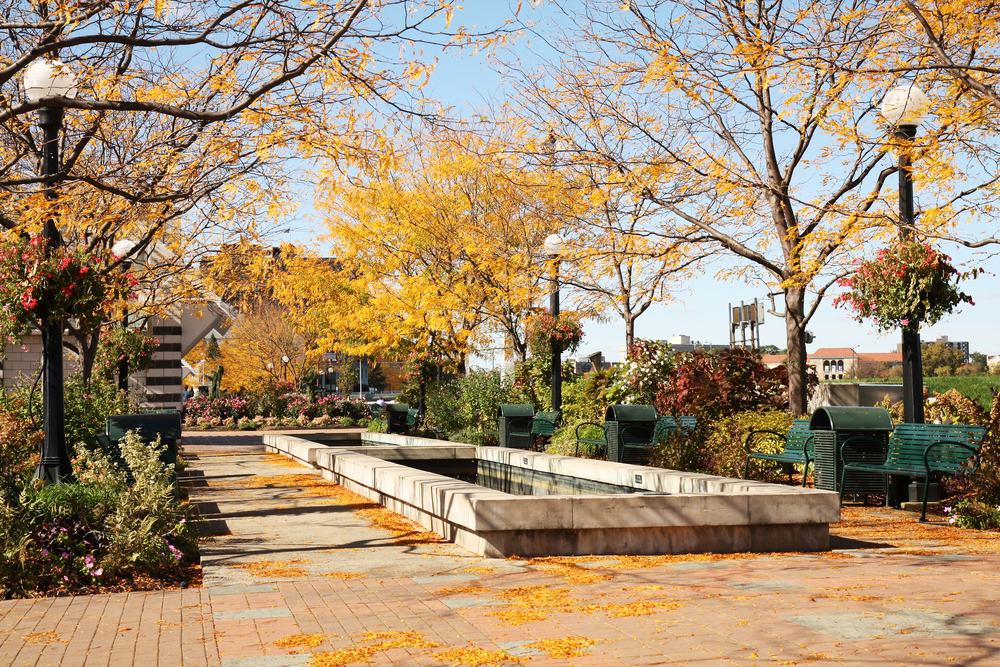 Charleston Falls Preserve Is A Great Place To Explore Near Dayton
Charleston Falls Preserve is not actually in Dayton, but it is very close.
It's actually in a small town called Tipp City, and it's just a short 20-minute drive away from the heart of Dayton.
I've included it on this list because it has some truly beautiful scenery and is the most visited nature park in Miami County, OH.
It's not very far away, and totally worth the short drive.
The park has over 216 acres of beautiful woods, waterfalls, and even prairies.
There is a beautiful waterfall in Ohio that actually originates from an underground spring.
Charleston Preserve is a great place in Ohio to go hiking, see some uncommon plants, and just enjoy the great outdoors.
Those are just some of the many reasons why I think it's one of the best things to do in Dayton.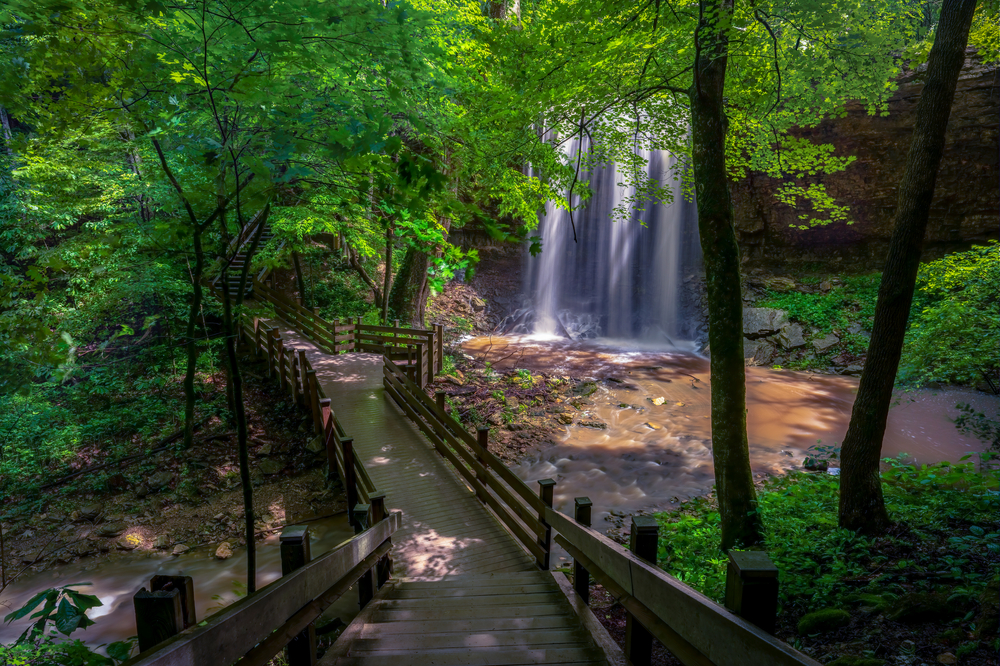 Explore The Dayton Aviation Heritage National Historical Park
The Dayton Aviation Heritage National Historical Park is one of the coolest National Parks in Ohio.
The large aviation park consists of several different exhibits and individual museums.
It highlights the discoveries of the Wright brothers in their goal of achieving controllable flight.
The aviation heritage park also includes Paul Laurence Dunbar's involvement with the Wright brother's history.
For those who don't know, Paul Laurence Dunbar was an American poet, novelist, and writer, who was born to enslaved parents before the Civil War.
He was born and raised in Dayton Ohio, and later became a writer for the Wright brother's newspaper company.
In fact, Orville Wright was a classmate and close friend of Dunbar's.
Throughout the years, their histories would become intertwined and leave a lasting mark on Dayton, and the world.
In the aviation heritage park, you'll learn all about this connection, how the three supported and influenced each other, and how they came to leave their mark on history.
It's easily one of the coolest things to do in Dayton Ohio.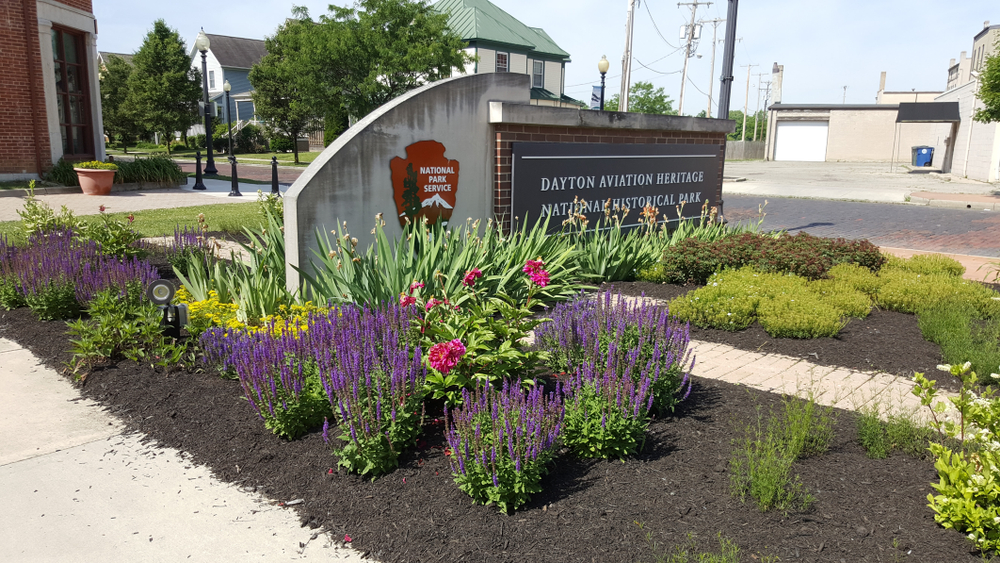 Admire Historic Architecture In The Oregon District
The Oregon District is a charming and historic neighborhood in Dayton.
With some of the best restaurants in Dayton located here, this is a must-see destination.
If you love historic architecture, then you'll love walking through this neighborhood.
The district includes the earliest examples of both commercial and residential architecture in the city.
Within the 12 square blocks, you'll find examples of architecture dating from 1820 all the way to 1915.
The neighborhood is on the National Register of Historic Places and is a unique attraction in Dayton.
Today, many of the original commercial buildings house art galleries, boutiques, restaurants in Dayton, and more.
It's a great place to explore the architectural history of Dayton Ohio. And it is one of the coolest things to do in Ohio.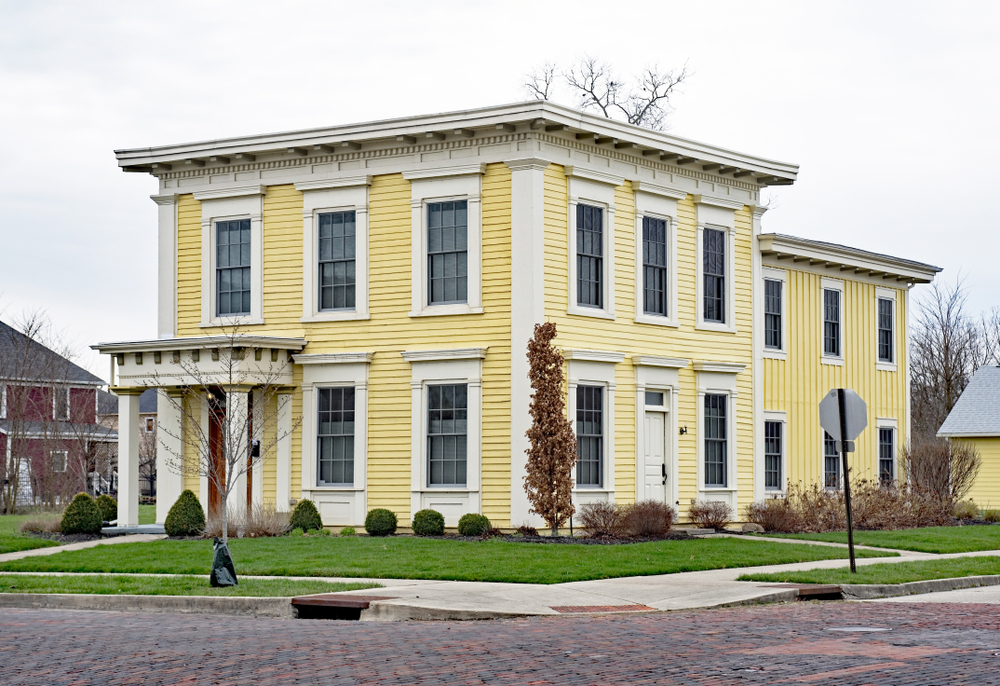 Take The Kids To The Boonshoft Museum Of Discovery
The Boonshoft Museum of Discovery is a children's museum in Dayton Ohio.
It specializes in teaching children about science and technology. It is one of the fun things to do in Ohio with kids!
The museum has an extensive collection of natural history artifacts on display.
The collection teaches children about the different natural history aspects of Ohio, and even Dayton in particular.
Inside the museum, you'll also be able to see the Apollo Observatory.
The Apollo Observatory is an astronomical observatory that is operated by the Miami Valley Astronomical Society.
You can visit this Dayton attraction daily and there is a small admissions fee.
For children, the fee is $11.50 and for adults, it is $14.50.
However, it's worth the price of admission and it's a really fun museum to explore.
If your kids love science and natural history, they'll love spending the day at the Boonshoft Museum of Discovery.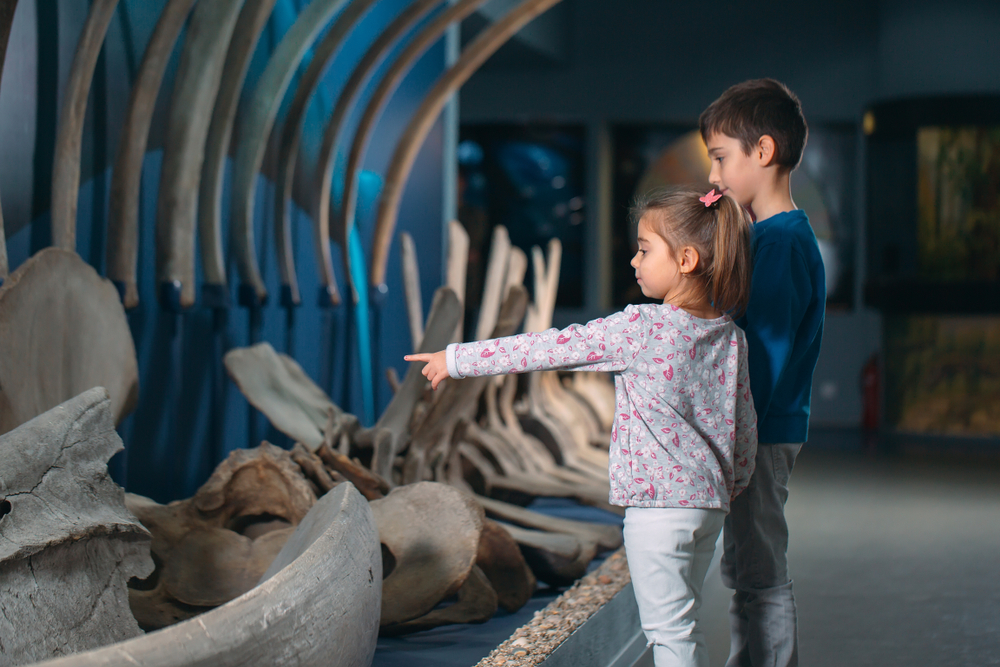 Spend The Day At Eastwood Metro Park
Eastwood Metro Park is one of the many hubs of outdoor recreation in Dayton Ohio.
The park is over 440 acres and includes a large lake.
So you can enjoy a variety of water-based and land-based activities within the park.
There are hiking and biking trails, campsites, and picnic shelters.
You can also go kayaking or canoeing in the lake throughout the year.
On even-numbered dates, you can bring your powerboat to the lake.
If you want to bring your personal watercraft, sailboats, or fishing boats, you can do that on odd-numbered dates.
However, kayaks and canoes can be used on the lake daily!
If you want some outdoor adventure, this is one of the best things to do in Dayton.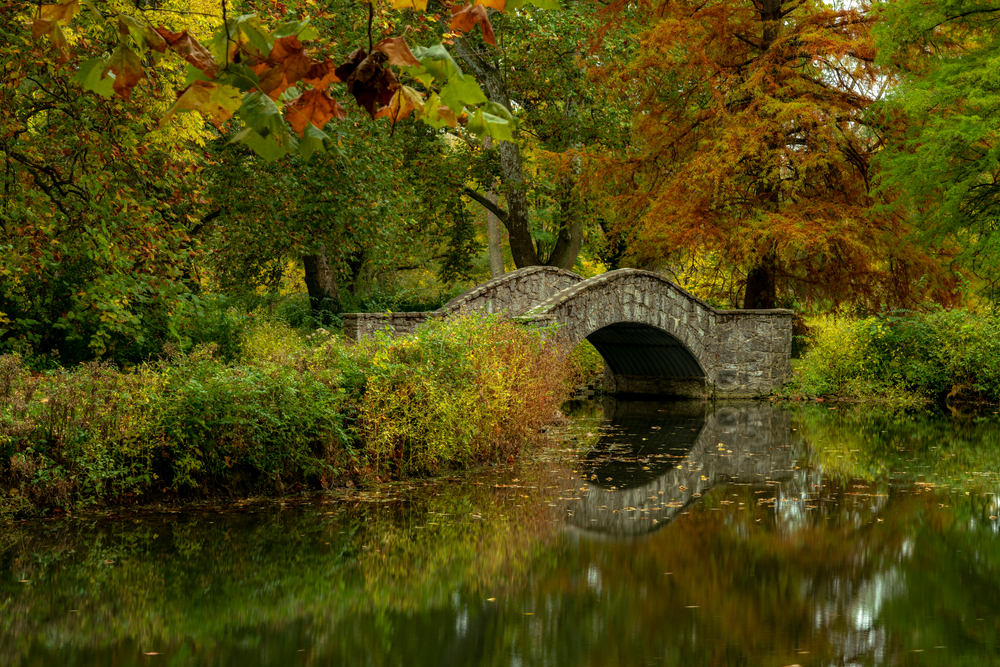 Visit The Gravesites Of Notable Americans At The Dayton National Cemetery And The Woodland Cemetery
There are two major cemeteries in Dayton that are the final resting places for notable Americans.
The first is the Dayton National Cemetery, which is a cemetery for veterans.
It was established in 1867, and it is one of the only 8 National Cemeteries in the US that has the remains of veterans from every major conflict.
There are gravesites that date all the way back to the Revolutionary War, despite it not being formally established until 1867.
Notable internments include Medal of Honor recipients, Revolutionary War veterans, jazz musicians, authors, major league baseball players, Army generals, and Ohio Lieutenant Governors.
The other cemetery in Dayton that is the final resting place for notable Americans is the Woodland Cemetery.
The Woodland Cemetery is one of the Nation's five oldest rural garden cemeteries.
The cemetery is also where the Wright brothers and Paul Laurence Dunbar are laid to rest.
Both cemeteries are beautiful and peaceful places to walk and pay your respects to some of Ohio's most prominent historical figures.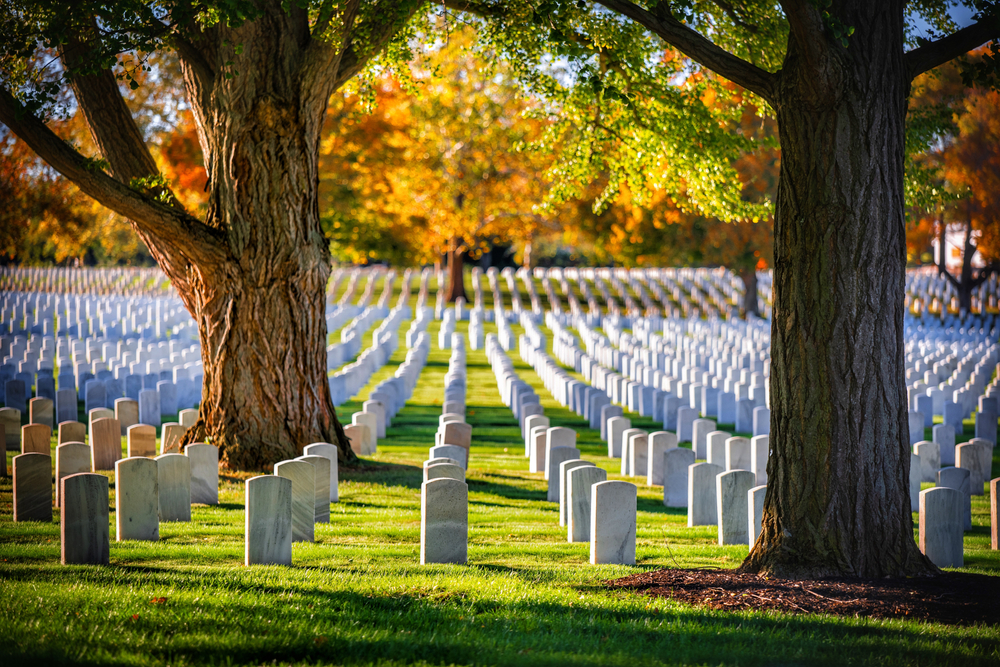 The SunWatch Indian Village And Archeological Park Is One Of The Coolest Things To Do In Dayton Ohio
You'll find the SunWatch Indian Village and Archeological Park right next to the Great Miami River, in Dayton.
The park houses a reconstructed Fort Ancient American Village.
Thanks to the work of the Dayton Society of Natural History, lengthy archeological excavations were performed.
The SunWatch village was reconstructed based on the findings of the excavations.
It is as closely identical to the original village as it can be based on the scientific findings of the archeological team.
Not only is it an extremely important archeological site, but it's also the site of an open-air museum.
The village and open-air museum are open seasonally, from April to November.
There is an admission fee of $7 for adults and $6 for students. The fee helps support the continued work of the archeological team.
You'll be able to walk through the reconstructed village at your own pace.
Then, you can tour the museum to learn more about the ancient civilization of people that would have called the area home.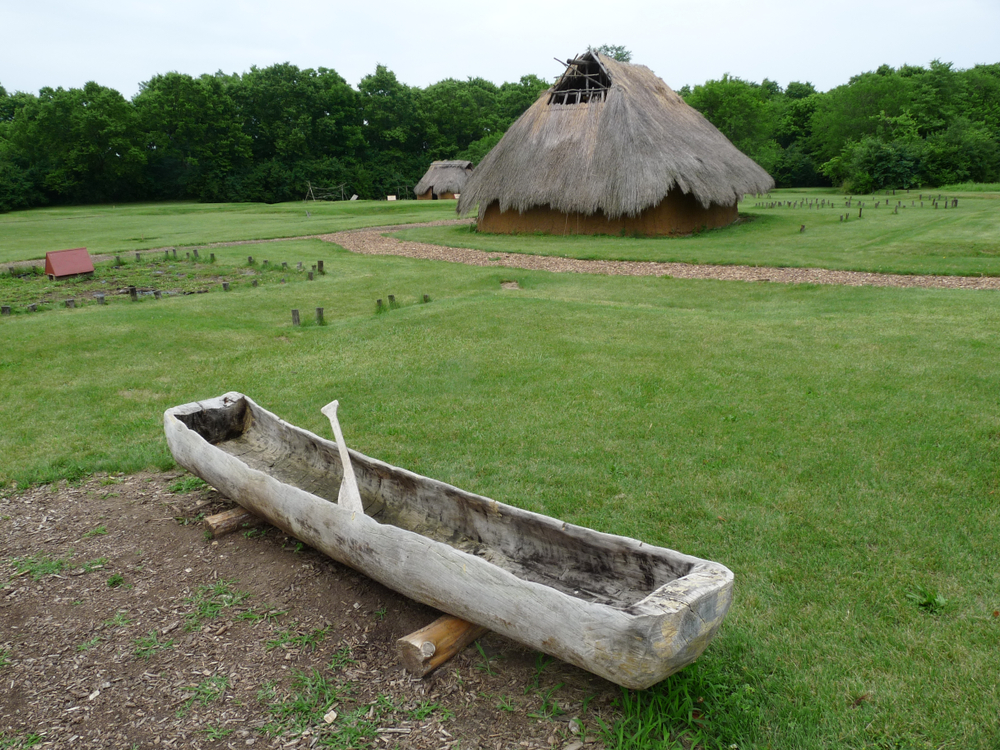 Learn About Dayton's Famous Author At The Paul Laurence Dunbar House
I mentioned previously that Paul Laurence Dunbar was a famous author, poet, and novelist that was born and raised in Dayton Ohio.
He was classmates and friends with Orville Wright and even wrote for the Wright brother's newspaper at one time.
The Paul Laurence Dunbar House is also part of the Dayton Aviation National Heritage Park and is free to tour.
During his career, Dunbar produced an immense amount of work.
He wrote over 400 works, which include 4 novels, 12 books of poetry, lyrics to popular songs at the time, and even 4 books of short stories.
In 1904, Dunbar purchased the house for his mother.
He only lived there a short time because he tragically died of Tuberculosis in 1906.
However, the house is where Dunbar also finished his last works.
Today, you can tour the home and see it restored to how it most likely looked at the time of Dunbar's death.
It's a unique piece of Dayton history and one of the more interesting Dayton attractions to visit.
Explore The Cox Arboretum
Exploring the Cox Arboretum is one of the prettiest things to do in Dayton Ohio.
The arboretum can be found in Dayton and is considered to be one of the Metro Parks.
There are over 170 acres of beautifully landscaped gardens, a butterfly house, and a boxwood maze.
Within the grounds, you'll find specialty gardens like the Iris Garden, the Water Garden, the Rock Garden, and the Edible Landscape Garden.
You could easily spend a few hours exploring the grounds.
If you're visiting Dayton with kids, there is also a boxwood shrub maze they can explore.
There is also a really cool spiral staircase structure you can climb to get a birds-eye view of the arboretum!
The Cox Arboretum is easily one of the coolest activities in Dayton Ohio to explore.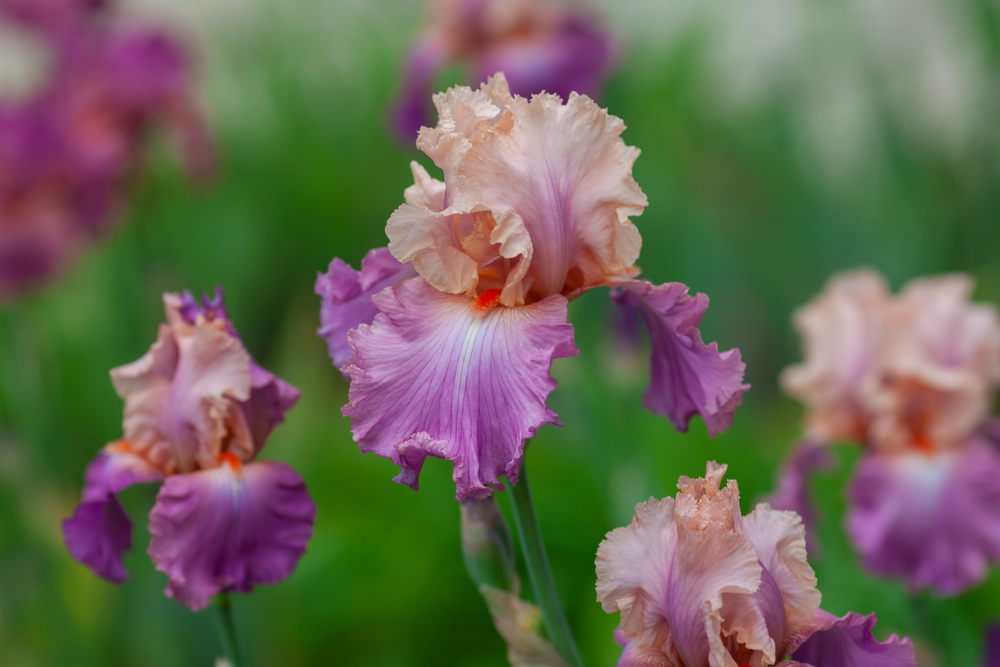 Packing List When Visiting Dayton OH Attractions
If you are searching, here are some tips on how to pack lightly when packing to visit Dayton Ohio.
A concealed travel pouch may be one of the most important items you bring along when traveling to Dayton OH. It is always important to protect your personal information. Identity thieves are everywhere.
This unisex RFID blocking concealed travel pouch is lightweight and comes in several colors. It has lots of organization to give you peace of mind. You can place it under your clothes next to your body to carry your ID safely.
If you have a pouch already that does not come with the RFID protection, as I do, these RFID sleeves are the perfect solution.
If you are planning on taking a lot of pictures with your phone you will definitely want to consider an external charging battery. This Anker high-speed phone charging battery is the exact one I carry with me on all of my trips.
I like that it holds its charging capabilities for several uses so I do not have to worry about it while out and about, and if I forget to recharge it at night, it will still be good to go the next day.
My daughter gifted me with this FugeTek selfie stick and tripod setup for my birthday. I absolutely love it! It is made of lightweight aluminum and is so easy to use.
It has Bluetooth connectivity and is a breeze to use for taking Insta-worthy selfies while attending events in Dayton.
I never much believed in using packing cubes when traveling. That is until I tried them. Now I am hooked. These are the exact cubes I use to stay organized when I pack for a trip!
You will want to bring your own refillable water bottle with you.
I never leave home on a trip without my Bobble filtration bottle. The 18.5-ounce size is perfect for your adventures and it fits nicely in the pocket of a backpack.
Perhaps you are traveling a long distance and packing space is a premium in your suitcase, or in your car. Then this set of collapsible silicone foldable water bottles would work well for you. Would not take up much space at all.
You will want a backpack or daypack with you to store snacks, your water bottle, phone, extra clothes, etc.. . No matter the time of day or evening.
This foldable water-resistant backpack would be great. And it comes in many different colors.
—
Dayton Ohio is a really cool city in Ohio with a rich and unique history.
It would make the perfect Ohio weekend getaway!
Not only are there tons of things to do in Dayton if you love history, but there are also some amazing parks.
Whether you enjoy outdoor adventures, historical museums, or beautiful architecture, there's an activity in Dayton for you to explore.
If you've ever been to Dayton Ohio, I'd love to hear about your visit in the comments.