Are you looking for lighthouses in Wisconsin? You are in the right space.
In this article, I will walk you through Wisconsin lighthouses; list Door County lighthouses, and show you where the beautiful lighthouses in WI are.
Wisconsin is a fantastic state with so much to see and do in WI. There are some great state parks in Wisconsin with some incredible hiking. It's also a state with many lighthouses, 48 to be exact.
Lighthouses of Wisconsin come in all different shapes, sizes, and colors and sit in locations as diverse as the lighthouses themselves. One thing is guaranteed though they are all in enviable positions.
However, with close to 50 to choose from it can be hard to know which one to visit. That is why I have put together this list of lighthouses in Wisconsin.
Visiting a lighthouse really is a great road trip in Wisconsin. These lighthouses are all in beautiful locations that are worth a visit on their own.
Lighthouses in Wisconsin also make for some incredible photographs and if you love history a lot of them do in-depth guided tours.
So please pull up a chair grab an iced tea and let me walk you through the Lighthouses of Wisconsin.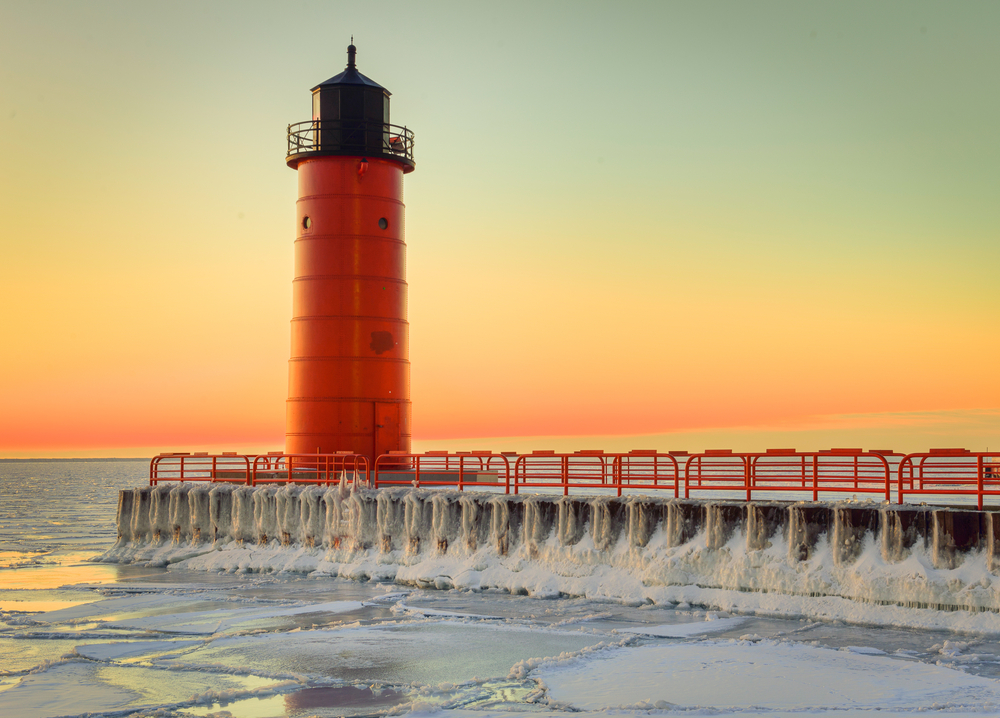 15 Coolest Lighthouses in WI For Your Bucket List
Wisconsin Point Lighthouse
This Lake Superior lighthouse sits right on the border between Minnesota and Wisconsin.
Wisconsin Point lighthouse's claim to fame is that it made the news in 2019 when a tech sales executive bought it from the Coast Guard for $159,000. Hence the reason you can no longer go inside the lighthouse.
It's one of northern Wisconsin's best lighthouses and the location is just delightful. The structure sits within a 10-mile-long sand bar between the ports of Duluth and Superior.
The lighthouse is located on what is called the southern Superior Harbor entry break wall.
In 2007 the lighthouses were added to the National Register of Historic Places. The lighthouse is 70 feet tall and dates from 1913.
To get to the lighthouse you need to walk on the breakwater some of which are made of rocks so solid footwear is essential. Sometimes a bit of scrambling is required.
Or just enjoy it safely from shore on one of Wisconsin's sandy beaches near Wisconsin Point.
You are out in nature here so don't expect to be able to get lunch at a cafe. Bring with you what you need or head into nearby Duluth about an hour away for something to eat as there are some great restaurants in Duluth.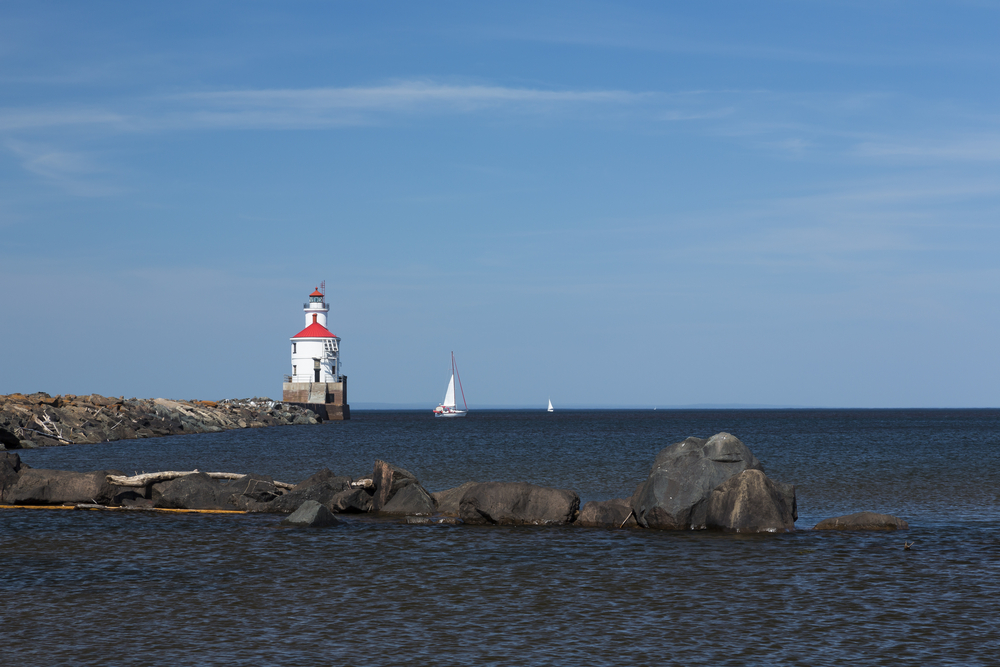 Sturgeon Bay Ship Canal North Pierhead Light
In Sturgeon Bay Ship Canal North Pierhead Light is likely one you have seen a picture of. One of the lighthouses in Door County it's a well-known lighthouse in a well know area.
The Sturgeon Bay Ship Canal North Pierhead Light is still operational so there is no access to the inside. However, you can get a better look at the lower level break wall just be careful
Or stay onshore and take your photograph there. This Sturgeon Bay lighthouse makes for great photos. This area of Wisconsin in fall is beautiful and this area is particularly wonderful then.
Visiting here is definitely one of the best things to do in Door County.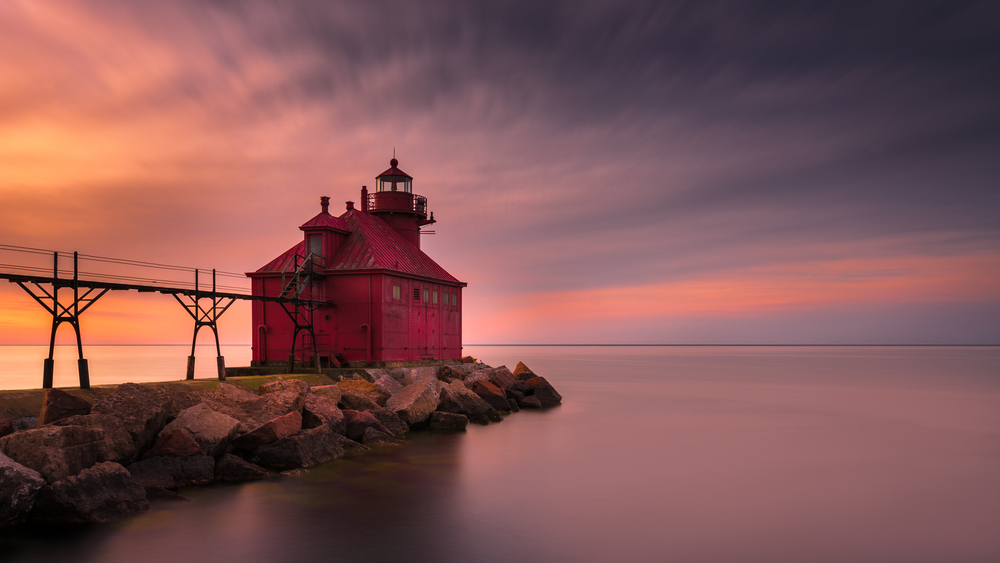 Milwaukee Pierhead Light Is One Of The Coolest Lighthouses In Wisconsin
The is one of the active lighthouses in Wisconsin and is located in the Milwaukee harbor. It was established in 1872 and stands at 42 feet tall.
Since it's operational, you can not enter the tower but you can walk the pier. The walk is actually quite lovely, especially at sunset.
The light works now on solar power and it flashes every 4 seconds and can be seen for 12 miles. It's located downtown at the end of East Erie Street and is one of the best things to do in Milwaukee.
This Milwaukee lighthouse is easy to view and well worth going to have a look at.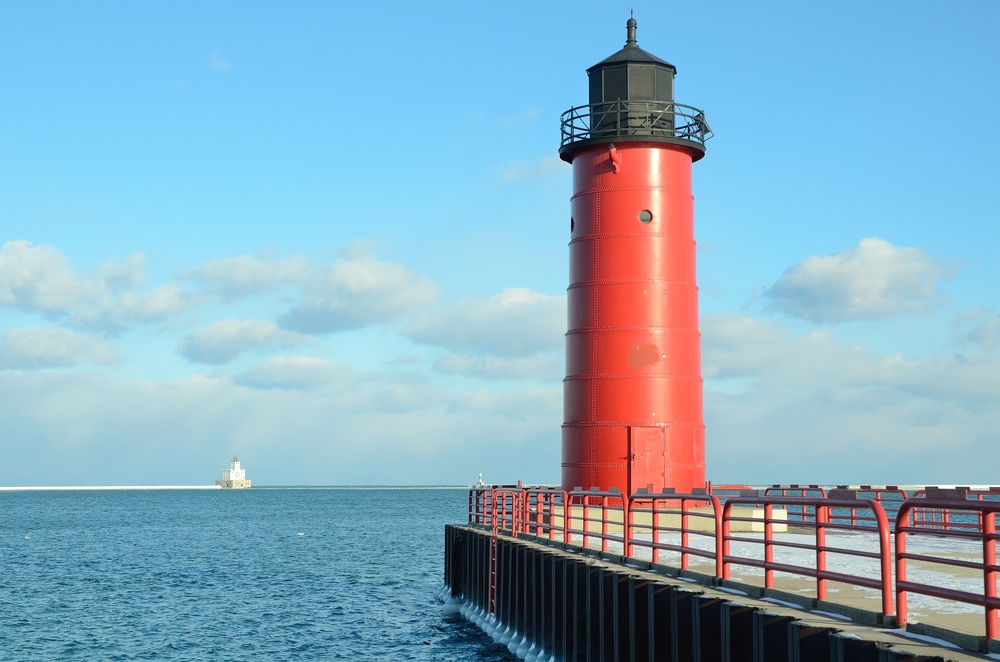 Sheboygan Breakwater Lighthouse
Built in 1915 in Sheboygan is one of the Lake Michigan lighthouses. It stands at 55 feet tall and is bright red and still a working lighthouse.
While you can not tour it you can reach it via the stone and concrete breakwall. This is located off Deland Park on the north break wall.
If you are going to walk the breakwater do not do it if there is a storm or bad weather because it can be dangerous.
The path is surrounded on both sides by water and is narrow towards the end. It's not a walk for the faint of heart and please wear proper shoes as it can get slippery.
However, the walk there is wonderful if that's your thing, and feels like a bit of an adventure. The view from the shore is also great though.
Add this to your Wisconsin road trip any time of the year!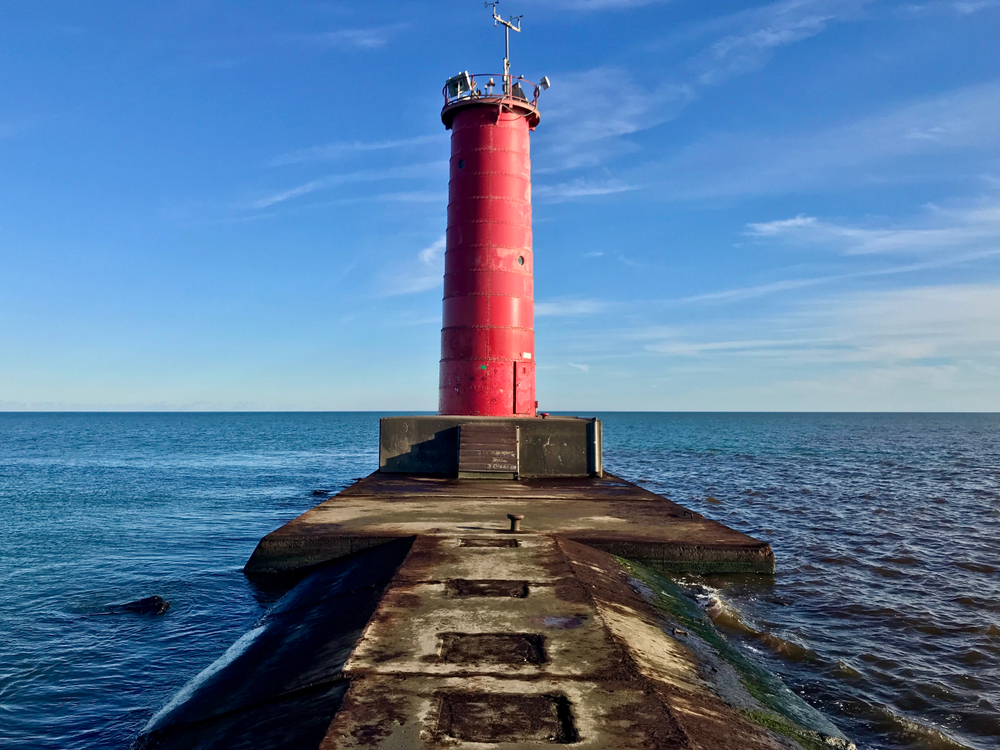 Racine North Breakwater Lighthouse Is One Of The Unusual Lighthouses in Wisconsin
This lighthouse in Wisconsin is somewhat of an unusual lighthouse in that it sits on silts and concrete plinths it seems to defy gravity.
To locals, it's known as The Big Red and they love the lighthouses even banding together in 1987 to save it.
It was originally on the North Pier where it started life in 1901 and in 1930 it was moved to its current location.
It now forms part of the Reef Point Marina Complex.
You can not go inside the lighthouse but the grounds around it are open. The best picture can be taken at the parking area at the end of the harbor park.
You can walk here by following Lake Michigan Pathway out to the lighthouse. Park at the end of Barker Street and you can pick up the trail there.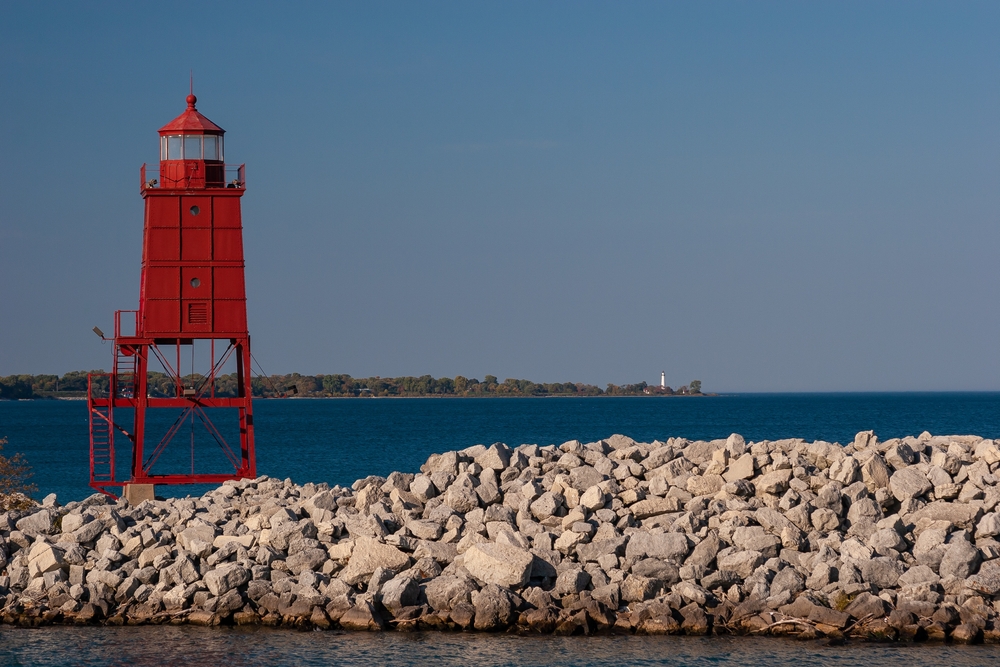 Eagle Bluff Lighthouse
This beautiful Wisconsin lighthouse is in a rather isolated spot sitting in the northern part of Door County. It's close to Ephraim and sits in the Peninsula Park Beech Forest State Natural Area.
Don't miss visiting Ephraim. It is one of the most picturesque towns in Door County!
Since 1868 the lighthouse illuminated the islands in the middle of the Strawberry Channel. It became known as "The Guardian of the Strawberry Channel" which makes it sound rather magical and mystical.
The light was automated in 1926 and the lighthouse thereafter fell into disrepair. The Door County Historical Society started a 4-year restoration in 1960.
You will be pleased to know you can go inside this lighthouse and you really do get a full historical tour here. It's open from May to October and if you can go in the fall months as the location is stunning.
The lightkeeper dwelling is furnished to recreate how it would have looked in the day. It's a lovely lighthouse in Door County in a lovely location.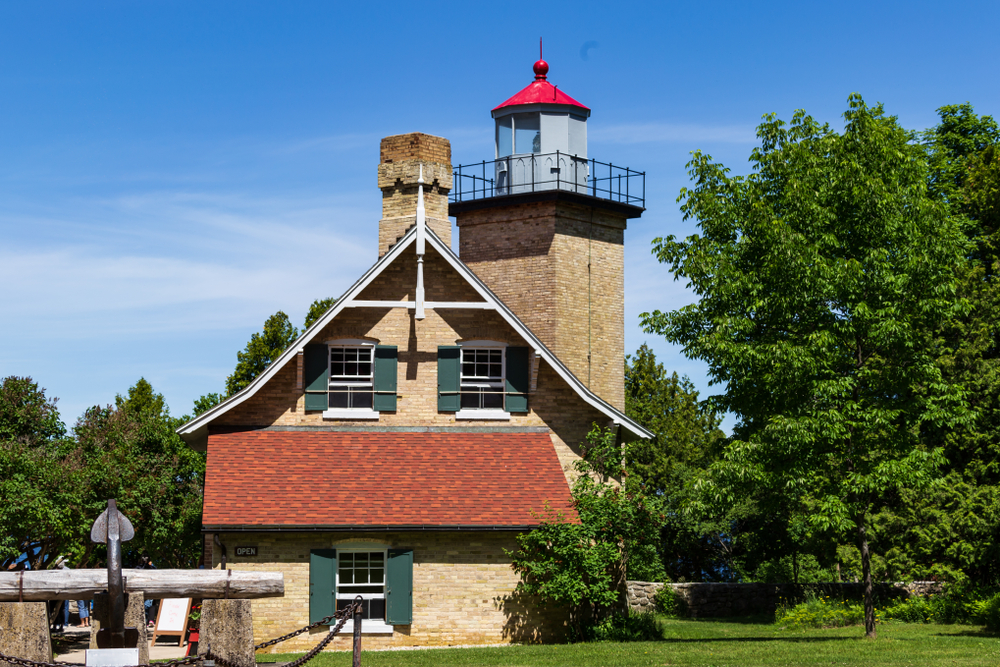 Devil's Island Lighthouse
Located on Devil's Island which is located in one of the coolest national parks in the Midwest, the Apostle Islands, in Lake Superior sounds like a place that may be otherworldly.
Near Bayfield, this Lake Superior lighthouse was first established in 1880 and is the only Apostle Island lighthouse to still have its original Fresnel lens.
The lighthouse itself is pretty simple a white cylinder.
It was originally built to support itself however the exposed location shook the lighthouse so wildly the light would extinguish so the structure was reinforced with braces.
The lighthouse keepers' cottages are also still there and great relics of a time gone by.
The island itself lives up to its strange name with spectacular caves and structures. Native Americans believed an evil spirit was imprisoned here hence the name.
If you have your own boat or Kayak you can visit the island and there is a dock on the southern side about a mile from the lighthouse.
There are also tours here some passing by the lighthouse from afar but some do go to the island. The lighthouse is staffed in the summer months and you can visit and climb the tower.
The island is completely wild so make sure you bring all you need and don't expect amenities here.
If you can, visit this island in the Great Lakes it is worth it.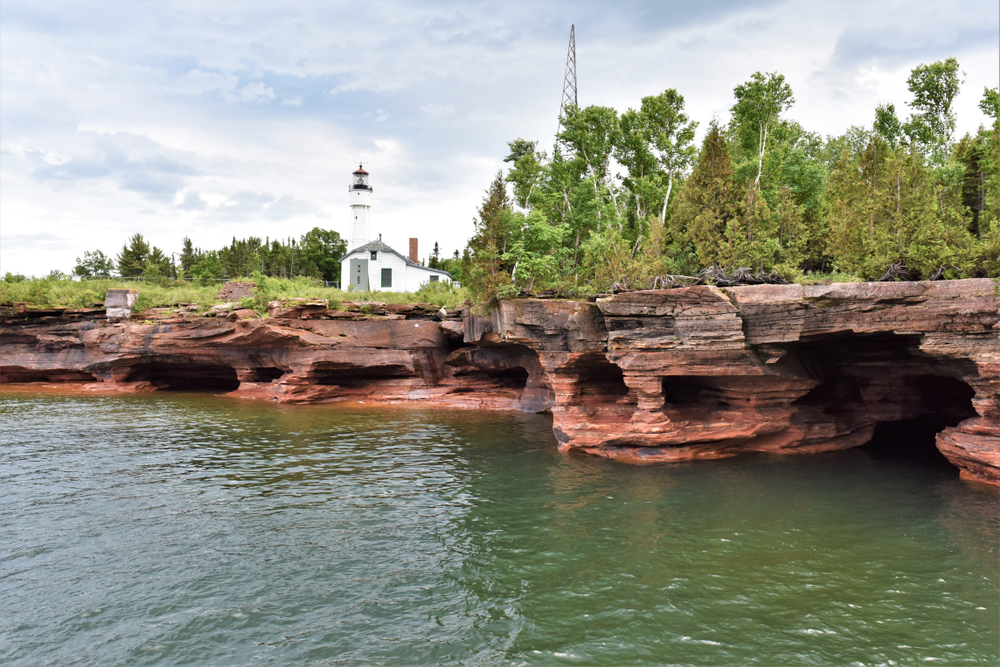 Wind Point Lighthouse
Four miles north of Racine in Wind Point Village is Wind Point lighthouse. This historical and beautiful lighthouse is still in operation which is surprising considering it dates from 1880.
It's one of the tallest lighthouses on Lake Michigan with a tower height of 108 feet. There is also a keeper's cottage.
The Village of Wind Point is responsible for the care of the Lighthouse and the grounds surrounding it and the coast guard care for the light.
The grounds and lakefront surrounding the lighthouse are beautiful and the tower opens one day a month for visits so check dates and book in advance.
This is one of those picture-perfect lighthouses in Wisconsin and well worth a visit.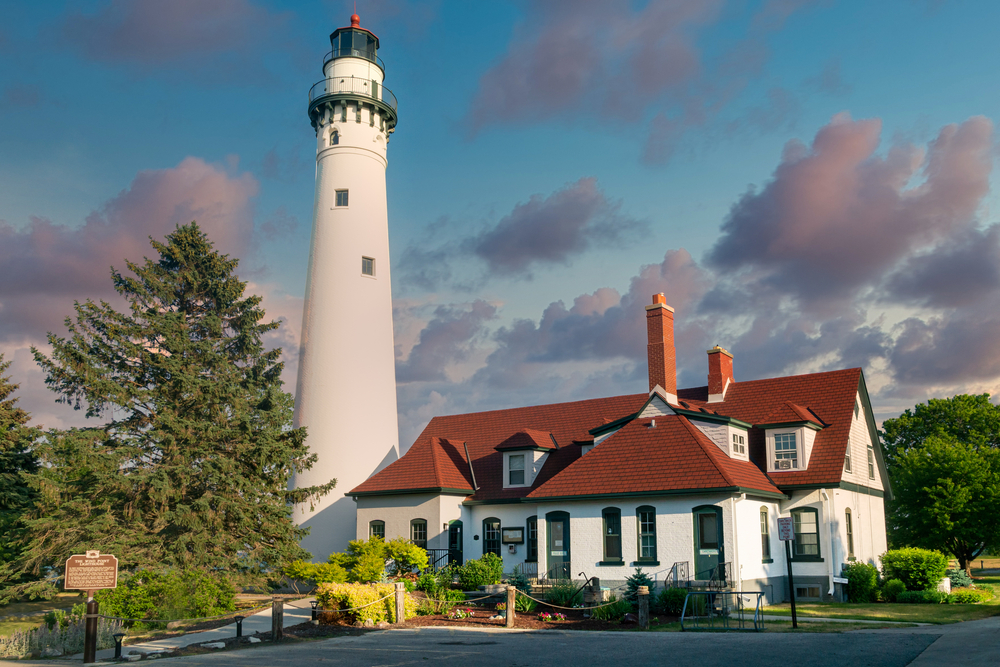 Port Washington Lighthouse
In Port Washington Marina built in 1849 is a peculiar lighthouse. This art deco structure is such an unusual shape that it really stands out from the others.
The lighthouse is a white metal tower that stands on a square base. The base has four arches that you can stroll through. The tower rises 58 feet above the base and stands 78 feet in all.
The light is still active and flashes every 6 secs. You can't climb but it is a very impressive building and well worth the trip.
This is one of the lighthouses on Lake Michigan that should be high on your list to visit.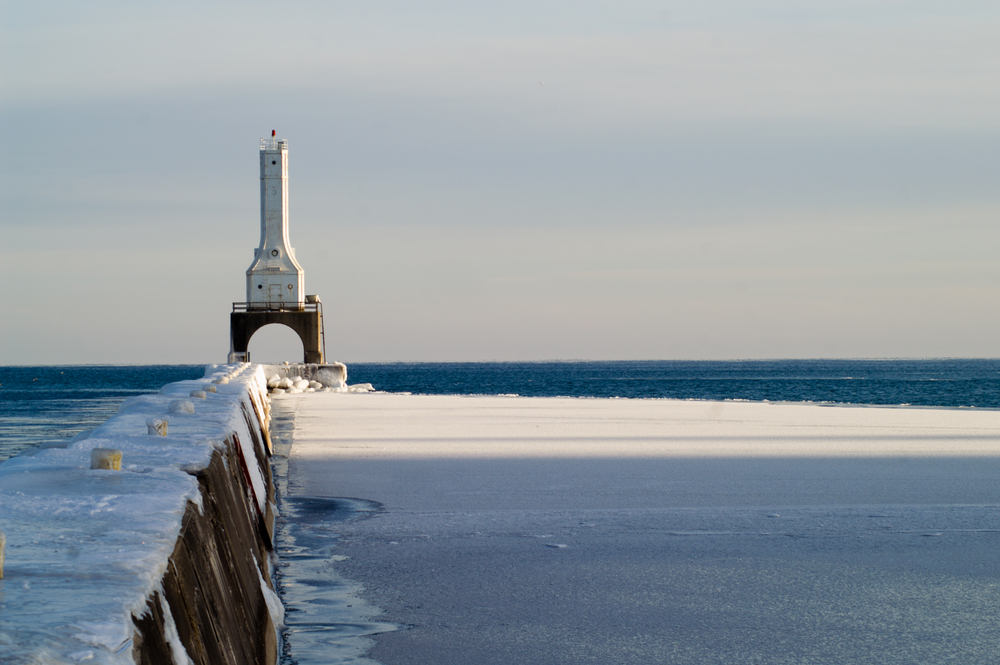 Kewaunee Pierhead Lighthouse
On the banks of Lake Michigan in Kewaunee, this lighthouse is rather grand and beautiful. First established in 1931 this lighthouse is looked after by The Friends Of The Kewaunee Pierhead Lighthouse.
They do occasionally offer tours which they announce on their Facebook page or website.
It has been added to the National Register of Historic Places and is well worth a visit.
No worries if you don't grab a tour you can still get some great views by walking down the south pier. It also fits in perfectly with the Kewaunee historic walking tour.
It's unusual looking with what appears to be two small houses aloft on a metal casing. The tower which was originally separate from the house now rises from one of their roofs.
This lighthouse is a bit of a local icon and the beacon is still active as a navigational aid.
This is one of the Lighthouses on Lake Michigan that is one of the best places to visit in Wisconsin.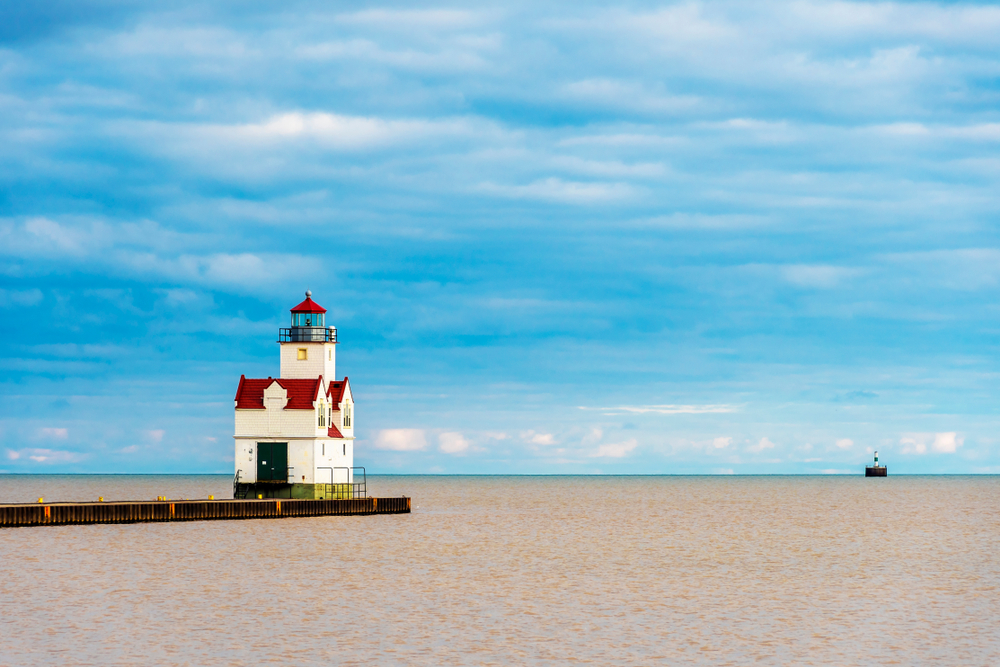 North Point Lighthouse
This lighthouse in Wisconsin is located in Lake Park In Milwaukee. First established in 1888 it marks the entrance to the Milwaukee River and is perhaps how you most imagine a lighthouse would look.
It is open for tours on the weekends and you can climb the tower for an incredible view of downtown. Be warned though there are 84 steps and a further ladder to climb to get to the light.
This lighthouse in Milwaukee is 74 feet tall and is one of the tallest in Wisconsin. The keeper's cottage is a rather elegant Queen Ann building and in its day hosted three families.
The park where the lighthouse is located is also beautiful and a great place for a picnic. Or after visiting you may choose to go and eat at one of these great restaurants in Milwaukee.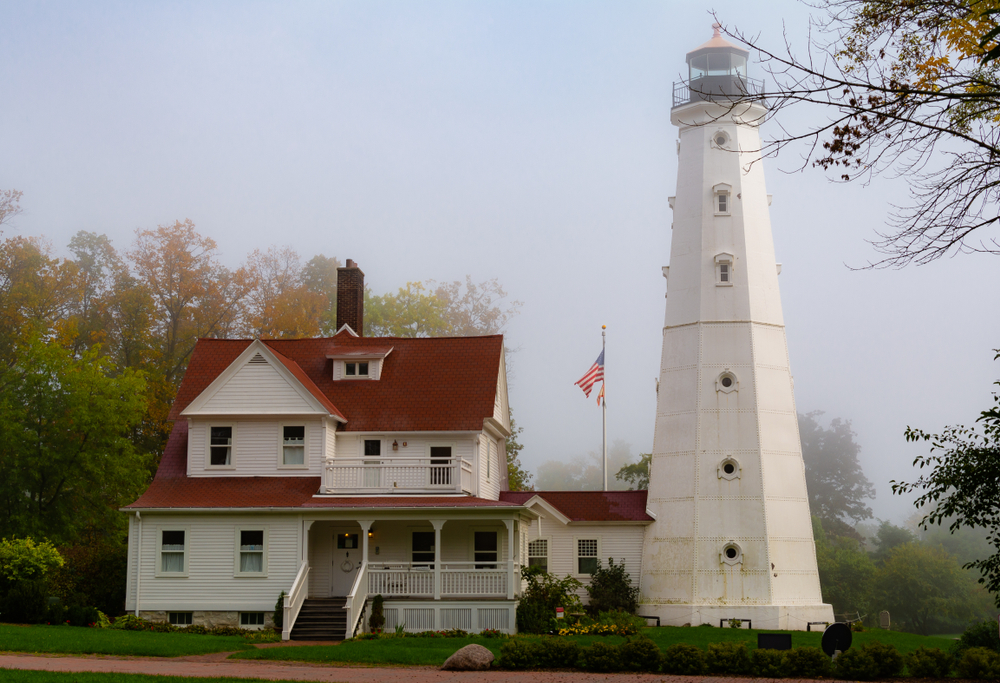 Neenah Lighthouse
This rather splendid Wisconsin Lighthouse is located at Kimberly Point in Neenah and sits on Lake Winnebago in a beautiful location.
The lighthouse has the Kimberley family who created Kleenex to thank for its existence as they donated the land and money to build the structure. Its also known as the Kimberly Point Lighthouse and was first established in 1945.
It sits in Kimberly Point Park which is a lovely area. The white tower is a white brick tower standing 49 feet tall.
You can not get inside the lighthouse but you can get great views of it and it's one of the lighthouses in Wisconsin that should be at the top of your list. What a fun Wisconsin road trip this would make!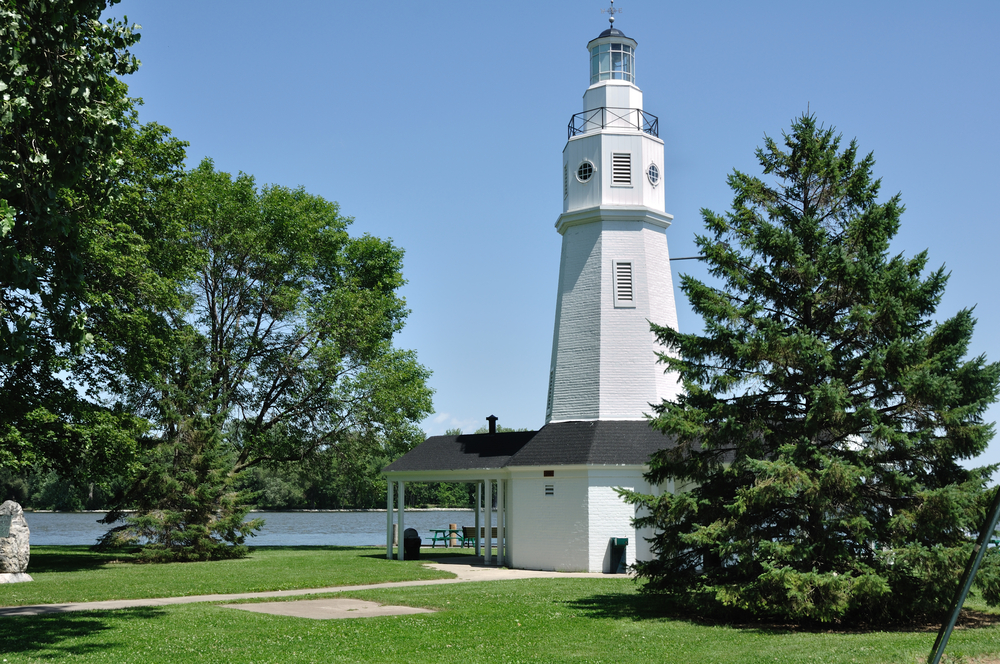 Cana Island Light Station
Another one of the Door County lighthouses, the Cana Island lighthouse, is in Baileys Harbor, a cute Wisconsin small town. It is reached from the East Cana Island Road so is easy to find.
The best thing about this lighthouse is you get to ride a wagon over the causeway to visit it. Once there there is a lot to see. Cana Island Wisconsin really delivers.
Most importantly you can climb the 97 steps up the 89 feet tower from which the view is amazing. Standing on the gallery deck really makes you feel small in comparison to the rest of the world.
You can also visit the lighthouse keeper's home and the oil house. This 1870 buildnig was fueled by lard in the early days.
A great day out and one of the best lighthouses in WI.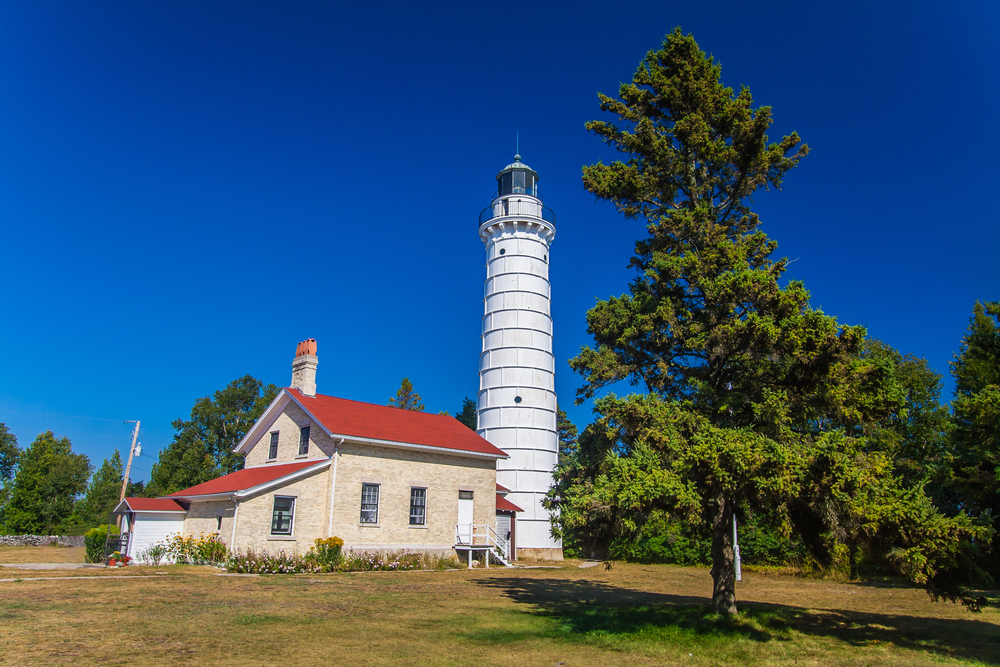 Rawley Point Lighthouse
First established in 1894 this lighthouse is located in Point Beach State Forest, near Two Rivers. It's the tallest lighthouse in WI at 111 feet and is listed on the National Register of Historic Places.
The original tower was the circular red roof building attached to the lighthouse keeper's cottage. The tower behind it came from Chicago in 1894 and is the one used today.
The Coast guard manages and lives in this lighthouse so you can't visit but it is a beautiful lighthouse to see from a distance on the beach.
It's unusual in that it is a skeletal tower with eight sides and is well worth going to see. The lighthouse sits within the Point Beach State Forest and you do need entry here to get a good view.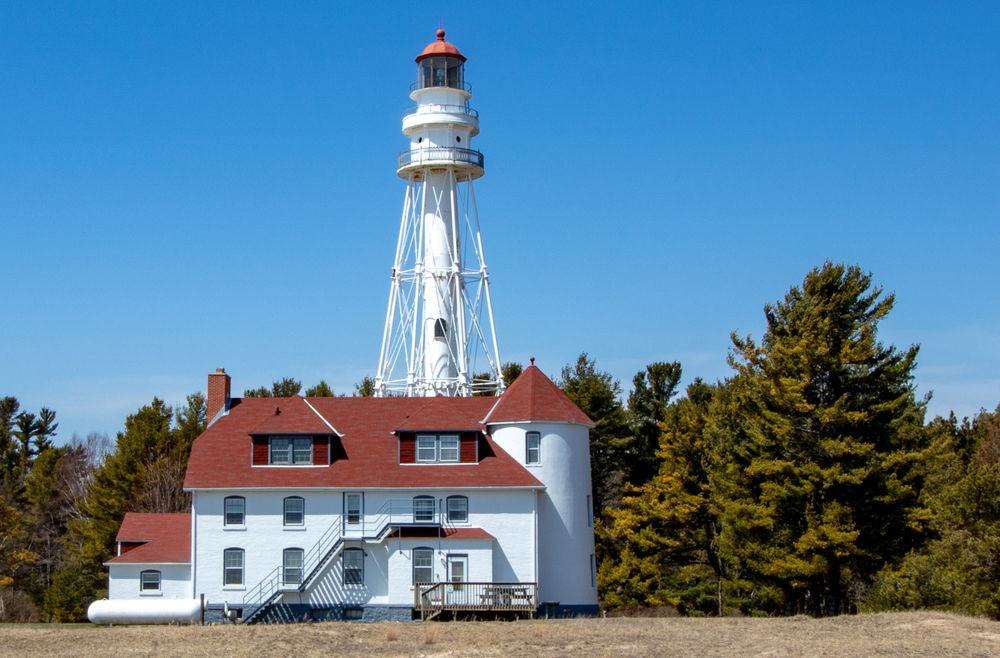 Bray's Point Lighthouse
Near Oshkosh, this lighthouse is certainly unusual looking. To me, it resembles a rocket but it is in fact an octagonal, concrete lighthouse with a fancy light structure on top.
First established in 1910 it is on private land but you can see it from afar and I have heard that the owners have let people in to view it.
It's small and elegant standing at 43 ft tall. It was built by former Wisconsin State Senator William Bray hence the name.
Bray couldn't convince the government the dangerous reefs required a lighthouse so he built his own even buying the land. At one time he was even the lighthouse keeper.
It was decommissioned in the 1950s and was then restored and relit by the owners in the mid-eighties. It is truly one of the coolest lighthouses in Wisconsin.
Oshkosh is a great place to visit and if you go why not try out one of these restaurants in Oshkosh.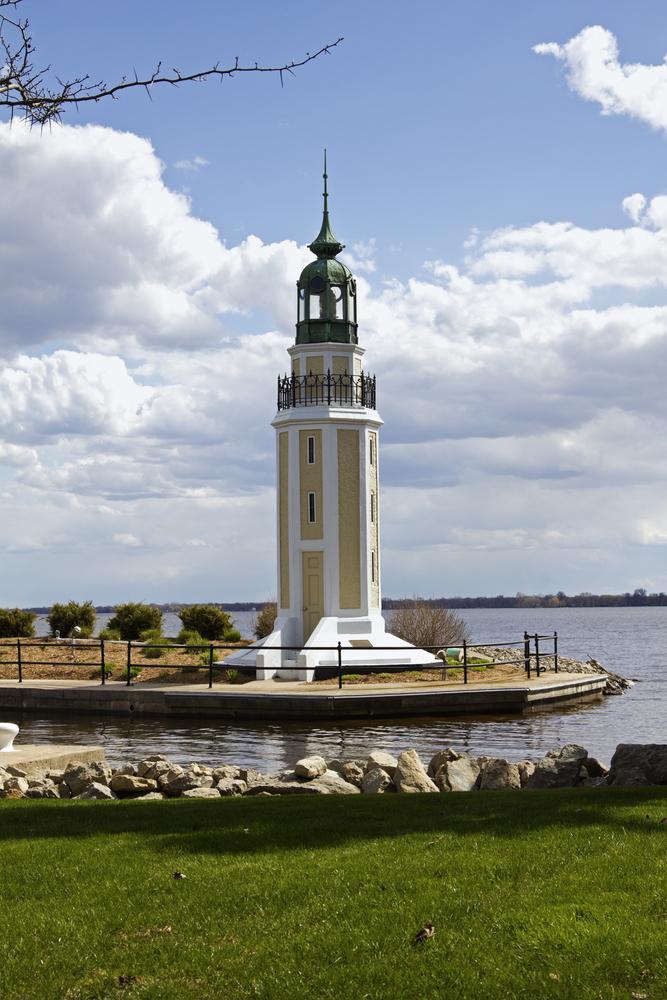 Packing List When Visiting Lighthouses In Illinois
If you are searching, here are some tips on how to pack lightly when packing to visit WI lighthouses.
A concealed travel pouch may be one of the most important items you bring along when visiting lighthouses in Illinois. It is always important to protect your personal information. Identity thieves are everywhere.
This unisex RFID blocking concealed travel pouch is lightweight and comes in several colors. It has lots of organization to give you peace of mind. You can place it under your clothes next to your body to carry your ID safely.
If you have a pouch already that does not come with the RFID protection, as I do, these RFID sleeves are the perfect solution.
If you are planning on taking a lot of pictures with your phone you will definitely want to consider an external charging battery. This Anker high-speed phone charging battery is the exact one I carry with me on all of my trips.
I like that it holds its charging capabilities for several uses so I do not have to worry about it while out and about, and if I forget to recharge it at night, it will still be good to go the next day.
My daughter gifted me with this FugeTek selfie stick and tripod setup for my birthday. I absolutely love it! It is made of lightweight aluminum and is so easy to use.
It has Bluetooth connectivity and is a breeze to use for taking Insta-worthy selfies while visiting Wisconsin lighthouses.
I never much believed in using packing cubes when traveling. That is until I tried them. Now I am hooked. These are the exact cubes I use to stay organized when I pack for a trip!
You will want to bring your own refillable water bottle with you.
I never leave home on a trip without my Bobble filtration bottle. The 18.5-ounce size is perfect for your adventures and it fits nicely in the pocket of a backpack.
Perhaps you are traveling a long distance and packing space is a premium in your suitcase, or in your car. Then this set of collapsible silicone foldable water bottles would work well for you. Would not take up much space at all.
You will want a backpack or daypack with you to store snacks, your water bottle, phone, extra clothes, etc.. . No matter the time of day or evening.
This foldable water-resistant backpack would be great. And it comes in many different colors.
—
As you can see when it comes to lighthouses in Wisconsin there are a lot to choose from and this is only just the start. Whichever of these Wisconsin lighthouses you visit I know you won't be disappointed.
Whether you visit one of the lighthouses in Milwaukee, one of the Door County lighthouses, or one of the Lake Superior lighthouses I hope you have a great time. Enjoy your lighthouse hunting and please come back and tell me all about it.