Are you interested in visiting some of the cutest small towns in Wisconsin?
Then this list is perfect for you!
Wisconsin is known as 'America's Dairyland', but it has so much more to offer.
Throughout the state, you'll find small Wisconsin towns that are just waiting for you to visit and explore them.
This list has a selection of small towns in Wisconsin for every type of traveler.
Whether you want to admire Frank Lloyd Wright's architecture, immerse yourself in a college town, or just enjoy the great outdoors, there is a Wisconsin town perfect for your next vacation.
So, let's take a look at the 15 cutest small towns in Wisconsin.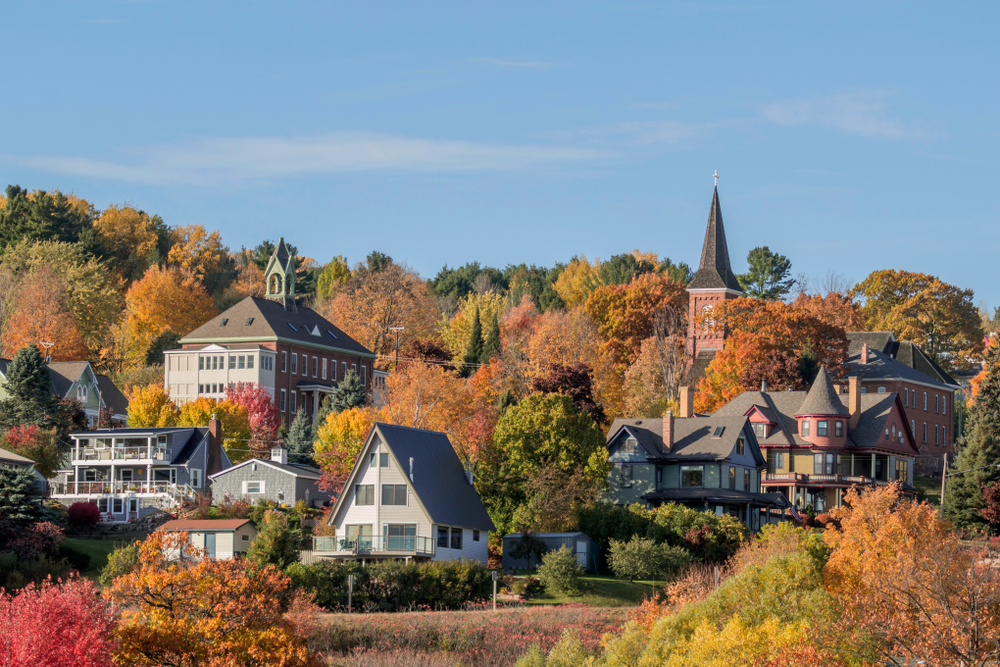 15 Cutest Small Towns In Wisconsin
Sturgeon Bay Is One Of The Best Small Towns In Wisconsin For Fall Foliage
If you want to see Wisconsin at its best during the fall, then head to Sturgeon Bay.
Sturgeon Bay is easily one of the best places to admire fall foliage in Wisconsin.
The bay is full of boats and you can enjoy strolls along the bay and near the marina.
The town itself is very charming with delicious restaurants, local shops, and a welcoming atmosphere.
All of that small-town charm is amplified when Sturgeon Bay is immersed in beautiful fall foliage.
It is also considered to be the heart of Door County, which is one of the most popular counties in Wisconsin for travelers.
You cannot go wrong with an Autumn trip to Sturgeon Bay, one of the best small towns in Wisconsin.
Elkhart Lake
The village of Elkhart Lake is extremely small.
It is technically located in the town of Rhine, but it very much feels like its own little town.
In 2010 just under 1,000 people called this Wisconsin town home.
What it lacks in population it makes up for in appearance.
If you are interested in watersports, then you'll love visiting Elkhart Lake.
You can enjoy classic watersports like boating, kayaking, and canoeing.
They also have a service where you can rent pontoon boats to enjoy the lake on a sunny day.
In the village, you will find a relaxing spa, a wine and foods shop, restaurants, and plenty of cute shops.
From weekend getaways, vibrant cities, and even fun hidden gems Wisconsin has so much to choose from!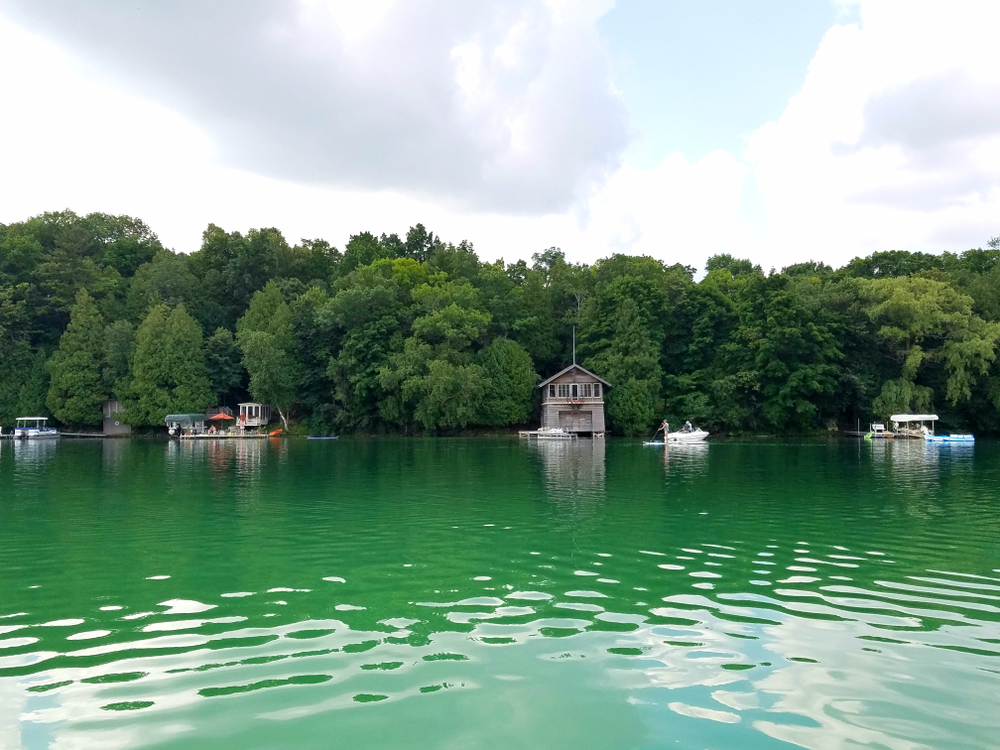 Lake Geneva For Wisconsin Beach Vacations
If you want a beach vacation in a small town in Wisconsin, then head to Lake Geneva.
Lake Geneva has a reputation for being a favorite vacation destination in the summer for Chicagoans looking to escape the city.
During the day you can enjoy the sun on the sandy beach or enjoy watersports and swimming in the lake.
For dinner, head to one of the many wonderful restaurants before stopping into the local shops or art galleries.
If a beach vacation is not really your thing, but you would still like to visit Lake Geneva, I suggest going in the winter.
Every winter the town holds a very popular Winter Festival.
There you can see the only ice sculpting championship in the United States!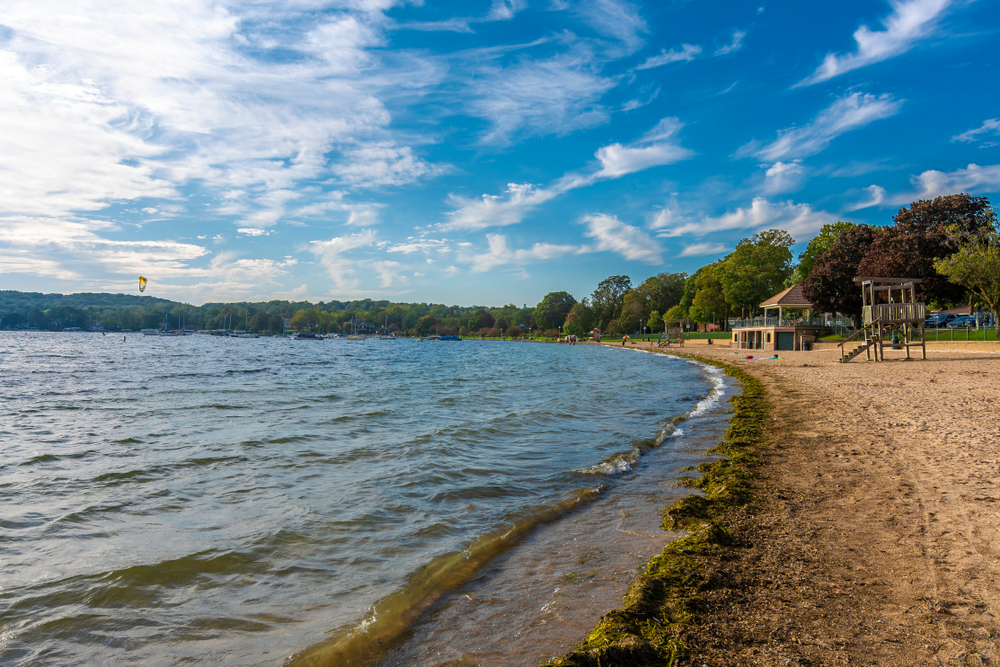 Eau Claire
For your next interesting Wisconsin weekend getaway, consider heading to the college town, Eau Claire.
With a population of over 60,000, most people may not consider Eau Claire a small town.
But do not let that population number fool you.
Eau Claire is a college town with all the charm of one of the best small towns in Wisconsin.
It proudly calls itself the 'Indie Capital of the Midwest', and you'll find plenty of fun and unique things to do there.
Stroll through art galleries, try one-of-a-kind restaurants, or pick up a souvenir in one of the many cool boutiques.
The small city has a vibrant art scene and you can often find beautiful murals painted on the sides of the buildings.
If you are looking for a small-town atmosphere with big-city amenities, Eau Claire is perfect.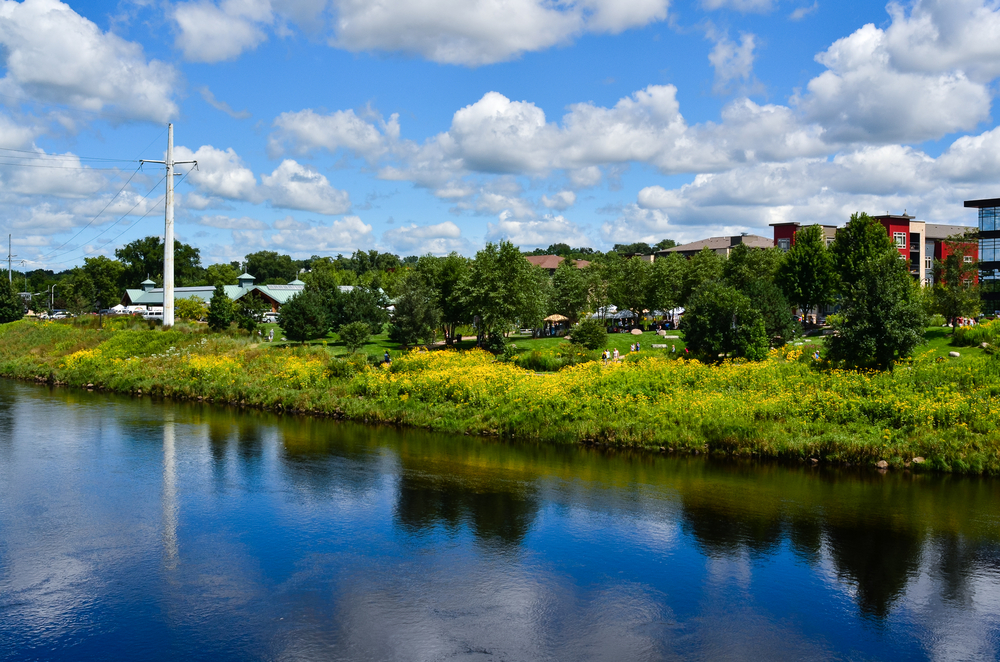 Bayfield And The Apostle Islands
While you are in Wisconsin, you should definitely visit the Apostle Islands.
A stop at the Apostle Islands means a stop in Bayfield.
Bayfield is a small Wisconsin town that is known as the gateway to the Apostle Islands.
But before you head to the islands, take some time to explore Bayfield.
You'll find a cute town with quite a few things to do.
Stop into the art galleries, grab a bite to eat, or learn more about the area at the Bayfield Maritime Museum.
The town is also full of beautiful architecture, and if you head just outside of town you can also visit some great local wineries and farms.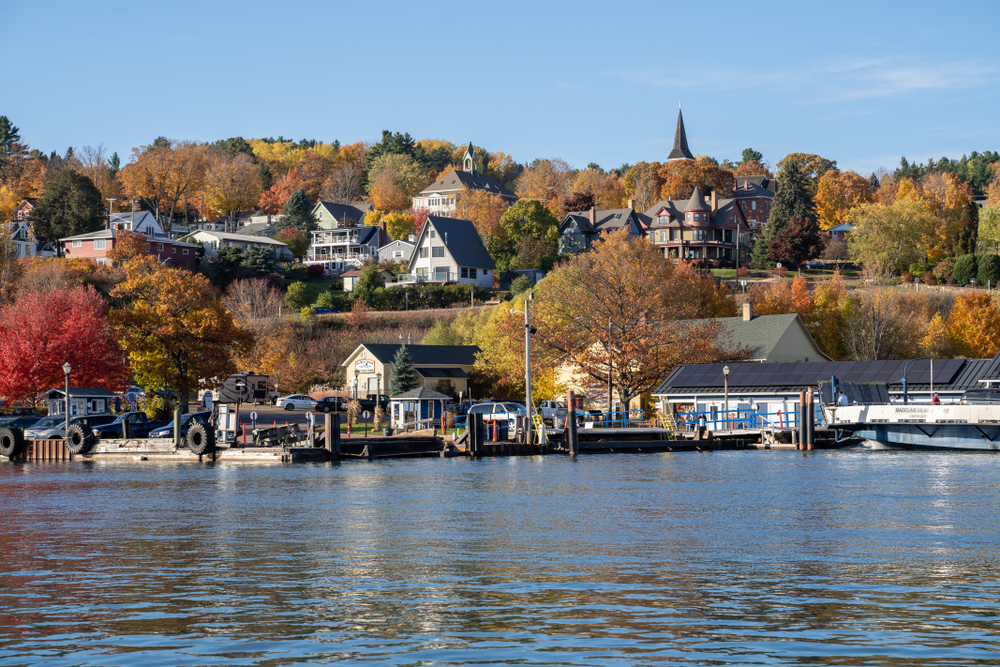 New Glarus
There is a reason people day-trip from Chicago to stop into New Glarus, Wisconsin.
New Glarus is America's Little Switzerland!
This small town in Wisconsin is known for its love of beer, cheese, and festivals.
It's not uncommon for New Glarus to have up to four festivals a month when the weather is nice.
The town is also known for its sought-after beer selection.
In New Glarus, you can find beers that are only brewed in Wisconsin, and there are even some that are only brewed in New Glarus.
Beer lovers travel from all over to enjoy the charms of this cute Wisconsin small town.
If beer isn't your thing, don't worry.
There are plenty of festivals, restaurants, and shops to interest you on your trip.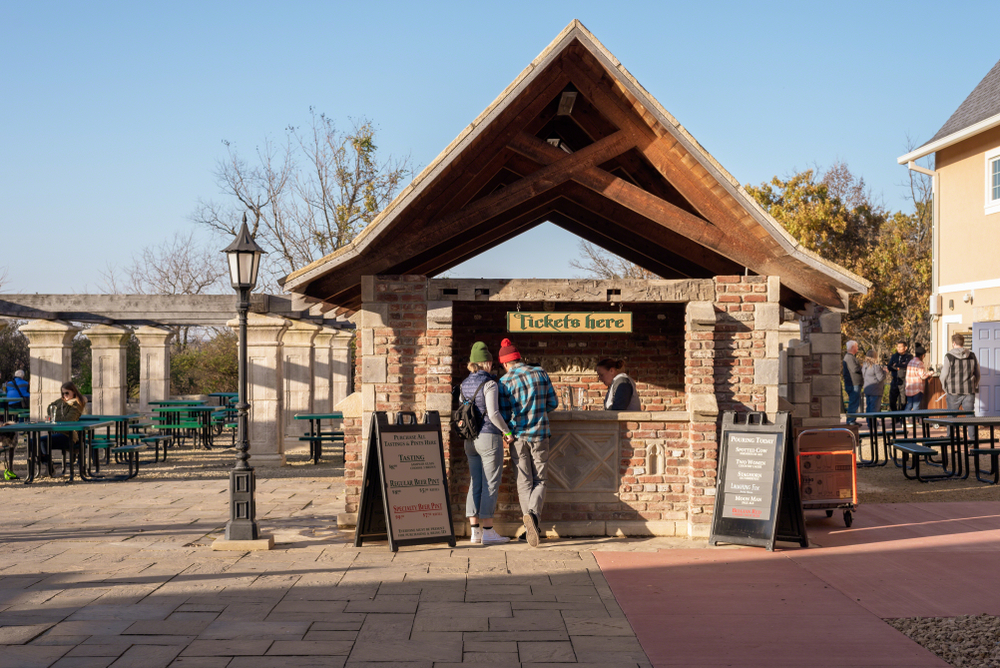 Cedarburg
Cedarburg is a great Wisconsin small town if you like museums.
You'll find that the small city of Cedarburg is home to several unique and interesting museums.
Stroll through the art museum, learn about the town's history in the town history museum, or admire textiles in the woolen mill and textile museum.
In addition to cool museums, Cedarburg also takes great pride in its selection of one-of-a-kind boutique stores and restaurants.
Most of the businesses in Cedarburg are locally owned, and many have become staples of the town after being around for decades.
Visitors to Cedarburg especially love to stop into the Candy Kitchen or look at locally made Amish furniture and goods.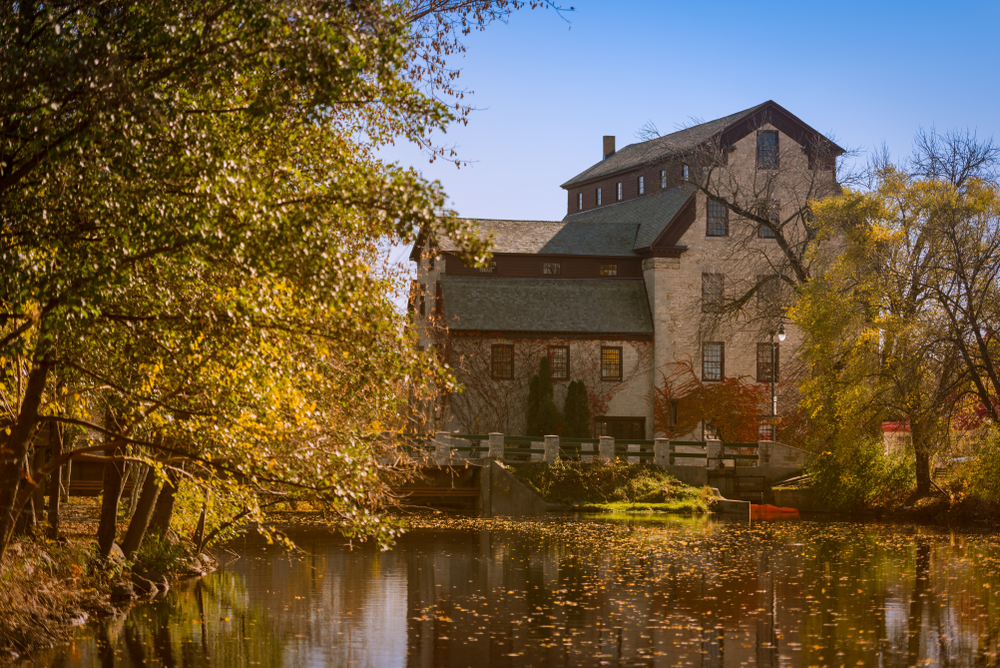 Kohler Is Known For It's Resort
If you want to experience a resort luxury vacation in Wisconsin, head to Kohler.
The town was originally created as a model company town for the Kohler Company, which you probably recognize from their plumbing fixtures.
When a new plant was built in the area in 1900, the village was built, and the rest is history.
Now it is easily one of the cutest small towns in Wisconsin.
On top of the charming turn of the century architecture, you will also find one of the most luxurious resorts in Wisconsin in Kohler.
Enjoy the five-diamond American Club and all of its amenities in the heart of a quaint small town.
Janesville Is One Of The Cutest Small Towns In Wisconsin
The Wisconsin small town of Janesville is often called the Park Palace of Wisconsin.
Janesville has over 2,500 acres of parks and nature trails, and an additional 500 acres are allocated as greenbelt land, which protects the local wildlife from waste runoff.
As you walk through Janesville you'll see some stunning Victorian architecture alongside the gorgeous green spaces.
Visitors to Janesville especially enjoy the Rotary Botanical Gardens and Riverside Park.
Both are great parks and you can easily spend a few hours enjoying them on a beautiful day.
In Janesville, you will also find plenty of charming boutiques, delicious restaurants, and more to fill your day.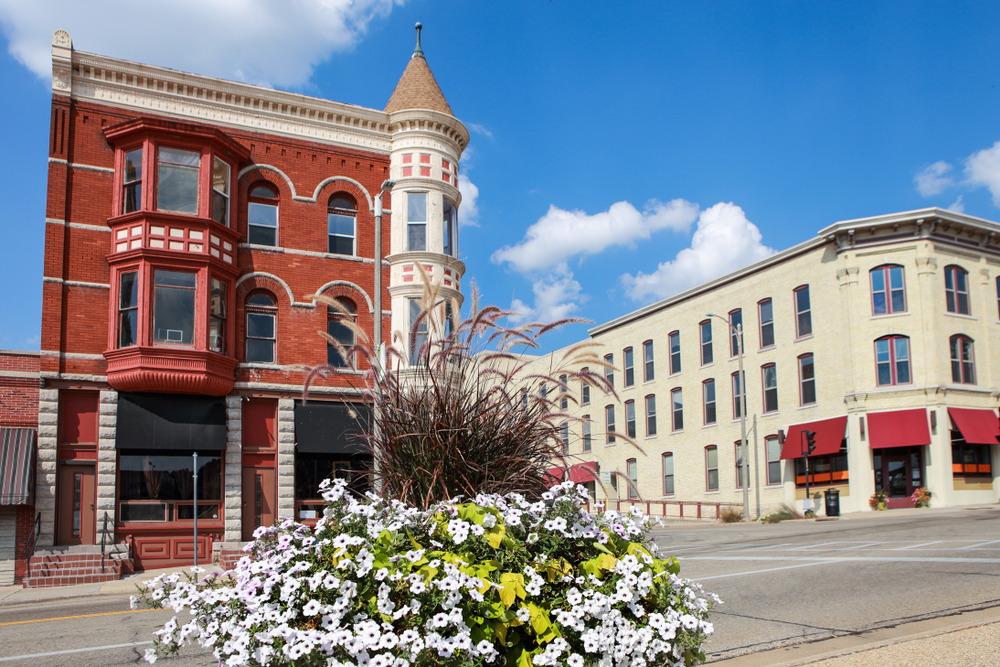 Baraboo For Its Historic Charm
The small Wisconsin town of Baraboo is a lovely historic town in Sauk County, Wisconsin.
Baraboo has several claims to fame, including being the hometown of the Ringling Brothers.
But that is not all that Baraboo can brag about!
One of the best things to do in Baraboo is the Devil's Lake State Park.
It is a beautiful state park with a large lake, gorgeous rocky cliffs and unique rock formations, and a dense forest.
Devil's Lake is a popular tourist attraction in the area but Baraboo is also close to the Waterpark Capital of the World. the Wisconsin Dells.
So you can stay close to Baraboo and enjoy beautiful landscapes or take a short drive and have some fun in one of the many nearby waterparks.
Stockholm Is One Of The Small Towns In Wisconsin Known For It's Art Scene
The town of Stockholm has its own slogan: 'Small village, big heART'.
That perfectly encapsulates this super cute Wisconsin small town.
Stockholm is a small village that has a population of only 66 people as of 2010.
So if you want to experience a true small-town charm, you've come to the right place when you visit Stockholm.
You'll find a charming village that was originally founded in 1854 that is full of beautiful old homes, classic architecture, and green spaces.
It is the smallest town on this list, but there are still things to do there.
Stroll through Stockholm Park, stop into one of the locally owned boutiques or restaurants, and see the Maiden Rock Bluffs or Lake Pepin.
Spring Green For Frank Lloyd Wright History
The famous American architect Frank Lloyd Wright was born and raised in Wisconsin.
The small town of Spring Green became acquainted with Wright when he began building his studio and home, Taliesin, nearby in 1911.
At first, the relationship between the village of Spring Green and Wright was not the best.
But as Wright began to build, and rebuild, his iconic home over the years Spring Green soon welcomed Wright and the star power he brought to the small town.
Taliesin became a local landmark and is now a registered World Heritage Site, which brings in plenty of visitors to Spring Green.
On top of being able to tour Wright's former home, the town of Spring Green also has some great shops, restaurants, and other popular attractions.
If you are a lover of the theater, make sure you check out a show at the American Players Theater while you are enjoying your trip to Spring Green.
Ephraim Is One Of The Romantic Small Towns In Wisconsin
If you are looking for a romantic Midwest getaway, consider heading to Ephraim in Door County, Wisconsin.
Door County is one of the most popular destinations for couples, and Ephraim is right in the heart of the romantic Wisconsin county.
Ephraim is known for its Scandinavian roots which you can see reflected in the architecture, food, and activities in the small Wisconsin town.
It is located on the shores of Eagle Harbor, so in the Summer you can enjoy classic water activities like swimming and boating.
Take a carriage ride through the village, enjoy a meal from one of the locally-owned restaurants, or see a movie at the number one drive-in movie theater in the country.
There is so much to do in see in one of the cutest small towns in Wisconsin, Ephraim.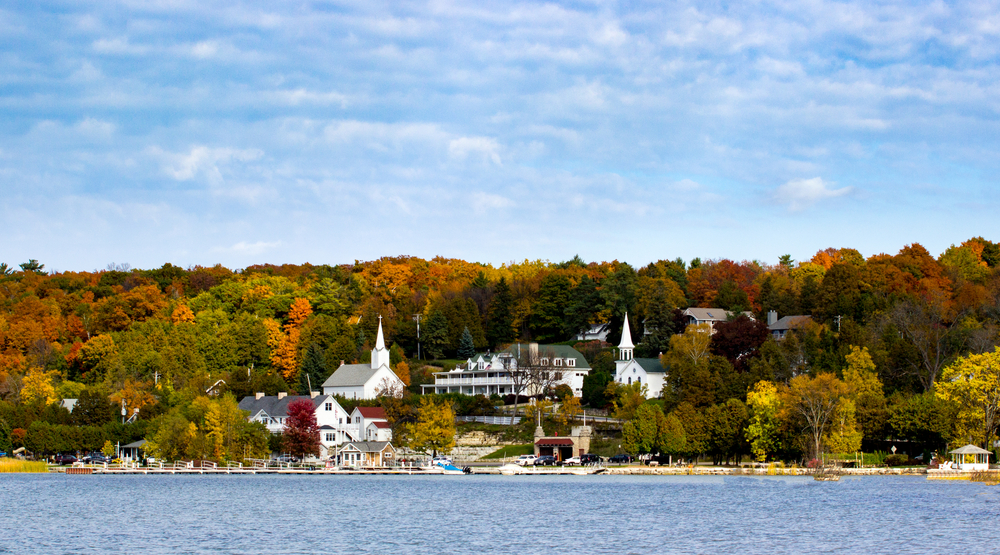 Chippewa Falls Is One Of The Small Towns In Wisconsin Full Of Midwest Charm
Chippewa Falls is a small city in Wisconsin that is full of small-town charm.
It is a great Wisconsin small town to explore with the family.
On Main Street in the Downtown district, you'll find a classic Midwestern small town that is wonderfully still preserved.
The area also has some great places for outdoor adventure.
You can go hiking on a portion of the Ice Age Trail, enjoy watersports, or enjoy skiing and snowshoeing in the winter.
There are also museums, wineries, breweries, and cool shops just waiting for you to explore them.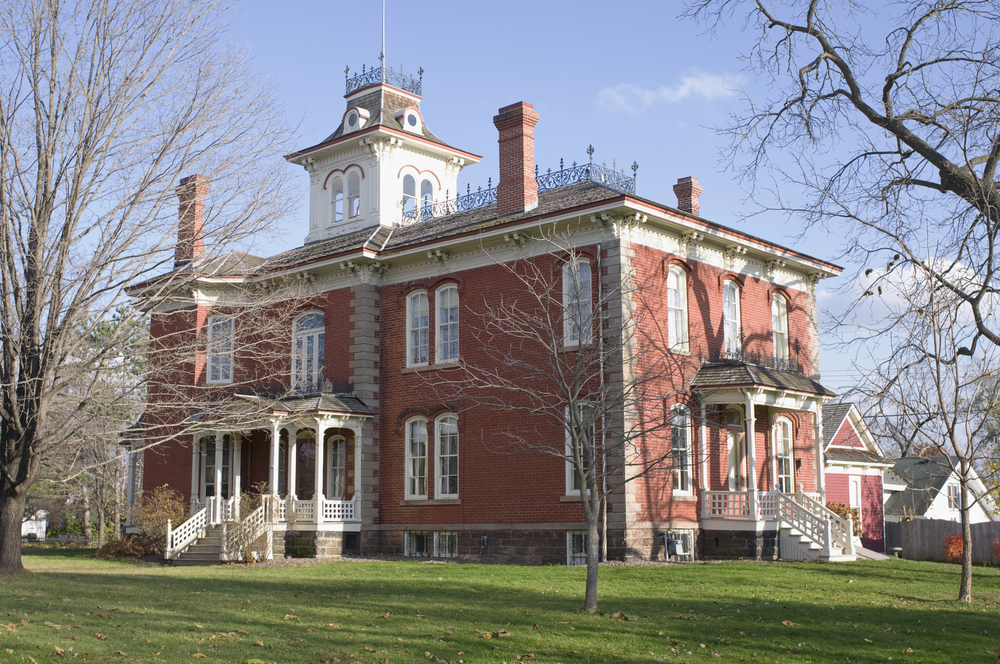 Hayward Is A Small Town In Wisconsin For Racing Fans
Competitive race enthusiasts will probably already know about the small town of Hayward, Wisconsin.
The Wisconsin small town is home to two of the world's top racing events.
Depending on when you visit, you can see people compete in the Chequamegon Fat Tire bicycle race or the American Birkebeiner cross country ski race.
If competitive racing isn't your thing, don't worry. Hayward has plenty of other things to do.
The town has a very charming downtown district that is known for its giant fiberglass fish statue.
It has become a popular photo-op for travelers.
After taking your photo with the giant fish, stop in one of the many shops and enjoy some fresh homemade fudge, sample wine at the local winery, or explore some of the unique shops.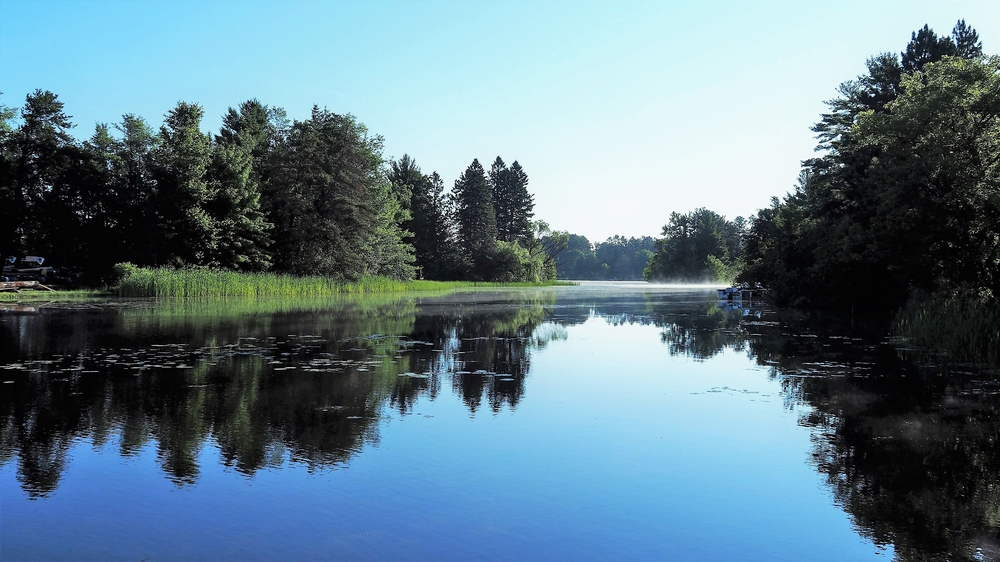 There are so many cute small towns in Wisconsin that it was difficult to select just 15!
If you are searching for packing hacks for your small towns in Wisconsin getaway, read how to pack light on your next trip, using only a carry-on.
I hope you enjoyed learning about these small Wisconsin towns and you feel inspired to visit one of the coolest states in the Midwest.
If you've been to any of these small towns, I'd love to hear about your trip
Let me know in the comments which is your favorite Wisconsin small town!