Are you looking for things to do in Door County? You are in the right place. I was born and raised in the Midwest and Door Country, Wisconsin really is a gem.
For those that aren't familiar with Door Country, it is on a peninsula jutting into Lake Michigan.
The county has a long shoreline, about 300 miles to be more exact, and has some beautiful small towns and villages.
It's a county where beauty, nature, and adventure collide and create something very special.
There are mountains, sand dunes, forests, waterfalls, beaches, islands, caves, and unique topography.
The list of things to do in Door County is endless.
As you would expect Door County has an abundance of lighthouses, beaches, hiking trails, and historic sites.
It also offers something a little extra though such as beautiful wineries, cherry orchards, and shipwreck diving.
Each season is unique. In summer it's a watersports playground, in fall a specular red and gold backdrop which eventually gives way to a frozen paradise.
And spring, well, spring is just beautiful anywhere.
Are you ready to explore this wonderful county? Here are 14 of the best things to do in Door County, Wisconsin.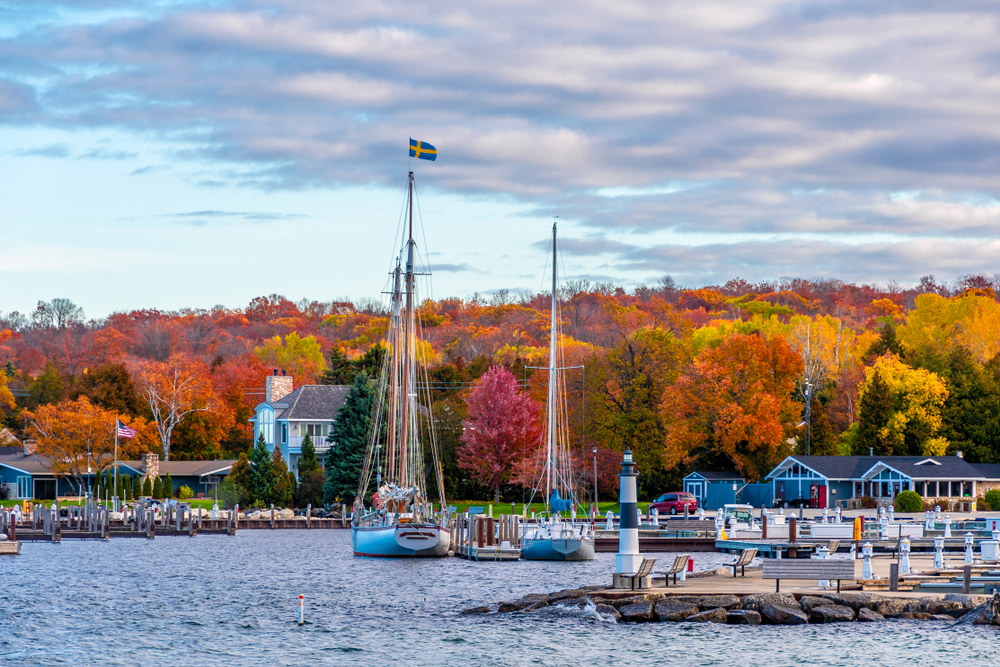 14 Best Things To Do in Door County Everyone Will Love
Relax On One Of The Many Beaches
If you like beaches then you will be in your element as you have 53 incredible beaches to choose from in Door County.
Each one is a little different than the one before and I know you will find an absolute favorite.
If you are after a family fun beach then try Nicolet Beach, Waterfront Park, Sister Bay, Egg Harbor Beach, Whitefish Dunes State Park, or Fish Creek Beach.
These beaches are all sandy and offer facilities nearby.
Nicolet Beach is the most commercial of these and Whitefish is considered one of the best beaches in Wisconsin.
Waterfront Park in Sister Bay is the largest public beach in the county and is a great picnic beach.
If you like your beaches to be a bit on the quieter side try Sand Bay Town Park, Rock Island State Park, Ridges Beach, or Baileys Harbor.
They are all a little more out the way especially Rock Island which requires two ferries to get there. You will be rewarded though with an almost solitary experience.
If you are after something a little different visit Schoolhouse Beach on Washington Island. The pebble shoreline is unusual and well worth a visit. Yes, when it comes to beaches Door county has all kinds.
A visit to one of these beaches should definitely make your Door County things to-do list.
They are especially stunning if you choose to visit Door County in the winter.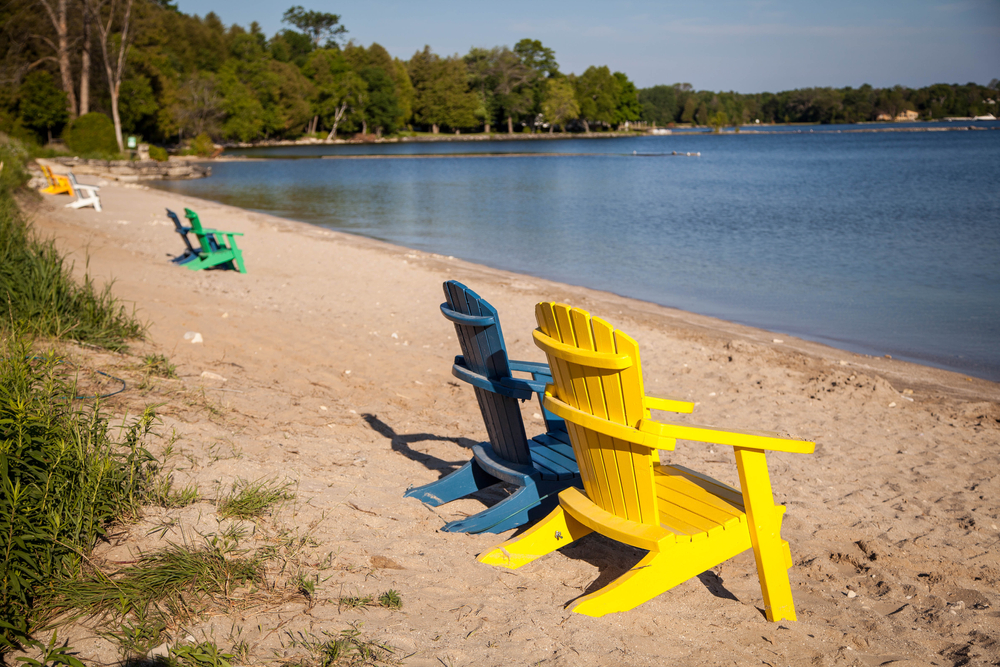 Get Historical At The Maritime Museum
If you enjoy finding out about the history of the places you visit then a trip to the Maritime Museum in Sturgeon Bay is a must.
This is one of Door County attractions that pays homage to the area's rich maritime history.
At the museum, you will learn about the life and the influence of local fishermen, ship captains, and lighthouse keepers.
There are over 30 model ships inside the museum and an interactive exhibit that puts you behind the wheel of a 1907 steamship.
The real gem of the museum though is the 149-foot 1919 tugboat, the "John Purves," which you can get guided tours around.
The museum has three exhibits spread across different locations in Sturgeon Bay, the Cana Island Lighthouse, and Ellison Bay.
Sturgeon Bay is one of the picturesque towns in Door County!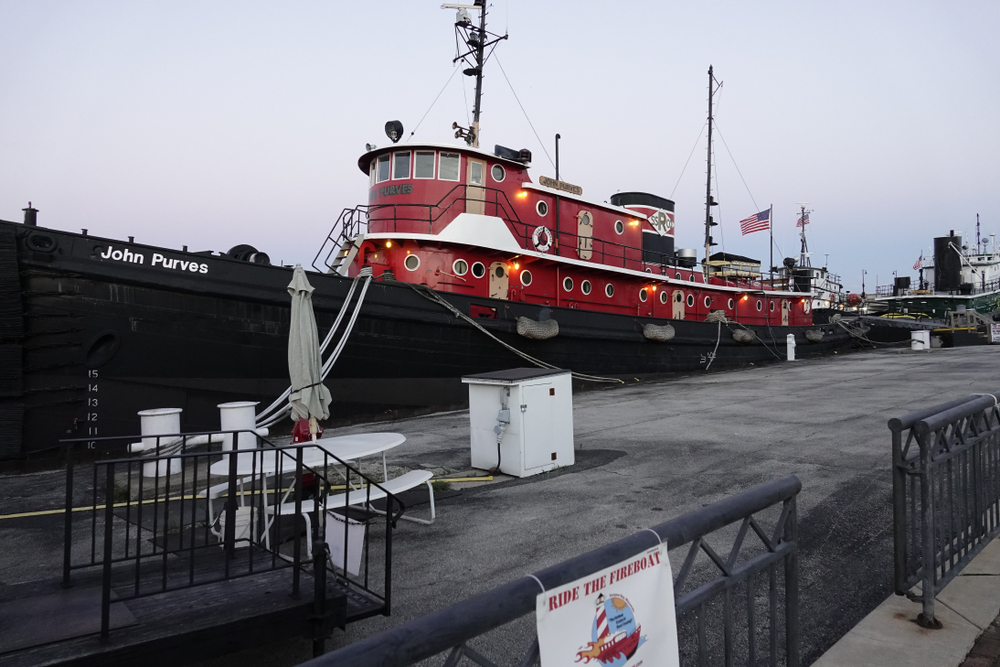 Discover A Shipwreck In Door County, Wisconsin
There are 240 Identified shipwrecks in Door County waters. Some you can view with snorkeling gear, and some require full scuba gear.
The wrecks range between 60 to more than 100 feet below the surface. Some you can see by kayaking or taking a boat trip.
If you love deep-water diving then there are boats that will take you to the deeper open-water diving areas.
The Wisconsin Historical Society has a Maritime Trails program that gives you the locations of the shipwrecks and how to find them.
Apparently, ships sunk here due to high winds, thunderstorms, on-ship fires, and engine/part failures.
However, there are a fair few more interesting stories about pirates and bootleggers so who knows what lies below the waters!
There are so many resorts in Door County to look into!
Picking Cherries Is One Of The Fun Things To Do In Door County
With over 2,500 acres of cherry orchards across the county it is safe to say that when it comes to things to do in Door County cherry orchards are a must.
Dating back to the 1800's cherry orchards are an important part of the history in this area making a visit even more essential.
The cooler spring months and the soil composition make this area great for cherry growing. Door County and cherry farming just seem to go hand in hand.
Visit an orchard to taste the produce or a fresh-baked cherry pie. Or make more of a day of it and pick your own. However, you explore, it is a good bet you will love the orchards.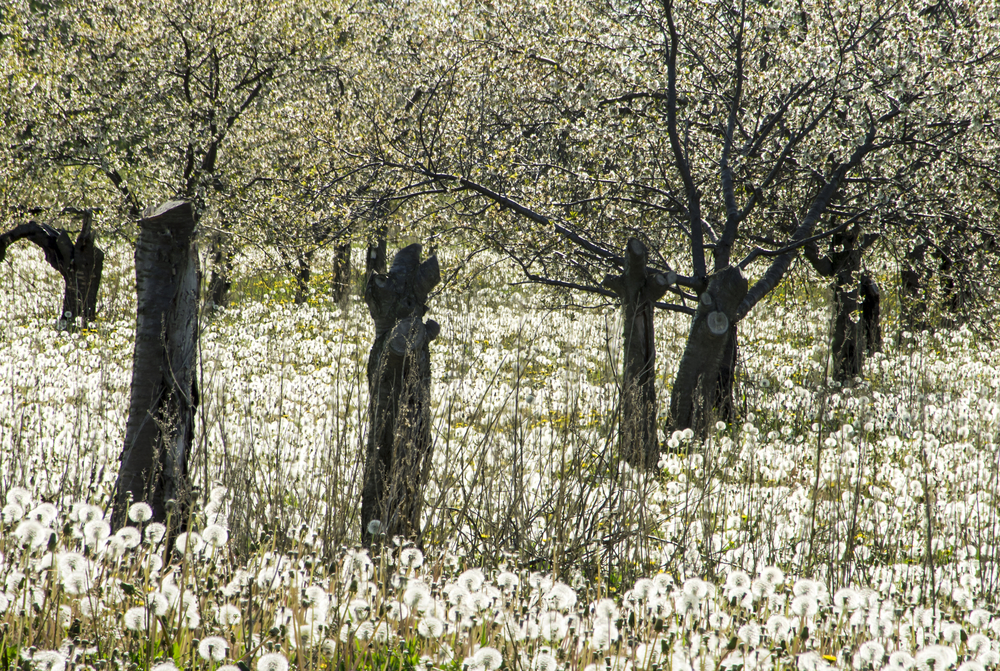 Cana Island Lighthouse
Door County has 11 lighthouses in total many of which were built in the 1800s. And most of them are pretty spectacular.
A visit to any of these lighthouses would make your day but I have selected one for you here.
The Cana Island Lighthouse is still active and was first lit in 1870. The tower stands 89-foot-tall tower and there are 97 steps to the tops.
The lighthouse is a tall white tower with a black lantern and is next to the lighthouse keeper's cottage. It is one of those picture-perfect lighthouses in a picture-perfect location.
What is most interesting about this lighthouse though is that you can only get there by riding a hay wagon over the causeway. There is a path but it is often underwater.
When you are planning things to do in Door County Wisconsin, put a lighthouse on your list.
Visiting the very historic lighthouse is one of the best things to do in Washington Island.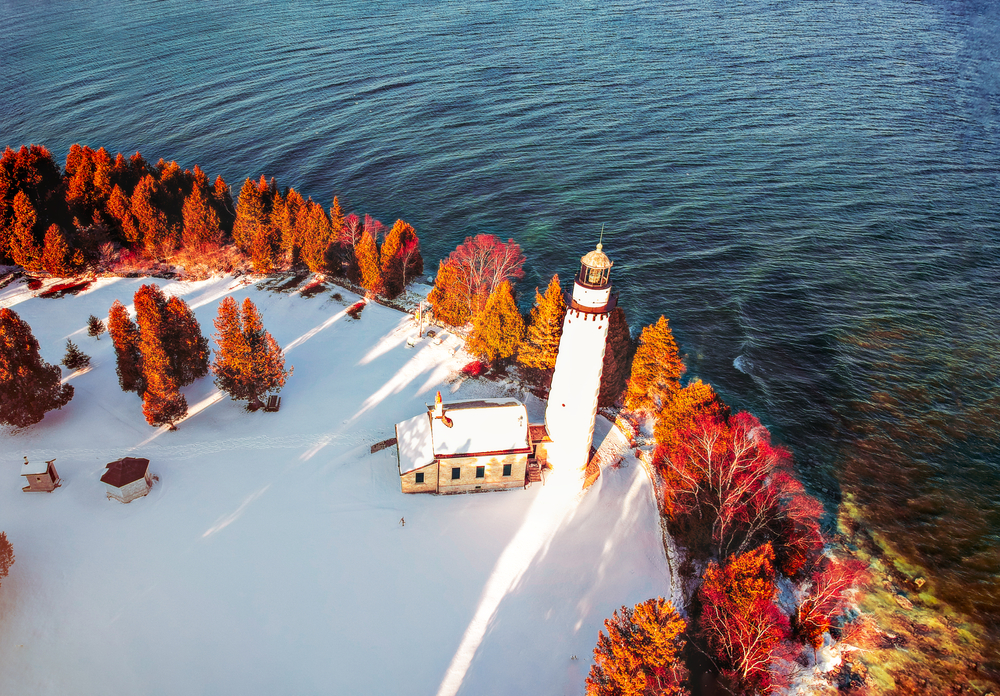 Discover A Natural Wonder
I'm not really sure how else to describe Cave Point County Park but magical, mysterious, and iconic.
It is a landscape like no other and place where the sea and rock meet to form something incredible.
It is so incredible how a place of such beauty comes from such violence. The same violent waves that created the park still persist today sometimes reaching heights of over 30 feet.
Not a state or national park it is looked after by local county officials. You can explore the park on foot or by boat or kayak. Scuba diving is also incredible here.
If you take to the water you will have the opportunity to see the dozens of underwater caverns that are hidden from view on the land.
On land, you can explore the Wisconsin hiking trails and limestone bluffs.
It's a popular spot in summer and less busy in winter but just as spectacular. And it will not break the bank as it is free to enter.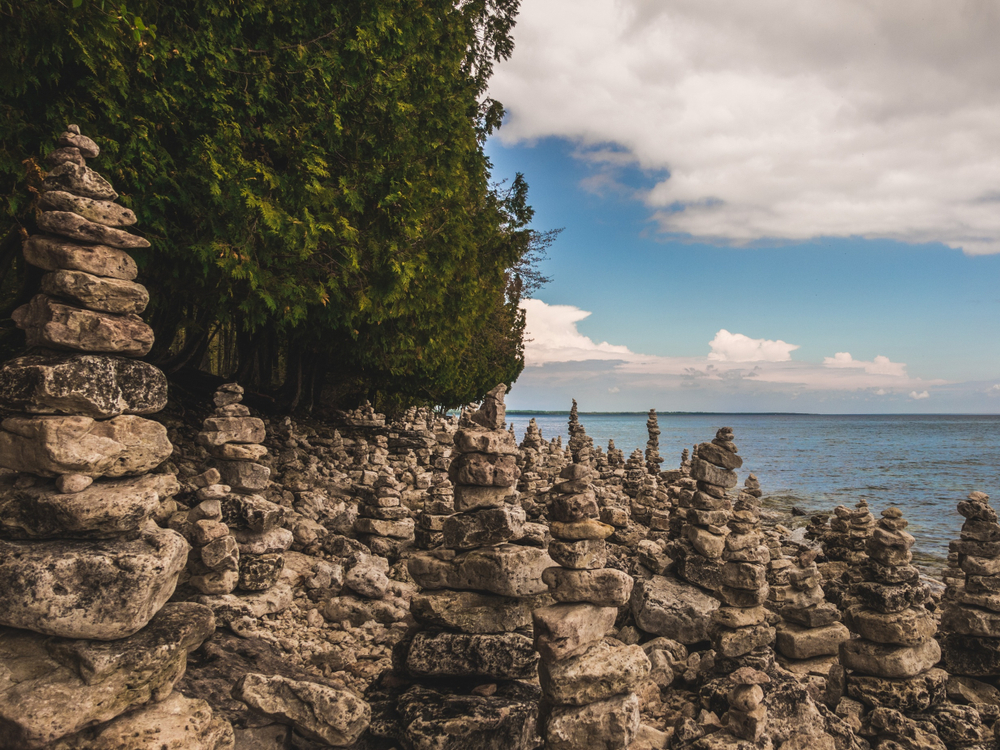 Take In A Sunrise Or A Sunset
There are several ways to see amazing sunrises and sunsets in Door County, Wisconsin.
In fact, this area is one of the best places to watch the sunset in Wisconsin. Fish Creek Beach is where most people gather for sunsets but there are other spots.
The very best way to see both sunsets and sunsets is from a boat so if you can take to the water do.
However, if you do not have that option, and seeing a sunrise or sunset is a must on your things to do in Door County list, here is where to go.
For sunrises head to the coast of Lake Michigan. Newport State Park, Cane County Park, and Robert La Salle County Park are all great spots.
For sunsets head to the waters of Green Bay. Ephraim, Fish Creek, and Stater Bay Waterfront Park are all great spots.
If you like a party atmosphere with your sunsets then make sure you check out Fish Creek as it really is where it all happens when it comes to sunsets.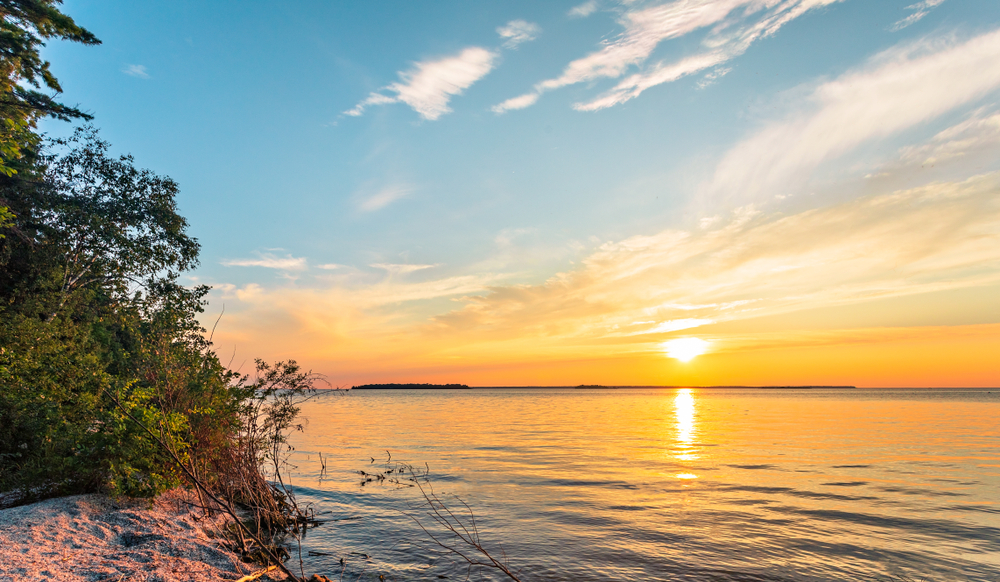 Visit A Door County Island
With 35 named islands, Door County is a water lover's dream. You may enjoy a trip to Washington Island because while it is beautiful it also has a ferry to take you there.
Once you get there you will find loads to do. I highly recommend a visit to Schoolhouse Beach one of the few limestone pebble beaches in the world.
Mountain Tower Park is also a must-do here. You will also find Island Stavkirke, a Lutheran Church with some impressive architecture. And history buffs head to the Jacobsen Museum.
There are also some incredible lavender farms on the island, something I can never resist. Put a trip to Washington Island on your things to do in Door County.
This is definitely one of the best islands in the Great Lakes to explore!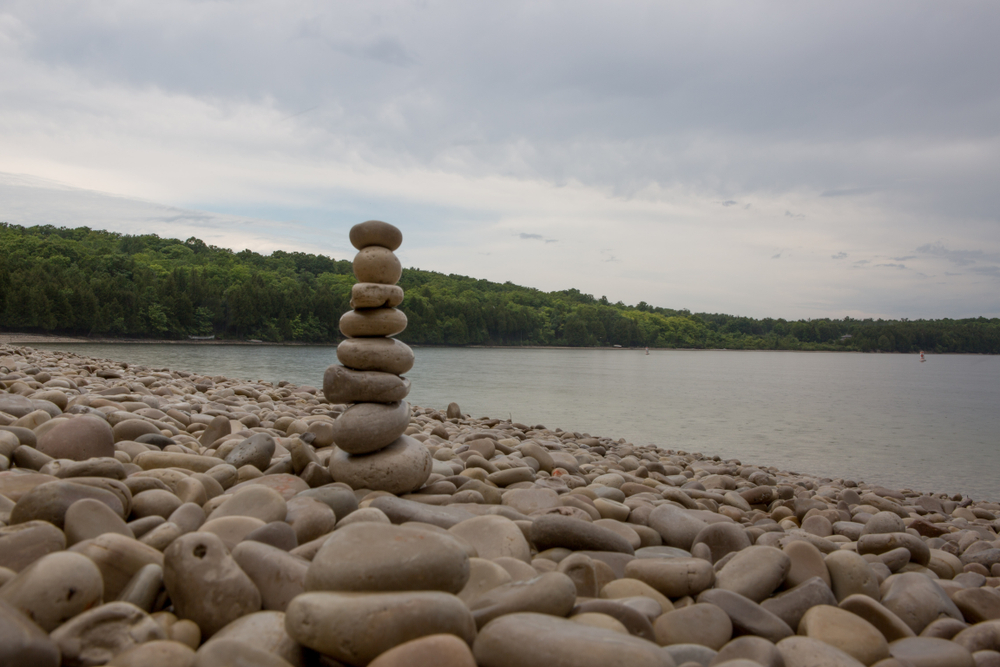 Seek Solace At A Wayside Chapel
Relics of the early settlements these Belgian Chapels or wayside votive chapels are in abundance in this region.
Mainly built as small family chapels they were a place the devout Roman Catholics could worship without having to make long and arduous journies to the few churches in the area.
Many still survive today but blink and you may miss them or at least mistake them for perhaps a garden shed, yes they are that small. Sometimes the only giveaway is the cross above the door.
There are nine open-access churches available to visit and an internet search should show you the nearest one to your area.
These small churches are still places of worship so if you do visit please treat them with respect.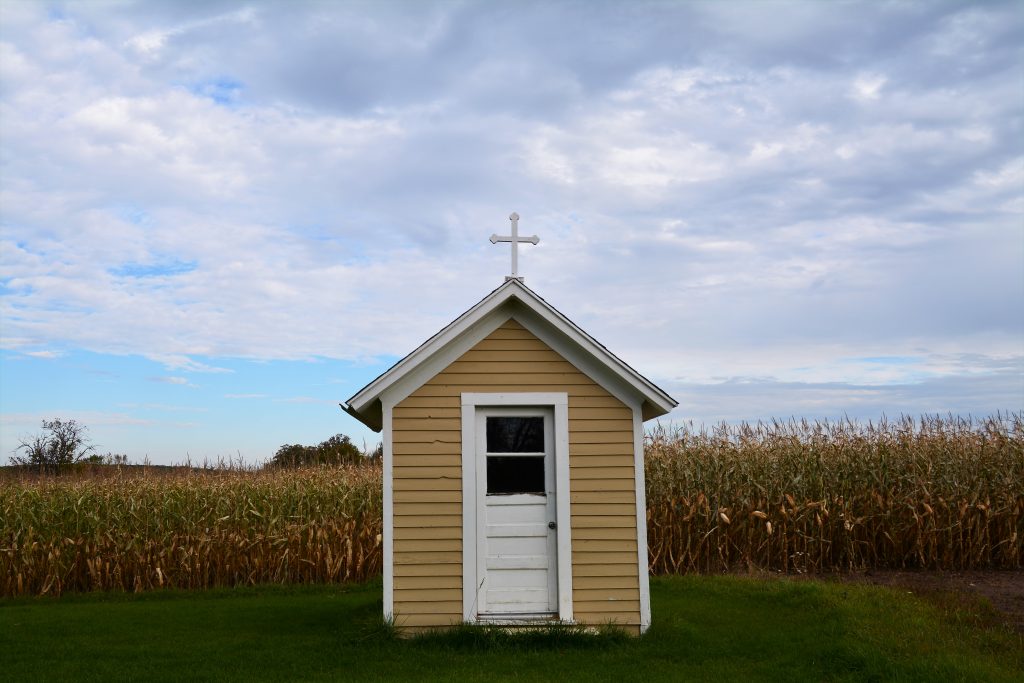 Taste Some Cherry Wine
While wine may not be the first thing that springs to mind when you think of Wisconsin, the soil that makes cherry growing great also makes great vineyard soil.
Door County has quite an active wine-producing culture.
There are eight active wineries most famous for, yes you guessed it, cherry wines.
Door County has some of the most beautiful wineries in Wisconsin!
If you have the time take a winery and/or a vineyard tour and get a behind-the-scenes look at the world of cherry wine.
Door County also has a wine trail that takes you through most of the vineyards and wine-producing countryside.
And if you are here in early to mid-summer don't miss the Door County Wine Festival.
Find Serenity On The Shores
With over 300 miles of shoreline Door County is known as the "The Cape Cod of the Midwest". So get in your car and go exploring.
The shoreline is unique in that it looks oceanic but isn't. You get the best of both worlds!
Scenery that looks majestic coupled with a freshwater breeze, rolling lake waves, sandy beaches, and dunes.
You will find some of the best beaches in Door County to explore!
The topography and atmosphere here are quite unique somehow mixing powerful and gentle to create something very beautiful that brings out the adventurer in all of us.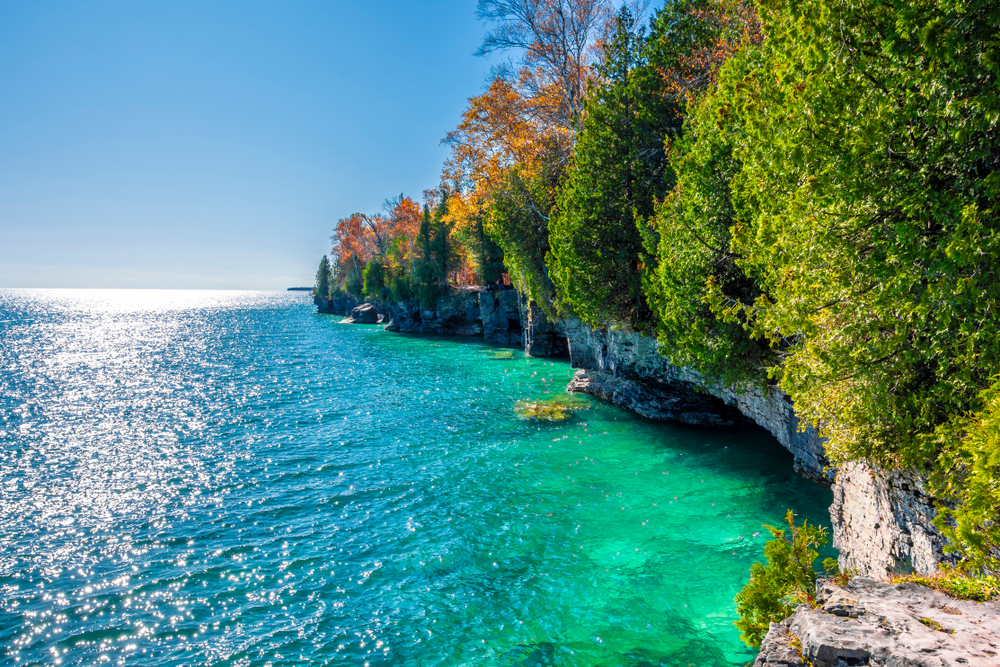 Enjoy A Breathtaking View
With such a diverse shoreline you want somewhere to get a great view, right? There is nothing like getting high up and surveying the land for above.
So where can you get the best views in Door County?
Sven's Bluff in Peninsula State Park provides a magnificent view of the trees and the waterline which seemingly blend into one.
You reach it via the Skyline Trail in Peninsula State Park which is a 3-mile loop.
Door Bluff Headlands is a bit more of an adventure and is reached by an unmarked trail. Here from gaps in the trees and a bald outcropping you can see the Green Bay side of the Peninsula.
Ellison Bay Bluff is a bit tamer with an observation deck and wooden stairs. The view gives you a new perspective on the cliffs in the region.
these are some of the best state parks in Wisconsin.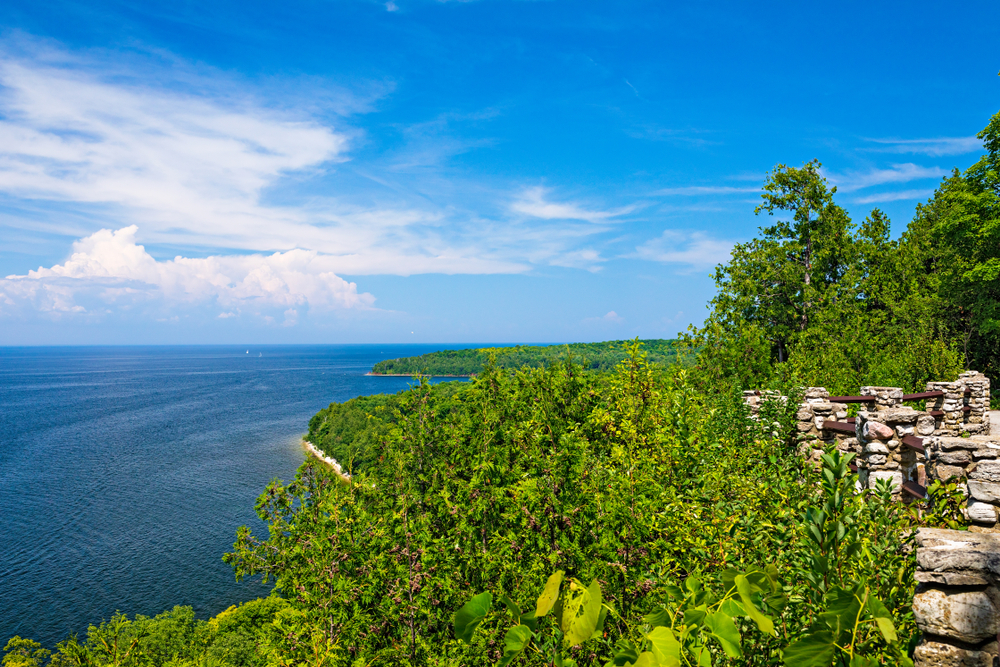 See The Real Backbone of America
Did you know that the backbone of America runs through Door county? And it's this backbone that gives this area some unique and geological features.
The Niagara Escarpment, to put it simply, is a huge limestone cliff that runs from Wisconsin through Canada.
It basically becomes the famous cliff over which the Niagara River plunges. This is known as the backbone of America, the same rock formation that runs through Door County.
Known for its geologic significance the escarpment can best be seen in Peninsula State Park and Potawatomi State Park.
So if you are up for seeing a geological miracle then head to one of these two parks.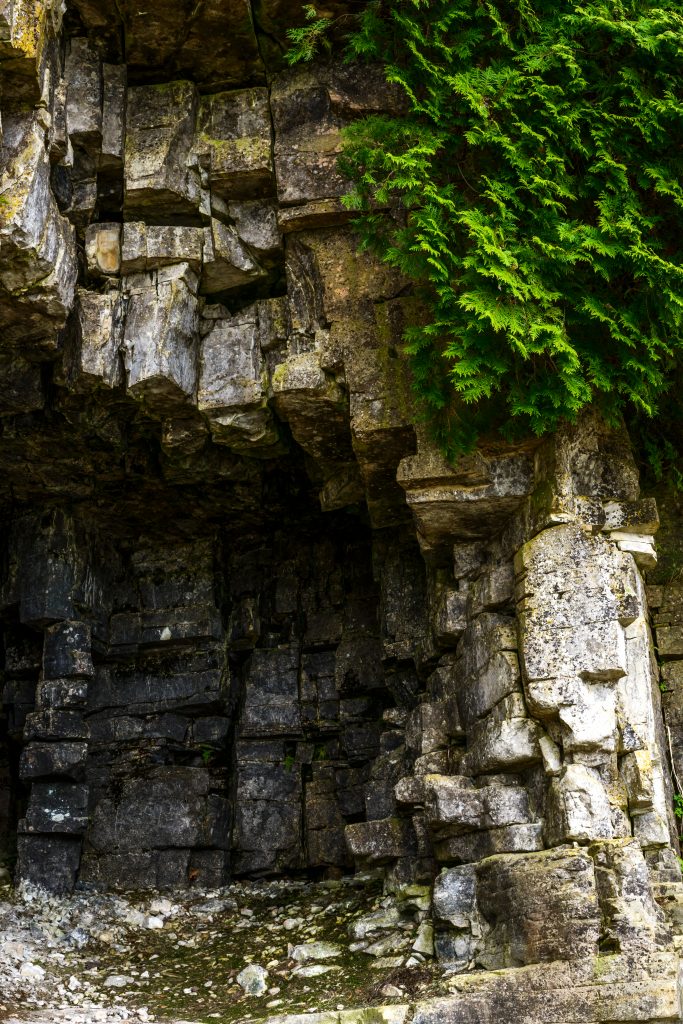 Take A Relaxing Hike
Door County is wonderful for hiking and you will find countless places to take a stroll to a more strenuous adventure.
This area is home to five state parks, 19 county parks, dozens of local parks, and four dog parks.
The state parks are all great for hiking each offering something a little different. Peninsula State Park has the incredible Eagle Trail, Door Bluff Headlands County Park is a bit wilder and untravelled.
Cave Point County Park and Whitefish Dunes State Park border each other so you two for the price of one here. This area is really beautiful and quite breathtaking.
Newport State Park has an extensive trail system offering flatter and easier terrain. Rock Island also offers some great hiking and a wonderful beach and tends to be much quieter.
Wherever you decide to explore, hiking in Door County is a wonderful experience.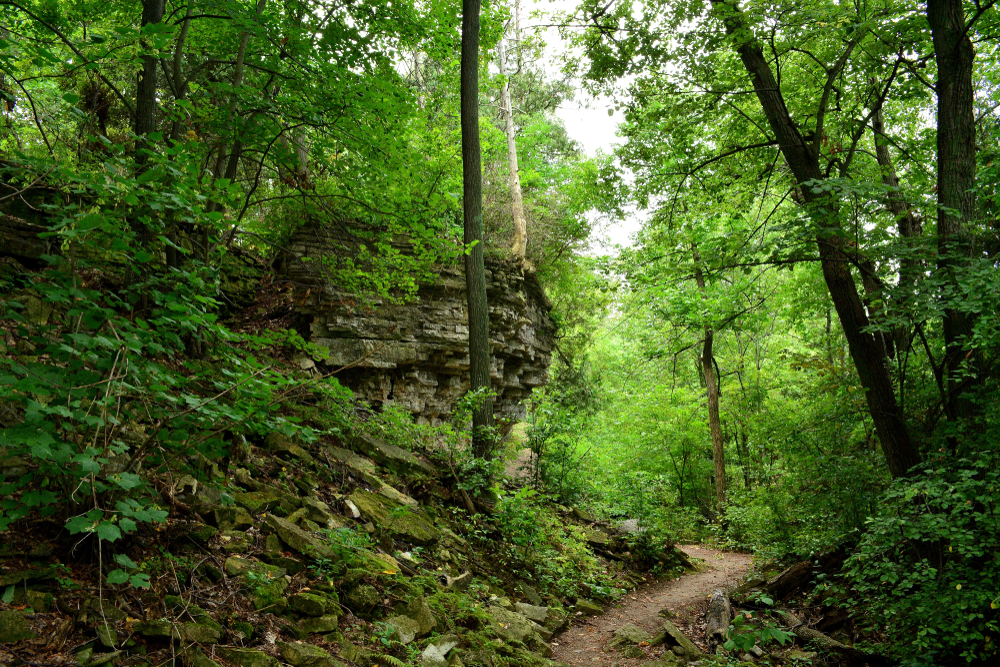 Packing List For Visiting Door County, Wisconsin
If you will be traveling, either by plane or by car to Wisconsin, here are some tips on how to pack lightly.
A concealed travel pouch may be one of the most important items you bring along when visiting Door County, Wisconsin.
It is always important to protect your personal information. Identity thieves are everywhere.
This unisex RFID blocking concealed travel pouch is lightweight and comes in several colors. It has lots of organization to give you peace of mind. You can place it under your hiking clothes next to your body to carry your ID safely.
f you have a pouch already that does not come with RFID protection, as I do, these RFID sleeves are the perfect solution.
This configuration comes with enough credit card sleeves that the entire family would be protected. They are slim too, so they will easily fit into your pouch or wallet.
If you are planning on taking a lot of pictures with your phone you will definitely want to consider an external charging battery. This Anker high-speed phone charging battery is the exact one I carry with me on all of my trips.
It can be used on a variety of phones, not just an iPhone like I have. And wow is it fast!
I like that it holds its charging capabilities for several uses so I do not have to worry about it while out and about, and if I forget to recharge it at night, it will still be good to go the next day.
My daughter gifted me with this FugeTek selfie stick and tripod setup for my birthday. I absolutely love it! It is made of lightweight aluminum and so easy to use.
It has Bluetooth connectivity and is a breeze to use for taking selfies with all those nature shots whilst checking off your list of things to do in Door County.
Hydration is so important when hiking. You want to remain hydrated throughout your day to support your immune system which in turn will be stronger to fight off any germs you will encounter during your travels.
You will want to bring your own refillable water bottle with you.
I never leave home on a trip without my Bobble filtration bottle. The 18.5-ounce size is perfect for hiking and it fits nicely in the pocket of a backpack.
When filled with water, it is not too heavy to carry. And the charcoal filter ensures fresh clean water whenever you fill the Bobble.
Perhaps you are traveling a long distance and packing space is a premium in your suitcase, or in your car.
Then this collapsible silicone foldable water bottle would work well for you. Would not take up much space at all.
You will want a backpack or daypack with you to store snacks, your water bottle, phone, extra clothes, etc.. when exploring the best things to do in Door County, Wisconsin.. No matter the time of day or evening.
This foldable water-resistant backpack would be great
It is very affordable and is available in many color options for you to choose from. The fact that it folds down into a zippered pouch will make it easy to pack!
—
I hope one of these things to do in Door County makes it onto your list. These options are some of the best Door County, Wisconsin has to offer!
Please let me know how your trip goes!