Are you thinking of visiting Amish Country Ohio? If so you have come to the right place.
There are so many things to do in Ohio and Ohio Amish Country is near the top of the list!
In this article, I will tell you all you need to know about Ohio Amish Country and walk you through all the things to do in Amish country.
By the end, you will have all the information you need to make your trip a success.
First, let me tell you, you are in good hands. I was born and raised in Ohio, Youngstown in fact. Ohio is my home state and I adore it and have often visited the Ohio Amish Country.
Ohio Amish Country is located in east-central Ohio and is easy to get to on interstates 77, 71, or 70. A lot of the area we consider Amish is quite touristy.
However, it's still beautiful and a great place to appreciate the Amish way of life.
If rolling hills, beautiful countryside, and a quieter pace are what you are dreaming of right now then a trip to visit the Amish in Ohio might be just what you need.
What I do ask though is that if you visit you are respectful of the Amish community and their beliefs and way of life, whatever your individual thoughts are on their religion.
Also please keep in mind that most Amish people forbid the use of photography, so please don't take pictures of people unless you have asked permission.
Oh, and if you are thinking of visiting, Sunday is a day of rest for the Amish people reserved for family and church so businesses will not be open.
And please drive on the roads carefully and safely due to the horse buggies.
A trip to Amish Country Ohio makes a great weekend Ohio getaway.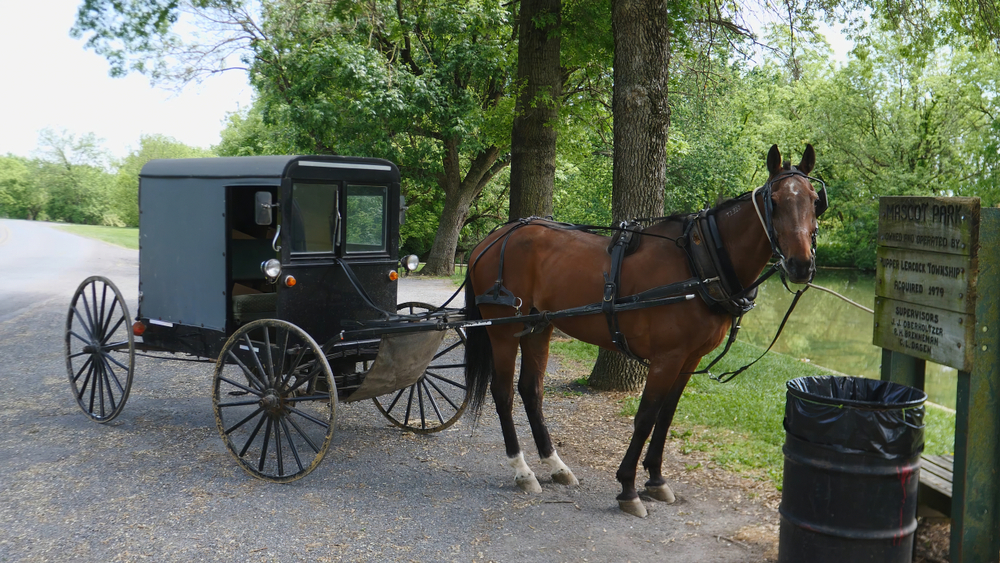 History of the Amish
Amish people are not 'Amish' because of the way they live, the horse and buggies they drive, or the way they dress. They are 'Amish' because of their religion.
In essence, the Amish believe that love for things should not come before the love for God. Modern items are seen as a distraction and they prefer to devote themselves to God rather than 'things' made by humans.
They have found a way to live in a very materialistic technology-driven world without comprising what they believe in. This is what you will learn when you visit Ohio Amish Country.
There are four orders within the religion, the Swartzentruber Amish, the Andy Weaver Amish, the Old Order Amish, and the New Order Amish.
The Old Order Amish tend to be the only order that lives the stereotypical way we associate with Amish people, i.e. no electricity or telephones, no cars, and wearing handmade clothing.
Each community is governed by its own set of rules and behaviors called an Ordnung.
These rules differ greatly within communities with some more liberal communities driving cars and having access to computers and the Internet.
The first recorded adult Amish baptism was in 1525 and was then called the Anabaptist movement. In 1693 the Amish movement split due to a disagreement over discipline in the church.
Menno Simons left the priesthood and his followers became known as the Mennonites and the followers of Jacob Amman became known as The Amish.
In the 16th century, the Amish came to the States to escape Europe and the persecution of the Anabaptist movements. The Amish did not baptize at birth and wanted religious freedom to not do so.
In 1721 the first Amish group settled in America around Philadelphia. Today there are in the region of 270,000 Amish living in the United States.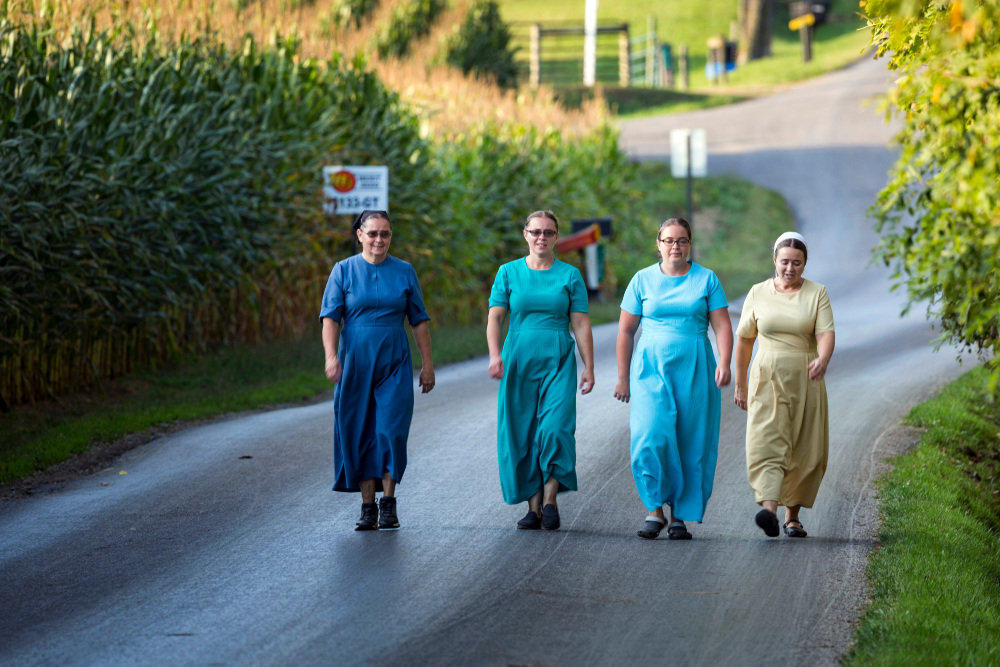 How the Amish Got To Ohio
Today the Amish in Ohio make up the largest community of Amish in the world. There are currently over 60,000 Amish living in Holmes County, Ohio.
In 2030 it is believed The Amish community will be larger than the non-Amish community in this area.
Between 50-100 Amish families made their way to the States in the 1700s and settled in Pennsylvania. Over time the Amish spread across the Midwest and into Canada.
The first Amish people settled in northeastern Ohio in the early 1800s.
The first Amish people in Ohio arrived in the early 1800s. For the most part, they settled in northeastern Ohio.
This is where the communities we see today grew from most of them making a living through agriculture.
So now we know a little bit about Ohio Amish Country, let's explore things to do in Amish country.
If you are looking for more things to do in Ohio take a look at my article 15 Incredible Things To Do In Ohio to help you plan.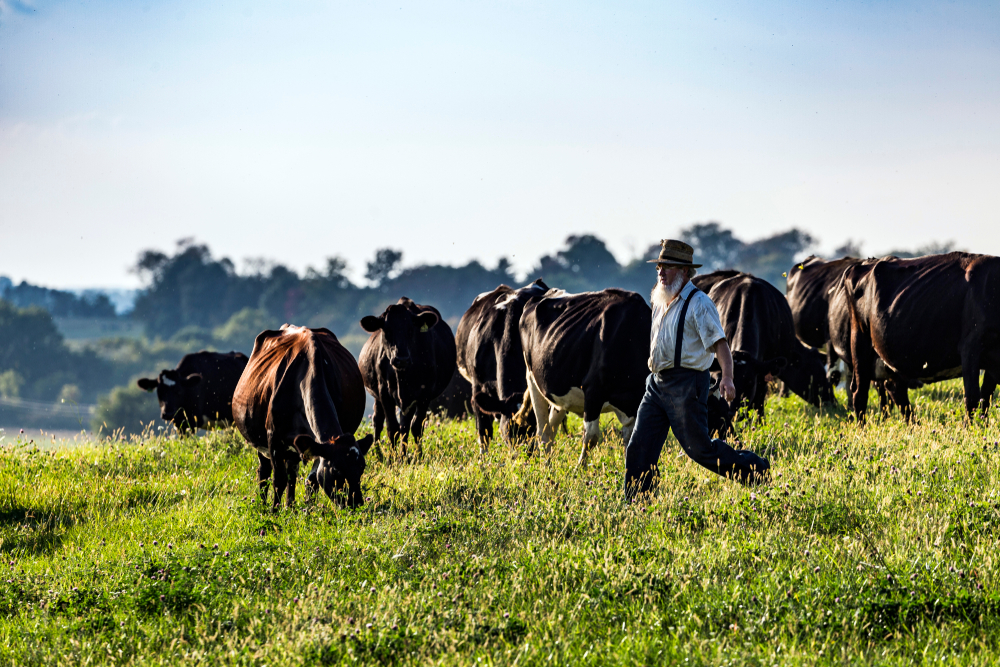 10 Things To Do In Amish Country Ohio
Ohio Amish Country can get busy, especially in the summer and school breaks.
Out of season, it isn't as busy however some attractions and shops may close earlier or not be open so check before you go.
And on Sundays, you won't find anything open due to the beliefs of the Amish.
Eat Local Amish Food
One of the reasons to visit Ohio Amish Country is to sample the food. It's home-cooked, rustic, hearty food and the portions are huge. It tends to be meat, potatoes, and vegetables.
Oh, and they do make the best fruit pies and baked goods.
There are so many restaurants to choose from depending on what you prefer. The Amish believe that eating is a blessing to be shared and celebrated that comes out in their cooking.
Boyd and Wurthmann has a long history of serving tourists and still has a small-town feel. It's also known locally for its incredible pies.
Der Dutchman is another restaurant that serves really hearty meals and gets great reviews.
Or you can experience a meal with an Amish family at Weaver's Home Cooking or visit Millers Bakery for some sweet treats and cheese tarts.
Also, remember that on Sunday restaurants are closed in the area so be aware of that.
Out of all the things to do in Amish country eating locally is something everyone should try.
There are so many cabins with hot tubs in Ohio in this area!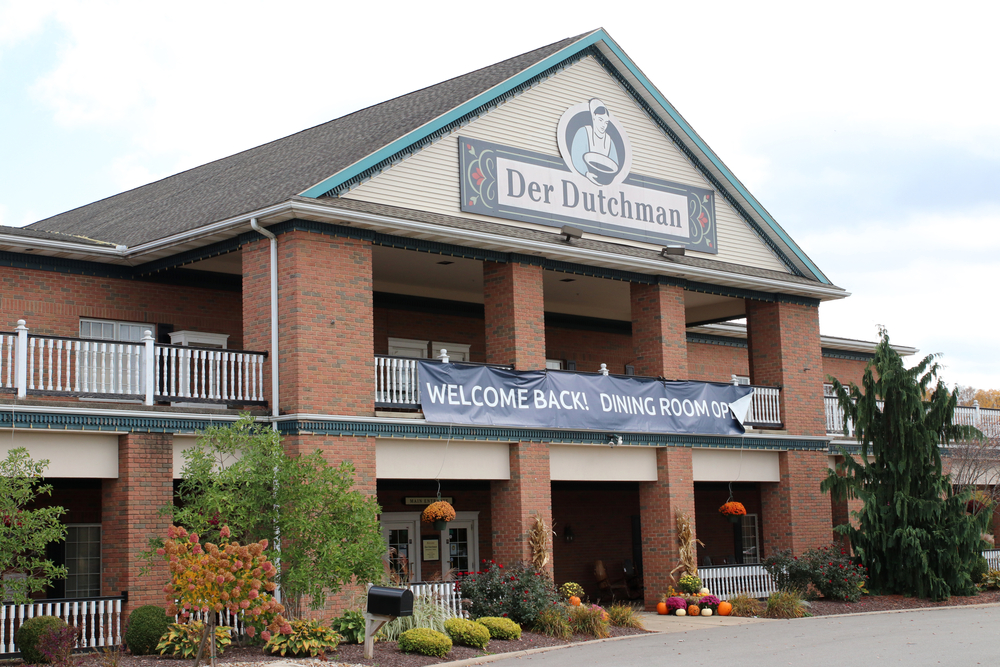 Buy Some Local Amish Artisan Products
What most people don't know about Amish people is what skilled craftspeople they are. Since they make most of what they need they produce good quality long-lasting items.
You will find everything from furniture to fudge. Perhaps what they are known most for though is their quilts and really there is nothing like an Amish homemade quilt.
Visit the many shops around the area and browse around. I suggest you look at the furniture, leather goods, quilt, and homemade jams and preserves.
Some of the shops will also show you their craftsmanship in action. For example, Homestead Furniture offers factory tours.
Browsing the many shops is a great thing to do in Amish Country Ohio. If you purchase anything you are supporting the local economy and the Amish people which is a great thing.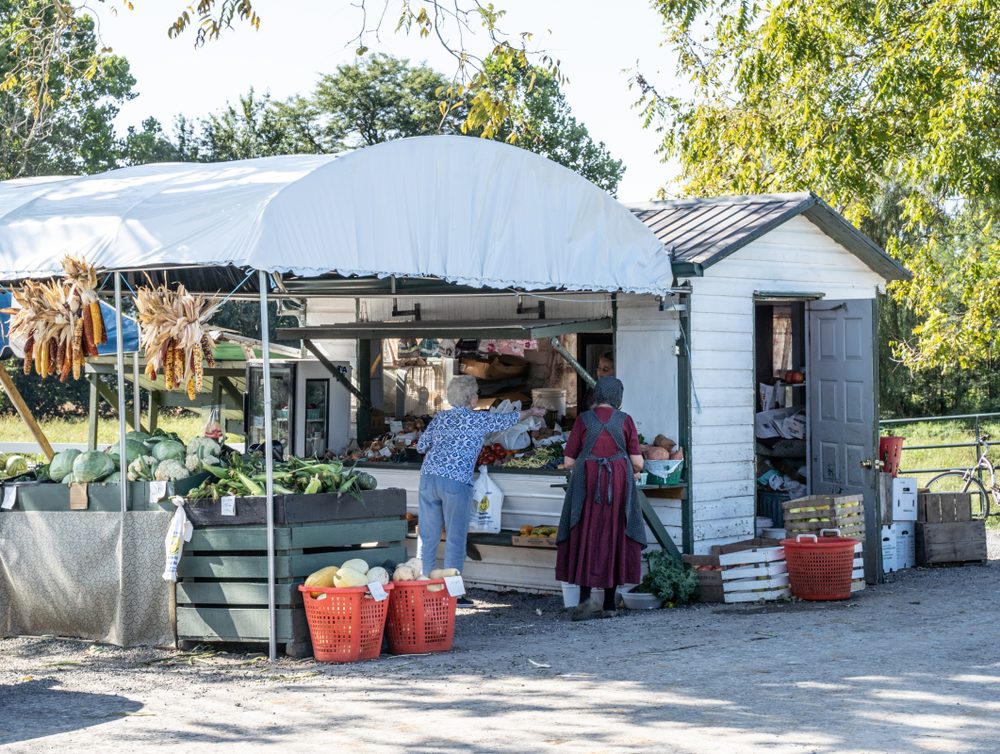 Enjoy A Scenic Drive In Ohio Amish Country
The Amish Country Byway is a scenic byway of just over 76 miles and takes you through many of the sights and some beautiful countryside. It's split into three sections, Eastern, Western, and Millersburg.
This is one of the great things to do in Amish country if the weather isn't on your side. You can just drive and enjoy the sights and scenery or stop along the way to pick up produce from the roadside or enjoy a local restaurant.
Some people take a few days to enjoy the drive, booking lodging along the way. It really is a beautiful drive.
Please drive carefully and be aware of the slow-moving horse-drawn buggies. And also remember in the evening there will be no artificial lighting so plan accordingly.
In the Autumn this drive is beautiful, as the fall foliage in Ohio is really stunning.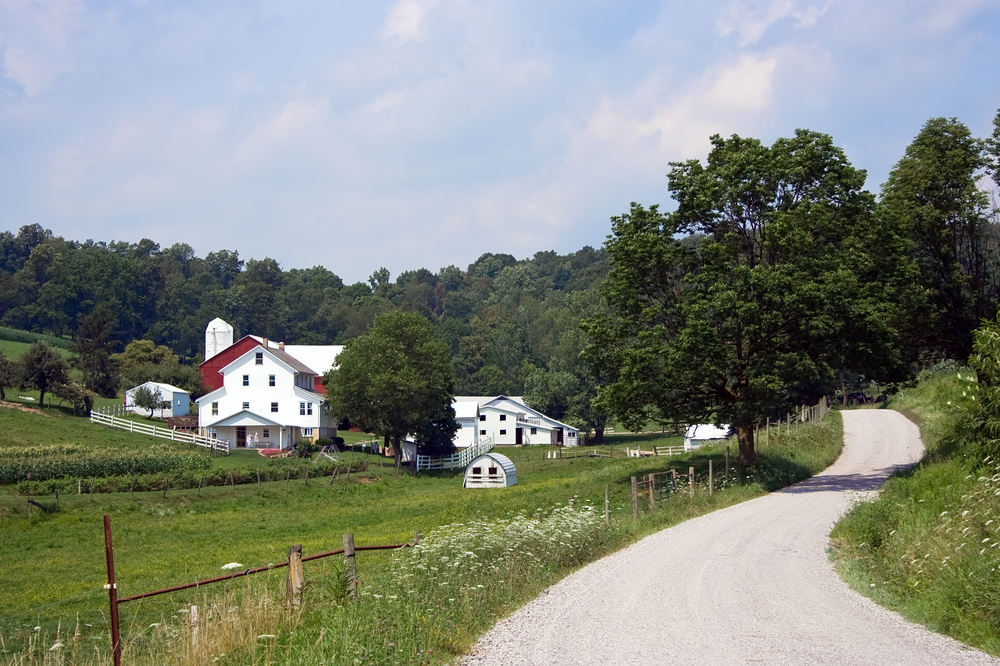 See The World's Largest Cuckoo Clock
Where else would you find the World's Largest Cuckoo Clock than Sugarcreek, known as the "Little Switzerland of Ohio?" Every half hour the clock springs into life and it's really worth seeing.
It was built in 1972 for an alpine-themed restaurant in Wilmot. When the restaurant closed the clock was moved. It now sits on the square in downtown Sugarcreek.
The clock is 23 feet tall and performs from 9 am to 9 pm except for the winter months.
Visiting Amish Country Ohio is one of the coolest places to visit in Ohio!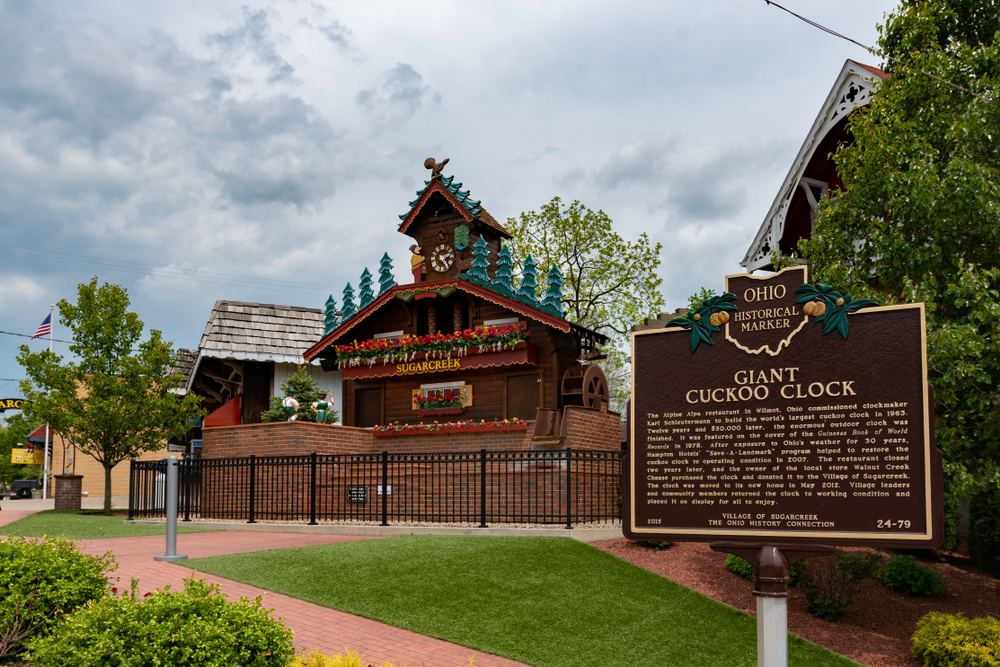 Go Cheese Tasting
If you are a cheese lover then cheese tasting should definitely be on your list of things to do in Amish country. It's a delicious way to spend some time.
There are several cheese factories that offer tours. The two most popular are Heini's Cheese Chalet in Berlin and Guggisberg Cheese in Sugarcreek.
Heini's has been producing cheese since 1935 using milk from local Amish farmers. The tours are free and they produce the most incredible Swiss cheese and yogurt cheese.
Both offer behind-the-scenes free tours and cheese samples for you to taste. Also, the shop prices are substantially lower than you will find in the stores.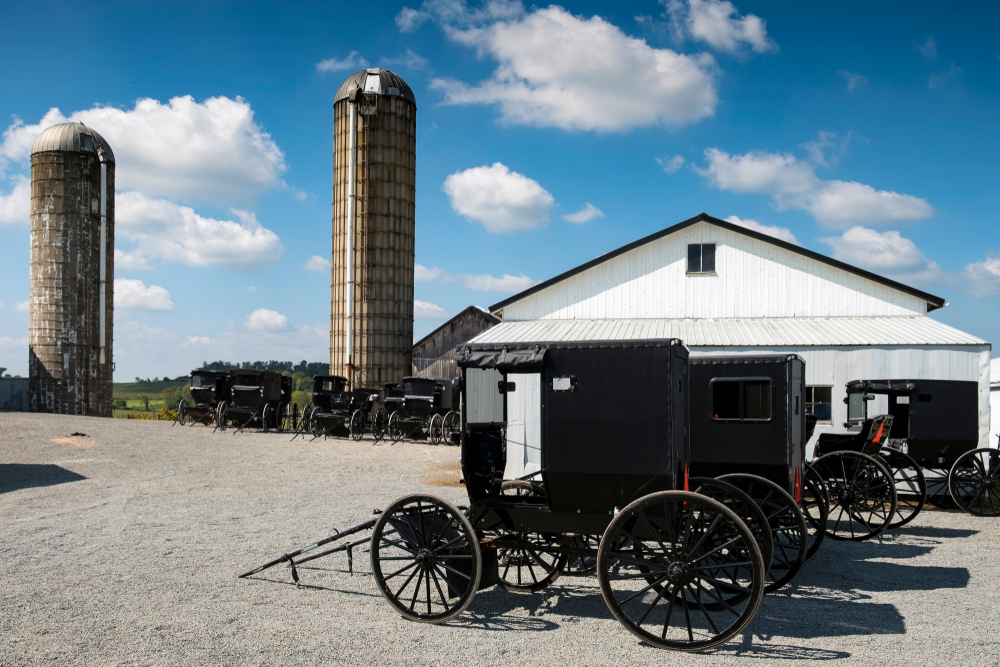 Saddle Up In Ohio Amish Country
If you want to do something a little different in Amish Country Ohio then put visiting Amish Country Riding Stables on your list of things to do in Amish country.
They offer small guided horseback trips for two to five riders and can accommodate beginners and more advanced riders. The trips are 45 minutes in length so you will have plenty of time to explore the rest of the area.
If riding isn't for you, just stop by and see the horses. They are so beautiful.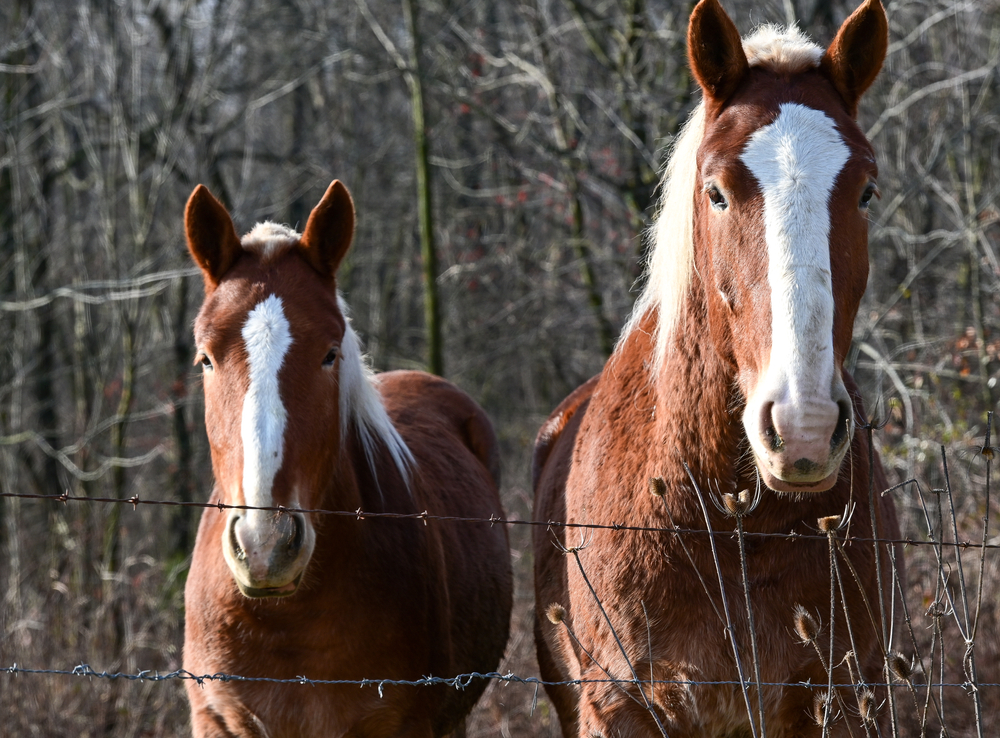 Drive Under A Covered Bridge
I sometimes have to remember that covered bridges aren't as common to some people as they are to me.
There are so many beautiful covered bridges in Ohio.
Ashtabula County has been named the "Covered Bridge Capital of Ohio" with 19 bridges so we locals get used to them.
There are two to see in the Ohio Amish Country. These bridges look so beautiful and are so unique that they should certainly make it on a list of things to do in Amish country.
Holmes county got its first covered bridge in 2009 named Stutzman's Crossing.
It is named after Jonas Stutzman and an early Amish settler in the area. Stutzman's Crossing is in Walnut Creek on County Road 145.
The other covered bridge is located in Sugarcreek at The Farm at Walnut Creek.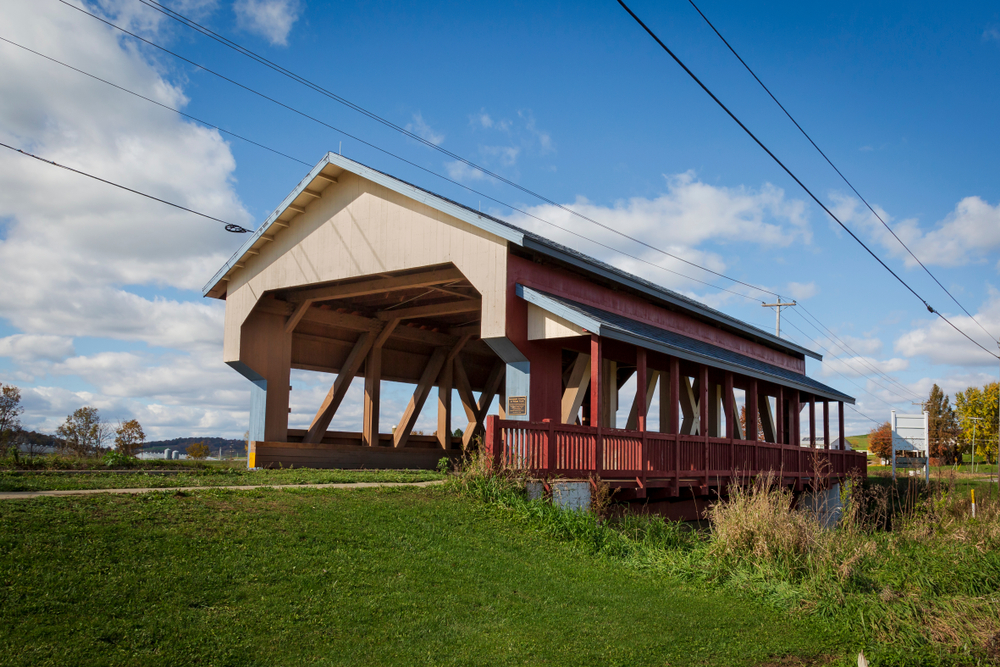 Learn About The Amish Culture
While visiting Amish Country Ohio make some time to learn something about the culture of the Amish in Ohio. I love learning about the history of the places I visit and hope you do too.
There are lots of opportunities to do so in the Ohio Amish country. Please take the time if you can to visit one of these.
The best place to start is the Amish and Mennonite Heritage Center in Millersburg. It's an indoor and outdoor attraction and a great way to get an overall picture of Amish culture.
This is also where the Behalt cyclorama, a 10-foot x 265-foot oil-on-canvas circular painting resides.
The Behalt cyclorama is very unique and illustrates the history of the Amish and Mennonites. You can only view it on a tour that lasts approximately thirty minutes.
Another great place to learn about Amish culture is the German Culture Museum in Walnut Creek. Here the history of the local area and the Amish pioneers is celebrated.
For Swiss heritage visit the Alpine Hills Historical Museum in Sugarcreek. And a visit to The Victorian House Museum in Millersburg will give you a feel for what life was like in the 1900s.
Nothing beats learning from the locals. Yoder's Amish Home and Amish Heartland Tours provide tours of local farms and houses and some even include a meal in local Amish homes.
As you can see there are so many places to learn about Ohio Amish Country. I definitely suggest you add visiting one of these to your things to do in Ohio Amish country list.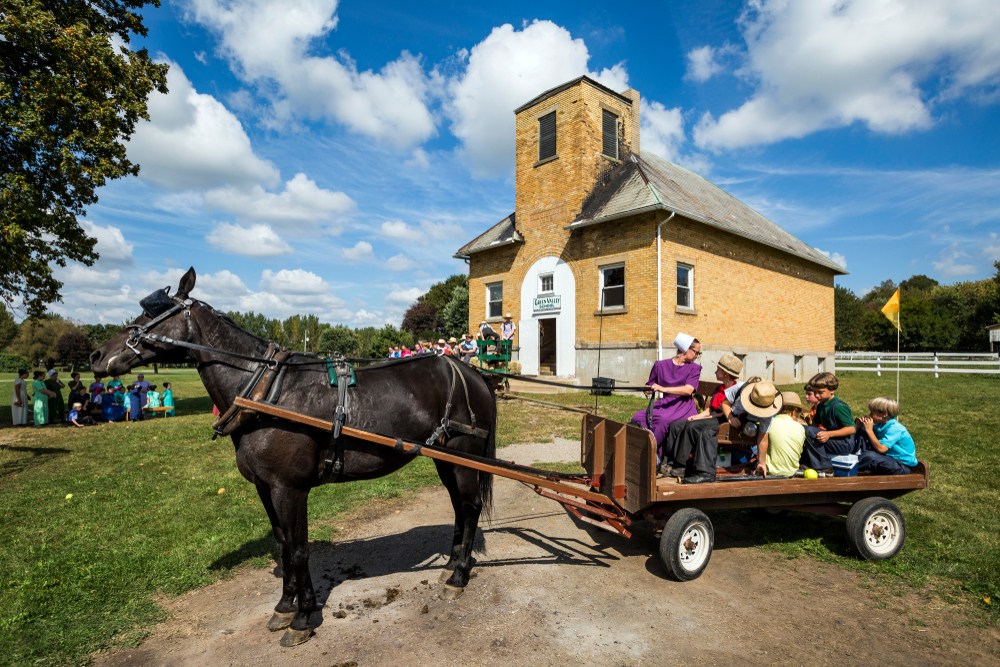 Visit A Local Farm
A visit to a local farm is a must. Definitely add an Amish farm to your things to do in the Amish country list. There are two main farms to visit: the Farm at Walnut Creek, which has lots of attractions.
And Sweetwater Farm which is best for fresh produce.
The Farm at Walnut Creek is in Sugarcreek. It gives you a unique behind-the-scenes look at life on the farm.
On the tour, you get to see two large farmhouses and get to feed and pet animals. Oh, and you will see some rather exotic animals such as giraffes and camels.
Either do the tour in your own car or take a horse-drawn wagon ride and it takes about an hour. You will see firsthand how the Amish farm without electricity and get demonstrations on things like quilting and canning.
There are lots of other things to do here too. The farm has a gift shop, playground, produce stand, and petting zoo. You will probably need 2-3 hours to explore everything on offer but it's well worth the time
The Sweetwater Farm also in Sugarcreek is a small family-run business open from May to November. If you like fresh produce this is the place to go.
The store also has some incredible jams. This is some of the best fresh produce you will find in the area. Look out for the unassuming stand by the road and make sure you don't miss it.
This is one of the most unique things to do in Ohio with kids.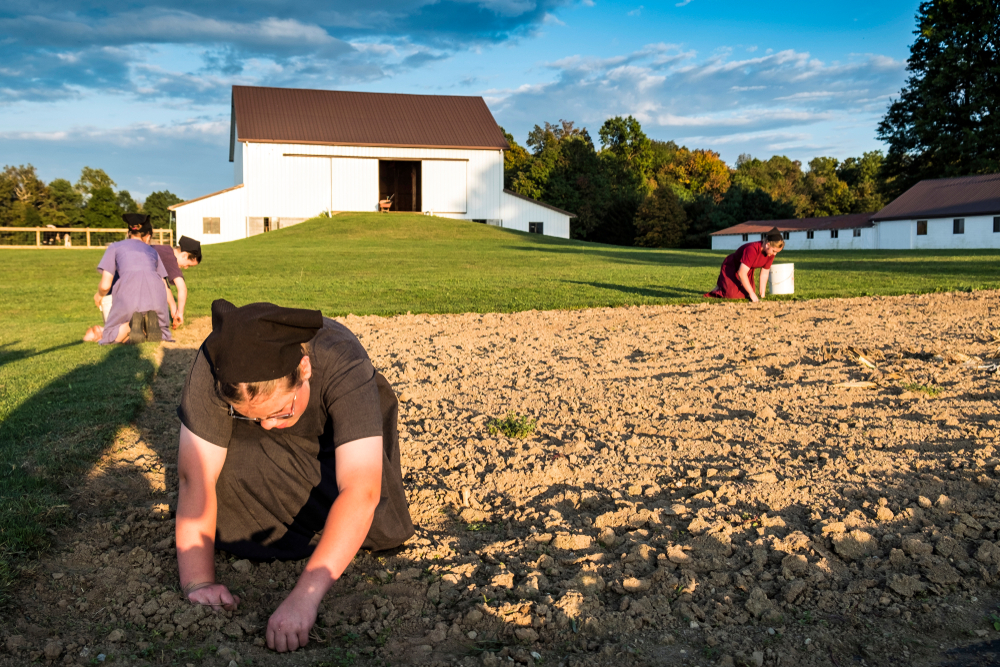 Take An Amish Buggy Ride
Nothing finishes off a trip to Amish Country Ohio more than taking a ride in an Amish buggy. There is really is nothing like seeing the countryside from a horse-drawn buggy.
Yoder's Amish homes offer a 3/4 mile trip around the hayfield which is much more beautiful than it sounds.
Schrock's Amish Farm and Village also offer buggy rides around the farm.
Amish heartland tours also offer lots of experiences. They are perhaps the best place to visit to get more information and will tailor-make private tours for you.
Contact Amish heartland tours or see what is there when you arrive.
Taking an Amish buggy ride is an incredible experience and not to be missed when visiting Amish Country Ohio.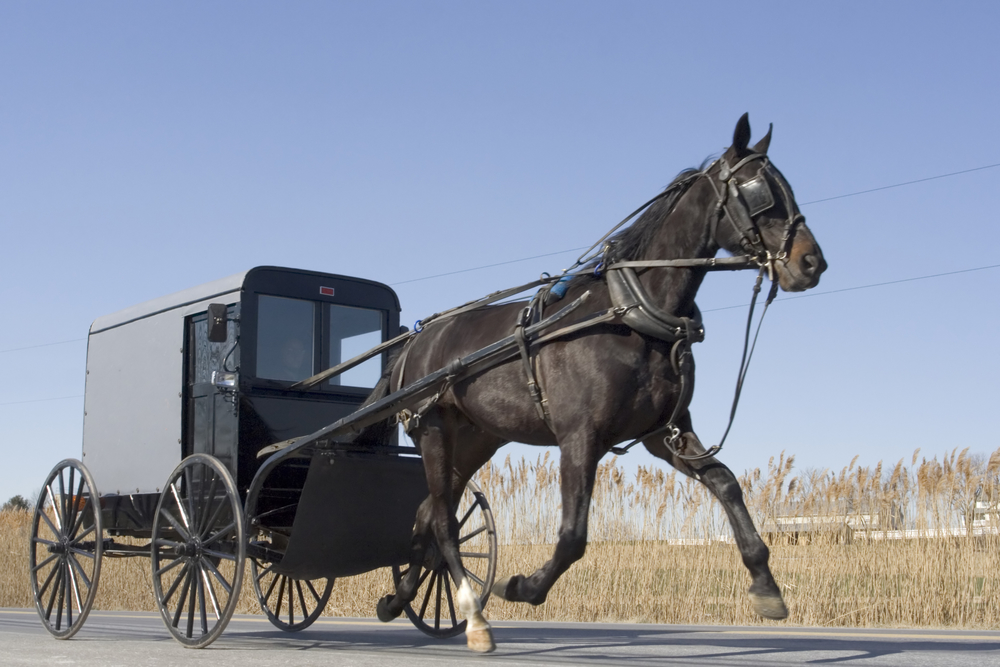 One Of The Coolest Things To Do In Amish Country Ohio Is To Ride A Train
You might be surprised there are train rides in Ohio Amish County!
This offers an unusual activity for the entire family. Hop on board to see the scenery in Ohio in a unique way!
Head to the Dennison Railroad Depot Museum. This National Historic Landmark has it main focus on preserving WWII-era history.
In this unique museum are interesting exhibits, a model train-size replica of the Dennison Train, a theatre and gift shop, and a restaurant.
If you are looking for an exciting way to celebrate Christmas in Ohio, bring your children to one of the coolest Polar Express train rides in Ohio!
The Dennison Depot's version of the Polar Express is amazing because costumed storytellers read aloud the famous story during the ride!
This is one of the best things to do in Ohio Amish Country. Especially at Christmas!
Packing List For Visiting Ohio Amish Country
If you will be traveling, either by plane or by car to Ohio, here are some tips on how to pack lightly.
A concealed travel pouch may be one of the most important items you bring along when visiting the Amish in Ohio. It is always important to protect your personal information. Identity thieves are everywhere.
This unisex RFID-blocking concealed travel pouch is lightweight and comes in several colors. It has lots of organization to give you peace of mind. You can place it under your clothes next to your body to carry your ID safely.
If you have a pouch already that does not come with RFID protection, as I do, these RFID sleeves are the perfect solution.
This configuration comes with enough credit card sleeves that the entire family would be protected. They are slim too, so they will easily fit into your pouch or wallet.
If you are planning on taking a lot of pictures with your phone you will definitely want to consider an external charging battery. This Anker high-speed phone charging battery is the exact one I carry with me on all of my trips.
It can be used on a variety of phones, not just an iPhone like I have. And wow is it fast!
I like that it holds its charging capabilities for several uses so I do not have to worry about it while out and about, and if I forget to recharge it at night, it will still be good to go the next day.
My daughter gifted me with this FugeTek selfie stick and tripod setup for my birthday. I absolutely love it! It is made of lightweight aluminum and so easy to use.
It has Bluetooth connectivity and is a breeze to use for taking selfies with all those nature shots while visiting Amish Country Ohio.
Hydration is so important when hiking. You want to remain hydrated throughout your hikes to support your immune system which in turn will be stronger to fight off any germs you will encounter during your travels.
You will want to bring your own refillable water bottle with you.
I never leave home on a trip without my Bobble filtration bottle. The 18.5-ounce size is perfect for hiking and it fits nicely in the pocket of a backpack.
The replaceable carbon filter ensures you always have fresh drinking water.
Perhaps you are traveling a long distance and packing space is a premium in your suitcase, or in your car. Then this collapsible silicone foldable water bottle would work well for you. Would not take up much space at all.
You will want a backpack or daypack with you to store snacks, your water bottle, phone, extra clothes, etc.. when visiting attractions in Ohio Amish Country.
This foldable water-resistant backpack would be great.
It is very affordable and is available in many color options for you to choose from. The fact that it folds down into a zippered pouch will make it easy to pack!
—–
I hope you have the opportunity to visit Amish Country Ohio and that this list of things to do in Amish Ohio Country helps you plan your vacation.
Taste the food, learn the history, and enjoy the beautiful countryside. There is so much more to do in Ohio than people think.
And if you are looking for other things to do in Ohio? I can highly recommend, Ohio hiking, and camping, visiting some cool castles in Ohio and marveling at the waterfalls in Ohio.