Are you looking for beaches in Door County Wisconsin? You have come to the right place.
In this article, I will walk you through the beaches on Lake Michigan, Wisconsin beaches, and the best sand beaches in the area.
If you have never visited Door County, Wisconsin before you are in for a treat.
Not only is the area stunning but there is so much to see and do from hiking to relaxing and exploring the public beaches.
After spending a day in the sun and sand, there are incredible restaurants in Door County to choose from.
With over 300 miles of shoreline, there is a Door County Beach to suit everyone.
Whatever kind of Wisconsin getaway you are planning there will be a Wisconsin beach to suit your needs in Door County.
The summers are beautiful here and a day spent swimming, soaking up the sun, and relaxing on one of the beaches is just perfect.
Are you ready to see which beaches in Door County I have chosen for you? Grab a seat and let me help you choose a perfect beach in Door County WI for your vacation.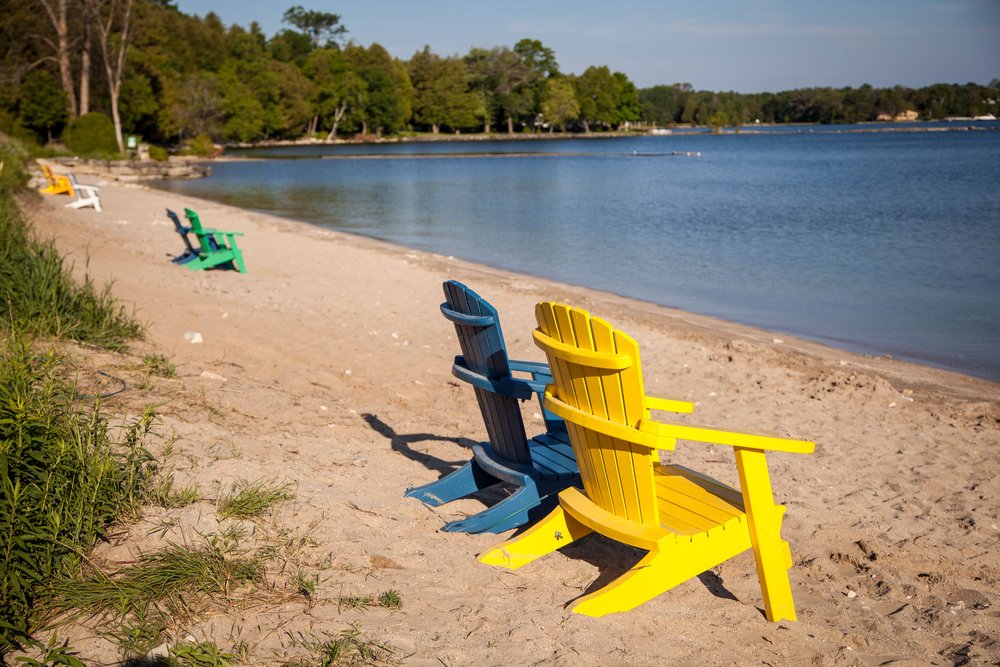 15 Best Beaches in Door County WI For A Getaway
Fish Creek Public Beach For Swimming
Fish Creek Public Beach is the only designated swimming beach in the area making it a popular spot. Set in a half-acre park it's a very family-friendly location.
It's a sandy beach in a picturesque harbor in the historic community of Green Bay. There are amenities in the high season and a jungle gym for children to play on.
Parking is available nearby and the beach is steps away from the town so you have everything you need nearby. There is also a large grassy area which is perfect for picnics.
And if you get bored of soaking up the sun Fish Creek is a cute town in Wisconsin that is well worth a visit.
It's rich in history and has some great eating establishments. There are also some great hiking trails in the area.
This is one of the Door County Beaches that offers more to do than just sunbathing.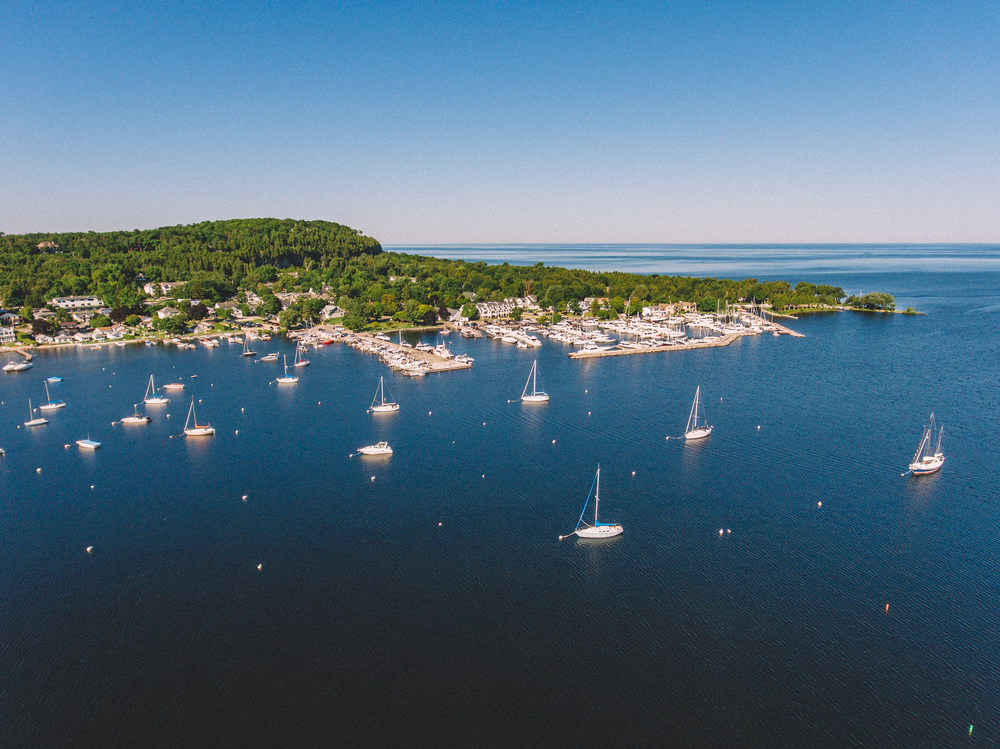 Ridges Beach For Interesting Geology
Part of Ridges County Park this Baileys Harbor beach is perfect for families and kiteboards. Just north of downtown Baileys Harbor, it's close to lots of restaurants and things to do.
The waters are sandy and shallow making it excellent for small children to splash around in. The beach is around 550 feet long and you can always find a spot away from others.
The name Ridges Beach comes from the ridge geological features of the shoreline and sandy bay. These ridges are imprints left from where the lake was at various times.
Picnic tables, benches, parking, and restrooms are all available. Oh and this is the perfect beach in Door County to catch the sunrise.
The beaches here are very beautiful if you visit Door County in the winter!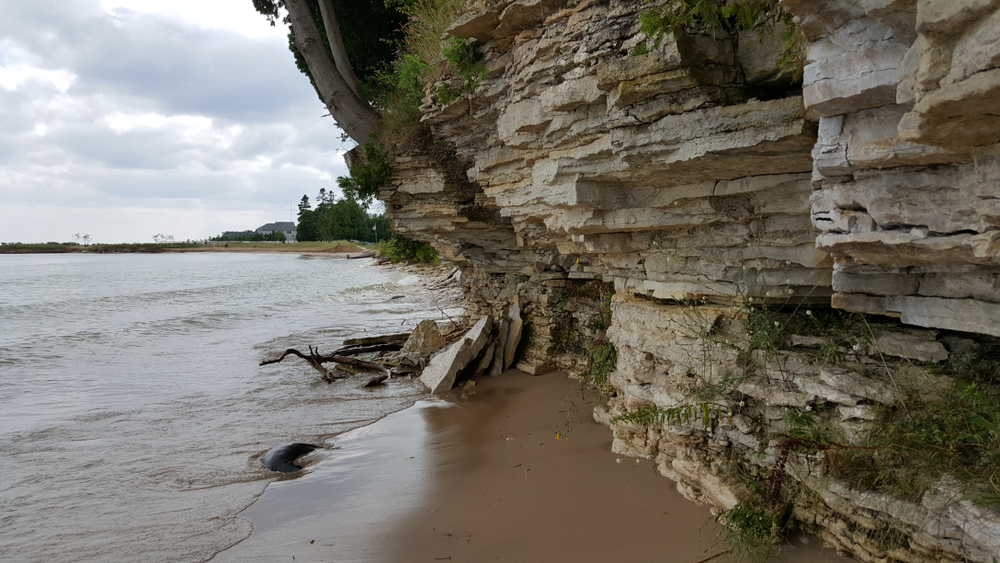 Nicolet Beach For Families
In the heart of Peninsula State Park is the nearly 100-foot shoreline of Nicolet Beach. It's a popular family-friendly beach with various types of water sports rentals on offer.
The beach has many facilities including a playground for children, volleyball courts, restrooms, picnic tables, and local concession stands.
This is one of the busier beaches in the area and is what you might consider a more typical type of beach.
So if that is the type of beach you love then this is one of the beaches in Door County for you.
There are so many resorts in Door County to look into if you plan to stay awhile!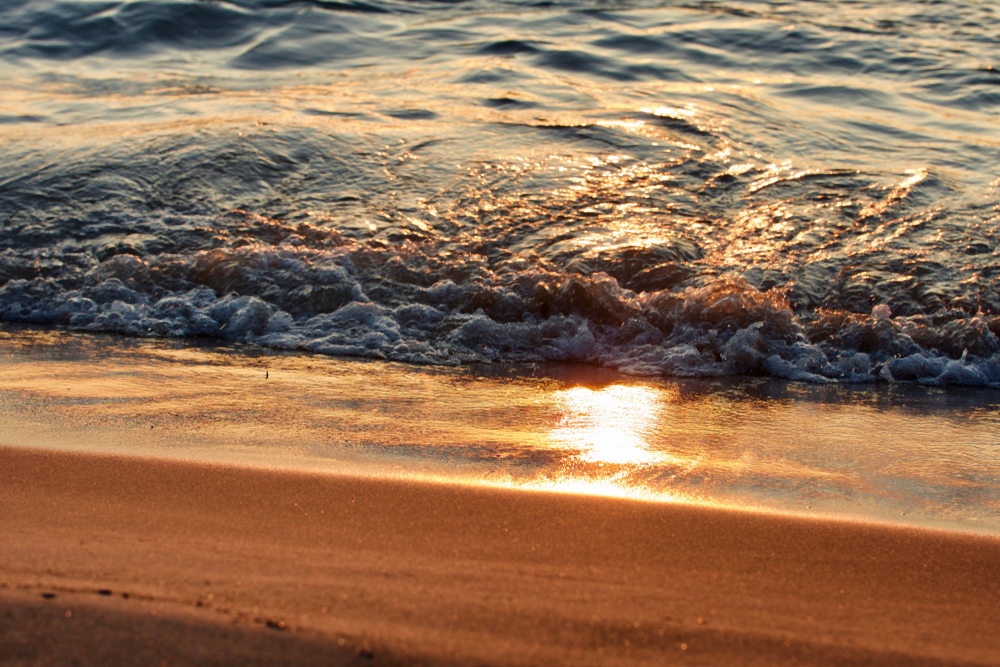 Egg Harbor Has One Of The Best Beaches In Door County For Sunsets
Named as one of America's "coolest" small towns Egg Harbour is a must-visit when in Door County WI. And the beach here is somewhat of a Midwest hidden gem.
It's one of those idyllic spots that most people ignore even though it's right under their noses. It's within easy walking distance from downtown and has 500 feet of waterfront.
There is a hard boat launch and kayak rental here. There is also a grassy area, playground, accessible pathways restroom, and a parking lot.
And if you love watching sunsets they don't get much better than the one from this sand beach.
Newport Beach In Door County WI Is For Stargazing
Newport Beach in Newport State Park offers somewhat of a more wild beach experience. The State Park is Wisconsin's only designated wilderness park and one of just 48 International Dark Sky Parks worldwide.
Watching the moon rise over Lake Michigan here compares to nothing else It's stunning.
There are 11 miles of shoreline in the park but the beach is located near the Europe Bay trailhead. If you park in parking lot 3 it's a short walk.
This beach is sometimes rocky and sometimes sandy to different degrees depending on high waters but there is always some sand.
And if you are willing to be a little adventurous you can find some more sandy areas in the park.
If you like your beaches to be more about nature than sunbathing this is one of the beaches in Door County for you.
This is one of the beaches on Lake Michigan that offers something different.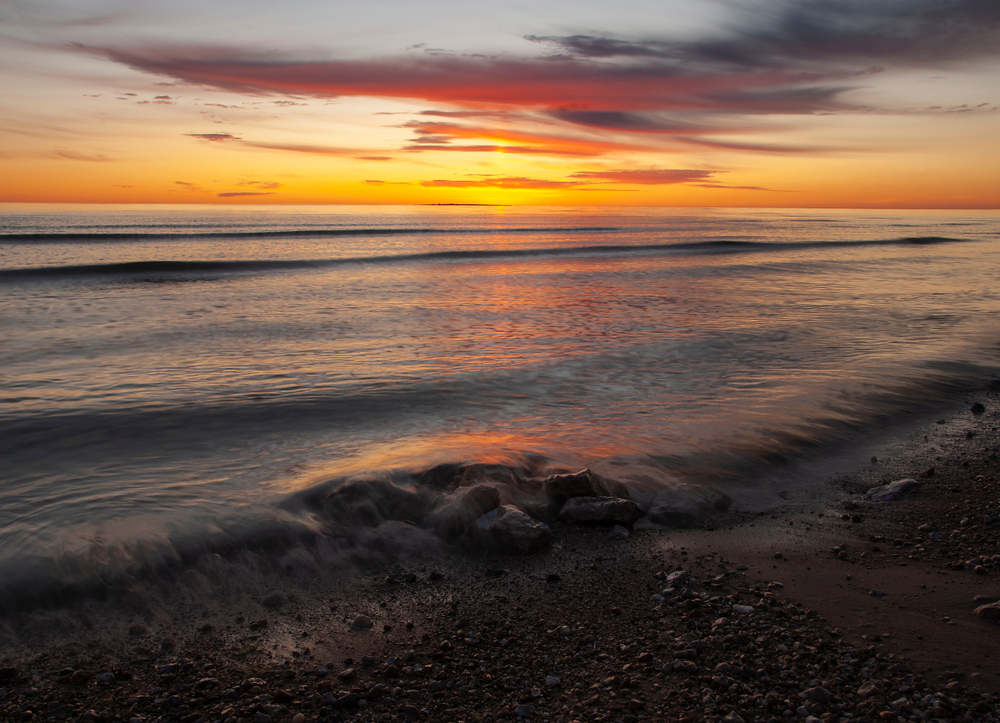 Otumba Park Beach In Door County Is For Picnics
At the heart of Sturgeon Bay is Otumba Park. It's towards the west side of the bay and is a Sturgeon Bay beach that most will love.
The park itself is three acres and the sandy beach is connected to the park by a walkway.
The beach is on the Sturgeon Bay shipping canal so you are never without something to stare into the distance at.
There is a nearby children's playground, and basketball and tennis courts. Large grassy spaces with shade make great picnic spots and there are also grills, a picnic shelter, and restrooms.
This is one of the beaches of Sturgeon Bay that is within easy walking distance of the local shops and restaurants.
Besides great beaches, Door County has some of the coolest lighthouses in Wisconsin!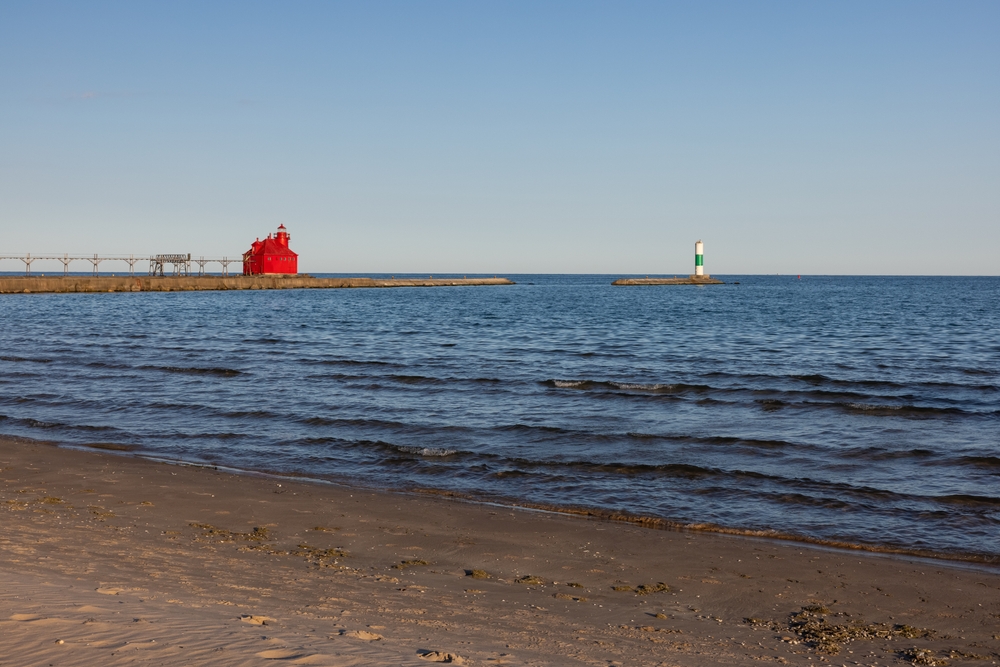 Sand Bay Town Park For A Quiet Beach In Door County
In Sand Bay Town Park on the lakeside of Liberty Grove is Sand Bay Beach. This beach is a great place to come if you are looking for something a little quieter.
The sandy beach is reached by a wooden boardwalk and the shallow water here makes this a great beach for swimming. There is also a kayak launch.
The large grassy area is great for picnics and contains grills, a picnic table, and a children's playground.
It's also a great beach to come and look at the night sky if you fancy doing something a little different.
It is truly one of the best places to visit in Wisconsin.
Ephraim Beach For Beautiful Sand
Located on Eagle Harbor this is one of the unusual beaches in Door County.
The unique geography of this area creates a wonderful sandy beach here rather than the somewhat rocky beaches elsewhere.
It's at the south end of the town and the shallow waters make it perfect for children.
Parking is nearby and the beach has restrooms and a drink machine. One of the really beautiful beaches in Door County.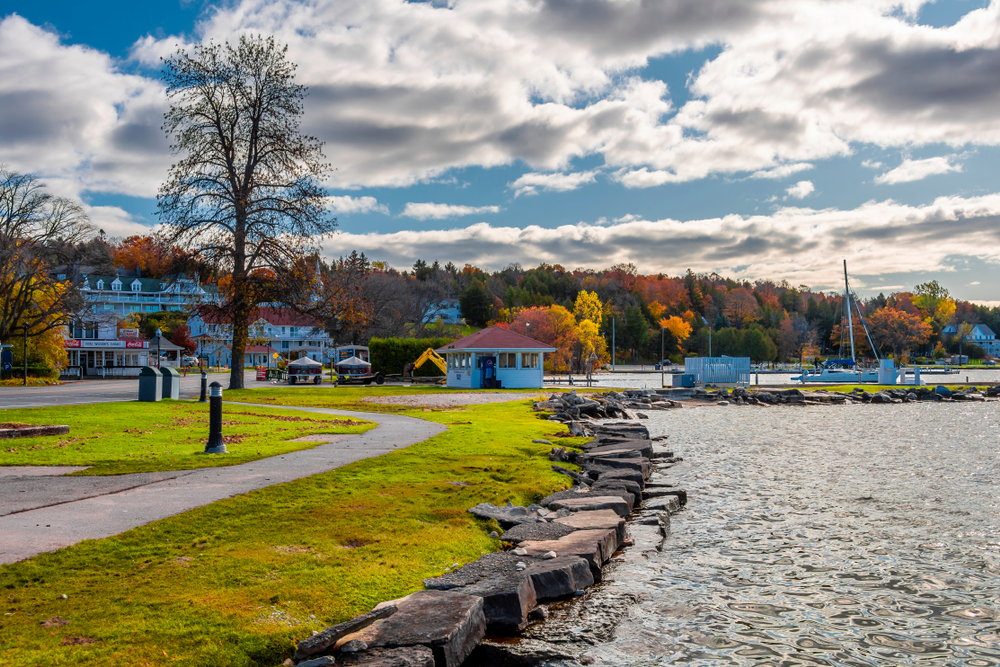 Sister Bay Beach For Diving
Located on the Door County peninsula on Lake Michigan in the lovely town of Sister Bay is Sister Bay Beach.
This beach on Sister Bay is great for swimming, sunbathing and is close to many amenities. The beach is pea-size gravel to lovely sand depending on how high the water is.
The new pier extends out 10 feet into the water and has become somewhat of a jumping and diving place. There are also water sports rentals available here.
There is a grassy lawn, picnic tables, and a children's playground. The water is beautiful and clear, parking is free and it's close to restaurants and a public restroom.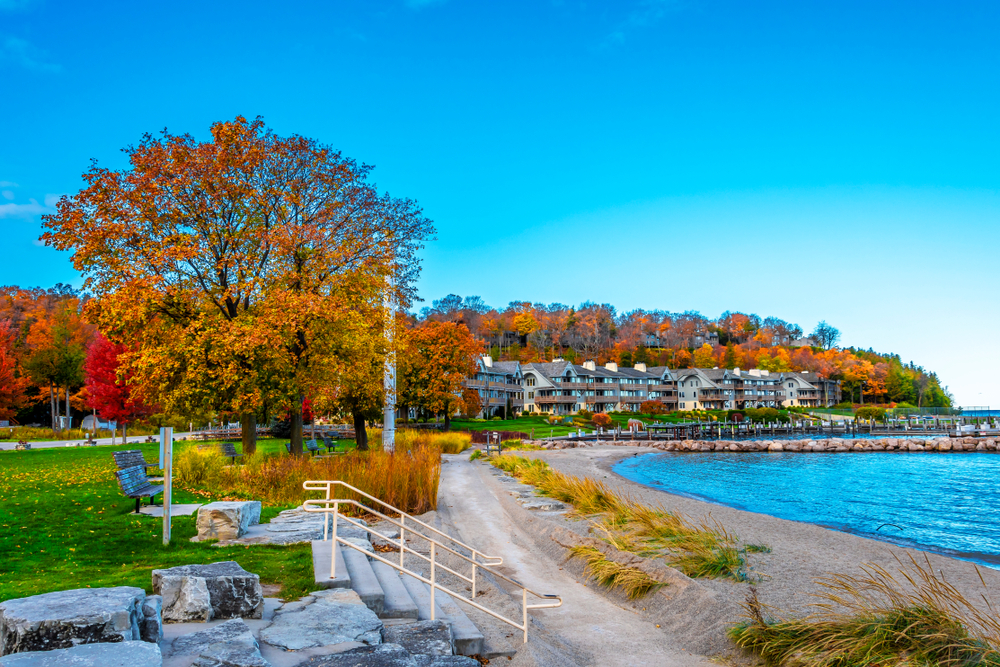 Whitefish Dunes State Park For Sand Dunes
This is one of the Sturgeon Bay beaches that really does offer something a little different.
Most say a trip here is an absolute must and if you like beaches with something different I would have to agree with them.
While the beach here is great this is more of an outdoor location. Whitefish Dunes State Park covers 867 acres on the eastern shore and there are lots to explore.
The big draw here though is the sand dunes which are some of the biggest on Lake Michigan.
The area here is just stunning, sand dunes giving way to lush fields, forests, and beautiful beaches with incredibly blue waters.
If you want to do more than just sunbathing the hikes around here are incredible. And the nearby Cave Point County Park provides some incredible photo opportunities.
You will require a state park sticker but you can get one at the entrance of the park. This is one of the beaches in Door County I highly recommend.
This is a beach for those that want the beach experience with an added extra.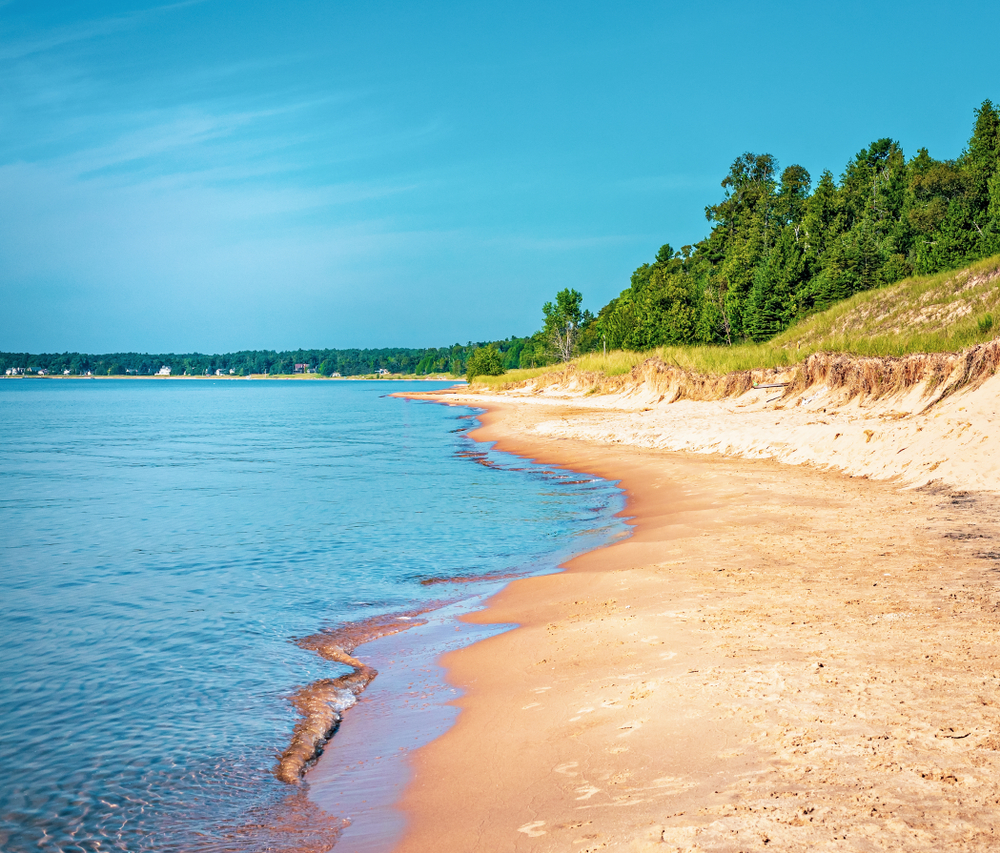 Lakeside Park For All Seasons
This is a beach for all seasons. If you visit out of season you will probably find something happening here. It hosts the New Years Day Polar Bear Plunge for example.
The beach is 158 feet of sandy beach with all the facilities you would expect. It's a great place for picnics, spending time with friends or just relaxing.
If you enjoy watersports it's a great destination too particularly in the summertime. This is one of those beaches on Lake Michigan that offers something for everyone.
Pebble Beach For Something Unique
My guess is as you have been researching you will have come across the famous Schoolhouse Beach Door County on Washington Island.
What you might not know is there are two beaches in Door County with a limestone shoreline and this one is much easier to get to.
As the name suggests this is not a sandy beach it is a limestone pebble beach which is very rare so don't take the stones with you, removing them comes with a hefty fine.
Pebble Beach Door County, is out of the way and a bit of a local secret so you will never find it busy.
It's also not a very family-friendly beach due to the pebbles and the deep water that drops off quickly from the shoreline.
There are no amenities here and there is limited parking however the beach is well worth a visit, just bring a chair. Pebble Beach Sister Bay is a special beach and really a must-see.
This is one of the best things to do in Washington Island.
Rock Island State Park For The Oldest Lighthouse
Rock Island State Park is one of those must-see places in Door County even though getting there requires some thought.
It's only accessible by ferry or boat and there are no bikes or cars allowed on the island.
Having said that if you can get there it is well worth it and the sandy beach is located on the southeastern shore of the island on Lake Michigan.
The water here can be on the colder side but it is a great beach for picnicking and exploring. Also, Wisconsin's oldest lighthouse is at the north end of the island and well worth a walk too.
While this might not be the easiest beach to get to it's certainly a unique place to explore.
Frank E Murphy Park For Clear Water
Occupying four acres along Horseshoe Bay Frank E Murphy Park offers you a sandy beach and crystal clear water.
There is also a boat launch, a children's playground, a volleyball court a picnic area, and a pavilion.
Dogs are welcome but they must be on a lead and there is no lifeguard on duty.
Ellison Bay Beach To Explore
If you love nature then this is one of the beaches in Door County for you. Just north of Sister Bay, at the south end of Ellison Bay, this is a beach that beckons you to explore the area.
The sand is soft, the water warm and Ellison Bay is a beautiful place to explore.
However, I advise you to put on your walking shoes and follow the trail to Ellison Bluff County Park.
Once there you will be treated to one of the most gorgeous views in the county. Here you will get to see the lake from 100 feet above and it really is beautiful.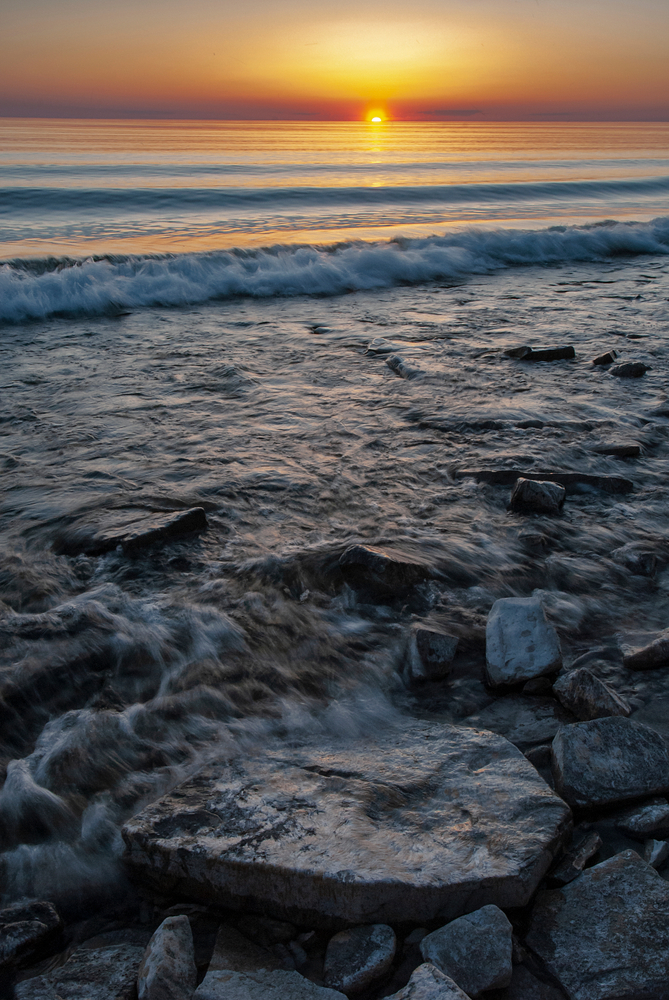 Packing List For Visiting The Beaches In Door County
If you will be traveling, either by plane or by car to Wisconsin, here are some tips on how to pack lightly.
A concealed travel pouch may be one of the most important items you bring along when exploring Door County Wisconsin beaches.
It is always important to protect your personal information. Identity thieves are everywhere.
his unisex RFID blocking concealed travel pouch is lightweight and comes in several colors. It has lots of organization to give you peace of mind.
If you have a pouch already that does not come with the RFID protection, as I do, these RFID sleeves are the perfect solution.
If you are planning on taking a lot of pictures with your phone you will definitely want to consider an external charging battery.
This Anker high-speed phone charging battery is the exact one I carry with me on all of my trips.
I like that it holds its charging capabilities for several uses so I do not have to worry about it while out and about, and if I forget to recharge it at night, it will still be good to go the next day.
My daughter gifted me with this FugeTek selfie stick and tripod setup for my birthday. I absolutely love it! It is made of lightweight aluminum and so easy to use.
It has Bluetooth connectivity and is a breeze to use for taking selfies when visiting Wisconsin beaches.
Hydration is so important when traveling. You want to remain hydrated throughout your travels to support your immune system which in turn will be stronger to fight off any germs you will encounter during your travels.
You will want to bring your own refillable water bottle with you.
I never leave home on a trip without my Bobble filtration bottle. The 18.5-ounce size is perfect for hiking and it fits nicely in the pocket of a backpack.
When filled with water, it is not too heavy to carry. And the charcoal filter ensures fresh clean water whenever you fill the Bobble.
Then this set of collapsible silicone foldable water bottles would work well for you as well. Would not take up much space at all.
You will want a backpack or daypack with you to store snacks, your water bottle, phone, extra clothes, etc.. when hiking This foldable water-resistant backpack would be great.
And let us not forget the beach shoes for all the pebbly beaches you will visit in Door County Wisconsin. These quick-dry slip-on aqua shoes are a great selection. They come in a ton of bright colors for men, women, and children.
When packing, you want to bring along beach towels. But you do not want to add anything heavy or bulky.
This fast-drying, lightweight and very absorbent towel is the perfect solution. You choose what color and size you wish and it is extremely affordable.
This mesh swim backpack bag has separate areas for dry and wet items. It will be invaluable to put wet towels and bathing suits into once you are done with swimming and sunbathing.
—
As you can see when it comes to beaches in Door County there are so many to choose from.
Whether you visit one of the beaches on Sister Bay or choose a Sturgeon Bay beach you won't be disappointed.
The Wisconsin Beaches are just beautiful and the beaches on Lake Michigan are truly wonderful. Enjoy your vacation and please come back and tell me all about it.