Are you looking for the best beaches in Wisconsin? You have come to the right place.
Visiting any of the Wisconsin beaches ranks high on the places to visit in Wisconsin!
Bordered by Lake Michigan and Lake Superior, Wisconsin has hundreds of miles of coastline to choose from.
Whether you are looking for a sandy Wisconsin beach, a more isolated wild WI beach, or an island beach Wisconsin has them all.
With unusual geology and typography coupled with charming lighthouses, beautiful boardwalks and incredible views you need to give Wisconsin beaches a second look.
Here are 15 of the best beaches in WI you need to consider for your Wisconsin getaway.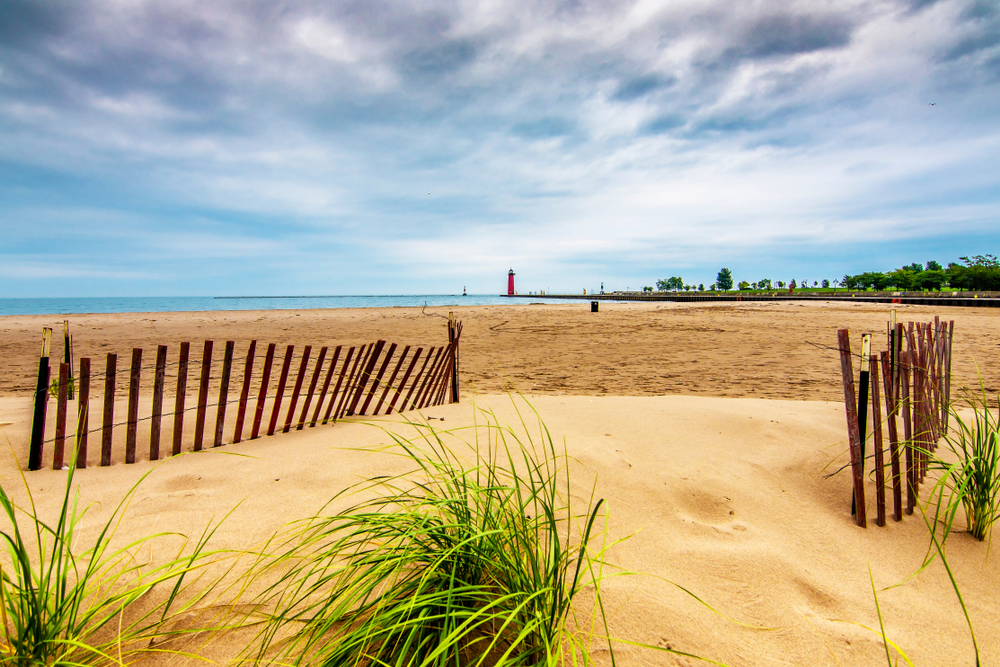 15 Best Beaches In Wisconsin For A Getaway
North Beach Is An Award-Winning Wisconsin Beach
When it comes to awards this WI beach has many. It was named as one of the top Great American Beaches by USA Today.
It was Wisconsin's first beach to be designated as a Certified Blue Wave clean beach by the National Clean Beaches Coalition.
This Wisconsin beach on Lake Michigan has thousands of feet of luxurious sand for you to find the perfect spot and it's a great place to swim or just relax.
During the season the beach is open until 10 pm and it is manned by a lifeguard from 10-6.
Parking and admission are free and there is a picnic area and a children's playground so it's a perfect beach for families. North Racine beaches are just great for families.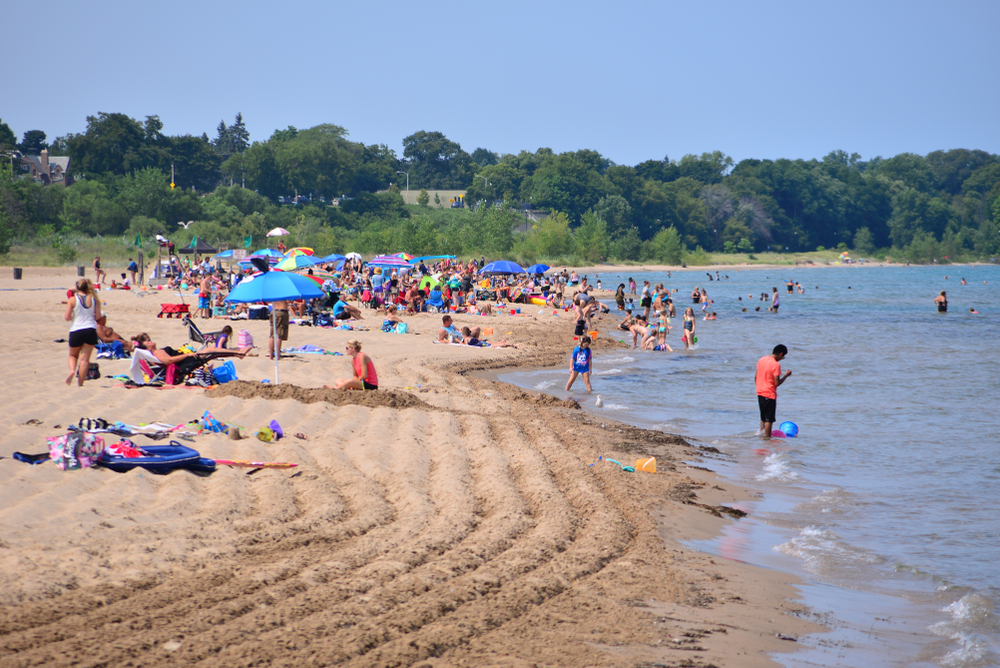 Big Bay Beach
At the northern tip of the state, this beach is located in Town Park Wisconsin. One of thebest Lake Superior beaches, it is on Madeline Island and is just beautiful.
Here you have close to two miles of sandy beach to enjoy with great swimming, paddle boarding, and kayaking. There is a one-mile boardwalk and lots of hiking trails to also enjoy and the beach has an accessibility ramp.
You have to try a little harder to get here as the island is only accessible by private boat, seaplane, or ferry. However, the ferry is a short 20-25 minute ride and pretty regular.
It's a great place for a day trip. Take your bike on the ferry if you want to explore more or stay for a while at the campground.
The journey is with it though. This beach is a real winner and one of the best beaches in WI.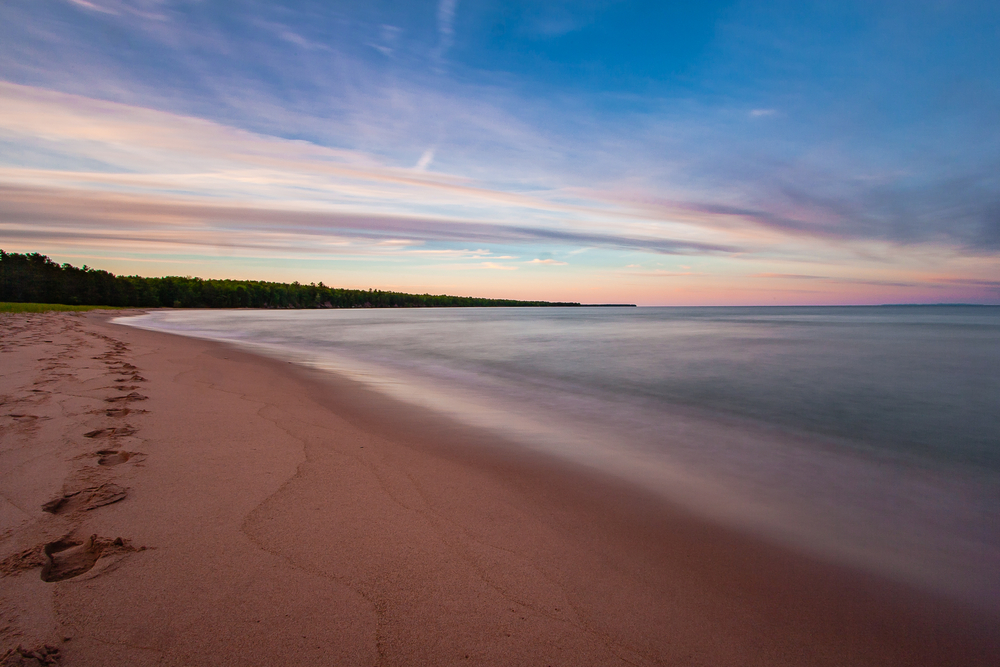 Bernie's Beach Is One Of The Best Beaches In Madison WI
Looking for a different beach in Wisconsin? Then Bernie's Beach might be for you.
On the banks of Lake Monona, this small neighborhood beach allows you to swim with the Madison WI skyline in the background.
It's one of the popular beaches in Madison WI with the locals flocking here in the summer mainly due to its location and it is easy to get to. Kayaking and paddleboarding are also popular here.
It is easy to park and there are amenities and an on-duty lifeguard during peak season. This beach in Wisconsin is surrounded by beautiful green space which is unusual.
If you are looking for a Madison beach and something a little different then this beach in WI should be high on your list.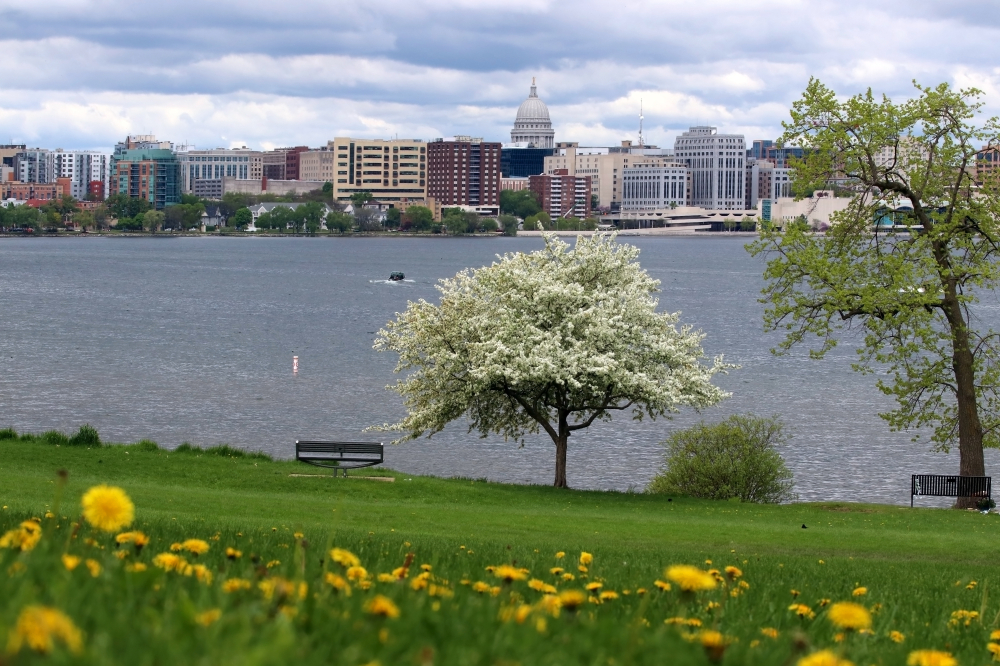 Lake Geneva Beach Is One Of The Popular Beaches In Wisconsin
This area has become pretty much a go-to destination so expect it to be busy in peak season. Lake Geneva beaches have become very popular and people flock to them.
Big Foot Beach State Park has a great beach. There is so much more to do than just sunbathing, making it a perfect summer destination. And it is one of the best things to do in Wisconsin! Picnics, water sports, and hiking are all popular in the area.
There are other beaches in the area such as Riviera Beach and Williams Beach which both charge an admission fee. Fontana Beach is on the western shore.
Whichever Lake Geneva beach you visit you will not be disappointed. They are all beautiful and the surroundings and the town are truly stunning.
Some of the best beaches in WI are located here.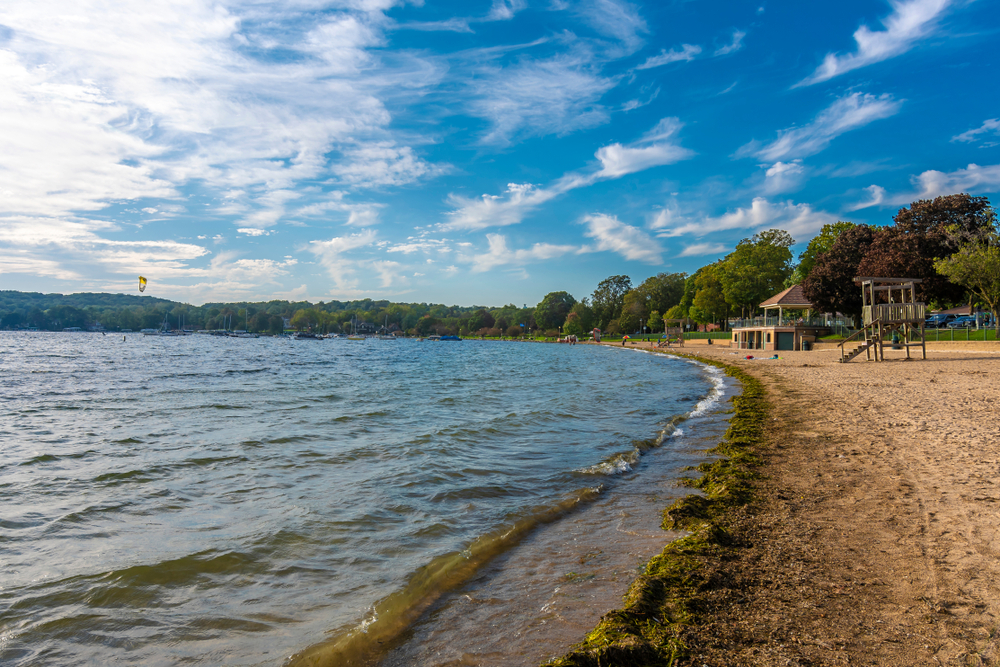 Simmons Island Beach
A little less known beach in Wisconsin but one well worth a visit is Simmons Island Beach in Kenosha. It tends to be quieter than some other beaches which is a real bonus.
This is also a beach with a view. From the beach, you have a view or not one but two historic lighthouses, North Pier Lighthouse and the Southport Lighthouse.
If you likea bit of gentle exercise there is a boardwalk that will take you to North Pier. Like all Kenosha beaches, this beach is a very well maintained beach, always clean, and has all the amenities you would expect.
Simmons Island Beach is a great beach for families and is central. It is also well located and not too far away from anything you could need. One of the beaches in Wisconsin that is well worth a visit.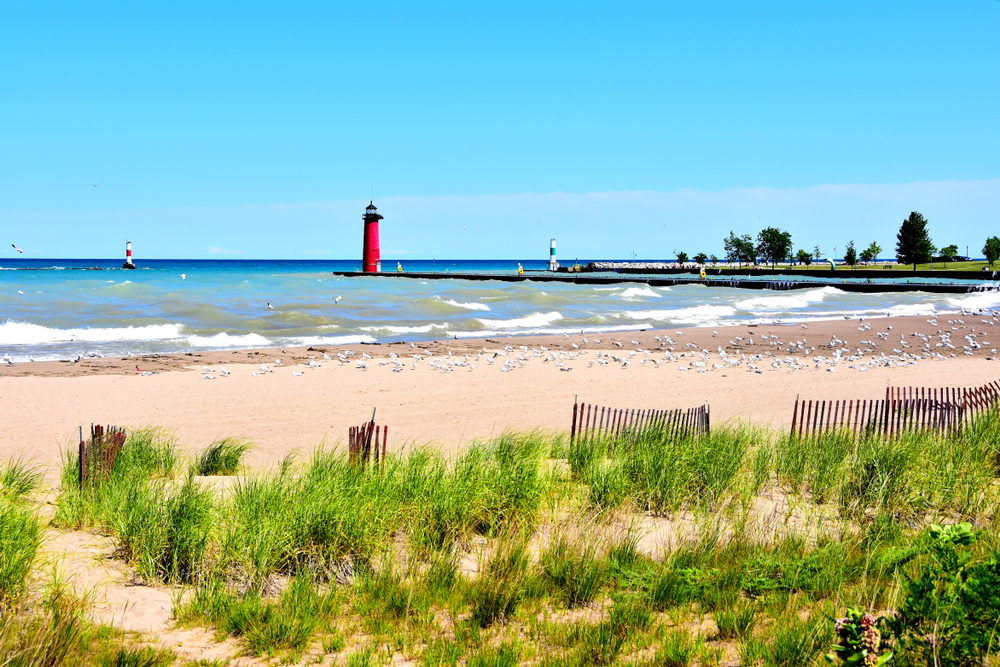 Pewaukee Beach Is One Of The Best Beaches In Wisconsin
If you are looking for a Pewaukee beach then head to this city's Lakefront Park. Most locals believe this is the best in the area.
The beach is sandy and the lake is a great place to swim. Also, there are so many restaurants, eateries, and shops just across the street.
A great WI beach to go to if you have children and are visiting Pewaukee WI.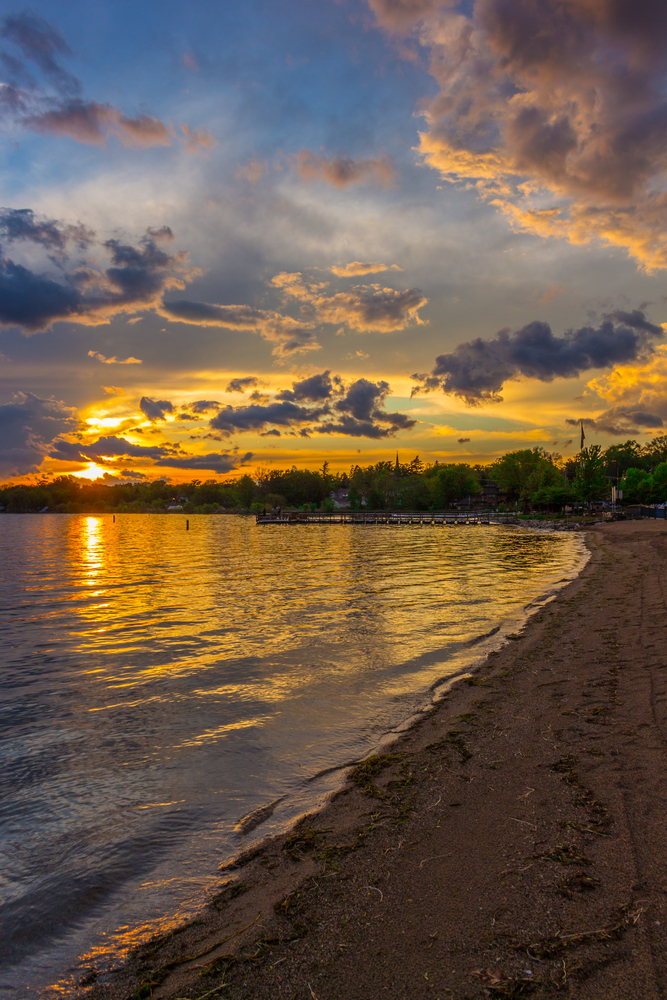 Bradford Beach Is A Popular Wisconsin Beach
When it comes to beaches in WI there are many to choose from but most agree that Bradford is the best.
This beach in Milwaukee is the largest public beach in the area. It is can get crowded, yet visiting it is one of the best things to do in Milwaukee WI.
It's one of those beaches in Milwaukee that has a vibe. A beach where young, old, sunbathers, and volleyballers all seem to mix effortlessly. There is a charm here that is hard to describe.
This beach in Wisconsin has a lot going for it with convenient amenities and eateries nearby. It also holds regular outdoor events such as the Bradford Beach Jam. There are also Tiki huts and cabana rentals.
If you are after the quiet laid back beach experience this is not for you, but if you want some fun and a great vibrant beach take a trip here. It's one of the best beaches in Milwaukee.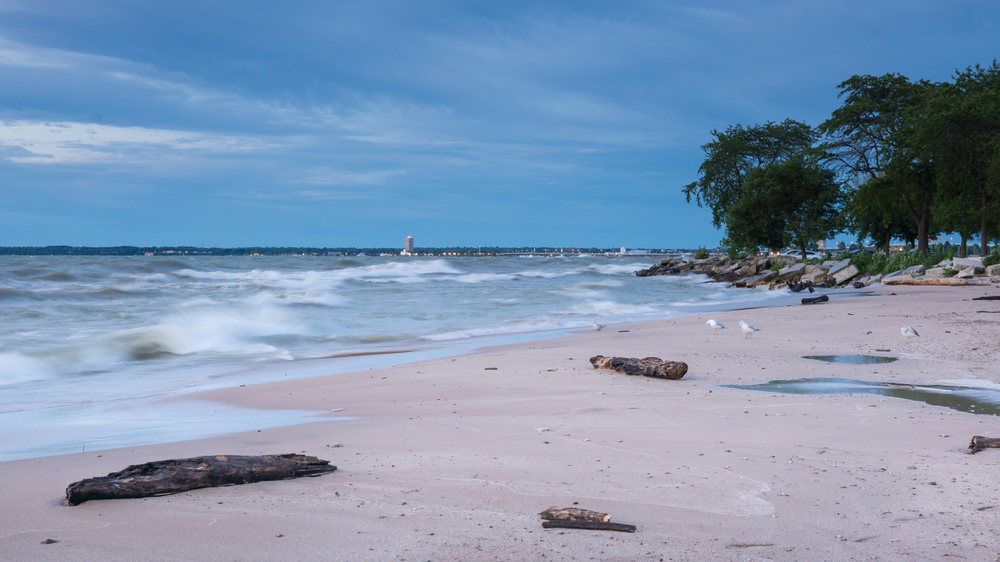 Schoolhouse Beach
Looking for a beach that is unusual, unique, and unlike any other? Then Schoolhouse Beach might be the one for you.
This beach is not a sand beach but made of limestone rocks. It's so unusual it is considered a geological wonder. This is a beach more to explore than sunbathe. If you have small children they will love it.
The pebbles are smooth and people often stack them in unusual shapes adding to the mystery of this place. It's one of only five beaches in the world made up of polished limestone so it is pretty special.
If you do have children make sure they swim only in the cordoned-off area. There is a steep dropoff here making it great for snorkeling and diving but please watch your children.
It's located on Washington Island and you can only get there by the water. The ferry is a five-mile ride and pretty regular. There are lots to do on the island and it is a great place to visit. One of the most unique beaches in Wisconsin.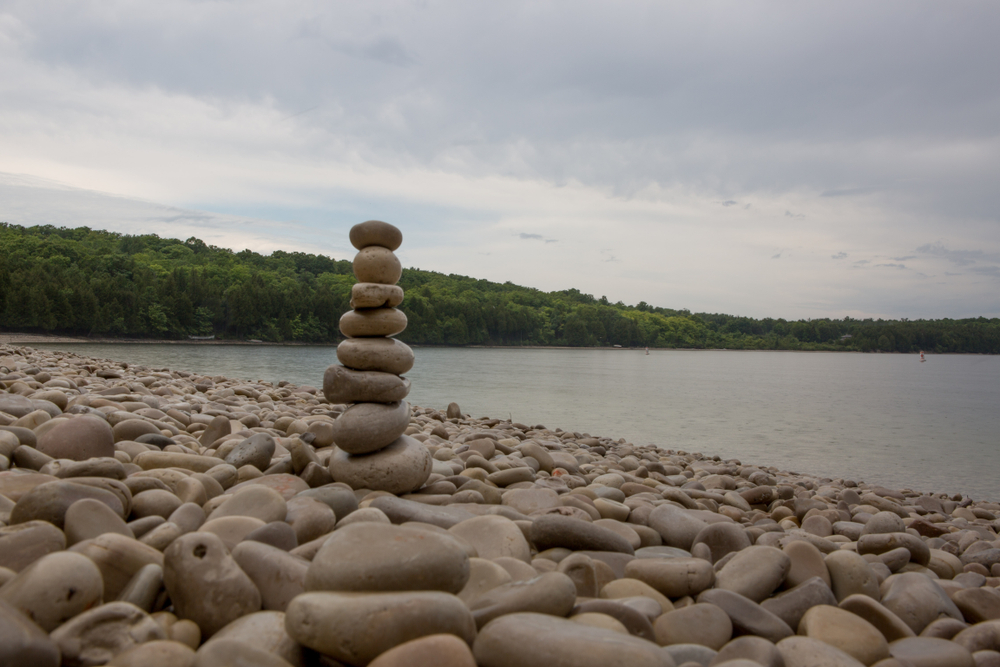 Baileys Harbor Beach
If you are looking for a quiet beach where you can also go exploring then this might be the one for you. On the shores of Lake Michigan in Whitefish Dunes State Park this beach is a real hidden gem.
This beach is surrounded by nature, wilderness, and 6000 acres of public land so walking shoes and an adventurous spirit are a must here.
There are also several lighthouses to explore nearby and the town of Baileys Harbor is really charming. A great beach in WI if you are looking to get away from it all. It's one of the best beaches in Door County.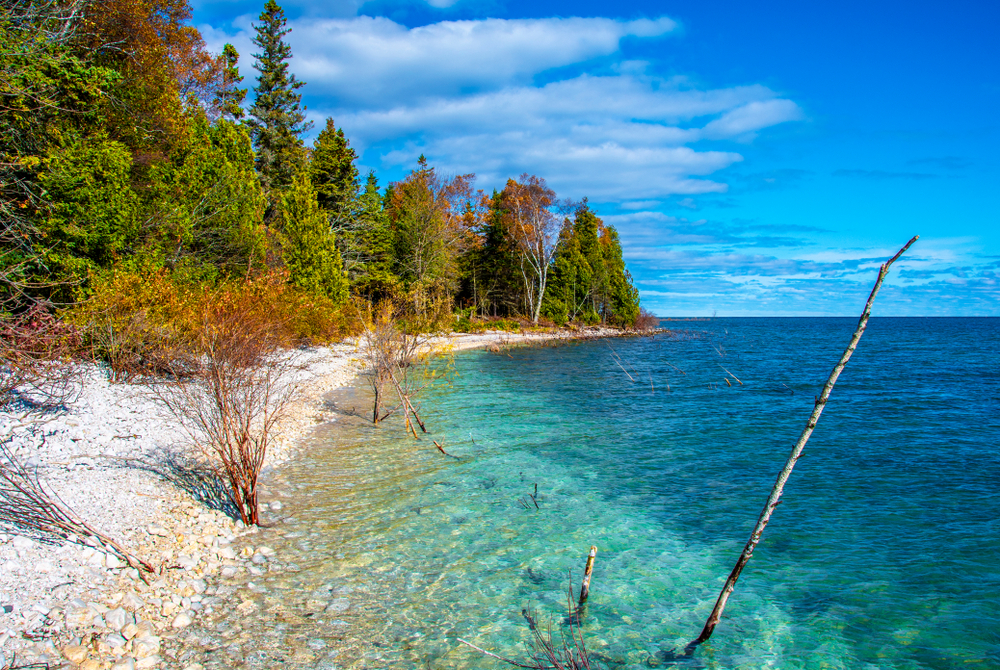 Sheboygan Beach
There are quite a few beaches in Sheboygan but DeLand Park is very popular. It's a great family beach with a very chill feel.
About a 10-minute walk will get you into all the amenities of town but you are far enough away to feel like you are not in the hustle and bustle.
There are also lots of things to do if you get bored of sunbathing. You can explore Lottie Cooper, an 1800s wooden shipwreck that is on display, or explore the pier, the marina, or even visit the lighthouse.
This Sheboygan beach is also a great place to watch the sunset.
Kohler-Andrae State Park Beach
This beach offers a lot but is mainly known for having the most expansive sand dunes in the state. The sand dunes protect the two-mile sandy shoreline and getting to the beach is relatively easy along the wooden trails.
Bird watching and paddle boarding tend to be the most popular pastimes here. The nearby wetlands provide an array of bird species.
The water is blue, the beachfront goes on for miles and the sand dunes are impressive. This is a beach that really makes you feel you are at the ocean and not overlooking Lake Michigan.
There is also great wheelchair and disability access to the beach. This is one of the Lake Michigan beaches that offers something a little different.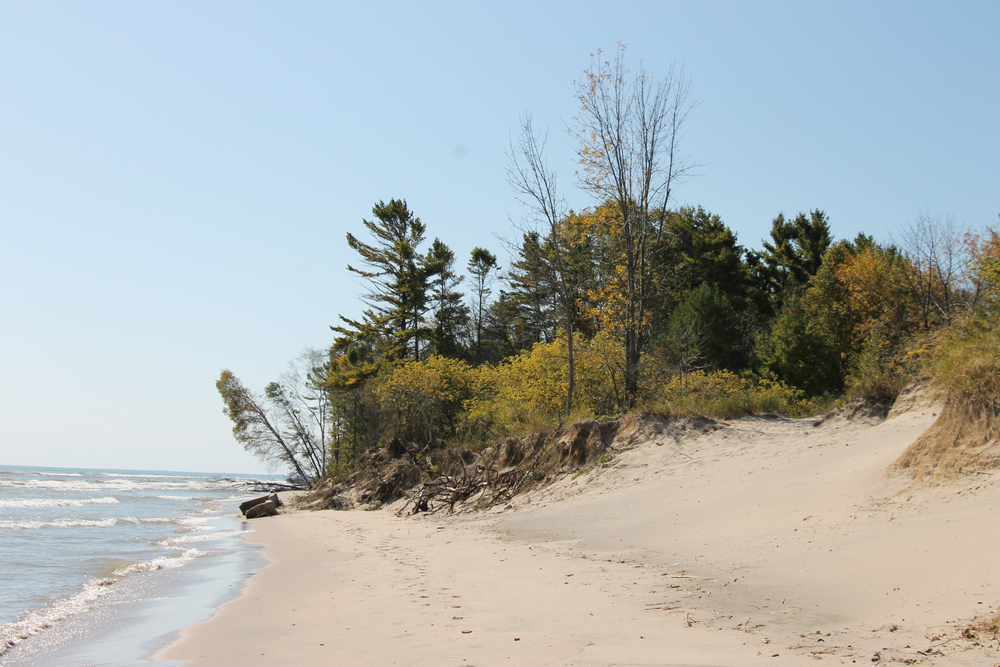 Elkhart Lake Beach
If the beach to you is all about the water more than what is onshore then head to Elkhart Lake. The water is spring-fed, crystal clear, and very deep, so be careful.
The lake is popular with snorkelers as you can imagine but also water sports. And you can take guided trips.
It's a popular location having that luxury beachfront house feel about it. Native Americans also believed the water here could soothe the soul which may also explain its popularity.
Whatever brings people here, I am sure you will love it. It's one of the best beaches in WI.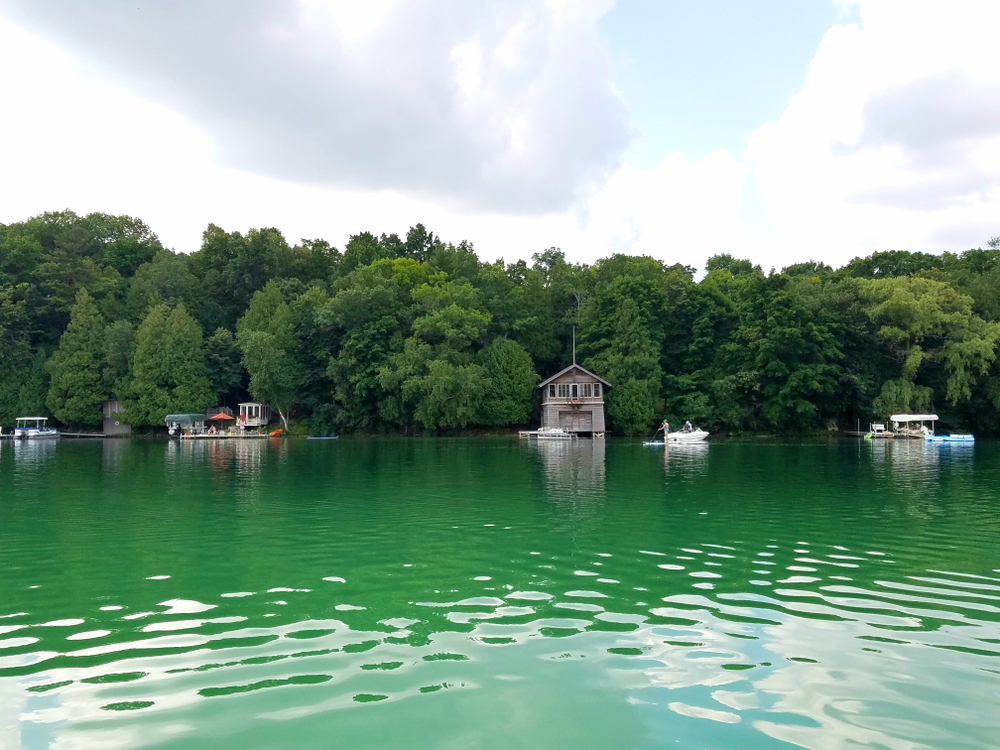 Point Beach State Forest Beach
This is a really family-friendly beach and a really great beach to relax at. If you are the more active type you will not be disappointed either.
For those who are here to relax, try one of the nice picnic spots or visit the beach house for some food.
For those of you who are a bit more active, the Rawley Point Recreational Trail to the Rawley Point Lighthouse is perfect for you.
There are nearly 300 acres of state forest to enjoy here and 6 miles of coast, so whatever you want to do chances are you will find it here.
Devils Lake State Park Has The Best Beaches In Wisconsin
Devils Lake has a north and a south shore and both are quite similar. Located in Baraboo, the beaches are large and there are changing facilities for your convenience. The swimming temperature is really comfortable from June to September.
There really is everything here including hiking trails for those who are not beachgoers. If you feel inclined you can climb up almost 500 feet on the nearby trails and get a great view across the Devil's Lake.
There are also picnic areas, children's play areas throughout the park if you have children.
Scuba diving, rock climbing, and bird watching are also popular here. Let's just say this really is a beach in Wisconsin that has something for everyone.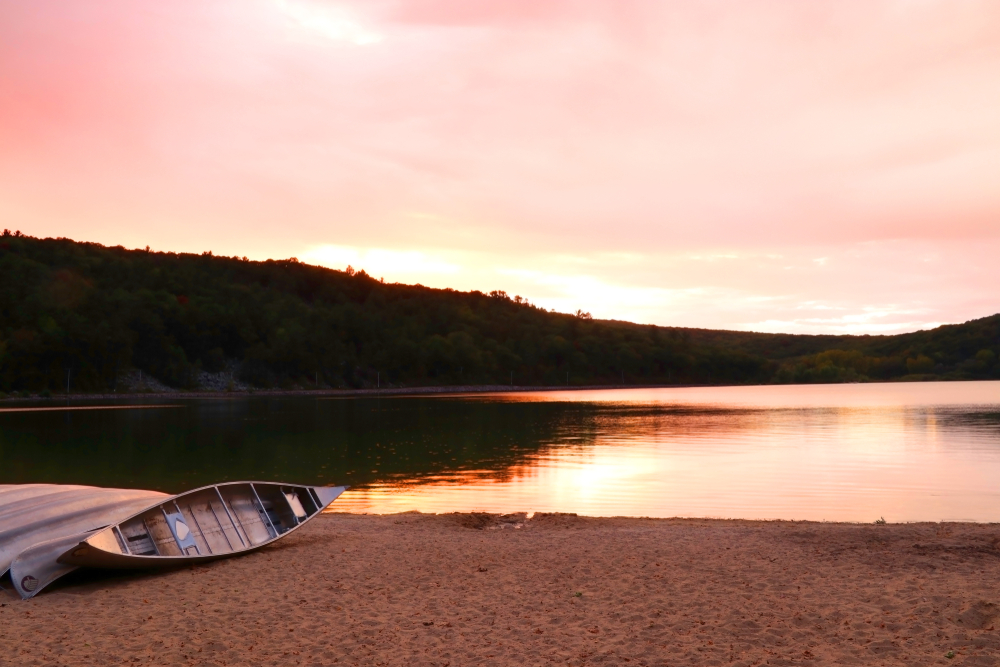 Sister Bay Has The Coolest Wisconsin Beaches
With the largest public waterfront in Door County, Sister Bay has a lot to offer. There are nearly 200 feet of water frontages, 600 feet of sand beach, and 900 square foot outdoor stage if you are up for a party.
You will find, gazebo's, bar-b-ques, picnic tables, large grassy areas for activity, and places to hold your own events.
Adjacent to the marina you will find this area takes on a different vibe during the day and night. The days are for recreation and sunbathing and at night lit by the stars this place often comes to life.
One of the Door County beaches you don't want to miss.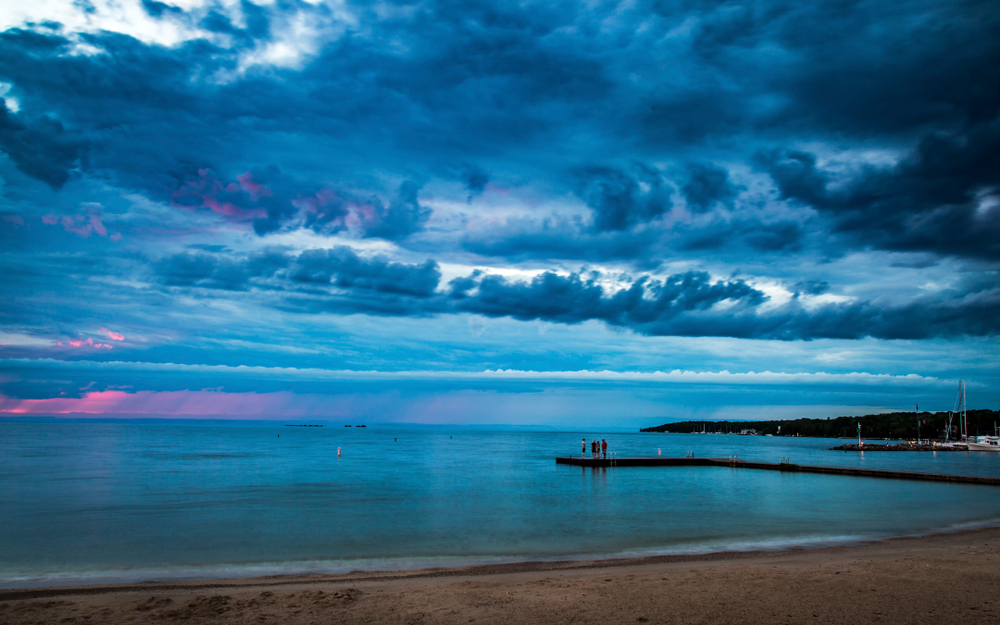 As you can see when it comes to beaches in Wisconsin the list really is endless. The beaches in Wisconsin are amazing and I know whichever you visit you will have a great time.
Whether you choose one of the Wisconsin beaches on Lake Michigan, one of the Lake Superior beaches or go further afield to the Door County beaches or the Sheboygan beaches I do hope you have a great time. Please come back and tell me all about it.