If you are looking for the best places to visit in Wisconsin, then you have come to the right place!
There are so many interesting and beautiful attractions in this Midwest state.
Whether you love exploring nature, strolling the streets of small towns, or checking out the nightlife in big cities in the Midwest , there is something for you!
There are Wisconsin travel destinations for all types of travelers.
Make family memories while camping, enjoy a girls' trip to a quaint town, or have a romantic weekend getaway in the famous Door County.
America's Dairyland is more than cows and farms. There are lighthouses, beaches, museums, wineries, historic sites, and so much more! What will you see on your Wisconsin vacation?
Get ready to plan the best Wisconsin itinerary!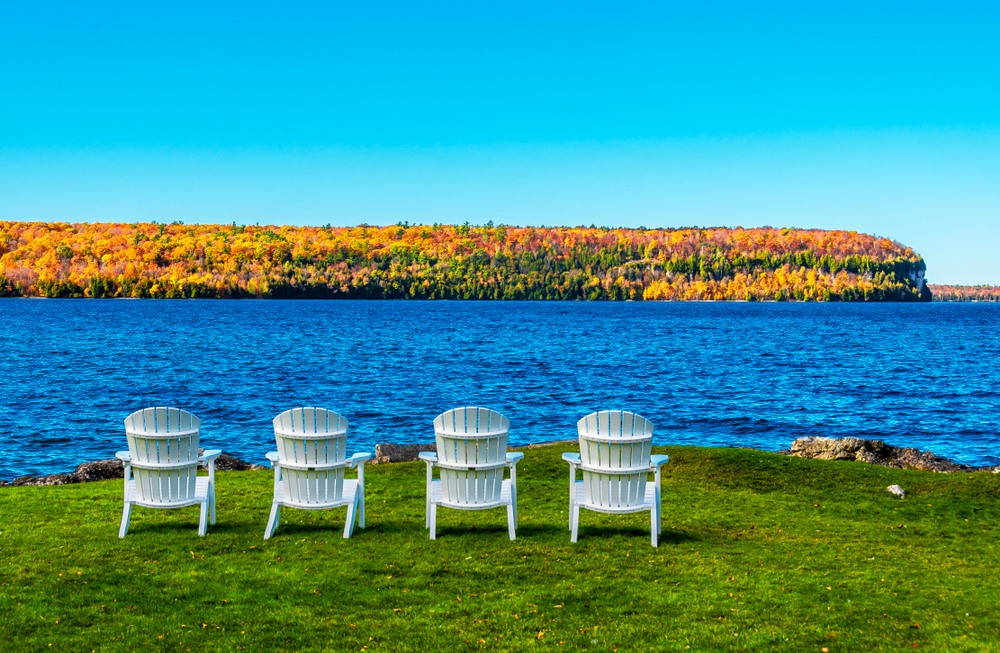 15 Best Places to Visit in Wisconsin For Your Bucket List
Bayfield Wisconsin
Bayfield is one of the cutest small towns in Wisconsin. This quaint town is found at the northern tip of the state near the Apostle Islands.
This is a great home base for checking out all the surrounding nature.
The town has plenty of places to dine and shop. There are also hiking trails, beaches, and parks. Charter a boat down at the marina or cast a line from the fishing pier.
The Bayfield Maritime Museum is a great stop to learn about boating history.
Another fun thing to do in Bayfield is taking the ferry to Madeline Island. The 25-minute boat ride provides great views of the lake.
You can bring your car or bike on the ferry so you can easily explore when you get to the island. You will find Big Bay State Park, hiking trails, beaches, and kayaking opportunities.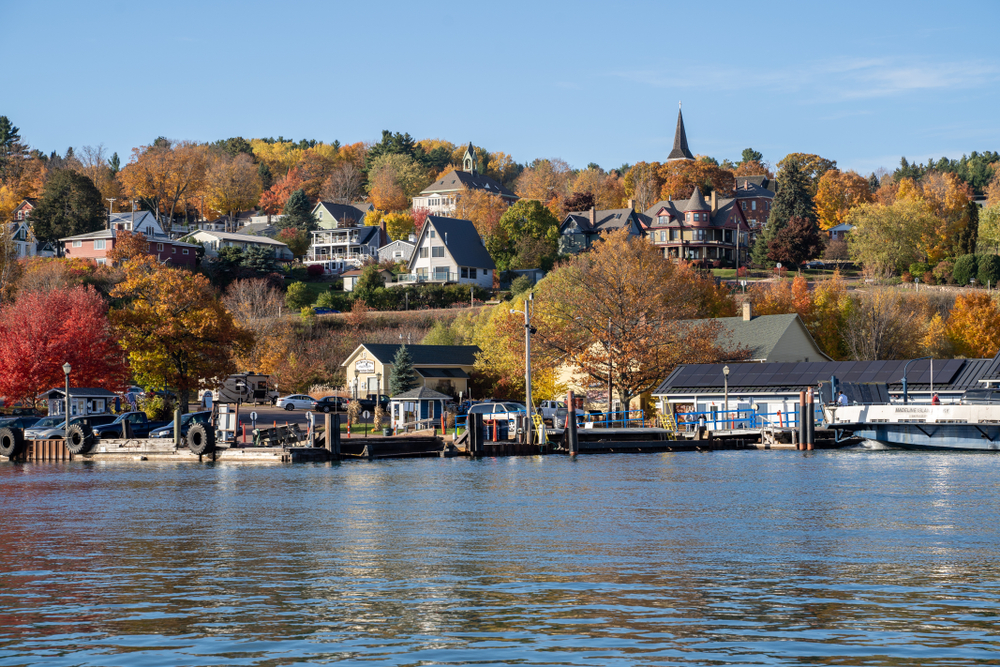 Ice Caves Are Some Of The Best Places To Visit In Wisconsin
Winter in Wisconsin can be brutal, but if you are brave enough to venture into the snow and ice, you will be rewarded with amazing natural wonders.
Unique ice caves are some of the best places to visit in Wisconsin.
There are a few places throughout the state where you can see these amazing, frozen caves. Wisconsin Dells near the middle of the state is one such place.
There are 13 waterparks in Wisconsin Dells.
The Fern Dell Gorge in Mirror Lake State Park is draped with icicles in the cold months.
Drive west of Wisconsin Dells to Wild Cat Mountain State Park where you will find the Ice Cave Trail. This trail is less than a mile long and features gorgeous frozen scenery.
The Apostle Islands National Lakeshore has the most famous ice caves in Wisconsin both on the mainland and on the islands. Visiting these ice caves is a Wisconsin bucket list activity.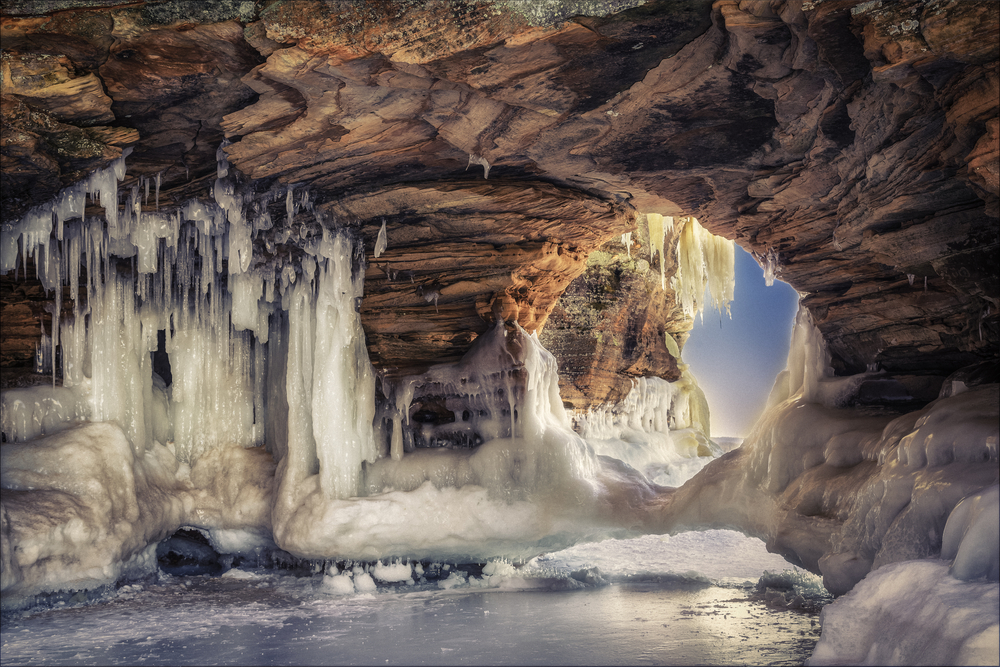 Great River Road
The Great River Road National Scenic Byway is one of the best things to do in Wisconsin. If you are looking for an awesome road trip in Wisconsin, this is one of the best!
The Great River Road is Wisconsin State Highway 35, and it follows the Mississippi River for 250 miles and connects 33 charming, historic towns.
Prescott, on the Minnesota border, marks the northern point of the road and is where you will find the Great River Road Visitor and Learning Center.
From there, travel south along the river and stop at as many cute, small towns as possible.
Admire the historic architecture, do some local shopping, and discover great state parks. All are fantastic places to visit in Wisconsin!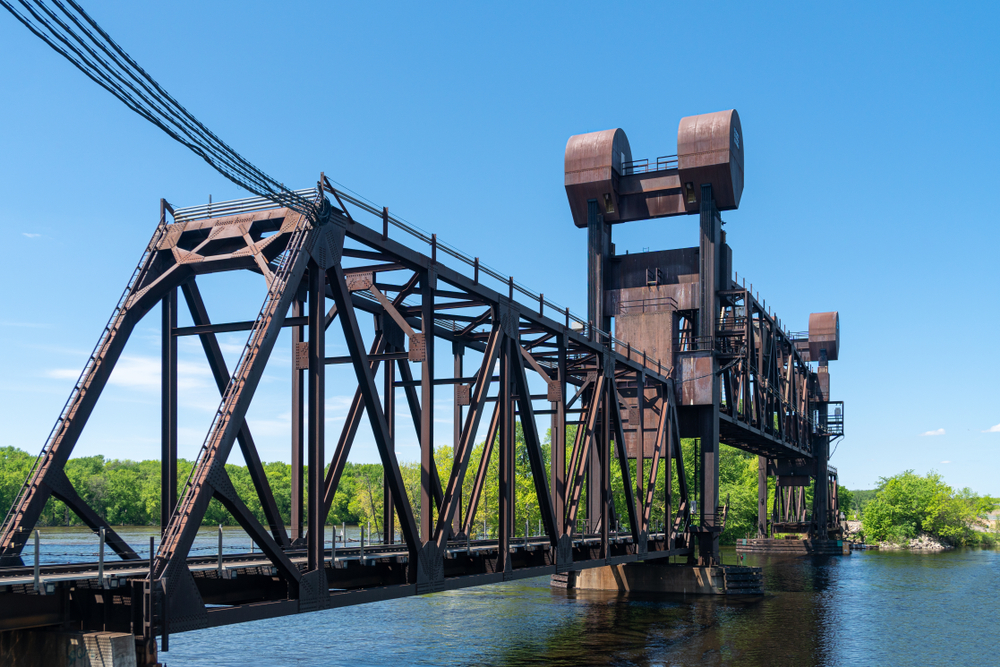 Big Manitou Falls Is One Of The Scenic Places To Visit In Wisconsin
If you want to visit one of the best waterfalls in Wisconsin, then head to Pattinson State Park where you will find Big Manitou Falls plunging into the Black River.
At 165 feet, this is the highest waterfall in the state and is definitely one of the best places to visit in Wisconsin.
The four-mile loop hiking trail will guide you through the forest to multiple overlooks on both sides of the gorge where you can stare in awe at the beautiful waterfall.
The hike is moderate and good for all skill levels.
While in the park, you can also visit Little Manitou Falls. This 30-foot waterfall is found upstream.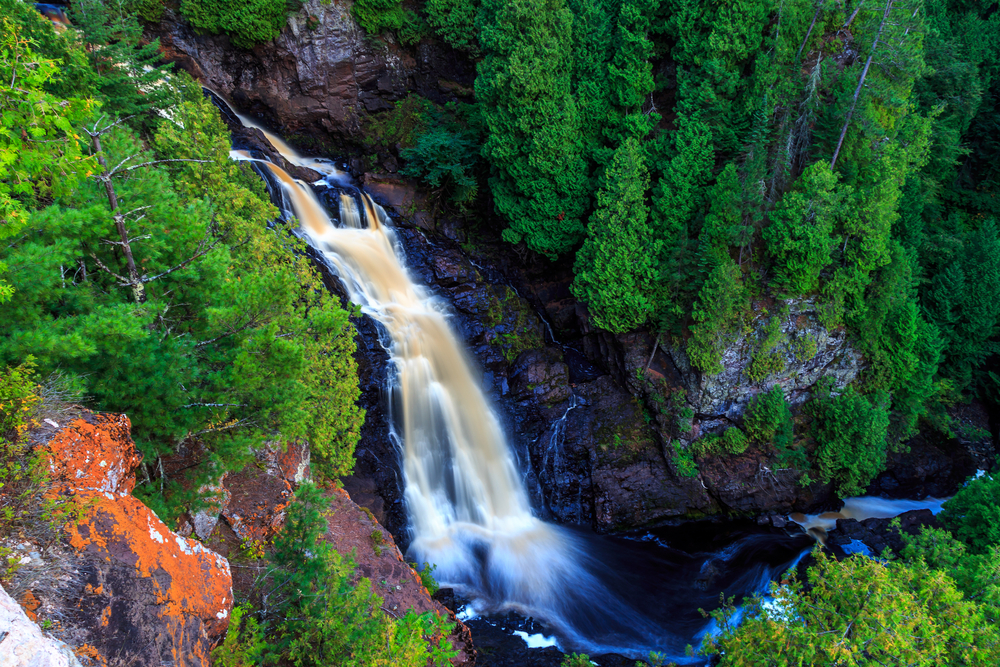 Milwaukee Museum Mile
Head to Milwaukee eateries to enjoy all the food and the iconic Museum Mile for all the culture.
This cultural area in the city's East Side encompasses five different museums and guarantees a great day out.
It is one of the best things to do in Milwaukee!
The Charles Allis Art Museum is found within a beautiful, 1911 Tudor mansion and holds over 2,000 art pieces from around the world.
Stop by the Jewish Museum Milwaukee to learn about Jewish history in Wisconsin through interactive displays, special exhibits, and many artifacts.
The Museum of Wisconsin Art at Saint John's On The Lake has an amazing collection of local art that will make you see the state in a new light. There are also great views of the lake.
The restored North Point Lighthouse dates back to 1888 and is now a museum for Wisconsin's maritime history. The 74-ft structure provides more amazing views of the lake.
Lastly, the Villa Terrace Decorative Arts Museum is an Italian Renaissance-style villa that was built in 1923. You can step back in time as you walk through the furnished rooms and formal garden.
There are so many breweries in Milwaukee to explore as well!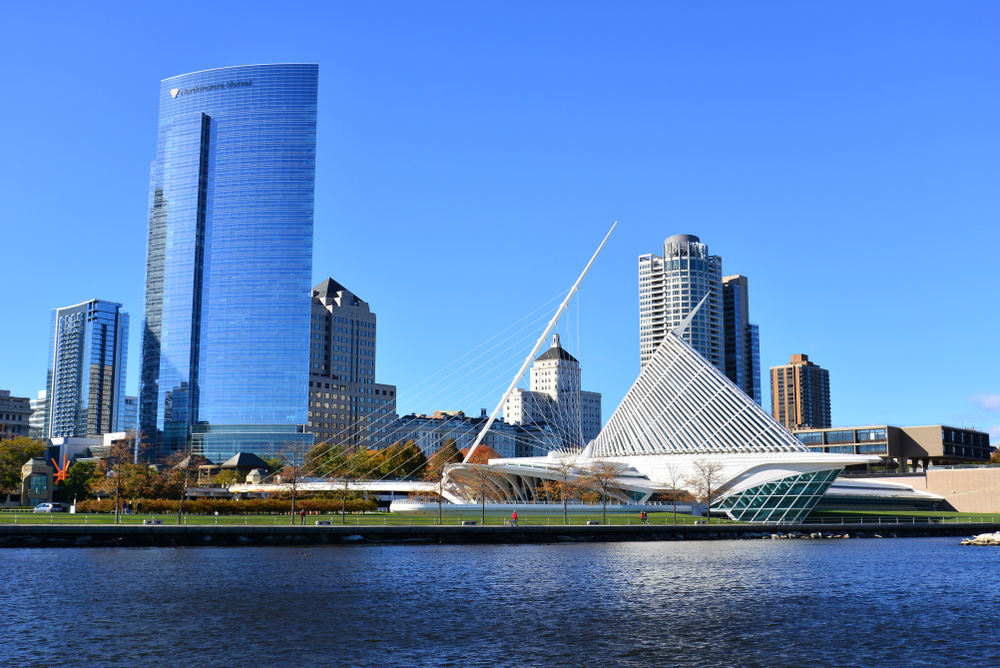 Rock Island State Park
Rock Island State Park is one of the best places for camping in Wisconsin. To arrive at this beautiful island, you must take two different ferries.
You will be completely removed from the real world so you can immerse yourself in nature!
This is one of the best places to visit in Wisconsin for making memories with your family. What is a more classic family vacation than camping in the great outdoors?
Along with roasting marshmallows around the campfire, you can spend time kayaking, canoeing, fishing, and swimming.
Tour the historic Pottawatomie Lighthouse or hike the ten miles worth of scenic trails on the island. It is one of the coolest lighthouses in Wisconsin!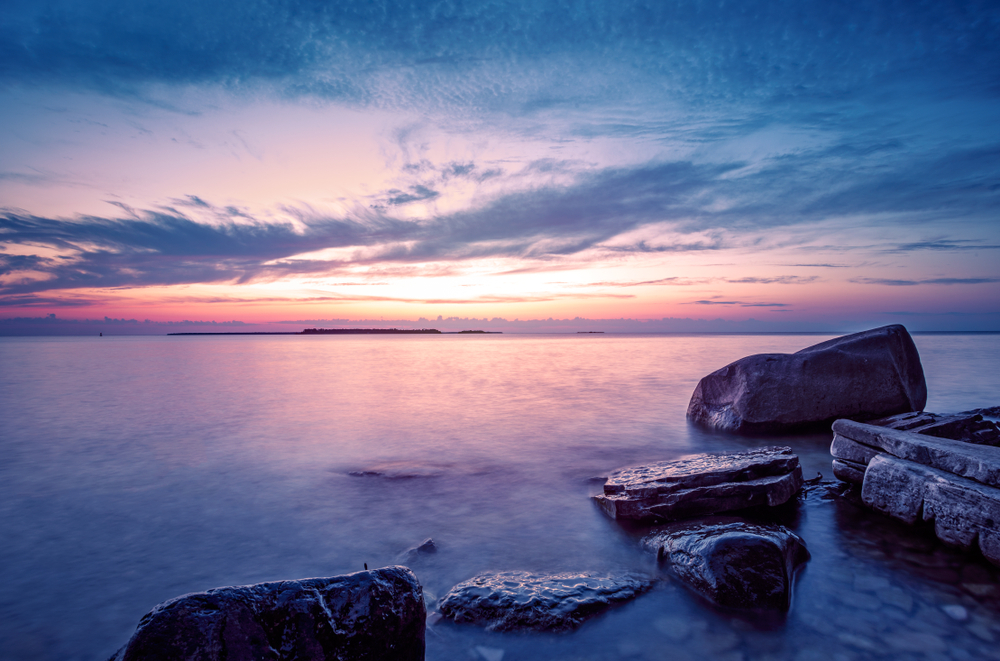 Lambeau Field
Football fans will want to come to Green Bay and visit the famous Lambeau Field that the Green Bay Packers call home.
Built in 1957, this is one of the oldest stadiums in the NFL and it can fit 72,000 spectators.
If you time your visit right, you can catch a game here. Whether you come for a game or not, you can also do a fun tour of the stadium.
There are different levels to the tours depending on how much you want to see.
The Legendary Stadium Tour includes everything from the exclusive club levels to the Press Box to the visiting team locker room. How cool is that?
If you are hungry restaurants in Green Bay serve amazing food!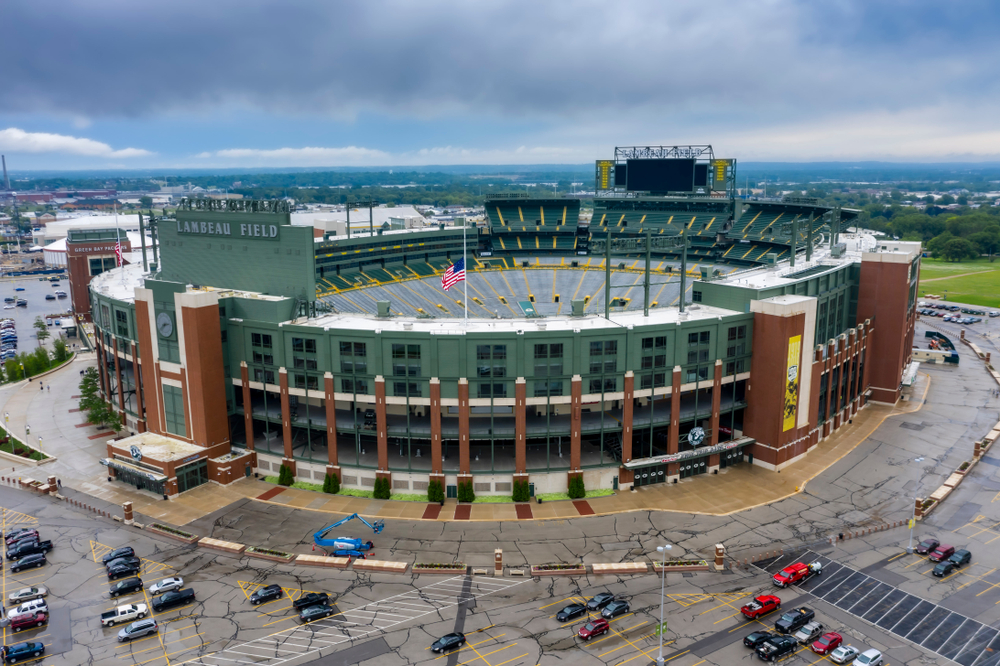 Cranberry Highway
The Cranberry Highway is another of the best road trips in Wisconsin.
The state is known for its cranberry production and driving the 50-mile Cranberry Highway is one of the best ways to see the colorful cranberry marshes.
This scenic highway is found in central Wisconsin and you can start your self-guided tour at any point.
Warrens is one of the best places to start, though, since this town is known as the Cranberry Capital of Wisconsin. It hosts the world's largest cranberry festival each September.
You can visit the Wisconsin Cranberry Discovery Center, too.
Plan to drive the Cranberry Highway in the fall. This is harvest time and the berries are bright red and extra pretty. this is one of the best places to experience fall in Wisconsin!
If you are looking for unique places to visit in Wisconsin, the Cranberry Highway should be high on your list.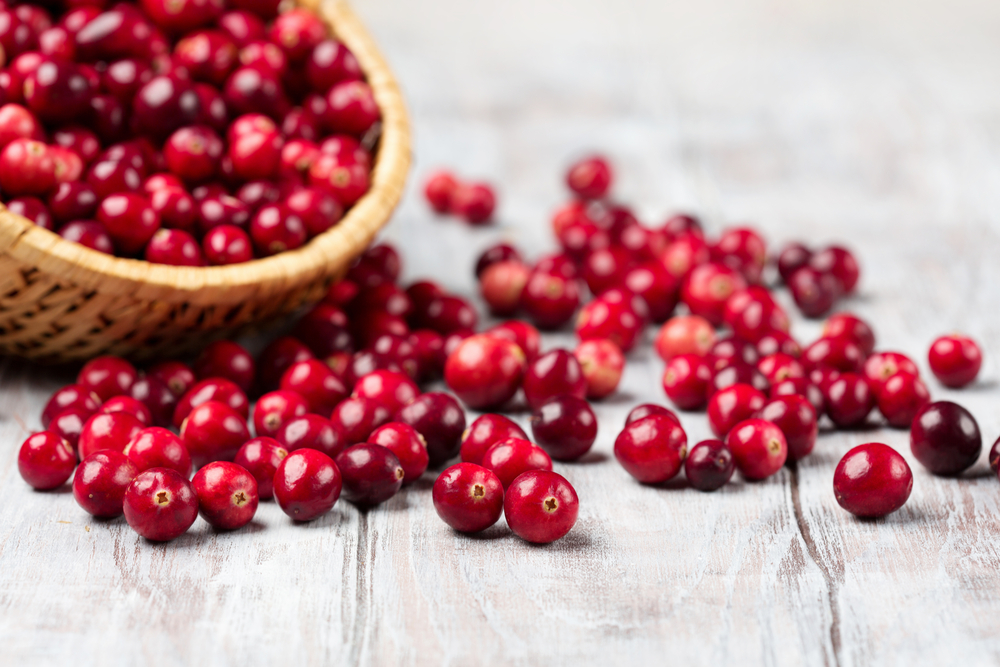 Spring Green
One of the best Wisconsin weekend getaways is Spring Green, found only an hour from Madison. This small town is best known for being the hometown of architect Frank Lloyd Wright.
And there are so many things to do in Madison WI.
Wright built his home, Taliesin, here in 1911, though it was rebuilt a couple of times because of fires.
Today, the house is a UNESCO World Heritage Site, and you can tour the estate. There are also a couple more Wright buildings in town to explore.
Along with architecture, Spring Green has a historic downtown with great shops and cafes, beautiful parks, and other unique Wisconsin tourist attractions.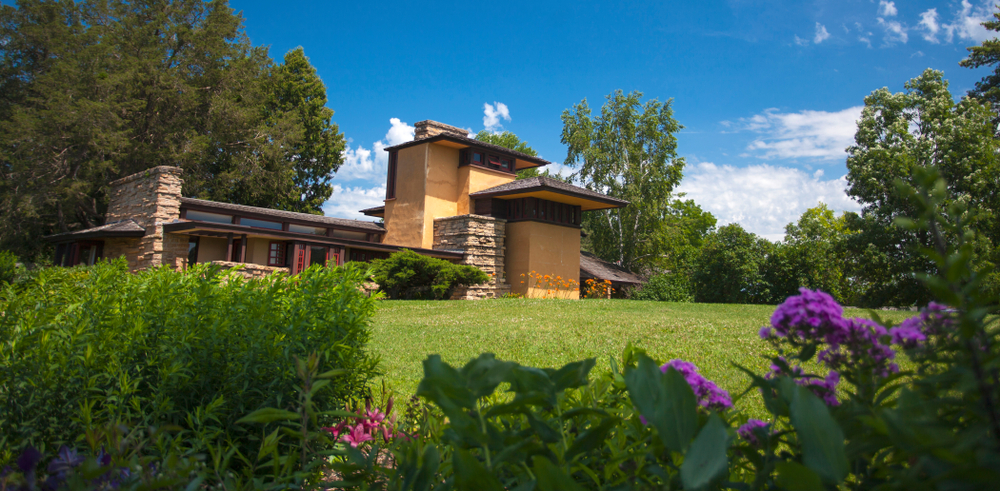 Copper Falls State Park
If you visit Wisconsin in the fall, then you should head to Copper Falls State Park to experience amazing foliage. This beautiful park is comprised of gorges, waterfalls, and ancient lava flows.
There are many hiking trails for exploring the park and finding wildlife. Some animals that you may spot in the park include black bears, gray wolves, deer, raccoons, and chipmunks.
There are also over 200 species of birds seen here throughout the year.
Of course, you have to see the titular Copper Falls! This waterfall is 30-feet high and cascades down into a rugged gorge. The waterfall is found along the 1.7-mile Doughboy's Nature Trail.
There is epic Wisconsin camping here in tents or rent a rustic cabin. If you come in the winter, you can enjoy the cross-country skiing trails.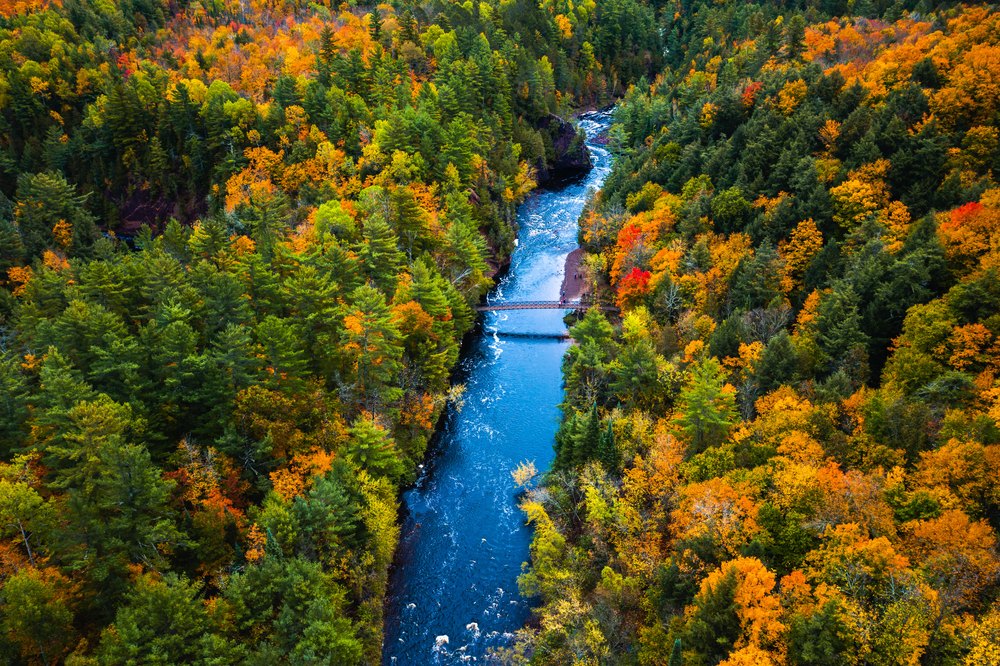 Devil's Lake State Park
Found in Baraboo, Devil's Lake State Park is the most popular state park in Wisconsin.
Join the three million annual visitors and explore this unique park as a Midwest weekend getaway. There are over 400 campsites.
Start your time here at the Devil's Lake Nature Center where you can learn all about the history and wildlife of the area. From there, set out to explore the 10,000-acre park on the hiking and biking trails.
The centerpiece of the park is Devil's Lake. Hang out at the swimming beaches where there are picnic tables, grills, and a concession stand. You can also rent kayaks, canoes, or standup paddleboards.
This park is definitely one of the most fun places to visit in Wisconsin.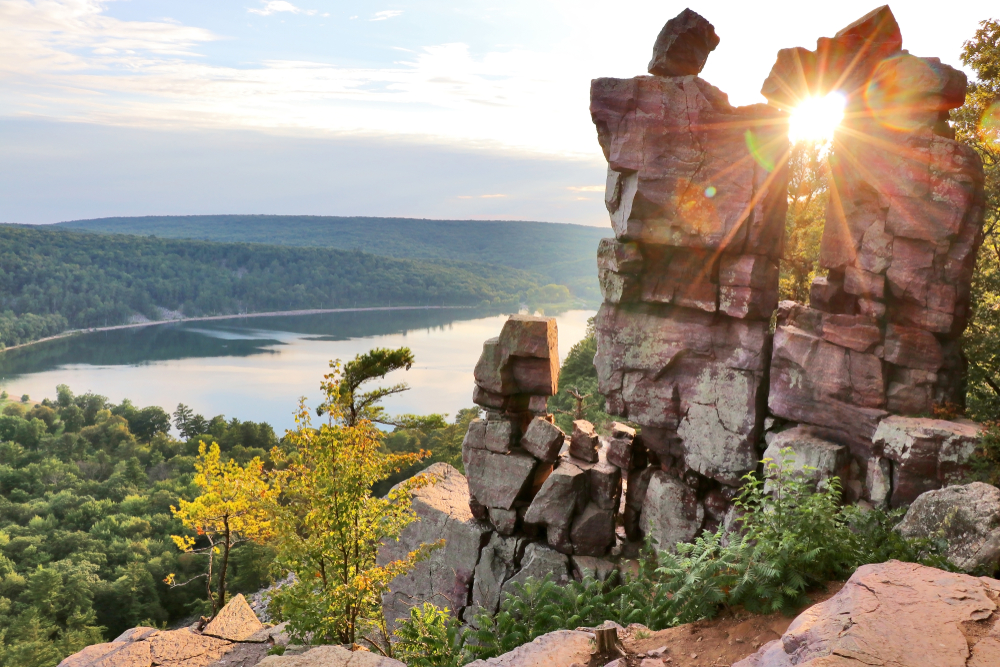 Cedarburg
If you are looking for a place to spend Christmas in Wisconsin, then you need to head to Cedarburg. This town is pretty all year, but it becomes extra magical during the holiday season.
The historic downtown is a great place to shop or dine. There are plenty of cool Christmas activities for the whole family from sleigh rides to special light displays.
Of course, Cedarburg is one of the best places to visit in Wisconsin at any time of the year.
No matter the season, you will have an amazing time! Take pictures of the 1876 Cedarburg Covered Bridge or have a tasting at the Cedar Creek Winery.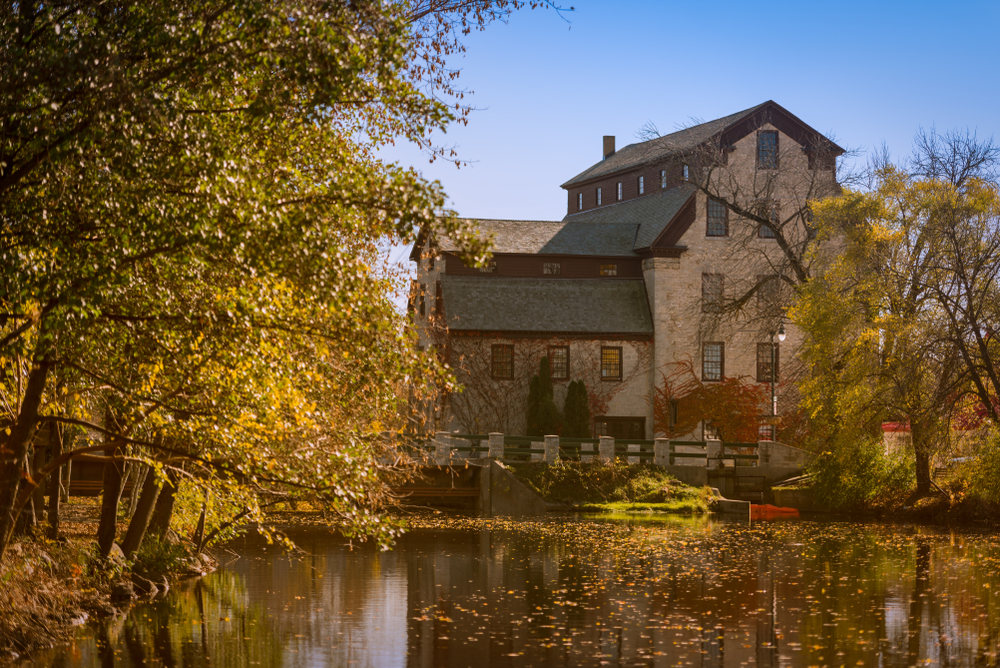 Apostle Islands Is One Of The Best Places To Visit In Wisconsin
The Apostle Islands National Lakeshore is one of the best national parks in the Midwest. This collection of twenty-one islands is found at the northern point of Wisconsin in Lake Superior.
You can take a scenic sightseeing cruise or explore on your own as you kayak among the cool rock formations and caves. There are beaches, fishing spots, and hiking trails to discover.
Scuba diving is also a popular activity here. You can find interesting underwater rock formations along with fascinating shipwrecks that date back to the late 1800s.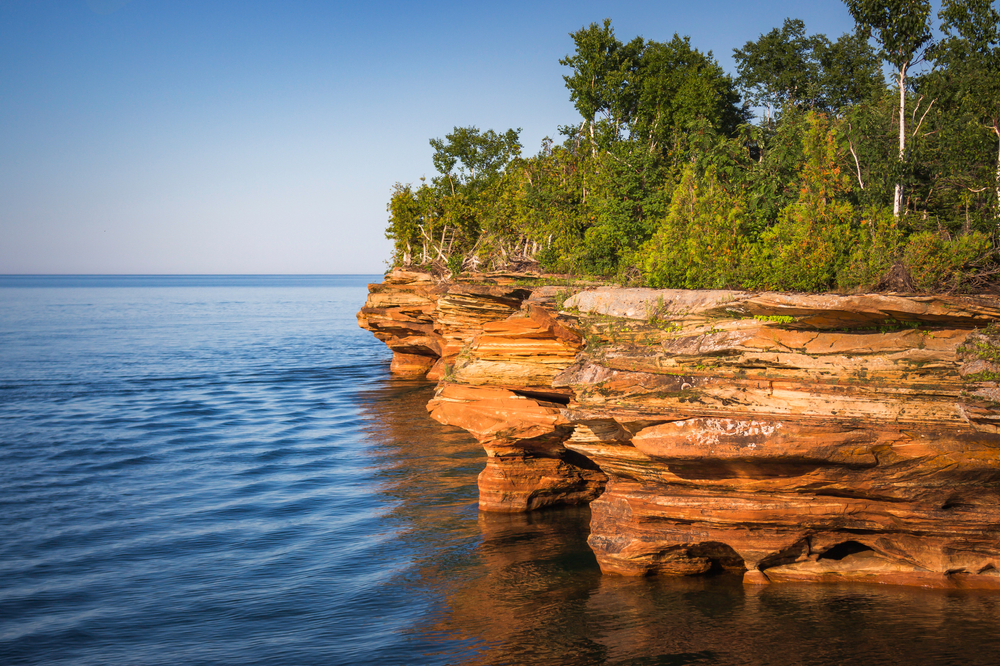 Bay Beach For Wisconsin Excitement
One of the best places to visit in Wisconsin for thrills is Bay Beach. This awesome Midwest amusement park in Green Bay will keep the whole family entertained for hours.
General admission is free. Instead, you use tickets to get on the rides. The tickets are very inexpensive and the rides require anywhere from one to four tickets.
There are rides for all ages so everyone can be included. The rides include roller coasters, Ferris wheels, slides, bumper cars, and more!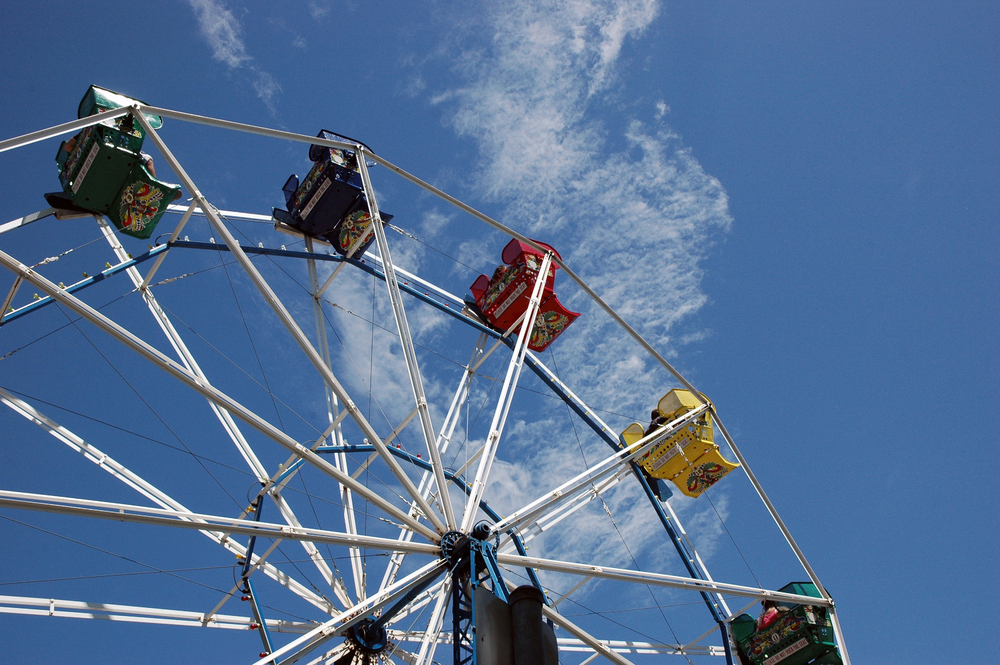 Door County Is One Of The Spectacular Places To Visit In Wisconsin
Door County is one of the most popular places to visit in Wisconsin. This beautiful area of the state is found on a peninsula jutting into Lake Michigan.
There are about 300 miles of shoreline, and it is a great place to watch both the sunrise and sunset over the water.
There are so many fun and unique things to do in Door County. You could easily spend a day or week here exploring everything there is to offer.
Check out the many cute, small towns where you will find great restaurants in Door County, shops, art galleries, and cherry orchards.
You can hike in the five state parks found here or photograph some of the eleven historic lighthouses.
If you are looking for a romantic getaway, then you can rent a cozy cabin in Door County to snuggle up in. Have a memorable time sipping wine at a Wisconsin winery or taking a sunset cruise.
Traveling with kids? Take them to one of the beaches or discover some cool caves along the coast.
Winter in Door County can be especially beautiful!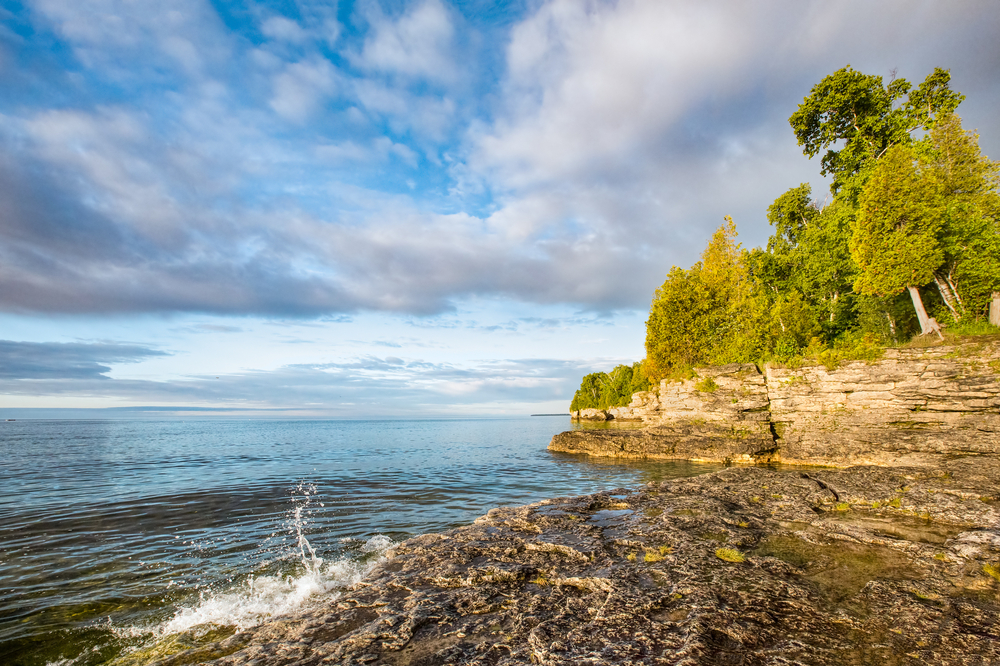 Packing List When Visiting Epic Places in Wisconsin
A concealed travel pouch may be one of the most important items you bring along when searching for the best places to visit in Wisconsin.
It is always important to protect your personal information. Identity thieves are everywhere.
This unisex RFID blocking concealed travel pouch is lightweight and comes in several colors. It has lots of organization to give you peace of mind.
If you have a pouch already that does not come with the RFID protection, as I do, these RFID sleeves are the perfect solution.
This configuration comes with enough credit card sleeves that the entire family would be protected. They are slim too, so they will easily fit into your pouch or wallet.
If you are planning on taking a lot of pictures with your phone you will definitely want to consider an external charging battery. This Anker high-speed phone charging battery is the exact one I carry with me on all of my trips.
It can be used on a variety of phones, not just an iPhone like I have. And wow is it fast!
I like that it holds its charging capabilities for several uses so I do not have to worry about it while out and about, and if I forget to recharge it at night, it will still be good to go the next day.
My daughter gifted me with this FugeTek selfie stick and tripod setup for my birthday. I absolutely love it! It is made of lightweight aluminum and is so easy to use.
It has Bluetooth connectivity and is a breeze to use for taking selfies when visiting Wisconsin attractions.
Hydration is so important when traveling. You want to remain hydrated throughout your travels to support your immune system which in turn will be stronger to fight off any germs you will encounter during your travels.
You will want to bring your own refillable water bottle with you.
I never leave home on a trip without my Bobble filtration bottle. The 18.5-ounce size is perfect for hiking and it fits nicely in the pocket of a backpack.
When filled with water, it is not too heavy to carry. And the charcoal filter ensures fresh clean water whenever you fill the Bobble.
Perhaps you are traveling a long distance and packing space is a premium in your suitcase, or in your car.
Then this set of collapsible silicone foldable water bottles would work well for you. Would not take up much space at all.
You will want a backpack or daypack with you to store snacks, your water bottle, phone, extra clothes, etc.. then this foldable water-resistant backpack would be great.
—
There are so many amazing tourist attractions in Wisconsin! No matter your idea of the perfect vacation, there are places to go to in Wisconsin to fit your needs.
there are even romantic getaways in Wisconsin to experience.