Are you looking for cabins in Door County Wisconsin?  You are in the right place. In this article, I'll walk you through cabin rentals in Door County, Door County cottages, and Wisconsin cabins. I've done the work so you don't have to. 
If you have never visited Door County Wisconsin before you are in for a real treat. The area is absolutely beautiful and there is so much to see and do.
The restaurants in Door County are also spectacular with lots of local food.
Door County, Wisconsin sits on a peninsula jutting into Lake Michigan. It has 300 miles of shoreline dotted with some lovely towns and villages.
It's a county rich in a lot of things but mainly nature, beauty, and mountains.
This county changes with the seasons offering something different whenever you visit, and if you visit this popular Midwest destination in autumn it is breathtaking.
What better way to enjoy this county than in a Door County cabin rental, especially during winter in Wisconsin.
There is nothing better than a day of sightseeing or outdoor adventure and coming back to your very own seat around a roaring fire.
So grab yourself a hot chocolate and a blanket and let me walk you through Cabins in Door County.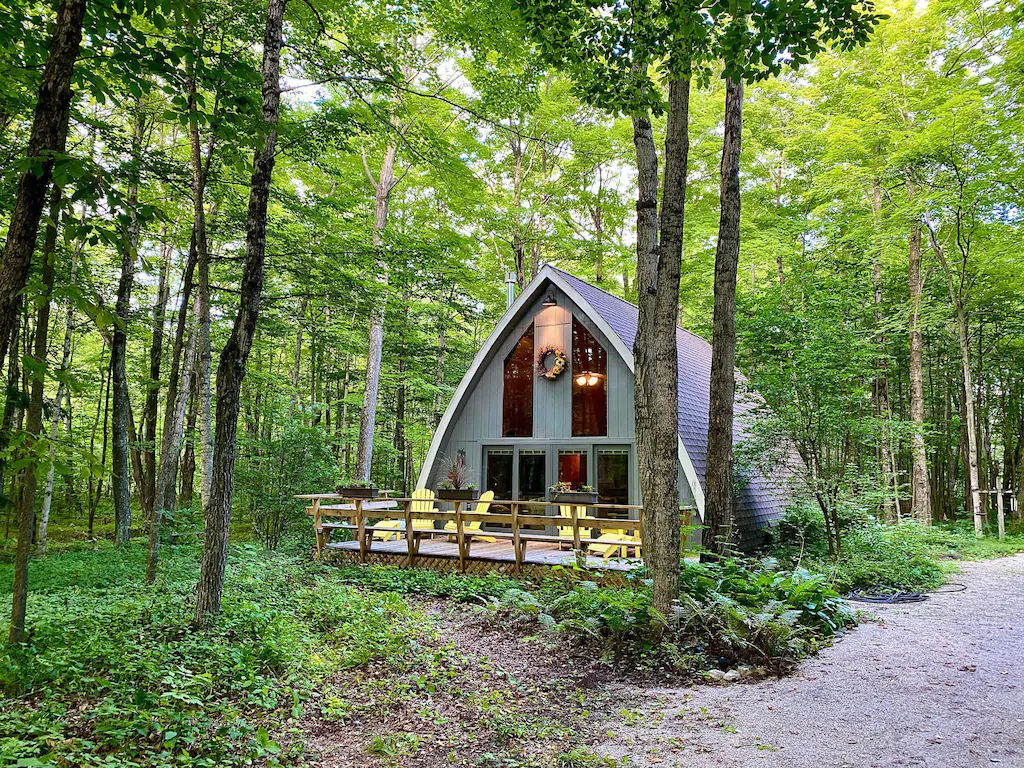 15 Cozy Cabins In Door County WI For A Getaway
Lily Pad
If you want your Door County cabin rental to be close to the water's edge let me tell you they don't get any closer than this. Lily Pad sleeps two and is the perfect Wisconsin cabin for a romantic getaway.
This property is perched on the waterfront of Sturgeon Bay with a private front deck just out the front door. And inside it's modern and fresh with the best water views.
The cabin has everything you need with a fully stocked kitchen and a king-size bed. Here you are so close to the water you can hear the ripples.
This is one of the most perfect cabins in Door County to take a partner.
Click here to check the rates on VRBO.com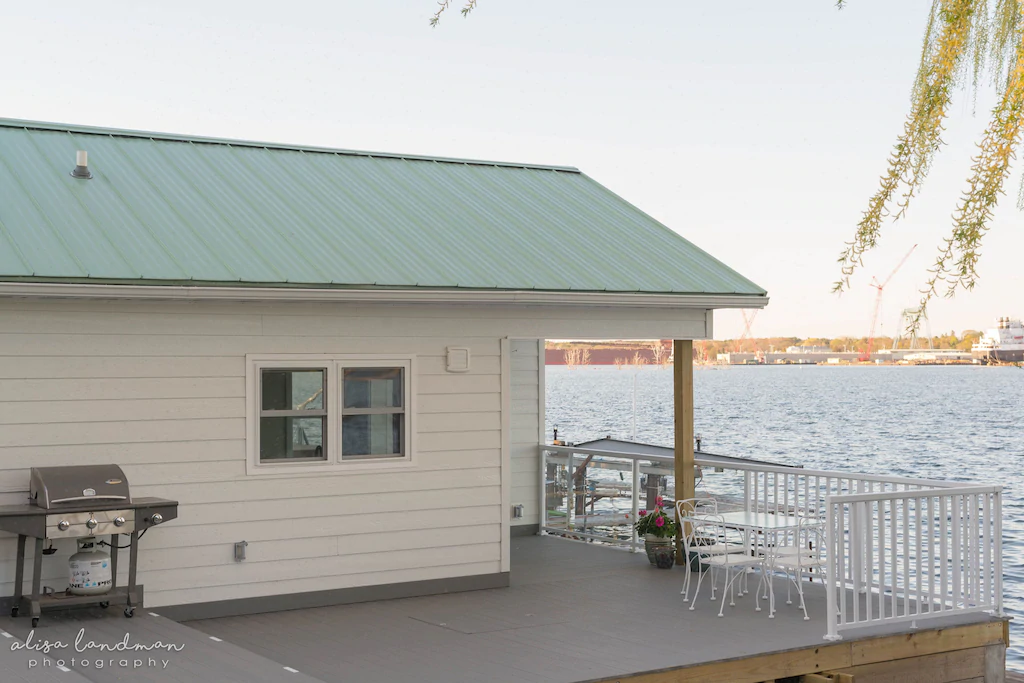 Hidden Bear Cabin In Door County
If you are looking for the perfect cabin in the woods then Hidden Bear Cabin might be your perfect location. Sleeping 8, Hidden Bear Cabin is in the cool and cute small town of Egg Harbour.
Nestled in the woods this Door County log cabin rental is one of those 'seeing is believing' types of locations. It's all the rustic charm you can handle, everything here is made of wood.
There is a full kitchen a sunroom and a den downstairs that is designed for entertainment.
The cabin is set in 5 acres of woodland for you to explore. It also has a Charcoal BBQ grill, a fire pit, and a gathering area and offers priceless peace and quiet.
This is one of the cabins in Door County that is perfect for a family or a group of friends that are on a Midwest weekend getaway.
Click here to check the rates on VRBO.com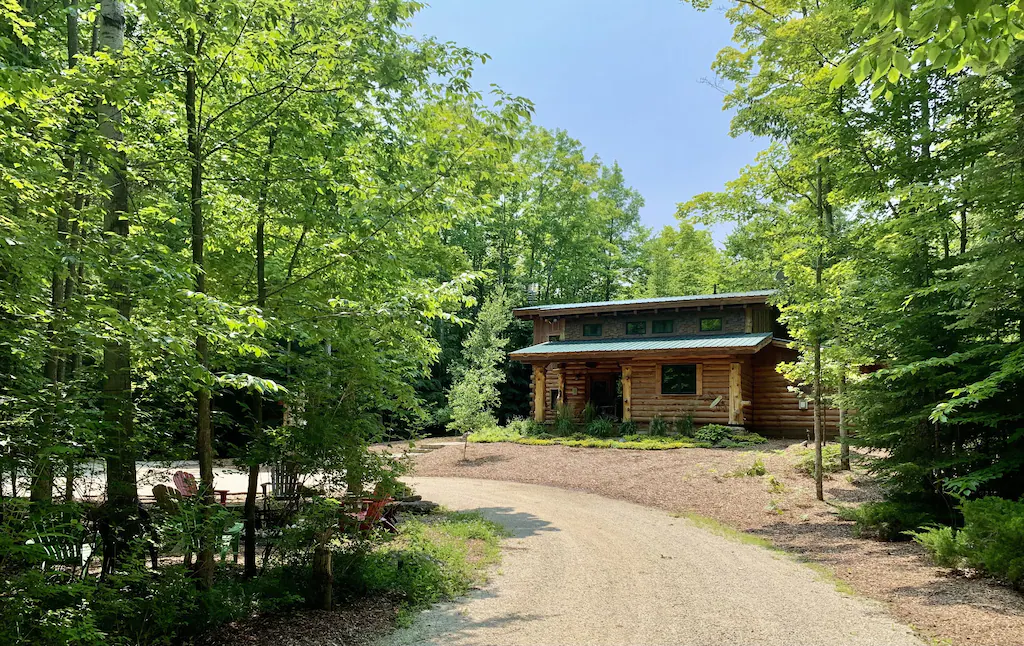 Egg Harbor Log Cabin
Here is another traditional log cabin in Egg Harbor WI. This one sleeps four and is delightful.
Nested in an acre and a half of woods Egg Harbor Log Cabin is the perfect getaway location located minutes from the village.
The cabin consists of a natural log great room, a sleeping alcove on the first floor, and a loft room. Outside there is a large fire pit and a generous front porch.
It's a lovely Door County cabin for rent for those that want privacy but not to be too far away from the action.
Click here to check the rates on VRBO.com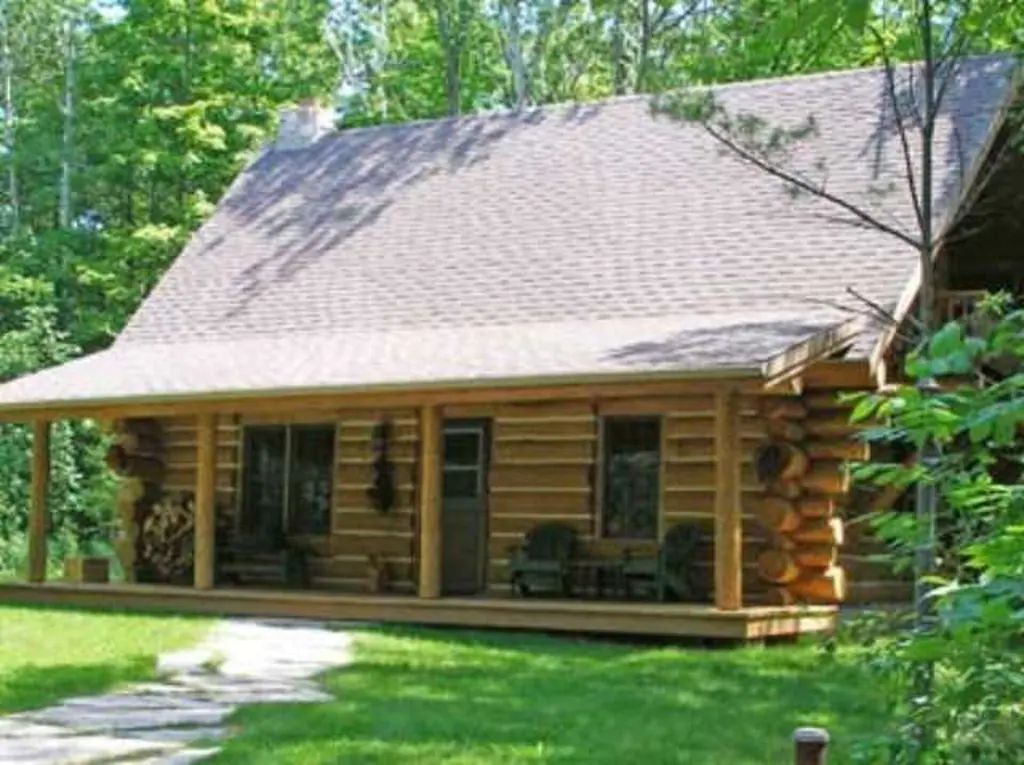 Cherry Waterfront Cabin In Door County WI With Suite On Water
If you are looking for a Door County cabin with a great view Cherry Waterfront Cabin might be it. The cabin sleeps 4 and has a view to rival any property. The sunsets here are incredible.
It's located on 165+ft of picturesque shorefront in Gills Rock, Wisconsin. The panoramic windows mean the view is never far away.
The rocky beach, which you are right on, offers great swimming and water activities and you are just two minutes away from the marina. Complimentary paddleboards, kayaks, and bikes are available.
The garage of this property has been turned into a games room with a pool table, ping pong table, and many other games.
The suite has two queen beds a sitting area and a full kitchen. It is large but it is just one room so keep that in mind.
The property also has a balcony taking in that view and underneath is a patio that is used as the grill area.
The light pollution here is so low that stargazing is also a must. One of the Cabins in Door County where the view alone is worth it.
Click here to check the rates on VRBO.com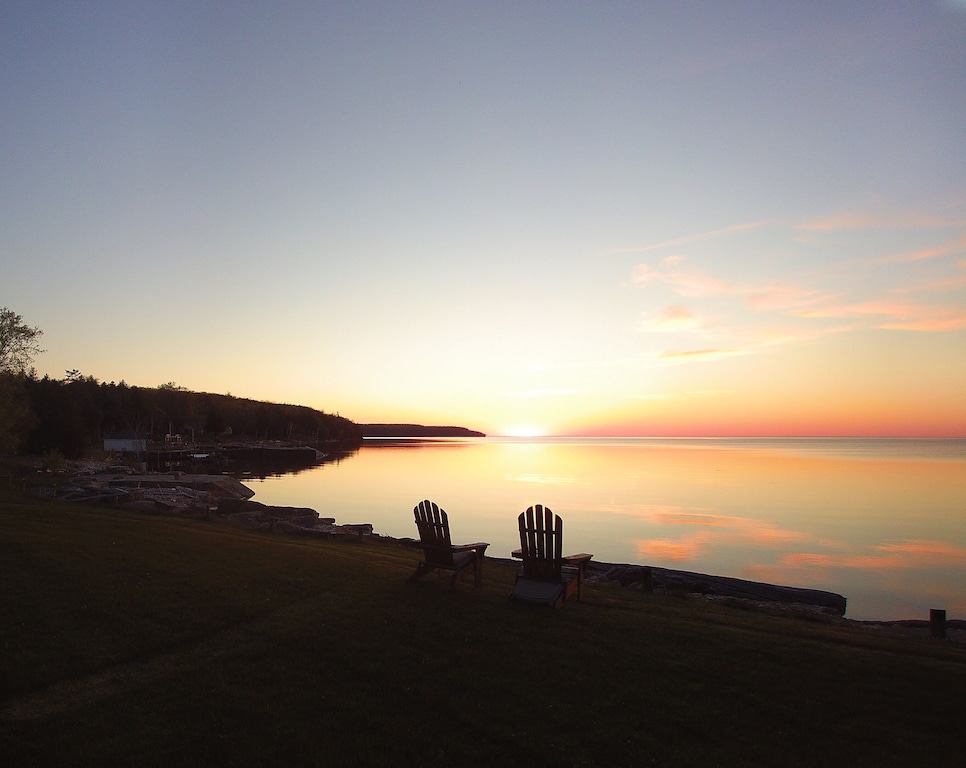 Door County Boathouse
If you are looking for a Door County cottage that is a little different, then Door County Boathouse might be for you. It's a beautifully restored boathouse and sleeps four.
The cabin is essentially in the water so you couldn't get closer. It is just minutes from Sturgeon Bay, one of the most picturesque towns in Wisconsin. And the location is incredible.
The property has two bedrooms each with a queen-sized bed, a patio, a fire pit, and an upper deck. Let's just say there are many places for you to enjoy the views.
This is a perfect location with a lovely property. This is one of the cabins in Door County not to be missed.
Click here to check the rates on VRBO.com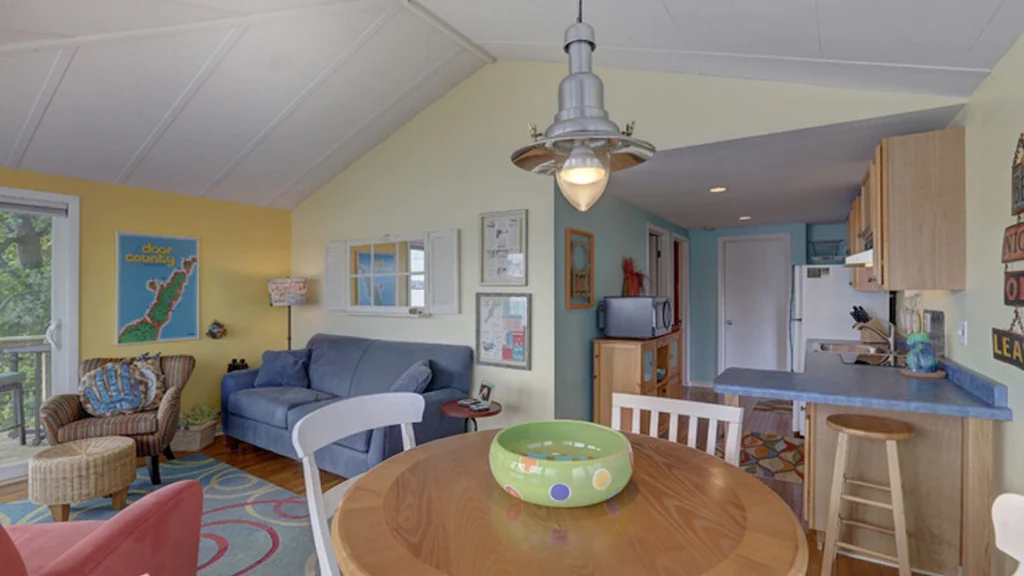 Harbor House Guest Cottage
In the heart of Ephraim, this two-bedroom cottage has the capacity to snuggly sleep 7. Harbor House Guest Cottage has 3 bedrooms and a pull-out sofa.
Located in the heart of Ephraim one of the really beautiful villages in this area.
The cottage is decorated in a light fresh style and is located in a quiet area. There is also a fire pit, a charcoal grill, and a porch area. It's also only two blocks from Ephraim public beach.
This is one of the perfect Door County cottages for a family getaway.
Click here to check the rates on VRBO.com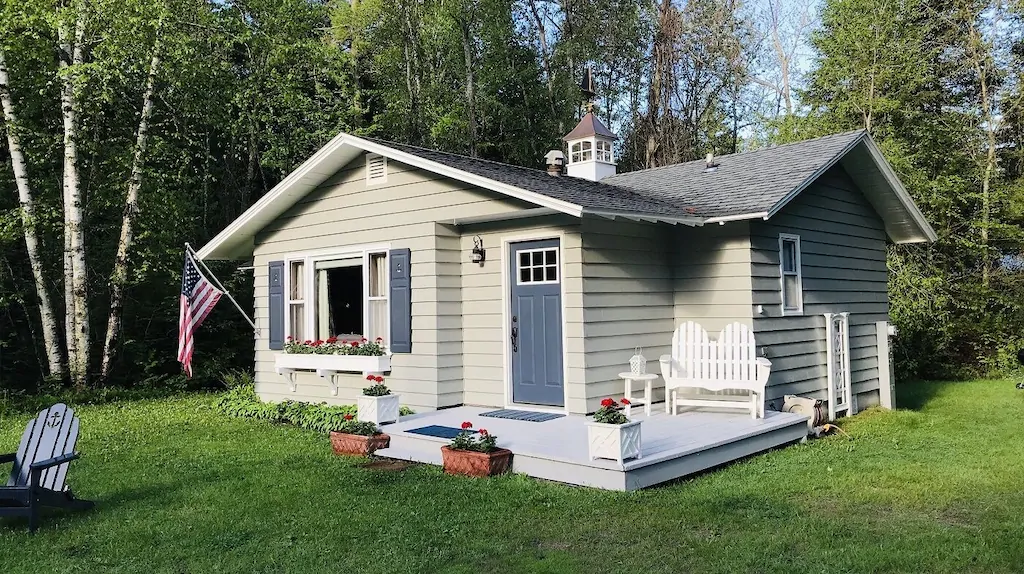 Peace of Beach Is One Of The Cabins In Door County Right On The Water's Edge
This is a lovely cozy cabin situated right on the water's edge. Peace of Beach can sleep 8 with three bedrooms.
Located in Sturgeon Bay the cabin comes with a full kitchen, lots of living space, and a panoramic lakefront view.
The property is set on 1.5 acres and has a 200 ft waterfront just 10 yards from the cabin.
There is lots of parking, two fire pits, and a lot of seating to enjoy the outdoors. Oh, and it also has one of the best beaches in Door County.
This is one of the lovely cabins in Door County for a group of friends or a family.
Click here to check the rates on VRBO.com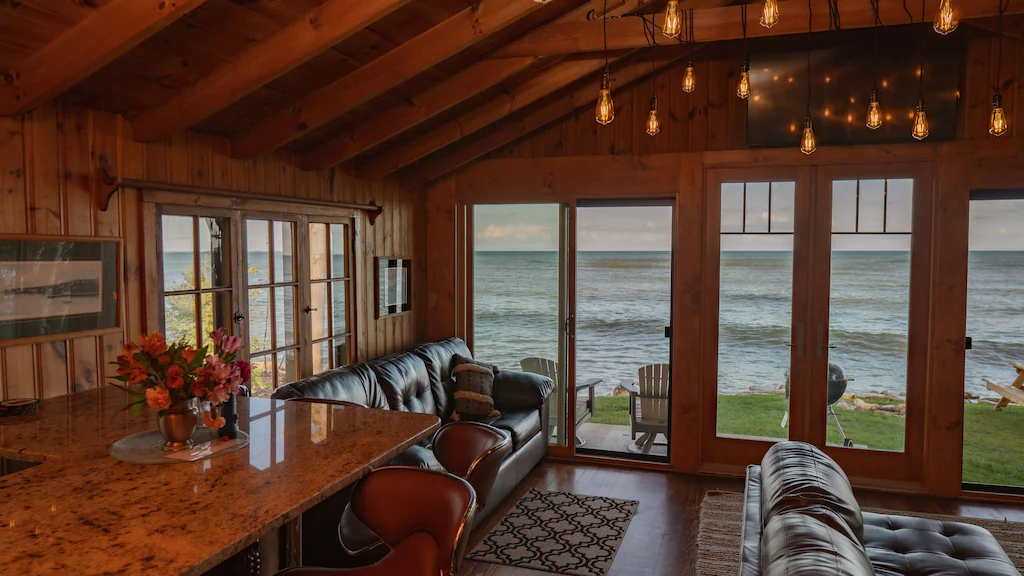 Beechwood Cottage
If you are looking for a cabin with a bit more of a modern feel then Beechwood Cottage might be perfect for you. This beautiful property sleeps four and truly is stunning.
About a five-minute drive from Sister Bay the cottage is located on 1.6-acres of private wood surrounded by beechwood trees.
The cottage has a large open deck in the front and a spacious screened-in porch in the back. It's mid-century chic within and has huge windows so you can enjoy the forest beyond.
This is one of the cabins in Door County that is really special and just perfect for any season, especially fall in Wisconsin!
Click here to check the rates on VRBO.com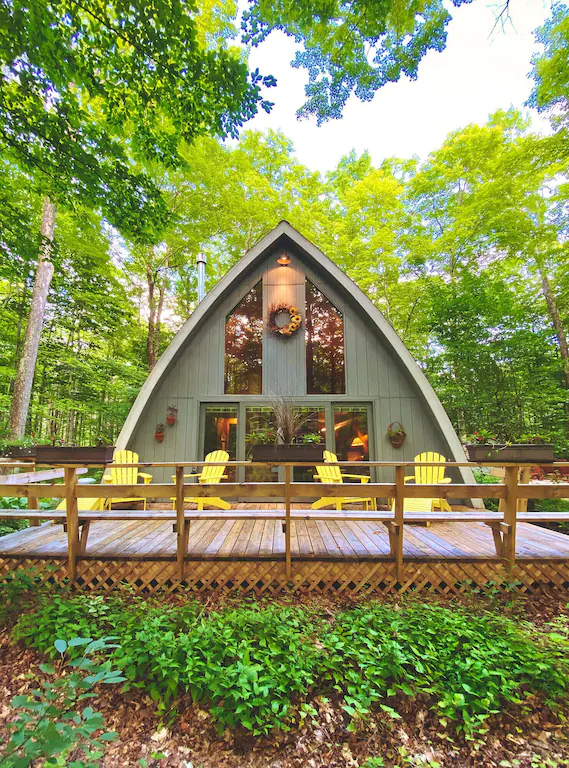 Door County Cozy Cabin
The cozy two-bedroom Door County Cabin sleeps four. It sits on 3.5 wooded acres in the town of Baileys Harbor.
It's secluded but not remote and the large windows mean the cabin is always full of sunlight.
There is a large fire pit for guests' use and this place is perfect if you want a cabin in the WI woods that isn't too remote.
Visiting Door County is one of the best things to do in Wisconsin.
Click here to check the rates on VRBO.com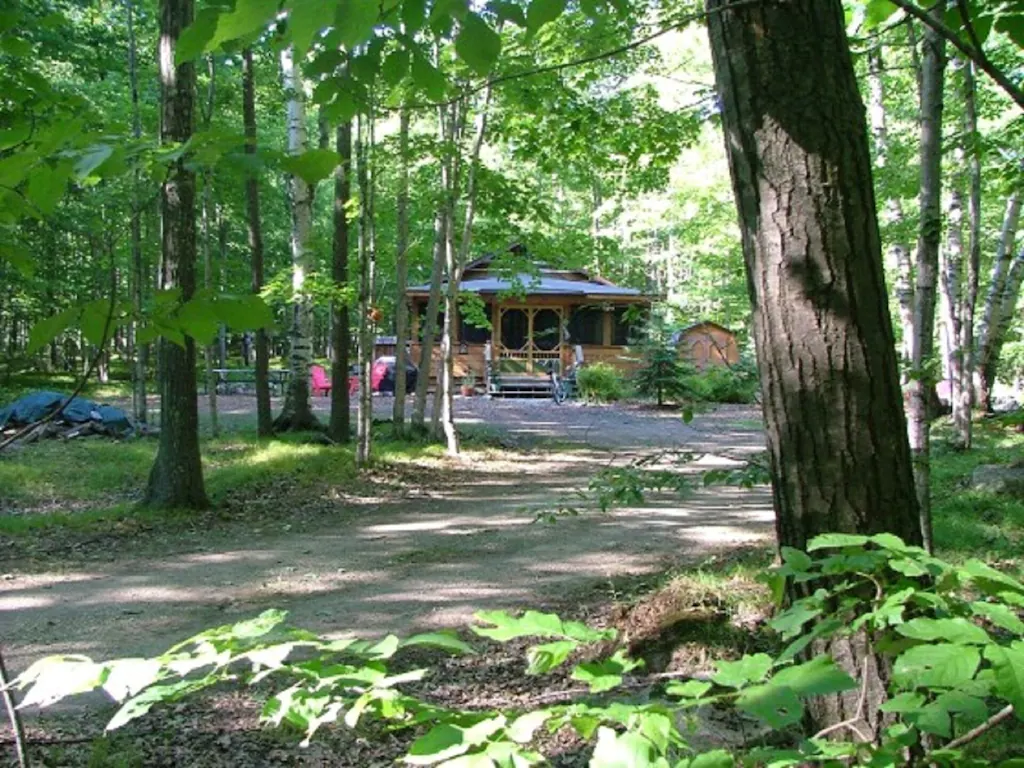 Gingerbread Cottage
If you looking for a cabin that could be straight out of a storybook then Gingerbread Cottage is it.
Sleeping eight this quaint cottage is peaceful and tranquil yet just minutes away from all the activities and entertainment.
The views are of dense forest and you feel like you are all alone.
The property sits on the top of a hill and is about half a mile from the village of Fish Creek and all its amenities.
There are two upstairs bedrooms and a large enough family area for everyone to get together. This is charming, private, convenient, and a whole lot of cabin for the price.
Click here to check the rates on VRBO.com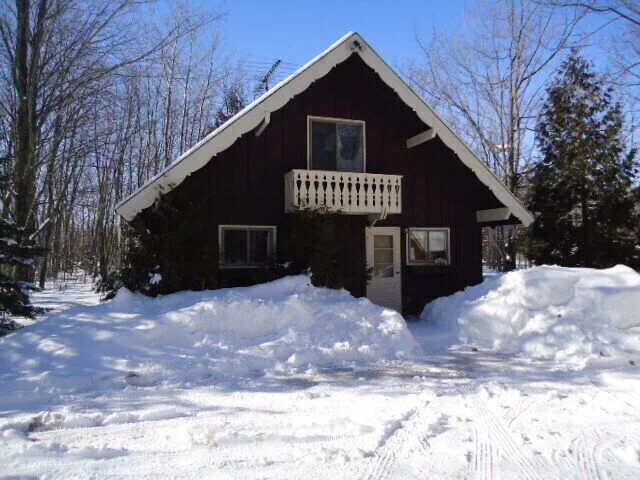 Waterfront Lake House
If you are looking for beautiful sunsets then this Waterfront Lake House with a view over Green Bay might be perfect for you.
Here you have your own private water access, a beautiful deck with a retractable awning, and incredible views.
The inside has a light and airy feel with an open-plan floor plan. The upper floor is a giant master suite. The property has 3 bedrooms and sleeps 5.
It's not as isolated as some of the other cabins but is in a quiet area.
Click here to check the rates on VRBO.com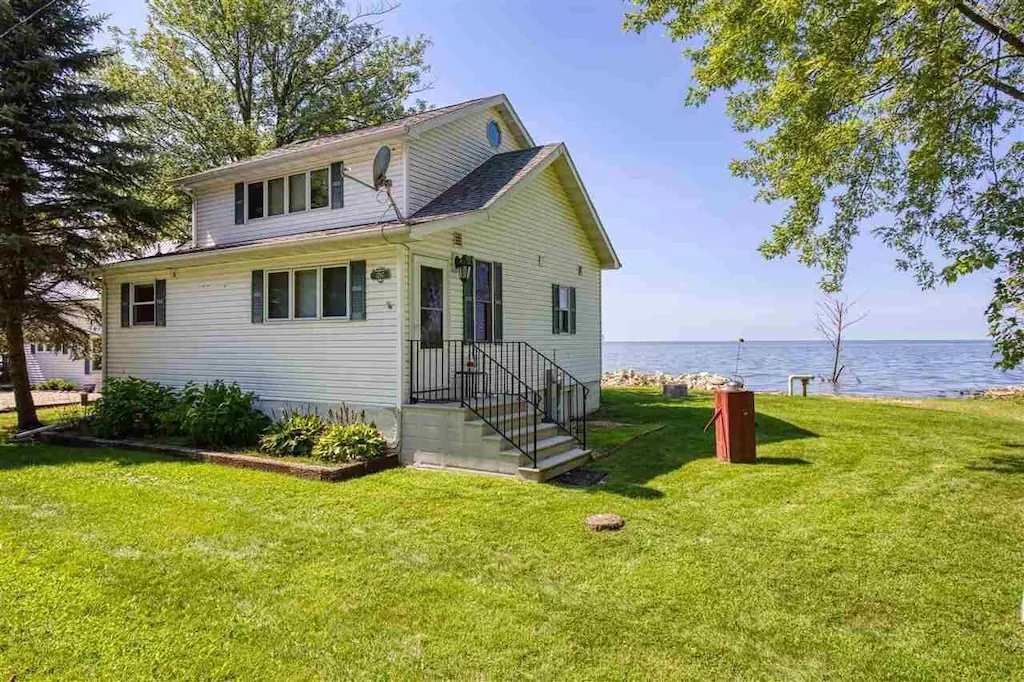 Hazy Hideaway Is One Of The Coolest Cabins In Door County Wisconsin
If you love space then this is a huge cabin in the woods that will definitely interest you. Hazy Hideaway is all high ceilings, large windows, and light. And sleeps eight comfortably.
It's a perfect blend of rustic and contemporary and is near Horseshoe Bay in the serenity of Egg Harbor.
It has been rated within the Top Ten Best Cabins to Stay in Door County and is nestled in 3 acres of Lautenbach Woods Nature Preserve.
There are three bedrooms a spacious loft, a screened-in porch, and an open floorplan consisting of 2,307 square feet of living space.
The cabin is less than 2 miles from Frank E. Murphy Park where you can enjoy the beautiful shores and sunsets of Lake Michigan.
This is one of the Cabins in Door County that takes your breath away. It is the perfect romantic Wisconsin getaway!
Click here to check the rates on VRBO.com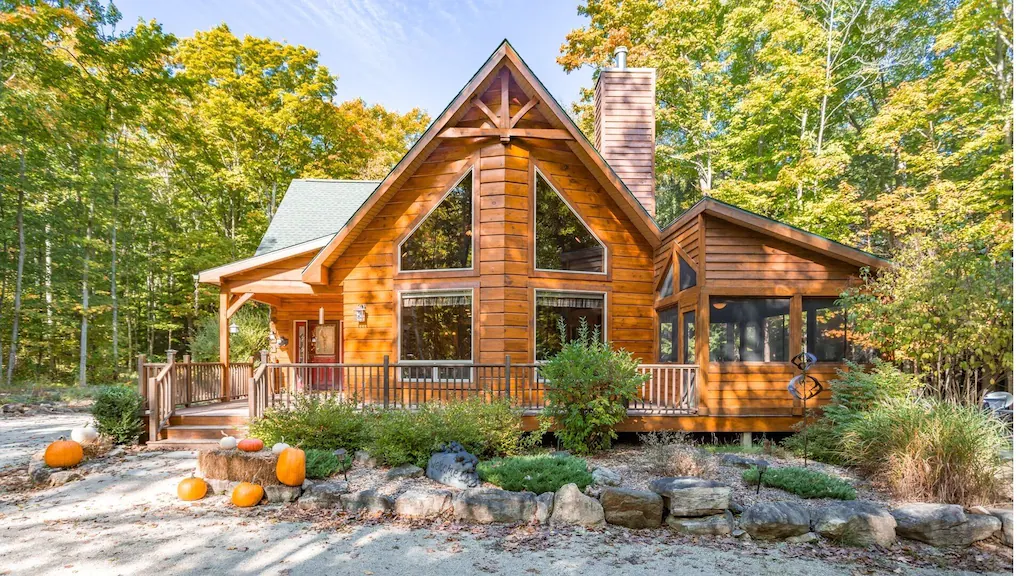 The Loft House Is The Perfect Cabin In Door County For Large Groups
If you are after cabin chic for a large group then this is it. The Loft House sleeps 12 and the facilities are extraordinary.
Just a few miles south of Egg Harbor this place is a real little oasis with everything you could ever need.
There is a brand-new kitchen, a large dining table, a huge fireplace, and a loft game area. There are three main bedrooms with queen beds and the loft has 6 twin beds.
This is one of the cabins in Door County that is perfect for a group of friends or a large family.
Click here to check the rates on VRBO.com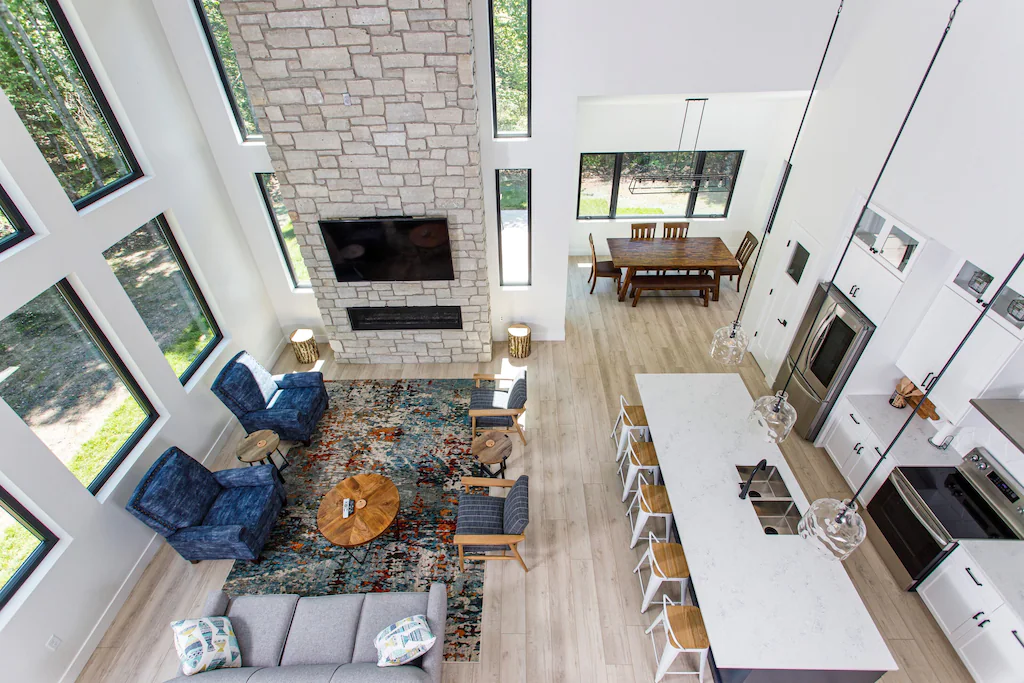 The Honey Dew Log Lodge
If you were to imagine a Swiss chalet in the woods surrounded by wildflowers you would imagine The Honey Dew Log Lodge. Sleeping 16 this place is a real gem, a log cabin in Door County Wisconsin on a grand scale.
There are eight acres of woods to explore here and every window frames a beautiful view. There are nine bedrooms scattered through the property.
It is the perfect location for some epic hiking in Wisconsin.
In the heated garage, there is a pool table, a foosball table, air hockey, folding tables, and chairs.
The cabin has a wrap-around porch, fire pit, benches, picnic table, volleyball equipment, a charcoal grill, and a gas grill.
This really is an incredible property with all the space you could ever need inside and outside. One of the perfect cabins in Door County, Egg Harbour.
Click here to check the rates on VRBO.com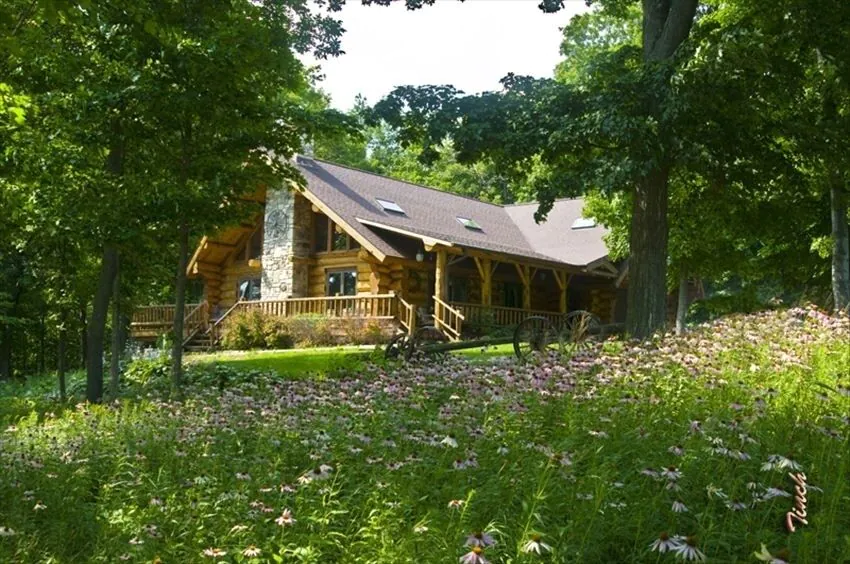 Latitude Adjustment
A five-bedroom cozy and compact property Latitude Adjustment is located on one of the best recreational lakes that Door County WI has.
The property has two bedrooms and sleeps six people. It is right on the waterfront and has two fire pits. There are paddleboats, canoes, and life jackets available.
There is a place to dock a boat and a charcoal girl is on the property. This is a great property for a family to enjoy.
Click here to check the rates on VRBO.com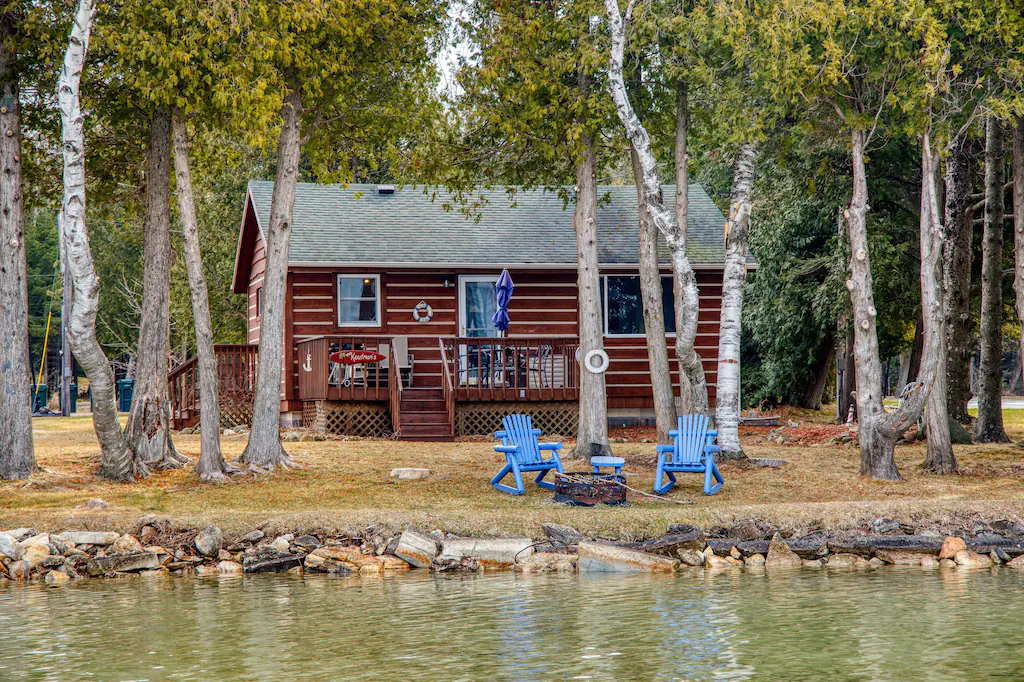 Packing List For Visiting Cabins In Door County WI
f you will be traveling, either by plane or by car to Door County, here are some tips on how to pack lightly.
A concealed travel pouch may be one of the most important items you bring along when vacationing at a cabin in Door County.
It is always important to protect your personal information. Identity thieves are everywhere.
This unisex RFID blocking concealed travel pouch is lightweight and comes in several colors. It has lots of organization to give you peace of mind.
If you have a pouch already that does not come with RFID protection, as I do, these RFID sleeves are the perfect solution.
This configuration comes with enough credit card sleeves that the entire family would be protected. They are slim too, so they will easily fit into your pouch or wallet.
If you are planning on taking a lot of pictures with your phone you will definitely want to consider an external charging battery.
This Anker high-speed phone charging battery is the exact one I carry with me on all of my trips.
It can be used on a variety of phones, not just an iPhone like I have. And wow is it fast!
I like that it holds its charging capabilities for several uses so I do not have to worry about it while out and about, and if I forget to recharge it at night, it will still be good to go the next day.
My daughter gifted me with this FugeTek selfie stick and tripod setup for my birthday. I absolutely love it! It is made of lightweight aluminum and is so easy to use.
It has Bluetooth connectivity and is a breeze to use for taking selfies when staying at a Door County cabin.
Hydration is so important when traveling. You want to remain hydrated throughout your travels to support your immune system which in turn will be stronger to fight off any germs you will encounter during your travels.
You will want to bring your own refillable water bottle with you.
I never leave home on a trip without my Bobble filtration bottle. The 18.5-ounce size is perfect for hiking and it fits nicely in the pocket of a backpack.
When filled with water, it is not too heavy to carry. And the charcoal filter ensures fresh clean water whenever you fill the Bobble.
Perhaps you are traveling a long distance and packing space is a premium in your suitcase, or in your car.
Then this collapsible silicone foldable water bottle would work well for you. Would not take up much space at all.
You will want a backpack or daypack with you to store snacks, your water bottle, phone, extra clothes, etc.. then this foldable water-resistant backpack would be great
It is very affordable and is available in many color options for you to choose from. The fact that it folds down into a zippered pouch will make it easy to pack.
—
As you can see when it comes to Door County cabin rentals there are so many. Whether you stay in a Door County cottage or a Door County log cabin rental I am sure you will have an amazing time.
Cabins in Door County Wisconsin will make your stay in the beautiful location even more memorable. I hope you have an amazing getaway!.