Are you looking for romantic getaways in Wisconsin? You are in the right place. In this article, I will walk you through romantic Wisconsin getaways, the best weekend couples getaway, and dreamy vacations in Wisconsin for couples.
If you are looking for romance then let me tell you Wisconsin has a lot to offer.
Perhaps you are after a cozy cabin in the woods, or the bright lights of a cosmopolitan city.
Or perhaps you are a more outdoor type and love exploring on foot. Whatever you are after, Wisconsin has it.
This is a state for those who love the idea of the great outdoors.
Wisconsin road trips are the best. And add in the beaches and watersports and you will soon realize there is so much to choose from in Wisconsin.
Wisconsin is also a state known for great food, good wine, and dramatic sunsets. What could be more romantic?
And it's a state that changes with the seasons, spectacular in fall, snowy and cozy in winter, blooming in spring, and beach weather in the summer.
Whenever and wherever you go, you and your loved one are bound to have an amazing time.
Romantic getaways in Wisconsin come in all shapes and sizes and I am certain here you will be able to find the perfect getaway for you and your partner.
So are you ready to see which Wisconsin weekend getaway I have chosen for you? Grab a glass of something lovely to drink pull up a chair and let's plan your next romantic getaway in Wisconsin.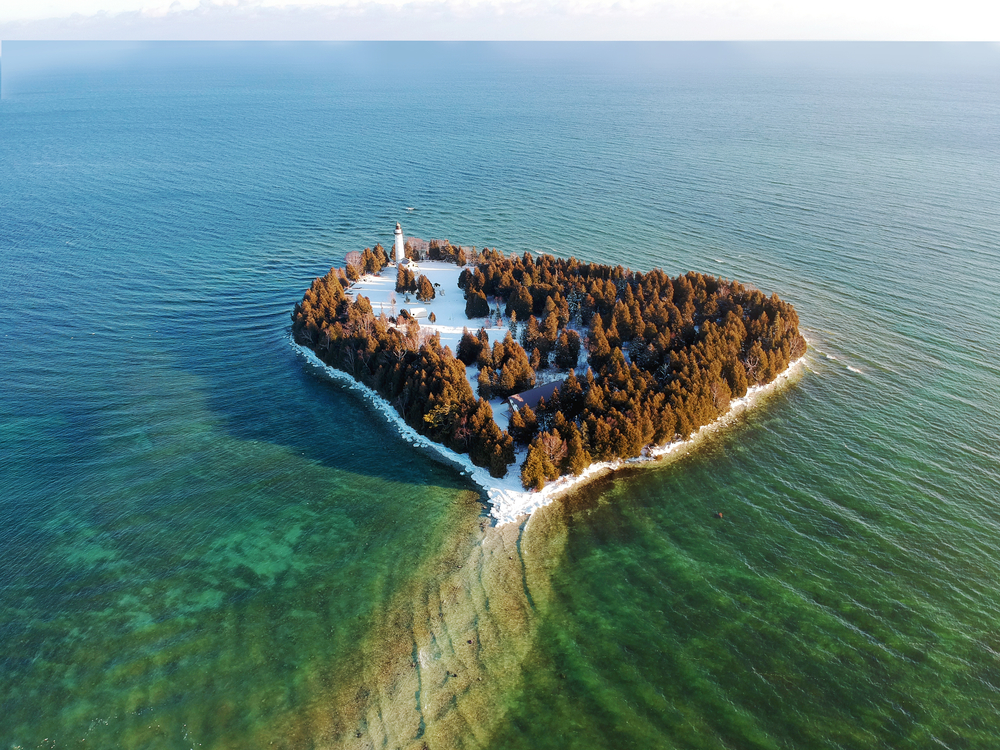 15 Romantic Getaways in Wisconsin
Go Stargazing In Door County
If you are a couple who loves the outdoors then you will adore Door County.
Not only is the area picture-perfect but there is just loads to do here and it's perfect whatever the season.
This area is what romantic getaways in Wisconsin are all about.
There are over 300 miles of shoreline to explore here filled with cute towns, historic lighthouses, and some lovely beaches.
Go hiking, kayaking, scuba diving, cherry-picking, picnicking, or just enjoy some of the best restaurants in Door County!
However one of the most romantic things to do in Door County is to go star or moon gazing. Newport State Park is one of the Midwest's only Dark Sky places recognized by the International Dark Sky Association.
This is one of Wisconsin's only designated wilderness parks so don't expect frills here.
You can also camp over but it's quite primitive. However, the stargazing is well worth it. Getaways in Wisconsin are not really complete without a trip to Door County.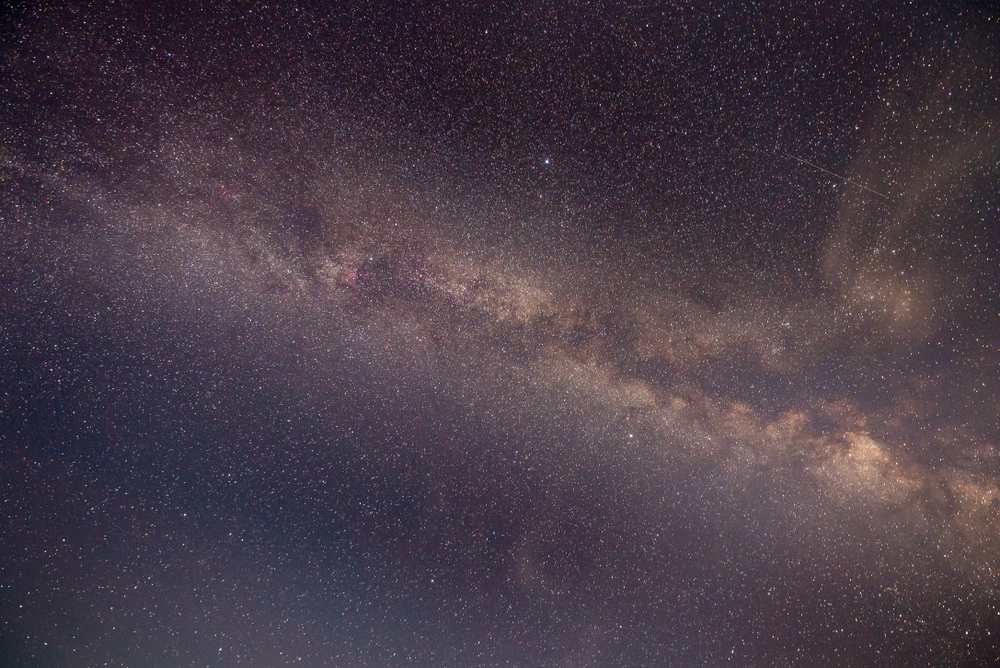 Stay In A Romantic Cabin
To some, the epitome of romance is a secluded log cabin in the woods, and Wisconsin has so many to choose from. A perfect way to say I love you is with a few glasses of wine in front of a roaring fire.
When it comes to log cabins Wisconsin really can deliver. From cabins that are off the beaten track to cabins that offer more luxurious surroundings, Wisconsin has every kind.
Pick the area that suits you most then browse the cabins to see which best fulfills your need. I have made a list here of some of the cozy cabins in Wisconsin. I'm sure you will find one there that you love.
These cabins make great getaways for couples for the weekend.
Check Out This Romantic VRBO At This Location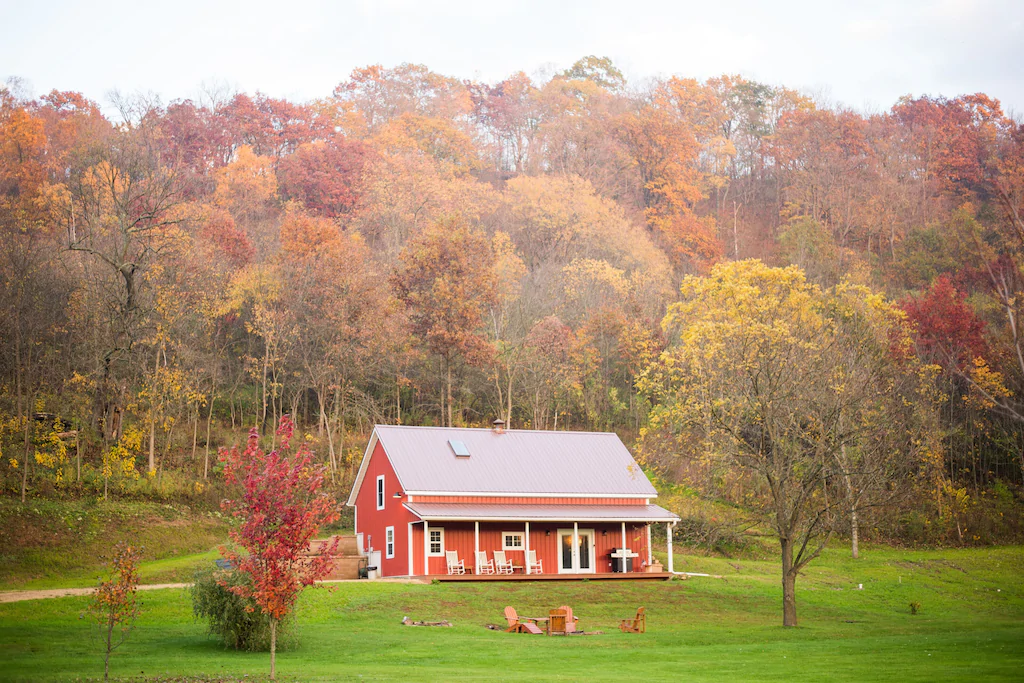 Marvel At The View Together
If you and your partner love state parks then Wisconsin has lots for you to choose from. And the legendary Ice Age Trail runs through some of them.
Devils Lake State Park is the largest in the state and the views for the top of the bluff are out of this world. It's an incredibly beautiful state park and great if you love hiking in Wisconsin.
Copper Falls State Park has several waterfalls and makes for some romantic walks. And, as stated earlier Newport is a Dark Sky Park and great for stargazing.
Most of the state parks have camping available or stay nearby if you want a little more luxury. Getaways for couples for the weekend don't come much better than a trip to a Wisconsin state park.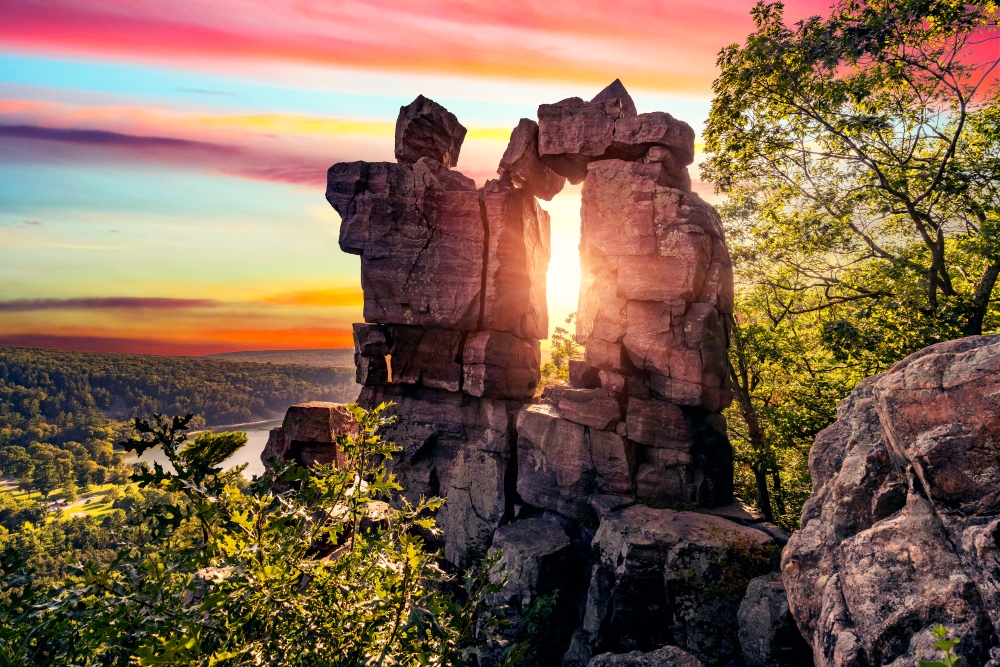 Go On A Spa Day
It might be a little cliche but a spa day together ticks lots of romantic boxes.
It's a great way to spend time together, to relax and get treated really well. It's a day when you don't have to worry about anything.
Spa days are intimate, rejuvenating and just feel so luxurious. It's the perfect day to just relax and connect with your partner.
All romantic getaways in Wisconsin should include a spa day, in my opinion.
There are a lot of spas in Wisconsin but most agree that one of the best is Sundara Inn And Spa near the Wisconsin Dells.
They offer so many different packages here that you really are spoiled for choices. The couples package includes a bath, a massage, and facial treatments for the two of you.
This is one of the romantic getaways in WI that is perfect if you want everything done for you.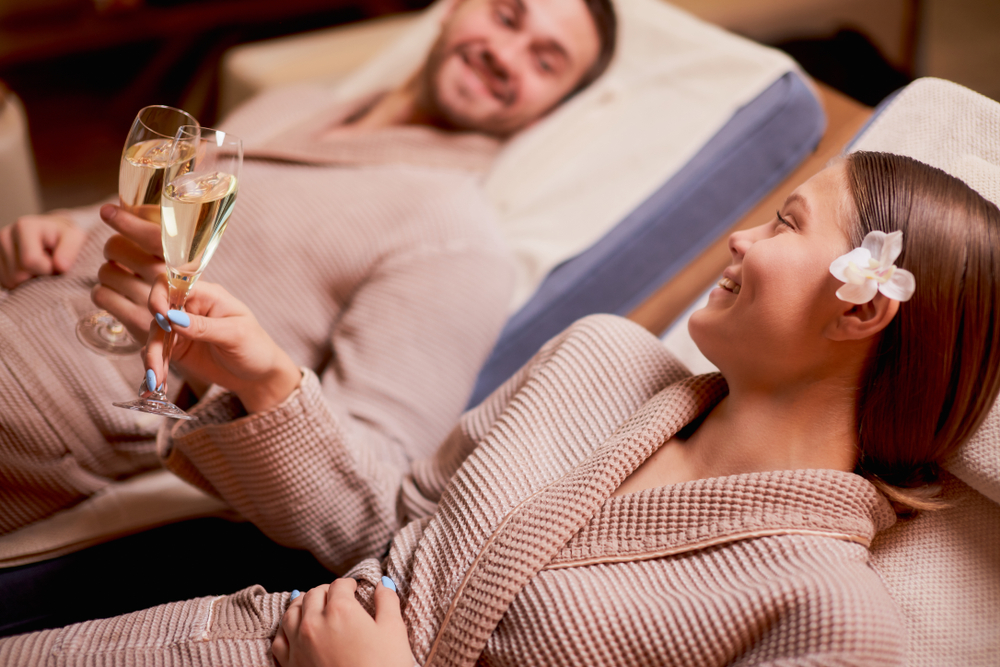 Do A Romantic Road Trip
Driving down a deserted road meandering through Wisconsin's fall colors is what a romantic road trip can offer you. The scenery is beautiful in this area and you won't be disappointed.
Perhaps the best and least traveled route in the Great Northern Wisconsin route. This route starts near the Minnesota border and takes a 100-mile loop around Lake Superior.
You drive past Cornucopia, Bayfield, Ash, and the Apostle Islands National Lakeshore, and all are well worth a visit. Pick certain points to stop at along the way or take some inspiration from my WI road trip article.
The other scenic byways are the Great River Road National Scenic Byway, Wisconsin Lake Superior Scenic Byway, The Lower Wisconsin River Road, and the Door County Coastal Byway.
All these byways offer something a little different so choose which suits you best.
Wisconsin vacations don't get much better than this one.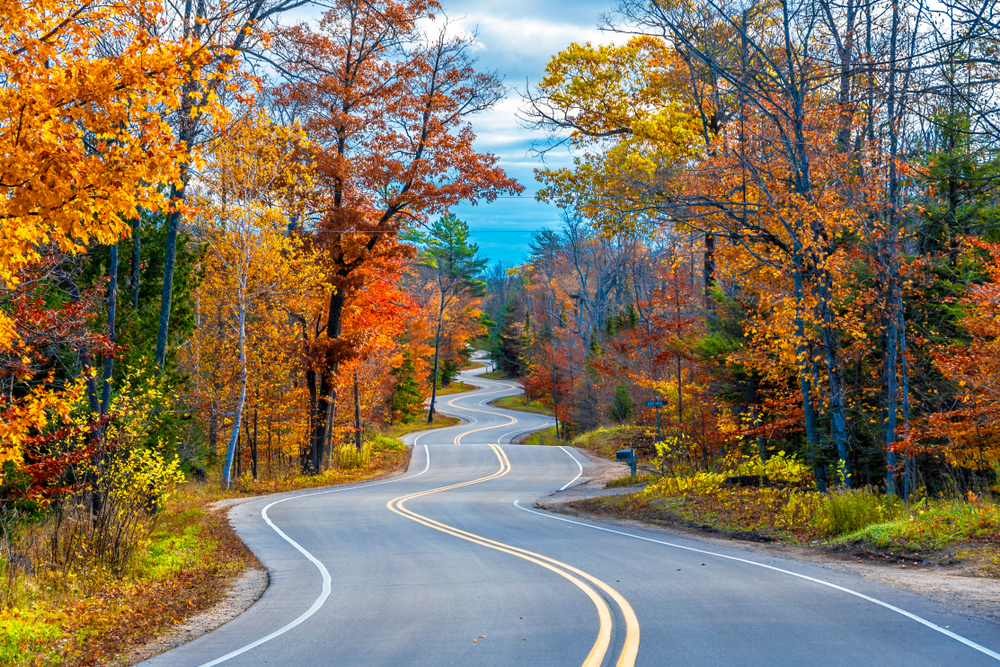 Take In Madison
Madison is the state capital of Wisconsin and offers lots to do for couples who love city life. It's a great walkable city so just wandering around without any plan is often the best thing to do.
If you want to plan your trip a little more take a look at my list of the best things to do in Madison and make sure you check out some of the best restaurants in Madison too.
Madison is one of those lovely quieter cities. It has more of a small-town feel all set around a lakefront which offers many activities.
Believe me, it's one of those cities you will fall in love with.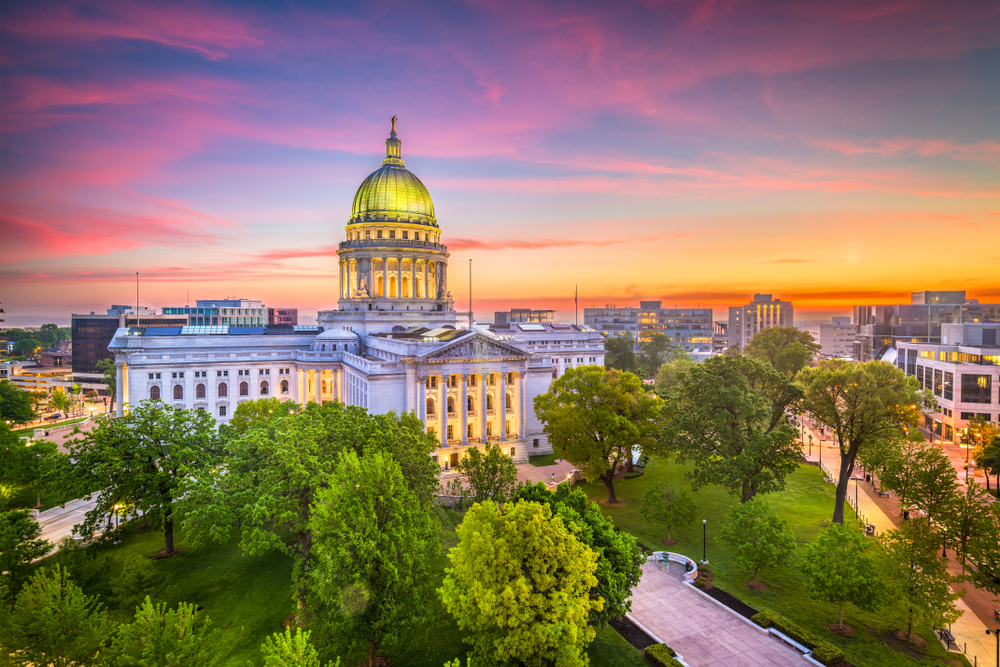 Get All Foodie In Appleton
In eastern Wisconsin Appleton is getting a name as a great food destination. It's also a quaint city with so much to offer too.
On the banks of the Fox River Appleton has all the history, entertainment, culture, and food you could want. The town has many food establishments on offer but fine dining is where it excels.
Some of the top fine dining restaurants are Apollon, Carmella's, and The Melting Pot is great for a romantic fondue. Also, take a trip to the Fox River Brewing Company if you love craft ale.
If you love food then this is one of the romantic getaways in Wisconsin you won't want to miss. It makes the perfect Wisconsin weekend getaway.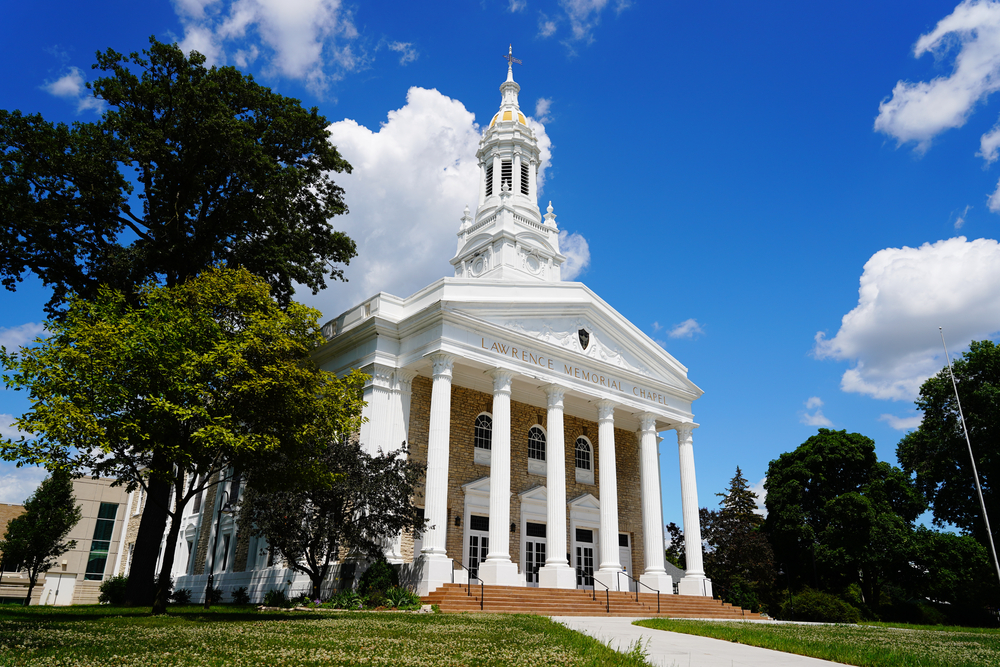 Go Island Hopping
How about a bit of island hopping for your romantic getaway? Yes, you can do that in Wisconsin too.
Bayfield and the Apostle Islands are just beautiful. Bayfield is the gateway to the 21 islands and is a lovely harbor town with lots to see and do. Romantic getaways in Wisconsin don't get more romantic than island hopping.
The Apostle Islands National Lakeshore is a series of 21 coastal islands each with breathtaking scenery. You will find windswept beaches, sandstone cliffs, and 12 miles of mainland coast to explore.
Interestingly the islands have more lighthouses than any other site in the National Park System with 9 historic towers on 6 islands.
You can only get to them by boat, water taxi or an organized cruise.
If you are a strong kayaker and the conditions are favorable you can get there that way too. There are no roads on the island so take sturdy walking shoes if you want to explore.
Did you know there are many amazing lighthouses in Wisconsin?
And if you can get there in the winter the ice caves here are breathtaking. When it comes to WI romantic getaways, Midwest island hopping has to be close to the top.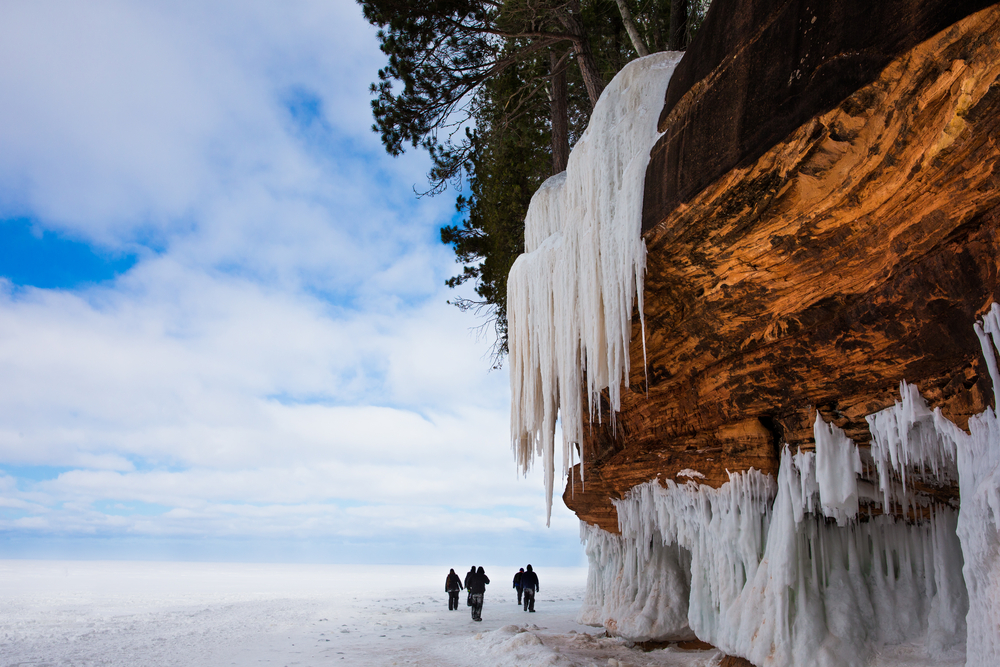 Go For A Stroll Around Lake Geneva
Known as the "Newport of the West," southeastern Wisconsin's Lake Geneva is the perfect place for a romantic Wisconsin getaway.
Once the playground of the rich and famous it has all the charm and glamour you could need and then some.
It's a town full of beautiful mansions, quaint bed and breakfasts, and a perfect lake that demands to be strolled around hand in hand.
The Lake Geneva ShorePpath is a perfect way to see all the sights and sounds of this lovely area.
Cocktail, jazz, and sunset cruises are available to wrap up your day or pack a picnic and watch a sunset on the banks of the lake. Or pick one of these great restaurants in Lake Geneva to spend a romantic evening at.
The perfect romantic getaway for those who want a mixture of things to do and quiet places.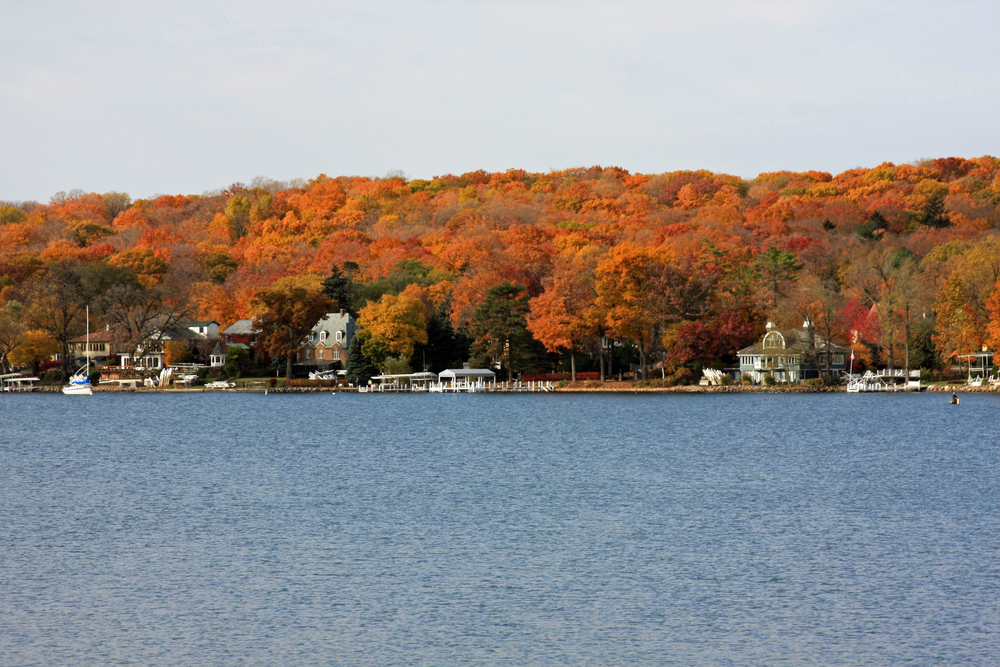 Wonder Along The Milwaukee Riverwalk
If you are after that big romantic city getaway then Milwaukee might just be what you are looking for.
The largest city in Wisconsin has a lot to offer with lots to do and some great restaurants as well to tempt you.
In the daytime, you can see the sights. I highly recommend a trip to the Milwaukee Art Museum and at night you can take a romantic stroll down the two-mile Riverwalk.
The Riverwalk comes alive at night with waterfront nightlife and a buzzing atmosphere. Also, don't forget to pause and see the sculptures up and down the Riverwalk.
I would say if you are looking for something to do, Milwaukee is a great option as it really does have something to please everyone. It's one of the best destinations for the best weekend couples' getaway.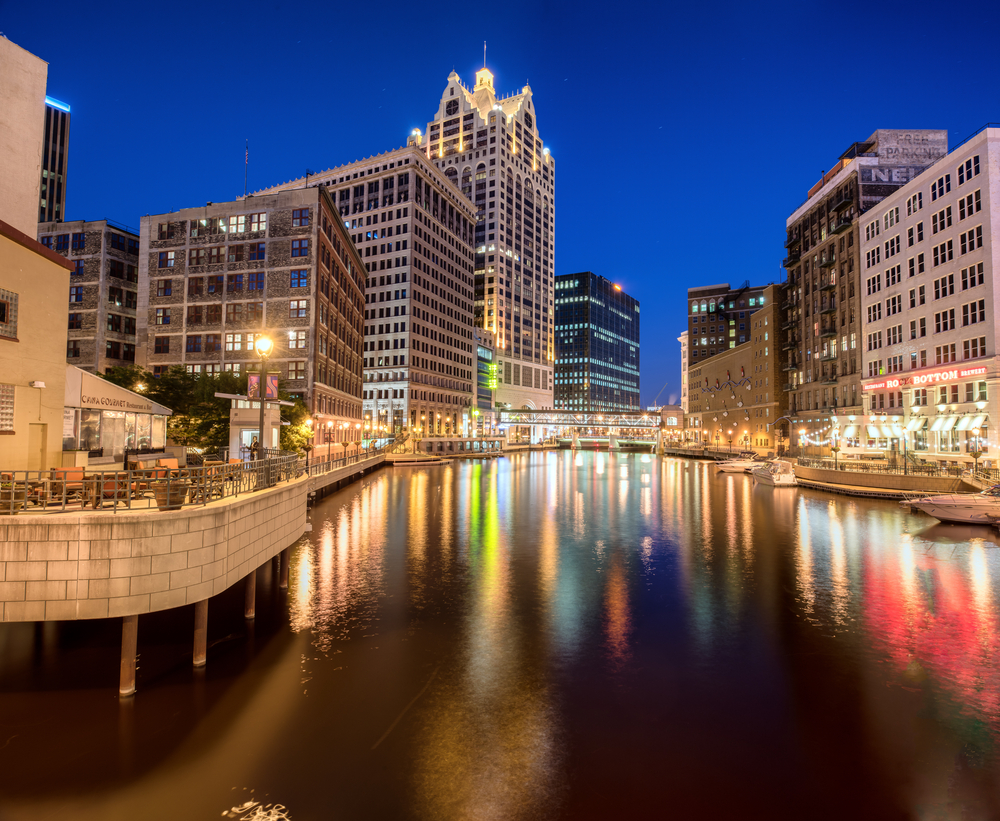 Go Wine Tasting
With over 80 wineries Wisconsin has a lot to offer the wine enthusiasts among you. What could be more romantic than touring the wineries in this beautiful state?
Prairie du Sac is one of the best wine-tasting destinations in Wisconsin and the Wollersheim Winery And Distillery serves all the romance.
Not only is the building one of the most picturesque buildings I have ever seen but the wine is also perfect. The building makes the perfect backdrop for those oh so romantic selfies.
Balanced Rock Winery, Von Klaus Winery, and Baraboo Bluff Winery are also other great vineyards in the area. If you and your other half love wine then this is the WI romantic Getaway for you.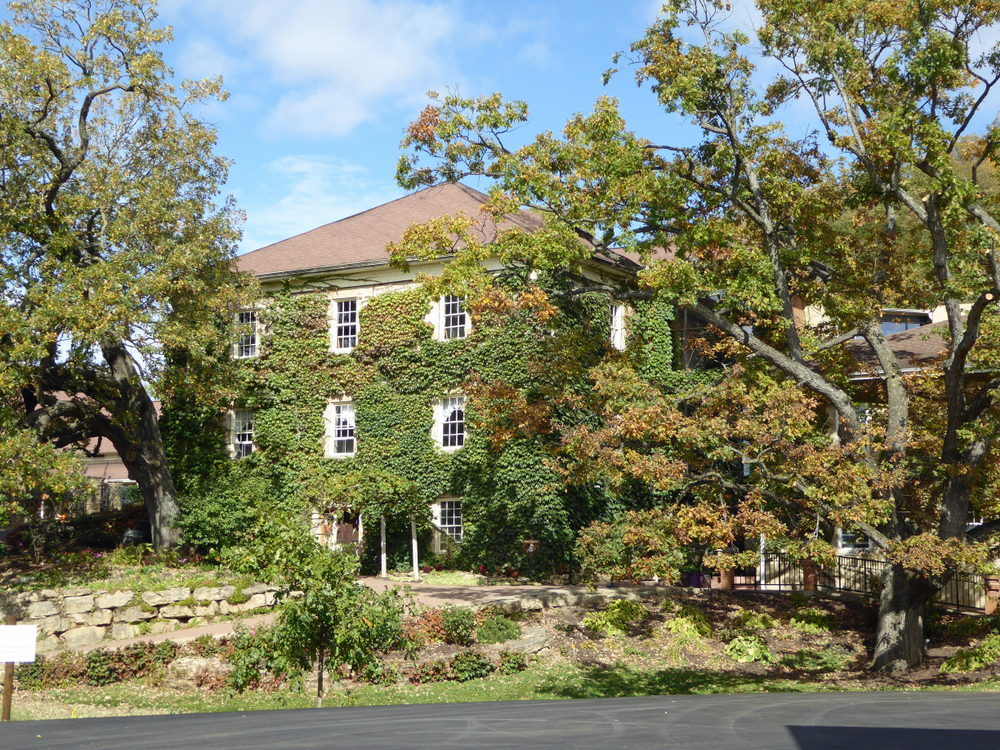 Explore Vilas County During Your Romantic Wisconsin Weekend Getaways
If you are looking for something a little more remote where you can enjoy the wilderness together then Vilas County might be right up your street.
Here you can enjoy the fresh air in the beautiful Northwoods of Wisconsin.
The county is home to hundreds of thousands of acres of public land and over 1,300 lakes. There are over 90 recreational trails and 700 miles of snowmobile trails throughout the county.
It's a place where you can do as little or as much as you want. Hiking, biking, and watersports are all popular in the area.
This area is also known for some great cozy cabins and the stargazing here is pretty awesome too. It's the perfect place for a quiet romantic getaway in Wisconsin.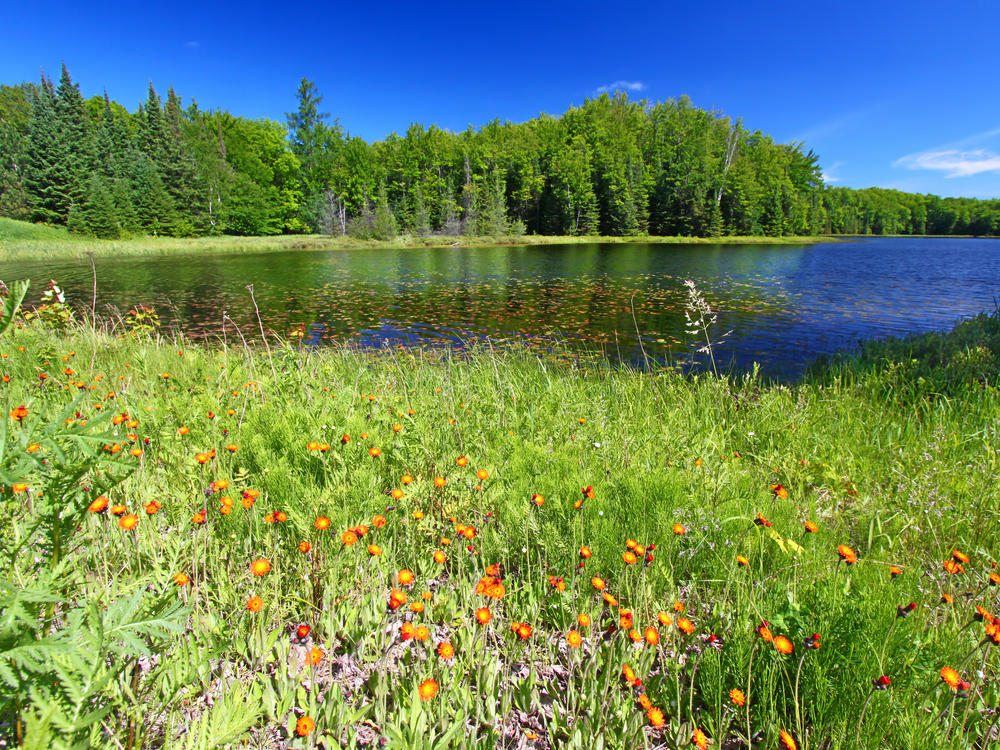 Stay In A Charming Town As A Wisconsin Weekend Getaways
If you are all about the old-world charm, quaint towns, and beautiful settings then head to Cedarburg. You will find brick buildings dating back to the 1800s, scenic landscapes, and ivy-covered gems everywhere.
The Cedarburg Grist Mill and the Cedarburg Covered Bridge are picture-perfect spots that you must see. Also make sure you stroll down Washington Avenue for the art galleries, historic inns, and antique shops.
Also available is wine tasting at Cedar Creek Winery, and the Cedar Valley Cheese Store, where you'll find more than 300 different Wisconsin cheeses.
If you are feeling a little more energetic how about hiking part of the Ozaukee Trail?
It's an interurban 30-mile paved trail that spans the entire length of Ozaukee County. If you are looking for a great spot to vacation in Wisconsin then this could be it.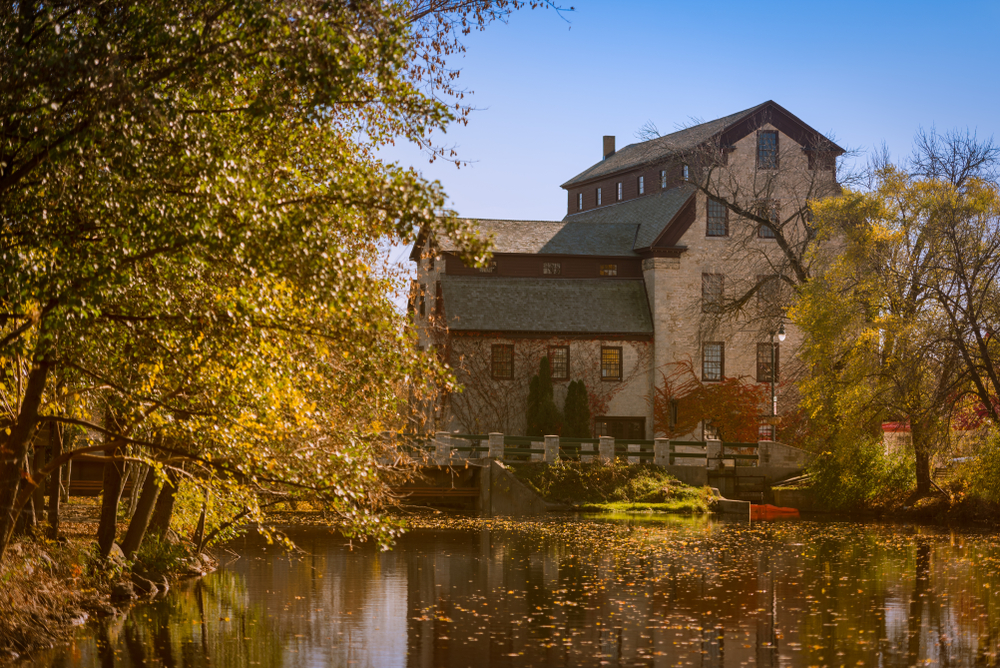 Get All Sporty At Green Bay
If you want a city getaway with a little bit of a sporty feel then how about heading to Green Bay. It's one of Wisconsin's oldest communities and also home to the NFL's Green Bay Packers.
You can spend a day at Lambeau Field taking in a behind-the-scenes tour to learn about the rich history of the stadium and the team.
Lambeau Field is also home to the Green Bay Packers Hall of Fame which showcases 15,000 square feet of memorabilia and history.
But Green Bay has a lot more to offer with much more to see and do and some great restaurants. If you are looking for a getaway in Wisconsin that's a little bit different then maybe this is it.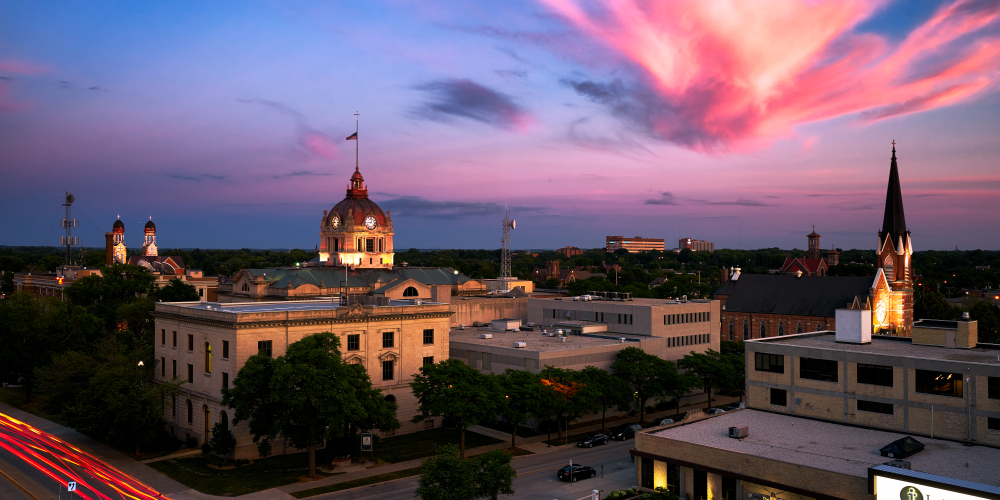 Get Lost In Kohler-Andrae State Park, One Of The Most Romantic Getaways In Wisconsin
Kohler-Andrae State Park offers a peaceful getaway in the fresh air. If your idea of a romantic getaway in Wisconsin is camping then this might be the place for you.
The park features 137 campsites, a Tepe, and a cabin. Most of the campsites are in the wooded areas and there are over 2.5 miles of beach to enjoy here.
Located on Lake Michigan, it's a real scenic gem with some epic sand dunes and beautiful views. It's a great place to adventure without any agenda or time frame.
Picnics on the beaches, nights watching the sunsets, and days doing nothing are the appeal here.
Oh, and the nearby town of Kohler is also worth a visit if the solitude gets too much for you. It is a romantic Wisconsin vacation for those after a bit of peace and quiet.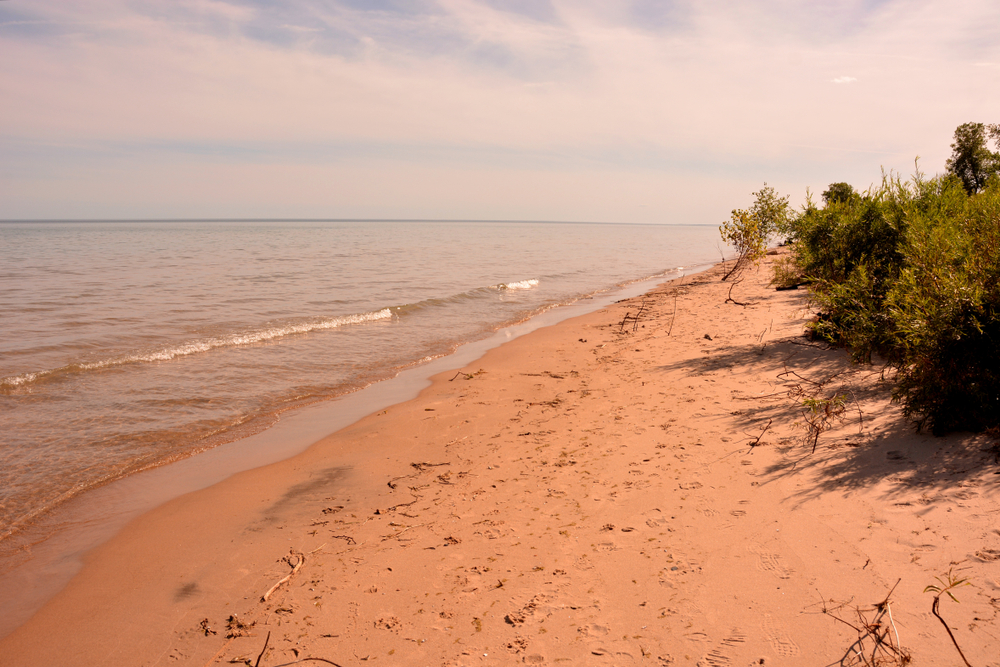 Packing List When Discovering Romantic Getaways in Wisconsin
If you are searching, here are some tips on how to pack lightly when packing for visiting Sioux City Iowa.
A concealed travel pouch may be one of the most important items you bring along when exploring the best activities in Sioux City. It is always important to protect your personal information. Identity thieves are everywhere.
This unisex RFID blocking concealed travel pouch is lightweight and comes in several colors. It has lots of organization to give you peace of mind. You can place it under your clothes next to your body to carry your ID safely.
If you have a pouch already that does not come with the RFID protection, as I do, these RFID sleeves are the perfect solution.
If you are planning on taking a lot of pictures with your phone you will definitely want to consider an external charging battery. This Anker high-speed phone charging battery is the exact one I carry with me on all of my trips.
I like that it holds its charging capabilities for several uses so I do not have to worry about it while out and about, and if I forget to recharge it at night, it will still be good to go the next day.
My daughter gifted me with this FugeTek selfie stick and tripod setup for my birthday. I absolutely love it! It is made of lightweight aluminum and is so easy to use.
It has Bluetooth connectivity and is a breeze to use for taking Insta-worthy selfies while discovering island getaways in the US.
I never much believed in using packing cubes when traveling. That is until I tried them. Now I am hooked. These are the exact cubes I use to stay organized when I pack for a trip!
You will want to bring your own refillable water bottle with you.
I never leave home on a trip without my Bobble filtration bottle. The 18.5-ounce size is perfect for your adventures and it fits nicely in the pocket of a backpack.
Perhaps you are traveling a long distance and packing space is a premium in your suitcase, or in your car. Then this set of collapsible silicone foldable water bottles would work well for you. Would not take up much space at all.
You will want a backpack or daypack with you to store snacks, your water bottle, phone, extra clothes, etc.. while attending any of the events in Sioux City. No matter the time of day or evening.
This foldable water-resistant backpack would be great. And it comes in many different colors.
—
As you can see there is so much to do here in the Midwest. From attractions to outdoor events, this city has it all.
As you can see when it comes to romantic getaways in Wisconsin there are so many to choose from. Here I have included some of my favorite romantic Wisconsin getaways but these are only the start.
Wherever you choose for your getaway in Wisconsin I do hope you have an amazing time and please come back and tell me all about it. Enjoy your vacation in Wisconsin.