Are you looking for the best restaurants in Milwaukee Wisconsin? You have come to the right place.
Whatever you love when it comes to food Milwaukee Wisconsin has you covered. It's a city with a restaurant for every taste.
Milwaukee is a great Midwest city for a romantic getaway or a weekend away.
You will find gourmet restaurants, pub restaurants, steak restaurants, and some that are a little bit different.
Most people associate Milwaukee Wisconsin with beer and cheese and while that might be true it has a lot more to offer.
Milwaukee is a culturally diverse city with immigrants from German, English, Irish, Italian, and Polish all settling here. This can be evidenced in the many different restaurants in the city.
Surprisingly it's also a city that cares for vegans and vegetarians really well. While you might think this area is known for its meat you might be surprised what it offers the non-meat lover.
So sit back and let me walk you through the best Milwaukee restaurants.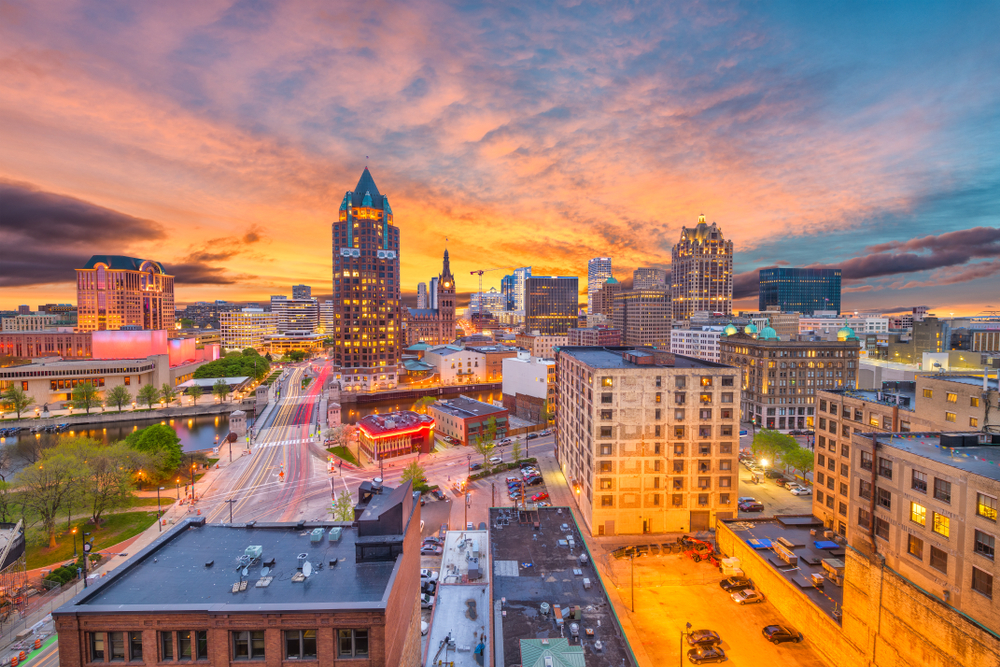 Strange Town
On the Lower East Side, this Milwaukee restaurant is hip and trendy and vegan with everything all-natural including wine.
This is one of the restaurants in Milwaukee that is all about health and wellbeing, and that is into ethical business and sustainability. It's a bold vintage chic style place and they play vinyl records.
The menu includes things like sea vegetable salad, sweet potato and kale chaat, sherried mushroom bruschetta, and pickled mango coconut yogurt.
This is a great vegan Milwaukee restaurant and I encourage you to visit it.
Vanguard
Vanguard is one of the restaurants in Milwaukee that made it their mission to make meat-eaters, vegetarians, and vegans all happy.
They serve comfort food with a modern twist and a dash of creativity. And did I say it specializes in sausages?
You can get pretty much any kind of sausage here. For the meat lovers how about duck-and-bacon sausage with hollandaise aioli, a Nashville hot chicken sausage.
For the vegans, four options are available including red curry and chorizo. Oh, and the sausages come with baked potato balls, kimchi-loaded fries, or in a dog.
This palace is also a pretty hip drinking joint that specializes in bourbons and craft beers.
This place really is a dream and there will be something on this menu to please everyone.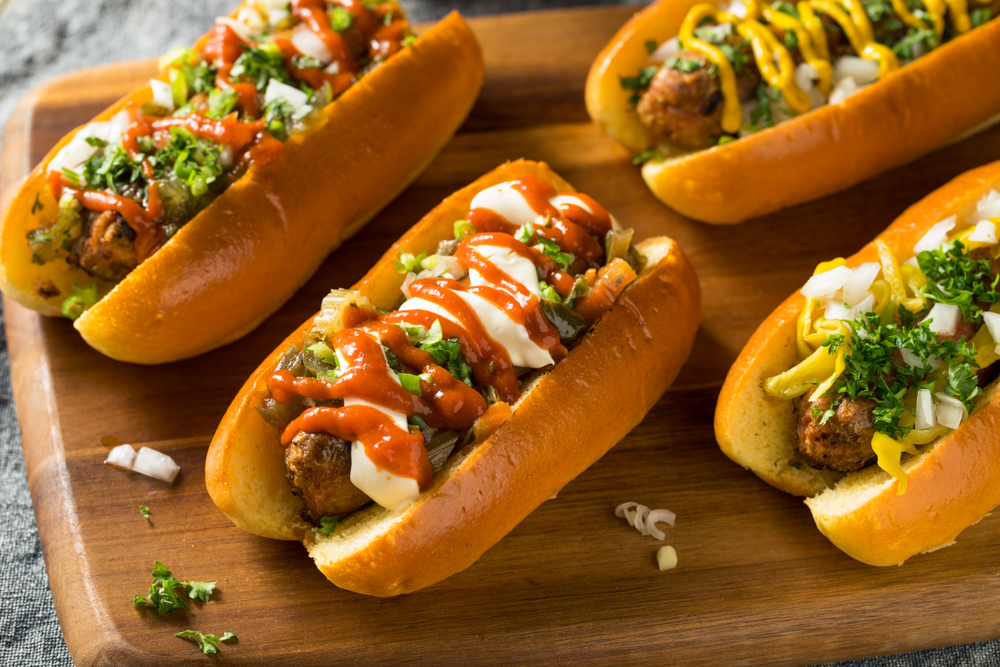 Holy Land Grocery & Bakery
This is a grocery and deli with an onsite restaurant. They specialize in Middle Eastern Food and this is one of the best places to eat in Milwaukee.
The menu isn't huge but it features some of the most delicious Milwaukee food both carnivores and vegetarians and vegans can enjoy.
For the carnivores, the Holyland Combo, a mixture of shish kebab, shish tawook, and shawarma. For the non-meat eaters, you will find things like falafel, hummus, and Murabaha.
There is an attached sweet shop that serves various baklava-like pastries.
with so much to offer this is one of the restaurants in Milwaukee you may want to check out!
Lazy Susan For Casual Fine Dining In Milwaukee Wisconsin
This is a casual fine dining restaurant in Milwaukee's hip Bay View neighborhood. It serves a rotating eclectic mix of plates and is all about sharing.
They always have great selections for vegans and vegetarians too and support local farms and purveyors as much as they can.
The menu includes things like Spanish noodle paella with fennel, and chickpeas, and Iberico pork solomillo.
This Milwaukee eatery has a lovely homely somewhat whimsical feel that makes you feel welcomed. The menu changes to suit the seasons and what is available. So check the website before you go.
They also do an amazing Korean Fired chicken which is served on the first Thursday of the month. It takes them 3 days to make and is well-loved by the locals.
This is one of the coolest places to eat in Milwaukee.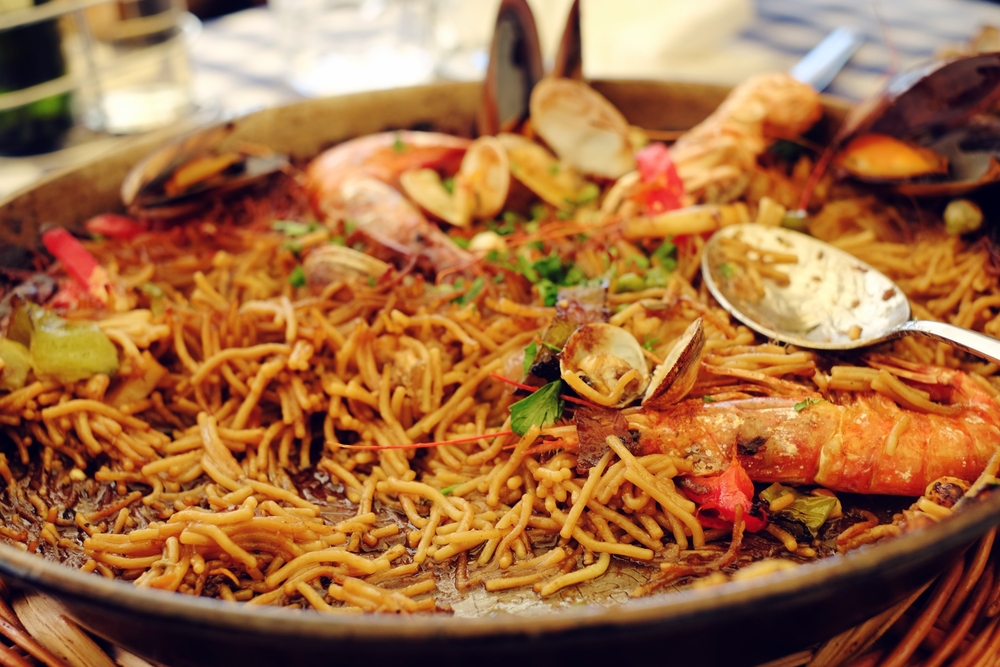 Beans and Barley
On the lower East Side this is another cafe and market and as the name suggests it's vegetarian and vegan friendly,
The restaurant serves breakfast, lunch, and dinner several days a week. The menu concentrates on quality, healthy homemade food. Many of the ingredients are locally sourced.
The menu has a variety of items including items like black bean tostadas, vegetable stir fry, bean, and chicken burrito, and grilled vegetable salad.
You can add and take away ingredients from most of the dishes making it great for vegans. This Milwaukee restaurant thrives on three principles: quality, value, and fun. It really is a great place to grab something to eat any time of the day.
This restaurant serves some of the best food in Milwaukee.
Odd Duck
At the center of the coolest neighborhood in town, this restaurant in Milwaukee WI is an eclectic mix. It serves small plates in aesthetic surroundings with a no-hassle all-chill vibe.
The menu is constantly changing with what's fresh and always includes lots of options for vegetarians. The influences for the dishes come from all four corners of the world.
The current menu includes such things as seafood stew, koji marinated yakitori steak, raw and roasted brussels sprouts with apple, and black pepper tempura oyster mushrooms.
They also have an extensive cheese and charcuterie menu. Each plate here is a mini piece of art and you can just tell that lots of love have gone into each dish.
This is one of the great places to eat in Milwaukee.
Ardent
If you are after a real dining experience and something a little more intimate and high class this might be one of the best restaurants in Milwaukee for you to consider.
It offers innovative New American fare on a rotating tasting menu. It is tucked away with only a few tables and is perfect for a date or special occasion.
This is a high scale Haute Cuisine so expect unusual ingredients like bone marrow and Jasmin koji sorbet.
It's not inexpensive, but if you are a gastronome this restaurant in Milwaukee is well worth it.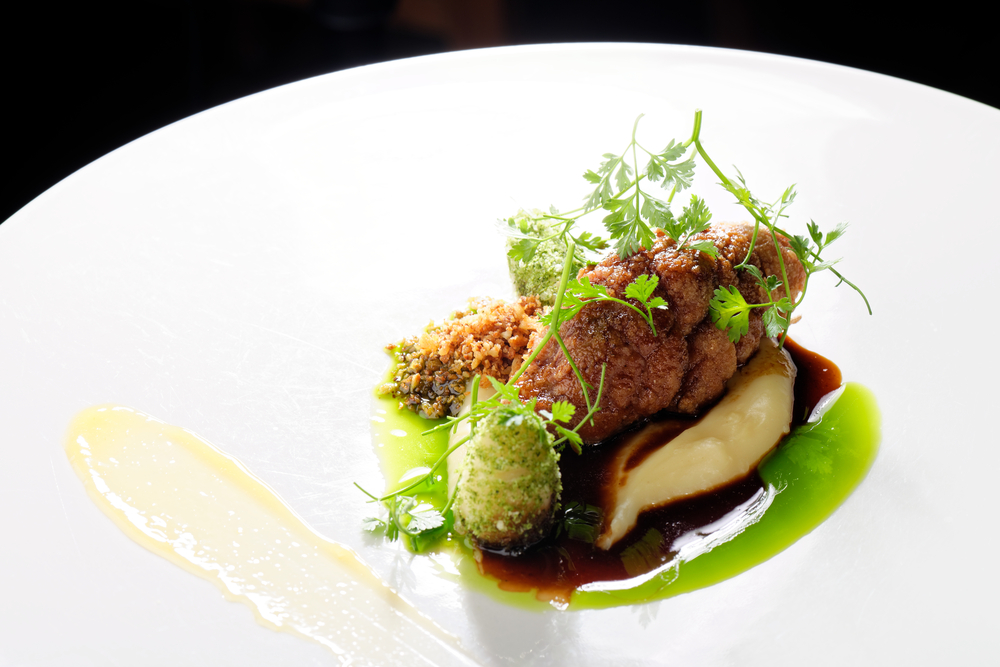 Bartolotta's Lake Park Bistro
This Milwaukee restaurant is a classic french-inspired bistro in the East Side's Lake Park. As well as serving great Milwaukee food, there is a swanky bar and an incredible view over Lake Michigan.
This is one of the best Milwaukee restaurants for a romantic dinner date. The cuisine is award-winning and the menu is what it calls haute bistro so think bistro but classy.
The menu contains things like roasted aged duck breast with crispy duck fat potatoes classic veal stew, butter-poached lobster, and pan-seared duck foie gras. You get the idea.
If you love French food then this is one of the restaurants in Milwaukee to go to.
Five O'Clock Steakhouse
Washington Post named this Milwaukee restaurant as one of the best places to eat in Milwaukee so you know it is going to be good. This place is all about traditional done well and not following the trends.
It is family-owned and has been independently operated and has been since 1946. It's a place proud of its heritage and promises one of the best supper club experiences.
The real experience here starts with one of the expertly poured Martinis.
You have your order taken then go to the table which waits for you with bread and a relish tray with olives, pickles, and hot peppers.
Eat the relishes and the salad that arrives on a rolling cart before your expertly cooked steak or seafood arrives.
The menu is a delight of traditional MIlwaukee food such as baked French onion soup, shrimp cocktail, and of course steaks cooked in various ways and some seafood.
If you are looking for an experience to remember then this is one of the restaurants in Milwaukee you should visit.
Sanford Is One Of The Best Places To Eat In Milwaukee
If you love gourmet food then this might be one of the restaurants in Milwaukee for you. It is tucked into a neighborhood in the East City and headed by Chef Justin Aprahamian.
And it is frequently cited as one of the best Milwaukee restaurants with many awards to its name.
Their philosophy is to start with the finest possible ingredients from as close to home as possible. They then treat those ingredients with the utmost respect, bringing out their natural flavors.
This place knows its food and it shows. The food here is often described as modern ethnic. It's an unusual creative menu and ever-changing.
Presently it contains such dishes as roasted badger flame beets with pickled beet greens and gooseberries, grilled duck breast with miso noodles and roasted green beans, and fennel dusted beef tenderloin with Yukon potato purée.
If you have allergies or any special dietary requirements let them know ahead. It's not the story of restaurants that can just take things out or rustle something up. Everything is thought about and planned here.
This is honestly some of the best food in Milwaukee. Sanford cares about its customers and their experience from start to finish.
Blue Egg Is Best For Brunch In Milwaukee
If you are a brunch sort of person then this is the restaurant in Milwaukee for you. This is a place that specializes in all things breakfast and brunch and it does it so well.
This is good food and their stuffed hash browns are a dream.
It's all the breakfast items you would expect but with a little something extra. If breakfast was homely yet upgraded this is where it would hang out.
Vegans and vegetarians are also well-catered to here.
The menu contains such items as crispy shrimp, bay scallop, calamari scramble, rooted veggie-hash chicken chorizo omelet, and lots of delicious-sounding salads and sandwiches.
They also have pancakes and french toast and typical breakfast items but again with something different.
If you are a fan of breakfast fare whatever time of day this is the place for you.
With so much to offer, this is one of the best eateries for brunch in Milwaukee!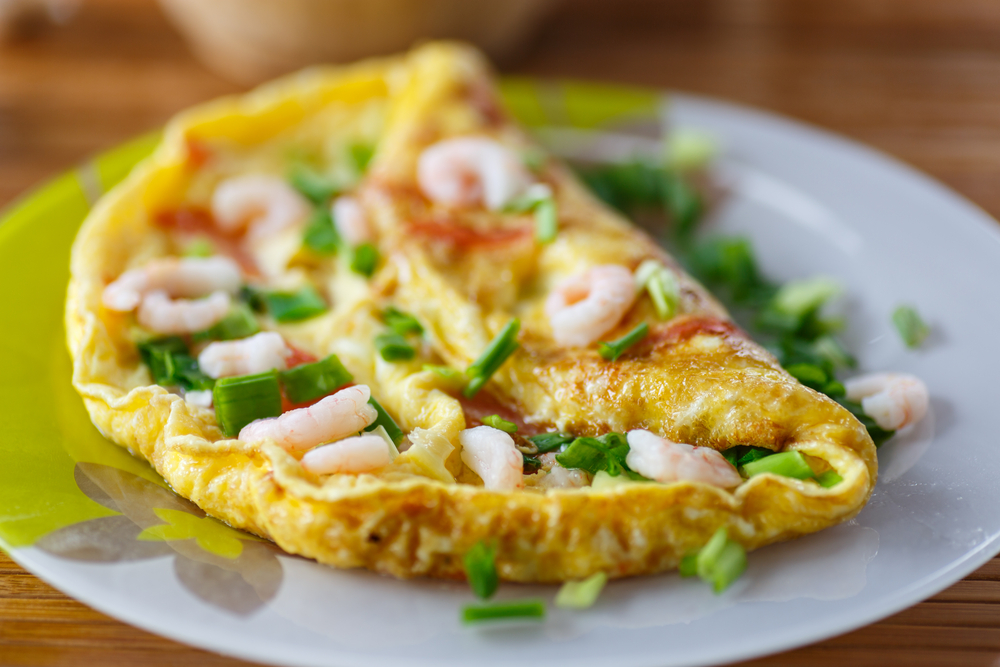 Good City Brewing
I couldn't talk about restaurants in Milwaukee without including some good old pub grub. While there are many to choose from Good City Brewing has made a name for itself and has three locations.
All three locations have a somewhat different feel but all have a kitchen.
When it comes to craft beer this place has plenty, some changing, some permanent, some seasonal, and all with pretty cool names which is a must in my eyes.
The food is good pub grub and expect things like Bacon Brew Burger, mac and cheese, Cuban melt, and curry popcorn. There are a few vegetarian dishes on the menu too.
They also have an imperial stout brownie which just sounds divine.
This is one of the best Milwaukee restaurants!
There are so many breweries in Milwaukee WI to explore!
Wy'east Pizza
This Milwaukee pizza restaurant is a little more than you would expect. Here the pizzas are innovative and creative but use old techniques. The results are amazing.
The dough is long-fermented, hand-stretched, and goes into a very hot oven. The pizza toppings are different and unusual.
The base of your pizza can have the typical red base or a white base containing no tomatoes. And the toppings range from fresh mushroom, roasted garlic, fresh rosemary, sausage, and red onion to name but a few.
This is one of the places to eat in Milwaukee that is a real joy and I have never seen a restaurant take so much care in preparing pizza.
Braise
There is something a little different about Braise. Perhaps it's the private greenhouse dining on the roof or the roving food trucks or the food classes it offers. Could even be the farm dinners it offers.
This place loves food so much that it screams it from the rooftops and that is not over-exaggerating. This restaurant is an overachiever and then some.
The food as you would expect is delicious, unusual, and oh-so creative. The menu includes things like brown butter squash soup, seared rainbow trouts, and chocolate stout cake.
A trip here is a treat to your tastebuds, a delight to the eyes, and soothing to the soul. Oh and the pork buns are a staple here with good reason, they are incredible.
This eatery offers some of the best food in Milwaukee.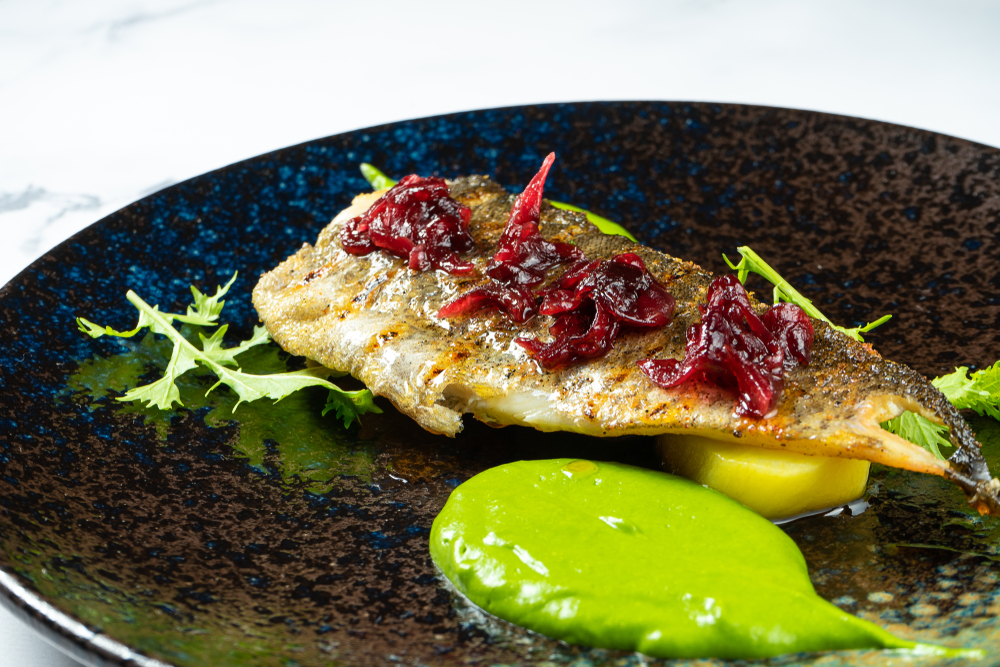 Damascus Gate Restaurant
We can sometimes forget how food brings people together and the impact it can have on communities. This restaurant will remind you of that.
This restaurant in Milwaukee has a purpose other than producing great food.
It's here to empower Syrian refugees and give them a chance to prosper after their arrival in the US from war-torn Syria. Syrian refugees are actively involved in the management and operation of the restaurant.
It wants to help people and ended up a real success story. And it is the south side go-to spot for middle eastern food.
The menu includes what you would expect hummus, kebabs, Turkish coffee, and signature Syrian dishes featuring chickpeas, and bulgur wheat.
This is more than a restaurant. It's a mission and a vision. And the Muhalaya (Syrian rice pudding) is so good.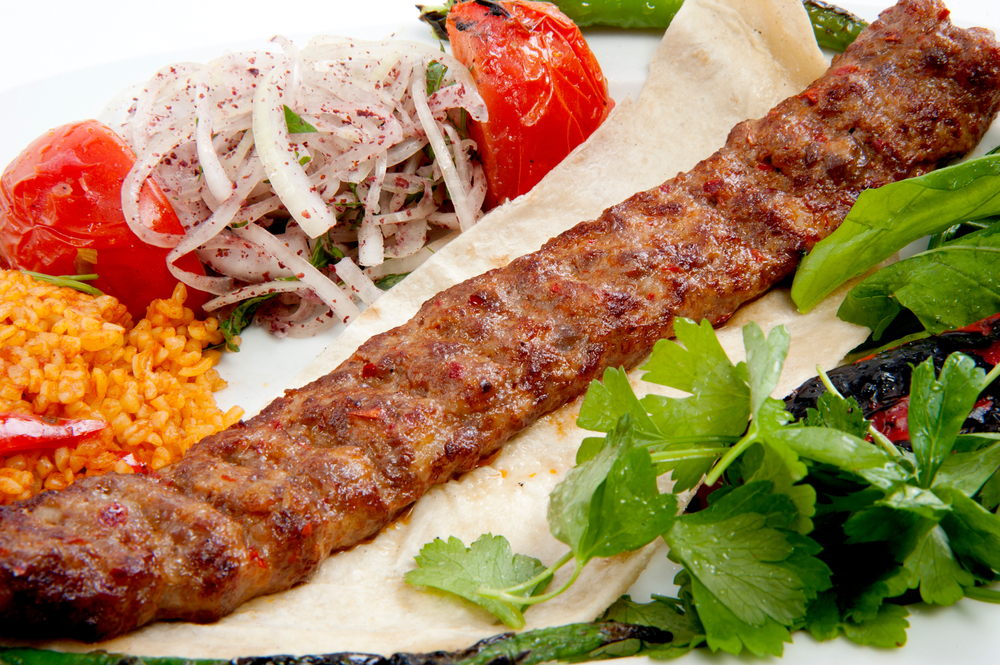 As you can see when it comes to restaurants in Milwaukee there are so many to choose from.
When it comes to eating out, Milwaukee food is so delicious and Milwaukee has so many options.
Whichever of these places to eat in Milwaukee you choose I am sure you will have an amazing time. These are some of the finest restaurants in Milwaukee and I can not wait to hear about your experience.