If you are looking for interesting Wisconsin weekend getaways, then take a look at this list!
I was born and raised in the Midwest and Wisconsin is one of my favorite states to visit.
It is full of beautiful cities, charming small towns, and everything in between.
If you are thinking of planning a weekend getaway in the Midwest, Wisconsin has tons of options.
On this list I've included some of my favorite spots to experience the beauty and uniqueness of Wisconsin.
I've made sure to include options for every type of traveler and there are even more budget friendly options.
Whether you want a romantic city vacation, a Wisconsin weekend getaway spent outdoors, or a relaxing road trip, there is something on this list for you.
So, lets take a look at 15 interesting Wisconsin weekend getaways!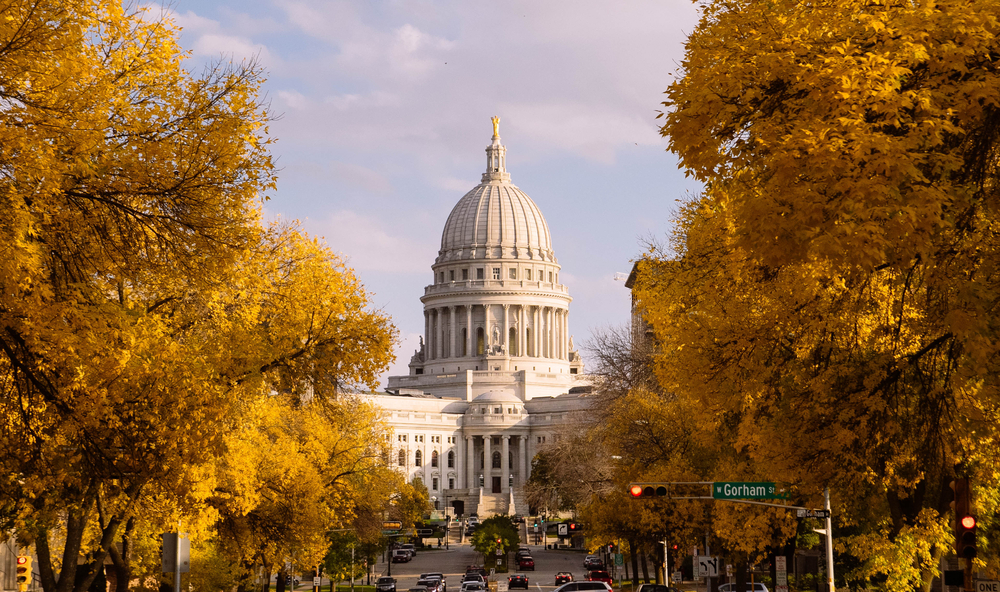 15 Interesting Wisconsin Weekend Getaways
Door County For Romantic Wisconsin Weekend Getaways
One of the best places to escape to in Wisconsin is Door County.
There are so many great things to do while you explore Door County, and it is perfect for a romantic getaway.
If you are interested in beaches, Door County has some great ones as it is a county that borders Lake Michigan.
You can also check out the Maritime Museum, go snorkeling or scuba diving to explore shipwreck, or go cherry picking before sampling some cherry wine.
If you are looking for more romantic activities, stroll along the beaches, visit one of the Door County Islands, or take in a beautiful sunrise or sunset.
The area is also home to some unique and delicious restaurants, wineries, and more.
It is great place to experience a Wisconsin weekend getaway.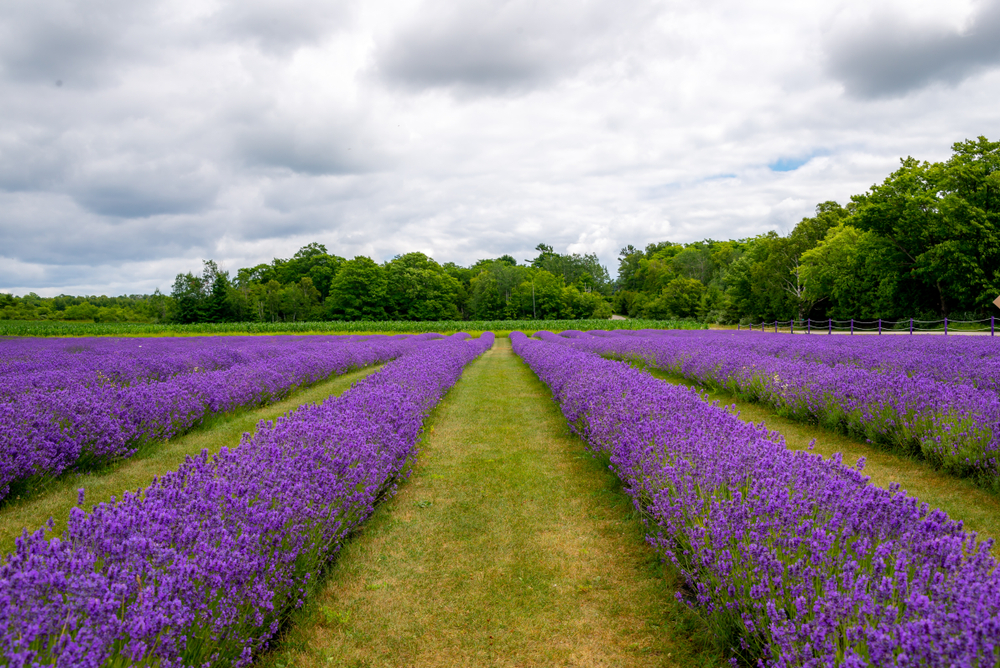 The Great River Road National Scenic Byway
The Great River Road National Scenic Byway is 250 miles long and passes through many states along the Mississippi River.
One of those states is Wisconsin.
If you are looking for a road trip adventure through Wisconsin, this is a great option.
There are 33 towns you'll pass through in just Wisconsin alone if you travel the whole Wisconsin distance of the byway.
All are river towns, and many of them are some of the oldest communities in the state.
Some of the popular city stops along the way include La Crosse, Alma, Onalaska, and Fountain City.
Many of the cities also have annual festivals that can be fun to attend as you make your way down the byway.
The Great River Road National Scenic Byway is a really fun weekend getaway in Wisconsin.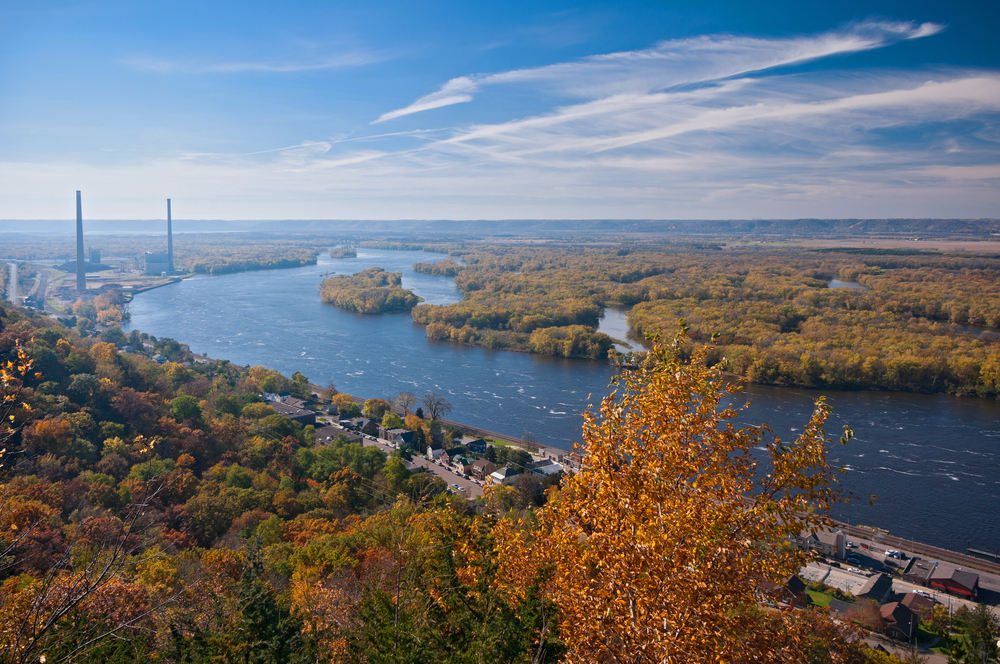 Milwaukee Is A Must-See Wisconsin Weekend Getaway
Milwaukee is Wisconsin's largest city and is full of fun things to do.
It is just a short distance from a many other popular cities in the Midwest, but it easily holds it's own.
For those on a budget, Milwaukee can be a great budget-friendly option for Wisconsin weekend getaways.
You can spend hours just strolling through the city.
There are lots of unique boutiques to explore, murals on the sides of the buildings, and of course great restaurants.
The city also has some great museums, you can take a boat cruise to tour the city skyline, or check out a play or musical at one of the many theaters.
Milwaukee is also a great weekend getaway in Wisconsin for sports fans.
They have a few home teams, so depending on what time of the year you visit, you can probably catch a game or two.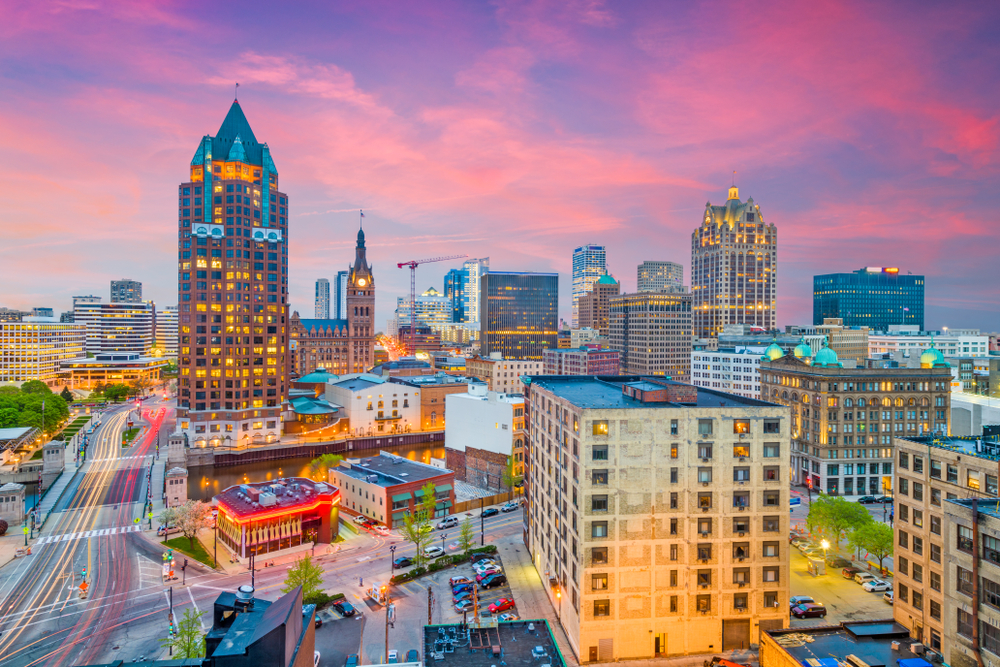 Spring Green, Hometown Of Frank Lloyd Wright
For fans of the renowned American architect Frank Lloyd Wright, Spring Green is a must-see.
Spring Green is the hometown of Frank Lloyd Wright.
In the early 1900's, Wright built is personal home, Taliesin just outside of the picturesque Wisconsin town.
He also designed a few other buildings in the town.
Now, you can tour his personal home and there is also a small visitor's center full of information about the famous architect.
Spring Green is a lovely town in Wisconsin that also has some great restaurants, shops, and parks to explore as well.
Apostle Islands National Lakeshore
The Apostle Islands National Lakeshore is often considered one of the jewels of Lake Superior.
The beautiful rocky shoreline is the perfect place if you are looking for an outdoor adventure during your weekend getaway in Wisconsin.
There are a few ways you can get to the islands to explore.
Whether it is a ferry ride, your own boat, or a boat cruise experience, anyone can get to the islands, but it may be a bit challenging depending on how you decide to get there.
Once you're on the islands, enjoy kayaking, swimming, hiking, and more.
You can also have guided kayaking trips or there are even some commercial companies that offer island cruises.
No matter how you decide to experience them, the Apostle Islands are a great way to have an interesting Wisconsin weekend getaway.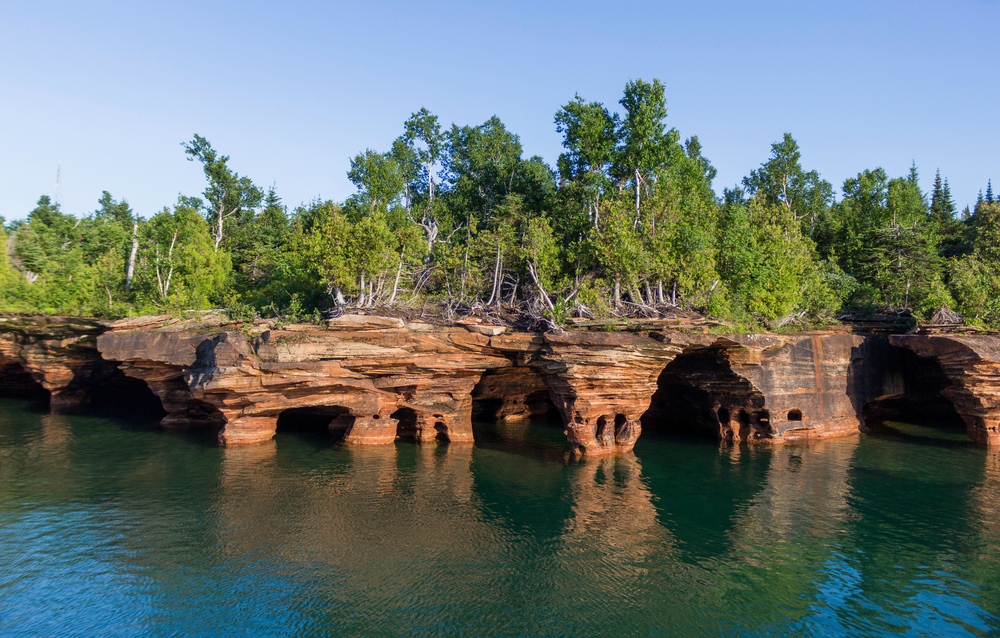 Viroqua Is A Charming Wisconsin Town
If you are looking to explore a charming town in Wisconsin, head to Viroqua.
In Viroqua, you'll easily find something to interest you.
Its a town that has something for every type of traveler.
You can find charming boutiques, a thriving art scene, and some wonderful restaurants.
The town is also perfectly situated for some outdoor fun.
Nearby, you can find plenty of opportunities for hiking, cross country skiing, and mountain biking.
Its a charming town that has a lot going for it, so you should definitely check it out.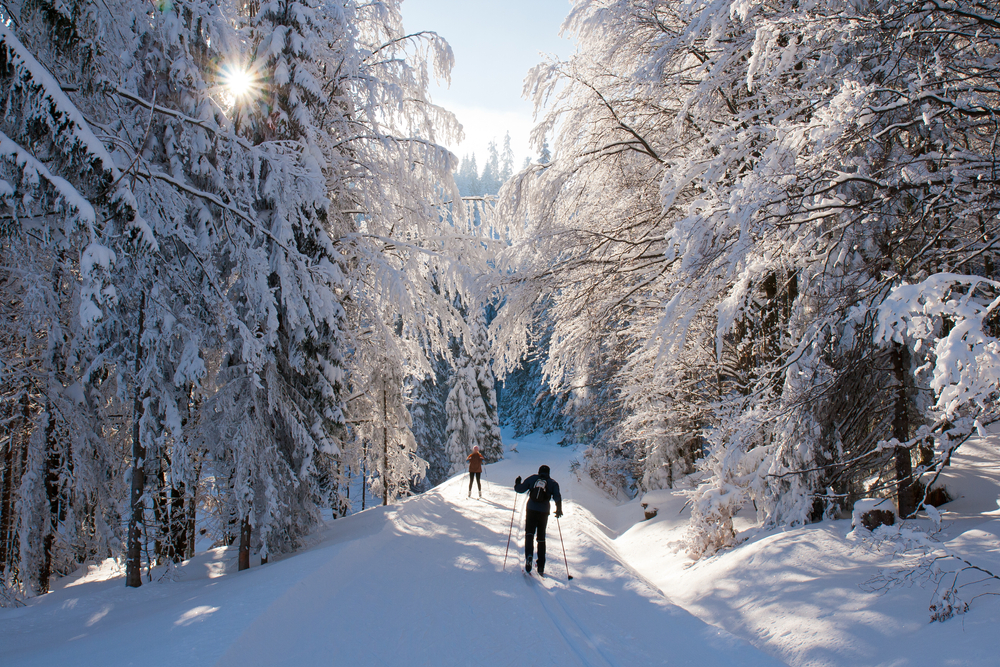 Eau Claire
Eau Claire is a college town in Wisconsin that calls itself 'The Indie Capital of the Midwest'.
The alternative and different is celebrated in Eau Claire, and that has created a one of a kind Midwest city.
You'll find plenty of ways to spend a weekend in Wisconsin when you visit Eau Claire.
Get your photo in front of one of the many beautiful murals on the sides of the buildings.
Or tour Eau Claire's breweries and restaurants and then take a walk along the river.
The city also has a vibrant art scene thanks to the influence of the university, so you'll find plenty of art galleries and exhibits to explore.
Eau Claire isn't what most people think when they imagine a Midwestern city and that makes it a great place to enjoy a Wisconsin weekend getaway.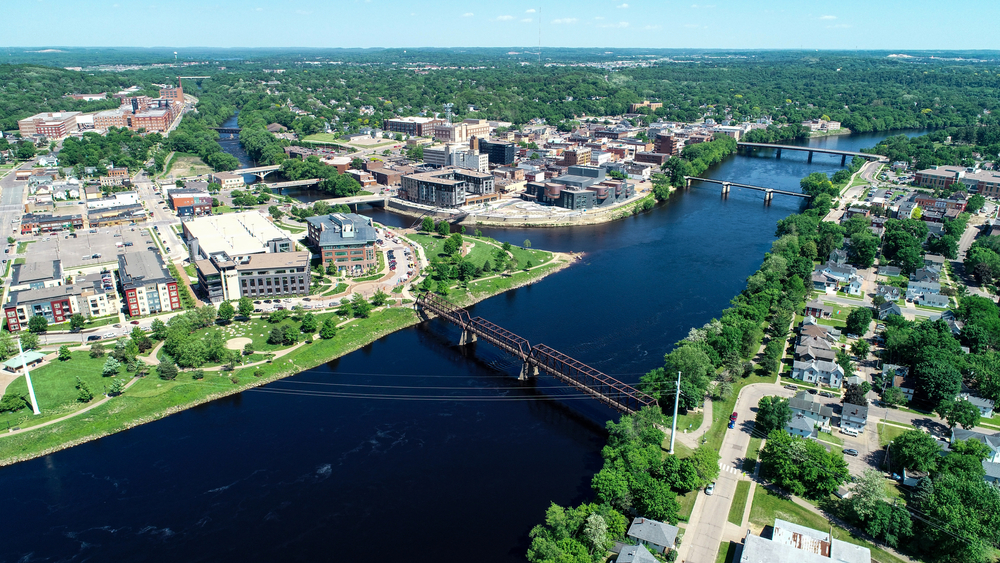 Wisconsin Dells Is The Waterpark Capital Of The World
The Wisconsin Dells are one of the best hidden gems in the Midwest.
The area is a very popular destination during the summer because it is known for being 'The Waterpark Capital of the World'.
In the Wisconsin Dells, you'll find more waterparks per capita than any other place in the world.
Its perfect for family weekend getaways in Wisconsin for this very reason.
The area also has some natural waterparks, like the Dells of Wisconsin, which is a local State Park.
There, you can enjoy hiking, kayaking, and swimming in the dells that gave the town its name.
Whether you're looking for natural water fun or a big splash park, Wisconsin Dells is the perfect place for your next weekend getaway in Wisconsin.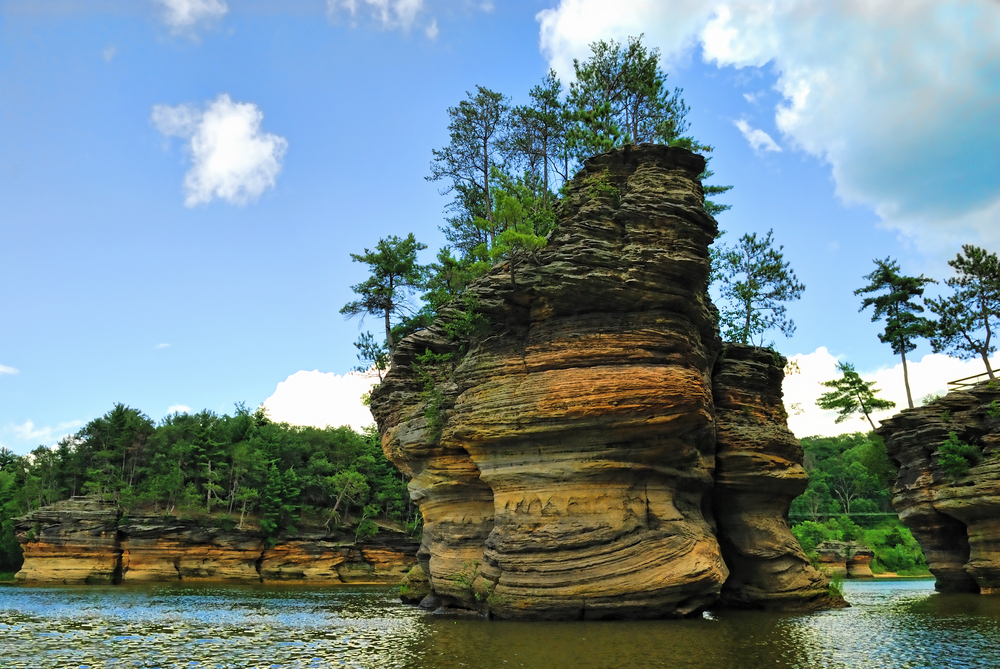 Green Bay Isn't Just For Sports Fans
Most people know Green Bay Wisconsin because of the Green Bay Packers, the city's NFL team.
But there is more to the small city than their 13 National Championship wins.
You can find some great hidden gems in the city if you just know where to look.
Enjoy a day spent at one of the many museums before going out on a brewery tour of local breweries in the city.
Try your luck at the Oneida Casino, try your hand at axe throwing, or experience virtual reality at one of the VR arcades.
If you're visiting with your family, head to the Bay Beach Amusement Park and spend the afternoon riding the many rides.
There is so much more to the city than just football, and it is definitely a great Wisconsin weekend getaway.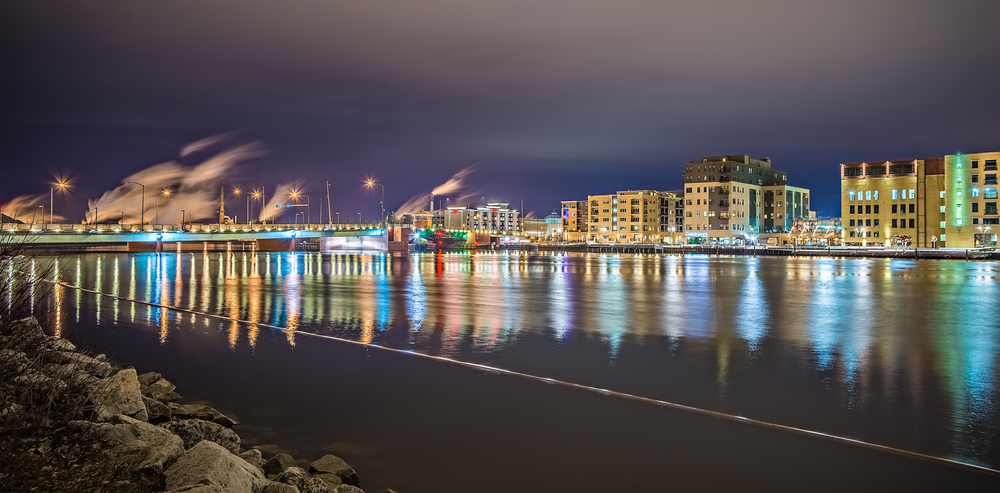 Amnicon Falls State Park
Amnicon Falls State Park is a great place to enjoy some outdoor fun.
It is also home to one the prettiest waterfalls in Wisconsin.
You can easily spend a weekend getaway in Wisconsin exploring Amnicon Falls State Park.
It is a very large park with several waterfalls.
If you are looking to do some 'waterfall chasing', this is the place to do it.
You'll find there are tons of trails that offer different views of the waterfalls in the park.
Most of the trails are fairly easy, and some of them have covered foot bridges that bring you up close to the waterfalls.
This State Park is one of the bests in the state and perfect for a weekend of camping, hiking, and just enjoying Wisconsin's natural beauty.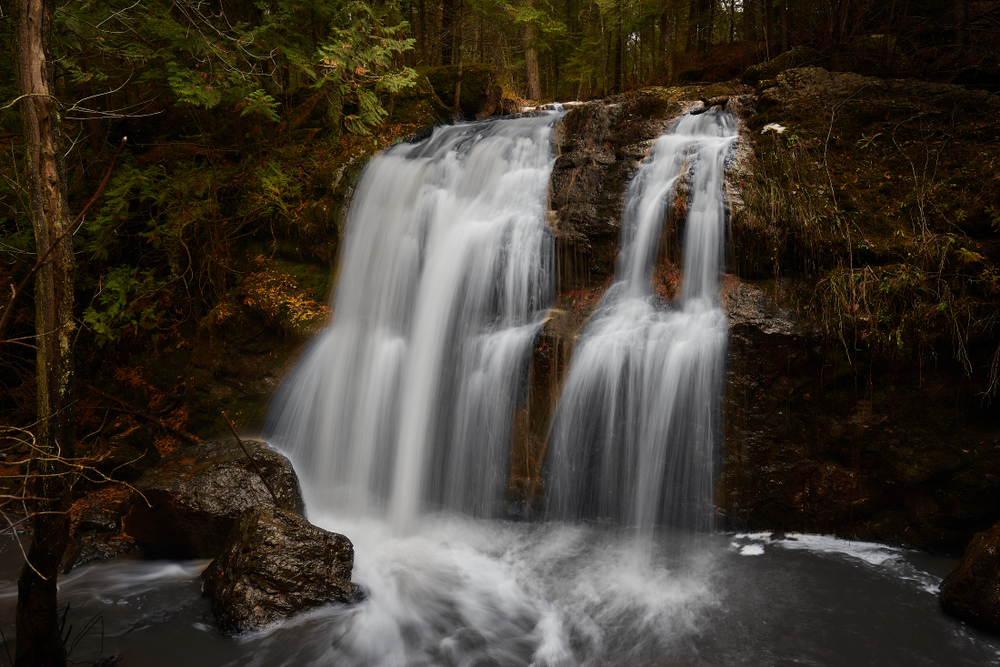 Madison Is A Perfect Wisconsin Weekend Getaway
One of Wisconsin's most interesting cities is Madison.
It is also the capital city of Wisconsin, so it has tons of things to do and see while you enjoy a Wisconsin weekend getaway.
For history buffs, the city has plenty of historical buildings, museums, and state monuments to explore.
The city also has five lakes, which are perfect spots for watersports like kayaking and swimming in the summer months.
Madison is also becoming a popular city for foodies to explore as it has a vibrant culinary and arts scene.
You'll also find plenty of unique boutiques as you stroll the streets during your trip.
Its a really great family friendly option for a weekend getaway in Wisconsin.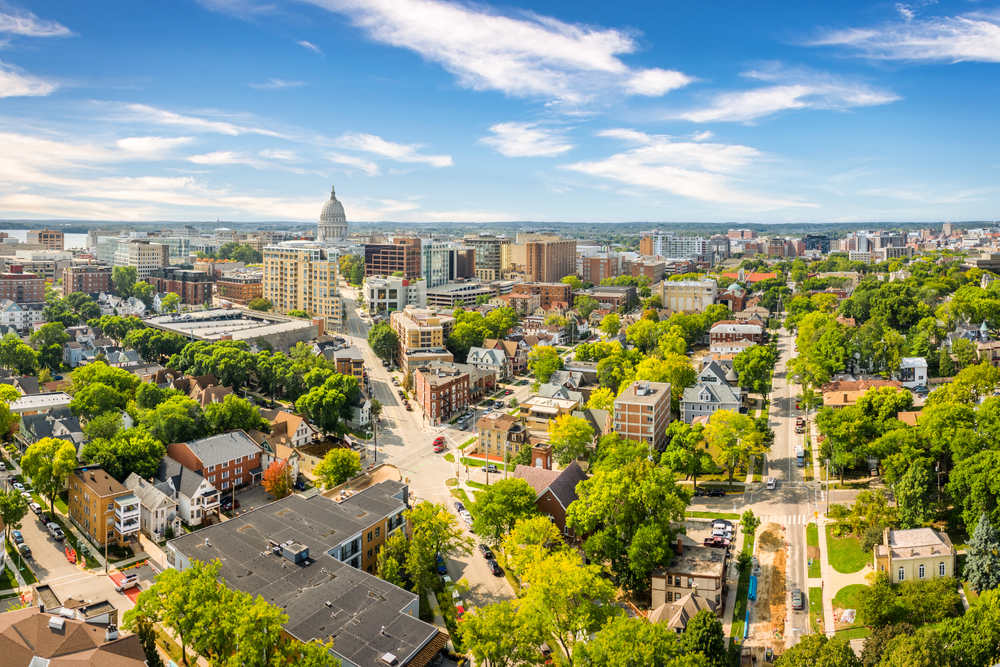 Cedarburg
If you are looking for that small town atmosphere, head to Cedarburg.
But don't let that small town atmosphere fool you, Cedarburg is a small city with lots of interesting activities.
The city takes pride in its unique and locally owned restaurants and shops.
It is also home to several musuems.
There is an woolen mill and textile museum, a town history museum, an art museum, and even a living museum.
A living museum is where you can see how early immigrants in Cedarburg lived.
After a day spent exploring the many museums, head to the Candy Kitchen, or shop locally made Amish crafts and furniture.
Cedarburg is a very interesting and unique weekend getaway in Wisconsin.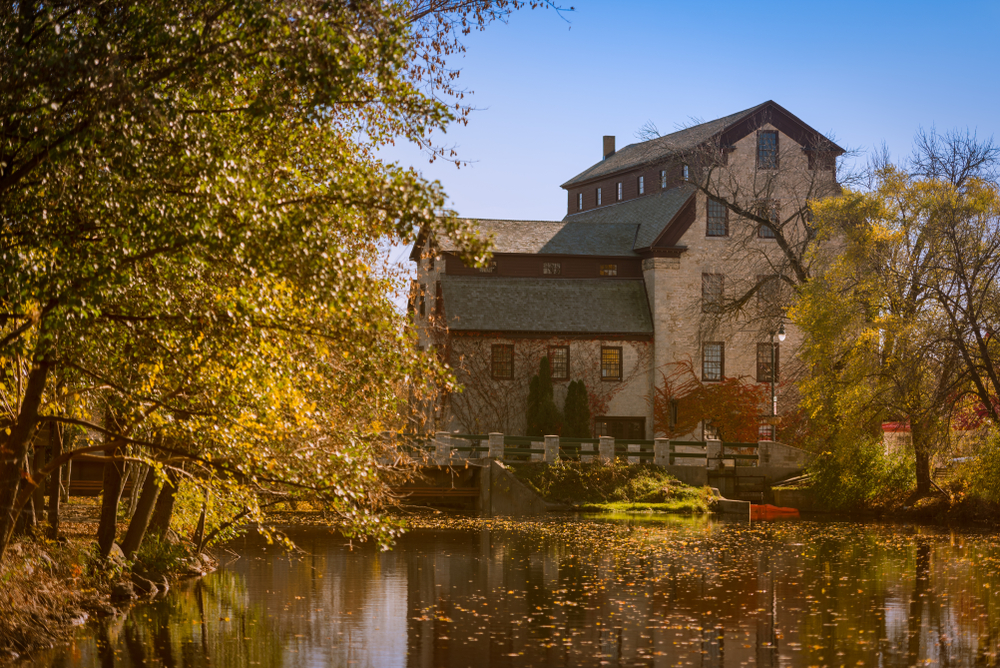 Lake Geneva
Lake Geneva has become a popular Wisconsin town for those looking to beat the summer heat.
During the summer months, the area is full of people looking to enjoy the refreshing water of Lake Geneva.
But its a beautiful place to visit no matter the time of year.
A lot of the activities in the town are centered around the lake.
So you can enjoy swimming, kayaking, boating, and more on the lake.
The main street of the town is full of delicious restaurants and one-of-a-kind shops you can explore.
In the winter, you can go hiking or enjoy snow sports.
Lake Geneva also holds a yearly Winter Fest in February where you can see the only Snow Sculpting Championship in the US take place.
The Lake is a fun place for a Wisconsin weekend getaway all year long.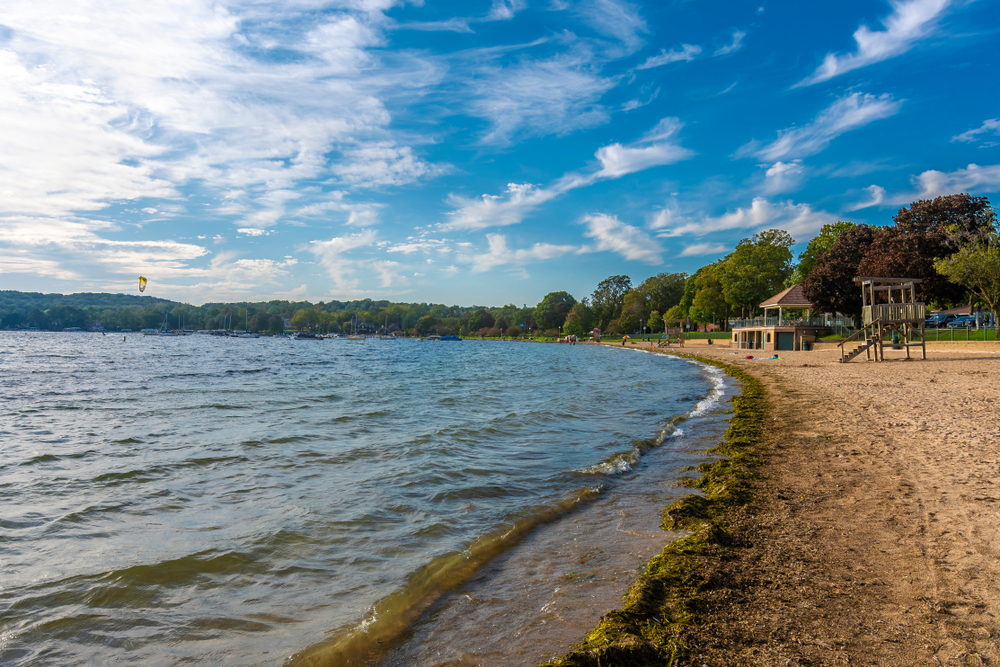 Kettle Moraine State Forest For Fall Foliage
If you are planning a weekend getaway to Wisconsin in the Fall, you must check out Kettle Moraine State Park.
Kettle Moraine State Forest is one of the best places in Wisconsin to see Fall foliage.
The park is over 22,000 acres of beautiful Wisconsin forestland, lakes, and prairies.
You can enjoy hiking, camping, mountain biking, and even horse back riding on the park all year long.
During the summer, the lakes are open for swimming and watersports like kayaking and canoeing.
Kettle Moraine State Forest is a beautiful place to enjoy Wisconsin on your next weekend getaway.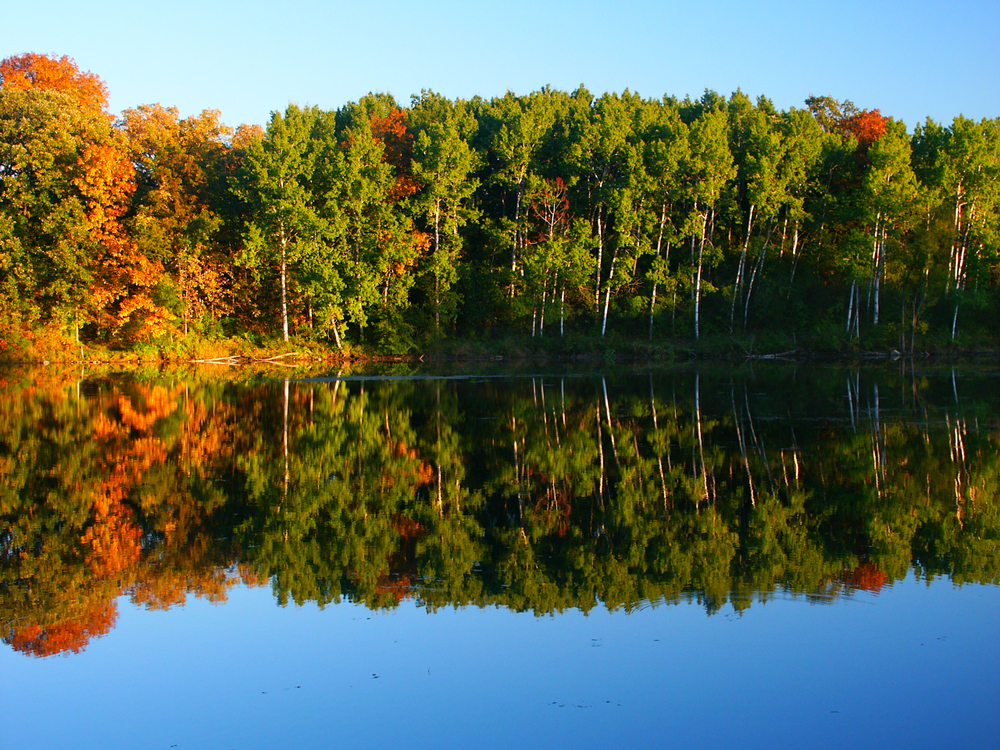 Explore The Chippewa Valley On A Wisconsin Weekend Getaway
The Chippewa Valley is an area of Wisconsin that has several popular cities.
Its a great way to explore some of Wisconsin's charm in a small road trip.
In the Chippewa Valley, make sure to stop and explore some of the metropolitan areas.
You can head to Chippewa Falls and enjoy some outdoor adventure and a small town in one package.
Or explore the college town of Eau Claire.
In Altoona and Durand enjoy delicious restaurants or window shop on the main streets.
In Menominee you can learn about the Menominee Tribe that originally called the area home.
There is so much to do and see when you take the time to explore the Chippewa Valley.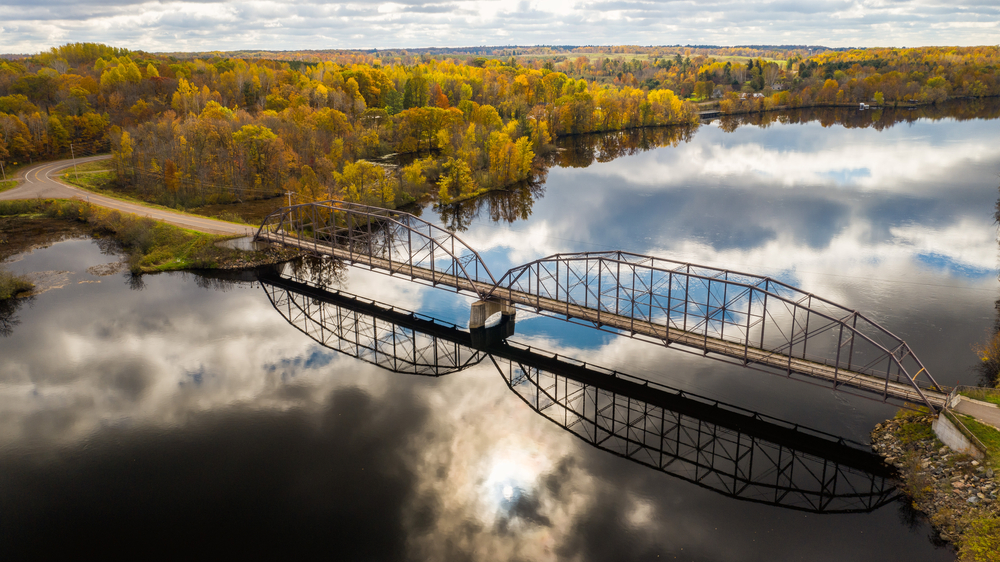 There are so many opportunities for interesting Wisconsin weekend getaways.
Wisconsin is diverse state with so much to do and see that it's hard to pick just one thing.
Have you ever been to Wisconsin?
If so, what was your favorite thing you did or saw while there?
I'd love to hear about your trip, or plans for a future trip, in the comments!