Are you looking for things to do in Kansas? If so you are in the right place. In this article, I will walk you through attractions in Kansas and give you some suggestions of other interesting things to do in Kansas.
You might be surprised by all that the Sunflower State has to offer.
Kanas is a landlocked state in the Midwest surrounded by Nebraska, Oklahoma. Missouri and Colorado. Named after the Kansas River the capital is Topeka and the largest city is Wichita.
When thinking about things to do in Kansas I've mixed the usual with the unusual.
I've included the Kansas attractions everyone should visit and added in some that just sound so fun and unique.
So are you ready to see what things to do in Kansas that I have picked for you? Put on your ruby red slippers and let's see what Kansas has to offer.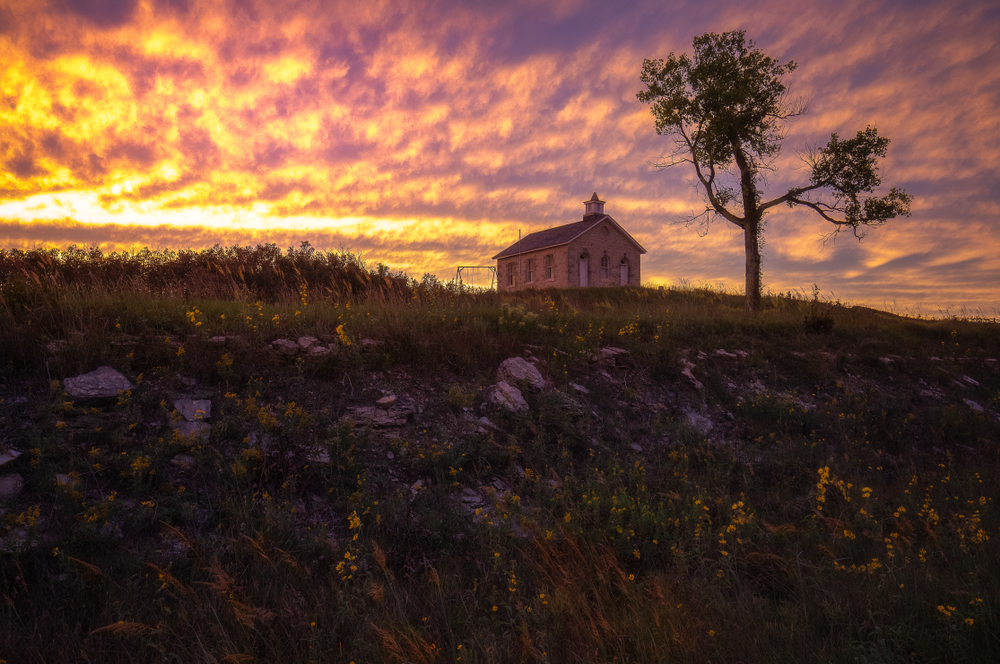 14 Unique Things To Do In Kansas
Visit One Of The 8 Wonders of Kansas
Did you know that Kansas has 8 Wonders? Yes, it does, and Monument Rocks is one of them. Think of this as nature's Stonehenge.
In Oakley, these chalk formations stand over 70 feet high and are actually remnants of the Western Interior Seaway. And they are pretty spectacular.
They are also known as the chalk pyramids and they are so unique. They were named the first national natural landmark in America.
With such names as "The Eye of the Needle" and " Charlie the Dog" adding this to your things to do in Kansas list is a great idea.
Matter of fact, this could be a great Midwest weekend getaway!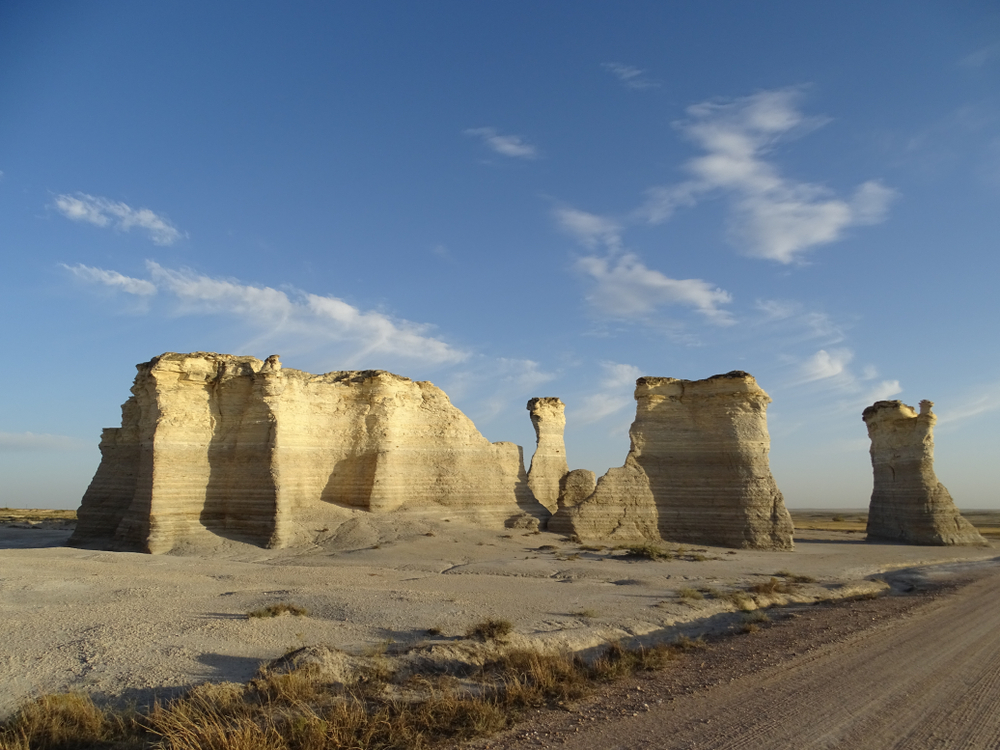 See Small Versions of Large Things
Out of all the KS attractions, this one may seem a bit odd however it is also surprisingly interesting. Located in Lucas, this would make a great thing to do in Kansas if the weather isn't on your side.
Erika Neilson researches, visits, and photographs some of the world's largest things.
She then makes the world's smallest version of the world's biggest thing. The little replicas and the photography are exhibited at the museum.
Originally a traveling exhibition it is now has a site at Lucas. The museum is open by chance or by appointment so if you want to make certain to visit, please book an appointment online.
If you like the strange and unusual then this is one Kansas attraction you will want to visit. This really is a Midwest hidden gem.
Follow A Conquistador Journey
Have you heard of the Seven Cities of Gold? This spot in Lindsborg is where a conquistador gave up his search for the fabled Seven Cities of Gold.
The Discovery of a mysterious Spanish coin in 1881 in this area seemed to confirm the legend that Francisco Vasquez de Coronado did indeed visit the area in the 1540s on his hunt for the golden cities.
The tale of the "Seven Cities of Gold, is believed to be steeped in Portuguese myth and Coronado ended his expedition here and returned empty-handed.
Coronado Heights Castle was built under a Works Progress Administration (WPA) project in the 1930s marking the spot where Coronado is said to have gazed over the flatlands.
This is really one of the small towns in Kansas to visit!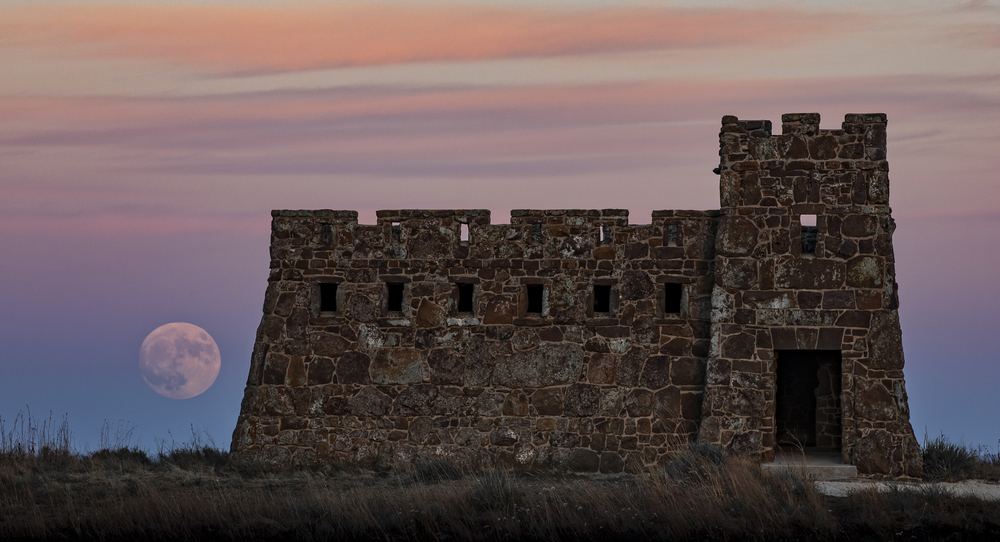 Seeing A 250 Million-Year-Old Crystal Is One Of The Unique Things To Do In Kansas
Sixty-five stories below the ground in Hutchinson, Kansas is a massive salt mine. So large that the salt veins stretch from there all the way to New Mexico.
But that is not the most interesting thing about Strataca. The museum contains a 250-million-year-old salt crystal in which a living bacterium was discovered in 1998.
Talking of blockbusters, the mines also store government records and thousands of Hollywood films such as the master prints of Gone With the Wind and The Wizard of Oz, although these places are off-limits.
You can see the piece of salt where the bacteria was found and if that isn't unique enough they occasionally host 'Murder in the Mine" dinner theater.
You can also take a tram ride through the mine which is aptly named Dark Ride. Everything about this place sounds mysterious, creepy and so interesting. Which makes it the perfect attraction in Kansas.
Explore The Kansas Prairie
Established in 1996 The Tallgrass Prairie National Preserve covers 22 counties in the east-central section of the state. Tallgrass prairie once covered 170 million acres of North America, today less than 4% remains intact.
With over 11,00 acres to explore this unique ecosystem offers open space, beautiful vistas, wildflowers, wildlife, and a wild bison herd.
The preserve prides itself in offering opportunities for people to make meaningful connections with the land and the people who lived there.
Mostly you come here to hike, take in nature and learn about the history. You can also take bus and horse tours.
It's free to enter the park and it is open all year round. When it comes to what to do in Kansas, visiting The Tallgrass Prairie National Preserve should be high on your list.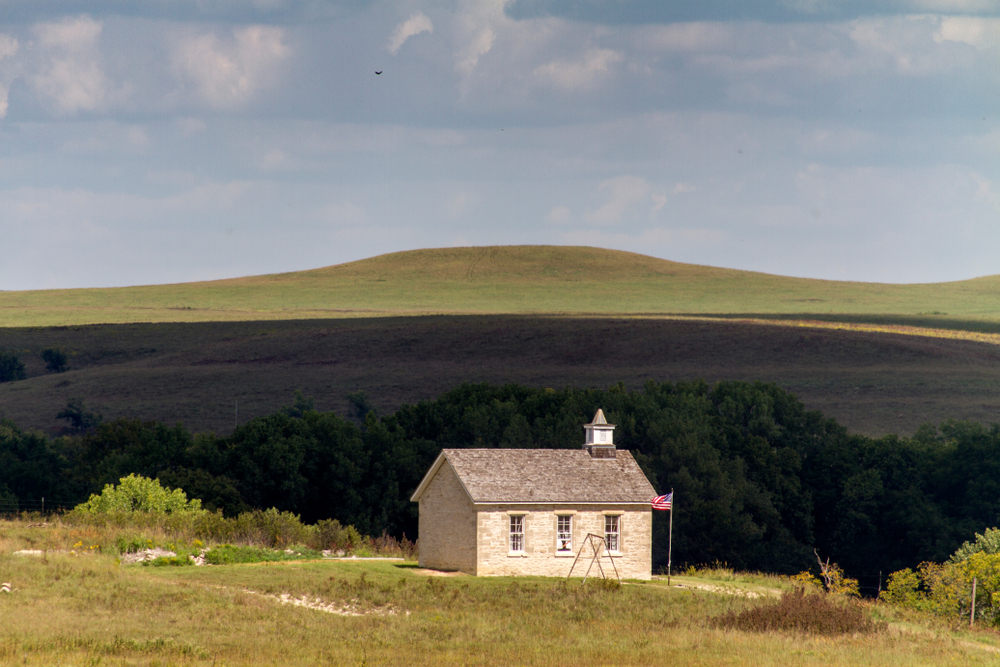 Walk In Dorothy's Footsteps
I could not write about Kansas and not include anything to do with the film that made it famous, The Wizard of Oz!
Founded in 2004 in the small town of Wamego the museum celebrates all things Oz from the book to the film.
You can take steps down the yellow brick road, visit Dorothy's farmhouse and watch it transform from back and white to color. You are surrounded here by Oz memorabilia, and the museum is painted emerald green.
The whole town has become somewhat of an Oz tribute with locally produced Oz-themed wines such as Squished Witch and Drunken Munchkin. And Wamego's beloved Toto's Tacos.
For adults and children alike this is definitely worth adding to your things to do in Kansas list.
Visiting The Lessman Farm & Truckhenge Is One Of The Cool Things To Do In Kansas
This one is on the wild side but something about it is so wholesome and intriguing. It's just like Stonehenge but with trucks. Are you curious?
This Topeka, Kansas attraction was originally created in 2000 as a response to county officials trying to motivate a local citizen to clean up his yard.
Ever the rebel, he instead buried one end of his trucks into the ground so they stuck up and wrote slogans on them. What he created then became known as a work of art today. 
There is something so cool about an act of rebellion becoming art. It also has a number of other items on this farm, one known as "Beer Bottle City."
Contact the owner, Ron Lessman, first and he is more than happy to show you Trunkhenge. In addition, he is quite the storyteller according to locals.
Visiting here is truly one of the most unique things to do in Kansas. And could make a great Midwest road trip!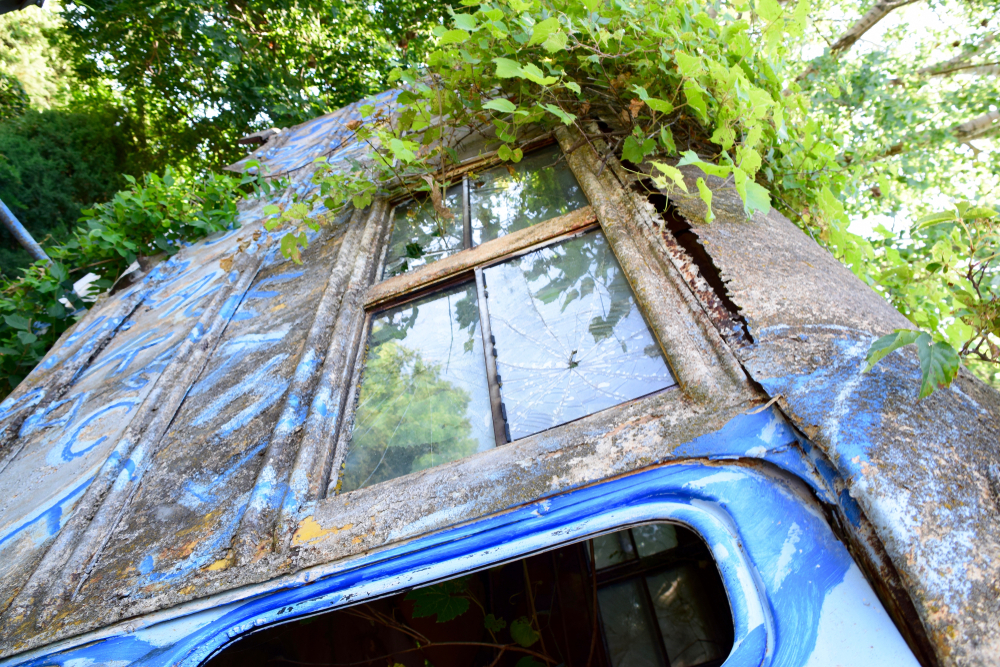 See A Giant Van Gogh
Seems like Kansas has a thing for creating big works of art. This one is somewhat of a roadside attraction and while it is not a real Van Gogh, it is well worth stopping and having a better look.
As part of Cameron Cross's Big Easel Project, he created a 24 by 32-foot reproduction of Van Gogh's "Three Sunflowers in a Vase, and it sits on a huge easel.
On the outskirts of Goodland, there is a parking lot behind this attractions in Kansas if you want to stop to get a better look.
Get A Spectacular View At The Reservoir
Going to visit a reservoir might not be everyone's idea of a Kansas attraction, but this one comes with a view. That view provided by 150-foot tall, cedar-covered limestone bluffs on the south side of the lake.
Formed by years of erosion by the Smoky Hill River you can easily access the bluff from the small parking area. The reservoir in the Cedar Bluff State Park is also a haven for wildlife and watersport activities.
If you have some time, also explore the nearby Threshing Machine Canyon. The canyon is the site of an 1850s Native American attack on a wagon train and in the canyon, you will find carvings dating back to the mid-1800s.
With so much to do, add this to your best things to do in Kansas bucket list!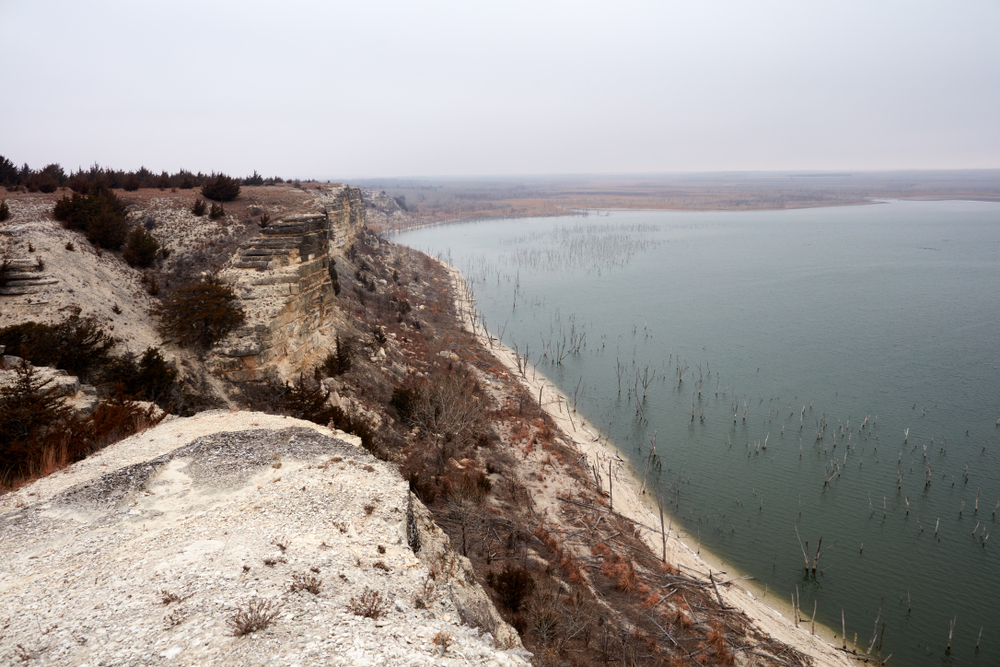 Go Bird Watching In Cheyenne Bottoms
Cheyenne Bottoms is a 41,000-acre wetland complex.
It's the largest interior marsh area in the United States. The Cheyenne Bottoms Visitor and Nature Center tells the story of the importance of wetlands through interactive exhibits.
Bird watchers will love this place as it's been named a Hemispheric Reserve by the Western Hemispheric Shorebird Reserve Network.
It is also designated as a Globally Important Bird Area by the American Bird Conservancy and a Wetland of International Importance by the Ramsar Committee.
There are known to be over 300,00 bird species in this area. This natural geologic depression lies north of the Arkansas River and really is a special thing to do in Kansas.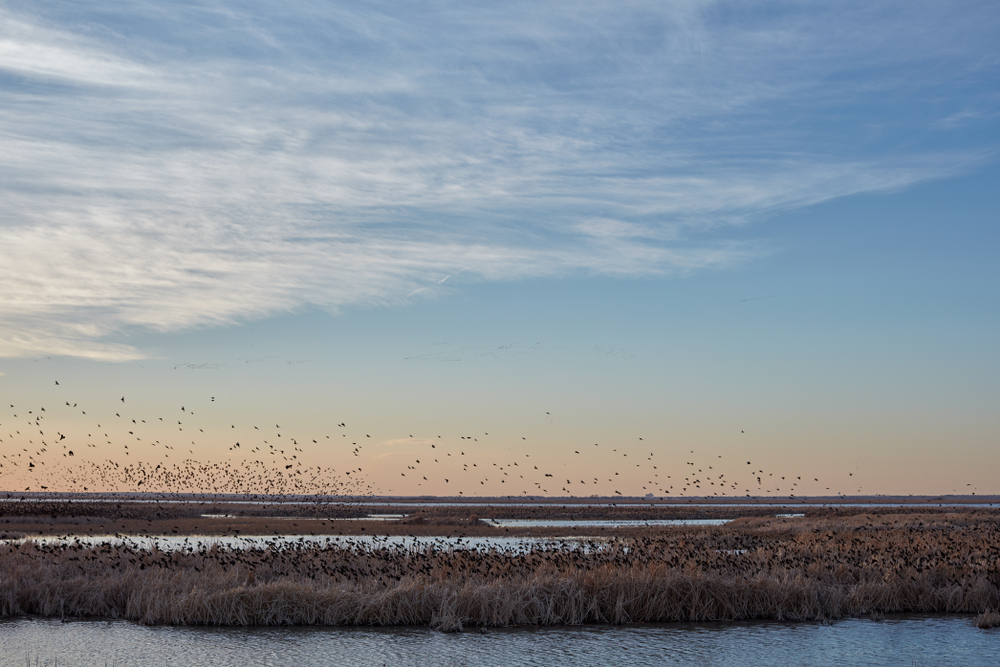 Celebrate Native American Culture
In downtown Wichita, at the point where the Big and Little Arkansas Rivers join together, is an Iconic sculpture.
At 44 feet tall, the Keeper Of The Plains looks over the land between the two rivers. This is sacred ground to the Native American people. It is also home to the Mid-America All-Indian Museum.
This iconic sculpture was created by the grandson of a Kiowa chief.  Blackbear Bosin died six years after his iconic sculpture was given to Wichita in 1974.
He never really had the chance to see what it came to represent. 
Sitting on a 30-foot stone plinth, the Keeper of the Plains rises a full 74 feet above the union of two rivers.
At the eastern end of the park, it is reached over a bridge, and weather permitting, is lit by a ring of fire in the evenings. 
It is free to enter the park and the fire is lit at either 7 pm or 9pm depending on the time of year. 
there are so many interesting things to do in Wichita, and this is definitely one of them.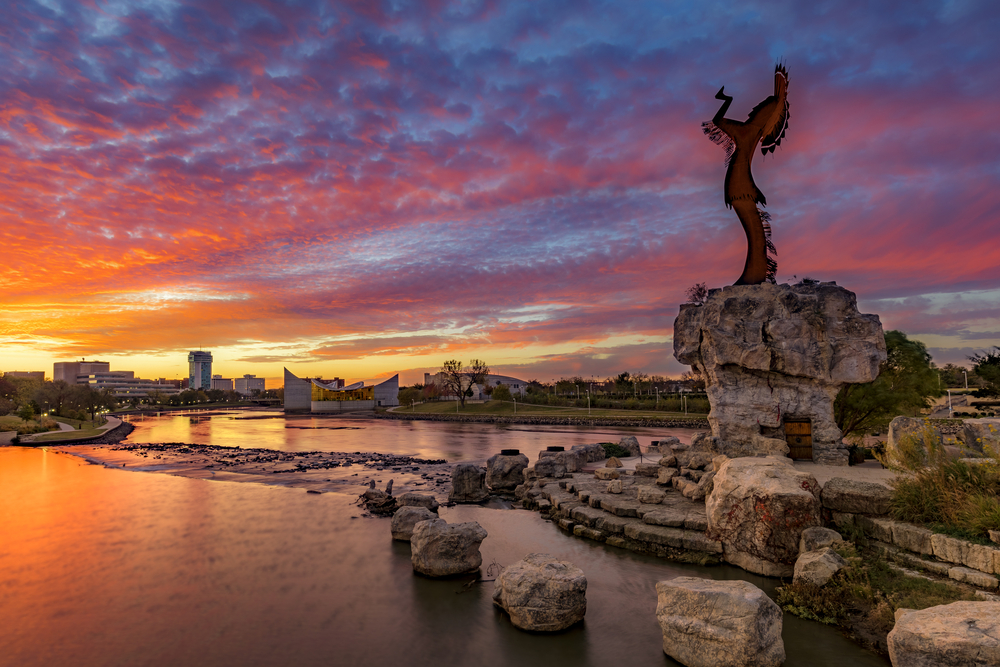 Climb Into A Dome In Topeka
The Kansas State Capitol building in Topeka is stunning. The impressive building took 37 years to build between 1866 to 1903 and is extremely ornate.
There are 296 stairs to the top of the interior of the Capitol Dome, with tours scheduled daily. Sadly, there is no elevator.
However, there are tours available elsewhere around the rest of the building.
You will see murals by David H. Overmyer, John Steuart Curry, Lumen Martin Winter, and the well-known Tragic Prelude and Kansas Pastoral.
There are also staterooms, galleries, the spectacular Senate Chamber, and the ornate Old Kansas Supreme Court to see.
If you love architecture and history the Kansas State Capitol Building is highly recommended as one of the best things to do in Kansas. It truly is a beautiful building inside and out.
After exploring the city, why not check out some of the best restaurants in Topeka?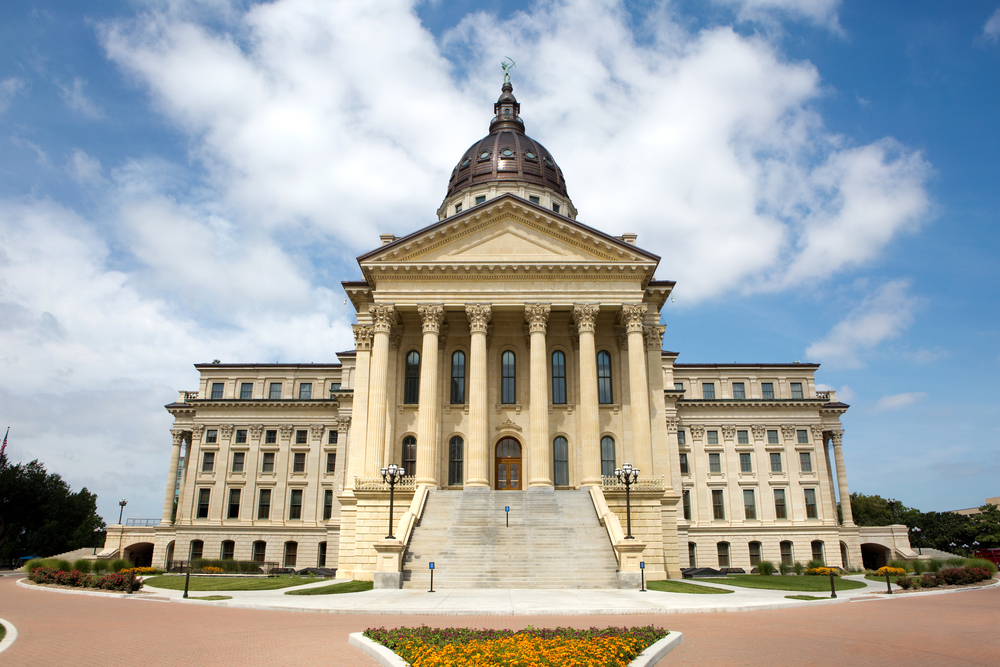 Visit An Island Building In Wichita
Exploration Place is a science museum and discovery center in Wichita, Kansas. The building is as interesting as what goes on inside it.
Named the island-building it is surrounded by water and sits beside the Arkansas River. 
It features Kansas's largest dome theatre, a 60-foot-high, 360-degree digital screen in the Boeing Dome Theater and Planetarium.
There are also five science shows in the Kemper Creative Learning Studio. 
It is a place to discover local history and explore hands-on science. Before you go check their website to see what's on.
Visiting here is one of the most fun and educational things to do in Kansas.
After exploring the city, visit some of the restaurants in Wichita for a delicious meal!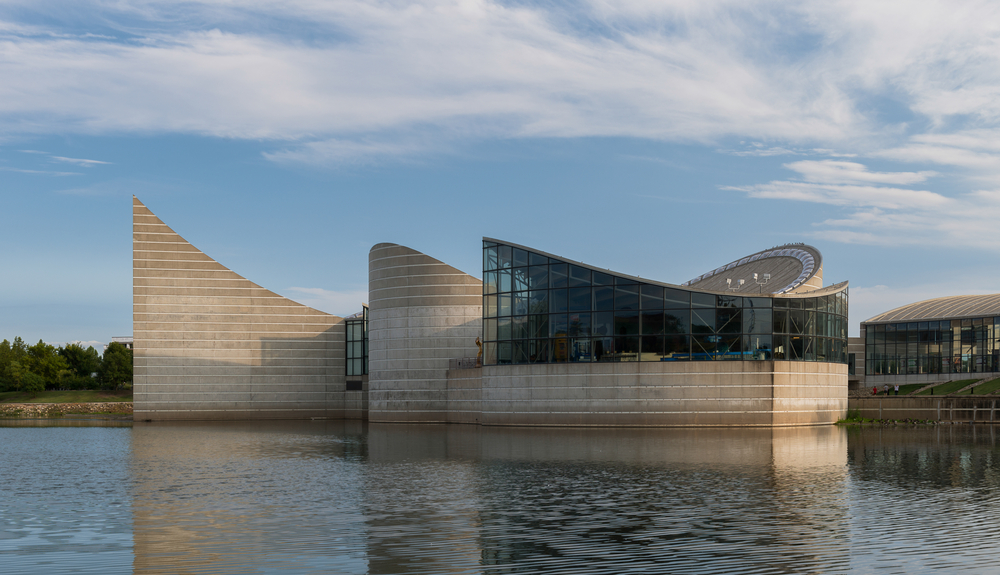 Spend A Day In The Wild West In Dodge City
You cannot visit Kansas and not get a dose of the wild west! Boot Hill in Dodge City is the place where it is at.
Here things haven't changed much since the 1870s. The museum located here has thousands of artifacts and photographs depicting Dodge City in its early years.
Located on the original site of Boot Hill Cemetery you will find lively, interactive displays and activities the entire family will enjoy.
Cold sarsaparilla, grandma's homemade fudge, and the Boot Hill Gift Shop will also keep you occupied.
You can take a stroll through some of the historic buildings like the schoolhouse and Fort Dodge jail, the general store, and the local saloon.
And if you are there at the right time you might also get to experience the reenactment street shootout of the Boot Hill Gunfighters.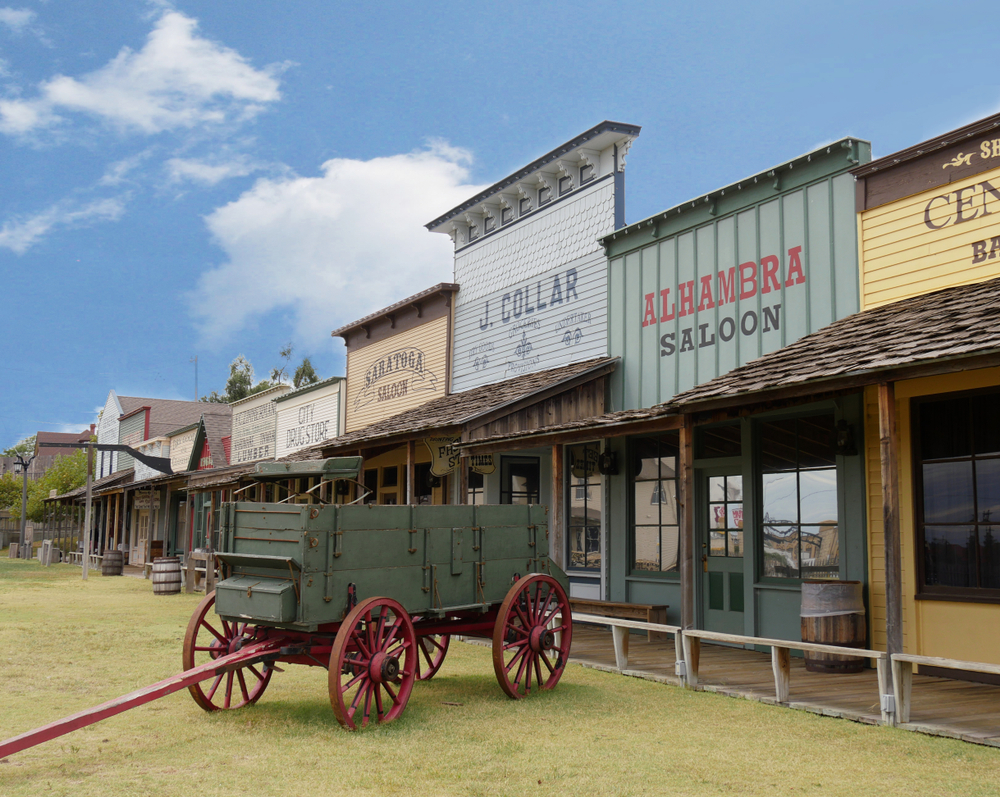 Packing List For Visiting Kansas
If you will be traveling, either by plane or by car to Wisconsin, here are some tips on how to pack lightly.
A concealed travel pouch may be one of the most important items you bring along when visiting any of the attractions in Kansas.
It is always important to protect your personal information. Identity thieves are everywhere.
This unisex RFID blocking concealed travel pouch is lightweight and comes in several colors. It has lots of organization to give you peace of mind. You can place it under your hiking clothes next to your body to carry your ID safely.
f you have a pouch already that does not come with the RFID protection, as I do, these RFID sleeves are the perfect solution.
This configuration comes with enough credit card sleeves that the entire family would be protected. They are slim too, so they will easily fit into your pouch or wallet.
If you are planning on taking a lot of pictures with your phone you will definitely want to consider an external charging battery. This Anker high-speed phone charging battery is the exact one I carry with me on all of my trips.
It can be used on a variety of phones, not just an iPhone like I have. And wow is it fast!
I like that it holds its charging capabilities for several uses so I do not have to worry about it while out and about, and if I forget to recharge it at night, it will still be good to go the next day.
My daughter gifted me with this FugeTek selfie stick and tripod setup for my birthday. I absolutely love it! It is made of lightweight aluminum and so easy to use.
It has Bluetooth connectivity and is a breeze to use for taking selfies with all those nature shots whilst checking off your list of things to do in Door County.
Hydration is so important when hiking. You want to remain hydrated throughout your day to support your immune system which in turn will be stronger to fight off any germs you will encounter during your travels.
You will want to bring your own refillable water bottle with you.
I never leave home on a trip without my Bobble filtration bottle. The 18.5-ounce size is perfect for hiking and it fits nicely in the pocket of a backpack.
When filled with water, it is not too heavy to carry. And the charcoal filter ensures fresh clean water whenever you fill the Bobble.
You can find filter replacements here.
Perhaps you are traveling a long distance and packing space is a premium in your suitcase, or in your car.
Then this set of collapsible silicone foldable water bottles would work well for you. Would not take up much space at all.
You will want a backpack or daypack with you to store snacks, your water bottle, phone, extra clothes, etc.. when exploring all the best things to do in Kansas. No matter the time of day or evening.
This foldable water-resistant backpack would be great
It is very affordable and is available in many color options for you to choose from. The fact that it folds down into a zippered pouch will make it easy to pack!
—
As you can see, when it comes to things to do in Kansas there are plenty to choose from.
There are so many cool things to do in Lawrence KS it should be a consideration too!
Whichever one of these Kansas attractions you visit I hope you have an amazing time and I can't wait to hear about it.
If you have any more ideas of what to do in Kansas add them in the comments so others can see them too. Have a great time in Kansas and come back and tell me all about it.