Many cute towns in Kansas are perfect for a day trip or romantic getaway in the Midwest.
These Kansas towns are dotted all over the Sunflower State and are rich in history and culture. No matter your interests, you will find a new town to fall in love with.
From quaint Kansas farm towns to places where American history was made, there are plenty of sites to explore. Activities for the whole family range from hiking, visiting museums, antique shopping, and more.
Now, let's take a closer look at some of the best small towns in Kansas!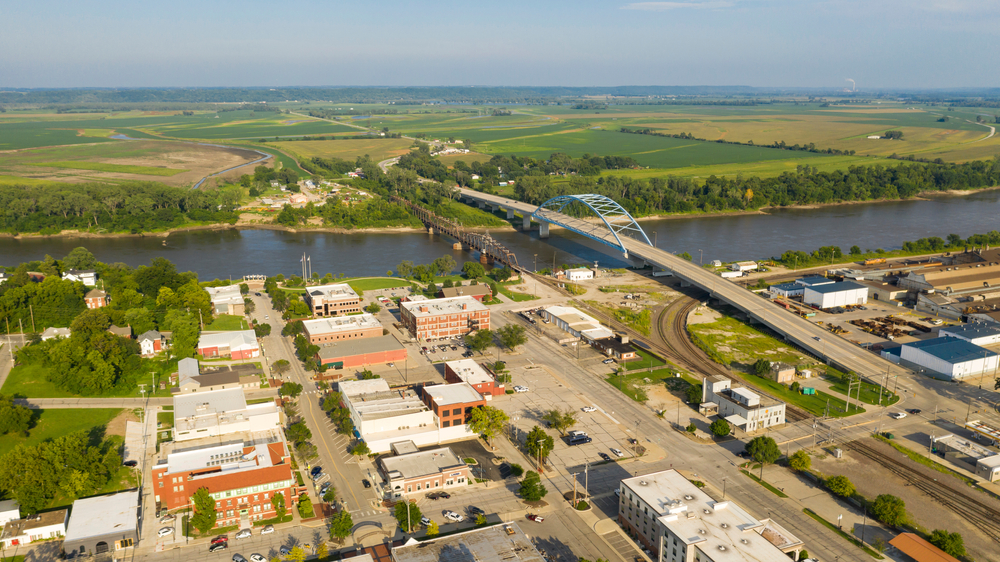 15 Charming Small Towns in Kansas You Must Visit
Lecompton
Lecompton is found on the Kansas River and has a population of under 1000 people. This Kansas town was founded in 1854 and refers to itself as the "Birthplace of the Civil War, Where Slavery Began to Die."
When you visit, you will see many historic buildings that date back to the 1800s. These include Constitution Hall and the Lecompton City Jail.
Stop by the Territorial Capital Museum at Lane University to learn about the town's early history. Interestingly, the town was briefly the capital of the Kansas Territory.
If you visit in November or December, the museum will be full of decked-out vintage Christmas trees. This is a cool place to come to experience Christmas in the Midwest.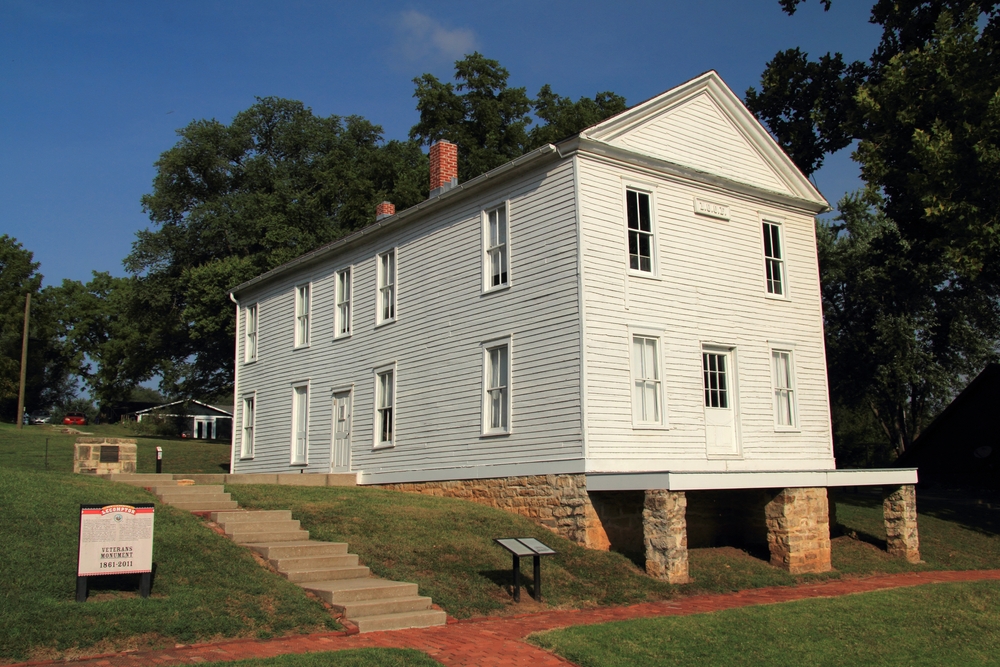 Norton
In northern Kansas near the Nebraska border, you will find the town of Norton. This is a great place to visit in Kansas if you love small-town vibes mixed with natural scenery.
Stroll the historic downtown and check out the local shops and restaurants. There are also art galleries and museums.
Snap a photo with the Stagecoach Station 15, a replica of an 1800s stagecoach. Drive by the public library to see some life-sized Remington statues of bucking horses.
If you want to spend time in the great outdoors, Prairie Dog State Park and the Sebelius Reservoir are just outside of town. This is one of the best places for camping in Kansas.
You can also hike, boat, or play a variety of sports including sand volleyball and basketball. There is also a playground for kids. Pack a picnic and have a great day at the lake.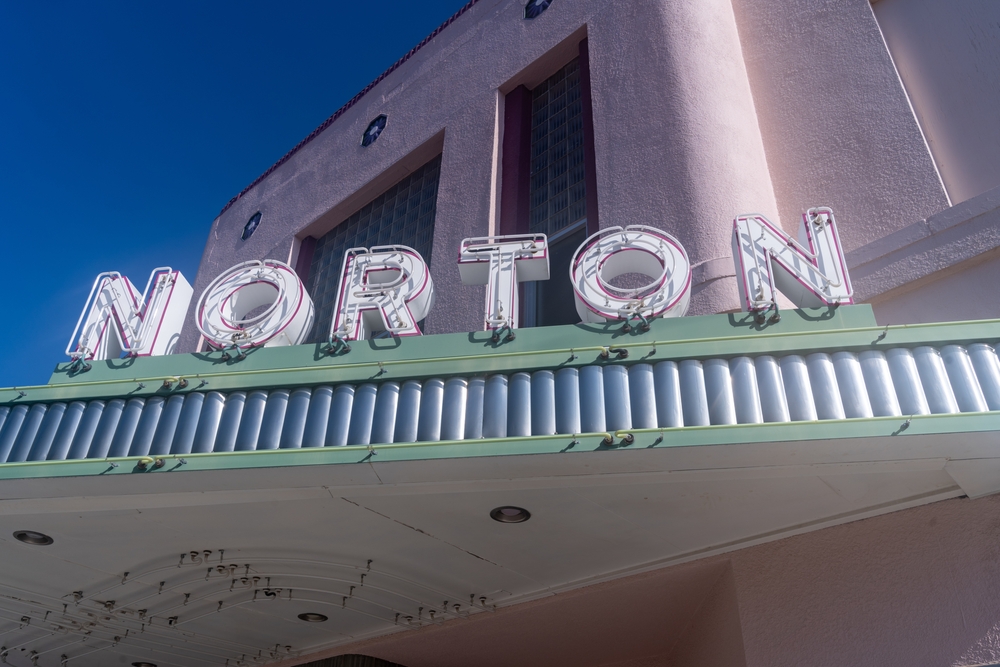 Lucas
The small town of Lucas is home to some of the most unique Midwest hidden gems. The town is known as the Grassroots Art Capital of Kansas, and you will quickly learn why.
S.P. Dinsmoor's Garden of Eden was created between 1907 and 1928. Built by a Civil War veteran, the property features a log cabin and sculptures or trees and figures surrounding it.
Another cool place in Lucas to visit is the World's Largest Collection of the World's Smallest Versions of the World's Largest Things. Yes, it is a mouthful and is as kitschy as you would think.
Inside the museum, you will find tiny replicas of the World's Biggest Things made by artist Erika Nelson.
This is a town you should definitely add to your Midwest road trips bucket list!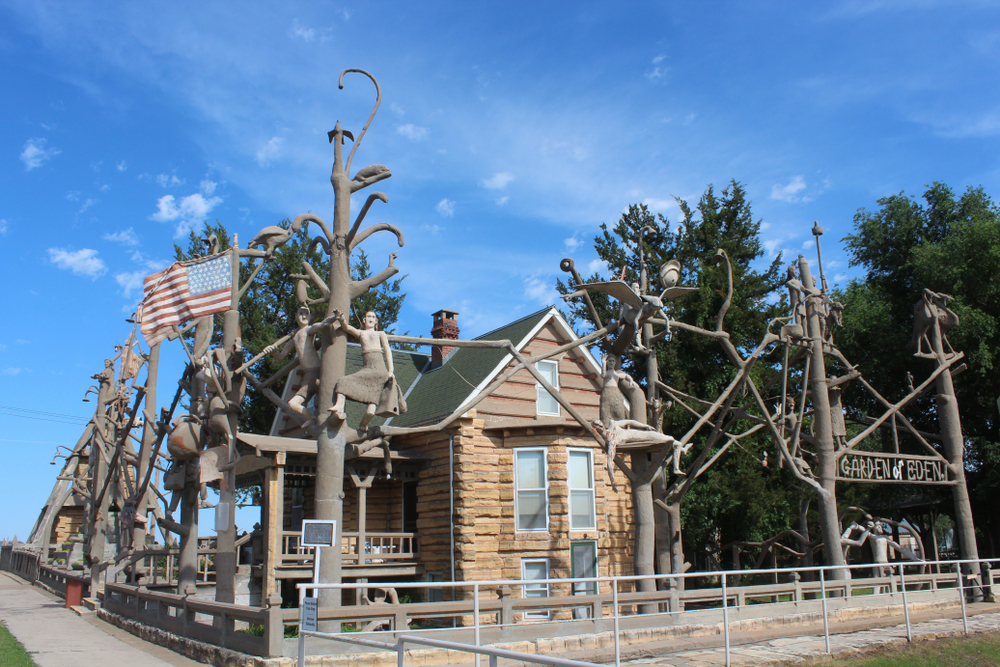 Abilene
Abilene is a pretty and historic town in Kansas. It was even named one of the "Best Small Towns to Visit" by Smithsonian Magazine!
You will have fun admiring the amazing architecture and visiting some unique museums. There are also antique shops, art galleries, and fun parks.
One of the main draws to Abilene is the Eisenhower Presidential Library, Museum, and Boyhood Home. Dwight D. Eisenhower was born in Texas in 1890 but moved to Abilene a couple of years later. You can visit the house he called home.
There are also a couple of Wonders of Kansas in Abilene. One is the grand Seelye Mansion which dates back to 1904. A tour of the inside will leave you awed.
The other is the C.W. Parker Carousel in the Dickinson County Heritage Center. Built in 1901, this is the oldest operational Parker carousel. You can still ride on one of the twenty-four horses.
This is one of the prettiest places to visit to experience fall in Kansas.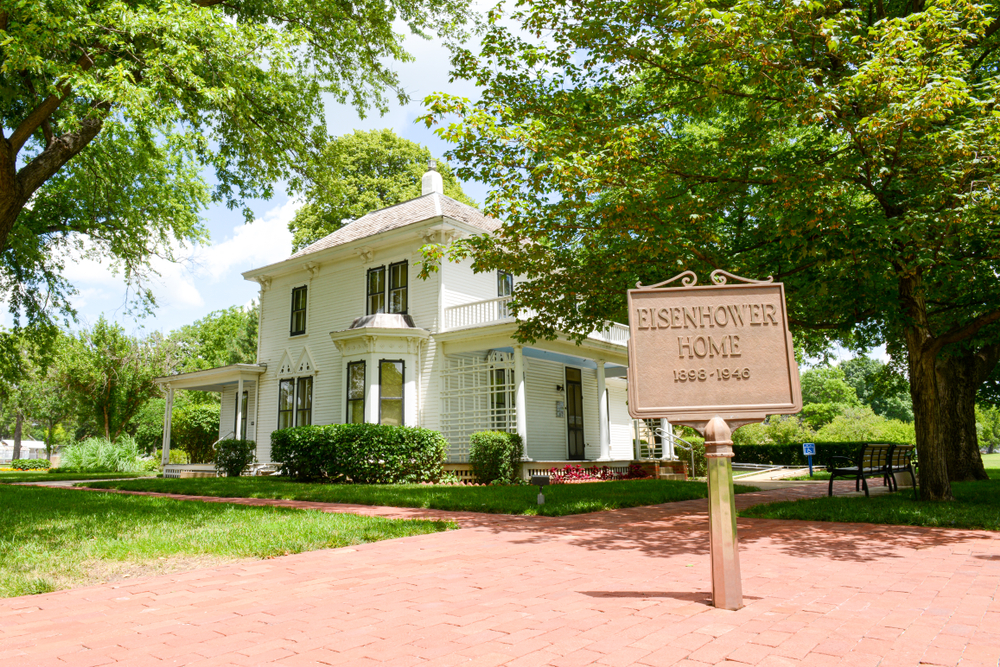 Atchison
Atchison, Kansas, is best known as the birthplace of Amelia Earhart. Fans of this history-making woman will want to visit the Amelia Earhart Birthplace Museum and the Amelia Earhart Hanger Museum.
Amelia Earhart was born here in 1897 and her legacy still lives on today. Each year in July, the Amelia Earhart Festival takes place with a ton of events, concerts, food, a fun run, and more.
Besides aviation history, Atchison has a lot more to offer. There are several Victorian-era houses to admire, a pretty riverfront to stroll along, and a number of historical museums to visit.
The town is also known for its paranormal activities. If you want to explore one of the most haunted places in the Midwest, book a Haunted Trolley Tour.
Atchison is one of the best day trips from Kansas City since it is just about an hour north.
And certainly one of the best places to visit in the Midwest!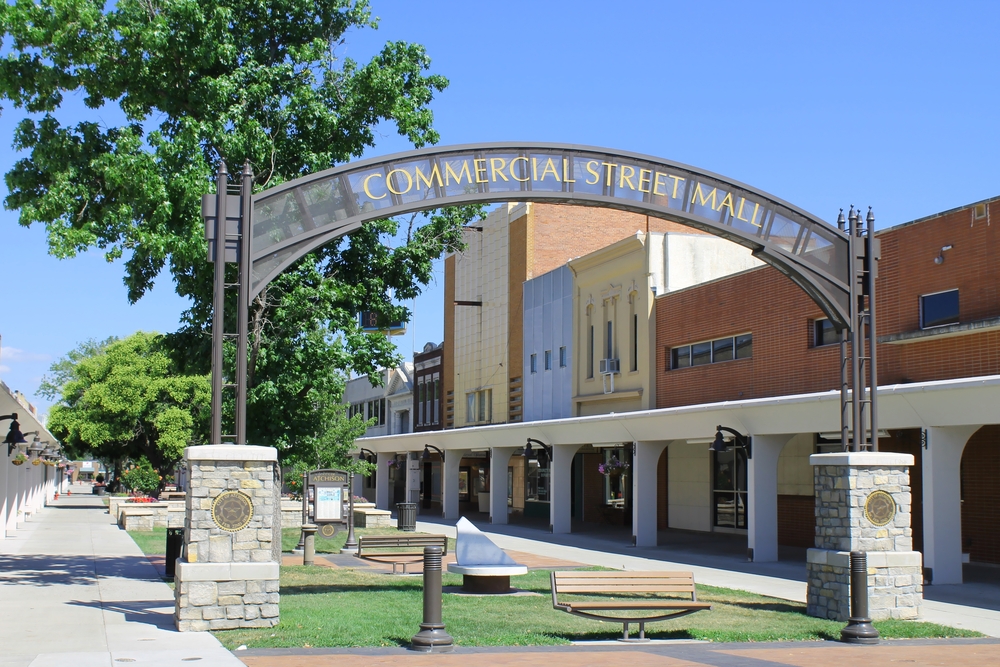 Cottonwood Falls
Cottonwood Falls is halfway between Topeka and the many things to do in Witchita.
Itshutterstock is the perfect escape from either city. Nestled among rolling hills and flowing rivers, this is a pretty place for a weekend getaway in the Midwest.
When driving the Flint Hills National Scenic Byway, make a stop in Cottonwood Falls. You will love visiting the museums, art galleries, antique shops, and local restaurants.
Among the historic buildings is the Chase County Courthouse. Built in 1873, this is the oldest working courthouse in the state. It is gorgeous and a great place for photos.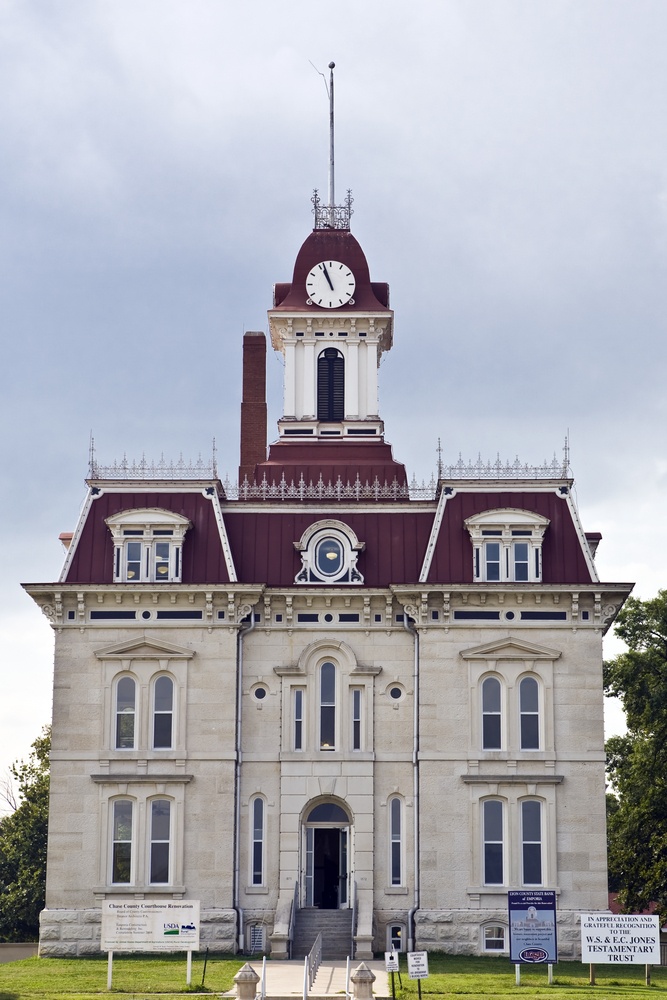 Colby
Colby is a western, prairie town full of art and history. This is one of the small towns in Kansas that might seem like it is in the middle of nowhere, but it is still worth a visit.
Come to the Prairie Museum of Art and History where you will learn about the agriculture and history of the region through artwork, photographs, and artifacts.
Behind the museum, you will find the Cooper Barn, the largest barn in the state as well as one of the Wonders of Kansas. It was built in 193 and is 66 feet wide, 114 feet long, and 48 feet high.
Another reason to visit Colby is the many events held throughout the year. The Pickin' on the Plains Bluegrass Festival takes place in July and the Great Oasis Cookoff is in April.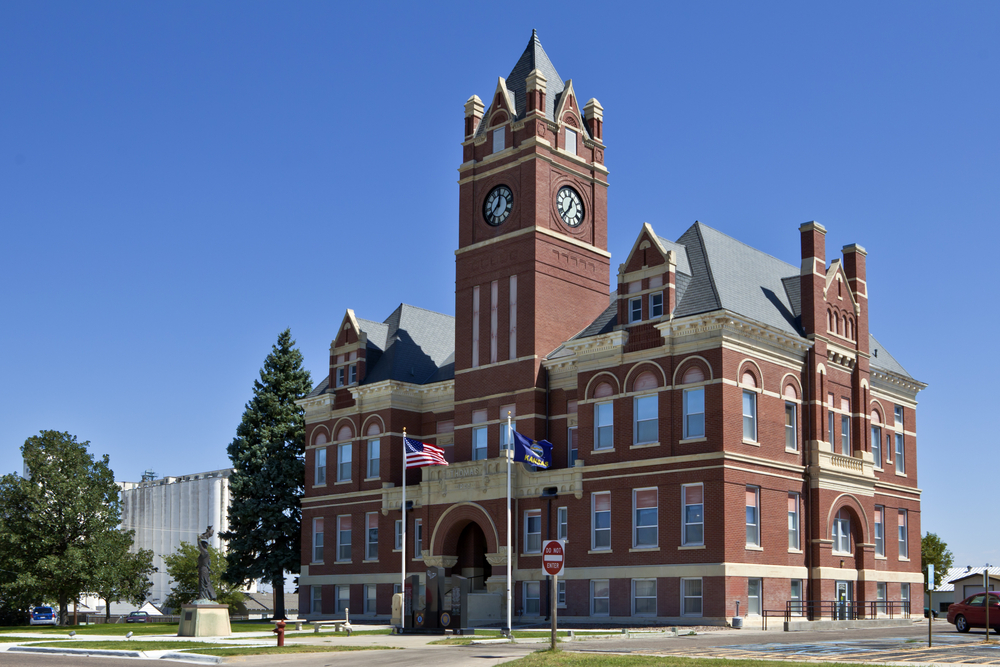 Dodge City
Dodge City is one of the most popular towns in Kansas for anyone who loves the Wild West. If you have ever heard the phrase "get out of Dodge," this was where it originated.
Founded in 1872, Dodge City was known as the "Wickedest Little City in America" since it was overrun with cowboys, gunslingers, gamblers, and lowlifes. If you have ever wanted to step back in time to the Wild West, this is the town in Kansas to visit!
The Boot Hill Museum is a recreation of an Old West town where you can shop at the General Store, visit a saloon, photograph people in period costumes, and more. There are fun events throughout the year.
Ride the Dodge City Trolley through town to see historic buildings and sites along the Santa Fe Trail.
Adults will have fun at the local distilleries and breweries, while kids will love the Long Branch Lagoon water park.
With so much to choose from, visiting Dodge City is one of the coolest things to do in Kansas!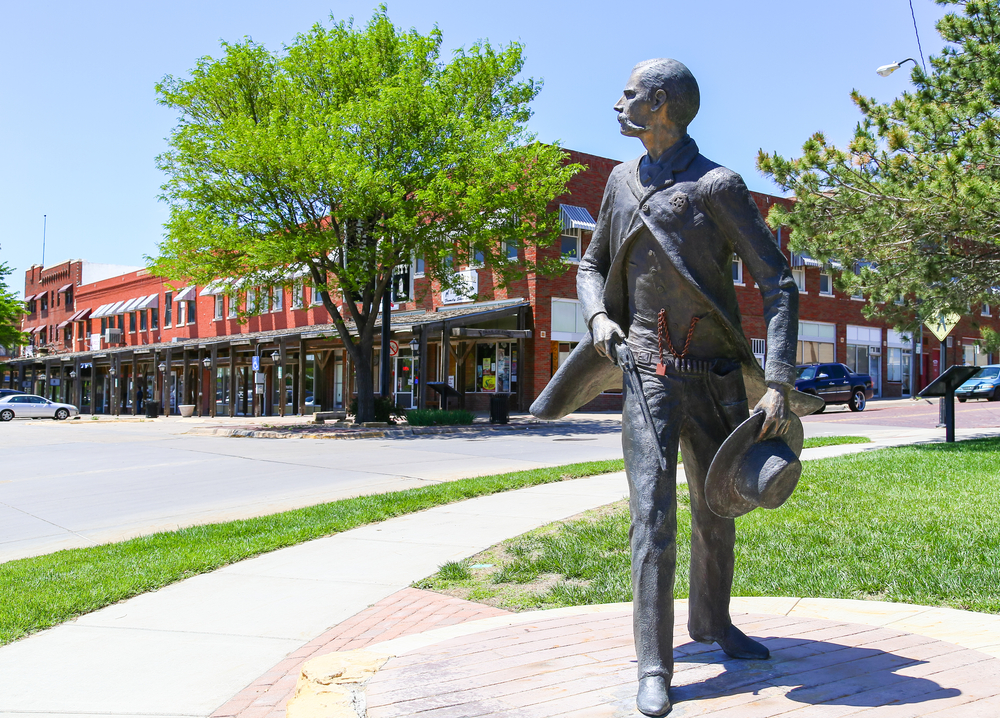 St. Marys
Thirty minutes outside of Topeka is St. Marys, a great example of the beautiful small towns in Kansas. If you love architecture, check out St. Marys College or the Immaculate Conception Catholic Church.
The Indian Pay Station Museum is the oldest building in the county having been built in 1857. This is where the Pottawatomie people and the government did business.
It is now a museum listed on the National Register of Historic Places.
Just up the highway is the Oregon Trail Nature Park. This is a great place for a picnic, nature walk, or some birdwatching. Wildflowers are also plentiful in spring and summer.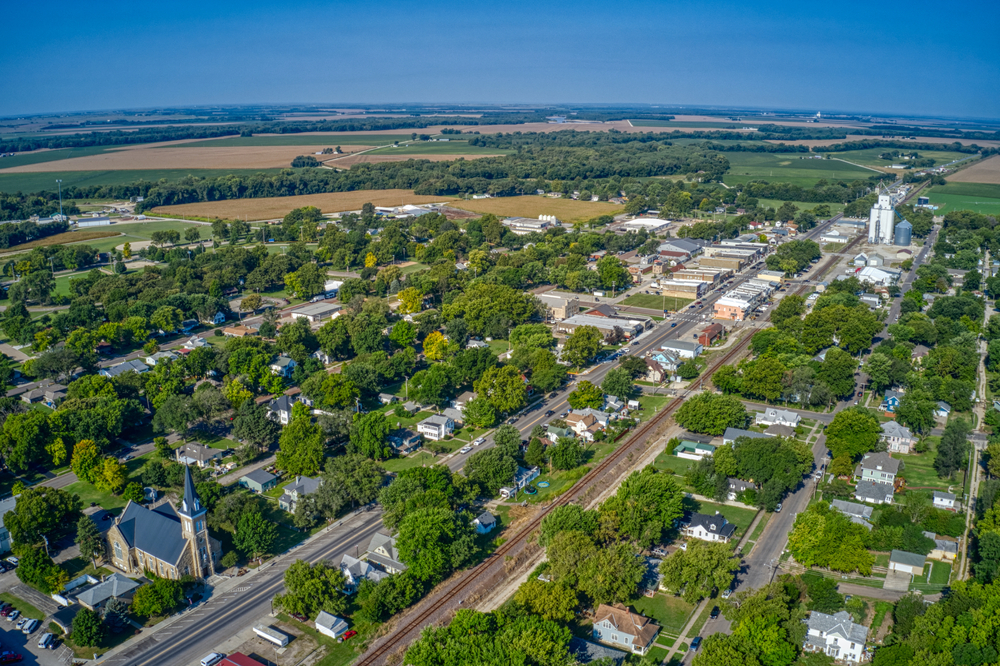 Fort Scott
History buffs will love to take a trip to Fort Scott, about an hour from Kansas City with so many great things to do.
Get an introduction to the town by riding the Fort Scott Trolley. The 50-minute narrated tour will show you many of the town's landmarks.
After the tour, there are plenty of museums, shops, parks, and historic buildings to explore. Lake Fort Scott is a great place for fishing and boating.
The most popular attraction here is the Fort Scott National Historic Site. The fort was established in 1842 and played a role in the Civil War.
There are twenty historic buildings to check out with period furnishings and exhibits.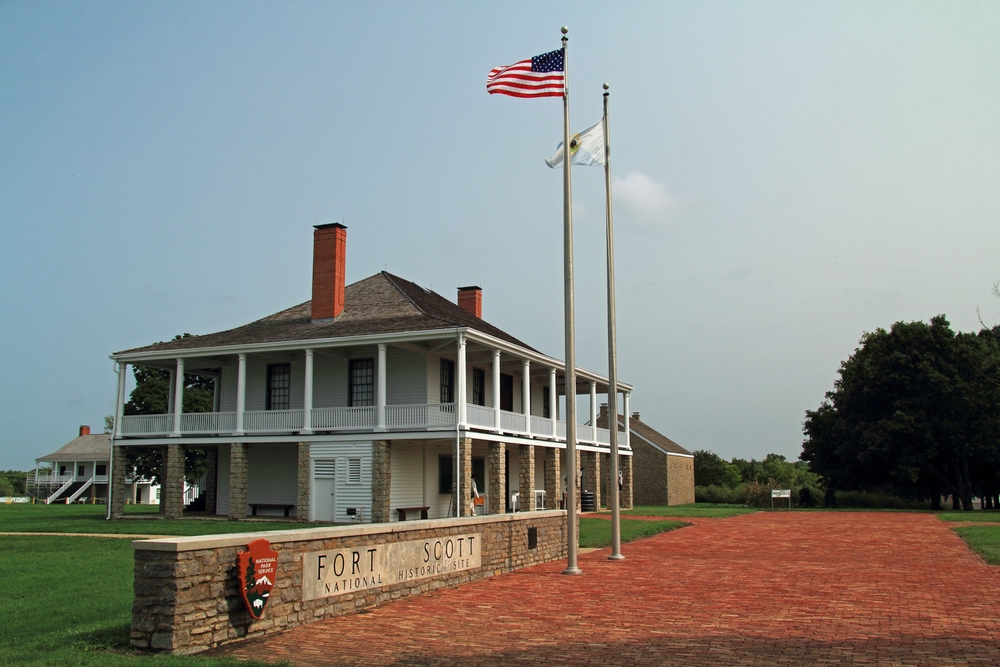 Leavenworth
Known as the "First City of Kansas," Leavenworth was founded in 1854 and is found on the Missouri River just outside of Kansas City. As the oldest city in Kansas, there is plenty of history to find here!
Stroll the historic downtown to find many murals and sculptures on Shawnee Street. There are a bunch of local shops here that sell a range of things from antiques, clothes, teas, jewelry, and more.
If you love museums, you can visit the First City Museum with frontier and industrial memorabilia. The C.W. Parker Carousel Museum is great for kids and adults with a 1913 carousel to ride.
You can also tour Fort Leavenworth, one of the oldest active military installations in the country. Don't forget to get a photo of the Buffalo Soldier Monument while in town.
Manhattan
Manhattan is another of the towns in Kansas found in the pretty Flint Hills. This college town is the home of Kansas State University and is known as an "All American City."
Museums in town include the Flint Hills Discovery Center, the Midwest Dream Car Collection, and the Marianna Kistler Beach Museum of Art. There is something for everyone!
There are a number of parks scattered throughout town that have sports fields, playgrounds, and walking trails.
If you want to get out of town and enjoy time on the water, head north to Tuttle Creek State Park. You can enjoy swimming, hiking, boating, and fishing. This is one of the best places for camping in Kansas.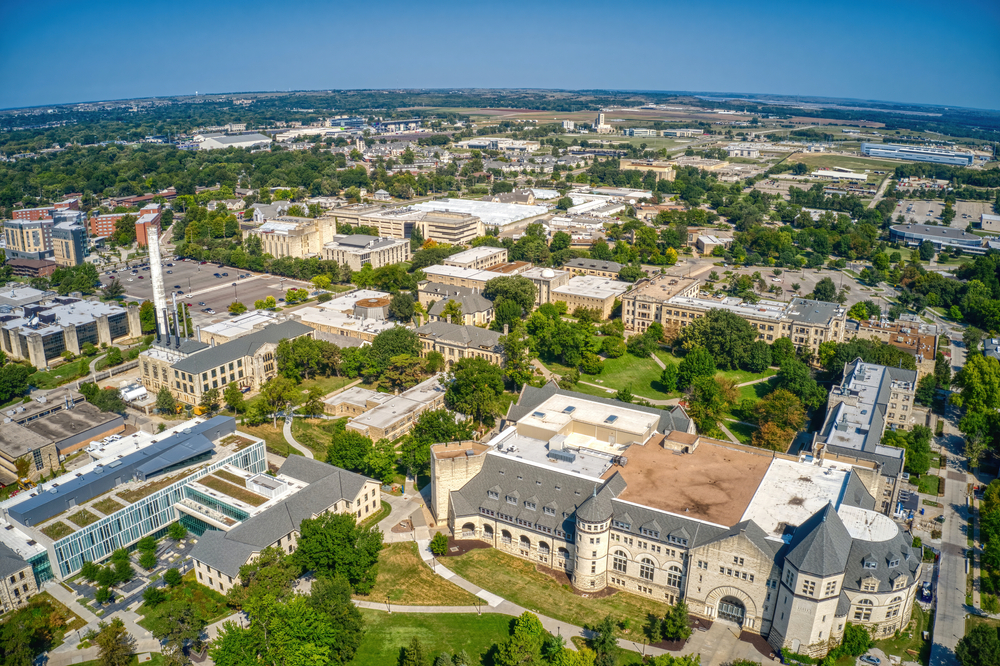 Victoria
Found in central Kansas, Victoria is a pretty, small town to visit. This farm town in Kansas is actually where Aberdeen-Angus cattle were first raised in the U.S.
The town is a combination of two immigrant settlements from the 1870s, one Scottish and one German. When the two melded, the Scottish name of Victoria was kept, referring to Queen Victoria.
The main attraction in town is the Basilica of St. Fidelis, also known as the Cathedral of the Plains. Built between 1908 and 1911 in the Romanesque style, the towers stand at 141 feet tall.
Victoria is not far off Highway 40, making it a great pitstop on a Kansas road trip.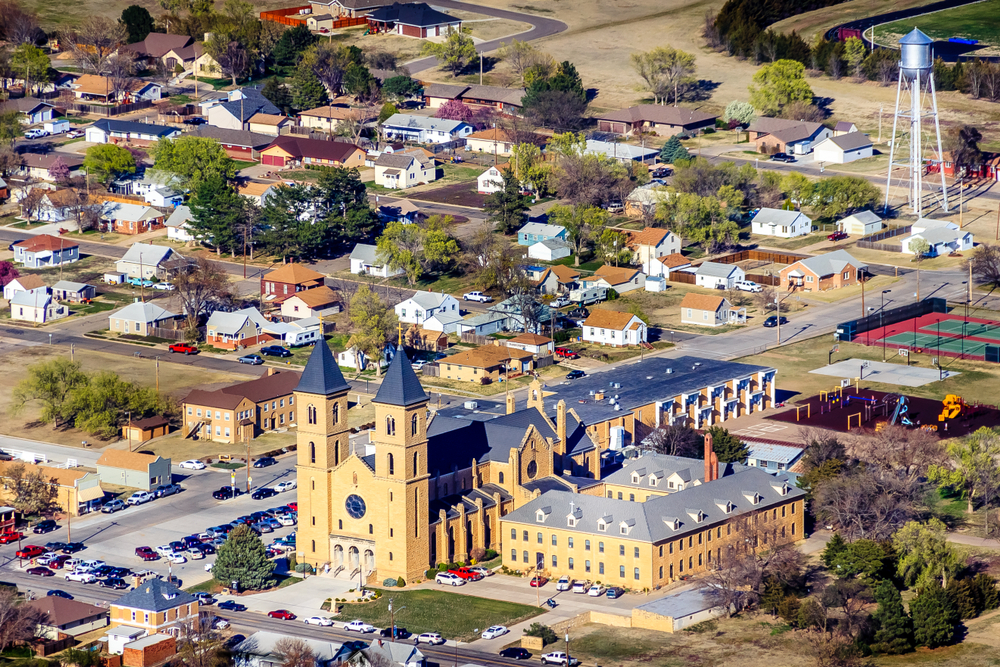 Hays
Hays is just a few minutes from Victoria and is another great Kansas town to visit. There is plenty of history to explore and fun to be had here.
Anyone interested in history will want to make time to visit the Sternberg Museum of Natural History or the Fort Hays State Historic Site.
Downtown, you will find great eateries, art galleries, boutiques, and more. The town's parks offer outdoor recreation in the form of disc golf, bike trails, playgrounds, and swimming pools.
There are different events held here too, including the Wild West Festival in July with concerts, a parade, and fireworks. The Volga German Oktoberfest celebrates the town's German heritage.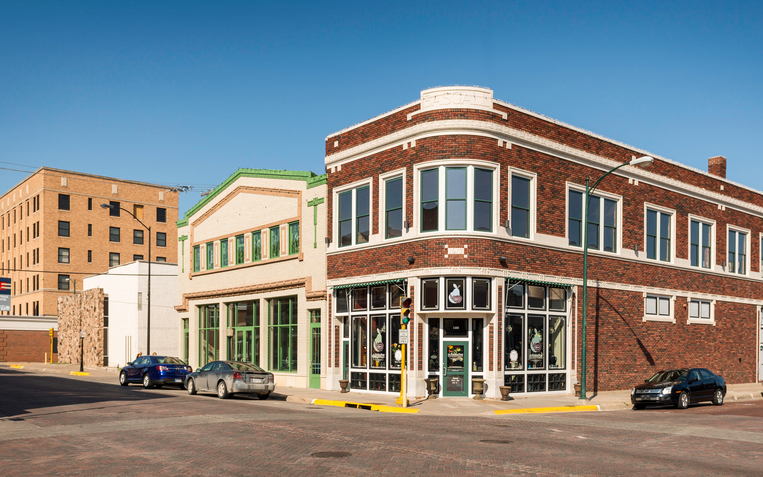 Larned Is One Of The Towns In Kansas Along The Santa Fe Trail
Another Kansas town on the Sante Fe Trail is Larned. Make sure to stop by the Santa Fe Trail Center to learn about the frontier history of the area.
For more history, head to the Fort Larned National Historic Site. This is one of the best-preserved forts of its time period. You'll see many restored buildings where soldiers lived and worked.
The Fort Larned History & Nature Trail is a great place for a peaceful hike. This easy, one-mile loop showcases the nature of the area while passing old stables, stores, and offices.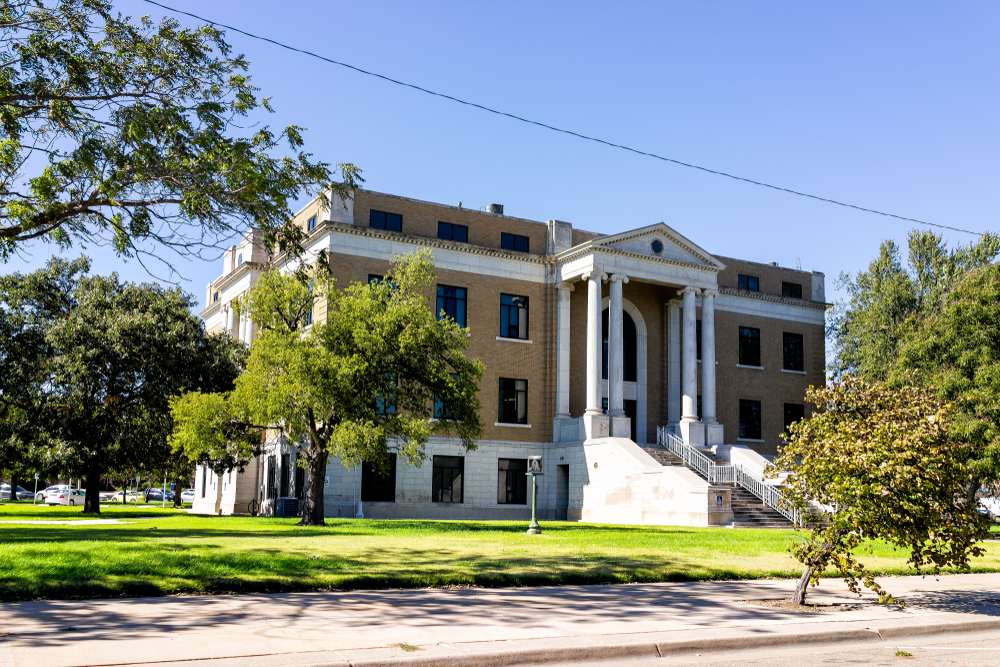 Packing List When Visiting Small Towns In Kansas
If you are searching, here are some tips on how to pack lightly when packing to visit Kansas towns.
A concealed travel pouch may be one of the most important items you bring along when traveling to towns in Kansas. It is always important to protect your personal information. Identity thieves are everywhere.
This unisex RFID blocking concealed travel pouch is lightweight and comes in several colors. It has lots of organization to give you peace of mind. You can place it under your clothes next to your body to carry your ID safely.
If you have a pouch already that does not come with the RFID protection, as I do, these RFID sleeves are the perfect solution.
If you are planning on taking a lot of pictures with your phone you will definitely want to consider an external charging battery. This Anker high-speed phone charging battery is the exact one I carry with me on all of my trips.
I like that it holds its charging capabilities for several uses so I do not have to worry about it while out and about, and if I forget to recharge it at night, it will still be good to go the next day.
My daughter gifted me with this FugeTek selfie stick and tripod setup for my birthday. I absolutely love it! It is made of lightweight aluminum and is so easy to use.
It has Bluetooth connectivity and is a breeze to use for taking Insta-worthy selfies while attending events in any of the small towns in Kansas you will visit.
I never much believed in using packing cubes when traveling. That is until I tried them. Now I am hooked. These are the exact cubes I use to stay organized when I pack for a trip!
You will want to bring your own refillable water bottle with you.
I never leave home on a trip without my Bobble filtration bottle. The 18.5-ounce size is perfect for your adventures and it fits nicely in the pocket of a backpack.
Perhaps you are traveling a long distance and packing space is a premium in your suitcase, or in your car. Then this set of collapsible silicone foldable water bottles would work well for you. Would not take up much space at all.
You will want a backpack or daypack with you to store snacks, your water bottle, phone, extra clothes, etc.. . No matter the time of day or evening.
This foldable water-resistant backpack would be great. And it comes in many different colors.
—
There are many great towns in KS if you know where to look. Many are not far from major cities, making them perfect day trips. These Kansas small towns all hold so many history, art, and nature opportunities.