There are so many awesome cities where you can celebrate Christmas in the Midwest.
This section of the U.S. knows how to host a festive party. If you are looking for a place to travel this Christmas, the Midwest holds a ton of holiday fun.
From light shows to markets there are so many Midwest winter activities to keep the whole family entertained.
Kids will love all the chances to meet Santa Claus. Couples will love taking romantic strolls through glittering lights.
If you are not sure how to start your holiday planning, we have you covered! Check out the cities below for some awesome Midwest Christmas celebrations.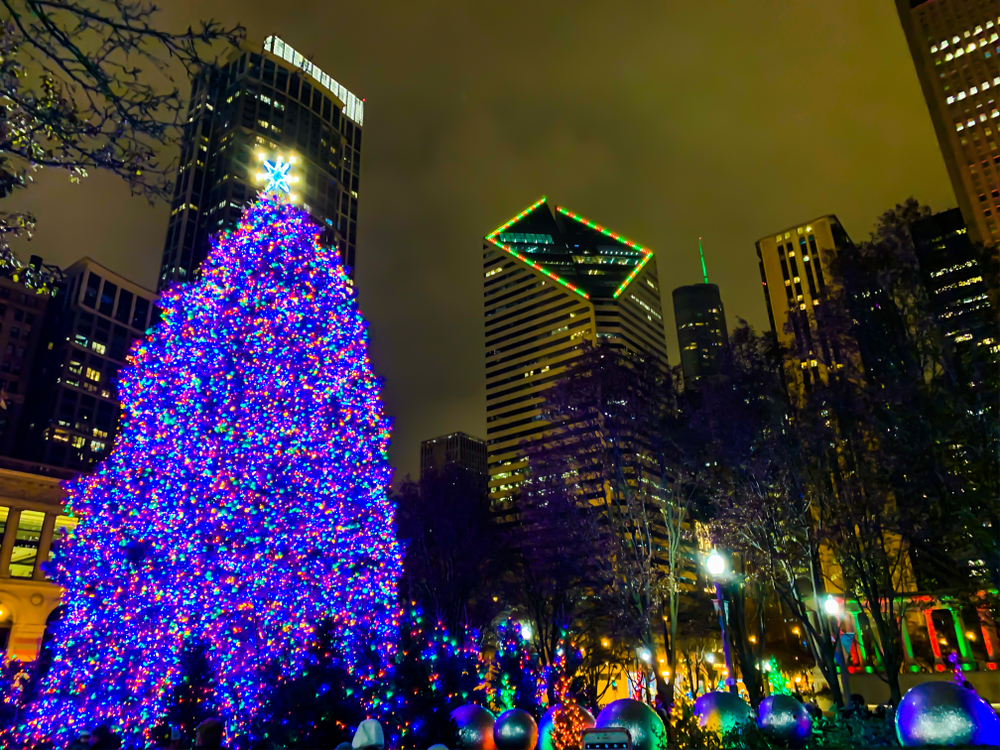 15 Festive Places to Celebrate Christmas in the Midwest
Chicago, Illinois
Chicago is one of the top destinations for Christmas in the Midwest.
With such a long list of festive activities taking place throughout this Illinois city, it is no wonder why people flock here in winter
Start your trip to the Windy City by visiting the official Christmas tree in Millennium Park.
This 57-foot tree is dazzling surrounded by skyscrapers. In the same park, there is a cool ice skating rink to check out, too.
A trip to Chicago at Christmas is not complete without a trip to the Christkindlmarket.
This European-style market is the best place to get into the holiday spirit. Walk through the pretty booths selling handmade gifts and enjoy tasty treats and a mug of mulled wine.
Another must-do is seeing the Christmas Around the World exhibit at the Museum of Science and Industry. The trees here are decorated in the style of fifty different cultures and traditions.
Chicago is one of the best Christmas cities in Illinois!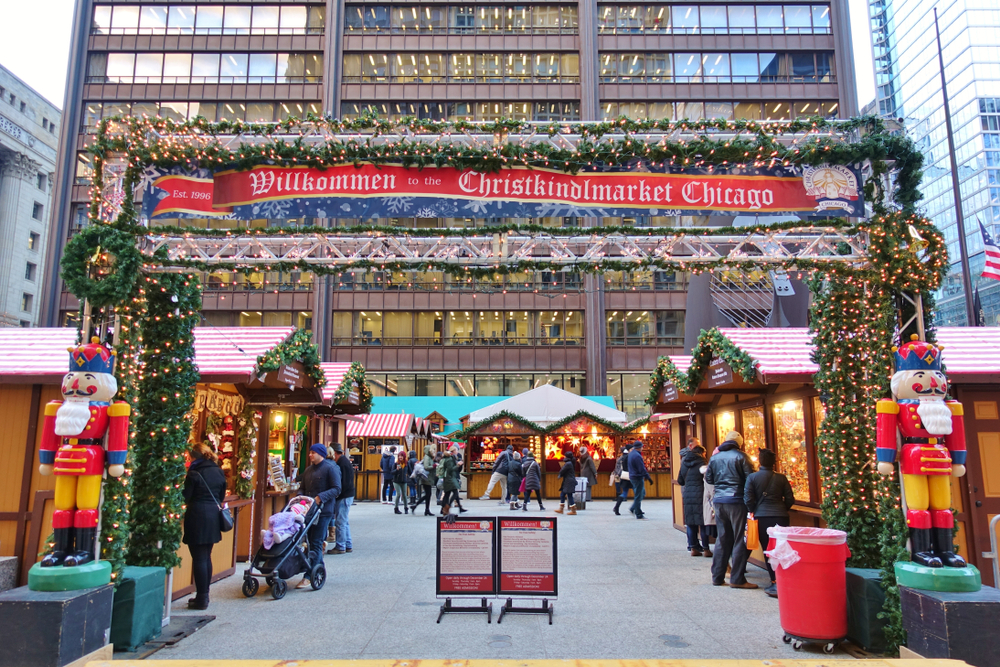 Santa Claus, Indiana
You can't get more Christmasy than a town named Santa Claus! This small town in Indiana has embraced its name and cranks its celebrations up to eleven every December.
The Santa Claus Museum & Village is dedicated to the history of the town and looks magical blanketed in snow.
You will find the town's original post office and a quaint church that dates back to 1880.
The village also has a 22-foot-tall Santa Claus statue to pose in front of. In fact, there are fifteen Santa statues sprinkled throughout town. Try to find them all during your Midwest winter trip.
You will also want to bring the kids to Santa's Candy Castle. You can satisfy your sweet tooth with all the treats they sell.
Roast some chestnuts on Saturday evenings between Thanksgiving and Christmas.
Another Christmas thing to do here is drive through the awesome light display at Santa Claus Land of Lights.
A lot of people also like to send cards from the town's post office so it has the Santa Claus postmark.
This is certainly one of the best places to visit for Christmas!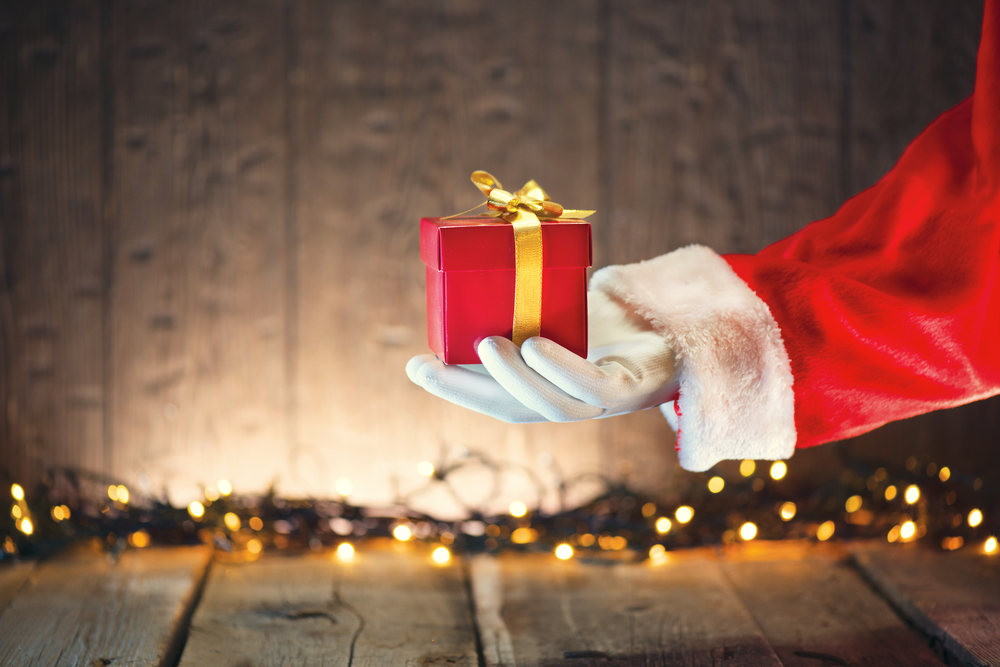 Keokuk, Iowa
The City of Christmas found in Rand Park in Keokuk, Iowa is a cute place to visit in December.
This event has been happening for a few decades and is a tradition for many families. Come and see what all the hype is about!
This drive-through light display is wonderfully crafted. You will find Toyland, Santa's Barn, Santa's Workshop, a nativity scene, and an international Christmas display.
The display is so popular that many cars go through it more than once to make sure they see everything. This is certainly one of the coolest things to do in Iowa at Christmas!
There is even a special radio station you can tune into that plays music and talks about the history of the City of Christmas.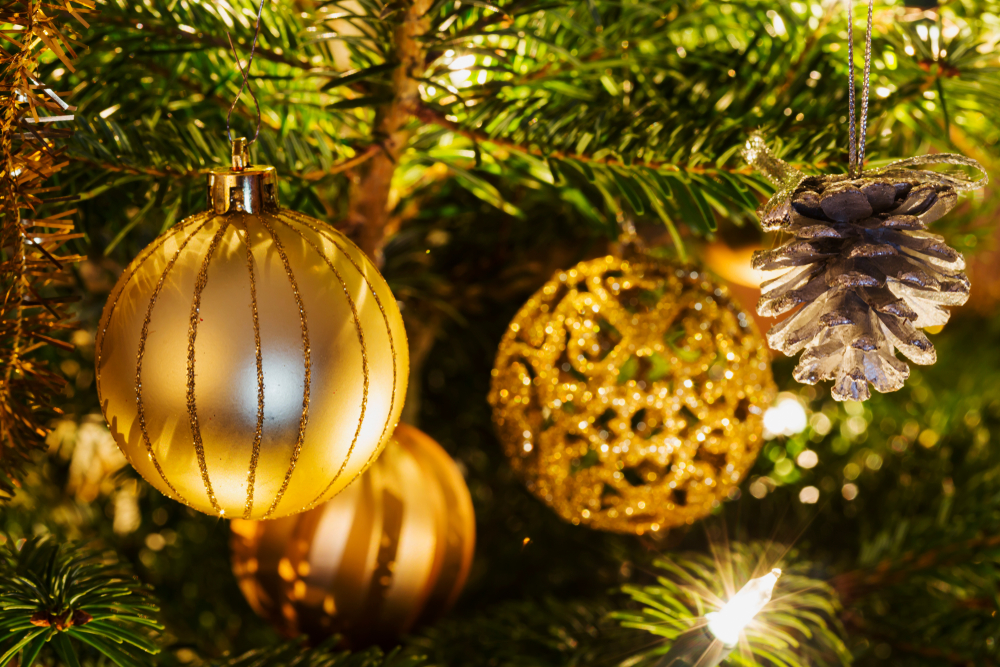 WaKeeney, Kansas
WaKeeney is known as the "Christmas City of the High Plains." This small, Midwest town has decked the halls since 1950 and attracts people from all over to celebrate.
The decor is centered downtown with a 35-foot tree under a canopy of beautiful lights. The four square blocks around the tree are completely decorated with wreaths, bells, and lights.
After admiring the lights, take a train or wagon ride, meet Santa and his reindeer, or get some shopping done at the Christmas Bazaar.
Take a stroll through the North Pole Park for awesome photo ops too.
WaKeeney is one of the best towns in Kansas to experience Christmas in the Midwest.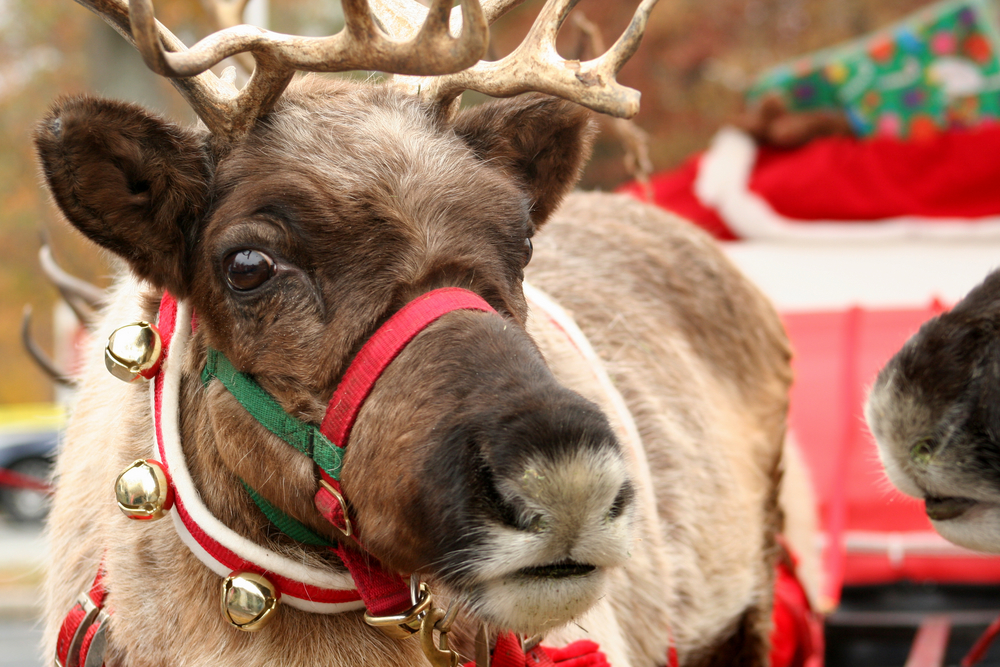 Frankenmuth, Michigan
Frankenmuth, Michigan, is a cute town that really brings Christmas in the Midwest to life.
TIME Magazine once named it one of the "Most Christmassy Towns in America" so you know it takes holiday cheer seriously.
Start your trip to Frankenmuth with a shopping spree at Bronner's Christmas Wonderland.
This is the largest Christmas store in the world and is open year-round. Pick up a personalized tree ornament.
Head to Main Street to take a horse-drawn carriage ride and see Michigan's Little Bavaria in style.
At night, drive through Zehnder Park to enjoy the awesome light displays. There is also a cool musical tree show here.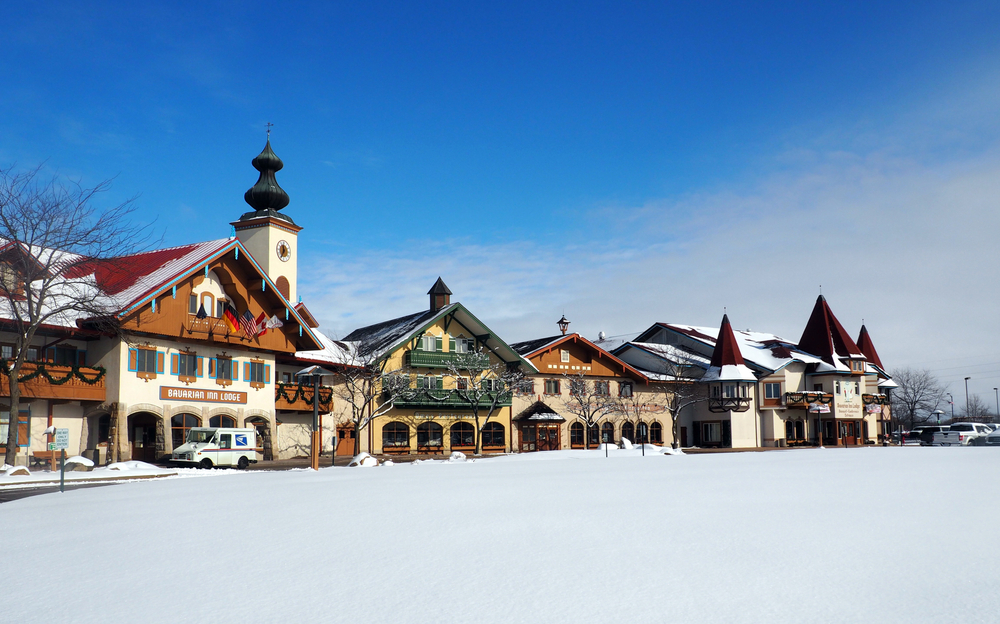 Rochester, Michigan
Rochester is another of the best Midwest Christmas towns in Michigan.
The Big, Bright Light Show turns downtown into a world of colorful lights. With over a million lights, you are sure to be left in awe as you walk around and shop.
Come downtown during the annual Kris Kringle Market to enjoy all the fun of a European Christmas market without having to fly abroad. You will be able to buy handmade gifts and eat tasty food.
Make sure to check out the Holiday Walk at Meadow Brook Hall. This 1920s-era mansion allows you to step back to Christmases of the past. Drink a cup of hot cocoa and marvel at over fifty Christmas trees.
One last thing to do in Rochester during Christmas is visiting the Royal Park Hotel Gingerbread Display. This is a great family winter activity since kids will love seeing their favorite Christmas characters turned into cookies.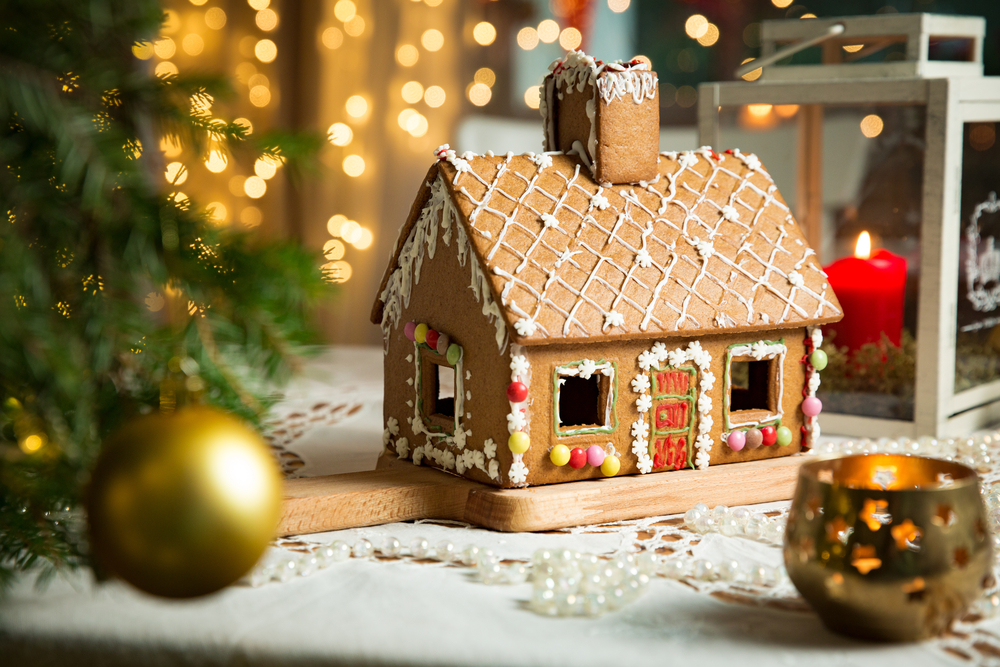 Duluth, Minnesota
Found on the shores of Lake Superior, Duluth is one of the best Christmas cities in Minnesota. The holiday season starts with the Christmas City of the North Parade. Kids and adults alike will love watching the lit-up floats and bands go by.
Riding the Christmas City Express is another awesome family tradition. Hop onboard a vintage train wrapped in lights for a fun thirty-minute journey as you enjoy cookies and hot cocoa.
The Bentleyville Tour of Lights is a picturesque light display right on the water. Warm yourself at fire pits between admiring the over four million lights. Meet Santa, Mrs. Claus, and Rudolph. There are also plenty of treats to munch.
Another cool Duluth Christmas event is the Winter Village found on the grounds of the Glensheen mansion. This festival allows you to shop locally, eat delicious treats, and listen to carolers. You can also tour the mansion and see it decorated for Christmas.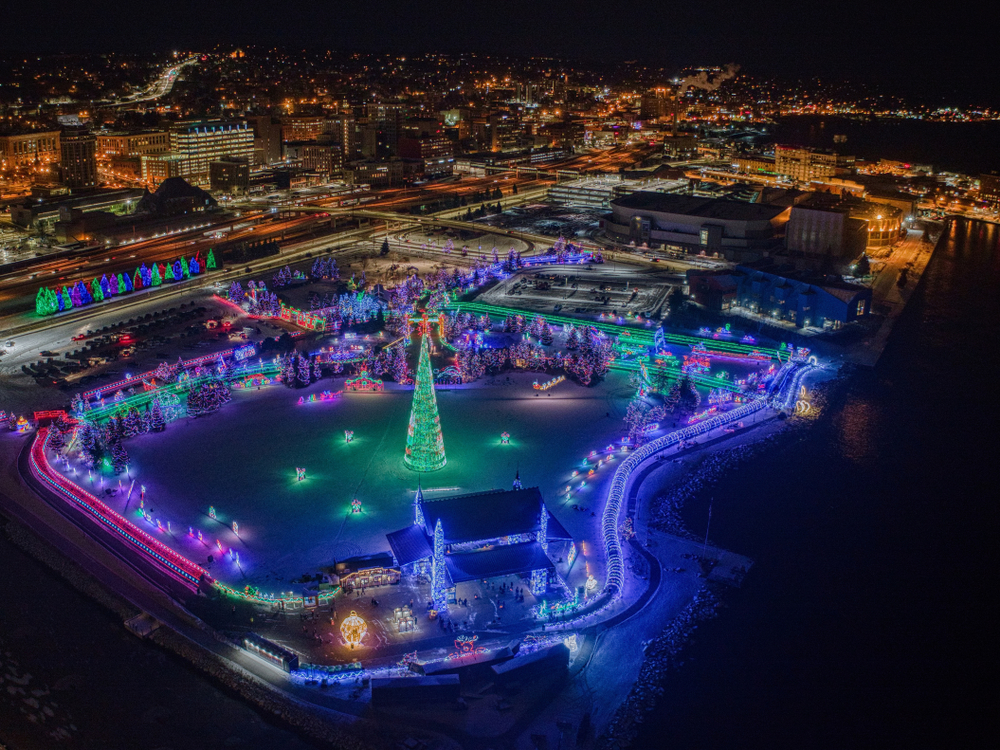 Branson, Missouri
During December, Branson, Missouri, becomes a Christmas wonderland. There are so many things to do, it is a great Missouri weekend getaway. Bring the kids for a super memorable time!
Old Time Christmas at Silver Dollar City is one of the best Midwest Christmas events. The theme park puts up over six million lights and an amazing eight-story Christmas tree. There are also parades and shows on top of the park's usual rides and entertainment.
Branson also has a ton of drive-through light displays, Christmas shows, and shopping opportunities. Branson is also known as America's Christmas Tree City. There are over 700 trees to discover throughout the city plus 1000 at Silver Dollar City alone.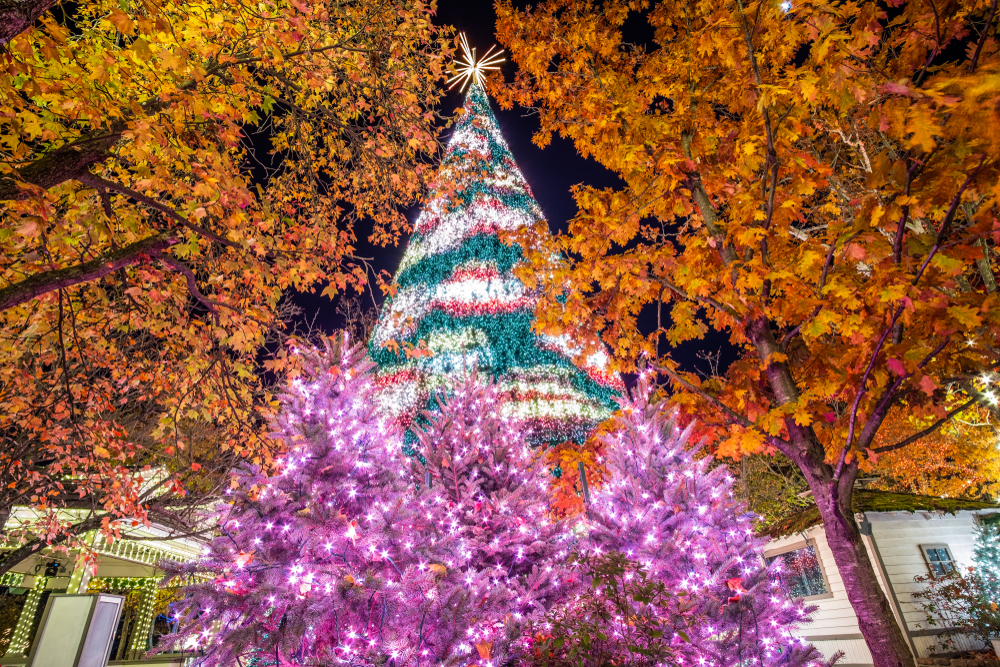 Kansas City, Missouri
Kansas City is another great Christmas destination in Missouri. There are a ton of fun things to do here.
The best thing to do in the Midwest city during winter is a trip to the Country Club Plaza. The incredible light display here has been happening for over ninety years. The lights mixed with the beautiful architecture is a sight to behold.
After shopping at the Plaza head to Crown Center to see the 100-foot tall Mayor's Christmas Tree. Then go ice skating at one of America's top ice skating rinks.
Buy local at the Strawberry Swing Holiday Market at Union Station and see the pretty lights and the tree in the old building. Catch a performance of "The Nutcracker" at the Kansas City Ballet.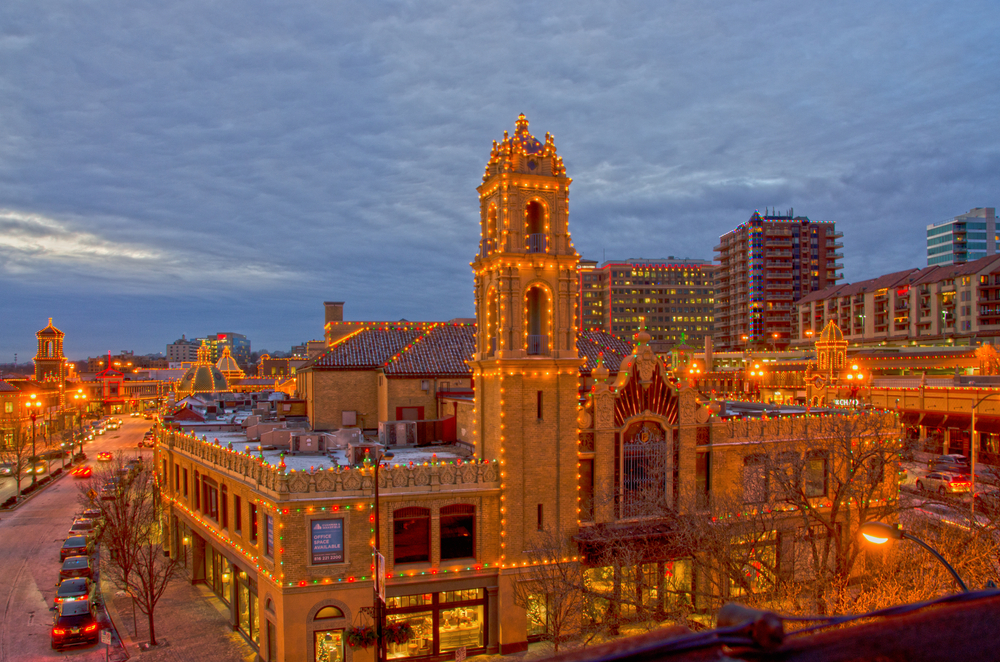 Omaha, Nebraska
If you love light displays and Christmas fun, then come to Omaha, Nebraska!
The Omaha Holiday Lights Festival at the Old Market is one of the most popular things to do in the city at Christmastime. Take a horse-drawn carriage ride through the lights and listen to carolers.
Bring the family to Christmas at Union Station to enjoy more Christmas magic. There is a 40-foot-tall Christmas tree and awesome decorations to leave you awed. There is also a cultural tree display showing Christmas traditions from other countries.
Omaha has a ton of other light displays and markets to keep you fully entertained so there is no fear of being bored!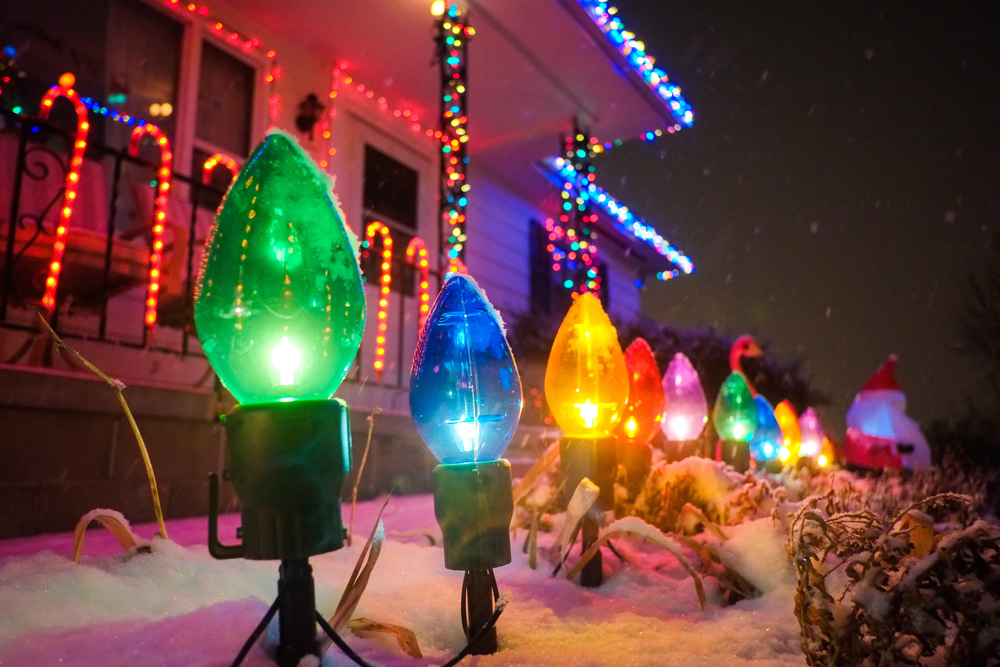 Garrison, North Dakota
Garrison is the Christmas Capital of North Dakota. This small town has a population of less than two thousand, but people from all over travel here in the winter to experience the Dickens Village Festival.
The entire town turns into a Victorian Christmas experience so you feel as if you have stepped into Charles Dickens' A Christmas Carol. Visiting Garrison is truly a unique thing to do for Christmas in the Midwest.
You can take a carriage ride through town or enjoy an English high tea. Each night there is also a lit-up parade. The fruitcake toss is a fun competition, too.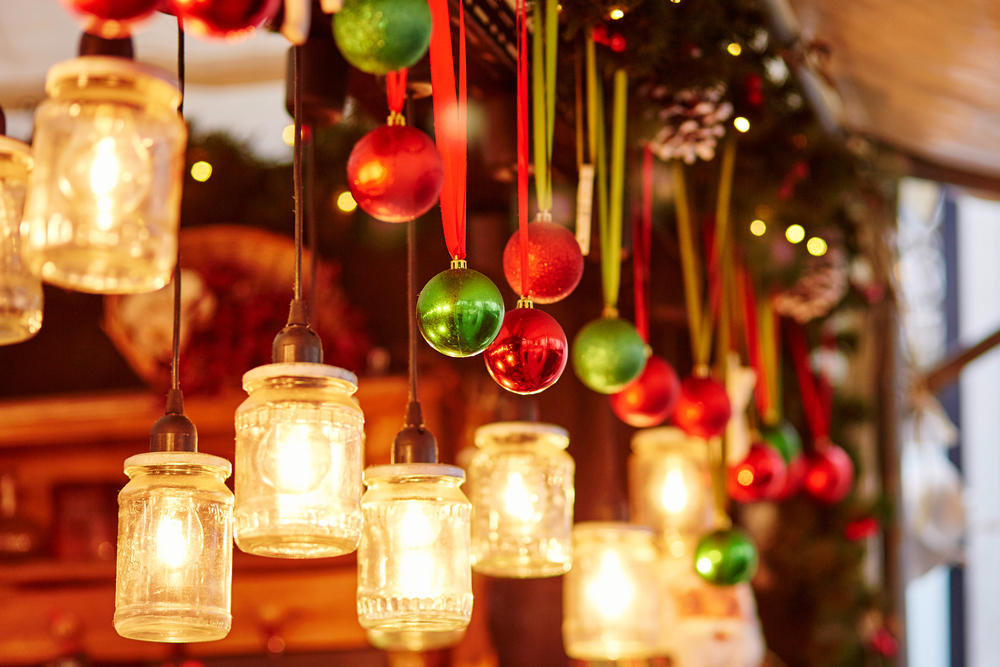 Cleveland, Ohio Is A Great Place To Celebrate Christmas In The Midwest
If you visit Cleveland, Ohio during Christmas you are in for a good time! There are so many Midwest Christmas attractions here to keep you entertained!
Winterfest kicks off the Cleveland holiday season the first Saturday after Thanksgiving. This annual event includes carriage rides, ice skating, fireworks, and a ton of lights.
The Christmas Story House is a must-visit place. This house was a filming location for the 1983 classic Christmas movie and can be toured. There is also a museum dedicated to the movie across the street.
Once the sun goes down, there are a ton of Christmas light displays to discover. There are many drivable displays if you want to stay toasty in your car.
If you don't mind the cold, marvel at the lights at the Cleveland Botanical Gardens and the Cleveland Metroparks Zoo.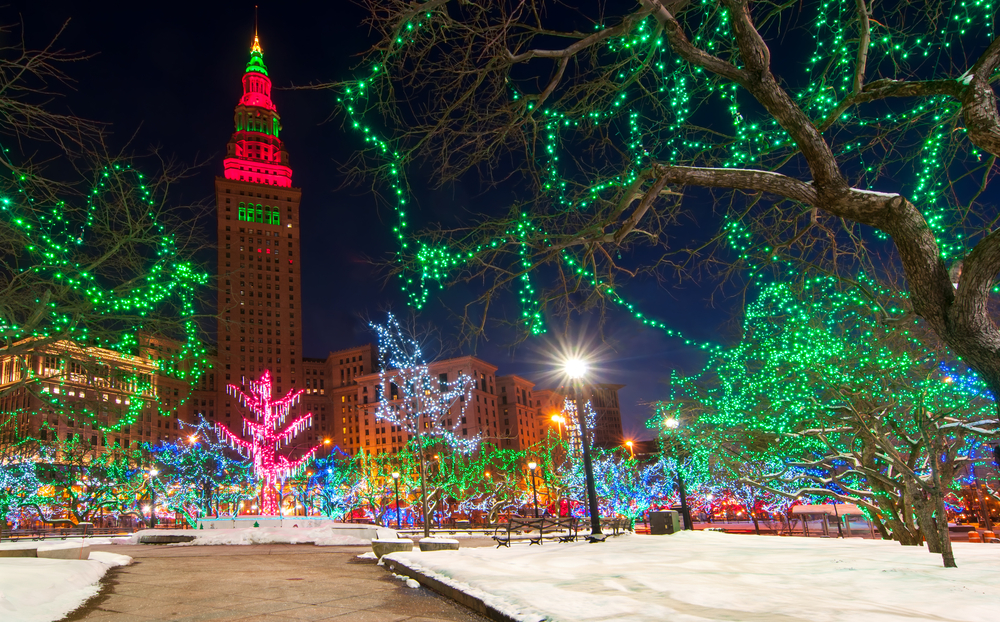 A Fun Christmas In The Midwest Is In Rapid City, South Dakota
Come to Rapid City to have a merry time in South Dakota. Kids and adults will both have a fantastic time doing all the Christmas things.
Storybook Island is a children's park that you have to visit during Christmas even if you do not have kids. During the holiday season, the park is transformed into a walkable light display. Sip some hot cocoa or cider and enjoy the pretty lights.
Head downtown to ice skate among trees adorned with lights. When you take a break from spinning on the ice, sit down with a cup of cocoa or warm up by a firepit.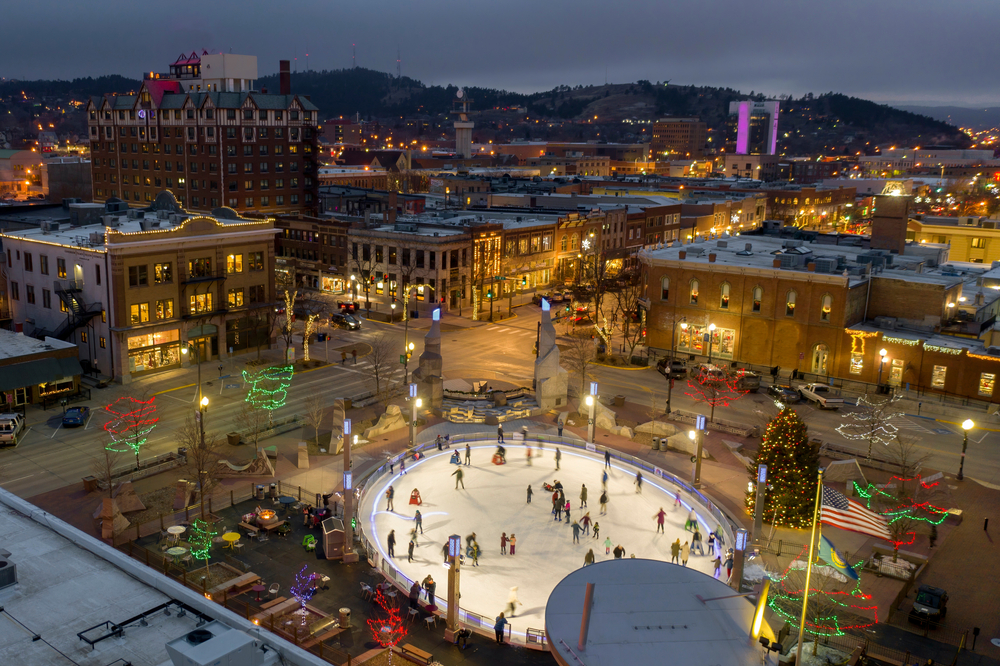 Cedarburg, Wisconsin Is A Cool Place To Spend Christmas In The Midwest
Christmas in Cedarburg, Wisconsin, is a dream come true. Forbes Magazine once named Cedarburg one of the prettiest towns in America, and it is even prettier during the holiday season.
The night, the historic downtown becomes a beacon of light as you explore the local shops, art galleries, restaurants, and pubs. Cedarburg is also known as one of the Midwest's best Christmas shopping locations, so you can pick up a gift for everyone on your list.
The Festive Friday Eves at the Cedar Creek Settlement has everything you need for a festive time in the Midwest. You can enjoy wine tastings, delicious foods, and shopping at antique stores and art galleries.
Kids will have a blast at Paradise Ranch. Take a snowy, nighttime sleigh ride through the woods. Afterward, warm up around a campfire with s'mores and a hot drink.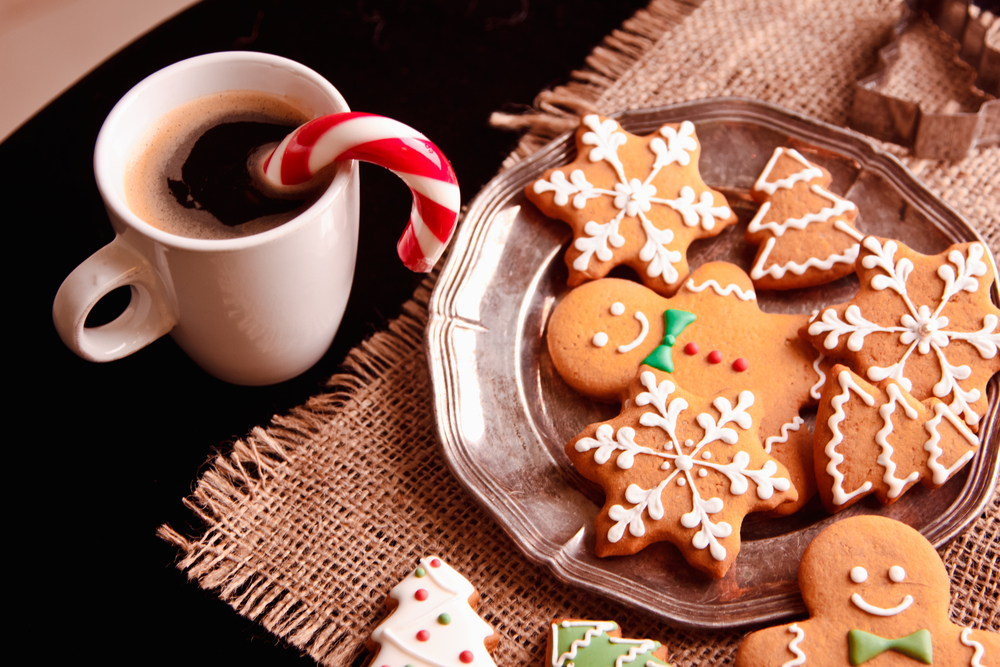 Madison, Wisconsin Is A Magical Place To Spend Christmas In The Midwest
Madison, Wisconsin, is another of the best Christmas cities in the Midwest. Start your trip by seeing the tree at the Wisconsin State Capitol then ride in the free holiday trolley.
Another cool form of Christmas transportation is the Santa Express at the Mid-Continent Railway Museum. You will be able to meet Santa and his elves during the hour-long ride.
If you like running, then you will love taking part in some of the races the city puts on during winter. The Run Santa Run 5k encourages you to dress as Santa, an elf, or a polar bear. The Jingle Bell 5k is all about making noise to raise money for the arthritis foundation.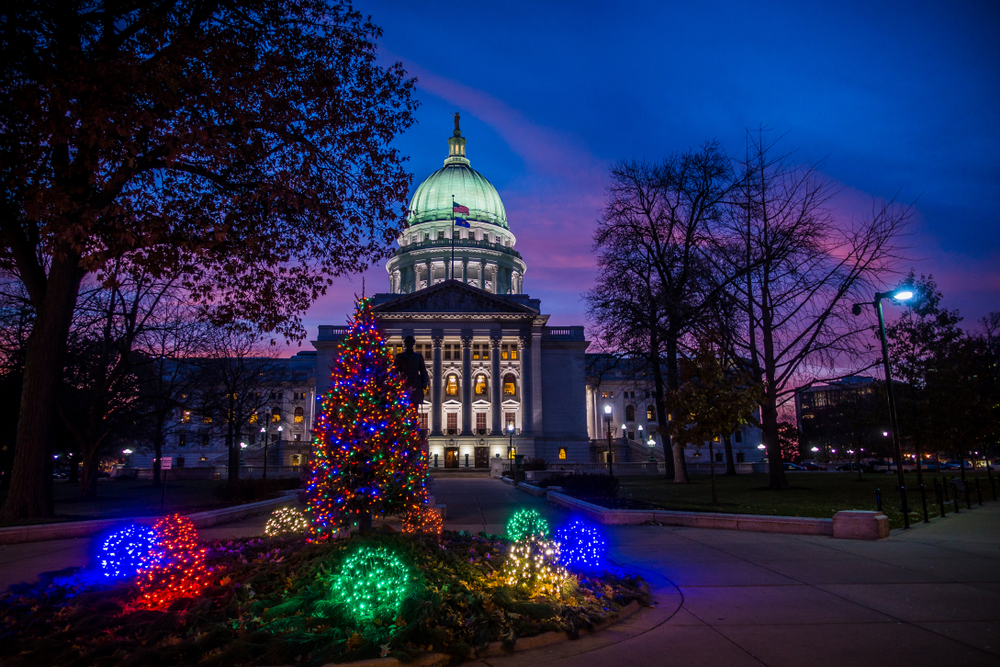 No matter which state you are in, there is plenty of holiday cheer to go around during Christmas in the Midwest. From incredible light displays to Christmas markets to ice skating, there are so many things to do in the Midwest during Christmas.