If you're thinking of celebrating Christmas in Branson Missouri, then you've come to the right place!
Branson is a town in the Ozarks in southwest Missouri.
It's one of the best places to visit in Missouri if you want to explore the Ozarks.
The Ozarks are a beautiful mountain range in the Midwest and Branson is right in the heart of them.
Because of the city's close proximity to the mountain range, it's become a popular travel destination.
There are tons of things to do in Branson, including incredible restaurants and fun outdoor adventures.
In fact, it's super popular with families that have young kids.
That's because there are tons of kid-friendly activities that make seeing and enjoying the Ozarks easy.
This is also true when you are visiting Branson for Christmas!
It's a family-friendly destination that turns into a family-friendly Christmas wonderland in December.
The city has everything from massive light displays, to breakfast with Santa Claus, and even their own Polar Express.
So, let's look at some of the most festive ways to celebrate Christmas in Branson Missouri!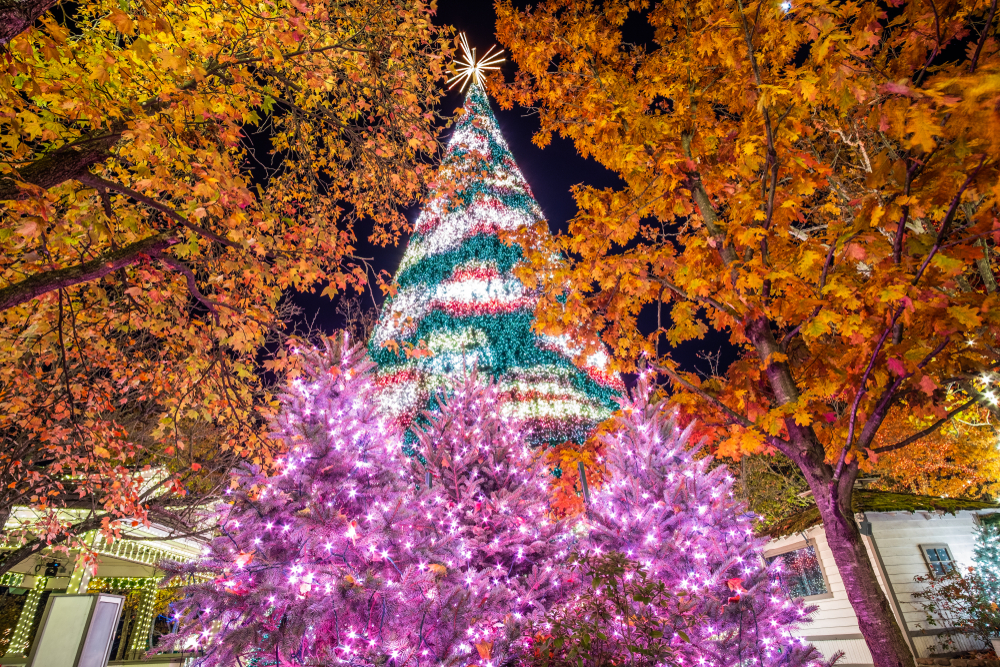 15 Festive Ways To Celebrate Christmas In Branson MO
Experience Old Time Christmas At Dollar City
From November 5th to December 30th you can experience an Old Time Christmas at Dollar City in Branson.
This is one of the most popular Branson Christmas activities for families with children.
In fact, it has frequently been voted the 'Best Holiday Theme Park Event in America' by USA Today.
As you walk through the charming historic-style village you'll see over 6 million twinkling Christmas lights.
There are also daily live shows, shops, and restaurants in the charming Christmas village.
All of these great Branson Christmas activities come with a variety of ticket options.
You can choose to purchase tickets for 1, 2, and 3 days at the park. Ticket prices start at $79 for the day for ages 12 to 64.
It's a bit pricey, but it's easily one of the best things to do during Christmas in Branson.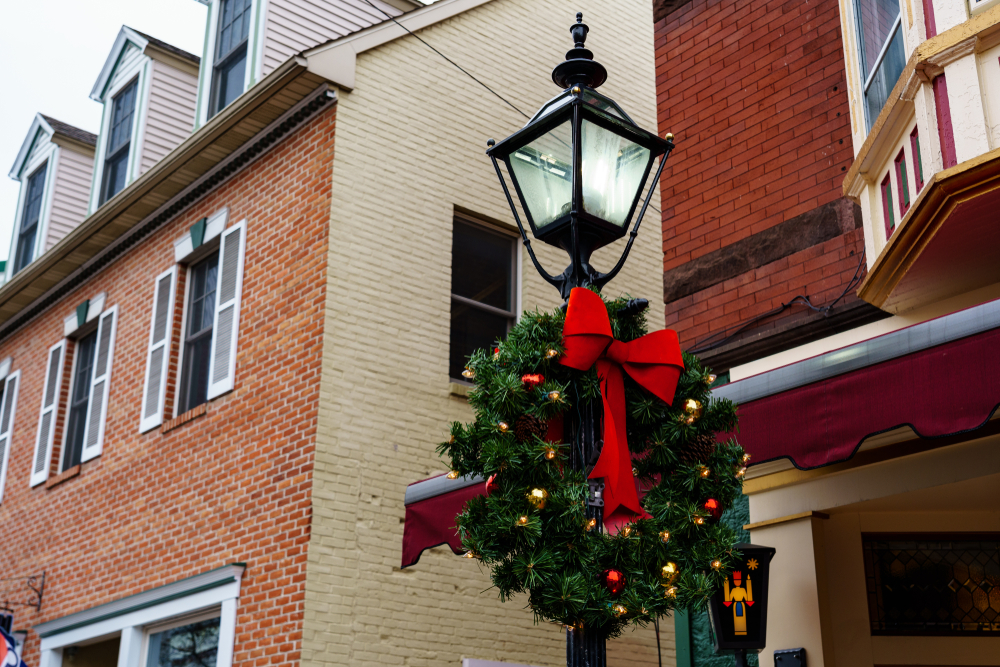 Stay Warm In Your Car While You Drive Through The Trail Of Lights
The Trail of Lights has been going on for over 30 years during Christmas time in Branson MO.
If you're not interested in braving the Midwestern winter weather, then this is a great option.
While you drive through the Trail of Lights, you'll get to see millions of Christmas lights.
The road weaves through over 160 acres on the Shepherd Hills Homestead.
You'll be able to drive through the trail starting in late November until the end of December.
It's open daily starting at Dusk and the entrance fee is per car.
For those who don't like traipsing through the cold to see lights, this is one of the best Christmas events in Branson Missouri.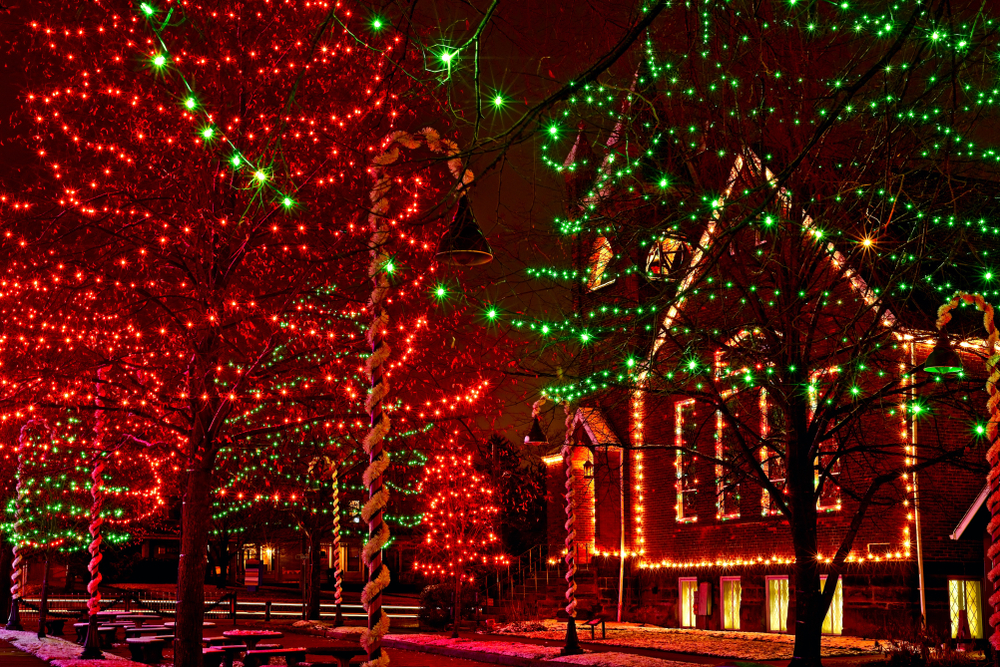 Dolly Parton's Stampede Christmas Show Is One Of The Most Fun Things To Do During Christmas In Branson
Every year, Dolly Parton's Stampede hosts a Christmas show.
It's one of the most popular Branson Christmas shows for families looking to celebrate the season.
The arena turns into a magical Christmas wonderland with evergreen trees, Santa's elves, and twinkling lights.
The yearly show retells the story of Jesus' birth, with original songs and dance numbers.
Mixed in with all of that are 32 horses who are also part of the performance.
This Branson Christmas show runs from November to December and is a ton of fun for the whole family.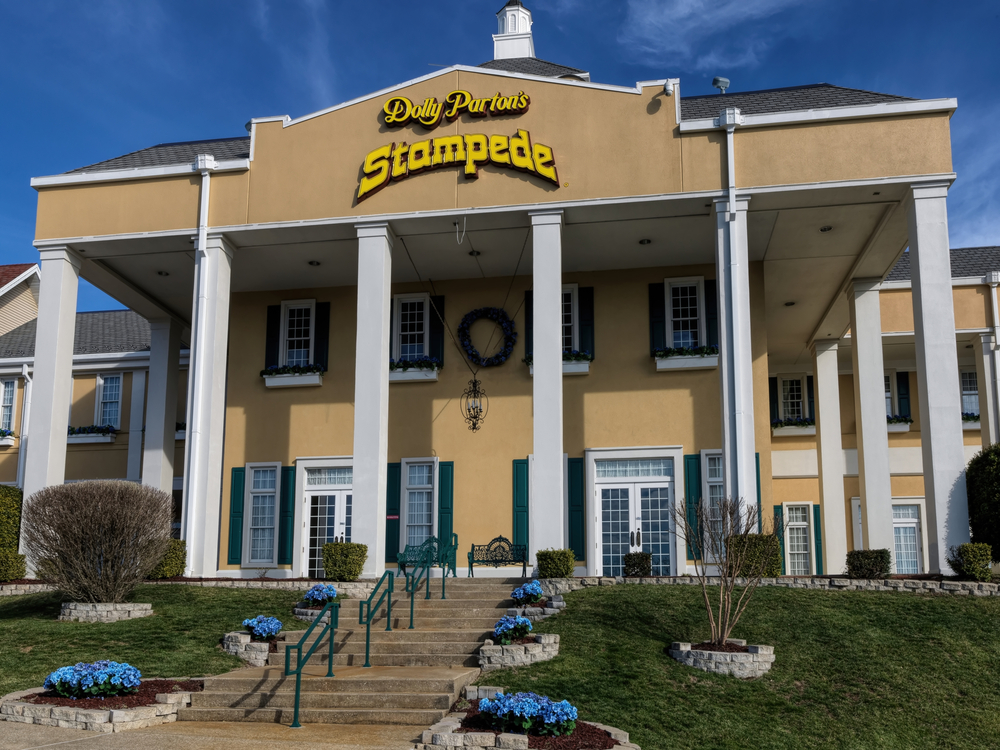 See The Gingerbread Village At Chateau On The Lake Resort
One of the best places to stay in Branson is the Chateau on the Lake Resort.
It's beautiful all year round, but especially during Christmas time.
Along with the beautiful decorations, the resort displays a huge gingerbread village.
The theme of the gingerbread village changes every year.
However, the village almost always includes four different storefronts, 2 houses, and a church.
Many of the gingerbread buildings stand at over 3 feet tall!
It can take the bakers at the resort over 50 hours to complete just one building!
It's easily one of the coolest things to do when visiting Branson during Christmas.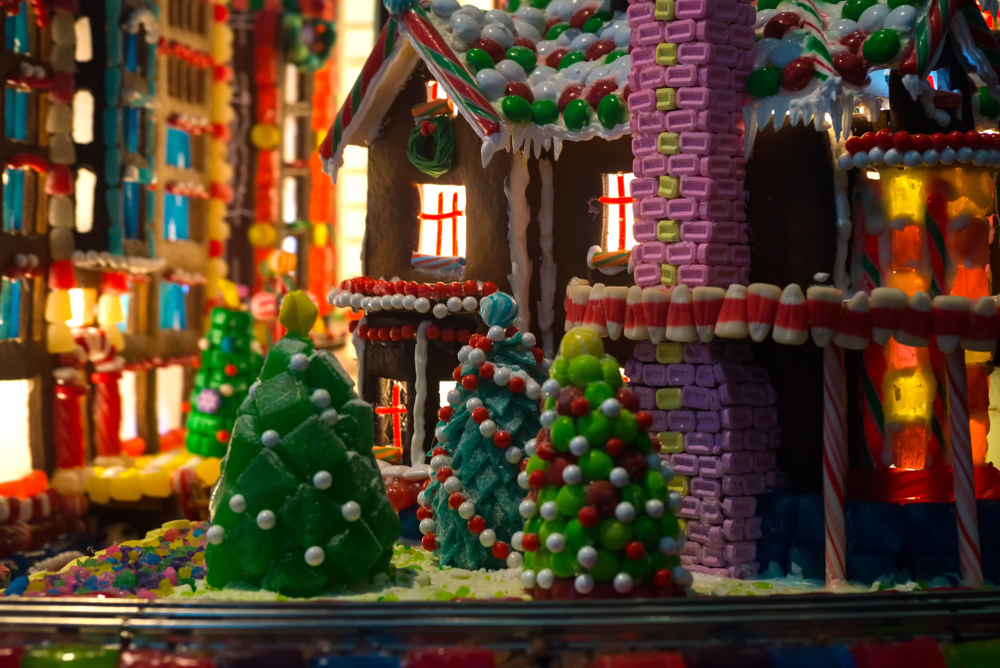 Walk America's Christmas Tree City Tour
Branson is working towards the goal of being America's Christmas Tree City.
To do this, the stores in historic Branson put out huge Christmas tree displays.
In 2022, the city will have over 700 Christmas trees on display in the historic district alone.
That number doesn't include the over 1,000 Christmas trees that are on display in Silver Dollar City!
All 700 Christmas trees are elaborately decorated with twinkling lights, themed ornaments, and more.
One of the best free things to do during Christmas in Branson is to walk the historic district at night.
It's a magical sight that is sure to be a memorable Christmas event during your trip to Branson MO.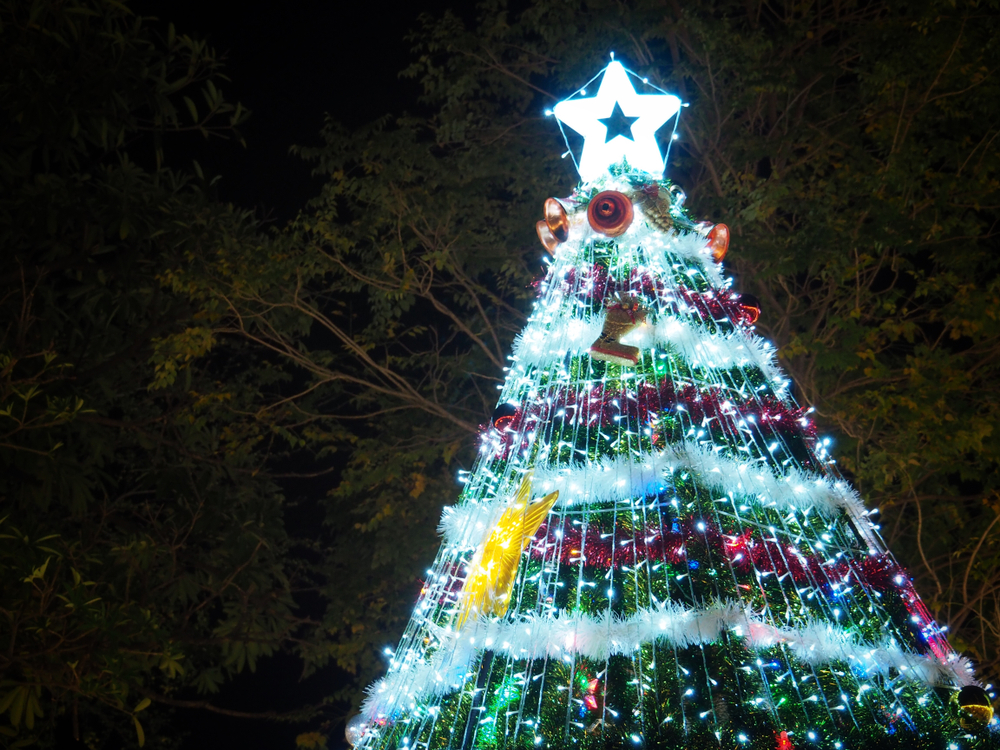 Ride The Polar Express
If you're traveling to Branson MO with kids, then you absolutely must take them to ride the Polar Express.
The Polar Express in Branson is a train that is completely decorated inside and out for the holiday season.
It leaves from the Branson Scenic Railway Depot in Historic Downtown Branson.
The train departs on select weekends in November and December.
So make sure to check the schedule if you are interested in riding the Branson Polar Express.
While you ride the Polar Express in Branson, you'll step into the magical world of the North Pole.
There are character reenactments, story readings, a visit from Santa, and hot cocoa.
Plus, each kid gets their very own Christmas bell. Just like in the movie!
For those traveling with kids, the Branson Polar Express is a must-do Christmas experience in Branson!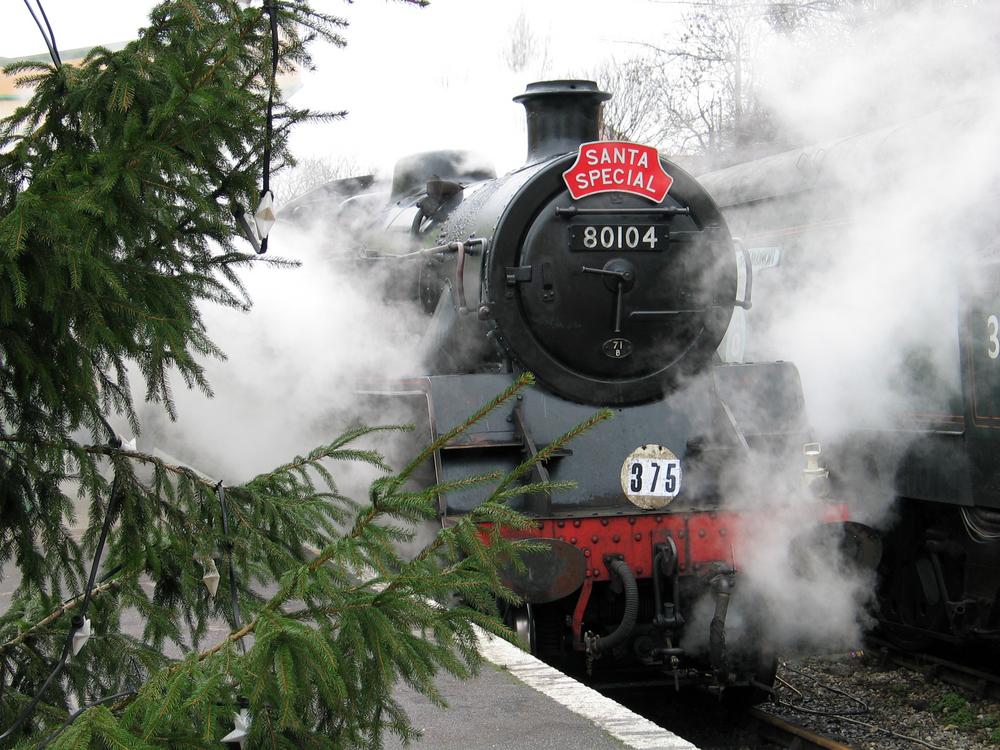 Celebrate Christmas On The Showboat Branson Belle
The Showboat Branson Belle puts on one of the best Branson Christmas shows every year.
You can enjoy the Christmas shows on the Showboat Branson Belle from the beginning of November until the end of December.
On the Branson Belle, you'll find a variety of different Christmas shows available.
They have dinner shows that are aimed at an older audience.
However, they also have Pancakes and Pjs with Santa for kids.
At the dinner show, you'll get to enjoy renditions of classic Christmas songs and more modern songs as well.
It also includes a 3-course dinner that was made by the talented chefs on the ship.
At the kid's show, they can come in their PJs, have breakfast, and meet Santa and Mrs. Claus.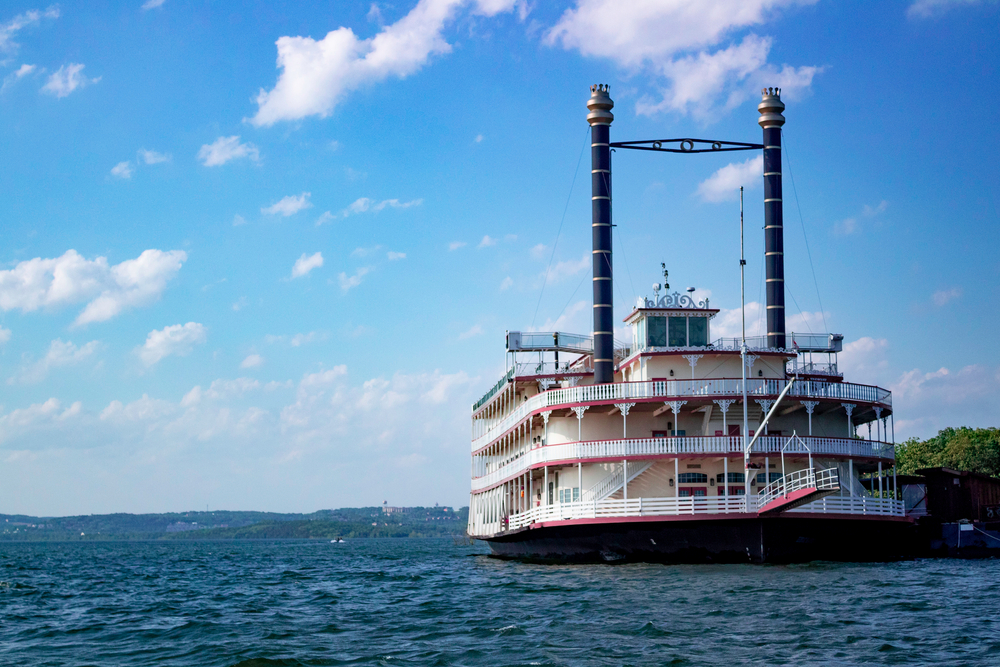 Go Ice Skating
During Christmas in Branson, you can go ice skating at the outdoor rink.
The rink is put up right by the huge Branson Ferris Wheel. You can't miss it!
It opens in mid-November and typically is open until New Year's Day.
However, you'll want to check the ice skating rink's schedule before you plan on going.
While you skate on the 7,200-square-foot rink, you'll be able to enjoy the beautiful Christmas lights in the city.
There Branson Ferris Wheel is all lit up and they have a massive Christmas tree set up.
Ice skating on the outdoor rink is easily one of the most fun things to do during Christmas in Branson.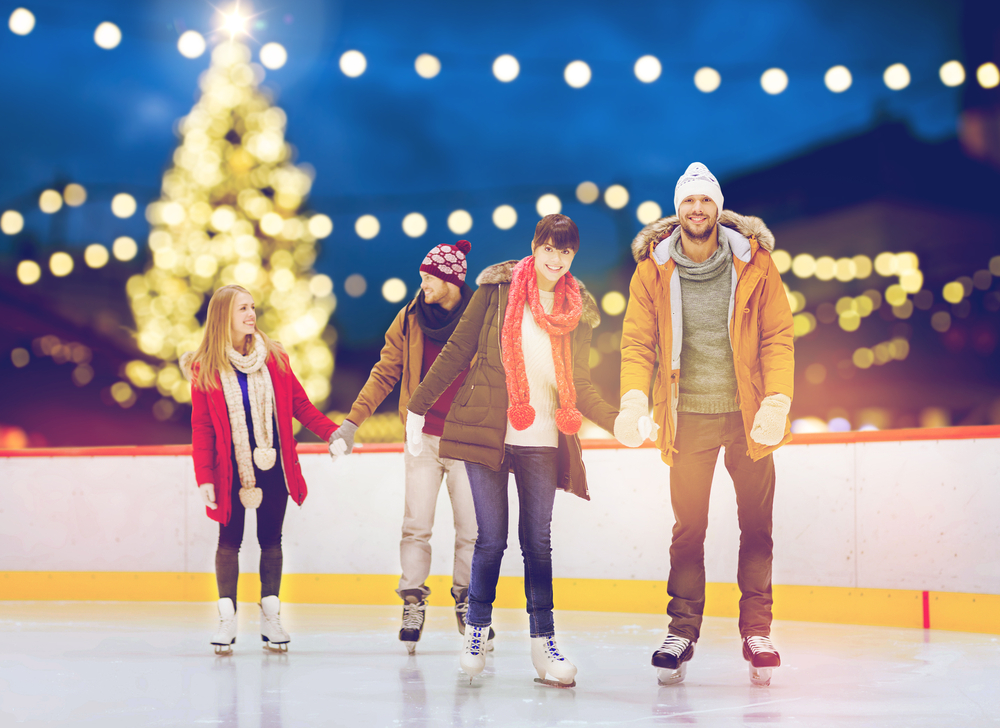 See Twinkling Lights While You Explore Christmas At The Ranch
Head to the Heartwood Barn and Ranch to enjoy beautiful Branson Christmas lights.
The main barn on the ranch is decked out in twinkling lights for the holiday season.
In fact, the entire ranch grounds are full of Christmas lights.
Along with the Christmas light display, the ranch has several booths set up.
You can purchase some hot cocoa or hot cider or munch on smores while you walk around.
While you're there, you can take a jingle bell hayride, take part in the scavenger hunt, or sing Christmas carols by the campfire.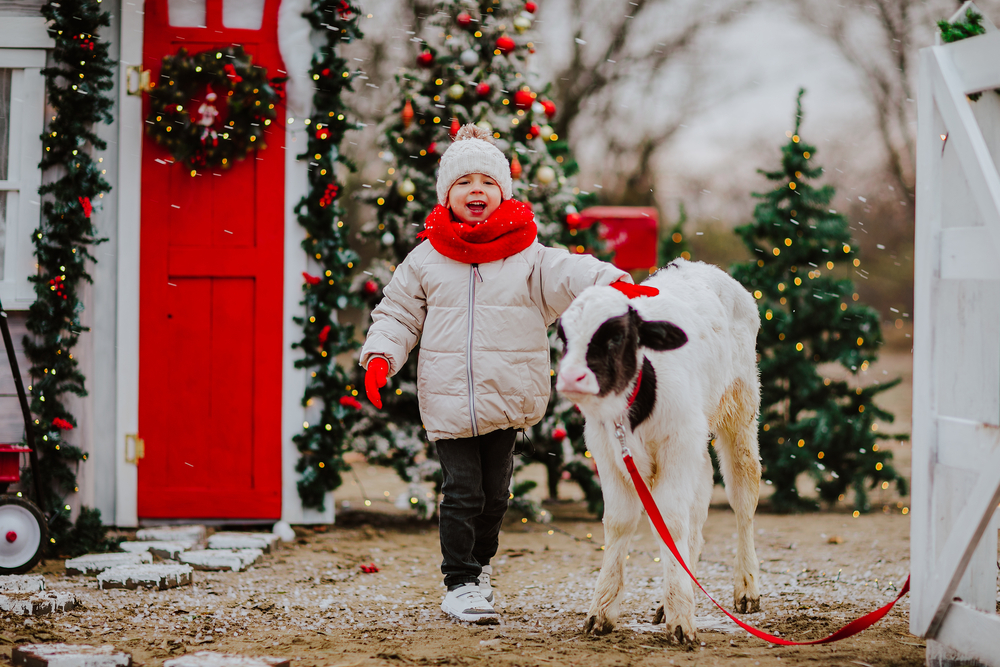 Go Snow Tubing At Wolfe Mountain
If you're looking for a unique Christmas experience in Branson MO, then you'll want to go snow tubing.
It's a great opportunity to go snow tubing in the Ozarks.
You'll find the best snow tubing in Branson at Wolfe Mountain.
Wolfe Mountain is a huge outdoor recreation park. In fact, it's the largest snow tubing park in the USA!
They also have zip lines and a ropes course.
Because the snow tubing park doesn't need real snow, it is open all year. However, it's probably the most fun during Christmas time in Branson!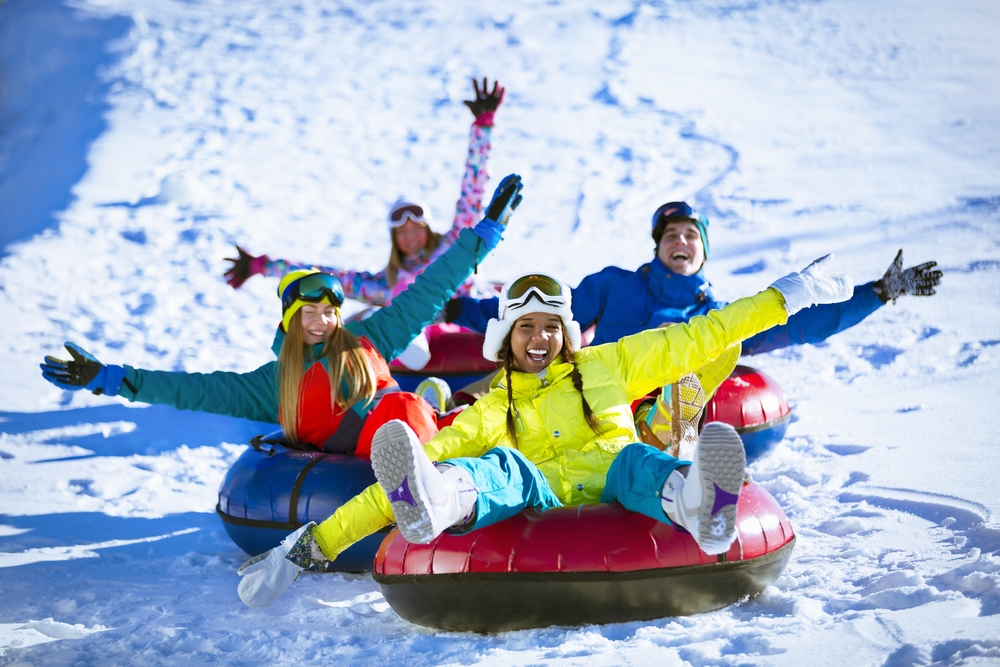 Branson's Lights Of Joy Is One Of The Best Things To Do During Christmas In Branson
Branson actually has two drive-thru light shows. The newest, and the second one, is Branson's Lights of Joy.
In fact, in 2021, it won "Best Christmas Lights Drive-Thru" in Branson!
Branson's Lights of Joy is over a mile's worth of twinkling Christmas lights.
Each year, they add new displays. So even if you come back every year, you'll always see something new!
The ticket price is by vehicle and if you bring non-perishable goods to donate, you get a discount.
Every Friday and Saturday night, Santa Claus also pays a visit.
It's one of the best Branson Christmas shows, especially if you want to stay warm in your car.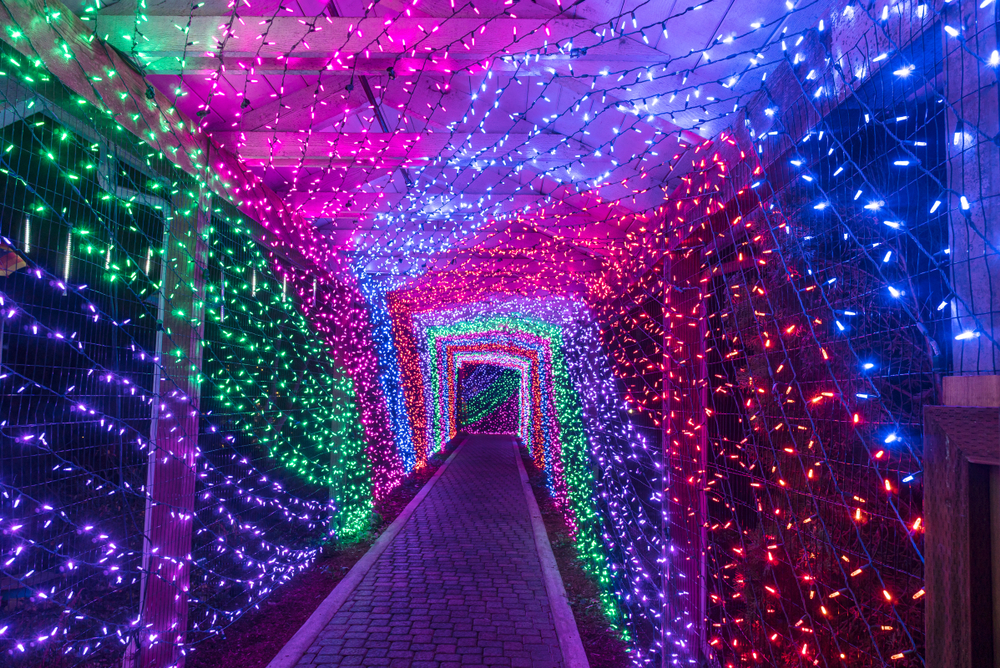 Take The Kids To Breakfast With Santa
There are several places in Branson MO where you can take the kids to enjoy breakfast with Santa.
As I mentioned, the Showboat Branson Belle has Pancakes and Pjs with Santa.
However, not everyone likes boats or has stomachs that can handle being on a boat.
So, if that's the case, you have a few more options.
The Branson Parks and Recreation department has a budget-friendly option.
For $6, kids get a simple pancake breakfast, time with Santa, and even a little gift from him.
If you want to splurge on a more decadent option, head to Big Cedar Lodge. It takes place for several weekends in November and December.
The kids will enjoy a full breakfast, and time with Santa. Plus, they even get to decorate their own stockings.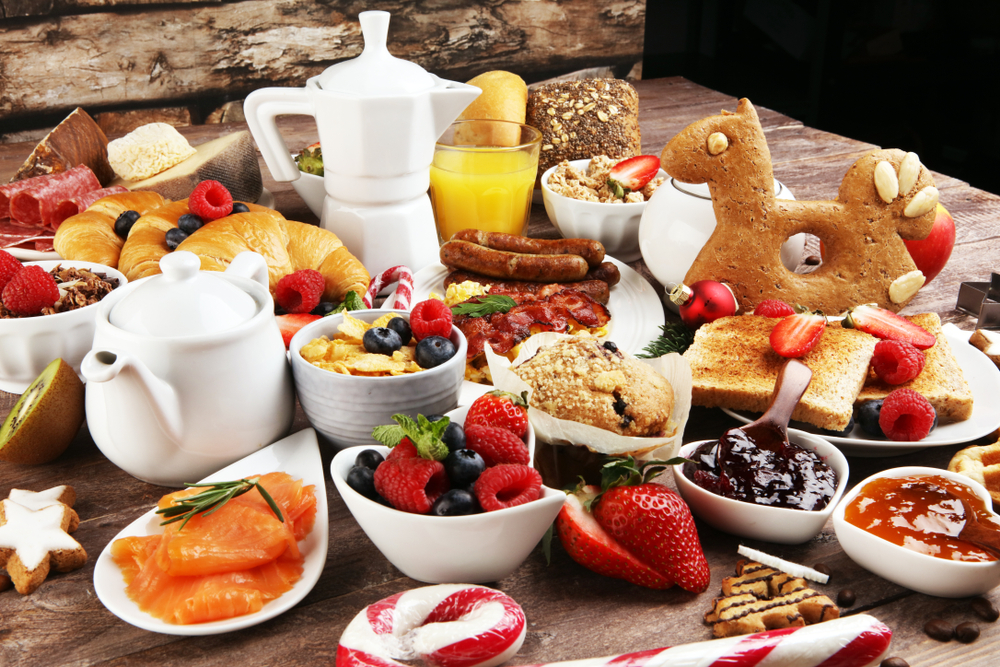 Explore Branson Landing's Winter Wonderland Is One Of The Best Things To Do During Christmas In Branson
Every winter, Branson's Landing turns into a magical Winter Wonderland.
All of the shops are decked out in Christmas decorations, with twinkling lights and hundreds of Christmas trees.
At the entrance, there are two huge silver reindeer welcoming you to the Winter Wonderland.
In the center of the landing, there is a 63-foot Christmas tree.
There are several fountains scattered throughout Branson Landing, and they get the Christmas treatment too.
Every 15 minutes, the fountains come to life with a water and light show to favorite Christmas songs.
It's one of the best places to explore during Christmas time in Branson MO.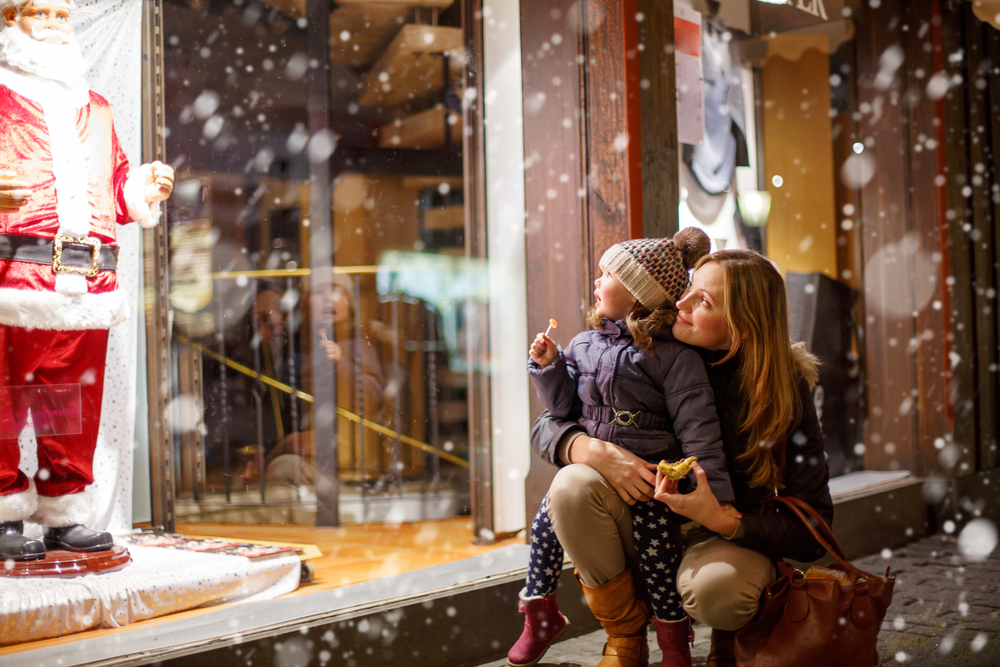 Stay At The Big Cedar Lodge
The Big Cedar Lodge is perfect if you're looking for a magical Christmas experience in Branson.
From early November to late December, the cozy lodge get's fully decked out for the holiday season.
Guests of the lodge can enjoy tons of different Christmas activities along with the beautiful decorations.
On the grounds, they set up an ice skating rink, have a light tour, and more.
They also host Santa Claus several times a week too.
There are Elf Workshops where kids can do Christmas crafts and they have a fireworks show to end the holidays on New Year's Eve.
If you're looking for a special way to celebrate Christmas in Branson, stay at the Big Cedar Lodge.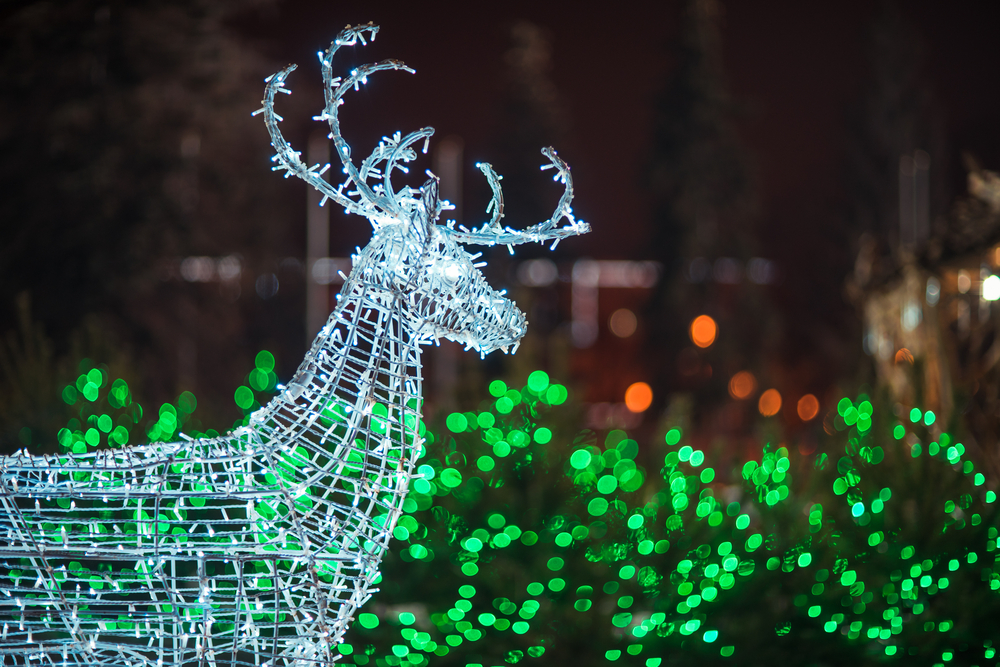 Warm-Up At Christmas At The Butterfly Palace
The perfect way to beat the cold Midwestern winter days in Branson is at the Butterfly Palace.
The Butterfly Palace is a butterfly aviary and a living rainforest science center.
Throughout the year, different breeds of caterpillars turn into butterflies.
Even in the winter, thanks to the warm temperatures in the Butterfly Palace.
During the Christmas season, there are still plenty of butterflies in the aviary.
They decorate the palace for the holidays and host a variety of different holiday activities.
The kids will love learning about butterflies and the rainforest while also celebrating Christmas!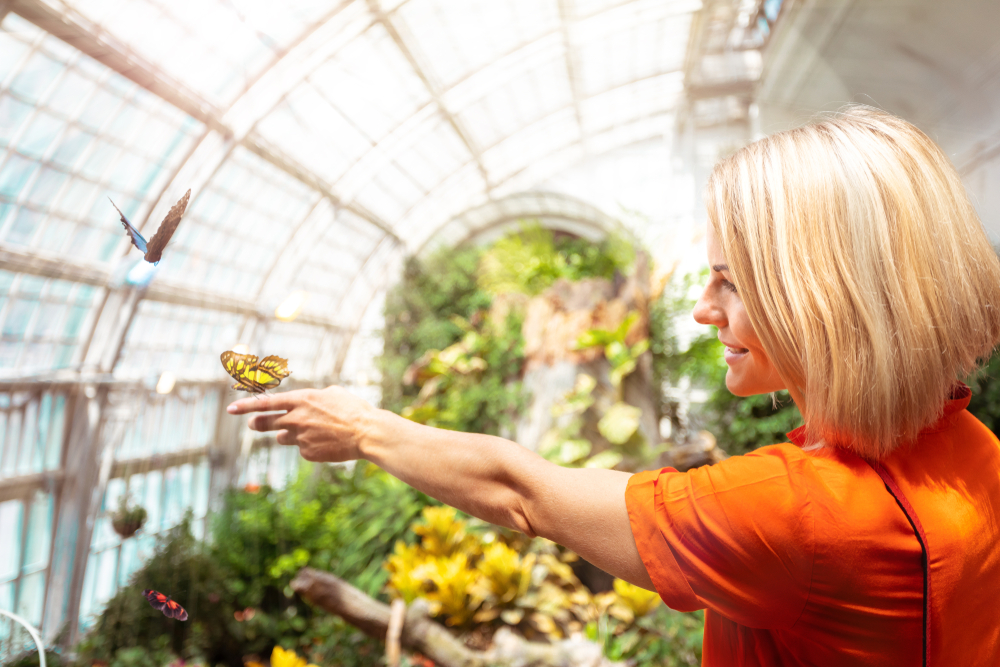 Packing List When Celebrating Christmas In Branson
If you are searching, here are some tips on how to pack lightly when packing when heading to Branson Missouri.
A concealed travel pouch may be one of the most important items you bring along when celebrating Christmas in Branson. It is always important to protect your personal information. Identity thieves are everywhere.
This unisex RFID blocking concealed travel pouch is lightweight and comes in several colors. It has lots of organization to give you peace of mind. You can place it under your clothes next to your body to carry your ID safely.
If you have a pouch already that does not come with the RFID protection, as I do, these RFID sleeves are the perfect solution.
If you are planning on taking a lot of pictures with your phone you will definitely want to consider an external charging battery. This Anker high-speed phone charging battery is the exact one I carry with me on all of my trips.
I like that it holds its charging capabilities for several uses so I do not have to worry about it while out and about, and if I forget to recharge it at night, it will still be good to go the next day.
My daughter gifted me with this FugeTek selfie stick and tripod setup for my birthday. I absolutely love it! It is made of lightweight aluminum and is so easy to use.
It has Bluetooth connectivity and is a breeze to use for taking Insta-worthy selfies at all the Branson Christmas attractions you explore.
I never much believed in using packing cubes when traveling. That is until I tried them. Now I am hooked. These are the exact cubes I use to stay organized when I pack for a trip!
You will want to bring your own refillable water bottle with you.
I never leave home on a trip without my Bobble filtration bottle. The 18.5-ounce size is perfect for your adventures and it fits nicely in the pocket of a backpack.
Perhaps you are traveling a long distance and packing space is a premium in your suitcase, or in your car. Then this set of collapsible silicone foldable water bottles would work well for you. Would not take up much space at all.
You will want a backpack or daypack with you to store snacks, your water bottle, phone, extra clothes, etc.. . No matter the time of day or evening.
This foldable water-resistant backpack would be great. And it comes in many different colors!
–
There are so many fun ways to enjoy Christmas in Branson.
Whether you're traveling with kids, with your partner, or with adults, there's always something fun to do in Branson for Christmas.
Have you been to Branson during Christmas time? I'd love to hear about your trip in the comments!