Are you looking for things to do in Branson MO?
Great, you are in the right place. In this article, I will walk you through Branson attractions and the best things to do in Branson Missouri. I've done the work so you don't have to.
When it comes to things to do and enjoy, Branson really delivers. Given the nickname 'Live Entertainment Capital of the World', it sure does deliver.
Nestled in the Ozark Mountains nature absolutely plays a part in wowing visitors here too. The area around Branson is beautiful and offers many outdoor adventure opportunities. It's a perfect place for a romantic getaway or a Missouri road trip.
The city was named after a postmaster and general store owner, Reuben Branson. Ruben's post office and store attracted settlers to the area and the town was named after him.
This city is packed full of ways to enjoy yourself, take some time out, enjoy nature, go for all the thrills, or just simply enjoy the local food and shops.
Are you ready to see what things to do in Branson I have chosen for you? Start packing your bags, and let me walk you through attractions in Branson Missouri.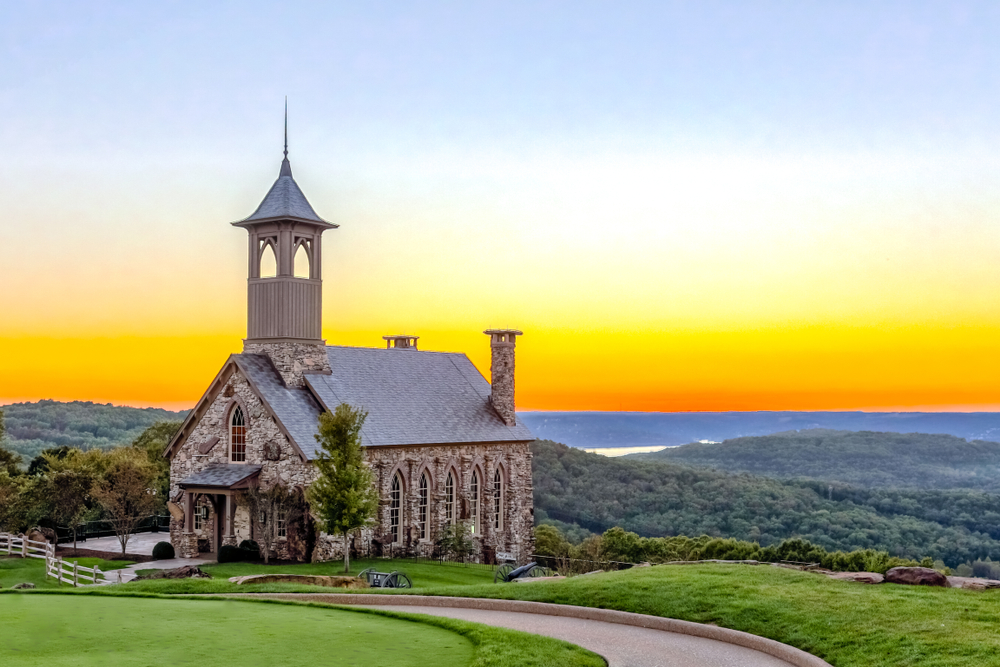 15 Best Things To Do In Branson MO You Shouldn't Miss
Have Fun At Silver Dollar City
No trip to Branson would be complete without a day out at Silver Dollar City. Put this at the top of your things to do in Branson MO list.
This is a theme park with a difference. The difference is it's an 1880's themed experience.
Opened in the '60s the park is 61 acres of time travel. With steam trains, vintage cabins, blacksmiths, and good old-fashioned cooking it's a place not to be missed.
It's one of the most popular attractions in the area and when you visit you will see why.
It has everything from the thrills of a 10 story 90-degree vertical drop rollercoaster to the old-time crafting demonstrations and a 13-acre water park it has everything.
When it comes to attractions in Branson MO, Silver Dollar City tops the list.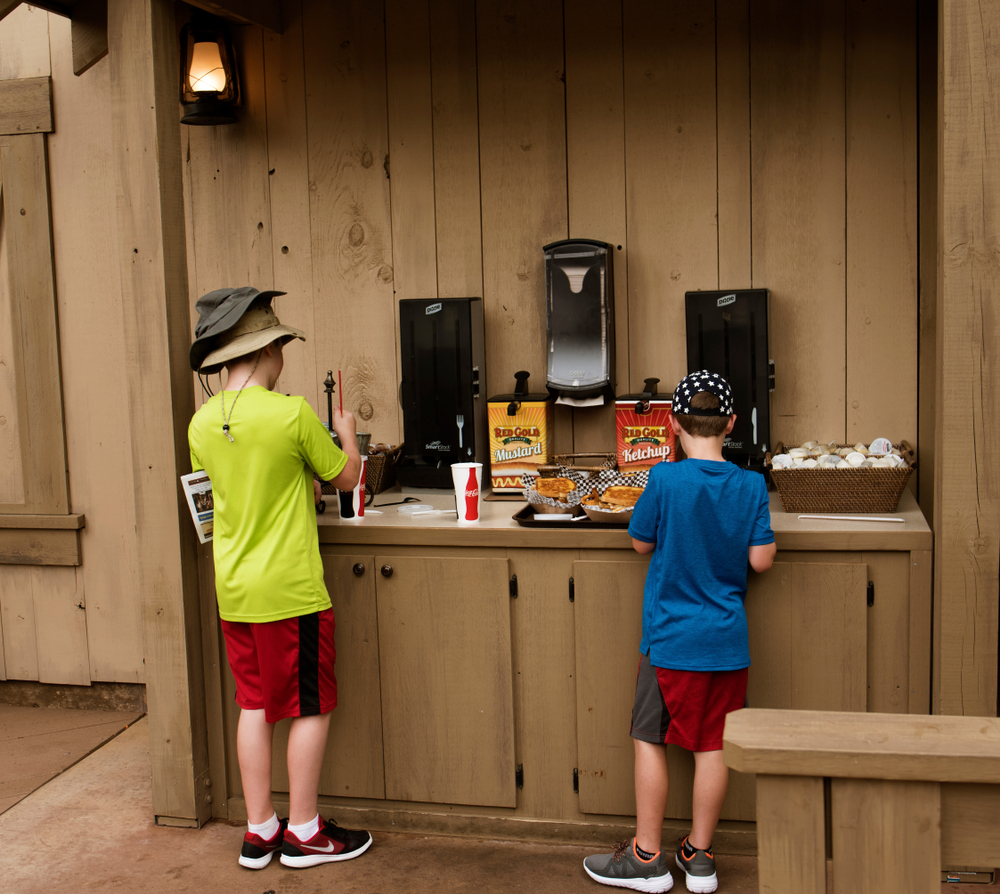 Marvel At WonderWorks
In the heart of Branson's entertainment direct is a huge upside-down house. This iconic WonderWorks is a must on your things to do in Branson Missouri list.
The museum offers 48,000 square feet of brain entertainment. There are four stories of interactive experiments and activities for all ages.
You can lie on a bed of nails, become a human lightning rod, experience a hurricane, and dig ocean trenches.
This Branson Missouri attraction is a real experience and one you definitely won't forget.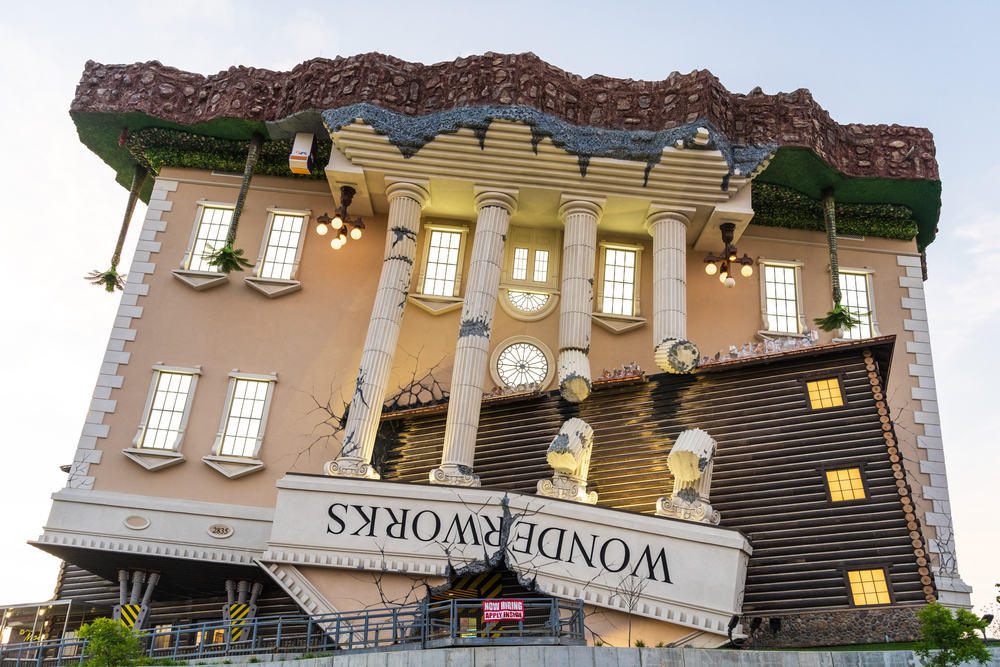 Geting Weird At Beyond The Lens Is One Of The Best Things To Do In Branson MO
Do aliens exist? Is bigfoot real? Who killed JFK? If you love a good conspiracy and mystery then Beyond The Lens is the place for you.
This attraction in Branson is an immersive experience that delves into popular culture from the late 20th century into the 21st century.
There are also some incredible virtual reality experiences and some top-of-the-line gaming systems. And for the less adventurous you can walk a red carpet or soar over some national landmarks.
This is a great attraction in Branson Missouri for a rainy day. And a perfect weekend getaway!
One Of The Fun Things To Do In Branson Missouri Is Step Back In Time At The Titanic Museum Attraction
Calling this a museum does not really do it justice. Like everything in Branson, it is more of an experience than a museum.
As you enter the museum, which is shaped like a ship, you get a boarding pass with the name of a real Titanic passenger on it. From this point on you know this is different.
You can walk down the iconic grand entrance, visit recreated cabins, touch an iceberg and dip your hands into water as cold as the sea the passenger were plunged into.
The museum is home to over 400 original artifacts from the ship and it is a very interactive immersive experience.
Another great rainy day activity for your things to do in Branson MO list.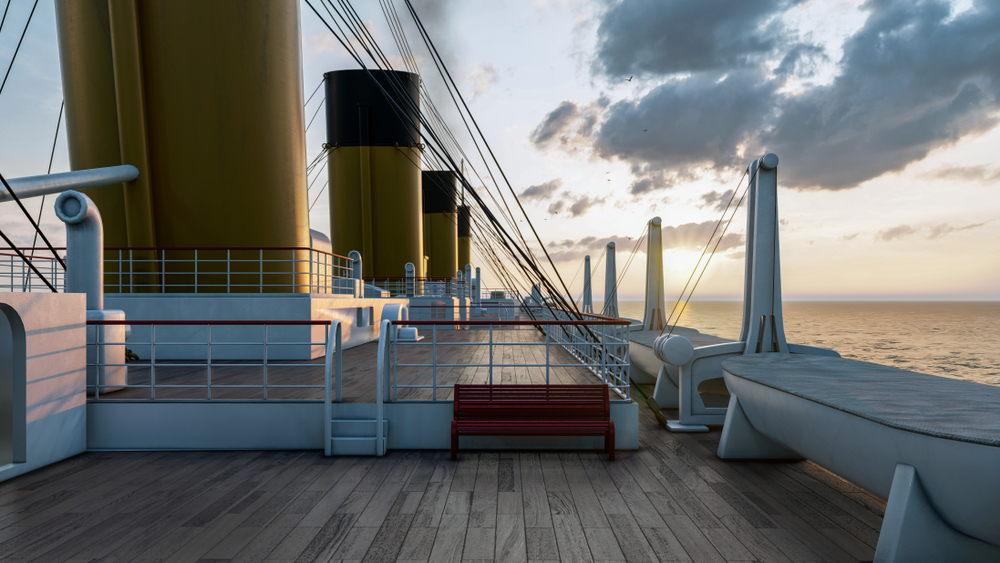 Escape To Table Rock Lake
If you love the great outdoors then a trip to Table Rock Lake should be top of your things to do in Branson MO list.
It's over 50,000 acres of hiking and biking with 800 miles of shoreline with crystal clear waters. It's a truly beautiful area.
There are also campsites in the park if you really want to get away from it all. And for those that like water activities the park won't fall short for you. And there is plenty of wildlife to be spotted too.
A really great place to just get away from it all.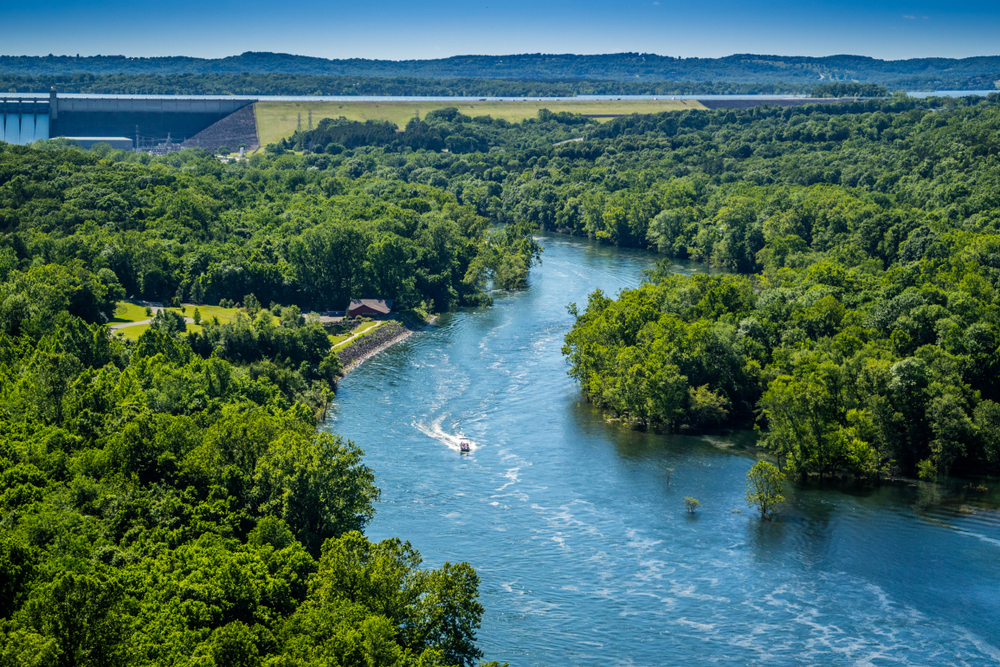 Get Enchanted At Talking Rocks Cavern
Did you know that there are over 7000 caves in Missouri? In fact, MO is known as the cave state.
And one of the best caves in the state is right here in Branson. It is so incredible it was originally named Fairy Cave, which I think gives you a good idea of how beautiful it is.
The one-hour-long trip down 150 steps leads you to another world. Where stunning rock formations seem to glow and shine.
The cave really is magical and I definitely recommend a visit if you can. Once on the surface, you can go hiking, gem mining, and get lost in the maze.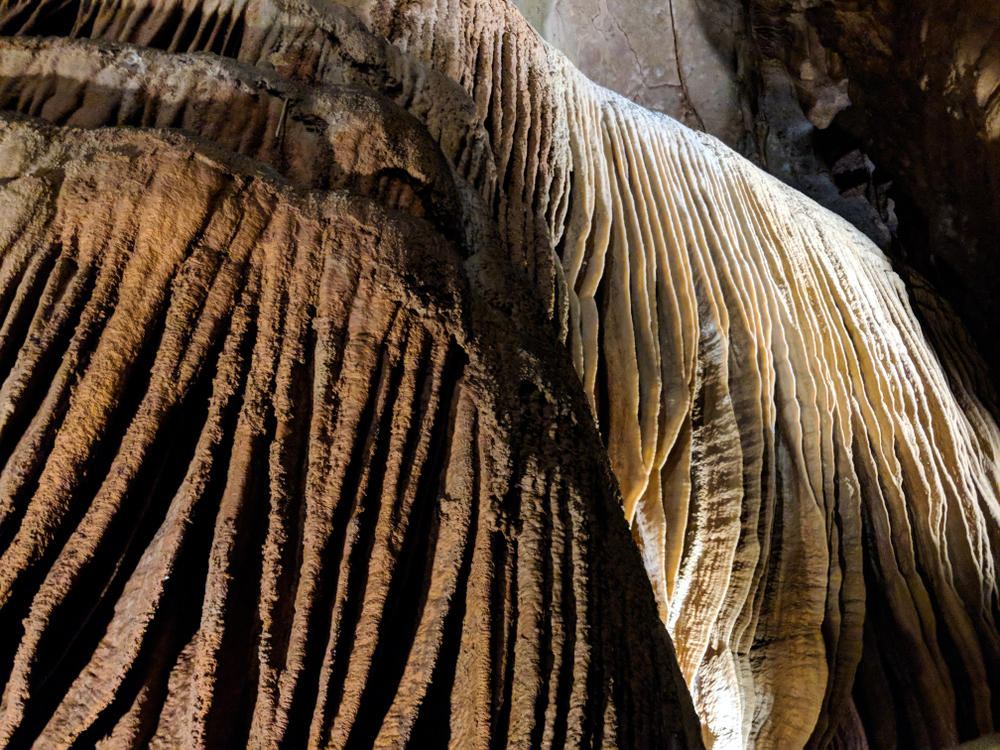 Ride The Branson Scenic Railway
Located in downtown Branson the railway has been running since 1905 and it is well worth a visit. Take an old-fashioned train ride through the surrounding countryside. It's stunning.
The 40-mile ride twists and turns through foothills, mountain tunnels, and bridges through the Ozarks and it truly is beautiful.
The journey takes two hours and if you go on the dinner excursion dinner is serves on the train. And during the holidays it turns into the Polar Express which is great if you have children.
It is one of the things to do in Branson MO if you want to see the surrounding area but are short of time.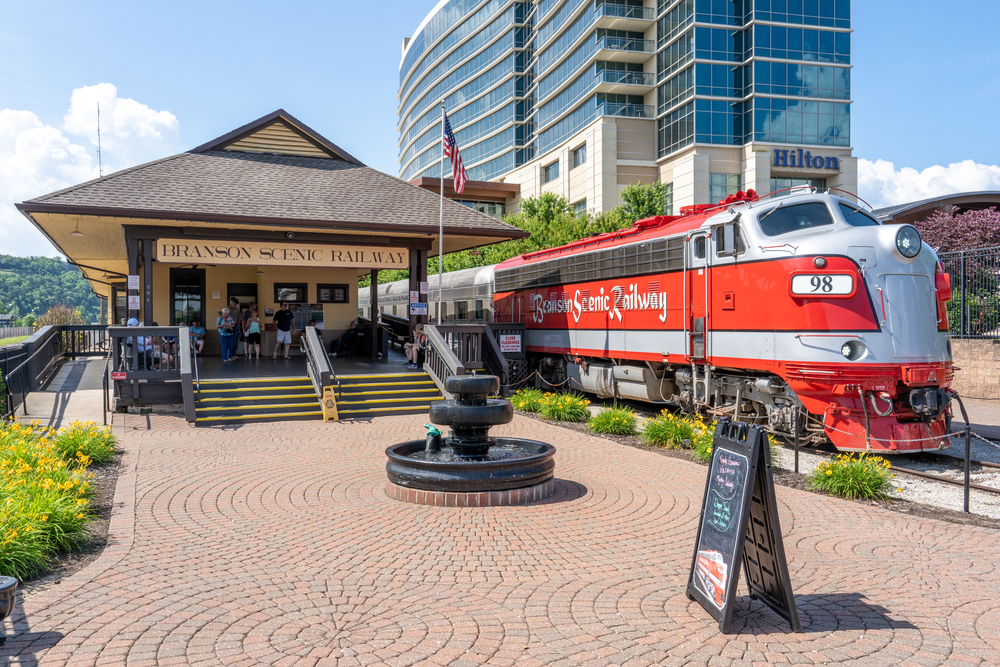 Lose Yourself At Lakeside Forest Wilderness Area
With 140 acres of sprawling wilderness, it's easy to find some alone time among the hills and nature.
If you want to get away from it all this is the place to go.
The hiking around here is amazing and the woodland trails wind through forests and glades. You will also find a waterfall, cave, and the beautiful Lake Taneycomo to enjoy.
You will experience grottos, caves, and some incredible views.
Visit The Veterans Memorial Museum
This educational museum was funded and built by Fred Hoppe after he became enthralled with his father's tales of WW2.
He cut the logs that built the museum, personally interviewed veterans for over 25 years, and traveled the world to collect artifacts to go into the museum. This museum really is a passion project.
He has collected over 2000 artifacts and has documented hundreds of personal stories that he shares in the museum.
And there is a beautiful mural that Fred Hoppe created for his Dad.
Going Shopping Is One Of The Fun Things To Do In Branson Missouri
Whether you want an antique, something unique, or outlet malls Branson has it all.
On the Branson strip in the entertainment district, you will find some great antiques.
The historic district has some charming boutique shops.
Branson Landing serves you up every type of store with a lot of the big-name stores. For outlet shopping, the Tanger Outlets are located on the strip.
The historic downtown with some really unusual shops. Dick's 5 & 10 is like a traditional five-and-dime store. Peter Engler Designs offer unique products from over 150 artists.
For some local finds head to Ozark Quilts & More which has over 300 styles of quilts.
And Alex & Alaina's Treasure Chest really is a little treasure trove of gems.
Put some shopping on your things to do in Branson MO itinerary.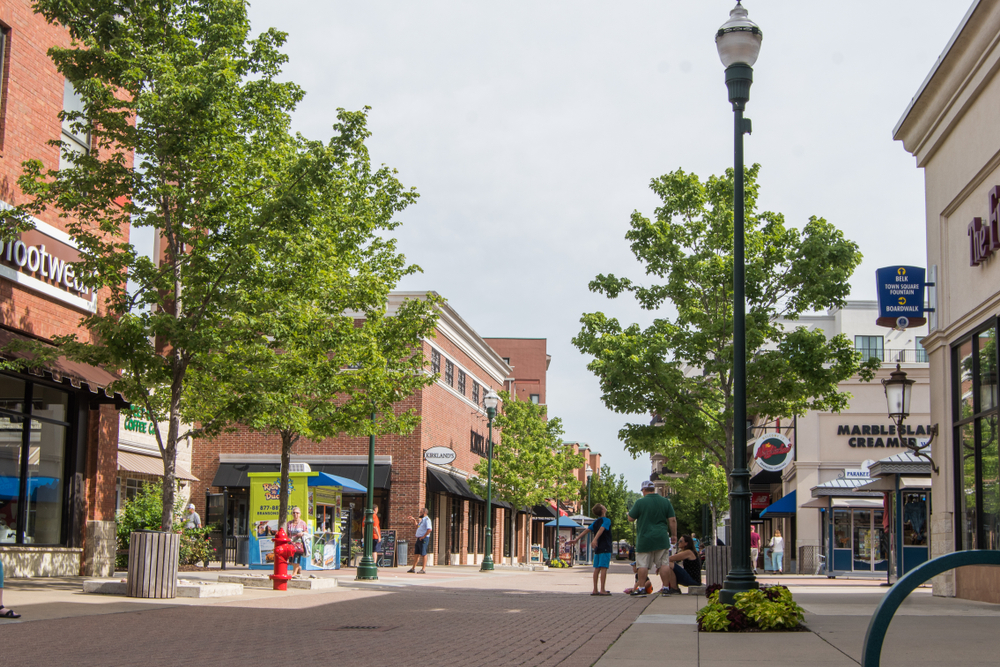 Take A Trip On The Trolley
If you want to explore the downtown area a little more then how about a trip on the downtown trolley?
It offers free rides between downtown and Branson Landing.
It operates every day until 6 pm from March to December and has a more limited schedule in January and February.
They run on a constant loop so you shouldn't have to wait more than 25 minutes for one.
It is especially fun to ride if you are celebrating Christmas in Branson!
Have An Instagram Moment
Branson is littered with some incredible murals but the two most iconic ones are the Star-Spangled Banner and the Branson Mural.
The Star-Spangled Banner mural is located on the west side of Empire District Electric Co in historic downtown Branson, near the corner of Business 65 and Main Street.
This mural pays tribute to the writer of the US National Anthem and his inspiration.
The Branson Mural is located on the corner of Main Street and Sycamore on the Cadwell's Flea Market wall facing the Hilton Convention Center hotel. This mural showcases the different experiences Branson has to offer. And it's a colorful backdrop to any tourist photo.
Enjoying A Live Show Is One Of The Best Things To Do In Branson MO
Bronson is known for its amazing live entertainment and has over 100 shows for you to choose from. Please consider adding one of these shows to your things to do in Branson MO list.
There is every type of show you could possibly ask for and you can see shows morning, noon, and night.
Perhaps attend a comedy jamboree or a dinner show like Dolly Parton Stampede. Or take the kids to see amazing pets or hop aboard the Branson Showboat Belle.
Whatever you love Branson has probably got a show celebrating it!
Live shows are very special during Christmas in Branson!
Learn at the Ancient Ozarks Natural History Museum
At Top Of The Rock, The Ancient Ozarks Natural History Museum is a 35,000-square-foot treasure trove of Ozarks history.
You'll find interactive exhibits, historical memorabilia, and a huge collection of artifacts and relics.
A wooly mammoth welcomes you in the entrance and you can also rub shoulders with a giant ground sloth, saber-tooth cats, a short-faced bear, and the terror bird which sounds petrifying.
Native American culture is celebrated at the museum with some great artifacts from this era. There is also a whole gallery dedicated to the Civil war.
If you love history then this is the place for you. It's packed full of information and things to look at you won't be disappointed, Everyone can find their own little corner to explore in this museum.
Top Of The Rock also has lots of other things to enjoy including Missouri caves and natures trails, the chapel of the Ozarks, a golf course, and some incredible dining experiences. The views are also stunning from up here.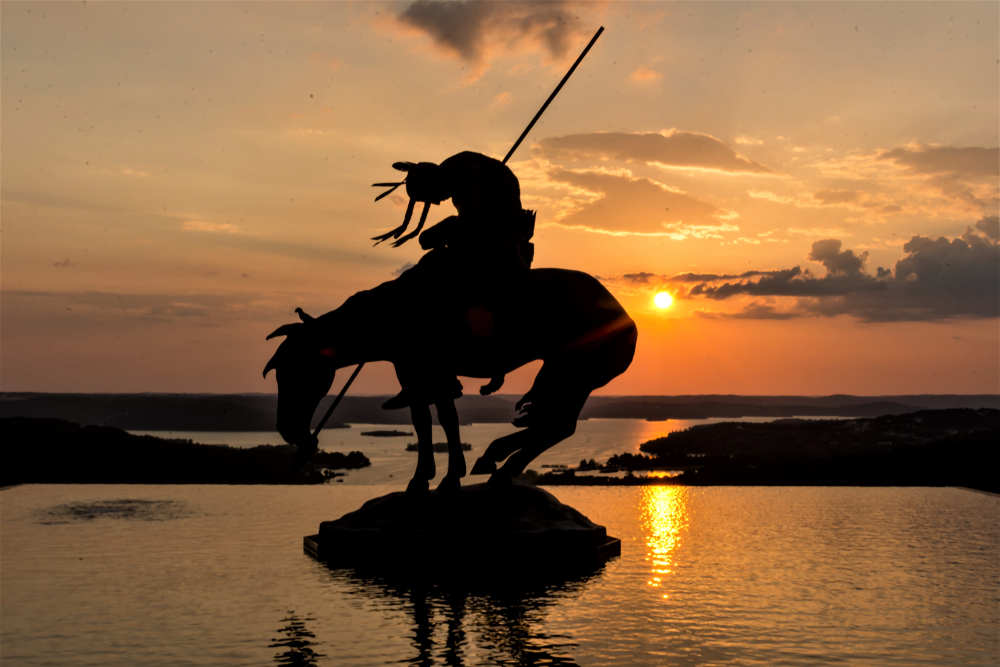 Enjoy A Fountain Show At Branson Landing
The fountain show at Branson Landing was designed by the same company hired by Bellagio at Las Vegas. So now you know why this is one of the best things to do in Branson MO.
Branson Landing is an urban entertainment center set on a 1.5-mile Lake Taneycomo shoreline. At the heart of the Landing is a bustling town square that terraces down to the water attraction.
This isn't any ordinary fountain show. It cost $7.5 million to build and features water, fire, light, and music.
The dazzling displays start at noon and tend to run every hour until 9 pm or 10 on depending on the time of year.
Every show has a different theme so make sure you look at the schedule and pick one that suits you. If you can catch one of the shows after dark because it truly is spectacular.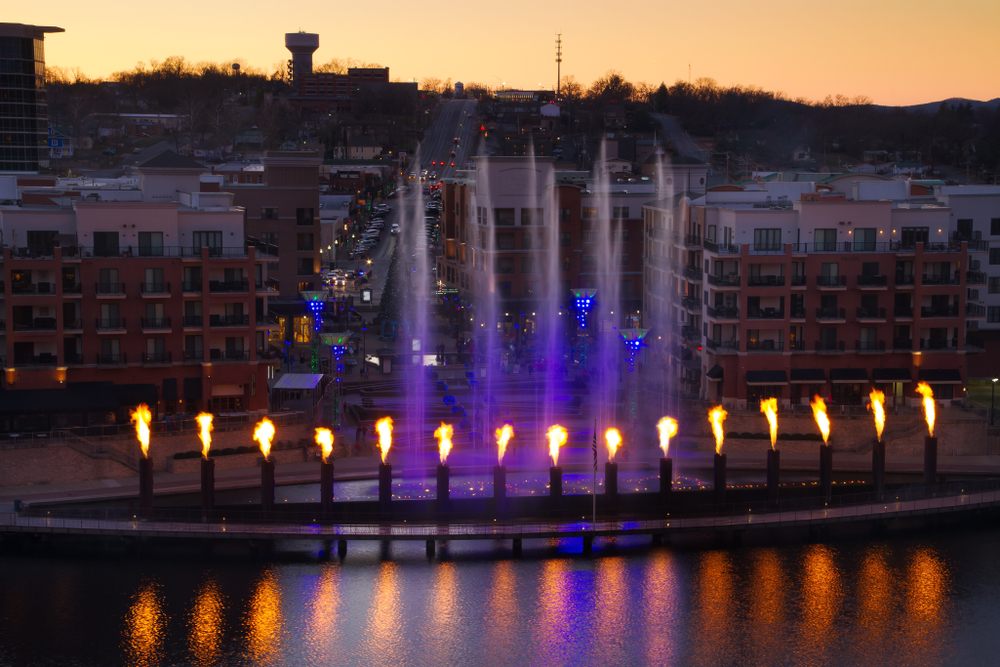 Packing List For A Trip To Branson Missouri
If you will be traveling, either by plane or by car to the midwest, here are some tips on how to pack lightly.
A concealed travel pouch may be one of the most important items you bring along when visiting Branson MO. It is always important to protect your personal information. Identity thieves are everywhere.
his unisex RFID blocking concealed travel pouch is lightweight and comes in several colors. It has lots of organization to give you peace of mind.
You can place it under your hiking clothes next to your body to carry your ID safely.
If you have a pouch already that does not come with the RFID protection, as I do, these RFID sleeves are the perfect solution.
This configuration comes with enough credit card sleeves that the entire family would be protected. They are slim too, so they will easily fit into your pouch or wallet.
If you are planning on taking a lot of pictures with your phone you will definitely want to consider an external charging battery. This Anker high-speed phone charging battery is the exact one I carry with me on all of my trips.
It can be used on a variety of phones, not just an iPhone like I have. And wow is it fast!
I like that it holds its charging capabilities for several uses so I do not have to worry about it while out and about, and if I forget to recharge it at night, it will still be good to go the next day.
My daughter gifted me with this FugeTek selfie stick and tripod setup for my birthday. I absolutely love it! It is made of lightweight aluminum and is so easy to use.
It has Bluetooth connectivity and is a breeze to use for taking selfies when staying in one of the best Airbnbs in Illinois.
Hydration is so important when traveling. You want to remain hydrated throughout your travels to support your immune system which in turn will be stronger to fight off any germs you will encounter during your travels.
You will want to bring your own refillable water bottle with you.
I never leave home on a trip without my Bobble filtration bottle. The 18.5-ounce size is perfect for hiking and it fits nicely in the pocket of a backpack.
When filled with water, it is not too heavy to carry. And the charcoal filter ensures fresh clean water whenever you fill the Bobble.
Perhaps you are traveling a long distance and packing space is a premium in your suitcase, or in your car.
Then this set of collapsible silicone foldable water bottles would work well for you. Would not take up much space at all.
You will want a backpack or daypack with you to store snacks, your water bottle, phone, extra clothes, etc.. when hiking This foldable water-resistant backpack would be great
It is very affordable and is available in many color options for you to choose from. The fact that it folds down into a zippered pouch will make it easy to pack.
—-
As you can see when it comes to things to do in Branson MO you really are split for choice. You can explore some of the coolest wineries in Missouri near Branson.
From all the Branson attractions to the amazing experiences and the wonderful nature, I am quite sure you will have an incredible time.
Whichever of these things to do in Branson you choose I hope you have a great time and enjoy your vacation. Please share your experiences in the comments below!