Are you planning a visit to MO and wondering what caves in Missouri you would like to visit? Well, look no further, in this article I am going to share everything you need to know about Missouri caves.
From caverns in Missouri to caving in Missouri I've done all the research so you don't have to. Everything you need to know about caves in MO is right here.
Missouri is known as the Cave State with approximately 7,500 recorded caves and 6000 explored caves it definitely tops the most amount of caves charts. The largest majority of the caves are located in the Ozark region.
Caves tend to be identified as either commercial or show caves and wild caves. Commerical caves are ones that are easily accessible to the public and most offer guided tours, wild caves are in their natural state and should only be explored by experienced cavers.
All the caves featured here are commercial or show caves and most are popular tourist attractions. Some are even popular event spaces holding weddings, events, and even concerts.
Most of the caves will need to be explored on foot except Fantastic Caverns so please make sure you have on appropriate footwear. Also, remember that caves are cool inside which might be a welcome break from the summer heat, but pack a cover-up or cardigan just in case because some of the tours are over 90 mins long and it can get cold.
So are you ready to see which Missouri caverns and MO caves I have chosen for you? Grab some sturdy shoes and a cover-up and let's go.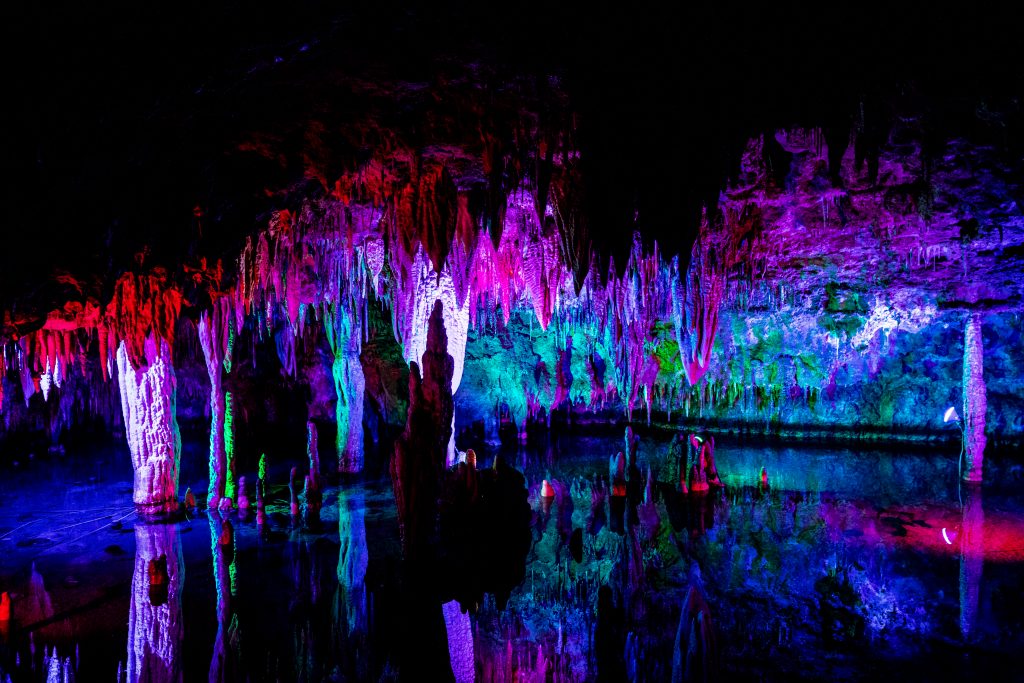 14 Amazing Caves In Missouri For You To Explore
Bluff Dweller's Cave
Named after the Paleo-Indian Bluff Dwellers this is one of the caves in Missouri that is archeologically significant. Located in the Ozark mountains, it was created in the Paleozoic Era and was opened to the public in 1927.
It is believed this cave was inhabited some 12,000 years ago and to date, 4000 feet of its passages have been explored. It's a bit of a hidden gem with visitors describing it as dramatic, beautiful, and awe-inspiring.
This cave has some unusual and impressive structures within it including the Musical Chimes, a curtain of hollow stalactites, the 10-ton balanced rock, and the Rimstone Dam.
The cave is also decorated with stalactites, stalagmites, draperies, saw tooth drapes, flowstone, cave popcorn, cave coral, and cave sponge. It's also home to albino cave crayfish, the grotto salamander, and the eastern pipistrelle bat.
Opening times differ depending on the season and entry at the time of writing is $20 for over 12's. Tours take about an hour and the groups are small in size and some of the passageways are a tight squeeze.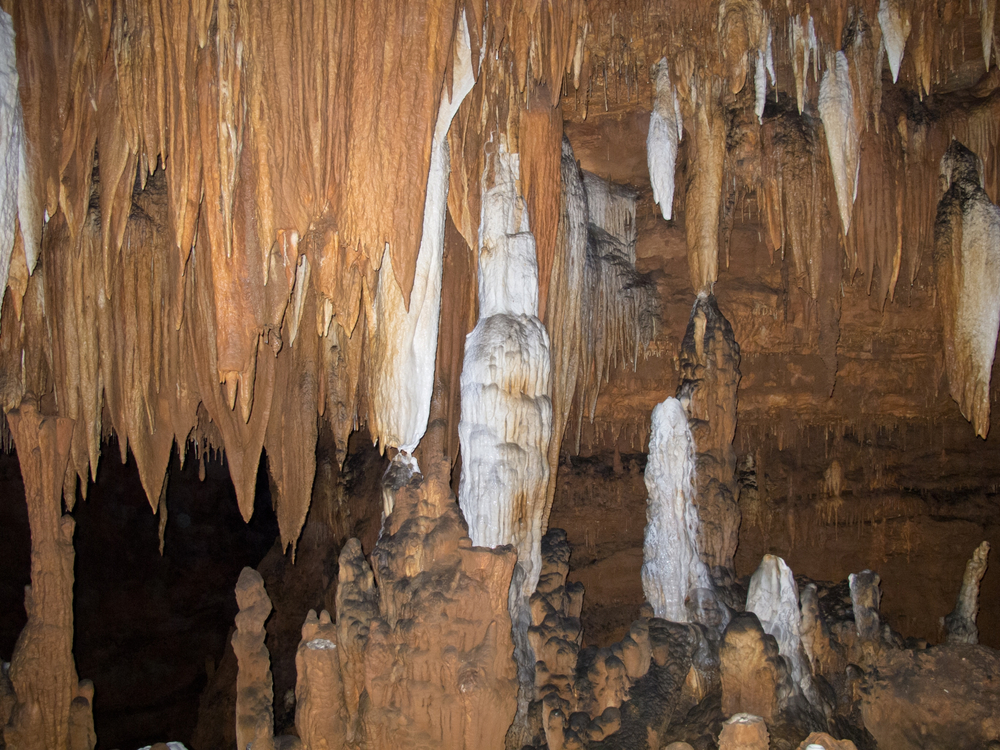 Bridal Cave
Under Thunder Mountain, just outside Camdenton this cave is near the Lake of the Ozarks and is magnificent. And yes you can get married in it.
Legend has it that a native couple got married here centuries ago and hence the name. It's possibly one of the most beautiful of all the caves in Missouri which is also what could have afforded it its name.
Named by Glamour Magazine as one of the Top 10 Unique Wedding Venues in America over 3000 weddings take place here each year.
You will find giant columns, stalactites, stalagmites, a Mystery Lake, delicate soda straws, and massive draperies. Tours leave every few minutes and take approx one hour.
This gorgeous Missouri cave is open from 9 am most days and closing at 4 pm or 5 pm depending on the season. It costs $22 for over 13 and Lantern Tours are available on certain days.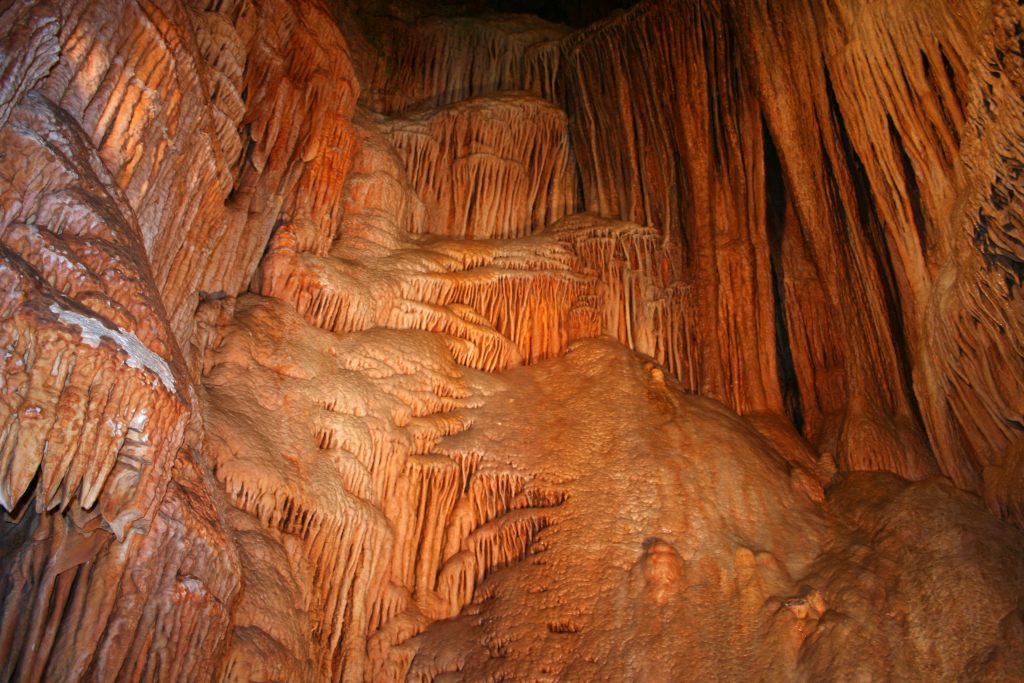 Meramec Caverns
If you are short on time then perhaps this is the cave in Missouri to visit simply because it holds one of the world's largest cave formations. Located near St Louis in the Ozark Mountains the caverns have a long local history and are very impressive.
The caverns are believed to have provided shelter for Native Americans and the caves deposits were used during the Civil War to manufacture gunpowder. Jesse James also hid his men here in the 1870s.
The cave complex stretches upwards past the height of a 7 story building and has some very unique formations. You will learn about how the ancient Wine Table (the world's rarest cave structure) was formed completely underwater and see some impressive underground structures.
And there is also a state-of-the-art light show in the caves. The cost to enter is $23.99 and is open from 9 most days closing at different times depending on the season.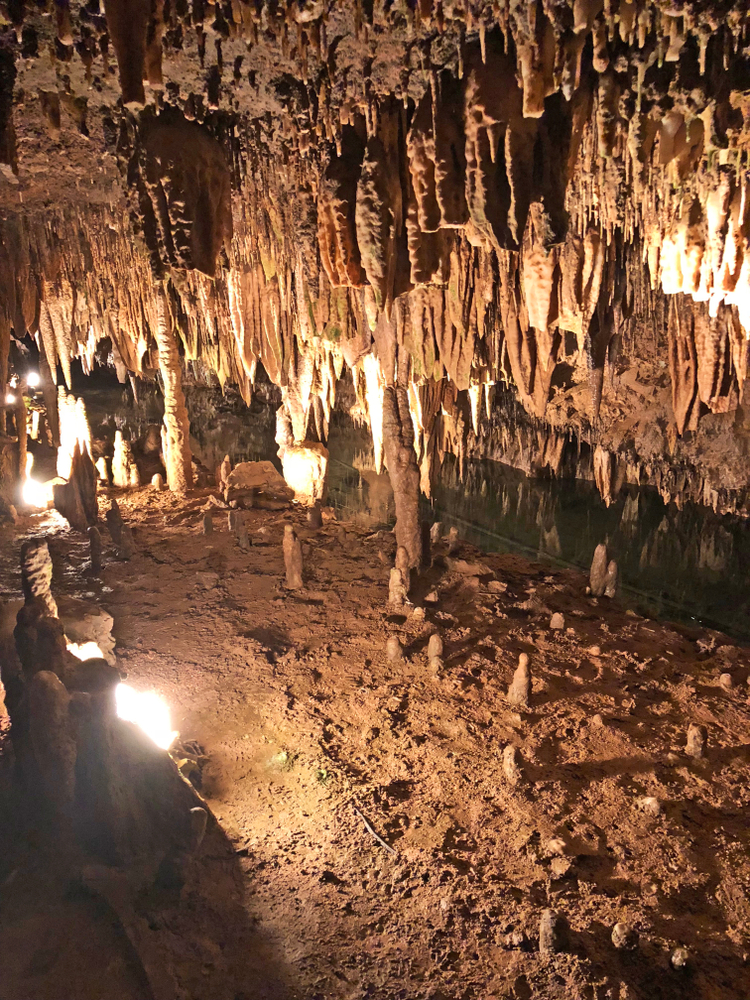 Devils Well
Devils Well is a sinkhole cave with a karst window that allows you to look deep below. It almost looks like you are looking into the bowels of the earth perhaps what gave it its ominous name.
It was created when the roof of an underground cavern collapsed leaving a window looking down below. You can see the large, in fact, the largest in the state, underground lake through this window.
Just off Route KK near Akers, the road is steep and rough and the is a spiral staircase to make viewing easier. It's free to enter just don't expect tourist amenities. This one is a bit off the beaten track.
There is a great hiking trail just over 4 and a half miles that take you from Devils Well to Cave Spring that is well worth it if you love hiking.
Fantastic Caverns In Missouri Is Very Accessible
This is one of the caves in Missouri that really is accessible to all. The tours are conducted in jeep-drawn trams making it a ride through a cave.
Located near Springfield this really is a huge system of caves. Discovered in 1862 by a local farmer and explored five years later by a group of female explorers the caves are now a popular tourist attraction.
The cavern was also a speakeasy during prohibitions and was used for concerts in the '50s and '60s.
The jeep tours help protect the fragile environment and you will be driven along what was the old riverbed. You really get to see the enormity of the caves on this tour and of course, you will see all the unusual cave structures.
Expect stalactites, stalagmites, "soda straws," cave "pearls," flowstones, and massive columns. The tour takes 55 minutes and entry is $28 for anyone over twelve years of age.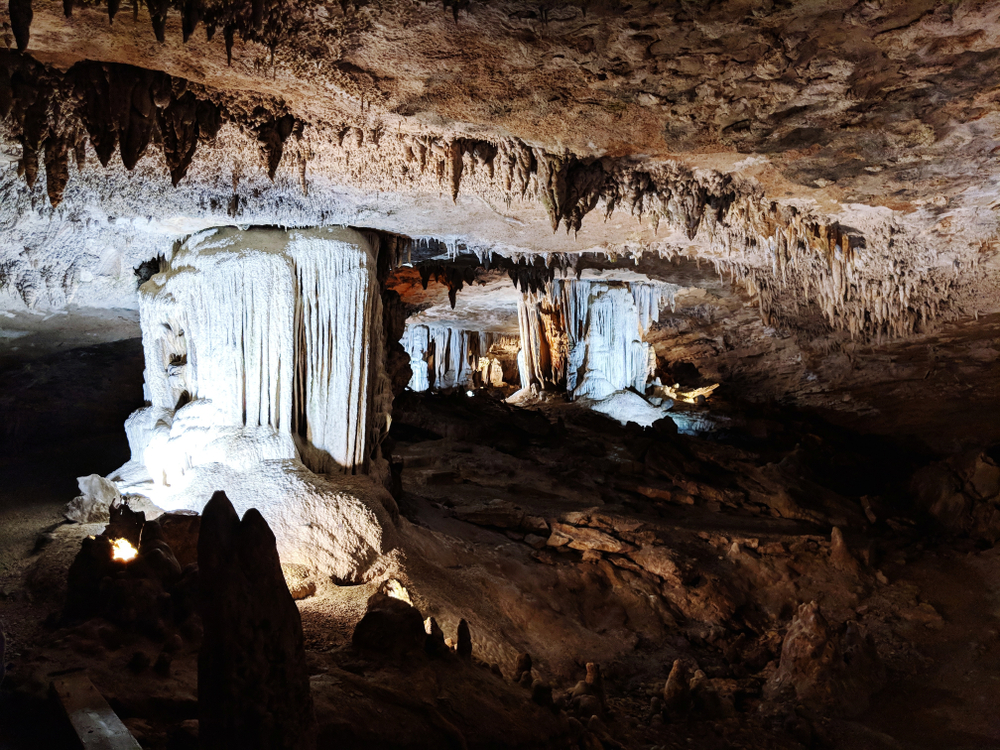 Mark Twain Cave
More than a simple cave this is a complex and here you get to see America's oldest and newest show cave. About one mile south of Hannibal this cave has a history.
Mark Twain Cave is the oldest cave in Missouri with the first guided tour being in 1886. The tour lasts about 60 minutes and you will be shown a seven-minute video before the tour.
The walkways are smooth and there are no steps. The cave can get cold so a sweater or light jacket is recommended.
The cave was discovered in 1819 and was made famous by Mark Twain who spend his childhood exploring the caves. His exploration of these caves inspired many of his later writing.
Another notable thing is that a previous owner Joseph Nash McDowell put the body of his dead daughter in a copper cylinder at the back of the cave. He later removed her after the local people begged him to give her a proper burial.
Jessie James has also signed the walls of this cave although this is not visible on the tour.
Located here is also Cameron Cave the third largest maze cave in the Northern Hemisphere. You can explore this one with a flashlight or lantern if you wish and see what it was like when first discovered in 1925.
Marvel Cave
Part of the Silver Dollar City theme park in Branson this cave is said to have the largest cave entrance in the world. The entrance known as the Cathedral Room is 204 feet high, 225 feet wide, and 411 feet long. It's also the deepest cave at 505 feet.
You enter the cave through an overhead opening and follow a winding staircase to the bottom. There are two tours a well-lit tour with 600 stairs taking you 500 feet below with a cable ride journey back. Or for more adventures a lantern tour through the less visited areas.
Early Osage Indians believed it contained the Devil. Spanish explorers believed it contained gold and the fountain of youth. And early explorers searched for marble. The only thing it actually contained was bat guano which was mined and used as fertilizer.
Entrance is included with your Silver Dollar City entrance. Tours leave every 30 minutes and take approx 60 minutes.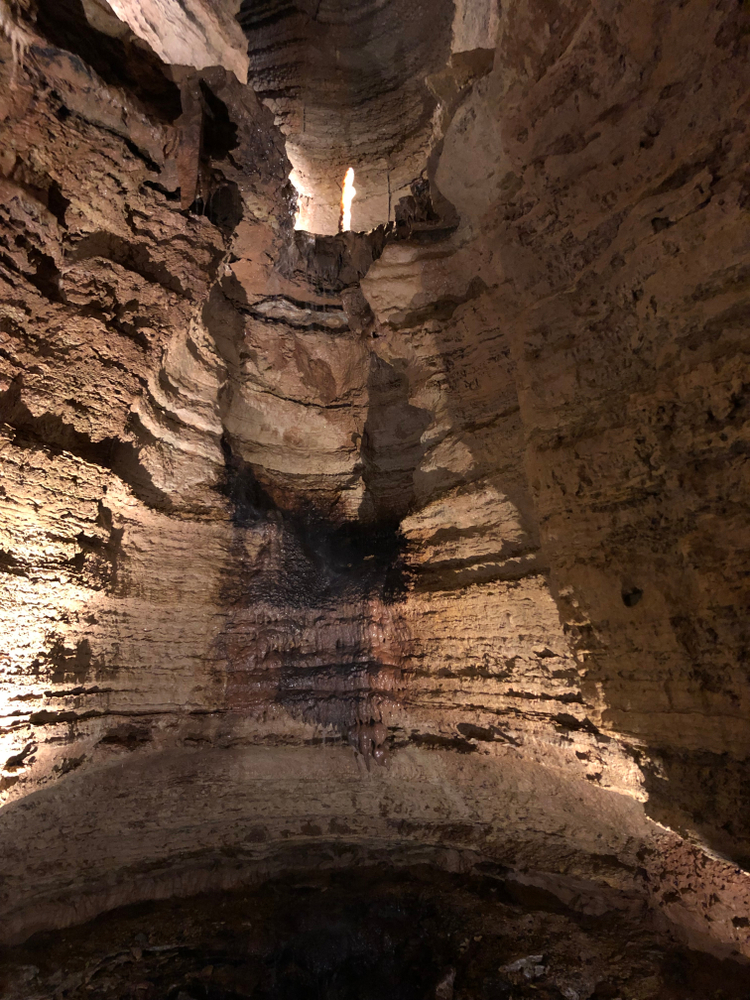 Meramec State Park and Fisher Cave
Near Sullivan Meramec Park is a little oasis on the Meramec River. The river is beautifully lined with bluffs, forests, and of course caves, more than 40 caves to be exact.
There is lots of hiking to be had here with over 13 miles of trails and if you want to stay over there is a campground, cabins, and a motel. There is so much to do here other than caving but we are here for the caves.
The most spectacular cave in the park is Fisher Cave. It's a mix of low narrow passageways and huge rooms. These massive underground rooms are filled with calcite deposits such as helictites and 30-feet tall columns.
The cave also houses some interesting wildlife and you can even see bear claw marks on the walls.
Admission is $10 and tour times vary so please check before you go.
Onondaga Cave State Park
Located also on the Meramec River about five miles from Leasburg. The park is a national natural landmark and this is one of the caves in Missouri that is well worth a visit.
Onondaga Cave is one of America's most spectacular parks because it has such an abundance of speleothems or deposits. Stalactites, stalagmites, rimstone dams, flowstones, draperies, soda straws, and cave coral extensively decorate the cave.
A river also flows through the cave and on a tour you will see geological features such as the Twins, the King's Canopy as well as the abundance of other interesting deposits.
There is also plenty to do on the surface such as the Vilander Bluff Natural Area which has a wonderful view of the Meramec River.
The cave tour costs $15 and times vary so check before you go.
Ozark Caverns
Located in the Lake of the Ozarks State Park this cave exploring is a little more adventurous. There is no electricity here so you will be lead by torchlight or lanterns.
Fascinating features here include Angel Showers," a perpetual water shower dripping from the rock high above and a wall of clay containing bear claw marks.
The cave is home to a lot of wildlife including salamanders, four species of bats, and 16 species of invertebrates.
Another interesting thing to note is a wall towards the end of the tour where visitors since the 1800s have left their signatures.
Tours operate daily and times change so check before you go. The cost is $10.
This is truly one of the best things to do in Missouri!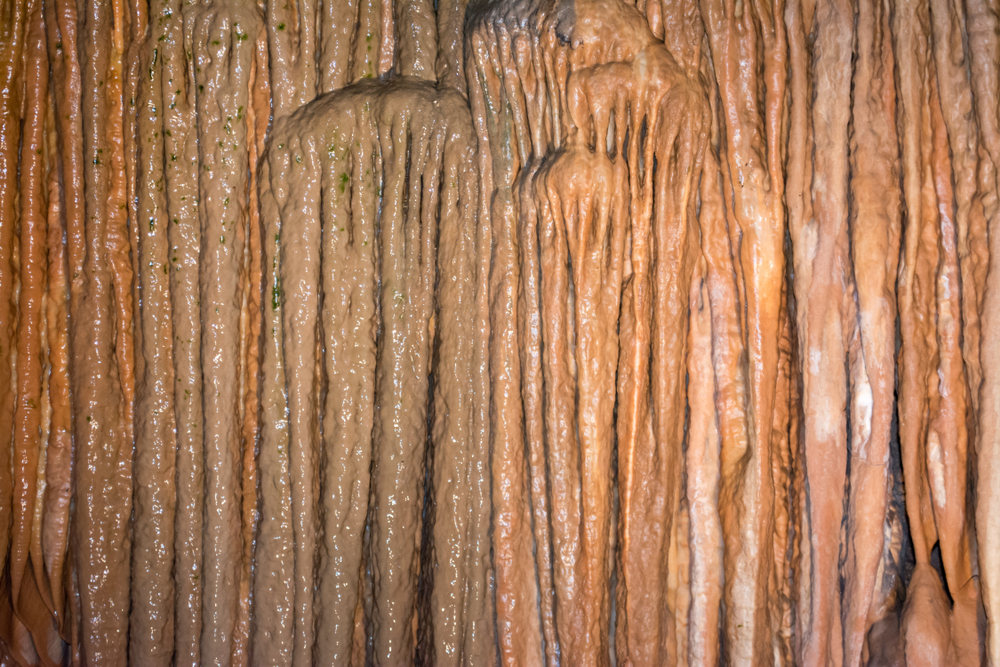 Talking Rocks Cave
Originally called Fairy Cave Talking Rocks is a cavern system located in Stone County near Reeds Spring in Branson. It's privately owned and operated as a show cave.
This is a great cave in Missouri to bring children. They are well catered for with many activities outside the cave a lot of them free. It's considered a living cave because there is water inside and the formations are still growing. It's also bat free which is a bonus.
The cave is open year-round and it's $21.95 for people over 13. Check before you go as during extreme weather the area can get flooded and the cave is then closed.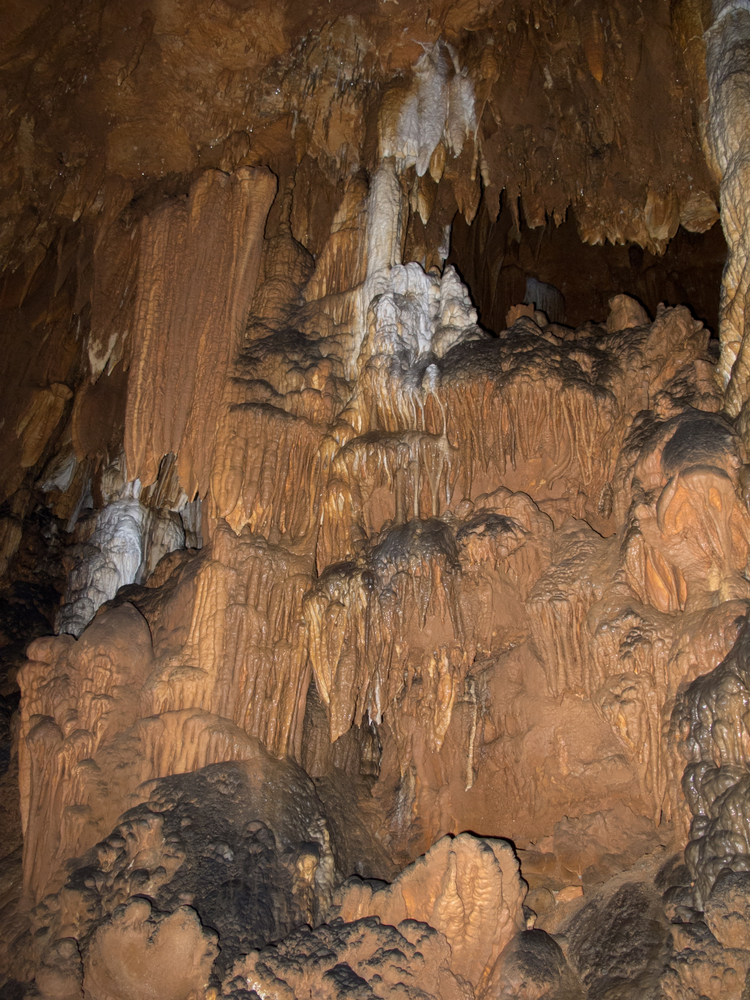 Smallin Civil War Cave
Listed as a Historic District in the National Register of Historic Places, Smallin Civil War Cave is located in Ozark. The cave is rich in human history and contains some interesting wildlife.
The humans who have all added to the history are of many origins from Native Americans, pioneers, Civil War soldiers, and notorious Baldknobbers. And animals have left their mark too with fossils of starfish, shark teeth, sea snails, and more.
The one-hour guided tours have no stairs and you cover about half a mile so nothing strenuous for most people. Wild cave tours are also offered. Tour costs start at $23.50 for people over 12.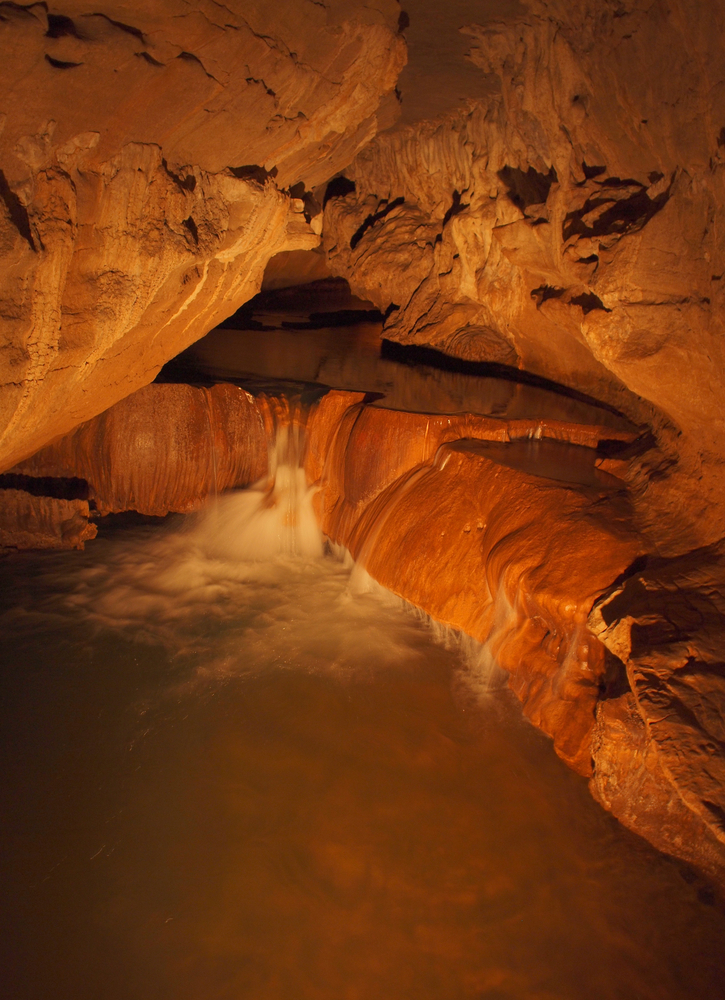 Stark Caverns
Stark Caverns also known as Fantasy World Caverns is a mix of Native American artifacts, geological formations, and ancient bear beds. It also contains areas with such great names as Moonshiner's Dam, the Wishing Well, and Grand Canyon.
The one-hour tour costs $22 for adults over 12 and you will learn about stalagmites, stalactites, and fluorescent minerals while discovering an entirely new world underground.
This Missouri cave also offers atmospheric Lantern tours that are a little more expensive but well worth it.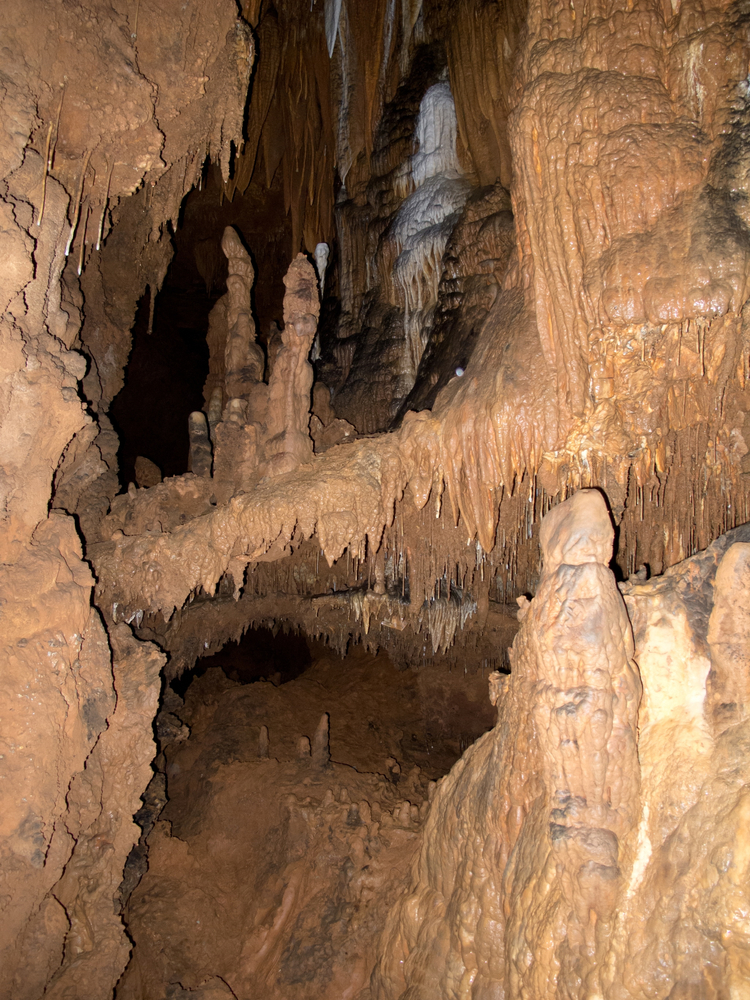 Jacobs Cave
The first commercialized cave in the Ozarks area, Jacobs Cave was first opened in 1932. It is famous for its reflective pool, ceiling sponges, and depth illusion.
The cave is also home to mastodon, bear, and peccary prehistoric boines. There is also what is believed to be the world's largest geode here.
On the one-mile-long tour, you will also see cave usuals such as stalactites, columns, and soda straws.
It is located between Versailles and Gravois Milles and is one of the caves in Missouri that is accessible to everyone including those with strollers and wheelchairs.
Entry is $20 for those over 12.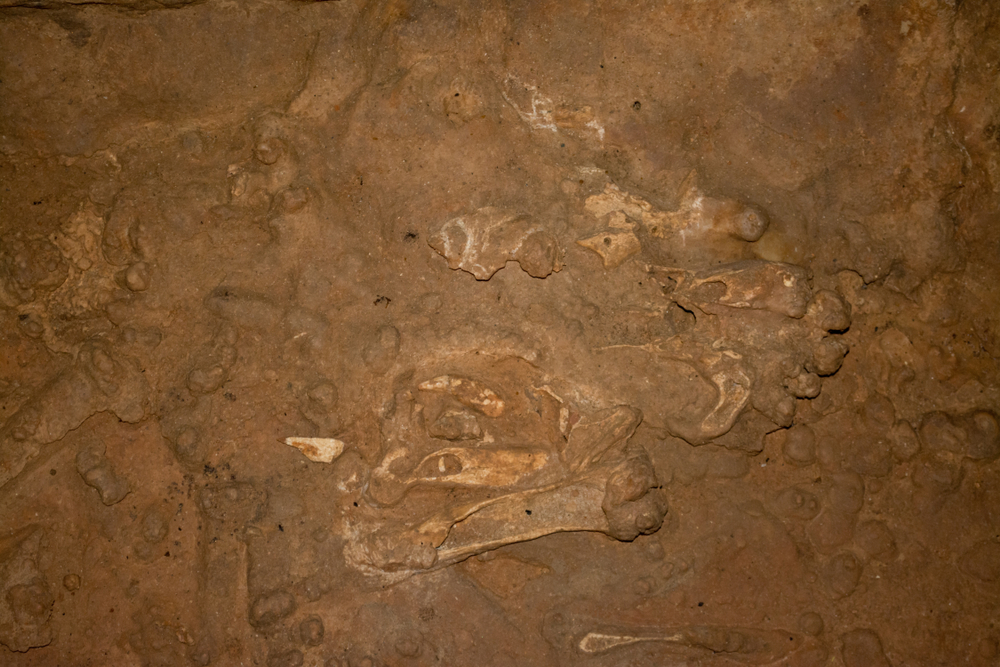 Packing List For A Trip To Expreience The Caves in Missouri
If you will be traveling, either by plane or by car to the midwest, here are some tips on how to pack lightly.
A concealed travel pouch may be one of the most important items you bring along when visiting Missouri caves. It is always important to protect your personal information. Identity thieves are everywhere.
This unisex RFID blocking concealed travel pouch is lightweight and comes in several colors. It has lots of organization to give you peace of mind.
You can place it under your hiking clothes next to your body to carry your ID safely.
If you have a pouch already that does not come with the RFID protection, as I do, these RFID sleeves are the perfect solution.
This configuration comes with enough credit card sleeves that the entire family would be protected. They are slim too, so they will easily fit into your pouch or wallet.
If you are planning on taking a lot of pictures with your phone you will definitely want to consider an external charging battery. This Anker high-speed phone charging battery is the exact one I carry with me on all of my trips.
It can be used on a variety of phones, not just an iPhone like I have. And wow is it fast!
I like that it holds its charging capabilities for several uses so I do not have to worry about it while out and about, and if I forget to recharge it at night, it will still be good to go the next day.
My daughter gifted me with this FugeTek selfie stick and tripod setup for my birthday. I absolutely love it! It is made of lightweight aluminum and is so easy to use.
It has Bluetooth connectivity and is a breeze to use for taking selfies when staying in one of the best Airbnbs in Illinois.
Hydration is so important when traveling. You want to remain hydrated throughout your travels to support your immune system which in turn will be stronger to fight off any germs you will encounter during your travels.
You will want to bring your own refillable water bottle with you.
I never leave home on a trip without my Bobble filtration bottle. The 18.5-ounce size is perfect for hiking and it fits nicely in the pocket of a backpack.
When filled with water, it is not too heavy to carry. And the charcoal filter ensures fresh clean water whenever you fill the Bobble.
Perhaps you are traveling a long distance and packing space is a premium in your suitcase, or in your car.
Then this set of collapsible silicone foldable water bottles would work well for you. Would not take up much space at all.
You will want a backpack or daypack with you to store snacks, your water bottle, phone, extra clothes, etc.. when hiking This foldable water-resistant backpack would be great.
It is very affordable and is available in many color options for you to choose from. The fact that it folds down into a zippered pouch will make it easy to pack!
—
As you can see when it comes to caves in Missouri, there are many to choose from. Whichever of these MO caves you choose I know you will have an amazing time.
Whether you visit one of the caverns in Missouri or go caving in Missouri please make sure you come back and tell me all about it.