If you are looking for fun things to do in Cincinnati Ohio, then you've come to the right place!
I was born and raised in Youngstown, Ohio, so I know that the midwest is full of vibrant cities, small towns, and so much more.
Ohio, in particular, has some really cool hidden gems, and a lot of them can be found in Cincinnati.
There are tons of cool attractions in Cincinnati, and there is definitely something for everyone.
Whether you love museums, historic sites, city parks, or stunning gardens, Cincinnati has something to appeal to you.
The city is also becoming known as a foodie hot spot in the Midwest.
While you are checking out some of these cool things to do in Cincinnati, I suggest you grab a bite to eat at one of the best restaurants in Cincinnati.
So, with all of that in mind, let's take a look at the 15 best things to do in Cincinnati you don't want to miss!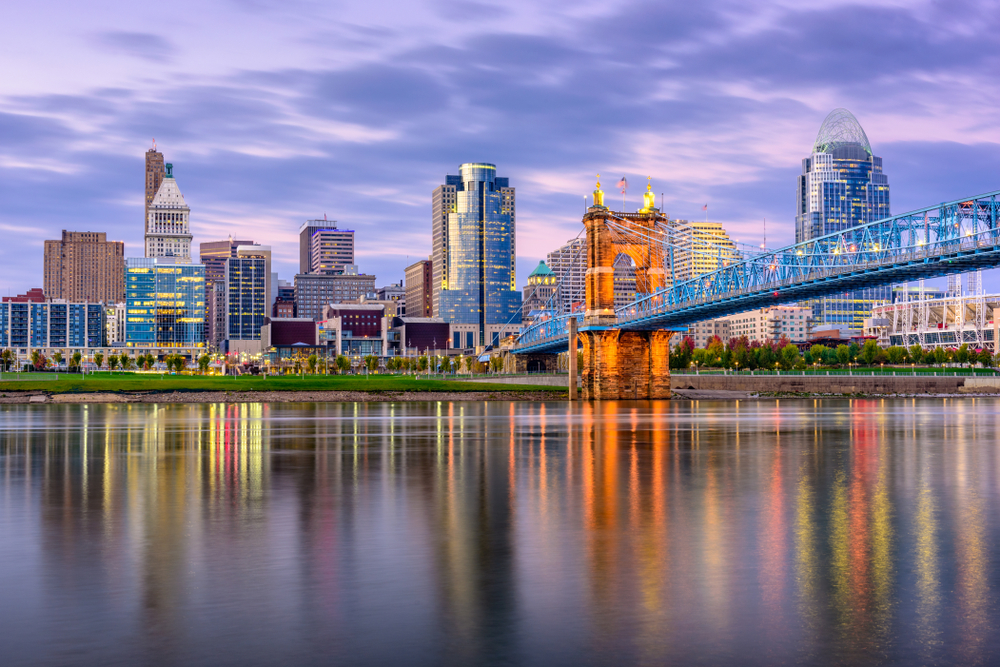 15 Best Things To Do In Cincinnati OH You Shouldn't Miss
Explore The Cincinnati Art Museum
The Cincinnati Art Museum is located in the Eden Park district in the city and was founded in 1881.
It is one of the oldest art museums in the United States and was actually one of the first 'purpose-built' art museums that was built west of the Alleghenies.
The beautiful building is not the only thing that makes the Cincinnati Art Museum one of the best things to do in Cincinnati.
Admission to the museum is always free, but they may occasionally require 'purchased' timed tickets.
This just means there is an exhibit in the museum that is pretty popular. So to keep it from getting too crowded, you have to reserve your entry time. Those tickets are still free though.
With a collection of over 67,000 works, spanning over 6,000 years, the Cincinnati Art Museum is full of interesting works.
The works are typically organized by the art movement, or the year they were produced.
While you walk through the museum it will be like walking through human history.
It's a really wonderful museum with so many great exhibits to explore.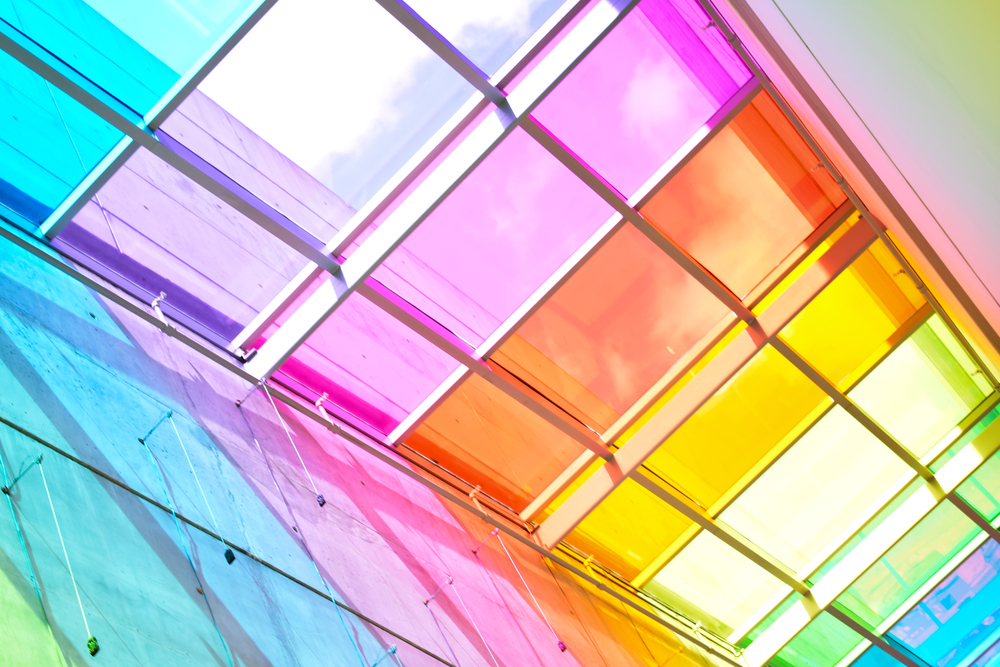 Strolling Through Ault Park Is One Of The Best Things To Do In Cincinnati
Spanning over 220 acres, Ault Park is the fourth-largest park in Cincinnati.
It is a beautiful park to stroll through on a sunny day in Cincinnati, Ohio.
Inside the park, you'll find a ton of great amenities.
There are several picnic areas, wandering trails, and perfect areas for kids to play.
You can also stroll through beautifully manicured gardens, lay on the grassy lawns in the sun, and even a lookout point that offers some seriously stunning views of the park and city.
When you want to escape the hustle and bustle of the city, you can't go wrong with a few hours spent in Ault Park, one of the best Cincinnati, Ohio attractions.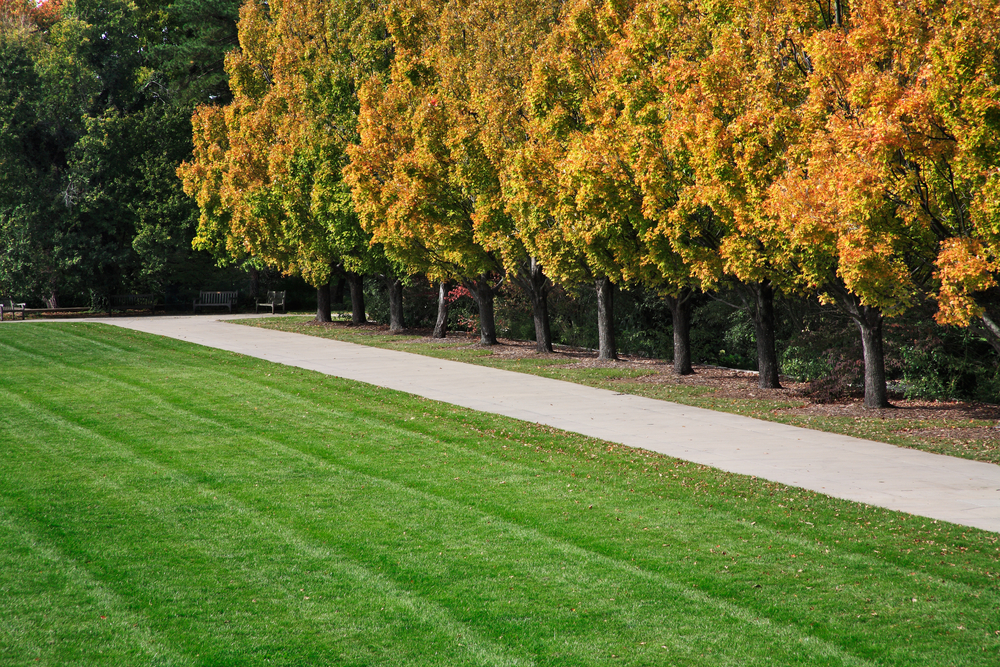 Learn About The Underground Rail Road At The National Underground Rail Road Freedom Center
The Underground Railroad Freedom Center is one of the most incredible things to do in Ohio.
You can find it on the banks of the Ohio River in downtown Cincinnati.
Its location is an important part of the Underground Rail Road history.
Enslaved peoples would cross the Ohio River into Ohio, and Cincinnati, which was a free state, to escape slavery.
Inside the museum, you'll find an in-depth history of the heroes who helped enslaved peoples escape the horrors of slavery in the southern slave states.
There are also stories of enslaved peoples and their journeys to freedom.
It's an incredibly moving museum experience and it's easily one of the best things to do in Cincinnati Ohio.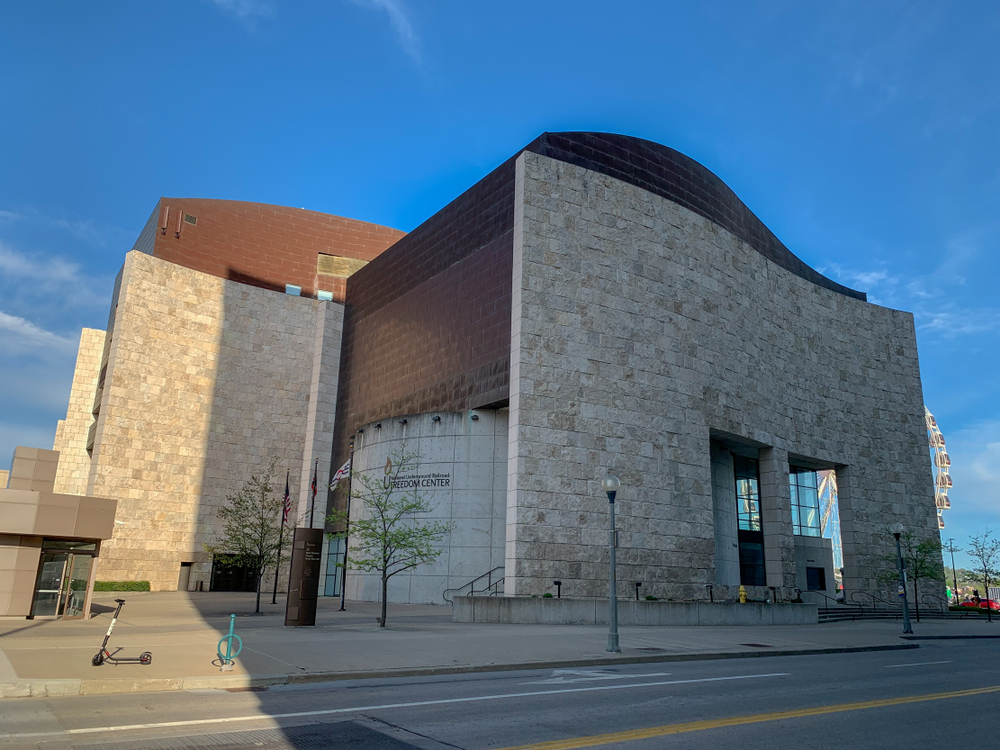 Enjoy A Picnic In Washington Park
Washington Park is in the popular Over-the-Rhine neighborhood of Cincinnati.
At 8-acres, the park was once a Presbyterian and Episcopal cemetery.
But it was converted into a community park in the 1860s.
The park now is a great place to relax and enjoy a picnic, play some lawn games, or take the kids for some fun at the Children's Playground.
Throughout the year you can also enjoy various events at the park.
From Jazz in the Park, Yoga and workouts on the lawn, festivals, Summer Cinema nights, and even a Flea Market.
Take some time while you're exploring Cincinnati and check out Washington Park, you won't regret it!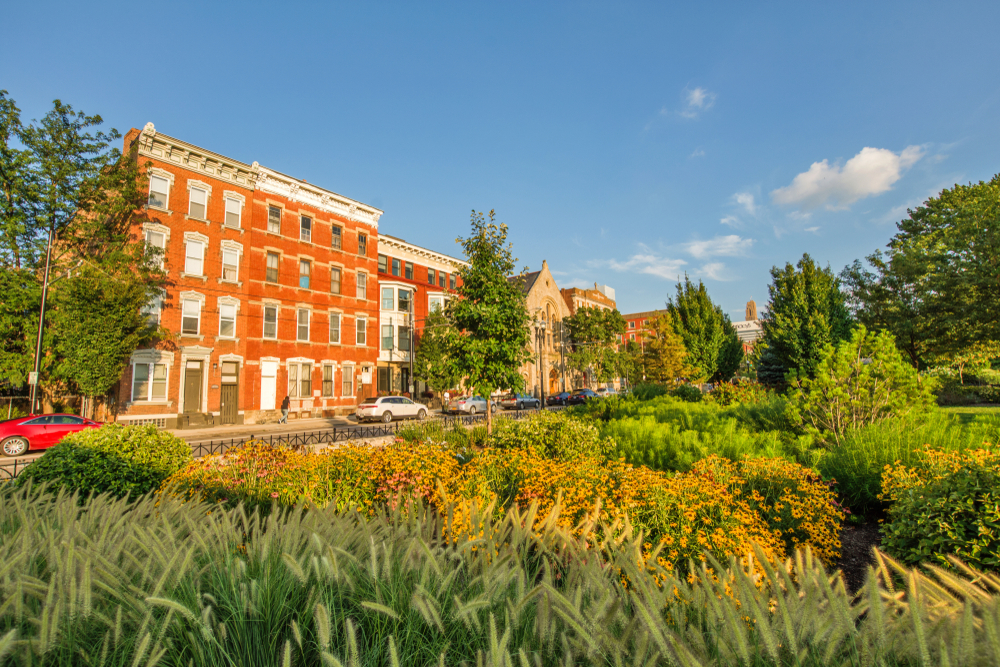 The American Sign Museum Is One Of The Coolest Hidden Gems Of Ohio
If you're looking for hidden gems in Ohio to check out while you're in Cincinnati, I suggest spending some time at the American Sign Museum.
This Cincinnati attraction isn't typically on the lists you find of top places to visit in Cincinnati, but it absolutely should be.
The museum is full of antique and vintage neon and lit signs.
From advertisements, store signs, and decorative signs, there are some really cool examples of historic American signs.
Inside the museum, there is also a workshop where neon artists work and teach about the history of neon lights and how to make them.
It is a dying art that the museum tries to bring attention to by displaying and teaching classic neon light techniques.
This is definitely one of the coolest things to do in Cincinnati that you won't want to miss.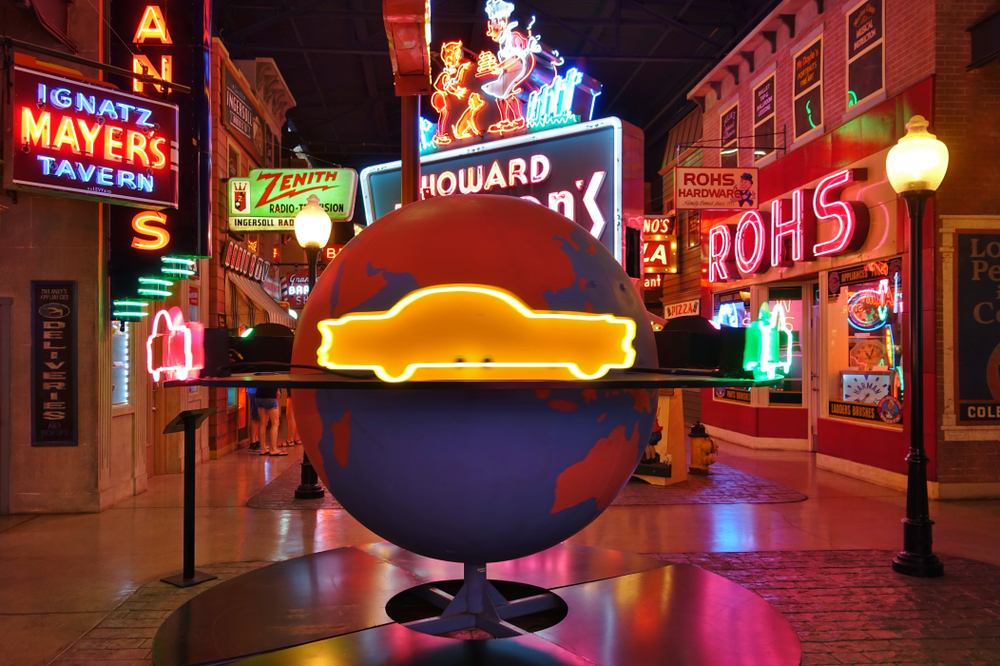 Spend A Warm Day At Coney Island Park
Not to be confused with the Coney Island, Coney Island Park is a fun waterpark located just outside of Cincinnati Ohio.
Sitting on the banks of the Ohio River, Coney Island Park is one of the best things to do in Cincinnati with the whole family.
Coney Island Park is open seasonally in the summer months and has several different water rides, pools, and waterslides.
You can purchase season tickets, or just daily tickets if you only have time for one trip to the park.
It is a great place to go with the entire family.
Especially when you want to cool off on a really hot day.
Throughout the summer, the park also hosts a variety of events like fireworks shows for everyone's entertainment. This water park is one of the fun things to do in Cincinnati OH!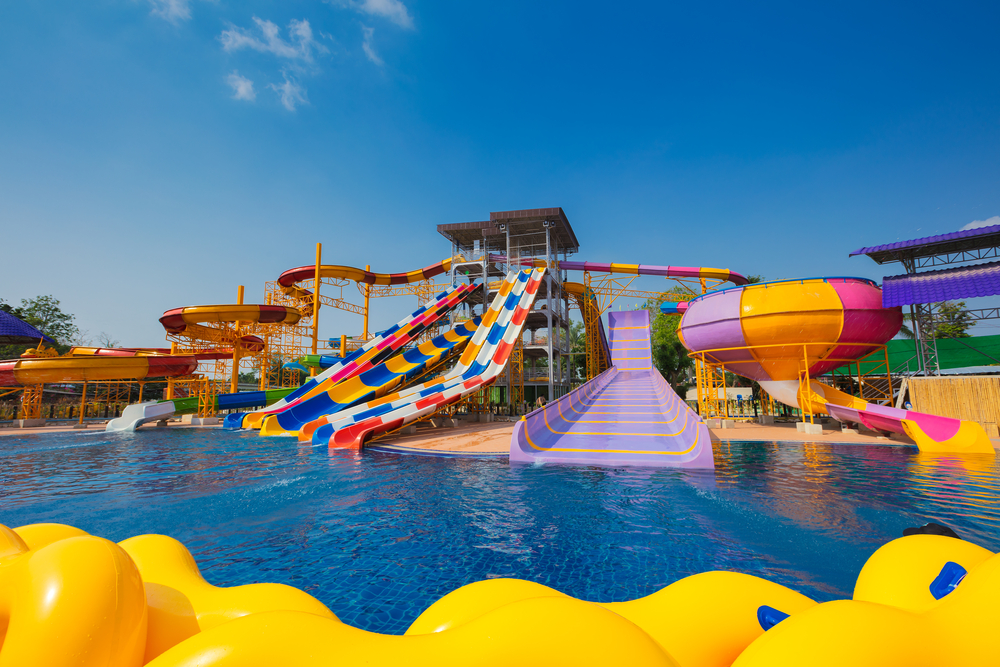 Findlay Market Is One Of The Coolest Things To Do In Cincinnati OH
Findlay Market has been open and attracting crowds since 1852.
The market is Ohio's oldest continuously operated public market and is one of the most popular Cincinnati attractions.
It is near the popular Over-the-Rhine district and is open to shoppers Tuesday through Sunday.
You'll be able to find locally sourced produce, local poultry, meat, and fish, and more.
Pick a bouquet out at one of the many flower sellers, sample some deli meats and cheeses, or enjoy a meal at one of the ethnic food vendors in the market.
On the weekends the market is even more lively with outdoor vendors, performers, and a farmer's market.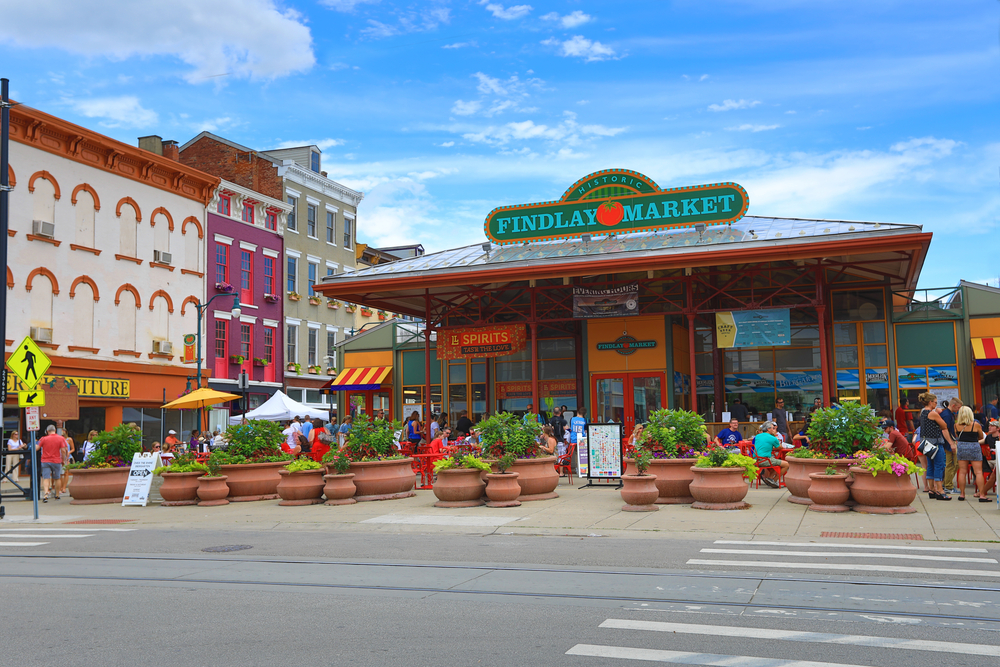 Spend Some Time At The Smale Riverfront Park
One of the most popular public parks in Cincinnati is the Smale Riverfront Park.
The park is located on the banks of the Ohio River.
It connects downtown Cincinnati with the riverfront districts of the city and the gardens on the river banks.
There is a path that leads you along the river.
While you walk, you'll get to experience some beautiful views of the Ohio River.
You'll also find gardens as you walk the trail and it also passes the famous John A. Roebling Suspension Bridge.
If you are visiting Cincinnati with kids, they will love the splash pad and playground in the park.
There is also a space where community events, like fireworks and festivals, take place.
When there isn't an event going on, you can relax on the green lawn and admire views of the river as it sits a bit higher than the path and gardens.
Admire The Art In The Taft Museum Of Art
The Taft Museum of Art is located in a historic 200-year-old home in downtown Cincinnati, Ohio.
Founded in 1927, the small but beautiful art museum has become a beloved attraction in Cincinnati.
It's known as one of the finest small art museums in the county and has an extensive collection of artworks that date back as far as 750 years ago.
The Taft family donated their collection, and house, to the city of Cincinnati in 1927.
Inside the museum, you'll find Chinese porcelain, a Rembrandt painting, French enamelware, and more.
Each room in the house is dedicated to a certain region and time period where the different artworks originate.
The Taft Museum of Art is a beautiful art museum and exploring it is one of the most interesting things to do in Cincinnati OH..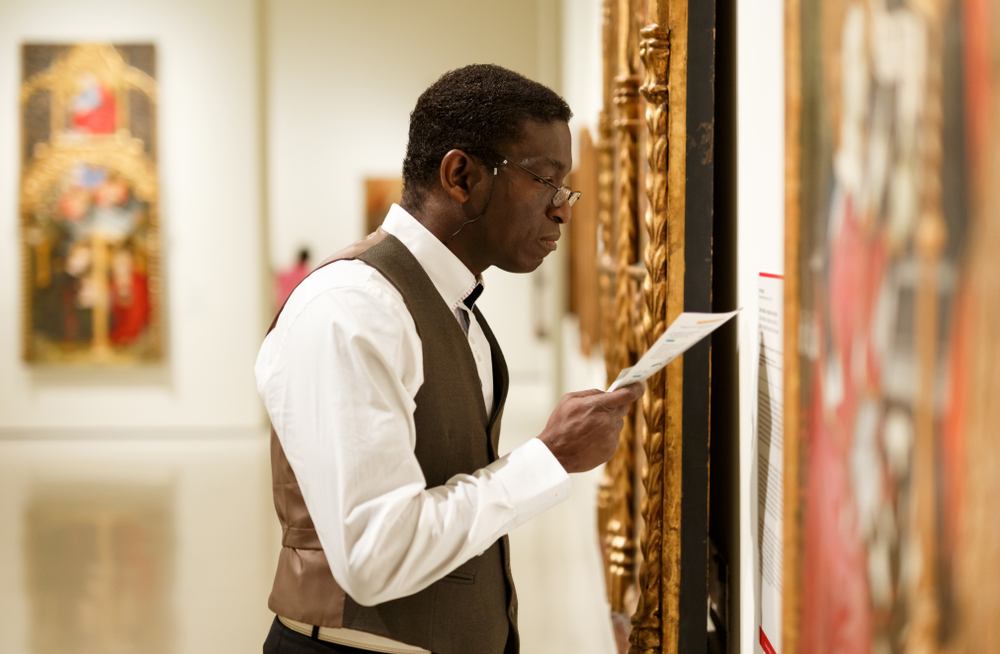 Take A Hike In The Mt. Airy Forest
Established in 1911, the Mt. Airy Forest is Cincinnati's largest public park with over 1,500 acres.
It was created when several farmlands proved to be unproductive.
So instead, the city turned it into a park, making it one of the first urban reforestation projects in the US.
Within the park, there are several miles of hiking trails, biking trails, and even horse riding trails, along with picnic areas, and playgrounds.
There is also a dog park where you can take your dog to run around without a leash.
It's a great little wooded getaway from the city, without having to really leave the city.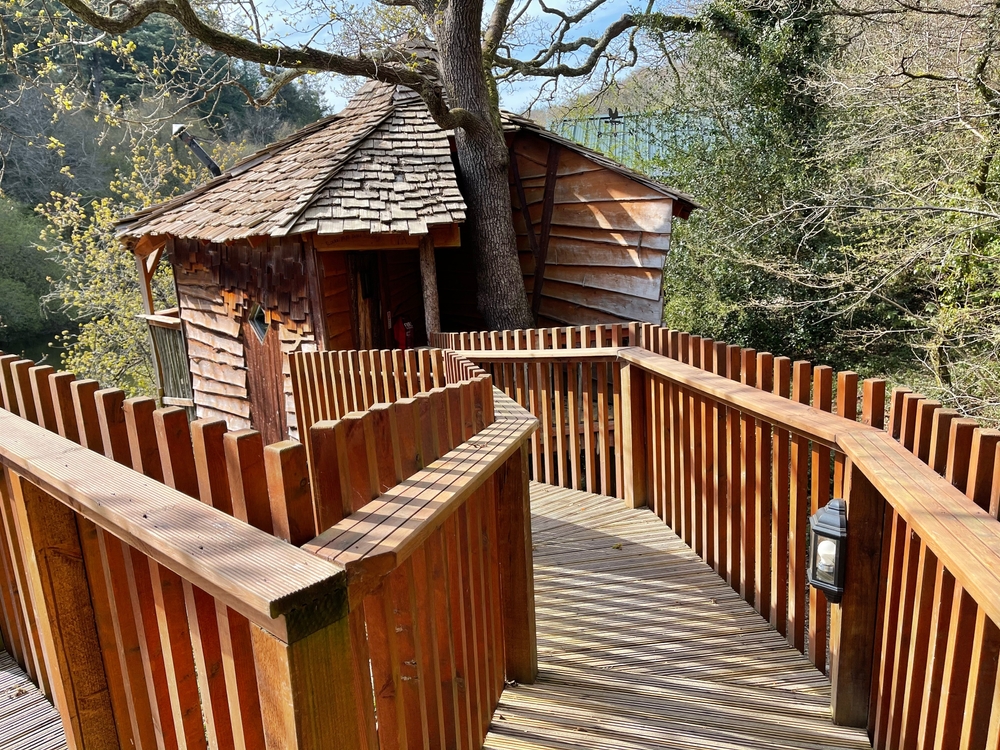 Learn About The City At The Cincinnati History Museum
The Cincinnati History Museum is actually one of the newer major museums to open in the city.
It was established in 1990 in the old Union Terminal building.
You do need to pay an admission fee to explore the museum and it is open Thursday through Monday.
The museum has exhibits and displays that focus on the urban history of Cincinnati.
Two of the most popular permanent exhibits are the recreated 1860's era Cincinnati Public Landing and a look at Cincinnati's role in World War II.
There is also an IMAX theater and the Nancy and David Wolf Holocaust and Humanity Center.
Both of these do have an additional admission fee, but most visitors find they are worth the extra cost.
If you are looking for fun things to do in Cincinnati, the Cincinnati History Museum is a great choice.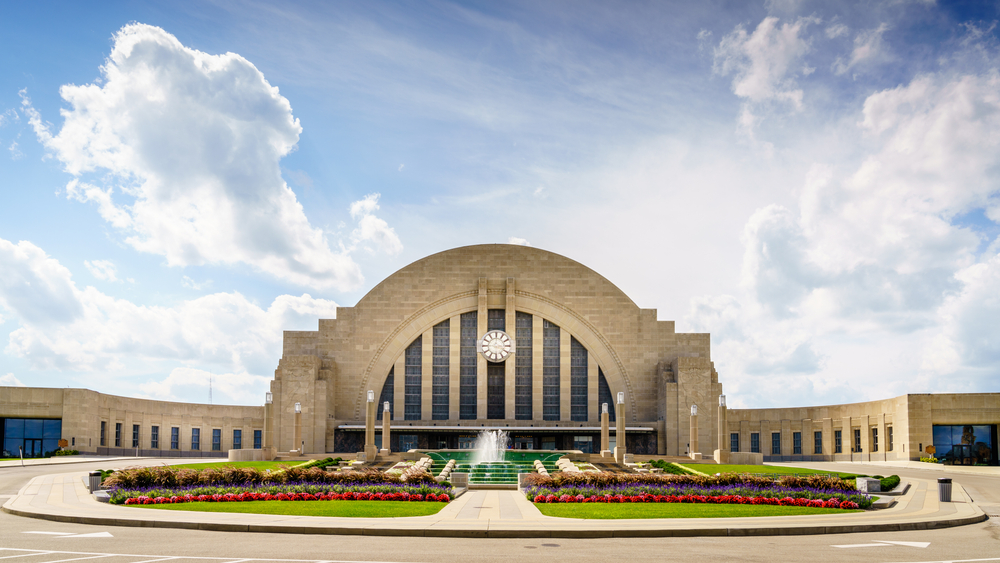 Tour The Harriet Beecher Stowe House
You can find the Harriet Beecher Stowe House in downtown Cincinnati.
It is a designated historic site and has been turned into a house museum dedicated to the famous antislavery author.
Beecher Stowe lived in the home with her family for over 20 years before marrying her husband.
Shortly after leaving Cincinnati and relocating to Connecticut, Beecher Stowe wrote her famous novel, 'Uncle Tom's Cabin'.
It was based on her experiences in Cincinnati and cemented her as one of the most vocal antislavery and pro-women's rights writers of her time.
Her childhood home has been restored to what it most likely would have looked like while Beecher Stowe was growing up.
You can tour the house and learn more about its history, Cincinnati's role in the Underground Rail Road, and of course, Harriet Beecher Stowe herself.
It's one of the coolest things to do in Cincinnati, especially if you are a literature fan.
Visiting The Krohn Conservatory Is One Of The Best Things To Do In Cincinnati Ohio
You can find the Krohn Conservatory in Eden Park, which is an area of the city that has several other museums and historic sites.
The conservatory opened in 1933 and is a beautiful Art Deco-designed building.
It is opened from Tuesday through Sunday and there is a small admission fee.
But if you love gardens, this is one of the best attractions in Cincinnati.
There are several different greenhouses that feature different plants based on a theme.
There is the Fern House, the Orchid House, the John Carroll Bonsai Gallery, and many more.
The Krohn Conservatory also hosts five seasonal flower shows throughout the year that is incredibly popular.
Throughout the grounds, and in between the different greenhouses, there are landscaped lawns and manicured gardens you can admire as well.
Truly, a beautiful Cinncinnati Ohio attraction!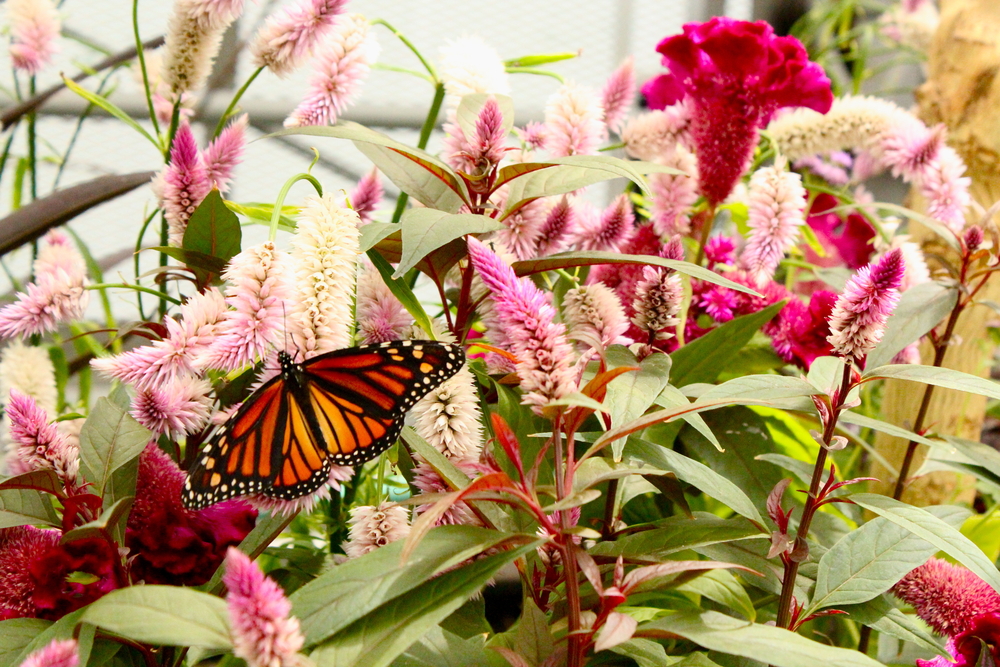 Check Out The John A. Roebling Suspension Bridge
The first bridge on the site where the John A. Roebling Suspension Bridge sits was the Cincinnati-Covington Bridge.
It opened in 1866 and connected Cincinnati Ohio with Covington Kentucky across the Ohio River.
At the time, it was the longest suspension bridge in the world.
That was until the construction of the Brooklyn Bridge, which was also designed by John A. Roebling.
It is used by both pedestrians and vehicles that want to cross the river and go between the different restaurants and attractions in Cincinnati and Covington.
After being privately owned for many years, it was purchased by the Commonwealth of Kentucky in 1953, and in 1975 it became a National Historic Landmark.
The bridge was renamed the John A. Roebling Bridge in 1983 along with its designation as a National Historic Civil Engineering Landmark.
Today it is the busiest non-freeway bridge in Ohio and pedestrians enjoy walking across it and admiring the view of the two cities.
It's a simple activity, but it's still one of the most fun things to do in Cincinnati.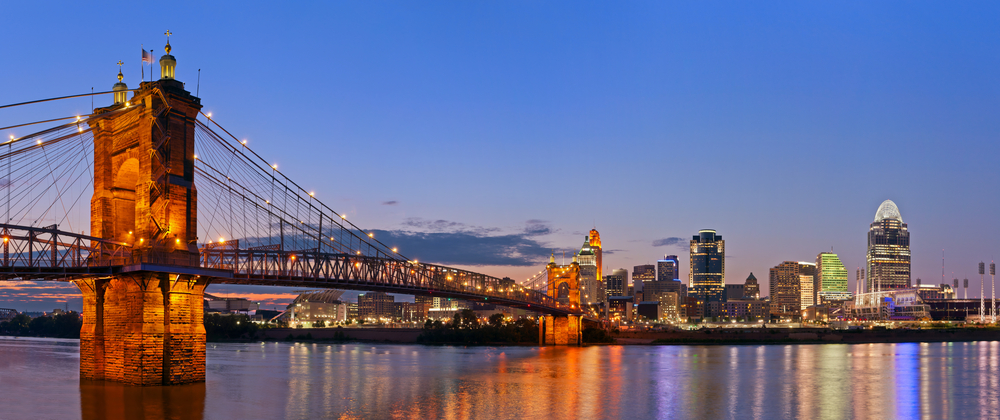 Enjoy An Afternoon At French Park
French Park is just outside of Cincinnati in the Amberley Village.
The park includes a historic 1900's mansion known as the French House and tons of park space.
You can rent out the French House for private events and if there are none happening, you can enjoy the house's gardens and nearby fields.
French Park includes over 275-acres of meadows, gardens, forests, and green lawns.
Spend some time hiking on one of the trails, enjoy a picnic on the lawn, or even get a cool view of Cincinnati in the distance.
It's a peaceful way to spend an afternoon in the city, which makes it one of the most popular things to do in Cincinnati Ohio.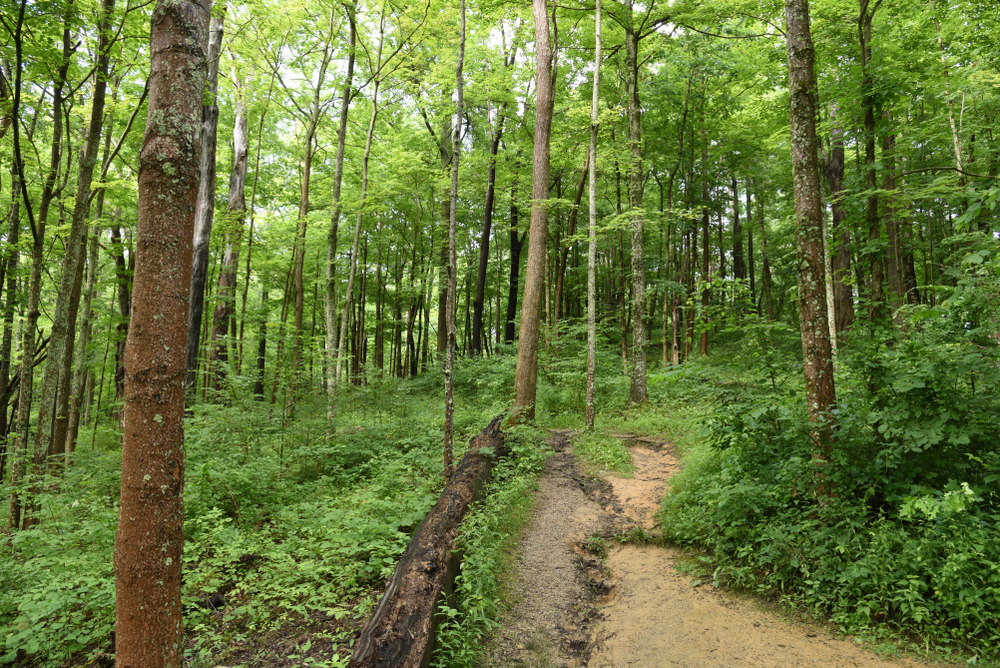 Packing List For A Trip To Expreience The Attractions In Cincinnati OH
If you will be traveling, either by plane or by car to the midwest, here are some tips on how to pack lightly.
A concealed travel pouch may be one of the most important items you bring along when visiting Cincinnati Ohio. It is always important to protect your personal information. Identity thieves are everywhere.
This unisex RFID blocking concealed travel pouch is lightweight and comes in several colors. It has lots of organization to give you peace of mind.
You can place it under your hiking clothes next to your body to carry your ID safely.
If you have a pouch already that does not come with the RFID protection, as I do, these RFID sleeves are the perfect solution.
This configuration comes with enough credit card sleeves that the entire family would be protected. They are slim too, so they will easily fit into your pouch or wallet.
If you are planning on taking a lot of pictures with your phone you will definitely want to consider an external charging battery. This Anker high-speed phone charging battery is the exact one I carry with me on all of my trips.
It can be used on a variety of phones, not just an iPhone like I have. And wow is it fast!
I like that it holds its charging capabilities for several uses so I do not have to worry about it while out and about, and if I forget to recharge it at night, it will still be good to go the next day.
My daughter gifted me with this FugeTek selfie stick and tripod setup for my birthday. I absolutely love it! It is made of lightweight aluminum and is so easy to use.
It has Bluetooth connectivity and is a breeze to use for taking selfies when staying in one of the best Airbnbs in Illinois.
Hydration is so important when traveling. You want to remain hydrated throughout your travels to support your immune system which in turn will be stronger to fight off any germs you will encounter during your travels.
You will want to bring your own refillable water bottle with you.
I never leave home on a trip without my Bobble filtration bottle. The 18.5-ounce size is perfect for hiking and it fits nicely in the pocket of a backpack.
When filled with water, it is not too heavy to carry. And the charcoal filter ensures fresh clean water whenever you fill the Bobble.
Perhaps you are traveling a long distance and packing space is a premium in your suitcase, or in your car.
Then this set of collapsible silicone foldable water bottles would work well for you. Would not take up much space at all.
You will want a backpack or daypack with you to store snacks, your water bottle, phone, extra clothes, etc.. when hiking This foldable water-resistant backpack would be great
It is very affordable and is available in many color options for you to choose from. The fact that it folds down into a zippered pouch will make it easy to pack.
—
As you can see, there are so many fun and interesting attractions in Cincinnati. It is the ideal location for a weekend getaway!
From Midwest hidden gems, museums, beautiful park grounds, and so much more!
It's a city that truly has an activity that is sure to interest everyone. That's what makes Cincinnati one of my favorite Midwest cities to visit!
Have you ever enjoyed any of these Cincinnati activities, or is there one that's inspired you to plan a trip?
I'd love to hear about it in the comments!