Are you looking for hidden gems in Ohio?
Then you have come to the right place because there are so many things to do in Ohio.
This list is full of fun and unique secret places in Ohio, or at least secret to the casual Ohio visitor.
My home state is full of some really cool places that are maybe a little bit off the beaten path but totally worth a visit.
From ancient Native American effigy mounds, castles, historic restored villages, stunning state parks, and so much more.
You can, and should, visit Ohio's major cities like Columbus, Cincinnati, or Cleveland.
But I highly suggest taking a detour to some of these Ohio hidden gems on your next vacation in Ohio.
So, let's take a look at 12 magical secret spots and hidden gems in Ohio!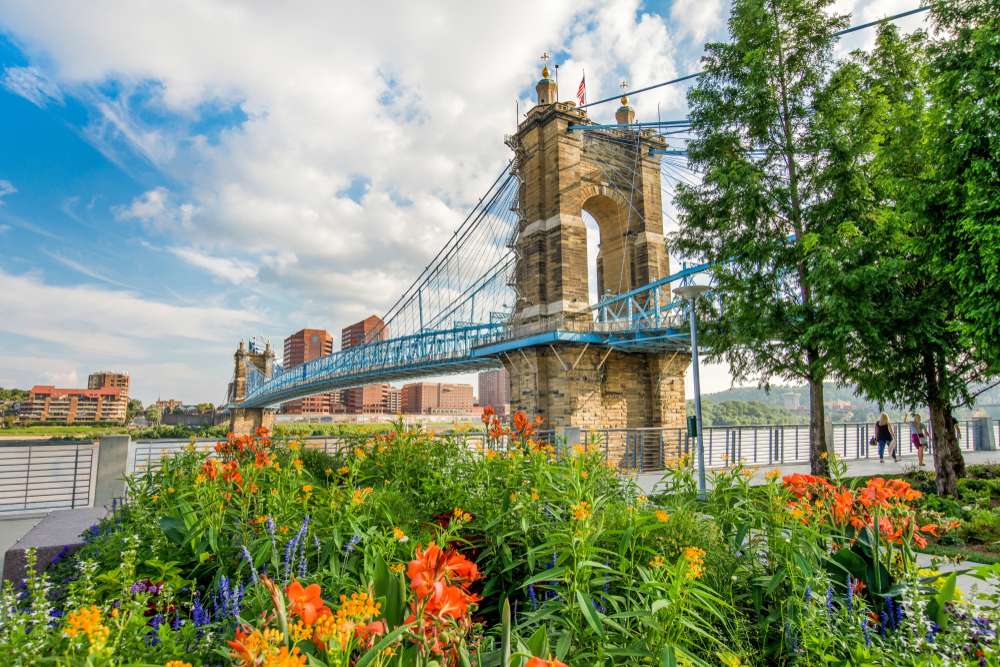 12 Magical Secret Spots And Hidden Gems In Ohio
Explore The Depths Of The Ohio Caverns
One of my favorite hidden gems in Ohio is the Ohio Caverns.
You can find them about 30 miles away from Dayton and they are open for tours, rain or shine.
There are several different tours available to purchase tickets for and time slots are first come first serve.
With tours running every 10 minutes, you never have to wait very long to explore the 54 F-degree caverns on your guided tour.
While most of the tours are not wheelchair accessible, there is one, the Limestone Tour that is. However, you'll need to reserve tickets for that particular one in advance.
But you will still get to see most of the epic sites inside the caverns.
You don't want to miss a chance to explore this epic hidden gem in Ohio.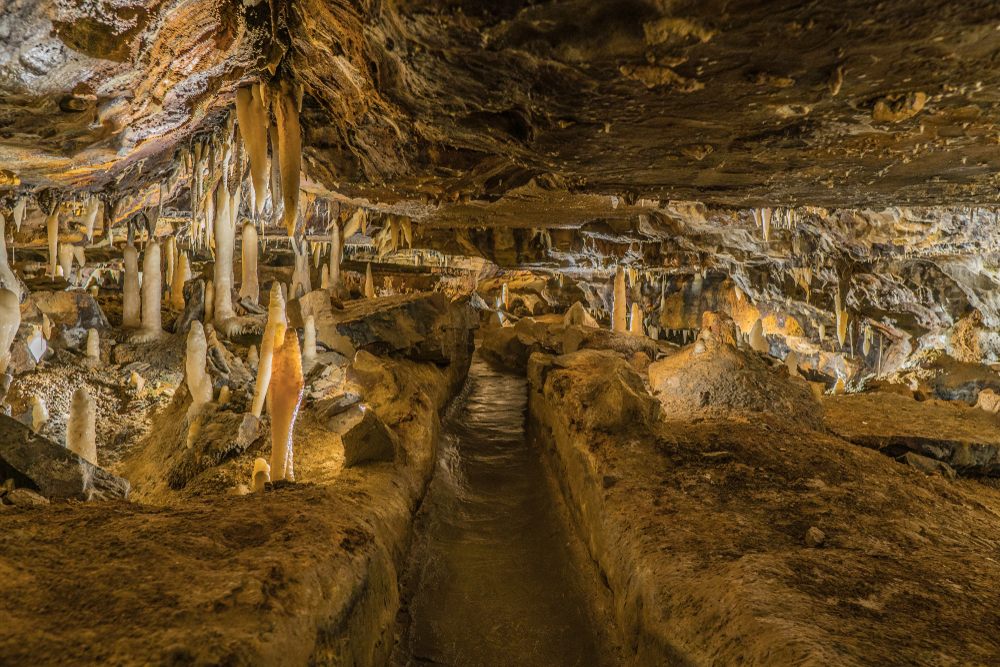 Serpent Mound
Serpent Mound is located in Peebles Ohio and is one of the most fantastic hidden gems in the Midwest, so obviously it belongs on the list of best hidden gems in Ohio.
It's actually a world-historic site and is the world's largest surviving prehistoric effigy mound as well.
The effigy mound is estimated to be anywhere from 1,000 to 2,000 years old and winds in the shape of a serpent for over 1,300 feet in a wooded area of Ohio.
Despite years of research and study, archeologists are stumped as to who the Native American's were that built it and why.
It remains somewhat of a mystery, but it is an incredibly moving and awe-inspiring site to admire that is tucked away just outside of a small Ohio town.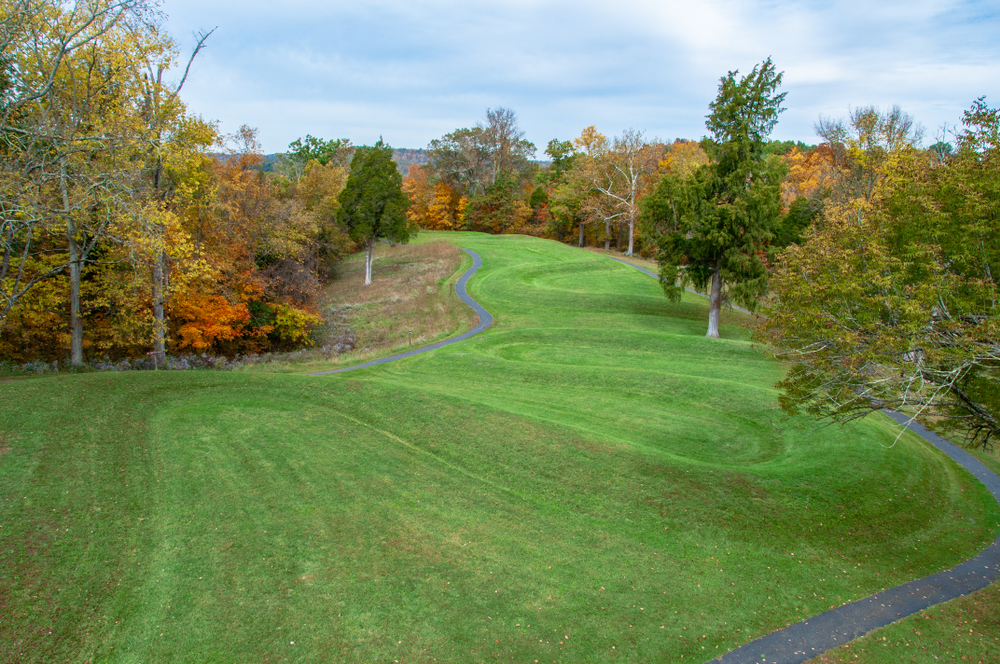 Check Out The American Sign Museum
When most people visit Cincinnati they know they should visit the Cincinnati Zoo and Botanical Gardens, the Cincinnati Art Museum, the National Underground Rail Road Freedom Center, or one of the many William Taft sites.
But what you don't typically find on the lists of things to do in Cincinnati is the American Sign Museum.
Don't let its lack of appearances on top things-to-do lists deter you, because you really should visit the American Sign Museum when you visit Cincinnati.
Inside the museum, you'll find some really cool examples of historic commercial signs.
The signs are vintage and antique and many of them feature classic neon or other vintage lighting styles.
Along with the vintage signs, the museum is also home to a neon workshop that specializes in reviving the art traditions of classic neon lighting.
If you are traveling to Cincinnati, definitely add a trip to the American Sign Museum to your itinerary.
It is one of the coolest things to do in Cincinnati!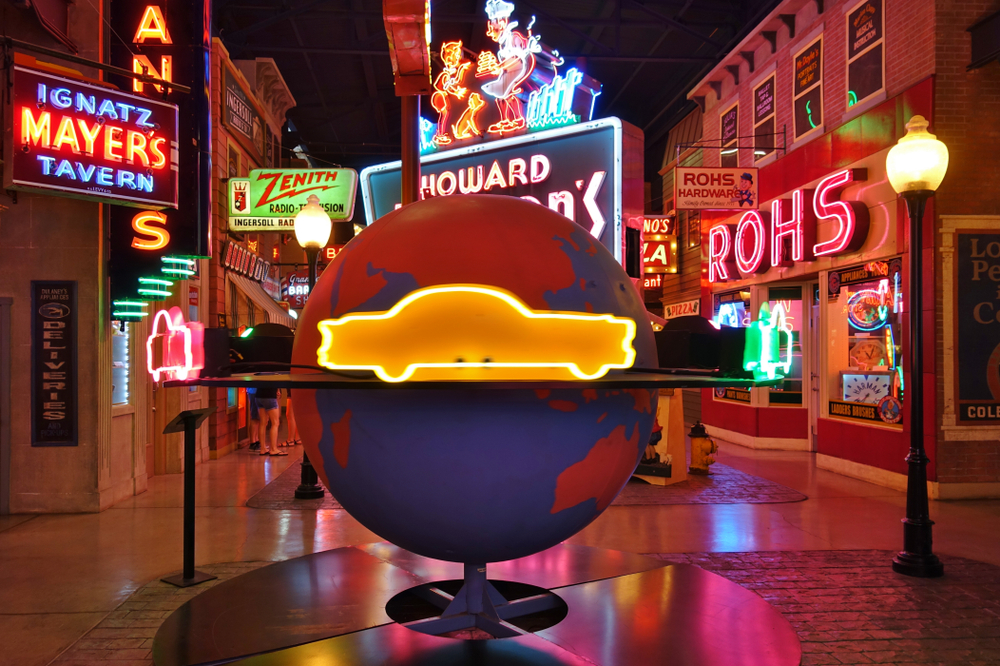 Enjoy A Hike At Nelson Kennedy Ledges State Park
Because it is one of the smaller Ohio parks, Nelson Kennedy Ledges State Park often gets overlooked by more prominent ones like Hocking Hills State Park or Cuyahoga Valley National Park.
It is one of the coolest state parks in Ohio and has some really unique rock formations you can explore.
Within the park, there are massive sandstone cliffs that you can explore and hike to. All along the cliffsides in the spring and summer, you can see beautiful wildflower blooms.
The park isn't just unique rock formations though.
There is also a dense beech and maple forest with lush layers of ferns blanketing the forest floor.
You can also spend some time bird watching, hiking, and picnicking at various spots around the park.
Nelson Kennedy Ledges is one of the best secret places in Ohio that is just waiting for you to come and explore it.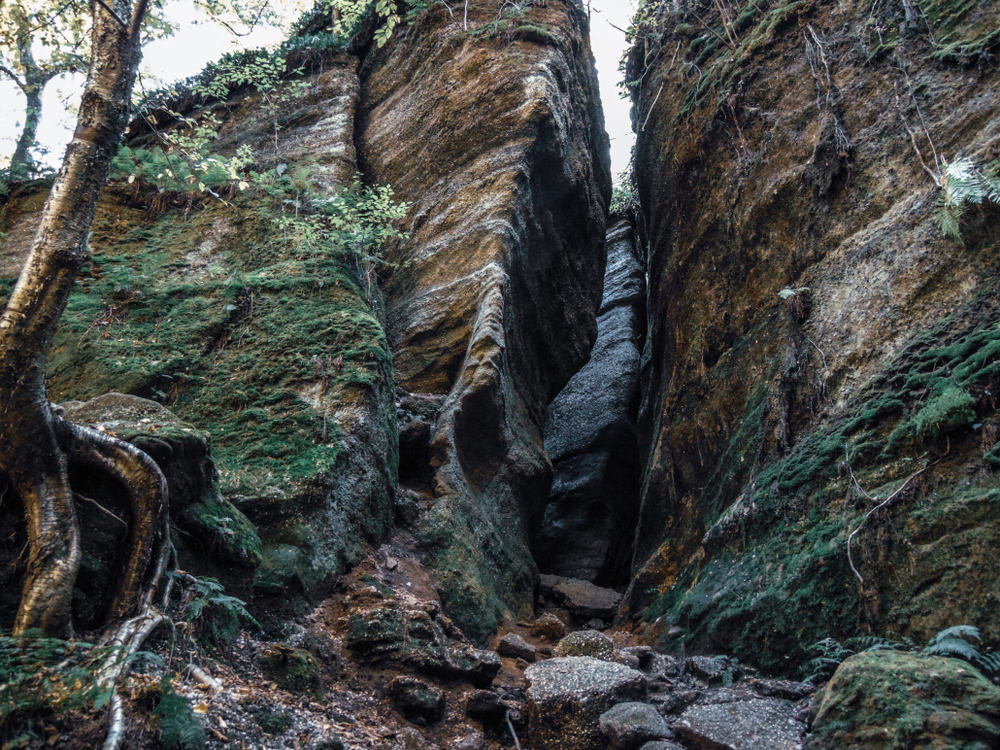 The Piatt Castles
I bet you didn't think of castles when you thought about hidden gems in Ohio.
Don't worry, most people don't realize that there are several, yes several, castles in Ohio.
One of my favorites is also one of the coolest Ohio secret places.
The Piatt Castles are two massive private homes that were built by the Piatt brothers.
Designed with classic Gothic architecture in mind, the homes were originally built in the 1860s and 1870s in West Liberty Ohio.
Today, these castles in Ohio are still standing.
One was sold by the Piatt family and is a private residence. The other is still owned by the family and open for self-guided tours.
Don't miss the chance to explore one of the most charming castles in Ohio.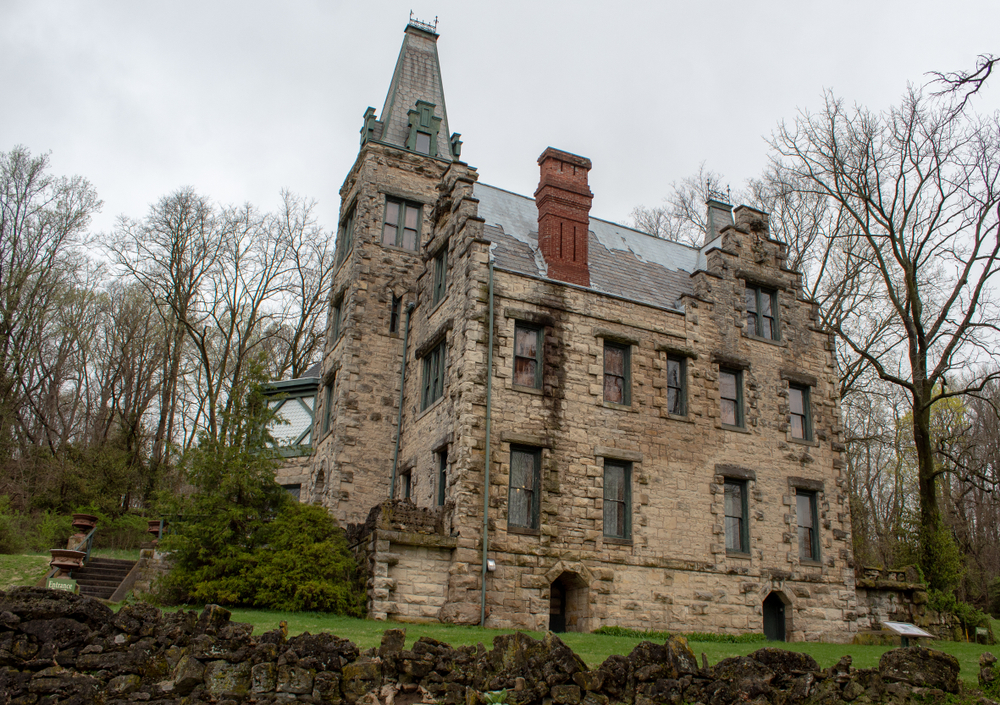 Take A Day Trip To See Kelley's Island Glacial Grooves
Kelley's Island is one of the best day trips in Ohio if you want to see a unique Ohio natural wonder.
The glacial grooves were created over millions of years by a glacier slowly carving into the stone that makes up most of the island.
The island itself is very small, but you can easily spend a day examining the grooves and hiking around the island.
You can only get to Kelley's Island by ferry, so make sure to plan ahead if you want to take the trip out there.
There are also absolutely no cars allowed on the island, so plan on walking the entire time you are on the island.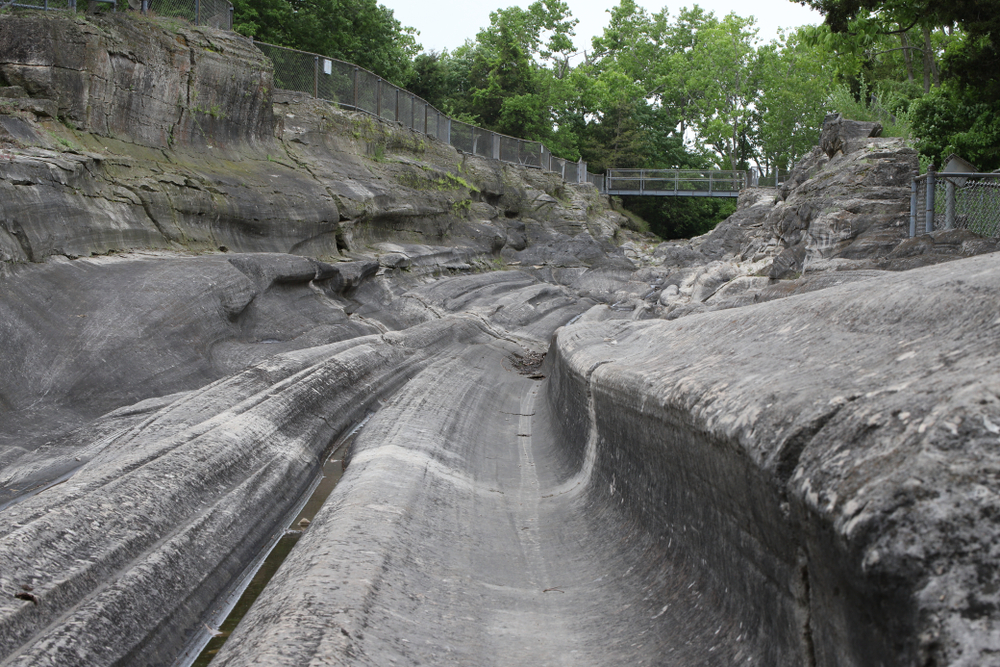 The Temple Of Tolerance
The Temple of Tolerance truly is one of the coolest secret places in Ohio.
Located in the suburban backyard of a local man's home in Wapakoneta Ohio, it is a massive stone temple and shrine complex created by artist Jim Bowsher.
Bowsher has spent over 25 years building and adding to the stone complex that is roughly the size of 12 'standard' backyards.
It is completely free to visit the temple and it's open 24/7, 365 days.
He designed it as a sort of retreat for those looking to feel accepted or find an escape, especially young people.
It's one of the most fascinating hidden gems in Ohio.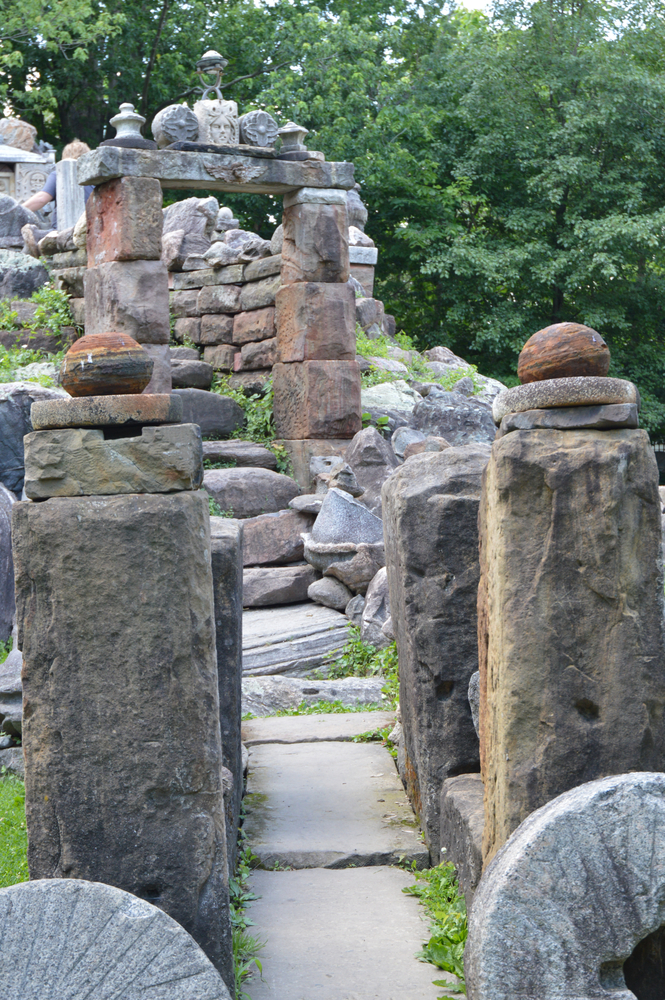 Take An Amish Heartland Tour
I grew up around the Ohio Amish country and not many people have had the opportunity.
The Amish are mostly found in the Northern and Midwestern United States, but there are a few groups in other spots in the country.
While you are in Ohio, why not take a tour of the Amish Heartland.
There are so many things to do in Amish Country OH.
The Amish Heartland Tour company is located in Berlin Ohio, which is often considered the center of Ohio's Amish community.
They offer a variety of tour levels to fit every schedule and budget.
Because they have been in the community so long, they have a great relationship with the local Amish, so you can experience things like enjoying a home-cooked Amish meal.
It's a really unique way to respectfully learn about Ohio's Amish community and it's definitely not something most people think to do when they visit my home state!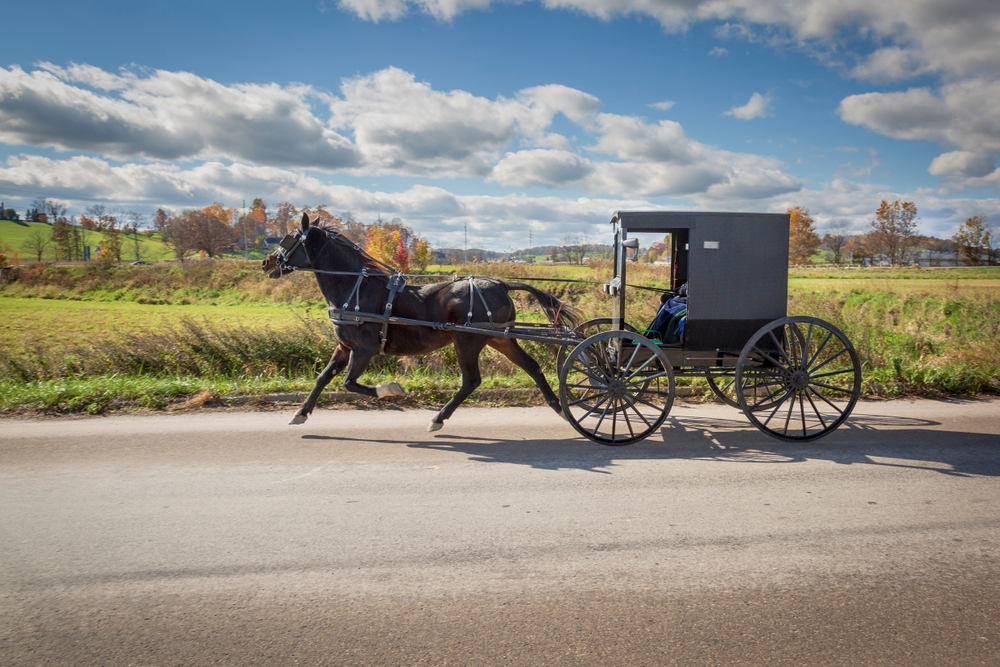 Walk Down The Osage Orange Tree Tunnel
You can find the Osage Orange Tree Tunnel in the SugarCreek Metropark in Bellbrook, near Dayton.
The trees were intentionally planted in a neat row back in the late 1800s and were intended to be a sort of fence for the farm that was on the land.
Over time the trees started to bend over a path and created a magical tree tunnel.
To get to the tree tunnel you'll need to hike on the Orange Trail. The trail is a little over 1 mile long, but it's not super difficult.
No matter what time of year you visit, the Osage Orange Tree Tunnel is truly a magical Ohio hidden gem.
And one of the coolest things to do in Dayton OH.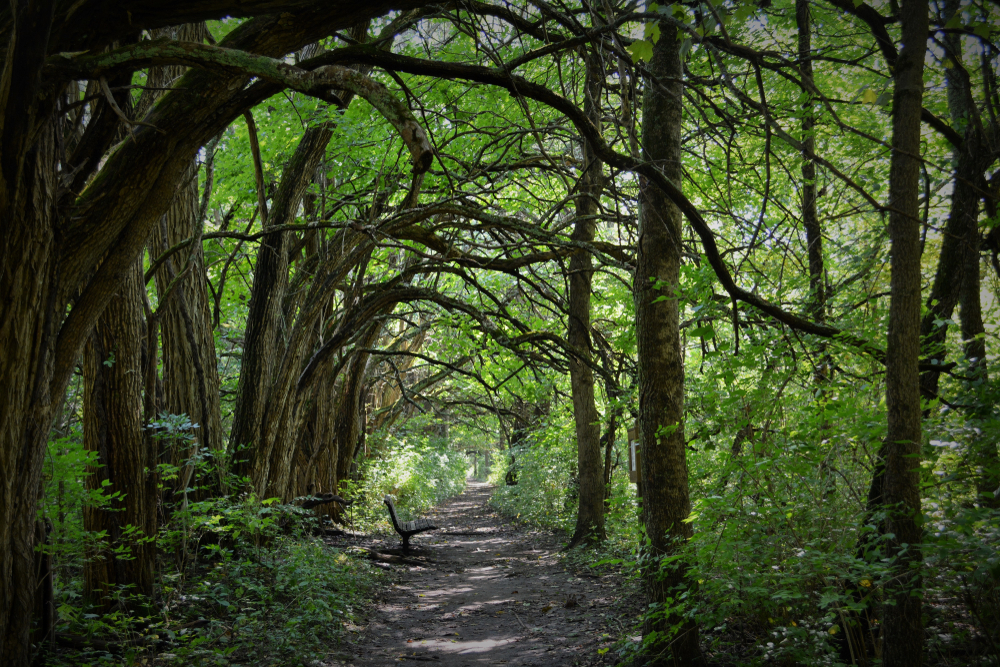 Chapel Cave Is A Very Interesting Hidden Gem In Ohio
Ohio is full of so many natural wonders that people often don't even realize exist.
One of those is the Chapel Cave, or the Twenty One Horses Cave.
It's rumored to be able to fit twenty-one horses, with their riders, inside its depths, which means it is pretty deep.
You'll also hear it called the Chapel Cave because its entrance resembles the entrance of a massive stone chapel.
Whatever you choose to call it, it's definitely one of the coolest secret places in Ohio to explore.
You can find the cave just off of the Bridle Trail in Hocking Hills State Park.
If you want to spend some time in the great outdoors and see a cool hidden gem, you don't want to skip a visit to the Chapel Cave.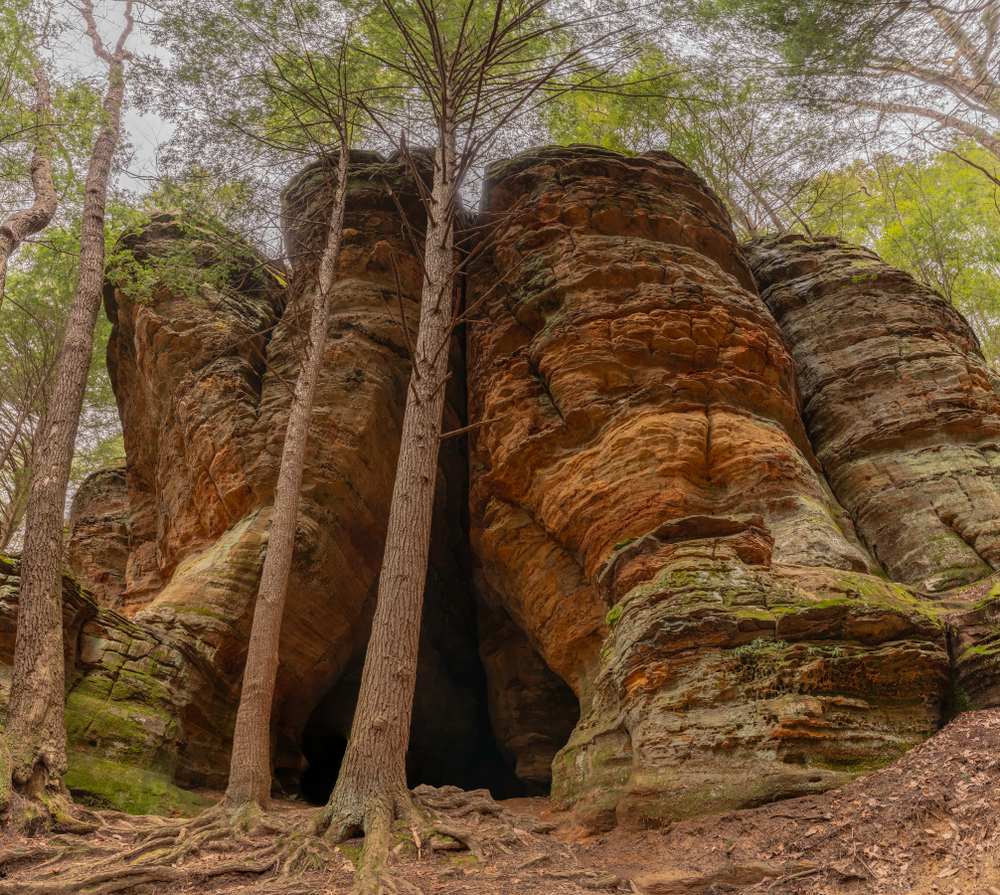 Learn About Historic Roscoe Village
Construction for Roscoe Village originally started in the late 1820s, near the Ohio and Erie Canal after the canal's building cause the population in the area to rise.
It was officially named Roscoe Village in 1830 and quickly became a thriving port town.
The town would continue to thrive until the advancement of the railroad in the late 1860s.
As work left the area, the population began to twindle, but the town still held on.
Tragically, the entire town was wiped away in 1913 in the Great Flood. For many years its ruins were left and forgotten.
However, in the late 1960s, a movement began to restore the town as a living history museum.
Since then, the entire town has been restored and it's like stepping back in time.
You can tour the restored historic buildings, learn about 1800s canal life, and explore one of the most unique Ohio secret places.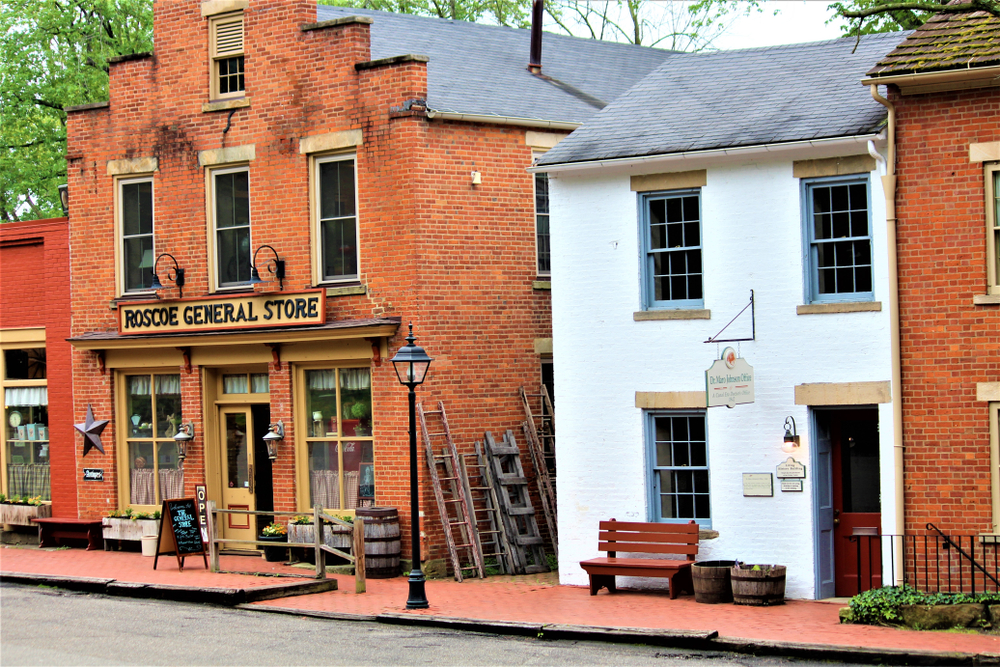 Admire Berea Falls
One of the prettiest hidden gems in Cleveland Ohio is Berea Falls.
Not many people think to go chasing waterfalls in a big city like Cleveland, so Berea Falls often gets overlooked.
However, if you find yourself with some free time while you're exploring Cleveland, I highly suggest making a stop.
While technically located in a Cleveland Metropark, you'll need to travel just a little bit outside of the city to admire Berea Falls.
You can find the falls overlook in the Rocky River Reservation in Berea Ohio.
While there, take some stunning pictures of the falls and make sure to learn a little bit about the history of this Ohio glacial formations history.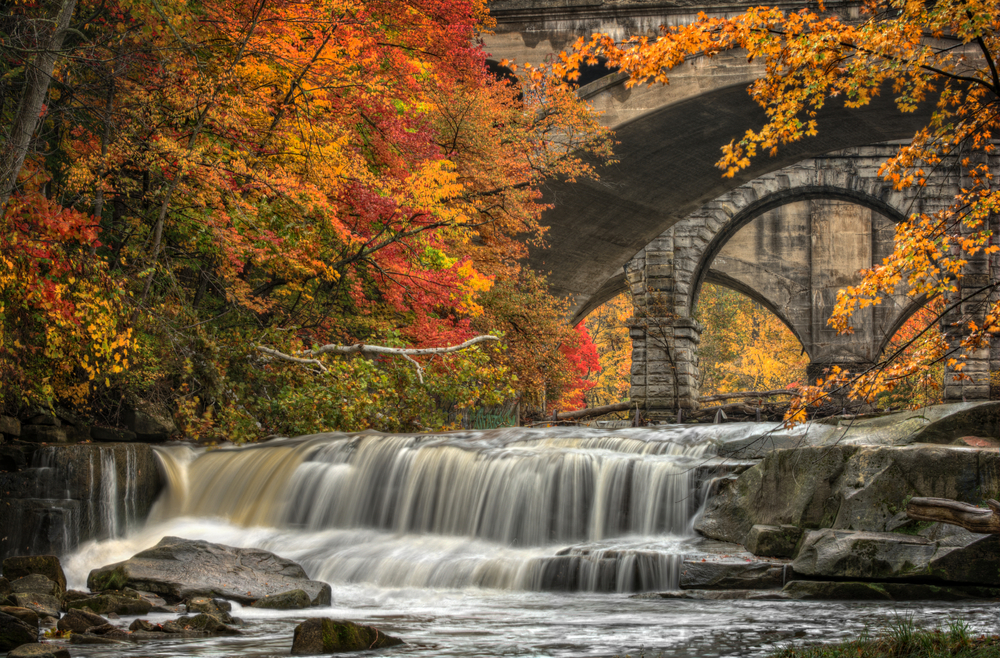 Packing List Suggestions When Searching Out Secret Spots In Ohio
Read about how to travel with just carry-on sized luggage to make your trip easier and more organized.
A concealed travel pouch may be one of the most important items you bring along when searching for hidden gems in Ohio. It is always important to protect your personal information. Identity thieves are everywhere.
This unisex RFID-blocking concealed travel pouch is lightweight and comes in several colors. It has lots of organization to give you peace of mind. You can place it under your hiking clothes next to your body to carry your ID safely.
If you have a pouch already that does not come with RFID protection, as I do, these RFID sleeves are the perfect solution.
This configuration comes with enough credit card sleeves that the entire family would be protected. They are slim too, so they will easily fit into your pouch or wallet.
If you are planning on taking a lot of pictures with your phone you will definitely want to consider an external charging battery. This Anker high-speed phone charging battery is the exact one I carry with me on all of my trips.
It can be used on a variety of phones, not just an iPhone like I have. And wow is it fast!
I like that it holds its charging capabilities for several uses so I do not have to worry about it while out and about, and if I forget to recharge it at night, it will still be good to go the next day.
My daughter gifted me with this FugeTek selfie stick and tripod setup for my birthday. I absolutely love it! It is made of lightweight aluminum and is so easy to use.
It has Bluetooth connectivity and is a breeze to use for taking selfies with all those nature shots in Iowa.
Hydration is so important when hiking. You want to remain hydrated throughout your travels to support your immune system which in turn will be stronger to fight off any germs you will encounter during your travels.
You will want to bring your own refillable water bottle with you.
I never leave home on a trip without my Bobble filtration bottle. The 18.5-ounce size is perfect for hiking and it fits nicely in the pocket of a backpack.
The replaceable carbon filter ensures fresh water when you want it.
Perhaps you are traveling a long distance and packing space is a premium in your suitcase, or in your car. Then this collapsible silicone foldable water bottle would work well for you. Would not take up much space at all.
You will want a backpack or daypack with you to store snacks, your water bottle, phone, extra clothes, etc.. when visiting Ohio. No matter the time of day or evening.
This foldable water-resistant backpack would be great.
It is very affordable and is available in many color options for you to choose from. The fact that it folds down into a zippered pouch will make it easy to pack!
—–
My home state of Ohio has some really unique and fun secret spots and hidden gems.
No matter what kind of attractions you are interested in, I guarantee there is an Ohio hidden gem just waiting for you to come and explore it.
Have you been to any of these hidden gems in Ohio? What secret spots in Ohio do you think more people should know about?
Let me know in the comments!