Are you looking for castles in Ohio?
There are so many cool things to do in Ohio but when you think of romantic and fairytale castles, do you immediately think of Europe?
And probably not Ohio, right?
I was born and raised in Youngstown, Ohio. I am going to share 10 castles in Ohio that can rival any enchanted castles you may have visited or thought of.
And they are here in the United States, in Ohio!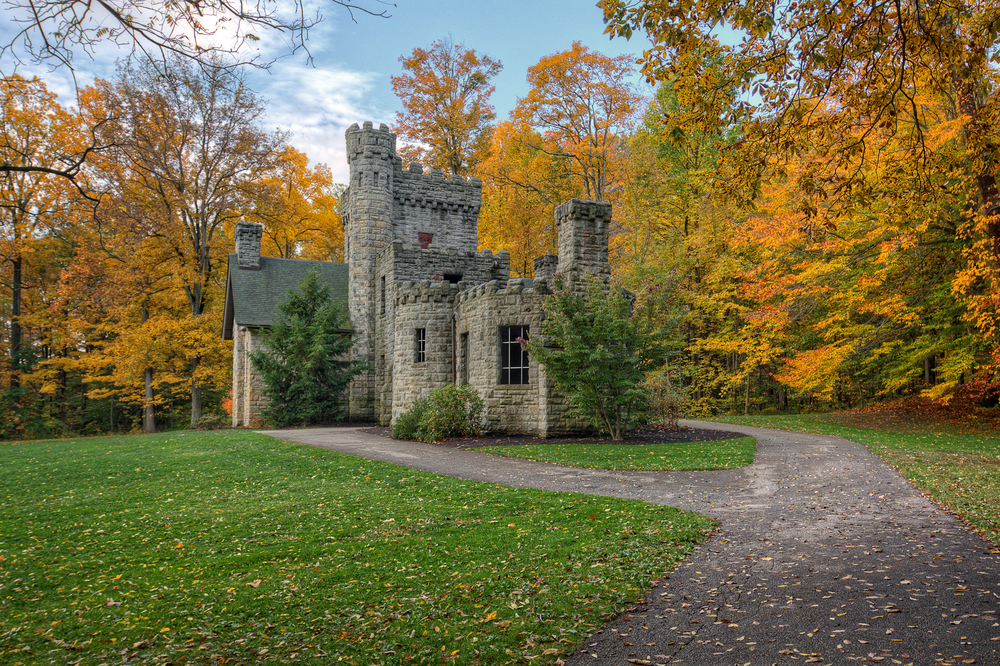 10 Fairytale Castles in Ohio You Must Visit
Visit Chateau Laroche
Located near Cincinnati in Loveland, Ohio, in Symmes Township, is the Historic Loveland Castle and Museum.
Practically built by one interesting man, Harry Delos Andrews, the castle is indeed a full-sized replica of a European castle.
It boasts German, French and English architecture, and 4 different kinds of towers.
There are a domed ceiling, a dry moat, and hand-tiled ceilings.
To make this museum in Ohio even more intriguing, it is widely known that ghosts live at the castle. Don't worry, they are friendly ones.
Wander the gardens, have a family picnic and learn about the swords or weapons used in medieval times
Learn about Harry and his building of the castle and the road leading up to it, almost single-handedly.
And the history of the Knights of the Golden Trail is as interesting as the castle itself. You will meet the KOGT, the name of Harry's Boy Scout Troop at the castle.
It celebrated its 75th anniversary in February of 2020.
Loveland Castle holds one of the most interesting histories of all Ohio castles.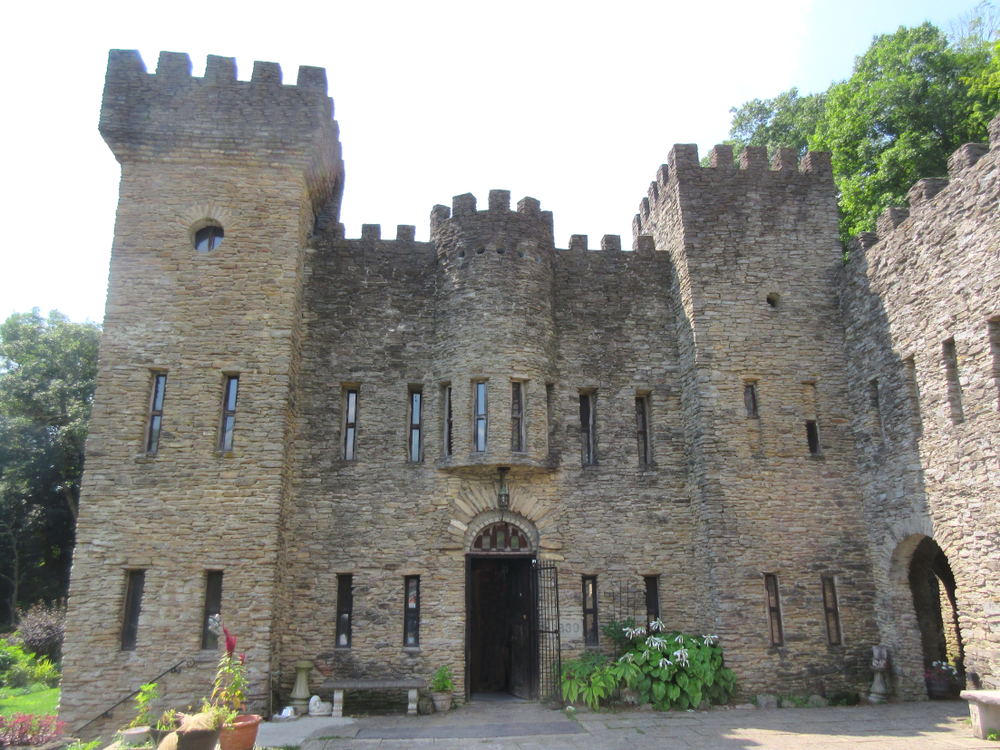 Visit The Piatt Castles For Gothic-Inspired Elegance
A pair of sister castles can be found in west-central Ohio, in West Liberty.
Originally built in the mid-1800s, both of the castles are listed on the National Register of Historic Places.
Mack-O-Chee was recently sold off by the Piatt family.
But Mack-A-Cheek is still held by the family and is open to the public for self-guided tours.
Step back in time to experience Gothic-inspired European opulence and elegance. See painted ceilings and exquisite woodworking.
A museum holding family and historical artifacts intrigues and thrills visitors to this day.
The Piatt Castles in Ohio are historical treasures. Visiting Mac-A-Cheek to tour or attend one of the many interesting lectures or events held there is a very romantic getaway in Ohio.
Looking for more inspiration? Here are 15 fantastic things to do in Ohio.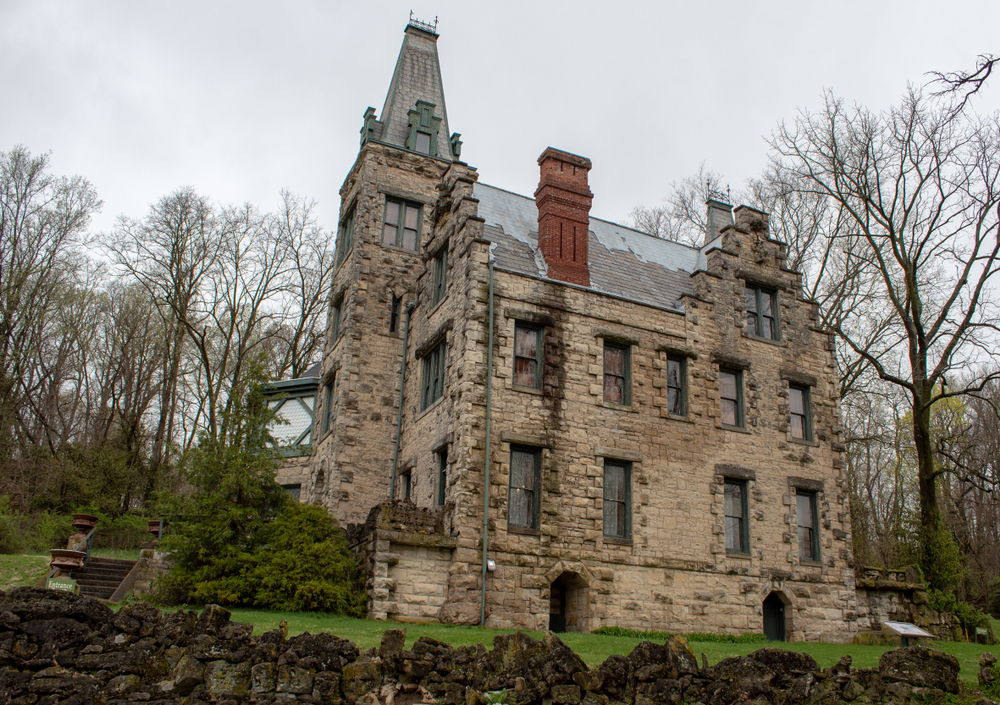 Squire's Castle
Located in Willoughby, Ohio, Squire's Castle is a beautiful example of Europen elegance.
It is part of Cleveland's Metroparks System, North Chagrin Reservation, and offers lots for the entire family.
The well-maintained building is not really a castle, but the gatehouse for the actual castle that was never built. Over the years it has been the subject of vandalism and neglect.
A simple renovation was completed, and now it is a superb historical landmark.
Squire's Castle is a beautiful building, with an expansive lawn in front of it, perfect for capturing beautiful photographs! It can get very crowded, so plan accordingly.
Bring along a picnic lunch and even take advantage of the myriad of hiking trails behind the castle.
Squires Castle offers something for everyone and is one of the most family-friendly castles in Ohio.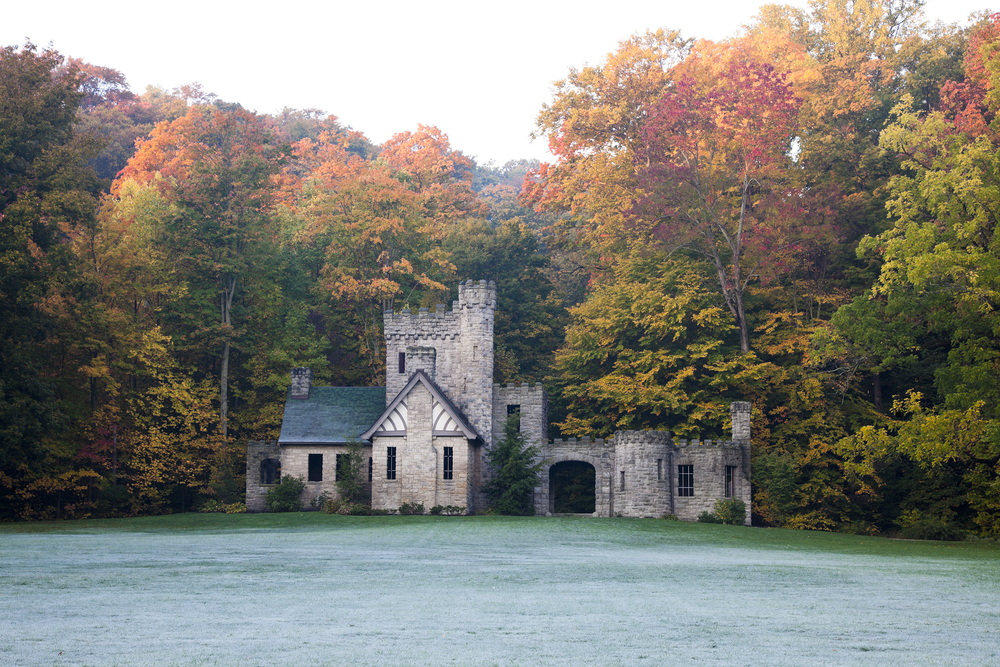 Marietta Castle
The Marietta Castle is a grand example of Gothic Revival architecture.
Built in the mids 1800s, a series of notable civic and city leaders lived in it. During its heyday, it was a hub of business and community functions of a large scale!
In 1994, the Castle was opened as a historical house museum. It contains period items donated from the local community and from the families that lived there in the past.
You can tour the Marietta Castle, with its octagon tower and romantic spires. The Carriage House Visitor Center offers an introductory video of the castle's history and those who lived in it.
Visit one of the most influential castles in Ohio, to learn about its connection to local and state events in Ohio.
If you are hungry, you can visit one of Ohio's many apple orchards and market farms.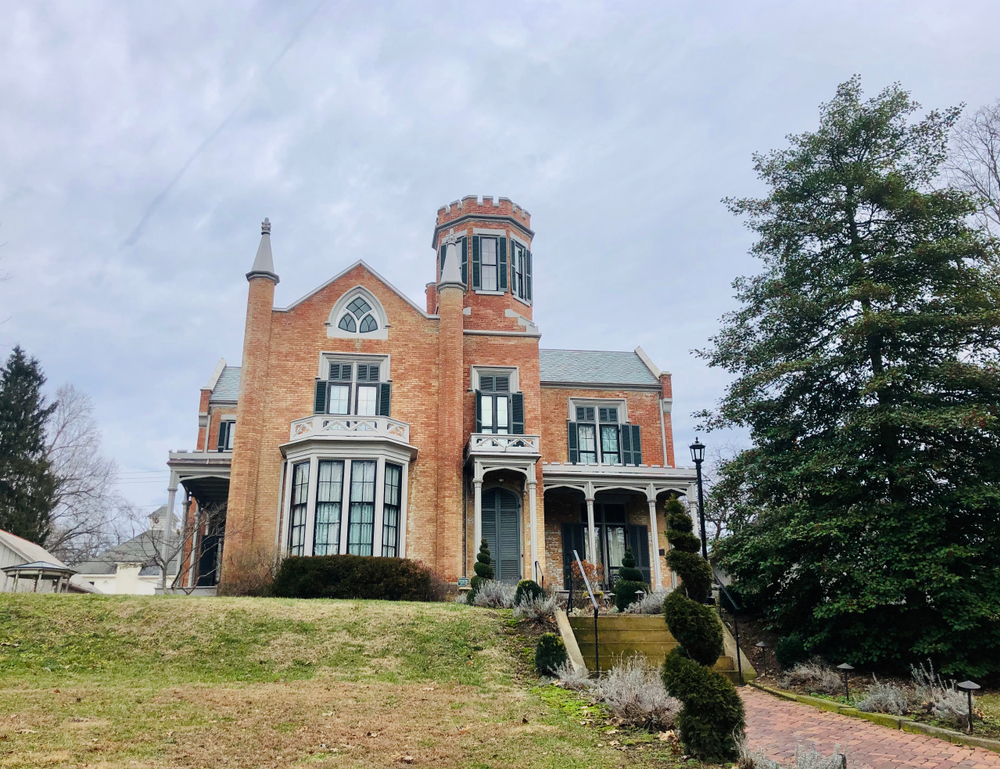 Franklin Castle, The Most Haunted House In Ohio?
Located on Cleveland's west side, generations of people will attest to the spirits that allegedly haunt the house that Hannes Tiedemann built.
Almost as soon as the family moved in, unexplained and unimaginable things began to occur.
Tiedemann lost several of his children and even his wife.
Built in the Victorian style, Franklin Castle (after the street it is located on in Cleveland) has grand turrets, noteworthy gargoyles, and an expansive stone exterior.
The castle has passed from owner to owner, fallen into disrepair, and was damaged by fire on several occasions.
One thing that remained consistent though, is the tales of the spirits who live within the large network of rooms in the castle. Wouldn't this make a fun Midwest road trip?
Now privately owned, you can view one of the most haunted castles in Ohio from the street. And maybe grab that Insta-worthy photo!
If you love haunted places, read about 13 haunted places in Ohio that will definitely creep you out!
Elsinore Arch, A Cincinnati Landmark
While not quite a true castle, Elsinore Tower does come with a romantic story, and it is one of the most well-known historic attractions in Cincinnati Ohio.
In the 1880s the Cincinnati water department needed a new structure for their equipment and wanted something that was worthy to be placed in the park at that time.
Today the castle-like arch may look a bit out of place in the middle of the urban city, at the entrance into Eden Park, but is a clear reminder of Cincinnati's history.
Read about 11 best places to see fall foliage in Ohio here.
Frankenstein's Castle At Hills & Dales
Located on Patterson Avenue in Dayton, this turret-shaped structure is full of myths and haunted legends.
Did Frankenstein live there? Obviously, no. But it is said to have spirits that occupy it to this day.
Built in the 1940s using salvaged stone from condemned buildings in the area, it was permanently closed in the 1960s after a teenage girl lost her life there seeking shelter from a storm.
Presumably, she was hit by lightning.
Visit Patterson's Castle as it is sometimes called yourself to see if the haunted spirits there visit you!
Look here for my suggestions on weekend getaways in Ohio!
Glamorgan Castle
Located in Alliance, Ohio it is one of the area's most iconic landmarks.
Listed in the National Register of Historic Places, it was completed in 1909. Using Vermont marble, it was originally named for the owner's father's birthplace in Wales.
The castle was not lacking any luxuries, having a bowling alley and swimming pool. The rooms were sumptuously decorated using a variety of European influences.
Upon the death of the owner, the castle was sold to the Elks Lodge, and then again when purchased and renovated extensively by a local business who used it for its international headquarters.
In 1973, with various grants, the Alliance City Schools purchased the castle. Today it is used for the school district's administration officed.
Glamorgan Castle now holds tours on Fridays. Check their website for availability.
One of the more exquisite castles in Ohio, Glamorgan Castle is worth a visit.
Read about 10 things to do in Youngstown Ohio for other things to do if you will be in northeast Ohio.
Ravenwood Castle Surrounded By Romance And Nature
Located in Ohio's Hocking Hills region, it is about an hour from Columbus.
This enchanting medieval hotel offers a respite of the hustle and bustle of daily life in a truly charming atmosphere.
From a fairytale wedding to a themed-suite, this is the place to be.
As if that were not enough, the hotel is in an area surrounded by many state parks (Think Hocking Hills State Park!) and national forests.
You will have plenty of hiking and biking trails to enjoy, and waterfalls to see. Read here for 18 of the best waterfalls in Ohio.
Please be aware, being in a semi-remote location, this gem of a hotel has spotty internet connections. So plan to enjoy high-quality time with your family and friends at one of the best castles in Ohio.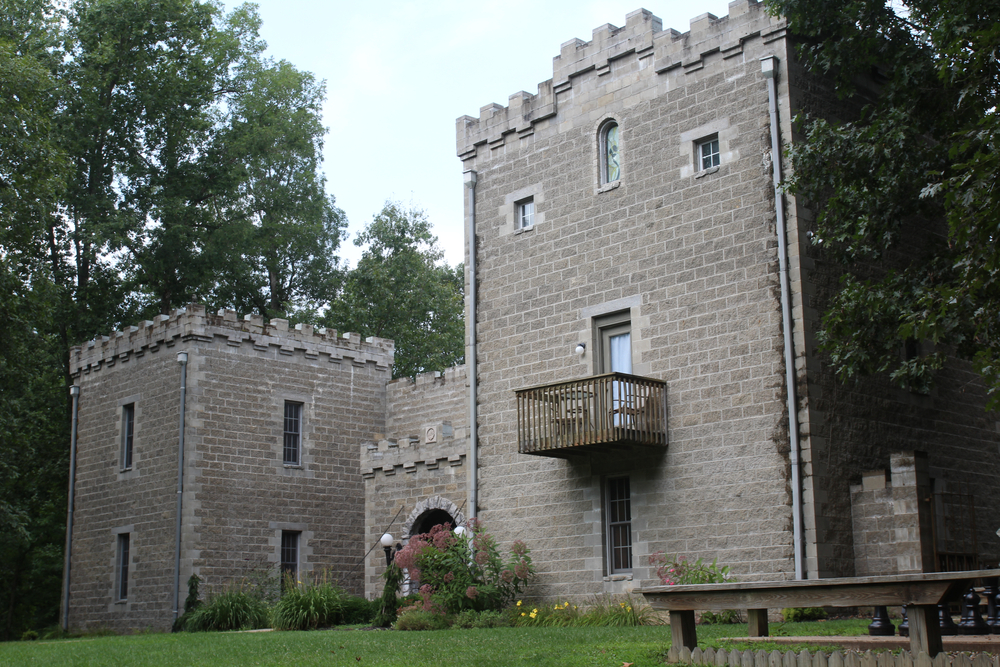 Packing List For A Visit To Ohio Castles
Packing lightly is always important. These tips will help!
A concealed travel pouch may be one of the most important items you bring along when searching for castles in Ohio. It is always important to protect our personal information.
This unisex RFID blocking concealed travel pouch is lightweight and comes in several colors. It has lots of organization to give you peace of mind.
If you have a pouch already that does not come with the RFID protection, as I do, these RFID sleeves are the perfect solution.
This configuration comes with enough passport and credit card sleeves that the entire family would be protected. They are slim too, so they will easily fit into your pouch or wallet.
f you are planning on taking a lot of pictures with your phone you will definitely want to consider an external charging battery. This Anker high-speed phone charging battery is the exact one I carry with me on all of my trips.
It can be used on a variety of phones, not just an iPhone like I have. And wow is it fast!
I like that it holds its charging capabilities for several uses so I do not have to worry about it while out and about, and if I forget to recharge it at night, it will still be good to go the next day.
My daughter gifted me with this FugeTek selfie stick and tripod setup for my birthday. I absolutely love it! It is made of lightweight aluminum and so easy to use.
It has Bluetooth connectivity and is a breeze to use for group shots or that perfect selfie!
I was not a fan of packing cubes until I started to use them! This is the exact set of packing organizers I use whenever I travel.
I cannot believe how much they really do help with the organization. If you have not considered packing cubes, I would recommend giving them a try.
Hydration is so important. You want to remain hydrated to support your immune system which in turn will be stronger to fight off any germs you will encounter during your travels. You will want to bring your own refillable water bottle with you.
I never leave home on a trip without my Bobble filtration bottle. The 18.5-ounce size is perfect for travel and it fits nicely in the pocket of a backpack or your purse.
When filled with water, it is not too heavy to carry. And the replaceable carbon filter ensures fresh clean water whenever you fill the Bobble.
Perhaps you are traveling a long distance and packing space is a premium in your suitcase, or in your car. Then this collapsible silicone foldable water bottle would work well for you. Would not take up much space at all. 
You will want a backpack or daypack with you to store snacks, your water bottle, phone, extra clothes, etc. This foldable water-resistant backpack would be great. 
It is very affordable and is available in many color options for you to choose from. The fact that it folds down into a zippered pouch will make it easy to pack.
Perhaps you need a more substantial backpack for your travel. This antitheft backpack has a charging port, is water-resistant, and can comfortably carry up to a 15.6″ laptop.
You will be walking more than usual during your weekend getaways in Ohio. A sturdy and comfortable pair of walking shoes are a must-have. These waterproof all-season shoes are extremely affordable and yet fashionable.
Mostly everyone is familiar with the Skechers brand, and these Air Run high fashion sneakers come in a lot of colors to match your outfits and are still affordable.
If you are visiting Ohio in warmer weather, maybe you want a pair of sandals to wear to dinner or to the local cafe, I highly recommend these Vionics adjustable strap orthotic sandals.
I have several pairs of Vionics that I bring with me *everywhere* I travel. They are very comfortable and have orthotic footbeds that cradle and support your feet.
We all need to protect our eyes from the sun's harmful UVA/UVB rays. These unisex polarized sunglasses come in a lot of lens colors and frame designs and are extremely affordable too.
If you are fond of the aviator-style of sunglasses these polarized aviators may interest you.
If you are in need of new luggage, this expandable soft side spinner luggage is affordable and comes in lots of colors.
If you like hard-sided better, then you may favor this hard-sided luggage set better. Both sets come with TSA locks and 8 wheels per piece.
Here are some of the coolest cabins in Ohio if you need some relaxation after visiting castles!
Here I have listed 10 fairytale castles in Ohio you must see. Hope you have a magical time visiting Ohio castles!
There are some really interesting national parks in Ohio for you to explore as well!