Are you looking for haunted places in Ohio?
There are so many cool things to do in Ohio – but do you crave creepy locations and places that give you the chills?
There are many haunted places in Ohio that will quench your thirst for thrills and creepy chills.
I am an Ohio girl through and through. I was born and raised in Youngstown, Ohio.
Here I have given you 13 haunted places in Ohio that will creep you out!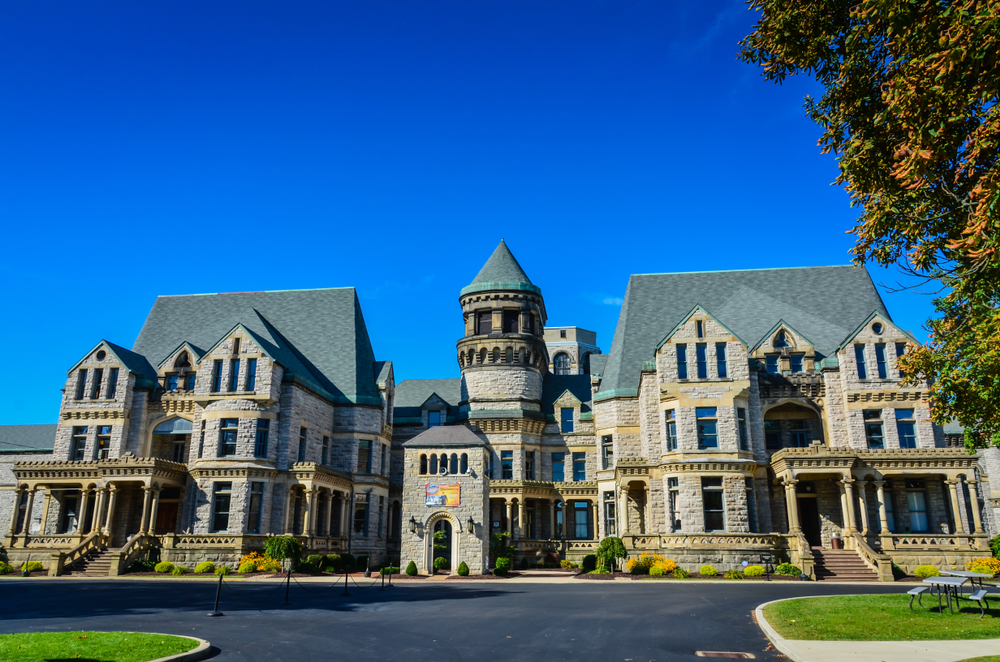 13 Haunted Places In Ohio That Will Creep You Out!
The Ohio State Reformatory If You Dare
Almost palatial in its appearance, the Ohio State Reformatory has a haunting history of violence and death. It is considered one of the most haunted places in Ohio.
Located in Mansfield Ohio, the original goal was to reform the inmates housed there. Not violent enough for state prison, yet in need of punishment, the inmates were there for rehabilitation.
At first, the reformatory had a very high success rate. However, in the 1960s the state of Ohio converted the reformatory into a maximum-security prison, which the building was never intended to be.
And therein began tales of brutal treatment and shameful living conditions. 200 inmates died during the years the reformatory was open, and live to tell the tales to this day.
Tours are available where the ghosts surely make themselves known.
Like the ghost who becomes angry if his chair is moved. Or visit a wing where you feel chills from the warden's wife who died there, and your camera will not work until you leave!
The Hole was the solitary confinement basement wing of the prison. It was where the worst offenders were sent for punishment. Often times being inhumanely tortured by the guards.
Built to accommodate 20 prisoners, it once housed over 100 at the same time, and not all emerged alive.
The space is now filled with the spirits of those tortured in the Hole, who take your breath away, make you nauseated, and generally cause extreme physical discomfort.
One of the most iconic cult movies ever made is the Shawshank Redemption. Several scenes were filmed in and around the reformatory. You can visit those if you are a movie buff.
Whatever your reasons, visiting the Ohio State Reformatory is one of the haunted places in Ohio that will creep you out!
Read this to learn about 15 other incredible things to do in Ohio.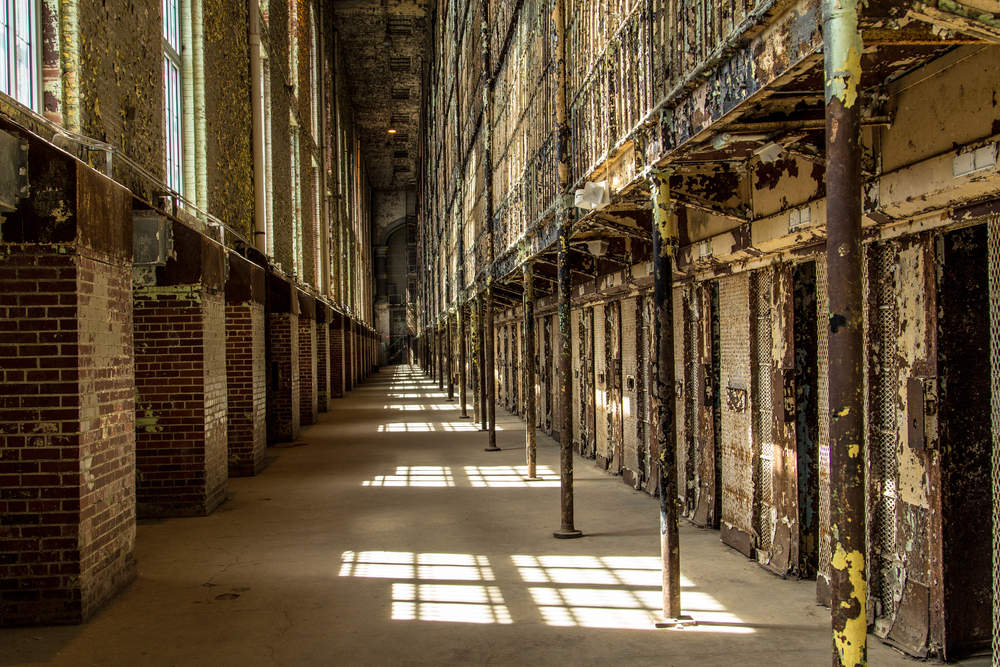 Malabar Farm- The Ceely Rose House
Located in the Pleasant Valley bucolic scenic part of Ohio, this house now part of Malabar Farm State Park has a deep dark ghastly ghostly secret!
It allegedly is visited regularly by Ceely Rose, the teenage girl who took the lives of her entire family.
As the story goes, Ceely had a beau she intended to marry. He informed her that her family was against the marriage.
So Ceely poisoned her entire family with arsenic, a horrendous crime at that time, and any time.
To this day, Ceely is said to lurk around the house. Glimpses of a young woman have been documented running through the house and seen at the window.
Ghostly voices conversing can be heard too.
If you dare, visit the Malabar Farm State Park and check out the Ceely Rose House.
Read about the 12 best Airbnbs in Ohio here!
Beware Of The USS Nightmare
Sailing on the waters of the Ohio River, the USS Nightmare may just give you nightmares!
Named the William S Mitchell, after its peculiar captain, this steam-powered dredge boat's job was to clear the way for commercial ships.
During its 45 years of service, 112 crewmembers died giving the dredge boat its nickname, The Death Dredge.
One summer day, the Mitchell mysteriously broke loose from its dock and began a treacherous journey down the river. It was thought to be empty of passengers, as it aimlessly floated.
It crashed into several bridges and as the authorities gained control of the boat it was then that they were shocked at the grim and grisly scene before them.
As it turned out, there were passengers on board, who had been tortured until their bodies were unrecognizable. And were left in locations all over the boat.
Today the Haunted Dredge Boat is in the same condition the Mitchell was in after the massacre. Local lore has it that once someone boards the boat, they are never the same!
You can tour the boat if you dare.
Are you also looking for waterfalls in Ohio? There are some epic ones. Read about the 18 best waterfalls in Ohio here.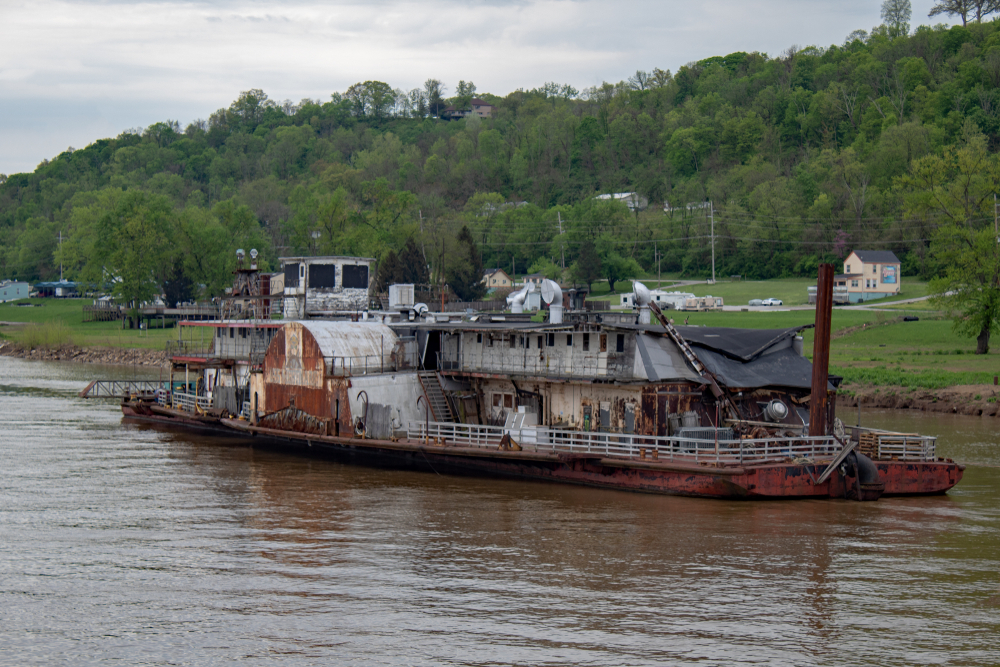 The House of Wills Will Leave You Breathless
Formerly a prominent funeral home, the building in Cleveland was in shambles when purchased by Eric Freeman in 2005.
Named after the successful African-American businessman who purchased the home to use as his second Cleveland-based funeral home, John Walker Wills.
It is alleged that dozens of spirits, Mr. Wills' included, haunt the house, attempting to communicate with the living.
Shadowy figures stalk mysteriously throughout the house and vanish instantly. Chilling voices are said to emanate from the old casket room, along with an odd mist.
If you are brave enough, tours are now being conducted and paranormal investigators share their thrilling and chilling findings to this day.
The Willis House is one of the top haunted places in Ohio.
Planning to visit Youngstown? Here you will find 18 things to do in Youngstown. And before you go, read about 15 of the best things to do in Mill Creek Park,the crown jewel of Youngstown!
Moonville Tunnel One Of The Most Haunted Places In Ohio
Located in southeastern Ohio, Moonville Tunnel has a dark and enigmatic past.
It was used to connect two small burgs in Ohio back in the coal mining days in the 1850s.
Today it just may be the most haunted railroad tunnel in Ohio.
Built just wide enough for only a train to pass through it, the Moonville Tunnel and the trains that passed through it, killed any pedestrian unlucky enough to be in the tunnel when the train entered.
One such soul of a man killed instantly is said to haunt the tunnel, especially at night.
Nowadays, nothing remains of the coal town of the 1850s in southeast Ohio, but a visit to Moonville Tunnel is worth the effort if odd paranormal experiences interest you. And if you are brave!
Here are some Ohio weekend getaways that may interest you as well.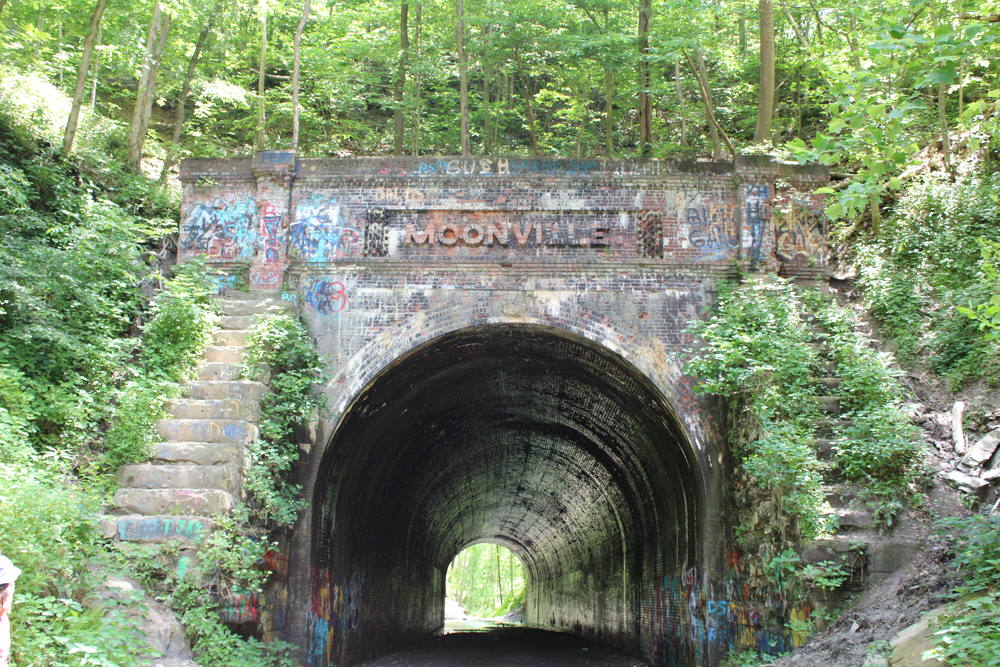 The Athens Lunatic Asylum
It is no wonder the Ridges, as it is called today, is allegedly haunted.
Renovated and part of Ohio University these days, the former buildings of the Athens Lunatic Asylum have stories to share.
Patients with various problems were admitted. And therapies that are now discredited, such as lobotomies, hydrotherapy, restraints, and psychotropic drug therapies of all kinds.
Today many of these modalities are considered harmful.
So it is no wonder that various buildings of the old asylum are presumably haunted by the tortured souls of past patients.
One of the most prominent ghosts who still inhabit the asylum is Margaret Shilling. She died under mysterious circumstances in 1979.
Her body was not discovered until 40 days after she disappeared. When it was located, she was naked with her clothes neatly folded next to her.
The most remarkable part though is she left an indelible body print on the floor where she was discovered. Try as they might, no one has ever been able to remove the mark.
Her spirit has been seen trying to escape and meandering various parts of the asylum at night.
Various former patients are still at the hospital, their spirits being seen in empty wings of the former hospital.
Most appalling is the belief that the spirits of former patients remain in the basement still in their shackles.
These tortured spirits, and many roaming the surrounding cemetery, are thought to have died or been treated by the staff at the asylum.
You can take a tour of the remaining outdoor grounds if you are brave enough.
Look here for the best places to see fall foliage in Ohio.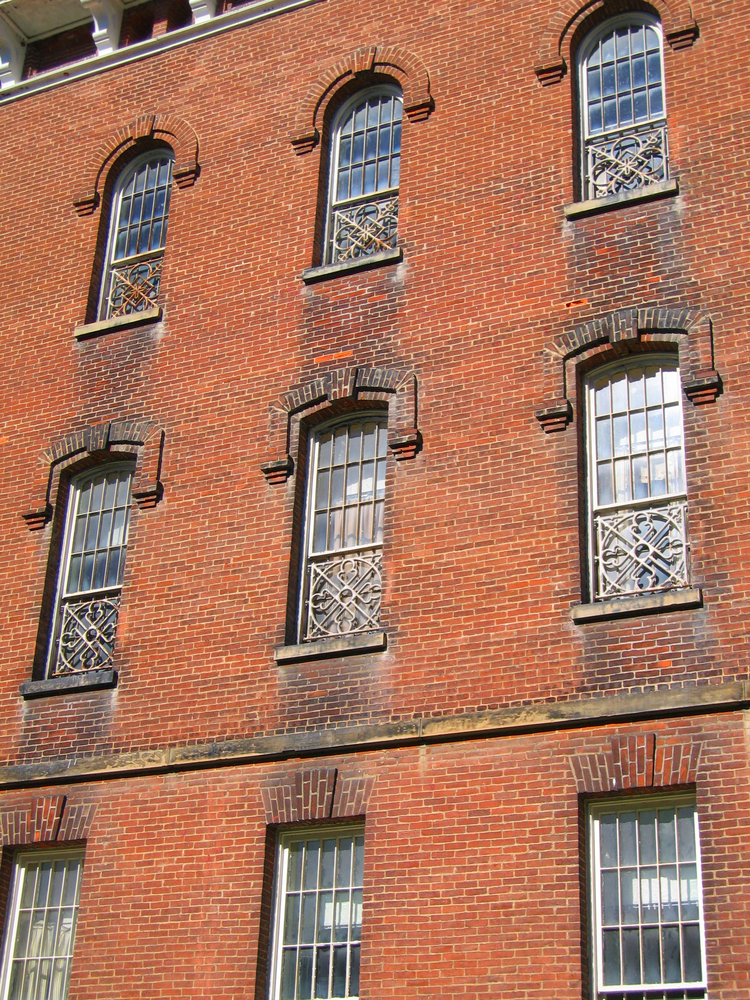 The Stivers School For The Arts Gives Chills
Located in Dayton Ohio, the Stivers School for the Arts and is well-known for a mysterious murder which occurred in the 1920s.
Apparently teacher Mary Tyler was involved with a student at the time of her death.
She was found floating in the school's swimming pool, located in the basement level of the school.
In one hand she had a locket, and the other a broken pointer.
Local officials believed that her student removed his photograph from the locket. He was never seen again.
And while the school covered over the pool, there is still a trap door there where it is believed the spirit of Mary Tyler roams.
She has been seen levitating in the empty pool as if she never left. She bangs on pipes in the basement and wailing loudly as she wanders the tunnels beneath the school.
The classroom that was built over the pool has had numerous unexplainable occurrences such as changing temperatures and flickering lights.
It is as if Mary Tyler has never left her school…
Looking to extend your stay? Read about cabins in Ohio for a unique experience.
Cincinnati Music Hall
Oh my gosh, what a gruesome history lies underneath the Cincinnati Music Hall.
Originally built over a potters field (cemetery for poor or unclaimed poor people), orphan asylum and city infirmary, various graves, skulls, and bones have been been found and reburied during the storied career of the Music Hall.
In addition, in 1838, a steamboat, the Moselle had a catastrophic accident where the boilers of the ship exploded. Of the 300 onboard, anyone in front of the boilers died.
It is said their bones, skulls, and appendages rained down where the Music Hall stands today.
Numerous times during the expansion of the building, human remains have been found and reburied. Sometimes on-site, other times in nearby cemeteries.
It is widely regarded that the bones of the dead occupy every foot of ground under the Cincinnati Music Hall.
Tales of phantom partygoers, a mysterious shrouded spirit, unaccounted for footsteps and things being dragged across the floor, have all been reported.
If you dare, visit the Cincinnati Music Hall, thought of as being one of the most haunted locations in the United States.
And definitely one of the most haunted places in Ohio that will creep you out!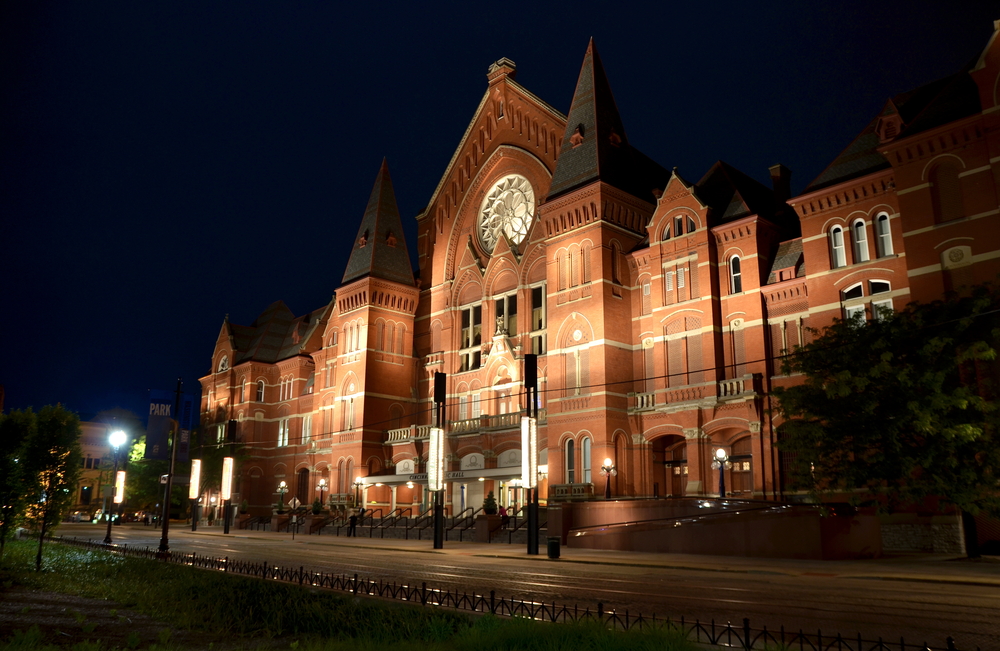 Spirits Still Inhabit The Thurber House In Columbus
Home of the Columbus native and famous author, James Thurber, was reported to be haunted even during his life.
He himself researched the history of his own house and found it may have been the spirit of a man who committed suicide upon discovering his wife's infidelity.
Or perhaps the spooky inhabitants could be from an insane asylum that caught on fire in 1860? No one knows for sure!
Visit the Thurber House in Columbus to witness some spookiness for yourself!
YOu can extend your stay nearby by selecting a cabin in Hocking Hills.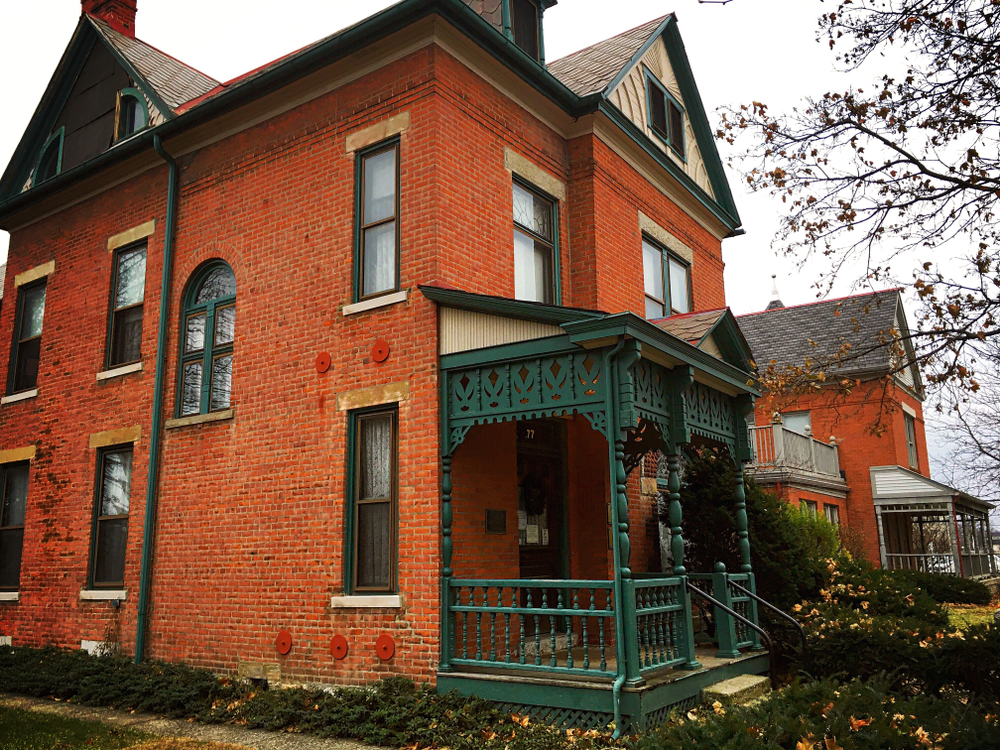 The Palace Theater
Throughout its history the Palace Theater in Columbus had many performers grace its main stage.
In the 1970s, one such performer, Harry Blackstone Jr., a magician came to the theater for some publicity as he was attempting to contact the iconic magician Howard Thurston, the arch-enemy of his father.
The seance was held in the theater's lobby, and it is recorded that Mr. Blackstone was surprised as he did not reach Thurston, but another spirit instead. Possibly the spirit of someone murdered at the theater.
Thurston, born in Columbus, made a pact with family and friends to have them try to contact him after his death. They tried for twenty-five years on the anniversary of his death but were never successful.
Thurston is buried in a Columbus mausoleum. To this day, people visit his grave there to try to communicate with him.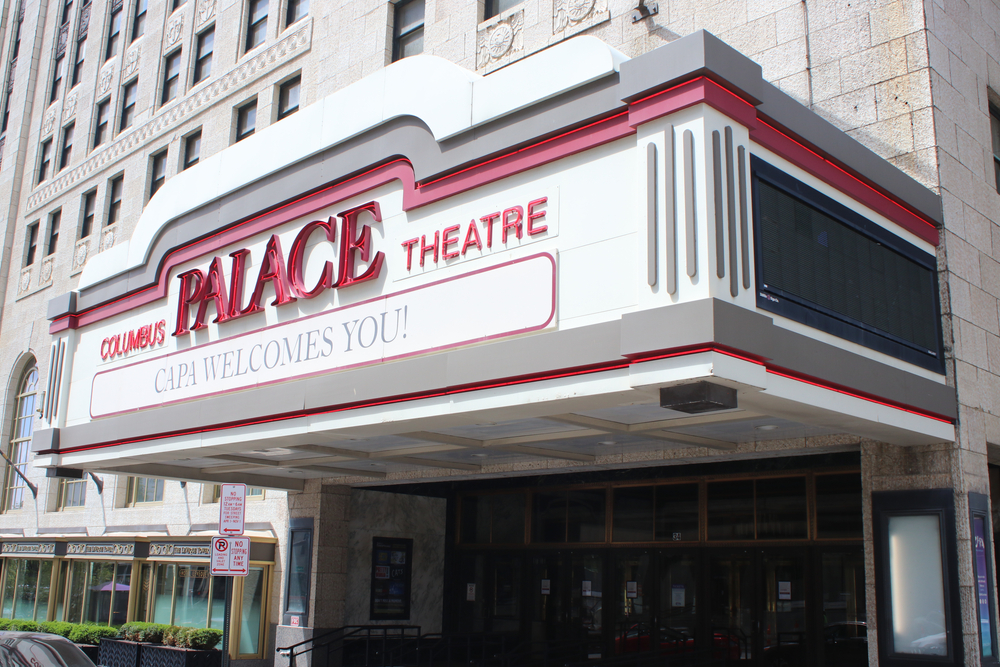 Oakhurst Golf Club, Grove City
Legend has it that in the 1960s, a bride fell off a balcony. And today employees of the golf club say once in a while she can be seen wafting throughout the building in her white dress.
The kitchen located near the ballroom that was used during the wedding is considered haunted.
Employees say that at night they hear pots and pans clanking together. Knocking sounds can be heard.
And the next morning kitchen items would be rearranged in different locations that where they were the night before.
The spirit can be heard screaming when the air conditioner or heater turns on.
Members of the golf club report seeing spirit shadows, and feeling as if someone is "watching them."
The Oakhurst Golf Club, in Grove City is one of the eerie haunted places in Ohio.
Here are some really neat Airbnbs in Hocking Hills.
Old Fairport Harbor Lighthouse And Museum
Located just east of Cleveland Ohio, the Old Fairport Harbor Lighthouse is said to be haunted by a playful gray cat. Probably one from a former lighthouse caretaker.
This legend was made more believable when the remains of a cat were discovered in a sealed staircase, in 2001.
The remains are on display in this Ohio museum at the old lighthouse. And the fun-loving cat's presence can be felt by visitors all over the property.
Visit the Old Fairport Harbor Lighthouse and Museum in Ohio for some paranormal feline frivolity!
Read about the 10 best Airbnbs in Cleveland here if you are looking for a place to stay.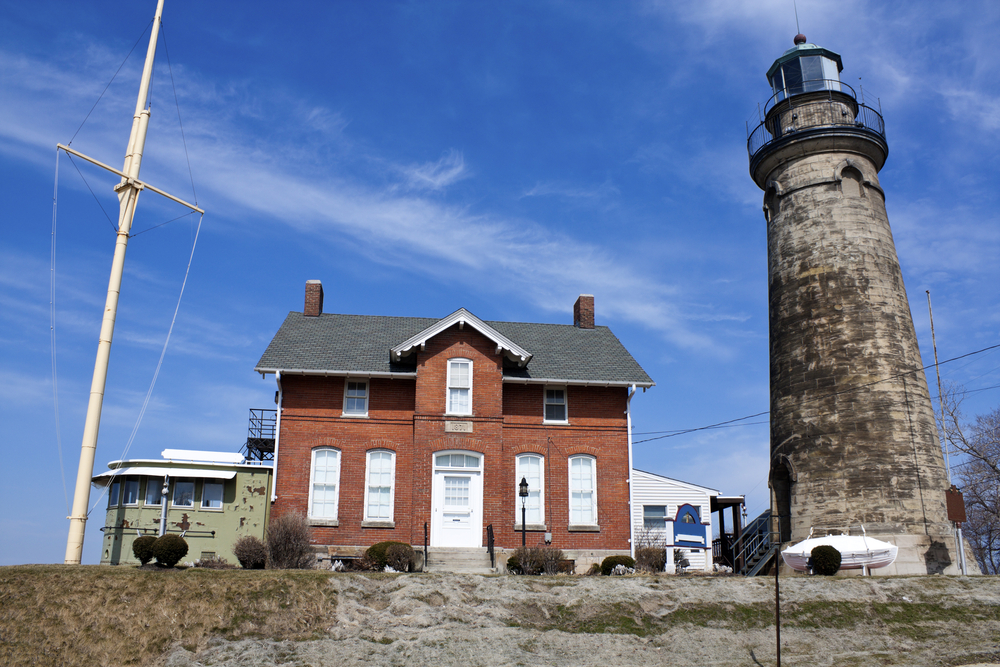 Akron Civic Theatre
The Akron Civic Theatre originally opened in 1929 as Loewe's Theatre. It was remodeled in 2001 and reopened using its current name.
It is said to have two ghosts at least that haunt it.
One is Fred the janitor. He worked at the theatre in the 1930s and died there. He is said to haunt the building, especially the restrooms.
Another tortured spirit is of a young woman, who is suspected to belong to a canal barge family, thought to be from the mid-nineteenth century. (The Ohio-Erie Canal ran right through the theater site at that time.)
The Akron Civic Theatre is one of the neatest haunted places in Ohio not to miss.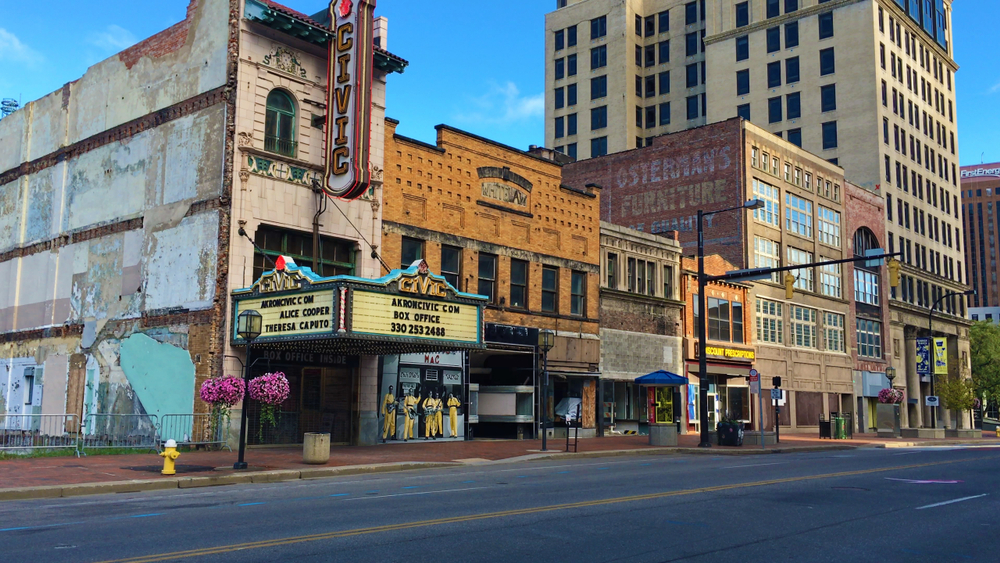 Packing List for Your Visit to Haunted Places in Ohio
A concealed travel pouch may be one of the most important items you bring along when visiting haunted places in Ohio. It is always important to protect our personal information.
Read my tips on how to pack lightly here.
This unisex RFID blocking concealed travel pouch is lightweight and comes in several colors. It has lots of organization to give you peace of mind.
If you have a pouch already that does not come with the RFID protection, as I do, these RFID sleeves are the perfect solution.
This configuration comes with enough passport and credit card sleeves that the entire family would be protected. They are slim too, so they will easily fit into your pouch or wallet.
If you are planning on taking a lot of pictures with your phone you will definitely want to consider an external charging battery. This Anker high-speed phone charging battery is the exact one I carry with me on all of my trips.
It can be used on a variety of phones, not just an iPhone like I have. And wow is it fast!
I like that it holds its charging capabilities for several uses so I do not have to worry about it while out and about, and if I forget to recharge it at night, it will still be good to go the next day.
My daughter gifted me with this FugeTek selfie stick and tripod setup for my birthday. I absolutely love it! It is made of lightweight aluminum and so easy to use.
It has Bluetooth connectivity and is a breeze to use for group shots or that perfect selfie!
I was not a fan of packing cubes until I started to use them! This is the exact set of packing organizers I use whenever I travel.
Hydration is so important. You want to remain hydrated to support your immune system which in turn will be stronger to fight off any germs you will encounter during your travels.
You will want to bring your own refillable water bottle with you.
I never leave home on a trip without my Bobble filtration bottle. The 18.5-ounce size is perfect for travel and it fits nicely in the pocket of a backpack or your purse.
The replaceable carbon filter will ensure clean drinking water when you want it.
Perhaps you are traveling a long distance and packing space is a premium in your suitcase, or in your car.
Then this collapsible silicone foldable water bottle would work well for you. Would not take up much space at all.
You will want a backpack or daypack with you to store snacks, your water bottle, phone, extra clothes, etc.. This foldable water-resistant backpack would be great.
It is very affordable and is available in many color options for you to choose from. The fact that it folds down into a zippered pouch will make it easy to pack.
Perhaps you need a more substantial backpack for your travel. This antitheft backpack has a charging port, is water-resistant, and can comfortably carry up to a 15.6″ laptop.
You will be walking more than usual while looking for things to do in Youngstown. A sturdy and comfortable pair of walking shoes are a must-have. These waterproof all-season shoes are extremely affordable and yet fashionable.
Mostly everyone is familiar with the Skechers brand, and these Air Run high fashion sneakers come in a lot of colors to match your outfits and are still affordable.
If you are visiting Ohio in warmer weather, maybe you want a pair of sandals to wear to dinner or to the local cafe, I highly recommend these Vionics adjustable strap orthotic sandals.
I have several pairs of Vionics that I bring with me *everywhere* I travel. They are very comfortable and have orthotic footbeds that cradle and support your feet.
We all need to protect our eyes from the sun's harmful UVA/UVB rays. These unisex polarized sunglasses come in a lot of lens colors and frame designs and are extremely affordable too.
If you are fond of the aviator-style of sunglasses these polarized aviators may interest you.
If you are in need of new luggage, this expandable soft side spinner luggage is affordable and comes in lots of colors.
If you like hard-sided better, then you may favor this hard-sided luggage set better. Both sets come with TSA locks and 8 wheels per piece.
Here I have listed 13 best-haunted places in Ohio. Some are popular, some are not so popular. I hope you enjoy visiting my home state of Ohio. And have some epic ghoulish and squeamish fun……