Are you looking for cute towns in Iowa to visit on a weekend getaway?
If yes, then you have come to the right place. In this article, we have mentioned some of the best small towns in Iowa that you must visit.
Iowa is a popular place to visit in Midwest with its gorgeous countryside scenery and surrounding rivers.
Visitors can take amazing photographs of the rolling plains and cornfields along with some charming, rustic Iowa towns.
From Dyersville to Amana Colonies, there is no shortage of small towns in Iowa that has a unique character and history.
Whether you want to learn about different communities or visit a place featured in a major motion picture, there is a small town in Iowa that suits your requirements.
There are many other things to do in these charming Iowa small towns including camping, cross-country skiing, river fishing, and more.
If you are confused about what to do in Iowa, then check out our list of the 15 small towns in Iowa you must visit.
15 Small Towns in Iowa You Must Visit
Pella
A popular rural Iowa town, Pella was founded in 1847 by immigrants from Holland. This is why this town features Dutch windmills and tulips that depict the Netherlands' culture.
It is one of the best towns to live in in Iowa, especially if you are attracted to the Dutch style.
Visitors can enjoy a visit to the Vermeer Windmill, the tallest working windmill in North America.
You can also visit the Dutch buildings in the Historical Village of Pella maintained by the Pella Historical Society.
One of the best times to visit this small town in Iowa is during the Tulip Time Festival when the city is in full bloom with over 200 tulip beds to brighten up the city.
Apart from sightseeing, there are many other things you can do in Pella including trying the Dutch flavors at local bakeries and restaurants.
If you want a feel of Holland in America, then Pella is one of the top towns in Iowa to visit.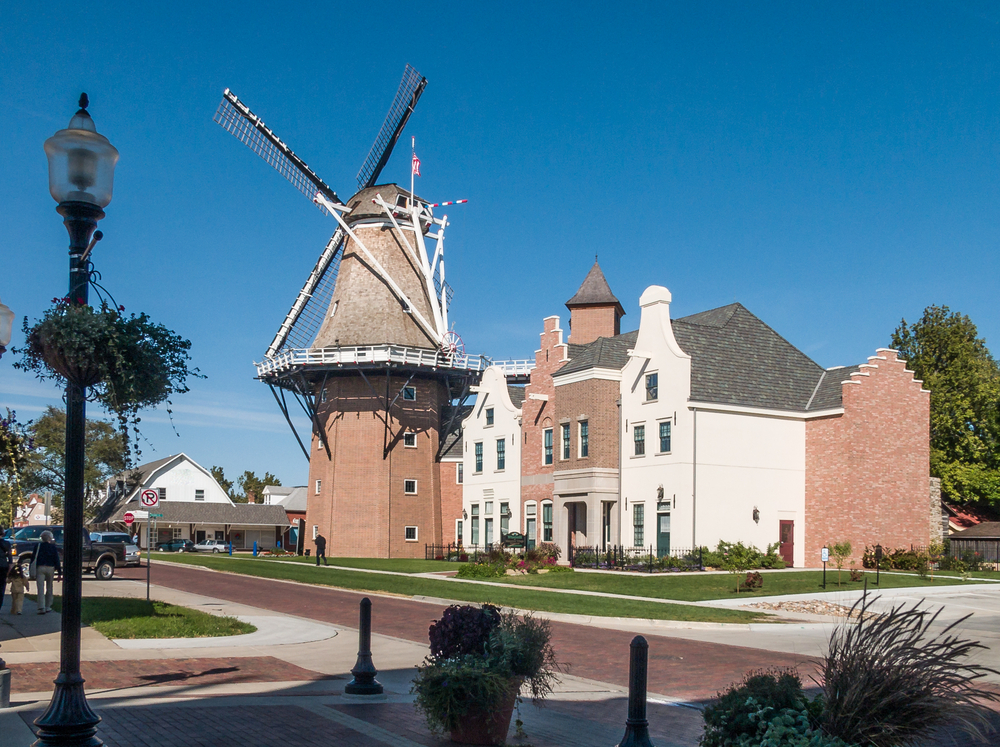 Amana Colonies
Another amazing rural Iowa town to visit, Amana Colonies is located 30 minutes from Iowa City and features seven gorgeous villages.
This place was founded in 1855 by German immigrants and the villages are one of the longest-lived communal societies in America.
To date, this is not only one of the best towns to live in Iowa but an amazing Midwest weekend getaway destination as well.
Visitors can take a tour of the Amana Heritage Museum to learn the history of this area and guided tours are a great way to explore the local heritage sites.
These villages are also famous for their artisan wares and host annual festivals such as Wurst Festival, Winterfest, Maifest, etc. which are a lot of fun to join.
So, if you are looking for a good place to visit in Iowa, do check out Amana Colonies.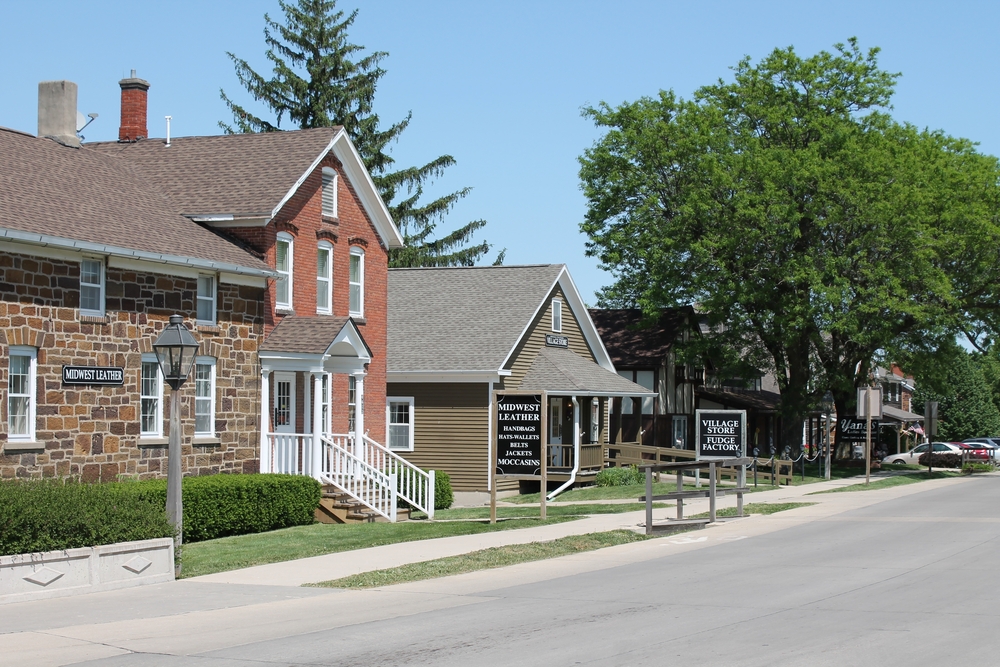 Harlan
Harlan is one of the best small towns in Iowa that is a 30-minute drive from Des Moines.
It is one of the smallest towns in Iowa and a perfect vacation spot for families. This small town in Iowa is home to several historical landmarks and interesting libraries to check out.
One of the most fun things for families to do in Harlan is visiting the Shelby Co Fairgrounds where there is something exciting to indulge in every week.
Apart from this, Little George Park and Jaycee Park are also fun places for a picnic with your family.
From Midwest amusement parks to museums, to state parks, there is a lot to explore both in and around Harlan. So, if you are looking for fun towns in Iowa, then do check out Harlan.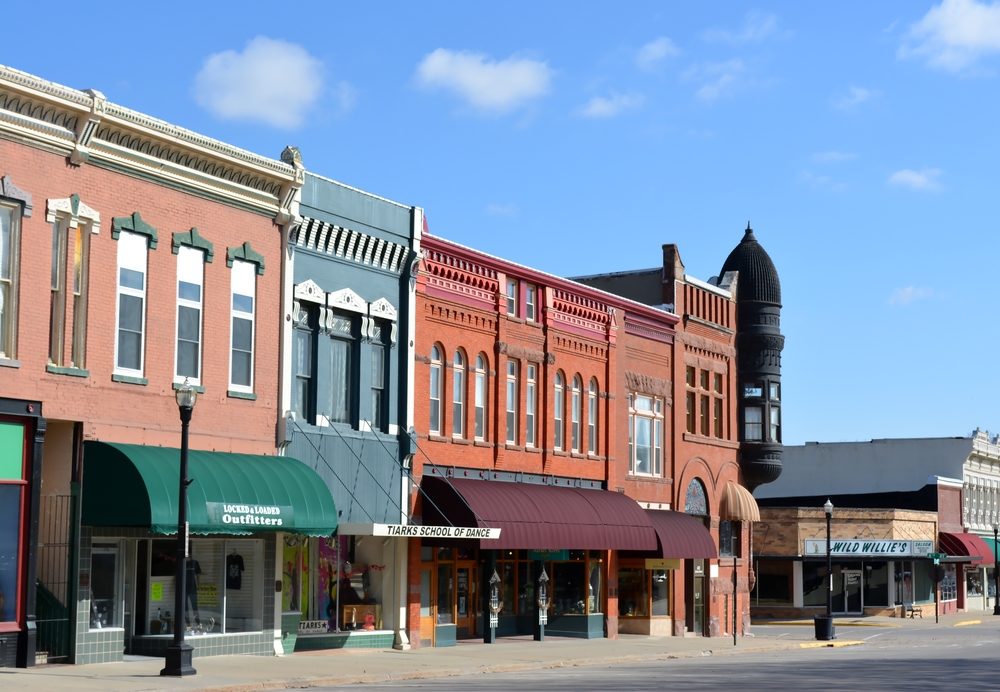 Winterset
Located in historic Madison County, Winterset is a charming town in Iowa that is home to many covered bridges.
This smallest town in Iowa offers easy access to at least 6 beautiful covered bridges in the area. You can reach these bridges using the paved paths or enjoy a short hike on the dirt roads to reach a few of them.
Trust me, these covered bridges not only offer brilliant scenery to enjoy but are perfect for a romantic day out with your partner.
If that wasn't enough, this small town is also the birthplace of the iconic Hollywood cowboy, John Wayne.
Visitors can check out the non-profit John Wayne Birthplace and Museum to learn more about the Duke's legacy.
For those who love scenic landscapes and historic covered bridges, Winterset is one of the top towns in Iowa for a trip.
This is a beautiful destination to experience fall in Iowa.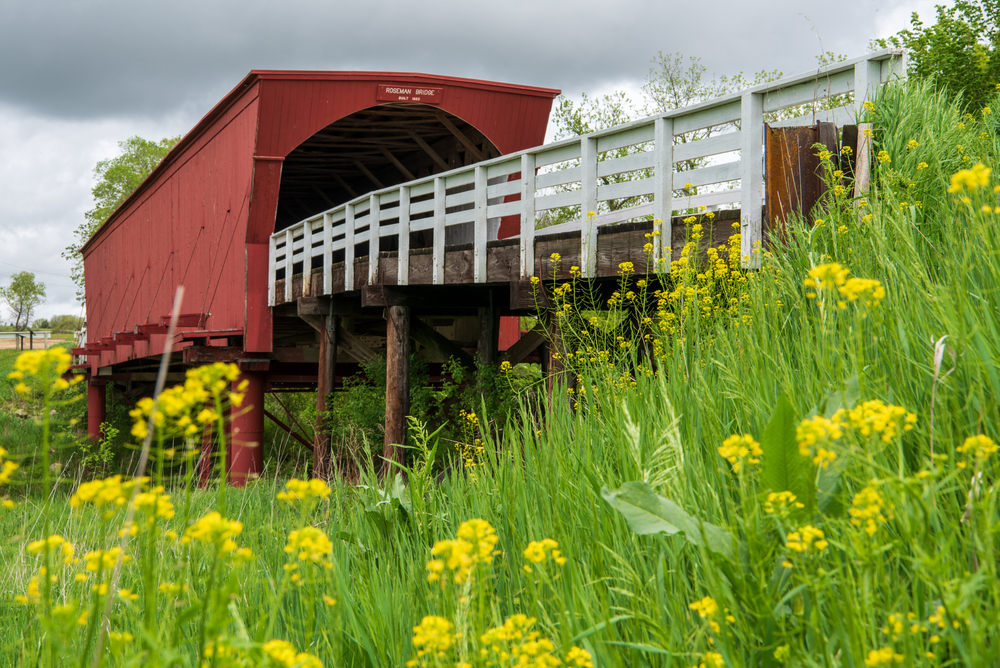 McGregor
McGregor is one of the most charming rural Iowa towns that offer a gorgeous view of the Mississippi River.
Earlier, this town was called McGregor's Landing by Alexander Mcgregor, whose family settled down in the original town.
Nowadays, most visitors plan a trip to this small town in Iowa due to its direct access to the Mississippi River and the charming antique stores found here.
Pikes Peak State Park is one of the best places to hike around the woodland landscape. Those who are brave can even head to the Spook Cave nearby.
McGregor is one of those towns in Iowa that is famous for its outdoors but it is the local community that really charms the visitors here. This is one place that you cannot miss out on your trip to Iowa.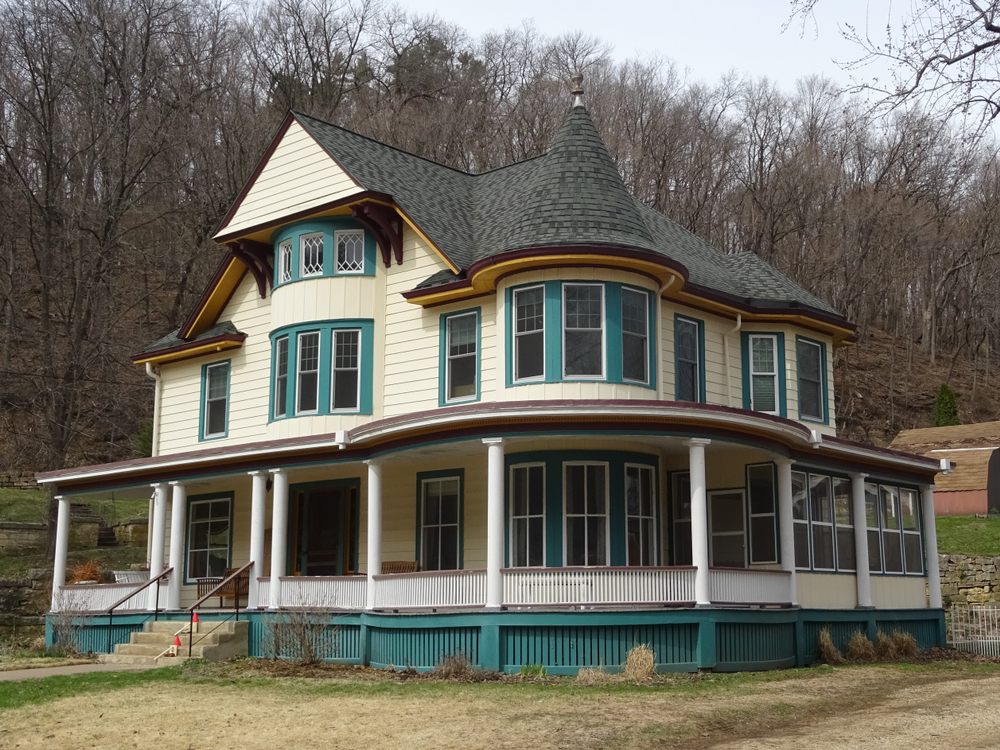 Decorah
With gorgeous landscapes and year-round celebrations, Decorah is the best town to live in in Iowa.
This small town offers many fun outdoor activities, especially near downtown Decorah.
From watching bald eagles to ice cave exploring in one of the cool caves in Iowa, to mountain biking, there are many exciting adventures for visitors to enjoy in Decorah.
Apart from the outdoor adventures, the town also offers lovely shops and restaurants where visitors can chill. Also, there are many museums to explore and music venues to check out in downtown Decorah.
In short, Decorah is one of the few towns in Iowa that has something for all kinds of travelers.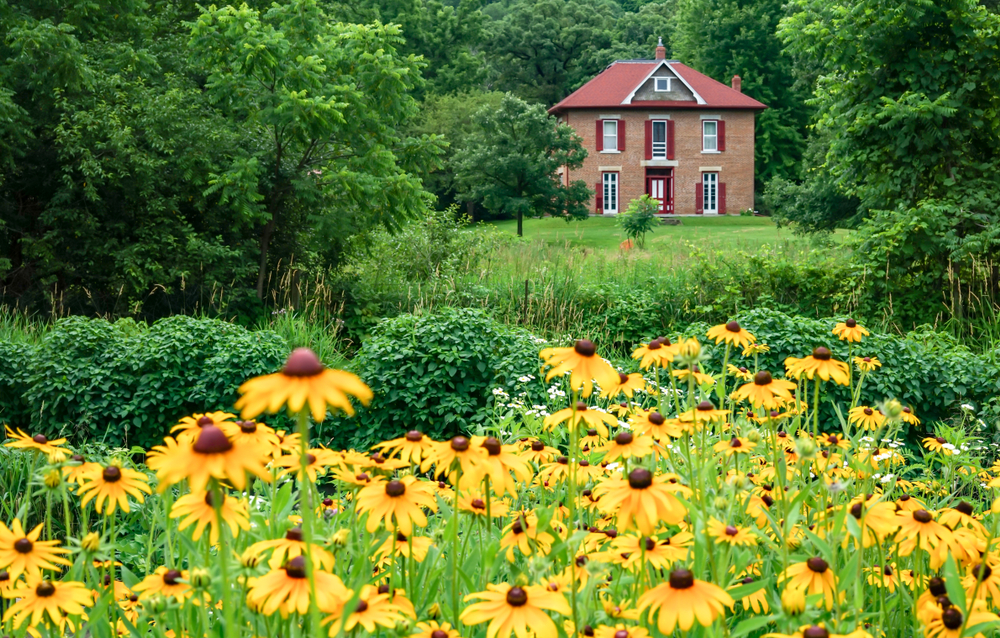 Elk Horn
If you are looking for the best places to visit in Iowa, then check out Elk Horn in West Central Iowa.
This unique town in Iowa has one of the largest rural Danish settlements in the country and one of the main attractions here is the historic Danish windmill.
If you are interested in Danish culture, then this is definitely the best town to live in Iowa. Don't miss out on the annual Tivoli Fest, a Danish celebration involving food, music, and lots of dancing.
Another event that you must attend at Elk Horn is Julefest in December. You will enjoy the special Christmas concert, Danish Christmas traditions, and yummy pastries that complement this time.
If you are looking to experience the Danish lifestyle, then Elk Horn is one of the top towns in Iowa to visit.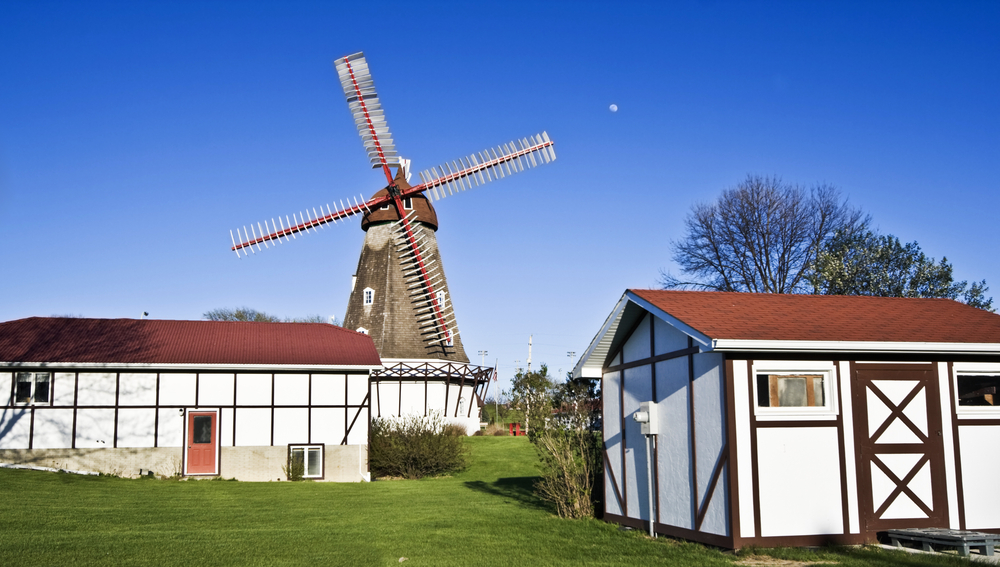 Dyersville Is One Of The Rural Small Towns In Iowa
Another popular rural Iowa town that you must visit is Dyersville. This charming rural town features historic buildings and legendary baseball fields, making it a top tourist attraction.
One of the main attractions of this town is the tour of the set of the iconic field, Field of Dreams, which was filmed in this small town.
It is open to the public throughout the week where baseball enthusiasts can step into the diamond and experience its magic.
If you are planning a visit in the summer, then do attend the Ghost Sundays at Field of Dreams set. In this weekly event, you will see baseball players performing a free, family-friendly show here.
There are many other amazing places to visit in this town in Iowa. From the National Farm Toy Museum to the Basilica of St. Francis Xavier, there is a lot to explore in Dyersville.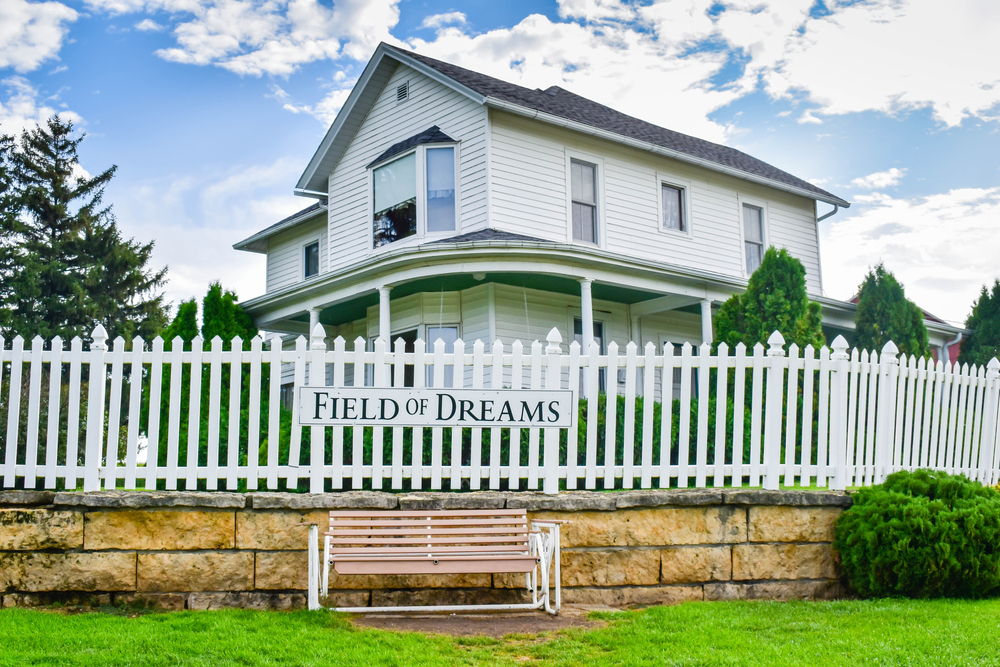 Eldon
One of the smallest towns in Iowa, Eldon is popularly known as the home of the American Gothic House.
This small town in Iowa is a perfect day trip that you can visit along with other southern Iowa attractions.
However, the highlight is the American Gothic House. It was the inspiration behind Grant Wood's world-recognized painting, American Gothic.
You can take a tour of the adjacent American Gothic House Center to learn more about Grant Wood's life and the house's history.
That's not all, there are many other historical buildings to visit in this small town as well including McHaffey Opera House, Lockkeeper's House, etc.
So, if you are a history or art enthusiast, then Eldon is one of the top places to visit.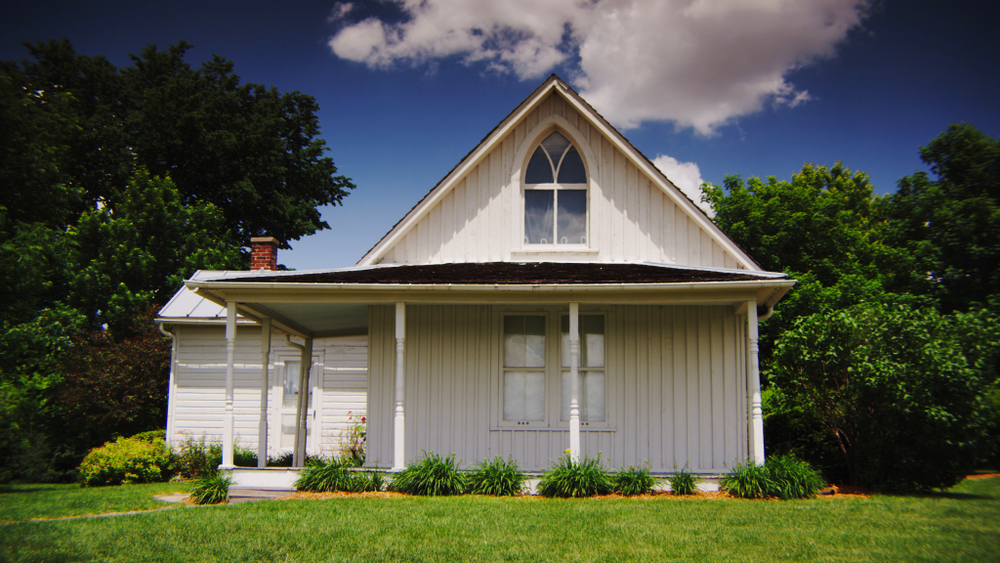 Indianola
Have you ever wanted to experience a hot air balloon ride? If yes, then plan a visit to Indianola in the month of July.
This is one of the coolest Iowa small towns to visit for the hot air balloon festival. Here you can enjoy the music, a hot air balloon ride, delicious food, and more.
If you cannot visit during the festival, then don't worry. You can tour the National Balloon Museum where you can learn more about hot air balloons and ballooning.
That's not all though. There are many other outdoor activities to enjoy in this small, charming town.
Visitors can explore the historic square, visit the Lake Ahquabi State Park, enjoy a drink at Summerset Winery.
Waverly
Are you an outdoor enthusiast?
If yes, then Waverly is the best place to live in Iowa for you. This collegiate town is located on Cedar River and is popular for its fun outdoor attractions and downtown districts.
Visitors can explore the city parks, play games at the gold courses, or simply enjoy the views from the outdoor patios in this town.
One of the top attractions is the Waverly Main Street filled with charming storefronts.
Apart from that, there are many outdoor activities to enjoy in this area. Hiking, biking, golf, etc. are a few top things that tourists can enjoy here.
For outdoor adventures, Waverly is one of the best towns in Iowa.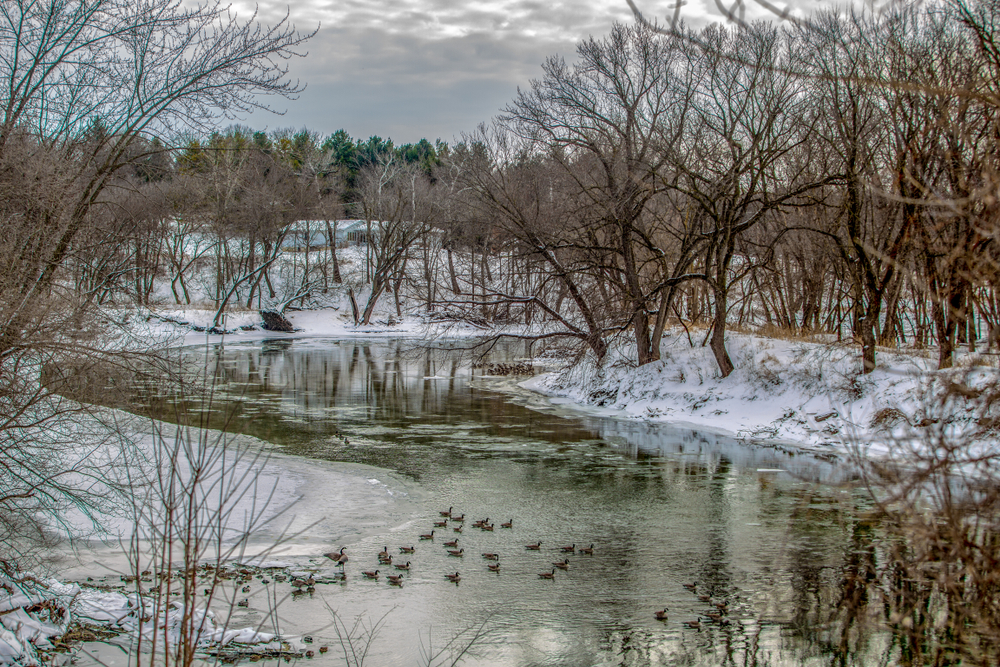 Elkader
A curious little town in Clayton County, Elkader is the best place to live in Iowa if you like peace and quiet.
This is the smallest town in Iowa along the Turkey River and was built using stone from the local quarries.
The town was named after an Algerian leader who was resisting the French colonial invasion at that time.
The town features stunning architecture and a few top places to visit here are the Motor Mill Historic Site, Elkader Opera House, and more.
If you love antiques, then you will particularly like the collection at Carter House Museum.
Honestly, Elkader is one of the most underrated yet fun towns in Iowa that you must visit.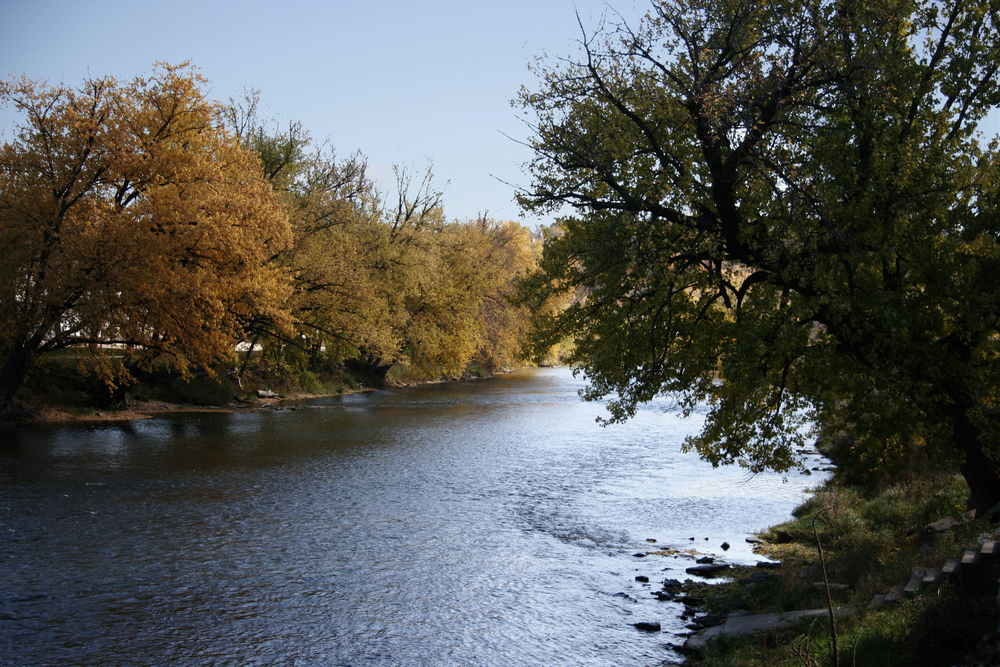 Okoboji
Okoboji is a small town in Dickinson County in northwestern Iowa.
This is a popular resort destination, especially during the summer months. Arnolds Park is one of the top attractions in this resort town where you can find lots of fun rides.
Since this Iowa small town is beside the lake, there are many amazing lakeside restaurants to enjoy a nice, quiet meal with a scenic view. You can also take a dinner boating tour and enjoy some time on the lake here.
One of the most exciting things about Okoboji is that in the winter season, there is a small-scale Winter Olympics held here. It attracts tourists from around the country.
Are you looking to enjoy some fun water activities, then do visit Okoboji.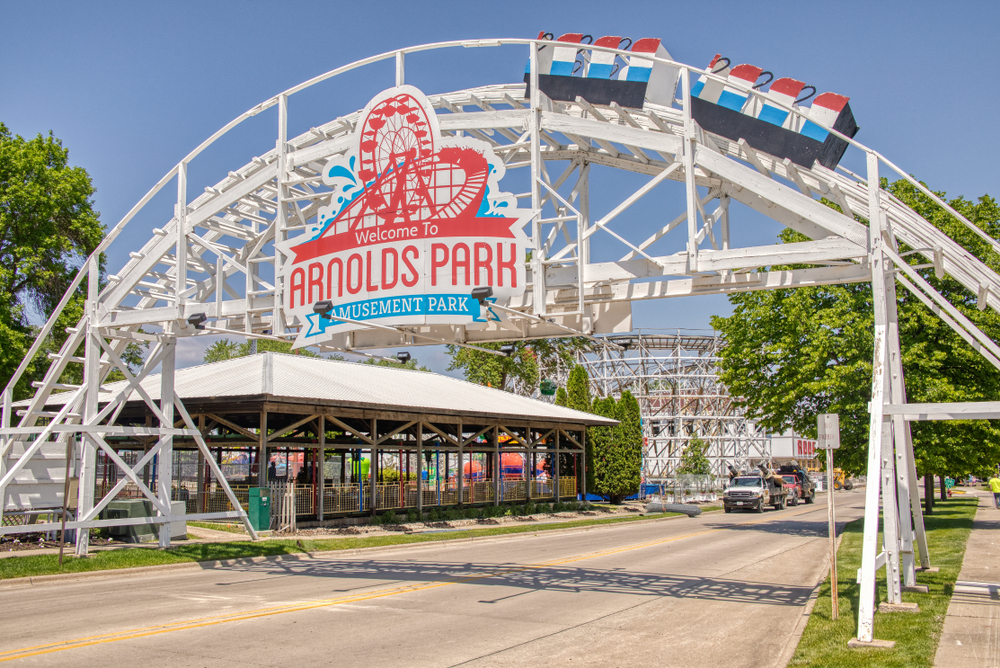 Ames
Ames is another amazing Iowa small town that is perfect for a short visit.
This small town is home to Iowa State University and offers a lot of activities for visitors to enjoy. There are all kinds of accommodations available in the town including cute bed and breakfasts and luxury hotels.
Moreover, visitors can enjoy the wide range of restaurants, breweries, cute coffee shops, wineries, and more here.
There are several outdoor activities to enjoy in this place as well including golfing, cycling, hiking, and more.
If you are looking for the best small towns in Iowa for a weekend trip, then Ames is definitely a good place to visit.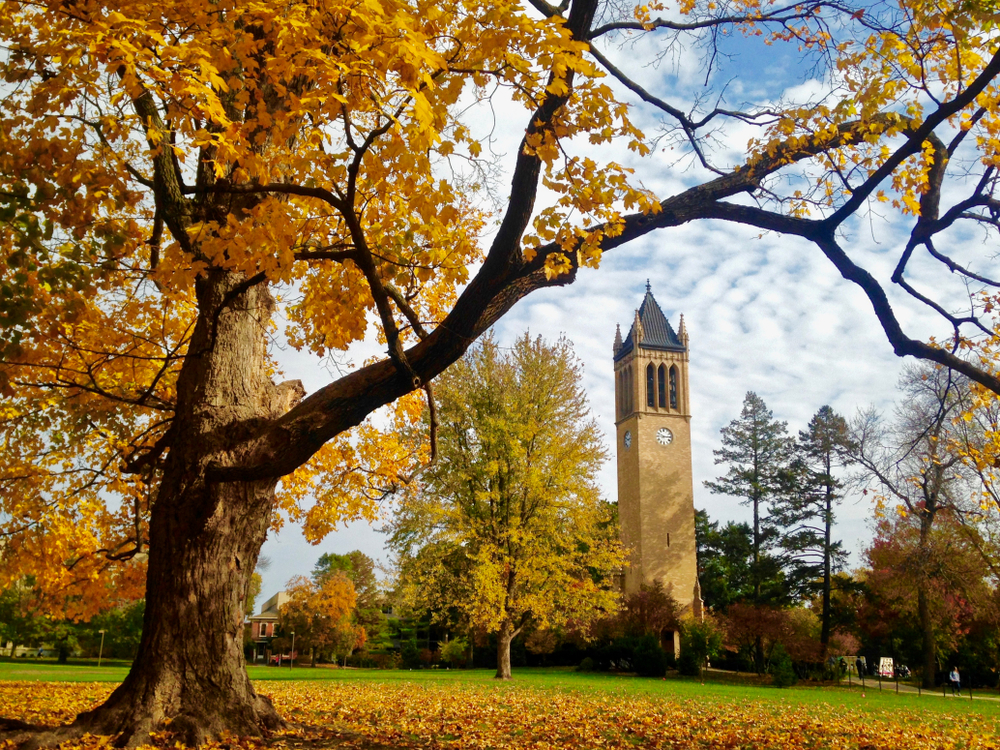 Dubuque
One of the best places to live in Iowa, Dubuque is a mixture of urban and rural Iowa.
This was the first town established in Iowa and was founded by Julien Dubuque in 1833. It is home to amazing landscapes, historical buildings, Mississippi River activities, and more to attract tourists from around the world.
Depending on when you visit, you can also enjoy fun outdoor activities here. There is eagle watching and a tri-city view from Fenelon City Elevator.
Overall, this is a fun and charming town to visit in Iowa.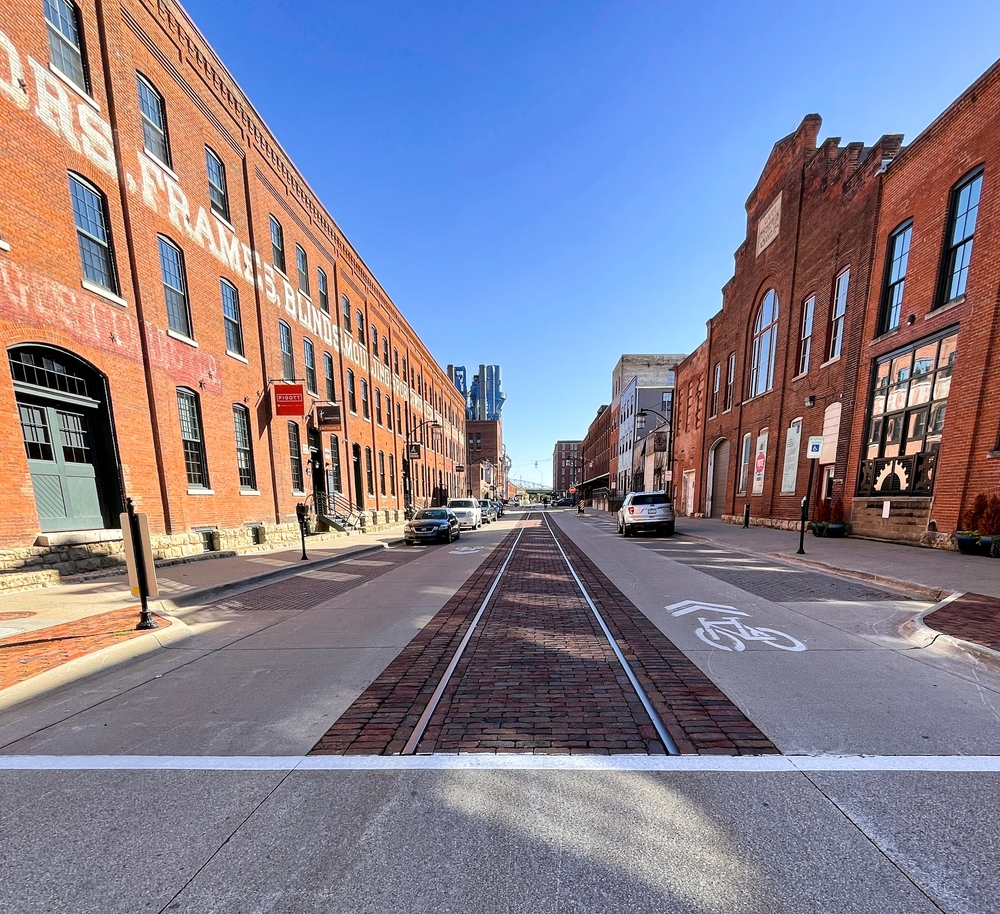 Packing List When Exploring Towns In Iowa
If you are searching, here are some tips on how to pack lightly when packing to visit quaint Iowa towns.
A concealed travel pouch may be one of the most important items you bring along when exploring the small towns in Iowa. It is always important to protect your personal information. Identity thieves are everywhere.
This unisex RFID blocking concealed travel pouch is lightweight and comes in several colors. It has lots of organization to give you peace of mind. You can place it under your clothes next to your body to carry your ID safely.
If you have a pouch already that does not come with the RFID protection, as I do, these RFID sleeves are the perfect solution.
If you are planning on taking a lot of pictures with your phone you will definitely want to consider an external charging battery. This Anker high-speed phone charging battery is the exact one I carry with me on all of my trips.
I like that it holds its charging capabilities for several uses so I do not have to worry about it while out and about, and if I forget to recharge it at night, it will still be good to go the next day.
My daughter gifted me with this FugeTek selfie stick and tripod setup for my birthday. I absolutely love it! It is made of lightweight aluminum and is so easy to use.
It has Bluetooth connectivity and is a breeze to use for taking Insta-worthy selfies while in rural Iowa towns.
I never much believed in using packing cubes when traveling. That is until I tried them. Now I am hooked. These are the exact cubes I use to stay organized when I pack for a trip!
You will want to bring your own refillable water bottle with you.
I never leave home on a trip without my Bobble filtration bottle. The 18.5-ounce size is perfect for your adventures and it fits nicely in the pocket of a backpack.
Perhaps you are traveling a long distance and packing space is a premium in your suitcase, or in your car. Then this set of collapsible silicone foldable water bottles would work well for you. Would not take up much space at all.
You will want a backpack or daypack with you to store snacks, your water bottle, phone, extra clothes, etc.. . No matter the time of day or evening.
This foldable water-resistant backpack would be great. And it comes in many different colors.
—
Here we have listed 15 of the best small towns in Iowa you should not skip.
Visiting Iowa would certainly make a fun Midwest road trip!