Are you thinking about spending fall in Iowa and wondering where are the best places to see fall colors? I've got you.
In this article, I will walk you through Iowa in fall and tell you everything you need to know about fall foliage in Iowa. I've also included some autumn activities too so you can really make the best of your time in this great state.
This state is beautiful whenever you visit but hiking Iowa in the fall really is something else. The colors of fall are striking set to a backdrop of wonderful waterfalls, mysterious caves, and over 70 state parks.
There is so much to do in Iowa and the colors of autumn just make this state so much more special. The red, yellow, and orange foliage really show off Iowa at its best.
The Iowa fall colors are best seen during the month of October. The northern part of the state peaks in early October and the central and southern areas late in the month.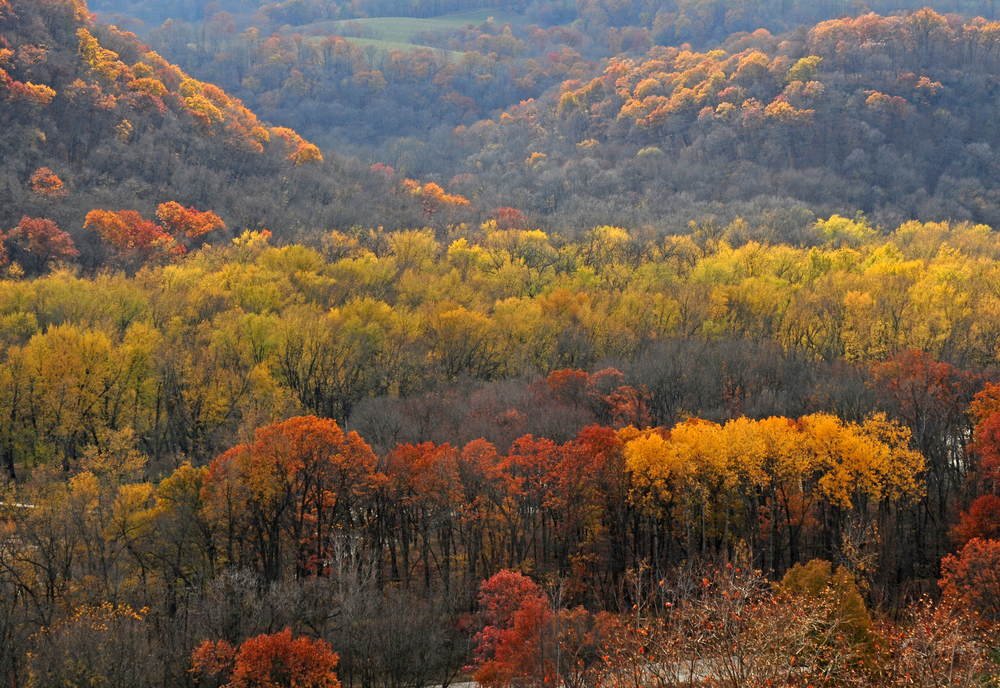 Fall In Iowa: Best Fall Foliage + Activities
Palisades-Kepler State Park – Cedar Rapids
Fall in Iowa doesn't get much better than it does at Palisades-Kepler State Park. Just outside Cedar Rapids on the banks of the river, this state park mixes river bluffs and deep ravines with Iowa fall colors.
The park gets its name from the dramatic palisades overlooking the Cedar River at the park's center and the views from there are incredible.
The park features six miles of trails which are mostly through forests. The terrain can get quite rugged so make sure you are wearing the correct footwear.
Here you will find some of the best trails for hiking in the Midwest.
The Cedar Cliff trail offers you an incredible view of the river and the fall leaf colors. The forest is full of black walnut, hickory, basswood, and maple trees making for dramatic fall leaf colors.
If you fancy camping in Iowa there are 45 campsites throughout the park.
And after you have finished hiking for the day check out some of the Ceder Rapid restaurants and fill your belly before the journey home.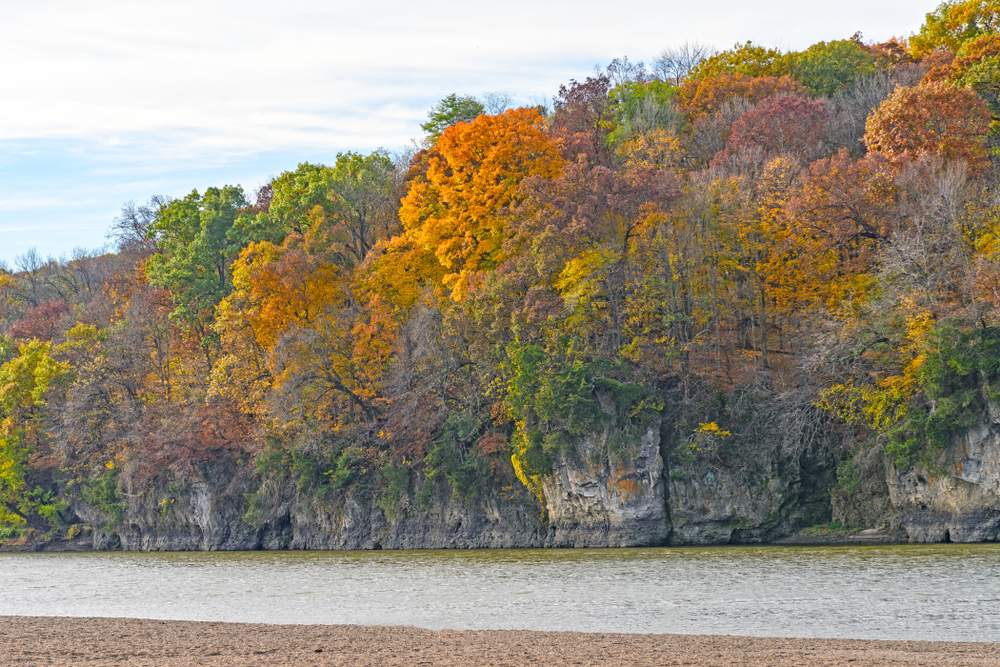 Backbone State Park – Strawberry Point
Backbone State park is one of the most geographically unique locations in Iowa showing fall in Iowa off to its best.
The narrow ridge in the park is one of the highest points in northeast Iowa showing the fall colors in Iowa off to their very best. The Devil's Backbone as it's known gives the park its name.
Whether you are after a challenging hike or a leisurely stroll this park can believer. There are over 12 miles of trails to explore and wherever you go the fall leaves are all around you.
Also worth checking out is the Civilian Conservation Corps (CCC) museum. It provides you with an interesting and informative look at the work of the CCC.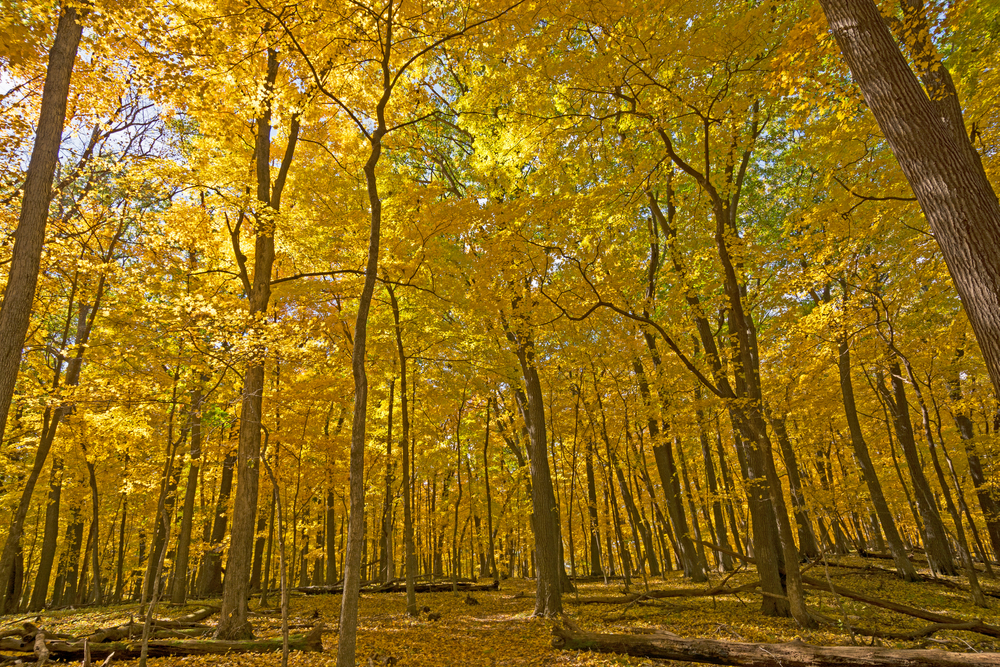 Jester Park – Grange
Jester Park is more of a recreation park than a state park but it shows the colors of autumn at its finest. The park has 1,675 acres of land, located along the west shore of Saylorville Lake.
The park really has something for everyone. You will find picnic tables and shelters scattered around.
As well as boat ramps, a natural playscape, fishing ponds, golf, horseback riding, snowmobile, and some of the best Iowa hiking trails.
There are numerous camping spots available and four modern cabins it's a lovely place to spend a day or take an overnight camping trip.
Autumn time here really is special and Iowa fall is shown off in all her glory. The Stagecoach Trail, a two-mile trail around the lake, is a great place to see fall leaf colors.
As is the Hickory Ridge Trail which takes you through a wooded ravine.
The Iowa fall colors here really are spectacular and wherever you go in the park you will be greeted by fall leaves.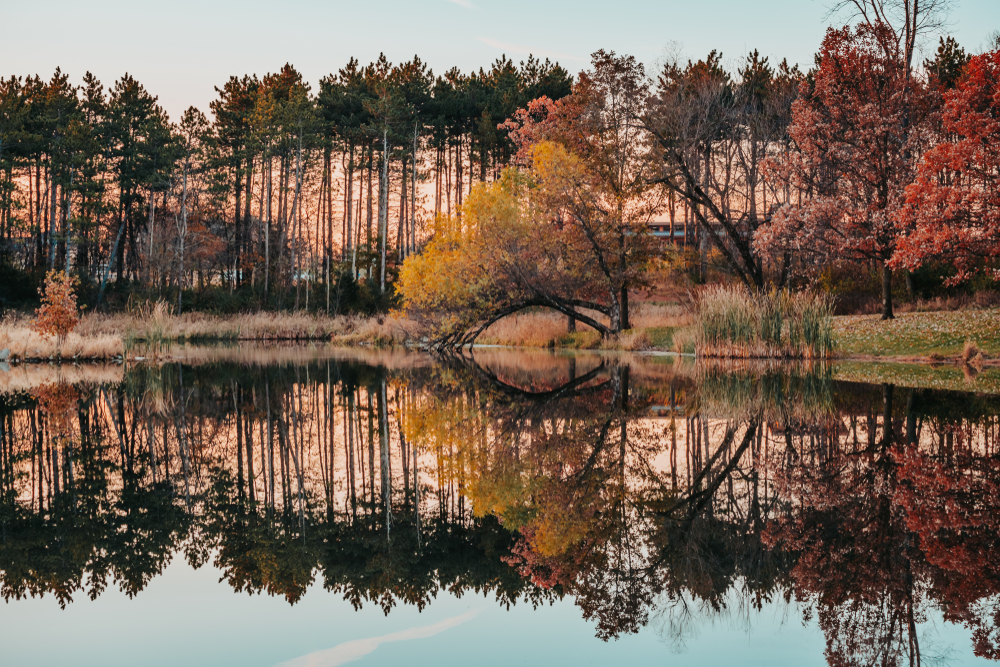 Wildcat Den State Park – Muscatine
Wildcat Den State Park is one of the most photographed Iowa state parks, and one visit here and you will see why.
Located 10 miles northeast of the city of Muscatine plan on spending a lot of time here as there is so much to see.
The fall foliage in Iowa is best viewed here from the winding trails that lead through geological formations and sandstone bluffs.
Steamboat Rock, Devil's Punchbowl, and Fat Man's Squeeze offer spectacular views of the colors of fall, which are beautiful here.
While here make sure you visit Melpine Schoolhouse and the Pine Creek Grist Mill.
The mill is the oldest working grist mill between the Mississippi River and the Rocky Mountains. Tour guides will take you on historic tours so you can really get a flavor of this place.
Autumn time here is simply stunning and not to be missed.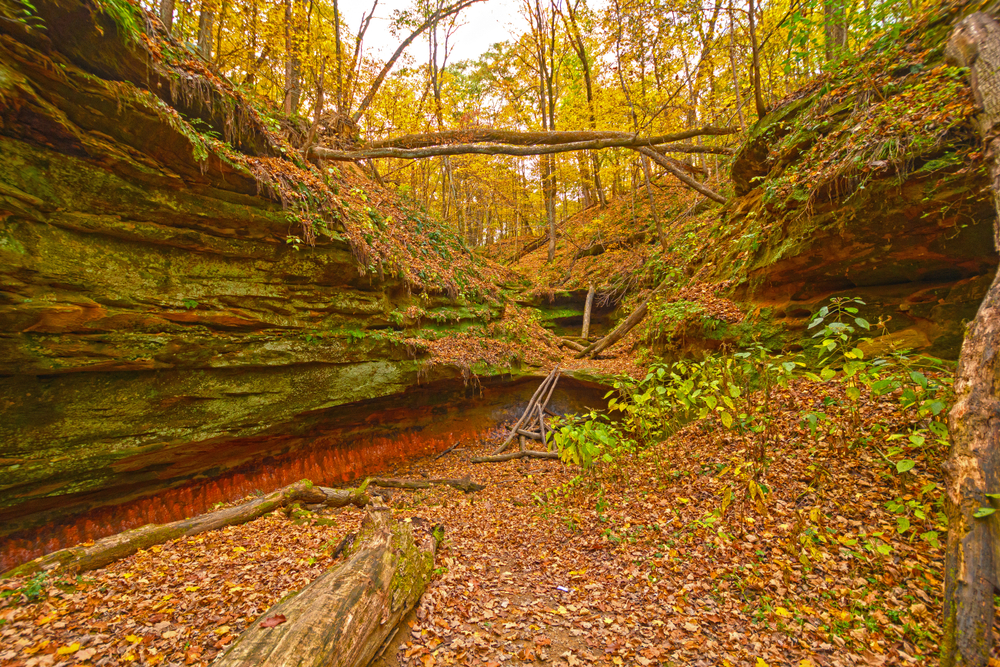 Effigy Mounds National Monument – McGregor
Located along the Iowa side of the Upper Mississippi Great River Road, Effigy Mounds mixes history with some of the best fall colors in Iowa.
There are more than 200 prehistoric mounds built in the first millennium AD preserved here. Some of these mounds are shaped like animals including bears and birds, it really is incredible.
The mixed hardwood forest creates mixed colors of fall leaves which are an awe-inspiring site. The most vibrant colors here seem to appear in the second half of October.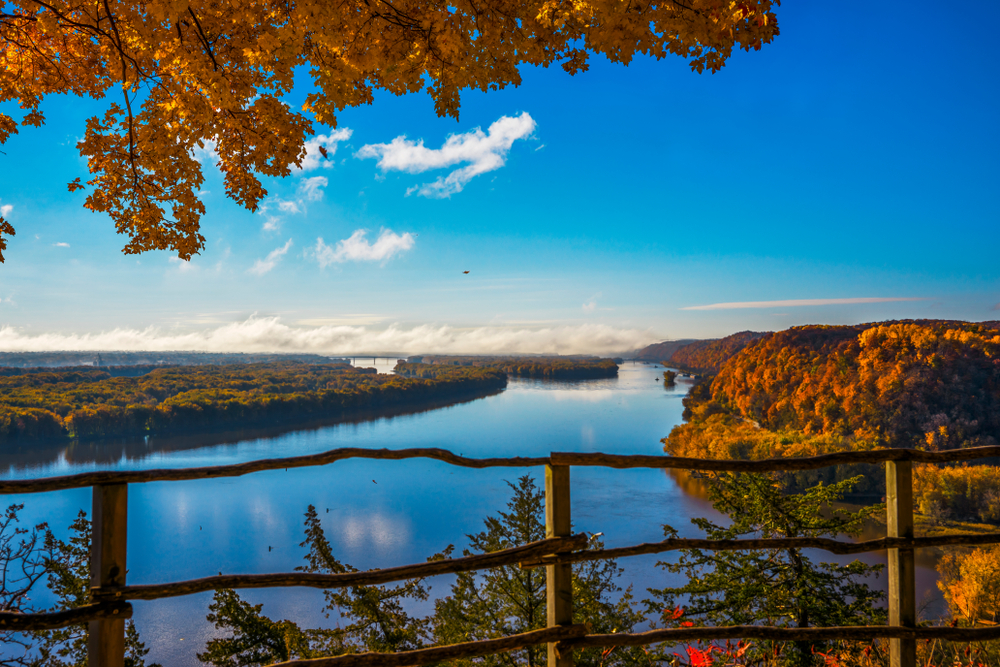 Drive The River Bluffs Scenic Byway
One of the best autumn activities in Iowa is driving the River Bluffs Scenic Byway.
It takes you through northeast Iowa and is a great way to see fall in Iowa. It's a 109-mile loop tour across Fayette and Clayton Counties.
Along the way, you will be treated to windy autumn roads, forested hills, and some bluffs with breathtaking views.
Notable stops include Effigy Mounds National Monument, Dutton's Cave Park, Volga River Recreation Area, and Motor Mill Historic Park of Montauk.
The small towns in Iowa also worth a stop are St. Olaf, Clermont, West Union, Fayette, Volga, and Elkader.
One of the best things to do in the fall is a road trip. This one is short enough to do in a day but interesting enough to spend a few days exploring.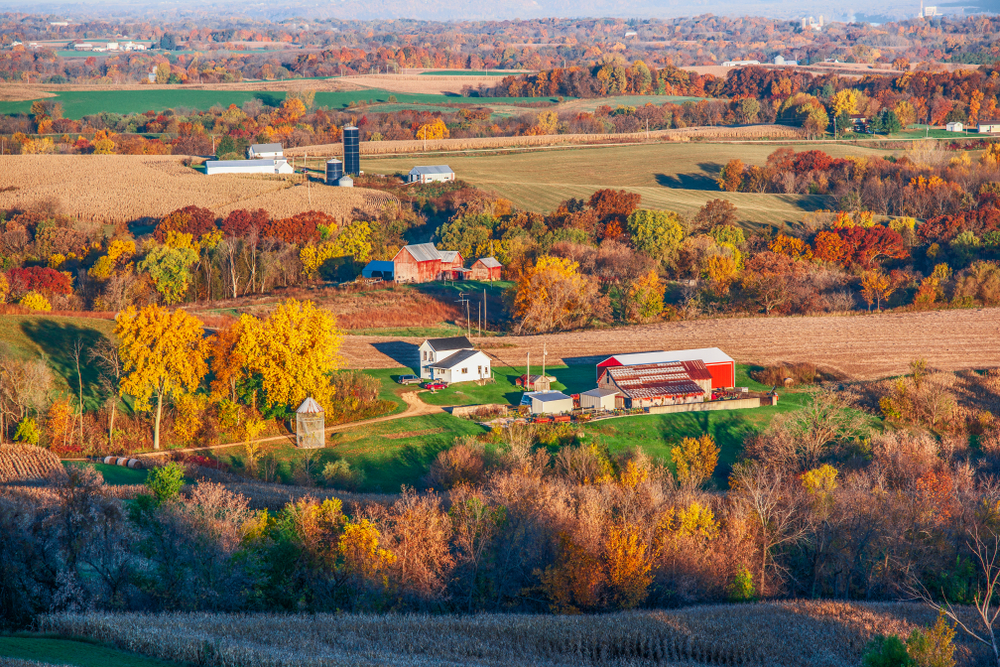 See Fall In Iowa From A Horse
One of the best outdoor activities in fall has to be seeing all the colors from the back of a horse.
In Shimek State Forest near Farmington, you can take a two-and-a-half-hour ride through the autumn foliage on a horse or a mule.
The Jester Park Equestrian Centre just outside of Des Moines offers horse-drawn wagon rides through the beautiful fall scenery.
You will need to call ahead and make reservations but honestly, I can't think of a more incredible way of seeing fall in Iowa.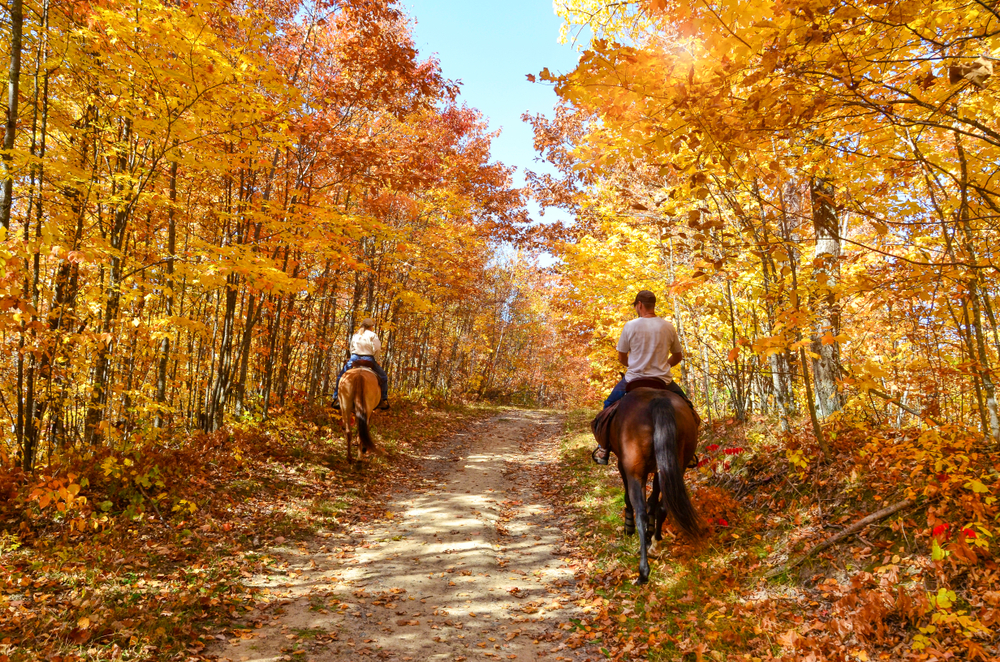 Go Apple Picking To Experience Fall In Iowa
If you are visiting Iowa in the fall with children then they will love a bit of apple picking. It's a fun way to entertain the children while also getting into that autumn spirit.
Deal's Orchard in Jefferson and Wilson Orchard in Iowa city seem to be some of the popular places for this fall activity.
Deal's have 45 acres of apple trees and over 25 varieties of apples. It also has a hayride, family fun zone, and corn maze.
Wilson's has a beautiful orchard and offers other fun activities. They also sell apple turnovers and apple cider slushies which are delicious.
If you are looking for some fun things to do in the fall then I recommend some apple picking.
Read here for more fun things to do in Iowa City!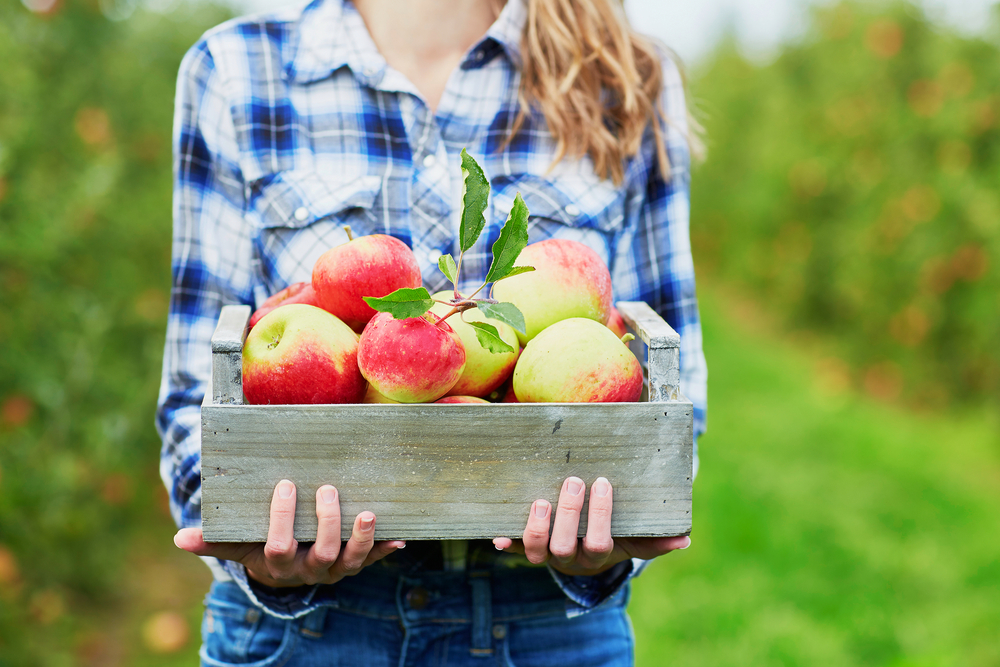 Attend The Walnut Antique Fall Festival
If you looking for a fall activity in Iowa then how about an antique fall festival? With its quaint, turn-of-the-century storefronts and brick streets, Walnut is known as Iowa's "Antique City".
The festival takes place mid to late September and is the perfect place to find that one-of-a-kind item. The shops and restaurants here are also a real treat.
Oh and take a self-guided tour of the murals around the city if you have the time they are fantastic. This is one of the fall events you won't want to miss.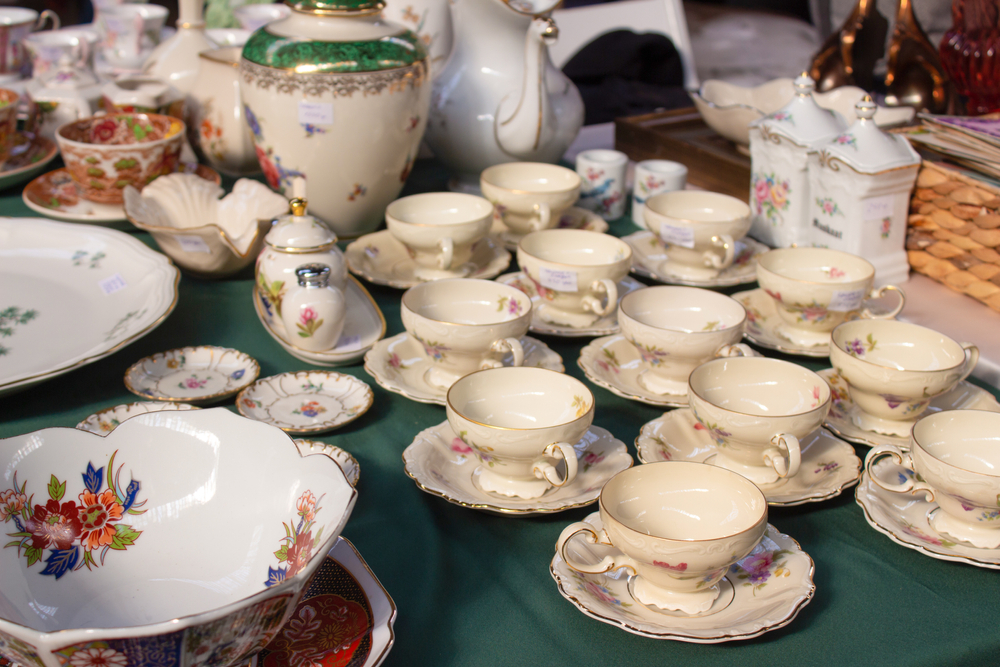 See Fall in Iowa From A Boat – Iowa Falls
Iowa Falls which is known as Iowa's scenic city really does come to life in the fall. The colors here are amazing and what better way to see them than from a boat?
The Scenic City Empress cruises around limestone bluffs, a man-made waterfall, and a historic bridge so you can get that oh, so perfect fall foliage shot. Also, expect to see lots of wildlife too.
This 50-passenger, double-decker pontoon boat offers public cruises on the weekends at 2 pm and really is the perfect fall attraction.
Go Pumpkin Picking
I mean it's fall you have to right? This fall activity in Iowa is a must.
While there are many pumpkin patches in Iowa the one people seem to love the most is Colony Pumpkin Patch in Iowa City.
They open from mid-September until the end of October and offer many fun fall activities.
Zombie paintball is one of the more unusual things on offer here with hayrides and a huge corn maze for those who want something less adventurous.
Pumpkin Picking is absolute the thing to do in the fall and your children will love it.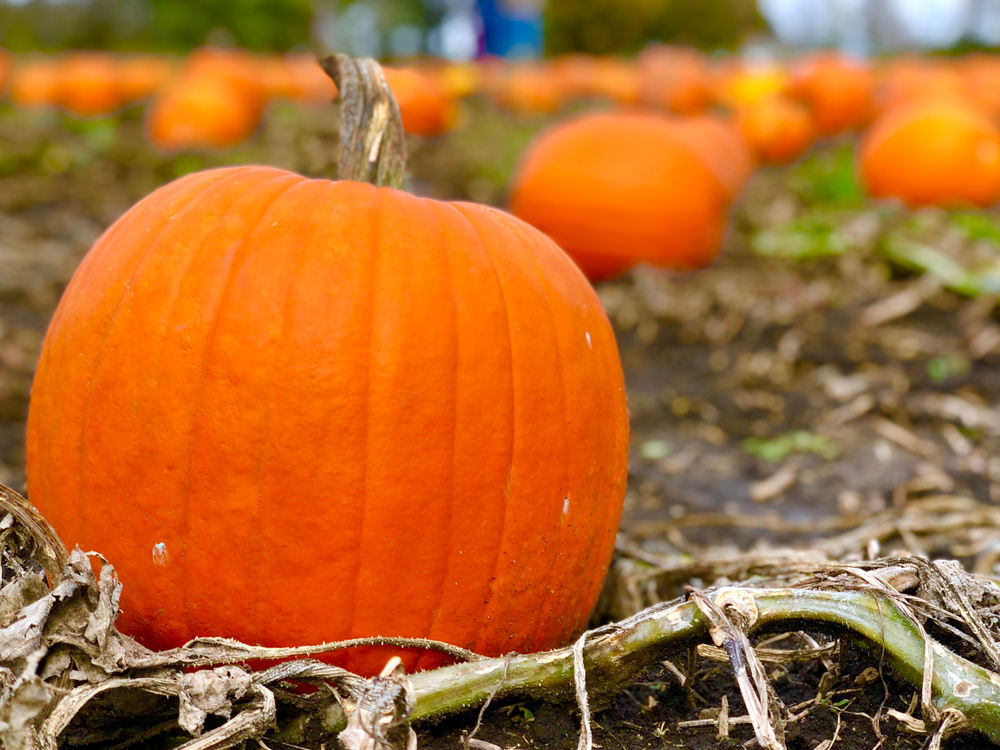 Visit The Scariest Place in Iowa
If you are someone who is looking for a truly scary attraction in Iowa then here it is.
The Villisca Ax Murder House is a must-visit for those that like to feel scared.
This is Halloween season in all its glory. This house is the site of the largest unsolved crime in Iowa and has appeared on Buzzfeed Unsolved.
If you are a scaredy cat go during the day for a tour that runs Tuesday through Sunday. If you love a good scare take an overnight tour.
The tours take you through the house which has been restored to its 1912 status and the backyard cemetery.
Road Trip The Great River Road National Scenic Byway
The Great River Road National Scenic Byway follows the course of the Mississippi River for 3,000 miles from northern Minnesota to the Gulf of Mexico.
328 miles of this route runs through Iowa. The route is perfect for seeing fall in Iowa.
You will get a glimpse of the Mississippi River and the bluffs surrounding it.
You will also drive through the river towns of Lansing, Guttenberg, Balltown, Dubuque, Bellevue, Clinton, Bettendorf, Burlington, Fort Madison, and Keokuk which are all worth a visit.
This is a great thing to do in the fall in Iowa.
Go To Oktoberfest – Amana Colonies
One of the fall events in Iowa that are really fun to attend is Oktoberfest. Here they celebrate the Amana Colonies German heritage and the festival has been running since 1965.
The Amana Colonies are a National Heritage Landmark and consist of seven villages on 26,000 acres located in Iowa County in east-central Iowa.
Here they are all about recreating the German ambiance their ancestors brought to this region and preserving its memory.
Oktoberfest takes place at the beginning of October and this three-day event attracts thousands of visitors to the region. Expect food, music, games, events, parades, and lots of beer.
This fall activity is a must if you are in the area.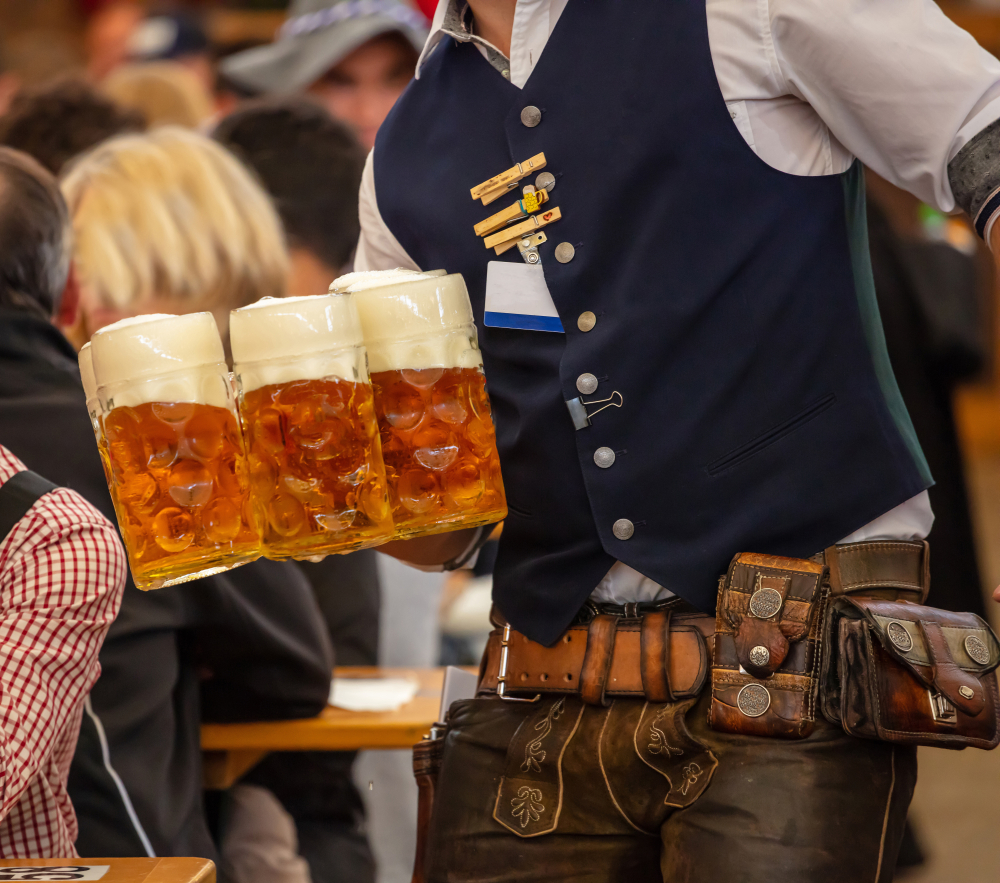 Pikes Peak State Park – McGregor
If fall in Iowa is all about the view then Pikes Peak State Park is the place for you. One of the most photographed spots in Iowa especially in fall, nothing really comes close to these views.
The two main overlooks are a few minutes' walk from the car park. It's a level walk on a concrete path so suitable for all.
The best overlook extends out over a 500-foot bluff and has multiple viewing platforms. The second overlook provides a slightly different perspective.
If you want to take more time here there are 11.5 miles of trails and the hike to Point Ann Overlook is well worth it.
You will be treated to sheer limestone walls, fossil remains, waterfalls, and sweeping views of the Mississippi River.
For some of the best views of Iowa fall, this is the place to come.
This is one of the coolest places to visit in the Midwest.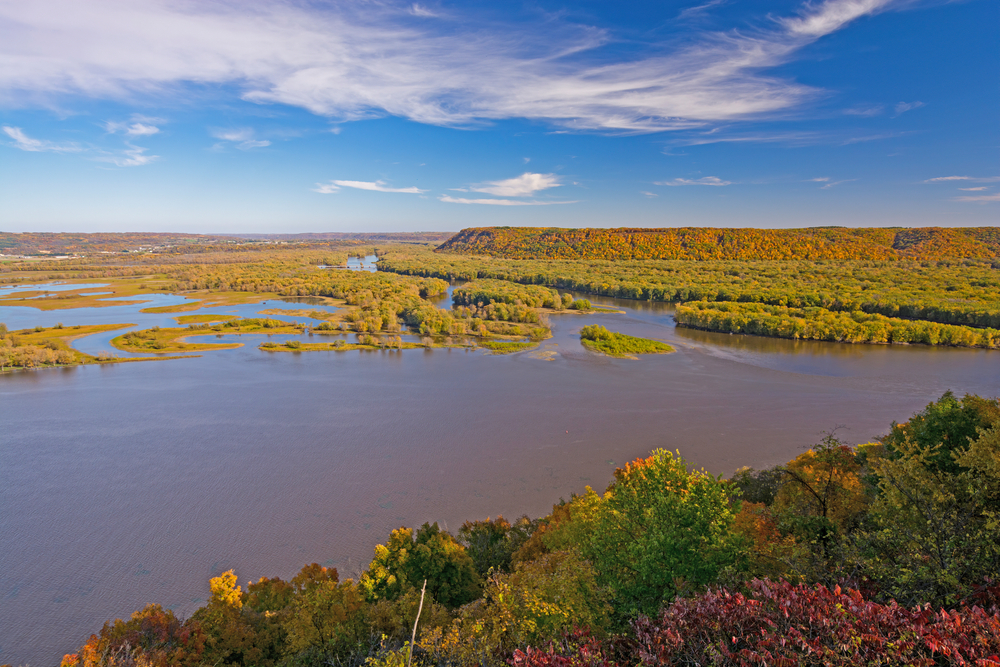 Packing List When Experiencing Fall In Iowa
If you are searching, here are some tips on how to pack lightly when packing to go experience autumn in Iowa.
A concealed travel pouch may be one of the most important items you bring along when searching for places to see Missouri fall foliage.
It is always important to protect your personal information. Identity thieves are everywhere.
This unisex RFID blocking concealed travel pouch is lightweight and comes in several colors. It has lots of organization to give you peace of mind.
If you have a pouch already that does not come with the RFID protection, as I do, these RFID sleeves are the perfect solution.
This configuration comes with enough credit card sleeves that the entire family would be protected. They are slim too, so they will easily fit into your pouch or wallet.
If you are planning on taking a lot of pictures with your phone you will definitely want to consider an external charging battery. This Anker high-speed phone charging battery is the exact one I carry with me on all of my trips.
It can be used on a variety of phones, not just an iPhone like I have. And wow is it fast!
I like that it holds its charging capabilities for several uses so I do not have to worry about it while out and about, and if I forget to recharge it at night, it will still be good to go the next day.
My daughter gifted me with this FugeTek selfie stick and tripod setup for my birthday. I absolutely love it! It is made of lightweight aluminum and is so easy to use.
It has Bluetooth connectivity and is a breeze to use for taking selfies when seeing the beautiful Iowa colors of autumn.
Hydration is so important when traveling. You want to remain hydrated throughout your travels to support your immune system which in turn will be stronger to fight off any germs you will encounter during your travels.
You will want to bring your own refillable water bottle with you.
I never leave home on a trip without my Bobble filtration bottle. The 18.5-ounce size is perfect for hiking and it fits nicely in the pocket of a backpack.
When filled with water, it is not too heavy to carry. And the charcoal filter ensures fresh clean water whenever you fill the Bobble.
Perhaps you are traveling a long distance and packing space is a premium in your suitcase, or in your car.
Then this set of collapsible silicone foldable water bottles would work well for you. Would not take up much space at all.
You will want a backpack or daypack with you to store snacks, your water bottle, phone, extra clothes, etc.. then this foldable water-resistant backpack would be great.
As you can see when it comes to fall in Iowa there is so much to see and do. Whether you are in Iowa to see fall leaves or take part in a fall activity this state won't disappoint.
Whatever you decided to do in Iowa in the fall I hope you have an amazing time. Please come back and tell me all about it and I hope you see the most amazing colors of autumn.