There are so many beautiful trails for hiking in the Midwest no matter what state you are in!
If you are looking for a fun activity that will bring you closer to nature, hiking is for you! This is both a peaceful and invigorating activity perfect for the whole family.
With so many amazing national and state parks and wonderful places to visit in the Midwest, you do not have to look far to find an epic hiking trail for your next weekend adventure.
Lace-up your boots and get ready to explore these great hiking trails in the Midwest!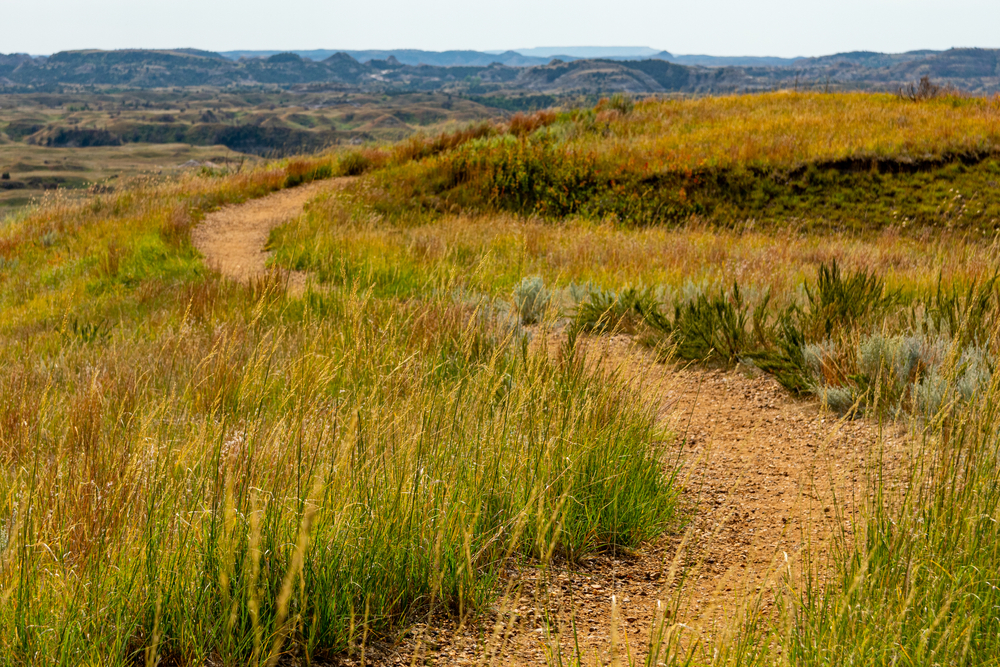 15 Scenic Trails for Hiking in the Midwest
French Canyon Trail, Illinois
Starved Rock State Park is a gorgeous nature area along the Illinois River. There are many pretty hiking trails here, including the French Canyon Trail, one of the best U.S. hikes.
The trail starts at the visitor's center and goes for just under a half mile before reaching the Illinois waterfall in French Canyon. With high canyon walls on either side, this is a beautiful location.
Try to come after a rainfall to see the waterfall flowing at its best. The last part of the hike is a little more difficult depending on how much after is in the stream. It can be slippery, so be careful.
This is one of the shortest and easiest hikes in the park, but since the trail connects to many of the other trails, you can continue to hike throughout the park and see more waterfalls, canyons, and overlooks. This is some of the best hiking in Illinois.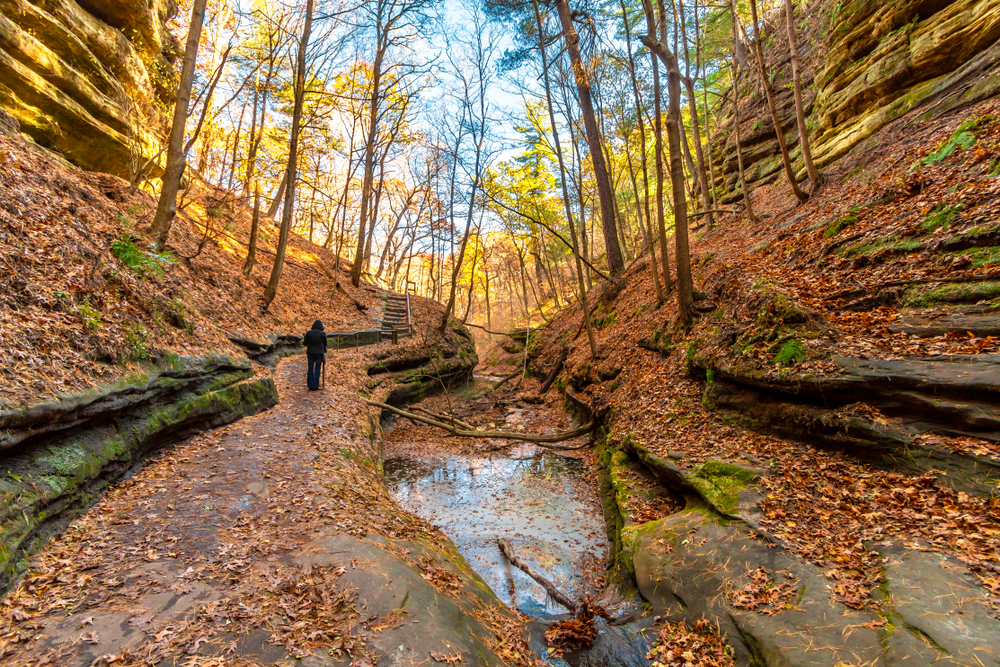 Knobstone Hiking Trail, Indiana
One of the best places to visit in Indiana is the Knobstone Hiking Trail. It is the longest Indiana hiking trail stretching for 48 miles between Dream Lake and Delaney Park.
If you are looking for an epic backpacking trail comparable to the Appalachian Trail, this is the one for you!
There are many primitive campsites along the trail where you can rest each night. Of course, you do not have to hike the trail in its entirety! You can do any of the shorter segments alone.
The trail passes through many state parks and is a beautiful area to get immersed in nature.
It is a difficult-rated hike with many hills and rugged areas. However, it is worth the effort for the amazing views.
This is truly some of the best backpacking in the Midwest. Many people train here for longer trails.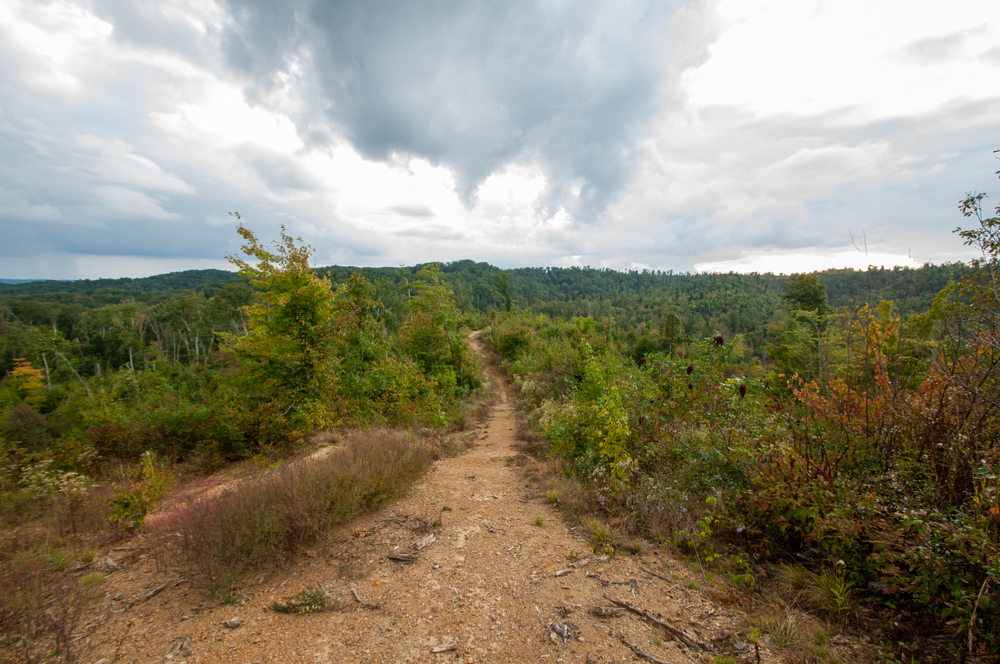 High Trestle Trail, Iowa
Hiking the High Trestle Trail is one of the best things to do in Iowa. This 25-mile trail connects five towns and traverses the countryside.
While the trail is long, it is rated easy since it is very flat. The path is well-maintained, paved, and very accessible for wheelchairs and strollers. All skill levels can enjoy this Midwest hiking trail.
One of the best portions of the trail is where it crosses over the Des Moines River.
The High Trestle Trail Bridge is one of the world's largest trail bridges. It is a half-mile long and 13-stories high.
The bridge is very photogenic with metal, and geometric shapes looping over the top. At night, it is lit with blue lights, adding some magic to this Iowa icon.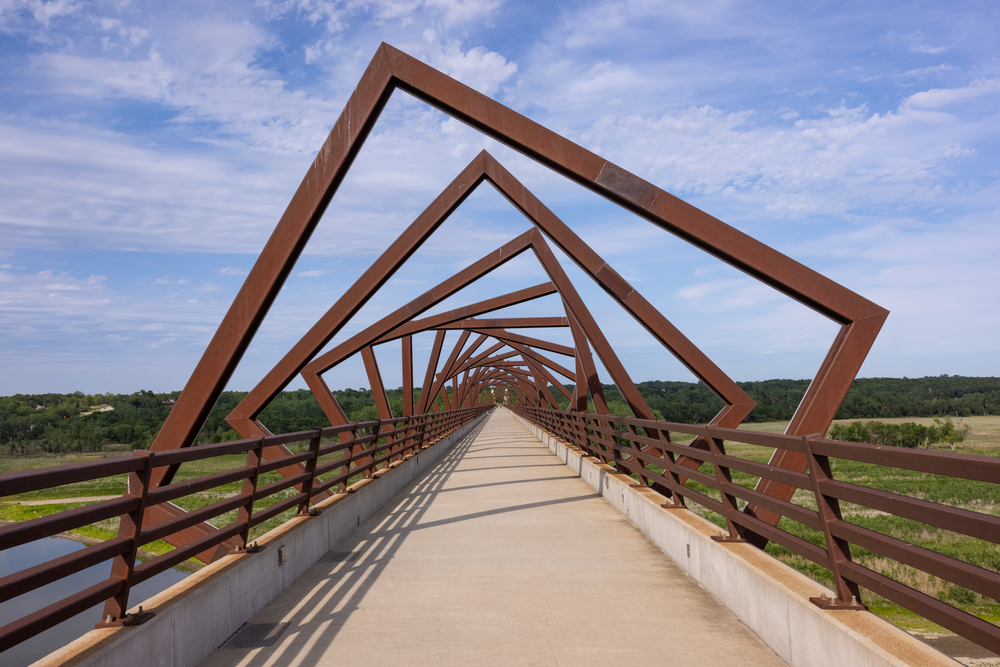 Maquoketa Caves Loop, Iowa
Another of the best hiking trails in Iowa is the Maquoketa Caves Loop in the Maquoketa Caves State Park. If you love exploring amazing geological features, you will love this trail.
This trail is 1.7 miles and takes you through a large portion of the park. The easy-rates trail is well-maintained with stairs, wooden overlooks, and rails.
The best part of the park is the many caves. This park holds the largest collection of caves in Iowa, and they are so fun to explore. The larger caves have stairs and lights.
Bring a flashlight or headlamp to better enjoy the smaller, darker caves. Keep in mind that some of the caves are closed in winter.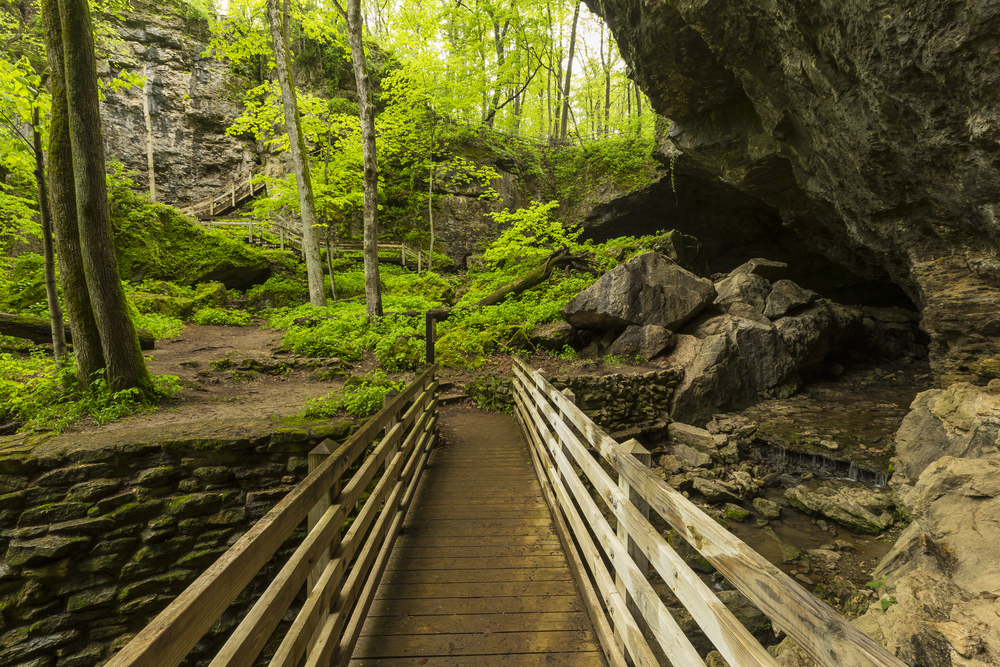 Castle Rock Badlands Trail, Kansas
The Castle Rock Badlands in western Kansas is not a landscape you might expect to find in this otherwise flat Midwest state.
They are similar to Badlands National Park in South Dakota but on a much smaller scale.
Castle Rock itself stands out at close to 70-feet high in the grassy plains. Nearby, more crevices and hoodoos form the amazing badlands.
The rocks should not be climbed because they are so fragile, but you can hike among them.
The Castle Rock Badlands Trail is an easy 1.5-mile loop.
It is a great area for photography and birdwatching as you enjoy some of the best hiking in Kansas.
The road to the Castle Rock Badlands is off Highway I-70, near one of the coolest towns in Kansas, Quinter.
The road is unpaved and is recommended for 4×4 vehicles.
If you are able to get there, you will enjoy some of the best hiking in the Midwest.
There are many things to do in Overland Park KS, so make sure to check out the Midwest hiking trails there as well.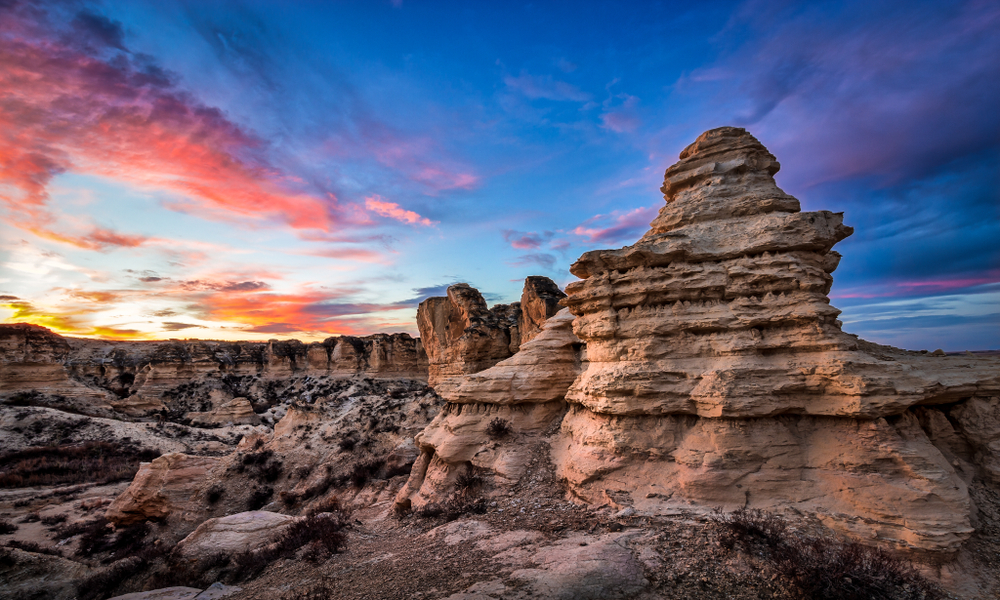 Empire Bluff Trail, Michigan, Offers The Best Hiking In The Midwest
One of the best trails for hiking in Michigan is the Empire Bluff Trail in the Sleeping Bear Dunes National Lakeshore.
It offers some of the best hiking in the U.S. because of the amazing views of Lake Michigan.
Rated moderate, the hike is 1.5 miles out and back. You will get a workout as you climb to the top of a coastal bluff. The observation deck has gorgeous, panoramic views and is worth the trek.
This is a super popular place to watch the sunset, so try to time your hike right to watch the colors reflect in the lake. Make sure to bring a flashlight for the journey down in the dark.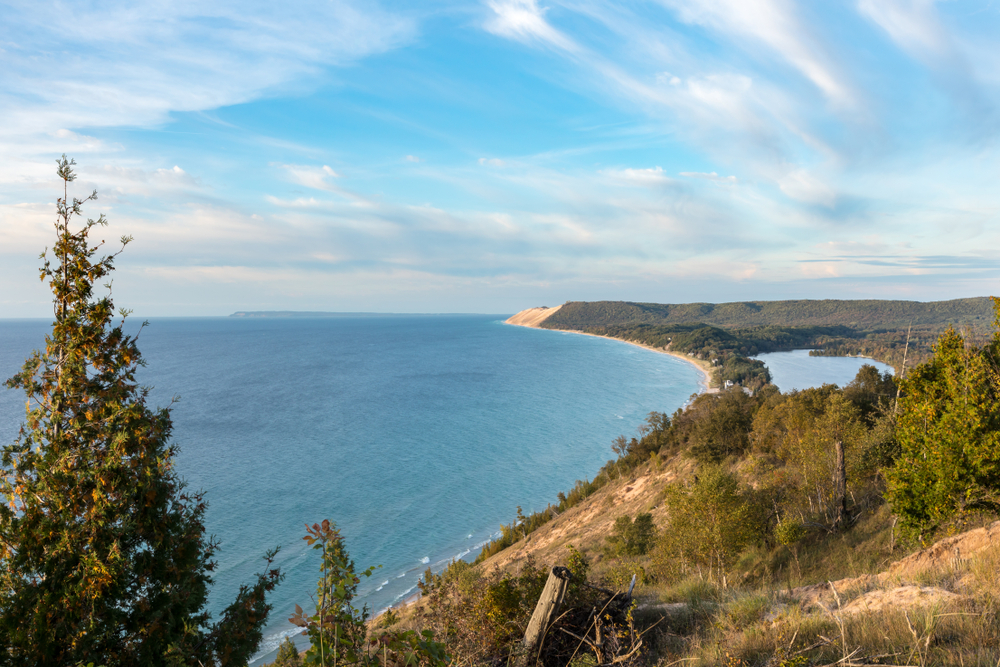 Superior Hiking Trail, Minnesota
The Superior Hiking Trail is one of the longest and best hiking trails in Minnesota. This 310-mile trail follows the north shore of Lake Superior from Duluth to the Canadian border.
You can backpack as much or as little of the trail as you want since there are many different sections of varying length.
There are also plenty of opportunities for camping in Minnesota where you can pitch a tent at night in the backcountry!.
The trail goes through many pretty state parks and along the Sawtooth Mountains. You will see rivers, Minnesota waterfalls, forests, and lakes.
It also passes through many of Minnesota's small towns so you can pick up supplies as needed.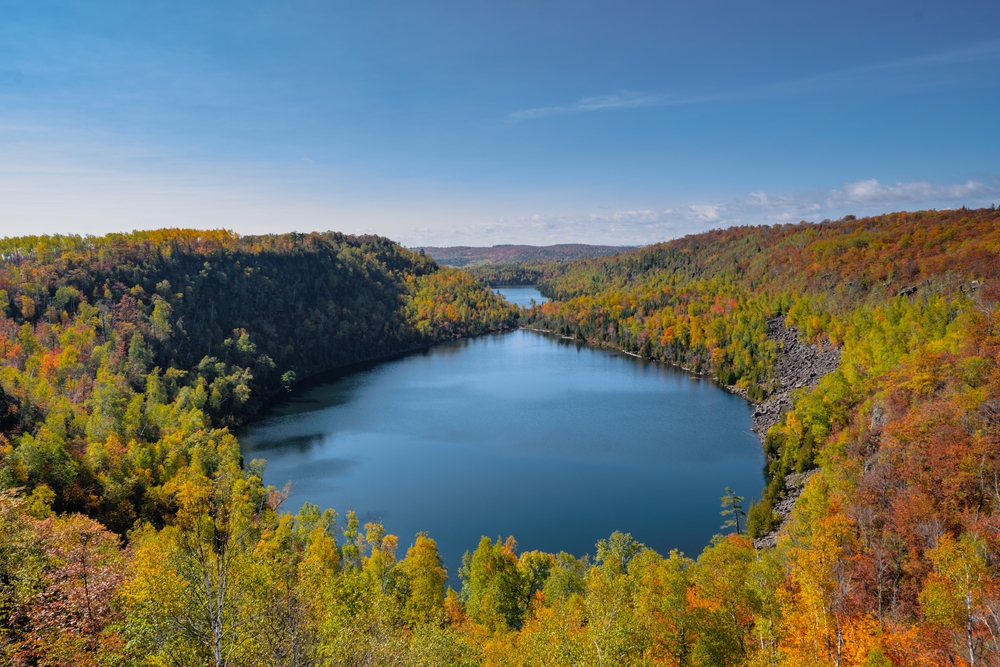 Mina Sauk Falls Trail, Missouri Has Some Of The Best Hiking In The Midwest
If you want to find the tallest waterfall in Missouri, hike the Mina Sauk Falls Trail in the Taum Sauk Mountain State Park. This mountain is also the highest point in Missouri at 1,772 feet.
This beautiful, waterfall hike is a 2.9-mile loop. Mina Sauk Falls is found about halfway, so if you do not have time to hike the complete trail, you can still see the waterfall, which is 132-feet tall.
This is a moderate hike with some rugged and rocky areas. Beware of tree roots as well as wet areas and water crossings after rain. This is one of the best places for hiking in Missouri's Ozark Mountains.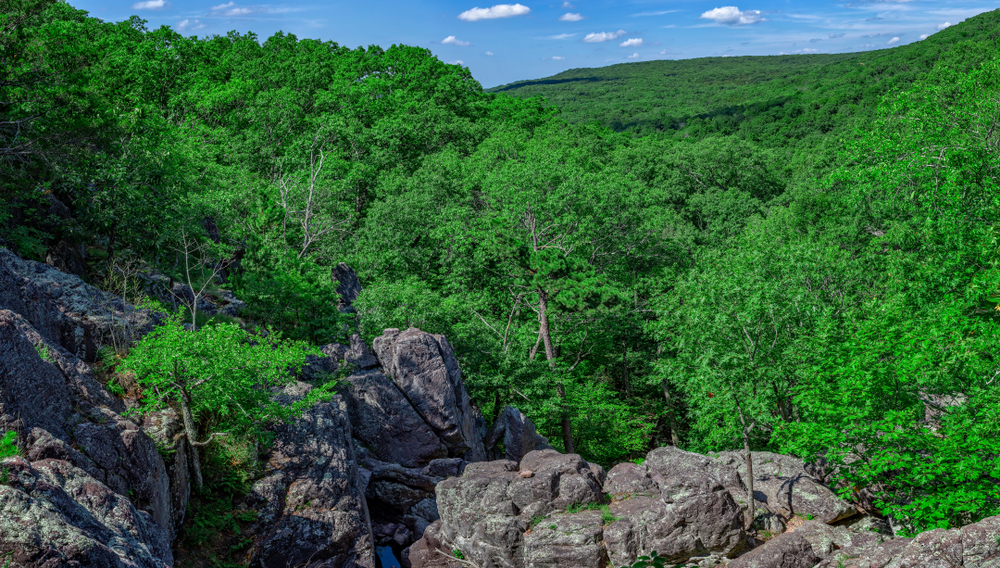 Oregon Trail Pathway, Nebraska
Hiking is one of the best things to do in Nebraska. And Scotts Bluff National Monument boasts one of the easiest trails in the park perfect for all skill levels, check out the Oregon Trail Pathway.
This 1-mile, roundtrip pathway is part of the larger Oregon Trail that settlers used to move west in the 1800s.
As you hike, you will get great views of the towering Scotts Bluff as well as covered wagons like the ones settlers used.
This trail is mostly paved with a gravel section, making it accessible and easy to follow. There are five other trails at the monument with more views. They are all easy to moderate with paved paths.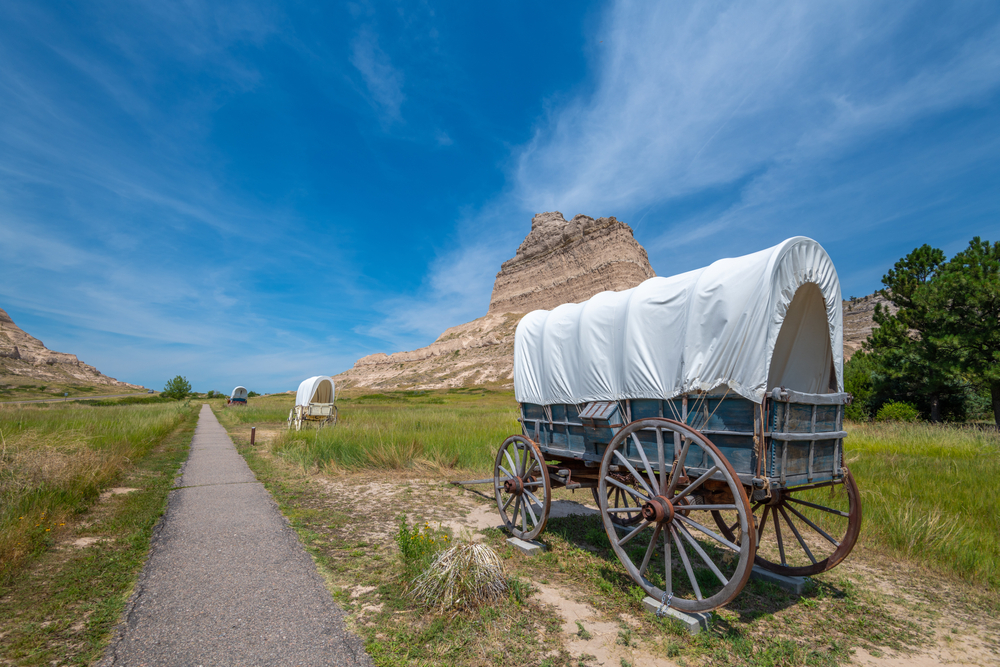 Petrified Forest Trail, North Dakota
Head to the Theodore Roosevelt National Park for one of the best hikes in North Dakota. The Petrified Forest Trail is a gorgeous trail full of petrified wood and jaw-dropping views.
The trail is a loop of just over 10 miles and connects to other trails in the park. With some steep and rocky areas, this hike is rated moderate.
You will reach the petrified forest after the first 1.5 miles of the hike. Make sure not to disturb the wood and leave it for future visitors.
This is also a good trail to spot wildlife. Keep a lookout for bison, pronghorn, and prairie dogs as you enjoy hiking in the Midwest.
This hike can get very hot, especially since there is not much shade. Remember to bring plenty of water and sun protection.
There are plenty of locations offering camping in North Dakota as well!
Do not miss out on visiting some of the state parks in North Dakota also.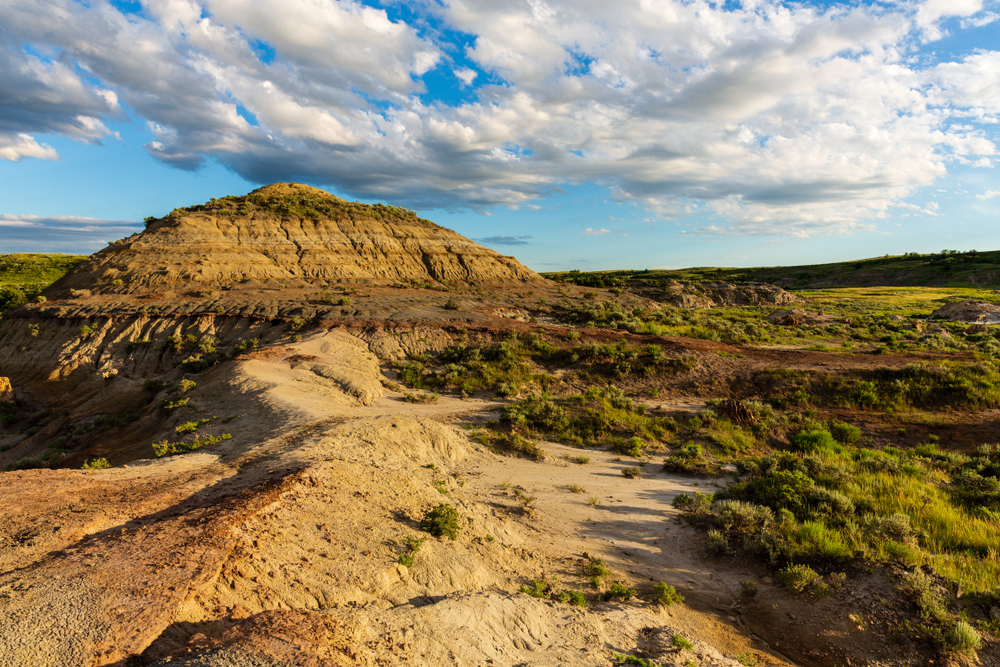 Rock House Hiking Trail, Ohio
The Rock House Hiking Trail in Hocking Hills State Park in Ohio is another of the best hiking trails in the Midwest for people who love cool caves.
The Rock House cave is an amazing example of the power of nature.
The main corridor of the cave is 200 feet long and 20 to 30 feet wide with a ceiling that goes up to 25 feet. Along with awesome geological features, the Rock House has an interesting history.
It was used by Native Americans as a place to cook and collect water. It is also known as the Robbers Roost because of a history of it being used as a hideaway by robbers, murderers, and bootleggers.
The Rock House Hiking Trail is a 0.8-mile loop that is rated moderate. There are plenty of trees for shade in the hotter months.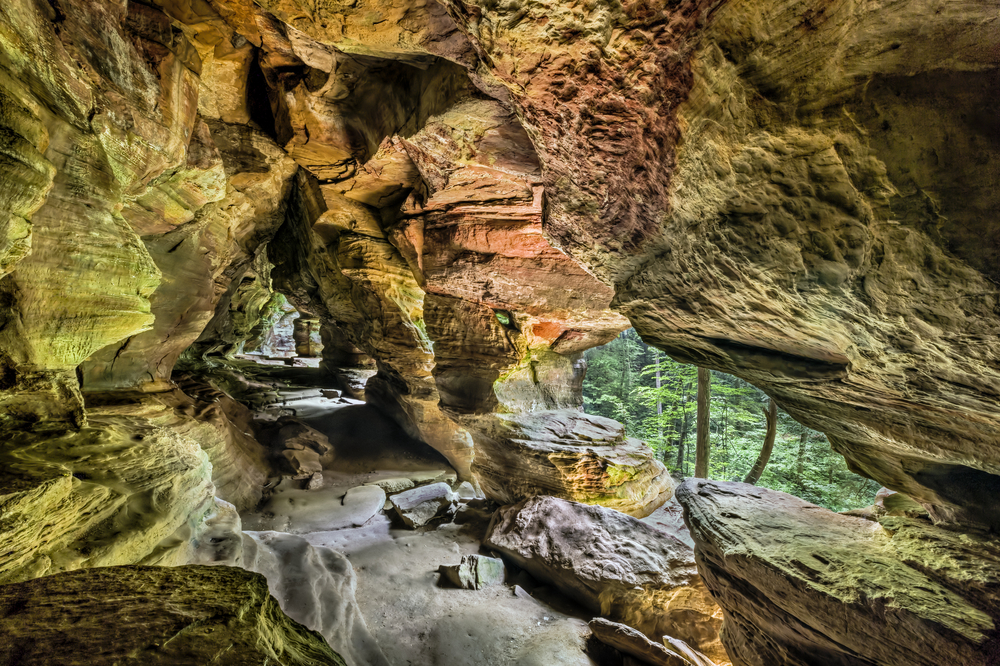 Ledges Trail, Ohio
Another of the best hikes in Ohio is the Ledges Trail in Cuyahoga Valley National Park. This pretty Midwest trail loops through a forest among cool rock formations.
The 2.3-mile trail is rated easy to moderate and connects to other trails. It is rocky and can get icy in winter. Be careful where you step to avoid loose rocks.
The Ritchie Ledges are the main draw of the trail. These cliffs were formed millions of years ago.
You can also take a range-led hike in the summer to learn more about the history and environment here.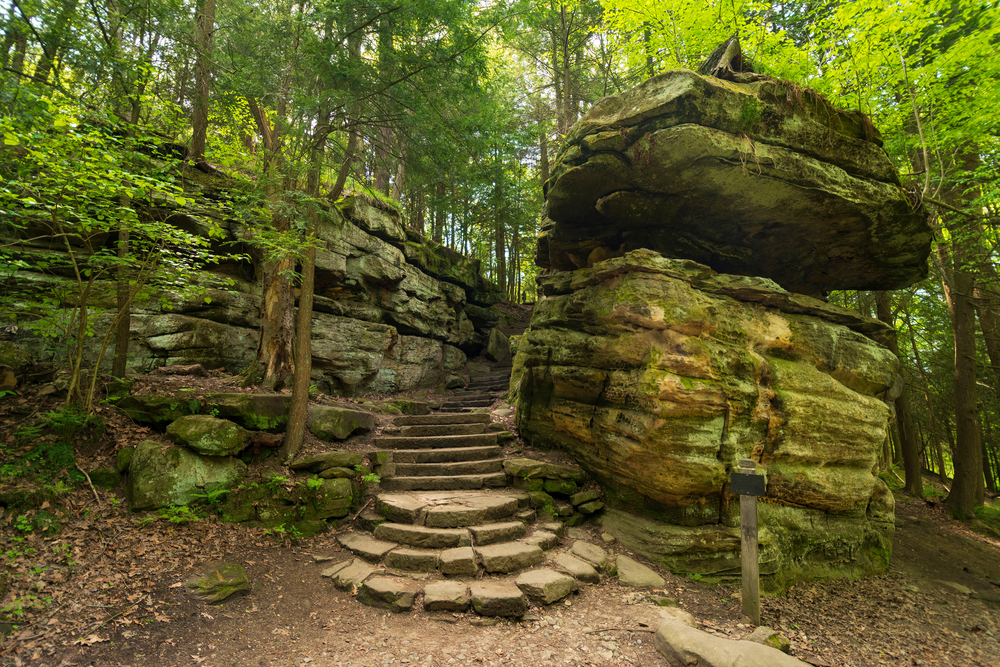 Notch Trail, South Dakota
Badlands National Park is a great place for hiking in South Dakota. The Notch Trail is one of the best hikes in the park because of the great views.
This is a moderate, out-and-back trail with a length of 1.5 miles round trip. You will hike through a canyon before climbing a ladder up a cliff.
Once at the top, you will have great views of the White River Valley.
Like any hike, it is important to wear appropriate shoes, especially here because of the ladder.
If you visit during a busy time, expect to wait your turn to climb the ladder since only one person can go up or down at a time.
Keep an eye out for snakes and bighorn sheep. After the rain, the trail can be dangerous to maneuver. Keep the weather in mind as you plan your hiking in South Dakota adventure.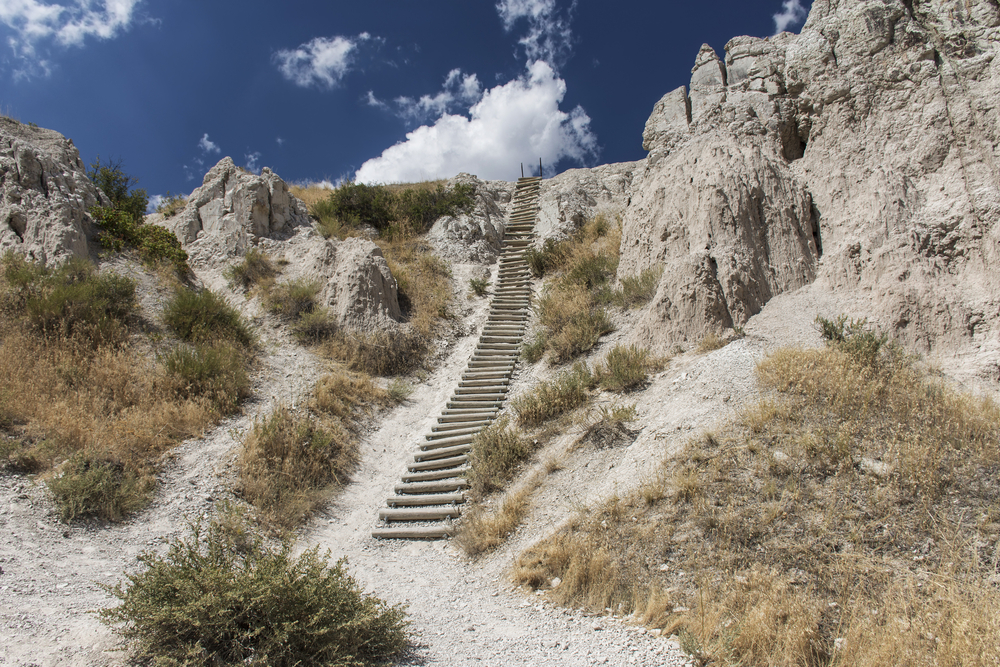 Witches Gulch Trail, Wisconsin
Another great geological trail for hiking in the Midwest is the Witches Gulch Trail in Wisconsin Dells. The only way to get down into the gulch is through a boat tour with Upper Dells Tours.
After a beautiful boat ride, you will be dropped off at the trailhead where you can begin the 2-mile round trip hike along a boardwalk.
Admire the slot canyon as you hike between the mossy, narrow walls. It is an easy hike that will make you feel as if you are in another world. This is definitely one of the best hikes in Wisconsin.
The boat ride on the Wisconsin River will also show off other rock formations, including Chimney Rock, Blackhawk's Profile, Stand Rock, and Romance Cliff.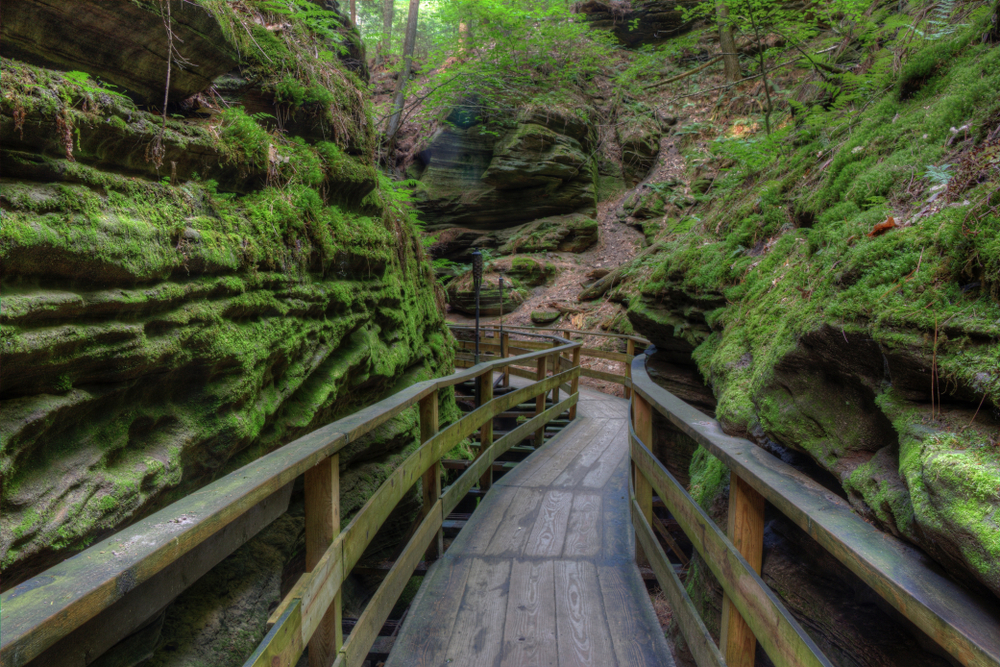 North Country National Scenic Trail Is Some Of The Best Hiking In The Midwest
We will end our list of Midwest hiking trails with one that passes through many states.
The 4,600-mile North Country National Scenic Trail is the longest national scenic trail in the U.S. and is maintained by the National Park Service.
The NCT connects eight states, five of which are in the Midwest. Ohio, Michigan, Wisconsin, Minnesota, and North Dakota all have a portion of this epic, backpacking trail.
Whether you hike the whole thing or just a section, you will find amazing views and natural wonders. You will see forests, wildlife refuges, lakes, rivers, mountains, and so much more.
If you are looking for an amazing, life-changing hike to add to your bucket list, this is it! The NCT is one of the best hiking trails in the U.S.
Packing List When Hiking In The Midwest
If you are searching, here are some tips on how to pack lightly when packing for hiking in the Midwest.
A concealed travel pouch may be one of the most important items you bring along when on a Midwest hiking vacation. It is always important to protect your personal information. Identity thieves are everywhere.
This unisex RFID blocking concealed travel pouch is lightweight and comes in several colors. It has lots of organization to give you peace of mind. You can place it under your hiking clothes next to your body to carry your ID safely.
If you have a pouch already that does not come with the RFID protection, as I do, these RFID sleeves are the perfect solution.
If you are planning on taking a lot of pictures with your phone you will definitely want to consider an external charging battery. This Anker high-speed phone charging battery is the exact one I carry with me on all of my trips.
I like that it holds its charging capabilities for several uses so I do not have to worry about it while out and about, and if I forget to recharge it at night, it will still be good to go the next day.
My daughter gifted me with this FugeTek selfie stick and tripod setup for my birthday. I absolutely love it! It is made of lightweight aluminum and is so easy to use.
It has Bluetooth connectivity and is a breeze to use for taking Insta-worthy selfies while exploring hiking in the Midwest.
I never much believed in using packing cubes when traveling. That is until I tried them. Now I am hooked. These are the exact cubes I use to stay organized when I pack for a trip!
You will want to bring your own refillable water bottle with you.
I never leave home on a trip without my Bobble filtration bottle. The 18.5-ounce size is perfect for your adventures and it fits nicely in the pocket of a backpack.
Perhaps you are traveling a long distance and packing space is a premium in your suitcase, or in your car. Then this set of collapsible silicone foldable water bottles would work well for you. Would not take up much space at all.
You will want a backpack or daypack with you to store snacks, your water bottle, phone, extra clothes, etc.. during long hours of hiking in the USA. No matter the time of day or evening.
This foldable water-resistant backpack would be great. And it comes in many different colors.
—
These were some of the best places to hike in the Midwest, but there are so many trails not mentioned here. No matter which state you are in, there are a ton of beautiful and unique hiking trails perfect for some outdoor exercise.