There are so many beautiful trails for hiking in Michigan where you can get exercise while discovering the state's natural wonders.
There are many things to do in Michigan and hiking tops the list for many people.
Michigan is actually known as the Trails State so you know there are a lot of really good hiking trails that loop through a variety of environments.
From forests to beaches to mountains, there are so many scenic places for hiking in Michigan.
You will find waterfalls, historic buildings, and old bridges during your hikes. Each trail varies in its remoteness with some just outside of Detroit and others in the wilds of the Upper Peninsula.
Some of these trails stay local and are short, easy jaunts. On the other hand, some are thousands of miles, stretching over Michigan and even beyond. No matter what your skill level, there are hiking trails in Michigan for you to fall in love with!
Hiking in Michigan is a great outdoor activity all year round, but come in autumn to experience fall in Michigan to experience gorgeous foliage! No matter when you come, do not forget to bring plenty of water and some protein-rich snacks to keep you going.
Now, let's look at some of the best hikes in Michigan!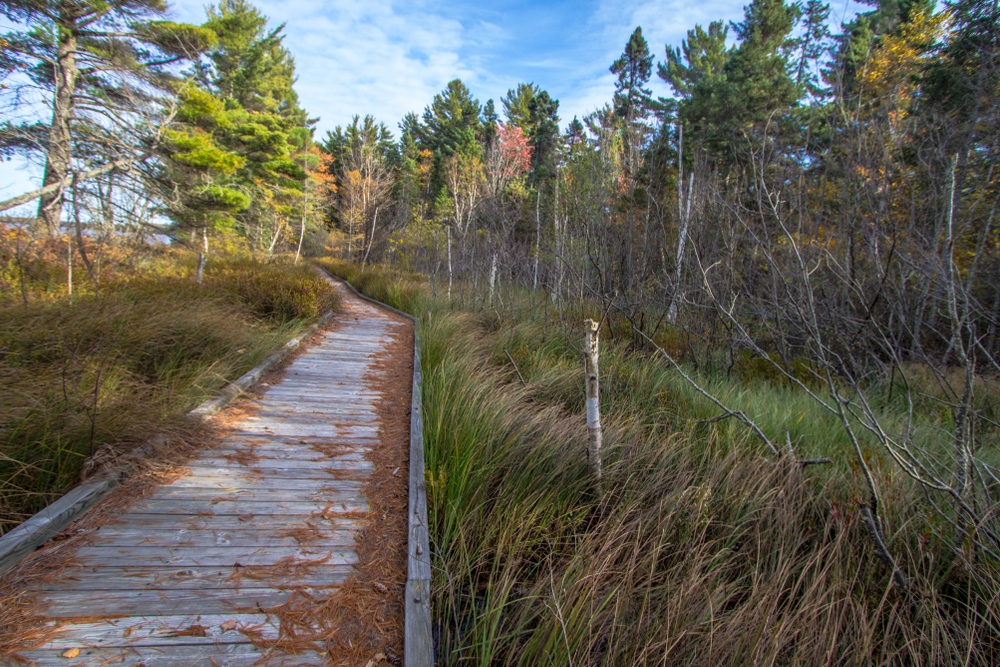 15 Scenic Trails for Hiking in Michigan For You to Explore
North Country National Scenic Trail
The North Country National Scenic Trail is the longest hiking trail in the United States and is maintained by the National Parks Service. This epic, 4,600-mile trail begins in central Vermont and ends in central North Dakota, connecting eight states.
About a quarter of this trail, or 1,150 miles, is found in Michigan. It zigzags up from the Ohio border and along the western side of the mitten before jumping to the northern UP, then off into Wisconsin.
No matter which portion of this trail you hike, you will find pretty nature scenery, rural farmland, and small towns. The trail crosses through many state parks and national forests.
The trail also crosses the Mackinac Bridge to reach the UP, and while the bridge is usually only open to vehicles, traffic is paused each Labor Day for the annual Mackinac Bridge Walk, which is five miles long.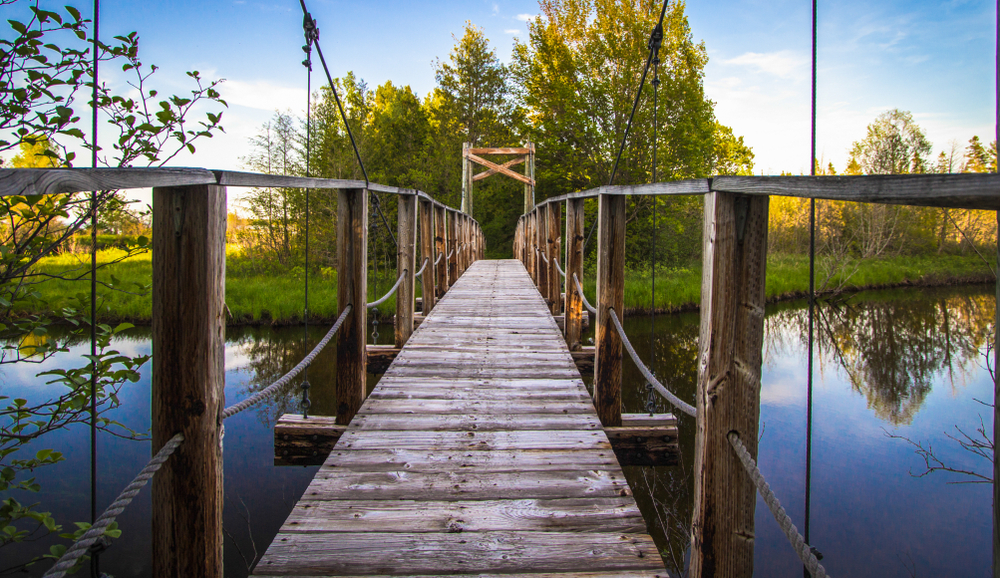 Iron Belle Trail
The Iron Belle Trail is another long hiking route in Michigan. This one starts in Ironwood on the western tip of the UP and ends in Belle Isle State Park in Detroit for a total of 1,250 miles if you walk. There is a bike route as well which is 770 miles.
The hiking trail is more rural and uses a portion of the North Country National Scenic Trail. The bike trail is paved. Each varies in difficulty depending on which section you are in.
If you take on this trail from beginning to end, you are sure to gain a new appreciation for Michigan. But, of course, you do not need to hike the entirety to enjoy this trail. You can begin at any of the marked starting points in each county it passes through.
This Michigan hiking trail is still in development and once it is complete, it will be the longest state-designated trail in the country. Are you starting to see why Michigan is called the Trails State?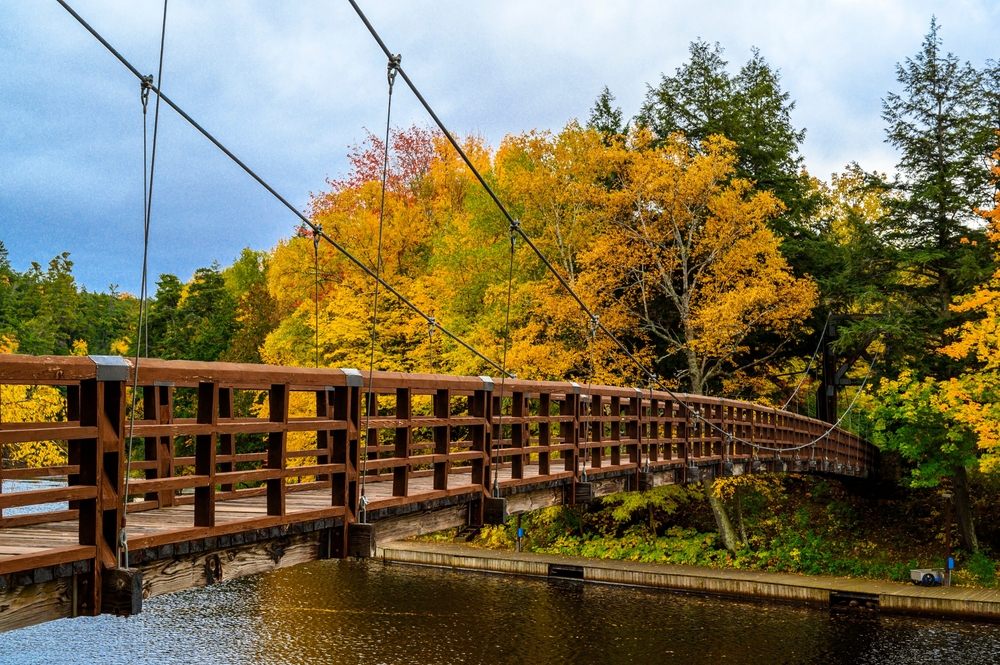 Stoll Trail
If you visit Isle Royale National Park, you will find many amazing hiking trails to explore one of the best islands in Michigan. There are about 165 miles of trails with different degrees of difficulty and length.
Stoll Trail is an easy to moderate trail that ends at Scoville Point. This rocky outcropping offers amazing views of Lake Superior. You will start the hike at the Rock Harbor Lodge.
The loop trail is about 4.5 miles and is popular among hikers for its ease and scenery. This lakeside trail is also a great place to spot wildlife. Bald eagles and moose are some cool wild animals you might catch a glimpse of here.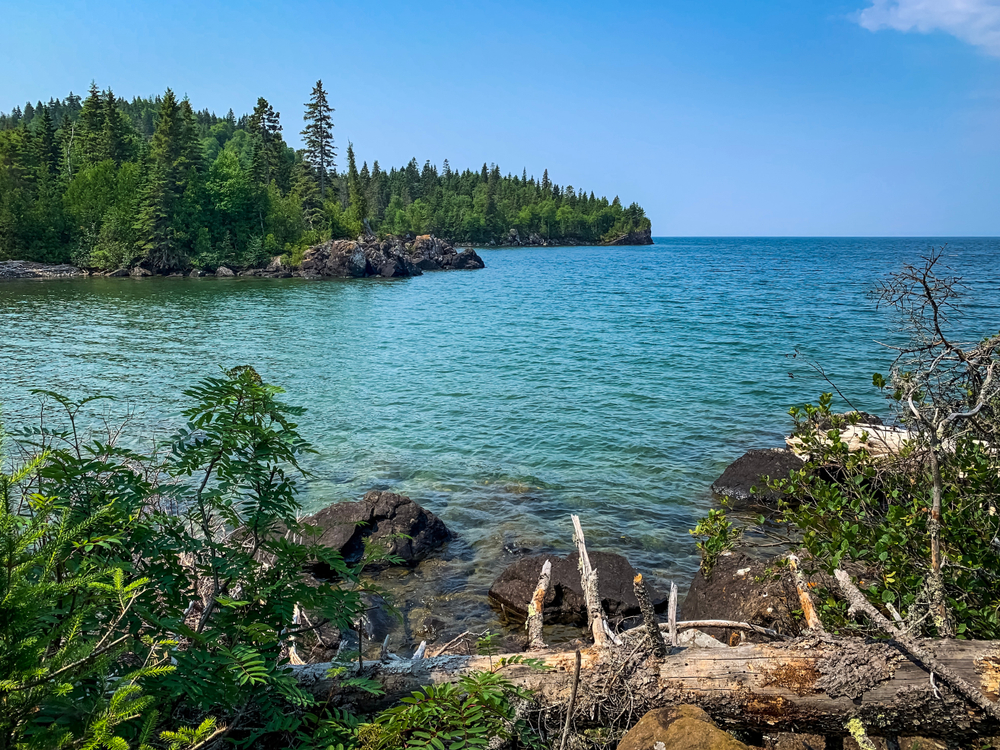 Big Carp River Trail
In the Porcupine Mountains Wilderness State Park, you will find the 9.6-mile Big Carp River Trail. You will start the hike at the Lake of the Clouds overlook before winding down through the mountains and ending at the shores of Lake Superior.
This is a beautiful trail that features views of the Big Carp River, pine forests, waterfalls, and gorges. You might also see eagles, black bears, and other wildlife.
Since this trail is rated difficult, many people choose to do the hike as a backpacking trip and stay the night in one of the backcountry campsites along the trail. The eight campsites are first-come, first-served, and cost $15 a night. There are also a few rustic cabins available.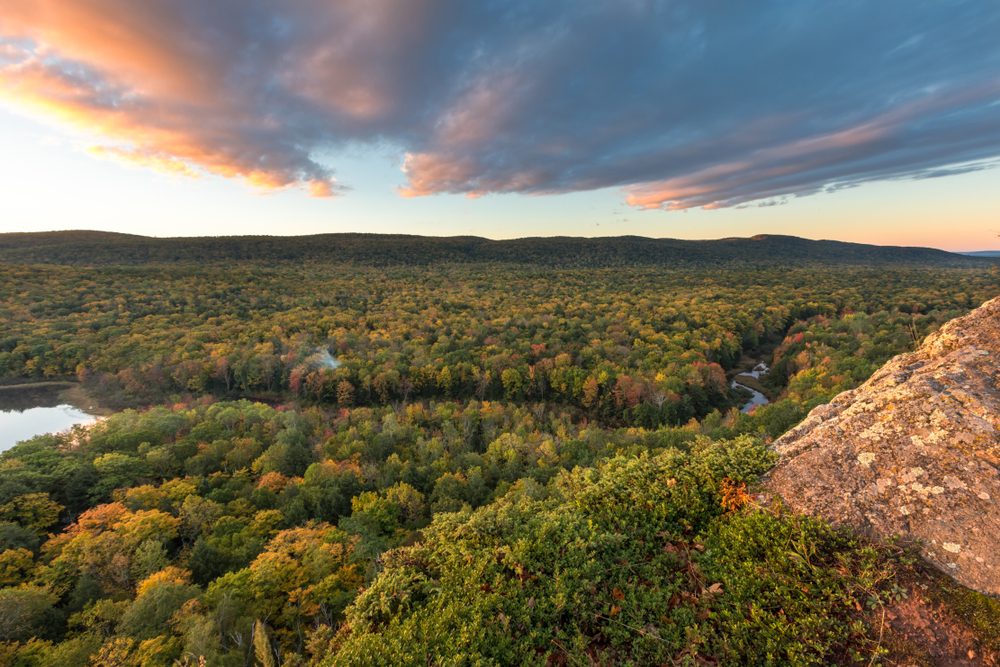 Escarpment Trail
The Escarpment Trail is also found in the Porkies and is known as one of the best hiking trails in Michigan because of the many amazing views of the Lake of the Clouds.
This is a rugged, out-and-back trail at 8.4 miles. It is rated difficult but is so worth it for the various angles of the lake you would otherwise not see. Make sure your camera is fully charged!
Also make sure to bring plenty of water, since there is no drinkable water on the trail. There is an elevation gain of about 1,690 feet and many wooden stairs to climb.
You can start the hike either at the Lake of the Clouds overlook or at the Government Peak Trail trailhead. You can hike as much or as little of the hike as you want, but you will get a workout no matter what.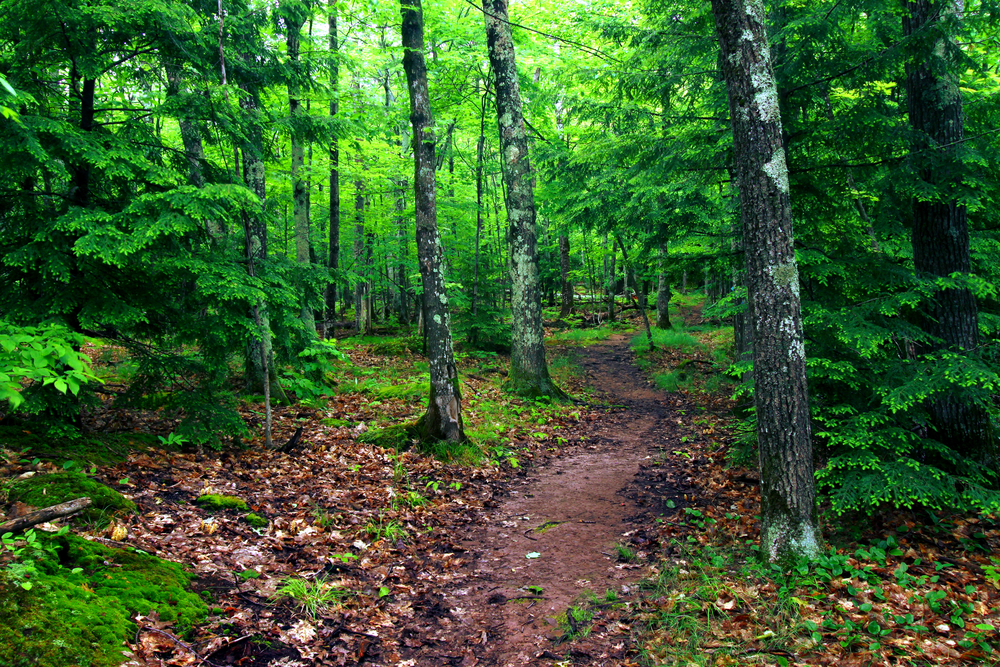 Great Warren Dune Trail
Warren Dunes State Park on the shores of Lake Michigan is where you will find the Great Warren Dune Trail. This loop trail is 4.9 miles and is rated moderate.
Be prepared to walk through shifting sands and go up hills. This hike with reward you with panoramic views of the lake, rolling sand dunes, and a hardwood forest.
After hiking this trail or one of the others in the park, you can cool your feet off in the three miles of shoreline. This is a great place for birdwatching and playing in the sand.
Warren Dunes State Park is also a great day trip from Chicago since it is only about an hour and twenty minutes from the city. It is a great place to escape the city.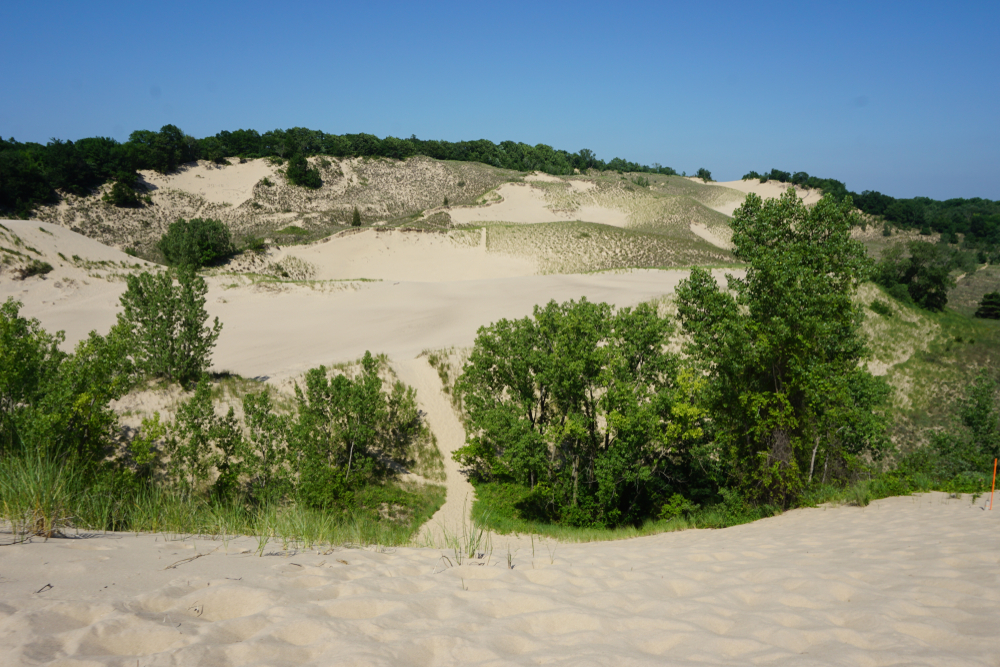 Warren Woods State Park Trail
Warren Woods State Park is just south of Warren Dunes State Park, but this smaller, hidden gem park receives fewer visitors and is a great place to escape the crowds. If you are in the area, make time to visit this forested park.
The trail here is about 1.5 miles roundtrip and follows the Galien River. It is an easy hike, but there is a portion with a large staircase, so be prepared for that.
As you hike, you will journey under towering beech and maple trees and find awesome views of the river. This quiet park is great for birdwatching and finding wildflowers in the spring. Make sure to apply bug spray before hiking, because the black flies can be bad!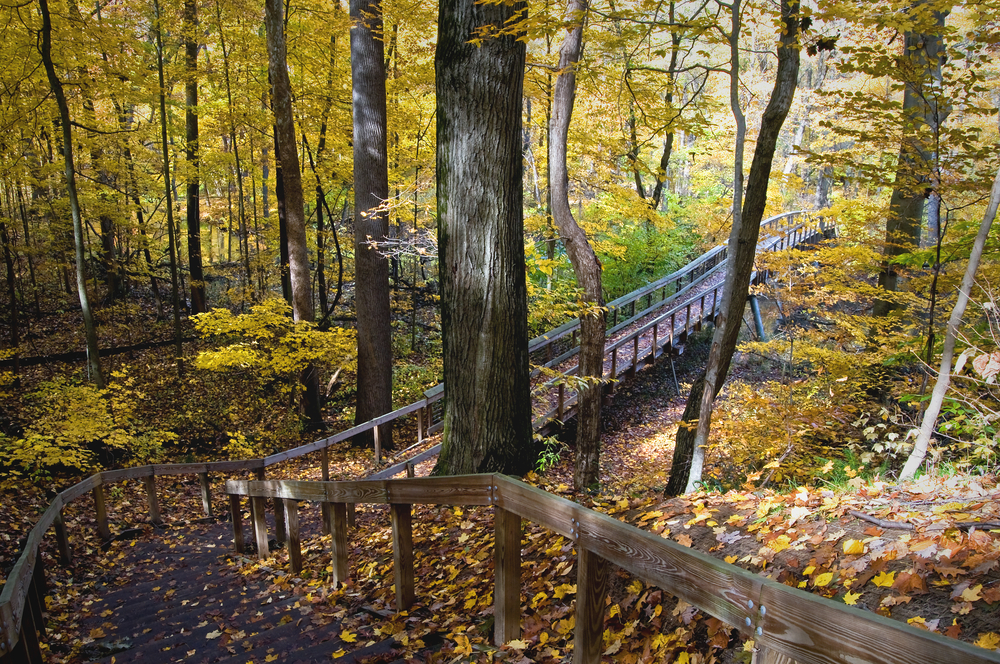 Empire Bluff Trail
The Empire Bluff Trail in Sleeping Bear Dunes National Lakeshore is one of the most popular hiking spots in Michigan. This moderate, out-and-back trail is only 1.5 miles but is jam-packed with beautiful views.
You will start in a forest before working your way to the top of a coastal bluff. The observation deck provides a jaw-dropping view of Lake Michigan 400 feet below.
Although the hike is short, it is the number of stairs that gives it a moderate rating. Get ready for a leg workout!
This trail is very popular for viewing the sunset over the lake. Stay after sunset to see the stars come out and put on an amazing display. Make sure to bring a flashlight for the journey back down.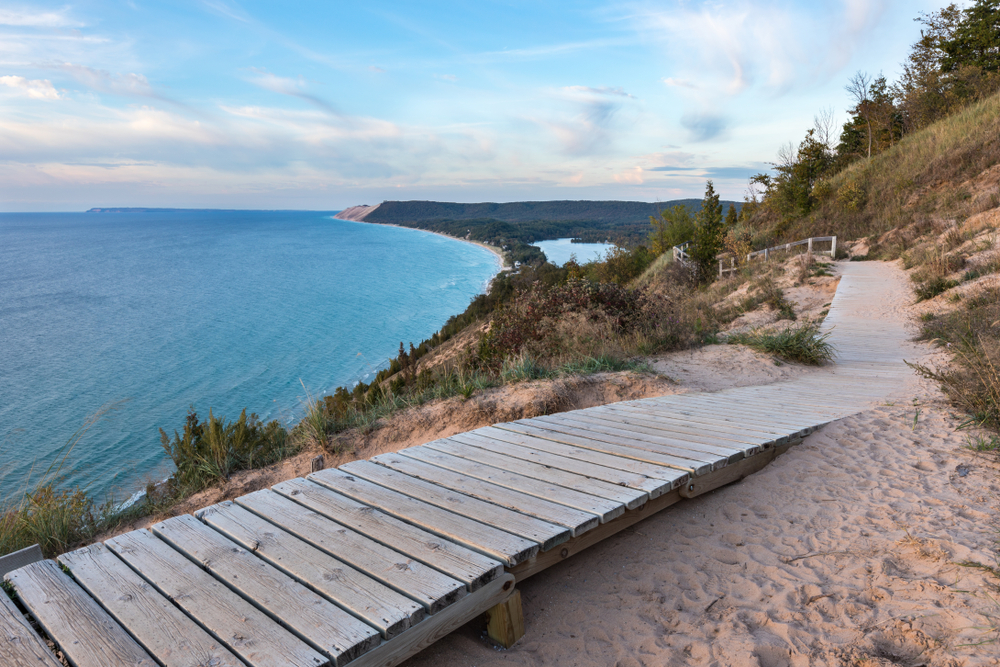 Au Sable River Trail
Hartwick Pines State Park near Grayling is one of the largest Michigan state parks in the Lower Penisula. This is a great place to visit in Michigan for both nature and history. Make sure to stop by the Logging Museum to learn about Michigan's history with the lumber industry.
There are a few hiking trails in the park, including the Au Sable River Trail. This easy to moderate trek is 3.2 miles long through old-growth trees and along the Au Sable River.
As you walk the loop trail, make sure to stop and read the twenty-three interpretive posts to learn about the history and wildlife of the area. This park is also a great place for a camping trip.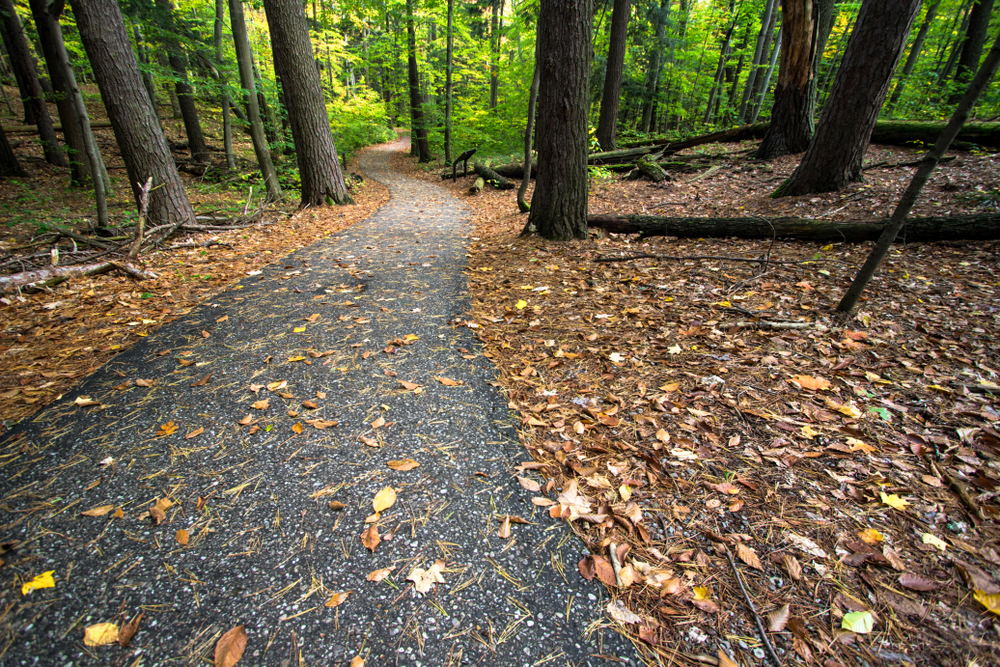 Wadhams to Avoca Trail
The Wadhams to Avoca Trail is one of the most interesting Michigan hiking trails. This fun trail in St. Clair County follows just over 12 miles of historic railroad through woods and farmland.
One of the best sections of the trail is at the Mill Creek Trestle, which dates back to the 1800s. The 640-foot long bridge has been decked and given safety rails as well as overlook areas where you can catch the beautiful views of the valley from 60 feet up.
The walk is easy and relatively flat. Most of the trail is either paved or made of crushed limestone. Along with hiking, this trail can be used for biking and horseback riding.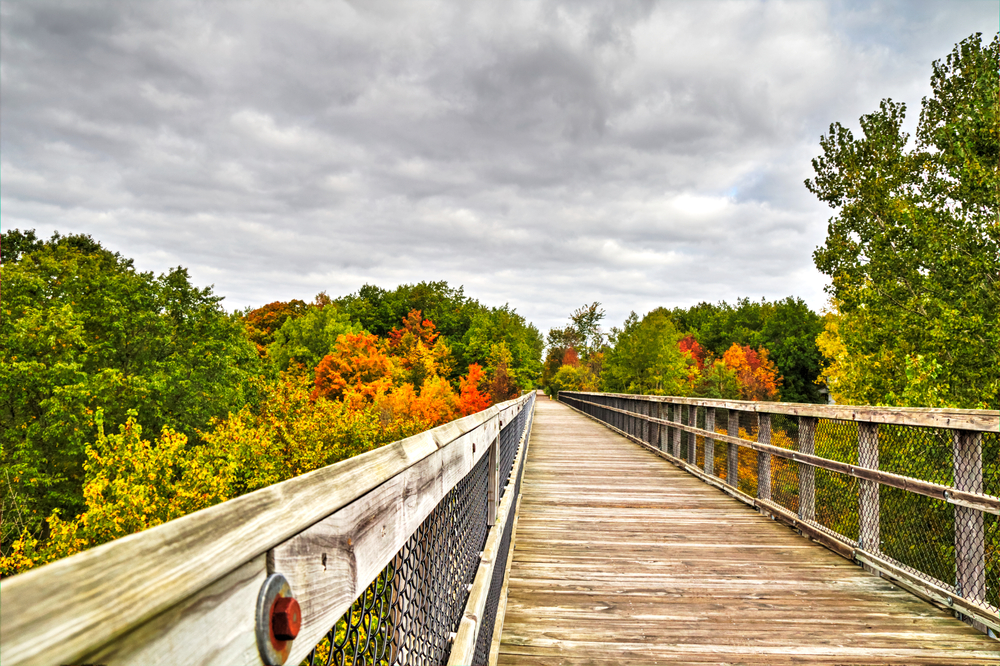 Tahquamenon Falls River Trail
The Tahquamenon Falls River Trail is one of the prettiest places for hiking in Michigan. Found in Tahquamenon Falls State Park, this 4-mile out-and-back trail connects the Upper and Lower Falls.
The trail follows the river and is rated as moderate to difficult because of the many exposed roots, hills, and staircases. Make sure you wear good hiking shoes and beware of the muddy areas.
Though this is not the easiest hike in Michigan, you will be rewarded with views of both waterfalls. The Upper Falls are 50 feet high and more than 200 feet wide. The Lower Falls is a collection of smaller falls.
In the summer, you do not have to hike roundtrip if you don't want to. You can hike one way, then take the shuttle back to where you started.
Old Mission Point Park Trail
The Old Mission Point Park Trail near Traverse City is a great hike if you love lighthouses and lake views. The hike is a 5-mile loop rated easy to moderate. You will have views of pine forests and beaches.
The main feature of the trail is the Mission Point Lighthouse. This short, white lighthouse was first lit in 1870 and then decommissioned in 1933.
This park is a good place to see deer and birds. You might also see people walking their dogs or riding horses. The park is free to explore. If you visit from April through October, you can tour the lighthouse for a small fee.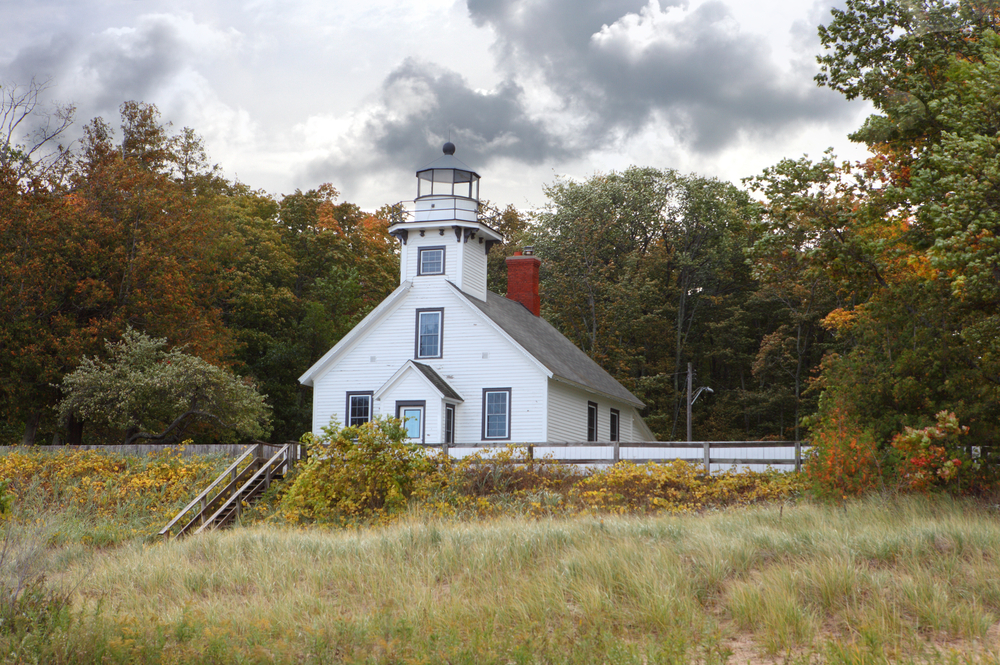 Manistee River Trail
Head to the Manistee National Forest for some of the best hiking in Michigan. Here you will find the Manistee River Trail, which partially connects to the North Country Trail. This 23-mile loop is a moderate trek through woods and wetlands. You will find a waterfall, bridges, and observation sites with amazing views.
The trail is usually undertaken by backpackers in two to three days. There are backcountry campsites along the trail with fire rings. Primitive camping is also allowed.
Even if you do not hike the trail in its entirety, you can spend a day in nature.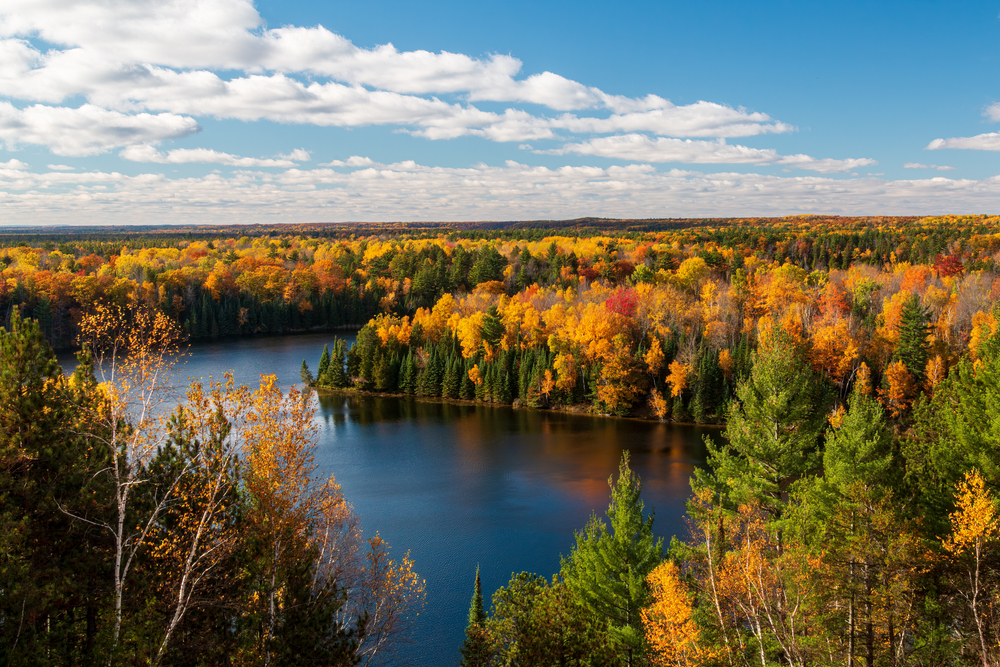 Sturgeon Falls Trail
Waterfall lovers will want to hike the Sturgeon Falls Trail in the Ottawa National Forest. The 1.8-mile out-and-back trail descends via switchback into a gorge. It earned its moderate to difficult rating because of the steepness of the gorge.
As you hike, listen to birdsong among the trees and look for wildflowers along the forest floor. In the fall, the foliage is on fire. This is easily some of the best hiking in the Upper Peninsula.
Once you get to the waterfall, the rock scrambling will have been worth it. Sturgeon Falls is a powerful, 25-foot cascade that looks wild and rugged in the rocky gorge. There is no swimming here, but the falls will spray you with a cooling mist.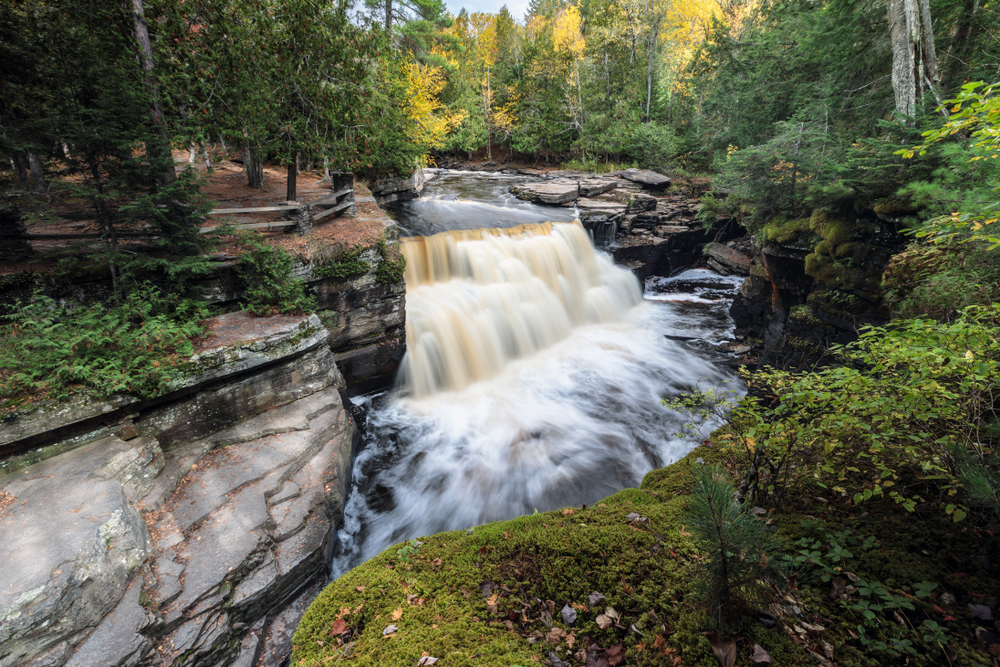 Ludington Lighthouse Trai l Is A Great Trail For Hiking In Michigan
The Ludington Lighthouse Trail in Ludington State Park is a great trail for all ages and skill levels. This gorgeous, coastal hike is about a 3.6-miles roundtrip.
Start at the Pines Campground and hike north along wooded sand dunes to the Big Sable Point Lighthouse. This 112-foot, black and white striped structure was built in 1867 and is pretty as a postcard overlooking Lake Michigan.
This is the largest lighthouse in Michigan. From May through October, the lighthouse is open to climb for a fee. There is a gift shop in the old Keeper's Quarters as well.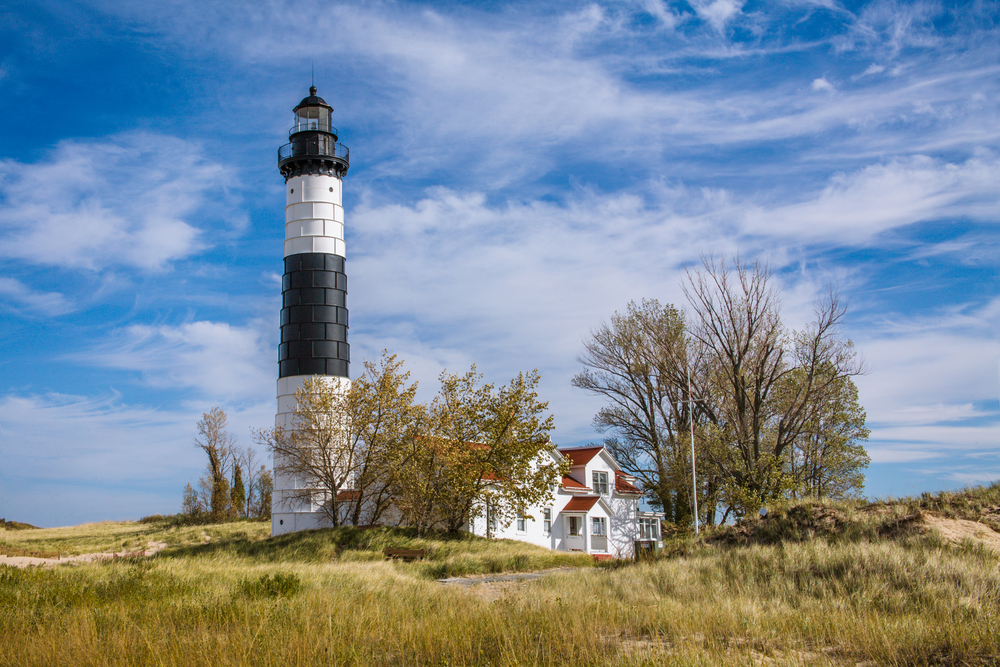 Packing List When Exploring Michigan Hiling Trails
If you will be traveling, either by plane or by car to explore hiking trails in Michigan here are some tips on how to pack lightly.
A concealed travel pouch may be one of the most important items you bring along when hiking in Michigan. It is always important to protect your personal information. Identity thieves are everywhere.
This unisex RFID blocking concealed travel pouch is lightweight and comes in several colors. It has lots of organization to give you peace of mind. You can place it under your hiking clothes next to your body to carry your ID safely.
If you have a pouch already that does not come with the RFID protection, as I do, these RFID sleeves are the perfect solution.
If you are planning on taking a lot of pictures with your phone you will definitely want to consider an external charging battery. This Anker high-speed phone charging battery is the exact one I carry with me on all of my trips.
I like that it holds its charging capabilities for several uses so I do not have to worry about it while out and about, and if I forget to recharge it at night, it will still be good to go the next day.
My daughter gifted me with this FugeTek selfie stick and tripod setup for my birthday. I absolutely love it! It is made of lightweight aluminum and is so easy to use.
It has Bluetooth connectivity and is a breeze to use for taking Insta-worthy selfies while discovering Michigan hiking trails.
I never much believed in using packing cubes when traveling. That is until I tried them. Now I am hooked. These are the exact cubes I use to stay organized when I pack for a trip!
Hydration is so important when on vacation. You want to remain hydrated throughout your trip to support your immune system which in turn will be stronger to fight off any germs you will encounter during your travels.
You will want to bring your own refillable water bottle with you.
I never leave home on a trip without my Bobble filtration bottle. The 18.5-ounce size is perfect for your adventures and it fits nicely in the pocket of a backpack.
Perhaps you are traveling a long distance and packing space is a premium in your suitcase, or in your car. Then this set of collapsible silicone foldable water bottles would work well for you. Would not take up much space at all.
You will want a backpack or daypack with you to store snacks, your water bottle, phone, extra clothes, etc.. during long hours of visiting the cities in the Midwest. No matter the time of day or evening.
This foldable water-resistant backpack would be great. And it comes in many different colors.
—
If you are looking for places to hike in the Midwest, you cannot go wrong with Michigan. There are thousands of hiking trails here to explore. As you hike, you will fall in love with the wild nature of Michigan.
From the famous North Country Trail in Michigan to smaller trails, there are places to hike for all skill levels. If you love nature, one of the best ways to enjoy it is by hiking.